Introduction followed by a text from the 1980s followed by some news reports (including the transcript of part of this podcast) of recent events

Published on April 25th 2018 (additions 28/4/18)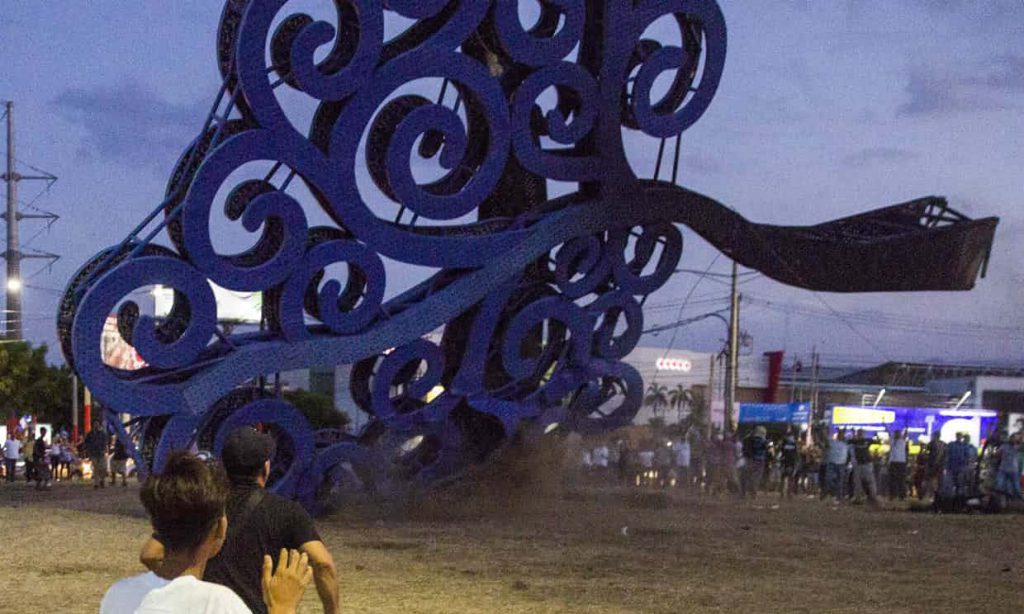 Nicaraguans affirm true life against the mere artistic representation of life: the pulling down, on 22nd April 2018, of one of the Tree of Life sculptures erected in the capital by the vice-president, Rosario Murillo, Ortega's wife.
(video and Spanish language article here)
"Murillo's metal tree reforestation project has been received with little enthusiasm from the public. Local media estimate that the trees have cost Nicaragua – the poorest country in the Western Hemisphere after Haiti – upwards of $3.3 million to construct and an additional $1.1 million annually in electricity bills. The trees have been springing up around Managua for three years now, and more are under construction. The behemoths have taken over virtually every public park and monument. A cluster of trees surrounds a gaudily painted tribute to the late Venezuelan leader Hugo Chávez on the city's main thoroughfare…As the official government spokeswoman, Murillo writes the lyrics for campaign songs and sets the official Sandinista dress code. Every day at noon, her breathy voice careens across the national airways with messages of peace, love and fraternity…."They keep cutting down all of our real trees to put up metal ones," my taxi driver said as we pulled off the highway. "They cut down our forest and built their own." – 30/11/15, here
Below:
a different form of the representation of life – The Clash's "Sandinista!" album, December 1980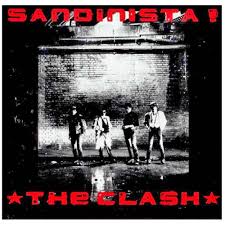 Back in the late 70s/early 80s the Sandinistars were the heroes of the hour for all the Leftists who defined themselves according to whatever the USA opposed. In 1980 The Clash produced an entire album of 3 LPs devoted to these Lenino-Guevarist Sandinistas. Yet, when this band performed in Paris, asked to publicise the plight of libertarian prisoners in Spain jailed on raps ranging from 10 to 40 years,  they just simply refused. Loads of others either hailed the new state capitalist regime as the birth of genuine communism in that country or prevaricated, saying that there was good and bad in this new government (this included fence-sitters lacking integrity and some element of consistency from Processed World). The songs on The Clash "Sandinista!" album included  lyrics such as "the blood money men are shooting those Washington bullets again". Now with the announcement of 30 deaths,  including that of those who dared challenge these Sandinista "anti-imperialists", and at least 43 more missing, one wonders what the surviving "revolutionaries" from this past must be planning to say in order to rationalize their former sick positions. Probably nothing – certainly  better than their previous bullshit, but hardly an attempt to supersede the populist idiocies they spread because it made them seem radical by proxy.
Nowadays, following the end of pseudo-communism in Europe which has made such obviously phoney "revolutionary "ideologies unfashionable, various people have fallen into a vague amorphous "libertarianism". This reproduces the same populist crap, this time directed towards Rojava and its "self-managed" state, its "self-managed" police, its "self-managed" conscription and its "self-managed" taxation system: "anarchism" (in quotation marks). How long will it be before some "libertarian" band produces an album called "Ocalan!" ?

****
"The absence of a revolutionary movement …has reduced the Left to its simplest expression: a mass of spectators who swoon with rapture each time the exploited in the colonies take up arms against their masters, and who cannot help seeing these uprisings as the epitome of Revolution. …False consciousness is its natural condition, the spectacle is its element, and the apparent opposition of systems is its universal frame of reference: wherever there is a conflict it always sees Good fighting Evil, "total revolution" versus "total reaction."
"In the process of capital accumulation, the bureaucracy fulfills what was only the unrealized ideal of the bourgeoisie. What the bourgeoisie has taken centuries to accomplish "through blood and mud," the bureaucracy wants to achieve consciously and "rationally" within a few decades. But the bureaucracy cannot accumulate capital without accumulating lies: that which constituted the original sin of capitalist wealth is sinisterly referred to as "socialist primitive accumulation." Everything that the underdeveloped bureaucracies present as, or imagine to be, socialism is nothing but a realized neo-mercantilism. The bourgeois state minus the bourgeoisie"
– both quotes from different articles in International Situationist no 11, October 1967
************
Given the recent – and maybe ongoing – uprising in at least 10 cities in Nicaragua – it seemed worthwhile putting this up. It's taken from "No Middle Ground", Fall 1984 – Winter 1985, which so far does not seem to have been put up anywhere on the internet. Most of it is both informative and accurate, but the sentence "the death by starvation of one out of every four human beings on this planet" seems like an unnecessarily gross & grotesque exaggeration.

This scanned text is followed by a few reports taken from this April's News of Opposition.

My apologies for the slightly erratic nature of the scanning on this text – though it remains pretty much as readable as the  version I got it from. This  was reprinted in 1987 by Box 14, 136 Kingsland High St., London E8 2NS, and taken from No Middle Ground, published by Information Network on Latin America, San Francisco.
Socialism
(in quotation marks)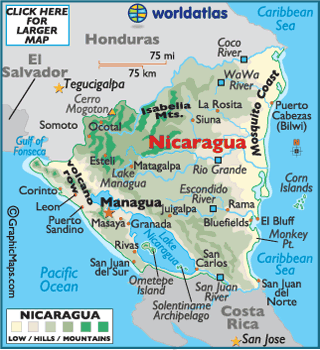 Bottom of page badly scanned (due to technical problems):
Footnote 10 (on left of page): Recently eased as part of the FSLN electoral campaign
Bottom of right-hand part of page:
"…masking capitalist repression behind radical rhetoric and the…" (continues below section of Oakland Tribune article)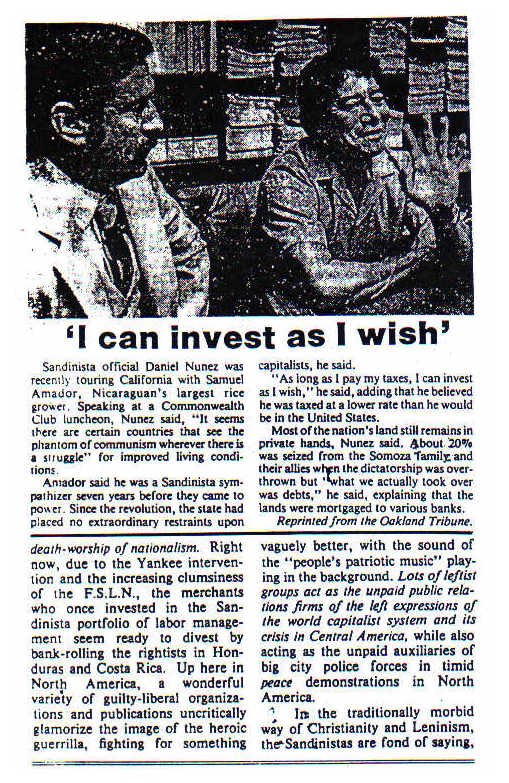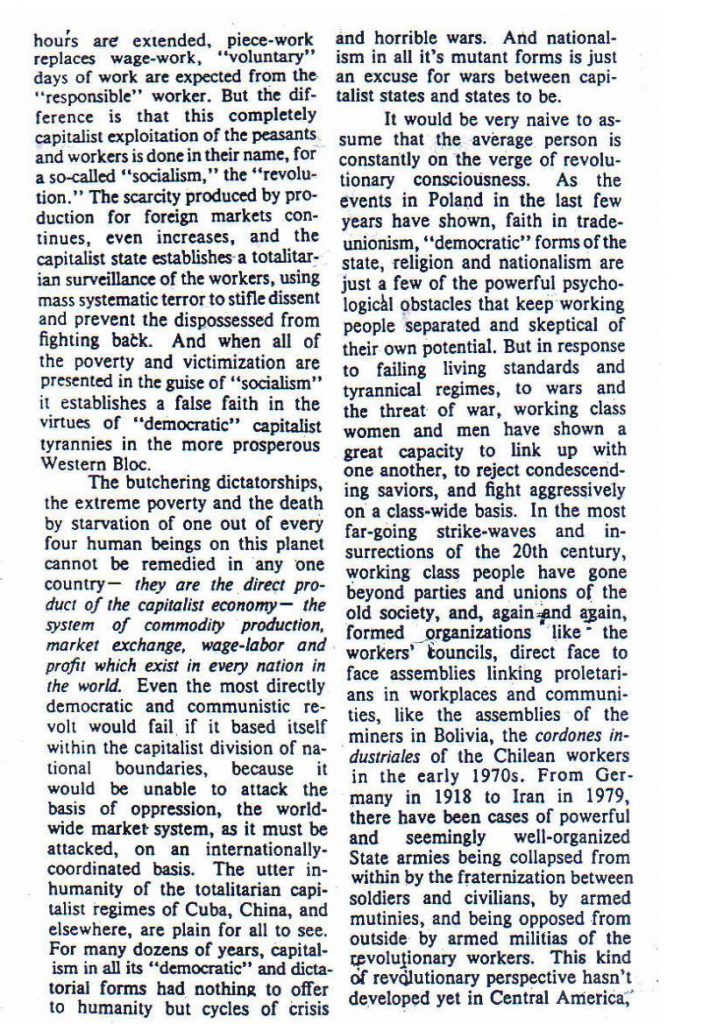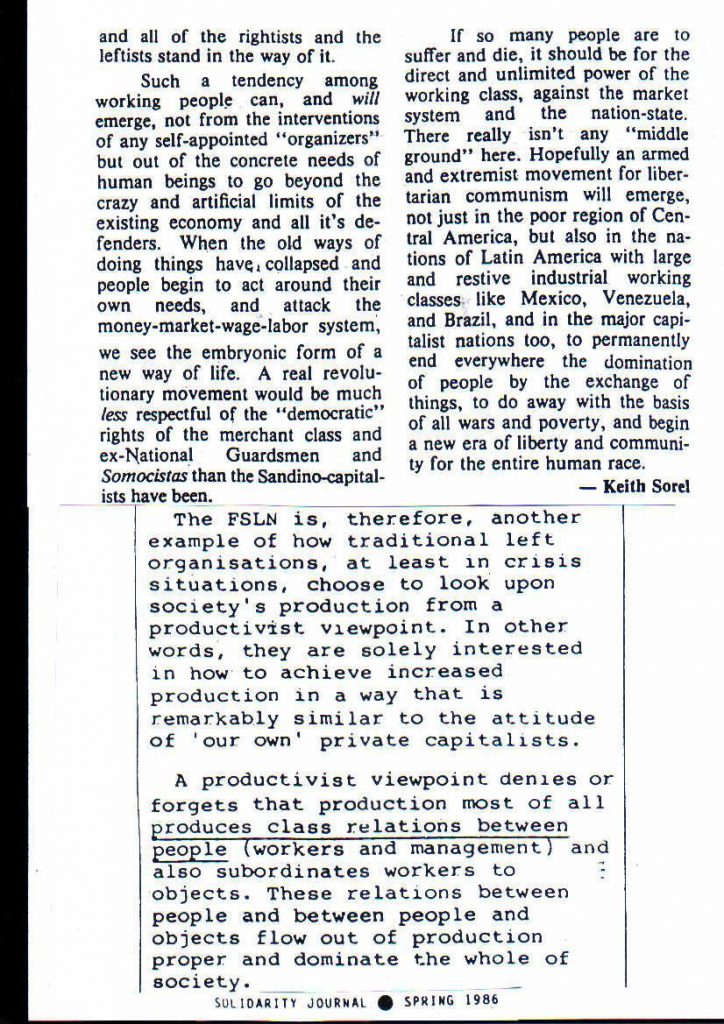 See also this Crimethinc article from 6th May 2018
Reports from News of Opposition, 2018

11/5/18:
Nicaragua, Managua: further clashes between state and students
10/5/18:
Nicaragua, Managua: more "Tree of Life"s destroyed in anti-government demo (for further explanation, see this)
5/5/15:
Nicaragua, Masaya: renewed clashes between students and state
3/5/18:
Nicaragua, Managua: cops beat up anti-Sandinista students

26/4/18:
Nicaragua: the struggle continues "…the clashes have killed more than 2 dozen people including students and 2 police officers…Ortega has caved to demands and reversed the social security reforms that triggered these protests in the first place, but the protests haven't slowed down. "This protest isn't only because of the reforms, this protest is because we're tired of all this abuse". Now marchers are calling for him to step down." (video)

25/4/18:
Podcast report about uprising on anarchist site Crimethinc
"Hello friends, this is Miranda. I am part of a group of delegates that are doing international media outreach here in Managua, Nicaragua. I am also part of several other affinity groups that have been working nonstop for the last two weeks, because Nicaragua is recently experiencing an unprecedented wave of nationwide protest. At the beginning people were protesting because of how the government mismanaged an environmental crisis. It took them ten days to effectively shut down a fire that was happening on top of a natural reserve in indigenous community. And the fire happened because the government has allowed, and has interest, in cattle ranchers expanding their territory into indigenous communities. Also, the government has interest in the monocrops of, for example, palm oil, in indigenous communities and the Caribbean. That is what started the environmentalist movement and protests. In the middle of that the government did a reform to the social security institute which basically recognized that the social security institute was going bankrupt and needed to take more money out of all the people that were receiving pensions from there. Basically the social security institute has been used as a piggy bank for the government's private investments. But those investments haven't gone so well, so now they want to reform how everything works so they can get away with their failed adventure.
But then, those two movements got together and started protesting together, it basically led to a protest, which was quickly and violently displaced by the police, by anti-riot police, by Sandinista Youth, and by motorcycle gangs that have ties to the police and the Sandinista Youth. So basically, the image that sparked all of this was anti-riot and Sandinista Youth attacking peaceful protesters that were protesting against the changes in the reform of these social security institute. That happened on Wednesday, on Thursday three major universities were protesting the same thing but specifically added police repression and lack of free speech in this country. All day Thursday we had very violent confrontations between students and riot police and Sandinista Youth. By Friday, the government still hasn't made any official communiqué and the protests continue, but then expand to other cities all over Nicaragua. All protesting at this point, not so much about the reform or the environmental damage that happened, but now against authoritarianism, against all the bad things that the government has done since they came in power in 2006, and specifically against police brutality and against the fact that a lot of students were being murdered by the police. So right now we have calculated that over 30 people have been murdered. Over 100 people have been detained. And over 40 people are still missing, stemming from Thursday. And all of this is the responsibility of the government. But then the government made a public speech claiming that this movement was a rightwing conspiracy theory funded by the CIA basically, which is completely false, specifically because the student movements have made it clear that they don't want any political parties co-opting the student movements. The student movements have made it clear that they are denouncing the private sector because they recognize that the private sector has their own interest in negotiating with the state. The self assembled movement, which is what came out of the environmentalist and the anti-reform movement, have also denounced the complicity of the private sector and have basically been very vigilant of not just the private sector but of upper class and other right wing movements from co-opting this entire movement since everybody wants a piece of the pie.
In terms of the anarchist influence in all of this, its very complicated. Because Nicaragua doesn't necessarily have a big anarchist tradition. Our national hero, Sandino, did become radicalized in Mexico in the 1910s and 1920s, he did adopt the red and black flag from Spain, and he did basically work in cooperatives and learned about class struggle and had very much anarchist leanings, but right now I think that the state is still—there's a very harsh critique of the state, but the state is still seen as a solution. Right now, the biggest anarchist presence has been this non-hierarchical, horizontal organization by which the students are organizing in, and by how these affinity groups are organizing in. So right now people aren't claiming to be anarchists but they're practicing all these anarchist tactics and anarchist philosophy of power, of representation, of anti-state, of solidarity, of mutual aid, of affinity groups. A clear example of an anarchist tactic has been this idea of the occupation of a university ground.
We have several reports of friends who have gone inside the university, the polytechnic university, and have said that its like an anarchist utopia inside—where there's delegates for medics, for cleanup, for security, for fabricating bombs, for absolutely everything inside of the university, inside the occupied university, which is at this moment the biggest stronghold against the police. But it's also the place that has received the most violence and repression from anti-riot police.
But its important to recognize that in the march that happened today, there were hundreds and probably tens of thousands of people convocated and the only thing that hey have in common is that they don't like the government. But inside of that movement, there are very different and even contradicting ideas, because in one march you will see the private sector marching next to the feminists marching next to the environmentalists marching next to the self-assembled movements. But right now, people aren't protesting against the reform of the social security institute, which the government actually revoked and they said that they're going to start from scratch with the social security institute. Which is a partial victory, but at this movement it's no longer about social security. It's about the fact that the government has allowed for thirty people to die and hasn't commented about it.
It's about the fact that the government has concentrated so much power and so much wealth in their model at the expense of marginalized communities. So the entire political platform of the government was based on a dependency between lower classes and government.
The last thing I want to mention is about something that happened yesterday, which is basically the case of the lootings. A lot of people right now are collecting enough resources to survive the next two weeks and enough gasoline to have enough for transportation. So that's kind of the feeling in the air.
Today, the US embassy sent a communiqué saying that families of the workers inside the embassy had to leave the country. Also they said that the Peace Corps had to leave the country. So that's the level of uncertainty that the united states intelligence is saying might happen, and it does give you a sense of the intensity and resonance of these student movements that have been happening here.
To be honest, things seem like they're winding down, but they could easily wind back up at any second. It only took a matter of hours for the entire nation to see police brutality attacking peaceful demonstrators and students to get everybody enraged against the government."
22/4/18:
Nicaragua: pension reforms withdrawn as result of riots "Several television stations were taken off the air as the government tried to stem the unrest…."We have to restore order. We cannot allow for chaos, crime and looting to prevail," Ortega added in his televised address. "We cannot allow it. And we will act under the rule of law and under the constitution to ensure and guarantee the restoration of stability and social peace so that workers can peacefully go to work."…. death toll rises to at least 25 "A further 43 people were reported to have "disappeared" over the weekend…Snipers were reportedly placed in Nicaragua's national stadium to shoot at protesters holed up in Managua's cathedral. The demonstrators symbolically pulled down one of the brightly coloured Tree of Life sculptures erected in the capital by the vice-president, Rosario Murillo, Ortega's wife….In the city of León, university offices were torched …Ortega, who is facing the biggest crisis of his leadership, said on Saturday that he was ready to consider changing an unpopular social security overhaul announced last week, which would increase worker contributions and lower pensions. He said, however, that talks would only be held with business leaders and not with other sectors of society…people spilled back on to the streets in seven cities including the capital, after tensions had calmed somewhat on Friday night." Video here…More here "Nicaraguan newspaper La Prensa said more than 30 had died…Some students vowed to keep the pressure on the government up as their demands had now widened beyond protecting pensions. "We are fighting …for all those years of pillaging of the people by the Sandinista regime," an engineering student in Managua who identified himself as Cristofer told AFP news agency."
The people pillage back a tiny fraction of what has been pillaged from them: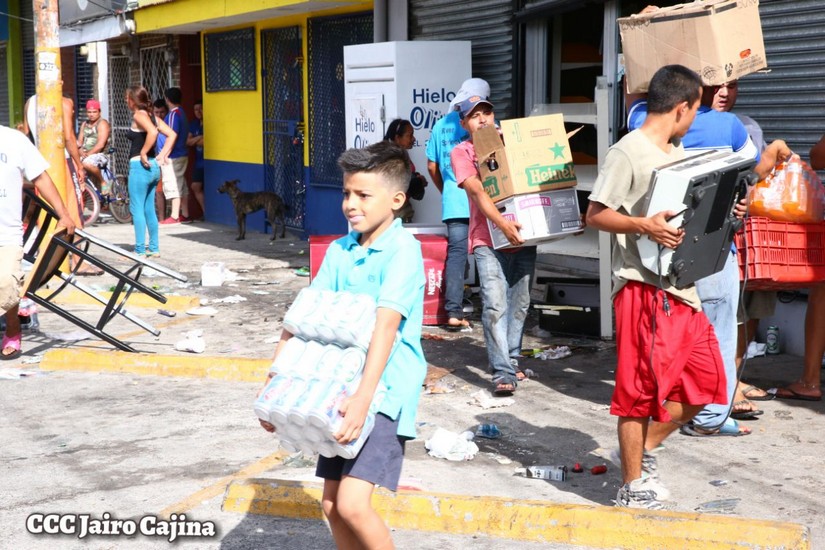 Proletarian shopping, Managua –
Bargains galore! Everything must go go go!!!
More photos here
21/4/18:
Nicaragua: report about 3 days of clashes with the Sandinista state and its neoliberal policies…at least 10 dead "…Violent protests against pension reform left at least 10 people dead in Nicaragua on Thursday and Friday. Called "riots" organized by individuals seeking "to break peace and harmony" by Vice President Rosario Murillo, the protests hardened on Friday, the third day of mobilization, with barricades erected, clashes with police and attacks on government buildings, in Managua and in other cities of the country. About 80 people were also injured in these demonstrations, the most violent since Daniel Ortega came to power eleven years ago. Four independent TV channels were prevented by the government on Thursday from covering them…This mobilization seems to have taken the government by surprise, which until now had managed to contain the discontent thanks to the influence of the ruling party in the public and military spheres. "It's a grassroots protest, not a political party…I think the government did not anticipate this reaction"