…and the struggle against them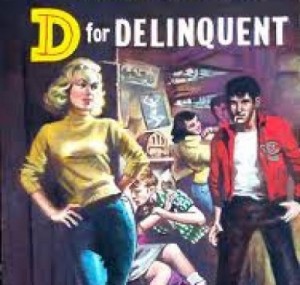 This page will be subject to regular updates, most notably in the chronology , but also in giving references to interesting texts (and also in the comments boxes at the bottom). So far (22/8/15), in addition to the chronology, I've only put in a couple of  minor personal experiences related to prison which follows the chronology, and
some other reading material, which will be added to bit by bit. But I wanted to put this out in time for this week's "solidarity with anarchist prisoners" (originally posted on 15th August 2015).
solidarity with US prison strike, 9/9/16

As the US prison strike keeps going, following FAM seems to provide pretty current news.
Also a prison radio show is online and has statements and updates.
This is dedicated to Keith LaMar, who in 1993 took part in a US prison uprising which united blacks with white "nazis" 1 against the prison system, in which 9 prisoners and one guard died. Keith LaMar has just had his final appeal against the death penalty turned down, and it looks very likely that, after over 22 years, he will be murdered by the state  (look here and here).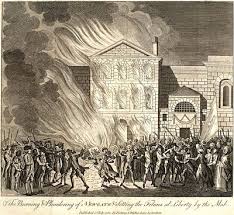 Pictures of the Gordon riots in London 1780, when several prisons were liberated and the buildings set on fire
I've put this out as a kind of contribution to the International week of solidarity with anarchist prisoners  (23-30 August 2015). A bit tokenistic maybe – as it's only an internet page, but  if there's something going on in my part of the world (Montpellier, France) I'll probably participate. 
And whilst I really like, for instance, this from Emma Sheppard, why limit this solidarity to "anarchist prisoners"? Though obviously people who call themselves anarchists (I'm not one) are more in a position to express practical solidarity with prisoners who they know, do all those prisoners that they know call themselves anarchists? And on the most general level of information and propaganda, it seems  far more worthwhile to address all prisoners, considering the necessity for the abolition of prisons and of the society that requires them. Addressing only anarchist prisoners does not contribute to the necessity to overcome separations between "political" prisoners and other class war prisoners (and the vast majority of those in prison are because of class society, especially property laws). It seems to make a hierarchy between apparently "politically conscious" prisoners and others, even though most anarchists want the abolition of prisons. Which is why below I've listed a chronology of all prison-related riots, escapes and other things taken from my News of Opposition page, dating back to March 2013, regardless of whether they involved anarchists or not.
***
Amongst those who claim to want an anti-state revolution, there have been  some who  believe that "after the revolution" there will still be specialists-in-order (anarcho-cops) and prisons. For instance,  leading Libcom admin member Fall Back once called for, "far more complex, modern, well resourced kinds of 'prisons' with more progressive aims than currently exist…"communist prisons" …would be a place where people had broken laws would be forcibly detained". 2 To talk about communist prisons being entirely different from capitalist prisons is like saying the communist State will be entirely different from the capitalist State: here so-called "anarchism" joins Leninism. Incarcerating anti-social leftovers of the mad alienation of class society (the recalcitrant ex-cops, ex-screws, mass-murdering politicians, mass-thieving bourgeoises, rapists, paedophiles, etc.) all in the same hellhole is obviously idiotic. If elements of communal constraint are necessary they will have nothing to do with the brutal repressive reality of prisons throughout history. To think that we'd call such forcible restraint a 'prison' is like calling 'workers' councils' (or whatever term you'd like to imagine the future fantasy society to be) 'the State' or 'the government'. This is not just a question of semantic terms but of a break with hierarchical notions and practices of social control. Killing scum is not the same as capital punishment. Forcible restraint is not the same as prison. A margin of rationing (where scarcity is not forced by capitalist property relations but comes about because of, for example, differences between different geographical areas) is not money. Obviously in this future possibility there will be some way of punishing people who act in ways the community they're part of find unbearable. But it's not just semantics that separates, say, "grounding" a teenage kid from the idea of putting him/her in prison, but a general attitude that you want social relations to constantly experiment with changes that have some healthy result. If we talk about the abolition of the State that also means abolishing specialists in social control; the task of determining the methods of making it clear to people that certain behaviour is unacceptable will be the task of the whole of the anti-hierarchical community. To ground this in the past and present: what punishments have we received or given that we considered changed a situation for the good? What punishments during intense moments of class struggle have changed situations for the good? What punishments are we prepared to mete out to those we consider beyond the pale? To anyone not clogged up with dominant perspectives, prison isn't an answer to any of these.
Added 9/9/16: these pages (1,  2,  3 ) about Attica, 1971 (scroll down to the last paragraph of page 1 for the start). "We, the inmates of Attica prison, say to you, the sincere people of society, the prison system of which your courts have rendered unto, is without question the authoritative fangs of a coward in power" – The Popular Manifesto of Attica, September 1971.
See also this about the European maxi-prisons.
And this about a trial of anarchists arrested for solidarity actions in support of prison uprising in 2008
And this about the 1990 Strangeways prison  riot, when prisoners took over much of the prison for several days: Strangeways 1990: A serious disturbance which, despite being co-written by a member of a dreadful Leftist organisation (the Bolshevik organisation Revolutionary Communist Group) is an excellent read; its other author is an ex-prisoner.
And this: "mental illness & solitary confinement in Texas prisons"
This is a chronology of prison riots, hunger strikes and other prison-related matter taken from the News of Opposition page, going back to January 2016. Owing to technical problems December 2015 to March 2013 can now be found here.
28/12/17:

Bulgaria, Sofia: call for international solidarity with prisoners here
13/12/17:
Madigascar, Ikongo: about 600 people armed with spears and machetes, storm prison, take guards hostage and liberate 120 prisoners More here. It's not clear what the reason for this was, as the 2 reports seem to differ (though the latter is in Malgache & the Google translate version isn't clear). From the first one it seems that a prisoner was killed in transit and the crowd wanted to find the prisoners they assumed had done it. In the 2nd it seems like they wanted to free 2 prisoners innocent of the crime for which they'd been imprisoned.

Australia, Perth: small prison riot "…seven out-of-control inmates trashed part of a wing and made threats against staff."
9/12/17:
Italy, Caltanissetta (Sicily): part of migrant detention camp destroyed in arson attack by refugees

6/12/17:
UK: report saying that riot cops called to prisons almost 600 times in 2016, 5 times more than in 2010
5/12/17:
France, Paris: failed escape in migrant detention centre turns into riot; whole prison wing destroyed "A failed escape, a mutiny, a dozen deliberate fires and a seriously injured [SF note: by smoke inhalation] prisoner who was barely saved by the police. The night from Monday to Tuesday was very hot at the detention center located in the Bois de Vincennes in Paris. The material damage is heavy. Unit 3, which is home to 57 illegal aliens, has been devastated. It will take nearly two months of work to restore it."

3/12/17:
UK, Kent: small riot in prison
24/11/17:
France, Paris: crappy "dialogue" over prison reform disrupted with insults, stink bombs, leaflets, etc. Pdf of leaflet in French here
19/11/17:
Australia, Melbourne: 7 vehicles belonging to prison/detention centre racket immobilised; lots of graffiti
18/11/17:
New Caledonia: 10 escape from prison; 2 still free next day (19th November)
7/11/17:
Brazil: prison work stoppage across 14 states

Switzerland, Bern: prison construction company vehicles torched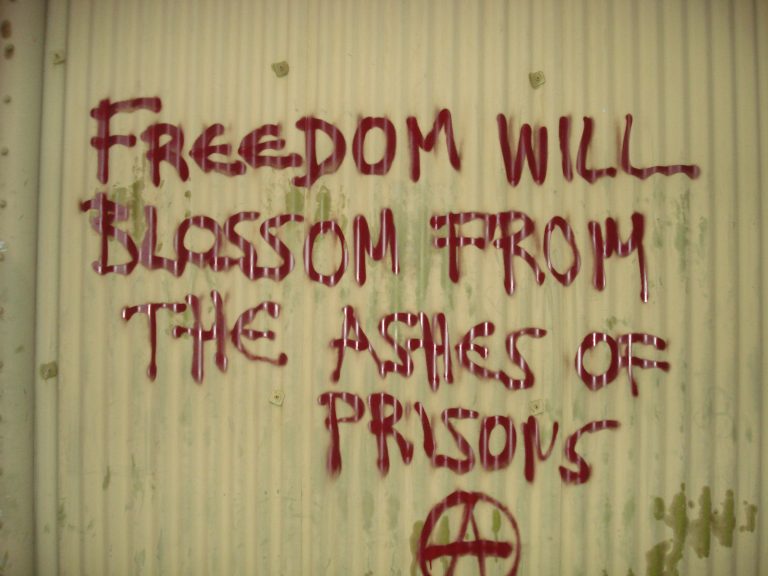 3/11/17:
Chambery: screws cars torched "In recent days, the jailers of the Chambery prison have been receiving a few paybacks for the violence they carry out daily on prisoners. On three occasions, they've found their personal vehicle in ashes parked just in front of the jail. On the night of Wednesday 2nd to Friday 3rd November, the car of a screw goes up in smoke. This same agent had already seen his first car destroyed by  flames a few months ago. A few nights ago, between Tuesday 24th and Wednesday 25th October, it was the car of one of his fellow tormentors which was burned. The cops say that on the night of one of these attacks, surveillance cameras near the prison filmed two people on motorbikes wearing scream masks."

27/10/17:
France, Ain: fires started in brief prison riot "…several incidents have occurred in recent weeks in the establishment. The detainees complain in particular about the judge's decisions to enforce sentences they consider too harsh and the lack of washing machines on their landing."

South Africa, Limpopo: 6 escape during prison riot "The police in Makhado have opened cases of arson, malicious damage to property and escaping from lawful custody after the prisoners of Kutama Sinthumule maximum prison went on the rampage, torched and damaged some of the prison facilities"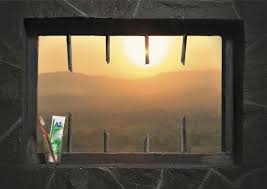 26/10/17:
Indonesia,   East Kalimantan: 6 migrants escape from concentration camp
17/10/17:
UK, Sussex:  mini-riot in prison Not sure if this was Tuesday 17th or Tuesday 10th

16/10/17:
US, Hawaii: arson at incorrectional center
14/10/17:
US: report on prison rebellions

13/10/17:
Slovenia, Ljubljana: prison riot – 3 prisoners on roof
11/10/17:
UK, Worcestershire: dozens of prisoners attack screws More here "Up to 80 prisoners are believed to have taken part in the incident and used pool balls as weapons."
10/10/17:
Mexico, Nuevo León: at least 13 prisoners killed by state after guards are taken hostage in riot "…the riot occurred at the state prison in Cadereyta and the death toll could climb because eight people were in critical condition….police using non-lethal force were unable to quell the riot…So authorities decided to use lethal force to protect the lives of the guards and the prisoners. Authorities could see through video monitors that at least one prisoner had already been killed and guards had been taken hostage… The guards were being held and beaten on the roof….The trouble started Monday night when one of the half-dozen gangs that are normally kept apart inside the prison protested. The protest died down, but early Tuesday morning fighting broke out and a prisoner was killed and his body burned…When police first went in trying to take control they were met by about 150 prisoners who attacked them with metal tools and rubble from work that was being carried out inside the prison. No guards were killed in the violence, but a police officer was gravely wounded with a punctured lung."
4/10/17:
US, South Carolina: prison wing taken over by prisoners "…inmates were on the roof of the facility attempting to escape while a fire raged inside the prison…."All that happened (today) was inmates chasing officers with knives, which (is) pretty standard for (McCormick)," our source said.  …"Toilets can't be flushed and the inmates are not being given drinking water at all!" …"This was rebellion not riot," a Twitter group that bills itself as advancing prisoners' human rights noted. "Due to no water being given to drink." More details here and here. "Authorities were investigating Wednesday how several inmates got to the top of a dorm roof at a maximum-security prison "

2/10/17:
Eire, Laois: confrontations in Portlaoise prison Unfortunately, and typically, these Republican prisoners want to be treated like an elite: although "they  were protesting over their living conditions"   they also  "demanded that they be treated as political and not criminal prisoners", thus setting up (or reinforcing) a hierarchy between themselves and the rest of the prisoners.

27/9/17:
UK, Peterhead (Scotland): photos of prison riot 30 years ago go on display for first time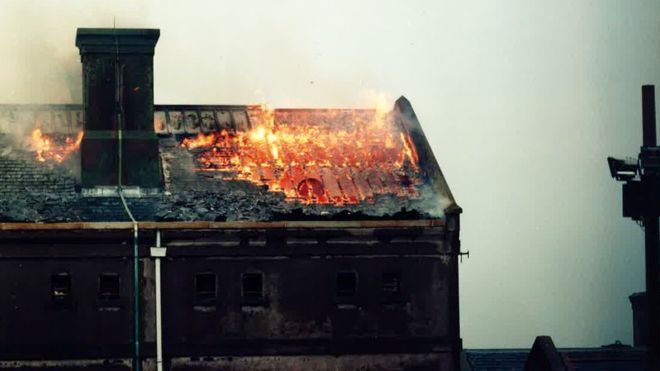 Peterhead prison, September 1987
26/9/17:
Canada, Baffin Island: prisoners smash up part of prison "Four… inmates destroyed "85 per cent of the building's medium security bed space and 33 per cent of the maximum security bed space," according to information from the Department of Justice….no one was injured in the two-hour-long incident." More on the conditions of this prison
UK, Liverpool: fires set on 2nd day of prison riot
24/9/17:
Dominican Republic: 4 people escape prison, plus massive looting, in aftermath of hurricane "…police have been kept busy with the latest incident being a prison break that took place late Sunday in which four people escaped. However… two were captured shortly afterwards …"
22/9/17:
Argentina, San Juan: 6 young teenagers burn mattresses etc. in juvenile police station "The kids demanded that their cases be sped up and that is why they decided to protest by burning mattresses and breaking everything. Moreover, after the incident the police station was out of service and the adolescents had to be transferred to other units. Some take a long time, three or four months"
12/9/17:
British Virgin Islands: over 100 prisoners escape during hurricane
10/9/17:
South Africa, Limpopo: 4 prisoners awaiting trial escape from police station
5/9/17:
US, Kansas: huge prison riot "Buildings are burning and some inmates have gotten weapons" More here "…a violent inmate uprising late Tuesday …saw multiple fires set in the facility. Inmates smashed windows throughout the Norton Correctional Facility. They took over staff offices and destroyed computers. They broke into the prison's clinic and stole syringes. And some were wielding homemade weapons…The Kansas Department of Corrections described the incident as an "inmate disturbance," but a correctional officer said it was a "full-blown riot" that involved 400 or more inmates in the prison in northwestern Kansas that houses roughly 850. "When a little disturbance is when the inmates take over the facility, I don't know what a riot is," said the correctional officer, who spoke on condition of anonymity. "Basically, they tried to burn the place down."
3/9/17:
UK, Birmingham: prison "disturbance" "An unknown number of prisoners refused to return to their cells at the end of Sunday evening at the category B jail". More here…Switzerland, Bâle: 2nd night of attacks on state vehicles "For two consecutive nights in Basel, fire burned cars of this world of control and authority. On the night of Saturday to Sunday 3 September, an unmarked  cop car was burned …Then in the night of Sunday to Monday 4 September … a company vehicle, probably a car of the company Swisscom, which went up in smoke.…...This fire is also linked to the struggle against the enlargement of the prison at Bässlergut."
22/8/17:
UK, Cumbria: 9-hour prison riot breaks out after tobacco ban "Inmates smashed sinks, flooded cells and destroyed TVs at the Category C HMP Haverigg as they became the latest prison to be subject to the smoking ban….On Tuesday lags in the Langdale wing of HMP Haverigg, in Cumbria, staged a peaceful protest after they were told tobacco would not sold as part of the all-out ban. But anti-riot units were scrambled after violent confrontations broke out. A source said: "The protest turned violent and the whole place went up. Inmates were smashing up cells, flooding them, throwing TVs, breaking up pool tables. "Staff were forced to evacuate the wing, which was left looking like a bomb had hit it."… There was also trouble at Cat C Featherstone prison, in Staffordshire, which is also implementing the ban. A dozen inmates refused to be locked up after lunch in protest at the 687-capacity jail going smoke free. Three prisoners were placed on report after guard's used force to secure them in their cells on 30 July."
Australia, Adelaide: prison riot stops with pizza delivery "Prisoners barricaded themselves inside a cell, lit fires with matches, ripped cell doors off the hinges and smashed appliances before reportedly negotiating with guards to end the protest in exchange for 20 pizzas."

South Africa, Johannesburg: 20 prisoners awaiting trial escape from prison van

20/8/17:
France, Paris: truck belonging to prison construction company torched
17/8/17:
Switzerland, Zurich: machinery for prison refurbishment destroyed
16/8/17:
Venezuela, Amazonas: 37 prisoners massacred by Maduro's left-wing capitalist filth during riot
13/8/17:
Morocco, Rif: clashes between cops and protesters demanding release of prisoners

9/8/17:
Australia, Tasmania: prison riot
8/8/17:
Switzerland, Basel & Zurich : 2 separate incendiary attacks on companies involved in prison construction
7/8/17:
US, Arkansas: screws taken hostage in maximum security Gulag

6/8/17:
France, Toulouse: lorry belonging to construction company for prisons torched (communiqué)
3/8/17:
Italy, Ventimiglia: 7 arrested refugees hurt 4 cops, smash frame of bullet-proof door and bullet-proof window
1/8/17:
UK, Hertfordshire: 2nd day of "disturbances" at prison "Personnel from the Tornado team were called in again less than 24 hours after spearheading efforts to restore order at the Category C adult male training jail. On Monday multiple prisoners were involved in a lengthy disturbance across two wings at the jail, which holds a total of just over 1,000 men. The first episode was resolved shortly after 10pm. No staff or inmates were injured, but dozens of cells are reported to have been damaged." More here "A prison that has been hit by two days of unrest and disorder has been keeping inmates locked up in their cells for entire weekends for as long as three months… around 50 cells were damaged. Prisoners in the category C jail, which holds about 1,000, had been locked up for the third consecutive weekend, with food being served cold through the cell door. … on Tuesday, trouble began again after prisoners took over a wing of the prison and smashed some windows ……prisoners at The Mount are routinely locked in the cells – known as being "banged up" – from Friday afternoon until Monday afternoon because of staff shortages. Gloria Morrison, campaign coordinator for the Jengba group, which campaigns against joint enterprise sentences, said prisoners were becoming desperate. "Prisoners only want to organise meetings at weekends, because it's the only time they get out of their cell," said Morrison, who spoke to an inmate serving a life sentence on Sunday, and his mother on Monday. "It's not just three weekends that this has been happening, it's been at least three months. They are not getting fed until the late evening and they are just getting a sandwich, a biscuit and a drink in their cell, there's no hot food. "I don't like prisons but The Mount has always been a fairly good nick in the past." Morrison said visitors were caught up in the disturbance on Monday and weren't allowed to leave, which was corroborated by one eyewitness"….Wiltshire: 5 screws hospitalised
31/7/17:
UK, Hertfordshire: prisoners briefly take control of 2 wings of hellhole
26/7/17:
Goias: prison riot leaves 4 dead "Four prisoners were killed, and one of them beheaded, in the latest of a string of riots at a Brazilian penitentiary…Nine other inmates managed to use the riot to escape from the prison in the central state of Goias, and four were still at large on Thursday.The violence broke out on Wednesday afternoon, with inmates torching the administration building and destroying a security vehicle in the city jail of Jussara, which housed 77 inmates…."Nine prisoners fled and took weapons from guards," it added, noting that five of them had been recaptured within 24 hours. Fighting broke out among prisoners from rival criminal gangs, officials said."
24/7/17:
Guatemala, Guatemala City : prisoners of youth detention centre riot whilst some try to escape "Several minors are being treated for tear gas inhalation or cuts and scrapes suffered when they climbed atop neighboring buildings…. Several of the escapees managed to get on the roofs and threw bottles and rocks at police"

France, Marseille: arson attack on 2 cars belonging to screws

"Prison is a second-by-second assault on the soul, a day-to-day degradation of the self"
– Mumia Abu-Jamal – Live From Death Row
22/7/17:
UK, Worcestershire: small prison riot

21/7/17:
US, St.Louis: demonstrators against suffocating heat of prisoners dismantle perimeter fence outside prison and enter neutral ground "With scorching temperatures expected to reach well over 100 degrees this weekend, protesters are again demanding closure of the city's medium-security jail, which doesn't have air conditioning. Police used pepper spray to disperse a crowd who had protested for about two hours…slogans … included "We treat animals better." …At one point, several protesters climbed under an exterior chain-link fence around the workhouse and a few scaled a second fence closer to the building, but they stopped short of going over its razor wire top….Chants from the protesters of "Let them go" were met with a "Let us out" response from inmates inside who gathered at windows and waved towels" Anarchist report and lots of videos here.

19/7/17:
US, Texas: 2 letters from prisoners about the truly terrifying inhumanity of the Eastham prison unit and the terroristic horrors of solitary confinement…Missouri: as temperatures soar over 38°, baking prisoners have been screaming for help from the
windows for days …St.Louis: demo outside prison in the evening of 21/7/17

17/7/17:
Greece, Athens:   expensive shops  smashed up in support of anarchist woman sent down for long time for "crime" she obviously didn't commit (video)
14/7/17:
Eire, County Laois: report of riot squads having been sent to prison 370 times in 2016
US, Oklahoma: prison riot More here
"Hundreds of inmates — some armed with baseball bats and iron pipes — rioted at an Oklahoma federal prison for about eight hours, taking two guards hostage and refusing to return to their cells before they were finally corralled by law enforcement officers…about 400 inmates caused the disturbance in two recreation yards. Miller said prisoners, some toting bats and pipes, took two guards hostage at the outset of the riot, but that both were freed and uninjured."
3/7/17:
Guatemala, Guatemala City: prisoners escape during riot at juvenile prison after 2 inmates commit suicide "Police launched tear gas canisters while inmates threw stones at the Guatemala City lockup on Monday. Interior Minister Francisco Rivas said about 10 inmates escaped during the riot, but six had been recaptured….The rioting juveniles occupied the roof of the facility in the capital demanding improved conditions, including conjugal visits. In March, a fire at a government facility for abused children killed 41 girls."
2/7/17:
South Africa, Pretoria: prison riot over parole issues "The riot follows the handing over of a memorandum to the Justice Minister Michael Masuthla two weeks ago from prisoners in three Gauteng and KwaZulu-Natal prisons listing a string of complaints about parole' overcrowding' poor food and violence meted out by warders. Prisoners from several Gauteng prisons told The Times that the strike would begin in other prisons in the province from tomorrow (Monday). "We are gatvol [tired] of the way we are treated. We are not going to let this continue and will do whatever it takes' including going on strike' to get the minister to address our issues'" said a Johannesburg Central prisoner. A Pretoria prisoner said the problems had been a long time coming. "We are sick and tired of how the parole boards operate. We are treated like animals. Yes we have done wrong' and we have been punished' but the prison authorities and parole boards continue to punish by not releasing us on parole when we should be." He said the strike began when prisoners who were in an exercise yard refused to return to their cells. "When they wanted them to go back to their cells they refused. The warders started pushing the prisoners back' but they fought back. Several of them were armed. That's when they called in the specialised security warders who assaulted the prisoners'" he charged. Contrary to the official statement' he said that at least 15 prisoners and four warders had been injured in the clashes. "One of the warders was beaten with a brick after he called the prisoners the K word. He got what he deserved. He's lucky he wasn't killed and the other warders dragged him away'" the prisoner said."
28/6/17:
France: report about 3 lorries belonging to company involved in prison construction being torched
24/6/17:
India, Mumbai: women prisoners get violent after screws kill fellow prisoner "Over 200 prisoners and undertrials were booked after they fought off guards to climb out on to the jail terrace to protest the death of Manjula Shete, who was allegedly beaten up following a confrontation with prison officials….a post-mortem revealed that she had sustained internal injuries, including many in the head. This prompted authorities to register a murder case against Byculla jail superintendent Manisha Pokharkar and five guards….DIG Sathe said that this is the first time in her service over two decades she had come across such a violent protest by women prisoners which left many cops injured….The Nagpada police are likely to arrest the jail superintendent and the five guards who have already been suspended…Shete, a Bhandup resident, had been recently transferred from the Yerwada jail in Pune to Byculla recently. It is suspected that she stole two eggs. The discrepancy was found during dinner, triggering a chain of events leading to her death." More here and here"…a witness described hearing the woman's screams as female guards forced open her legs and inserted a stick into her vagina. According to reports, the woman was beaten because she complained that prisoners were not receiving sufficient food. She died in a hospital, where she was taken hours after being beaten…She had lain in the barracks bleeding until she lost consciousness,…Six female prison officials, named in the police report for their involvement in the prisoner's death, were suspended, and the women's commission of the state of Maharashtra summoned the director-general of police to explain how such a death could happen. All 291 inmates at Byculla jail were booked for rioting in protest of the inmate's death….Jaising said that the focus on Mukerjea rather than the slain inmate boiled down to a "class issue." "One of the defining characteristics of India is cruelty to people of the lower classes," she said. "There is an utter lack of concern for the people of the working class and the underclass. If you look at the facts [of this case], shocking is an understatement." Conditions in India's prisons are notoriously bad. Beatings and torture to extract information or confessions are standard. Crowded, dingy cells, poor hygiene and a conspicuous disregard for basic rights are widely documented."  Description of these specific miseries here. "…even the slightest hint of a complaint — over food, lack of space, mosquitoes, or threats from other inmates – can invite several rounds of beatings from the jail staff. "The golden rule at the Byculla jail is, keep your mouth shut. From the time you are woken up at 5 am (see box on jail routine), till the time you fall asleep, say nothing and you'll be fine," she said. The Byculla women's jail has a sanctioned capacity to accommodate 262 inmates, and currently houses 300, of which 17 inmates are accompanied by their children. According to the information accessed by this newspaper, trouble has been brewing over the quality of food handed to the inmates for six months now. Already lodged in filthy conditions: the inmates are given one soap bar to bathe and wash clothes and utensils, there's barely enough water for bath, and several inmates suffer from rashes and urinary tract infection….Another former inmate, Sheetal Sathe, who spent two months inside the Byculla jail in 2013 on charges of helping the Naxals, said her plight was worsened because she was pregnant. "We were crammed in overcrowded barracks and were at the complete mercy of the jail staff. Inmates who won't, or couldn't, pay bribes were at the receiving end of some of the worst torture. There were several inmates who were ailing, but no doctor would visit them," Sathe said. In 2015, an inmate, Angela Sontakke, went on a five-day hunger strike to protest the plan to install CCTV cameras inside the jail premises. Enraged jail officials subjected her to solitary confinement to "teach her a lesson" More here

Switzerland, Zurich: CCTV camera destroyed  during wildcat demo against prison Includes communiqué in German.

18/6/17:
Indonesia, Bali: 4  men tunnel their way out of prison
15/6/176:
US, South Carolina: fires started, screws attacked in prison riot

13/6/17:
India, Kolkata: prison riot between privileged prisoners used as spies and other prisoners
9/6/17:
France, Montreuil (Paris): windows of company collaborating in prison construction smashed
8/6/17:
Canada, Saskatchewan: prison riot causes $100,000 worth of damage
6/6/17:
Mexico, Tamaulipas: 3 cops killed in prison riot ….More here "A prison riot in the northeastern Mexican state of Tamaulipas has left three police officers and four prisoners dead, the state government said on Wednesday." Not absolutely sure from this report whether this was the work of some drug cartel gang or other or not, but the State of Tamaulipas is almost entirely controlled by narcos, so it probably was..
29/5/17:
US: Folsom prison hunger strike updates

25/5/17:
US, California: hunger strike launched at Folsom Prison "Prisoners in B4 ASU are forced to sit or stand idle in their cells or yard cages without meaningful exercise, education, or rehabilitative programs. We are already forced to endure atypical and significant hardships due to being in segregated housing and solitary confined. When taken together, these conditions constitute cruel and unusual punishment under the US Constitution. We are being deprived of basic human needs, including normal human contact, environmental and sensory stimulation, mental and physical health, entertainment, physical exercise, sleep, access to courts, and meaningful activity. Prolonged exposure to these deprivations has caused and will cause serious physical and psychological harm. FSP (Folsom State Prison) is deliberately indifferent to prisoners suffering. They are aware that prolonged social isolation, and lack of environmental stimuli causes "serious psychological pain and suffering and permanent psychological pain and suffering, and permanent psychological and physical injury."
24/5/17:
US, California: 8 screws hospitalised in prison riot
Turkey: imprisoned anarchists & others go on hunger strike
 15/5/17:
France: letter from anarchist imprisoned for burning cop car
14/5/17:
Australia, Victoria: riot at youth detention centre
13/5/17:
Bulgaria, Sofia: prison workers strike over slave labour
5/5/17:
Australia, Perth: riot in juvenile detention centre
Indonesia, Pekanbaru: over 200 prisoners still at large after over 400 escape
30/4/17:
France, Seine-St.Denis: Vinci (involved in prison construction, etc.) utility burnt, tyres of Sodexo (prison food supplier), Engie (main gas supplier) & JCDecaux (involved in prisoners' exploitation) punctured in solidarity with anarchist prisoners
pdf in French of text in solidarity with these prisoners here
15/4/17:
9/4/17:
6/4/17:
France, Essonne: 6 screws injured in youth section of prison
This attack at Fleury follows demonstrations by screws in front of prisons
in Fresnes (Val-de-Marne) and Bois-d'Arcy (Yvelines) to protest against the assault of two of them in front of their home or on their way
to work, poor things. The one at Val-de-Marne was recognised by former prisoners and ended up in hospital.

Overpopulation at Fleury  is 148.8% on average, which implies several people per cell with beds on the ground.
The situation is more critical in the men's quarters (171%) than in the women's sector with an average of 246 inmates.
Prison overcrowding is constantly increasing as the rate of occupancy among men was 150% in 2013 and 156% in 2014.  The state is planning to build well over 30 prisons, though inevitably these too will become overcrowded as, for obvious reasons, capital is forced to lock up increasing amounts of those they need to crush and/or to put to slave labour.
The screws have decided to go on strike against the counter-violence of those on the receiving end of state brutality. We should support such a strike as long as it continues for a minimum of 100 years.
3/4/17:
Rwanda, Kigali: prisoners riot just 3 days after previous riot
"Inmates protesting living conditions at Gasabo prison in the Rwandan capital of Kigali hurled stones over the prison's walls on Monday, damaging nearby houses and disrupting traffic, residents and officials said. Rioting began on Friday when the prison, which houses at least 5,000 inmates, caught fire, according to residents living near the prison. Police used tear gas to stop the protest….Riots are rare in Rwanda. The United Nations Special Rapporteur on the Rights to Freedom of Peaceful Assembly and of Association has in the past described Rwanda as a nation where protests are not allowed."It was like 200 people throwing stones at the same time and when the riot police arrived, they kept throwing stones…They were hurling stones over there and it looked like hundreds of stones being thrown. You can see it, the window and door glasses have been smashed"
1/4/17:
Iran, Tehran: horrendous report of prisoners forced to pay 2$ for just half a litre of water

28/3/17:
Mexico, Nuevo Leon: 2 prisoners die on 2nd day of riot "…at least two inmates died and 13 people sustained injuries, including two guards, at the Cadereyta prison near the city of Monterrey….A riot on Monday, in which at least nine people were injured, began as inmates protested the use of X-ray machines to screen visiting relatives, while the one on Tuesday began after inmates set fires and attacked the prison's pharmacy in what they said was a response to a lack of food and water caused by Monday's riot. Aldo Fasci Zuazua, the public security secretariat for Nuevo León state, said the riot at the prison on Tuesday began after 56 inmates from the group known as The Renegades broke into the pharmacy to steal medication. Fasci Zuazua said the inmates stole the medication to use them recreationally and burned mattresses in two areas of the prison to distract authorities. He said one inmate died in a hospital after inhaling smoke and injecting or taking drugs, while the other burned to death."
27/3/17:
Mexico, Nuevo Leon: 4 screws taken hostage during prison riot…video & report here "Four prison guards were taken hostage after a riot broke out at Cadereyta state prison, Monday, with hundreds of inmates reportedly setting fire to mattresses, sending smoke billowing into the sky over the facility. Some 600 members of the prison's 2,000-strong population allegedly began burning the mattresses in retaliation to strict security controls. The four prison guards were taken hostage during the uprising and at least 45 people, both guards and prisoners, were wounded."
25/3/17:
Australia, New South Wales: clashes with cops as protesters trying to stop deportation, camp outside detention centre
24/3/17:
Mexico, Tamaulipas: mass prison tunnel escape and riot precedes fatal clash between prisoners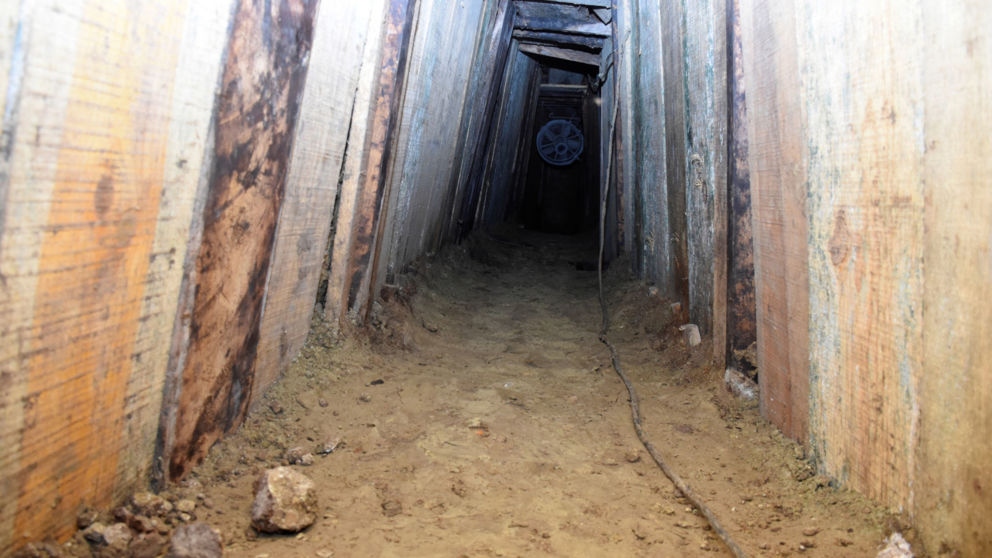 The interior of the 40-metre tunnel, through which 29 inmates escaped; 13 have since been re-captured
23/3/17:
21/3/17:
Canada, Montreal: 6 youths show their humanity against inhuman conditions

20/3/17:
US, Pittsburgh: county jail attacked by about 25 masked protesters "… a group of 20-25 protesters had become disorderly. They were throwing rocks at the building and setting off fireworks. Windows and glass panels were broken but the jail remained secure. Two Bike Officers were first to arrive on the scene. They encountered a group of people all dressed in black or dark clothing. Their faces were covered with masks or bandannas. Large-scale fireworks were being launched…As members of the group fled, some ran outbound along Second Avenue and others ran down the bike trail toward Downtown and cut through the parking lot. They damaged several vehicles by breaking their side mirrors and broke the mechanical arm of a gate that opens and closes the driveway. An Allegheny County Sheriffs vehicle and a civilian's vehicle had shattered rear windows. A side door to the Municipal Court Building was graffitied. " Anarchist report here
19/3/17:
Guatemala, San Jose Pinula: 2 "jail monitors" killed in  prison riot   "…inmates also started a fire in one part of the prison. Police threw tear gas canisters to control the violent outbreak."…3rd screw dies
18/3/17:
15/3/17:
US, California: several screws injured in prison riot…Nebraska: 4 prison staff attacked by prisoners
8/3/17:
US, California: 2 riots in same prison
2/3/17:
US, Nebraska: 2 prisoners die in riot "…inmates revolted against staff members and started a fire in a courtyard. Prison officials offered few details about the deaths but said the disturbance at the Tecumseh State Correctional Institution in southeast Nebraska involved about 40 inmates in a unit with 128 prisoners. The prison was placed on lockdown for several hours after the inmates refused to return to their cells….inmates had taken mattresses out into the prison yard and threw them into the fire"
1/3/17:
Indonesia, Jambi: prison canteen and meeting hall burnt down during prison riot
26/2/17:
Germany, Staufen: refugees attack security guards in refugee "shelter"
24/2/17:
UK, Wrexham (Wales): report over how prison, sabotaged during construction in May & July 2015, is structurally unsound

Mexico, Mexico City: small riot in youth prison
14/2/17:
US, Delaware: 8 screws resign, 7 more file for retirement, after riot in which 1 screw was killed (see entry for 1/2/17)
13/2/17:
Australia, Victoria: teenagers riot in adult maximum security prison Video of riot here
7/2/17:
US, California: prison riot; no details
1/2/17:
US, Delaware:  prisoners take over part of prison and hold screws hostage ""…the prisoners are against improper sentencing orders. Status sheets being wrong. Oppression towards the inmates. We're trying to explain the reasons for doing what we're doing…Donald Trump. Everything that he did. All the things that he's doing now. We know that the institution is going to change for the worse. We know the institution is going to change for the worse. We got demands that you need to pay attention to, that you need to listen to and you need to let them know. Education, we want education first and foremost. We want a rehabilitation program that works for everybody. We want the money to be allocated so we can know exactly what is going on in the prison, the budget."…Screw killed Apparently the standoff ended after 18 hours, when guards used construction equipment to smash through a wall, surprising and overwhelming the prisoners.  
15/1/17:
Malta: home of sergeant major with prison connections in arson attack

12/1/17:
Australia, Victoria: another mini-riot in a youth injustice centre
8/1/17:
Australia, Melbourne: further riots at youth injustice centre
7/1/17:
Australia, Melbourne: riot pigs crush "disturbance" at   youth injustice centre
5/1/17:
France, Valence: 10 kindergarten, primary, middle and high schools have their locks blocked by action in solidarity with revolt in prison (the trial of the "mutineers" starts this day)  "Tags left on their walls, as well as a tract …Various messages appeared, such as: "Prison is death. Life is in revolt. Solidarity with the mutineers of Valence and elsewhere "," In prison the bad guys are above all the screws "," Tired of homework, long live freedom ", "Every age wrecks their cage "," Long live the mutineers of the prison of Valencia – trial today, 6/01 to 14h ", "Neither prison nor religion, long live  mutiny and insubordination" (on a private catholic school).…
Tract left at schools:
" Hello,
Allow us to waste a little of your time to speak of those from whom the state steals all their time, when it is not their life. It's happening here very close to you, but also everywhere in France and elsewhere. Yet we do not often talk about these places where the government puts aside those that it considers detrimental to the smooth running of the system. The recalcitrants who no longer accept being crushed, those who initiate a violence which the powerful ones would like to monopolise, or simply the undesirables that can easily be removed in order to perpetuate the established order.
We do not often talk about prison, yet it is part of our lives. When one passes between its walls, when one goes to see a relative in the visiting area, when one submits to its threats. Like the cops and the legal system, it is one of the gears of a machine whose aim is to make us accept without complaint a world based on exploitation and domination.
In recent months rumors have come to us from  inside the French prisons. These are the cries of some of the forgotten who try to break through the walls and barbed wire. Vandalism, revolts and uprisings have rapidly exploded since last summer. It seems that some have decided to return some of the violence back to the people who imprison them.
On 25 September at the central building (for those destined to long sentences) of the penitentiary center of Valence, a mutiny broke out. A keychain was stolen from a screw under threat, the doors of the cells were opened by mutineers, furniture and cameras  destroyed, fires lit.
Friday, January 6, three people will go to trial at the criminal court of Valence, accused of being the leaders of this revolt. By designating the guilty ones, the law seeks both to punish heavily by example (they risk up to 20 years in prison) and to minimize the collective character of the revolt. Reducing what happened to individual deviations helps to hide the reasons for revolting against imprisonment. This was when the mutiny occurred in a context of general tension within the prison and a second mutiny occurred on 27 November despite the transfers that followed that of September.
To designate leaders is also to satisfy the screws who will be able to generously round up their monthly wages with damages and appease their thirst for revenge. Flatter them a little so that for a moment they stop  whining about the conditions of a job they choose to do knowing it is akin to that of a hangman.
Maybe it's time to listen attentively to what's happening inside prisons. Not to turn your eyes away again just hoping not to be the next one. To bring our solidarity to the mutineers and those accused of being so. For example by coming to support them during their trial, but also by fighting daily against the disgusting shit  that is prison.
SOLIDARITY WITH THE MUTINEERS OF THE PRISON OF VALENCE AND ELSEWHERE" 
2/1/17:
Australia, New South Wales: 70 prisoners teargassed in riot
Out this month: Avalanche, which on pages 4-5 has a critique of the Free Alabama Movement, followed by an assessment of the prison strike movement in September 2016 on pages 6 & 7
31/12/16:
France, Besançon:  demo outside prison, heavy duty fireworks thrown over wall, "Everybody out!" graffitied, loud slogans – "stone by stone, wall by wall, we will destroy all the prisons", "death to jails!", "set fire to the  prisons, the screws in the middle …"; similar demos round Paris and Toulouse
Similar demos in Greece (Athens), Germany (Dortmund, Flensbourg, Wuppertal, Cologne, Stuttgart & Fribourg) and USA (Ashville, Portland, Oakland, New York, Minneapolis, Bloomington, & Philadelphia)
29/12/16:
Congo, Brazzaville: 3 die – a gendarme, a rioting prisoner and a civilian – in brief prison riot
27/12/16:
South Africa, Limpopo: 50 prisoners attack screws
26/12/16:
South Africa, Port Elizabeth: 3 prisoners killed during riot The riot began as an attack on screws but these reports  give no indication of who the prisoners were killed by – prisoners or screws. Given that the authorities would normally indicate that it was prisoners doing the killing, one suspects that this was yet another case of state murder. And this report implies the killings were by the state: "During the attack on the warders, which started in the food hall in the late morning, another group of inmates forced their way into the administration building and locked themselves inside. They used teargas to keep the staff and ERT officials at bay. Some of the records housed in the building were destroyed. Thirteen warders were wounded – some of them stabbed with home-made knives – and 19 prisoners were injured, besides the three fatalities."
UK, Wigan: noise demo at UK's "worst jail" "Right now a prisoner takes their own life every 3 days, and many more harm themselves, at the highest rate since records began. "IPP" prisoners, trapped inside without a release date, are the most likely to kill and harm themselves."  IPP: "In 2010 a joint report by the chief inspectors of prisons and probation concluded that IPP sentences were unsustainable with UK prison overcrowding. In 2012 the IPP sentence for new cases was abolished by the Legal Aid, Sentencing and Punishment of Offenders Act, although over 6,000 prison inmates remained imprisoned for public protection; over 4,600 remained as of June 2015. Three-quarters of them had completed their minimum term, and about 400 had served five times the minimum." See also this on IPP.
24/12/16:
Australia, Papua New Guinea: asylum seekers riot at notorious detention centre over  death of  Sudanese "Asylum seekers held at a Papua New Guinea detention center briefly took control of two compounds and expelled guards following the death of a refugee who fell ill at the center…The man's death is not being treated as suspicious by Australian authorities, but detainees and refugee rights groups have claimed the man was seriously ill for months and had made repeated requests for medical assistance before the emergency."
22/12/16:
UK, Isle of Sheppey (Kent): 60 or so prisoners take over prison wing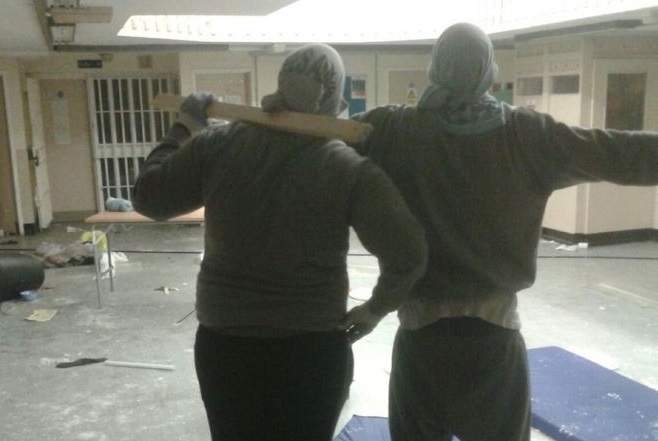 Swaleside Prison: no face no case
20/12/16:
US, California: 100 prisoners riot…audio & video report on the September 9th prison strike
19/12/16:
UK, Cardiff: Winson Green prisoners barricade themselves in cells in protest against being moved
18/12/16:
UK, Hull: semi-riot in prison "Order has been restored to Hull Prison amid fears 15 dangerous prisoners transferred from Birmingham were attempting another riot….Prison officers said staff had been assaulted, CCTV cameras were torched and inmates refused to return to their cells following the arrival of the prisoners from HMP Birmingham"
16/12/16:
UK, Birmingham: major riot in Winson Green prison "Sources claim the full scale riot started in P Wing when a prison officer was overpowered. They claim it quickly spread to N Wing – and keys have been taken by inmates. One hardened lag, speaking through a relative, said: "I have been in riots before and this is, by far, the worst I've come across."… The prisoner claimed the trouble was sparked by the death of an inmate two weeks ago. It is believed the man committed suicide….it all started over there no being enough hot water in the shower or something like that. There are no officers on the wing now. They have abandoned it. There is major damage to the wing….as I understand it, there is a major disturbance on N Wing which has now spread to L and M wing. "Apparently prisoners started by smashing light fittings and wing fire hoses and that is why they cut off the water. "They tried to get the prisoners back behind doors and as they were trying one officer was threatened with a syringe. Another prisoner came up behind him and snatched keys and broke the security chain." More here "Water has been switched back on at Winson Green prison and inmates are being encouraged to extinguish fires as safety concerns heighten. With riots raging at HMP Birmingham for nearly 11 hours, fires are burning in several parts of the jail." and here "When we were told this morning that we were not getting exercise everyone went mad. They have had enough. "They cancel gym all the time, the showers are cold, the food is crap, the heating is never on and we never get our mail on time." The rioting kicked off at around 9am today as officers were ordered to abandon wings that fell under inmate control. Pictures from inside the jail show inmates wearing stolen police riot gear, bashing down prison doors and showing off a pair of keys." More here "The incident sparked the takeover of at least four wings of the Category B prison by around 400 criminals – including the gym, pharmacy and security equipment store….It took 14 hours for specialist 'Tornado team' prison riot officers and armed police to get the situation back under control…. inmates had breached internal gates and threw paint at the Tornado team as the riot continues to spread…. inmates had breached wings and had entered exercise yards after starting fires, destroying files and throwing computers from windows in the offender management unit…."If they destroy all of those records it is going to take months or even years to rebuild the information."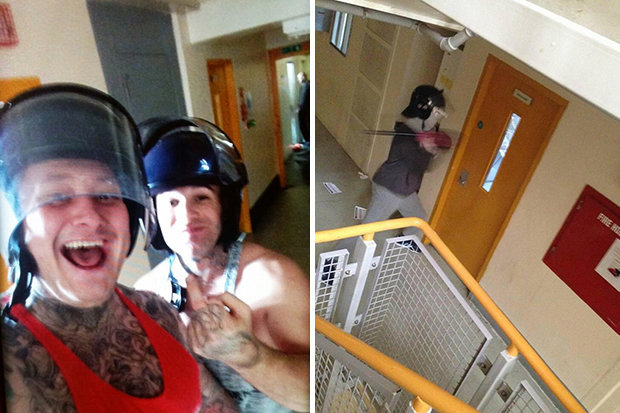 Winsome Grin: prisoners dress up in riot gear
France, Creteil (Parisian banlieu): prisoner escapes during his trial 
14/12/16:
France,Besançon: 4 ATMs destroyed in solidarity with imprisoned anarchists…Marseille : 2 ATMs destroyed in solidarity with imprisoned comrade
Canada, Saskatchewan: prisoner killed during prison riot "They ripped beds off walls, heavy steel beds. Desks were thrown into a pile. They used them to block doors. Windows were smashed out, they were setting fires to mattresses, smashed the fridges and microwaves. It was confined to one portion of the medium security area — an area that housed approximately 185 inmates. It was in the living unit. …Meal portion sizes may have been a contributing factor, but there's no way to determine if that was the trigger or not. …It wasn't just kitchen workers who refused to go to work (on Wednesday). At the point when this happened, everybody — 185 inmates — refused to go to their programs, their work, their school. At that point, normally, we lock up. But when they went to close the area, the inmates refused to go into their cells."More here. "They smashed out all the lights, all the cameras, all the windows." The inmates also set up barricades."
6/12/16: 
France, Riom : prisoner escapes during bicycle ride
27/11/16:
France, Valence: new prison riot "… several cells …were set on fire…Shortly after 12:00 on Sunday, two detainees threatened a prison officer with a "knife" , in order to steal his set of keys…The supervisor was then released and was not injured…The detainees then opened cells on the three floors of this section intended for long sentences. A fire broke out …Several cells were burned and water damage was reported but no injuries were reported"
26/11/16:
Myanmar, Irrawaddy:  4 prisoners "riot"
24/11/16:
Bulgaria, Harmanli: refugees trying to escape detention centre clash with cops
22/11/16:
France: Vinci (company involved in prison construction and the Notre Dames de Lande airport project) becomes the object of a fake press release, by supporters of the resistance at Notre Dame de Landes This press release claimed that there'd been 3.4 billion euros worth of accounting irregularities and that the director of finance had been sacked. It included a fake link to a site which was almost exactly the same as the Vinci site, with a phone number to the pre-paid mobile phone of a person who confirmed the report. The media publishes the information immediately and the price drops 18%. Since it is unprecedented to publish such  things during stock trading hours, and suspicions were aroused, a 2nd fake communique is issued with the sentence "Malicious people have harmed our group by diverting information that has been leaked from our offices", which implicitly confirmed the content of the initial communique.   Just before the closing of trading, Vinci issues a very clear denial, but they still finished 4% down. The "pirates" welcomed Vinci's stock market downturn, and attacked them for a variety of projects, notably the Notre Dame des Landes airport, whose forest "already feels its retreat under concrete", and "the blows that this company constantly gives  to the Nepalese and the Indians who die every day on their construction sites in Qatar ".
20/11/16:
UK, Doncaster: "serious disturbance" at prison
15/11/16: 
UK: fires etc. at 3 prisons as screws complain about how unhappy their lot is "Six fire engines were called to Channings Wood on Tuesday after a fire started inside the building but the blaze was out when they arrived….An inmate at HMP Featherstone near Wolverhampton contacted BBC WM on a mobile phone which he said had been smuggled in to say the the jail was "totally out of control". He said inmates were unaware about the protest being staged by prison officers, a claim the Ministry of justice (MoJ) denied. …There were also reports of a small fire in a cell at Norwich Prison on Tuesday which the fire service extinguished."
Spain, Murcia: attack on cops in migrant detention centre; at least 9 prisoners escape
13/11/16: 
Australia, Melbourne: prison riots again "Windows were smashed, walls destroyed and security doors, weighing hundreds of kilograms, ripped down. Hammers, chisels, screwdrivers and lumps of wood were seized from a tool storage area as staff beat a retreat.  The 20-bed Eastern Hill unit was flooded after inmates smashed the sprinklers using stolen tools. An angle grinder — used in a metal work program — was then used to cut through locks on several doors and breach restricted areas. Other children, frustrated they were forced into lockdown most of the weekend, began pulling sprinklers in their cells to cause flooding….computers and game consoles were smashed and litres of paint splashed around. Inmates from the West Gate unit later joined in, smashing expanses of ceiling, destroying locks and doors, tearing away electrical wiring and ripping out state-of-the-art security cameras. Some teenagers smashed through the ceiling of an inmate who did not want to take part and beat him. The nightmare for staff was compounded when, at one stage, they had to change their communications channel because they believed inmates had got hold of a radio and were listening in."
12/11/16: 
Australia, Perth: riot in juvenile prison causes at least $350,00 worth of damage "The latest violent incident at Perth's juvenile detention centre – the 10th in less than two-and-a-half months…The youths barricaded themselves in, removed bricks from walls and threw them at staff, broke every reinforced glass window and pulled panelling and cabling out of the ceiling"…Melbourne: and an even bigger riot in a prison for young "offenders" causes $2m worth of damages "Rioting inmates have destroyed security cameras and ripped ceilings and walls apart, causing an estimated $2 million in damages at Melbourne's youth detention centre. About 20 inmates at the Parkville facility were left without beds on Saturday night after their cells were trashed. The riot came as an inmate at another prison facility attacked four prison officers, inflicting a serious neck injury….the sprinkler system was also severely damaged after the group broke into one of the buildings and found a sledge hammer and shovel. Computers were then thrown through the windows before the group climbed up on the roof and demanded junk food and a phone…The disturbance is believed to have been started by the same youth who triggered another riot on Thursday at the centre….In September, inmates and staff clashed for three consecutive nights and several juvenile offenders threatened staff and took control of part of the centre….In the separate prison incident on Saturday night, four Port Phillip Prison officers were assaulted during a cell search, with one suffering a suspected serious neck injury."
9/11/16: 
France, Marseille: report of all of  Vinci (involved in prison construction) office windows being smashed  
7/11/16:
UK, London: pretty rare, corny, classic yet wonderful escape from famous Caledonian Road prison "It is understood the pair used diamond-tipped cutting equipment to break through their cell bars before scaling an outer perimeter wall….the runaways had folded bedsheets into the shape of mannequins to fool staff into believing they were still asleep… the two men escaped through a cell window on the fifth floor…it was rumoured they had used bedsheets to lower themselves down." Almost 300 years after Jack Sheppard's famous escapes and so far modern totalitarianism has yet to find ways to suppress the beautiful innocence of tried and tested proletarian inventiveness. Tempted reflexively to say"Thank God!" –  but "Thank the Human Spirit!" is  far better.
6/11/16:
UK, Bedford: up to 300 prisoners riot, forcing guards to flee "Reports say "hundreds" of inmates are reportedly causing chaos at the category B jail after "ransacking" guards' offices and arming themselves with knives….A man claiming to be an inmate said cops have swarmed the prison, with up to 300 prisoners involved in the riot. He told Mirror Online: "We've got control of the prison.  Prisoners are walking around with knives and coshes. They've nicked mobile phones out of the office, everything's been smashed."… prisoners ripping up toilets and causing mass damage. Guards are said to have fled the prison" More here "…inmates carrying blades are ransacking guards' offices, setting small fires and stealing medical supplies." October 2017 report here and here "…some inmates had no soap, toilet paper or even pillows and were living in cold, cramped and cockroach-infested conditions."
4/11/16:
France, Toulouse: 3 cars belonging to prison construction company destroyed by fire
29/10/16: 
UK, Sussex: prisoners go "on rampage" 
28/10/16: 
France, northeast : Two Vinci (company notorious for involvement in prison construction) engines vandalised
24/10/16: 
US, Denver: Starbucks Vandalized in Solidarity with Prison Strike
22/10/16:
Haiti, Arcahaie: over 100 prisoners escape "More than 100 mostly barefoot inmates overpowered guards on Saturday and escaped from a lockup … One guard was reported killed and others were injured. The escapees stole an unknown number of weapons and some exchanged gunfire with police during the chaotic breakout….The inmates attacked after they were released from a crammed holding pen to bathe…Haitian prisons are notoriously overcrowded and many inmates spend years in pre-trial detention….Three prisoner were wounded, including one who died as a consequence of his wounds." This claims that 174 prisoners escaped.
18/10/16:
Spain, Madrid: 30 or 40 migrants imprisoned in detention centre break up furniture and  climb onto roof
17/10/16:
UK, Northumberland: report of how keys stolen during riot force state to spend £1m to change locks
16/10/16:
Brazil, Sao Paulo: 55 prisoners escape after starting fires; 18 recaptured
France, Savoie: prisoners torch parts of prison – 50 cells out of use Video here
14/10/16:
Eire, Dublin: 5 screws hospitalised after attack by prisoners
12/10/16:
US: report that prison strike cost capital $600,000 a day in California
6/10/16: 
France: P.M. Valls announces construction of 33 new prisons

sites of the first 9 new prisons to be constructed
5/10/16:
Spain, Murcia: 28 migrants escape from detention centre after revolt
4/10/16:
Ethiopia: prisoners freed during uprising 
France, Pantin: a utility of a company involved in prison construction burnt in soidarity with people being put on trial in Italy's Opération Scripta Manent
Chile, Santiago: barricades and clashes in solidarity with  several class war prisoners Leaflets scattered around the place, expressing their solidarity with  Tamara Sol Farías Vegara, Andrés Aravena (Chico), Jean Gutiérrez (Legua) and other comrades being put on trial in "the PDI case".
1/10/16:
Greece, Korydallos:  prisoners refuse to regain cells in solidarity with American prison strike
30/9/16: 
Germany, Berlin: 50 asylum seekers attack guards
29/9/16:
Brazil, Sao Paulo state: 200 prisoners escape after riot, just half re-captured "The riot began at the morning check-up, with prisoners burning mattresses and rushing the fence. Once the fence broke, the prisoners escaped down a four-meter slope and across a road….According to G1, the Jardinopolis prison has a capacity for 1,080 prisoners but currently holds 1,864 inmates." Latest report says 470 PRISONERS ESCAPED!!!!
27/9/16:
France, Orne: prisoner single-handedly attacks 5 screws……Alabama: report on screws supporting prisoners' strike
25/9/16:
France, Valence: prison revolt – 2 screws attacked, keys seized, cell doors opened
21/9/16:
UK, Wolverhampton: head screw hospitalised and 3 other screws injured in Young Offenders Detention Centre
US, Alabama: prison dorm resists confiscation of mobile phone, force screws to leave
20/9/16:
Eire, Dublin: riot in youth detention centre "senior management were in the centre all evening but were unable to prevent serious damage being caused to one of the remaining wings of the centre, which is supposed to house up to 90 inmates but is thought to contain only between 30 and 40 now."…More here "Since the €56m centre officially opened in January last year, there have been dozens of serious attacks on staff leading to high levels of sickness leave….In the last attempted break-out in August eight young offenders broke out of their secured rooms and onto a detention centre roof after a staff member was overpowered and threatened with boiling water. The incident that led to the riot and fire was started while staff were protesting about attacks, injuries and fears for their lives at the gates of the facility in north county Dublin. … the offenders used the protest to their advantage when one requested refreshments, and a staff member who brought them was confronted, threatened and overpowered at the door and had their keys taken. The offender was then able to free others who then took over the accommodation block. Eight offenders then accessed the roof and started pulling the tiles off, and set fire to Blocks 1, 2 and 3. When emergency services were called it is reported that some of the offenders on the roof threw roof tiles down at them. There were no reports of injuries to fire crews, but the blaze took hold and eleven units of Dublin Fire Brigade spent hours fighting the fire. Accommodation Block 3 collapsed due to the extent of the blaze, and Blocks 1 and 2 were left gutted. One staff member was injured and treated in hospital when searching the facility for detainees who had absconded from their accommodation."
17/9/16:
Australia, Victoria: prisoners riot at young offenders prison "Inmates repeatedly beat down windows and other sectors of the complex as well as allegedly set a building on fire"
16/9/16:
USA, Alabama : screw stabbed by prisoner dies More info on what happens at Holman here and here.  Holman Prison, AL: Free Alabama Movement issues press release calling for an end to the humanitarian crisis at the prison. They state through social media that many guards are not reporting to work and that much of the prison remains unguarded…As the prison strike keeps going, following FAM seems to provide pretty current news, re: the CO who was just killed, the strike, etc.
France, Rhone: fire in young offenders' prison
14/9/16:
UK, Lincoln: screw taken hostage during prison riot
12/9/16:
US, Florida: prisoners take over dormitory "These riots will continue to increase in frequency, increasing the likelihood that our corrections officers will be injured, said Kimberly Schultz, president of Teamsters 2011, the union representing FDC's officers. She said that prisoners have assaulted 30 officers since April and that one prison, Franklin, has had three inmate riots this year alone."
France, Vivonne: a hundred or so prisoners  revolt and set fire to part of prison More here "A dozen cells were destroyed"
11/9/16:
France, Toulouse: 5 vehicles belonging to companies involved in prison construction have their tyres punctured
9/9/16:
A prison radio show about the strike is online and has statements and updates.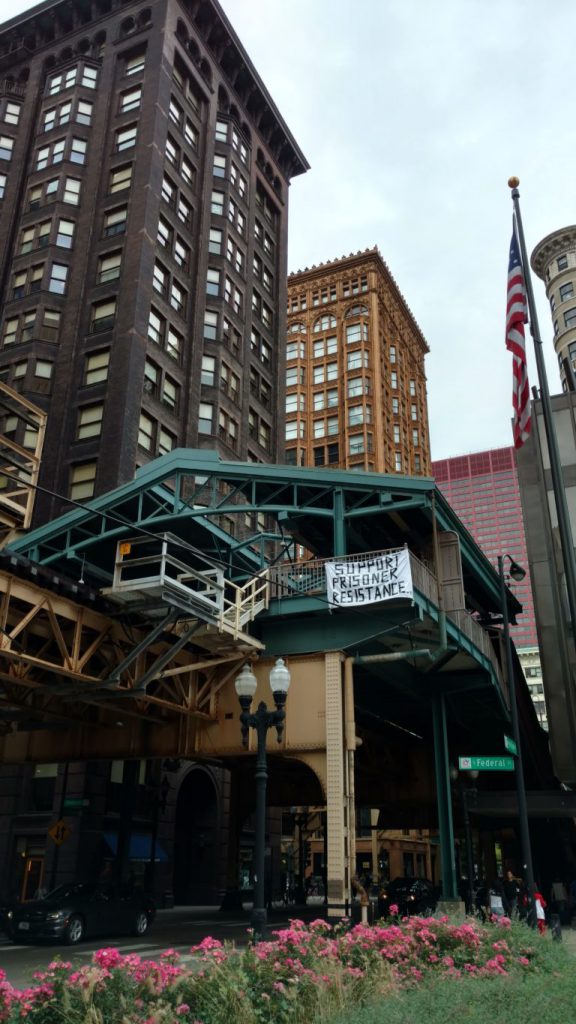 Chicago
US:  prison strike in 24 states and 40 prisons… More here and here
The friend who sent the following  said "hard to tell how connected it is, but i guess well never know…") :
Nashville, Tennessee
Wewahitchka, Florida
Mayo, Florida This article also references "pockets of inmates refusing to work across the state". Alsothis reports "smaller [disturbances] were reported in a number of other prisons across the state".
Bristol, Florida (yet another Florida panhandle prison).
Marquette, Michigan    Site of this previous food strike
Tecumseh, Nebraska (in anticipation of sept. 9?)
Waterville, Nova Scotia, Canada
Guantanamo Bay ("small number of men at Camp 6 are continuing their hunger strikes")
This is from here:
A few women incarcerated people refused to work and because of the nationwide prison strike, and fear of an uprising, the prison was locked down stopping ALL slave labor!
And this references "confirmed strikes underway in Florida, South Carolina, and Texas"
More snippets of information here.
7/9/16:
US, Florida: at least 4 prison dorms barricaded "The action is believed to be part of a nationwide prisoner strike planned for September 9 in observance of the anniversary of the Attica Prison riot that occurred at Attica Correctional Facility in Attica, New York in 1971."
More here.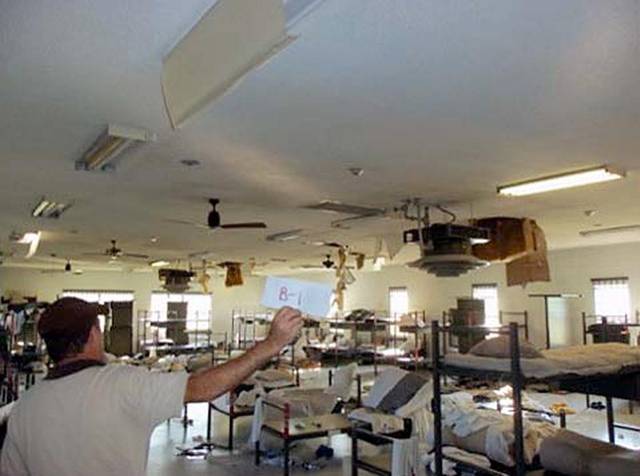 See these pages (1,  2,  3 ) about Attica, 1971 (scroll down to the last paragraph of page 1 for the start). "We, the inmates of Attica prison, say to you, the sincere people of society, the prison system of which your courts have rendered unto, is without question the authoritative fangs of a coward in power" – The Popular Manifesto of Attica, September 1971.
France, Savoie: 8 prisoners refuse to return to their cell, attack guards, destroy bathroom, burn dry grass
6/9/16:
US, Michigan: prison incorrections officer stabbed, another hurt
France, Essonne: arson attack on future detention centre for migrants
4/9/16:
Canada, Nova Scotia: 5 prison staff hurt in "mélée"
3/9/16:
France, Nimes: 6 refugees escape from detention centre, 4 re-captured
1/9/16:
Australia, Perth: mini riot in juvenile detention centre "The Department of Corrective Services' special operations group were brought in and used flash bombs and pepper spray on four males aged 17 and 18 who barricaded themselves in a wing of the Banksia Hill centre on Thursday. The detainees smashed windows and pulled doors off cupboards, the fridge and oven and the centre was in lockdown from 12.55pm to 2.30pm, according to the CPSU/CSA union, causing up to $150,000 damage. A similar incident occurred on Monday when three teenagers barricaded themselves inside a unit and smashed a television and furniture."
31/8/16:
UK:outbreaks of rebellion in prison archipielago…Bristol: 2 attacks on screws' property
29/8/16:
Eire, Dublin: youths set prison on fire
Nigeria, Kuje: prison riot over cellphone confiscation
22/8/16:
Canada, Quebec: an appeal to spread the US prison strike to Canada
20/8/16:
UK, Edinburgh: 3 screws' cars firebombed
18/8/16:
UK, Bridgend (Wales): prisoner starts 3 fires
Nigeria: prison riot leaves 13 prisoners and 1 screw dead  "… the inmates rioted over alleged poor meals served them by the prison officials…. the inmates allegedly snatched a rifle from one of the guards in the prison yard and purportedly shot some of the prison officials which provoked the officials into retaliation."
14/8/16:
Mexico (Mexico City) : inmates of Teenagers' detention center block screws from entering and injure three of them (in spanish) Authorities say the action has to do with fights between prisoners, while it seems it has much more to do with the conditions of detention (or detention itself).
11/8/16:
UK, Wolverhampton: week of disorder as screws attacked and 'multiple' fires
Chile (Santiago) : barricades and clashes with molotov cocktails in solidarity with imprisoned comrade Tamara Sol   (in spanish)
8/8/16:
Italy (Brindisi) : revolt in migrants detention center (in Italian with a few pictures)
3/8/16:
UK, Norfolk: prison governor beaten up in provoked attack "A prison governor has been seriously injured in an "unprovoked" beating at the hands of an inmate….Mr Cawkwell, who has held a number of senior positions in the prison service, has received hospital treatment for his injuries….There have been a number of reports of disruptions at HMP Wayland this year. In May, about 20 inmates were involved in a "food fight" which broke out during lunch, while two inmates attempted to grab keys from officers in a separate incident in June. Another HMP Wayland inmate was jailed in June for an assault on two guards, during which one was bitten, according to police."
2/8/16:
UK, Northumberland: an eye for an eye, a jaw for a jaw…screw finds himself in hot water "A prison officer has been left with a suspected broken jaw and fractured eye socket after he was attacked by an inmate….A prison officer, who asked not to be named, also alleged an inmate had thrown boiling water over another guard on the same day. The whistle-blower said: "We have lost control of the jail and there will be another major incident if something isn't done. … staff are scared to go to work."
1/8/16
US, Alabama: prisoners take over dorm, set fires
28/7/16:
Morocco, Casablanca: buses burnt, 19 security officials hurt, in massive riot in young offenders prison "Twenty-eight people were wounded in a riot … Most of the casualties were admitted to hospital….19 security personnel, firefighters and prison administrators were wounded when officials tried to contain the unrest and restore order. The rest of the casualties were inmates…. the "insurgency and riot"…caused "massive material damage."
25/7/16:
Russia, Siberia : prison riot (video) "the interior of one of the prison's buildings was destroyed from within by prisoners breaking off doors, throwing tables and overturning beds"   More here:  "they barricaded themselves into their barracks and demanded a lighter labor regimen… During the course of six hours of negotiations with the criminals, they were offered various solutions to resolve the situation, and the convicts were guaranteed full observation of their rights and lawful interests. However these convicts refused completely any options offered, demanding a significant weakening of the incarceration regime, which is against the law"… Novaya Gazeta reported that 242 inmates were said to take part in the rebellion"
19/7/16:
Canada, British Columbia: young prisoners smash up detention centre "Inmates started smashing microwaves, windows and other items…The young offenders then broke into a staff area and a second living unit, and continued destroying items, pulling out sprinklers and starting fires…They continued to riot on the second living unit for some time, completely destroying windows, tables, microwaves, dishwashers and sprinkler heads, causing a major flood." More here: "a rampage that lasted six hours and caused extensive …The Ministry of Children and Family Development confirmed Wednesday that there was a serious incident involving extensive dam-age, including some fire damage, but released few details…. the incident involved seven male youths aged 15 to 17 who extensively damaged furniture and electronic equipment after starting a small fire by putting paper into a toaster — a fire they later put out them-selves….Cronkhite said there is no indication that rival gang tensions were a root cause of the incident. "The primary motivating factor behind the incident appears to have been a room search earlier in the day, which resulted in a loss of privileges." …Turpel-Lafond said she has been tracking a rise in assaults, saying attacks on officers and on other youth at the Burnaby centre are "routinely reported"
11/7/16:
Chile, Santiago : clashes with police after anti-prison meeting organized in solidarity with 5 comrades jailed since last year
10/7/16:
US, Kansas: mashed potatoes lead to smashed CCTV
8/7/16:
UK, Birmingham:  prison protest after "unexplained" death of prisoner
5/7/16:
France: screw hospitalised by Nice prisoner
1/7/16:
France, Vincennes: refugees at detention centre riot to prevent deportation of one of them to Algeria; 260 square meters burnt out…More here in French (anarchist site)
27/6/16:
France, Essert: 2 Optymo (company involved in prison construction) cars burnt out
21/6/16:
New Zealand, Mt Eden: dormant volcano starts to rumble – prisoners refuse to be locked up
13/6/16:
Mexico, Mexico City: riot and fire at prison suppressed by 600 pigs
12/6/16:
UK, Wiltshire: prison riot after smoking ban "Two wings of the category-C jail were trashed when the caged jailbirds began to battle with each other.Staff struggled to control the chaos at Erlestoke Prison in Wiltshire after a rooftop protest. Toliets were ripped out, rooms were smashed and riot cells doors were kicked in, a lag's wife claimed…And the inmates ruled the roost until the early hours of Sunday."
8/6/16:
Thailand (Bangkok) : musician receives two years' of jail suspended sentence for painting an anarchy symbol on a sign in front of the Criminal Court, after his friend was murdered, and military trial of main suspect seems to cover the murder Gives a glimpse of present repression in Thailand under Military junta's power, where things such as 20,000 preventive arrests before National holiday (http://www.chiangraitimes.com/thai-police-arrest-more-than-20000-suspected-criminals-in-one-week.html) or sending people to years of jail for very light critics of the monarchy happen on a daily basis. Interesting to see that the sentenced musician (though seeming to put some trust in Justice) seems to receive support, in a very conservative country where his acts (tags) could be seen as pretty offensive. Also good to see that unlike in many public cases, he maintains a non-repentant attitude, when many usually accept their guilt for various crimes, apologize publicly, in the pure Thai institutional Theravada Bhuddism logic. (Note by Pi)
5/6/16:
US, Pittsburgh: 3rd riot in 2 weeks at juvenile centre "Three were arrested for risking a catastrophe"
3/6/16:
France, Essonne: detention centre temporarily evacuated after small bit of arson
1/6/16:
Indonesia, Gorontalo: prison riot ends after long night
27/5/16:
UK, Norfolk: trying to find the key to the doors of perception
23/5/16:
Thailand (Phang Nga, south) : Rohingya migrants escape from detention center, one is killed by police One can never emphasize enough the absolute horror experienced by Burmese , Cambodian or Laotian migrants in Thailand, and the treatment of refugees by the authorities (and by some non-negligible part of the population) over several  decades. Thailand did not hesitate, in the late 70s, to return  Cambodian refugees, in the middle of the Khmer Rouge horror, across minefields and later to return  Vietnamese boat people by sea… similar treatment is reserved today for the  Rohingyas of Burma, a group coming from Muslim culture and  religion who are escaping  the state of Arakan en masse , where they are treated as outcasts.
Whilst this is going on, rednecks from our part of the world (who'd do better by joining the movement happening now) watch   "people from Marseille" [French TV reality show] in Thailand – some jerks (who could just as well be from Lorraine or Bearn) filmed close to Phang Nga, Koh Lanta, for the umpteenth pathetic broadcast for which the society of the spectacle has the know-how (and it can keep it!). [Pi]
19/5/16:
France, Marseille: 3 cars belonging to prison guards completly burnt out by arsonists "According to our information, 2 cars belonging to guards of Baumettes [Marseille prison] had already been burnt out a month ago and 3 others three years ago"
Black Maria:
 screws screwed
France, Lille: local offices of  Bouygues, which participates in prison construction, tagged, windows  smashed 
18/5/16:
US, Pennsylvania: riot in juvenile prison
16/5/16:
Switzerland : car belonging to company involved in prison building set on fire (in french)
13/5/16:
US (Alabama) : Alabama Prison Strike Ends After Scabs Brought In would be good to have more info on it, but communicate has some ambigueties to me, see strategy of dialogue led by outside representants (I wrote something on it in french) [Pi]
9/5/16:
France, Nimes: 3 men saw through bars of migrant detention centre and escape, just 2-3 days after joyful demo of support outside (see 7/5/16)
8/5/16:
Belgium: report on how 2-week strike by screws is effecting prisons and prisoners "The Belgian government "decided to requisition the assistance of the army, in order to provide additional humanitarian support in the Brussels and Walloon prisons", said   the Prime Minister Charles Michel in a statement tonight. … In this chaotic context, prisoners have revolted in a certain number of establishments: destroyed furniture, beds on fire, broken windows … Lack of sufficient staff due to the strike, the detainees haven't been able to go out of their cells for fourteen days. They have no outlets in the yard, no family visits and have had  the opportunity to have access to showers only  three times during the two-week strike…. Amateur images of the prison of Andenne, between the Belgian city of Charleroi and Liège, have been leaked on the internet and social networks this Sunday. A prisoner filmed a scene inside the institution and we see a room  ravaged with  objects on fire. … "They set fire to pieces of paper or tissues and throw them into the yard. There were some incipient fires but nothing that requires the intervention of firefighters, "…In the prison of Namur, "prisoners are breaking furniture and throwing mayonnaise and urine on the rare guards who are working"
7/5/16:
Belgium, Anvers: major prison riot " 170 prisoners refused to return to their cells. They set fire to several places and threw stones….according to the mayor the damage is very significant. "This is the largest uprising that's  happened in this prison," added the mayor. "It caused a fire,  walls were broken, windows were broken, locks were foced . This will weigh on our capacity for the coming months. In some blocks, the cells are totally destroyed."
France, Gard (Nimes): small very lively demo at detention centre for undocumented migrants Lots of tags, a bit of sabotage of centre's door keypad, traffic disrupted for some time and encouraging support from hooting cars and passers-by.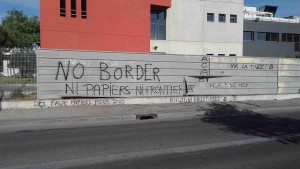 "Neither documents nor borders" , "Forged papers for everyone!", ""Neither law nor borders"
6/5/16:
France, Villepinte prison : prisoners refuse to return to their cells for several hours
UK, Norfolk: prisoners show their appreciation of prison food
3/5/16:
Burkina Faso, Dedougou: cops threaten to release all detainees after massive riot attacking them for beating to death man held in custody "…protesters threw projectiles at the police facility, after ransacking the homes of some gendarmes…This has created frustration within the gendarmerie and some police stations are considering  releasing their detainees, according to security sources which state that negotiations are underway with the military hierarchy. A government delegation arrived at the scene. For several months,  Burkina Faso has been facing a rise in incivility and distrust of state authority. On Saturday, angry people burned a transit bus within the walls of the gendarmerie of Ziniaré, about thirty kilometers from Ouagadougou, after an accident in which a motorcyclist died.  In mid-March, a mob consisting of about 1,000 people, confronted the Cinkansé gendarmerie, in order to attack an alleged murderer of two stockbrokers from Cinkansé-Togo, who was in custody in a cell… killing one gendarme and injuring four others."
More here: http://lepays.bf/mort-dun-garde-a-vue-a-dedougou-population-colere-incendie-domiciles-cb-adjoint/
" …traditional authorities, religious and administrative, were forced to intervene to try to calm the situation down. But it was futile because the event  flared up with the sacking and burning of the private homes of the commander of the  brigade and his deputy. "
2/5/16:
Syria: Prisoners seize control following riot
29/4/16:
US, Nebraska: mini-riot in county jail
Greece, Athens: victory for anarchist prisoners after setting fire to isolation wing & inspiring solidarity from other prisoners – they receive the transfer they were demanding
27/4/16:
Chile, Santiago: building for retired screws firebombed
23/4/16:
Indonesia, West Java: prison riot after suicide of prisoner "Part of the Banceuy Narcotics Prison was set alight during the riot, causing extensive damage to the front of the facility. Two cars and two motorcycles were also destroyed in the blaze, before the arrival of three fire trucks. At least five of the nearly 600 police officers deployed at the prison were injured when inmates threw stones at them, before reportedly setting fire to the building."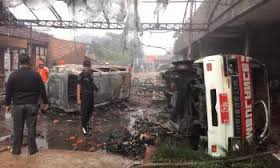 West Java, prison riot – fires started in 6 different places
21/4/16:
Indonesia, Bali: prisoners riot against transfer of murderous gang to their prison "Prisoners inside the prison, numbered in the hundreds, broke windows, threw stones and tried to kick out the returning inmates"
14/4/16:
Thailand, Yala: 1000 prisoners riot, quickly repressed 
10/4/16:
US, Tampa: small riot at juvenile prison Check out this on US prison slavery
6/4/16:
Nauru: clashes between guards and migrants at Australia's notorious detention centre "…members of the Wilson Security emergency response team hit teenagers who had been protesting…the detainees locked the response team members out of part of the camp, and retaliated by throwing rocks and chairs."
2/4/16:
India, Uttar Pradesh: prisoners take over prison after screws beat up prisoner (video). More here.
1/4/16:
Greece, Chios: 100s of migrants break out of detention centre
31/3/16:
UK, Dorset: fires started in young "offenders" prison "Following incidents on Wednesday, which led to firefighters being called on three separate occasions, there was further trouble today when it was claimed some inmates had tried to flood their cells….Initially, three fires were reported in cells although it was claimed by a prison source that there were in fact many more. …The source said: "There were indeed four prisoners who managed to get onto the netting between the landings. However, there were at least 12 cell fires. The prison was locked down because of the multiple cell fires. "Prisoners smashed up their cells, causing a large amount of damage."…Birmingham: screw hospitalised during prison protest
22/3/16:
US, Nebraska: riot in juvenile detention centre
Mexico, Oaxaca: CNTE teacher's protest for political prisoners and block Congress session
Bolivia: rooftop prison riot (video)
Venezuela, Lara state: 14 prison employees held hostage, one prison guard killed, in prison riot
19/3/16:
France, Marseille: communiqué  about burning of vehicle belonging to GDF (national gas company) which collaborates in migrant detention centres
14/3/16:
US, Alabama: 2nd riot within 2 days at prison See also this and this (both from "It's going down"). Solidarity with prisoners expressed here.
France, Paris: 3 escape from migrant detention centre
13/3/16:
South Africa, KwaZulu Natal: uprising stops as local state agrees to release 122 prisoners
12/3/16:
US, Alabama: prisoners riot, set fires…warden and screw stabbed… more here "There are videos circulating on social media of prisoners burning the control towers and opening all doors. "We're tired of this shit, there's only one way to deal with it: tear the prison down" one of the participants stated."
 …blog by one of the prisoners here, unrelated to the riot.
9/3/16:
France, Montreuil (outskirts of Paris): front window of architectural business designing prisons and detention centres torched
New Zealand, Wellington: prison riot "TEARGAS was used to quell a fresh wave of violence that erupted yesterday in the state's prisons, including a deliberate ambush of guards after two cells were set on fire"
8/3/16:
South Africa, Gauteng: prisoners escape
7/3/16:
Australia, Melbourne: 6 youths riot on youth prison roof for 7 hours
6/3/16:
France, Mesnil Amelot: several fires at migrants' detention centre
4/3/16
Guyana, Georgetown: 3rd day of prison riot  leads to negotiated truce; 17 dead
"The riot first began Wednesday when inmates angered by a search and confiscation of cellphones set fires in one part of the prison, located in the capital of Georgetown. On Thursday, police and prison guards moved in, setting off battles with inmates armed with pieces of wooden bed frames, officials said. Prisoners began the violence anew Friday morning, setting another fire, breaking out of cells and lobbing teargas canisters back at police and prison officers. Soon thereafter a delegation of more than 12 shackled and handcuffed inmates were escorted from the jail to participate in closed-door talks with the South American country's minister of state and public security minister."
27/2/16:
France, Toulouse: several trucks belonging to Vinci (famous for prison construction) burnt out
25/2/16:
Papua New Guina : 11 killed in prison escape, more injured, others could escape
24/2/16:
France (Rennes): migrants declare hunger strike in detention center after a miscarriage and a suicide attempt
21/2/16:
Greece : Police allege helicopter escape attempt by revolutionary comrades held hostage in Korydallos Prison, implicate a comrade in clandestinity, Pola Roupa, of Revolutionary Struggle
20/2/16
New Zealand, Auckland:  cops stop No Pride In Prisons protesting cops and screws on march from joining gay pride; punches thrown
"Protesters held placards and chanted slogans, such as "stop the police, abolition prisons"…Punches fly as police block #NoPrideInPrisons from their parade. Pride began as protest against police brutality"
17/2/16:
France, Metz: 2 buildings of detention centre for refugees awaiting expulsion from country made unusable by arson
27/1/16:
Sweden (Kalmar): small riot by adolescents in refugee detention centre after staff member refuses youth the right to buy sweets
26/1/16:
Mexico, Axapusco (State of Mexico): after strange death of 15 yr old in custody, 300 locals try to lynch police officer
25/1/16:
Greece (Korydallos): prisoners protest
23/1/16:
South Africa, Johannesburg: 500 riot outside hospital in response to death in police custody (video)
22/1/16:
Brazil, Recife : second prison breakout in a week, this time 2 killed and only 1 ex-prisoner still on the run
40 are still on the run after last week's escape.
19/1/16:
Spain : anarchist prisoner Gabriel Pombo da Silva on hunger strike
18/1/16:
France, Moirans – 3 months after direct actions, repression strikes against gypsies demonstrating for prisoner friends
See October 20 news for more on what happened
17/1/16:
Australia, Christmas Island: migrants riot at detention centre
"Detainees set buildings alight and armed themselves with baseball bats in a riot at an Australian immigration facility on Christmas Island…Officials admitted the disturbance, sparked by the unexplained death of an escaped asylum-seeker, was out of control."
France, Seine-et-Marne: 2 female screws deliberately hit by car and badly wounded in prison car park
16/1/16
Nigeria (Okere): prison riot
"…the inmates had complained bitterly about a lack of water, electricity, and the high handedness of ACP Okoro who always confiscated items donated to the inmates by charities for his own use and mailing these items to his home State of Imo. It was learned that ASP Okoro had recently assaulted an inmate for fetching water in the yard following which the inmates requested to meet with  him on Monday through the Prison keeper to register their grievances. However, Mr. Okoro refused to make himself available . It was also gathered that the already inmates demanded to see the Controller of Prisons in the State on Friday. Unfortunately all of their efforts were rebuffed and, as a result, the inmates began a hunger strike and then began to riot on Saturday morning. In response to the riot, the driver of ASP Okoro was seen using teargas on the inmates and in reaction, the inmates destroyed the administrative building and some of their cells and demanded for the immediate sacking of ASP Okoro. …the situation was brought under control by the Nigerian Army, police, and prison warders. The incident caused a serious gridlock on the surrounding road"
France, Calais: 2 refugee prison container construction site machines destroyed in arson attack
Containers were also tagged. The tags were demands or inscriptions such as "Fuck Cameron"…or"Fuck government"
11/1/16:
Guatemala: warden and 19 insecurity guards taken hostage in prison riot
9/1/16
Zambia (Lukulu): 27 prisoners escape when crowd attack police station after man dies in cop custody
"some residents …turned their anger against police, looting, vandalising and breaking locks to the cells holding the 27 suspects who included remandees"
7/1/16:
US, Massachusetts: prison riot; at least 2 screws hospitalised
1/1/16:
Chile (Concepción) : genuinely "happy new year" for prisoner who escapes from jail
This chronology continues here
A couple of very minor personal experiences
1.
At the age of 19, I had my only very short-lived experience of being imprisoned. I'd been arrested for "insulting behaviour" putting on a "guerrillla theatre"-type agit-prop play outside a school in Kings Cross, which caused a semi-riot. We were packed off to Ashford Remand Centre, even though our parents had turned up in court to put up surety for the bail which most of us had been granted (the only one of us that wasn't was a couple of years older than us, the only one of us who was from a working class background – he went to Brixton for a week before bail was granted). Ashford, though technically a "remand centre" was no different from an ordinary prison – prison gate, barbed wire on the fencing, etc. There we were made to have a public cough 'n' drop medical inspection. In fact, this was the most humiliating moment for me – being forced to undress in a hallway surrounded by cells consisting solely of bars (no walls) and being examined naked whilst being stared at by several screws and prisoners whilst my balls were held by a doctor to see if I'd had a hernia or something (being a virgin probably made me feel even more anxious about being naked in front of so many people). And then made to have a semi-public bath. We then had to wear prison clothes: my trousers were far too big – I had to permanently hold them to stop them falling down (no belts allowed), and my shoes were far too small, cramping my toes.
The cell smelled half the time of piss – someone had thrown out his slpping out pot out of the cell above and the piss had hit the outward opening window, hinged at the bottom, and the piss had run back down into my cell. Unable to sleep due to the proximity of London airport and a railway line (though the window was too far up to look out of), plus the ever-echoing sound of slamming doors or footsteps along the concrete corridor, I somehow half-composed the following in my mind (no pens or paper and only a Western, with half the pages torn out, to read) and wrote it up properly as soon as I got out – a slightly pretentious poetic-type of attempt at something influenced by the surrealists, but which, despite its literary rhetorical style, also genuinely expresses some life-affirming emotions:
SOCIETY IS A PRISON – OPEN UP THE PRISONS!
There is no freedom for the enemies of freedom, the slaves of their hate and fear of freedom. Inside the corridors of tyranny the jackboots, the truncheons, the barred windows, the barred wire, the barbed wire, the 40 foot high double electrified fencing – are all screaming out the admittance of THEIR failure to exterminate OUR minds. Their judgements, their amnesties, their reprieves, their mercy – are the judgements, the amnesties, the reprieves, the mercy of the dead to the living – the dead beckoning the living to join them in the graveyard. Soon, from the warm comfort of their coffins, six foot under, they will wake up to find their nightmares becoming reality – obscene words painted on their gravestones, shit smeared over the epitaph, and finally their coffins disinterred and thrown into the burning astreets. Soon freedom, the imagination, bruised, castrated, decapitated, buried alive in the dungeons of Pentonville and Ashford – soon, the imagination running riot, shall rise up, shatter the walls and gates, smash the locks, burn down the factories of pain and misery, and seize total power! The dictatorship of the imagination!
It was only 24 hours, but when it's your first time in prison and you've got no idea how long you'll be there, and you've never known anyone who's been inside, it was a little worrying, though it was the boredom I remember most, because we were kept isolated for most of the time. I was so naïve, I remember being really outraged at the fact that teenagers were kept in prison without bail for 6 months or more before trial, at which they were often let off. (see this, for the context of this arrest and the subsequent trial).
2. On July 14th 2013, I was in St.Louis with my daughter at a demo called the day after George Zimmerman, Trayvon Martin's killer, was found "not guilty". This happened at the end of the demo:
So it's pissing down and we all loudly head back toward what I somehow thought was the town courthouse, and I go first into the little vestibule banging a saucepan very noisily. Everybody else seemed a little hesitant, like I'd stepped over an invisible barrier that everybody normally respected. But then this was the vestibule of the city jail, and not merely a courthouse as I'd assumed. Fools rush in where angels fear to tread. The noise we were making was deafening, and seemed to echo into the area beyond the glass doors we were not going through. I suggested going further than the vestibule. Fools rush in where angels fear to tread, urging others to join them. Ignorance is bliss. A masked guy (Zorro? the Lone Ranger? Billy the Kid?) ran in and chucked the only thing that moved – a floor mat. When he returned a bit later, and threw in some flowers that he'd just picked from outside the jail, a black woman got upset – "This is meant to be a peaceful demonstration – Trayvon Martin's family insisted it should be peaceful". What sad/mad times these are when throwing flowers is somehow thought of as not peaceful enough.

"Fools rush in where angels fear to tread

Angels never go to war – they masturbate instead"

We then retreat from the jail as we get pushed out by armed guards. A few minutes later the courthouse is surrounded by heavily armoured riot cops with their sticks at the ready, the TV cameras reappearing for the first time since the downpour. We all go off back to our cars, and then off to a birthday party of a woman friend of my friends. She was born on July 14th, famous in France for what happened in 1789 – Bastille Day – appropriate, since we'd "stormed" the city jail. Well, almost – the vestibule…still, it sounds good – "WE STORMED THE CITY JAIL!!! – ON BASTILLE DAY!!!!!"
– from here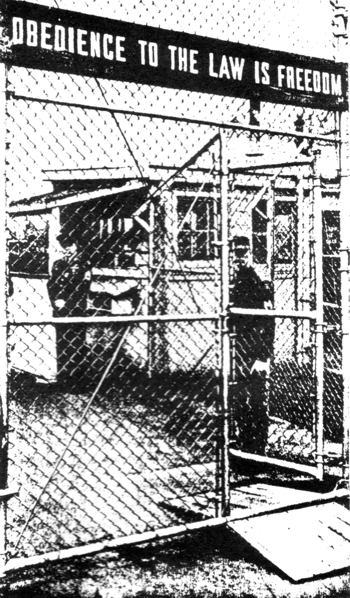 Ideology materialised
The list below has only just begun (22/8/15) (see also the comments box below this page for some additional material):
Victor Serge's "Men in Prison" (1914) "Modern prisons are imperfectable since they are perfect. There is nothing left to do but to destroy them".
Although officially "fiction", because it was illegal to write factual books about prison camps at this time, it's factual, though the names have been changed.
Os Cangaceiros: freedom is the crime that contains all crimes (1985). About the prison revolts throughout France in 1985. Also this by Os Cangaceiros about the theft of architectural plans for prison construction by this group, and some parts of this which put both of the above in context.
This has some interesting things to say about the Attica uprising in September 1971.
This has a report of the 18 (at least) prisons that took part in an uprising in the UK in spring 1986 (see entries for 29/4/86 to 3/5/86 on pages 31 – 34 ). "The UK, 30th April 1986: THE MOST BEAUTIFUL EVENT OF THE YEAR. Between 18 and 21 prisons (depending on which figures you accept) involved in varying degrees of 'disturbance'. 841 gaol places (just under 2% of the total) are destroyed….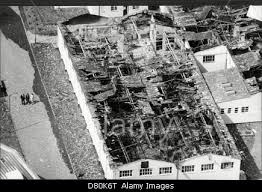 Northeye prison, Sussex, UK – destroyed by rioting prisoners
Strangeways 1990: A serious disturbance The riot at Strangeways prison in Manchester, UK lasted for over 3 weeks during April 1986 and involved fires, the virtual destruction of the prison and a rooftop occupation. Despite being co-written by a member of a dreadful Leftist organisation (the Bolshevik organisation Revolutionary Communist Group) this book is an excellent read; its other author is an ex-prisoner.
Prison riots A pdf of accounts of various riots, including Strangeways, 1990 but also other riots around the world: Hull 1976, various riots in state capitalist Russia's gulags, various US prison riots of the 20th century, Australian riots, etc.
Bad – the autobiography of James Carr – and this online version of the afterword. "Bad is one of many books written by prisoners who have become radicalised by their experiences in American jails. However it stands out from a lot of the others because it avoids portraying the prisoner as a passive victim of social injustice – and also refuses the martyr role that liberals and leftists try to impose on convicts as a vehicle for their own fantasies and careers (whether as social workers, sociologists, politicians or "professional revolutionaries"). Freed from all these limitations James Carr was able to tell his story, warts and all, without worrying about what might or might not alienate liberal/leftist support. So, there is no glossing over his involvement in gang rapes, protection rackets or any of the more horrific aspects of his daily life in jail – nor are there any useless guilty apologies for his past. (Anyway, the story of his development makes clear his eventual understanding of why the prison regime deliberately encouraged this kind of divisive behaviour.)" These are some recordings of Jimmy Carr which were made for the book. "James "Jimmy" Carr, founder of the Wolf Pack, an infamous prison gang in California during the 1960s, tells the story of life behind bars. Carr had unique experiences in the prison system as he was at seventeen still a juvenile and incarcerated in California's oldest correctional facility. The incidents described on this album are taken from tapes Carr recorded as testimonial of his time in prison, and his evolution as a leader."
L'envolée This is a regular anti-prison journal and website in French. Pi writes: It is one of the few papers addressing prison issues with a radical perspective but not focusing on anarchist or "political" prisoners.
This pdf is the latest issue, dedicated to Hafed Benotman, a rebel prisoner and writer who considered himself a thief. He wrote beautiful books: a moving autobiography, excellent novels, short stories, and was one of the co-founders of L'Envolée. This issue contains extracts of his works. He evokes outlaws' and delinquents' lives in many of his works, though there is much more than that. His reflections on prison life in France are brilliant, and even fundamental, as he evokes all its aspects: for example sexuality, or the role of Islam in diverting prisoners' combativity and accepting their fate.
Footnotes
1Apparently in US prisons, you are effectively forced to join one gang or another, divided on racial grounds. Whites who do not join the nazis have to go to black or Latino gangs for protection, but this is risky. If the black or Latino gang refuses you, you lay yourself open to horrific brutality from the nazis, since they will automatically hear of what most of them would consider as "betraying your race".
2 This comment was originally posted on a thread about prison guards going on strike. Significantly, it has disappeared down the memory hole. Though reactions to the comments exist, Fall Back has airbrushed his own reflections from the thread. It is one thing to be embarassed by one's past, it is another to hide and falsify it. I should just add that, though I have no respect whatsoever for libcom admin, they do not – as far as I know- have a collective line on prisons, and I doubt if any of the others have voiced such a Leninist perspective as openly as Fall Back.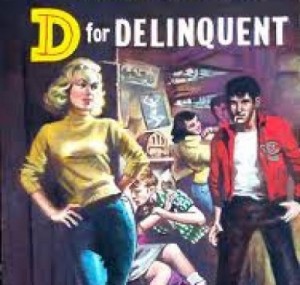 27 Responses to prisons (original version)