"November  – with uncanny witchery in its changed trees. With murky red sunsets flaming in smoky crimson behind the westering hills. … Days with a high-sprung sky of flawless turquoise. Days when an exquisite melancholy seemed to hang over the landscape and dream about the lake. But days, too, of the wild blackness of great autumn storms, followed by dank, wet, streaming nights when there was witch-laughter in the pines and fitful moans among the mainland trees. "
– Lucy Maud Montgomery
14/11/18:
Colombia, Bogota: clashes again between hooded students blocking road and riot cops

France, Marseille: fireworks, beer cans and smoke bombs v. teargas during demo against mayor after 8 people died on November 5th due to shoddy buildings collapsing 
Bangladesh, Chittagong: cop motorbike torched, police box smashed in resistance to cop extortion "Assistant Town Sub-Inspector (ATSI) Anwar Hossain …demanded money from driver Rubel, 27, although he had all updated documents….as Rubel refused to pay, police informer Munna slapped Rubel, triggering a scuffle inside the police box. At one point, seeing the matter, Rubel's helper parked the lorry across the road, blocking vehicular movement. Later, hearing a hue and cry, other transport workers and locals went to the police box and started an altercation with police. They also vandalised the police box and torched the motorbike."
US, California: riots at 2 prisons  No details given here, so it's not clear whether these were riots between prisoners or an attack on the screws and prison infrastructure or a mixture of the two.

13/11/18:
Belgium, Brussels: interesting – though rather specialist – subversion of street furniture designed to prevent homeless lying down (includes video in French)
Colombia, Medellin: road-blocking sit-in against education cuts turns into riot; teargas & stun grenades v potato bombs & stones…Baranquilla: students clash with cops

Bogota, Chiquitos: local supporters of striking blockaders demanding protection of nature reserve burn down unmanned police station after blockaders are gassed by the state

12/11/18:
Mexico, Tlalneplanta: local residents  block roads all night in protest against cop violence

South Africa, KwaZulu Natal: residents occupy unoccupied land after waiting for over 10 years for housing

UK, London: climate change activists block traffic, tag Department for Business, Energy and Industrial Strategy, etc.  However, this seems to have been a bit weak to say the least – for instance, "A spokesperson for Extinction Rebellion, the group that coordinated the demonstration, said their members used spray chalk, which washes off."
Guinea, Kindia: state high school students, chanting anti-government slogans,  stone private school students following cop attack on striking teachers' sit-in in front of Prefecture More here

News of cop-out-isition: armchair rioting "Each player controls a faction of revolutionaries—Workers, Students, Neighbors, or Prisoners—fighting against the State in the streets of a city that change with each game. Build barricades, clash with riot cops, occupy districts, loot shopping centers, and liberate the city before time runs out and the military arrives!" I wonder how the owners of this will react if the workers at the factory producing it go on strike.

11/11/18:
UK, Yorkshire: if only real naval warfare (and all the other forms) could be wrecked so easily ...but a nice symbolic gesture on the 100th centenary of the First World Massacre (see also this)
10/11/18:
France, Etampes: cops pelted with bricks & fireworks by about 20 youths during patrol

9/11/18:
Colombia, Cali: rioting students block roads clash with riot cops, in demo against repression in Bogota

Venezuela, Bolivar: public transport workers join, in solidarity, fishermen's protests against being blocked from market & refrigeration – which is dispersed with teargas and pellets

8/11/18:
France, Marseille (sent by email):
New Zealand: report on various attempts at sabotaging pesticide use against "invasive wildlife"  Whilst death threats against politicians are pointless and self-defeating gestures, these aspects  are basic: "As opposition to the use of the pesticide has grown over recent months, conservation department staff have had tyres slashed and wheel nuts loosened, been locked in national parks by protesters blocking exits… and dodged wires erected through the helicopter flight paths."

Tunisia, Sidi Boumendil: 4 cops hospitalised in clashes after they prevent flypitchers from selling stuff

Tajikistan, Khujand: 22 prisoners and 2 screws killed in prison riot "…six other law enforcement officers with various wounds were hospitalized. The authorities have been largely silent about what occurred but sources close to the Sughd law enforcement authorities say several people convicted of religious extremism and terrorism organized the riot at the Khujand high-security penal colony 3/3. They were reportedly armed with cold steels and one of them managed to disarm a guard, took his assault rifle and began shooting at guards and wardens….Amaq news agency, which is linked to the Islamic State (IS) terror group, reported on November 8 that one of IS fighters "is responsible for the attack in Tajikistan that sparked a prison riot."" The authorities would say that it was ISIS, whether it was them or not. And often ISIS itself makes claims to bolster its ferocious image, regardless of whether such claims are true or false. Of course, I have no way of knowing what went on, and I suspect very few have, particularly as the whole thing has been surrounded in state-enforced secrecy.

6/11/18:
Australia, Northern Territory: building burns during  riot at juvenile detention centre More here. "A set of keys to the Northern Territory's largest youth detention centre are still missing after a group of detainees stole them from a guard and sparked an eight-hour riot….In the early hours of Wednesday, police released tear gas on Don Dale Youth Detention Centre detainees who escaped from their cells, set the facility's school on fire and used angle grinders to cut fences in an attempt to escape."
5/11/18:
France, Paris: paramedics block ringroad in protest against  reform making medical transportation expenses having to be paid for by medical facilities rather than state

Namibia, Outapi: clashes between flypitchers and cops after cops confiscate goods

India, Bihar: sub-inspector hospitalised, railway tracks & roads blocked, after man killed by cops during clashes as cops crack down on illegal drinking & gambling

4/11/18:

Kenya, Kisumu: students riot against cop harassment"students… barricaded the busy Maseno-Busia road with boulders and lit bonfires on the road, inconveniencing hundreds of road users for several hours….the students were protesting over the detention of their colleagues who had gone to Maseno Police Station to report about an attack on four of their colleagues by thugs on Saturday night….the students took to the streets after their colleagues were held by the police. They claimed that the law enforcement officers were harassing them…"
Bangladesh, Dhaka: workers set fire to &/or vandalise at least 14 vehicles after death of colleague in "accident"

France, Saône-et-Loire: curfew for minors imposed on town after several burnings of cars"On Saturday November 3 in the morning, a car dealer overwrought by the fire of 13 vehicles in his garage, which had occurred in the night, deposited one of the burnt-out carcasses in front of the town hall of Montceau …Confronted with repeated car fires, the mayor of Montceau-les-Mines, Saône-et-Loire, decided Sunday, November 4 to establish a curfew for minors…During the night of Saturday to Sunday, several other vehicles were burned voluntarily in a neighborhood of the city."

3/11/18:
France, Drome: intolerable but far too comprehensible gratuitous reaction to 3 people getting themselves a good education"After the damage and the fire of a computer room during the night of Friday to Saturday at the Lycées des Catalins in Montélimar,  reactions have been unanimous [sic] in strongly condemning these acts. Around 3:30 am, three individuals …managed to break into the compound of the establishment. On site, they smashed several windows and burned a room dedicated to the INS (Digital Information System). The firefighters were able to quickly control the fire before it spread to other rooms, but the damage will not allow the facility to reopen Monday. …Regional councilor Mounir Aarab, also a member of the school's board of directors, came to see the damage on Saturday afternoon,  firmly condemning it: "It is intolerable and incomprehensible. It's gratuitous vandalism. I hope the police will quickly identify the perpetrators and justice [sic] will be done."
UK, Edinburgh: deplorable maliciously violent  celebration of war amnesia improved…Hertfordshire: and another

2/11/18:
South Africa, Gauteng: police station torched after cops beat local resident to death"The community of Soshanguve north of the city torched the local police station earlier on Friday after a community member was beaten to death. According to community members still gathered at the entrance of the community just after the R80 Mabopane Highway, police officers embarked on a raid chasing youngsters selling pirated CDs early in the morning. However things escalated as members watched in horror as a group of officers beat Thomas Ditshele,30, to death after he had fallen while trying to escape the police. In anger the members said they then demanded to see the station commander of the Soshanguve police station who they were informed would arrive at 3pm. But instead of having the head of the police arrive to answer for the callous murder of Ditshele, police allegedly started pelting the community with rubber bullets….The members then turned their rage towards the police station and the township's main road where some threw large boulders and stones on the road, while others burnt tyres and started breaking down the police station fence. The younger brother to the deceased Amos Ditshele, said he could not believe his brother was killed for a R5 disc. "Unemployment is very high here so my brother like others was just trying to make money. They brutally killed my brother for three discs he had in his possession."…Francinah said police also shot their 12-year-old nephew on the back whilst he was returning home from school. Another community member Jan Maropola lay in pain on floor surrounded by community members trying to assist. Maropola was allegedly shot twice in the face by police as he returned from fetching a friends child from school. A community member who asked not to be named said he was shot in the arm as he got off the taxi from work "
India, Patna: news of copposition More here. Just thought this was an instance of cops doing something a bit useful for a change, but hardly fits the term 'news of opposition'.

UK, Leeds: critique of memorial to cop killed in the line of duty to the ruling class

1/11/18:
South Africa, Gauteng: striking workers in packaging industry burn company vehicle in "strike …turned into a war""On Thursday, an ALPL delivery vehicle was petrol bombed. On Wednesday, two ALPLA non-striking staff were hospitalised after they were attacked in their homes. A business owner in Kempton Park was also attacked during the violence. Last week, a group of striking workers stoned the ALPLA SA plant in Isando. Members of its own staff were caught in the crossfire. Over the weekend a business was burnt to the ground in Ladybrand. The packaging industry has been dragged into a war. What started as a surprise strike three weeks ago has now turned into a war where employers have to employ private security to protect staff, assets and stock as striking workers continue to raid premises and cause maximum destruction in well-coordinated attacks."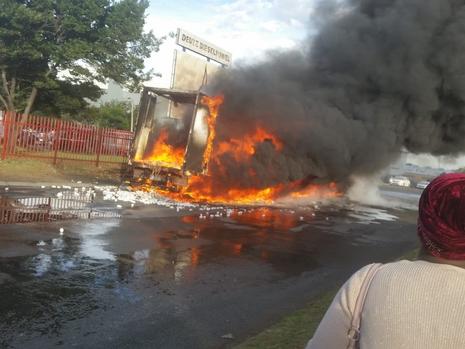 How to deliver (Gauteng 1st November)
Argentina, Rosario: riot in residents' resistance to eviction by council in order to pursue construction project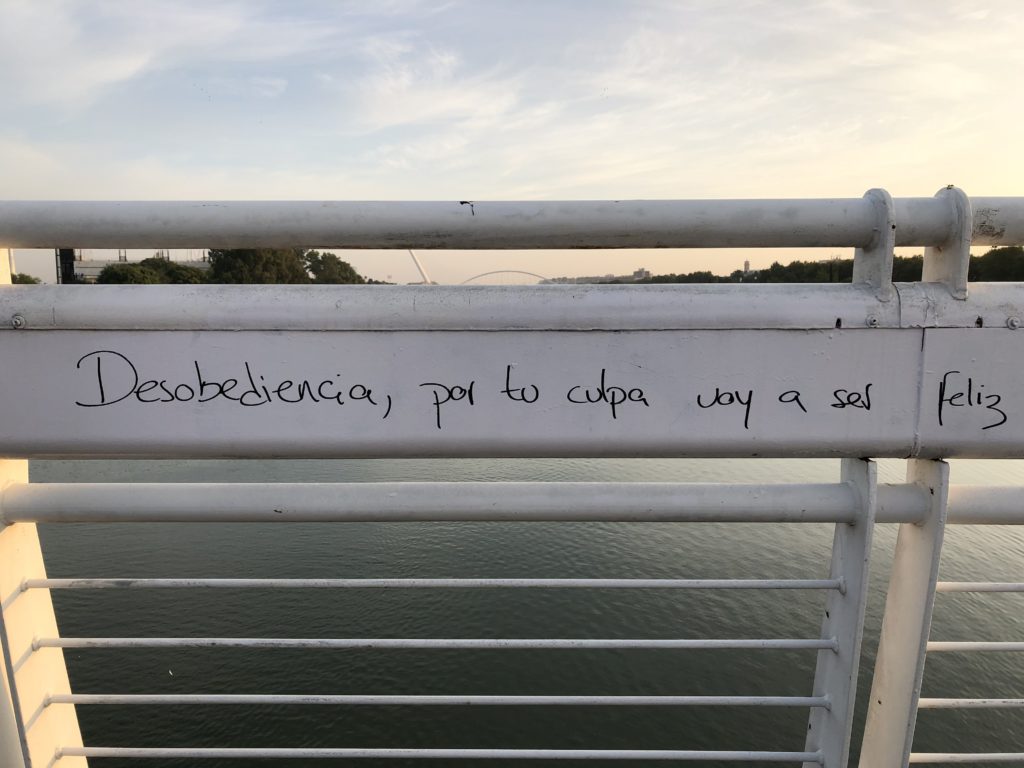 Disobedience – because of you I will be happy
US, New York: huge payout for Google executive accused of sexual harassment provokes spontaneous walkout

France, Marseille (from an email): third week of resistance to construction on The Plain aimed at intensified gentrication (see reports for 25/10 & 18/10) –

After the relative calm on Friday, Saturday and Sunday (arrests still occurred, but also sabotage and unauthorized "flashmob" construction), hostilities resumed on Monday afternoon with the establishment of concrete blocks weighing several tons connected between them (and with counterweights made of the first concrete blocks installed over the previous weeks) and forming a wall 2m50 [about 8 foot] high. The goal is to surround the square before the holiday arrives, with workers working with the support of CRS riot cops in the rain until 19:30.
Still arrests of opponents who participate every day, and since early morning, the slowdown of work; but good news: the person held in prison before trial has just left.
Small acts of sabotage are perpetrated in the night after the departure of the CRS.
Tuesday, the massive surrounding of the square continues. In the evening, sabotage by a few dozen people again.
On Wednesday, the enclosure of the square is finished. More arrests. At the end of the construction, a small fight breaks out with workers, teargas being used. In the evening an attempt to open up the wall is made without much success and with the cops (and security guards again) who roam around not far away.
In the night, several graffiti artists return to graffiti a good part of the outer enclosure.
Today, Thursday, November 1, a demo, smaller than the previous one, came to The Plain while graffiti artists continue the work of the previous day in broad daylight and in front of the cops.
This demonstration aims to symbolically bury the negotiations with the town hall….this will to negotiate their own gentrification with the state and capital. Finally, except for the people who live in this neighborhood, or spend their time in it, those who have not been sufficiently coordinated by the competent authorities (in the words of a lot of people), we really wonder why people who are challenging the SOLEAM project are particularly bothered by it – SOLEAM which, finally, wants to bring them the alternative gentrification that they want (and which has also already been in progress for years).
Unlike other parts of this very working class city, which  have a massive conflictual relationship vis-a-vis the state and wage labor, this inability in the district to have a class position against the employers and an anti-authoritarian one against the state comes from the very high amount of "leftists" in the area (it obviously needs an electorate to give Melenchon a mandate). These people being public service employees, associated with  co-management of social misery in the city, or in the small alternative scene, and the large one too; therefore, most of the time, in that class composition which is somehow with the state.
Even some of those with an autonomous perspective in the district (where almost all of those in the city are concentrated) don't escape this attitude. Indeed, in recent years, we have seen, almost everywhere in France, a fringe of Autonomy take  up  a leftist stance  (to the point of sometimes becoming part of this left, like those 'autonomes' of  Marseille [including  some of those living , or passing through The Plain] who participated in, or contributed to the creation of, the union Sud), thus being stuffed with some of the themes and practices of the Left.
In my opinion it feels like the end of this struggle (since the only perspective seems to be dancing around at the end of the demonstration instead of direct action) but also the end of any clash between the various social strata of the neighborhood once the construction site has been well established and the cops have definitely left…
To be continued over the next few days.
–  CSH, an autonomous chav who wants to continue having a drink  in the midst of living corpses and the corpses of bottles of The Plain pending the advent of a social revolution (which may not come) that will abolish the state and capital.

…Tarn: 2 imprisoned minors totally ransack prison kitchen and TV room