"Shining through tears, like April suns in showers, that labour to overcome the cloud that loads 'em." 
– Thomas Otway
"It was a bright cold day in April, and the clocks were striking thirteen."
– George Orwell, 1984
21/4/18:
Nicaragua: report about 3 days of clashes with the Sandinista state and its neoliberal policies; 5 dead

20/4/18:
France, Paris: Tolbiac occupation evicted, blockade lifted by cops…man hit by BAC (Brigade Anti-Criminiel – psychotic cops in "plain clothes") in a coma – immediate demonstrations in various parts of the country…cops deny this, calls it a "rumour" No confirmation either way.


South Africa, North West: protests spread to 3 areas outside regional capital (see 18/4/ & 19/4 below) "A petrol station along the Vryburg road was looted and damaged … An ATM next to the filling station was bombed. Cars were also torched….The administration block of Mmabana Foudation in Mmabatho was partially burnt and two vehicles were torched in front of the building. A filling station and a liquor shop were looted and damaged"
19/4/18:
France, Paris: teargas & water cannon v stones etc.  during demo & strike; windows of businesses smashed (video here)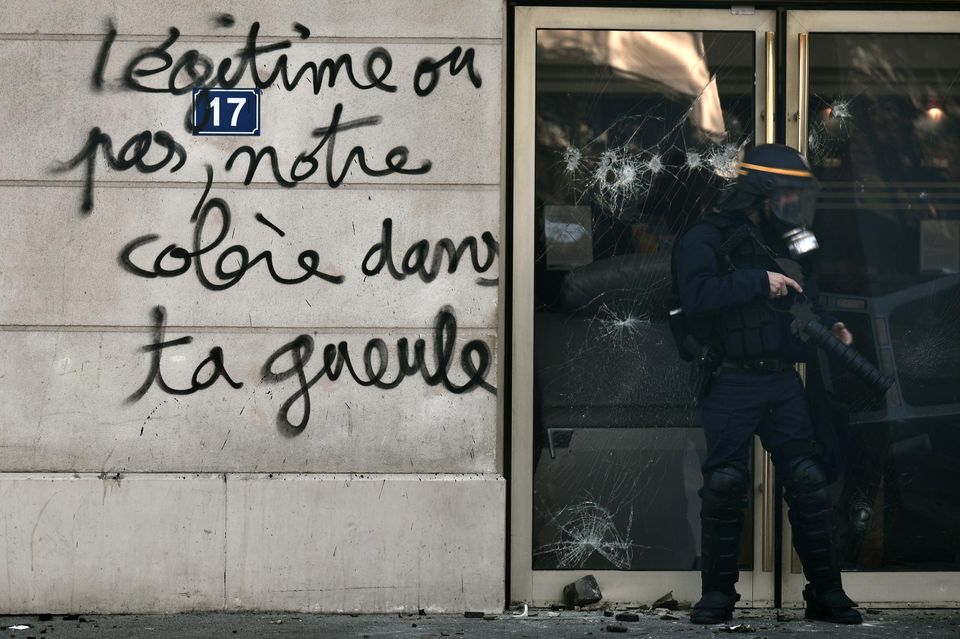 Hotel Marriott, Paris: "Legal or not, our fury in your gob"
…Nanterre university blockaded & occupied See English translation of a leaflet I co-wrote for a demo on 14 april 2018 for a critique of some of the significant contradictions of this movement. When I find time, footnotes will be added to explain more concretely some of its general reflections. From afar this movement might seem like something BIG, when, for the moment at least, it is far more dominated by dreadful ideologies than, for instance, the movement of 2006. Of course, all this could change. Or not. The leaflet was received well by at least some young people, which is a change from the illusions of 2 years ago, but let's not be over-optimistic. Both optimism and pessimism compete in people's heads to stop those who want a development of self-organised struggles from trying to become clearer and from drawing practical consequences from striving to assess the pros and cons of events.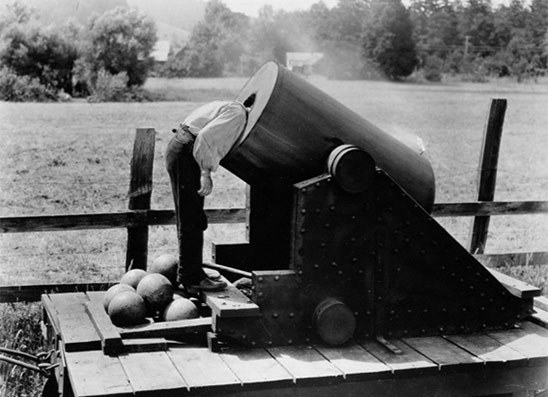 A student from the Immobilisation Committee of Montpellier's occupied faculty talks to the media

This is a reference to the fact that, despite the media having clearly lied about the clashes on 14th April, in  particular the regional rag Midi-Libre, students from the Mobilisation Committee gave interviews to these scum and  allowed them  to film a largish conference of the occupied section of the university, knowing full well that being filmed would prevent anybody with a less traditional, more radical, point of view from speaking their minds. In the movement of 2010 the media were prevented from coming onto the campus, but nowadays being famous for 15 minutes is considered a worthier pursuit than striving to attack the journalist thought-police along with all other cops. They somehow think that the media can help, by potentially filming cop brutality, to restrain the cops from such violence, even though they'd done their usual filthy work of deliberately distorting events last Saturday (April 14th) when the cops had been especially violent. More details later…
Guinea, Conackry: youths block main crossroad with burning tyres on 2nd day of riots protesting electricity cuts

South Africa, North West: angry protests continue (see below) "Shops were closed and streets blockaded with burning objects as the calls for Mahumapelo to step down mount. A group of youngsters armed with rocks and sticks barricaded Nelson Mandela Drive linking the North West capital and Botswana, with burning objects littering the road. "We do not talk to media, go and talk to Supra, we do not want Supra and his cabinet," said one man from the group. On the same road, about 10 kilometres away, a truck trailer was torched and youngsters were also piling burning tyres on the road. Elsewhere, a police armoured vehicle (Nyala) was petrolbombed in Danville near the capital, while in Dibate near Mmabatho, a group of youngsters looted tuck shops and police resorted to firing rubber bullets. Protesters, who were aggressive to the media, said they want Mahumapelo to resign as the premier of North West….The capital was totally shut down on Thursday. The protest started on Wednesday in Montshioa where a bus was torched. This was apparently sparked by the death of two people at the Montshioa Stad Clinic, after they reportedly did not get help due to the ongoing strike by nursing staff. Members of the National Education Health and Allied Workers Union (Nehawu) have been on strike since February 26, demanding the dismissal of head of the health department Dr Thabo Lekalakala, the termination of contracted companies by the department, bonus payments, the payment of occupation specific dispensation (OSD) for employees at provincial offices and increases of Community Health Workers salaries." …one person killed by cops…More here "…a police armoured vehicle (Nyala) was petrol bombed in Danville south of Mahikeng….a police officer's house was also attacked by a rioting crowd in Danville."
18/4/18:
South Africa, North West: looting & burning barricades as protest against ANC regional premier turns to rioting in regional capital (formerly  Mafeking of Boer war fame) "North West police were outnumbered overnight as angry protesters shut down the entire Mahikeng town. Police vehicles were forced to make u-turns while trying to respond to the chaos that was unfolding  as residents barricaded the roads  with burning tyres and pelted motorists with rocks. The protesters are calling for premier Supra Mahumapelo to step down. He is reported to have spent the night at his Haartebespoort Dam home. Almost all intersections in Mahikeng and neighbouring villages were closed and police were prevented from coming near to the blockades. Prominent businessman Sefidvash Naraghi and wife Sanao were admitted at Victoria hospital after their vehicle was attacked. According to a family friend, the couple was stopped by protesters who demanded money and cellphones before pelting them with stones….The last time Mahikeng  experienced riots like this was in 1994 when residents took to the streets to force the late Bophuthatswana president Lucas Mangope out of office. In Ramosadi, Seweding, Phola, Danville and Motshioa townships, small groups of people were burning tyres. Foreigners are running for help as protesters have emptied their shops while some residents were shot with rubber bullets." More here "Police in Mahikeng had to use teargas and fire rubber bullets when Lonely park residents went on a rampage looting foreign owned shops this morning. Children as young as 10 years-old were seen running out of the shops with stacks of money  in their hands. Protesters also looted refrigerators , mattresses and groceries. Petrol bombs  were being readied to be used for breaking into more shops….Residents complained that it was unfair for Mahumapelo's son to get R1-million pilot bursary whereas they were struggling to get funding for tertiary education.Over the weekend reports emerged that Mahumapelo Junior had received the bursary from state arms manufacturer Denel. At the crossing shopping complex a food outlet McDonalds , owned by Mahumapelo's wife Kule is situated, shops were forced to closed. Protesters threatened to burn down the outlet before the end of today."If he does not want to step down, this town will be on fire," said one of the protesting youths."We want his Mc Donalds, we want those burgers." …cop's armoured truck torched
Niger, Niamey: students seriously injured in clashes with state over demands for reinstatement of expelled students and withdrawal of security forces on campus "We barricaded the road that goes in front of the campus, and the security forces burst onto the campus…some of the injured are fighting for their lives"
Greece, Lesbos: 200 refugees occupy main square See also this analysis of aspects of the social relations concerning "the refugee problem", particularly in Greece (but also in Germany)

17/4/18:
France, Lyon: about 30 youths clash with cops whilst they try to stop an unofficial motorbike race in street
Zimbabwe, Bulawayo: students loot food, block access to campus in protest against high fees, service delivery, etc.
US, Philadelphia: Starbucks occupied after arrest of black guys for "loitering"  whilst waiting for friend (video) More detailed report here

16/4/18:
France, Toulouse: 2nd night of riots extends to 3rd area
South Africa, Western Cape: liquor store looted, burning barricades, after illegal settlers are evicted by cops
15/4/18:
France, Toulouse: police station attacked with molotov, 11 vehicles burn, cops stoned, burning barricades as youths from 2 popular areas express their fury at prison death of local man…though this in English says it was because a woman was arrested & charged with "rebellion" for refusing to remove veil…Loire-Atlantique: further clashes at ZAD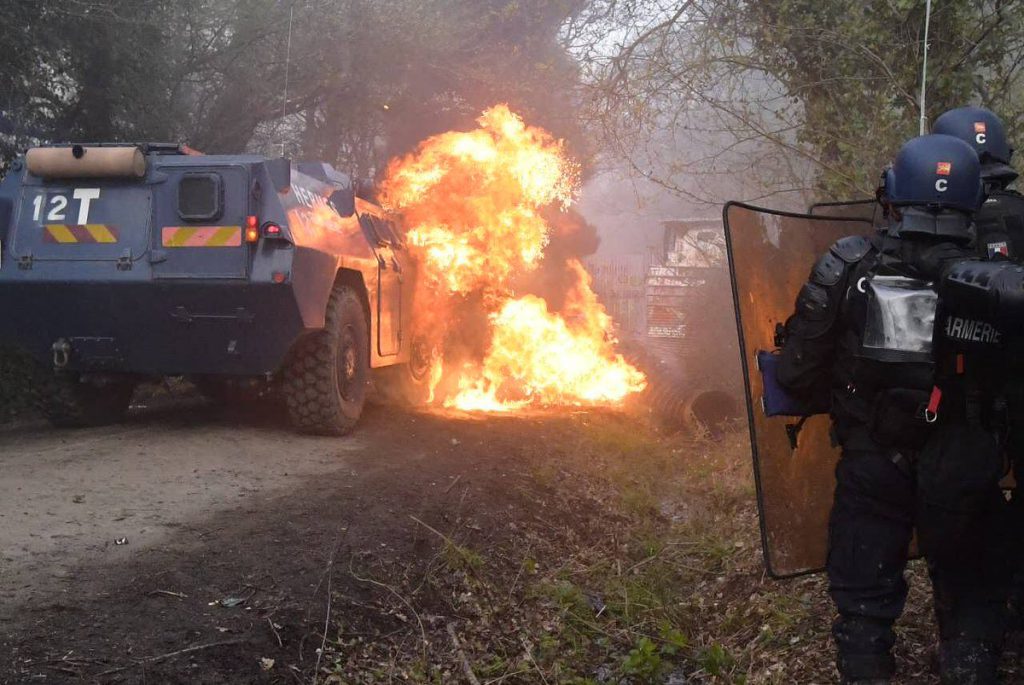 Notre -Dame-des-Landes, 15/4/18
UK, Buckinghamshire: surveillance cameras and fire alarms wrecked as youths smash up prison wing

14/4/18:
France, Nantes: clashes between Zadists and cops after cops prevent several 1000s on ZAD demo meeting up with train drivers & student demo – shop & bank windows smashed…Montpellier: cops teargas demo within a few minutes of it starting; subsequently shop & bank windows smashed, burning bin barricades etc. More detailed report later…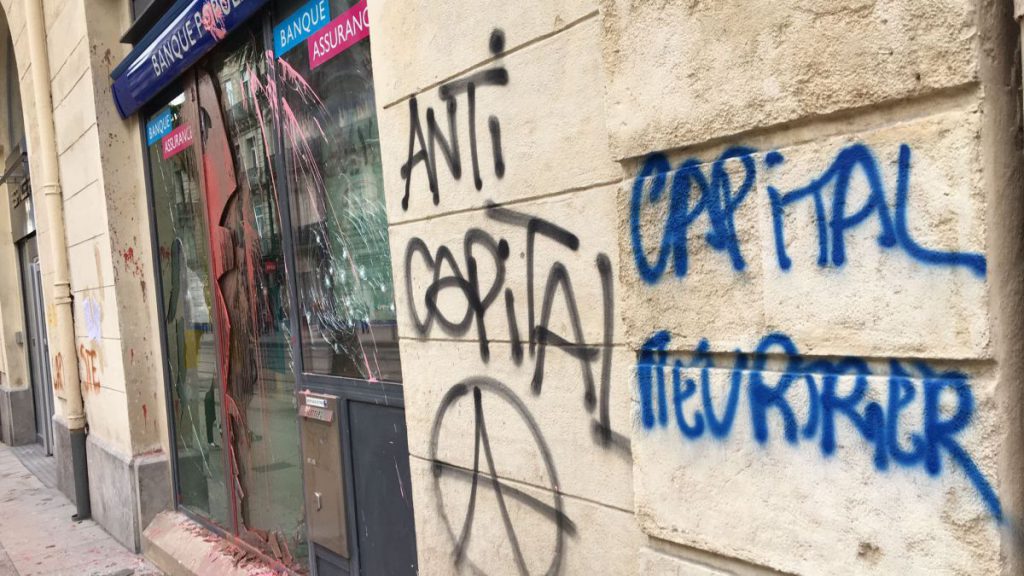 "Capital – murderer", Montpellier
See, in French, 2 texts on some of the contradictions of the current movement, including one distributed in Montpellier on this day.

Iran, Isfahan: cops crack down on 5th consecutive day of illegal protests against water shortages following day on which large amounts of women joined demonstrations "The protest movement expanded on Friday, with conservative women from area farms seen marching in Isfahan for the first time in a social media video identified as having been filmed that day. The Iranian government's Shi'ite prayer leader in Isfahan, Ayatollah Yousef Tabatabaye-nejad, lost patience with the protesters on Friday, accusing them of seeking to cause "riots and sedition."
13/4/18:
France, Paris: Sorbonne occupation evicted; train strikes resume The strikes are pretty much ritualised union gestures to allow the bureaucrats to retain their power round the negotiating table.  See France Goes Off The Rails, about the 1986 – 87 strike, a successful wildcat  organised independently of the unions. Quote: "At the beginning of November '86, a non-union driver on the Paris Gare du Nord network put into circulation a petition demanding the amelioration of the drivers' work conditions and the suppression of a project for a gauge of salaries based on promotion by merit (the petition also threatened the unions with "suffering the consequences" if they didn't support the strike). The petition rapidly received over 200 signatures. Only the CFDT, whose presence amongst this category of employee is virtually insignificant, agreed to announce a strike for the 18th December. Very quickly, several depots in Paris & the provinces walked out on strike illegally, without previous announcement…."….Tolbiac university occupation threatened with eviction as president of university spreads calumnies that the place was being used for prostitution…Lyon: clashes between students and riot cops at university blockade …Notre-Dame-des-Landes (Loire-Atlantique): clashes continue as virtually all squats destroyed "The gendarmerie said it had made about ten arrests. There are wounded on both sides. According to the figures of the police, 45 gendarmes were wounded. According to the local medical teams, some sixty Zadists were affected, 130 according to the activists of the communication cell."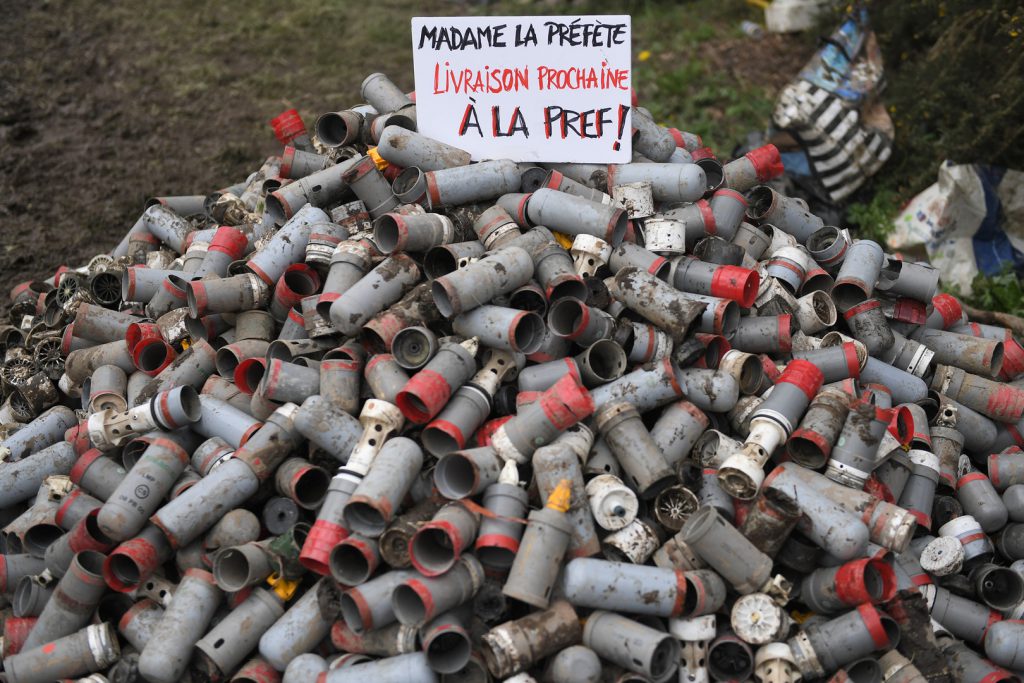 Pile of teargas canisters – "Madame Prefect: next delivery – to the Prefecture"
China, Shanghai: report on partially successful sanitation workers' strike and on the general strike situation in China "Over the years the pattern around China has been that after workers unite and strike, and receive the support of public opinion, local government and firms make some temporary concessions. But then they begin to carry out harsh retribution against the most active rights defenders among the workers; they claim that they were taking orders from hostile foreign forces, and in some cases even frame up charges and get them sent to prison. This, however, doesn't frighten workers, who are fighting for their own survival and that of their families. This is different from, for instance, the struggle for freedom of speech. Stripping workers of their income and benefits is a direct threat to their lives — but no one dies because they can't speak the truth."
South Africa, Durban: informal settlers block roads with burning tyres in protest against electricity cuts
12/4/18:
France, Notre-Dame-des-Landes (Loire-Atlantique): barricades destroyed by the gendarmes the day before are rebuilt "I had confidence in the prefect's speech, in his overtures towards us. Negotiations were under way, and from the first day, we excluded people whose project was rigid…I feel betrayed, my sense of  citizenship has been affected a little"…at least 6 cops injured in ambush 80 Zadists had been injured the day before, but today, despite (or maybe because of) 29 squats being destroyed, there seems to have been quite a counter-attack: apart from the ambush, 10 cops were injured, five of whom were burned by acid on their legs, and one wounded by several little explosions from an "improvised explosive device". Five gendarmes were evacuated to hospital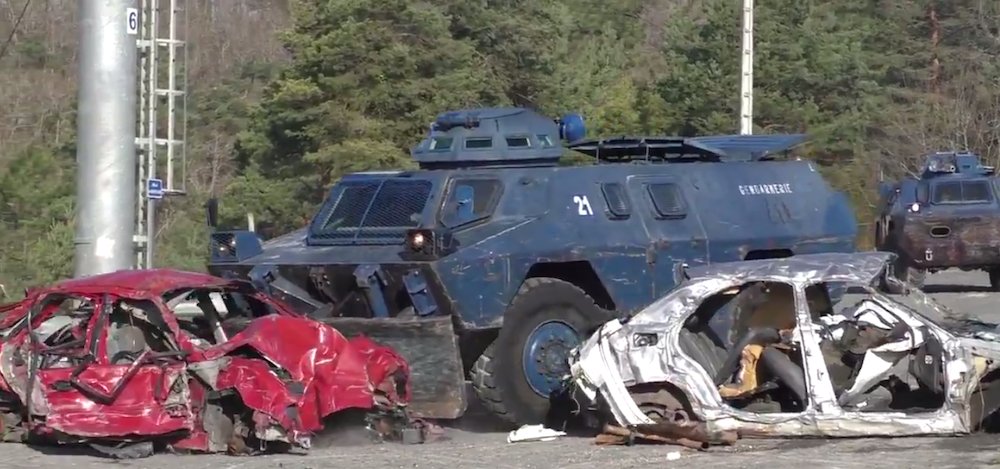 armoured vehicles clearing away barricades, Notre-Dame-des-Landes
…Paris: Sorbonne occupied From afar this may seem like something big, because of its symbolic connection to May '68 (see, for example, this, which speaks, amongst other things,  of the occupation of the Sorbonne in '68) …but unrealistic hope born out of an underlying despair desperately tries to convince itself that a lot more is happening  than most of the evidence suggests. It ignores the enormous absence, so far, of critical vigilance (e.g. towards the unions) and of independent activity, of ideas-in-action – unlike May '68, which is not to nostalgically  minimise the problems of that epoch. No predictions of course – optimistic or pessimistic, but we live in an epoch where the unexpected rarely happens and, unlike 50 years ago, the large communities of working class rebellion hardly exist. But maybe from the little communities of discussion striving for practice beyond discussion combining with the little communities of rebellion within work places…well, you never know…Essonne: meeting of Minister of Labour plunges into darkness after locals sabotage transformer

Indonesia, Papua: local regent's residence torched, airport blockaded with  burning tyres as 'fun walk' becomes fun riot "The incident was reportedly triggered by disappointment regarding the regent's failure to fulfill his promises to give door prizes to participants of a fun walk event held to celebrate the 15th anniversary of Pegunungan Bintang regency. The crowd also blockaded Oksibil Airport. Before burning down the regent's house, they set fire to a stage, tents and chairs prepared for the anniversary celebration."
Germany: report in French about various actions over the last 2 weeks  12/4/18: Berlin – 2 vans of estate agents with €21bn worth of assets Europe-wide torched & burnt out; 11/4/18: Berlin – cop vehicle forced out of area after being stoned from a bridge; 11/4/18: Munich – underground garage of French Consulate sabotaged in solidarity with N-D-D-L ZAD; Berlin – vehicle belonging to armament company supplying Turkish state torched…etc.etc.

South Africa, Eastern Cape: council meeting to work out 5-year plan violently attacked by 200 locals  "The meeting started at 18:00 and just before 19:00, a group of about 200 local community barricaded the hall entrances at its gates with burning objects. Seven vehicles were damaged with stones and rocks thrown at them…one Metro vehicle, a Nissan NP200 bakkie, also had a flammable object thrown inside the cab causing fire damage to the seat. Some of the windows of the hall were also shattered by stones…. the Public Order Police Unit (POPS) had to use rubber rounds to disperse the stone-throwing crowd after their vehicles were also thrown with stones. POPS members forced open the gates in order to free the delegates that were trapped inside the hall. By 21:00 some of the crowd moved to the N2 in Colchester where they attempted to close the road with burning tyres and objects and threw stones at passing vehicles. A further nine vehicles, including four trucks, were damaged by these stone throwers."
No mention of what this meeting or the plan was about or why there were such angry protests.

11/4/18:
France, Loire-Atlantique: 3rd day of clashes and burning barricades at Notre-Dame-des-Landes as about 150 Zadists continue their resistance to the divide-and-rule 'compromise' that leaves them landless & homeless (see entry 9/4/18 below)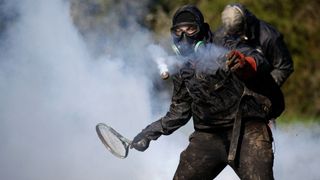 Notre-Dame-des-Landes meets Wimbeldon

"By destroying the settlements around the D281, the gendarmes destroyed collective agricultural projects. Hence the anger of the ACIPA, the main association of opponents of the ex-airport project, and a feeling of betrayal expressed on Tuesday by zadists who believe they played by the rules of the game with the prefecture and have been cheated. The significance of the operation led opponents to call for mobilization. "If tonight the prefecture does not withdraw its troops, there'll be general mobilization," said Julien Durand, spokesman for Acipa, on Tuesday….On Tuesday, the clashes were more violent than the day before, with twenty-eight injured gendarmes…According to Wednesday morning's assessment of the medical team of zadists, about twenty opponents were injured, including one who was hospitalized after thirty being injured on Tuesday, including two hospitalized."…Montpellier: about 30 masked students sabotage administration's internet site (including smashing up machines) during blockade  and part-time occupation of campus; site no longer functions This action  was in response to the admin's decision to organise exams via the internet, and was followed by about 200 personnel & professors demonstrating against this sabotage, though amongst radical students it was popular, obviously. The site was back up within 36 hours, and the admin said that no data was lost, but several students suspected that this was them trying to put up a good front, that it was not true.

Kyrgyzstan,Toguz-Toro: gold recovery plant torched during riots against the company owning it
Colombia, Medellin: riots and burning barricades as riot cops evict squatters
Argentina, Santa Cruz: miners and other workers clash with cops after cops prevent march against austerity & precarity from advancing (videos)

9/4/18:
South Africa, Gauteng: 16 prisoners escape…2 of them later shot dead by the filth

Bangladesh, Sundarganj: state paramilitary camp torched during heavy clashes with cops and  locals resisting construction of solar plant which would steal their land "Locals have been against the set up of the solar power plant since the beginning of the initiative, and have been holding demonstrations under the banner of the "Krishi Jomi and Bastobhita Rokkha Shongram Committee." They claim the project is hampering their livelihoods as they lose farm land.On Saturday, when Teesta Solar Ltd workers set up a river dredging machine to fill the river with sand, locals went to the area and interrupted the company's operations. Subsequently, a clash ensued between the villagers and workers, and the dredger was vandalized. Teesta Solar Ltd filed a case with Sundarganj police station over the incident. When police went to investigate the scene at 4pm on Tuesday, villagers clashed with them as well and 10 were injured after police opened fire. Later, the villagers surrounded the police and set fire to the Ansar camp on the Teesta Solar compound. Extra police forces were deployed to the scene and rescued their trapped colleagues."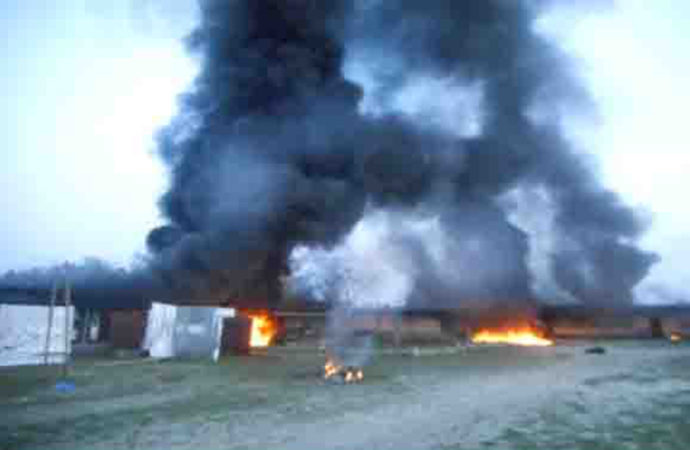 Ansar camp, Sundarganj
France,  Loire-Atlantique: clashes as about 2,500 riot cops etc. attack the 250 squatters resisting eviction of Notre-Dame-Des-Landes ZAD; burning barricades and stones v. teargas and stun grenades (videos)  More here and  here, in English. However, it's not just the official state cops that have been attacking those who don't want to negotiate with the state. On March 20th, 5 masked people, armed with baseball bats and teargas sprays, raided a squat on the ZAD. This squat opposed the divide-and-rule compromise with the state, which involved legalising some people's land and houses, but not others. These scum beat up people at the squat and then kidnapped the most outspoken opponent of the compromise, tied up his hands and legs, blindfolded him  and gagged him with duct tape. They put him in the boot of their car  and drove off. Later, they beat him again, broke one of his  legs and arms, finally abandoning him in the night  next to a psychiatric hospital. The most vociferous defenders of the compromise in the assemblies there have been the Invisible Committee, the "Appelistes". They've done this kind of thing before, though less brutal (gagged and bound a guy who'd burnt out a tractor, bundled him into a carboot and left him in the middle of the woods). So most people are 99.99% sure that it was the "invisible committee" who'd done this red-fascist shit.  They've always sat on the fence, playing revolutionary anarchists to the revolutionary anarchists, reformists to the reformists, leninists to the leninists. In this instance they were playing the filth to the filth. And not the kind of "playing" that's fun. See here and here in French.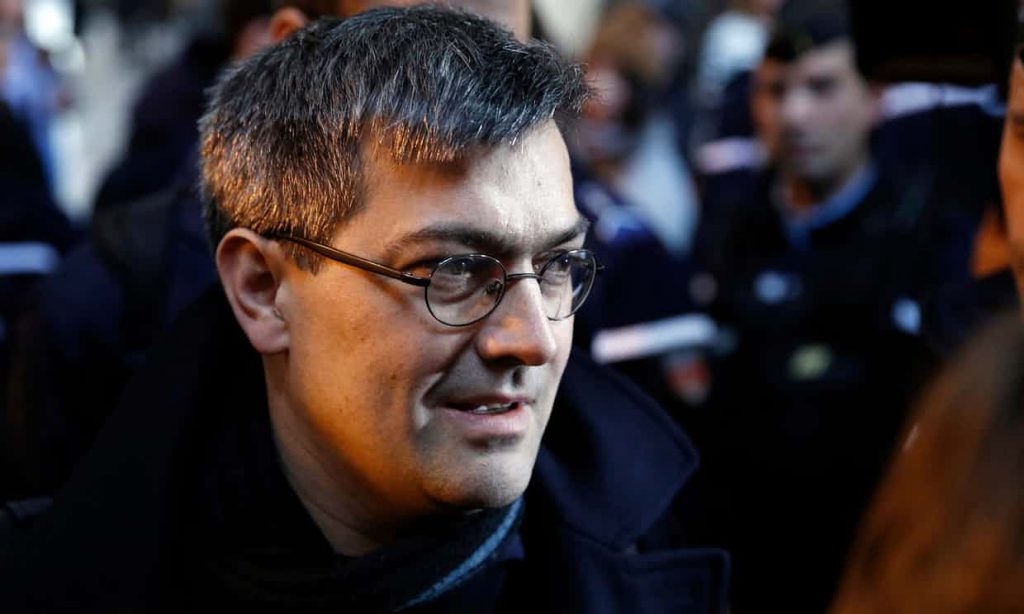 the far-too-visible leader of the Invisible Committee, Julian Coupat
South Africa, KwaZulu Natal: burning boats used as barricades as informal settlers protest 7-year-old being knocked down by vehicle

Iran, Isfahan: massive farmers' protests against water scarcity "…major gatherings and big demonstration of farmers in Isfahan has started in response to a cessation of their rights to water. The presence of women in these demonstrations is noteworthy….Today is the 53rd day of the protest gathering of farmers who are demanding their water rights."
8/4/18:
Bangladesh, Dhaka: students attack home of university vice-chancellor as over 50 are injured in 7 hours of  clashes with cops over quota system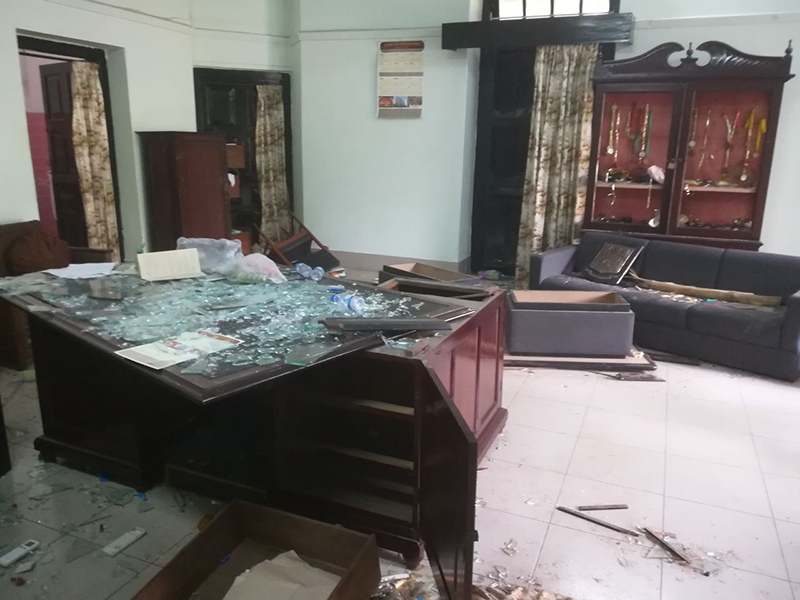 Vice-Chancellor's home attacked
"Several thousands of demonstrators had blockaded all four roads at Shahbagh intersection, one of the city's busiest, since 2:30pm, as part of their nationwide demonstration Sunday to further push the government to meet their five demands….After over five hours, they were forced to move from Shahbagh to TSC around 7:30pm when police started lobbing teargas shells to disperse them. The law enforcers also charged baton and used water cannons on the demonstrators at the time.Most of the protesters then gathered at TSC where police continued their charge. They also used water cannons to put out a fire the demonstrators had started in front of the Faculty of Fine Arts. … several journalists …were also injured when police baton charged. The protesters were also seen hurling brickbats at the law enforcement officials, who also fired back rubber bullets along with teargas shells….At least 15 students with major injuries were admitted to Dhaka Medical College Hospital (DMCH) during the clash"
Ukraine, Mykolaiv: prisoners refusing to return to cells categorised as "riot"

6/4/18:
India, Kerala: major clashes during protests against land acquisition for motorway extension "Clashes left 15 policemen including Tirurangadi police inspector E Sunil Kumar injured… along with a 15 year old girl. Clashes erupted at Areethode in AR Nagar Panchayat after protesters blocked NH 66 by putting stones and burning. Police resorted into lathi charge while protesters blocked the road and revenue department officers. This led to stone pelting against police. The mob was dispersed after the police launched grenades against protesters." More here and here. " Many, including children, were injured in the police action. The incident comes as a stir against land acquisition continues in Kannur district. Tension increased as local residents stopped officials who arrived for the land survey. As people hurled stones at the officials and police, the cops resorted to lathi charge, and also used teargas and grenades. There were allegations that police entered houses and beat up women and children. Many policemen also got injured in the melee. The agitators also stopped traffic on the Thrissur-Kozhikode route. After about an hour, the police evicted the protesters as well as glass pieces and stones from the road. After this, the survey process resumed at Thalappara area. The clashes started when people led by the action council reached the spot to stop the survey. The land acquisition issue at A.R. Nagar involves an existing national highway that is abandoned and some new land being acquired for a 50-metre road." See also this from the day before.

France, Paris: another fascist attack on an occupation of the university "According to "the Free Commune of Tolbiac", the president of Paris-I, Georges Haddad,  said he feared to see a ZAD settle in the heart of the university,  condemning the attack and promised students strikers that the forces of order would not intervene on the site. "The presidency strongly condemns acts of violence committed by people outside the university and regrets the current situation…which goes beyond the framework of a classical student mobilization. The Presidency wants a return to normalcy as quickly as possible"… the Tolbiac site, whose students voted for the unlimited blockade, is the scene of rampant tension between far-left groups and extreme right-wing groups on the sidelines of the controversial reform of the university." One of the main problems is that these fascist attacks (Montpellier had the worst – see entry for 22/3/18, but Strasbourg also had one) are in some way already a kind of victory for the state insofar as they excessively focus a lot of energy on these fascists and on legal questions, whilst ignoring activities and discussions on how to proceed against other aspects of this society and on how these aspects effect ourselves.

Bahrain, Bilad al-Qadeem: molotovs against water cannon & teargas in anti-Formula 1 demo Normally I don't put up stuff about Bahrain as it's been 7 years since these clashes have been going on, on an almost daily basis and it seems pointless to report on events that don't, as far as I can see, seem to develop much, which is not to say that there isn't a basic proletarian element to them (for similar reasons I rarely put up stuff about Kashmir & Palestine). But I really find Formula 1 a load of shit, so…

5/4/18:

South Africa, Eastern Cape: rocks thrown at cops, burning barricades across 2 major roads, in resistance to state destruction of 'Illegal' shacks Meanwhile the phoney 'radical' opposition in the form of Julius Malema, the millionaire leader of the EFF, calls on people to occupy land legally (here).

Indonesia, Java: residents opposed to airport construction occupy electricity company offices following company's decision to cut off electricity because they oppose airport

Vietnam, Hanoi: rare demo against one-party state Not saying this is "independent" opposition, but the fact that these things hardly ever happen in this Stalinist-state-turned-neoliberal is newsworthy.

4/4/18:
Iran, Ahvaz: makeshift barricades as youths clash with state on 9th day of protests (video)…report here

Pakistan, Punjab: Chinese engineers cut off electricity to cops as they clash with them after resisting being policed outside of work camp "Chinese engineers and other staffers engaged in the construction of M4 Motorway, thrashed the policemen after the latter tried to stop them from leaving their camp without security...A video showed a Chinese national standing on the bonnet of a police van, another video showed several Chinese nationals thrashing policemen and some local people in plain clothes…in a further provocation, the Chinese citizens cut off electricity supply to the police camp. Local police tried to control the situation by locking the Chinese citizens in their camps."
Algeria, Bouira: union workers' sit-in against reforms of pension rights, new labour laws and attacks on public sector employees' "purchasing power" violently repressed by state as they try to move to the front of Department of Education

France, Strasbourg: teargas-spraying riot cops evict 100 students occupying part of university

Argentina, Jujuy: sound grenades and stones chucked at cops on left-wing anti-government demo

Nepal, Surkhet: minister's car vandalised during student agitation Not clear whether this was done by students in a Maoist organisation or not.

3/4/18:
US, Oklahoma: 1000s of striking teachers etc. occupy state capitol building See also this. As I, more or less, said, at the end of March,  – there'll be loads of radicals of various stripes talking of how this could develop into something BIG like was fantasised about West Virginia earlier this month or Wisconsin 7 years ago. Obviously it could, like so many struggles that have some element of independence. However, unless optimism of the will is tempered by pessimism of the intellect, it could well fizzle out. Unless proletarianised teachers or whoever start acting on their doubts and stop accepting the manipulations of union bureaucrats etc., unless they go beyond the hesitations that repeatedly make them stall before the immensity of their tasks, it could very well fizzle out. A million times workers have complained of being "sold out" by union bureaucrats and Democrat or other politicians, as if they hadn't already sown the seeds of being sold out by tolerating – and looking for help from –  these 2-faced creeps whose fundamental social function is always to keep their struggle under hierarchical control, and to sell a "sell-out' as the most realistic option. Everyone fears the relatively unknown. Everyone fears making new mistakes and yet developing new successes. All the efforts of dominant ideology concentrate their forces on inculcating fear of the unknown.  But, as is far too well-known, "insanity is doing the same thing over and over again and expecting different results". Avoiding the relatively unknown, succumbing to the fear of fighting without and against external authority, is the enemy within each proletarian that s/he has to combat if s/he is not to fall into the sense of demoralisation that comes from a very predictable sell-out. "Will alone does not suffice to provide oneself with courage and remove fear; truly one must toil to consider the reasons, the aims and the examples which are able to convince one that danger is not overwhelming, that there will always be more safety in defence than in escape; that one will gather glory and joy as a winner, whereas in escaping one can only expect regret and shame"  (Descartes). Such generalities need to be made more concrete, more precise.

France, Paris: 230 mile traffic jam round Paris area as train drivers go on strike again…shop windows smashed "Police charged the crowd after the windows of a bank and nearby shops were shattered in the melee."…Val-de-Marne: striking dustmen barricade themselves inside depot to avoid eviction by riot cops…See this for a critique of the main union involved

Cyprus, Nicosia: religious monument vandalised "Vandals paint-sprayed the phrase "Your church kills" on the marble façade of the construction and also threw paint on the hands of the statue of a priest. "

2/4/18:
Tunisia, Tataouine: 3rd day of clashes between cops & youths blocking roads protesting government failure to honour agreement about jobs; also demanding release of 2 youths arrested the day before    More here.

South Africa, KwaZulu Natal: road barricaded with massive supermarket trucks, which are looted as they burn during protest Video here  More here "People could be seen on top of a truck belonging to a supermarket chain and throwing items down to onlookers….There have also been reports of trucks being petrol bombed in the area."…and  here "The exact reason has not been confirmed, but according to provincial spokesperson Colonel Thembeka Mbhele, people from an informal settlement were protesting because they were not being employed by local truck companies."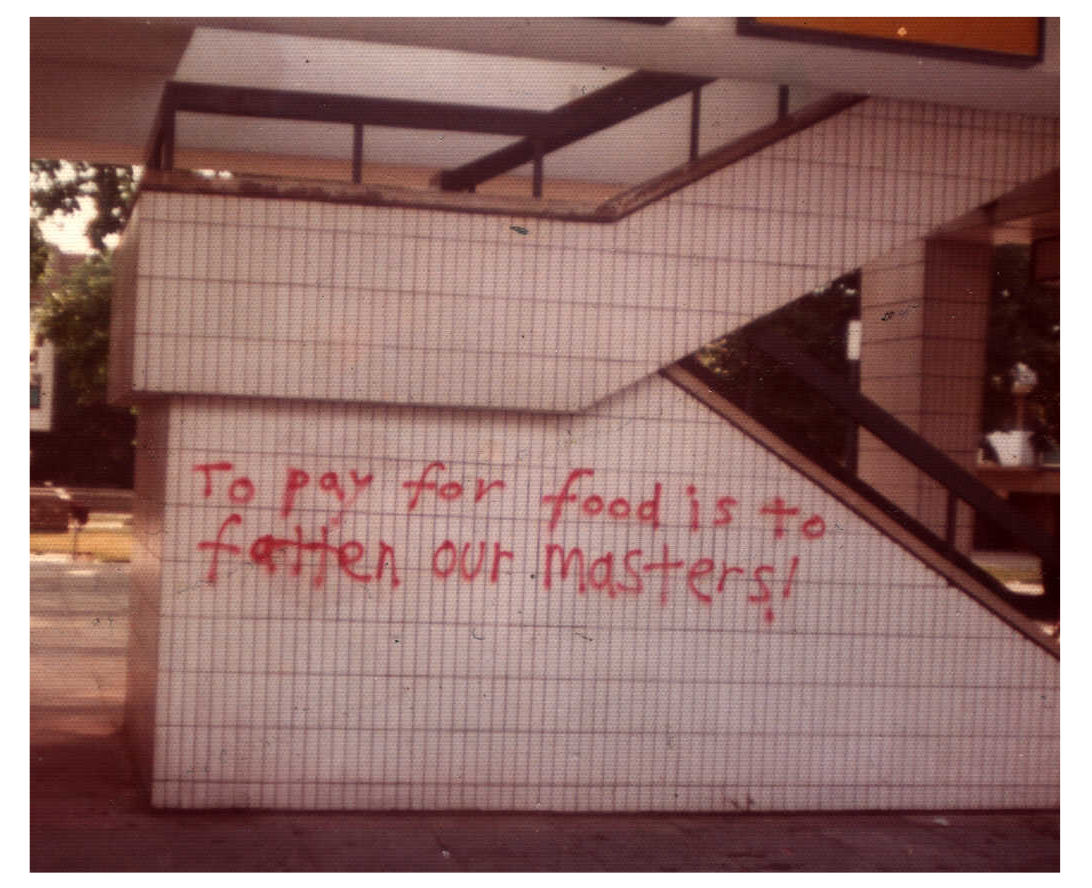 US: strike report on Oklahoma & Kentucky…Washington: Howard university occupiers demand immediate disarming of campus police (video) More here

UK, N.Yorkshire: occupation continues at York University
1/4/18:
Tunisia, Tataouine: 2nd day of road blockades in protest against government failure to honour agreement  The agreement was last June, when the state agreed to  2500 being recruited over 6 months into the oil industry, plus giving those searching for jobs a bonus of 500 dinars paid by the oil company and an accord not to prosecute those sitting-in in June. 

Mexico, Vera Cruz: 6 cops die of smoke inhalation during prison riot "When local police, in support of state police, went into the prison …they were apparently ambushed by prisoners, who blocked their escape and lit a fire that suffocated six officers, the governor said. "The six police officers were attacked and were enclosed in an area with no exit. The inmates started a fire, and with the smoke, they caused the asphyxiation and death of the six police officers" Although this, according to prison officials, was probably initiated by an obnoxious drug cartel, it's also possible that  other prisoners were involved, and besides – surprise surprise! – the official line is not necessarily correct.