"August… is one of the great and awful tests of one's endurance, sanity and stamina"
– Henry Rollins
12/8/18:
US, Virginia: report on Charlottesville protests

11/8/18:
Nicaragua, Matagalpa: Lenin shot & killed (about 100 years too late…) "The incident Saturday came amid a wave of protests and counter-protests in several Nicaraguan cities, including the capital Managua. Police identified the gunshot victim in Matagalpa as Lenin Mendiola, the son of a longtime leader of the ruling Sandinista Front, according to a police statement reported by local media. Other media, however, reported that pro-government paramilitaries fired on protesters in Matagalpa."
10/8/18:
Iran, Tehran: football fans clashing with cops shout anti-government slogans "Reports from Iran indicate an "intense clash" between security forces and angry fans attending a football match in Tehran on Friday….almost everyone in the stadium was chanting opposition slogans. …"The situation at the stadium is extremely volatile, you can hear loud slogans and horns and TV viewers are watching the match without sound, so they cannot realize what is going on at the stadium. This started after radical slogans were chanted from both sides and the state TV cut off audio broadcast, so the video coverage of the match continued in silence."…Angry fans clashed with the police and broke stadium seats and some window panes at the ticket office and attempted to cross the barriers to reach the additional platforms allocated to Esteghlal fans. A Mehr news agency report titled "Serious clashes between Tractor fans and the police," says Tractor fans clashed with Police because far less seats were allocated to them. According to Mehr, as the violence spread, the two teams' supporters threw seats at each other while also throwing bottles and stones into the court. One day before this match, several fans and policemen were wounded in clashes at a stadium in Ahwaz while Khouzstan's Esteghlal was facing Tehran's Persepolis team. Reports say that some 10,000 security forces were called in to control the situation."
Bangladesh: report on the heavy repression developing against students who participated in protests See reports for 6th, 5th, 4th, & 3rd of this month below

US, New Hampshire: cracked blockhead

9/8/18:
Mexico, Hidalgo: after cops kill one of them, black market gas sellers attack municipal presidency, forcing cops to flee; several cop motorbikes torched "…about 60 people shot in the air demanding that the police who were guarding the barracks leave so they could do justice for the death of their comrade, during the early hours of this Thursday. Spirits rose in tone and the subjects seized two motorbike patrol vehicles, which burned in the street, while the police who watched escaped to take refuge in nearby houses. Witnesses argue that after midnight approximately 20 vehicles were concentrated in front of the Presidency, where the police station is located and that the armed commando carried out acts of vandalism in the barracks and the downtown area of ​​the municipality."
Croatia: airline strike declared illegal

India, Pune: protesters demanding equal job & education quotas attack buses, block roads, etc  More here "Stone pelting, arson, coercive closure of shops and offices, and blocked highways marked the Maratha quota  agitation…Protestors turned violent after submitting a memorandum to the Pune district collector. They ransacked the government property and brought down one of the gates to the premises. Several police personnel were injured in the stone pelting …Protestors also targeted vehicles, shops and IT offices. and blocked the Mumbai-Bengaluru expressway. Violent incidents were reported from Chandni Chowk, a busy stretch along the expressway, where the Mumbai-Pune corridor was blocked for more than five hours till 5.30 pm….Protestors also blocked the Ahmednagar-Pune highway and the Pune-Nashik highway for a few hours and attempted to torch vehicles. In Aurangabad, where the first silent Maratha march was organised two years ago, protestors resorted to disruptive means. Clashes between the police and protestors were also reported from Nashik." …Himachal Pradesh: ambulance strike declared illegal

Colombia, Bogota: students throw potato bombs at riot cops in protests against university president

Australia, Adelaide: luxury car vandalised (not for the most class conscious of reasons, but…)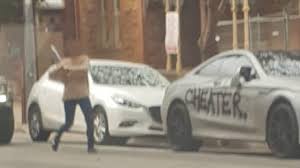 France, Toulouse: 2 incidents of a dozen or so youths attacking the cops This is in the same area as several nights of riots (following death of local man in prison) back in April this year.

8/8/18:
Brazil, Sao Paulo: prison uprising holds 4 clergymen and 2 screws hostage

Argentina, Buenos Aires: sticks & stones thrown at cops after Senate refuses to legalise abortion More here "According to the New York Times, Argentina's Health Minister Adolfo Rubinstein estimates more than 350,000 "clandestine abortions" happen each year. But, human rights organisations believe the number is closer to 500,000 per annum.  Sadness turned to anger as some demonstrators hurled bottles outside the Palace of the Argentine National Congress in Buenos Aires…Fires were started outside the government building. "
7/8/18:
South Africa, Johannesburg: waste disposal workers clash with cops in protests over jobs "The ongoing violent demonstrations saw operations being halted for the second day as former employees disrupted the waste-management service and demanded their jobs back. Women protesters stripped naked and accused the company of engaging in a jobs-for-pals scheme….The protesters picketed at the entrance to the depot, singing Struggle songs and demanding answers from Pikitup's management when police fired rubber bullets and a high-velocity water cannon to disperse them."...KwaZulu Natal: locals block roads, burn farmland,  in protest against cemetery desecration "Angered by the desecration and clearing of a cemetery, protesting farm dwellers and community members on Tuesday blocked off the R74 between Kranskop and Greytown with logs, tyres and broken bottles and set alight some farmlands….Protesters accuse a local farmer of disrespect after he allegedly cleared a cemetery on his farm that was being used by the community….the protests started at 3 am on Tuesday. "About 300 protesters have blocked the road complaining about a farmer who has graded the cemetery at the Aussicht Farm," said Mbele….Stones, logs, burning tyres and "a lot of broken glass" were used to block the road."
6/8/18:
Bangladesh: government proposes death penalty for bus drivers whose negligence results in deaths in order to placate students…as students get teargassed by cops…and state closes down 2 universities for 2 days

Kenya, Nairobi: nurses' strike declared illegal following cops teargassing them

Eire, Dublin: housing activists occupy empty building in protest against false scarcity of housing

UK, Somerset: nauseating scumbag's home and car vandalised

US: report on tech workers and flight attendants resistance to ICE deportations

5/8/18:
Bangladesh, Dhaka: clashes continue between students and state "Thousands of students paralysed parts of Bangladesh's capital on Sunday to protest the country's abysmal road safety conditions. Teenagers dressed in school uniforms erected checkpoints across the city, forcing the police and government ministers to observe traffic laws that are otherwise poorly enforced."
US, California (Berkeley): antifas arrested in limited 'clash' with fascist-defending cops Report from a contact here  Report and analysis here (from 10/8/18)

4/8/18:
Bangaldesh, Dhaka: cops attack protesters against fatal road accidents "Police in Bangladesh's capital, Dhaka, fired tear gas and used batons on Saturday to disperse hundreds of student protesters angered by the traffic deaths of two fellow students….television stations aired footage of the clashes, with protesters throwing stones at police. The city was largely cut off from the rest of Bangladesh as bus companies refused to enter the area from other parts of the country. Buses are key to transportation in Bangladesh, where trains are overcrowded and most people cannot afford cars.The owners and workers of the bus companies said they will not operate their vehicles unless their safety was ensured after dozens of vehicles were either vandalized or torched in Dhaka and elsewhere since the protests began last weekend…At least 12,000 people die each year in road accidents in the country, often blamed on faulty vehicles, reckless driving and lax traffic enforcement. The students have stopped thousands of vehicles — including those of top officials and judges — demanding to see if the cars were registered and the drivers licensed." More here"Police and the supporters of Bangladesh's ruling party clashed with students who were protesting poor road safety. More than a 100 had to be treated in hospital, many appearing to have injuries from rubber bullets….Witnesses reported police using tear gas, batons, and rubber bullets in the Jigtala neighborhood of Dhaka's Dhanmondi area. Others reported seeing civilians, believed to be supporters of the ruling Awami League party, joining in the crackdown. However, police spokesman Masudur Rahman denied that security forces fired rubber bullets or used tear gas. "It's not true," he told the AFP news agency. "Nothing happened at Jigatola." …State blocks Internet access.
See entry 3/8/18 below
US, Oregon: cops wade into antifas as armed fascists march More here "Numerous times today cops claimed to be trying to disperse the anti-fascist crowd because "we saw some weapons" but the whole time they knew the other side actually had weapons and even "cut a deal with them" so they wouldn't be searched (as promised).https://t.co/2jN0OHuuON" More here. "Tusitala 'Tiny' Toese, a Proud Boy and Patriot Prayer member implicated in the May assault of an anti-Trump person in the Portland area, donned a "Pinochet Did Nothing Wrong" T-shirt, referring to the far-right fascist Chilean dictator who murdered tortured or detained some 40,000 of his own people."Make communists afraid of rotary aircraft again," read the back of Toese's shirt, referring to the penchant of forces loyal to Augusto Pinochet of throwing political rivals out of helicopters. (Toese's shirt was made by a white nationalist clothing company called Right Wing Death Squads.)Asked by HuffPost how he thought Saturday's rally went, Toese described it as "awesome" and "beautiful." The Portland police, he said, "did their job." A contact writes: "…it was clear that the main object of the pigs was both the monitoring and attacking of the much larger counter protestor groups. The cops fired chemical weapons at the crowd – utterly unprovoked, although the pigs claim projectiles were thrown – something Unicorn Riot's reporter on the scene refuted – and caused the counter-demonstrators to disperse. In retaliation for the chemical/explosive attack, a small number of counter demonstrators then threw projectiles and this then gave the pigs the "excuse" for a general assault on the the anti-fascists, violent beatings and (I don't know for sure, but in all likelihood) the majority of arrests. I'll bet that all or at least the majority of arrests were of the counter-demonstrators. Interestingly, the collection of confiscated weapons seized by the police, were of items heavily marked with confederate battle-flag emblems…"  …San Antonio: report on Occupy ICE

UK, Brighton: occupation of Brutish Airways tower in protest against deportations

3/8/18:
Iran, Karaj: 500 attack religious brainwashing factory-school "At 9 pm (1530 GMT on Friday) they attacked the school and tried to break the doors down and burn things…They were about 500 people and they chanted against the system but they were dispersed by the riot police and some have been arrested…These people came with rocks and broke the sign and all the windows of the prayer house and they were chanting against the system." According to someone I know about a dozen mosques have been torched.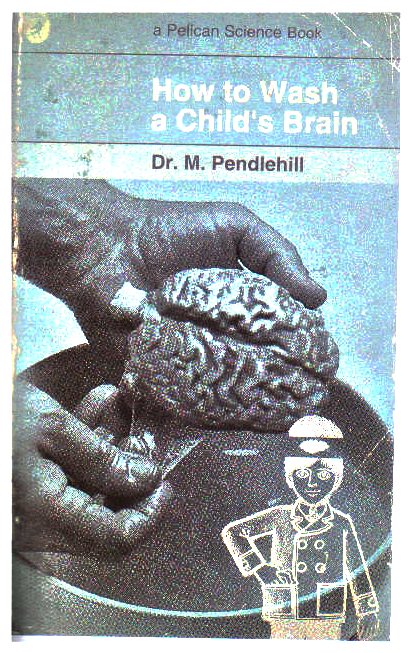 Bangladesh, Dhaka: report about student/high school student protesters occupying roads against high-level of fatal accidents "Wearing school uniforms and carrying school bags, tens of thousands of students have spilled their anger while shouting slogans on the streets of Dhaka, Bangladesh since last Sunday, July 29, when two college students died in a road accident….Hundreds of their classmates initially took to the streets in protests that gained momentum as thousands more joined in solidarity on a daily basis, shutting down traffic with their demands. They are calling for increased road safety and justice for people killed in road accidents. They also demand a guarantee from authorities that no one else loses a life from reckless driving, especially by public transport … They have asked for harsher punishments for drivers involved in accidents and asked authorities to ensure that only authorized drivers would get behind the wheel. Parents and people from all walks of life have also supported their demands.The students' rage was sparked by a remark by Shajahan Khan, the Shipping Minister and executive president of Bangladesh Road Transport Workers Federation, who attempted to belittle the incident. …The capital, Dhaka…is one of the most densely populated cities in the world with 14 million people and standstill traffic….A recent survey revealed that 87 percent of public transport violates traffic rules in Dhaka. …The students have said enough is enough by taking matters from police into their own hands. The protesters were seen enforcing traffic rules by checking licenses and pointing out traffic rule violations to unsuspecting drivers. The activists did not spare ministers or police if they violated rules….The students found that most of the government vehicles do not carry updated vehicle papers nor do the drivers have a proper license…the police have reportedly used force on students in several points. A number of students were injured….a  driver who causes a death due to reckless driving faces a minimum fine."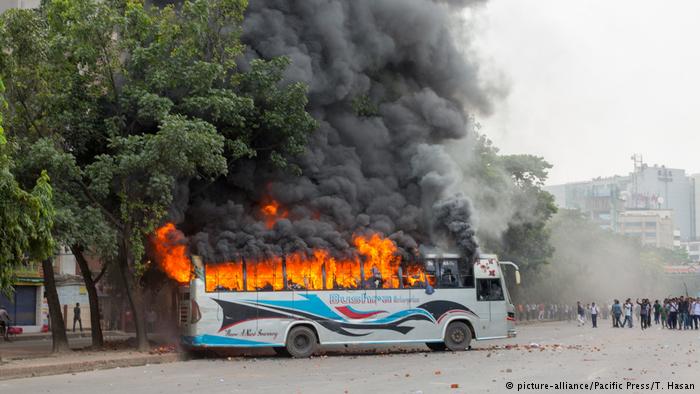 Of course, one can see the limits of such a protest – eg the failure to take into account miserable work/survival pressures that might contribute to crap driving (and, of course, they do not demand the abolition of the economy that makes driving a car a necessity for many, even as it pollutes and reduces the use of the street to a mere movement of commodities and people-as-commodities; but then this failure to connect the particular to the totality of miseries is indicative of the extreme weakness of any revolutionary perspective in all social movements nowadays).
Senegal, Dakar: students with disability resume clashes after May protests against cop killings See entries from 15/5/18 onwards here.

2/8/18:
Iran: clashes with state on 3rd consecutive day as protests spread over  high cost of living and inflation More here "…demonstrators chanting slogans against the dictatorship, clerical rule, and Iranian Supreme Leader Ayatollah Ali Khamenei…. also called for the release of political prisoners. Reports from Iran on August 2 said protests in Isfahan continued for the third day, while the unrest had spread to other major cities…In Shahinshahr, near Isfahan, women were demonstrating against economic hardships and compulsory hijab, and called on Iranians in other cities to support them. In Karaj, a densely populated city near Tehran, demonstrators gathered around the notorious Rajaishahr Prison, where political prisoners are kept next to criminals, chanting slogans about the people's will to open the gates of the prison and free political prisoners. Later reports said police had dispersed demonstrators and were guarding the prison. Elsewhere in Karaj, demonstrators attacked the IRGC-linked militia dispatched to suppress demonstrations and set fire to a militiaman's motorbike." And here "…protests took place on Thursday in the capital, Tehran, and nine other cities: Ahvaz, Hamedan, Isfahan, Karaj, Kermanshah, Mashhad, Shiraz, Urmia and Varamin…On Tehran's Valiasr Street, a main thoroughfare bisecting the capital's eastern and western sectors, protesters set a large container on fire and chanted: "Mullahs, get lost."…a video clip showed protesters in Karaj, on Tehran's western outskirts, apparently throwing small objects toward security forces, as a man shouted that protesters were under attack…. security forces in some areas used social media to find out where protests were being planned and then deployed to those locations ahead of time as a way of deterring demonstrators from showing up." And here "In videos circulated on social media and purporting to have been taken in the town of Gohardasht, a suburb of Karaj, dozens of demonstrators can be seen in the streets, setting fire to police vehicles and shouting "death to the dictator." Police respond with tear gas….Earlier, Iranian protesters had clashed with police outside parliament as the plunging rial triggered three days of protests last month in Tehran."
France, Oise: screw hospitalised by prisoner resisting cell search
1/8/18:
Iran: truckdrivers strike met with  repression "The security forces used tear gas to force the people out. However, the Iranian people fought back, lighting tyres on fire to counteract the tear gas, and continued their protest in spite of the repression."
Honduras, Tegucigalpa: students clash with cops over fare increases

Spain, Tarragona: clashes as cops crack down on fly pitchers "Street vendors attacked police vehicles as a protest against their treatment by the police and two policemen have suffered bruises and minor injuries….In fact, in summer three years ago re. the death of Mor Sylla, it was maintained that he rushed  off a balcony in Salou when the police had a fight with street vendors. Although the case is closed judicially, and no police responsibility has been derived, the brother of the victim and some of his colleagues have continued to insist that the police had a direct responsibility for the death in their custody… this Wednesday…Two police vehicles have had to leave the place hurriedly after they were attacked with rocks and sticks." More here " The vendors used all kinds of objects and chairs to attack the agents….the Mossos charged against the street vendors and the latter responded with violence. At least one of the immigrants were badly injured and needed the help of other colleagues to get up and get away. Two officers have also been slightly injured. The confrontation originated after an operation to crack down on illegal street vending in Salou started, the Mossos d'Esquadra having identified two street vendors carrying a large amount of fake material destined to be illegally sold. While the agents were identifying these two vendors on Sol de Salou Street, a dozen other vendors confronted the police, using heavy, blunt objects, as seen in videos recorded by neighbors. Being outnumbered, the Police unit was forced to leave the site in search of reinforcements. Whilst retreating, the authorities were hit by numerous objects flung at them. Police sources told Agencia Efe the vendors caused damage to two police vehicles
France, Val-deMarne: 3rd time in 3 months that prison guard's cars are torched…Bretagne: bank torched