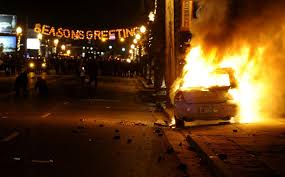 "It is December, and nobody asked if I was ready."
― Sarah Kay
"It was a chilly December morning and the birds sitting on the high wires in the neighborhood refused to fly any longer."
― Malak El Halabi
11/12/18:
France: 450 (out of 4000) high schools blockaded; 'disturbances' at 170 of them …details in French about 37 of the towns involved in these disturbances…Montpellier: 9 schools blockaded; lively wildcat demo involving about 350 meandering through the centre of town Some of the variety of homemade placards: "Power makes us mad – let's hospitalise Macron", "Macron, Macron – we're not fucking you up the arse – sodomy is between friends", "The state pisses on us, the media says it's raining", "French people, foreigners – same studies, same rights" (reference to a new law making foreign high school students pay money to go to school), "Shoot at children, steal from the poor, burn the planet". And there was a massive banner referring to the kids in Mantes-la-Jolie who, on 6th December, were forced to kneel with their hands behind their backs, which said "A class on their knees – Montpellier stands up!", and about 100 teenagers imitated what those at Mantes-la-Jolie had been forced to do and then everyone stood up together in a roar of defiance. More in English "The really important point that we've been hearing from students is that they are not the Yellow Vests – they want to say that, while their anger and frustrations are similar to those of that movement, their goals are very different."

Egypt: sale of 'yellow vests' forbidden "…industrial safety equipment dealers have been instructed not to sell yellow vests to walk-in buyers and to restrict business to wholesale to verified companies, but only after securing police permission. They were told offenders would be punished"
10/12/18:
France – high school student movement –  Beauvais: clashes with cops …Creil: cars overturned & burnt.(video here)..Compiegne: street furniture trashed…Loire-Atlantique: 8 schools involved, various clashes,  improvements to property, etc.…Montpellier: bins burnt on tramlines…Hauts-de-Seine: 6 high schools blockaded…up to 10% of high schools throughout country blockaded…universities blockaded…Disneyland blockaded by 'yellow vests'  A little anecdote: apparently staff working at Disneyland used to call it Mauschwitz because of the miserable working conditions. Management threatened them with the sack if anybody continued referring to it like that (specifically online).  Within half an hour workers started calling it Duckhau…Nouvelle-Aquitaine: prefecture bricked up within hours of Macron's speech Two aspects of his promise to increase the minimum wage by 100 euros per month not mentioned by the international media is that, firstly, an increase of 28 euros, paid by the boss,  had already been decided before the 'yellow vest' movement. Secondly,  it's an allowance paid by the state but not by the bosses; more importantly, this minimum wage is conditional – if your partner gets above the minimum wage, the average of the 2 wages is taken into account …yellow vests enable cars to drive at 300mph without being caught in a speed trap

UK, Staffordshire: school shuts down after schoolkids "run riot"

South Africa, KwaZulu Natal: workers arrested for going on a wildcat strike…Western Cape: bus torched following wildcat strike

Mexico, Mexico City: about 15 hooded students, demanding resignation of University board of directors, break door, throw stones and fireworks

8/12/18:
Hungary, Budapest: thousands demonstrate against proposed law changes seeking rise in maximum overtime hours "The draft bill, introduced earlier this week, seeks to allow employers to ask for up to 400 hours of overtime work a year. If passed, the law would add an extra eight working hours to a week or result in a six-day work week. The protesting workers were joined by students from several Budapest universities"
France, Paris: preventive arrest used in advance of any actual "crimes" to contain protests Arrest without the slightest evidence of a crime already shows how readily the diaphanous gown of legality tears when confronted by the necessity of keeping the boutique districts intact. However, despite the massive deployment, TV news has said that there was more damage than on December 1st, with looting (particularly of jewellers) etc. being carried out away from the thoroughly policed centre. On December 1st 3 'arrondissements' (Parisian boroughs) were involved, but today there were 7 arrondissements involved. See this "The sector concerned by the incidents was much larger. With fewer barricades, the protests were more dispersed so many more places were affected by the violence…There was much more damage yesterday than there was a week ago." ...Toulouse: looting, clashes, etc…Bordeaux: burning barricades in  pedestrianized street decorated for Christmas…St.Etienne: cop car torched, looting…Clashes in: Dijon…Lyon…Caen…Avignon…Tours…Bourg-en-Bresse…Nantes…Marseille: armoured trucks and teargas during clashes as 10,000 march for the climate  "Hundreds of young people, mostly masked or hooded…were dispersed around 5pm by jets of tear gas launched by the police…In the surrounding streets, small groups of protesters confronted the police in the middle of thick fumes caused by tear gas and garbage fires.A blue armored vehicle of the gendarmerie intervened as reinforcement, followed by several mini-cars of the police force, while a helicopter flew over the area. The police prefecture said it had conducted eleven arrests in the department of Bouches-du-Rhone including 7 in Marseille, stating that the march of demonstrators for the climate that gathered 10,000 people on the Old Port early afternoon was dispersing. In the morning, 2,000 "yellow vests" had also marched peacefully in the center of Marseille." …video here

Belgium, Brussels: yellow vests' attack on European parliament building… cop methods of controlling 'yellow vests' ""A lot of our staff are also mobilized to work on Open Source Intelligence (OSINT), which is the exploitation of information from freely accessible sources.The data collected on the internet and the social networks on the yellow vests will be analyzed and disseminated to different services involved on Saturday. This work is important because the Yellow Vests refuse to contact the police or the City to organize the framing of the event…This Saturday, the day of event, " a Real Intelligence Center will be established where staff working on the OSINT, will provide real-time monitoring and screening of information on yellow vests on social networks and internet, to transmit directly to the command center and effective in the field".  More here. Z writes: " The demo today was a bit weird… It was divided by the police into 3 "sections" (relatively easy as far as I can say, though I arrived late). The section I was in was not much "rioty" as opposed to another section to which they prevented us from reaching….we were held captive by a big circle of riot police and police trucks in a crossroad that we blocked for a little more than 3 hours …. It became both depressing and boring once we were really isolated and closed-off, throughout those 3 hours. Some scuffles leading up to that encircling, and some fire-crackers and paint-bombs thrown at the police once some young-people became bored, but no breaking or pillaging. That is, as I said, in the part that I was in."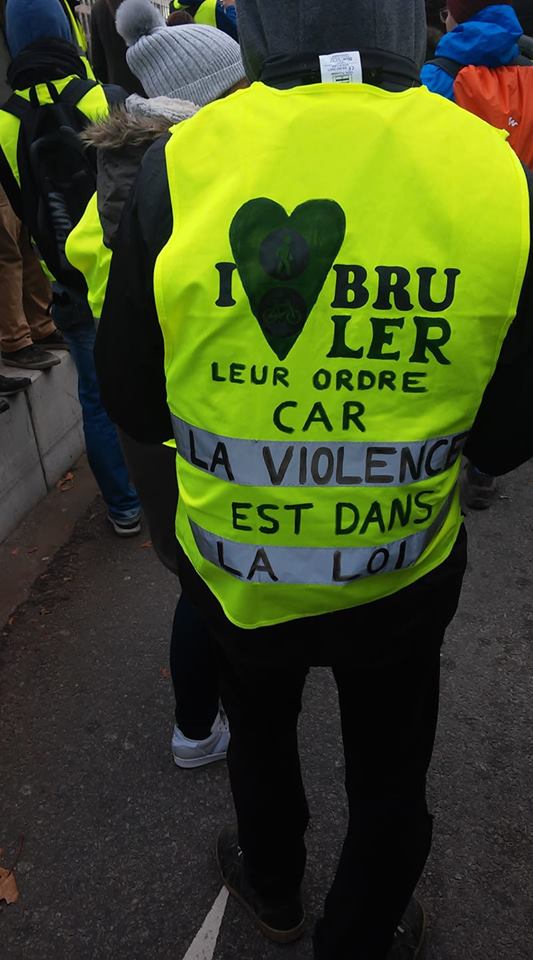 Brussels yellow vest: "I love burning their order because violence is in the law" [The original vest was branding the slogan "I ❤Bru"]
UK, Harrogate: hark the harrogate vandals sing

7/12/18:
France, Herault: disturbances outside high schools in 5 towns in this county …Nimes  …Lyon… Mulhouse: masked motorcyclist deliberately runs down cop at high school blockade…clashes at high school student demos in 35 towns… armoured cars to be deployed in Paris "A government official said 89,000 police and gendarmes would be mobilised across the country, 8,000 of them in the French capital, alongside a dozen VBRG armoured vehicles….Staff at the Bastille Opéra were reported to have locked the orchestra's instruments somewhere safe fearing an assault on the building."  There have been calls for people to arm themselves against the state, others are hoping to occupy the Elysée Palace tomorrow. But before you get all excited, the probability is that these calls are coming from the ultra-right…or maybe sections of the state trying to frighten people away from Paris for fear of people starting shooting all over the  place. A strange atmosphere, not easy to get to grips with either emotionally or intellectually, and not at all like the more lighthearted, and more clearly class-conscious, epoch of the anti-CPE movement of 2006.

Eire, Dublin: occupation of Department of Communications, Climate Action & Environment for 2 hours The activist mentality is drawn to such gesture politics because it makes them feel that they've done something without really doing anything other than show their need to plea to the State to do something which if the State  ever does will invariably be worse than useless for the vast majority. But at least it helps them feel good and pure and maybe gives them an anecdote to tell people.

Paraguay, Asuncion: report on tent city occupation of part of town by indigenous protesting companies' attempts to uproot them from their land

6/12/18:
Peru: indigenous occupy pipeline pumping installations

Greece, Athens: riots on 10th anniversary of cop murder of Alexis Grigoropoulos More here "Young men with their faces covered smashed sidewalk concrete, threw rocks and placed barricades around several streets …Others vandalized the entrance of the Ministry of Culture by breaking its doors, before heading to the rooftop of the Ministry building, where they then threw rocks down on the police. The Athens police had ordered the closure of Syntagma and Panepistimio metro stations from Thursday morning as a precautionary measure against possible violence. The two stations opened again after noon but Panepistimio Station was forced to shut down again, due to the new clashes….Clashes broke out in Thessaloniki as well, where people threw Molotov cocktails at the police …A construction site in Thessaloniki's new metro system was set in fire following the clashes on Egnatia street. "
France, Beziers: clashes as 500 high school students take to the streets; 2 cars overturned, bins burnt, etc…clashes in 29 towns…video of cops humiliating youths at a banlieu school … (homage to them on a 'yellow vest' demo on 8th)…700 high school students arrested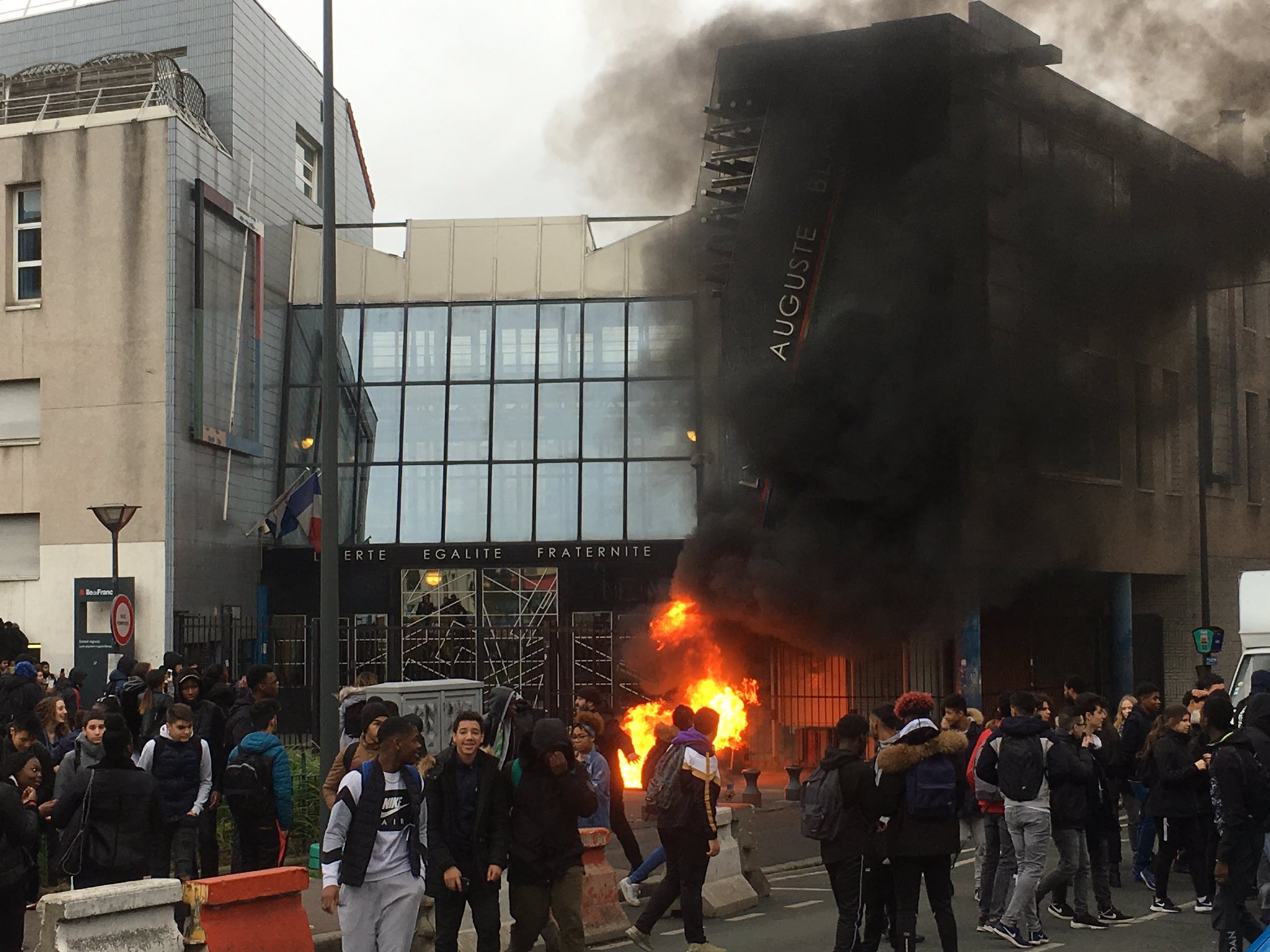 St. Ouen: Liberty, Equality, Fraternity, Incendiary
Colombia, Cauca: riots as residents receive bills for water but don't receive any water…Narino: students clash with riot cops, throw potato bombs
5/12/18:
Colombia, Cali: more clashes between students and riot cops "This situation left two police wounded and substantial material damage, because vandals attacked the Christmas lighting recently installed in the area. They burned some ornaments "
France: clashes between high school students and cops in 22 towns…blockade of 2 Paris universities.  This is a more balanced take on the situation than most  texts, though not uncriticisable (what is?). In France, there are principally 2 tendencies amongst those who claim to want a revolution: those who tend to opportunistically over-emphasise the radical aspects of what's happening and those, partly in reaction to this tendency, who tend to exaggerate the bad aspects. We live in confusing times and trying to unravel this confusion is not helped by trying constantly to impose more classical proletarian ways of thinking and categories onto  a movement that involves lots people who have never confronted this society before. People are trying to break out of their isolated individualist responses to intensified misery by trying to come together but with a whole load of other baggage from the past and present of this society colonising their brains and habitual discourse.  These people have lived through a period of intensified ignorance of the contradictions and obstacles we have to confront and trying to help ourselves and them clarify the significant changes in both the composition and consciousness of 'the working class' will be part of overcoming such ignorance. Which involves neither opportunist cheer-leading demagogy involving intellectual contortionism of the most spurious kind nor impotent laments that the course of class struggle is not running smoothly according to notions developed through over a hundred years of previous movements This epoch could lead to a kind of totalitarianism very far from classical fascism (though reflecting aspects of it) or to a genuinely subversive movement with the potential to create serious problems for all forms of capital, not just the current neoliberal form. Remaining content to merely  comment on these tendencies will inevitably ensure the victory of the former.

4/12/18:
Tunisia, Sidi Bouzid: clashes between tyre-burning youths and cops  No clear reason given for this.

France: unions announce unlimited lorry drivers strike from next Sunday…There are also rumours of post office workers going on strike soon… high school students clash with cops in 22 towns in protest against the reform of the 'Bac' and increased limits on university access…Nice: 2,500 high school students block many roads throughout town…about 200 high schools blockaded or partly blockaded throughout country … Report in English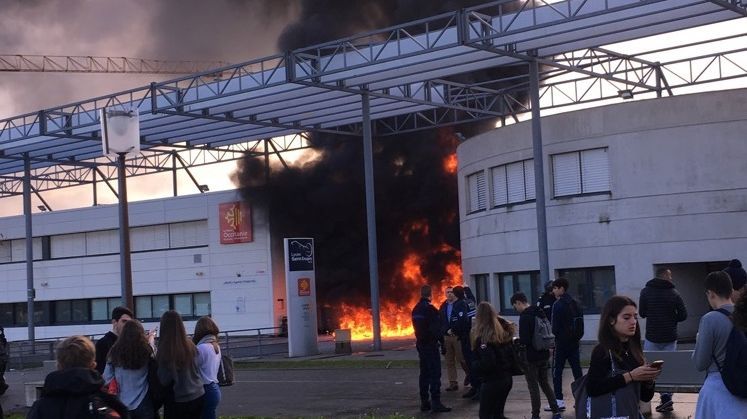 Bins and pallets burning in Blagnac, where the fire spread to the entrance of Saint-Exupéry high school and caused significant damage to the project of conditioning that goes under the absurd name of 'education'. The high school closed for 48 hours for 'security'. 24 schools in Toulouse were blockaded, amongst which a dozen were blockaded with burning bins and pallets. A young demonstrator was seriously wounded in the face by a flashball.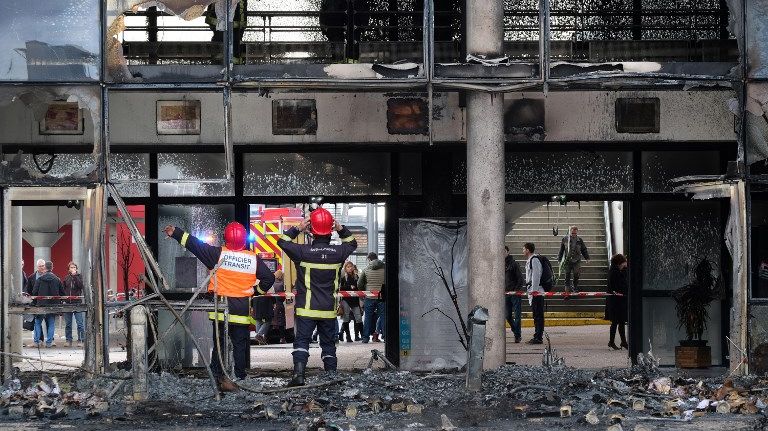 Below: outside a high school in Bordeaux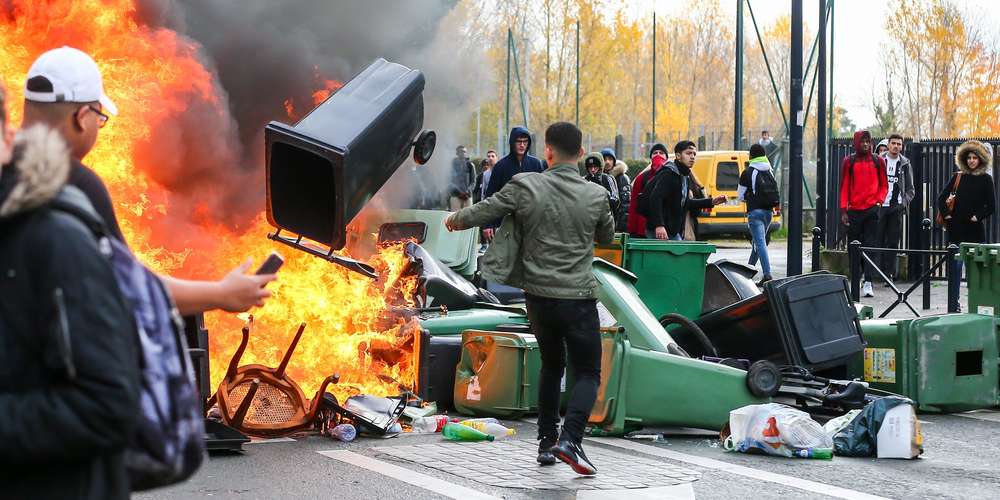 UK, Staffordshire: football fans attack cops and stadium…Warwickshire: Christmas abolished

Spain, Cadiz: shop windows broken, ATM and containers burnt, right-wing journocops attacked on demo against election of 12 deputies from far-right anti-immigration/anti-abortion party

3/12/18:
France: over 100 high schools blockaded in protest against the reform of the Baccalaureat…Seine-St.Denis: some looting etc. during high school protest   "Protesters burned garbage cans, destroyed street furniture, and attacked businesses that were looted. Several vehicles were burned.…On images broadcast on social networks, we see police fleeing from  dozens of "casseurs"." …clashes between cops & high school students in 14 towns Though this was for the most part initiated by the high school union, obviously in many cases they went beyond the limited protest the union envisaged.…Paris: ambulance workers clash with cops "…ambulances… blocked a bridge leading to the National Assembly in Paris on Monday. Lines of riot police officers stood in the rain to prevent the ambulance workers from getting too close to the building. Ambulance drivers were also pictured facing off with officers during a demonstration at the Place de la Concorde."…Montreuil: part of court building torched…Cote d'Azur: increasing problems of getting petrol due to blockades …Report on how 'yellow vest' blockades are effecting work in UK…La Reunion (East Port): heavy clashes between 'gilets jaunes' and cops as state tries to unblock blockade of port  "According to the prefecture, "nearly a thousand customs-cleared containers are awaiting delivery: fresh products, wheat for bakeries, raw materials for the manufacture of animal feed, medicines and medical equipment intended for hospitals and hospices for the elderly …other Yellow Vests  invaded the university campus of Moufia. Taking over the amphitheatres, they presented their demands to the students."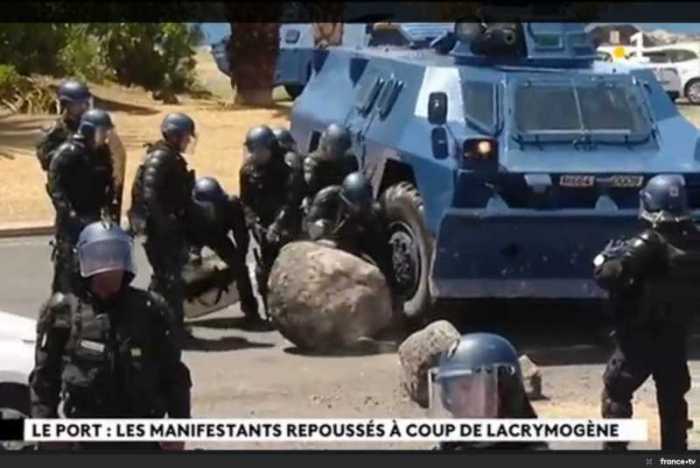 Cops on La Réunion, backed by 2 armoured trucks, remove part of port blockade
Eire, Dublin: teachers & staff occupy private language school following non-payment of wages

Lithuania, Vilnius: 2nd week of teachers' occupation of Ministry of Education

Belgium, Liege: 'yellow vests' block entrance to Finance Tower, closing it down

China: report on truckdrivers' strike
2/12/18:
France, Narbonne: night of rioting as Vinci building-cum-police station, toll both etc are torched "Last night dozens of "casseurs" burned  buildings around the southern toll booth of Narbonne on the A9 motorway. Buildings and cars on fire, barriers broken, panels torn off, toll booths attacked with pickaxes… Events took a violent turn in the night of Saturday to Sunday….Near the toll booth, all the buildings were evacuated, including the premises of the gendarmerie highway platoon. There were 8 gendarmes and 6 policemen inside… …A group of vandals went to the headquarters of the General Society in Croix Sud and attacked the windows with projectiles. At the toll booth, the extent of the damage is considerable…The few policemen and gendarmes present on the spot received Molotov cocktails launched by a horde of 200 people and saw their premises set on fire. …The operating premises destroyed during this arson attack included those of the district and the security police."
1/12/18:
France, Paris: far left and far right clash with cops in 'yellow vest' protests…lots of luxury cars & cop car torched; also a restaurant… More here "…masked protesters fought running battles with police, torched cars, set fires to banks and houses, and burned makeshift barricades on the edges of demonstrations against fuel tax. Near the Arc de Triomphe, one of Paris's best-known monuments, masked men burned barricades, set fire to buildings, smashed fences and torched luxury cars on some of the most expensive streets in the city as riot police fired teargas and water cannon. Then, by early evening, rioters spread around Paris in a game of cat and mouse with police. Luxury department stores on Boulevard Haussmann were evacuated as cars were set alight and windows smashed. Near the Louvre, metal grilles were ripped down at the Tuileries Garden where fires were started. On the Place Vendôme, a hub of luxury jewellery shops and designer stores, rioters smashed windows and built barricades….Anti-Macron graffiti was scrawled over the Arc de Triomphe near the tomb of the unknown soldier and protesters burst into the monument smashing up its lower floors before climbing on to the roof. More than 250 people were arrested and at least 100 injured – including one protester who was in a serious condition on Saturday night…" It was later revealed that the cops ran out of teargas.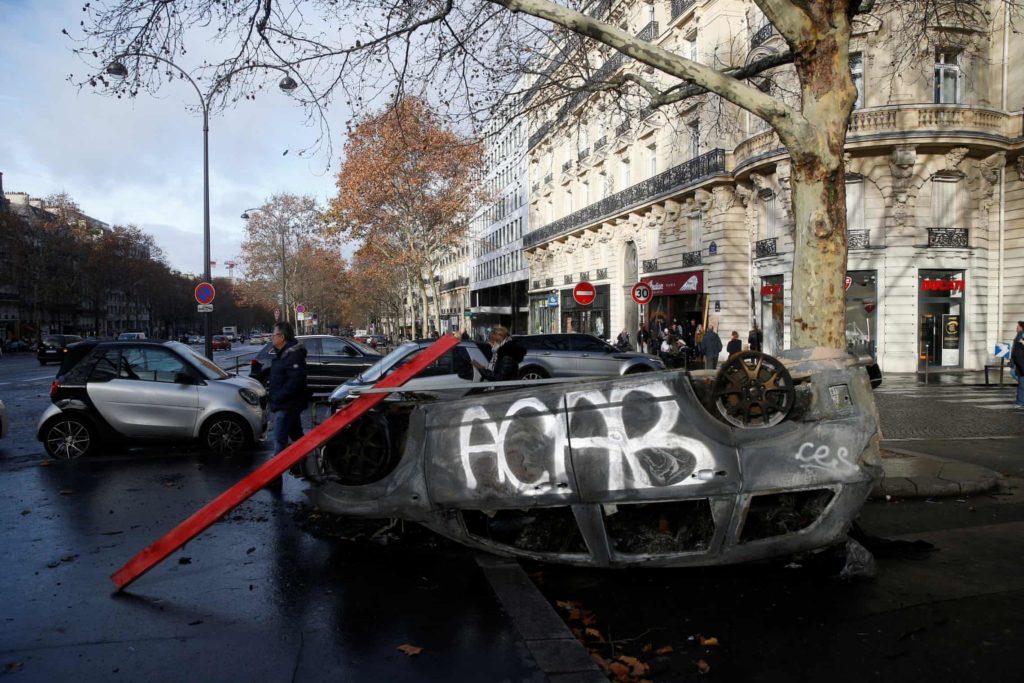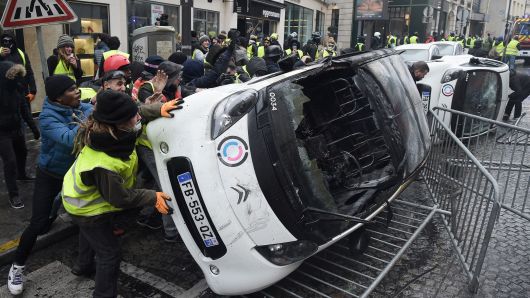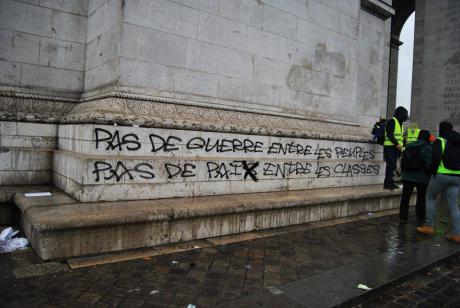 "No war between peoples, no peace between classes"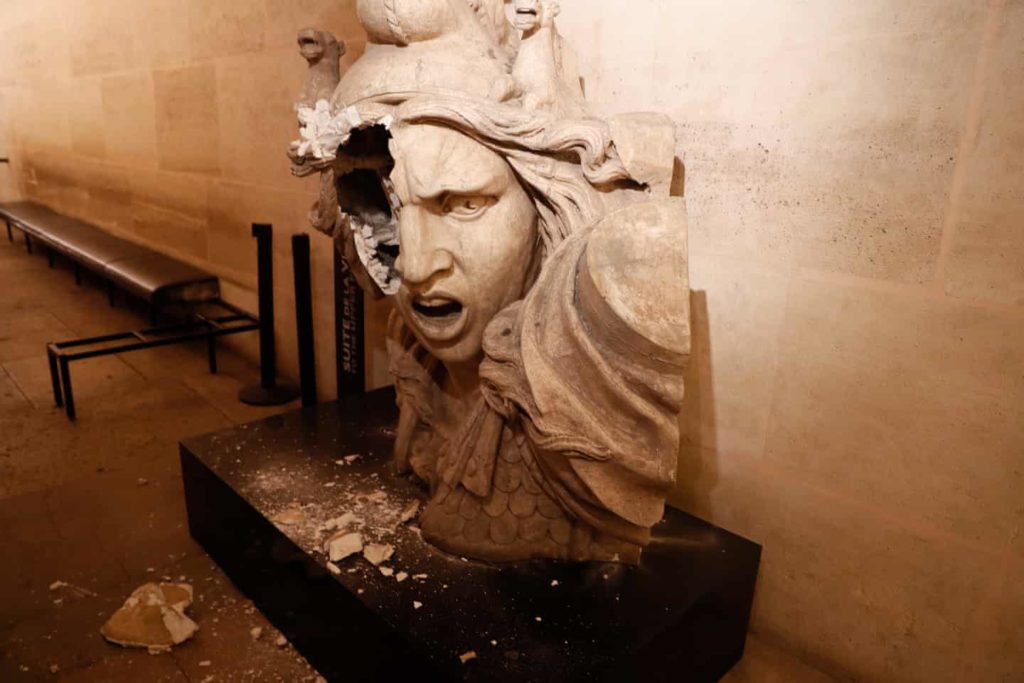 So long, Marianne – it's time that we began to laugh
and cry and cry and laugh about it all again:  a smashed  statue of  Marianne,  symbol of the French Republic, inside the Arc de Triomphe (some suggest that this may have been done by right-wing monarchists, but given that there were all different strands of the political spectrum, including anarchists & ultra-leftists, round the Arc de Triomphe, this is pure speculation). Protesters smashed other statues in the monument and destroyed the gift shop…On the other hand, some 'yellow vests' protected the tomb of the unknown soldier –  a symbol of militarism – from those who wanted to attack it.

Can all this seriously be simply reduced to just petit-bourgeois populism and nothing but? This is not to underestimate the growth of ultra-right populism, but it's clear that there's a lot more to what's happening in France than just that. It's a weird difficult-to categorise mix of people…Possible state of emergency to be declared. The government has asked all the other main political parties to have a meeting with them.  Marine Le Pen asked Macron if he wanted to be the first president of the 5th Republic that had ordered the shooting of protesters. But during  '68 at least 2 people were shot dead by the cops towards the end of the movement (and several others either disappeared or turned up to have apparently died in car accidents). Moreover, in 1961, also under de Gaulle, something like 200 Arabs were killed, most of them thrown into the Seine. And in '86 an Arab was killed by the cops, though not shot. But for the daughter of the torturer of Algerians, these incidents are obviously irrelevant.
See this Crimethinc article for an account of the day.
This round-the-clock French TV station gives constant news (but also about different things)….I'm tempted to say "Watch this space" but, apart from the fact that you can probably get more information elsewhere at least until Monday, it also implies you should just "watch"…clashes in 17 other towns…Nantes: airport invaded…Puy-en-Velay: prefecture burned down The media presents this crowd as being callous & bloodthirsty, indifferent to the fact that this was full of workers as well as the prefect; hard to know if their being constantly subjected to teargas had made them blind to the situation or that it was the media, indifferent to most people's real lives, typically doing their worst…Marseille: looting as 3 demos converge (CGT, 'yellow vests' and those protesting 2000 people evacuated following collapse of buildings 4 weeks ago) "Thirteen people were arrested in the evening… including for the looting of a phone shop and the burning of a police vehicle on the Canebière."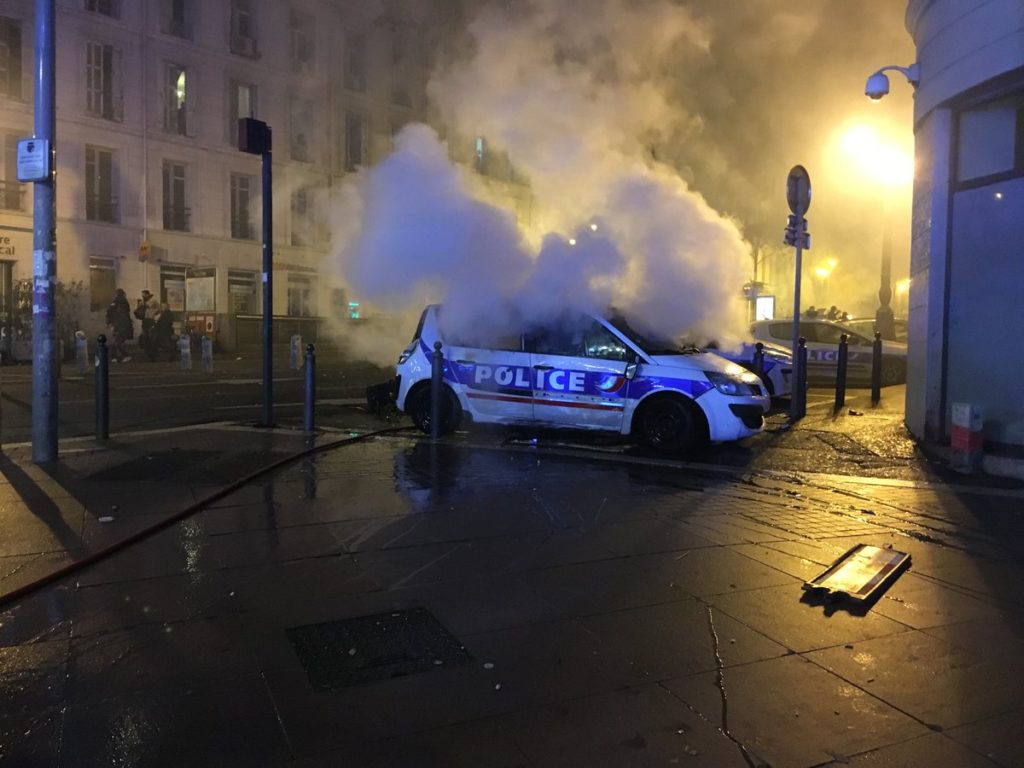 …. An 80-year-old woman killed by a teargas grenade fired at her face  (the official version is that she died because the hospital made some medical mistakes)