"What to the Slave is the 4th of July?"
– Frederick Douglass
23/7/18:
Iraq: further protests "Protesters on Sunday took to the streets in the cities of Samawah and Nasiriyah, chanting "no to corruption", a scourge Iraqis say has long blighted their country. Since the start of the demonstrations those involved have focused their anger on the political establishment, with government buildings and party offices being sacked or set ablaze. The Iraqi authorities have scrambled to halt the unrest and have blocked social media sites online to try to prevent the spread of protests."
Argentina, Mendoza: youths attack cop trying to arrest one of them…Santa Fé: 200 try to loot store as hunger gets worse

21/7/18:
Nepal, Kathmandu: minister's car stoned during clashes over medical reform & fasting doctor See also entry for 19/7/18. Unfortunately these protests seem to be dominated by the youth wing of the main opposition party.

20/7/18:
India, Manipur: internet connections cut for 5 days following clashes

Iraq: movement continues to spread as internet connections are cut "A man was killed on Friday in a new day of protests in Iraq, a medical source said, as authorities struggle to contain social unrest which has reached the capital Baghdad. The latest death brings to nine the number of people killed in protests as Iraqis hit out at a litany of social and economic woes….Protests were held across the south on Friday and a number of political party offices and public buildings were torched."

Tunisia, La Goulette: stones thrown at security guards as they seize "illegally planted" parasols

Australia, Melbourne: anti-racists block highway
19/7/18:
South Africa, Western Cape: 3 cop guns stolen during housing protests; Police Minister chased away by protesters

Iran, Tabriz: railway workers occupy railway building "Maintenance workers in Azerbaijan province, who have not been paid since April, refused to start work on Thursday, having stayed in the railway's offices overnight. They continued their protest yesterday against non-payment of wages, the lowering of the skill index rating for their work and a lack of effective mechanisms to respond to their workplace concerns and demands."
India, Manipur: students clash with cops during student strike  "Educational institutions, shops, markets and government offices in Imphal were closed on Thursday and vehicular movement remained suspended due to the strike"
US, Louisville: passive pacifist non-response to Occupy ICE camp dismantlement by filth

Nepal, Jumla: cops clash with students locking up hospital where doctor is on hunger strike so as to make health care equally available to all and demanding end to prioritising of private medical colleges "Students had locked the chain-gate of the hospital and sat on the staircase and hall to prevent the police from reaching Dr KC. The police smashed the padlock and used batons on the students to clear the way. The students present there claimed that police constable Kamal Upadhyaya, who was with the students in civil, received bullet injury when the police opened fire during the clash. Chief of Jumla Police DSP Tapan Dahal, however, claimed that shots were not fired inside the hospital and added that the police constable has been injured by shattered glass.Three doctors, meanwhile, have been seriously injured after being thrashed by the police. Dr Sandip Shrestha, Dr Siddhartha Khati, Dr Umesh Kafle are currently being treated inside the hospital, according to nurse Sapana Shahi. Similarly, dozens of students and visitors of patients have also been injured during the clash. The emergency ward is crowded with those injured in the police action."  More here

18/7/18:

Iraq: clashes over unemployment, dirty water & electricity cuts continue  "Demonstrations… have spread to other cities including Amrah, Nasiriyah and Samawa. At least eight protesters have been killed in clashes with security guards, with hundreds more injured. The violence broke out due to anger over soaring unemployment, dirty drinking water and a lack of electricity. But protestors are increasingly targeting oil facilities such as the West Qurna 2 and Zubair oil fields.The protests might force up the price of oil on fears of supply disruption…The scale of the protests means some low-level disruption to oil exports is likely at some point in 2018.". More here. "…protesters have blocked roads leading to local refineries by installing tents on the main streets near the oil fields. On July 13, the special forces of the anti-terrorist unit arrived in Basra to protect the province's oil companies and oil fields. During the current protests, equipment has also been stolen from the oil fields, although on July 11 the demonstrators managed to arrest eight thieves and handed them over to the authorities as a sign of trust between the demonstrators and the security forces.". From this distance, it's hard to know how much such sickening moralism – handing over those expropriating the expropriators to the protectors of the multi-millionaires-cum-multi-mass-thieves legimatised as "the owners" – prevails in this movement. I'd optimistically guess that, considering the killings meted out to protesters by this self-same protection racket, that such grassing up is far less likely 7 days on. Video here.
US, California: activists shut down council meeting,  threaten riots over death in custody of black guy There's a scene in "The Good, The Bad & The Ugly" in which a guy points a gun at the Ugly one whilst he's in a bubble bath and endlessly threatens him; the Ugly character shoots him dead (having had a gun hidden by the bubbles), saying "If you're going to shoot shoot – don't talk". What's the point of threats other than to give your enemy time to prepare?
Greece, Lesbos: report on riots and miserable conditions in refugee camp See also this analysis

South Africa, KwaZulu Natal: roads blocked in 5 towns protesting against fuel hikes…Western Cape: 40 million rands worth of damage during housing protests "Infrastructure and equipment, including the conveyor belt and baler at the recycling plant (among others), have been burnt, which has caused substantial damage to the waste transfer and recycling plants. Current estimates of damage, but not limited to, the Hermanus Sewage Works, swimming pool buildings, various other buildings and roads, amount to about R40m."
17/7/18:
Nicaragua, Masaya: at least 3 dead as Sandinista forces re-take proletarian neighbourhood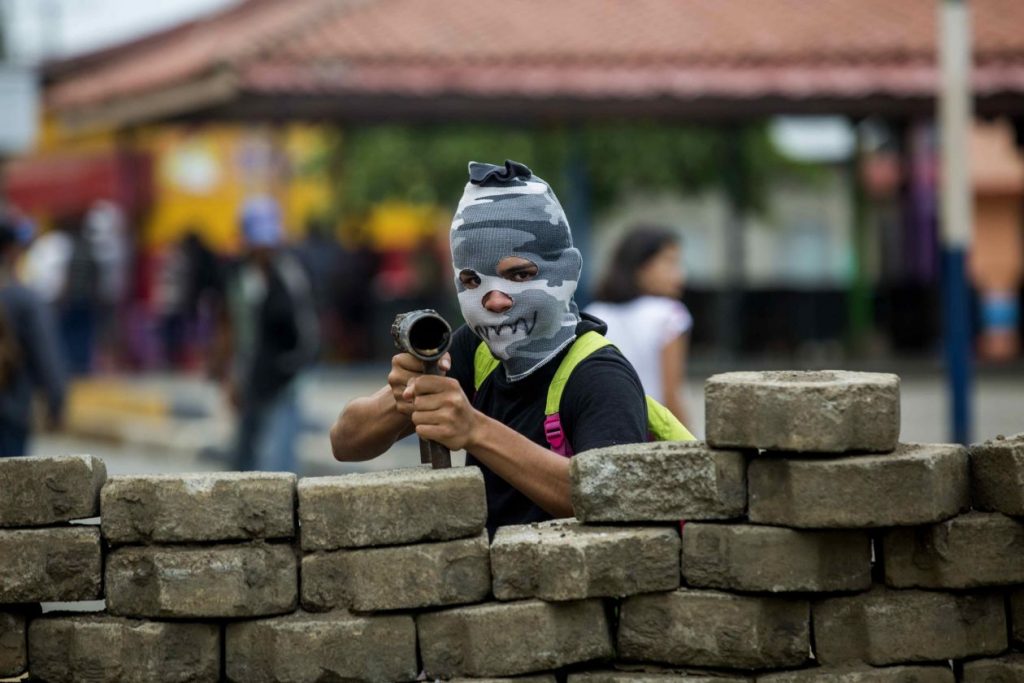 Monimbo, Masaya: smile at the camera…the aestheticisation of desperation
Spain, Madrid area: clashes on 2nd day of strike at Amazon…This says that the cops were stopping strikers, who have an information tent on the roundabout opposite the Amazon building,  from giving out information about the strike. The cops say they were causing traffic problems. More here"Thousands of Amazon workers have staged strikes across Europe in order to demand better working conditions, with some protests ending in violent clashes….Participants of the three-day strike hail from countries across Europe – home to some of the world's biggest economies – including Germany, Spain, Italy, Poland, France and the UK….Tensions have been running high amid horror stories from Amazon workers in the wake of news that Jeff Bezos is now worth $150 billion (around £113 billion); employees have reported skipping bathroom breaks and falling asleep standing up in attempts to meet targets and keep their jobs. Meanwhile, Bezos,€" the richest person in modern history, continues to amass his vast wealth."

South Africa, Western Cape: land squatters stone cops etc. in order to release those arrested

Iraq: list of links about what's happening on the protest/class war front

Kenya, Nyeri County: deputy principal hospitalised in student riot over exams "At the same time, Karatina Girls Secondary School in Nyeri County has been closed indefinitely. Nyeri County Education Director Moses Makori said the action was taken after students refused to sit for their exams. There have been several cases of student unrest across the country in the recent past. The government said the fear of the Kenya Certificate of Secondary Education (KCSE) exams scheduled for October 2018 was one of the main reasons for the student unrest. However, the Kenya National Union of Teachers (KNUT) said that was a flimsy reason and faulted and accused the government of failure to address the challenges in the education sector. "
16/7/18:
Venezuela, St. Felix: police station & police motorbike torched following cop murder of boy during protest against power cuts & water shortages…This says that there was looting.
Greece, Athens: hospital workers clash with cops as they try to storm Finance Ministry "...the national union of public hospital workers (POEDIN) on Monday clashed with police in a protest outside the Finance Ministry over ongoing austerity. Police fired tear gas at protesters who tried to storm the ministry building. Some protesters threw eggs and vegetables at officers. POEDIN is opposing staff cutbacks and reductions to the benefit for hazardous work usually paid out to hospital staff."
US, Los Angeles: Fox News ad detourned

15/7/18:
Iraq: state closes internet; dozens injured as protesters clash with state "Dozens of demonstrators were wounded in southern Iraq Sunday in clashes with police as protests over unemployment and a lack of basic services entered a second week…The protests hit several provinces including Basra, despite Prime Minister Haider al-Abadi announcing fresh funds and pledges of investment for the oil-rich but neglected region. The internet had been out of service across the country for 48 hours. In the city of Basra, demonstrators tried to storm the governor's headquarters but were dispersed by police who fired tear gas at them…Police also fired tear gas at stone-throwing demonstrators who tried to push their way into the Zubeir oil field south of the city…Several people, including journalists, were overcome by the gas…In Nasiriyah, provincial capital of neighbouring Dhi Qar province, 15 demonstrators and 25 policemen were injured in clashes, deputy health director Abdel Hussein al-Jabri said. The clashes, including hand-to-hand combat, erupted when the demonstrators gathered outside the governor's office and pelted security forces with stones. In Muthana province bordering Basra, hundreds of demonstrators gathered outside the governor's headquarters and some torched parts of the building, a police source said. Protesters in Muthana also set fire to the offices of the Iranian-backed Badr organisation in the province's largest city of Samawa. On Saturday, protesters had set alight Badr's headquarters in Basra, prompting authorities to impose an overnight curfew across the whole province." More here "In a town near the southern city of Amara, police shot into the air to disperse protesters after demonstrators set fire to the municipality building. Thirteen protesters and seven policemen were wounded in the clashes." And a possibly over-optimistic report here "…Protesters in Basra have occupied many government's buildings and offices and are involved in street fighting with the police and security forces. People have also set fire to offices and the headquarters of political parties in the city. Since Friday 13th July protest have spread to many other towns and cities including Nasiryah, Maysan, Qadisiyyah, Karbal, Thi Qar , Babil and Najaf. In Najaf, the most Holy Shia City in Iraq, protesters managed to occupy and take control of the airport. In Basra they are trying to take control of the oil fields and refineries to stop oil being exported. On Saturday afternoon further protests started in four neighbourhoods of Baghdad very close to the Green Zone (https://en.wikipedia.org/wiki/Green_Zone) – a hugely sensitive place in Baghdad. It seems that the central government has now imposed a night curfew in certain areas of Baghdad. Other reports talk about the cutting off of the main road by the government between Baghdad and Kirkuk…." I say "possibly over-optimistic" because another report I saw said that what the author of the above refers to about the airport take-over –  "protesters managed to occupy and take control of the airport" – was that the protesters got through the airport's perimeter fence and that this protest ended after an hour or so.

France, Menton (Alpes-Maritimes): youths stone cops just minutes after more French millionaires put bags of wind in nets than Croatian millionaires…More here "…youths looted a store and clashed with police. …Dozens of youths shattered windows at a popular store on the Champs Elysees" ….TV transmitter for the small town of St Jean du Gard torched just hours before the match… This claims 12 towns had clashes with the state. See this for a critique of the spectacle of football and of the 2014 World Cup in particular.

A translation of this:
Some thoughts for the 15th of July [written before the match]:
Following the victory of the French team in the semi-finals of the World Cup, a certain fervor took over the streets in the different cities of "French territory". From the final whistle, hundreds or even thousands of people gathered in the squares of the city centers. You could hear screaming, singing, laughing, seeing strangers kissing and dancing, people jumping on cars, smelling smoke. Something unusual was floating in the air. A fever that had a taste of what could look like a moment of revolutionary effervescence, of breaking with normality.
But in this world of bosses, cops and politicians, football (just like alcohol, drugs, religion, games, etc.) serves social pacification. Because it takes us out of the gloom of everyday life and misery (material and emotional) for a moment (without any change in our lives), football helps us accept shit daily. Just as rap, football (or more broadly music, art and sport) offers individual opportunities to get out of wage slavery. But how many footballers and millionaire rappers to how many precarious, unemployed, galley slaves or prisoners are there? Capitalism sells dreams of better days. It teaches us wisely to wait for a hypothetical day of glory. But all this hope is only illusion. We are – once France qualified in the finals of the World Cup – still nothing other than the role that has been assigned to us by the capital.
And if politicians of all stripes hailed the victory of the French team, it is not a coincidence. Because behind the political quarrels and the appearances of ideological pluralities, from Mélenchon to Le Pen, they support capital and the nation. Whether capital is run by liberals or Keynesians is not the issue. That the nation be the banner of freedom or equality isn't either. Because the problem is precisely the existence of nations, of capitalists and all that they understand of exploitation, being ground down, borders, wars and deaths. And while we are singing, like 20 years ago, the tremendous existence of  "France's black white arab team" seen as a symbol of the republican  model of integration  into the national community, we were soon faced with real social conflicts. This self-same French team whose players were called "immature leaders" by the Minister of Sports Roselyne Bachelot in 2010. Because when the "blues" [name for French national team] are bad, the media and politicians immediately reduce them to their original condition: that of proletarians coming  from immigration, of "scum".
And while French flags are being waved around the streets, it seems important to remember that the nation is nothing more than an idea (a  shit idea), a myth designed to create a a common sense of belonging to justify the existence of  the State, an authority whose interests will always be contrary to those of individuals. And while some middle-class people rave about  FRRAAANCCEEE's victory alongside the poor, perhaps we should ask ourselves how it is possible to accept such hypocrisy. Because it is the same people who support the killings by the state through its police who turn Umtiti into a national hero. But how could it be otherwise? The police have never had any other function than to maintain the current social order, that is to say to protect  private property (the base on which rests capitalism and thus the wealth of these same bourgeois nationalists) and state institutions.
In a world that leaves the only alternative to work as prison, the spectacle of football helps to be dazzled by dreams of money, luxury cars, women-as-objects. As  world champion or not, the French team will always be composed of millionaires after you go back to work for a boss or to exploit yourself (start up,  Nation Oblige).
So if there is anything to be done  with this eventual victory (or otherwise, defeat) of the French team in the World Cup, it is to take advantage of our massive presence in the streets to share and spread a little of the joy and rage we have through the destruction of everything that daily oppresses us. Because for joy to continue, for possibilities to open, for the feast to continue, the institutions and the men who make our lives a deathly plague must be attacked and burned to ashes. Instead of brandishing French flags, let's burn them with pride – not to replace them with others – but so that we never have to conform to identities, to be locked in cages and categories of power. Never again to follow any banner extolling the merits of the nation or of whatever bit of  bullshit.
To live free here and now.
Death to the state, death to patriarchy.
That the prisons burn, that the bosses die.
Fuck France and all nations.
14/7/18:
France, Essonne: looting &/or attacks on cops in 5 areas of department on Bastille Day  ""They broke through the entrance, entered the store and set fire to  fireworks," says an employee. For now, the damage is not yet known, but they stole about ten bottles of alcohol, sweets and ice cream."…A few kilometers away, Crosne's city center also experienced an eventful night. "We found this situation in several municipalities of the department, said Jean-Francois Papineau, departmental director of public security of Essonne. Small groups attacked the police with pebbles, fireworks and sometimes even cobblestones. No policeman was injured"…134 vehicles torched, 5 cops injured in whole of Paris area…Besancon: motolovs v. riot cops

US, Chicago: clashes after cop kills black guy…another report and video here "A witness said three to four cops stopped to talk to the man in his mid-thirties after seeing he was wearing a holster and asked for his concealed carry permit. When the man reached for it, an officer shot him…Another witness said he was shot at least five times…The man was pronounced dead at Jackson Park Hospital. Chicago police patrol chief Fred Waller said officers stopped to talk to the man 'exhibiting characteristics of an armed person' in the South Shore neighborhood before the dispute took place. Waller said the man appeared to reach for his gun. "
Nicaragua, South-East: capitalist law & disorder being restored

Haiti: Prime Minister resigns following riots

13/7/18:
Iraq:  protests mainly about unemployment spread to 4 cities. More here "At least one protester was killed and dozens of others were injured in clashes with police during anti-government demonstrations in the southern Iraqi Governorate of Maysan…Dozens of police officers were injured in clashes with protesters as well…Protest actions began in southern Iraq about a week ago in the port city of Basra. The situation worsened after the death of a demonstrator last Sunday protesting against unemployment and deterioration of the situation in the communal sector. The protesters are demanding that the authorities put an end to electricity and water supply disruptions. Protests are now spreading to other provinces in the south of the country….on Friday, protesters broke into the international airport in the Iraqi city of Najaf and also seized a provincial administration building. Iraq's state television reported later, however, that the protestors had withdrawn from the airport and air traffic had resumed."
Nicaragua: general strike; student killed in capital…Masaya: 1 cop dead "During the confrontation two people lost their lives. Unofficially it is known that one is a policeman and the other a civilian….A group of people who were in the Divine Misericordia Church… denounced the fact that they were being attacked by armed civilians [ie state or Sandinista-supporting forces in plain clothes]and that they were not allowed to leave. In images shared on social networks, people were observed locked in the church and asking for help….The Archdiocese of Granada reported that at the time of the celebration of the Mass in La Merced church, a mortar was intentionally thrown from the street when a demonstration by groups related to the Government passed through the sector. …The students who are in UNAN have been attacked since this Friday afternoon, several  young people have been injured and taken to the hospital. It is also reported that the attackers have set fire to parts of the university campus."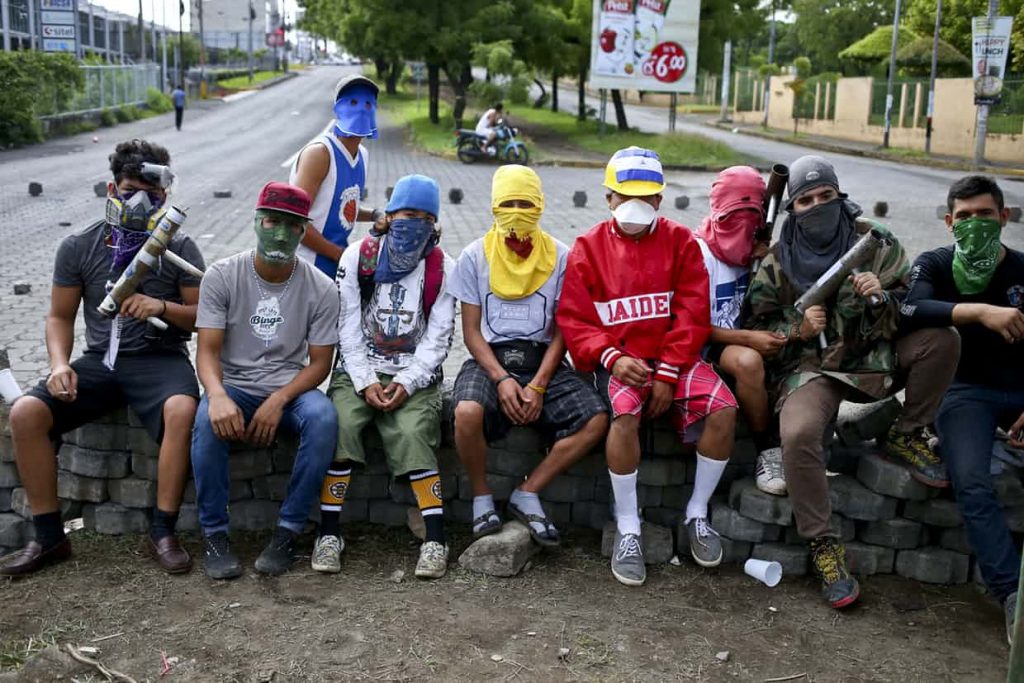 Pretty photo of an ugly situation (which is world-wide)
South Africa, North West: protesters against paving allocation chain up municipal offices, locking bosses & workers inside

12/7/18:
South Africa, Northern Cape: cops use stun grenades & rubber bullets against large riot over service delivery & electricity price hikes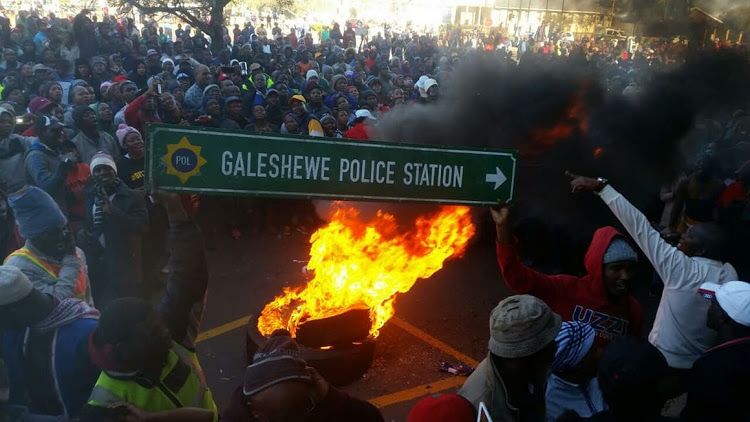 UK, Teeside: mindful attack on sand statues commemorating  nationalist justifications for mass murder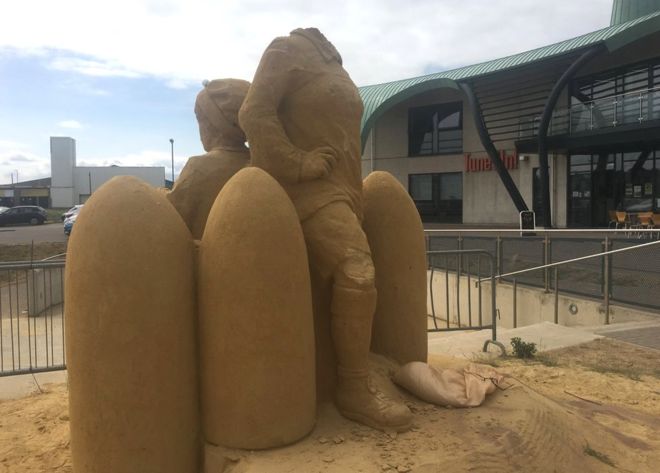 Ironically, after this internationalist vandalism the statue more realistically depicts a soldier – having had his head blown off
11/7/18:
France, Cannes: youths from working class part of town attack cops with stones, bottles etc. in filthy rich area after World Cup semi-final win…Frejus (Var): cops use flashballs and teargas as restaurants & shops are smashed

South Africa, KwaZulu Natal: 3 electricity transformers torched, roads blocked in housing protest as land occupation continues

UK, London: bourgeois collaborator in mass murder and mass theft  attacked Though it's unlikely that those who attacked him did so knowing significant aspects of his social position, it's good to see muggers thumping the right target for once.

Kenya, Nairobi: clashes as market traders protest increased rates

10/7/18:
France, Nantes: 13 cars torched; no arrests on 7th night of riots

9/7/18:
Haiti: 4th day of clashes as workers launch general strike "Protesters also set fire to a tax office in the Tabarre area of the capital. But much of Port-au-Prince and the country shut down. The general strike halted the mini-buses and taxis that most Haitians depend on to get to work or school. Most businesses closed after the people took advantage of the protests to loot shops around the capital."
South Africa, KwaZulu Natal: barricades of burning tyres on major road in protest against minibus taxi fare increases More here…Western Cape: people living long-term in very over-crowded rooms raise shacks in protest
Kenya, Nairobi-Mombasa: highway blocked for hours by angry residents  protesting water shortage as water workers protest delayed payment & harassment from bosses …Video here

Korea, Bupyeong: subcontracted car workers occupy CEO's office

France, Creuse: cops teargas 150 protesters having put up roadblocks in front of gendarmerie to try to prevent expulsion of young Sudanese from country "Nordeen E. fled his country at war, and through chance and  fate, he found refuge in Faux-La-Montagne, commonly known for its spirit of mutual aid and hospitality. The young man has been there for eight months, but his papers are not in order. France is asking him to return to Italy, the country through which he arrived in Europe to investigate his asylum application. The young Sudanese never hid, and he  himself went to the Felletin Gendarmerie following a summons. The inhabitants are disgusted. The gendarmes faced their anger and their disgust: "I was playing football with him, and sending him back to Italy is directing him to Sudan, and you are condemning him to the slaughterhouse," said a young man. "It's  not a question of legality but of humanity"
8/7/18:
Haiti: 3rd day of fuel riots…looting in Port-au-Prince. More here "In the capital, Port-au-Prince, demonstrators erected barricades with trees and burning tyres, disrupting traffic and blocking roads in the outskirts. They set parked vehicles on fire outside the Best Western and Oasis hotels and telecommunications company Natcom in Pétion-Ville. Government and commercial properties were also set on fire – local media reported a fire at a Coca Cola plant – and windows broken, with shops and supermarkets looted in areas such as Delmas."
Below: supermarket car park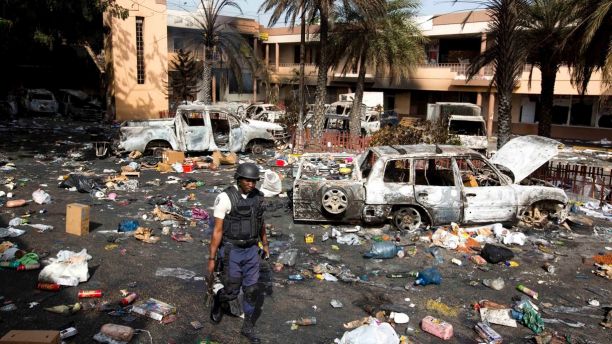 Nicaragua, Carazo: at least 14 dead, including at least 4 of our uniformed enemies, as the state dismantles barricades…this claims 20 are dead

Iraq, Basra: at least 1 killed during riots against unemployment, water shortages & electricity cuts as temperatures hit 50°C

France, Essonne: 20 youths throw cobblestones & heavy-duty fireworks at police station and cop car; no arrests

7/7/18:
China/Tibet, Qinghai: locals clash with state over mining "Chinese police have launched a violent tear-gas assault on Tibetan villagers in Qinghai's Yulshul Tibetan Autonomous Prefecture….residents had been protesting for two months against mining activities that had begun without informing the local population….On 7 July, one hundred Tibetans went to a place called Upper Dechung where mining operations were underway….Chinese police ordered the crowd to disperse and then charged the demonstrators using tear gas. Many were left unconscious in the attack, whilst others suffered serious injuries….Fearing further threats from Chinese police forces in the area, around 50 to 60 local residents left that evening to ask provincial authorities for their help and protection but have not been heard from since. "Mining has taken place here off and on, and the Chinese told us about a year ago that they were going to build a road through the area, but the local Tibetans began to suspect that the Chinese were digging not to build a road, but a mine," the source said. Mining in Upper Dechung is not being carried out by the Chinese government, but by private interests. "Local people suspect corruption is involved in connection with this joint venture," he added. Protests of this kind have been going on for several years. In 2015, Tibetans took to the streets against mines in the Tsojang Tibetan Autonomous Prefecture….Companies pay to continue to operate with impunity. The authorities turn a bling eye to environmental disasters and ignore Tibetan protests. The territories are rich in iron, copper, and limestone. For China, raw materials from these areas are essential to support its ambitious manufacturing projects. However, mining activities cause significant environmental damage: water pollution, loss of pasture land, and the destruction of artistic, sacred and natural sites." According to an article in Socialisme ou Barbarie in the 1950s, Mao's so-called People's Liberation Army were invited by the Dalai Lama and the Tibetan ruling class in the early '50s into Tibet in order to put down insurrectionary movements (riots, strikes etc.). They slightly overstayed their welcome. One day I'll try to translate the text.

 France, Nantes: only 18 cars & construction site machine burnt on 5th night of riots …CCTV camera brought down, smashed & burned (below)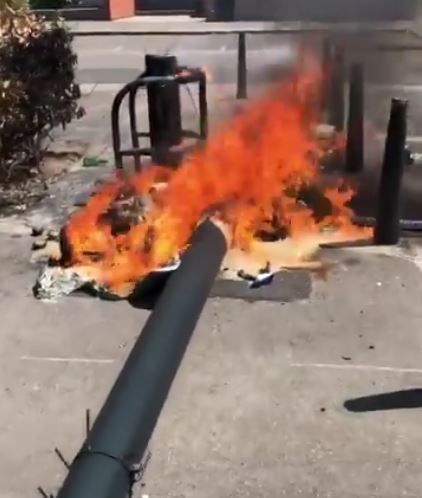 Haiti, Port-au-Prince: massive fuel hikes (38% – 51%) suspended after riots; hotel in rich part of town attacked…main arteries of town blocked with burning tyres etc. "In the most affluent neighborhoods of the metropolitan area, a large amount of the windows and windows of vehicles parked in the streets were broken by the stone throwing of angry demonstrators. Several cars were burned, including at least one belonging to the Haitian National Police (PNH). The police presence was very occasional during the evening if not nonexistent in some areas of Port-au-Prince despite being largely targeted by this urban violence."…several people killed "Demonstrations also broke out in Cap-Haitien, the second-largest city, as well as in the communes of Les Cayes, Jacmel and Petit-Goave. "The poor people want to be able to eat," one masked protester told Reuters news agency, while fire consumed a vehicle behind him. "I want to tell (President) Jovenel (Moïse) that Haiti is not for him and his family. Haiti is for every Haitian. He needs to leave the country and leave the country to us so we can live."
South Africa, KwaZulu Natal: 100s occupy land "One of the occupiers Siyabonga Nkosi says he was promised a low-cost house in 2004 but nothing has been done. "I've been renting in a shack for years. When I came back from work on Saturday, people were already cutting the land. I saw people choosing spaces and I joined them. I now have my site for my home. We need land and we are taking it."
6/7/18:
France, Nantes: prefect bans buying & selling of fuel and fireworks for 6 days on 4th night of riots as cop is charged with manslaughter…nearly 50 cars torched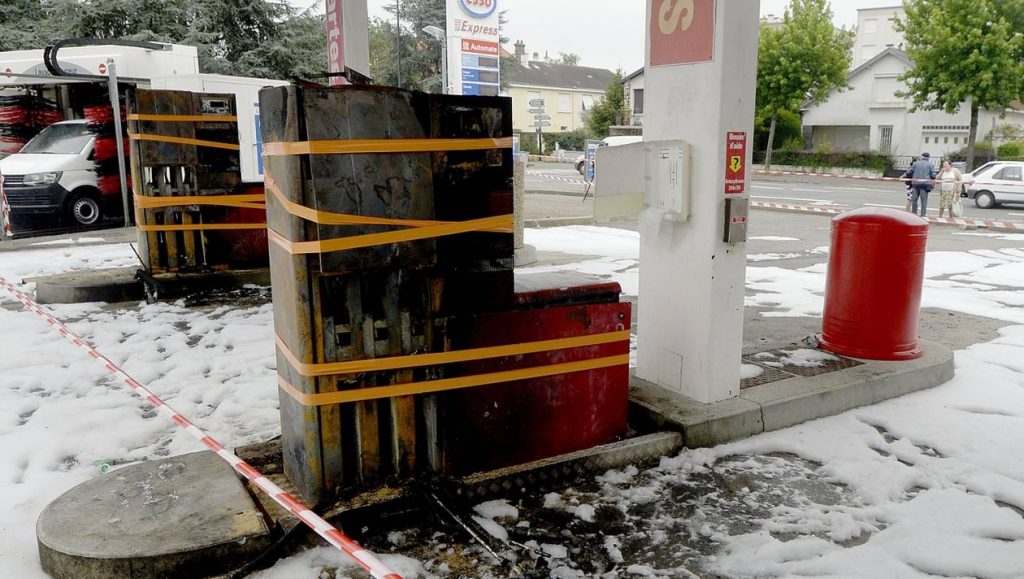 Nantes: rioters create fuel shortage, 5th July…state creates fuel shortage 6th July
Algeria, Béchar: several public buildings attacked during riots over water cuts and land distribution…several riots over water shortages/cuts in various areas in south of country

5/7/18:
France, Nantes: 3rd night of rioting…partial burning of high school & gas station as 50 cars are torched "The police also said that, like on the day before, a Molotov cocktail was thrown at a police van in the courtyard of the police station in Saint-Herblain, in the suburbs of Nantes." More here "The Leonardo da Vinci vocational school, in the district of La Bottière, north-east of Nantes, was the object of the beginning of a fire. The facade of the school is partially blackened, it is the reception building which was the prey to the flames.…Near the high school, a kindergarten class at Urbain-le-Verrier school was also destroyed. …The Bar-PMU at the Doulon-Bottière shopping center was totally destroyed by the flames as well as a computer store. In Bellevue, the annex of the town hall and the Citizen's House were targeted."

Venezuela, Sucre: 3 killed by cops and military during attempted looting of several shops; cops stoned, cop module attacked…this says that cops threw hot oil into market trader's face during altercation over cop demand that traders pay percentage of profits to them

Guinea, Conakry: barricades set up in several parts of city on 2nd day of strike against 25% fuel increase

Nicaragua, Sutiaba: 3 die as state removes barricades

US, Philadelphia: further clashes outside ICE HQ…critique of leftist suffocation of Philadelphia ICE protests

4/7/18:
France, Nantes: cops occupy streets following riot in response to their murder of young driver "The locals, however, are apparently not pleased to see the massive police presence. The officers have been repeatedly pelted with various projectiles by the locals right from the windows of the nearby buildings, as well as by groups of angry locals in the streets. Police responded with tear gas as tensions seemed to be growing once again."…despite cop occupation riots continue …Notre Dame de Landes: barricades burnt in solidarity with rioters of Nantes

3/7/18:
France, Nantes: massive riot after cop shoots young man dead during police check "Clashes between police and young people armed with Molotov cocktails… cars were burned and a shopping center was partly ravaged by the flames…The situation seemed to calm down shortly before 3am [4th July] in the Breil district, but other violence also broke out in two other sensitive areas of Nantes, the Dervallières and Malakoff, neighborhood where vehicles were burned"…More here "The driver tried to flee, backing onto a police officer….slightly injuring his leg. One of his colleagues then opened fire"…A witness from the scene gave a journalist from Ouest-France a filmed testimony that raises many questions about the proportionality of the colleague's response: "He tried to make a reversal, the car crashed against the wall . He was already motionless, he could not do anything else. The policeman arrived, he fired at him point-blank, he put a bullet in his neck, directly. This resident says that he himself tried to resuscitate the victim. "There was no wounded riot cop," he says, interrupted by another resident who shouted: "They're Robocops! "… eight buildings were hit by fires, including a shopping center, as well as many vehicles, while law enforcement officers were sprayed with projectiles and Molotov cocktails….an annex of the Town and the law court, located in the same building, were affected by fire"
Below: annex of the town hall housing also the law courts in flames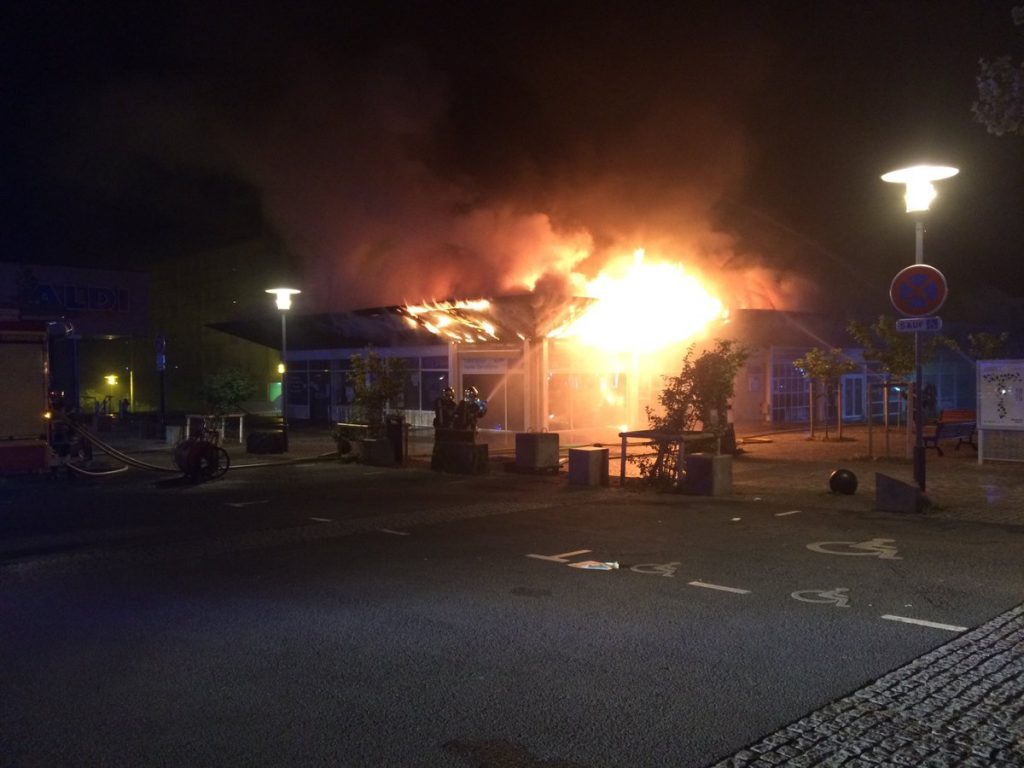 China: report on strike by taxi drivers "China's Didi drivers are out on strike again; protesting higher costs and reduced incomes.  Didi Chuxing…is now facing increased competition from new domestic rivals who are offering substantial discounts. Didi has reportedly responded by cutting payments to drivers and forcing them to work longer hours. This is just the latest example of China's transport workers, who are increasingly dependent on online platforms for work, being squeezed by their service provider at a time when fuel and other costs are escalating. Truck drivers, van drivers, food delivery workers and now Didi drivers have all staged strikes and protests over the last few months. Indeed, transport workers accounted for more than 20 percent of all the strikes and protests recorded on CLB's Strike Map during June."
US, Philadelphia: clashes & arrests as cops clamp down on ICE protest…report on various ICE protests

Italy, Rome: old age pensioners occupy closed-down OAP centre

Kenya, Kajiado County: students riot over crap food

2/7/18:
Ivory Coast, Abidjan: local district town hall smashed up after it authorised the destruction without warning of people's houses

1/7/18:
Nigeria, Atlas Cove: 5 security guards abducted following clashes over pipeline "Within these two weeks that we were not on guard, they have destroyed pipelines worth several millions of money. This is pure economic sabotage," said Joshua Aminu, the managing director of Topline Security, the company which employs the guards."
France, Bretigny: bureaucratic archives destroyed in arson attack on Town Hall

Kenya, Kisumu: schoolgirls destroy principal's house, etc. during riot in protest against lousy diet…This gives different reasons for the riot. "Kisumu Girls' National School has been closed indefinitely after students went on the rampage over claims of faith discrimination by the school management. On Sunday night students boycotted evening classes and went on a destruction spree, demanding transfer of the school principal. Some students told The Standard tension began last month after a section of students was allegedly denied permission to attend prayers outside the school to mark end of a holy month of Ramadhan. The students said they were also angered by the introduction of a raft of regulations, which they termed dictatorial. They said the Saturday entertainment had been scrapped and corporal punishment introduced. They also claimed break time tea had been scrapped. The police were called in at 8pm on Sunday to restore calm and rescued the principal who was under siege."
Iran, Abadan: 2nd night of clashes over water scarcity "…protesters threw stones and debris at police and set a car on fire in a protest that began late Sunday in the city of Abadan. The report says police blocked roads near the protest and that the situation is "under control." Similar clashes over water scarcity broke out in the nearby city of Khorramshahr late Saturday. …Abadan is home to Iran's biggest oil refinery. The two cities are in the oil-rich Khuzestan province, which borders Iraq and is home to a large Arab community"…More here "Reports and video posted on social media indicated rallies elsewhere in Khuzestan Province, including in the provincial capital, Ahvaz. In Mahshahr, local media reported that demonstrators took to the streets to express support for the residents of nearby Khorramshahr who have been protesting shortages of drinking water over the past days….State television showed banks with broken windows, and reported in the afternoon of July 1 that "peace had returned" to the city…."In Khuzestan we have oil, water, petrochemical [industry], steel, ports, agriculture, date palms, and a common border with Iraq, but people do not benefit from these blessings and all they get is pollution and rivers that have dried," Kazem Nasab told the semiofficial news agency ISNA on July 2….The latest protests in southwestern Iran came after three days of demonstrations in Tehran starting from June 24 over the country's troubled economy. The rallies included protesters confronting police outside parliament and officers firing tear gas at the demonstrators. They also led to the temporary closure of the city's Grand Bazaar, where shopkeepers denounced a sharp fall in the value of the national currency, the rial."