"October is the fallen leaf, but it is also a wider horizon more clearly seen. It is the distant hills once more in sight, and the enduring constellations above them once again"    
"October was always the least dependable of months … full of ghosts and shadows"
"October is a symphony of permanence and change"
"I have been younger in October than in all the months of spring"
– W. S. Merwin
23/10/18:
South Africa, Gauteng : students occupy part of court where trial of cops who killed student is being held

22/10/18:
Bangladesh, Narayanganj: 3000 garment workers protest against unpaid wages, block roads, torch lorry, etc. More here

South Africa, Gauteng: protesters over land & housing block roads with burning tyres & rocks...Western Cape: transport workers wildcat strike continues despite legal threats "…the City…obtained an urgent interdict against the striking workers, preventing them from intimidating, harassing or assaulting MyCiTi passengers and staff, or damaging MyCiTi stations, depots or buses. Two female bus drivers were allegedly held hostage by their fellow striking colleagues last week…The employees, who include drivers, cashiers and security personnel, are demanding, among other things, equal pay for all workers and better working conditions."
Ghana, Kumasi: top science & technology university closed indefinitely following riots against cop brutality "Students of the Kwame Nkrumah University of Science and Technology, KNUST, went on a planned protest which led to vandalizing of vehicles and parts of the varsity's administration block. The student leadership had called the demonstrations in protest against police brutality. Eleven students were arrested in a police raid late last week on charges of illegal assembly and violent behaviour. The state-owned Daily Graphic quoted an Student's Representative Council, SRC, statement as calling for a boycott of lectures in order for the protests to be held. …The protests took a violent turn with students smashing over twenty vehicles on campus and setting ablaze motorbikes and bicycles. A school bus was also reportedly torched by the irate students."
21/10/18:
India, Punjab: families of deceased and locals block railtracks with sit-in in wake of massive rail "accident", pelt security officials & cops with stones "…the DMU driver Arvind Kumar said that after he had noticed hundreds of people on rail tracks he applied emergency brakes. He added that the train had almost come to a halt but he sped after he noticed people attacking the train with stones." …witnesses say there'd been no stone-throwing on 19th October, the day of the "accident"  But even if there had been,  killing 62 people because of some stone-throwing seems as disproportionate as the IDF's reactions to stone-throwing.

France, Val-de-Marne: facial recognition  surveillance mast cut down   Admittedly, this may well have been to protect street-level drug dealing, but considering how, at this level of the drug hierarchy, these people are completely proletarianised, this is simply a way of defending their illegal wage labour from the state. However, if this involved crack dealing (which is by no means certain), it's hardly something that's worth parading as independent opposition…Gard: bullfight-lovers teargassed accidentally by cops confronting anti-bullfight protesters "About 200 anti-bullfighting activists against 200 mobile policemen in Rodilhan. Seven years after the October 2011 incidents in which anti-corrida campaigners had been hit by aficionados [bullfight lovers] after chaining themselves at the village's arena, tensions were still very high this year. Protesters ripped open fences and threw projectiles at mobile policemen protected by riot barriers. During a police charge, a protester fell on her head and injured her neck. She was taken out by the gendarmes on a stretcher.
Tear gas was used many times throughout the day to keep protesters shaking the fence to try to get through.
But the wind carried the gas into the arena. Inside, the aficionados protected their faces with scarves and handkerchiefs. "We wonder how it's possible, that there really had to be such a large amount of gas, it's something weird that we aficionados, we do not understand," said a spectator on leaving the arena.
To return home and leave the village, the aficionados had to be escorted by law enforcement because the anti-bullfighting protesters were waiting for them at the exits."
20/10/18:
Mexico, Guanajuato: cop patrol vehicle and municipal motorbike completely burnt out by about 40 demonstrators against "Corrupt government"

Senegal, Touba:  taxi-drivers on strike over forced bribes by corrupt cops clash with teargas-throwing cops

France, Territoire de Belfort: low rent housing agency  destroyed in carefully-realised arson attack  More here  "Earlier, around 20:30, two cars were burned in rue des Commandos-d'Afrique in the same district of Arsot."

US, New York: sometimes technology is on our side

19/10/18:
Mexico:  Honduran migrants storm Guatemala-Mexico border

UK, Ross-On-Wye: yet another refusal to respect  militarism responded to with mindless angry defence of the use of cannon fodder

France, Isere : annex of town hall torched
18/10/18:
Algeria, Bouandas: riots & general strike as city blocks all roads to it, many with burning barricades, following death of pregnant woman; protesters demand construction of new hospital

South Africa, Cape Town: barricades set up during service delivery protest, also against corruption "…residents blockaded the roads with burning tyres, rubble and other objects. Police used stun grenades and rubber bullets to disperse the crowd. Protesters are demanding that a community centre be built and an informal settlement electrified."  Video here
China, Jiangsu: riots against forced eviction "Local authorities have clamped down on any information emerging after the clashes in Hangji township near Jiangsu's Yangzhou city, and waged a campaign of intimidation against anyone trying to speak to the media, local residents said. The clashes came after a forced demolition team and a team of government-hired thugs visited the home of Wei Gang in Hangji on Monday, a resident surnamed Chen told RFA. "The government hired the demolition company which is definitely run by a criminal organization," Chen said. "[On Wednesday], an incident took place in which a crowd gathered outside a police station in the town to protest." "There was no other option; the government was taking no action [on the forced evictions], and they were holding [Wei Gang's] wife in there," he said. A second resident surnamed Yang said local people had rioted on Wednesday and Thursday…"On Wednesday, the police called Wei Gang's wife to ask her to bring clothes to him [in detention], but they held her there after she went into the police station," he said. "There were probably more than 1,000 people creating havoc outside, calling on them to let her out," he said. Yang said Wei's wife was eventually released, but riots continued on Thursday, prompting a visit from Yangzhou government officials and further clashes."
Chile, Santiago: clashes as students protest new anti-protest law

France, Marseille: report sent by email on the current movement against the intensification of gentrification in "La Plaine", a popular part of the city, where at night for years the more marginalised  have gathered to drink, smoke, chat, play music  and piss around etc., but which is also full of market stalls during the day; much of the area around it is partly gentrified with "alternative" shops and bars, etc. See 13/10 & 11/10 below.

News from Marseille and La Plaine

Last Thursday, after the last market of La Plaine which had taken place for loads of years, work began in this district of downtown Marseille.
This is the neighborhood in which I live and it will undergo a restructuring aimed at gentrification.
Resistance has appeared. Some of the market showbiz has quit after being paid off with  crumbs, and the reconstruction work has been met by an autonomous opposition.
History
Thursday the 11th, concrete blocks were installed around the huge main square of the neighborhood under police escort (CRS, BAC …) and some security guards (which are now permanently on site). A lot of teargassing and   arrests of some of the numerous opponents who'd  come there, including a person who has gone to Baumettes Prison pending his immediate appearance on Monday, and there are some trials to come.
In the evening the blocks were taken away by opponents of the project.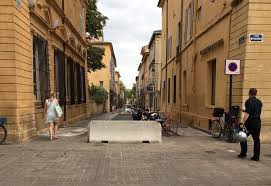 the same kind of blocks somehow removed by  opponents of the intensified gentrification project
The next day, the blocks are re-positioned and others are added. More arrests and gassing.
On Saturday, a cheerful demonstration walks round the city center; the local SOLEAM on the Canebière, which manages the building site for the city, has its window broken. The demonstration  again tries to put the brakes on  the construction machinery. Some clashes with the cops ​​at the end of the demonstration on La Plaine and more arrests. In the evening the construction machine is sabotaged.
On Sunday, small structures are again rebuilt …
On Monday fencing is fixed above the concrete blocks with a new machine, despite the presence of opponents. In the evening, a good part of them is smashed up.
On Tuesday, a large amount of trees are cut up while some of the rest of the palisades are attacked and people climb trees but are dislodged by the cops. Some serious injuries and arrests. In the evening, after the departure of the cops, a few hundred people attack the construction machine and the workers' shack, smash the fencing that had been put back in place once again, and set up a magnificent bonfire  twenty meters high  with about fifty wooden sections of fencing.
On Wednesday, the cut trees are mashed up in the morning and the company removes its machines, its workers, its prefab shacks, its fences and go off with the CRS without finishing the work.
Today, Thursday, workers arrived this morning with mobile gendarmes ready to fire  things other than simple teargas grenades; the site will probably resume after this mini "truce" of half a day.
Saturday, a new demonstration is planned.
Assemblies are now almost every day. Personally, I do not go to them in view of its positions developed in recent years and in recent times even more so (before the work started, this assembly met every first Monday of the month).
– among others, those  in favor of the small business district, including the hundreds of fairgrounds which gravitated around the four weekly markets.
– but also its position aiming at alternative gentrification (a clean and green neighborhood, more public services …).
This political confusion is only a reflection of a part of this neighborhood whose MP is Mélenchon [SF note: lefty recuperative demagogic politician, head of Unsubmissive France, the 3rd largest political party,  who just this week said, echoing Louis XIV, "The Republic is me" whilst on his way to a trial over financial irregularities; looks like his career is pretty much on the decline as he just recently took the piss out of a journalist's southern French accent in a very arrogant manner, forgetting somehow that most of the people who'd voted for him have that very same accent]. But also the reflection of a more general reformist atmosphere everywhere, including  outside Marseille…

Comoros, Moutsamoudou: 4th  day of heavy armed clashes against intensified authoritarian rule  Though the governing party claims this has been initiated by the official opposition, it's what they would say; hard to understand what exactly is happening, whether this is an attempt at armed insurrection by a handful of vanguardists or what. Apparently 5 people at least, including 3 kids,  have been killed so far, almost certainly due to the official military.

Spain, Barcelona: riot against eviction of squat; street furniture & ATMs attacked, skips burnt

17/10/18:
Haiti, Port-au-Prince (Pétion-Ville): barricades on fire, windows & windscreens smashed, vehicle torched following teargassing of large demo against corrupt expropriation of social funds

Greece, Athens: philosophy realised and suppressed…?

16/10/18:
Haiti, Port-au-Prince (Pétion-Ville): Police Commissioner wounded by bullet as he tries to remove barricade erected on road

Ghana, New Abirem: rubber bullets fired at farmers protesting inadequate compensation, blocking entrance to gold mine  "The police had to use tear gas and rubber bullets to disperse the angry demonstrators, who had blocked the entrance to the mining company to prevent workers from gaining access to the premises. Some of the protesters are also alleged to have entered the premises of the gold mining company."
South Africa, Cape Town: 2nd day of wildcat strike…Eastern Cape: cops kill man as unemployed protesters burn down 3 municipal buildings "Protesters alleged that they were not getting jobs from the municipality due to nepotism and jobs for sex and bribery. Xolisa Tom, 27, was shot dead allegedly by the police who were allegedly using live ammunition to disperse violent protests."
France, Nantes: prison construction company car torched

15/10/18:
South Africa, Cape Town: wildcat bus drivers strike…cops fire stun grenades at wildcat strikers…as strikers block roads More here "Workers were complaining about the poor working conditions they face. Some said that they do not have proper facilities and that the buses that they drive are very unsafe. "We get paid peanuts. Some drivers get paid R72 an hour; I get paid R52 an hour. We have been subjected to poor and unsafe working conditions"
UK, Lancashire: protesters block fracking site

Comoros, Mutsamudu: army intervenes after tree trunks are used as barricades during riot against "authoritarian rule"
Myanmar, Rangoon: riot follows brutal attack on camp of mainly women textile workers demanding reinstatement of strikers "While most of the protesters' complaints had been resolved, the factory owners refused to re-hire the 30 workers who initially instigated the strike – prompting more anger from workers who continued to camp outside the factory gates in protest. But after eight weeks one of the protest leaders, Than Than Soe, told AFP that around "40 thugs" set upon them early on Monday morning. "The thugs came and started to beat us with wooden sticks and metal bars," she said. "Twenty-eight people were wounded, six seriously," she said, adding that all but one of the injured were women. The violence then escalated further as local people hurled rocks and sticks at the factory, smashing several windows….Workers say they set up a union two years ago to fight for their rights after enduring abuse from managers, limited toilet breaks and unbearably hot working conditions." For some interesting takes on textile history and textile workers' history see this.

Bangladesh, Gazipur: clashes between textile workers and cops over unpaid wages "At least 18 persons, including a police sub-inspector, were injured when agitated workers of a garment factory in Gazipur clashed with police yesterday. The workers were staging a demonstration, demanding payment of their arrear salary and allowances. The workers and police clashed after several rounds of chase and counter-chase. Police brought the situation under control by opening 31 rounds of fire from shotgun and 22 tear gas canisters. The protesting workers damaged doors and windows of the factory. They also damaged several vehicles….five months' salary of the staff and September salary of the workers remained unpaid at Intramex factory in Laxmipura area of Gazipur. The factory owners did not pay the arrears despite assuring to do so several times. As factory owners made a commitment to pay the workers' salary for September on October 14 and once again failed, tension spread among the workers and they started agitating while abstaining from work. Yesterday, the workers again went to the factory and the owners once more pledged to pay the arrears on October 24. But workers did not agree and demanded payment yesterday. At one stage the workers came out of the factory and tried to take position on Dhaka-Gazipur highway. Police intercepted them and a chase-counter chase ensued." For some interesting takes on textile history and textile workers' history see this.

14/10/18:
Argentina, Trelew: molotovs thrown at Town Hall as 1000s march for women's rights in city's  largest ever demo "There were slogans in favor of legal abortion, against patriarchy, the separation of Church and State and the defense of gender freedom. …Shortly before 9 pm and with the cry of "Santiago Maldonado, present", a small group of women dressed in black, hooded and with sticks, set fire to wood at the corner of Rivadavia and 25 de Mayo, in the heart of the city . They had flags with "Revolutionary Communism" and "Popular Feminism" on them. In Plaza Independencia, which is in the midst of modernization work, this group that calls itself "Las Brujas" broke the fence that surrounds the plaza. The police remained distant for a few minutes, one block away. But then the hooded ones threw Molotov cocktails and stones at the Town Hall, from where a group of the infantry evicted the demonstrators…Earlier showing their breasts, women marched through the streets of Trelew against the Church and patriarchy….The march revolutionized the city that is not used to seeing this type of demonstration with women showing their naked breasts."
13/10/18:
US, Oregon: clashes between antifa and fascists as US flag is burnt at point where cops killed black guy

France, Marseille: further clashes over intensified gentrification of popular meeting place "Security forces were there to surround machinery intended to put the concrete blocks in their original place. In the night, opponents had managed to move the blocks laid there to …prepare for the roadworks."  These were massive very  heavy concrete blocks – moved somehow by tying them to ropes.

Eire, Dublin: AirBnB offices occupied by housing activists
12/10/18:
South Africa, KwaZulu Natal: cops fire stun grenades on workers blocking roads, protesting fuel hikes

US, New York: Republican Club vandalised by anarchists More here…Florida: looting in aftermath of hurricane, cop murders man for trying to steal cop car

Iran: report on bazaar workers strike spreading to 50 cities in solidarity with 3-week old nationwide truck drivers' strike, as state orders death penalty against 20 truckers 

France, Besançon: various vehicles torched "But the specificity of these nocturnal fires is that they are first and foremost of company vehicles that are harmful to our lives, the cogs that are essential to make this shitty world function, that went up in smoke: a vehicle from Engie in rue Pierre Leroy, two of Enedis (a utility vehicle and a truck) in Avenue Commander Marceau and a car from 'l'Est Républicain ' in the rue de Tunnel. Engie is a well-known collaborator in the prison system. The energy company has been investing  in several prisons and detention centers for many years. It is a target of choice for anyone who wants to fight the imprisonment of individuals, with or without documents….Regarding Enedis, it is the showcase of the project for burying nuclear waste in Bure…It is responsible for policing people through the installation of Linky meters….As for 'L'Est Républicain', it is a crucial tool for maintaining social order … distorting or concealing facts, always with the aim of serving the cops and various projects of power."
11/10/18:
France, Marseille: clashes as local state aims to suppress meeting place for the marginalised by extending gentrification of already semi-gentrified area

Colombia, Bogota: roads closed during 4-hour riot outside University, as 8 universities nationally begin indefinite strike against budget cuts
10/10/18:
France, New Caledonia (department of France in the South Pacific): arson attack on nickel mine conveyor belt destroys 200 metres of belt "This new incendiary attack, which is the eleventh this year, comes as the mining company SLN no longer takes out any ore because of the multiple acts of sabotage and the protest movement raised by young local inhabitants (which in addition to sabotage, resulted in multiple blocking actions). Since mid-August, SLN has closed its mining center. Recall that from August 6, access to the mines Méa and Kiel were blocked in a protest about the exploitation of new deposits….Moreover, here is what 'The New Caledonia' says: "Since the closure of the center [mid-August], the conveyor belt has been burned three times. At this stage, the SLN redeployed the majority of its employees formerly assigned to Kouaoua to other centers. The others were put on leave, waiting for possible partial unemployment. This closure also affects the many subcontractors, but also the shops and services of the municipality. The conflict seriously undermines the production of the SLN. Without Kouaoua, the plant loses a fifth of its ore supply, which is a mineral with a particular content. For the time being, the shutdown of one of Doniambo's ovens is not relevant, says the company. But the manufacturer says it is worried about the survival of the business. In the longer term, the repercussions could even weigh on the future gas power plant, whose design has been designed to meet the energy needs of the plant. " We also remember that the chiefs of the Kanak community had made agreements with the mining company, which absolutely did not calm the young people of the region (quite the contrary!), who are seeing their forest disappear and their  environment poisoned. for the profits of the state. No negotiation with capital and all authority, wherever it comes from! The best way to struggle against an ecocidal and deathly project is attack"

India, Manipur: students demanding release of arrested students clash with cops

UK, Devon: workers made unemployed try to steal back a bit of what's been stolen from them…Buckinghamshire: statue of former Hitler-admirer improved slightly  In an interview with Playboy, David Bowie  said: "Rock stars are fascists. Adolf Hitler was one of the first rock stars. . .Look at some of his films and see how he moved. I think he was quite as good as Jagger. It's astounding. And boy, when he hit that stage, he worked an audience. Good God! He was no politician. He was a media artist. He used politics and theatrics and created this thing that governed and controlled the show for 12 years. The world will never see his like again. He staged a country" (here) Previously in 1974 he'd said ""Britain is ready for a fascist leader… I think Britain could benefit from a fascist leader. After all, fascism is really nationalism… I believe very strongly in fascism, people have always responded with greater efficiency under a regimental leadership" – here.

9/10/18:
UK, London: Uber workers occupy Uber HQ, as strikes spread in several cities More here
France, Paris: clashes as unions demonstrate against Macron's neoliberal reforms For some of the contradictions of this movement see this (from a year ago),and this and this from earlier this year.
Colombia, Bogota:hooded students block roads, clash with riot cops, in protests over education funding

8/10/18:
India, Kolkata: parents clash with cops and teachers after teacher's sexual abuse of young girl "Repeated calls to school authorities went unanswered…Meanwhile, the protests took an ugly turn as agitators allegedly started pelting stones when they saw teachers leaving the premises this morning. Police rushed to the spot to bring the situation under control. Some school property was also vandalised. The parents, however, refused to end their protest and also clashed with the police, following which the cops resorted to lathi-charge."
Dominican Republic, San Domingo: students block roads with tyres & rubbish in protest against high transport & fuel prices More here  "Traffic in the area has remained congested since early morning hours. The disturbances began at the entrance to the University of José Contreras Avenue and there were also riots on Correa and Cidron avenues."
Mauritius, Port Louis: anti-slavery activists clash with cops after imprisonment of new MP "Police using truncheons and teargas dispersed demonstrators who had gathered outside parliament in Nouakchott to call for the release of anti-slavery campaigner and new MP Biram Ould Dah Abeid. Abeid is president of an unlicensed NGO called the Initiative for the Resurgence of the Abolitionist Movement. He has been in custody since early August after a journalist filed suit against him for "slander, insults and incitement to hatred." Sure, the guy's an MP, but at least his NGO is unlicensed and he's so infuriated a journo-cop that he got sent down for it. Just putting this here because it just seemed a curious moment of a very contradictory instance of class conflict mediated by  a political aspect which should be analysed but I know nothing about it other than this.

South Africa, KwaZulu Natal: shack-dwellers' movement march against state-sponsored murders…North West: roads barricaded with burning tyres, cops stoned, during protest against very long delay in promised road construction

6/10/18:
US, Washington DC: protesters against Kavanaugh 'occupy' Supreme Court steps "Women, survivors, and allies walked straight past the police, climbed over barricades, and sat down on the Capitol steps." …Oregon: antifa block streets after cops shoot black guy

UK, London: ….all the way to the BanksyObviously not at all to do with even the remotest element of opposition but a pretext to say the following (partly plagiarised from here):
Banksy is very aware of the great creative hole at the heart of everything today and working in and through an ever increasingly desperate nihilism, sells the emptiness back to the super-rich "1%" in real style. Even intuitively aware of the "theological capers of the commodity" (Marx) Banksy becomes a fascinating, phantom God of Emptiness fronted by the sheer worship of money and finance capital. The Financial Times rather smartly said of Banksy, "The stencils provide the marketing; the gallery walls the cash flow, a virtuous cycle of profit and publicity". Banksy's trajectory has been to gradually mould genuine subversion into a hip form of avant-garde neo-liberalism, part of that "terrifying subtle" syndrome in regard to the dismal reality of corporate totalitarianism. His gestures and comments seem oh so deep and yet are no more than a return to and reinstatement of gallery product, a having-your-cake-and-eating-it post-modernist vacuity so typical of the hip neo-liberal pseudo-individual. If Banksy really wanted to create a stink even at this late decomposing stage in his meteoric career – one that would rock-on down through the years – he could turn on his big money aesthetes by simply getting a gang together to tear one of their rich condominiums to shreds – and issuing a lucid statement alongside an example of coherent vandalism and anti art subversion…..But he won't do that, will he? – precisely because his inability to see and consequently act outside of and against the commodification and self-valorisation of every single one of his gestures,  his reduction to the banality of a cultural spectacular-commodity, prevents him from becoming human, prevents him from showing his humanity by genuinely contributing to an attack on the degradation of humanity by the commodity form and its rich perpetuators.
In this upside down world which makes dead labour worth millions more than living labour, the phoney destruction of a product of the phoney Banksy receives a million more headlines than the death of the 22,000 kids who die daily from malnutrition or easily curable illnesses, which is a banality. The image of the "destruction" of this Wanksy is used in some corny anti-art framework: the art of the "destruction" of art (now, putting Banksy's friend Damien Hirst in a tank of formaldehyde would be a genuine anti-artistic innovation, at least if he were alive before work on such a creative act began). Less likely is the use of original Banksys on the front of a barricade confronting the cops, a version of what Bakunin had suggested in the Dresden uprising of 1849 – to delay the advancing armies of the State and save the lives of insurgents. If it had been a Dali that had been shredded, you could be sure that the accusation of philistinism, not to say derangement, would have been hurled at those who would have dared destroy an original by that vile narcissistic Franco-supporter (A Vida Dollars, as Breton called him anagramatically) which supply and demand ideology ranks a million times higher than a mere exchangeable individual, a child dying of starvation.
5/10/18:
Zambia, Lusaka: female students riot, block roads, burn stuff,  after student dies from cop tear gas asphyxiation during protest against delay in meal and accommodation allowances  More here"…rioting students almost overpowered the police officers"

South Africa, Gauteng: residents stone cops & cars in protest against marginalisation 
Canada, British Columbia: fascists in stand-off with homeless after homeless squat abandoned school building

4/10/18:
US, Washington DC: 100s arrested during sit-in at Capitol Senate office building Few seem to have noticed the irony of the fact that this included a celebrity representative of an industry that especially exploits women-as-image/object,  the "well-known" model Emily Ratajkowski.  But this is an epoch where we should suppress all critique because "hey, don't be so negative".

UK, London: couriers occupy London UberEats HQ…longest reigning mindlesss criminal parasite for sore eyes improved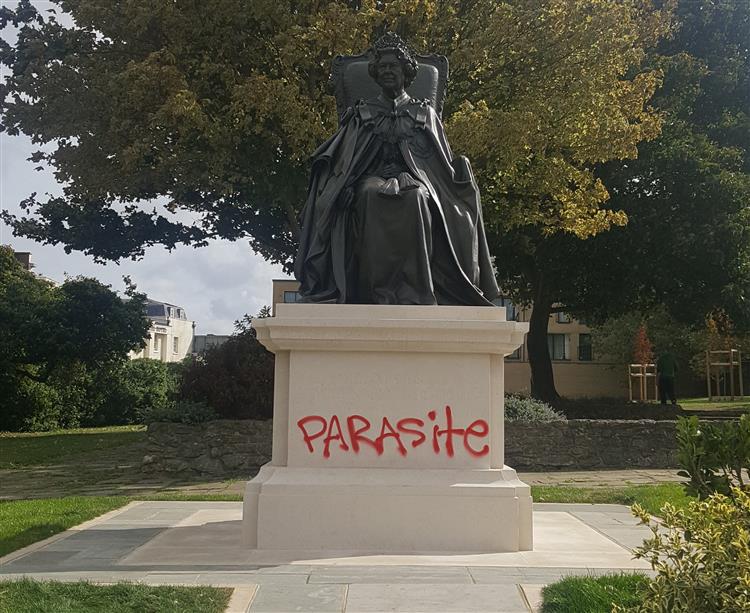 India, Leh: massive clashes between cops and protesters after cops fail to charge 2 cops for sexual assault

Afghanistan, Peshawar: clashes between students & cops over fee hikes

Colombia, Boyaca: roads closed as hooded students riot, burn ATM, use explosives, in protest against lack of financing of state education

3/10/18:
Costa Rica: several clashes in different parts of country on 24th day of General Strike "The riots by protesters continue in Costa Rica who,  for 24 days, have shown their dissatisfaction with the tax reform that under discussion in the plenary. On Wednesday afternoon, officers of the Public Force in Costa Rica dispersed protesters who blocked the passage of vehicles in Caldera, Puntarenas, with tear gas.…Similarly, on the southern border,  Public Forces had to intervene in the land crossing between Costa Rica and Panama in Paso Canoas after several protesters took over the border and blocked it. …Also…there was a disturbance in the area of ​​the Recope entrance in Limón tonight. The report indicates that, due to the incidents, Public Forces intervened in the area after a group stoned a truck and completely blocked the roads. Protesters also burned tires and debris on the road"
Saudi Arabia, Dharan: construction workers shot by cops, cops pelted with stones,  during protest against 6 months' worth of unpaid wages

India, Ghaziabad: schools and colleges close due to farmers' action…Uttar Pradesh: statue of phoney "pacifist" vandalised  Gandhi's  so-called pacifism didn't stop him from supporting the British in 1899 in the Boer War, volunteering to help them and organising an ambulance corps. As he said, "As long as the subjects owe allegiance to a state, it is their clear duty generally to accommodate themselves, and to accord their support, to the acts of the state". When Gandhi was organising a mass march in South Africa in 1913, to obtain rights for Indians there, the white railway workers went on strike over pay and conditions. Gandhi immediately canceled his march, saying that civil resisters should not take advantage of a government's difficulty .On the outbreak of the First World War, Gandhi actively recruited for the British war effort, despite his 'pacifism'. On the outbreak of the Second World War, he publicly pledged not to embarrass the British, and would lend moral support to the Allies. He used his reputation and leadership role to often disarm social movements in India when they threatened to get out of hand; he opposed strikes in the super-exploitative textile industries, even going so far as to threaten suicide if workers went on strike; and he even refused to support a mutiny of a section of the Hindu Royal Garwhali regiment – who were brutally punished for the mutiny – when it refused an order to machine gun unarmed rioting Muslims, saying he wouldn't want soldiers in an independent India to refuse his orders to shoot if that became necessary!!!!! (Le Monde, 20th Feb. 1932). 
Dominican Republic, Valverde: violent protests after army & cops evict people from, & destroy, shacks

2/10/18:
India, Uttar Pradesh: heavy clashes between state and farmers over prices and concessions after farmers force near-complete blockade of Delhi-Meerut expressway  More here "Indian police yesterday fired tear gas and water cannons to halt and scatter a march by thousands of protesting farmers heading for the capital, New Delhi, to demand better prices for their produce. Reeling from a crash in commodity prices, more than 50,000 farmers from the northern state of Uttar Pradesh, a top producer of wheat and cane, blocked part of the main highway to the capital. They also sought loan waivers, cheaper power and tougher action to get sugar mills to pay dues owed for their cane"
New Zealand, Gisborne: Ready, Steady, no Cook

1/10/18:
Costa Rica: report on General Strike as it enters 4th week – "Trade union grass-root members " reject TU bureaucrats' negotiated settlement with state "..the strong workers and social opposition to the fiscal combo on one side, expressed by thousands of demonstrations and two big marches in the first three weeks of the general strike, and on the other hand, the insistence of the Government to push the bill through Parliament could end in a social conflict of unforeseeable consequences" …bureaucrats forced to continue backing the strike as state implicitly threatens "children, those requiring medical attention, and Costa Rica in general" See reports for  17/9/, 14/9 & 12/9

South Africa, Gauteng: roads blocked with burning tyres in protest against cop complicity in gang-related violence  "It is high time that residents are given an honest, professional and well-resourced police service that is not corrupt, uncaring and colluding with gangsters and drug dealers" …and pigs may fly… as soon as  become honest, uncorrupt, caring and not colluding with gangsters (like the ruling class) and drug dealers (like pushers of religion or dominant culture)…..More here " police officers being forced to retreat as residents pelt them with stones and bottles…Clashes between police and residents have been ongoing since last week. Residents have been pelting police officers with rocks and petrol bombs."  And here  "Bus station torched overnight"
UK, London: 2nd day of wildcat strike at pub

Indonesia, Sulawesi: 1200 prisoners escape following  earthquake "One prison in tsunami-struck Palu city — built to hold just 120 people — saw most of its 581 inmates storm past guards and escape to freedom through walls collapsed by the massive 7.5 magnitude shake. "Things were initially fine…but not long after the quake, water erupted from under the prison yard causing prisoners to panic and then run onto the road," said Ministry of Justice official Sri Puguh Utami, adding that the water was not from the tsunami. "I'm sure they escaped because they feared they would be affected by the earthquake. This is for sure a matter of life and death for the prisoners," she added. Inmates had fled from another overcapacity facility in Palu by breaking down its main door and another in Donggala, an area also hit by the disaster. The Donggala jail was set on fire and all 343 inmates were now on the run"