2019 2018  2017 2016 2015 2014 2013
"Things in bud bring, in the heat of a June noontide, the recollection of the loveliest days of the year, those days of May when all is suggested, nothing yet fulfilled"

 –    F. King
"It is better to be a young June bug than an old bird of paradise"
– Mark Twain
There are obviously significant limits to providing links to information about situations I know little about. Some of this might give people the idea  that struggle is advancing or happening far more than it in fact is, and may even blind people to the contradictions and complexities of any specific situation. However, despite the inevitable limitations,  I will continue to put up links if only as a method of keeping a record of events, though this will be reduced compared  with previous years.
17/6/19:
Spain, Ceuta (Spanish-contolled Morocco): container burnt, stones thrown, in fight between cops and migrants trying to get into port area to board ships for Spain

16/6/19:
China, Hong Kong: protesters bed in for a night around government HQ as over 25% of the population demonstrate  Doubtless some ultra-leftists will point out the obvious – the ideological illusions in bourgeois democracy. However, this is a movement against things getting considerably worse, rather than a clearly positive pro-democracy movement. Apart from the fact that HK is hardly a bourgeois democracy insofar as only half of the deputies are elected, fantasies that  the West are in any way on their side other than with their vapid words are not that prominent as far as I can see. Hopefully the masses in Hong Kong will eventually realise that the bourgeois democracies are only too happy to collaborate with China (see this, about George Bush snr. collaborating with China shortly after the Tiananmen Square massacre, or this recent report on the Belgian state's collaboration with the Chinese state's repression of Muslims). The main danger now is that the release from prison of one of the 2014 Umbrella Movement leaders could well mean he'll be used to pacify the most radical section of youth, which so far has rejected leadership.
15/6/19:
Senegal, Koungheul: gendarmerie (army-run police station) ransacked by motorbike taxi drivers resisting intensified bureaucratic controls

France, Toulouse: further yellow vest clashes (videos)… Report on use of anti-riot weapons by cops
UK, London: 100 teenagers bombard cops with bottles
14/6/19:
Senegal, Dakar: teargas v. stones and burning tyres on forbidden demonstrations against fears of oil & petrol pollution by new exploitation in the Atlantic   Video…Ziguinchor: bus burnt during student riot, protesting non-payment of grants
13/6/19:
Haiti, Port-au-Prince: more barricades & stone-throwing on anti-government demos

12/6/19:
US, Memphis: 36 cops injured a bit, cop vehicles vandalised, in riot after cops kill 20-year-old black guy More here

China, Hong Kong: demonstrations persist as extradition bill is delayed…cops use rubber bullets, bean bag rounds, tear gas, pepper spray & batons to stop protesters storming city's parliament
Video showing cops forced, at one time, to retreat
More here "Riot police turned downtown Hong Kong into a tear-gas covered battlefield as they pushed back against protesters who tried to storm Hong Kong's Legislative Council. The protesters, angry at an extradition bill that would allow people to be sent to mainland China for trial, hurled bricks, bottles and umbrellas as they clashed with the police, as the demonstrations intensified on Wednesday afternoon."  More here "Protesters were seen wearing helmets, goggles and heavy-duty workman's gloves, and pulling bricks from the sidewalks…dear my hong kong, you're particularly beautiful today….a young person on the frontline: "We can't lose again, because if we do, we lose everything!" And then he charged forwards….When protesters stormed the barricades outside the LegCo building, police responded with tear gas and rubber bullets, leading to at least 72 hospitalizations….Tear gas grenades extinguished almost immediately with water….Angry auntie shout at the police…Cops tried to pacify her with some snacks but she refused to take it…she's asking if the police want to send her back to china, and when he tried to offer her a snack cos she's "tired" she said "i don't take things from running dogs"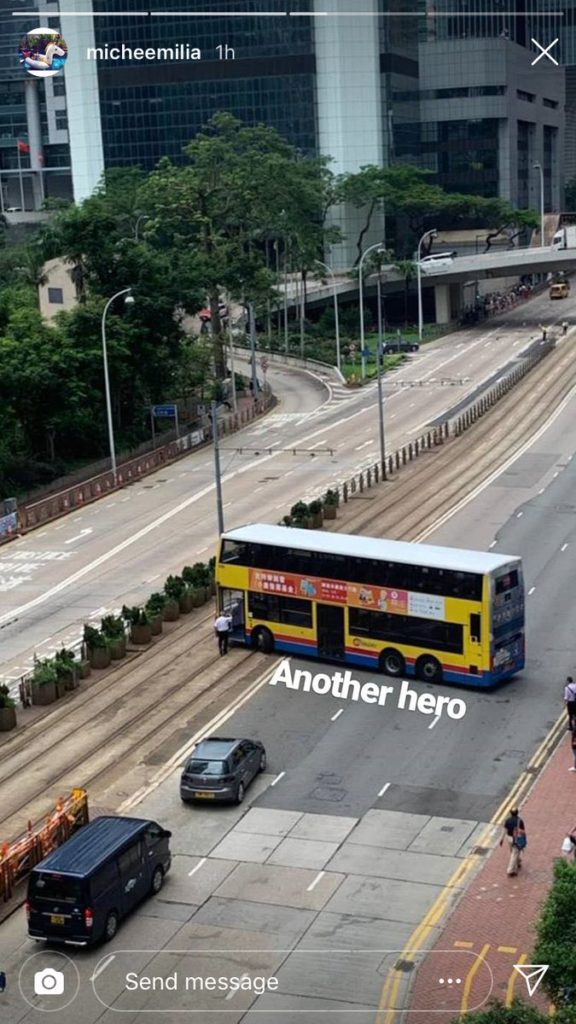 Bus driver risking his job (and maybe worse) to barricade road
For greater details about what's happening see:
"Why Hong Kong is protesting" "At the Hong Kong literary festival in November, a friend accompanied me at all times, for fear I'd be secretly kidnapped and smuggled to China. If the extradition law passes, any critic of Xi's regime could be legally, openly abducted….It's not only "Hong Kong people" whose fate is at stake here. Anyone passing through Hong Kong airport could be detained and sent to China (compare the Huawei Vancouver extradition case). Even people who have been extradited by a third jurisdiction to Hong Kong could be subject to re-extradition to China…Some alleged offenders are never brought to trial in China. Think former Party General Secretary Zhao Ziyang, detained without any legal process for the last 16 years of his life!!…The feeling in #HongKong is that the police have "gone crazy", are "out of control"….In Hong Kong's hybrid political system — a result of British colonial tradition as much as Communist control — only half the seats in the legislature are filled by popular elections. Most of the other half of the seats are filled by industry and business groups, and China's booming economy means Beijing enjoys greater leverage over the Hong Kong economy now than it did even a decade ago, especially in finance."

Young, leaderless demonstrators learn lessons from the past "…unlike five years ago, the protesters – a majority of whom seem to be in their early 20s – were noticeably more leery of cameras, either of police officers or journalists. They repeatedly reminded each other to put on face masks "to protect themselves", reluctant to have their pictures taken, even less their identity revealed while being interviewed. Over the past week in the lead-up to the protests, tens of thousands of Hongkongers exchanged tactics on how to block lawmakers from scrutinising the embattled extradition bill on Wednesday through several encrypted channels on Telegram….a 31-year-old freelancer…said the lack of a clear leader or organiser this time actually allowed people from a broader swathe of society to make common cause again…."Unlike the Occupy days when there was a lot of finger-pointing, we have now come to respect each other more."" More here "…people were reluctant to reveal their identity to reporters, refusing to be photographed and mostly declining to give their names and ages. When a Guardian reporter was interviewing a teenager in an underground station on Wednesday, his friends swiftly pulled him away…. knowing that the government often ignored peaceful expressions, the youngsters increasingly believed they had no choice but to resort to radical actions."
Surveillance Fears Shadow Hong Kong Protests "Hong Kong's protesters had mobilized on Wednesday as if they'd been trained for years. Anyone who needed a helmet, mask, or umbrella would yell to the sky. Those around them would stop, passing the message instantly through the crowds with unified chants and matching hand motions: patting their heads for a helmet, cupping their eyes for goggles, rolling their arms for cling wrap, which they were using to protect exposed skin from tear gas and pepper spray….Many of the protesters are college-aged and digitally savvy. They took pains to keep from being photographed or digitally tracked. To go to and from the protests, many stood in lines to buy single-ride subway tickets instead of using their digital payment cards, which can be tracked. Some confronting the police covered their faces with hats and masks, giving them anonymity as well as some protection from tear gas….On Wednesday, several protesters shouted at bystanders taking photos and selfies, asking those who were not wearing press passes to take pictures only of people wearing masks. Later, a scuffle broke out between protesters and bystanders who were taking photos on a bridge over the main protest area….At some point people called for drones being on the air. Everybody opened their umbrellas. I'm amazed by the level of organisation… Having been in hundreds of protests myself, this is the first time I felt protestors know what they're doing…."Those who did 2014 know that peaceful methods are not working"

For more information & analysis on China see this.

Colombia, Bogota: hooded students clash with riot cops on "Day of the fallen student"

Honduras, El Paraíso: major road blockaded, cops stoned, in anti-government protest

11/6/19:
Haiti, Port-au-Prince: journocops attacked by protesters  "On Monday, as the first day of a two-day strike paralyzed Port-au-Prince, the threats went beyond just posters of Trump and Maduro that were also plastered around the capital. A crowd of protesters had barricaded both ends of Delmas 31, where Radio Télé Ginen is located, with burning tires, Borges said, and proceeded to burn and loot a van, while setting fire to several other vehicles. Vehicles that weren't burned were vandalized with rocks before police arrived….Tensions continued Tuesday. Schools were closed, business shuttered their doors after briefly opening, and anti-corruption activists and opposition parties continue to push for the ouster of Moïse."
Tunisia, Mahdia:  locals clash with cops in protest against indifference of health authorities towards dumping of polluted water directly into sea
10/6/19:
Haiti: first day of 2-day anti-government strike "Schools, businesses and government offices were closed on Monday as groups of protesters blocked roads and set piles of tyres ablaze across Port-au-Prince. Some protesters burned cars belonging to a local radio station and accused the news media of working for the government. Public transportation was suspended, and officials postponed a parliament session…Similar protests were held in the Haitian cities of Jacmel, Cap-Haitien, Saint-Marc and Gonaives." Video of attack on radio station vehicles here
(Port-au-Prince)
China, Hong Kong: clashes with cops as 100s of thousands demonstrate against extradition law  See also entries for 9/6/19 & 7/6/19 here
9/6/19:
Haiti, Port-au-Prince: at least 4 killed by cops as 10s of thousands protest against state corruption  "Demonstrators marched while some burned tyres & blocked roads during the anti-corruption protest in the capital, Port-au-Prince. Many stores and gas stations were closed and travel between some cities was impeded as protesters blocked many streets with barricades mde out of cars, stones and other large objects." More here "Amid heavy police presence, demonstrators erected barricades of burning tires, and at least two buildings, near the departmental police headquarters, caught fire."

Sudan: General strike against Generals See entry for 3/6/19 below. Jim Katz in the comments box below wrote: "'The Sudanese Professionals Association, a leading opposition group, said it had called on [ordered] people to stay home in protest [under pain of death]…"The peaceful resistance [sic] by civil disobedience and the general political strike is the fastest and most effective way to topple the military council… and to hand over power to a transitional civilian authority," the SPA said. Residents said heavily armed paramilitaries from the Rapid Support Forces were patrolling parts of Khartoum while the regular army has now deployed in some parts of Omdurman.'…A curfew imposed by the Forces of Order under the auspices of a bourgeois professional association is not a general strike. It is the culmination of the repression this Professional body claims to resist. Bourgeois order in Sudan will continue the suppression of the proletariat either by the transition to democracy or by the continuation of military rule. Failing these two options, further foreign intervention will occur." Undoubtedly this is essentially true, though saying it is not a General Strike implies that a General Strike is only something that can happen autonomously of professional associations, as if a General Strike  is innately radical. It was a General Strike, as far as I can see,  even though it's pretty obvious that it was designed to give credibility to potential civilian bourgeois rule, and was part of their negotiating strategy with the military, as well as maybe a move towards a more modern form of bourgeois control than the military with its intermittent massacres there, continuing "the suppression of the proletariat"  in ways that don't invariably entail shooting them down (and to give people the mirage of change). See also this Crimethinc article.

Germany, Kiel: climate change activists block massive cruise ship for 7 hours
South Africa, KwaZulu Natal: report on looming wildcat truck strike  "Continued violence has seen about 60 trucks burnt in the past three weeks, resulting in damages of about R200million to vehicles alone. "It could be double the amount if the cost of goods looted during the attacks is included" "  This report claims that the torching of trucks is due to racist divisions….Gauteng: flypitchers attack cops with rocks etc. after they seize counterfeit goods

8/6/19:
France: yellow vest clashes in Dijon and Montpellier

Israel, Tel Aviv: riot following banning of Trance festival

India, Manipur: major roads blockaded amidst clashes between locals and cops in protest at construction of food park

7/6/19:
Greece, Tyrintha: anarchist imprisoned for firing arrow at cops in 2011 escapes from prison

6/6/19:
Ghana, Asikuma: youths storm police station after death of young marijuana dealer in police cell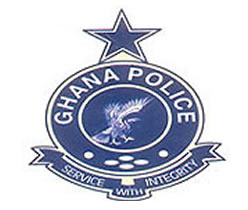 Dominican Republic, San Domingo: medical students clash with cops in front of Congress in protest against privatisation of exam marking…riot in popular area over persistent electricity blackouts " the protesters… say they spend the day and night without electricity despite paying their bills "
France, Isère: rooftop CCTV camera torched

5/6/19:
Bosnia, Velika Kladusa: at least 100 migrants at detentions centre pelt cops with stones, metal bars & bottles

UK, Teeside : report on ongoing wildcat strike More here
Dominican Republic, Esperanza & Navarette: military and cop occupation of towns during local strikes and violent protests demanding promised but unfulfilled public works More here.  "Several community organizations, popular and commercial began this morning a work stoppage for 24 hours demanding the Central Government carry out several works, so the police and military authorities practically occupied the town. While in the municipality of Navarrete, which joined in support of the public protest, a member of the Dominican Navy was wounded by a bullet …Most of the commercial establishments, as well as the free zone companies are closed and with dozens of police officers and military personnel in their vicinity…Among the demands made by the organizers of the strike are the termination of the health sub-center and that it be elevated to the category of regional hospital, quality and streamlining of the pipes of María Trinidad Sánchez Avenue, asphalting of the avenue and all neighborhoods… drinking water and electric power 24 hours a day, construction of sports facilities and modification of the hydrocarbons law."
4/6/19:
Honduras: further protests against health and education privatisation…some looting in the North of the country

France, Oise: cops stoned by youths in drug-selling crackdown…Toulouse: bank windows & Lidl windows smashed, tagged with GJ (i.e. yellow vests)…Haute-Vienne: signal control box for railway line supplying nuclear material for nuclear power plant torched

3/6/19:
Sudan, Khartoum: massacre…at least 100 killed…brief recent history and call for solidarity…More here
2/6/19:
Germany, Leipzig: cops attacked with bottles & stones after social justice/climate change demo

1/6/19:
Chile, Valparaiso: moltovs, burning barricades, as cops attack demo against pension reform with water cannon and thick-clouds-of-teargas-dispensing armoured trucks Video here