2019 2018  2017 2016 2015 2014 2013
"Only those with tenacity can march forward in March"
― Ernest Agyemang Yeboah
"March out of the common line; make bold steps ahead and dance to the tune of a sweeter, better and nicer tone of your own music. March out of the tiny box!"
― Israelmore Ayivor
There are obviously significant limits to providing links to information about situations I know little about. Some of this might give people the idea  that struggle is advancing or happening far more than it in fact is, and may even blind people to the contradictions and complexities of any specific situation. However, despite the inevitable limitations,  I will continue to put up links if only as a method of keeping a record of events, though this will be reduced compared  with previous years.
18/3/19:
Palestine, Gaza: more on the anti-Hamas protests (possibly initiated by the PLO, possibly not) See entry for 16/3 & 15/3 below

India, Odisha: 2 killed in clashes between cops and protesters against copper smelting plant

Algeria: unions refuse to talk to government despite retreat on president's desire to stand for 5th term

16/3/19:
Palestine, Gaza: more on the anti-Hamas demos  See entry for 15/3 below

India, Uttar Pradesh: prisoners clash with cops & bureaucrats

France: yellow vest clashes in 7 cities Video of Paris here and here  Report in English here

15/3/19:
Palestine (Gaza): state violently represses demonstrations against high cost of 'living' Video here… and then postpones 'march of return' demos at border

12/3/19:
South Africa, KwaZulu Natal: student protests cost university 3.5m rand in property damage…as arson attacks continue

11/3/19:
France, Grenoble: another night of fire More here "At 10pm, police officers in the Mistral district of Grenoble were targeted by several people throwing Molotov cocktails…Several cars were deliberately set on fire…Projectiles were thrown from the roofs onto the police. No one was hurt. In total, five vehicles went up in smoke and no arrests were made". See entries for 6th, 5th, 4th, 3rd & 2nd this month

10/3/19:
France, Grenoble: report on last 3 nights of events "… while the Yellow Vests were passing through the Mistral district shaken by riots for a week after the deaths of two young people, Fatih and Adam, pursued by the cops, the premises of an agricultural nursery, 'Artis La Pousada', located on rue Anatole-France, suddenly caught fire. According to firefighters and cops who intervened around 2:20 pm, the intentional nature seems obvious since three  areas where the fire  started were noted on the first floor of this building housing corporate offices. "The flames then spread into the false ceiling of the building, destroying part of the premises. At the moment the fire broke out, the neighborhood was crossed by a procession of "yellow vests"…Very soon after the first smoke escaped from the building, the CRS stood in front of the premises to secure the intervention of the firefighters. Their oppressive presence immediately revived the conflict in the Mistral, with multiple bin burnings on the main artery running through the neighborhood,  stones thrown in response to  tear gas grenades… On Sunday morning, the riot police were still guarding the building out of fear of a new arson. This is the second fire in 36 hours against this set of offices that had already been targeted on the night of Thursday 7 to Friday 8 March in clashes between young people and police. The flames had time to devastate the entire ground floor of the structure, putting some 100 people out of work….On the evening of Sunday, March 10, Lionel Beffre, prefect of Isère, went to the Mistral district to support his cops mobilized to (try to) restore order since Saturday, March 2. "But as the representative of the State arrived on Rhine-Danube Avenue,  unrest resumed in the area, a group of young people attacking a car. Police and CRS had to intervene and were targeted by projectiles ". He recalled that since the beginning of the riots, 11 people have been arrested."… Marseille: CCTV cameras wrecked, burning barricades, bank window smashed, insurance company ransacked during carnival at La Plaine and elsewhere

Above: tag put up opposite church in Marseille: "The only church that enlightens is one that burns"
Below: the Arc de Triomphe in Marseille was covered in graffiti. This one says "…that the walls fall and the borders burn"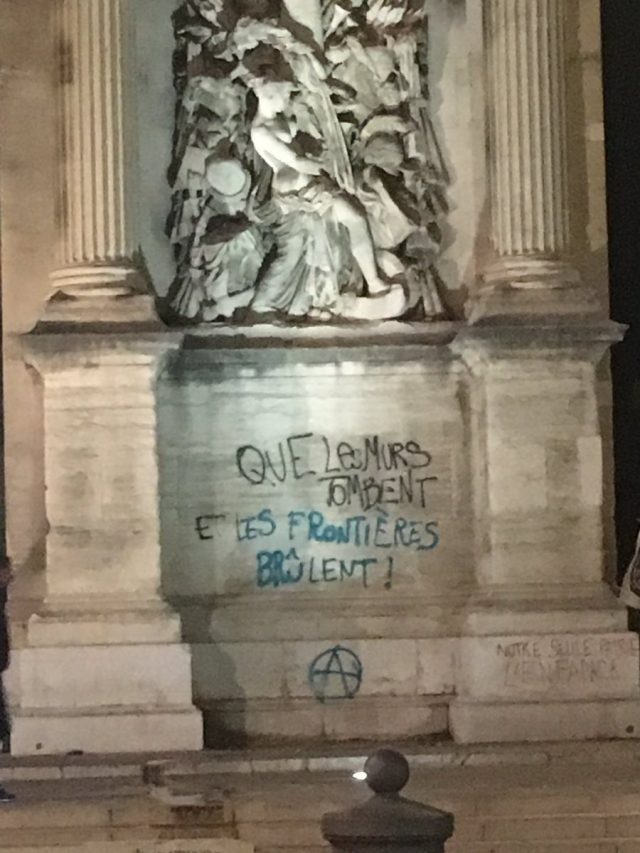 Venezuela, Caracas: looting on 4th day of electricity blackout 
See also this: A Desperate Venezuela Today (despite having elements of self-management ideology, and an affirmative use of the dubious Chavista term "People's Power", this seems to be a pretty good contribution to understanding the situation there).  It should be pointed out, for those who can't see the obvious, that Guaido, who's supported by Trump and Richard Branson amongst other creeps, is clearly using this as a way of buying support from the impoverished and starving. Whether the Venezuelan poor can steer  their way past the Scylla of the Left of Capital and the Charybdis of Capital's Right wing is unlikely without an intensification of independent class struggle throughout Latin America and further. See also this: Humanitarian Aid… for War. And this, about the conflicts on the Colombian-Venezuelan border bridge (thought the final sentence – "we are simply not in a position to decide which faction in this fight should win"  – is a cop-out, since we are definitely in a position to desire, though not decide, that no faction should win. Also worth reading – this El Libertario article, though very general and lacking in details about present daily life there.

9/3/19:
France: clashes on yellow vest demos in 11 towns

7/3/19:
South Africa, Eastern Cape: lectures cancelled as students block campus over non-registration of poor students…Gauteng: TUT campus shut down due to violent student protests over meal allowances and accommodation…KwaZulu Natal: another critique of miseducation

6/3/19:
France, Grenoble: 5th night of riots "The Mistral district in Grenoble experienced a brief moment of peace Wednesday to pay tribute to the two young people killed by scooter trying to escape the police, before the violence resumed in the evening. The disturbances began around 9 pm when several cars were overturned and burned while stones and molotov cocktails were thrown from the roofs of buildings onto the police"…Maine-et-Loire: screws' cars burnt &/or damaged parked against prison wall

US, Oakland: report on sell-out of teachers' strike 
Interesting report, although through a dubious source. We don't need to agree with Trots to know that the teachers got  ripped for this one, along with the students.
5/3/19:
France, Grenoble: only 18 cars burnt on 4th night of riots as state swamps area with cops and helicopter surveillance

4/3/19:
France, Grenoble: 3rd night of riots  Originally confined to the  Mistral area of the city (where the 2 youths came from) the riots have spread to 7 other areas of Grenoble.

Argentina, Cañuelas: local residents attack police station following their failure to stop murder of 4-year-old girl by parents, despite reports of her being constantly abused
Eire, Kilkenny: vigil of living dead at amnesiac memorial improved by a hammer

3/3/19:
France, Grenoble: molotovs thrown as youths riot following death of 2 teenagers in 'accident' during cop car chase  More here "Several fires broke out: garbage and car fires. A hundred young people faced the police. At around 1am, about 40 of them attacked a nearby CRS barracks, CRS 47, with projectiles and insults. They then burned two cars thirty meters from the gate and tried to climb it. A CRS policeman came out of the police station and pointed his assault rifle at them, while his colleague threw tear gas and called for reinforcements. The individuals left but continued to light garbage and car fires in the Mistral district until 5am. A police source says: "As far as I can remember, there has never been such an open attack on the CRS 47″…."It's true that the neighborhood is known to be tense, but we never had this level of intensity." – Alexander, a witness" This riot, in fact, started in the late evening of the 2nd March, continuing into the night of Sunday early morning. A second riot  began on 3rd March, Sunday evening: see here  "Youths set up barricades and threw petrol bombs at police and set fire to cars in the centre of the city. Tensions were high for a second night running on Sunday in the Mistral district of the city where the teenagers lived. Locals accused police of a blunder and one relative told an AFP reporter "you can write that the police were responsible for their deaths". Around 15 vehicles, including two construction vehicles, were torched while the ground floor of a council department building was destroyed by fire, local media report. "

Algeria, Algiers: 70,000 demonstrate against president's decision to  run for 5th term  See entries for 1/3/, 26/2, 23/2 & 22/2.

Greece: cops attacked in Athens and Thessaloniki  "In Athens, about 40 masked individuals, dressed as revellers, attacked a police precinct in the neighborhood of Koukaki, throwing at least four firebombs. The precinct's entrance was damaged, as were two patrol cars parked outside and an adjacent baker. Police have detained ten individuals over the incident. In Thessaloniki, about 50 people attacked police officers guarding the Turkish consulate at about 2.40 a.m. Sunday, throwing firebombs and rocks. Police responded with tear gas and stun grenades and gave chase, but the assailants run into the grounds of Aristotle University, which, like university campuses across the country, are off-limits to police. Firefighters extinguished a couple of small fires ignited by the firebombs."
UK, County Down: cop car torched

2/3/19:
France: clashes in 8 towns on yellow vest demos

1/3/19:
Algeria, Algiers: clashes continue See entries for 26/2, 23/2 & 22/2.