2019 2018  2017 2016 2015 2014 2013
"The month of May was come, when every lusty heart beginneth to blossom, and to bring forth fruit"
"We know what we are but not what we may be"
– William Shakespeare
There are obviously significant limits to providing links to information about situations I know little about. Some of this might give people the idea  that struggle is advancing or happening far more than it in fact is, and may even blind people to the contradictions and complexities of any specific situation. However, despite the inevitable limitations,  I will continue to put up links if only as a method of keeping a record of events, though this will be reduced compared  with previous years.
26/5/19:
UK, London: wildcat Deliveroo strike
25/5/19:
Germany, Berlin: cops attacked with bottles & stones as they try to close down small unofficial rally

France: yellow vest clashes in Paris and Amiens…and in Lyon… & Toulouse
24/5/19:
Germany, Dortmund: greatest political speech ever! Translation :"Nobody stops the rightward shift! Nobody abolishes patriarchy! Nobody makes the climate safe! Here is our candidate: Nobody!"…."Dear fellow citizens, blablablablablablablabla Dortmund! Blablablablablablablabla sustainability bla. Blablablablablablablabla to take responsibility. Blablablablablablablabla freedom and security! Blablablablablablablabla Europe! Blablablablablablablabla. Only when I – that is Nobody – rule, will we all be free!"
The speech was part of a bigger election campaign with propaganda stands in the city center, posters, leaflets, discussion meetings etc. More here:
agdo.blackblogs.org/niemand and here: twitter.com/realniemand .
World: more students walk out of class over climate change  Left-liberal, of course, but an indication of maybe something more beginning to develop (or is this wishful-thinking?). Sure won't develop unless there's some critique of political economy and of the shoddy compromises of various self-serving leaders and organisations (Greenpeace, Friends of the Earth, Extinction Rebellion, WWF, etc.) , as well as a lot more occupations of areas of diverse nature threatened with destruction.

Chile, Santiago: university closes in response to heavy clashes between cops and hooded students
Greece, Athens: clashes between cops and anarchists

Venezuela, Acarigua: state massacres prisoners following apparent escape attempt "At least 29 inmates were killed…detainees were pushing back against the initiative to transfer them to prisons where their relatives would not be able to visit. The police entered the premises to carry out searches and remove visiting women when the violence started…The police station jail had been designed to hold 250 inmates but was allegedly housing over twice that number. Although police jails are made to hold citizens for up to 48 hours, many inmates spend months in them before being transferred, …Last year, the UN slammed the dramatic overcrowding and dismal conditions in detention facilities across the country. "The infrastructure is infested with rats and insects," UN official Ravina Shamdasani, "And in many detention centers across the country, detainees have limited access to food and water, including drinking water."
23/5/19:
Mexico, Chiapas: report on indigenous take-over and occupation of mine

22/5/19:
Honduras, Tegucigalpa: clashes in protests against privatisation of health & education as demonstrations enter 4th week (video)

UK, Kent: Farage milked and shaken again (almost)  More on what to do with your milkshakes here

Senegal, Kaolack: high school students clash with cops, burn barricades, in 48-hour strike demanding speed bumps after student is almost killed by car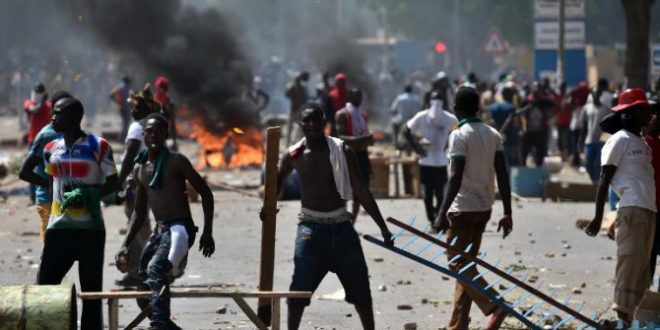 Traffic calming scheme, Kaolack, Senegal (unfortunately, no sleeping policemen)
Chile, Santiago: anarchists clash with cops on 10th anniversary of killing of anarchist attacking prison guard school

21/5/19:
South Africa, KwaZulu Natal: road barricaded in protests demanding new road…North-East: report on wildcat strikes in platinum mining industry

20/5/19:
UK, Newcastle: hero of the week…Video here (this, after another scumbag got attacked in South Africa)

19/5/19:
France, Paris: about 500 'Black vests' occupy part of Charles de Gaulle airport to demand documents for everybody ""France does not belong to the French! Everyone has a right to be here!" one of the demonstrators shouted into a loudspeaker….The protesters called for 'papers for all,' a meeting with Philippe to discuss asylum policy, and a meeting with the leaders of Air France to demand they stop "any financial, material, logistical or political participation in deportations."
Lebanon, Beirut: clashes on demo against new austerity budget

Switzerland, Bern: clashes during protests against squat eviction…burning barricades, cars torched, cops hurt

18/5/19:
Uruguay, Montevideo: official cars belonging to presidential building stoned, bank tagged, during protest against building of cellulose plant and connecting rail line

17/5/19:
Canada, Montreal: minor improvements to statues of obnoxious shitheads One of them is a statue of Queen Victoria, which was also improved in 1984 in Brighton (UK): "There's a statue of Queen Victoria in the park so two of us went down to the statue and one gets up high to shove a black flag in her hand, whilst the other one at the bottom spray-paints, "We are all abused". Cops come along and, without radioing for back-up, attempted to arrest him, holding him in an arm lock from the front round his neck and at the side. The others came along and one of them bit one cops hand, whilst others pushed the other cop out of the way, and the guy ran like fuck through the narrow streets and everybody else did likewise – everyone gets away. As soon as the spray-painter meets up with one of his mates, she gives him her jumper so he looks different, whilst the cops go round Brighton peering out of their cop car in vain all round the demo for the crowd who assaulted them. No one gets nicked…" (from here)

16/5/19:
Indonesia, North Sumatra: prisoners torch prison during riot …around 500 escape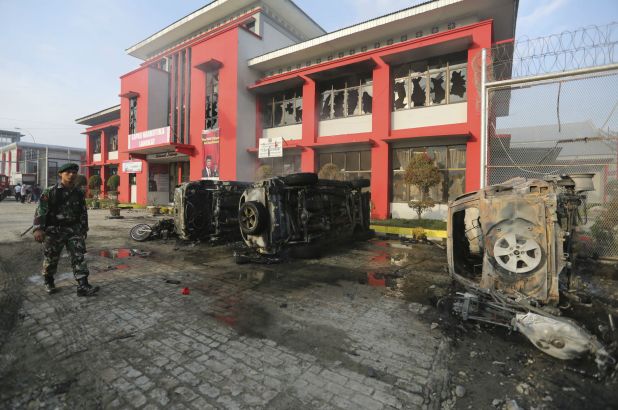 Langkat prison in North Sumatra
Germany, Wrangelsburg: climate change activists occupy pipeline

15/5/19:
US, Georgia: prisoners smash windows etc., as outsiders demonstrate against prison misery  More here

Brazil: protests against cuts in "education" budget in 180 areas…students plan more demos  See also this, about situation since 2013. And this, about the attacks on LGBTQs.

Mexico, Tamaulipa: clashes between cops and  African migrants locked in detention centre, forced to work for their food

Guinea, Fria: all of town's prisoners released after prison is  attacked from outside by angry crowd following barricading of various roads in response to brutal repression of peaceful demo by women demanding departure of local prefect

Sudan, Khartoum: further deaths during clashes around sit-in in front of military HQ

14/5/19:
Algeria, Tinerkouk: HQ of the municipality, officials' cars torched, during  clashes between the unemployed and cops…at least 24 cops wounded

Holland, Amsterdam: climate change activists invade birthday party of gas companies
13/5/19:
South Africa, Western Cape: highway blockaded, clashes, as wine/vine workers demand better wages, etc.  "On Monday, workers from Oak Valley Wine Estate demonstrated with placards, burning tyres and closed the N2 in both directions between Sir Lowry's Pass and Botrivier, demanding a R250 minimum daily wage, single quarter accommodation to be converted into family units, and all seasonal workers to be made permanent. The protest erupted after it was alleged that Oak Valley Wine Estate rejected negotiations around workers' demands. On Tuesday the situation was still tense in the area, which saw Law enforcement being deployed near Sir Lowry's Pass, where protesters forced road closures by blocking traffic with burning tyres and rubble"
France, Val-d'Oise: molotovs thrown at cops after they're ambushed; cop van torched "Police officers who were on night patrol on rue Malcolm X, Goussainville…were blocked by a car obstructing the street and whose occupants fled on their arrival. The police who had left their vehicle were then attacked by about twenty individuals who threw stones and three Molotov cocktails at them. The officials managed to escape and call for reinforcements without serious injuries, according to the newspaper. An investigation for "attempted murder of a person holding public authority" was opened."
Belgium, Brussels: about 50 occupy HQ of Brussels Airline in anger against deportations of migrants "The activists occupied the premises, produced a radio program on the subject and had an exchange with the employees. A large banner bearing the inscription "Brussels Airlines Stop Deportations" was hung on the facade of the building. Posters with, for example, "Bury deportations" or "Raze closed centers" were placed on the windows."
UK, Newcastle: Antony Gormless statue vandalised  See this for a critique of art
11/5/19:
Indonesia, Sumatra: 100s of prisoners escape during riot "A riot broke out in Siak Sri Indrapura Penitentiary in Riau early on Saturday following a drug raid by the prison authority. Several inmates tried to escape and set fire to the guards' office….They damaged the penitentiary that held 648 inmates and set fire to the gurads' office. The guards retreated from the prison when the inmates appeared to be in control. Some reportedly heard gunfire from inside the prison….a police officer was hit by a rubber bullet. "There is a missing gun, but it only contains rubber bullets [because conventional] weapons are prohibited inside the penitentiary""  Most are recaptured, but 14 remain at large

South Africa, Limpopo: 7 escape custody

Spain, Barcelona: 100s occupy streets with beds and furniture in protest against housing misery

France: yet more clashes in 5 towns on repetitious yellow vest demos More here in English…Tours: a dozen cars torched during riot in popular area

10/5/19:
France, Rennes: riot in migrant detention centre "A dozen people held in the detention center of Saint-Jacques-de-la-Lande, near Rennes, rebelled in the night of Thursday, May 9 to Friday, May 10, when the police entered to seek a foreigner to be returned to his country. Premises are unusable and the capacity is decreased from 40 to 25….About ten men, detained because they were in an irregular situation in France, took mattresses and clothes out of two buildings. They lit the fire with toilet paper. Some rioters managed to climb on the roof of one of the buildings to express their anger….The police…managed to extinguish the fires, which burned the two buildings. …Both rooms were seriously degraded by thick smoke, caused by fire to the mattresses. They have been closed and are currently unusable. Reinforcements were needed to restrain rioters who did not want to get off the roof. …The volunteers who help the detainees were not surprised by this renewed tension in Saint-Jacques-de-la-Lande. The legal retention period has been increased from 45 days to 90 days. …"There have never been more riots in the CRA in France than in recent months," said an observer who works for undocumented foreigners. The police have a hard time restoring calm and a spark can easily start a fire." "
US, Illinois: report on the development of anti-protest legislation    "Dangerous anti-protest legislation is working its way through state assemblies all across the U.S., chipping away at the right to protest and undermining social justice movements. State legislators have introduced nearly 100 bills curbing your right to protest since the resistance at Standing Rock began. And if oil and gas companies get their way, Illinois will now be added to the list."
9/5/19:
Greece, Lesbos: 110 refugee protesters acquitted of criminal charges
8/5/19:
South Africa, Limpopo: voting disrupted as residents barricade roads demanding change in form of municipality "Vuwani in Limpopo was still on a knife's edge late on Wednesday as sporadic clashes between residents and police continued into the night. Voting was severely disrupted due to the protests. Residents are demanding that government commit itself to demands that the area be returned under the jurisdiction of the Makhado municipality when the municipal demarcation window period opens. The area was incorporated under the newly-constituted Collins Chabane municipality after the 2016 local government elections. Police have indicated they would continue to maintain a heavy presence in the area as residents continued to barricade roads…. Scores of residents boycotted the elections on Wednesday, but some made it to the voting stations to cast their ballots. Four voting stations were forced to close and election officials had to be escorted from the area by police."…Northern Cape: further clashes around election "While a majority of residents motioned towards the humble voting station, other disgruntled community clashed with police and electoral officials. Reports of voter intimidation summoned a strong police contingent to the local voting station. Protesters, unwilling to back down, pelted police officers with stones, who, in turn, opened fire with rubber bullets. Although the protesters dispersed, protracted running battles severely disrupted voting….Disgruntled residents claim that they are unwilling to partake in governmental operations, citing inadequate service delivery as the main source of their discontentment. According to some protesters, government had failed to improve their community since the first democratic elections in 1994."
Syria, Deir Az Zor: 3rd week of protests by Arabs against YPG/PKK's forced conscription, etc."The protests took a violent turn when angry mobs took to the streets and disrupted the routes of convoys of trucks loaded with oil from nearby fields that cross into government-held areas. In some villages, SDF fired at angry protesters." See also the kurdish proto-state, about Rojava and the PKK/YPG etc.

France, Toulon: clashes between "casseurs" and cops Interesting to see, in a town dominated by its military presence and noted for being right-wing, a hooded yellow vest carrying a a placard saying "Get rid of the political system!". A friend told me that on a previous yellow vest demo there, where she was wearing black with a little hood (though not in fact part of any black block), a man turned to her to say "Here we're white block not black block".  Despite its National Front reputation, there are clearly signs that not everybody is a nationalist.

7/5/19:

Tunisia, Sidi Bouzid: clashes as unemployed  sit-in with tents on railtrack, preventing transport of phosphate

UK, Brighton: minor clash with immigration pigs
6/5/19:
South Africa, North West: electoral officer's car and empty ballot box torched…Mpumalanga: riots improve elections as service delivery protesters close roads and voting stations "Police used robber bullets to disperse the crowd which comprised young people demanding clean water and RDP houses. "This town is a ghost town, all the buildings you see here were built by whites long time ago. We either get dirty water or no water at all," said angry community members, who didn't want to be named for fear of victimisation."
Canada, New Brunswick: nursing home workers occupy constituency offices of 8 cabinet ministers
4/5/19:
Sudan, Nyala: clashes between army and protesters from camp for displaced people "About 5,000 people staged a peaceful march from Attash camp, but they soon unleashed "violence on a unit of armed forces" in Nyala, Khalid [state governor] said. Four members from the army and the paramilitary Rapid Support Force were left "critically wounded," he said, adding that there were no casualties among the protesters. After attacking the armed forces, protesters tried to seize vehicles belonging to the armed forces, Khalid said…He said the protesters had come out to join an ongoing sit-in held outside the region's military headquarters and organized by the group spearheading the nationwide protest movement that has rocked Sudan for months. The umbrella group leading the protests, the Alliance for Freedom and Change, gave a different version of events and called for nationwide protests and marches to condemn what it said was an attack by the army on protesters.  It called on supporters to "reject the acts of the regime in its new version, its security apparatus and its militia, and condemn the attack on peaceful protesters in Nyala."  Protest leaders have regularly called for sit-ins outside regional military headquarters, similar to the one held at the main army headquarters in central Khartoum for weeks."  More here

France: yellow vest clashes  in 3 towns

US, Iowa: activists occupy Corporate Health Care
Germany, Berlin: Leftist party offices attacked for good reasons
3/5/19:
Italy, Modena: clashes at anti-Salvini demo See also this, showing how thoroughly embedded fascism is in Italy, and the extent to which the entire Italian establishment is now complicit in it. "An Italian teacher has been suspended over a video made by her students that compared a security law drafted by Italy's far-right interior minister, Matteo Salvini, to Mussolini's racial laws, provoking a storm of protest against her suspension across the country."
2/5/19:
South Africa, KwaZulu Natal: cops kill striking municipal worker as strikers smash things up "…scores of workers resorted to breaking concrete bins and trashing shop windows as they plunged the Durban CBD into chaos. The workers started protesting on Tuesday following disputes over salary increases granted to 55 uMkhonto weSizwe veterans employed in the water and sanitation department. " State complains of cost of damage "The total cost of damage to infrastructure as a result of the illegal protest by eThekwini municipal workers exceeds R3.5m, KwaZulu-Natal premier Willies Mchunu has revealed."
Mexico, Chiapas: 3rd riot in a week at migrant detention centre See also entry for 25/4/19
UK: Nazi prick gets milkshaken

1/5/19:
US, Oakland: report on new evidence showing how cop deliberately murdered Oscar Grant in Oakland January 1st 2009  X writes: "Now, ten years after the killing of Oscar Grant, it comes out that the main defense of Mehserle, the cop who shot him to death, was a blatant lie, which was somehow given legitimacy in the proceedings that occurred after the incident. The video of the event shows Mehserle looking back at his hand the last time he tries to draw his weapon, to check he shoots Grant, who had been trying to comply with the order to put his hands behind his back for cuffing. The filth and their handlers sat on this shit for a decade in order to protect their precious order built on oppression, sadism, aggression and fear, from being assaulted by thousands of angry East Bay residents, had they known the truth."
France, Paris: head of sell-out CGT union attacked by black bloc  See "The CGT – sheepdogs in wolves' clothing" for a critique of this racket…State and media resort to the Big Lie…eyewitness account…Besançon: yellow vests try to break into police station…
More on Mayday here  (mentions Gotheburg – Sweden, Copenhagen and other places).
Honduras, Tegucigalpa: clashes between cops and rioters as people try to loot businesses 
Chile, Santiago: large store torched, banks  and bus stops smashed, as thousands demonstrate 
Italy, Turin: clashes on anti-TAV demo See also this, from a Leninist ultra-leftist site.
Germany, Berlin: scuffles on anti-gentrification demo…Wupperthal: illegal wildcat demo  
Canada, Ontario: report of anarchist demo