"You never want a serious crisis to go to waste. I mean, it's an opportunity to do things that you think you could not do before."
– Rahm Emanuel, President Obama's chief of staff, 2008
The original page (first put up in January 2020) follows the chronology of relevant material, constantly updated
4 other "Coronacrisis"-related pages on this site:
Coronavirus in France, Contestavirus (a constantly updated chronology of global expressions of contestation against the new conditions of misery), Czaravirus (about the situation in Russia) and Cameravirus  (facial recognition cameras, masks and the global development of totalitarianism from China to the rest of the world)
Recommended: Letter from a comrade in China & Social Contagion
Chronology
This is a list of relevant material (mainly links, though with some comments), other than those related to the other 3 Coronavirus pages on this site ( listed above) and other than those which mainstream media have given most attention to. They're put up regularly in the order they've been received or discovered starting with the most recent. I am obviously in opposition to the ideological content of most of these articles.
22/10/20:
T. writes:
This article has an overly-sensational title: "Lockdown Is a Big Mistake: What Top Israeli Doctors Really Think About COVID-19". It's obviously not ALL Israeli "top doctors" who speak and I don't necessarily agree with everything they say, and  it still doesn't deal with other important aspects of this pandemic and the politics of "health".
Sample quote:
"Countries that imposed a strict, early lockdown, like Peru and Belgium, suffered the most serious mortality rates. New Zealand also imposed strict lockdowns and last week announced it had defeated the virus for the second time. "The emphasis should be on 'the second time.' It's like cheering at the end of a soccer game that you lost, because you were ahead at halftime. We can at least say that the same rates of infection existed in countries that imposed a lockdown and in those that didn't. "Look at these two pieces of data: Pneumonia diagnoses declined by 30 to 40 percent [during the epidemic]; we replaced one disease with another – pneumonia caused by coronavirus instead of 'regular' pneumonia. The second statistic is that there had been a 30-percent decrease in the number of people arriving at ER for any reason."
SF:
This seems to be a valid rejoinder  to the dominant discourse regardless of how true it eventually turns out to be. I don't necessarily take such facts as "the truth" since in my lifetime I haven't ever remotely known a degree of confusion and contradiction between different facts and figures and state exhortations, sometimes altering from day to day or even from hour to hour, as during this Covid1984 epoch. Masks are useless (March to June) / Masks are mandatory in enclosed spaces / Masks are obligatory both outdoors and indoors, but not on the terrace of bars/ you can take your mask off to smoke….Stay at home and only go out for essentials. / Getting fresh air is essential….The virus remains on all surfaces for several hours / The virus is only transmitted by spittle or human-to-human contact…Chloroquine is safe and can treat malaria and other diseases/ Chloroquine is certainly toxic …You can go to work in a crowded  underground, but funerals are prohibited or limited to ten people….You can only see 5 people around you but you can go on vacation by plane. 
Unfortunately people tend to believe what they want to believe according to long-developed ideologies or just an evasive  characterological anxiety about researching anything that doesn't automatically accord with what they've already decided is "the truth". They cherry-pick so selectively in order to reduce reality to "This is the essential thing you MUST understand", an unpaid professor role that invariably demands the other person shuts up and listens, whilst the teacher-who-knows-best  monologues what they deem is the one fixed certainty in the whirlpool of confusing facts and counter-facts and of lies and counter-lies.  Macron said back in March, repeating it 5 or 6 times, "We are at war". And "the first casualty when  war comes is truth" (Senator Hiram Johnson, 1917). Which is why Macron said on October 14th "I think that in the country of the Enlightenment and of Pasteur, we need to stop having kinds of permanent debates on facts or scientific truth. " (here) as he announced the need for 9pm to 6am curfews in areas that have had less than a third of the deaths from Covid than from flu 4 years ago.
Critical vigilance is one of the worst casualties of this miserable epoch. It's been replaced with anti-semitic conspiracy theories. Or a leftist "critique" of the state not doing enough. Or  fixations on only one aspect of the misery being imposed, to the neglect of most of the others. Or an aversion to anything but resigning oneself to the contradictions, shrugging off any critical attitude with a  "That's how it goes…What can you do about it?". Most people have so far wiped out any attempt, any  striving, any  struggle, to see clearly through the tangled web they weave when they first practised to deceive.  Such is the post-truth whirled.
21/10/20:
20/10/20:
Not saying anything recent here, but it's worth pointing out that global deaths from TB in 2019 were 1.4 million. TB is an easily curable disease and relatively cheap to cure as well. It's only because costs of the cure are too expensive for those in the "Third" World who have nothing that so many die from it. I say this because many people ask if chloraquine is such a cheap cure why would the various states "ruin the economy" by not allowing such a cure to be used. The pharmaceutical industry, as illustrated, in just the one example among many,  by the ridiculous Lancet report back in May, is a very powerful industry. It's clearly in their trillion-dollar interest to suppress the very cheap cure of choloraquine (in Marseille the deaths using Raoult's precisely individually tageted recipe using azythromocine in correct dosages has produced 25% of the deaths from Covid as compared with other French hospitals). This is  a cure being used in over 50  countries in the world, though its use in Brazil has rarely followed Raoult's recipe (and in the areas inhabited by the indigenous population, the fascist state has "allowed" people to die en masse with virtually no access to any ostensible form of medical treatment whatsoever). Already a few years ago the pharmaceutical industry tried to suppress the use of Artemis Annua in African countries  as a very cheap cure for malaria, even though this had been used for decades (it's the basis for producing hydroxychloraquine). The various states don't necessarily or automatically answer to the pharmaceutical industry of course –  but they do have an interest in reducing people's lives to something lived in front of a screen and  behind a mask. It petrifies alienation, both subjectively and objectively as the expression of centuries of accumulated capital acting as a force outside of our control, in unprecedented ways. The economy is not being ruined for the large capitalists whatsoever, though certainly smaller fish and the rest of us – the increasingly surplus-to-requirements population – are suffering in or out of  lockdowns, curfews, masks etc. The economy and political economy as the producer of the need for money & as the defence and development of this need  is being reinforced with every twist of the metaphorical knife. TB – 1.4m, Covid 1.12m so far. The scum at the top are happy to see the "First" World become like the "Third" World if it means those who would possibly attack their whole system are being terrified, divided, isolated and made suicidal as never before.
17/10/20:
Banner drop on the highest point of Montpellier, France:
"With or without mask, capitalism is unbreathable"
The banner remained there for 2 days.
In the centre of Montpellier, near where I live, riot cops have been patrolling the streets  openly carrying machine guns since  1st October, supposedly "to calm things down", though what is not calm has so far not  been made apparent. This report claims 30-35 riot cops, but in fact there are a lot more. At a bit before midnight 15th October I counted 16 riot cop vans, which can carry about 10 cops each,  parked by the main square, which was almost empty. So reassuring to be made safe like this. From midnight 17th October there'll be a nightime curfew from 9pm to 6am, supposedly as a crackdown on Covid.  There's only been a yellow vest demo of 300 people since the beginning of September, with the filth being heavier even than normal – chucking teargas under terrace bar tables and chairs, pepper-spraying individuals taking photos, but with virtually no "violence" from the protesters. Certainly nothing to warrant what comes over as a state of siege.  State-initiated terror "for our protection" in order to nip in the bud possible independent opposition. I hypothesise that the reason for this is the building up of intensified hostility towards government policies, including crackdowns using Covid as a pretext, such hostility being expressed in social media (though not so far in the streets or workplaces, high schools etc.) and noted by the state. This may well include hostility being expressed towards the difficulties people are finding just getting previously taken-for-granted basic social services, like pension problems or health insurance problems, partly caused by the draconian suffocation of life under Covidiocies: everything now has to be done by phone with long waiting times if you're lucky to get through. Or internet connections that are just confusing.   This in a region where Covid-related fatalities are exceptionally low – about 28% compared with the deaths in the region from flu about 4 years ago. This totalitarianism is still in its infancy – how long before the over-70s are sent to Vocational Re-Healing Camps for our and other people's "protection" – clearly the best way we can avoid being infected by those callous youth who just want to party all the time and spread their terrible virus that doesn't affect them much onto us old and frail semi-senile coffin-dodgers. This may seem like a bad joke but the world has never been such a bad joke as now. And humour, as so often, hides desperation.
Meanwhile various government ministers are being sued by doctors for their mass murder of hospital staff and cops are carrying out searches of government ministers' homes, offices and computers . Such legalism hasn't stopped hospitals, which are very understaffed, from  allowing people with Covid to continue working there. So it's obviously not the courts that will decide the future.
14/10/20:
"I think that in the country of the Enlightenment and of Pasteur, we need to stop having kinds of permanent debates on facts or scientific truth. " – Emmanuel Macron

10/10/20:
6/10/20:
"Two weeks ago, a controversy erupted after a discussion, on set, between a doctor and a researcher, who suggested testing a vaccine against the coronavirus in Africa….The statement had aroused the anger of anti-racist associations and politicians. Two weeks ago, a doctor and a researcher exchanging on the set of the LCI chain, shocked the public by evoking the idea of ​​testing the BCG vaccine against the coronavirus in Africa. Statements which are worth the chain, this Tuesday, a warning from the Superior council of audio-visual (CSA). "If I can be provocative, shouldn't we do this study in Africa, where there are no masks, no treatment, no resuscitation, a bit like it's done elsewhere on certain studies with AIDS, or among prostitutes: we try things because we know that they are highly exposed ", declared on April 1, Jean-Paul Mira, head of intensive care at Cochin hospital , in Paris, in dialogue with Camille Locht, research director at Inserm.
" What do you think ?", The doctor   asked the researcher. "You are right," Professor Locht had replied at the time. "We are also thinking in parallel about a study in Africa with the same type of approach, which  does not prevent us from being able to think in parallel of doing  a study in Europe and Australia", added the professor…These statements sparked an uproar on social media. "It is inconceivable that we will continue to accept this. Africa is not a laboratory. I strongly denounce these serious, racist and contemptuous remarks, " the Franco-Ivorian footballer Didier Drogba  protested on his Facebook page."
This was back in April but I've only just found out about it.
26/9/20:
23/9/20:
"We certainly live in a difficult atmosphere: … intensified repression of everything that is human (even including the simplest of pleasures), increased confusion and isolation, of separated people's ego battles, crazy addictions and depression…" 14th April 2018,  here. What was true two and a half years ago has now reached levels of social control that Hitler or Stalin only dreamt about (though obviously the repression is subtler, not so blatantly barbaric, it's also more intrusive on basic everyday life in an unprecedented way).
20/9/20:
"So Prime Minister Boris Johnson is changing the law from Monday 28 September to force anyone who gets a positive test or is contacted by the Test and Trace system and told they may have the virus to isolate. Fines for breaches will start at £1,000 – but could rise to £10,000 for repeat offences and for the most egregious exceptions. The penalties can also be dished out to those preventing others from self-isolating – such as bosses who threaten staff who cannot go to work because they are isolating with redundancy. At the same time, a £500 lump sum is being offered to those who need to isolate and will lose money as a result of not working, are on benefits and cannot do their job from home."
Note the 3rd sentence:  " penalties can also be dished out to …bosses who threaten staff who cannot go to work because they are isolating with redundancy". "Can" is the operative word – whether they will be or not is another question.
As for  France –  see the latest developments in what I've written here:   "Taliban take over Nice, France".
18/9/20:
15/9/20:
14/9/20:
Received: 2 articles on vaccines –
This, from a Green EU politician,  states that the European Union, on 10th July 2020, gave the go-ahead for the production of Genetically Modified vaccines without verifying, through experiments, any environmental or health safeguard!!! This means the whole world – or at least EU countries –  have  been explicitly transformed into guinea pigs. Meanwhile, this story that hit the headlines for 5 minutes before being buried under endless pictures of people not maintaining social distancing,  reports "The Oxford coronavirus vaccine trial is facing a "challenge", the health secretary has admitted, after it was put on hold due to a suspected serious adverse reaction in one of its volunteers…The nature of the adverse reaction and when it happened are not currently known." Not hard to recognise what might happen if GM vaccines are permitted without even standard trials which are not even a guarantee of much safety anyway (eg the hundred thousand or so people each year who die in the US from totally "safe" – ho ho – drugs, drugs that have passed these standard tests). And these scum complain chloraquine has not been subjected to any "scientific" health experiments. Certainly further proof that this crisis is an opportunity for the maniacs who  rule us to do things that they think they could not do before. See this for an elaboration of what I've written here.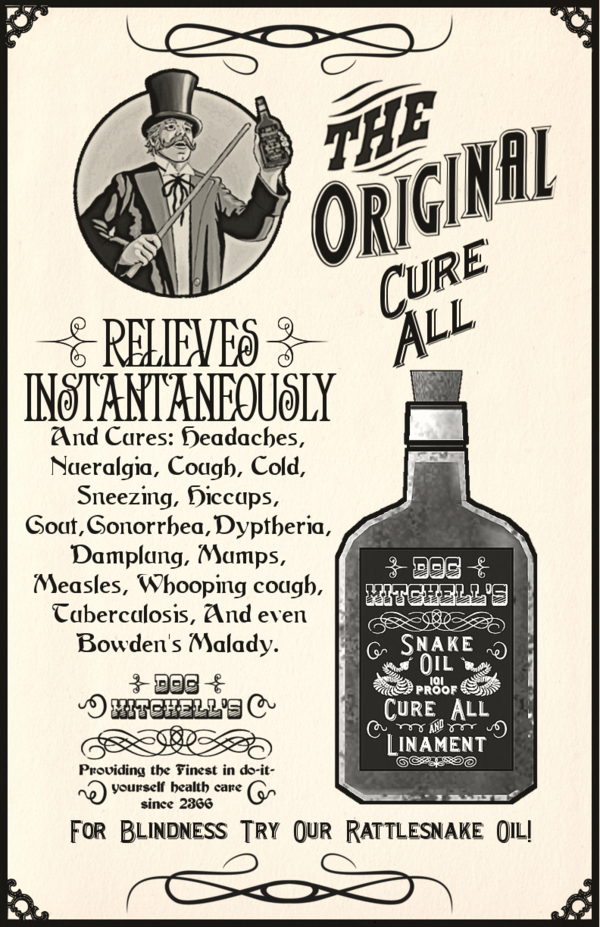 13/9/20:
"Unrest stirs as positive coronavirus cases were detected in Lebanon's biggest and most overcrowded Roumieh Prison. As all of Lebanon experiences a surge in cases, local media reported that 13 Roumieh inmates and 9 guards tested positive for the Coronavirus disease. On Sunday evening, prisoners staged a riot to protest the neglect of inmates whose lives are threatened by the poor conditions at the prison. The head of the Beirut Bar Association, Melhem Khalaf, described the situation at Roumieh as a "time bomb." Inmates and their families previously protested the lack of measures being taken to prevent the spread of the highly infectious coronavirus, before any cases were confirmed. Now that the disease is inside the prison, the situation is critical as it can lead to a complete health disaster"
10/9/20: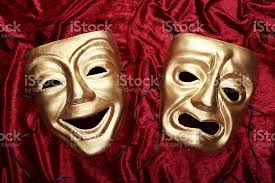 2 Belgian articles on masks, Google Translated:
https://www.kairospresse.be/article/port-du-masque-systematique/
While the measures taken in Belgium making it compulsory to wear a mask in many public places seem to go without saying for some, many doubts remain as to their real effectiveness. At Kairos, we are in contact with doctors who have opinions contrasting with the official voice. We relay their analyzes and concerns.
The mask saga has kept us busy all spring and continues to do so. Tragicomic or shameful depending on the reading that each citizen was kind enough to give it. Useless to compulsory in all places and all circumstances, the reversal of politicians' jackets has been well known to us since Jacques Dutronc's song. The inconstancy of those we call experts is, on the other hand, a new phenomenon which surprises and is obviously likely to encourage politicians to vary their messages over time and to destabilize citizens who, more often than not, come down to following their judgment. own or that of his next door neighbor. Can this versatility in the scientific world be explained? To issue a scientific opinion on the risk-benefit of a medical intervention, whether it is a drug, a medical device (prostheses, pace-maker, implant, etc.) or a preventive gesture, requires a structured approach: appointment of experts, evaluation procedure and consensus opinion. Are these 3 essential elements met in the case of wearing a mask as an element in the fight against Covid-19?
Procedures and conflicts of interest? Move along, there's nothing to see !
The Prime Minister formed her group of experts on April 6, called the GEES [the group of experts preparing Belgium's exit strategy from the coronavirus lockdown] on the basis of a deep belief in collective intelligence. Contrary to what one might think, it is not only a question of scientists since we also find Johnny Thijs, director of companies such as Electrabel and Pierre Wunsch, governor of the National Bank of Belgium and a long-time Reyndersian. A mixed composition cleverly designed to qualify the opinions of scientific experts. The Prime Minister's website also says nothing about the procedure for appointing this group or any conflicts of interest of its members, which does not bode well in terms of transparency. One of the missions of the GEES is to "provide analyzes and recommendations". This therefore implies a description of the evaluation procedures used as each time this type of work is carried out within, for example, scientific societies or the drug reimbursement commission. Here again, the Première's site is silent.
Let us come to the masks and the successive recommendations. On January 28, the Soir-titre: "wearing a mask is useless and ineffective according to the Belgian health authorities". Marc Van Ranst, future member of the GEES and Steven Van Gucht, spokesperson for the government express that "it is useless and is even potentially dangerous". On April 5, the day before the constitution of the GEES, the Minister of Health Maggie De Block communicated that "wearing a mask scientifically does not make sense". Other scientists will gradually argue against his positions. On April 24, the GEES issues a strategic report for the deconfinement. Wearing a mask is strongly recommended in public spaces from the age of 12, but not yet compulsory. The scientific basis for this recommendation is not disclosed. At the end of April, Erika Vlieghe, who chairs the GEES, says in the Morgen that "the mask is a layer of varnish". Finally, on July 17, a new report recommends wearing masks even indoors when spaces bring many people together for extended periods of time and social distancing cannot be respected. This new report tells us that could last until after winter, with the arrival of a vaccine.
It does not seem that opinions are necessarily unanimous or the subject of a consensus within the GEES, which is not surprising given its composition. Is there a scientific basis for these changes in opinion? Traditionally, for decades, we have relied on making scientific recommendations on what is called evidence-based medicine. The highest level of evidence which allows a strong level of recommendation is obtained by obtaining multiple studies of high methodological quality comparing an option A to an option B and which allows the recommendation that a treatment or a procedure is beneficial, useful and efficient, this which means that it presents a favorable cost-benefit. The lowest level of evidence is obtained on the basis of expert opinion or small, non-comparative studies.
What about wearing the generalized mask in a Covid-19 situation and what justifies the change in position of the GEES? On March 3, the Cochrane research group, the pope of evidence-based medicine, a non-profit association of 28,000 scientists in more than 100 countries, published that "if certain gestures such as washing your hands or wearing gloves or a mask can perhaps reducing the spread of respiratory viruses the evidence is very low ". Another systematic study published this year by Marasinghe of the University of Waterloo in Canada also concludes that there is no evidence of the benefit of compulsory mask wearing. Since then, only a German publication using a model comparing several regions where the compulsory wearing of the mask has been introduced goes in a different direction, but here again the level of evidence is insufficient.
What should we conclude from this?
1. There is no sufficiently established scientific argument today to impose the wearing of a mask on the entire population.
2. Recommendations issued to the public by a group of experts must be justified by proven and strong scientific evidence. This is not the case with the GEES.
3. These recommendations must be transparent and the evidence on which they are based must be accessible to all. In their absence, the recommendations are likely to confuse the population, inducing rebellious behavior linked to a strong loss of confidence. The risk of accelerated spread of the virus is significant. There is also a great risk of seeing scientists who are not part of the GEES express divergent opinions in the media, further accentuating the public's unease. This is what is happening today.
4. The current strategic option goes totally against the evolution of modern medicine: the concept of "one size fits all" is completely outdated. Different recommendations must be given to subgroups of society: health professionals, frail people, asymptomatic carriers and relatives of infected patients.
5. Experts need to provide a precise risk-benefit analysis of the systematic wearing of the mask for each of these groups.
6. The opinions issued must be in consultation with neighboring countries in view of the easy access to the media of these countries by citizens. A cacophony of recommendations also has an extremely detrimental effect on compliance with them. This is what we can observe with France in particular.
7. Finally, we may be surprised that no study has been initiated at European level on the usefulness of wearing a mask in view of the lack of scientific evidence and the particularly high cost of this strategy. The virulent criticism of Professor Raoult's essays, imperfect though they were, contrasts sharply with a strategy based on the scientific vacuum with regard to the wearing of the mask. It is far from certain that such a study would come out positive, but at least we would be fixed. As if we already considered that only a vaccine can save us all and that it is necessary to maintain the anxiety of the wider population in order to guarantee mass vaccination of the carpet bombing type, in view of the colossal investments to which the European community has largely contributed.
– Cardiologist, anonymous
2nd article:
https://www.kairospresse.be/article/politique-du-masque/
The mask: a great opportunity to argue, to divide us, and to leave the field even more open to the power of experts and States. Because while some talk about health, others think about politics. Basically, is it so incompatible?
It would be easy to begin this article with the beautiful "inversion of the genitive" which has so much more to Marx and Engels: from the philosophy of misery to the misery of philosophy, and so on, to the Situationists who have used it. to satiety. However, if the policy of the mask is indeed a way of masking politics, it is not just any policy that masks the mask, but a specific policy. Unveiling what, in our opinion, wears the mask and which is hidden behind can only have the first consequence of separating us from a few comrades who will wear, or not, the mask, and will have, on the mask again and again, a practical position. different from ours.
This is the first success of the mask policy: far from being primarily a health barrier, it is above all a subject of discussion, and even better (for the authorities): of disputes. And these disputes, in the climate of chaos and inconsistencies and fears that is that of this year 2020 – and which is likely to intensify even further in the future since it has been at least half a century since the Fear is the basis of politics – of these disputes, therefore, it is very likely that discordances will appear such that they will amplify to divisions or even schism.
Therein lies the master stroke: if some think that the health policy of social distancing is so crucial that it must transcend the divisions between us to somehow reconstitute a human species fighting all in concert for its own preservation, and this even if the price to pay is called precisely social distancing – and in reality the rupture of a number of social ties -, then we can without much risk prophesy that those who will think "on the margins" and will not believe in the virtues of the mask as a tool of reconstruction of humanity will find themselves even more on the margins: stigmatized as enemies. Not class enemies, because it has been a long time since the recomposition of the (proletarian) class was abandoned by its very singers. The stigmatized-marginalized will be referred to simply as enemies of mankind. Even life.
In the politics of the mask, we see above all the mask of a certain policy, that which brandishes health fear, which creates fear through inconsistency, and therefore a real politics of fear. It is of course the fear of health that justifies the measures, but it is easy to show that the health policy itself is inconsistent. We wear a mask, and we have to wear it in some closed places, but some closed places are more prone to virus exchange than others. Trains, for example, usually group together travelers who share a route or a portion of a route, but before arriving at the station of departure? and after exiting the arrival station? These travelers may be carriers of viruses from afar, or take viruses contracted on the train with them when they get off the train, far from their place of origin. However, and to limit the commercial abyss of the railways in 2020, travelers are not subjected, on the trains, to measures of social distancing as rigorous as in other places which are sometimes less closed. Everyone will be able to complete the list of inconsistencies at their leisure, and possibly be satisfied with a basic banality: even if the mask is not used very much, this is never a reason not to do everything possible where we can in the goal of avoiding spreading the epidemic. Certainly, but this is where the bottom line of the mask policy comes into play: it only aims to increase the level of fear even further, at a time when the epidemic itself seems to be stalling, at least in Europe. It is not the mask itself that increases the level of fear, since it would, conversely, calm some people; what is scary is to see, all around us, all these masked people, while our imagination, and even our simple condition of living beings, invites us from eternity not to mask ourselves. If carnival offers us this possibility, it is precisely because carnival is a reversal of the usual order of norms. Could it be that the standards of our society are being overthrown? Especially not: the power of experts remains very strong, and that of States does not waver …
But if the mask is first of all the mask of a policy, the question is necessarily: was the mask imposed for health reasons, or to increase the level of fear? The second option will necessarily be qualified as "conspiratorial", a term whose success has not been denied since September 11, 2001. Once again, the division is shaping up between us, who are to varying degrees opponents of the politics of the fear – in the absence, precisely, of being all of them to the politics of the mask. To free ourselves from this sort of semantic and political trap, let's offer another point of view.
Among the front-line supporters of the mask, some are driven by simple health considerations, others by the banal idea that it is better to take all precautions regardless of the cost in terms of freedoms; a few others, genuinely cynical, try to stay in power by increasing fear. Let us note first of all that, in this last square, there can be both politicians and scientists, without forgetting of course the pharmaceutical trusts which also have everything to gain from this pandemic anyway. But the most important thing is that, finally, the compulsory wearing of the mask brings together these three main categories of people, all favorable to the mask, and that it is thus, whatever we may think of its health utility, a good tool to expand the policy of profiling, population control. And it does not matter, it does not even matter at all whether those who make the final decisions do so out of health concerns, out of a desire to cover themselves up a priori or out of outright political cynicism. The result is there: the end justifies the means.
In this case, we believe that no end can justify abject means, but it is an indisputable fact that "in the face", this kind of questioning does not exist. So we are not fighting on exactly the same ground, and not at all with the same weapons.
How, then, to counter the control policy that the mask embodies? We could "over mask" ourselves, and wear for example, over the regulatory mask, that of Anonymous, Guy Fawkes ("V for Vendetta"). The answer sounds pretty consistent, doesn't it? But this is strictly forbidden, in France at least (it is forbidden to hide the whole face, says the law). Above all, we could decide that since wearing a mask is anti-human, we might as well develop our human activities, properly human, all those that do not imply compulsory compliance with the ban.
And finally overturn the ban like a glove: we refuse the obligation to wear a mask and we will do everything possible to do without "closed places" where it is compulsory to wear it. Thus, we will no longer go to the theater but will do theater in the street; we will no longer go to the cinema but will screen films outdoors. And since we have to go to the supermarket to feed ourselves, we might as well develop collective market gardening, collective orchards, and so on.
As for the much thornier problem of the school, why not create our own schools? Because the laws absolutely do not prohibit it, and in France for example, there are very few legal constraints to create a school.
Of course, these few avenues are still very broad, even vague or difficult to implement. But the object of this text, more practical than theoretical, was to show the coherence of the ecological project, based on the refusal to achieve, decreasing, slow in the sense that this word has acquired in recent years, marked by voluntary simplicity, the " small is beautiful "by Schumacher.
The state, by the inconsistency of its decisions, does not disqualify what we are fighting for. And that's a great thing because in the final analysis it's simple proof that we're right. As someone who may not have bought into these words once said, "History will absolve us." Magnificent perspective!
Philippe godard
Author
30/8/20:
29/8/20:
Apparently what galvanised them was that somebody opportunistically (and falsely) announced that "Trump is here, in Berlin!" "He is in a hermetically sealed room in the American Embassey!" or words to that effect. The presence of the Führer – the American Führer – any Führer – and they  go mad and think they can seize power!  91% of the Germans polled about these people in Berlin were unsympathetic, but undoubtedly there's a massive problem here. However, it doesn't help to clarify things, to recognise what is valid amongst the crazy irrationality,  by dismissing them all as loonies. See below.
It seems that the Right, mixing truth and fiction, are the prime recuperators of the misery of the bullshit being spewed out and clogging the brains and actions of the vast majority of people.   There's a partial, crudely, stupidly and irrationally expressed, truth to the so-called libertarians of the right, just as there's a partial truth to those on the left who only focus on the obvious – lack of beds, lack of tests, let the old die, hospital privatisation, forcing people to work in unsanitary conditions. etc. One side is conspiratorialist (of which QAnon is one of the mor insane examples), ignoring that Covid, however much its danger is exaggerated, is very real and not deliberately spread;  the other complains that the state isn't offering a protection that it somehow should or could. Ideology invariably reduces complex reality to a simplistic understanding of events, and the Covid crisis has unleashed especially intensified expressions of this. But what's clear is that confusion and fear act like a dense fog to prevent people seeing, thinking and acting critically against the Big Brother Covid1984 state in any coherent manner. "… the resignation of people to a fate that is so far out of their control that the very existence of the planet is far from certain, hinging on the prudence and skill of inscrutable strategists. This in turn reinforces a more general resignation to the existing order, to the coexisting powers of the specialists who organize this fate…rigid logic… only responds to one aspect of the contradictory needs of the society of alienation, whose indissoluble project is to prevent people from living while it organizes their survival…If this system were to go to the point of bluntly proclaiming that it imposes such an empty and hopeless existence that the best solution for everyone would be to go hang themselves, it would still succeed in managing a healthy and profitable business by producing standardized ropes. But regardless of all its capitalist wealth,  the concept of survival means suicide on the installment plan, a renunciation of life every day." – here
27/8/20:
Received – a "Democracy Watch" newsletter,  which, including its ideological stance,  has some "factual" takes on things with which I disagree significantly; however it provides some horrific, but useful, information (I've not included stuff that has no direct relation to the "pandemic"):
Saudi border guards killed dozens of Ethiopian refugees in April. But only now are details emerging.
As the pandemic struck in Yemen, Houthi groups forced thousands of Ethiopian migrants to the country's northern border, claiming the virus as justification. They killed dozens in the process.
As the survivors arrived at the border, Saudi guards killed dozens more. Others fled into the mountains, spending days without food or water. Hundreds were then allowed into Saudi Arabia, only to be detained in conditions that Human Rights Watch described as "appalling".
Around the world, the pandemic is being used to attack democracy, human rights and civil liberties – and, in some cases, human life itself. In this DemocracyWatch newsletter openDemocracy and SourceMaterial gather together cases from around the world…
25/8/20:
"At a video meeting of the Novel Coronavirus Epidemic Prevention and Control Command on the evening of March 6, newly stationed Hubei Provincial Party Standing Committee member and Wuhan Party Secretary Wang Zhonglin touted "gratitude education" for the people of Wuhan. At that time, the city had been under lockdown for 43 days and had seen 49,871 confirmed cases and 2,349 deaths.
We must undertake gratitude education throughout the city, so that the populace is grateful to the General Secretary and to the Communist Party, listens to the Party, follows the Party, and forms strong positive energy… The people of Wuhan are heroic people. They are also people who know how to be grateful….
Many in Wuhan were infuriated to hear that they were supposed to be "grateful" for the government's gross mismanagement of the outbreak, from suppressing warnings from doctors who identified the first cases to heavy-handed lockdowns, like the one in Hubei that effectively quarantined over 50 million people:
What can I say? I'm grateful I haven't been killed, I guess… Thank you, Master, for your extraordinary kindness.. Grateful, I'm not so sure, but I do wish the best for eight generations of your ancestors… even the destruction is a blessing"
"Internet users complained they had been chained to buildings when they attempted to leave their homes. One said they had been kept in a quarantine centre for two months and had been required to take the medicine Lianhua Qingwen, an herbal remedy China has been promoting as a treatment for Covid-19. A relative of one family in Urumqi told the Guardian their family had been given the medicine every day but was not forced to drink it. Videos posted online by internet users purported to show residents screaming from their apartment windows in frustration. The video could not be verified but a notice posted online from one residential compound warned that anyone who participated in the "roaring" activity on 23 August had committed an "illegal act". "Residents should strengthen their sense of social responsibility to prevent them from being used by those with evil intentions and lead to wrong guidance of public opinion," it said. Other posts said residents were warned that everything from social credit rating to their children's school admissions could be affected."
See   this about Lianhua Qingwen
23/8/20:
22/8/20:
Note use of words like 'resistance' and 'obstruction' in the section on the heaviest fines. Andalucia is ruled by the governing parties – Socialist Workers Party and Podemos. A friend told me that she knew an old guy  who said that life had been  less suffocating under Franco.
18/8/20:
Riot cops imposing the fines! Ve haf vays of making you healthy! If you want to wear a mask that's sufficient protection if you feel you need it (apparently, though, it has to be agood one that clips above the nose so as to prevent small specks of god possibly infecting the wearer). But do you really get any extra protection forcing others to wear it? If masks are efficient then surely your own mask is sufficient. Masks make you breathe your own bacteria and carbon dioxide. The state has cut 70,000 public hospital beds in the last 15 years under Chirac, Sarkozy, Hollande and Macron. The tests are not at all reliable (recently I heard of 3 nursing home staff being tested positive; 2 days later they were found to be negative). They had virtually no masks available during lockdown (even most hospital staff had to provide their own). Masks make communication – even over the most functional things – more difficult -= often you have to shout to be heard; and they make everyone more irritable and pushed inside their own irritated heads. Mind you they do give every obedient and  normally silent Good Citizen the chance to talk to strangers – "Put your mask on properly! – Keep your distance! – Calm down!".  Meanwhile, the state   does everything to suppress the application of the precise recipe and dosage of the mix of hydroxychloraquine and the antibiotic azithromycine that Dr.Raoult has used with great success (him and  his team have cured 99.55% of the patients tested positive for the virus, whereas other hospitals in Marseille have had 6 times as many deaths proportionate to those tested positive – ie 0.45% mortality for Raoult's hospital as against 2.7% for other hospitals there – see this).  Countries like Senegal  that use his precise recipe – unlike Brazil – have also had great success with it. But there's plenty of money for the filth, just as there'll be for the pharmaceutical industry.  Now there's a surprise! Which is not to say that some of Raoult's statements are dubious (for instance, he says it's about as bad as the flu – which may be true for the South of France, but not France as a whole unless you compare with the high figure for 1969-70, which had more fatalities  than Covid and in a far shorter time span).
The South of France has some of the lowest mortality rates for the virus in Europe. In Occitanie, where I live, officially there've been 518 deaths from it. In 2016 there were (officially)  2300 deaths from flu in Occitanie. Not, of course, the same everywhere.   Previous winter flus (apart from '69-'70) have not been as high as Covid, perhaps because of the widespread use of vaccines for flu, though vaccines are not invariably advisable (or, for that matter, to be dogmatically opposed).
17/8/20: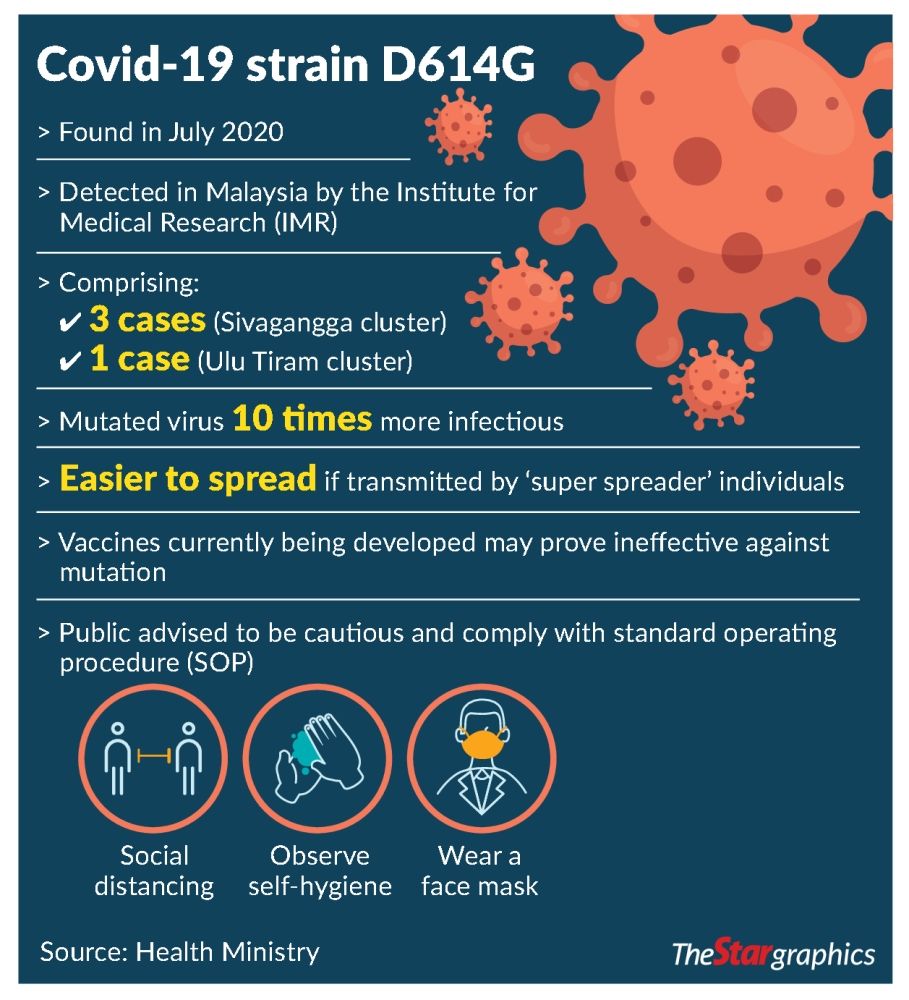 16/8/20:
Report from Brussels on masks:
Here in Brussels it's mandatory to wear masks in all public spaces and private spaces for public use (stores etc.), outside or inside, but many people ignore it when they are in their own neighborhood or where there's no police etc. But it depends on the neighborhood: in more white/European neighborhoods people are more obedient. In any case, I have the feeling that many people here agree that the mask thing is a kind of masquerade to cover for the authorities and experts' lack of real knowledge or proper handling of the situation, at least that what I heard in several "random" street interviews they put on the news, and from what I hear of random conversations of people in supermarkets and the streets etc.
But I think the enforcement here, at least where I hang-around, is less severe than in France. Having said that, this is what happened in a popular neighborhood last weekend:
"Yesterday evening, around 1am Mandy, Inaa and I suffered police violence in the Parvis de St Gilles. We were leaving Verschueren (a bar) when a guy gave us his thoughts about our outfits, some sexist remarks… So Mandy put this sucker in his place and told him it was not right. At that moment, a police car passing by asked us to put on our masks. We tell them that some guys are pissing us off on the streets and that they could come and help us rather than deal with the masks. From there they get out of the car (all dressed in civilian clothes), briefly tell the guy to stop and then ask for our ID cards. Mandy barely has time to take her ID out when she gets caught in the throat and pinned against a wall by the policewoman (the commissioner of the Parvis Saint-Gilles police station) who has repeatedly punched her in the face. Ina and I then try to calm things down, shocked by the police violence towards Mandy but the police officers are just as violent towards us. They pull us, push us, they continue to hold Mandy by the neck (who tries to defend herself as best she can with 6 cops around her busy assaulting her). So she was held by her arm and shoulder to immobilize her and shouted several times "I'm in pain!" but the policeman did not let go, Mandy noticed an injury and suffered a contusion on her left shoulder. I then saw a phone on the ground so I picked it up so it wouldn't get trampled by everyone and held it up in the air asking who it belonged to, someone then took it from my hands (the police later accused her of stealing their phone). That's when they decided to take Mandy to the police station. At the same time the commissioner accuses me of stealing her phone, she begins to grab hold of my clothes and decides to take me to the police station as well. We were held for several hours at the police station where we were questioned by several police officers as well as the commissioner who spoke impassively to us.
Commissioner: "At the same time, with outfits like that, we shouldn't be surprised. There are areas where you can't dress like that if you don't want to be noticed." High class, Madam Commissioner!
While we were being interrogated at the police station, Ina, who was waiting for us outside, was sitting trying to calm herself down when suddenly 3 police cars arrived to pin her to the ground and handcuff her. They threw her like a trash can in the car to take her to the Anderlecht barracks. She was placed in a cell with fighting men.
After a while at the police station as she writhed in pain, the police finally took her to the hospital. The diagnosis revealed that her wrist was broken as well as her elbow.
Here are also some comments that were made by a police officer while she was at the police station: "the monkeys stay in a cage, I'm going home".
This is what we experienced during the night from Saturday to Sunday August 16, 2020 because a guy assaulted us in the street and we wanted to ask the police for help…
This is what happens when 3 young girls are assaulted in the street, they ask for help from the police but end up at the police station and are mistreated and hit by the police…"
Two other young men who were trying to film the scene were also attacked: the first was seized and his phone thrown to the ground, the second was chased home and then brought back to the police station where a police officer crushed his private parts in order to force him to delete the video, he was not released until the morning.
***
–
Indymedia report
Les violences policières étaient l'œuvre d'UNEUS, une brigade crée en 2012 par le Bourgmestre socialiste Charles Piqué. Cette brigade, aux méthodes ultra-répressives, racistes et sexistes, est un acteur majeur de la criminalisation des classes populaires du bas de Saint-Gilles. Elle compte à son actifs de nombreuses faits de violences, d'agressions et harcèlements.
Translation:
Between 100 and 200 people, mainly women, demonstrated early Saturday evening in Saint-Gilles, in the Brussels Region. They were protesting against alleged police violence against three young women. They sought help from the officers, after being sexually intimidated by a man. But an altercation between the police and the young women ensued. Finally, they were arrested and fined.
The demonstrators chanted slogans such as "hysterical and scantily clad", "dress like a cowboy", "my body, my choice and shut up", "the virus is Uneus" or once again "police everywhere, justice nowhere ".
The demonstrators demand the closure of Uneus, the local police service of the Brussels-Midi police zone (Anderlecht, Saint-Gilles, Forest).
The demonstrators went to the police station and the town hall of Saint-Gilles. The organizers had asked the demonstrators to dress in light clothes.
After the incident with the police, the three women were taken to the police station where they were held for some time. According to them, a commissioner had told them not to be surprised by the sexist comments  being so "scantily dressed". According to the young women, the police first asked them to wear their masks and show their ID cards, as they pleaded for help. After that, the tone rose. Police said the young women were drunk and caused a stir.
5/8/20:
"Globally, the world's most authoritarian governments, in Venezuela and Nicaragua, Egypt, China and elsewhere, have treated the pandemic…as cover to broaden and intensify their efforts to clamp down on dissent and thwart the free spread of information — and not just about the pandemic…"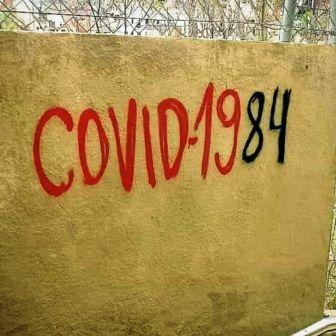 24/7/20:
10/7/20:
"Experts have ruled out the idea that the pathogen was concocted as a bioweapon. They agree that it began as a bat virus that probably evolved naturally in another mammal to become adept at infecting and killing humans. But so far, after months of concentrated research at sites and laboratories in China and elsewhere around the globe, no clear intermediary has come to light. The first three of Dr. Lucey's eight questions center on the Wuhan wet market — a sprawling marketplace that sold fresh fish and meat before being shut down. It was initially viewed as the viral point of origin. That idea was quickly thrown into doubt when a study by Chinese scientists reported that roughly a third of the earliest hospitalized victims — including the first — had never visited the market. In a May blog, Dr. Lucey quoted the head of China's Center for Disease Control as ruling it out as the pandemic's place of origin. The market, the Chinese health official said, "is just another victim."…no direct evidence has come to light suggesting that the coronavirus escaped from one of Wuhan's labs….Finally, Dr. Lucey asks the W.H.O. team to learn more about China's main influenza research lab, a high-security facility in Harbin, the capital of China's northernmost province. In May, he notes, a Chinese paper in the journal Science reported that two virus samples from Wuhan were studied there in great detail early this year, including in a variety of animals. It reported that cats and ferrets were highly susceptible to the pathogen; dogs were only mildly susceptible; and pigs, chickens and ducks were not susceptible at all."
6/7/20:
"COVID-19 has pushed millions of people to work from home, and a flock of companies offering software for tracking workers has swooped in to pitch their products to employers across the country. The services often sound relatively innocuous. Some vendors bill their tools as "automatic time tracking" or "workplace analytics" software. Others market to companies concerned about data breaches or intellectual property theft. We'll call these tools, collectively, "bossware." While aimed at helping employers, bossware puts workers' privacy and security at risk by logging every click and keystroke, covertly gathering information for lawsuits, and using other spying features …"
5/7/20:
"Peter Daszak is on a mission to deflect attention away from any role EcoHealth Alliance may have had in creating the coronavirus pandemic. But he's not stopping there. He also wants to paint anyone who questions the mainstream narrative as a "conspiracy theorist." According to this article in GM Watch, Daszak was project leader on a $3.7-million grant supporting bat coronavirus surveillance, and bat coronavirus gain-of-function research at Wuhan Institute of Virology. (Gain-of-function research is a method of studying viruses to make them more virulent and/or more transmissible). Daszak, who's been all over the media, is being painted by some as a hero. But many credible scientists aren't buying it. In fact, he's even been labeled by one scientist as "Patient Zero for misinformation." The last thing the world needs right now—if we hope to prevent future pandemics—is more misinformation. Read 'Why are the lab escape denialists telling such brazen lies?'"
Having pointed out this article though, doesn't mean I think it matters whether the virus escaped from a lab or not. The main point, as with all "conspiracy theories", is not the precise origins of this or that catastrophe/atrocity etc., but how capital and the state use such events, and how the rest of us react to it.  In the case of the above organisation its reaction to the possiblity of Covid having spread from an apparent "biowarfare" lab is to launch a petition to stop such things in the future, about as useful as whitewashing your windows when a nuclear bomb is 4 minutes away from you.
28/6/20:
TESLA
Tesla gave workers permission to stay home rather than risk getting covid-19. Then it sent termination notices.
X writes:
"This is so perfect in epitomizing the spirit of our modern entremanures: Musk promised no recriminations for staying home out of (wholly legitimate) fear of the coronavirus, and then he sacked all of the workers who took his offer at face value.
I hereby nominate Elon Musk for this years recipient of the Reinhard Heydrich award in managerial perfidity."
A day before their employment was threatened, two workers had spoken publicly of their concerns about conditions inside a plant
The Tesla factory in Fremont, Calif. (Stephen Lam/Reuters)
By
June 25, 2020 at 7:00 AM EDT
SAN FRANCISCO — When he defiantly reopened the company's plant in Fremont, Calif., against county orders last month, Elon Musk promised Tesla employees they could stay home if they felt uneasy. They would not be penalized, he said.
If "you feel uncomfortable coming back to work at this time, please do not feel obligated to do so," he wrote in an email sent to the company's factory workers in early May that was viewed by The Washington Post.
Nonetheless, two Tesla workers say they received termination notices alleging a "failure to return to work" after they opted to take unpaid leave to protect themselves and their family members when the factory restarted production the second week of May.
The workers, Carlos Gabriel and Jessica Naro, said they both received the notices last week from Tesla's human resources department citing their apparent failure to show up and the company's inability to reach them. The workers provided evidence of their continuing correspondence with managers. They believe they received the notifications for speaking up about their concerns over working conditions at the plant.
Since they received the notices last week, both Gabriel and Naro said they have received calls from HR representatives. Naro was told she could come back, though she was prompted to offer a date of return.
Their concerns about safety are shared by a half-dozen workers who spoke with The Post, some on the condition of anonymity for fear of losing their jobs. They said that Tesla is failing to follow social distancing guidelines, with lax enforcement of rules concerning masks and sanitation of machinery. They also complain of little transparency by the company about new cases of infection, as well as its response.
Employees are "hovering over each other," one worker said. Some workers disappear for two weeks and their peers are told they're "sick," without further explanation, another worker said. Supervisors cite health privacy law in not disclosing particular cases, but workers say Tesla hasn't even described broadly how widespread the novel coronavirus is at the plant.
Already, workers at Tesla's seat plant down the road from its main factory were told of two confirmed cases among workers on the morning and evening shifts, with at least three others exposed to the coronavirus.
Branton Phillips, who works on Tesla's Model S sedan and Model X SUV lines, said he embarks on a daily ritual on returning from the plant: spraying down equipment and removing and bagging his clothes. He showers before saying hello to his wife, Shirley, who has diabetes and heart ailments. Phillips said he takes the risk into account but also needs to work to keep a steady paycheck.
He compared the lack of mask use at work to the push and pull of wearing them in areas across the country. "You're reflecting what's outside in the world inside the plant," he added.
Tesla's standoff, first with public health officials, then with its own workers, has become one of the most dramatic corporate battles taking place over the response to the global coronavirus pandemic. Musk and the company have argued that the work is essential, something the county disputed. Some workers say that the company's opaque approach is endangering their lives to build cars.
Companies around the world are struggling to balance measures to limit the spread of the virus with the need to reopen. Amazon, for example, has kept its warehouses running as essential for supply, but dozens of cases have been reported there. (Amazon founder and chief executive Jeff Bezos owns The Washington Post.) Grocery stores, too, have seen a spread of cases.
Tesla and Alameda County, home to Tesla's Fremont factory, have so far declined to say how many cases have been reported at the plant, which employs about 10,000.
Meanwhile, cases of the coronavirus are spiking in California. Alameda County, in particular, has been hit hard, recording some of the highest case numbers among California counties — with more than 5,000 total by this week.
Tesla did not respond to a request for comment. Alameda County spokeswoman Neetu Balram said officials there were reviewing their policies to determine what type of outbreak-related information concerning Tesla could be released, given the public interest in the subject.
"Tesla is reporting their cases among employees directly to [the Alameda County Public Health Department] as required by their Site Specific Plan, which is also a requirement for all businesses that are reopening," she said.
Though Tesla's CEO has garnered a reputation for outspokenness on social media, the maker of electric cars is among the most secretive companies in Silicon Valley. Employees, like the broader public, are left to learn of Musk's mind-set through his sporadic posts on Twitter, limited to 280 characters.
Initially, he dismissed the coronavirus panic as "dumb" in early March.
Shortly after, Alameda County enacted a sweeping stay-at-home order in mid-March, joining other Bay Area counties that were among the first in the country to take drastic measures aimed at curbing the spread of the coronavirus and covid-19, the illness it causes. Musk told employees in an email at the time that the factory would remain open and that he would personally report to work, but that they could stay home if they felt uncomfortable or ill.
Ultimately, city and county officials intervened, and Tesla agreed to wind down to the "minimum basic operations" allowed under the rules. But that wasn't the end of the battle.
In late April, Musk went on an erratic tweetstorm that culminated in his writing "FREE AMERICA NOW" in response to widespread stay-at-home orders. He launched into an expletive-laden rant on the company's earnings call the next day, labeling quarantine measures "fascist" and demanding that politicians return people's "freedom." Musk defiantly reopened the factory in early May, winning President Trump's support as he bucked the county's orders once more.
Ultimately, county officials backed down and agreed to allow Tesla to fully reopen May 18.
The Post reported earlier in June that workers at the factory's seat assembly plant were told multiple colleagues had tested positive for the coronavirus — and Alameda County officials confirmed Tesla had reported coronavirus cases in Fremont. Laurie Shelby, Tesla's vice president for environment, health and safety, told workers in an email that there had been no workplace transmissions of the virus, though it was unknown how the exact origin of each of the cases would have been determined.
Jane McAlevey, a union organizer who serves as senior policy fellow at the University of California at Berkeley's Center for Labor Research and Education, said Musk's treatment of his workforce has been typical of tech companies in Silicon Valley.
"He is causing untold problems for his workers," she said. "He has stressed them out — there's a huge history there before the covid crisis of health and safety violations. They're saddled by the kind of promises and rushed production that get people hurt, and now he's doing it again during a pandemic."
Since learning of the cases, some workers say they've been beset by fear of coming down with covid-19. It's a matter of particular concern on the vehicle production lines, where multiple workers touch components and share machinery. Some pool into an outdoor tent where they assemble cars.
At some meetings, workers stand three feet apart instead of six feet, one worker said. They rely on masks to keep them safe, the worker said, wearing them for up to 12 hours. Workers periodically sanitize equipment, particularly after breaks, but there's little enforcement and "we hardly do that," the worker said.
"It's all a big aggravation," said plant employee Phillips. "At the same time it's hot and sweaty inside there, we're working 11-hour days and we're stressed out. It's making for real — sometimes very — tense situations inside."
These concerns have prompted some workers to stay home, comforted by Tesla's promises that they could keep their job without pay in the interim. Ultimately, Gabriel and Naro, who were told they were being fired last week, believe Tesla's actions were retaliation for their appearance this month at a news conference during which they spoke about conditions at the plant and their fear of returning to work. The San Jose Mercury News previously reported on Gabriel's termination notice.
"Carlos, there is no need to feel that you are going to lose your job," wrote Vince Woodard, Tesla's acting human resources director, in a May email to Gabriel viewed by The Post. "If at this time you do not feel comfortable returning to work, you can stay home without penalty and take the time unpaid."
A day after the June 15 news conference, however, Gabriel and Naro received emails from the company's human resources department titled "Failure to Return to Work." The company's HR department informed them they would be let go. But they also could dispute the matter and be brought back on — but with the implication that they would have to return to work.
Naro and Gabriel said they both responded to the email. Naro was able to secure her job. Gabriel, who declined to speak with the human resources representative unless the call could be recorded or the conversation could be moved to email, said Tesla has lost his trust. He hasn't heard back. He is convinced he has lost his position on the powertrain floor, where he installs battery packs on the Model S and X vehicles, because he cannot risk going back with the conditions he's learned about.
"Some people don't really care about wearing [personal protective equipment]," he said. "PPE is thrown on the ground after being used. People are afraid to go to the bathroom. People are afraid to eat."
Naro, who has opted not to return because her 6-year-old son was hospitalized with a respiratory illness this year, said that with distancing requirements only loosely followed, it is unthinkable for her to work in the resulting conditions: hours-long shifts with shared machinery, in close quarters with others. She said she took Musk at his word in early May but thinks her job was threatened because she did so and then spoke out.
"I actually spoke with a [supervisor] … and he said, 'Do you have any idea when you're gonna be returning back?' and I said, 'When covid-19 is over.' "
washingtonpost.com © 1996-2020 The Washington Post
20/6/20:
30/5/20:
"Nathalie Rose Kern, 37 from London, was fined €1000 for "walking too slowly" …"This is NOT how you walk to the bank. You are showing no urgency…" etc.etc.
20/5/20:
Some pertinent links:
Below is a description and a link to a short article regarding the uselessness of the lockdowns (the description is from the shady but sometimes useful Swiss Policy Research site):
"In his latest contribution, the Swiss chief physician of infectiology, Pietro Vernazza, uses the results of the German Robert Koch Institute and ETH Zurich to show that the Covid19 epidemic was already under control before the "lockdown" was even introduced:
"These results are explosive: Both studies show that simple measures such as the renunciation of major events and the introduction of hygiene measures are highly effective. The population is able to implement these recommendations well and the measures can almost bring the epidemic to a halt. In any case, the measures are sufficient to protect our health system in such a way that the hospitals are not overburdened".
Apparently, "in 2019, a WHO study found "little to no scientific evidence" for the effectiveness of measures such as "social distancing", travel restrictions and lockdowns." (Original study)
A detailed article about the situation in Syria (academic/research-type):
Long Quote:
"Testing for COVID-19
The regime is not just hoarding supplies or limiting access to northeast Syria; it is also hampering what capacities are in place and spreading false information. The WHO provided the Syrian Ministry of Health with five PCR machines, and Damascus decided not to send even a single one to the northeast. Accordingly, doctors there were compelled to use one of two routes to send samples to Damascus for testing. The first entails calling in a Rapid Response Team (RRT) supported by the WHO. Alex describes the difficulties encountered so far: "If a health facility calls the RRT for highly suspect cases, they say they can't get through the checkpoints, they arrive late, or they simply say 'we're not coming.' If they do arrive, they often say 'these people don't meet the case definition' and refuse to swab them, even when they clearly display the symptoms." According to Dr. Ciwan Mistefa, the co-chair of the Autonomous Administration's Health Directorate and a human rights researcher working on Syria, the regime's Health Directorate in Hassakeh ordered the RRT not to collect samples from hospitals that cooperate with NGOs that were not registered and approved by Damascus, such as MSF and the KRC. As a result, in some cases, patients were forced to be transferred to regime-run hospitals for the RRT to be willing to collect samples from them, endangering the health of both the patient and ambulance crews. This conduct is consistent with the WHO's general refusal to provide assistance and coordinate with NGOs not registered in Damascus, which are responsible for meeting much of the area's medical needs, said Dilgesh Issa of the KRC.
An alternative route involves shipping the samples to Damascus through the Qamishli airport, which has been used for sending samples for polio and influenza diagnostic tests in the past. "The RRT refused to come to the quarantine hospital in Hassakeh, saying there are too many checkpoints and not enough staff. After the failure to get them to come, we sent the two samples to Damascus on March 31 through the regular route recommended by the WHO, but Damascus says they did not get to them," said Dr. Kevok. Similarly, samples collected by the RRT in northeast Syria, which the WHO claims tested negative, were apparently never tested, according to a well-placed health sector source who requested anonymity. This means that the Syrian Ministry of Health lab, supported by the WHO, is potentially misreporting cases as negative, when those individuals in fact are infected with COVID-19 and pose a danger to the community around them. 
As a result of the apparent policy of deprioritizing testing in northeast Syria, only 19 samples from the region were sent for testing in Damascus. "There are several samples for which no result was provided. We don't know if they turned out negative, positive, or even if they were tested," said Dr. Mistefa of the Autonomous Administration. He added, "There are dozens of suspected cases in northeast Syria. 19 tests for the entire region is a low number, indicating the limited cooperation by the WHO and limited support" provided to the northeast. 
The failure of the COVID-19 testing system in northeast Syria, overseen by a hostile regime and an obedient WHO, became glaringly apparent on April 18, when the Autonomous Administration announced that the WHO had just notified them that a patient whose sample was collected on March 29 and died on April 2 had tested positive for the virus. The WHO informed the Syrian Ministry of Health about the test results on April 2, but the regime refuses to coordinate with the Autonomous Administration and did not pass on this vital information. A spokesperson for the WHO claimed that contract-tracing was carried out after the test came back positive, but humanitarian workers in the region doubt this claim given the RRT's hands-off approach and limited testing in the area. This conduct is reminiscent of the regime's decision to ban the WHO from providing polio vaccinations in rebel-held Deir Ez Zor in the early years of the war and subsequent efforts by the WHO to cover up the inevitable outbreak of polio there in 2013.
On April 11, long after other areas in Syria, the Autonomous Administration was finally able to obtain two PCR machines from the KRI. Three more machines have arrived since and two are en route, according to Dr. Kevok, all of them transiting through the KRI. On April 20, after undergoing training, local technicians began to carry out COVID-19 tests in Qamishli. The WHO did not deliver any COVID-19 test kits to the region, leaving northeast Syria dependent on continued access to the KRI to acquire the needed supplies."

10/5/20: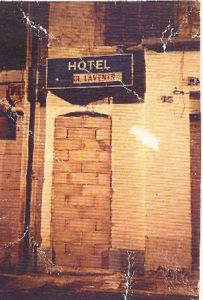 [originally in Hebrew, Google translate +  adjustments from T]
Yesterday morning the Dan Panorama of Corona patients evacuated at short notice. One of the patients who was evacuated: "Sick people are sitting here on the floor, finished with the trip. The feeling is that I am just packing and unpacking." Home Front Command: "The place will now be used for isolation of returnees from abroad"
"This is a youth hostel," A told Hamakom, evacuated to Ashkelon. "There is no water in the rooms, there are dead insects, hairs on the floor and the beds, and we will all be two in the room. We have not been notified in advance. Exhausted from the trip, carrying the luggage, seeing and not believing.
Moving us, transferring us, tossing us around without logic and without explanation. "
Rumors of evacuation arrived at the hotel's premises as early as yesterday morning, before a formal announcement from the Home Front Command at noon.

According to Home Front Command publications, the hotel claims that the occupancy rate has dropped, but some hotel occupants and their families have claimed that evacuations are a "vengeful conspiracy," stemming from the feeling that they define "denial of  one's humanity." This feeling, according to people who spoke to Hamakom today, is growing among patients as a result of their encounters with the health system and the Home Front Command, which is entrusted with the logistics of their exile away from home.
"I've been living the corona from March 26," says N. from Jerusalem, "I went through a lot under its shadow and I'm exhausted by the treatment I receive. First, I suffered from the symptoms of the disease. I was tested, but I did not get an answer because three of the four tests I did were lost. "They announced that I was positive for the virus only after a month when I was in isolation in a room at home, the positive answer was received from the first of all the tests I did. In the meantime, it turned out that two of my children were also infected with Corona and because I have other children, we chose to go to the hotel."
"Last Tuesday, we arrived at the Dan Hotel in Jerusalem. We left things in the room, and when I went down to the lobby in the evening, I was told that there was a message from the Home Front Command that we are leaving the hotel tomorrow and moving to Tel Aviv.  We packed up again. When we arrived in Tel Aviv after a military bus ride, we waited in the hotel's parking lot for an hour, our bags checked as if God knows what bomb we brought from the hotel in Jerusalem.
"Yesterday at noon, I go down to the lobby again and see a group of people who find out that we're leaving tomorrow. The kids were in shock when they heard, they were just getting  acclimatised to the place. I try to stick to an optimistic feeling that I and the children are vacationing in Israel, but the unexplained orders are difficult and the feeling is that I am just packing and unpacking." 
Screaming and crying at the hotel
"I asked to move to Nahariya [a coastal city in the north of Israel,  about 11 km from the Lebanease border – T], this is the hotel closest to our home in Haifa," says N. "The proximity to home is important because my children do not eat the food we receive and it is forbidden to order food from outside. We rely on hot dishes and snacks that family members deliver. 
"The parcels are delivered between eight and ten o'clock in the morning. There have been many cases of screaming and crying at the hotel because family members  coming from afar who are late with  parcel delivery, even slightly, are sent home as soon as they come. In addition, when we are released, we have to return home on our own, so Nahariya is the preferred option."
Luggage packing and check-out occur not only in hotel transitions, but also when a patient has to be cleared for screening. It happened to N with her 16-year-old daughter on Sunday night this week.

The girl had trouble breathing and decided to be evacuated to the hospital.

The mother and daughter returned to the hotel in the wee hours of the night, unpacking their belongings after a difficult hospital experience, only to have to pack up again the next day in the passage to "the unknown", as N. describes.
"When we got to the hospital, we were instructed not to get out of the ambulance," she describes.

"We waited three hours, without a glass of water. When a doctor arrived, he told me to feel my daughter's stomach and asked if it was soft or hard. I answered 'soft' and he went away. The ambulance driver was shocked by the treatment we received."
Topaz Tsuzak, a young woman from Tiberias who was evacuated from the hotel to Ichilov hospital that Sunday, also testifies to similar treatment.

"My coughs got stronger and I felt chest pains. The family doctor said she was hearing beeping on the phone and that I had to do a lung photograph.

"I packed my belongings, deposited the tickets at the front desk and was carried by ambulance with the suitcases. In the hospital, I waited about two hours for a nurse to take me for measurements. I told her I had to go to the bathroom and she replied that there was nothing to be done about it.

After the nurse left, I waited for quite some time, a doctor arrived and told me that I looked fine.

I asked that you check me out anyway. She measured me a fever, picked up my shirt in an ambulance, checked me and said she would come back with a release letter.

"The ambulance driver told me not to let it go and I announced that I was not going to take an X ray photo. I cried, and the doctor said I might be paranoid because of the illness. In the end she said they would arrange  an isolated room
for me
. I waited another hour in the ambulance until I was taken to a room that was closed with two doors with a camera and intercom. I started to cry that I had to go to the bathroom.
"After a long time, someone with a pot came into the room. I told her I couldn't do a pot because the room was being filmed. She insisted, and finally a solution: she put the pot in between the two doors to give me privacy. I felt helpless, not like a human being, as if they had found me in the trash."
Tsuzak went to the hospital in the early evening. The chest image was taken in the wee hours of the night and showed that she had an upper respiratory tract infection. With that diagnosis, she returned to the Dan Panorama Hotel to unpack her things before she was told she had to pack up again for the move.

"I don't have the nerve for it," she says.

"There are people in a much more difficult situation here, but even I can't do more with these hazings."
Surrounded by fences and armed security guards
This is not the first hotel Tsutzak goes through during her illness. "I left home for the Kinar Hotel in Tiberias because my father has a serious chronic illness," she says, "After a few days there, we were notified of the move the next day. The Home Front decided to designate the hotel for ultra-Orthodox Corona patients. They took all the seculars and Arabs to Dan Panorama.
"We were taken to Tel Aviv by military bus. I felt we were Security prisoners [=term commonly used by the Israeli State, usually refers to Palestinians imprisoned in Israel accusations such as being "members of illegal organizations" (meaning formerly the PLO, and now Hamas or Islamic Jihad), planning or taking part in sabotage against Israelis, raising a Palestinian flag, etc., – T]. Before we boarded the bus, we were head-counted to make sure no one escaped. Since I describe myself as a Corona prisoner, that's what we are."
"The rooms at the Dan Panorama were beautiful and there was room to walk in. The yard was 75 steps toward," says A.
"But we were still surrounded by fences and armed security guards in every direction. I'm trying to figure out why, what is the logic. That behavior brings me back to my military days."
A. spent ten days in Dan Panorama. She spent the previous 31 days of her illness with home isolation and two hospitalizations. "I suffered from all the possible corona symptoms," she says, "when I was cleared by intensive care ambulance due to respiratory distress, I wrote a will during the journey." 
Today, A. suffers from mild symptoms: ear infections, laryngitis, muscle pain and veins: "It's not the flu I imagined. Vein pain that feels like someone is pulling them out of you, it's indescribable pain."
"It's a disease that tests our patience mainly," says A. "Some people have lived in the hotel for a month and even two months. But all the conduct with us is without planning. We have no emotional support. Apart from Gitty, the psychologist who was here and released a week and a half ago, we did not receive emotional support, and hers was also accidental. I hope people come out of here healthy in their souls." 
"We are sick, but not lepers," says N.
"Today I have a Corona, but anyone can get sick. The attitude is rigid: the difficulties of packing, the sudden wandering between hotels, the fact that we couldn't even order food that the children would be willing to eat in Dan Panorama.
"We are isolated from the world in every way, not let us be a part of anything but the disease. Nobody asks how we feel as simple people. The corona did not grow horns for us and we cannot be treated like people who are being moved from place to place, without preparation, without explanation. We get an instrumentalising attitude from everyone who comes in contact with us during this time."
"We are dealing with illness," adds A. "We are all far from home and isolated from society. It is an island of lepers. The mental state of many people in the hotel is shaky. There is no thought about how the steps taken are affecting the mind of a Corona patient. I know that in the army they don't think about the soldiers' emotional side and I have no allegations against the Home Front Command, but it could have just gone differently.
According to patients from the Dan Panorama Hotel, the Home Front Command now offers those who would like to return to their home in isolation. "But there is a reason why we went to the hotel," says A. "We did this so as not to jeopardize family members. Now people are broken from the routine and attitude and prefer to be locked in a room in their home."
The Home Front Command explained yesterday that the decision to evacuate Dan Panorama was made following the decline in hotel occupancy, and that the place will now be used for the isolation of returnees from abroad. However, it has already been decided today to put to vote the duty of isolation in the hotels for those returning from overseas, due to its high costs and the mental distress to which many of the isolated are exposed.
3/5/20:
"The government order underscores that …residents of senior residences are not allowed out on public streets and spaces…People who need to go out with a caregiver and seniors over 70 years of age have their own time slots of 10am to 12pm and 7pm to 8pm."
"A local officer told the Euro Weekly News "Everyone is getting clear notice of the time this morning so there are no excuses after 10am and we will start rounding up anyone who's out after the designated time.""
This is a state that left people to die alone and unknown in care homes but spends endless amounts of money to send helicopters to arrest a lone person strolling along the beach! Remember – this government is a coalition of the Spanish Socialist Workers' Party (PSOE) and Podemos. The most totalitarian Coronavirus regime in  Europe (and the competition is hot): up until recently kids weren't even allowed to go out, and officially you weren't even allowed to go out into your garden (though this was never enforced).
Should pay for the cops' bonuses plus drones, machine guns, helicopters, etc. – all the essentials for health –  the health, of course, of the state. The article says "From March 15 when Spain's state of alarm kicked, until May 3, a total of 7,189 people were arrested, while 806,595 were fined." With 600 euro minimum fines (1500 minimum in Madrid), that makes an absolute minimum of over half a billion euros , a minimum based on the unlikely idea that no-one was fined in Madrid, and that it also excludes multiple "offenders" whose fines can reach up to 600,000 euros! The media outside Spain is so far  presenting it all as some nice staggered "deconfinement" but these filth are as fascist as Franco, though very differently and in very different historical circumstances. They even seem to be looking to define certain kinds of criticism of the goverment as a "hate crime".
Andalusia takes its cue from Trump…the bleached road to hell is paved with moronic intentions
"A 1.2-mile stretch of beach in the village of Zahara de los Atunes was sprayed with the disinfectant using tractors in an attempt to kill off coronavirus…Zahara de los Atunes official Agustin Conejo said the bleaching had been carried out in anticipation of children who would visit the beach after six weeks of quarantine, but admitted it was a "wrong move". He told broadcaster Canal Sur: "I recognise it was an error. But it was done with the best of intentions."
It's all bright for some
From Our  Diplomatic Correspondant on Radio Tel Aviv (87.9 Medium Wave – but to you 86.5)
Coronavirus Chic: Young Israeli Designers Face a Brighter Future Thanks to These Cool Masks (Haaretz article, in fact)
With their core activities curtailed by the pandemic, four quick-thinking Israeli designers saw no option but to handle the crisis in style. They've become unexpectedly must-have accessories whether we like it or not: Face masks are now mandatory in Israel, punishable with a 200 shekel ($55) fine if they aren't worn in public during the coronavirus pandemic. The country's offices, stores and streets have suddenly begun to resemble hospital operating rooms, with most people wearing standard surgical masks, interspersed with the occasional homemade cloth mask, mass-produced Lycra mask or improvised bandana.   Among the fashion conscious, though, demand for more stylish and cheerful forms of face protection has exploded – and several quick-thinking Israeli designers have filled that niche, offering masks that, on average, sell for between 69 to 199 shekels.  In her Jaffa studio, Swedish-born designer Kiki Almqvist has been busy producing her one-of-a-kind creations. ….  For her, the paper masks she bought at the pharmacy at the outset of the outbreak immediately rubbed her the wrong way. "It gave me an allergic rash," she relays. "A lot of people with sensitive skin aren't able to wear them comfortably." So Almqvist took some of the elegant material from her designs and made silk-lined masks for herself. Her friends and customers wanted them as soon as they saw them. "It's so much nicer to have a piece of good fabric on your face than paper," she explains. Initially, she says, she was inspired to create masks that match her best-selling item at the moment – silk kimonos, which she calls "the ultimate clothing for the coronavirus: They are comfortable to wear around the house, but you can throw on heels and go outside and still look elegant." The silky and sequined masks "are an extension of my collection," she says. "Masks are going to be with us for a long time, and I think it will be great to have an elegant-looking mask to wear to an important meeting or a special event that feels 'dressed up.'"…Wedding gown designer Yarden Oz characterizes her new mask-making venture, Happy People, as a way of "making lemonade out of some very bitter lemons." She and her husband Shachaf work in some of the hardest-hit professions: He owns and operates a venue that specializes in bar- and bat-mitzvah parties – the Coliseum, in the Tel Aviv suburb of Rishon Letzion, where the couple lives. The special events industry was one of the first to fall victim to the coronavirus, with large gatherings banned; it is also expected to be one of the last to return to full operation.  "I love my work because I get to dress women on the happiest day of their lives," says Oz, 28, explaining the name of her new venture. But when the coronavirus struck, nothing seemed happy anymore. "Suddenly, my days were all about cancellations, fears and pain," she recounts. "Some of my brides postponed their events, others downsized to small ceremonies and I had to replace their dress with something more modest that suited the occasion better." Oz made her first mask for her husband, after he was ordered into quarantine for two weeks. With no weddings to make dresses for, she invested the time to make a "stylish and fun" mask for him – because "let's face it, hospital masks have a depressing connotation."While she was at it, she decided to make a matching mask for herself, and the couple posted photos on social media of themselves wearing the masks. Soon, people were contacting her, asking for masks as well – and the new venture was born.She has transformed the empty Coliseum into an impromptu mask factory, and demand is such that she is working with 10 seamstresses outside the facility. Her most in-demand masks? Animal prints – leopard and zebra – and sequins. Now, she says, "some of my brides and grooms are sending out announcements of their rescheduled weddings – 'update the date' notices – with a photo of them wearing my masks." Another newly branded mask vendor is Stav Ofman, a 2018 graduate of Shenkar College (one of Israel's most prestigious design schools).  … "I created some crazy ones, which were one of a kind because I was using the scraps of leftover fabric. It started spreading by word of mouth among my friends here that I was making them – and I began getting requests."The website for Ofman's Savvy Masks – which come in three sizes, is slick and high concept. Each mask model has a name –  "The Elle," "The Cheetah Girl," "The Black Panther" – with some featuring camouflage, stars and high-end embroidered designs. Now she is considering working on outfits to match the masks, or perhaps bathing suits. "A lot will depend on what the restrictions will be this summer," she explains. "Where are people going to be allowed to go, and where will they be required to wear the masks?" Like Oz and Almqvist, Ofman is selling her masks in central Israel or letting her customers pick them up from her. However, she soon hopes to be able to begin selling more widely – in London and other locations. Almqvist, who has established clientele in Sweden and the United States – she has been doing sales events via Zoom – has already sold masks overseas. Another designer, Rachel Aharami, has created a niche within a niche: specialty cloth masks for children. … "I love working with kids," she says. "I like to see their smiles, and they really appreciate things that are special – it's really rewarding. … I'm making between 60 and 90 each week, and I expect to make more." Aharami's masks feature angels, rainbows, unicorns and hearts – and a line of bolder masks with comic prints…"Now I have teachers getting ready to go back and they are coming to me for adult-sized masks in kid-friendly material that are pretty and fun, so the kids won't feel scared or sad," Aharami reports. "If you're going to have to wear a mask – it might as well be cheerful."
Dr. Mengele is alive and well and living in the UK:
"…the British Medical Association (BMA) …suggests that in cases where ventilators are scarce, those facing poor prognosis could have the life-saving equipment taken away from them – even if their condition is improving – with younger and healthier patients given priority instead.  We are already seeing this play out. Last week, one man tweeted that his brother, who lives in a care home with limited mobility and a cognitive disability, went to hospital with a chest infection but didn't make "the pandemic-led prioritisation cut". He died a week later."
"Epilepsy Scotland has become aware of reports stating people in England and Wales with learning disability and autism had been "blanket" contacted by their GPs about filling out a Do Not Resuscitate (DNR) form. At time of writing, Epilepsy Scotland has not been made aware of such cases in Scotland. However, it is important to stress this is a line that should not be crossed"
"A GP surgery which said autistic adults should have plans to prevent them being resuscitated if they become critically ill has been criticised. Voyage Care, which cares for the group, was sent the letter by a surgery in Somerset amid the coronavirus crisis…The paperwork is known as a "do not resuscitate" (DNR) order or an advanced care plan."
30/4/20:
28/4/20:
16/4/20:
15/4/20:
Google Translate:
"Saxony wants to block quarantine refusers in psychiatric hospitals
Anyone who has to be in quarantine in Saxony and does not abide by it must now face severe penalties. The federal state has cleared almost two dozen rooms in psychiatric clinics, where the unteachable should be guarded by the police.
Anyone who refuses to order home quarantine in Saxony can be arrested in a psychiatric clinic on Thursday. The MDR reported, referring to a request to the country's Ministry of Social Affairs.
The state government has cleared a total of 22 rooms in the psychiatric clinics in Altscherbitz, Arnsdorf, Großschweidnitz and Rodewisch, in which any refusers should be fixed. The police should guard them.
"It is important for all of our health and life that people adhere to the quarantine orders of the health authorities," the broadcaster quotes the country's minister for social affairs, Petra Köpping (SPD).
"If it should happen in individual cases that people oppose the orders, it is necessary to enforce the measures ordered by the health authorities. It is also possible to place these people in a closed part of a hospital with a judicial decision. "
This initiative is covered by Section 30 of the Federal Infection Protection Act. It states that whoever does not comply with the relevant orders or who, based on previous behavior, assumes that he will not comply with them, must "be separated out by being placed in a closed hospital or in a closed part of a hospital".
"Only the absolute Ultima Ratio"
The Leipzig Green Party politician and lawyer Jürgen Kasek also speaks to the MDR in favor of this measure, but with reservations: "And very important, that must be proportionate."
The compulsory stipulation is a "very strong fundamental rights measure": "Therefore, it can only be the absolute ultima ratio if all other possibilities have been exhausted."
According to the station, several thousand people have been sent to domestic quarantine in Saxony, including 3300 in Dresden and 2100 in Leipzig."
"Privateering constitutes a once universally accepted but now thoroughly unconventional way of harnessing the private sector in war…The rise of the Chinese military has been well documented, but a few points highlight why privateering would be a useful element of U.S. naval strategy…China has aggressively expanded its global economic and diplomatic influence through its Belt and Road Initiative, but this expansion creates a vulnerability, as these investments must be protected….The Chinese Communist Party has told the people they will not have democratic institutions, but they will receive economic prosperity. China's merchant fleet is large, because the cost to China of building and operating merchant ships is low, and its export-driven economy creates a huge demand. In 2018, China had 2,112 ships in its global merchant fleet and Hong Kong had another 2,185. In addition, China has a massive long-distance fishing fleet, estimated at 2,500 vessels…. Privateers do not need to be heavily armed, because they would be taking on lightly (or un-) armed merchant vessels, choosing vulnerable targets, or acting cooperatively with other privateers. Since the goal is to capture the hulls and cargo, privateers do not want to sink the vessel, just convince the crew to surrender. How many merchant crews would be inclined to fight rather than surrender and spend the war in comfortable [sic] internment?"
A Bloomberg article showing some of the rulers' fears, but it's more useful for them than for us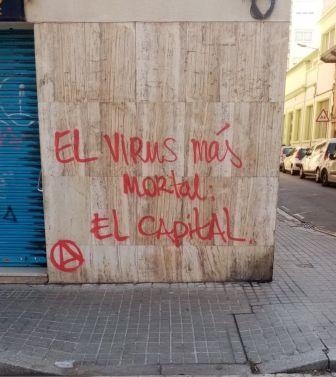 The most lethal virus: Capital
13/4/20:
T says of the above: "Misleading and sensationalist report. What I saw (I watched the video of the event) is that the police were called to intervene in an apartment where two professors held a livestream lesson (apparently the neighbors complained of noise or something). What you see in the video is that one of the professors is arguing with the police, saying "welcome to fascist Belgium", etc. (the livestream is still going, so all of the students can see what's happening) and refusing to give his ID card. At some point the cops also accuse the professor of  violating the social-distancing measures, and later when the professor says "Sieg Heil" – obviously as a cynical response to the police methods – one cop tells him that it's an incitement to racism…"
It's his own fault – he should have said "Sieg Democracy!"
12/4/20:
"Some of the most potent emergency powers at his disposal are likely ones we can't know about, because they are not contained in any publicly available laws. Instead, they are set forth in classified documents known as "presidential emergency action documents." These documents consist of draft proclamations, executive orders and proposals for legislation that can be quickly deployed to assert broad presidential authority in a range of worst-case scenarios. They are one of the government's best-kept secrets. No presidential emergency action document has ever been released or even leaked. And it appears that none has ever been invoked….government documents have revealed some of the actions that older presidential emergency action documents — those issued up through the 1970s — purported to authorize. These include suspension of habeas corpus by the president (not by Congress, as assigned in the Constitution), detention of United States citizens who are suspected of being "subversives," warrantless searches and seizures and the imposition of martial law….The most notable aspect of presidential emergency action documents might be their extreme secrecy. It's not uncommon for the government to classify its plans or activities in the area of national security. However, even the most sensitive military operations or intelligence activities must be reported to at least some members of Congress. By contrast, we know of no evidence that the executive branch has ever consulted with Congress — or even informed any of its members — regarding the contents of presidential emergency action documents."
11/4/20:
"A coronavirus lockdown in Liberia's capital Monrovia got off to a chaotic start on Saturday, as some police officers used truncheons against residents who had ventured out into the streets to buy food and withdraw money. Confusion reigned across much of Monrovia, a city of more than 1 million people, with many having heard, erroneously, via social media that the government had ordered a 3 p.m. to 6 a.m. curfew rather than a full lockdown. Many residents voiced anger at President George Weah's order, which they said would do more harm than good in a country where more than half the population lives in poverty. "Corona is not going to kill many people. It is hunger that will kill many Liberians," said Jettroy Kolleh, a student, as he stood outside a bank in Monrovia where dozens of people had queued in close proximity to withdraw money…Liberia has so far confirmed at least 48 cases of the coronavirus, including five deaths."
"Crozier was relieved of his command last week after sending a compelling letter on March 30 to Navy brass pleading for help dealing with an outbreak of the coronavirus on his ship at sea. The message, sent via a nonsecure, unclassified email leaked to the media. More than 100 of some 4,000 sailors on the ship had already tested positive for COVID-19 when Cozier sent the plea. Then-acting Navy Secretary Thomas Modly quickly relieved Crozier of his command for exercising what he considered poor judgment. Modly then took a $243,000 flight to Guam Monday to tell Crozier's crew that their captain had been "too naive or stupid" to lead the ship. One sailor can be heard shouting "what the fuck" at Modly at that point in a recording of the speech that was leaked to the press. Modly apologized for the speech later that day — then resigned on Tuesday."
7/4/20:
6/4/20:
Amongst the half-truths and one-and-a-half truths there are some interesting genuine truths in this mix of conspiracy-theory-inspired political manipulation and partial medical sense and nonsense.
5/4/20:
To be continued…(not yet transferred from original comments boxes)
*  *  *  *  *  *  *
Original article put up on January 28th 2020
Note added 25/3/20:
Please also note that some things here I'd modify given the almost 2 months since I started this. In the confusion of this unprecedented situation, you discover a great deal more  tentatively playing around with ideas than playing the perfectionist with some blanket dogma that ignores all the nuances.
"As of today, the state has essentially quarantined an area estimated to encompass 35 million people—a population greater than the 10 largest U.S. cities combined. The unprecedented intervention paints an apocalyptic scene. Around the world, stock markets fell. …Based on what's known so far, the virus is dangerous—but not unprecedentedly so. It has been confirmed to spread among people who are in close contact—family and health-care workers—but it does not clearly show sustained transmission among people, like other coronaviruses that can manifest as the common cold. The virus seems to have an especially high mortality rate, though of the 26 people reported dead so far, most have been of advanced age or chronically ill—a similar demographic to the hundreds of thousands of people killed every year by the influenza virus….so far, the most deadly coronaviruses—SARS and MERS—each killed fewer than a thousand. Both were tragic, but could have been exponentially worse. Part of the fear and panic in the current case seems less due to the virus than to the response. The moderately virulent nature of the pathogen seems at odds with the fact that the largest quarantine in human history is now taking place in an authoritarian state. People inside and outside of China have limited trust in the information they receive, given the country's long history of propaganda and censorship. Without knowing everything that the state does, international officials have been hesitant to criticize its response. But there is good reason to believe that the quarantine itself will have significant consequences. Quarantines were common during Europe's plague-addled Middle Ages, and continued to be the primary means of controlling outbreaks until 1900. Especially after the advent of antibiotics and diagnostic testing, the relative harms began to outweigh the benefits. International agreements were put in place to limit the practice as a matter of justice, because of the burden it placed on people and economies, in addition to basic questions of effectiveness. Quarantines may be used in isolated cases, especially before an outbreak is widespread. But in China, given the advanced spread of the outbreak—the new virus was first reported to the World Health Organization just three weeks ago and has since been found in Japan, South Korea, the United States, Thailand, Singapore, and Vietnam—some experts believe any window for effective containment has passed…Shortly after the quarantine was announced, The Washington Post reported increases in the cost of food in Wuhan. Some citizens have reported empty grocery shelves…. Social-media posts describe people being unable to get access to medical facilities for viral testing. Other posts on social media about the scope of the outbreak have inexplicably disappeared, prompting accusations of censorship and further uncertainty."
In 2005 in France the avian flu "pandemic" was the first item of the evening news for about 6 weeks. Small farms were visited daily by gendarmes until they were forced to close down. Nobody in France died, and globally there were less than 1000 deaths of human beings, vastly smaller than deaths from ordinary flu annually. But it served the purpose of destroying small farmers/peasants and greatly boosting agribusiness.
"Until recently, the World Health Organization (WHO) estimated the annual mortality burden of influenza to be 250 000 to 500 000 all-cause deaths globally; however, a 2017 study indicated a substantially higher mortality burden, at 290 000-650 000 influenza-associated deaths from respiratory causes alone, and a 2019 study estimated 99 000-200 000 deaths from lower respiratory tract infections directly caused by influenza. " – here. This is not to deny the fact that this new virus is killing people in greater proportion to those who have it than the proportion of those who die from ordinary flu as compared to those who get it, but it gives some notion of the disproportionate level of alarm. Meanwhile deaths from malaria are also quite high – 405,000, 67% of whom were children,  in 2018.
In France in 2009 swine flu became the pretext for an exercise in social control – with doctors forced by the state to vaccinate everybody who came to their clinics fearing the disease. Despite massive and continual state and media propaganda, less than 30% of the population took up this manipulated 'need' for a vaccine. The Minister of Health at the time, Rosalyne Bachelot, whose personal interests in the pharmaceutical industry were well-known, ordered billions of euros worth of vaccines that were never used, but which the state paid to her financial connections.
Undoubtedly illness and disease are constantly used for ulterior motives  which will invariably be dismissed as 'conspiracy theory' by  interested parties. Often the state allows genuine problems (and certainly not only health-related ones) to develop to use a crisis so as to consequently crack down on potential revolt. This is not to ignore the  obviously ridiculous conspiracy theories around the Coronavirus, whose effect is ultimately to make many of those who recognise the absurdity of many of these claims  accept everything official ideology proclaims about it, since anything critical can be dismissed as some stupid conspiracy "theory".
Which is why we should not forget that Wuhan – the centre of the Coronavirus – had a significant social movement in July 2019 which tentatively began to connect to the movement in Hong Kong ( see this, this, this, this, this, this, and this), which may be a factor in this exercise in authoritarian repression.  And Hong Kong too is experiencing some minor elements of control as a result of this virus. In the face of the very tenuous beginnings of significant social contestation in countries throughout  the world, fear of touching or proximity to others is another convenient factor in the intensification of social separation. Given the 'spontaneous' racism of many people, it doesn't need to be deliberate policy for it to be exploited  in such a way as to exacerbate already existing separations – such as racism towards anyone who looks Chinese (see, for instance, this).
Moreover, given the fact that the doctor who originally discovered this virus was arrested and accused of "rumour-mongering", it's hard not to speculate if the Chinese bureaucracy intentionally wanted this virus to spread. And perhaps conveniently blame the local bureaucracy in Wuhan of gross incompetence so as to get rid of rivals in the CCP's internal battles. Sure, this is pure conjecture, and it implies that the State is omnipotent and invariably in control of forces that are often beyond its control. It would suggest that the CCP was capable of undermining its own global bid for world market supremacy (the effect of the virus has been to weaken Chinese capital) because of a greater threat of internal subversion perhaps triggered by the limited revolts in Hong Kong, and Wuhan itself. In other words, figuring out that reducing its capacity for capital accumulation in the immediate term  was worth it in order to suppress the possibility of revolt. Possibly too many incalculable risks for the State  to have proceeded in such a Machiavellian manner, though it's still a possibility. However, it's  not really worthwhile going down this road of hypothesis-fantasy. After all, it's how the state actually uses this "crisis" that's important not tracking down the manipulations and manoeuvres that seem to be behind it.
Conspiracy "theory" is often just a way of constantly researching – and often inventing – "proofs" with the sole aim of proving something that's largely impossible to prove without having direct access to the hidden secrets at the centre of Power.  And almost invariably  involves ignoring any evidence that may conflict with the conspiracy ideology: having decided dogmatically on the fact that a situation is  a conspiracy, it would be inconvenient to look at anything that might run counter to such a possibility. In an age of confusion and uncertainty, conspiracy "theory" functions like other  forms of dogma – as a way of affirming a fixed idea that seems to rise above the turmoil. In a world that's utterly insecure, those on the absolute margin of existence seek out fixed certainties that substitute for confronting  this increasingly chaotic world, that substitute for a more open 'nuanced' attitude towards people and ideas.
Conspiracy "theory" is usually an obsession which aims to sell the "theorist" as a particularly lucid opponent of political intrigue. Whereas in fact, it's just a grandiose internet-fueled  political version of what used to be seen as petty gossip. Substitute "Jerry's sleeping with his ex-wife's girlfriend" with "Xi Jinping hates Zhou Xianwang because…". Just as in the past the largest section of society objectively reduced to being spectators of history – women – resorted to gossip as  a form of manipulation substituting for direct ability to influence events, so nowadays there are many who essentially remain spectators who feel that they overcome their separation from history by spreading conspiracy "theories".

"Conspiracy ideology becomes a strategy which mediates all of reality. For the believer, the clouds rain conspiracy, the sunshine nourishes it. Its favorite climate is fog, the element of confusion, where secrets are wrapped in a nebulous environment that animates mundanity. Facts are relevant only as details in the landscape which jive or don't jive with what the believer wants to see. …Conspiracy ideology does not set out to demonstrate the real motive forces behind human practice (including the actual role, if any, of conspiracies within the development of events), but rather takes the conspiracy as beginning and end. The notion itself of conspiracy constitutes the totality of its substance. Conspiracy ideology is a quintessential reflection in ideas of commodity production: each new detail at once creates the need for more details and confirms the value of all previous investigation (consumption). Each detail is a commodity in and of itself. The goal – discovery – is always a letdown, a pageant of bureaucratic tedium. The process is everything. Conspiracy ideology is modernist to the extent that it makes interpretation participatory. The specialist is not the person best able to interpret the evidence, but the person who uncovers it. The interpretation is left to mutilated subjectivity…." – here (written in 1979!)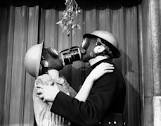 But
"Protesters threw petrol bombs on Sunday night at an empty public housing complex in Hong Kong that had been earmarked to become a temporary quarantine zone as the city battles an outbreak of the SARS-like Novel Coronavirus as the city battles an outbreak of the SARS-like Novel Coronavirus…Dozens of local residents and protesters opposed to the idea held rallies outside the complex on Sunday, with some setting up road blocks…The city's ability to combat the crisis was hampered by moves in mainland China to cover up and play down the outbreak, leaving a lasting legacy of distrust among many Hong Kongers."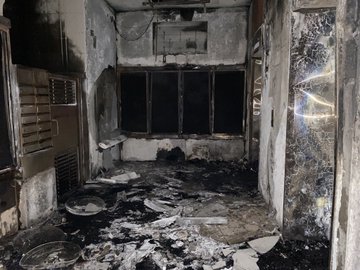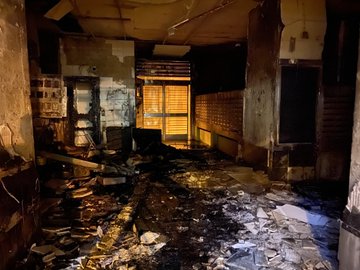 The lobby of the proposed quarantine building
"A man stands next to a cart in a snow-covered field in Inner Mongolia, trying to carve a path. A drone hovers in the distance and a voice calls out: "Uncle, why are you still going out without a face mask? Don't laugh. Hurry up and get in your car and go home." As the man drives away, glancing back, the drone follows him and the voice warns: "Don't come outside if you don't have to. Rest at home … What are you looking at? Go!"…More than 50 million people have been placed under a lockdown and myriad directives have been issued, from enforcing temperature checks and "strengthening monitoring" of citizens' health to persuading people not to hold weddings or other large gatherings…."
Updated on 4th February with statistics about ordinary flu, and the two links immediately above about China's use of the epidemic to reinforce already existing tendencies to totalitarian surveillance and the uselesssness of facemasks.
Updated further on 8th February with an elaboration on the contradictions of conspiracy "theories".
PS This – Will the coronavirus outbreak derail the global economy? could well become the official reason  for an economic recession-cum-depression which was already predictable way before the Coronavirus "crisis", the justification for further attacks on the working class.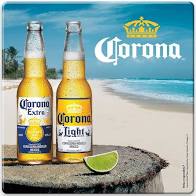 Homeopathic cure for the virus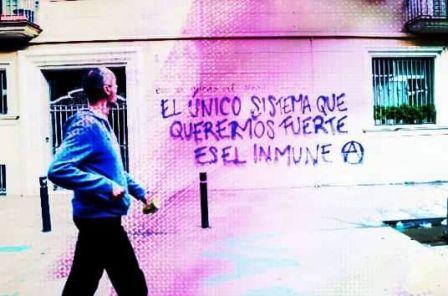 The only system we want to be strong is the immune (system)
Chronology
Links to various pieces of relevant information and texts (other than examples of practical contestation ) starting with the most recent.
8/4/20:
APPENDIX
The following were additional links, mainly by myself, put in the original comments boxes:
109 Responses to Coronavirus – an exercise in intensified social control