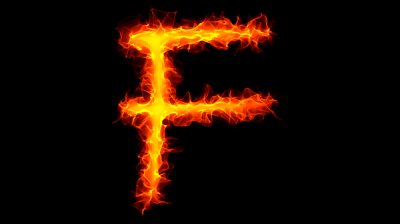 France, Quimper: riot cops use tear gas and water cannon against workers fighting redundancies and demanding abolition of ecotax…. (video in French or in English) More here. 2/11/13 This "ecotax" is a tax that was suspended by the Socialist Party government just a few days ago after riots in Brittany (see this). The demo is demanding its abolition, not just its suspension. Though this tax was brought in by Sarkozy, it was originally meant to come into effect in January 2014. Various wordsmiths have called these demonstrations "right-wing", but they're no more right-wing than any other fuel protest, whether under a Leftist or Right-wing government. See this article, which I co-wrote, about the UK fuel protests of 2000: "Looks like we got ourselves a convoy".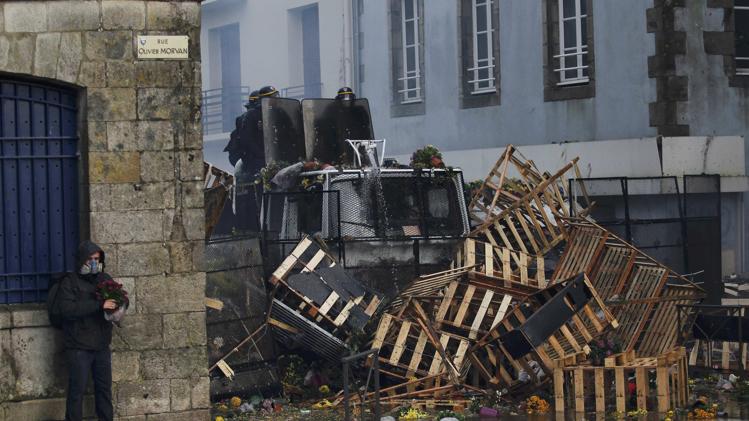 A protester holds a potted chrysanthemum near French riot police, already bombarded with potted plants, as they barricade themselves against a demonstration to maintain jobs and for the abolition of the ecotax in Quimper.
"The only way I like to see cops given flowers is in a flower pot from a
high window." – Burroughs
France, Britanny: another ecotax "portico" (a kind of toll gate) burnt and destroyed in Lanrédec (Côtes d' Armor) (link in French) 3/11/13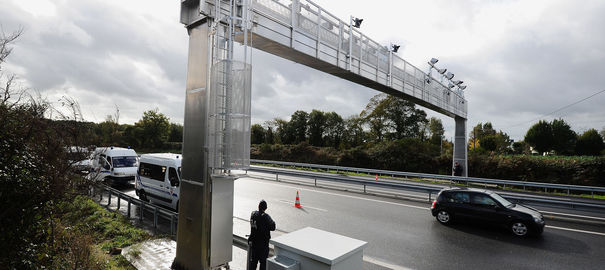 ecotax portico/toll gate
300 demonstrators in another town in Britanny (St. Allouestre, Morbihan) stormed the ecotax toll gate on Saturday (2/11/13 – see the report for this date below) and destroyed it with fire. In one region, all the ecotax "porticos" have been destroyed (see the report for 26/10/13 below). All this seems to have got both the right and the left in a bit of a panic. The Prime Minister, Ayrault, has demanded a get-together of all the various parties, including the unions. A previous meeting at Matignon had originally been boycotted by the right-wing. But subsequent to their "cross-class alliance" developing into a bit more than simply a "citizen" mentality in Quimper and elsewhere, they feel the need to recuperate what could have a more general knock-on effect. This has to be defined as purely a problem for Britanny. And to bring in a carrot and stick policy for both sides in this mish-mash of a movement. So they're trying to get Germany and the EU to agree to a minimum wage in the agricultural sector (the carrot for the workers), which in exchange wants an easing of regulations (the stick – probably meaning making it more profitable by reducing such terrible inconveniences as health and safety, the price proletarians pay for not contesting cross-class alliances). Plus they're aiming to have an injection of money – half-financed by the state – possibly the same as Lorraine, which got 300 million euros.
It should be pointed out that there have been some depressing manifestations of the success of divide and rule amongst workers in Britanny. A couple of weeks ago or so, some workers from an abattoir which was going to be closed down, went on strike and then went off to another abattoir to get solidarity from the workers there; but the workers refused to go on strike, citing their financial problems at the same time as their indifference to those of the strikers. The strikers and those not yet threatened with redundancies had a pitched battle, but the strikers managed to block the entrances of the abattoir, so the anti-strikers (one couldn't exactly call them scabs, as there hadn't been a vote to strike at their abattoir) went off to block a motorway – not in support of the strikers, but as a protest against them.
France, Brittany: workers use tractor to break down gate of prefecture, then occupy it 4/11/13
France, Montpellier: blockade of Paul Valery University against cuts; 1000+ at General Assembly (link in French) 6/11/13
France: over a billion euros to be given to Britanny economy by state to pacify movement 8/11/13
France: 3 ecotax porticos attacked, 2 destroyed by fire; motorways blocked by lorry drivers…security camera torched, cops pelted….video here ….Ironically , the red bonnets (a symbol of those worn during a mainly peasant uprising in Britanny in the late 17th century) – supposedly made in Britanny and expressive of a local Breton nationalism and for some expressive of a local protectionism against foregin imports – are counterfeit wooly hats made in Scotland – see here (in French). 9/11/13
France: Paris – riot at high school (lycee Paul Eluard) after blockade in support of sans-papiers (undocumented); barricades set alight, stones and bottles chucked at school & firemen. Also at Nantes, lycee Michelet blockaded, bins set alight, stones chucked at forces of "order". 4 other lycees also blockaded. (link in French). For more information on the last week of this movement see this link in French. 12/11/13
France, Montpellier: 5 hour sequestration of the President and the whole of the administration of the Paul Valery section of Montpellier University What happened was there was a gathering, decided at the previous General Assembly, outside the meeting place of the administrative council (the directors and the university president), and when it was discovered that they were going to cut the intake for next year, a spontaneous decision was made to block all the doors and lock them in, although other staff were alllowed in and out. Some students complained that this hadn't been voted for in the General Assembly, that it was undemocratic. But the students and others (there are quite a few non-students – usually former students – involved; the General Assemblies are open to all and you can vote whether you're a student or not) persisted with blockading them in, despite the fear that the cops might be called – forcefully holding someone against their will is a state monopoly. Obviously recourse to a General Assembly vote would have allowed the administrative council to .get out before the vote was taken. When it comes to getting anything done, the laborious wheels of democratic decision making are often not appropriate, and "democracy" is usually asserted ideologically as an excuse to avoid doing anything until the majority formally vote for it..
8 students, mainly student union reps chosen by a sparsely attended General Assembly (because of this sequestration, the real assembly had been postponed for a few hours), then went into the room where the council were trapped to get some idea of their take on the whole thing. Then later, when the real General Assembly was held, they gave the admin's explanation that basically, their hands were tied by budgetary requirements. In fact,most of these reps were being willingly used to put a nice gloss on the admin's "reluctant" justifications for these attacks. The majority of students voted against further blockades, many of these anti-blockers saying that the way forward was through demonstrations. The usual cop-outs.
A journalist who tried to report the sequestration situation was quite angrily and rudely told to leave, which he did. This was because on 14th Novemberboth local and national newspapers (Figaro, Nouvel Observateur, Midi Libre, 20 minutes) had utterly distorted and lied about a brief 5 minute occupation, by about 50 students and non-students, of the Chamber of Commerce in the centre of town. The occupiers had loudly and repeatedly shouted "De l'argent il y en a dans la caisse du patronat" (There's money in the bosses cashbox – it rhymes in French) and a few brochures and prospectuses were chucked about in a lighthearted manner. This was hardly a declaration of civil war, but the papers considered it as some act of inexplicable gratuitous violence, particularly as some of the demonstrators had their faces covered. The head of the local section of the national bosses' organisation (the Medef – roughly equivalent to the CBI in the UK) declared that they would "take the psychological measures required", as if all the staff there had been traumatised by what was essentially just a symbolic action. Zero tolerance for anyone who raises their heads a millimeter above the parapet, 100% tolerance for this society's violence.15/11/13
France: over 2000 truckers block 9 motorways in protest against ecotax…….barricades near ecotax portals in the South East 16/11/13
France, Paris: farmers and farm workers block roads outside capital; stones and iron bars thrown at cops 21/11/13
France: roads blocked across country in truckers' anti-tax hike protests 30/11/13