2019 2018 2017  2016 2015 2014 2013
"I only deepen the wound of the world when I neglect to give thanks the heavy perfume of wild roses in early July and the song of crickets on summer humid nights and the rivers that run and the stars that rise and the rain that falls"
– Ann Voskamp
"I only deepen the wound of the world when I sadly, madly, badly miss the heavy perfume of wild roses in early July and the absence of the song of crickets on summer humid nights and the rivers that run dry even as  the stars rise and the rain hardly falls"
– you & me, for a start
There are obviously significant limits to providing links to information about situations I know little about. Some of this might give people the idea  that struggle is advancing or happening far more than it in fact is, and may even blind people to the contradictions and complexities of any specific situation. However, despite the inevitable limitations,  I will continue to put up links if only as a method of keeping a record of events, though this will be reduced compared  with previous years.
31/7/19:
Greece, Athens: protests against release of killer cop improved by anti-state violence. Video here.  More here (though this journocop says the 15-year-old was killed by a "warning shot", when everyone knows that this was a deliberate fascist killing). This takes place within the context of the state clearly aiming to destroy the Exarchea anarchist milieu (see this) . See also  greece…2008 to the present.
30/7/19:
China, Hong Kong: further clashes outside cop shop, with protesters demanding release of those charged with riot (video) Note the use of laser beams against the cops. 5 people hospitalised by black car (amost certainly cops) firing fireworks point blank at them.

29/7/19:
China, Hong Kong: state fears losing its monopoly of violence, demanding brutal ruling class vilence cracks down on anti-hierarchical violence "No civilised society or rule of law society will tolerate rampant violence," said Yang Guang, a spokesman for the office. Yang said the violence, which he blamed on a "few radicals", had seriously undermined Hong Kong's prosperity and stability."

France, Nantes: body of Steve, murdered by cops, found in river See 27/7/19 below for context of this. "Sadness, anger, and bitterness," this is how Steve's friends summarise their feelings on Tuesday night, as they gather at the foot of the huge yellow crane on a wharf…. where the body of the young man was found Monday afternoon. It'd been 38 days since they'd waited for news of Steve, that they'd moved heaven, earth and social networks by asking this nagging question "Where is Steve?" …."When the IGPN [General Inspection of the National Police – in part, the state's organisation that pretends to police the police – ie inspects cops who have maybe broken too obviously the law of the rulers they protect; a bit like the UK's Independent Police Complaints Commission, though without the pretense of independence] says that there is no connection between the police intervention and the death of Steve, it is not possible, they are really not ashamed… It could have been my son…".  In the afternoon, several members of the group who'd been  mobilized since the beginning to shed light on his disappearance put a black armband on the statues and poured blood-red dye into the water of the fountain of Place Royale. "This fountain symbolizes the city, it is the allegory of the Loire and its tributaries. This is our way of saying that a crime was committed in the Loire", explains Quentin, who took part in the action…"Seeing this blood in the fountain, it upsets me completely", sighs Marie-Anne, a 65 year old from Nantes. "Here is a happy place where the whole city meets and these black armbands and blood red water bring us back to a terrible reality. We cannot remain indifferent…." Demos planned in some towns and cities on Wednesady 31st July, though main demos are planned for Saturday 3rd August. See this.

28/7/19:
China, Hong Kong: fighting for our future, fighting for our freedom (video) Despite the pro-democratic ideology (and stupid journalese), this is a fight for the future & freedom of all the dispossessed globally. All or nothing. More videos & reports here. Very detailed long report here. Check out especially the Alex Hoffard post about how the protestors are dealing with the police teargas with traffic cones, and the Mary Hui mention of two anti-filth chants "Police and Triads, One big Family", and "HK police. All Rubbish".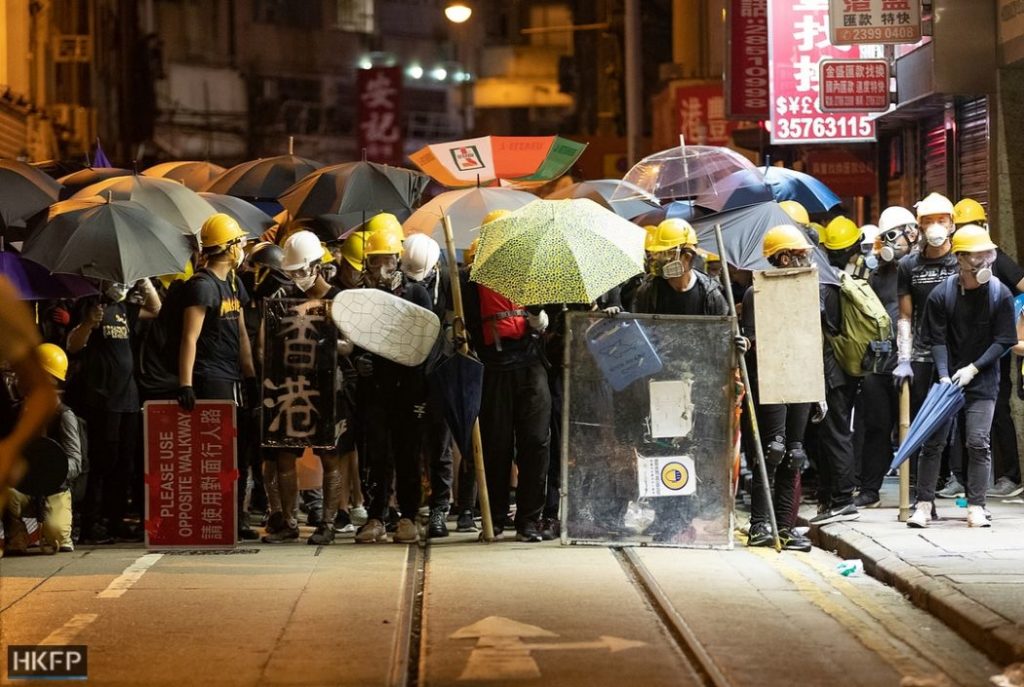 The word "umbrella" evolved from the Latin umbella (an umbel is a flat-topped rounded flower) or umbra, meaning shaded or shadow, which is also the origin of the word "umbrage". The first umbrellas originated in ancient China, the country famous in that epoch for its "oriental despotism", a despotism which has continued up until today in various forms, though often challenged by massive expressions of "umbrage" such as the ones developing today.
See, as always, Hong Kong – its relevance to the rest of us…
27/7/19:
France, Perpignan: local offices of governing party trashed and torched on yellow vest demo (videos) This action was directly linked to the "disappearance"  of a young man  forced by the cops to jump in the river in Nantes (hundreds of miles from Perpignan) during the festival of music, the night of June 21st – 22nd. (Who dares continue repeating, as they dogmatically select only those facts and interpretations that rigidly confirm such a take on this mish-mash of a movement, that the yellow vests have only intensified reactionary attitudes?). Since his body has never been recovered, it's classified as a disappearance, but obviously he's dead. Apparently neighbours complained about the loud music, the cops arrived telling them to turn it down, they didn't turn it down enough (or weren't given time to), the cops started beating and using their usual weaponry, the group – 15 or so in all – jumped into the river to try to escape, and all but the one have been accounted for. See this.

Colombia, Tibu: oil company suspends operations after 4 days of riots and blockades against crackdown of local oil theft "Since last Wednesday, the road between Tibú and Cúcuta has remained closed due to riots between the public forces and protesters….The company Ecopetrol reported that, in a preventive manner and given the current situation in the municipality of Tibú with the protests led by some inhabitants against the arrest of people for alleged seizure of hydrocarbons and in favour of smuggling, it has suspended a total of 76 oil production wells and 61 injector wells in the Tibú field and in the Sardinata gas plant….Their assets produce more than 2,000 barrels per day of oil and one million cubic feet of gas per day" Video here.

24/7/19:
Gambia, Senegambia: home of head of anti-crime unit torched after cops kill Sierra Leone national in mostly Gambian riot

UK: new Prime Minister makes promises…Old farce to new faeces
23/7/19:

Puerto Rico: heaviest clashes for decades (video) See entries for 22, 18 & 15 below

South Africa, KwaZulu Natal: students v. insecurity guards More here
UK: the secret of the demagogue is to make himself as stupid as his audience so they believe they are clever as he
22/7/19:
Puerto Rico (unincorporated US territory): clashes during General Strike See also entries for 18/7 and 15/7 below.  Puerto Rico was taken under US control in the 1890s. Although ostensibly "self-governing", it's still essentially part of the US state. Under United States law, an unincorporated territory is an area controlled by the United States government that is not "incorporated" for the purposes of United States constitutional law. In unincorporated territories, the U.S. Constitution applies only partially. It has always ranked 51st in the US as far as the economic and social well being of its people, behind the poorest Southern states, mostly as the result of wealth extracting dominance. It has a US implemented austerity enforcing board controlling their economy favoring big business and destroying social and public infrastructure to pay off corporate debts, surprise surprise. It's called the Fiscal Control Board, created through the Puerto Rico Oversight, Management, and Economic Stability Act (PROMESA) in 2016. This is the well established practice of strong states enforcing economic "structural adjustment" on the weaker ones. The recent protests are indicative of not  just a simple resistance to economic misery but to  humiliation in general – not just the humiliation of misogyny and homophobia but also the repulsive contempt for those who died in the hurricane, a "joke" by the governor which indicates his reification of human beings and the general contempt that all states and all governors feel for individuals.
China, Hong Kong:protesters trash office of legislator who collaborated with triad thugs to beat up protesters and others on underground "Pro-Beijing legislator Junius Ho, who was filmed shaking hands with men in white shirts on Sunday night for unknown reasons, defended the mobsters on Monday saying they were "defending their home and people". While detaching himself from the rampage, he said, "We can't pardon the sin, but we can pardon the sinners." On Monday, protesters trashed Ho's office, smashing glass walls, spraying-painting profanities, and leaving notes alleging triad connections"
21/7/19:
China, Hong Kong: only 1 bottle thrown at cops. Video here.  Beijing's HK office vandalised… See also HONG KONG LATEST!…thugs almost certainly sent by ruling class beat up people on subway  More here.
20/7/19:
France, Montpellier: more yellow vest clashes as at least 700 demonstrate in sweltering heat (video) According  to a friend, the cops severely cracked the head of a 71-year-old.

US-Mexico border: border patrol filth attack 50 migrants trying to storm border
19/7/19:
Chile, Santiago: riots, barricades, empty bus torched, security booth destroyed, after yet another Mapuche Indian is killed (this time, trying to set fire to his boss's house)

18/7/19:
Puerto Rico (unincorporated US territory), Guyama: state expropriators expropriated "Following a series of uprisings that began last weekend in Puerto Rico, police in Guayama woke on Thursday morning to discover that their station had been raided. A total of thirty pistols, eighteen rifles, and approximately 4,000 rounds of ammunition had been successfully expropriated. A message threatening Governor Rosselló was found on a wall in the storage room from which these arms were taken."
Pakistan, Karachi:clashes on 15th day of protests by nurses demanding increase in salaries, promotions & hike in nursing student stipend (several links, videos)

17/7/19:
South Africa, Gauteng: 1 killed attacking cops, attack on cop Nyala, during roadblock protests over electricity cuts

Armenia, Yerevan: 13 people hospitalised in clashes with state

16/7/19:
China, Hong Kong: hungry proletarian  bites the hand that beats him  Prize of a dozen bacon sandwiches to the reader with the  best improvement on this not-funny-enough joke. Added 19/7/19: turns out that this is fake news

15/7/19:
France, Essonne: police station attacked following Algerian football semi-finals qualification win – car and bin burning in 7 other areas "…the police station of Ulis was targeted by rioters which had already happened during the previous night. About 50 people then attacked the national police and municipal police by throwing Molotov cocktails, heavy-duty fireworks and stones. Four police cars were badly damaged. The police made five arrests at Ris-Orangis after being stoned. At Tarterêts, in Corbeil-Essonnes, the police were attacked by 50 to 80 people throwing breezeblocks and glass bottles. The same scenes of violence in the district of Vieillet in Quincy-sous-Sénart. At Chilly-Mazarin, four rioters were arrested after firing heavy-duty fireworks…Several hundred supporters also found themselves around midnight in the street to celebrate the victory of the Algerian football team. Cars and two-wheelers blocked the traffic on the N7 at the crossing of Athis-Mons or in the city center of Corbeil-Essonnes where clashes also took place in the district of Tarterêts. …For a week, violence had spread to districts of the department. During the night from Friday to Saturday, two police officers were slightly wounded by fireworks in the Grigny-2 district of Grigny. On the night from Saturday to Sunday, twenty-four cars were burned throughout the Essonne. Another worrying event was the "abnormal sale" of hydrochloric acid reported Saturday by several DIY stores that saw their stocks disappear in one day. This corrosive liquid can be used to make homemade bombs."

Puerto Rico (unincorporated US territory): at least a dozen cops injured as 100s demonstrate against mysogenist & homophobic comments…More here

Mali, Saouné: peasants armed with machetes attack corrupt irrigation management committee; 15 wounded

14/7/19:
Bangladesh, Dhaka: clashes as state hikes fuel prices by a third Hardly independent opposition, as this was initiated by leftist parties; however they've called for nationwide protests on 19th July and if this comes off, despite giving the state advanced notice, it's very possible that these protests will go beyond these recuperators.

France, Paris: Bastille not stormed "French riot police fired teargas to disperse masked protesters from the Champs Élysées after the annual Bastille Day military parade ended in Paris on Sunday. A few dozen men — some masked and dressed in black — briefly tried to block roads near the Arc de Triomphe by dragging metal security barriers and setting fire to bins….The men involved were not wearing the signature yellow vests of the anti-government gilets jaunes protests of the past eight months….Earlier on Sunday morning, before the traditional annual military parade, some 152 people – including yellow vest protesters – were arrested as they tried to stage a separate demonstration….No one with a yellow vest had been allowed past police barriers to watch the parade. A few had slipped into the crowd and instead inflated yellow balloons. Some had booed and jeered the French president Emmanuel Macron as he travelled down the Champs Élysées in an open-topped military vehicle." …  Seine-St.-Denis: police station attacked with heavy duty fireworks by about 30 youths Short video here…clashes with cops in 6 towns follwing Algeria's win the semi-final wqualifications for the Africa Cup of Nations

China, Hong Kong (Sha Tin): more clashes "Some protesters placed traffic cones on the street, dismantled roadside metal barriers and set up makeshift barricades to separate themselves from police, who formed into a line. Protesters then became locked in a standoff with police officers in riot gear. Those standing near the police line put on goggles, face masks and helmets and armed themselves with umbrellas in case police used pepper spray."
13/7/19:
China, Hong Kong: more clashes…Sheung Shui: clashes with mainland traders   "…the focus again turned away from downtown Hong Kong to Sheung Shui, a town close to the border where so-called "parallel traders" from the mainland buy bulk quantities of duty free goods which they then carry into China to sell. The small-time mainland traders have long been a source of anger among some in Hong Kong who argue that they have fuelled inflation, dodged taxes, diluted the town's identity and caused a spike in property prices." Of course dodging taxes and diluting a town's identity are typical hypocritical petty petit-bourgeois concerns (at least when it's others who are doing the tax dodging and identity-diluting), whereas fuelling inflation and causing a spike in property prices are not just petit-bourgeois issues. This article also refers to a protest a week ago " against middle-aged mainland women …accused of brashly singing and dancing to pop songs in Mandarin, which many locals considered a nuisance", whereas another article I've seen refers only to the very noisy level of these diva performances, a fair enough target in my opinion, though I imagine there's an HK nationalist element  to this, as I've not heard of protests against other ear-deafening concerts. The HK movement, like many movements throughout history, seems to have unleashed a pent-up anger which hits out in any direction, sometimes pretty petty. More here about protests spreading. "Such frequent protests are rare in Hong Kong, where people are known for their stoical work ethic in a city that has some of the highest property prices in the world and little social welfare provision. Many interviewed by the Observer in the Sheung Shui protest on Saturday said the millions-strong anti-extradition protests last month had become a lightning rod for them. Many have been accumulating pent-up anger against the government for policies they felt they had endured long enough…."The anti-extradition protests have heightened our awareness over community issues. Instead of waiting for the government to do something, we may as well take it into our own hands," said Vincent Yeung, a man in his 20s."
 France, Essonne:  fireworks and paving stones v. flashballs and teargas, as 30 youths attack the filth (includes videos) …the eve of Bastille Day celebrated unconventionally in 4 towns

US, Washington state: filth kill man trying to set fire to detention centre transportation infrastructure

12/7/19:
France, Paris: brutal state attack on undocumented "black vests" being evicted from brief occupation of Pantheon (includes video)…Another video here

Honduras, Tegucigalpa: more clashes over 'health' and 'education'
9/7/19:
China, Wuhan: more clashes  In one of the videos on this site there appears to be not just armoured vehicles but also a tank aimning to scare the shit out of the Wuhan protesters. However, it is not a tank per se. It is probably a ZBD-04 mechanized infantry combat vehicle – basically a cross between a tank and an armoured personnel carrier. These differ from tanks in that they can carry a squad or so of completely equipped infantry within the hull of the vehicle. They also usually have a main armament that is slightly inferior to that of a main battle tank (in this particular case, a 100mm main gun, versus the 125mm gun of the Type 99 main battle tank, though this is not always the case – eg the Israeli Merkava).  It differs from the older-paradigm "Armored personnel carrier" in that it carries its own gun armament in addition to giving its infantry passengers the ability to fight from within the vehicle with their own weapons, usually augmented by a heavy machine gun (this would be the formerly ubiquitous US M113 series APCs) or a small-caliber cannon (the formerly West German HS. 30, for example). This allows the MICV to fend for itself in ways that were impossible for the older APC. [thanks to X for this information]

The above video, though apparently available on Youtube, is not – maybe because the Chinese state has managed to censor it..?

8/7/19:
Turkey, Ankara: cops teargas students after 55 days of occupation of terrain to stop tree destruction

7/7/19:
Hong Kong: movement uses AirDrop app to breach China's Great Firewall "Hong Kong's protesters are using AirDrop, a file-sharing feature that allows Apple devices to send photos and videos over Bluetooth and Wi-Fi, to breach China's Great Firewall in order to spread information to mainland Chinese visitors in the city. Leaving AirDrop settings open allows anyone in the vicinity to send files to your device. A protest held yesterday (July 7) in Tsim Sha Tsui, one of Hong Kong's most popular tourist districts, had a clear aim: to tell people from mainland China about the city's opposition to a hated extradition bill…news of the protest has been heavily censored in mainland China, with any mention of the mass movement wiped off the Chinese internet. Even songs alluding to the city have been scrubbed. As such, many Chinese tourists were visibly confused by the large march, which organizers say drew an estimated 230,000 people. Hong Kong's protesters have therefore turned to Apple's AirDrop feature to get their message across to their mainland Chinese compatriots. That the messages are written in simplified Chinese—Hong Kongers use traditional Chinese—confirm that the intended audience is Chinese tourists…" …protesters make connection with Wuhan anti-incinerator protests"The Chinese police are beating protesters and blocking information" in Wuhan, said Gladis Au, a 28-year-old executive who attended the Hong Kong march. "I think we need to come out today, otherwise we will become Wuhan someday." And here "Hong Kong protesters focused on spreading the word to mainland Chinese today. Just got off the subway in Kowloon & within 1 min was airdropped 3 times abt the extradition law, recent protests in Wuhan & detentions of human rights lawyers/Marxist students/Uighur activists in China"…  More  here "Late into the evening, protesters continued to march down Nathan Road, the main thoroughfare in Kowloon, occupying half a street. They chanted slogans as they marched northwards, passing Yau Ma Tei and heading towards Mong Kok. After reaching Mongkok, police in riot gear formed into a line to stop protesters from advancing and demanded that they left. "Cruel police! Cruel police!" chanted protesters, wearing goggles, masks and holding up umbrellas to shield themselves in case police shot tear gas. " This is the first demo in Kowloon, the city's most densely populated area, since the protests began a month ago. For a breakdown of the miserable cost of "living" there see this for prices, and this for income. Example: 50% of the population earn HK$34,622 or less per month, of whom 25% earn HK$17647 or less per month, whilst the minimum wage is HK$4594; monthly rent in a "normal" area averages at HK$14,376 for 45M2.

Greece, Athens: devoted polling station

6/7/19:
Haiti, Port-au-Prince: clashes with cops at funeral of journalist (who'd exposed president's corrupt thieving)   probably killed by state,  as judge complicitous in president's corruption attends funeral and then gets attacked by crowd

5/7/19:
Mali, Bamako: riot of locals against installation of HQ of regional "security" for fear it'll attract violent clashes between the state and would-be state armed groupings "Despite the decision of the Malian government announcing the relocation of the headquarters of G5 Sahel, protesters are still out  demonstrating because work is still in progress at the site. The police dispersed the demonstrators with tear gas. Burning tires, barricaded roads and rock throwing are still going on in Badalabougou. After several demonstrations, the population of Badalabougou is still in the streets because despite the decree on the relocation of the headquarters of G5 Sahel work is still in progress and equipment arrives every day, say the protesters. The headquarters of this counter-terrorism force, launched in 2017 by G5 Sahel (Mauritania, Mali, Burkina Faso, Niger and Chad), in Sévaré, in central Mali, was targeted on 29 June 2018 by a terrorist attack before being transferred to Badalabougou. Protesters dispute the installation of the headquarters of this force in the Malian capital for fear of terrorist attacks whose first victims would be the townspeople. They also believe that the place for such a force is the north of the country where there are still several armed groups"
Greece, Athens: anarchists smash up repugnantly repulsive  journoscum office
Honduras, Tegucigalpa: clashes with cops as protesters against 'education' and 'health' reforms block roads

Colombia, Tolima: mayor's house stoned after riot cops hospitalise at least 10 informal market traders during eviction from their usual market place

4/7/19:
China, Shanghai: brave young woman sprays ink on poster of Xi Jinping  "The woman, surnamed Dong, stood in front of a Shanghai building on the morning of July 4, local time, to protest against Xi's "autocratic rule and tyranny." She then splashed ink on the president's "Chinese Dream" poster which was installed on the opposite side of the HNA Building in Lujiazui. "I oppose Xi Jinping's autocratic rule and tyranny!" Shanghaiist quoted Dong, who livestreamed the act". This reminds me of the attack on Mao's portrait in Tiananmen Square, 30 years ago, an action that was betrayed by the official student movement, who handed those who did it over to the state, one of whom spent 20 years inside: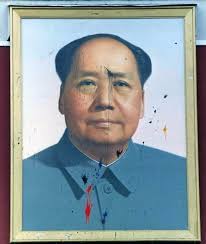 According to this,  the Wuhan incinerator protests (see entry for 3/7/19 below) involved as many as a million people "Some media said that the number of protesters exceeded one million. …The Central News Agency reported that this large-scale protest in Wuhan has appeared since June 28. On July 2 and 3, the scale has continued to rise, and the image of resistance has spread on the Internet, receiving a lot of attention. According to images and photos taken by the public, the resistance of Yangluo residents continued from day to night, thousands of people were crowded in local roads, and  a large number of armed police guards were kept on the side. After the conflict between the two sides, many people were towed away by the police, and some people were beaten and wounded and their heads were broken….The local people complained that the project is located in a gathering area of ​​300,000 people and there are two universities and colleges in the district. However, the authorities did not communicate with the public… Once built, the local air would be full of carcinogens, seriously affecting the health of future generations."…Video here showing cops marching in army-type formation, armoured vehicles and even a tank.  More  here: "[Protesters] shouted slogans such as "Give the green mountains and clear waters back to us" and "Garbage burning plant get lost from Yangluo." […T]housands of protesters – about 10,000, according to one source – marched last weekend, leading to some arrests, although those detained were released later, protesters said. After minor protests on Monday and Tuesday, residents gathered in greater numbers in Yangluo on Wednesday and Thursday nights, met by a heavy police presence. Videos seen by the South China Morning Post show hundreds of riot police marching through the streets, equipped with helmets, shields and batons…."The people's government of the district fully guarantees the participation rights and supervision rights of the masses," read a statement from the Xinzhou district in eastern Wuhan, the site of the proposed incinerator. But the statement also warned, "Public security organizations will resolutely crack down on illegal criminal acts such as malicious incitement and provocation." […] Hundreds of people milled quietly around on sidewalks on either side of an avenue, sullenly eyeing more than a dozen large black police vans and buses with tinted windows. The show of force and the earlier detentions intimidated possible protesters to avoid further confrontations, residents said. Many plainclothesmen were evident. Numerous young men in short haircuts stood at each street corner after sunset and watched the crowd while wearing identical outfits: black trousers, black T-shirts and bright red vests incongruously labeled "Civilized Construction Tour Guide….The protests also indicated the depth of anger about environmental problems that directly affect people's quality of life, after decades in which Chinese authorities sacrificed the nation's environment, air, soil and water for the sake of breakneck economic growth….. Although news of the protest in Wuhan is largely censored in China, some has made its way outside the Great Firewall and is circulating on Twitter: Pretty unbelievable footage coming out of the protest in Wuhan. You read about protests taking place in the mainland all the time over local grievances, but it's surreal to see this kind of video footage of it actually happening. https://t.co/kSKrtk58kn pic.twitter.com/Ie7wvNrTAr  "…
Italy, Puglia: wildcat strikes Free the Triggiano 8! Collective punishment for four strikers' acts of resistance. See also this.

3/7/19:
China, Wuhan: about 10,000 protest waste incinerator "Authorities in the central Chinese city of Wuhan have detained around 20 people in a crackdown this week on a mass street protest at plans to build a new waste incineration plant…Amid chants of "Give us back our clean environment!", an estimated 10,000 residents from apartments near the Yangluo industrial development area in Wuhan's Xinzhou district turned out against the plan on Tuesday and Wednesday…The local government dispatched around 1,000 riot police to disperse the crowd, with large numbers of injuries reported…Many of the arrests were of social media users for posting or forwarding information about the protests via the closely controlled platform WeChat. A Xinzhou resident surnamed Xu said the protest was a spontaneous action by local people, who are angry that local officials are ignoring their health concerns. "The site was originally a landfill," Xu said. "The air quality is already very poor in Yangluo and the groundwater has been polluted for more than a decade." "Now they say they have to build a waste incineration power plant, which is a threat to our lives," he said. The waste incinerator plan comes after the Chenjiachong landfill site in Xinzhou exceeded its capacity just five years after its opening in 2007. Local residents… first learned of the renewed incinerator plan in mid-June, and immediately organized a petition against it. The government responded by having around 20 of the petitioners detained. This week, the authorities blocked the mobile phone signal, as well as sending in police to beat up and detain protesters. According to Xu, the government feared the Wuhan protesters would communicate with anti-extradition protests in Hong Kong. A local resident surnamed Zhang said the Xinzhou district government had responded to the protests by saying that it would consult more widely with local people, and that the project won't go ahead without the consent of the local community. But Zhang said many local residents simply don't believe this. "They tried to start a project like this here before, and the people kicked up a huge fuss, and it was shelved," Zhang said. "But less than six months later, the old district governor was transferred away, and the new one reapplied for the project as soon as he took up his post." A resident who declined to be named said it was unacceptable to build a waste incinerator in a densely populated residential area. "There are many ways in which this will have an impact on people's lives: the air pollution, the harm to health, all of that," the resident said. "But what government really speaks up for the people? None of them do. If they did, then no garbage incinerators would be built in residential areas," he said. Last month, tens of thousands of residents of Yunfu city in the southern province of Guangdong also took to the streets to protest against plans for a waste incinerator in Mintang village. Three days later, the government announced the project would be canceled at the selected site. And on June 26, authorities in Xiantao city in the central province of Hubei announced they would initially shelve, and then cancel altogether, a similar project following mass protests by local residents. Decades of breakneck economic growth have left China with a seriously degraded environment, with regular environmental protests emerging among the country's middle class. Previous attempts to build similar plants elsewhere across China have drawn widespread criticism over local government access to the huge potential profits linked to waste disposal projects." [SF note: emphases in bold are mine]

Chile, Santiago: heavy clashes on demonstration for greater "education" funding Video here

2/7/19:
Israel: 111 cops hurt as nationwide  riots of Ethiopian Jews (in Haifa, Tel Aviv, Jerusalem, Hadera, Petah Tikva, Kiryat Malahki, Ashdod & Netivot) continue to escalate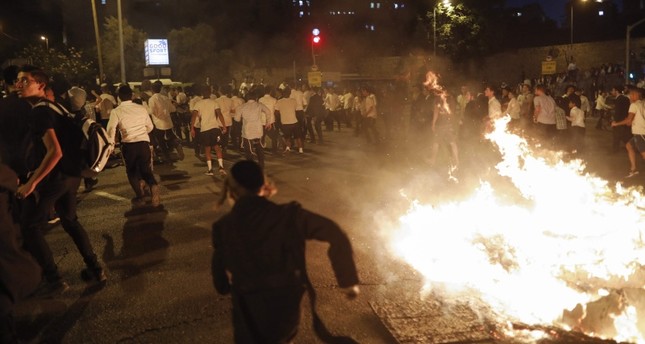 Above: official version is that this shows ultra-orthodox Jews running as members of the Israeli Ethiopian community block the main entrance to Jerusalem on July 2, 2019, to protest the killing of 19-year-old Solomon Tekah by an off-duty police officer, who was merely put on house arrest.
Below: Netanya: cop car placed right way up
More here "Demonstrator moderately injured in hit-and-run; some 50,000 commuters remain stuck in traffic as thousands block highways nationwide; car set on fire in Tel Aviv…The throngs of protesters closed down at least 12 critical junctions across the country. Nineteen-year-old Solomon Tekah was shot dead during an altercation in the Kiryat Haim neighborhood of Haifa on Sunday. An eyewitness to the shooting has reportedly told the Justice Ministry's Police Internal Investigations Department that, contrary to the officer's claims, he did not appear to have been in danger when he opened fire. The officer was briefly arrested before being released to house arrest, sparking rage in the community….Footage captured in the center of Tel Aviv saw a demonstrator leap onto a moving car and proceed to smash its windshield. Hours later, the car was set on fire….While protests Monday against the police were primarily attended by Ethiopian-Israeli demonstrators, Tuesday saw a mobilization of members of the general Israeli public, who joined the chants against police brutality toward the minority community."  
Tal, from Israel, writes: "…the Ethiopian protests in Israel are spreading, many main junctions throughout the country are blocked for most of the day and night, with burning tires & burning cars (a "new" thing here – you could hear how the journocops are gasping and shocked when describing this, as if it's the most extreme act they ever saw). It's still going on as I'm writing this. I was trying to reach a blockade at a junction in the area where my parents live (about 35 minutes by car) but there was no possibility of arriving with public transport because of the blockade itself… This junction is close to the town where the murdered youth was shot. I tried to walk from the nearest stop of the diverted bus route, but it was way too much walking from there to the blockade (I think about 45 minute walk, or more), so I headed back. I spent 1½ hours trying to arrive there and then trying to get back to where my parents live. Anyway, on the TV they say that in some places they are also throwing rocks and other objects at the cops and fire-trucks. There were also a few dozen (maybe more at this point ?) violent arrests. The "leaders" of the Ethiopian community who speak on TV, at least the ones I had a chance to watch, are justifying the protests but imploring the protesters not to turn violent and be peaceful. But there are also others, such as the young man who just spoke on TV while I was writing this (I don't know who he is, if he is a known figure or not) who  angrily asked of the others in the TV studio why they are so shocked by a burning car and how it's bollocks compared to the suffering of the Ethiopians at the hands of the police and the state etc. They even lie about what they show to the viewers while they show it, for example showing live a demo/blockade at the entrance to Jerusalem where you can clearly see a large presence of non-Ethiopians and even Orthodox Jews among the protesters and the reporter ignores this and describes all of them as Ethiopians. A broken and old-looking car that was dragged by protesters to the bonfire at another blockade made the reporter say something like "obviously, this car was attacked [how can you 'attack' an empty car?] and probably dragged from among the cars abandoned by their owners who couldn't get home due to the blockade…" [Afterwards I heard someone else on the same program say that this was an already broken and probably abandoned car from a nearby parking-lot.]…many confrontations. brick-throwing, police-car flipping and burning, a molotov cocktail was even thrown towards a police station. The police are preparing for a heavy crack-down for tomorrow morning to prevent any sort of demonstration."
A Facebook page in Hebrew wrote this (translated by Tal): "In 2006, Border Police officers entered a house in Jaffa to locate illegal [Palestinian] residents. Some are caught. They are made to stand in a row with their backs to the officers, who beat them vigorously, also with the truncheon of their commander who was present at the event. For dessert, a rifle was attached to the back of one of them, and he was shot to death. The commander claimed that a bullet was accidentally discharged. Do you know who the commander in that the event was? I don't know, but he has the same name as the policeman who now claims to have fired on the floor and the bullet was accidentally sprayed at Salomon Takka and killed him."

More here: "In addition to the protests, dozens more Ethiopian-Israelis joined a Facebook campaign declaring that they would refuse to perform their reserve army duties. " This official report shows that young 'offenders' of Ethiopian origin in Israel are 3 times more likely to be sent to prison than 'offenders' with other backgrounds. And see this for a report on previous examples of cop racism and brutality against Ethiopian Jews. See also "ethiopian jews riot in israel (may 2015)" And "they stole our bodies: work in Israel" which in part talks of racism there, though more generally.

US, Oregon: cops give fascists information useful for them See also this and this.  X writes:  "Somewhat encouraging to see this relatively mainstream publication getting it right about who is doing the provocation and where the initiative lies. This campaign of lies against antifa is once again surfacing because the Proud Boys and the other shit-people in their camp are not winning on the street. So idiot liberals like Pelosi say they are against antifa because they are violent and abet the campaign to put the antifa off balance and make them illegal so the police can even more openly take the part of the neo-nazis, who belong to the same constellation of forces as the cops."

Guinea, Kamsar: 3 vehicles and electricity generator belonging to mining company totally wrecked and burnt, 2 security guards hospitalised

1/7/19:
Israel: thousands of Ethiopian Jews protest nationwide after teenager shot dead by cop "Hundreds of protesters burned tires and blocked major roads in the Haifa area on Monday afternoon and evening, and thousands reportedly staged protests nationwide, amid intense anger in Israel's Ethiopian community over the fatal shooting of an unarmed man by an off-duty police officer a day earlier…In Haifa and nearby Kiryat Ata, demonstrators blocked roads and hurled burning tires in the streets. Three police officers were injured by rocks hurled by protesters" More here. "The largest protest was taking place in the Haifa suburb of Kiryat Ata, where more than 1,000 people had been blocking the Histadrut Junction since the morning hours. Similar protests were taking place in Rehovot in central Israel and the southern cities of Be'er Sheva and Ashkelon. In Ashdod, protesters blocked the southern entrance to the city, as well as main roads in the area….Dozens of protesters also gathered Monday night outside the home of Public Security Minister Gilad Erdan in Kiryat Ono, near Tel Aviv." See also "ethiopian jews riot in israel (may 2015)"
China, Hong Kong: new clashes as masked youths barricade 3 main roads … Legislative council stormed and tagged.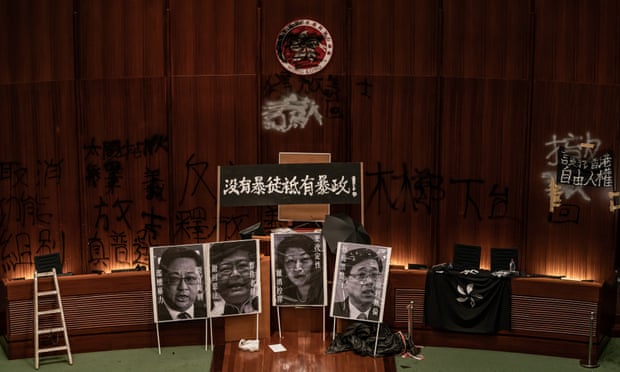 "Among the graffiti on the wall, one said: "People will rise up when the authorities pushed them to the brink." A black banner displayed at the front of the chamber read: "There are no rioters, only violent regimes."…Others messages scrawled on the walls demanded the government implement universal suffrage, withdraw the extradition bill, refrain from calling the 12 June protest a riot, drop charges against protesters and investigate alleged police brutality. "The spraypainting was meant to be an insult to the government and the legislative system," said the young man, insisting that protesters had been making a political statement but had not looted the place. He said he had left money for drinks he took and urged others not to wreck interior decorations." – here. More here and here
Sad to see such faith in Brutish democracy in the form of the old colonial flag (and sad to see such an image-conscious goody-goody attitude of paying for drinks that the HK bureaucrats "paid" for from expropriation and exploitation of the dispossessed of HK)…live streaming of what's going on … See also 'Hong Kong – its relevance to the rest of us…its resistance to the science & technology of social control' and 'Hong Kong: Anarchists in the Resistance to the Extradition Bill'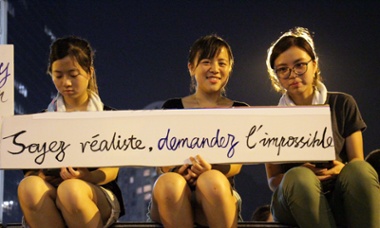 Hong Kong students with May '68 slogan ("Be realistic – demand the impossible"), back on 29th April 2014
我们自己奋斗吧
(translation: "let's fight for ourselves")