Chronology of events
31/12/17:
France: traditional New Years Eve burning of cars in 22 towns and cities...Paris (Champigny-sur-Marne): policewoman, and another cop,  beaten up during mini-riot
28/12/17:
France, Amiens: clashes with riot cops outside high school after gates are blocked with burning bins etc.…Paris: diplomatic corps vehicle torched in solidarity with anarchist prisoners
22/12/17:
France, Grenoble: tags painted, construction site crane sabotaged, on pseudo-ecological project for the rich (communiqué)
15/12/17:
France, St.Etienne: foootball fans pelt cops with stones, vandalise property
11/12/17:
France, Yvelines: security cameras sabotaged before they've even started to function
6/12/17:
France, Herault: local councilor's car smashed up in centre of village; no witnesses come forward
5/12/17:
France, Paris: failed escape in migrant detention centre turns into riot; whole prison wing destroyed "A failed escape, a mutiny, a dozen deliberate fires and a seriously injured [SF note: by smoke inhalation] prisoner who was barely saved by the police. The night from Monday to Tuesday was very hot at the detention center located in the Bois de Vincennes in Paris. The material damage is heavy. Unit 3, which is home to 57 illegal aliens, has been devastated. It will take nearly two months of work to restore it."

4/12/17:
France, Savoie: a critique of Buddhism…? Report in French of arson attack on Buddhist institute. For an interesting account of state Buddhism in Thailand, see "thailand, buddha, the king & I".
3/12/17:
France, Beziers: yet another ambush of firefighters on estate
2/12/17:
France, Hauts-de-Seine: 2nd night of clashes following injury of youth in "accident" with cops in car "This Saturday evening, a dozen garbage cans were burned, more diffuse than Friday night, in this district of Asnieres. A large police detachment had been deployed in the neighborhood in the late afternoon. In the end, the evening was less hectic than the police could have feared. There were no riots. And nobody was arrested during the events that lasted from 7:30 pm to 11 pm. These incidents occurred after a youth was knocked down, in rue des Freycinet, by a vehicle of the municipal police, on the night of Wednesday to Thursday. Two opposing versions of the circumstances of the accident: that of police officers who say that the youth had deliberately put himself in their path. …An official version strongly contested by the neighborhood residents who say that the young man had "never tried to prevent the advance of the car". He had only gone on a few errands and had been chatting "for over an hour" with a friend at the accident site before the crash" Video of riot of 1/12/17 here

1/12/17:
France, Lyon: cops stoned by a few high school students…Paris: Apple store occupied Unfortunately this was merely a protest over tax evasion/avoidance – as if state accumulation of taxes isn't used to reinforce social control, invest in arms, its own image of power, etc. In fact, whilst liberal/social democrat reformists constantly publicise tax evasion/avoidance by the rich, as if the money would normally help the poor, when/if the state clamps down on tax evasion it may publicise a few of the rich who are targeted but it's usually those far lower in the hierarchy who are the most attacked by such possible state campaigns.

24/11/17:
France, Paris: crappy "dialogue" over prison reform disrupted with insults, stink bombs, leaflets, etc. Pdf of leaflet in French here
23/11/17:
France, Val-de-Marne: clashes as high school students demonstrate against Libyan slave markets
22/11/17:
France, Paris: clashes over new education reforms Typically mad Daily Express headline: "Paris CARNAGE: Riots on the streets as students clash with police", and then goes on to describe something quite tame. See also this French anarchist site about these reforms.
21/11/17:
France, Isere: bins burnt, cops & firefighters attacked with stones, bottles etc. after youth being chased by cops is killed by train…Essonne: off-duty cop ambushed and thumped, his car immobilised…Grenoble: centre for scientific & technological propaganda torched in city increasingly devoted to nauseating scientific research
19/11/17:
France, La Reunion: shops and street furniture smashed as youths riot against closure of road to prevent improvised motorbike races More here "The McDonald's fast food restaurant at the Port saw its windows broken, crates were stolen. The interior of the establishment has been turned upside down.…The police were hit by stones and responded with tear gas grenades. A vehicle was burned as well as garbage cans. Several businesses have been vandalized….During the clashes between police and youth, a tear gas canister landed in a house in the Port. The occupant was able to get out of his home after being heavily inconvenienced by the cloud of burning smoke for the eyes. The man was in shock."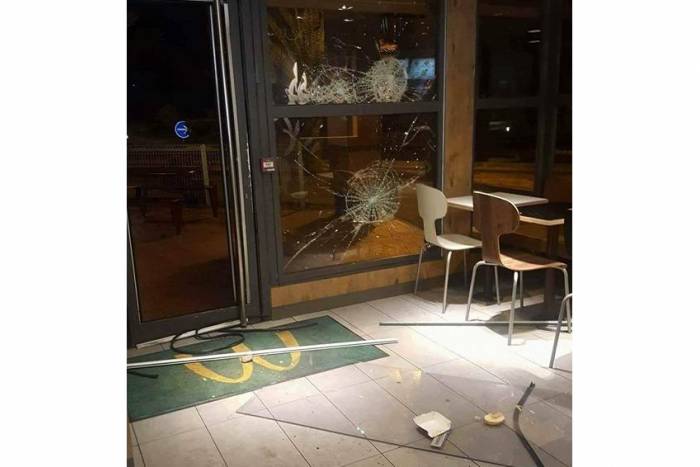 McDonalds, Le Port, La Reunion
18/11/17:
France, Yvelines: 3rd night of clashes with cops "Saturday night, the district of Val-Fourré, Mantes-la-Jolie was once again the scene of clashes between sixty individuals and law enforcement. Numerous projectiles, as well as Molotov cocktails, were thrown at police officers and firefighters, who were on site to extinguish burning cars. In total, a dozen vehicles were burned. According to a police source, these successive acts of violence are "probably reprisals" for the case that has involved the police station of Mantes-la-Jolie since last week. "Violence against the police is quite common in the neighborhood, but it is sure that it is the arrest that set the powder on fire. Many young people are tired of the behavior of some police officers," confirms a resident of Val Fourré. Police are suspected of insulting, beating and burning  the hands of a 27-year-old neighborhood resident during his arrest on 7 November." …Paris: windows of banks, luxury shops & Saudi Arabia Embassy smashed on anti-Macron demo…Yvelines: 3rd night of clashes with cops…New Caledonia: 10 escape from prison; 2 still free next day (19th November)

16/11/17:
France, Nantes: clashes with cops during demo against new labour code modifications (video). See also this text by me about aspects of this movement…Hauts-de-Seine: 3 cop cars burnt in front of police station…Yvelines: youths attack cops following brutal arrest
14/11/17:
France, Yvelines: cops stoned twice in same area in just a few hours…Grenoble: projectiles thrown at cops after arrest of man dealing hash
13/11/17:
France, Yvelines: several attacks and ambushes of cops in different areas of this Parisian banlieu; office completely destroyed by fire, several cop cars damaged by projectiles See also entry for 18/11/17 for the context of this and other clashes in the area.

12/11/17:
France, Montreuil (Parisian banlieu): report on demo against toxic factory (from an email; no link): "…demonstration yesterday, Sunday, November 12, 2017, in Montreuil to demand the closure of the SNEM trash factory, outsourcing of Airbus and Safran, located at the heart of housing, schools, colleges, care centers for the disabled, etc.
As I've already said [see entry for 27/9/17 and this in French ] the SNEM stirs up more and more concern, outrage and even anger in the area of ​​Bas Montreuil. Even though chromium 6, which is necessary for the surfacing of aircraft parts, has been blacklisted by the European Commission since the summer, as a "carcinogenic, mutagenic and reprotoxic" product, SNEM continues to use it because it benefits from the derogation, without precise time limit, granted by the prefecture of Seine-Saint-Denis: trash no doubt, but strategic trash!
Despite the illusions that many people share, to varying degrees, in the possibility of pressure on the mayor to negotiate with the prefecture, etc., it is nonetheless true that small groups of intransigents do not place any trust in the local authorities, any more than in the trade union leaders who, including those in SUD, beyond shedding a few crocodile tears, go as far as to practice a code of silence about very dangerous phenomena.
Thus, the day before the event, hydrocarbons were mixed with chromic acid and then placed very dangerously in plastic drums, which are always stored in the factory. The mixture is very toxic in the presence of oxygen and even unstable enough to become explosive. Anyway, there were several hundred people at the height of the event, demanding the immediate closure of SNEM, the reclassification of employees and the decontamination of the area. The anger was all the stronger because, apart from some trade unionists from SUD-SOLIDAIRES who had come individually to the demonstration, trade unionists have since September de facto boycotted the slightest demonstrations of resistance, and so  call for a demonstration in Montreuil for the defense of employment, of course. The local CGT  union, as always the most advanced when it comes to ignominies, is hostile to the closure and declares that it is just necessary "to invest so that the SNEM is rendered more secure". From the first blockade of September, Richard Delumbee, secretary of the CGT local union of Montreuil, dared to declare: "For the moment, nothing has been proved and yet today, the employees cannot work because of this collective psychosis . They are very worried and have begun to be afraid of the aggressiveness of some local residents" – crude trade union shitheads! The CGT does not even call for support for the two isolated "residents", arrested by cops in plain clothes in the streets of Montreuil, then put in custody a few hours after one of the blockades, released but charged  with "aggression and rebellion against the depositories of the public force" by the prosecutor of Bobigny. They have go to trial within two months." Apparently not one ultra-leftist, including those who live very close by, went along to this demo. One even dismissed it as a demo of bourgeois bohemian ecologists, as if the majority of those demonstrating weren't just "ordinary" proletarians concerned about their and their children's health. Clearly a discussion on Bordiga's collected texts from 1951 to 1955  is far more relevant.
11/11/17:
France, Hauts-de-France: bins & scooter burnt, firefighters stoned This article refers to the firefighters as "soldiers of fire", because they're part of the military in France, subject to military law.

3/11/17:
France, Yvelines: cops get pissed during 6 hours of clashes "Around 3:30 am, several patrols were hit by stones and bottles of urine, thrown from the roof of a nine-storey building on Paul Brard Avenue, near the police station. While they want to question the perpetrators, the police realize they have blocked access to the roof with several breezeblocks. A surveillance device is then put in place and the security forces block access to the roof to prevent them from escaping. A game of patience is then played out. "We thought they would eventually leave," says a source close to the case. It is finally at 9 am when the police go onto the roof and stop the six Conflanais at the origin of these projectiles. Aged 18-24, these young people of Conflan were placed in police custody"…Chambery: screws cars torched "In recent days, the jailers of the Chambery prison have been receiving a few paybacks for the violence they carry out daily on prisoners. On three occasions, they've found their personal vehicle in ashes parked just in front of the jail. On the night of Wednesday 2nd to Friday 3rd November, the car of a screw goes up in smoke. This same agent had already seen his first car destroyed by  flames a few months ago. A few nights ago, between Tuesday 24th and Wednesday 25th October, it was the car of one of his fellow tormentors which was burned. The cops say that on the night of one of these attacks, surveillance cameras near the prison filmed two people on motorbikes wearing scream masks."
2/11/17:
France, Isere: report saying attack on gendarme's vehicles (see entry for 26/10/17) has been claimed by feminist women close to libertarian circles "This group of women explains they acted out of a "desire for revenge", asserting that they want to fight against sexism … "We do not want to remain in the position of victims in which society would like to place us by seeing us as girls" …The fire broke out around 3.30am, on the night of 25 to 26 October, in front of the houses of police officers. The evacuation of the inhabitants was done quickly, but several cars had been burnt out before the firemen could extinguish the flames. In their message, the arsonists say they had padlocked the access door to the police station car park "as a way of making  a joke to firefighters" and had used 10 liters of gasoline to ensure the strength of the flames. "We targeted the private cars of the cops…because we wanted to attack [their] personal belongings". [translation by me, though you can now see the whole communiqué in English , not translated by myself].
1/11/17:
France, Toulouse: Halloween car and bin burning continues till 4a.m. "25 incidents of urban violence (car, container or garbage fires) have been reported to firefighters. About fifteen cars were destroyed…Beyond Toulouse, other fires were reported in the department of Haute-Garonne, including Muret, Eaunes and Labastidette. "It's a night where there have been more car fires than usual," says one of the firefighters. The police speak of a "national phenomenon" with incidents of the same type in several other cities in France. " [See also entry for 31/10/17]…Correze: several bins etc., car burnt, cops stoned  by teenagers…Savoie: 25 skips & bins burnt…Lyon: cars and bins burnt in 70 different parts of Greater Lyon……Aube: 4 hours of cat & mouse games between youths and cops "Clashes took place in La Chapelle-Saint-Luc on the night of Tuesday to Wednesday between the police and many youths. Around 8 pm, firefighters were called to a trash fire … the firefighters faced loads of projectiles. Arriving shortly  afterwards, the police suffered the same fate. The authors then fled. For four hours, the police – municipal police, national police, the BAC and the canine brigade – played cat and mouse in the commune with the younths.…
A minivan was burned, two windows of a local association and  barriers broken, a bus shelter and many bins destroyed"…And lots more Halloween night fires …and even more in the Paris banlieus
31/10/17:
France, Haute-Garonne: cars and bins burnt, cops stoned, in 4 different towns in this department"Halloween night: a lot of  car and garbage fires were reported to Toulouse firefighters during the night of 31 October. No less than fifteen vehicles were burned…An altercation between a man and the police force is at the origin of these excesses…. an arrest went wrong and gave rise to a riot. Several policemen were stoned. As a security measure, the Empalot metro station was closed at 8pm. A car fire broke out there. A bus was attacked too. …Other communes of the Haute-Garonne, Muret, Eaunes and Labastidette in particular, required the intervention of firefighters for similar facts. "… La Réunion: rioters smash shop windows & burn loads of bins in 5 different parts of island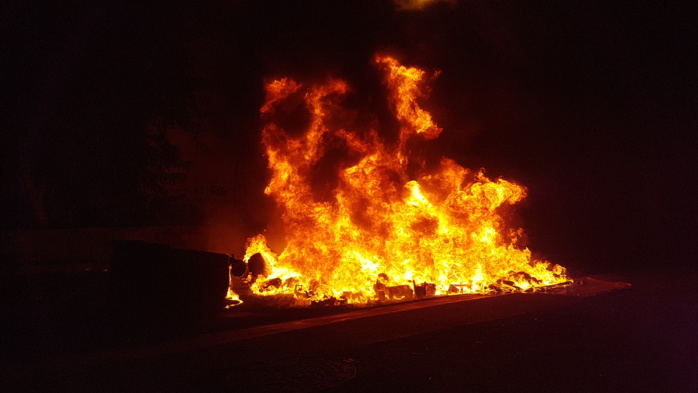 29/10/17:
France, Eure: heavy duty fireworks thrown at cops; no arrests…Isere: chief cop's car torched
27/10/17:
France, Ain: fires started in brief prison riot "…several incidents have occurred in recent weeks in the establishment. The detainees complain in particular about the judge's decisions to enforce sentences they consider too harsh and the lack of washing machines on their landing."

26/10/17:
France, Isere: several cop vehicles in gendarmerie destroyed in arson attack "Shortly before 4 am… several vehicles were destroyed by a fire, probably deliberate, inside the gendarmerie of Meylan, in Isère… the flames also damaged the facade of several buildings where gendarmes and their families live. They were quickly evacuated and no injuries were reported. … This malicious act occurs a little more than a month after the arson of a garage of the gendarmerie of Grenoble, in Isère, on September 21st. An act claimed the same day by activists of the anticapitalist and libertarian movement."…More here in English…Paris: a dozen or so  storm police station to free 2 arrested, then pushed back by cops…Guyana (Cayenne): confrontations with cops during Macron visit More here "Demonstrators hurled petrol bombs at police, who responded with tear gas. Five protesters were arrested and two police officers were hurt in several hours of clashes on Thursday night."
25/10/17:
France, Carpentras: fireman attacked in ambush on estate…Albi: cop car window smashed by projectiles thrown at them during traffic control on estate; 2 cops injured …Oise: riot cops hit by projectiles as cars & bins burn for 2nd night …Toulouse: cops trying to remove stolen car attacked by travellers on their site
24/10/17:
France, Clermont–Ferrand: 3 cop cars torched (communiqué)…Limoges: 20 electricity company vehicles torched in anger against installation of carcenogenic meters
23/10/17:
France, Calais: migrants attack riot cops with stones (video) …Montpellier: molotov attack on cop station on estate

22/10/17:
France, Marseille: football fans clash with cops
19/10/17:
France, Seine-et-Marne: 4 gendarmes thumped and insulted on estate

18/10/17:
France, Eure-et-Loir: 21 cars torched in space of 90 minutes; no arrests
13/10/17:
France, Nimes: firemen and cops pelted with projectiles as they try to put out torched car…Nantes: 2 4X4 cars torched
12/10/17:
France, Paris: Minister of Labour forced to cancel Direction of Human Resources event-of-the-year as "far left" demonstrators burn 3 cars outside congress building "There is something especially detestable in every Human Resources department, and it begins with pretending to worry about humans when its only concern is actually about their submission and their performance" Video here. See also "The CGT – sheepdogs in wolves' clothing".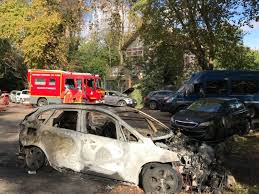 human resources, bois-de-boulogne, 12th October
11/10/17:
France, Paris: about 40 migrants turn on cops after brawling amongst themselves
10/10/17:
France, Paris: clashes, bank windows smashed, at end of march against Macron's labour code reforms (video). More here."Among the protesters marching in Paris was Beatrice Vieval, a 49-year-old nurse, who said her Paris public hospital had seen three recent suicides among staff, and she feared that Mr Macron's plans "will make the situation worse".' See this for an analysis of the CGT union (and SUD) and its collaboration with French capital. And this, about suicide.

8/10/17:
France, Yvelines: 60 bins & 6 vehicles burnt, cop patrol attacked by 15 youths with molotovs This report speculates the reason for these events as being the recent closure of a mosque for its apologistic attitude towards terrorism, but rioting is not usually the kind of thing fundamentalists get involved in.
7/10/17:
France, Pas-de-Calais: National Front deputy (equivalent of MP in UK) beaten up by antifas
4/10/17:
France, Correze: sacked workers gassed & truncheoned whilst trying to meet Macron
1/10/17:
France, Seine-St.Denis: several cars burnt as family and friends of dead man contest cop version of events See also entry for 25/9/17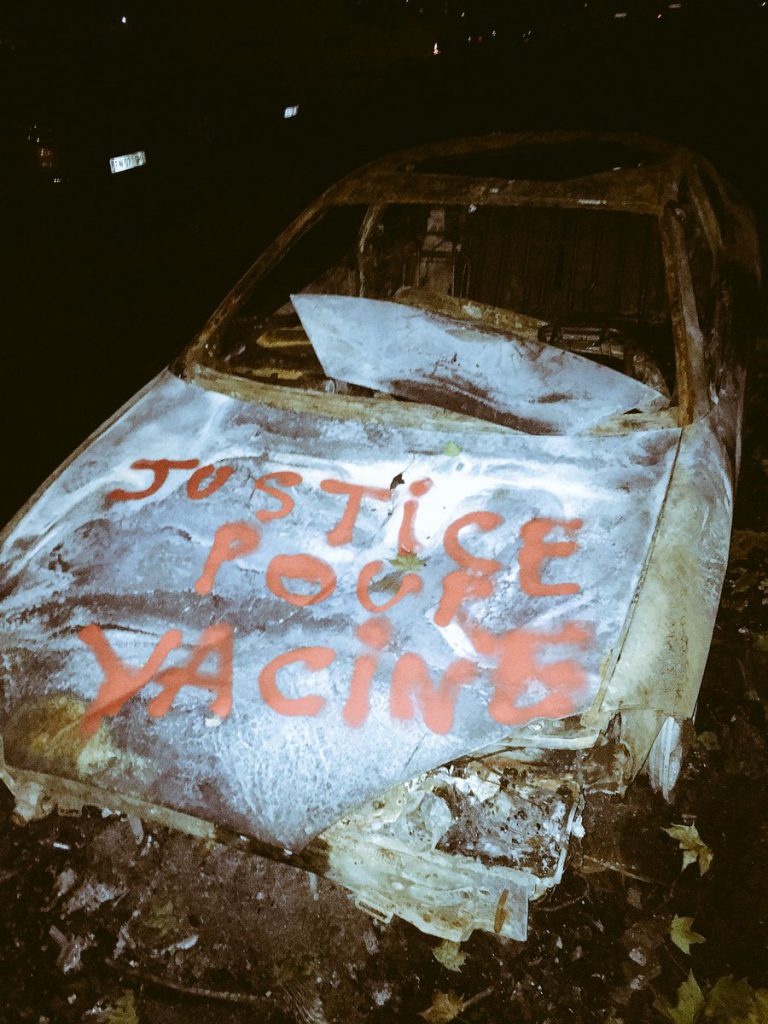 Aulnay-sous-Bois: Justice for Yacine
27/9/17:
France, Montreuil (just outside Paris): parents and local residents blocking access to toxic factory close to schools get teargassed, along with kids in nearby playground; 2 protesters arrested, 2 hospitalised…Essonne: cop truck ambushed – receives a hail of rocks
25/9/17:
France, Seine-Saint-Denis (Paris banlieu): school and 6 cars torched during riot "…the motive for these acts remains unknown, although several Internet users refer to a link with the Yacine case, a young man found dead in the middle of September in a cellar in the neighborhood. Several rumors have started to circulate, implying the police staged the whole thing to cover up for a blunder."…though this suggests it had more to do with the death of a guy who "fell", earlier in the day in a neighbouring banlieu, from the 7th floor after the BAC smashed into his flat looking for cannabis

24/9/17:
France, Essonne: clashes continue over youth who lost his eye because of cop flashball "..clashes erupted in the early evening, involving individuals rallying against "police violence". … projectiles were thrown at the police, who had come in large numbers, and damage was committed, in particular, on street furniture. Tear gas was used by the police, according to a local journalist. The police also reportedly used flash-balls." See entry for 20/9/17 for more information.

23/9/17:
France, Paris: various groups of people attempt subversion of Mélencon's circus It might well be that this attempt is confined to anti-fascists; certainly the tactics of some of them, such as pepper-spraying those submissive to Mélenchon, seem counter-productive and pointless at best. However, Mélenchon deserves to be attacked for what he is:  an ex-Minister full of demagogic rhetoric, typically playing both sides in all aspects of the social question (eg last autumn he supported the police demonstrations when they complained about how unhappy their lot was). And his supporters should be attacked, though not necessarily physically, for what they are: submissive.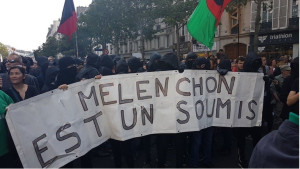 "Mélenchon is submissive": a reference to Mélenchon's slogan "France Insoumis" – "Unsubmissive France", or less literally -"Insubordinate France"
…Le Mans: bottles and stones v. cop teargas during concert…Calais: clashes & arrests during protest against lousy conditions for refugees…2 "anti-authoritarian" Indymedia sites (Nantes & Grenoble) withdraw communiqué for cop vehicle garage burning of  21/9/17 in submission to cop threat of closing the sites down
21/9/17:
France, Grenoble: arson attack on garages of gendarmerie More here "Around 50 cars were destroyed by the extremists in the police car park in Grenoble as president Macron is due to adopt the reforms by executive order tomorrow. One police officer is in hospital after he inhaled smoke from the arson." …destruction valued at 2 million euros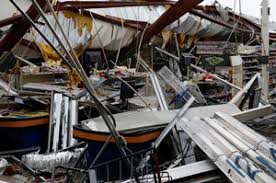 remains of gendarme's garage, Grenoble
…And here's the communiqué (in English) that explained the action… Video here  "We entered the Vigny-Musset gendarmerie barracks. We burned 6 intervention vans and two logistics trucks. More than 1500 square meters of the garage and the warehouse were destroyed. This action is part of a wave of attacks in solidarity with people who are going on trial at the moment."…Paris: minor clashes with cops during demo against new Labour Code…whilst 2000 riot cops phone in sick as protest about their unhappy lot
20/9/17:
France, Essonne: 3rd night of riots over man losing eye after cops fire flashball  "Since Monday evening, garbage cans and cars have been set on fire in this sensitive area. And groups of young people throw Molotov cocktails and stones at the police officers responsible for calling for the intervention of the firemen. … new riots occurred in the early evening, starting at 9 pm, causing damage to one of the police cars." See entry for 17/9/17.
19/9/17:
France, Limoges: 5 cop cars torched  …Hauts-de-France: riot cops forced out of hotel by migrants that they'd just previously forced out of their camp "On their return from their mission, the CRS 16 did not expect to see the migrants from the evacuated camp as neighbors…To top it off, it is the policemen who have had to pack up their bags"
18/9/17:
France, Limoges: gendarme's cars torched by….gendarmes apparently!!! Almost certainly this communiqué is a joke: "In the night of 18th September 2017 we, ex-gendarmes of the mobile gendarmerie unit 41/2, collectively decided to set fire to three Mobile Gendarmerie vans, parked in the Jourdan Barracks complex in Limoges.With this act we are leaving the gendarmerie for good.We also want to send all our solidarity to those accused in the case of the burnt car in quai valmy, whose trial begins today, 19th September in Paris. We are leaving the gendarmerie because we no longer want to kill, maim, repress, control, obey. After the murder of Rémi Fraisse we met to discuss the meaning of our job as Mobile Gendarmes.Adama Traoré's death confirmed our doubts on the meaning of our tasks.We no longer want to beat up demonstrators during demonstrations.We no longer want to terrorize the inhabitants of New Caledonia and Guiana.We no longer want to be guards in courtrooms.We no longer want to serve in the occupation army in banlieues and ex-colonies.We no longer want to obey politicians or act as the armed hand of Capital.We no longer want any chiefs at all.Our barracks is a prison, this mutiny is a first step towards the conquest of our freedom.We call on all our colleagues, who could contemplate the fire of last night from their lodgings above, to join us.Spread the R.A.G.E! Anarchist Revolt of Exiled Gendarmes"
17/9/17:

France, Rheims: undocumented refugees occupying and camping on campus forces closure of education factory…Essonne: guy could lose an eye after cops fire flashball following getting stoned during chase
12/8/17:
France, Paris: minor clashes as 24,000 demonstrate against new Labour Law…Lyon: clashes as cops teargas anarchists and high school students because they want to be at the head of demo; CGT collaborate with cops classifying these anarchists etc. as "potential window-breakers" …Nantes & Caen: various clashes "…in Nantes, clashes erupted after the demonstration against the reform between anti-capitalist demonstrators and police forces. As the protest ended at the call of the CGT-FO-FSU-Solidaires-Unef, around 4:30 pm, at least 1,000 demonstrators, acc[ording to the police, most of them with their faces hidden, continued to parade. In particular, they walked behind a banner proclaiming: "Youth return to give you a bad turn". Targeted by various types of projectiles, the forces of order responded with masses amounts of tear gas….According to Ouest-France, the headquarters of Medef Calvados [local HQ of national bosses' organisation] in Caen was vandalized at mid-day around 12:30."  A helluva lot of bullshit about this law, thrown from all directions, including the "anarchist" milieu. One neoliberal deputy on TV complained,  "Macron pretends to crack down hard and the CGT pretends to oppose him". Which is just about right. This law is a clever divide and rule – for those working for big companies it's a massive improvement should they be laid off (big increases in redundancy payments); it hits those working in small companies most, but Macron's not attacking the public sector so far (though it looks like he's going to attack their pension rights, or at the pensions of some of them). A friend writes: "There are plenty of small indications in the texts of the local unions of the CGT or in the reports of the protests in the press, concerning the classic strategy of the CGT to control the mobilization, and even to establish the general framework. The CGT has already called for a new day of mobilizations… whilst having negotiated with the government alongside the other unions since the beginning. We find fun things, like this remark in Nice, where the trams or buses were completely blocked, to make a little show, but not for too long of course: "It's very unusual for us, as a matter of principle we hardly ever strike because we are a powerful union and we negotiate well with (Mayor LR, Christian) Estrosi," said Tuesday's     mobilization legal officer for the CGT, Daniel Descotes, at Lignes d'Azur. Christian Estrosi claims to have asked, in vain, to avoid resorting to a strike. "It is not our status as  tram drivers that we defend but we think that everyone in the workplace is being attacked like never before since the war," adds Daniel Descotes."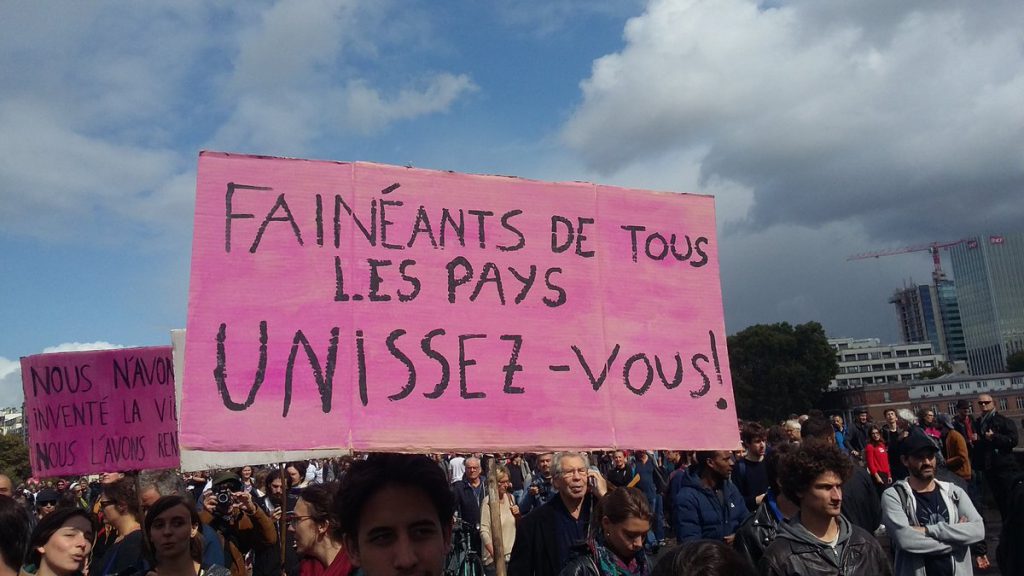 Lazy slackers of the world unite!
…Pas-de-Calais (and other places): operation snailspace blocks motorways This was partly related to the new Labour Law, but is primarily aimed at preserving the monopoly of those who currently run the various fun fairs in France, concerning which Hollande, when he was president, passed a law making access to the areas of local councils put aside for these fairs subject to competitive tendering. The leader of this racket is a Marine Le Pen-voting fascist anti-black, anti-Arab racist rich guy (Marcel Campion),    a recipient of the Légion d'Honneur who really does not deserve any support whatsoever. They claim that 10,000 trucks blocked roads across the country,  500 being in Paris.
8/9/17:
France, St.Martin: more looting in aftermath of hurricane This report doesn't describe what places  were looted; it's obvious that I support looting of shops, other businesses and state property – looting of individuals or their houses is another matter. It serves the dominant world to confuse the two, to make them equivalent.
7/9/17:
France, St.Martin (Caribbean island part-owned by French state): looting of TVs etc. in wake of Hurricanes Irma and Jose More here, here and here "Hundreds of extra police are being sent to the Caribbean island of St Martin after reports of people breaking into shops…"The situation is serious," Dutch Prime Minister Mark Rutte said Friday when asked about reports of looting on the island…an AFP photographer saw a crowd of around a dozen people breaking into a mini-supermarket"

4/9/17:
France, Centre-Val de Loire: 4 CCTV cameras destroyed by a dozen masked individuals…Isère: railway line to nuclear power station sabotaged…Montpellier: metal shutters damaged, anarchist tag on newly opened local HQ of leftist deputy belonging to "France Insoumise"

2/9/17:
France, Calais: migrants clash with cops
27/8/17:
France, Hautes-Alpes: report and communiqué of the destruction of about 50 motors & engines used for construction site of high-voltage electricity lines since February Just in case no-one knows, high-tension electricity pylons and cables (whether overground or underground) cause leukemia, kill wildlife and cause bad sleep amongst other miseries.

23/8/17:
France, Rennes: 4 cars and a van burnt, probably in retaliation for cop murder of young man (see entries for 18/8, 7/8 & 1/8)

22/8/17:
France, Puy-de-Dôme: arson attack on major cable network/phone mast for phone companies & radio stations sabotaged (communiqué)
20/8/17:
France, Paris: truck belonging to prison construction company torched
18/8/17:
France, Rennes: 15 cars torched as part of fury about 26-year-old killed by cops…Dijon: man arrested for having wrecked 10 CCTV cameras over 10 months
17/8/17:
France, Val d'Oise: cops attacked by youths as they arrest people trying to break into supermarket in middle of night…Seine-St.Denis: firearm and taser stolen from cops as they get surrounded by about 20 youths whilst trying to pursue suspected drug dealer
15/8/17:
France, Meuse: riots against nuclear waste dump; cops use water cannon, percussion grenades, tear gas; 6 demonstrators seriously injured; 2 cops injured as molotovs & rocks are thrown See also this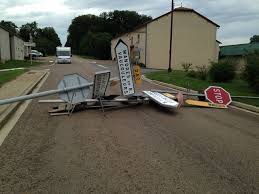 13/8/17:
France, Seine-St.Denis: riot, shop looted, as cops crack down on motorbike "rodeo"
7/8/17:
France, Rennes: 2 vehicles torched, probably in continuing protest against killer cops (see entry for 1/8/17); similar burnings took place on 4/8/17
6/8/17:
France, Toulouse: lorry belonging to construction company for prisons torched (communiqué)
4/8/17:
France, St.Denis: 4 cop cars torched "The mayor (PCF – French Communist Party) Laurent Russier, who "strongly condemns these degradations", decided to file a complaint this Friday afternoon. "I support the municipal police officers. The local public security and prevention service they carry out and which they embody is essential for the city of Saint-Denis"

1/8/17:
France, Rennes: fires started in retaliation for cops shooting  guy dead "Between 10.30pm [Monday]and 3.00 am, several groups of individuals wandered round a large area of ​​the Blosne district, on the far southern part of Rennes. Individuals attacked vehicles and garbage cans using molotov cocktails, baseball bats and petrol cans. In total, six vehicles were completely destroyed by fire, and six others were degraded by flame spread. Several garbage containers were also burned. Police in Rennes said that "the father of the victim had threatened the police with reprisals"."
31/7/17:
France, Nimes: 10 refugees manage to escape detention centre
29/7/17:
France, Marseille: office of fascist organisation bombed
27/7/17:
France, Guadeloupe (French department in the Caribbean): burning barricades block major road as residents resist evictions made under the pretext of "unsafe" habitations

24/7/17:
France, Marseille: arson attack on 2 cars belonging to screws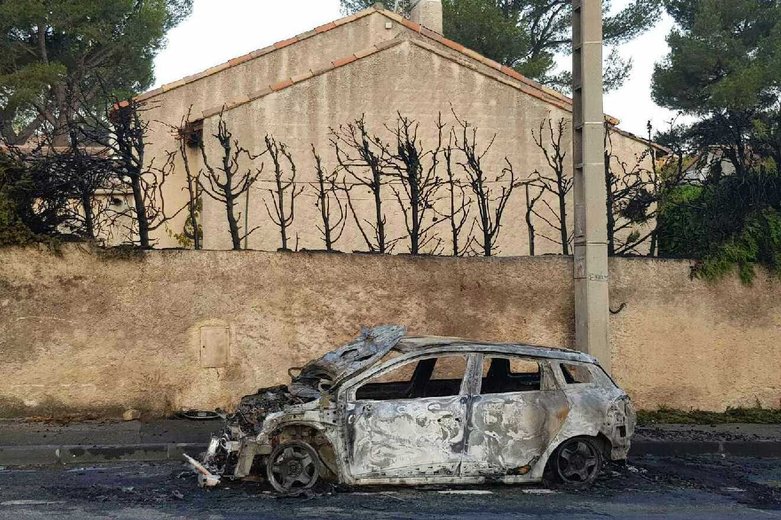 problem with the chokey, Baumettes Prison, Marseille
22/7/17:
France, Val d'Oise: clashes between youths and cops on 1st anniversary of cop murder of Adama Traoré; 3 cops slightly hurt by heavy-duty fireworks
17/7/17:
France, Val d'Oise: 15 people corner cops & threaten them with iron bar and tear gas…Ardeche: enemy communication systems up in smoke…Paris: attack on German embassy in solidarity with those arrested in Hamburg's anti-G20 ruling   racketeers
15/7/17:
France, Seine-St.Denis: cops attacked with stones, after being ambushed following inspection of burning bins; later, 2 motorbike cops are attacked by youths with iron bars….Paris: clashes on margin of concert of Congolese musician close to Republic's President (video)
14/7/17:
France, Essonne: Champagne Anti-Socialists liberate 600 euros of the stuff on Bastille Day as mini-riots break out throughout department "In Vigneux-sur-Seine, a dozen young people have robbed the Franprix. They left with candy and 600 euros of champagne. On the arrival of the police clashes erupted. Police  were taken to task and targeted by heavy-duty fireworks. Two officers were slightly injured. In Saint-Michel-sur-Orge, clashes erupted between police and young people causing a lot of material damage. From Igny to Saint-Germain-lès-Arpajon passing through Paray-Vieille-Poste, many garbage cans were also set on fire that night. The same fate was reserved for twelve cars throughout the department."…Val-d'Oise: lots of small incidents in 13 different parts of this department just outside Paris (burning bins, cops stoned, etc.) More here…report on other Bastille Day incidents "The July 14th celebrations in Ile-de-France [area around Paris] were again accompanied by night-time urban violence… 25 cars were burned and 18 people were arrested in the Val-de-Marne on the night of 13-14 July. In the commune of Boissy-Saint-Léger, about fifty people erected barricades and threw projectiles at the police and firefighters that evening. Similar incidents occurred in Orly and Vitry-sur-Seine. A police station was also attacked in Champigny, where officers replied with disencirclement grenades…. in Sevran, a police officer was said to have opened fire, when he was taken to task by a group of individuals…A young man was wounded by a shot, without his life being in danger. Witnesses also spoke of garbage fires, as well as groups of individuals armed with iron bars."

12/7/17:
France, Lyon (Vaulx-en-Velin): molotovs thrown at cops, cars and bins burnt on 2nd night of clashes in this banlieu…Yvelines: about 40 hooded people attack cops and firfighters with heavy-duty fireworks and molotovs; cops use 50 dispersion grenades
6/7/17:
France, Italian border: migrants in mass fare evasion
3/7/17:
France, Seine-sur-Marne: 30 youths attack cops during 6th attempt to build wall, 5 times destroyed previously, across passage used for low-level dealing on estate
28/6/17:France: report about 3 lorries belonging to company involved in prison construction being torched
26/6/17:
France, Calais: migrants block motorway again, with burning branches and tree trunks…Arras: CCTV camera smashed with hammer
23/6/17:
France, Val-d'Oise: 50 youths surround and attack cops during arrest of youths for syphoning off petrol from building site engine
22/6/17:
France, Asnières-sur-Seine (Paris banlieu): cops use tear gas & flash balls as 50 youths stone them whilst they close fire hydrant opened to cope with unbearably hot weather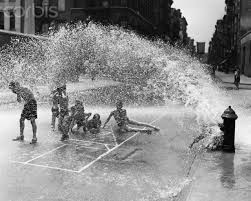 21/6/17:
France, Essonne: 60 youths stone cops closing fire hydrant opened during exceptionally hot weather…Tours: similar situation here as well…Bure: 3-star hotel-restaurant designed to host nuclear waste technocrats smashed up "A  barricade of tyres was set alight. Then realizing that the door was wide open, several people soon found themselves inside and broke the windows, the bar with its precious bottles of alcohol. While the alarm sounded eloquently and chaos reigned in this aseptic space, other joyful bandits demolished the usual barriers around this famous hotel which regularly welcomes all the shithead nucleocrats. "
20/6/17:
France, Paris banlieus: report about more & more fire hydrants being opened to cool down during  climate change provoked by global commodification
18/6/17:
France, Val-de-Marne: cops on patrol attacked with stones
17/6/17:
France, St.Etienne (Loire): riot cops stoned after theatre is set alight and youths expropriate firefighters' hose…Pau: CCTV cameras sabotaged, cops stoned by 25 youths
15/6/17:
France, Essonne: "undercover" cop car on impoverished estate surrounded and smashed in ambush on the BAC (plain clothes psycho-cops)
14/6/17:
France, Dreux (Eure-et-Loire): cops attacked outside hospital where joyrider died in cop car chase
13/6/17:
France, Calais: more burning barricades as migrants try to hide in lorries bound for UK…Seine-St:Denis: mayor deliberately knocked  over by "hooligan" playing around in car  …Haute-Vienne: man attacks bailiff sent to evict him  with beehive full of bees

11/6/17:
France, Grenoble: youths stone fire brigade after having set their Middle School on fire, burning most of it
9/6/17:
France, Drôme: anarchist arson attack on France's main electricity distribution management company Communiqué here…Montreuil (Paris): windows of company collaborating in prison construction smashed
8/6/17:
France, Creil (Oise): cops hurt as youths attack their arrest of joyrider…Calais: migrants put up barricade across motorway during the night
7/6/17:
France, Tarascon: 3 cops hurt, bullet proof vest & tear gas grenade stolen by 30 youths as cops carry out car control
6/6/17:
France, Seine-St.Denis: police station attacked with heavy-duty fireworks for 2nd evening in a row. See this report on the situation in this banlieu
5/6/17:
France, Rouen: at least 70 youths clash with cops at middle school…Valence: at least 6 cars burnt, bins burnt, cops stoned in yet another clash
2/6/17:
France, Pau: 60 travellers in angry demo after court forbids imprisoned brother of unarmed traveller killed by cops in a car chase from attending his funeral "…four… cars burnt … two buses were burned …completely destroyed. Severe damage to the Peugeot garage, with cut-out fences and more than 40  tires stolen and burnt. Thefts also of Auchan, right next door, with 82 shopping trollies that have disappeared. The real estate agency Cofim also paid the cost of these clashes….On the highway also the damage is significant. Palm trees, a bus shelter, a bicycle park and cars were damaged. In some places the asphalt is completely burnt…."

1/6/17:
France, Vitry: 2nd molotov chucked at police station courtyard after cop violence following youths playing with hydrants in hot weather. See 31/5/17

France, Vitry: clashes after cops fire flashballs and disencirclement grenades at passers-by after youths open up hydrants in hot weather
30/5/17:
France, Charente: 3rd day of clashes between youths and cops…Grenoble: 11 electricity company cars destroyed by anti-capitalist libertarians For fuller explanation in English see this
29/5/17:
France, Yvelines: cops attacked by groups of youths 4 times within space of a few hours in different parts of region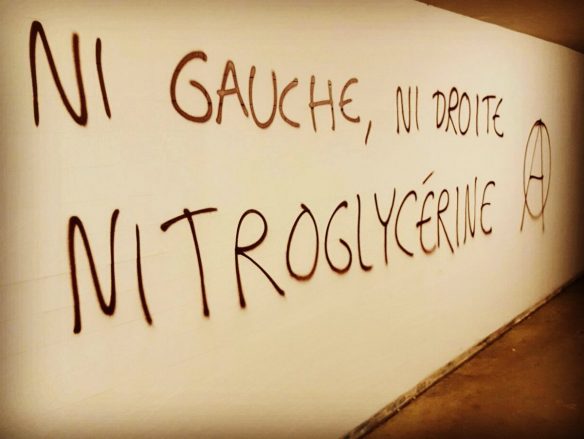 Besancon election slogan: "neither left nor right – nitroglycerine" (sounds better in French, with the repetition of "ni")
28/5/17:
France, Grenoble: cops attacked as they turn off hydrant opened up to cool people down during hot weather
26/5/17:
France, Essonne: 10 masked youths attack army patrol with stones…Seine-et-Marne: 20 youths attack security guards with iron bars after being refused entry to leisure centre when they tried to get in for free
25/5/17:
France, Melun: 4 cop cars damaged as 20 youths chuck stones at cop in ambush
22/5/17:
France, Yvelines: 50 or so youths chuck projectiles at cops, set fire to bins, as cops try to stop filming of rap video…Essonne: cop car smashed as stones rain on cops

21/5/17:
France, Aulnay-sous-Bois: unofficial rap video ends with attack on cops by about 150 youths
20/5/17:
France, Seine-et-Marne: cars burnt, cop car damaged after arrests following attempt to cut down pole supporting CCTV camera
15/5/17:
France: letter from anarchist imprisoned for burning cop car
13/5/17:
France, Mayotte (French department in Indian Ocean): lieutenant-colonel hospitalised by rock thrown at his car
9/5/17:
France, Besancon: high school blockaded against the electoral circus…Essonne: riots continue, cars burn, for  3rd night  following death of youth in cop car chase
8/5/17:
France: demonstrations in several cities against Macron on day or day after he's elected More here and here and here
7/5/17:
France, Paris: post election clashes…Essonne: riots continue following death of teenager in cop car chase…Nantes: arrests following anti-election attacks on Town Hall etc.…Strasbourg: heavy clashes between ultra-left/anarchists and extreme right
6/5/17:
France, Essonne: riots after teenager dies being chased by cops
1/5/17:
France, Paris: cops hurt in clashes More here…Besancon: ATMs & banks windows smashed, lots of anti-election slogans, including many against Melenchon as well as the usual slogans against Macron & Le Pen …Brittany: containers, boat attachments and car burnt in anti-election attack…Maine-et-Loire: bottles and stones against Front National HQ
30/4/17:
France, Seine-St.Denis: Vinci (involved in prison construction, etc.) utility burnt, tyres of Sodexo (prison food supplier), Engie (main gas supplier) & JCDecaux (involved in prisoners' exploitation) punctured in solidarity with anarchist prisoners

pdf in French of text in solidarity with these prisoners here
France, Paris: clashes as 4 high schools are blockaded in protest against election
"
Four high schools were blocked this Thursday morning in Paris and six others partially.
Blockade put in place by high school students mobilized against the candidates present in the second round of the presidential election.
…
barricades were erected with rubbish bins and electoral panels.
A banner saying "Neither Marine
[Le Pen]
, nor Macron, neither country, nor boss" was hoisted on the barricade.
…
Several hundred people then gathered in the Place de la Republique, at the start of a demonstration that was to head towards the Place de la Nation.
A part of the procession finally turned towards the Place de la Bastille.
Clashes took place in the square and near Boulevard Beaumarchais, in the middle of the traffic that had not been cut.
Protesters then threw bottles or stones at the police, who responded with tear gas.
On the way to the procession, several bank branches were vandalized and tagged with the same anti Marine Le Pen and anti Emmanuel Macron slogans."
More here in English. "Mobs of angry protesters also smashed the windows of local businesses, while one business shop window was emblazoned with the message "neither banker, nor racist" in apparent reference to both candidates."…Rennes:  cops teargas high school students
"

Teenagers in Rennes and other French cities have held rallies or blocked schools in a protest against both presidential candidates…about 1,000 people came out in the western city to chant "neither Le Pen nor Macron".Riot police used tear gas to stop them reaching the historic city centre."
25/4/17:
France, Dijon: various arson attacks on cars and bins
24/4/17:
France, Paris: CFDT union office windows smashed and tagged with "Death to collaborators!" after union endorses neoliberal Macron

23/4/17:
France, Paris: clashes with cops, some attacks on cop vehicles, banks, bus shelters etc., during anti-election rally…It has to be pointed out that most of those involved in these anti-election riots are the "Appelistes" or their followers, whose ideology included a disgusting apology for ISIS following the mass murder at Bataclan in November 2015, an attack which was deemed "anti-economic" by Coupat, the Appelistes/Tiquunist leader.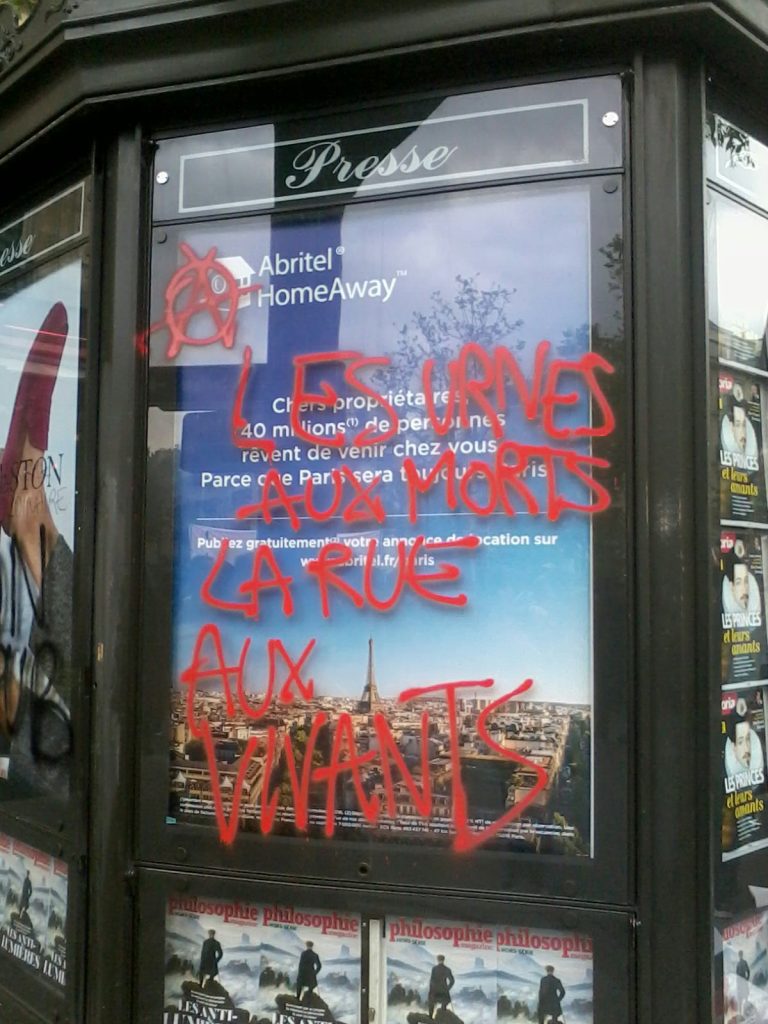 "Ballot boxes for the dead, the street for the living"
…Nantes: bins burnt etc. during anti-election street party "…a call for students and high school students to gather in front of the faculty of Letters this Monday, April 24 at midday: "In order not to give the ruling classes the right to govern us"… Essonne: town hall, where voting takes place – window broken, bins burnt, wall paint-bombed and graffitied with anarchist slogans…Var: Front National offices attacked, organiser hit with bottle This is in an area where Le pen came 1st, the scandal-ridden crudely neoliberal Fillon came 2nd and the more subtly neoliberal frontrunner Macron came 3rd.

22/4/17:
France, Paris: stones v tear gas…Aulnay (banlieu of Paris): 50 youths surround cop van trying to release young guy arrested for targeting cops with laser beam; cops fire live rounds in the air
20/4/17:
France, Paris: 100 high school students blockade schools and then  demonstrate against the "presidential masquerade" of the election, smash and tag Socialist Party offices
19/4/17:
17/4/17:
France, Paris: anti-Le Pen demonstrators
clash with cops, attack journocops
"RT's correspondent at the scene, Charlotte Dubenskij, reports that the protest has turned violent with journalists being attacked with tears gas and bricks. "We have been caught in tear gas, we have had bricks thrown in the direction of us, one member of the press had his camera taken off of him and thrown on the floor," Dubenskij, adding that fires erupted as well."
12/4/17:
10/4/17:
France: top cop complains that cops are no longer respected/feared "There is no respect for those wearing  uniforms. P

art of the population, certainly a minority, seeks confrontation with authority at all costs  and often refuses ID controls" explained Philippe Capon, the boss of Unsa-police.

In the neighborhoods, "work is becoming infernal".

Should be pointed out that this in response to  only an increase of 1.2% in such attacks. In the 70s and 80s there was considerably less respect for/fear of uniforms than there is now. Far too many people seem to think that France is permanently in a state of insurrection when it's very very far from the case (for the moment, at least).


9/4/17:
France, Guyana (Cayenne): commissioner of police seriously injured during violent confrontations as strike leaders are refused an audience with the prefecture, the first expression of anti-state violence since General Strike began 3 weeks ago
"

A commissioner was injured, tear gas was used by the gendarmes. 

…"…

The commissioner is seriously injured, "said a policeman at the megaphone from the front door of the prefecture, barricaded.

"Heavily wounded at the collarbone", this man remained "unconscious on the ground for about ten minutes" and "we were forced to use tear gas to extricate him"…

Several other policemen, as well as another commissioner, are "slightly injured" after being beaten, according to Laurent Lenoble, who described the violence as "unacceptable."

The collective has "taken a turn" which is "far from respecting republican values" and it "is discredited", he regretted. 

According to a member of the collective "Pou La Gwiyann ​​dékolé" (for Guiana to take off), which had organized a rally in front of the prefecture since mid-afternoon to demand that its demands be taken into account, the "500

Brothers against delinquency ", a group whose hooded members supervise the demonstrations, made a cordon in front of the policemen.

But the crowd managed to beat them up."
Check out the entry for 4/4/17 for some nuanced comments.
6/4/17:
France, Essonne: 6 screws injured in youth section of prison
This attack at Fleury follows demonstrations by screws in front of prisons
in Fresnes (Val-de-Marne) and Bois-d'Arcy (Yvelines) to protest against the assault of two of them in front of their home or on their way
to work, poor things. The one at Val-de-Marne was recognised by former prisoners and ended up in hospital.

Overpopulation at Fleury  is 148.8% on average, which implies several people per cell with beds on the ground.
The situation is more critical in the men's quarters (171%) than in the women's sector with an average of 246 inmates.
Prison overcrowding is constantly increasing as the rate of occupancy among men was 150% in 2013 and 156% in 2014.  The state is planning to build well over 30 prisons, though inevitably these too will become overcrowded as, for obvious reasons, capital is forced to lock up increasing amounts of those they need to crush and/or to put to slave labour.
The screws have decided to go on strike against the counter-violence of those on the receiving end of state brutality. We should support such a strike as long as it continues for a minimum of 100 years.
France, Guyana: strike leaders occupy space station during general strike The reasons for this strike are multiple: unemployment, health conditions, judicial questions and, above all, lack of "security" (ie the high murder rate, which is largely being attributed to lack of border controls). So – for the moment – not essentially a radical strike at all even if virtually nobody is working…More here – which says that the state is offering an injection of 5 billion euros spread over 10 years (the strike leaders want 2.5 billion now), part of which will be used to finance a new prison and a squadron of mobile gendarmes! Pi writes: "

It is interesting to see how a very difficult social situation in a very unusual territory (developing from colonial France, which served for a long time as a penal colony, and which was sparsely populated: especially  communities of "marrons", former escaped slaves who

established isolated villages, and Native Americans) can also generate very restrained and "moderate" dynamics, where recourse to the centralist state, institutional funding, "security" etc.

a

re directly demanded."

(most of this is reproduced from our entry for 28/3/17)…Yvelines: 20 or so youths attack cops with stones
2/4/17:
30/3/17:
France, Paris: 4th night of clashes  over murder of Chinese man by BAC cops…Rouen: a dozen youths attack cops with stones during control of scooter driver
29/3/17:
France, Paris: 3rd night of anti-cop riots (videos)…Toulouse: high school students clash with cops, set fire to part of school This happened – in a "difficult" area – after a blockade of the school, with the gate being chained up, in solidarity with an employee at the school who'd been disciplined or dismissed (not made clear in this report). The admin had broken the chain after which some students set fire to plants at the school, the fire spreading, and the school forced to evacuate. No-one was hurt. The cops came and launched teargas and flashballs at the students and they responded with  stones, smoke bombs and fireworks. No arrests.…Rennes: 15 people at a meeting of The Republicans (presidential candidate Fillon's party), including 2 local Republican deputies, get sprayed with piss and fish soup; Socialists condemn this attack on demockrazy

28/3/17:
France, French Guyana (South American area which is part of France): total general strike – 2nd day The reasons for this strike are multiple: unemployment, health conditions, judicial questions and, above all, lack of "security" (ie the high murder rate, which is largely being attributed to lack of border controls). So – for the moment – not essentially a radical strike at all even if virtually nobody is working…More here – which says that the state is offering an injection of 5 billion euros spread over 10 years, part of which will be used to finance a new prison and a squadron of mobile gendarmes! Pi writes: "It is interesting to see how a very difficult social situation in a very unusual territory (developing from colonial France, which served for a long time as a penal colony, and which was sparsely populated: especially  communities of "marrons", former escaped slaves who established isolated villages, and Native Americans) can also generate very restrained and "moderate" dynamics, where recourse to the centralist state, institutional funding, "security" etc. are directly demanded."…Paris: 2nd night of clashes with cops over their murder of Chinese guy "Ten people were arrested in a second night of protests in Paris over the killing by police of a Chinese father of five, an incident that has caused tensions with Beijing. Around 400 members of the Asian community and supporters of anti-racism groups gathered outside a police station in the northeast of the capital to again denounce the fatal shooting of Shaoyo Liu, 56, in his home two days earlier. Those who were arrested had thrown projectiles, the police said".…More here This Breitbart report tries to link these riots to anti-Chinese riots globally, when it's clear that these were anti-cop riots, and in fact, not just Chinese people were involved in attacking the cops. It's typical of much of racism today which superficially condemns racism whilst in fact encouraging it, including encouraging the miserable conditions that spawn racial scapegoats. In saying, "These attitudes cannot be stopped. They come from masses of people, not from the leaders, whose job becomes to deal with these populist attitudes in a way that does the least amount of damage" such  scummy journalism uses an event in which institutionalised racism on the part of the cops intentionally hides the role of these leaders in covertly encouraging such divisions….Montpellier: local offices of Socialist Party and National Front vandalised and tagged
27/3/17:
France, Paris: riots after cops murder Chinese man More here "Clashes erupted late Monday in the 19th arrondissement of Paris, on the sidelines of the gathering of about 150 people in tribute to Shaoyo Liu, who died the day before. […] The demonstration degenerated when individuals broke the window of a police car. The rear of the vehicle was burned altogether because of "probably an incendiary object,"…Policemen and protesters then faced off. Several clashes erupted, as shown by photos and videos broadcast on social networks. The situation subsided shortly before midnight. Three policemen from the security and intervention company (CSI 75) were "slightly wounded by projectiles"…video
According to the daughter of the murdered man, at round about 7.30 pm her father was cleaning a fish with scissors. The neighbour above was very noisy and he went upstairs and asked for silence. He then returned downstairs to continue doing the cooking. There was then a very loud and persistent knocking on the door, and the father didn't dare open it as the cops were in plain clothes and he suspected the people, whom he didn't know were cops, had  some malicious intent. There was some confusion as the cops continued knocking violently and then they smashed open the door, there was a shot and her father collapsed onto the floor in front of her and her sister. According to the media, it was a case of legitimate defence even though, according to one of his  daughters, the cops had not revealed their identity and the father was merely carrying the scissors for cleaning the fish. After the murder, the cops isolated the children in their bedroom and cut them off from all outside communication. The wife of the victim was fetched back from her work and held  at the bottom of the building for more than 2 hours.
25/3/17:
France, Rouen: parts of primary school ransacked "Three to four classrooms, the director's office and the teachers' room were devastated. The authors broke the cabinets and drawers and scattered their contents on the floors, while liquid and powdered coffee was spilled in the teacher's room. Surprisingly, few tables were overturned. The canteen, located outside, suffered the same fate. The door was broken, and chocolate yoghurt thrown over the floor and on the furniture while the water fountain was opened….The computer equipment remained in tact and according to initial findings, little has disappeared"…Val-de-Marne: cops in car ambushed, attacked with stones…Seine-St.Denis: cops shot at 7 times whilst intervening in brawl; no arrests
24/3/17:
France, Val-de-Marne: 2 molotovs thrown at police station in rue Jacques Prevert

"A great barfly plumber
Dressed for Sunday even though it's Monday
Sings for himself all alone
Sings that it's Friday
That he won't go to class
That the war is over
And work as well
That life is so beautiful…" – Jacques Prevert, 'And the Party Continues'
21/3/17:
France, Grenoble: local offices of Republicans redecorated by expert interior decorators Part of their communiqué: "…Whereas you call on people to vote to dispossess us once again of our capacity to act, we reply that we will refuse to delegate a part of our freedom, to submit to your masquerade. Rather, we call for a reversal of the balance of power in order to stop suffering the state of things. Tonight, we attacked a party, but it is the whole political apparatus that is targeted. We call for the multiplication of other forms of organization and of these gestures so that fear will change sides.
Shit to all forms of government.
No elections without revolt ."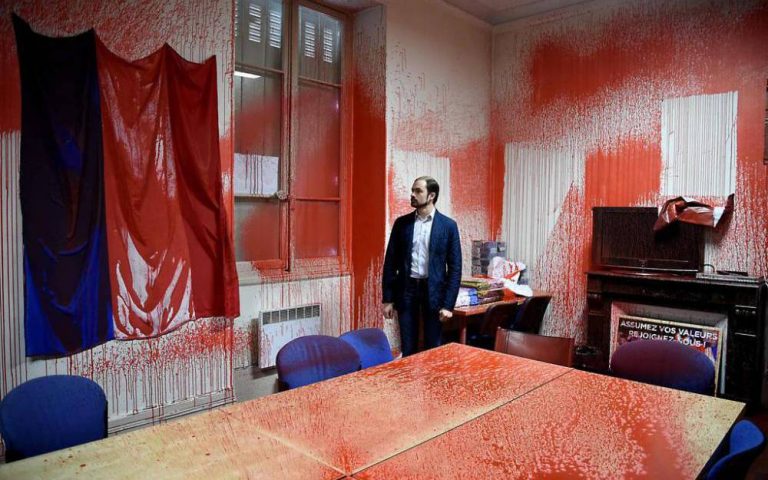 obviously inspired by Laurence Llewelyn-Bowen
18/3/17:
France, Alençon: arson attack on Front National offices…Paris: about 1000 attack cops with flares & molotovs, windows of 5 banks smashed,  on "march for dignity" Should be pointed out that this march was a horribly eclectic mix of explicit anti-semites (the PIR – Parti des Indigènes de la République, who are blind to class and are "anti-raicist" only in the sense of inverting dominant racism, with "whites" at the bottom) along with anarchists and whoeverists (see this in French).
17/3/17:
France, Val-de-Marne: 11 arrests as high school students chuck stones, heavy duty fireworks and a molotov at rapist cops …Toulouse: cops stoned yet again on estate that's had several attacks on cops already this week…Creteil: cops attacked with projectiles

15/3/17:
France, Seine-St.Denis: over 50 high school students attack cops with molotovs, stones, etc., cops attack with blows, flashballs, teargas, etc.; "Communist" Party politicians condemn casseurs, call for "appeasement"…Toulouse: 50 youths attack cops with stones
14/3/17:
France, Hauts-de-France: refugees refused entry to camp set fire to entrance security office
12/3/17:
France, Moselle: stones and burning bin thrown at town hall, cops and firemen stoned, 5 or 6 bins burnt on popular estate
11/3/17:
France, Avignon: cops attacked with stones during arrest attempt

10/3/17:
France, Val-de-Marne (Parisian banlieu): 5 arrests as 2 high schools demonstrate against "the  violence of the state"; parked cars and street furniture damaged A radio report recorded young people shouting "Down with the state!" and "Down with school!", though I'm not sure if it was on this date or this area or not.

9/3/17:
France, Essonne: BAC cop car deliberately driven into …Gironde: building where presidential front-runner Macron was due to visit smashed up and tagged with "Revolution in process" & "Macron shouldn't be invited"

7/3/17:
France, Seine-St.Denis: 55 youths, 44 of them under 16, arrested after riot against cops at and outside high school; school partly burnt More here "A pitched battle between dozens of hooded people and the police broke out in front of the establishment and in the surrounding streets. Paving stones flew, containers overturned. The forces of order retaliated with  tear gas and flash-ball shots. The day before…the teachers' room, on the first floor, was the target   of breeze blocks thrown, causing the double glazing to shatter….Beginning of an explanation: a video posted on social networks with hashtags "blockade for Theo" or "blockade against the police"
3/3/17:
France, Paris: wildcat demo against rapist cops – tags, ATMs and bank windows smashed, bins burnt
28/2/17:
France: 15 schools in & around Paris  blockaded …deputy head slightly injured…Montpellier: windows smashed, lots of tags, cops hurt, bins burnt during peasants' carnival 

27/2/17:
France, Hauts-de-Seine: various clashes over cops at different high schools
26/2/17:
France, Nantes: 2 buses full of supporters of Front National attacked by 100 hooded individuals as anti-fascists put up burning barricade and do "operation snails-pace" on motorway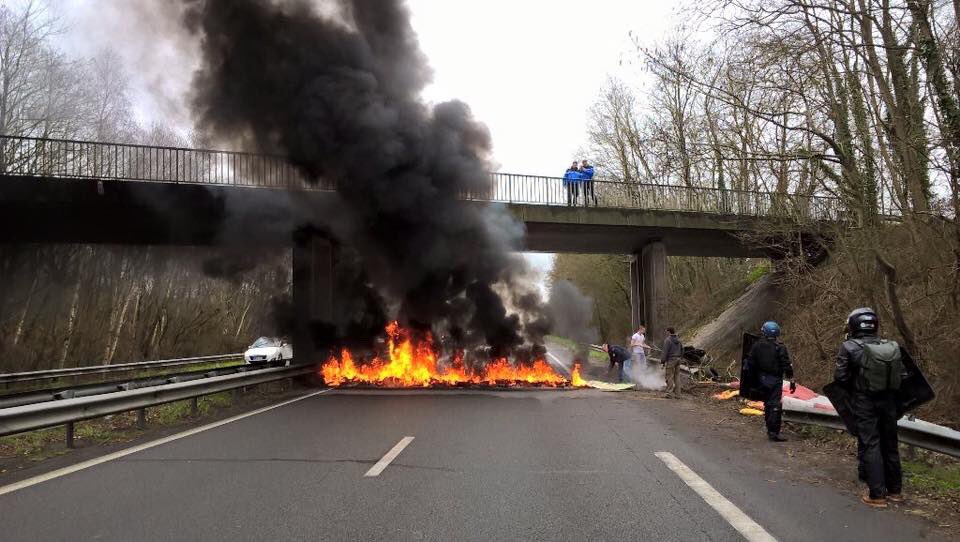 burning barricade just outside Nantes
25/2/17:
France, Nantes: 11 cops injured, windows etc. smashed, on anti-Marine Le Pen demo "…windows were broken along the route of the demonstration. Amongst the damage, the main entrance to the city hall of Nantes was tagged, street furniture was broken, including many tram shelters. Storefronts were also attacked by various projectiles and paint pots".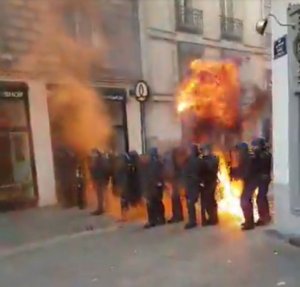 …Nantes: part of city officially declared no-go area for municipal cops "The order was sent out yesterday morning:  Nantes municipal policemen no longer have to patrol in a part of the Bottière district in Nantes, "until further notice." …Shots fired on Monday night in the rue de la Rivetterie at the Bottière prompted the city to take action. …"not to expose police when risks are known".…Yvelines: cops use tear gas to break out of being kettled by 20 youths
24/2/17:
France, Calais: between 20 & 50 migrants chuck cans at cops preventing them getting on lorries to UK
23/2/17: 
France: at least 6 high schools in Paris blockaded, and several others elsewhere, in solidarity with Theo…this says over a dozen schools round Paris blockaded. "Authorities said nine students were arrested in the suburb of Clichy after about 100 youths set two cars and a motorbike alight, threw stones and shattered a shop window ." and this, mentioning injury of deputy head of one school says 16 schools were blockaded. Final count is that 16 schools round Paris were totally blockaded, & 12 more partially blockaded. Videos here & here & here…Montpellier: at least 300 high school students walk out, demonstrate, block tramways…Seine-St.Denis: cops from BST brigade that raped Theo, attacked with concrete blocks; 1 hospitalised

22/2/17:
21/2/17:
France, Essonne: 2 cops badly injured by about 15 youths in ambush …Seine-et-Marne: cop car stoned after being blocked by barricade of burning bins…Val-de-Marne: cops get tear-gassed for once, by about a dozen youths…Hauts-de-France: bins burnt, cops attacked with and injured by concrete blocks…Yvelines: 20 or so youths attack cops  with molotovs, stones, heavy duty fireworks…Nice: firefighters stoned trying to extinguish burning CCTV camera  Elsewhere in the past, cameras have been destroyed to stop surveillance of drug dealers, but  another article (no link) said  the cameras were destroyed after someone was identified after escaping from the cops in the centre, so it's probably not drugs-related. This mentions 60 attacks on cameras in Nice in 6 years…Nice being, I think, the French city with the most CCTV cameras (at least, proportionate to the population).
20/2/17:
France, Montpellier: 2 high schools in spontaneous revolt in solidarity with the "Justice for Theo" movement; bins burnt, trams temporarily stop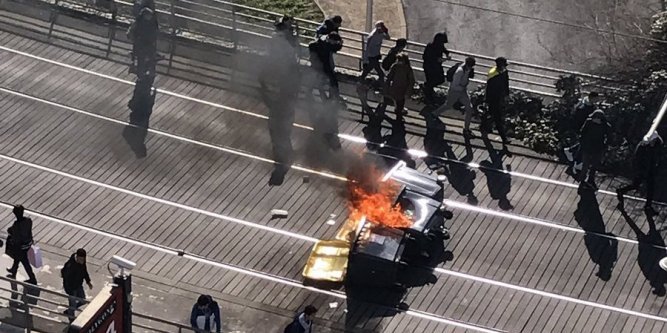 bins burning on tramway near Montpellier's main shopping centre
19/2/17:
France, Pontoise: 4 cars and 2 CCTV cameras burnt
18/2/17:
France, Paris: clashes with cops on "Justice for Theo" demo …wildcat demo – bank smashed, tags etc…Hauts-de-Seine (Paris banlieu): cop car smashed, bins burnt, etc…Compiegne (Oise): mayor's car completely burnt out, 2nd time one of his cars has been set fire to…Vannes: 10 businesses (ATMs of banks, posh shops, etc.) attacked…Bure: clashes with cops at camp against nuclear waste site project
17/2/17:
France, Morestel: cop's car burnt out just outside his home…Creil: fire engine attacked with stones…Rouen: bins burnt, skips overturned, bus shelters smashed
16/2/17:
France, Houilles: 4 cars and 6 bins burnt, projectiles thrown cops…Bobigny: cops attacked with fireworks, buses & trams disrupted, shopping centre closed, as 450 cops are deployed "It's not a demonstration – it's a revolution" declares one girl interviewed…One girl warns: "It's going to be worse than 2005. And I'm telling you that 9/3 is going to be a war." "Our justice, if we do not have it, we'll just return, that's all," she continues."

15/2/17:
France, Yvelines: 28 bins and 18 cars set fire to in 10 different areas of department…Rouen: anti-cop demonstrators set fire to bins, chuck projectiles at cops, smash bus shelter…Val d'Oise (Argenteuil): cops stopned, street furniture, bins and vehicles set fire to…similar in the north of Paris "Youths set trash cans on fire and hurled bottles at police, who used tear gas to disperse them. The Barbes metro station was temporarily closed, before calm returned later in the evening."
Alt right report here. "…the destruction is getting worse. At the beginning of the week, on the nights of the 12th and 13th, 32 vehicles were burnt out. On the 14th and 15th, some 47 cars were destroyed by fire as well as 59 bins. Police appeared to have completely lost control at times, with unverified videos surfacing on Twitter of officers being chased out of certain neighbourhoods by rioters."
Anarchist eyewitness account here: "A new gathering for Théo and all the victims of the police, in solidarity with Aulnay and all the defendants, took place this Wednesday, February 15 at 6pm, in Barbès, in the eighteenth arrondissement, unsurprisingly under high Police surveillance.
A few hundred people were present, but all attempts to start a "wildcat demonstration" [unauthorised, unsurveilled demo] failed. All the streets leaving the intersection of the Barbès-Rochechouart metro were blocked by various kinds of anti-riot cops, supported here and there by thew BAC, as despicable as they are hateful.
After a first attempt on the Boulevard Barbès (quickly blocked by the CRS protected by fences), the gathering went several times onto the Boulevard de la Chapelle and Boulevard de Magenta, in vain. Clashes took place with the police, and if the cops ate a few projectiles, they succeeded in brutally repelling us each time using a lot of tear gas sprays and grenades. As is often the case, the tear-gas was an inconvenience to demonstrators, passers-by and neighborhood residents, with no distinction between them.
During this there were a few anti-ad actions and tags, and many shouting slogans: "Cops, rapists, murderers", "Everyone hates the police", "The police is racist", "Siamo tutti antifascisti "," Justice for Theo "or" No justice, no peace ". A fire was also lit on the Boulevard de la Chapelle, later extinguished by the cops.
Not succeeding in getting out of the huge police trap, most protesters gradually tried to get out. The cops let people pass by in a dribble, often by means of a body pat-down and a search of the bags. The BAC sometimes tried to grab people, but to my knowledge they always failed, thanks to the solidarity of the demonstrators and some of the inhabitants of the neighborhood.
Word got round that another get-together was going to be at Ménilmontant, around 8 pm, to consider something more exciting.
There, around 8 pm, there must have been about 200 people, just over half of whom decided to "go wild", taking a path similar to one of the "wildcat demonstrations" on Tuesday 7 February. Then towards the posh areas. We take Rue Oberkampf, and the excitement of the atmosphere is gradually rising. Trash cans are spilled, street furniture of all kinds is placed across the road to prevent cops from following us easily.
Roughly the same slogans as Barbès are shouted (with some others like "One cop, one bullet, social justice" [TN: it rhymes in French] demonstrating a certain anger). Tags appear on the walls ("Revolt for Theo", "Death to capitalism", "Fuck the police"). On a bus, an ad for a prison guard job is detourned with paint, as it should be (with markers and paint bombs, it continues to recruit for one of the worst jobs that exists on this planet …). CCTV cameras are repainted, journalists and their various cameras kept as far away as possible.
The more we advance, the more collective determination is felt. From the material of a construction site strewn along the road, a lot of windows are attacked: banks, real estate agencies, luxury stores, all this on Oberkampf street then rue des Commines [and it is with pleasure that we saw, passing after the demo, the broken windows of the hipster shop "The Paris Commune" NdAtt.] … A self-reduction [ie looting] of the clothing store Melchior takes place to the cheers of the protesters! Shirts fly around in the middle of the wildcat demo.
A little before 9 pm, police sirens are heard and the first vehicles of cops appear. There's a bit of a panic on the protest side, it scatters in all directions, and the cops arrive in numbers everywhere, by scooter, car or van. It is really hot, several arrests [according to mainstream media, there were 5 arrests -TN].… The cops chased us to the quays of the Seine and the island of Saint-Louis!
It's something to think about for the next time. Last week it had already been complicated to dodge the cops in this bourgeois neighborhood with its half-deserted streets. This time it was even more stressful. These neighborhoods are not known…It's great to attack them, they deserve only our class hatred and the expression of our anger"
14/2/17:
France, Haut-de-Seine & Seine-St.Denis: several clashes in different banlieus just outside Paris – Bondy, Epinay sur Seine, Elancourt, Deuil la Barre, Nanterre, Chanteloup-les-Vignes, Clichy-sous-Bois et Asnières…More on Nanterre (post-riot video) "Street furniture was badly damaged and several cars burnt out" …similar in Sarcelles and Goudainville…also Yvelines "Six garbage cans and nine cars burnt at Sartrouville, Mantes-la-Jolie and Chanteloup-les-Vignes, but also projectiles and ambushes of the police. In Sartrouville…a group of about forty men approached the police and threw projectiles at them. Officials responded by firing grenades and flashballs. The evening continued with a series of garbage fires in the HLM du Plateau sector. In Chanteloup-les-Vignes, at 2:25 am Place des Quatre-Vents, a stranger called to warn that a group of thirty people armed with stones and iron bars had attacked the Job Centre and the Leisure Centre. When the policemen arrive, they get stones and Molotov cocktails and heavy duty fireworks thrown at them. They retaliate, retreat and call for reinforcements. Fifty-three policemen arrive from neighboring estates. Several burnt-out cars blocked the road in order to prevent the progress of the police. They finally got the better of the troublemakers. There were no injuries. Multiple impacts were noted on the windows of the two municipal buildings… The gate of the police station was dented, probably with the aid of a car used for ramming that was not found. The police left the scene at 4 am and the estate had regained its composure during the night. The police also were the target of projectiles at Poissy, Maurepas and Versailles." [all these are the night of 13th to 14th]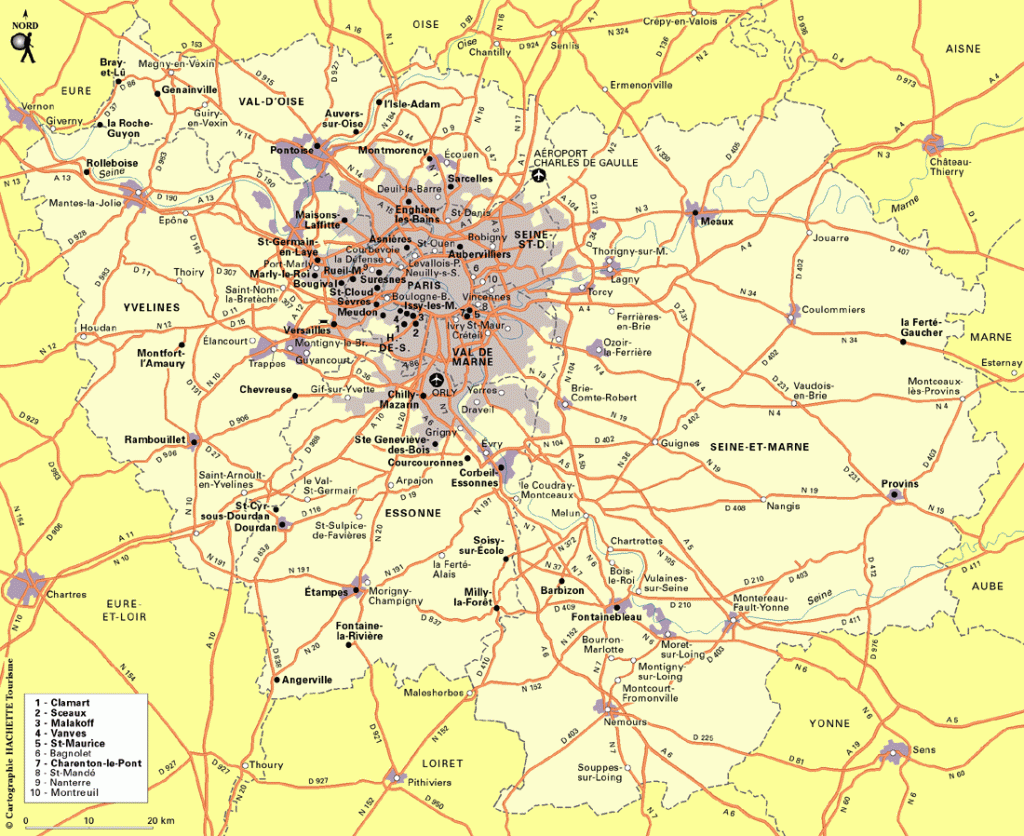 …France, Hauts-de-France: 3 cops attacked, 1 hospitalised, during attempt to arrest migrants organising smuggling routes at refugee camp
13/2/17:
France: various riots in different areas of Yvelines……Maine-et-Loire (Angers): 3 vehicles burnt, projectiles thrown at cops and tramway…Essonne: police attacked "A police car was the target of projectiles, before returning to the police station to change vehicles. Near the police station, some 20 people then set fire to two vehicles in the middle of the roadway, throwing cobblestones and Molotov cocktails in the direction of the building...Chambery…Clichy-sous-Bois, Ulis & Drancy…Haute Savoie (Scionzier): firemen stoned by about 20 youths setting fire to wooden doors
12/2/17:
France, Ile de France: riots against rapist cops continue in 30 different banlieus round Paris, and in Rhône, Aveyron and Savoie Video here of Argenteuil
11/2/17:
France, Paris: cars burnt, shopping centre occupied, etc. as "protesters effectively shut down central Paris"….Interesting eyewitness report

…Nantes: new police station re-painted More here "The riots…affecting the Paris region extended to Breton territory on the night of Friday to Saturday.…ambushes against the police forces and firemen. Around forty individuals, hooded and armed with iron bars, set fire to garbage cans and violently attacked the security forces who came to ensure the security of the intervention of the firemen. Paving stones and molotov cocktails were thrown at the police."
Nantes
…Toulouse: estate agents car and construction site digger belonging to Eiffage prison construction company destroyed by incendiary attack

9/2/17:
France, Noisy-le-Grand (Seine-Saint-Denis): home-made heavy fireworks chucked at cops, several fires, in clashes over cop rapists …Paris (Menilmontant): 2nd night of anti-cop protests involving bank windows smashed, small fires (video) (in fact, 8th – 9th Feb)
8/2/17:
France, Seine-St.Denis: more cars burn as riots against rapist cops continue in different suburbs of Paris…Rennes: bins burnt, missiles thrown at cops, during demo in solidarity with Theo, guy raped by cops See also this in English "Rioters burned dozens of cars and set fire to a nursery school….Theo appeared on TV saying an officer rammed his baton "into my buttocks on purpose". Police argue that his injuries are consistent with an accident, in which his tracksuit bottoms fell down and the baton penetrated him…As well as damaging the nursery school and a car salesroom, youths also used a shopping trolley full of petrol bombs in their attacks" People are usually shocked by the fact that nursery schools get targeted in some of these riots, most notably in 20050, but a lot of nursery schools in France can be quite racist and authoritarian in their attitudes to young kids.
7/2/17:
France, Seine-St.Denis: riots spread to different parts of suburb, 11 cars and several bins burnt, police station vandalised, attempt to burn school….Paris: bins burnt, clashes with cops on demonstration in support of Theo (youth raped up arse with cops' truncheon) "Some brandished placards saying "cops=rapists" and "Protect and serve…my ass!" [the latter in English]
6/2/17:
France, Seine-St.Denis: KFC burnt along with 3 cars and some bins on 3rd night of riots against rapist cops in Paris suburb …See also this in English
5/2/17:
France, Seine-St.Denis: several cars and bins burnt, cops attacked with heavy duty fireworks for 2nd night after cop rape of youth; youth still in hospital
4/2/17:
France, Seine-St.Denis: car burnt, bus shelters smashed, street lights fused, after cops rape youth up the arse with truncheon and are filmed doing it
29/1/17:
France, Seine-et-Marne: cops attacked with projectiles, local councillor beaten up during illegal rodeo…Lorraine: youths burn bins after rap film clip is cancelled
28/1/17:
France, Pamiers (near Toulouse): a dozen or so youths attack cops with metal missiles
26/1/17:
France, Yvelines: 11 masked people attack police station; gate forced open, cop car burnt
20/1/17:
France, Essonne: cop hospitalised after youth throws paving stone through patrol car windscreen
18/1/17:
France, Montreuil (on edge of Paris): squatters evicted under orders of Communist Party/Front de Gauche town hall in -8°C temperatures, in a country where there's an etiquette of stopping evictions in winter – in fact, evictions are legally impossible for previously rent-paying tenants, but not to squats, though it's very unusual in winter even for squats)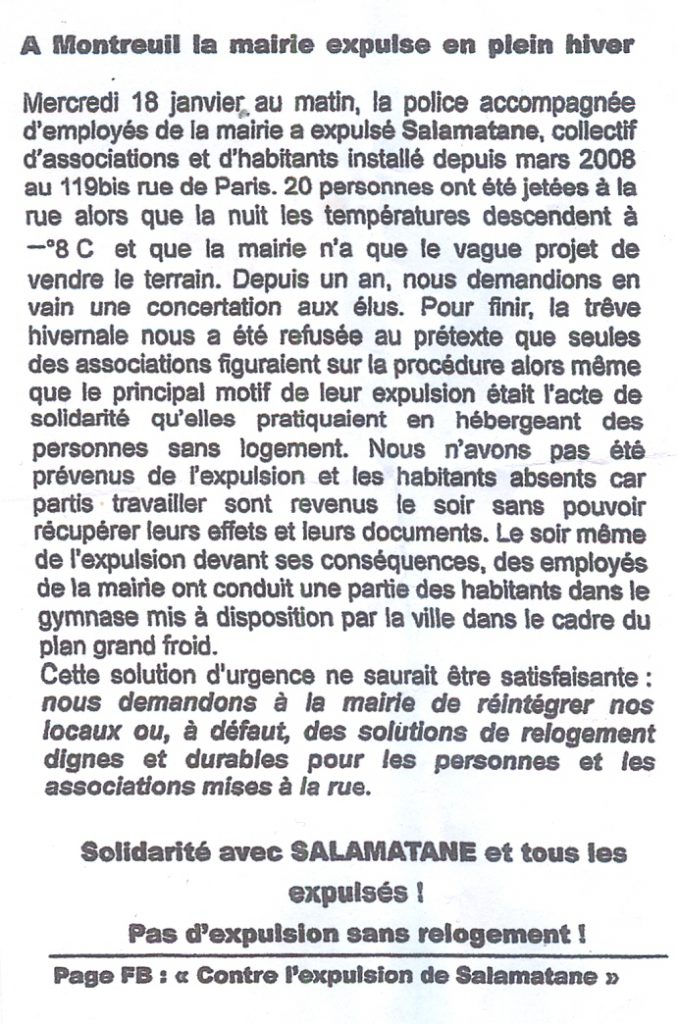 9/1/17:
France, Mantes-la-Jolie: heavy-duty firework thrown at cop car
7/1/17:
France, Yvelines: filming of rap music clip ends in youths on estate stoning cops
6/1/17:
France, Bobigny: 3 cops beaten up during ID control; one gets serious eye injury
5/1/17:
France, Valence: 10 kindergarten, primary, middle and high schools have their locks blocked by action in solidarity with revolt in prison (the trial of the "mutineers" starts this day) "Tags left on their walls, as well as a tract …Various messages appeared, such as: "Prison is death. Life is in revolt. Solidarity with the mutineers of Valence and elsewhere "," In prison the bad guys are above all the screws "," Tired of homework, long live freedom ", "Every age wrecks their cage "," Long live the mutineers of the prison of Valencia – trial today, 6/01 to 14h ", "Neither prison nor religion, long live mutiny and insubordination" (on a private catholic school).…
Tract left at schools:
" Hello,
Allow us to waste a little of your time to speak of those from whom the state steals all their time, when it is not their life. It's happening here very close to you, but also everywhere in France and elsewhere. Yet we do not often talk about these places where the government puts aside those that it considers detrimental to the smooth running of the system. The recalcitrants who no longer accept being crushed, those who initiate a violence which the powerful ones would like to monopolise, or simply the undesirables that can easily be removed in order to perpetuate the established order.
We do not often talk about prison, yet it is part of our lives. When one passes between its walls, when one goes to see a relative in the visiting area, when one submits to its threats. Like the cops and the legal system, it is one of the gears of a machine whose aim is to make us accept without complaint a world based on exploitation and domination.
In recent months rumors have come to us from inside the French prisons. These are the cries of some of the forgotten who try to break through the walls and barbed wire. Vandalism, revolts and uprisings have rapidly exploded since last summer. It seems that some have decided to return some of the violence back to the people who imprison them.
On 25 September at the central building (for those destined to long sentences) of the penitentiary center of Valence, a mutiny broke out. A keychain was stolen from a screw under threat, the doors of the cells were opened by mutineers, furniture and cameras destroyed, fires lit.
Friday, January 6, three people will go to trial at the criminal court of Valence, accused of being the leaders of this revolt. By designating the guilty ones, the law seeks both to punish heavily by example (they risk up to 20 years in prison) and to minimize the collective character of the revolt. Reducing what happened to individual deviations helps to hide the reasons for revolting against imprisonment. This was when the mutiny occurred in a context of general tension within the prison and a second mutiny occurred on 27 November despite the transfers that followed that of September.
To designate leaders is also to satisfy the screws who will be able to generously round up their monthly wages with damages and appease their thirst for revenge. Flatter them a little so that for a moment they stop whining about the conditions of a job they choose to do knowing it is akin to that of a hangman.
Maybe it's time to listen attentively to what's happening inside prisons. Not to turn your eyes away again just hoping not to be the next one. To bring our solidarity to the mutineers and those accused of being so. For example by coming to support them during their trial, but also by fighting daily against the disgusting shit that is prison.
SOLIDARITY WITH THE MUTINEERS OF THE PRISON OF VALENCE AND ELSEWHERE"
…Toulouse: cops teargas estate after they're attacked Possibly they were attacked by drug dealers, though this is what they always say; teargas enters people's flats.
Events from 1/3/16 until the end of 2016 are given here
And events from February 2016 till April 2013 are now here.
Original notes and introduction
The following used to be at the top of this page but has been put here to give the chronological events greater prominence:
This is simply "France: a reader" with a new title & a note about the current movement; as always the chronology is the latest news about events in France
france: a reader (updated regularly)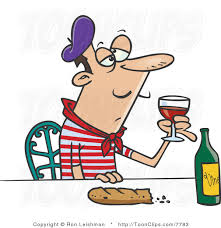 There are 4 sections to this page: a constantly updated chronology of events taken from the News of Opposition page, a list of texts about France on this site, some quotes about France from texts on this site which otherwise are not directly concerned with France, and a list of interesting historical texts about France not on this site. This is very far from being a definitive list (not that there ever could be such a thing) – things will be added constantly.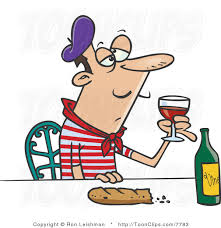 Paris 1968: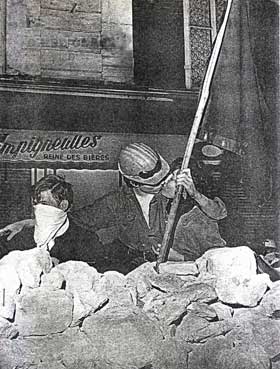 romantic nostalgic yearning for bliss was it that day…
It seems worthwhile putting all the entries about France from the News of Opposition page here in one place, entries going back to March 2013. Here you'll find, alongside the confrontations with the cops over the new Labour Law and innumerable clashes in the banlieux, strikes, official and unofficial, farmers struggles, ecological struggles, struggles of cultural workers, etc. etc.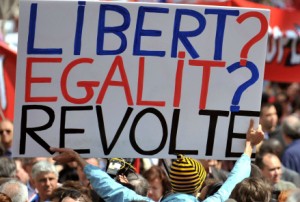 Note added 20/4/16: the current movement (which started in March) is certainly not as extensive as what happened exactly 10 years ago in the movement against the CPE in 2006 – it doesn't involve as many people, the strikes are hardly followed, etc. It would be rather typical to be over-optimistic about it so far, to exaggerate its extent and its general influence. The most interesting aspects are the high school student movement, which are almost invariably organised independently, though there's a high school student union that also seems to be part of it, predictably usually amongst the most pacifist elements, always trying to "calm" things down. Since the 16th April, half of the high schools and universities in France are on holiday, and given that there's very little happening outside of these institutions, it's likely that significant events will not start up until May (hopefully: even significant revolts nowadays often seem to simmer out rather than flare up). However, the casualised workers in the culture business ( "intermittents") are carrying out various occupations and have an interesting history over the last 13 years (see "Culture in danger – if only"), despite their incredible naivety towards unions; and the "Nuits Debouts" (assemblies taking place at night in squares in the country), despite their citizenship ideologies, their bureaucratic mentality and tendency to drop wet blankets on anything other than talk, will now and then have people who suggest going off on a wildcat demo during the night, and these things can develop into something else. The problem, as always, is the fact that the current workforce are largely passive, indifferent or scared, despite the horrible future them and their children face.
Texts about France on this site
2015: French letters: the Paris massacre and Islamophobia
A translation of 2 leaflets written in the immediate aftermath of the Charlie Hebdo assassinations. " In this society "freedom of speech" does not exist: speak out against your boss, or a cop, or your teacher if you're a kid, and you'll discover how far this "freedom" gets you. … in France there's a law against "outrage", which means that you can be prosecuted for insulting anybody who's a paid civil servant…. despite the fact that the international media focus almost exclusively on the journalists killed, in a society divided into the scene and the unseen, the male cleaner and proof reader who were killed have been – with a few exceptions – photochopped out of the picture"
"Tuesday, 26th April 2011, saw yet another suicide of a man working for France Telecom, this time by self-immolation in the parking lot of the France Telecom offices in Mérignac near Bordeaux. The picture above shows the exact place Rémi L. set fire to himself – beneath what was architecturally designed to look like a cross. The glories of sacifice. Ironically part of the guy's most recent job requirement was to assess stress levels within the company and their remedy. Some remedy!…Management have been rehearsing and performing their show of concern for several years now, but behind this facade, they are clearly caught up in the logic of reification which they are structurally incapable of opposing. All they can do is put in place the psychologists and social workers and stress assessors and all the other professional reformists of daily life who are also structurally incapable of getting to the root of the matter – unless they subvert their prescribed roles of course. In this case, one of them has fallen victim to what he was trying to cure. Under suicide capitalism, the increasingly intensified logic of commodification of everybody and everything not only drives those at the bottom into mass depression and the world further into the abyss of environmental disaster, but also effects the individualist careerists who try to rise above the whirlpool – the cadres."
2011: The Paris Commune Reflections 140 years after
"The strike… at Jean-Baptiste Dumas High School in Alès …started on Monday 27th, with the building of barricades 3 metres high around the doors of the school. The pupils then marched to other schools, including private ones, and several hundred 'kids' (15 and up) came out at different ones, amassing into at least 4000 demonstrating in the centre of the town in front of the prefecture and elsewhere. A cop on a motorcycle, surrounded by angry teenagers, accelerated quickly out, narrowly missing many of the demonstrators. At one private school, about 4 kilometers outside of Ales, over 200 kids came out on strike before the headmaster locked the others inside. The CRS were called and threatened the demonstrators outside with tear gas, who were trying to break down the doors, forcing them to disperse. Monday to Tuesday night, some of the students slept in tents in front of the schools (though a hot autumn during the day, it's pretty cold at night). These demonstrations continued into Tuesday, including another one in front of the prefecture where stones were thrown and a school student arrested. At 7.45 p.m. four truckloads of gendarmes and 8 truckloads of CRS cops came along to the Jean-Baptiste Dumas school and dismantled the barricades, whilst just 6 teenagers "occupied" the roundabout in their tents in front of the High School, forcing fairly long drawn-out negotiations between Alès's 'sous-préfet' (vice-president of the prefecture) in person, along with the commander of the cops, a leading councillor and CGT union reps….The demands are not yet a critique of miseducation, or of the futureless world this miseducation is preparing kids for, but totally within the boundaries of normality: withdrawal of the project of abolishing the national plan for lycées, against over-sized classes and withdrawal of the plan to extend retirement age to 62. But, being self-organised and a practical break with normality they point to a different perspective."
"Nomad life is no longer compatible with modern life in Europe" – Francois Fillon, 30/8/10. There is no "specifically Roma problem" and the attacks on them are not "specific attacks", as the specialists in manipulation (UMP, etc.) and the false opposition (the left, the liberal humanists, etc.) would have us believe they are, but a means of dividing so as to better rule. Those who, actively or passively, follow and accept the discourse of either side in this pseudo-debate, are ultimately as complicitous in their own misery as those most in the forefront of this "debate".
"Social contestation will increasingly become possible and the more the European crisis continues with its domino effect the more the State will want any gatherings of young people repressed before such gatherings become a good pretext for attacking this stupid society. In Montpellier, the whole area was immediately surrounded by the police observing the intoxicating mix of marijuana and alcohol, and the mayor, drunk on the most destructive drug in the world – hierarchical power, proudly claimed that she watched it all in great detail through CCTV."
2010: howlings in favour of ourselves: a practical critique of situationism
"Friday, 5th March at Théatre Grammont near Zenith just outside Montpellier, France, a few people preferring to entertain themselves rather than be entertained, decided to take the piss out of the ridiculous spectacle of the critique of the spectacle "Scanners" with its pretentious subtitle "Howlings in favour of Guy Debord"."
2006: all quiet on the french front
"France has been bubbling up on and off since 2003 (see "French movement 2003", "Culture in danger – if only", "Lycée movement 2005", and a leaflet on the riots of November 2005 ). The pretext for the latest movement is, in itself, fairly unimportant: a change in the labour laws which makes it possible for bosses to sack under-26-year-olds in the first 2 years of employment without giving any reason (the name of this contract is CPE; Contrat Première Embauche[1]). Even the French equivalent of the CBI admits that it doesn't change much, except for small or average-sized private companies (on March 22nd, the employers' movement Ethic "deplored" the "catastrophic consequences" of the CPE on the image of employers). But anyone who knows anything knows that if they get away with this, it'll be extended to all workers, as has happened in Germany"
2005: brief notes on the movement of secondary school students
"In mid-April 2005, a Parisian annexe of the Ministry of Education was invaded by between 150 and 200 lycéens (secondary school students from the age of 16 upwards), and the offices were wrecked, with virtually every computer smashed, two being chucked out of the window. When the CRS (riot cops) arrived, the students quickly rushed up the stairs to the roof, quickly covering the stairs behind them with oil and liquid soap that they'd found there. As the cops slipped and fell, a fire extinguisher was chucked at them"
2004: culture in danger? – if only…
""This little army threatened to burn all the theatres if they did not close immediately, saying that the French people had no right to enjoy themselves in the midst of public misfortunes and that they no longer had any reason to amuse themselves. All theatres were duly closed; moreover no actor would have the courage to appear on the stage in the midst of the general alarm inspired by the certain prospect of tragic events."– Professor Bellfroy, Paris, July 12th 1789….Last June and July (2003) the 'intermittents' launched the best practical critique of modern culture for a long time – by shutting down festivals that have been going on since shortly after the Second World War. As insurrectionaries discovered over 200 years ago, truly enjoying and amusing ourselves involves also attacking the official market-enforced and State-protected forms of enjoyment and amusement, the representations (but not the reality) of life. These representations are the essence of culture so it's ironic that the 'intermittents' should dress themselves up in the same language as the State and the market – accusing the State of putting 'culture in danger', pre-empting the inevitable accusation the government launched against them."
2004: the poverty of french rock 'n' roll
"Are the French less capable than European-Americans or Britons of recreating music of African-American origins? Does the peculiarity of French culture impede the reproduction of a music founded in the alienation of first a racial minority and then a rootless, alienated American population? The explanation frequently offered by French musicians and fans of rock and roll is that there is indeed a cultural limitation in France: the language. In their opinion, the phonetic structure and monotone stress patterns of the French language make the articulation of the emotions, the feeling at the heart of African-American music, virtually impossible. But this explanation is inherently contradictory. Artists possessing will and talent can overcome problems of technical execution. Most importantly, feeling is not subordinate to technical ability; and, as it happened, rock and roll was successfully performed in France even before it found a large market."
2003: notes on the movements in France, June 2003
" On one demo I asked someone, a CNT anarcho-syndicalist, what was going on in the way of occupations and assemblies and he looked at me as if I was from the moon – "It's impossible to know what's going on in France" he said. So, as everywhere else, if you don't have friends and contacts in specific areas where something is going on, you're effectively reliant on the dominant media. Superficially, at least, the media do seem to publicise more things than they would in the UK, but maybe it's because there's a great deal more going on here. The CNT has 5000 members, though admittedly concentrated in limited areas, but they still don't know what's going on. For example, 18 days after it had begun, the telly mentioned for the first time (and I'd not seen it amongst any of the 'alternative' media), a total dustman's strike causing massive rubbish pile-ups in Brest"
1996: france 1995-6: the strike and after
"For the leadership of the trade unions, who are always hostile to individual and collective initiatives which escape their control, the decision to call a strike was the result of exhausting negotiations conducted with all the pedantry and ceremony proper to democracy with the objective of gaining credibility from people concerned. But individuals not lacking in decision already know from experience that the formal unanimity thus achieved doesn't signify anything in itself. Without waiting for the approval of all their still hesitant comrades, they not only went on strike but also began to seize the signal control centres. Such initiatives were denounced by the SNCF management as irresponsible acts "which put the security of the rail network and equipment at risk" whereas it is them who have been responsible for numerous railway catastrophes on the lines which don't pay – by letting them fall into disrepair. In reality, such acts reveal the vulnerability of the transport network which is more and more centralized and computerized. The generalization of the latest technology is at once the source of the power and the general weakness of the system. It is a weapon of capital aiming to domesticate humans and to render their presence more and more obsolete. At the same time, all that was necessary was for a handful of individuals to occupy the control centres and signal boxes, carry out some basic acts of sabotage, like erasing the computer's memory, for the network to be paralysed in its entirety."
1987: france goes off the rails
"NOVEMBER 1986, PARIS: The State's anti-terrorist strategy means that almost every time you go out in the evening you're virtually sure that you'll get searched by the cops…Over the previous months, two drivers have been killed by the cops for going the wrong way down a one-way street…Even jumping the Metro ticket barriers have the cops pulling out the shooters…Paranoia…suspicion…"Two years minimum before anything could come to life" ….Hell. DECEMBER 1986, PARIS: …..and people are beginning to talk excitedly with one another once again. Of course, nothing's that easy, and explosions after years of repression tend to be full of confusion, which is why we've produced this: to set the record straight about what we know of these events this last winter, to help clear up this foggy mess." This text contains leaflets made by vocational "students" training to work in electronics factories, written with a lot of help from their situationist-influence "superviser". They called themselves "the Lascars of LEP" (Lascars meaning "rascals", though we translated it as "likely lads"). A film made with the Lascars of Lep is here, A note about this film here.
1985-6: os cangaceiros: freedom is the crime that contains all crimes, and other stuff…plus a critical introduction (2013)
"There's a lot of mythology surrounding this group, and some of it deliberately promoted by them themselves. But some of the myth also comes from those who merely want to be known for simply associating with them, to pump their own history up with some "by your notorious friends shalll ye be known". Undoubtedly they did some excellent exemplary stuff – like this text I'm putting out here, supporting the prisoners in revolt in France in '85, forcibly stopping trains and distributing this text in the trains in order to get maximum publicity for this solidarity action. Or their theft of architects' plans for prisons. They also provided rebels, mainly those in the French squatting scene, with some good ideas on how to expropriate the expropriators"
_____________________________________________
Other pertinent quotes from texts which otherwise are not directly concerned with France
"At the moment of writing (29th September 05) in Marseille, and in Corsica, there's a mini-insurrection over privatisation and redundancies. A few sporadic mini-barricades are going up over Marseille and at Bastia in Corsica, some small burning obstacles here and there on and off all over the place over the last 48 hours, trucks chucked in the harbour, some riot cops pelted with stones, a blockade of the two ports, solidarity strikes with dockers and petrol refineries coming out in support of the ferrrymen sailors theatened with privatisation – 40 of whom hijacked (unarmed) a massive ferry ship, a virtual mutiny, and took it to Corsica where it was intercepted by three French navy ships, helicopters and armed masked French soldiers, arresting them all but holding only 4 of them after demonstrations of solidarity with them in Marseille and Corsica." – from here
"It's useful to consider the examples of others, not as an ideal to be aimed for, but as something worth adapting to different circumstances. A critical knowledge of other people's struggles helps to convince us that the danger is not overwhelming; that there will always be more security in organising some innovative subversive activity than in repeating past mistakes. For instance it's worth looking at some of the struggles in France. Like, for instance, the French railway workers' strike of '86 – '87. There, over a month before the strike, a 31 year old class-conscious train driver put out a petition calling for a pledge from other drivers to an indefinite strike, listing the various demands. It was asked that this petition/pledge be reproduced and passed round by those in agreement. It received an overwhelming response, so later a leaflet was produced by other train drivers, 2 and a half weeks before the strike, also to be reproduced and passed around: it clearly set out the strikers' demands, stating exactly when the strike would begin, asking the unions involved to support the strike, threatening them if they didn't. The strike began without a single command from the unions and developed partly by means of daily assemblies of strikers held in each station, in which no particular striker held any greater power than any other. Where delegation seemed necessary, it was subject to immediate recall by the assemblies. Of course, many exemplary actions – such as sahotage – were carried out without discussion in the assemblies, and sometimes against the wishes of the majority. But, without wanting to make out that assemblies and co-ordinations are some insurance for active commitment, they did provide an environment of direct communication which made manipulation difficult and provided the strike with some continuity, although it must he said that there was often a lot of suspicion towards 'outsiders' and a lot of division amongst strikers along the lines of their different work roles and later developments of co-ordinations in France sometimes had a reactionary content – e.g. railway workers striking in support of a ticket collector who'd shot and killed a guy who'd aggressively refused to pay his fare. So they're no fixed model – just worth adapting." – from here
" French culture combines a highly rationalistic mode of discourse with great value placed upon verbal articulation. In an important way, every educated French person is expected to 'rap' …Those who possess African, North African, Caribbean or other third-world cultures in addition to being French, combine the rhetorical training peculiar to the educational system with more "traditional" oral cultures…" – L. Portis, "French Frenzies".
Rap in France has recently been given a boost in its rebellious image. A leading government party politician, backed by 200 senators and deputies, has recently started the prosecution of 7 rappers, including the most famous – a rapper called 'Mr.R.' (Richard Makela) for insulting France, for saying that "France is a bitch, don't forget to fuck her till she's exhausted/You have to treat her like a slut, man…I piss on Napoleon and on General de Gaulle". This combination of genuine hate and a crass traditional masculine way of expressing it has been the classic content of rap for years. Undoubtedly these words are an insult – to 'sluts' and to women for liking sex – the usual hypocritical mysoginist crap rap. France and Napoleon and de Gaulle are obviously unquantifiably worse than 'sluts', as are all countries and all their leaders. The compulsion to shock sometimes hits the right target a bit – particularly when it's attacking France, the cops or the media. But it undermines anything valid by expressing itself so shoddily. By being often arbitrarily provocative for its own sake, it illuminates little because its aim is always to sell, to turn anger into a commodity, to popularly represent anger in a traditional masculine way. Sadly, it also reflects some of the stupidities of many men (their deformed attitude towards their own sexuality, as well as women's) , not only in these 'ethnic' groups, but amongst many French men generally.
The prosecution got the go-ahead post-riots(i.e. the riots of November 2005).
Is this a bizarre self-delusion on the part of the State? Do they think that attacking rap is necessary because it genuinely incites riots? Surely it is riots that feed rap, which then, through the inverted logic of the need for this society to find hierarchical scapegoats/Leaders, is seen as the instigator. At the same time, French rap seems to be more genuinely on the edge of merely teasing with an image of violence and a heart-felt hatred of the system than, say, in the USA, probably because France is often more overtly racist, and up to now hasn't been forced to adopt much of a margin of integration like the States was after the far more threatening riots of the 60s (in the US the State made a conscious attempt to create a black middle class, a social buffer zone; a strata of black representation and a social position to aspire to). For instance, the 'political' rappers are almost invariably banned from radio and TV (so far). And yet, at the same time, some municipalities have been providing financial subsidies to selected rappers for some ten years now, so in many ways it's a French version of the very usual stick and carrot, sometimes 20 years behind everywhere else, sometimes very modern. This is partly because of the vast across-the-board rebellion in many different aspects of society and of life there. And the need to use race as a basic divide and rule makes for some very intense contradictions: French society has to brutally repress and falsify the non-whites (e.g. by caricaturing the explosions as simply 'preying on their own kind' or 'shitting on their own doorstep') at the same time as enticingly integrate a few of them, providing 'hope'.
Some American Leftists complain about the lack of affirmative action there, ironic since it is the obnoxious right-wing Presidential hopeful Sarkozy who is now pushing for positive discrimination as a way of providing "hope" ("hope is the leash of submission" as a 60s revolutionary once said). Mr.R. has as guest co-star on his last album – "Politically Incorrect" – the head of the Trot organisation, the LCR (which, faced with the non-existent, and manipulated, fantasy prospect of the National Front coming to power, urged its audience to 'Vote for Chirac', as did quite a few 'anarchists' – about as 'politically incorrect' as you can get). Are there those in the State who think it's worth boosting this professional image of opposition? Isn't French rap simply an unthreatening image, like the LCR – essentially representing the poor, and almost always in terms of some amelioration of conditions, rather than in the radical destruction of these conditions (French rap, when it tries to be positive, calls for work and respect, as if the two are compatable)? Mr. R. himself appealed to this unthreatening image when he said, "There are plenty of songs that are part of this country's artistic heritage and every bit as virulently anti-France, and nobody complains." – but then when possibly facing 3 years inside, you use such democratic arguments. Repressed, rap appeals to such democracy within a limited narrow perspective of a moan about cultural censorship – when most people have to shut their mouths all the time when they work and can never appeal to the privilege of a specialised cultural bubble -"Hey – I'm an artist!". At the same time it reflects something more general – an increasingly common individualist consciousness which thinks only of one's own misery: everybody wanders why they are the 'exception', why the State and the system is picking on them even as it 'picks on' millions. This is essentially because unless there is common class struggle, all these miseries become just little you on your own, or in your little unit, trying to fight your way through the jungle. And rap artists too have to defend their corner. But there's a difference in a rap artist and other workers. Workers who rebel for the most part only identify with the money they get from the work, not with the alienation they produce. Rappers pretend to rebel but identify very strongly with the commodity they produce: it's them themselves.
Sarkozy has already, some two years ago, tried to prosecute some rappers, for, amongst other things, "anti-semitism" (in fact, for supporting Palestinians against Israel) but without success (though a few years back, in Toulon, the National Front mayor and judge did manage to successfully prosecute some rappers, who got 3 months inside, and were banned from playing for 6 months which shows how insanely racist France is). Maybe the State thinks it's worth experimenting with trying to terrify everybody into silence? Regardless of the intention, the effect is the same – providing rap with a post-riot image of genuine rebellion and and a post-riot role model for getting out of the hell-hole estates. Mr.R. himself no longer lives on the estates – despite his continuing need to claim to represent these estates; after all, it's the estates that provide him with his income, and the announcement of Mr.R.'s intended prosecution has already boosted sales, surprise surprise.
This was written at the end of 2005. In July 2006 the prosecution of Mr.R was dropped." – From here
"The recent popular French film Les Choristes depicts a pion from an earlier period – early 50s. The film takes place in a vicious boarding school for 'difficult' kids, often in trouble, orphaned or just a burden to their parents, where the 'pion' is a middle-aged classic sympathetic authority role. The clichéd, oft repeated, nice authority role in a nasty dictatorial sadistic environment, enforcing a milder form of discipline whilst reluctantly going along with many of the heavier aspects but also 'revolting' against it, is the main character. This revolt takes the form of secretly (against the tyrannical headmaster's wishes) conducting and helping the boys sing as a choir, which of course gives most of these previously ignored and often brutally suppressed kids a way of 'expressing themselves', at least two of whom later become world famous musicians themselves. And they 'express themselves' so beautifully too: the record of the film is a top seller. The (unpaid) teenage choir is followed by fans singing the classical-style tunes. The real choirmaster who teaches this choir to perform in the film and now in concert halls is not at all sympathetic – but a typical rude humiliating bossy choirmaster openly displaying his nasty manner to the documentary cameras. But the kids seem to like producing a beautiful product despite the heavy social relations, which aren't even based on wage slavery – just slavery straight. Perhaps part of this is their parents' pressure, but undoubtedly the biggest seduction for enduring this is the fact of becoming celebrities, the compensation for miserable social relations. The tautological nature of this society is thus well affirmed by this well-made film: culture, the production of 'beauty', appears as the way out, though the hierarchical relations involved in producing culture are just as ugly and bad as the misery for which culture appears to be the way out. This film comes 80 years after another, far more innovative and – for its time – subversive, film which also portrays a sympathetic pion – Zero de Conduite ("Zero for Conduct") by the French anarchist Jean Vigo, a silent movie from the 20s which influenced the recuperative movie "If" in the late 60s; Vigo is now accepted within the mainstream of French culture, with media libraries named after him – but that's down to the enormously recuperative power of French capitalism, in particular its culture (mind you, what, worldwide, isn't co-opted into the system in some way or another over half a century, and often a lot less, afterwards?) " – here
"At about the same time that Moore was sitting down in the streets of Cannes to show his CGT-sponsored 'support' for the 'intermittents'* the increasingly precarious intermittents themselves were expressing an interestingly innovative critique of the cinema – occupying one of them, only to be evicted, beaten up and arrested by the cops." – here
"The French equivalent [of Big Brother] was greeted with denunciations of its totalitarianism, its disrespect for human dignity, its public humiliation, its voyeurism. Though some of this sounds like classical French bourgeois philosophy, this perspective does carry within it the germ of a genuinely revolutionary desire which is still there. Which is one reason why some protestors dumped rubbish bins in front of the offices of the commercial channel that broadcast it, protesting at "trash television", whilst riot police launched tear gas against 70 protestors who tried to storm the loft area it was being broadcast from." – here.
"During the movement against pension reform in France the cops applied certain methods which were qualitatively very different from those which had been used in the past. No more police lines encircling everyone. No more threatening legions of cops. No more tear gas bombs emptying public squares. Instead we saw a few plainclothes cops discreetly moving among the demonstrators, arrests which were as singled out as possible, small cans of tear gas which the cops used to spray the eyes of the rare undisciplined proletarians in such a way that it wouldn't hurt those standing near him. In this way the demonstration took place, expressing its democratic right with no outbursts whatsoever. Ten minutes after the end of the demonstration had been called ( stipulated in the negotiations with the prefect) the public square was clean and empty. It's certainly efficient." – here
_______________________________________
Other useful historical texts in English
This is very very far from complete
The Great French Revolution by Kropotkin
History of the Paris Commune of 1871 by Prosper Olivier Lissagaray
The strikes of 1947 – a Wikipedia page
Various documents from May 1968
Nous sommes tous des casseurs (1994)
The following in French is useful for research into the development of the unions in the 1940s:
http://www.oclibertaire.lautre.net/spip.php?article135 – a chronology of the 1947 strikes (made by Organisation Communiste Libertaire – OCL) – there are also many things on the agreements signed with the State, etc.
an article by OCL:
http://www.mondialisme.org/spip.php?article1569 (ending with the creation of FO : a split from the CGT)
 https://fr.wikipedia.org/wiki/Gr%C3%A8ve_des_mineurs_de_1948 –  on the 1948 miners' strike (which was huge)
The following is a personal testimony of the workers' movement after 1945, mentioning the dynamics between the CNT, the CGT, the splits, etc.: http://www.autrefutur.net/Contribution-a-l-histoire-de-la  (the guy was a member of the CNT, which saw a huge boom in '45 since it opposed the CGT – but lots of members, including the author, thought labelling the organization as anarchist would isolate them from workers or militants – there were lots of debates, and most of the militants and anarchists went back to fighting with other tendencies in the main unions).
The following appeared at the top of this page until 13th February, 2017, but has been put here for the sake of giving immediate access to the latest expressions of contestation in the chronology at the top:
Although many of the events here are related to the movement against the new Labour Law, many of them are not directly related at all.
The chronology is followed by a list of links to other texts on this site, and a few elsewhere, about movements and other critical aspects of the social situation in France.
…the rumbling revolt…
…a movement moving in mysterious ways…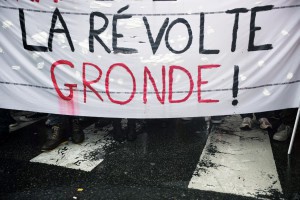 REVOLT RUMBLES!
(banner from March 31 2016)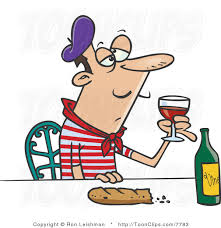 From afar (and even within France amongst the young – those who've never before directly experienced a nationwide movement) what's going on seems like the prelude to a social revolution. This tends to make those yearning for a revolution to exaggerate to such an extent what's going on that some even believe that now is the time to talk of the form and content of workers' councils; which would be a bit like talking about what your son or daughter is going to call the name of their baby when they're still a virgin and have only just had their first snog.
Without wanting to in any way minimise (or worse, cynically dismiss) what's going on, it should be clearly stated that France often experiences intense social contestation, or at least gives the appearance of it (2010, 2006, 2005, 1995, 1986, etc. ), without it leading to the social explosion that wishful thinking makes people want to see as imminent. And if you were to look at the explosions happening almost every day in South Africa over the last few years, you'd have far greater reason to think every week that revolution was just round the corner. Moreover, the UK had massive forms of social contestation in the 1970s and 80s, and with a far greater base in working class communities of struggle and solidarity than exist at present, divided as people are nowadays from themselves and each other by years and years of the relentless onslaught of conditioning by the society of the spectacle, invading parts of our lives other class societies never reached….And we know the mass depression-inducing consequence of the failure of those movements, movements that seriously threatened the neoliberal project, which at that time was very much in its infancy.
Let's be clear: these strikes, demos, riots, etc. do not cause much of a breakdown of normal daily life outside of the very temporary moments of these actions, and then largely only for those directly involved – even the most rebellious students mostly keep studying for their exams between demos etc., even the most revolutionary precarious workers keep working in the black economy – and have to. And the numbers directly involved in these forms of opposition are relatively low. Moreover, there seems to be an incredible repression of class consciousness/explicit theory compared with previous revolts (for example, no explicit critique of the form and content of school and miseducation). All this is, of course, SO FAR – and obviously the situation could change. This has been a very very slow burning fuse, persistent but weak; whether it leads to a significant explosion or just fizzles out, is hard to say. Clearly the French (and world) bourgeoisie will do everything to extinguish it before the European cup starts on June 10th. And we have to seriously consider the possibility of Daesh/ISIS doing something horrendous (and/or being allowed to by the state) which would certainly immediately create a pro-state mentality in the country, even if this mentality would possibly be somewhat reluctant.
There are so many anarchists/autonomists etc. who, despite themselves, contribute to the general movementist tendency to ignore or at best minimise problems and contradictions (just in order to give the appearance of a clear unequivocally radical social movement) when it's so very vital to make these contradictions explicit as part of confronting them – for example avoiding or minimising a critique of unions. This is a situation which is fraught with dangers both exciting and frightening: a French version, but in very very changed conditions, of Thatcher's assaults on the working class in the UK in the 1980s. And the failure to go into unknown territory – making new mistakes and new successes – could be devastating for both French proletarians and proletarians globally.
Hits up to June 1st 2016: 2400
Hits June to July 14th 2016: 663