A chronology of events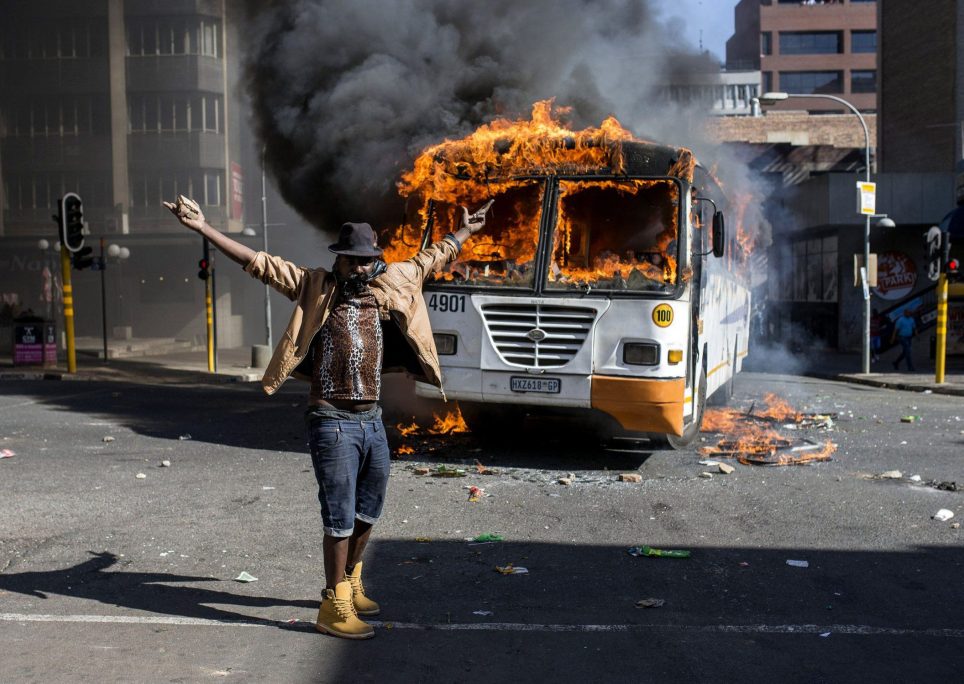 Because of technical hitches, this chronology of events (beginning with the present and working backwards), including some analysis (usually by SK) has been made into a new page with this link to the old page. The chronology here goes back to June 1st 2016, but the link to the original page shows events going back to 2013. I've also included – after this chronology – links to many texts on events there (Mandela's death, the Soweto uprising of 1976, sexual abuse and torture in ANC camps during the apartheid era, etc.)
1/9/19:
South Africa, Johannesburg: massive looting and torching of shops and cars following fire that killed 3 people Some reports say this was a xenophobic attack on foreign-owned shops, but even the most superficial enquiry into the events shows that locally-owned shops were equally targeted, though this shows how the powers-that-be are stoking xenophobic attacks:" Both the mayor of Johannesburg, Herman Mashaba, and the Premier of Gauteng, David Makhura, have blamed illegal immigrants for the disorder. " Not clear why the fatal fire sparked this off.
14/8/19:
South Africa, Limpopo: mayor goes into hiding, town closes down, as result of demos calling for mayor's resignation Not clear if this is rivalry between different political party gangs or whether it's also something independent, though this implies something else: "Residents are complaining about instability at the municipality, lack of services and lack of progress in investigating political killings. Two whistleblowers on city-funded corruption were allegedly murdered for their involvement in holding the mayor's office accountable for billions in misappropriated funds."
1/8/19:
South Africa, Johannesburg: cops forced to beat a retreat as they battle it out with fly pitchers Video here
23/7/19:
South Africa, KwaZulu Natal: students v. insecurity guards More here
17/7/19:
South Africa, Gauteng: 1 killed attacking cops, attack on cop Nyala, during roadblock protests over electricity cuts
21/5/19:
South Africa, KwaZulu Natal: road barricaded in protests demanding new road…North-East: report on wildcat strikes in platinum mining industry
13/5/19:
South Africa, Western Cape: highway blockaded, clashes, as wine/vine workers demand better wages, etc.  "On Monday, workers from Oak Valley Wine Estate demonstrated with placards, burning tyres and closed the N2 in both directions between Sir Lowry's Pass and Botrivier, demanding a R250 minimum daily wage, single quarter accommodation to be converted into family units, and all seasonal workers to be made permanent. The protest erupted after it was alleged that Oak Valley Wine Estate rejected negotiations around workers' demands. On Tuesday the situation was still tense in the area, which saw Law enforcement being deployed near Sir Lowry's Pass, where protesters forced road closures by blocking traffic with burning tyres and rubble"
11/5/19:
South Africa, Limpopo: 7 escape custody
8/5/19:
South Africa, Limpopo: voting disrupted as residents barricade roads demanding change in form of municipality "Vuwani in Limpopo was still on a knife's edge late on Wednesday as sporadic clashes between residents and police continued into the night. Voting was severely disrupted due to the protests. Residents are demanding that government commit itself to demands that the area be returned under the jurisdiction of the Makhado municipality when the municipal demarcation window period opens. The area was incorporated under the newly-constituted Collins Chabane municipality after the 2016 local government elections. Police have indicated they would continue to maintain a heavy presence in the area as residents continued to barricade roads…. Scores of residents boycotted the elections on Wednesday, but some made it to the voting stations to cast their ballots. Four voting stations were forced to close and election officials had to be escorted from the area by police."…Northern Cape: further clashes around election "While a majority of residents motioned towards the humble voting station, other disgruntled community clashed with police and electoral officials. Reports of voter intimidation summoned a strong police contingent to the local voting station. Protesters, unwilling to back down, pelted police officers with stones, who, in turn, opened fire with rubber bullets. Although the protesters dispersed, protracted running battles severely disrupted voting….Disgruntled residents claim that they are unwilling to partake in governmental operations, citing inadequate service delivery as the main source of their discontentment. According to some protesters, government had failed to improve their community since the first democratic elections in 1994."
6/5/19:
South Africa, North West: electoral officer's car and empty ballot box torched…Mpumalanga: riots improve elections as service delivery protesters close roads and voting stations "Police used robber bullets to disperse the crowd which comprised young people demanding clean water and RDP houses. "This town is a ghost town, all the buildings you see here were built by whites long time ago. We either get dirty water or no water at all," said angry community members, who didn't want to be named for fear of victimisation."
2/5/19:
South Africa, KwaZulu Natal: cops kill striking municipal worker as strikers smash things up "…scores of workers resorted to breaking concrete bins and trashing shop windows as they plunged the Durban CBD into chaos. The workers started protesting on Tuesday following disputes over salary increases granted to 55 uMkhonto weSizwe veterans employed in the water and sanitation department. " State complains of cost of damage "The total cost of damage to infrastructure as a result of the illegal protest by eThekwini municipal workers exceeds R3.5m, KwaZulu-Natal premier Willies Mchunu has revealed."
26/4/19:
South Africa, Western Cape: fires burn outside poice station as 400 protest home demolitions…transformer, two distribution kiosks and a cable wrecked during service delivery protest

25/4/19:
South Africa, KwaZulu Natal: locals block roads protesting lack of assistance following floods that have killed 70 people
21/4/19:
South Africa, Gauteng: several Johannesburg roads blockaded by health workers demanding permanent employment
15/4/19:
South Africa, Mpumalanga: office of social development torched during service deivery protest
11/4/19:
South Africa, Free State: 3 trucks burnt and 1 looted More here

South Africa: service delivery protests shut down various parts of country "Tshwane, Somerset West, Khayelitsha, Kroonstad, Orange Grove, and Vanderbijlpark are among the areas affected.Reports of protests in various parts of South Africa have been received as the "Total Shutdown" movement spreads.Tshwane is reportedly undergoing a shutdown, with Mokopane and Shoshanguve apparently blocked and inaccessible. There are also reports that the R101 near Hammanskraal has been barricaded. Clouds of smoke above Hammanskraal have also been reported." More here  "During the early hours of the morning on Thursday, protestors in the precinct of Akasia Police Station stopped and burnt a truck with a cargo of cutlery. They incurred damages of approximately R700 000 in the process…National police commissioner general Khehla Sitole confirmed that police responded to the scene but were ultimately attacked by the protestors. He said one of the officers sustained gunshot wounds to both his legs. He was rushed to hospital for medical assistance and is currently in a stable condition. The statement continues: "However, later in the day the protestors continued with their intentions to loot. It is alleged that during the commotion at one of the shops, the owner fatally shot a 35-year old man and fled the scene." Moreover, officers responded to the scene and were attacked. In addition, protestors damaged their vehicle. Sitole also added: "The protestors proceeded to a house in Extension 5. They broke in and stole musical equipment and set the house alight. The police responded and discovered the body of a 30-year-old man across the street from the burnt house." Protestors continued to loot and damage property during the day. "
10/4/19:
South Africa, Eastern Cape: bus burnt out during protests against electricity cuts
9/4/19:
South Africa, Limpopo: 3rd night of barricades of roads by blind students demanding the end of crap accommodation and crap classrooms
8/4/19:
South Africa, Johannesburg: proletarian shopping during school students' 'rampage'
3/4/19:
South Africa, Limpopo/Mpumalanga: the liberation of animals is the task of the animals themselves
26/3/19:
South Africa, KwaZulu Natal: 5 factories torched, I totally destroyed, in arson attack aimed at mayor
25/3/19:
South Africa, KwaZulu Natal: shops and petrol station looted as informal settlers protest…Northern Cape: mayor's house stoned during service delivery protest

24/3/19:
South Africa, Gauteng: truckdrivers' blockade "sabotaging the economy"…Western Cape: live rounds fired at cops during housing protest
22/3/19:
South Africa, Gauteng: police station petrol bombed as 600 try to occupy empty houses  "The criminal actions of those protesters have done nothing more than disadvantage the entire community of an essential service of policing," national police spokesperson Brigadier Vish Naidoo said in a statement. "
21/3/19:
South Africa, Cape Town: golf course occupied in housing protest
18/3/19:
South Africa, Pietermaritzburg: roads blocked in protest demanding better roads
15/3/19:
South Africa, Gauteng: cop hospitalised during service delivery protest
14/3/19:
South Africa, Limpopo: 3 prisoners escape
12/3/19:
South Africa, KwaZulu Natal: student protests cost university 3.5m rand in property damage…as arson attacks continue
7/3/19:
South Africa, Eastern Cape: lectures cancelled as students block campus over non-registration of poor students…Gauteng: TUT campus shut down due to violent student protests over meal allowances and accommodation…KwaZulu Natal: another critique of miseducation
6/3/19:
Who says apartheid is dead? Yet another (particularly crude) example of South African apartheid
31/1/19:
South Africa, Cape Town: clashes between cops and informal settlers as the latter try to get into council meeting to protest against lack of service delivery

30/1/19:
South Africa, Western Cape: victory for occupyers of former hospital
29/1/19:
South Africa, Gauteng: 10 vehicles torched by striking plastics workers

28/1/19:
South Africa, Gauteng: ANC regional offices destroyed in arson attack…KwaZulu Natal: burning barricades as informal settlers protest election con
24/1/19:
South Africa, Gauteng: barricades as residents protest housing shortage…so local state suspends services…North West: residents demanding school transport barricade roads
21/1/19:
South Africa, North West: at least 4 buses torched, roads barricaded as residents demand disbanding of ANC task force
16/1/19:
South Africa, Eastern Cape: clashes between locals resisting mining project and cops "Police clashed with local people in the Xolobeni region of South Africa's Eastern Cape province following a meeting between community leaders and minister of mineral resources Gwede Mantashe over the proposed construction of a titanium mine. …On Wednesday, Mantashe visited the area to convene a meeting …but scenes quickly turned violent. … individuals were reported to have quickly thrown chairs at Mantashe and his entourage. In response, local police fired tear gas into the crowd, which quickly dispersed. A video posted to the ACC's Facebook page shows officers dragging an individual to the ground and pulling them out of the tent where the meeting was held. Mantashe quickly fled the scene, and the meeting collapsed…The clash is the latest in a series of violent episodes to hit Xolobeni in relation to the mine.In 2016, then-ACC chair Sikhosipho Rhadebe was assassinated, reportedly for his opposition to the mine, yet no arrest has been made. "
15/1/19:
South Africa, Gauteng: cop Nyala overturned, barricades of rocks & tyres, during service delivery protest
14/1/19:
South Africa, Western Cape: high school occupied by pupils and parents
19/12/18:
South Africa, Johannesburg: bus drivers go on wildcat strike over non-payment of Sunday wages
14/12/18:
South Africa, KwaZulu Natal: army take over autopsies as illegal mortuary workers' go-slow enters 6th week…Western Cape: clashes as wildcat bus drivers' strike continues
13/12/18:
South Africa, Western Cape: stones v stun grenades as sacked wildcat striking transport workers clash with cops
10/12/18:
South Africa, KwaZulu Natal: workers arrested for going on a wildcat strike…Western Cape: bus torched following wildcat strike
4/12/18:
Another report from an email list:
Abahlali baseMjondolo Press Statement
Violent police assault leads to death of another baby
On 16 November there was a brutal attack on the eNkanini land occupation including a helicopter and police from as far away as Bloemfontein. As individual homes were raided numerous people were severely beaten by the police. Teargas was thrown into homes without regard for who was inside and many children were affected.
Nonhlanhla Nzama, a resident in the occupation who was seven months pregnant, collapsed and was admitted to hospital for five days after inhaling the teargas. On Friday her child was stillborn.
A child has been denied to be on earth. His crime is that he was going to be born to a poor family who had decided to occupy land and to take their place in the city. His parents have been denied the blessing of a child by a government that does not recognise them as human beings. They are both traumatised. Nonhlanhla is still in hospital.
The police at the Mayville police station have simply refused to open cases of assault. People who have persisted in trying to open cases have been threatened by the police.
In this country the lives of the poor are freely vandalised without any consequences for our oppressors. All we are to the government is a bank of votes.
The eNkanini occupation has been targeted for this kind of brutality because of its strong support for the nearby eKhanana land occupation. The ANC refer to our members in both occupations as thugs and criminals. As they talk about land reform they brutally repress anyone who organises land reform from below.
For the poor the price for land continues to be paid in blood.
1/12/18:
Report from an email list:

Abahlali baseMjondolo Press Statement
eNkanini Branch to Open its Community Hall Today
Today, Saturday 1 December, our eNkanini Branch, will officially open its new community hall. The land was first occupied early last year and the occupation faced serious and often brutal resistance from the local ANC and middle-class residents living on nearby land. It took sustained courage to hold and win the land. The alliance between the middle class residents, the ANC and the police did not stop the inkani of community.
The struggle resulted in many comrades being arrested, and many were seriously injured. Comrades were evicted from the land during at least twenty-two separate attacks. The City would burn their belongings and building materials after each and every eviction. They never gave up.
We have had to go to court on the 27 July 2017 where we had obtained a court interdict against the evictions. But City would continue to evict residents in brazen violation of the court order. At the end of last year we had to bring an application for contempt of court. We wanted to hold the Mayor of eThekwini, Mam Zandile Gumede, and the City Manager, Dr Nzuza, personally liable for contempt. That matter is set to be heard in March 2019.
We have called on South Africans to come to eNkanini to learn what the expropriation of land from below could look like if fully support by the state and public at large. The land was occupied by the residents. The community was formed and built by the occupiers. They have built their own homes. They have connected themselves to water, sanitation and electricity by themselves without the support of the municipality. They have also built the hall themselves. This is land reform, and urban planning, planned and carried out from below.
Today we are pleased to say that not only have we won land and built our homes but we have also built our community, our lives and our dignity.
The event will start at 10am. We have asked comrade S'bu Zikode to cut our ribbon as a symbol of courage. The hall will be used to build ubuhlali.
16/11/18:
South Africa, North West: 2 schools, a school admin block, a clinic & a temporary council office torched in protests about expropriation of community funds
15/11/18:
South Africa, Western Cape: tyres burned, stones thrown, cop cars attacked during illegal service delivery protest More here "Ten suspects were arrested on Thursday night on charges of public violence and seven suspects for business robbery in Saldanha… two SAPS vehicles were damaged by protesters. The arrests follows three days of protest action in the Vredenburg area on the West Coast over poor service delivery. … protesters started to throw stones at Vredenburg Police Station and damaged 11 SAPS vehicles, several private vehicles and shops."…Gauteng: informal settlement protesters invade administrative centre, vandalise glass doors
12/11/18:
South Africa, KwaZulu Natal: residents occupy unoccupied land after waiting for over 10 years for housing
7/11/18:
South Africa, Western Cape: another scab bus torched during wildcat bus strike "The service was suspended in Khayelitsha yesterday, leaving thousands of commuters stranded after yet another bus was torched. Another bus was set alight in Milnerton on Tuesday."

2/11/18:
South Africa, Gauteng: police station torched after cops beat local resident to death "The community of Soshanguve north of the city torched the local police station earlier on Friday after a community member was beaten to death. According to community members still gathered at the entrance of the community just after the R80 Mabopane Highway, police officers embarked on a raid chasing youngsters selling pirated CDs early in the morning. However things escalated as members watched in horror as a group of officers beat Thomas Ditshele,30, to death after he had fallen while trying to escape the police. In anger the members said they then demanded to see the station commander of the Soshanguve police station who they were informed would arrive at 3pm. But instead of having the head of the police arrive to answer for the callous murder of Ditshele, police allegedly started pelting the community with rubber bullets….The members then turned their rage towards the police station and the township's main road where some threw large boulders and stones on the road, while others burnt tyres and started breaking down the police station fence. The younger brother to the deceased Amos Ditshele, said he could not believe his brother was killed for a R5 disc. "Unemployment is very high here so my brother like others was just trying to make money. They brutally killed my brother for three discs he had in his possession."…Francinah said police also shot their 12-year-old nephew on the back whilst he was returning home from school. Another community member Jan Maropola lay in pain on floor surrounded by community members trying to assist. Maropola was allegedly shot twice in the face by police as he returned from fetching a friends child from school. A community member who asked not to be named said he was shot in the arm as he got off the taxi from work "
1/11/18:
South Africa, Gauteng: striking workers in packaging industry burn company vehicle in "strike …turned into a war" "On Thursday, an ALPL delivery vehicle was petrol bombed. On Wednesday, two ALPLA non-striking staff were hospitalised after they were attacked in their homes. A business owner in Kempton Park was also attacked during the violence. Last week, a group of striking workers stoned the ALPLA SA plant in Isando. Members of its own staff were caught in the crossfire. Over the weekend a business was burnt to the ground in Ladybrand. The packaging industry has been dragged into a war. What started as a surprise strike three weeks ago has now turned into a war where employers have to employ private security to protect staff, assets and stock as striking workers continue to raid premises and cause maximum destruction in well-coordinated attacks."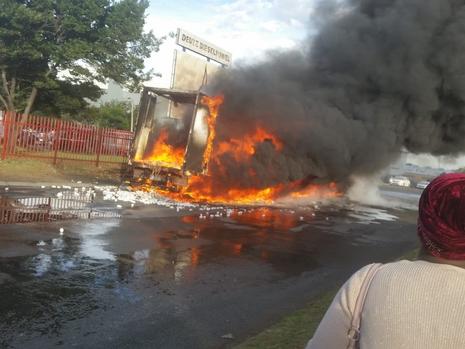 How to deliver (Gauteng 1st November)
31/10/18:
South Africa, Eastern Cape: municipal buildings burnt in protest against Town Hall nepotism"Protests entered a second day on Wednesday, following a week break from the protests which began on October 16. Angry Stutterheim youth began protesting accusing Amahlathi Local Municipality officials of nepotism, taking bribes in exchange for jobs and offering jobs in exchange for sexual favours. They also alleged that the local municipal Mayor Pateka Qaba was not a resident of the the municipality and was offering jobs to people that were coming from outside Amahlathi. They burned down the buildings owned by the municipalities of Amathole and Amahlathi, a clinic and caused massive damage to infrastructure. Protests began at 4am on Wednesday, with protesters barricading roads with rocks, woods and burning tyres. Cars could not go through because there is only one route linking Mlungisi township and the town of Stutterheim. Clashes occurred as police moved in to remove the barricades and were pelted with stones by protesters. Police retaliated using teargas, rubber bullets and canisters."
30/10/18:
South Africa, KwaZulu Natal: 2nd day in a row that unpaid Public Works workers storm town hall
29/10/18:
South Africa, Cape Town: wildcat bus drivers strike now in its 3rd week
23/10/18:
South Africa, Gauteng: students occupy part of court where trial of cops who killed student is being held…North West: cops fire rubber bullets as service delivery protesters block roads "The police were removing rocks used to barricade the roads when protesters pelted them with stones, prompting them to fire rubber bullets into the crowd. Residents barricaded the road with burning tyres, logs and branches as well as rocks and steels barriers. The road between Rustenburg and Kroondal was blocked at the Hex River bridge with rocks and burning tyres. The road leading to Sibanye Kroondal mining operations was also blocked at Ikemeleng."
22/10/18:
South Africa, Gauteng: protesters over land & housing block roads with burning tyres & rocks...Western Cape: transport workers wildcat strike continues despite legal threats "the City…obtained an urgent interdict against the striking workers, preventing them from intimidating, harassing or assaulting MyCiTi passengers and staff, or damaging MyCiTi stations, depots or buses. Two female bus drivers were allegedly held hostage by their fellow striking colleagues last week…The employees, who include drivers, cashiers and security personnel, are demanding, among other things, equal pay for all workers and better working conditions." See also this…Eastern Cape: residents block megabridge building, demanding jobs for locals "Since Monday last week, the residents of Jama community in inland Amadiba area, Mbizana, have been blocking the building of the Mtentu megabridge, demanding that Sanral keeps it promises to give jobs to the locals. The cost of the 1.1km Mtentu megabridge on N2 Wild Coast is now estimated between R1.5 billion and 1.7 billion, having increased from R375 million budgeted in the 2006 Scoping Report….Community members want security guards to leave the project site and demand that the project liaison committee and its officer, Zeka Mnyamana, should be changed. In June, the community also blocked the works for one week for the same reason. Amadiba Crisis Committee is an organisation formed by villagers of Xolobeni in Pondoland to fight mining titanium in their area. "As Amadiba Crisis Committee, we are in solidarity with the Jama people. Sanral must fulfill their promises of local employment," it said. "Our experience is that Sanral botch social engagement and makes deals with contractors that doesn't want to hire locals. Local traditional leaders are bribed and communities are then divided." Community members accuse the police of intimidating them and arresting their leaders, and say that the mayor of Mbizana also arrived to stop the blockade."
21/10/18:
ANC & EFF involve themselves in easy propaganda for their parties in participating in protest against Church whose leading pastor is involved in horrible sex abuse The ANC was party to sex abuse, with the full knowledge of Mandela, back in the 1980s, events which have been buried under the ideology of St.Nelson's pure untouchable Godliness: see on sexual abuse in the ANC camps (written in 1993 but mainly relating to the 1980s).
18/10/18:
Report saying riots have reached  record level   "Dubbed "service delivery protests," the number of incidents totalled 198 by the end of September, data from research organisation Municipal IQ showed, surpassing the previous record for a full calendar year of 191 in 2014"

16/10/18:
South Africa, Cape Town: 2nd day of wildcat strike…Eastern Cape: cops kill man as unemployed protesters burn down 3 municipal buildings "Protesters alleged that they were not getting jobs from the municipality due to nepotism and jobs for sex and bribery. Xolisa Tom, 27, was shot dead allegedly by the police who were allegedly using live ammunition to disperse violent protests."
15/10/18:
South Africa, Cape Town: wildcat bus drivers strike…cops fire stun grenades at wildcat strikers…as strikers block roads More here "Workers were complaining about the poor working conditions they face. Some said that they do not have proper facilities and that the buses that they drive are very unsafe. "We get paid peanuts. Some drivers get paid R72 an hour; I get paid R52 an hour. We have been subjected to poor and unsafe working conditions"
12/10/18:
South Africa, KwaZulu Natal: cops fire stun grenades on workers blocking roads, protesting fuel hikes
7/10/18:
South Africa, KwaZulu Natal: shack-dwellers' movement march against state-sponsored murders…North West: roads barricaded with burning tyres, cops stoned, during protest against very long delay in promised road construction
5/10/18
South Africa, Gauteng: residents stone cops & cars in protest against marginalisation
1/10/18:
South Africa, Gauteng: roads blocked with burning tyres in protest against cop complicity in gang-related violence "It is high time that residents are given an honest, professional and well-resourced police service that is not corrupt, uncaring and colluding with gangsters and drug dealers" …and pigs may fly… as soon as become honest, uncorrupt, caring and not colluding with gangsters (like the ruling class) and drug dealers (like pushers of religion or dominant culture)…..More here " police officers being forced to retreat as residents pelt them with stones and bottles…Clashes between police and residents have been ongoing since last week. Residents have been pelting police officers with rocks and petrol bombs." And here "Bus station torched overnight"
28/10/18:
South Africa, Western Cape: report on land occupation "In the past week, dozens of people have erected shacks on vacant land in Wallacedene, Kraaifontein. On Sunday, some of them disrupted a workshop on land held by SANCO (South African National Civic Organisation), demanding the organisation support the occupation. Chairperson of Wallacedene SANCO Chippa Arosi said, "We are now fully behind the homeless residents." Arosi said hundreds of people first occupied the land in February. The City of Cape Town demolished and removed shacks many times, but some of the occupiers kept rebuilding and have remained on the land. However, Arosi said 361 people had been left homeless by the demolitions…."
26/9/18:
South Africa, Western Cape: "total shutdown" protesters vow to extend their actions "Western Cape Total Shutdown Communities (WCTSC) regards Tuesday's protests in the city to have been a success and is looking at establishing a nationwide platform similar to how the UDF, a united front against oppression, operated in the 1980s against apartheid. WCTSC representative Gatto Wanza told the Cape Times politicians have failed the country and that it was a mistake to have disbanded the UDF in 1991. He said the three levels of government are in violation of their constitutional duty by not working together to serve the people, instead choosing to blame each other. Wanza also believes mayoral committee member for safety and security, and social services JP Smith has got it all wrong and that the protests were not about gangsterism, crime and inadequate policing, but about the deteriorating socio-economic conditions the majority of people are living in. During a meeting earlier today in Bonteheuwel, set up after yesterday's protests, the community preferred a private audience with Police Minister Bheki Cele, insisting they wanted nothing to do with Smith and local ward councillor Angus McKenzie, who were part of the police's delegation. Commenting on the protests, which caused a lockdown in certain parts of the city and led to 24 people being arrested (all but one were released), Wanza said: "The success for us is that in the past the protests by communities were done individually. Now we are acting collectively. More and more people are coming together and we are building a grass-roots organisation through the support of the various communities. "The community organisations are coming together. We are rebuilding the communities like we did in the 1980s with the UDF. We are anti-party politics. That is a colonial system that was brought to Africa. We don't believe that party politics has got any place in our land. "What we are picking up is that more and more people are approaching us, even from the Eastern Cape and nationally, and this movement is growing. We opted for a party political system and now realise it was wrong to disband the UDF. We handed our future over to a political party, whereas the solutions to our problems lie with the communities." Wanza doesn't agree with Smith's view that policing must be assigned to the provincial government. "JP Smith can't blame the national government. Our view is there is only one government that operates on three levels. The three levels are purposefully pointing fingers at each other, but the constitution requires them to co-operate with each other. This thing where the City and provincial government are fighting with national government is a violation of the constitution. They are failing in their mandate in terms of serving the people. "The second point we want to make in terms of what Smith is saying is that we are not protesting against gangsterism. We are protesting around the socio-economic conditions in our communities. Gangsterism is only one part of this. So they have got it totally wrong. "The root cause is that we have been displaced and chucked on the Cape Flats. This is where the problem lies, because the whole strategy of the state is that the indigenous people must destroy each other while they continue exploiting our resources. That is the bottom line. "A place like Manenberg was built in the 1960s for 32 000 people. Today we are in excess of 200 000 people living on top of each other. "We have to address the inequality because the foreign rich are getting richer while the indigenous poor are falling by the wayside. For us to bring about change, we need to unite the working-class communities, that is our priority. Once we have achieved that, then we can take on anything. This is all part of a national process that has been kick-started here in the Western Cape." Wanza also took exception to comments by Smith that their protests were illegal. "We didn't apply for any permits because we don't believe that we need any permit. What JP Smith is promoting is illegal because people need to go back to the constitution, Section 17.7, which says we have got the right to protest peacefully. We don't need to ask anybody whether we can protest or not. What they are relying on is old apartheid legislation. "The violence which the police used yesterday was reminiscent of the old apartheid days. And that just shows to us that nothing has changed since 1994, that we still have the old way of dealing with problems. "Our gripe isn't with the police but with the economic system that is protecting the rich and we need to get to a point where people are speaking to each other. So we are ultimately looking at a point where the rich and the poor are speaking to each other around the same table." Wanza said his organisation will not be involved in the Western Cape Shutdown planned for October 3 in the CBD. Cosatu is behind a march against gangsterism, violent crime against women and children, police brutality and poor service delivery. "We are not part of that. We met with those people and Cosatu is driving that process with the CPFs. We asked if they wanted to work together with us, but they have chosen to do things on their own. We are continuing with our process and we don't agree with their process."
I feel very ambivalent about this development. Though these people clearly have some kind of class perspective it should be clear that this perspective is not at all clear. The good aspects of this perspective are fairly obvious – eg "we are not protesting against gangsterism. We are protesting around the socio-economic conditions in our communities. Gangsterism is only one part of this". But much of the rest is very dubious and potentially repeats many of the mistakes, and crappy politics of the 1980s. For one thing, they talk of the "three levels of government" violating "their constitutional duty by not working together to serve the people, instead choosing to blame each other" – as if more efficient governmental coordination instead of rivalry would improve things for the governed. And the horrible Maoist expression – "serving the people" , as if helping people was something that could be done by co-ordinating professional governmental representatives. Besides, some of the best slogans – such as "we can govern ourselves" – contradict this "reasonable" discourse. This implies that this is very much a mis-mash of very different tendencies – because the original statement from #totalshutdown was: " We are taking back our power and mobilising to govern ourselves' as those meant to serve on our behalf have proven themselves untrustworthy and unaccountable to us' the working class." And this last quote is implicitly contradicted by this – "the community preferred a private audience with Police Minister Bheki Cele" and "we are ultimately looking at a point where the rich and the poor are speaking to each other around the same table." Why talk to these brick walls whose only interest in "dialogue" is to better understand what they're up against so as to change their discourse in order to seem to address the miseries of the poor who are obviousy poor because of them? We can see from this quote here how the Police Minister learned to pacify the organisers of this event: "The people of Western Cape and Cape Town have realised that working together will bring about the bettering of life. If we act on this call, life would be better soon." He said the issues had been broadened and he did not only see gangsterism, but poverty and hunger as well. Cele said an imbizo [a policy discussion forum] would be happening soon for proper planning to tackle these issues." Compare this subtle manipulation with the crude arrogance of a local councillor, McKenzie, who called the protesters "lowlifes and idiots".

As a young South African black (quoted in the film "Call It Sleep" – script here) said, "By sitting around a table and talking about these things with the whites brings no good future to us. It's just like talking to a stone. Now by violence they will understand a little of what we say – a little. Now by war they will understand everything – by war." And, nowadays, not just with "the whites" of course, but the black and white ruling class as a whole.
And what's this demagogic xenophobic phraseology? – "the foreign rich are getting richer while the indigenous poor are falling by the wayside", as if the rich (Ramaphosa, etc.) were foregn to South Africa (and even if they were, this is hardly the point). Or this – "Our gripe isn't with the police but with the economic system that is protecting the rich", as if any specialists-in-order (ie the police) could somehow protect the poor and not develop their own hierarchical interests separately, as if the function of the cops wasn't invariably to protect the commodity system that the rich have through the centuries developed to maintain and expand their riches.
But the most insidious – because it seems so rational – is this: "in the past the protests by communities were done individually. Now we are acting collectively. More and more people are coming together and we are building a grass-roots organisation through the support of the various communities." Firstly, saying that community protests were done individually is bullshit – contemptuous of the fact that individuals organised collectively. The complaint here is that these protests were not national – and though this is the case, only an organic interaction and influence of varying local movements can develop into a national, and then hopefully international, revolutionary crisis, aided and armed by ideas that strive to make connections and overcome their separation. At least most of those involved in these protests had/have no desire to sit around the table with their exploiters, and yet the "total shutdown" spokesmen considers their attitude to be a progressive development beyond these so-called "individual" struggles. On the level of some of its ideas it is but the ideas are so contradictory and the perspective so much a desire to nationally represent the working class that it's far more valid to critique them than to accept their own notion of themselves as a radical progress from local struggles. To invoke the UDF of the 1980s, even within an anti-political party perspective, is not anti-poltical but only anti-party. Organising the organisation is a bureaucratic notion of organisation: "The principal of organisation does not lie in a determined accord between determined activities; it does not translate the really organisable element of individuals' activity, but is the inversion of this point of view: it is real and potential global activity, the very substance of individuals, working to organise the organisation." (Daniel Denevert, 1977). For more on the UDF of the 1980s, see this (scroll down a bit over half way to the section about them in "SOUTH AFRICA 1985: the organisation of power in black and white"). These critiques need to be developed.
25/9/18:
South Africa, Cape Town: 8 arrested during attempt at total shutdown "Police used stun grenades and rubber bullets in an attempt to disperse protesters after violence flared up in various locations in Cape Town. Protesters blocked several roads in Kensington, Philippi, Bonteheuwel and Bellville, police spokesperson Novela Potelwa said. "In Bonteheuwel, on the corner of Bluegum Road and Jakes Gerwel Drive, eight people were arrested for public violence following run-ins with police that resulted in the disruption of traffic." …Western Cape Total Shutdown organiser, who only goes by the name Gatto, said that the police were infringing on their right to protest. "The police used violence against our people. They tried to block us from entering the arterial where it is our right to protest…They are infringing on our rights because they want to protect the rich communities. We are marching because of the abject poverty and social decay in our communities." More here: "…working class activists attempt a "total shutdown" of the city. Proclaiming that nothing has changed for them since the fall of apartheid' the activists aim to close as many of the city's key roads as possible. Organiser Henriette Abrahams' from Bonteheuwel' said between 4.30am and 5am protesters would close roads leading to the N2' M5 and M3. The protests are due to end at 10am. Abrahams insisted the protests would be peaceful. "We just need the government to hear us … all tiers of government'" she said. "… we are not looking for confrontation. We are looking simply to disrupt'" she said. "We cannot have life continuing as normal while people are dying on a daily basis." A statement from a group called the Western Cape Total Shutdown Communities said working class people continued to live in abject poverty and faced unprecedented levels of unemployment and violence. "We cannot afford food and basic necessities such as water' electricity and transport' and added to this we live in overcrowded communities because of a lack of decent housing…Further to this' the high levels of corruption in the public and private sector are exacerbating the poor's plight' as resources which are meant to improve the lives of the poor are being stolen by thugs in suits and boardrooms' leaving the poor to die of hunger and violence. Our communities are saying enough is enough. We are taking back our power and mobilising to govern ourselves' as those meant to serve on our behalf have proven themselves untrustworthy and unaccountable to us' the working class." Details on Twitter here "So WC DA leader, Bonginkosi Madikizela, says social ills is not a contributing factor to gang-violence. Where is this guy living???" "stungrenades fired by police as protesters try to block the road" , " …the #Shutdown protests which involve communities uniting against crime, unemployment and poverty."
…KwaZulu Natal: roads blocked with burning tyres in service delivery protest
21/9/18:
South Africa, Free State: roads blockaded with burning tyres etc in protest over lack of work…KwaZulu Natal: angry commuters go on the rampage "…angry commuters went on the rampage when the trains did not arrive on time. It is alleged that commuters then set alight the office block building and four cars on the premises…. at 6am, that more than 1 000 commuters at uMlazi railway station became angry due to the late arrival of trains. They damaged the ticket office, set alight four cars and damaged a motor train coach causing extensive damage to the property… rocks and bricks strewn in the passages and outside the offices. The windows were also damaged. Below the windows were bricks and stones. The roof of the office had also been damaged." Not quite sure whether this constitutes "opposition" but it certainly shows a basic "I'm as mad as hell and I'm not going to take it any more" attitude, which so often takes a fairly nihilistic form, yet which no rationalist moralistic ideology can begin to comprehend.
16/9/18:
South Africa, KwaZulu Natal: high school student critiques low school life
12/9/18:
South Africa, KwaZulu Natal: protesters demanding land to build shacks smash up "education" factory…Cape Town: all roads into suburb blockaded by residents in illegal protest against massive gang-related crime"Crime statistics released on Tuesday showed the Western Cape had 808 gang-related murders in the year to March 31' accounting for 83% of such crimes nationally." Given the realities of those suffering such misery, it's predictable and perhaps unavoidable, outside of a revolutionary movement, to ask the state to deal with gang-related crime, since arming themselves against them would be pretty much suicidal. However, since the state and the economy of which it is the guardian, are the reinforcers of the conditions and social relations in which business-gang-crime thrives, the poor are trapped between a rock and a hard place – damned if you do, damned if you don't. It's probably far too easy to point out how self-contradictory it is to ask the state, which will turn against such communities in the vent of a more developed resistance, to fix this. Particularly far too easy given the fact of living, for the moment, in a part of the world which is relatively gang crime-free. Though South Africa seems to be very far from an uprising (though, who knows?), in revolutionary movements, it'd be essential for communities to find ways of defending themselves (and often they have), especially as the most powerful gangs are likely to side with the state (as happened in Italy during the 1970s). In the various movements in South Africa (the Alexandria bus boycott or the movement from 1976 till the mid-1980s) business-crime went down, with many low-level Tsotsis joining the movement.

11/9/18:
South Africa, North West: report on various protests about road conditions and water taking place today "Residents of Letlhabile barricaded the road linking Letlhabile and Brits with stones and burning tyres on Tuesday night, complaining about conditions of the road. They allegedly pelted passing motorists with stones….In Damonsville and Mothotlung, east of Brits, police were monitoring the situation where members of the community barricaded roads with various objects, demanding water. And in the Moretele municipality, a guard house was torched in Mathibestad and 33 people arrested for public violence during protests over access to water."
7/9/18:
South Africa, Gauteng: report on arson and sabotage of Department of "Health" "… it was wrong for people to try and burn the building just to convince the department further that the department was poorly maintained."
31/8/18:
Somali points finger at state for fanning xenophobic riots " the violent behaviour witnessed on the streets of Soweto was a direct result of the government's public announcement on foreign nationals supplying 'fake' expired goods to community members. The Somalian national added that before the official announcement, relations between shop owners and community members were amicable, saying: "People are right [for being angry]. There is a law' there is a government. If the government has opened the way [through announcing the investigation] what will happen? You and me we don't have a problem. The problem in South Africa is the government."
24/8/18:
South Africa, Gauteng: students and cops in heavy clashes after cops kill student during protest against ballot rigging More here "Angry students from the Tshwane University of Technology (TUT) Soshanguve campus have vowed to march to the local police station every single day until the case of the student shot and killed had been resolved…. Thousands of students had the township on lockdown yesterday as they marched to the police station. Traffic was disturbed and roads blocked. Some shops closed for the day as students marched past. The students carried hand-made placards with messages such as "#Justice for Katlego – the brutality of police and victimisation of students shall end". Others read "The cops are killing us" and "Enough is enough". Police fired tear gas, stun-grenades and rubber bullets to disperse the students. Armed police manned the entrance and a 30-minute stand-off between them and students took place. Police, speaking on a loudhailer, said investigations were under way, but the students were having none of that and pelted the station with stones. Police retaliated with tear gas, stun-grenades and rubber bullets. Some students fell down and were hurt in the clash. … "All the comrades from all the student organisations have agreed that we will make Soshanguve station ungovernable until the policeman that killed our comrade is brought to book."
20/8/18:
South Africa, Gauteng: cops, screws, soldiers & nurses barricade roads demanding eviction of impoverished squatters in order to maintain the value of their house prices "Residents of Morula View in Mabopane have shut down all entry and exit points demanding the City remove illegal informal squatters who built shacks within the community. A majority of the protesters are public servants who work as either police, nurses, prison wardens, soldiers and metro police officials. They said the squatters will depreciate the value of their properties, connect water and electricity illegally and make it easy for criminals to get away with crime in the community…The people blocked the roads early on Monday morning, saying they do not understand why the squatters would insist on building shacks in a "beautiful and serviced" community. Over 400 mortgage payers are gathered behind the ODI stadium where there are open fields which the squatters planned to occupy. …"If we allow them to stay here the next thing they will be burning tyres in the roads demanding services," said one of the community leaders. " Hardly "News of opposition" but…Western Cape: prisoners riot "On Monday night, inmates being held in the Medium B section of the jail set alight mattresses to prevent Correctional Services officials and police from raiding a cell. The convicts attacked officials with boiling water and sticks and also threw liquid on the floor to keep them out. …"On Monday night, Correctional Services in Western Cape activated a regional reaction team to perform a special search at Pollsmoor Medium B upon receiving information that knives and contraband were hidden in cell 287,"…"Offenders barricaded the doors and resisted to be searched. Offenders immediately started to break cell windows and cell infrastructure and burn mattresses. The reaction team finally managed to break through and defuse the situation. Offenders inside the cell waylaid and assaulted officials from inside the cell, throwing projectiles at them and hitting them through the grills with sticks. Boiling water was thrown through the windows towards officials and the floor purposely made slippery and inaccessible for members to perform their duties"
17/8/18:
South Africa, KwaZulu Natal: clashes and barricades as student protests continue See report for 13/8/18

15/8/18:
South Africa, Mpumalanga: strikers block several roads
14/8/18:
South Africa, KZN: report on health workers' sickies "Eighty-five employees from the KwaZulu-Natal (KZN) Department of Health have amassed more than 5 000 days of "sick leave" in less than five months."
13/8/18:
South Africa, KwaZulu Natal: students overturn cars, shut down campus in protests against crap conditions in off-campus residences, amongst other things More here "Lectures were suspended at the University of KwaZulu-Natal's Westville campus on Monday after protests broke out just after 10am. In a statement released to the media, UKZN said, the academic programme, including all tests, was suspended on the Westville campus for Monday only….Police spokesperson, Captain Nqobile Gwala, said students threw stones at police and police vehicles were damaged during the protest. …Campus security and police responded to the scene. Angry students threw rocks at police. Officers had to use stun grenades to disperse the crowd. Last week Wednesday, lectures were also suspended following violent clashes between police and students. …a group of students began protesting and disrupted lectures. They damaged property and vehicles belonging to the university. A staff member was injured when a change room and toilet were set alight. The protest was due to issues around amenities at some of the residences, shuttle service timetables and National Student Financial Aid Scheme administration." …Western Cape: looting and clashes during evictin of squatting shack dwellers "…the time period in which evictions were allowed had expired….the owner should only have been allowed to evict people within 72 hours, but that had lapsed. Yet evictions were continuing. … six women and four men were arrested on Monday during a protest over the evictions, which led to looting and public violence….people ran around to try to get together money to pay their bail … a woman who was struck by a rubber bullet was denied medical treatment while in the holding cells."
7/8/18:
South Africa, Johannesburg: waste disposal workers clash with cops in protests over jobs "The ongoing violent demonstrations saw operations being halted for the second day as former employees disrupted the waste-management service and demanded their jobs back. Women protesters stripped naked and accused the company of engaging in a jobs-for-pals scheme….The protesters picketed at the entrance to the depot, singing Struggle songs and demanding answers from Pikitup's management when police fired rubber bullets and a high-velocity water cannon to disperse them."…KwaZulu Natal: locals block roads, burn farmland, in protest against cemetery desecration "Angered by the desecration and clearing of a cemetery, protesting farm dwellers and community members on Tuesday blocked off the R74 between Kranskop and Greytown with logs, tyres and broken bottles and set alight some farmlands….Protesters accuse a local farmer of disrespect after he allegedly cleared a cemetery on his farm that was being used by the community….the protests started at 3 am on Tuesday. "About 300 protesters have blocked the road complaining about a farmer who has graded the cemetery at the Aussicht Farm," said Mbele….Stones, logs, burning tyres and "a lot of broken glass" were used to block the road."
30/7/18:
South Africa, Northern Cape: 75 schools closed following burning barricade protests against electricity price hikes "Police are investigating an arson attack following the burning of a library in Galeshewe. Protesters torched the building earlier on Monday amid protests in Kimberley and surrounding areas." Video here
28/7/18:
South Africa, Cape Town: train and platform torched "A week after a fire ripped through the train station in Cape Town damaging two platforms and two trains, a neighbouring platform was set alight, damaging more railway infrastructure on Saturday….Scott said since May 2015, 149 carriages have been damaged in fires."

25/7/18:
South Africa, Western Cape: report saying 27 schools vandalised over winter holiday period
19/7/18:
South Africa, Western Cape: 3 cop guns stolen during housing protests; Police Minister chased away by protesters
18/7/18:
South Africa, KwaZulu Natal: roads blocked in 5 towns protesting against fuel hikes…Western Cape: 40 million rands worth of damage during housing protests "Infrastructure and equipment, including the conveyor belt and baler at the recycling plant (among others), have been burnt, which has caused substantial damage to the waste transfer and recycling plants. Current estimates of damage, but not limited to, the Hermanus Sewage Works, swimming pool buildings, various other buildings and roads, amount to about R40m."
17/7/18:
South Africa, Western Cape: land squatters stone cops etc. in order to release those arrested
13/7/18:
South Africa, North West: protesters against paving allocation chain up municipal offices, locking bosses & workers inside

12/7/18:
South Africa, Northern Cape: cops use stun grenades & rubber bullets against large riot over service delivery & electricity price hikes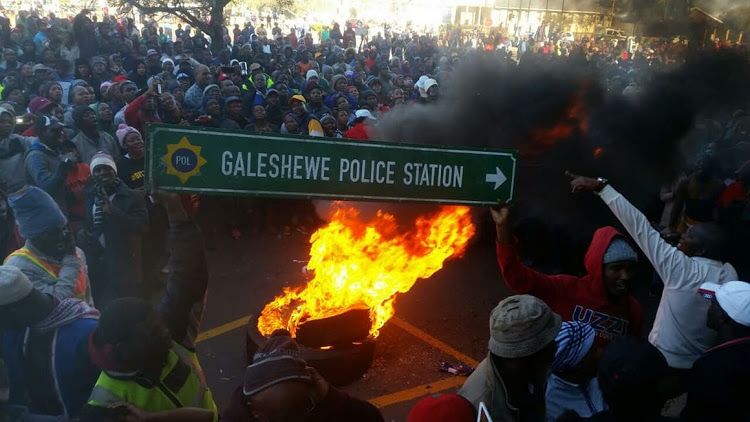 11/7/18:
South Africa, KwaZulu Natal: 3 electricity transformers torched, roads blocked in housing protest as land occupation continues

9/7/18:
South Africa, KwaZulu Natal: barricades of burning tyres on major road in protest against minibus taxi fare increases More here…Western Cape: people living long-term in very over-crowded rooms raise shacks in protest
7/7/18:
South Africa, KwaZulu Natal: 100s occupy land "One of the occupiers Siyabonga Nkosi says he was promised a low-cost house in 2004 but nothing has been done. "I've been renting in a shack for years. When I came back from work on Saturday, people were already cutting the land. I saw people choosing spaces and I joined them. I now have my site for my home. We need land and we are taking it."
30/6/18:
South Africa, KwaZulu Natal: cop hospitalised as service delivery protesters use rocks against rubber bullets, pepper spray & water cannons

29/6/18:
South Africa, Free State: service delivery protesters petrol-bomb town hall, a Local Municipality financial office & cop's house

27/6/18:
South Africa, Western Cape: roads blocked with burning cars as informal settlers protest eviction threat "Residents of a newly established informal settlement named after President Cyril Ramaphosa in Philippi brought part of busy Govan Mbeki Road to a standstill and allegedly set alight five private vehicles. Traffic lights were also damaged during yesterday's protest, sparked by rumours that their shacks would be demolished. The scores of residents said they were prepared to fight for their homes, which have been erected on privately owned land for about five months….Resident Zusiphe Ndlova said they couldn't agree to be thrown out of their house, especially in winter. "I have three young children. I wouldn't want to sleep outside. For the past five months we have been fighting for this land. Our materials have been taken and damaged during the evictions. We have been living as a big community which is over 300 people now" …A pregnant Xolelwa Halon said: "Many people were injured when rubber bullets were shot and one of them was admitted to hospital as he was critically injured. We were told that once he is discharged he will be arrested. We are willing to die for this land"
26/6/18:
South Africa, KwaZulu Natal: cop shot during service delivery protest
25/6/18:
South Africa, Gauteng: municipal offices barricaded in service delivery protest…KwaZulu Natal: service delivery protests block roads in 2 areas of Durban "Protesters burned tyres, stoned vehicles and blockaded the road in the Ridgeview Road in the Cato Manor area. Durban Metro Police spokesman, Senior Superintendent Parboo Sewpersad said: "Protesters threw also threw rocks, chairs and sofas onto the freeway". Community Policing Forum groups and Rescue Care paramedics who were on scene also reported that a bus had been burned….around 70 people were involved in the protest action…. protests were also reported this morning in Sydenham's Randles Road when dirt and burning tyres were strewn across the road in the area. It's believed the disruption extended to Sparks Road towards Shifa Hospital area as well."
20/6/18:
South Africa, Eastern Cape: protesters against electricity cuts blockade roads with burning tyres, etc. "…about 100 residents barricaded the Addo Road in various locations up to the intersection of the R335 and R334 in Motherwell….four municipal vehicles including a truck, a VW Caddy and two bakkies were damaged by an unknown amount of suspects at the Municipal Depot in R335, Motherwell. Damages ranges from broken windows to batteries being stolen. Value undetermined…protest action also erupted on Wednesday morning on the Malabar back road towards Gelvandale."…KwaZulu Natal: striking water & sanitation workers use bulldozers to dig up road in front of their department's offices…Western Cape: 2 trucks torched in service delivery protest
19/6/18:
South Africa, Gauteng: service delivery protests block highway with burning tyres…local residents hijack construction vehicles to create speed bumps after hit and run accident…KwaZulu Natal: 2 lorries torched…2 others looted, during protests "the protest is a result an industrial action by workers in the area. It was unclear what the protests were about"

15/6/18:
South Africa, Western Cape: report about land "invaders" (ie expropriators of the exproriators) building super-shack for 200 people

14/6/18:
South Africa, Pretoria: 2nd day of clashes between service delivery protesters & cops "Hundreds of residents held protests from 5am in the morning that saw all entrances from Stormvoël Road blocked, stones hurled and rubber bullets fired by police."…protests continue after death of man due to teargas asphyxiation…Mpumalanga: sabotage during electricity workers strike "Eskom…the power utility warned that the generation and distribution of electricity across its network was constrained on Thursday due to acts of alleged sabotage and intimidation that have characterized the current industrial action by members of the trade unions. "There have been several incidents of road blockades, attacks on staff, and wilful damage of electricity infrastructure. As a result, all road coal deliveries have been stopped for security reasons…."…Workers are demanding salary increments of up to 15 percent while Eskom is offering none."…North-West: roads barricaded to demand release of 5 people arrested for looting chickens…Western Cape: massive housing riots "…residents have described housing riots in the area as a "war zone" or a "hostage situation" as reports started filtering through that more access and entrance points in the coastal holiday town would soon be blocked by protestors. Residents entering or exiting Plett towards Knysna have been redirected via Airport Road as the N2, from the footbridge, had been blocked by rioters. Although unconfirmed at this stage, reports have suggested that Airport Road would also be blocked today. Several schools have been closed as a precautionary measure, and motorists have been warned to careful….The seaside town of Plettenberg Bay, which comes alive during the December holidays, is a place where – like many others on the Western Cape's picturesque "garden route", the contrast between rich and poor is stark, and lack of housing and service delivery for the poor has come to a head in the chaotic protests this week. The protests seem to mirror similar actions across the Western Cape in recent weeks. Disgruntled residents living in an area called Esterhof took to the streets over a lack of housing and service delivery. A number of shops were looted and there was a heavy police presence in the community. Calm has since been restored in the area. Demonstrations have also taken place in Vrygrond, Parkwood, the Siqalo informal settlement, Hermanus and Gansbaai"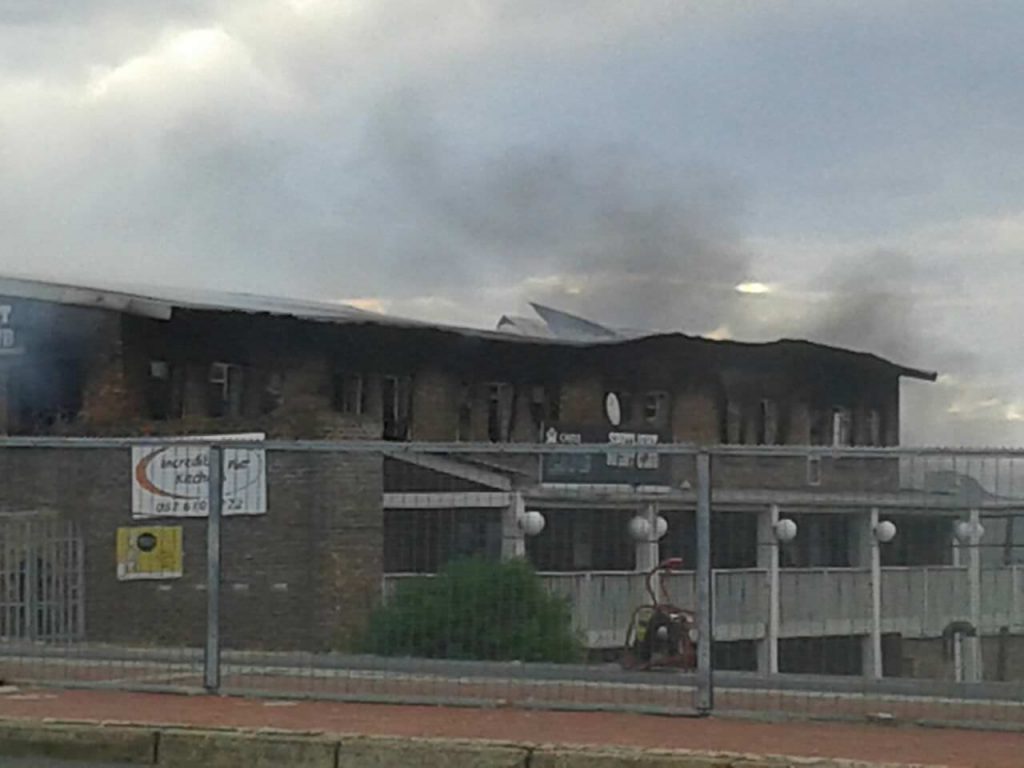 Burnt-out industrial estate, Western Cape, South Africa
13/6/18:
South Africa, Pretoria: area on lock-down as service delivery protesters clash with cops "Eersterust was put on "lockdown". Upset with what they said was slow service delivery in their community, residents barricaded roads to vent long-standing grievances, which they said continued to fall on deaf ears.Constant electricity cut-offs, high rates and taxes, water restrictions and flawed RDP processes count among the issues residents are angry about. Hundreds of residents held protests from 5am, which saw all entrances on Stormvoël Road blocked, stones hurled by residents and rubber bullets fired by police.Residents who tried to get to work were turned back, but schoolchildren were given a free pass in and out the township. The City suspended its morning Mamelodi Bus Service operations in Eersterust because of the violence. Protests intensified throughout the day. Police retaliated with rubber bullets and tear gas when protesters hurled rocks, smashing the windows of police vehicles, and also striking some journalists. Law enforcement was forced to beef up numbers and a massive contingent was brought in, which included members of the SAPS and metro police….The police fired rubber bullets and tear gas to try to disperse the crowd. Youths burnt rubble and tyres along Stormvoël Road. Some residents claimed that corruption had infiltrated the municipality, accompanied by nepotism and the flouting of procurement processes. Others complained about the lack of job opportunities. They said it was a failure to recognise coloureds as a legitimate community. …"We refuse to be harassed. We won't back down until our demands are met" "
12/6/18:
South Africa, Gauteng: local mayor and leading political party leader chased out by service delivery protesters… North West: service delivery protesters barricade roads…Western Cape: truck torched, motorways blockaded during protests No indication of what these protests were about.
11/6/18:
South Africa, Western Cape: looting during housing protests "Olivier said some protestors broke into Diamond Liquors where they started looting the liquor store."Police, Bitou law enforcement and the PBCPA responded to stop the looting. The looters however retaliated by throwing stones." He added that the situation was eventually brought under control, but it was then discovered that several businesses and factories had been burgled."
4/6/18:
South Africa, KwaZulu Natal: parents close down school over health hazards, etc. "Pupils and teachers at Wentworth's Austerville Primary School arrived at the school on Monday to find they had been locked out. Concerned parents and community members have vowed to keep the school closed until the KZN Department of Education addresses urgent matters of mismanagement at the school. These include toilets that have been labelled a health hazard to pupils and a "crisis" with the school's financial management."…Western Cape: service delivery protesters burn tyres, chuck molotovs

31/5/18:
South Africa, Gauteng: striking hospital workers barricade hospital yard, overturn bins in hospital, etc.
30/5/18:
South Africa, Gauteng: several roads closed due to service delivery protests…Western Cape: report on the good and bad aspects of informal land settlement

29/5/18:
South Africa, Gauteng: clashes during service delivery protests "A number of major roads in Mabopane, Winterveldt, Garankuwa and Atteridgeville around the capital Pretoria have been barricaded with stones and burning tyres by protesters….Earlier, metro police fired rubber bullets to dispense a crowd which was blocking the M17 along Soshanguve, but were forced to retreat after they were pelted with stones. Residents from the area…have been without electricity since they moved in around 2014."
28/5/18:
South Africa, Western Cape: looting during housing protest-cum-riot over land and housing"Woodlands in Mitchells Plain was the scene of days of protests over housing and land which culminated in looting and violence on Monday night. The area erupted after authorities removed around 20 shacks which were erected by people demanding houses. In the ensuing chaos, a number of businesses including a Pick n Pay and a well-known local auto shop were vandalised…a shop at the BP garage on the corners of Mitchell Avenue and Ajax Way was also vandalised and looted by the angry protesters."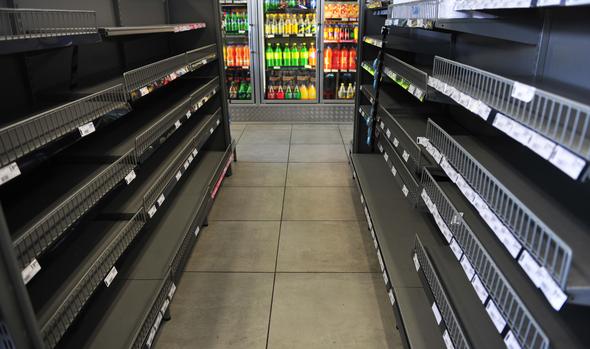 Above: half-empty looted shop
Below: half-empty looted life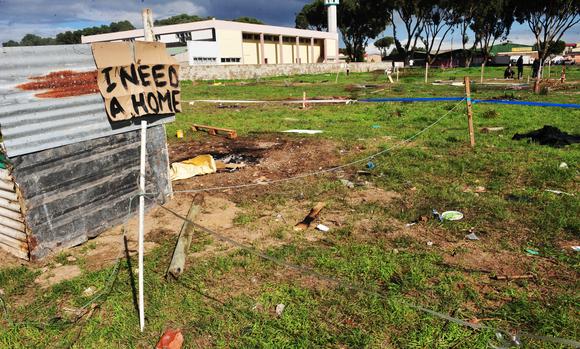 ... report saying that land protests and expropriations of the expropriators have risen 73 % in 1st third of this year
26/5/18:
South Africa, Gauteng: death threats against landless movement (AbM) (see entry for 22/5/18)
25/6/18:
South Africa, Western Cape: video showing housing protests over previous 7 weeks in Cape Town area

24/5/18:
South Africa, Cape Town: angry housing protests continue into 6th day…Durban: tenants force closure of housing management building…North West: councillor's house torched in further service delivery protests

23/5/18:
South Africa, Western Cape: petrol bombs thrown, guns fired at cops during angry protests against housing shortage "Since the weekend, residents of the Cape Town suburb, many of them backyard dwellers, have been protesting about the dire shortage of housing in the area. Violent housing protests continued on Wednesday and the M5 highway was once again closed as more than 1 000 residents and police and law enforcement officers clashed. While most protesters were armed with sticks, stones, petrol bombs and even golf balls, journalists spotted several men with guns, firing at police. Fifteen people were arrested for public violence. Shortly after 10am, a large group of Law Enforcement officers and public order police moved onto the open field in Walmer Street to demolish more than 100 structures. Despite a visit by Human Settlements MEC, Bonginkosi Madikizela, on Tuesday, residents continued to erect shelters, saying they had nowhere to go. McLean said: "We were so peaceful this morning and they just came and took everything. They didn't even want to give us our blankets back." …Another resident Naomi Salie, 64, said: "We were still sleeping in our new homes when the law enforcement officials came and broke my structure down. They also took all our belongings and some of them, they damaged. Among the things they took was my fridge and chairs." Another evictee, 18-year-old Jaden Hendricks, said he had never lived in a conventional home. "As long as I can remember, we have always stayed in wendy houses. I have never lived in a house in my life. My mother has been on the waiting list (for a home)for the past 30 years. As a young person I wish that they (authorities) would build houses for us." Gadieja Davids, 56, said her family's identity documents had gone missing when their informal home was torn down by the law enforcement officers. 111 structures were removed in Parkwood by the anti-land invasion unit on Wednesday. As the structures were removed, residents hurled stones, golf balls and petrol bombs at officers who retaliated by firing rubber bullets and teargas into the crowd. By 11am, officers had managed to contain the crowd inside Parkwood and Prince George Drive/M5 was shut down for several hours. Thick clouds of smoke developed as residents burnt tyres."… 3rd day of angry movement against gentrification "…three days of protests as Bo-Kaap residents brought Wale Street to a standstill, saying they do not want tourists in their community and refused to countenance new developments before the community's heritage preservation status was approved.…"We want them to take our concerns as a high priority. Bo-Kaap residents are suffering at the hands of greed by the City, which has allowed new developments." The protest in the Bo-Kaap since Monday saw hundreds of residents rally, burning tyres and debris. "A number of issues, ignored for years, created this explosion. These include the high tariff rates and exorbitant levies they want from pensioners and residents of this community." More here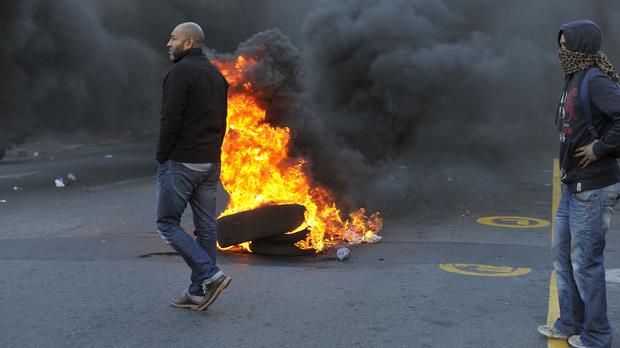 …North West: mayor's house and vehicles torched in service delivery protest "Kgetlengrivier mayor Kim Medupe's house and guesthouse were set alight during a service delivery protest in Koster in the North West on Wednesday. Residents in Reagile went on the rampage, barricading roads with rocks, burning tyres and logs. The small farming town west of Rustenburg was locked down as protesting residents torched the mayor's house, her guesthouse and four vehicles at her house. A van at the guesthouse was also torched, while some shops were looted. Protesters also made off with appliances from the mayor's house and the guesthouse. Police used rubber bullets to disperse the crowd. …residents were not happy about service delivery in the small farming town. …"We don't have roads, our educated young people don't have jobs…we want services and where do we ask for services if our municipality that is supposed to serve us refuses. We are humans too. We cannot and we won't stop because we are also people and have needs."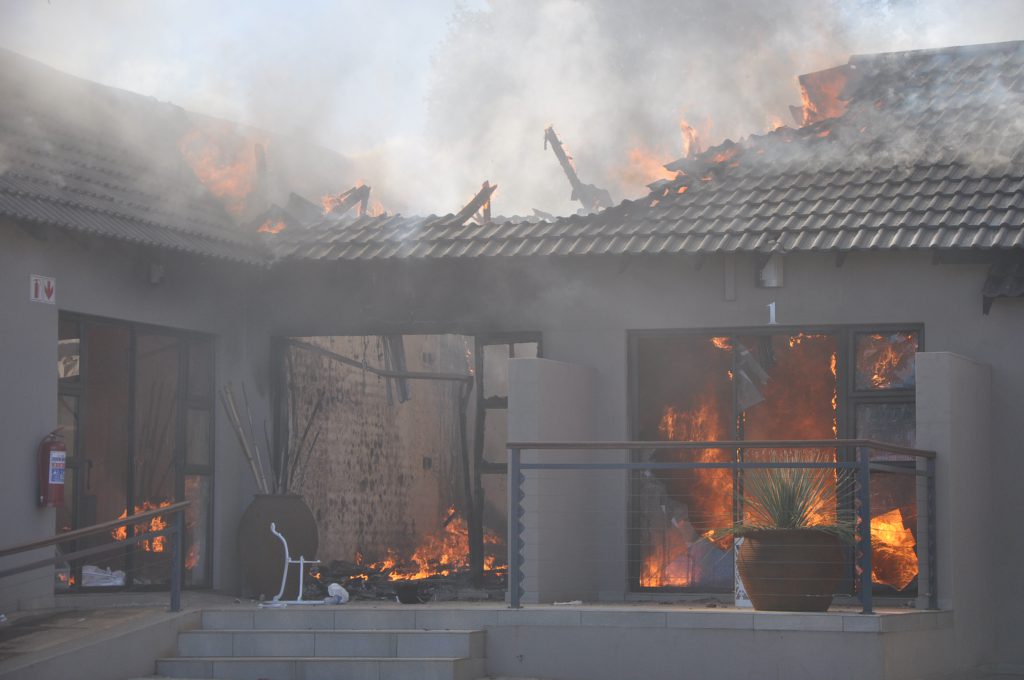 mayor's house & guesthouse get a warm reception
22/5/18:
South Africa, Western Cape: report on various housing protests "Residents of Kewtown and Ocean View took to the streets on Tuesday, protesting about housing, access to health services and evictions – adding to the growing number of housing protests in the province….This followed protests, and land invasions, in Parkwood, Mitchells Plain, Siqalo, Vrygrond, Hermanus, Khayelitsha and Suurbrak in the Overberg….Over the weekend backyard dwellers from Parkwood occupied a stretch of land. They said the land, located next to Prince George Drive, had been earmarked for housing. Further reflecting the increase in protests, more land invasions took place in Hermanus last week and recently about 3000 people occupied land next to Spine Road."…KwaZulu Natal: Abahlali baseMjondolo (AbM) leader of landless movement assassinated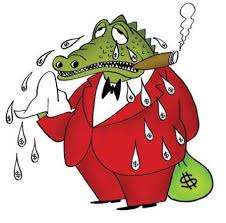 "the ANC is devastated by the assassination of Abahlali baseMjondolo leader in Mariannhill, West of Durban"
21/5/18:
South Africa, Western Cape: continuing housing protests close roads etc...KwaZulu Natal: service delivery protesters block roads with branches, boulders, etc….Gauteng: free beer for all the workers…free beer for all the workers, free beer for all the workers, when the red revolution comes

20/5/18:
South Africa, Western Cape: housing protesters attack cops with molotovs and stones "The situation descended into chaos with a petrol station shop reportedly being damaged and looted. Some roads were closed….The local councillor has also been removed from his property and placed under protection as a precaution." More here: "The Parkwood rent office has been vandalised as the area remains tense after protests. City of Cape Town authorities say it happened on Sunday night….Plumes of smoke engulfed the area on Sunday as violent protests flared, with residents demanding housing from the City.Law enforcement inspector, Wayne Dyason said officers were deployed to the area on Saturday afternoon when residents had put up illegal structures and pegs on a public open space."
17/5/18:
South Africa, Eastern Cape: cops use stun grenades on 2nd day of service delivery protests "The police used stun grenades on Thursday to disperse scores of service delivery protesters during the Ngcobo protest when some attempted to loot a Shoprite store in the Eastern Cape Town. The protesters used loudspeakers to organise themselves but were caught off guard when the police reached the store before the 50-strong crowd arrived.Police fired stun grenades, sending the protesters running back towards Ngcobo town hall, where they had gathered in the morning. It was the second day of service delivery protests in Ngcobo and most businesses remain closed…"
10/5/18:
South Africa, North-West: 2nd day of further blockades of roads with burning barricades in Mahikeng after local scumbag bureaucrat fails to resign "On Thursday morning the protests continued. Residents in Montshioa and Seweding set tyres alight … North West police said burning tyres were placed on roads in Montshioa, Dr James Moroka road in Ramosadi, Bray road in Seweding and N18 road in Magogwe."
9/5/18:
South Africa, KwaZulu Natal: municipal workers on wildcat strike blockade roads…North-West: 5 prisoners escape
8/5/18:
South Africa, KwaZulu Natal: 200 workers for freight company blockade Durban harbour to demand higher wages and better conditions… Limpopo: school pupils from several village schools educate themselves by self-organising a walk-out in support of anti-mining protests "Pupils in uniforms from various schools in the village filled the tar road with stones, broken bottles and burning firewood as they joined community members in protest to stop the movement of trucks conducting mining activities in the area…Police spokesman Brigadier Motlafela Mojapelo said one of their members was injured during the protests and one police car was also damaged."
7/5/18:
South Africa, Gauteng: 150 cleaners & security guards occupy station rail agency offices, demanding end to outsourcing and higher wages…North-West: cops use rubber bullets against housing protesters blockading roads with burning barricades etc. "Protesters, who are demanding low-cost housing, barricaded the R565 road linking Rustenburg and Sun City with burning tyres, rocks and tree logs at Boshoek near Ledig. The protesters fled into the open fields towards Rasimone mine as police used crowd control weapons to dispersed them. Brigadier Sabata Mokgwabone said no arrests were made. Community leader Daphney Semakane said they have been waiting for low-cost houses since 2014. "We are tired of the empty promises made by government. We were promised houses and land but to this day we have none of those. The court said the municipality should make a commitment to provide us with shelter," she said. Semakane said they had been living in tents since 2013″
6/5/18:
South Africa, Gauteng: land squatters clash with cops…report on various blockades and looting "Arterial occupation has become the soft underbelly protesters around South Africa have exposed, often with devastating consequences, to get their voices heard. The estimated R300 million in damages resulting from two protest actions on the N3 at the Mooi River Plaza over a month are crude reminders of how effective this "weapon of choice" has become….the damage done to 37 trucks on Easter Monday (April 2) and again during Tuesday's flaring of tensions in Mooi River was done in the name of visibility of grievances. …currently in South Africa, those who live in poverty and hunger have often given up hope that the government can deliver on promises to improve their lot in life…. the latest attack in Mooi River was planned better and the execution was slicker and more impactful than other similar protests. Booysen also referred to some of the other arterial route occupations, including taxi blockades of the N1 in Gauteng, the poo protesters on the N2 in Cape Town and protests on sections of the N12 in the North West. As parts of the country, including KwaZulu-Natal, were plagued by violent protests this week, two professors, who dubbed South Africa the "protest capital of the world", warned of more to come…. people will employ the culture of protesting as the last resort for them to air their grievances because they feel they have waited too long for the change that was promised to them in 1994…… protesters have become more prone to using national main roads to sabotage trucks and motorists to attract attention, which causes a massive loss to business."
2/5/18:
South Africa, Cape Town: informal settlement service delivery protesters torch ATM, burn store on 2nd day of clashes after 6 years of waiting Video here…Civic Centre occupied in protest demanding land and against illegal evictions…Malema calls for increased salaries for cops
1/5/18:
South Africa, Cape Town: major highway blocked with burning debris by protesters "Protest action has once again flared up in the Macassar area. The N2 is closed in both directions at the Shell garage between Macassar and Baden Powel drive… On Monday fire engines had to be escorted by police to the municipal offices in Macassar which had been set on fire by protesters."
30/4/18:
South Africa, Cape Town (Macassar): housing office burned down in housing protest "Computer equipment, furniture and office records were destroyed in the fire."…Cape Town (Vrgrond): residents chuck petrol bombs, demanding right to build informal housing on contested land "The ownership of the land is believed to be the matter of a legal dispute. Community leader Daniel Nomavila said: "The residents are very angry at the municipality. Law enforcement came to break down their structures and shacks on the land." Protesting residents set alight a sports clubhouse in Seawinds, petrol bombed neighbouring apartments and set a car alight…."City of Cape Town Traffic reported that Prince George Drive has been closed at Military Road, direction towards Sunrise circle for traffic due to protest action and community members wanting to vandalise the Capricon Park Mall. All necessary Law Enforcement agencies are on the scene." Rubber bullets were fired to disperse the crowd. The City of Cape Town's Maxine Bezuidenhout said the roadway was later opened. Residents vowed to illegally occupy Xakabantu as talks with mayor Patricia de Lille collapsed last week. De Lille held a meeting with residents following violent protests in the area two weeks ago. Protesters have continued to burn tyres and debris. The protest began on April 16 after residents complained of overcrowding in Vrygrond and the lack of access to land."
29/4/18:
South Africa, KwaZulu Natal: 32 trucks torched, some looted, in riot More here "…police officers were engaged in running battles with rioters for most of the night….Sources reported that some officers came under fire from the crowds…the source of the consternation is veiled in mystery"
26/4/18:
South Africa, Gauteng: hospital workers striking for unpaid bonuses & overtime trash a bit of hospital "Throughout last week they trashed the hospital and on Tuesday police fired rubber bullets to disperse them," DA Gauteng MPL Jack Bloom said. …"I visited the hospital on Thursday last week and found mounds of trash, including medical waste, scattered in various places. A cold drink dispensing machine was also tossed on its side"
25/4/18:
South Africa: state warns against proletarian "violence" as official General strike to raise minimum begins "…the South African Federation of Trade Unions … and its more than 20 affiliated unions, are set to stage protest marches all around the country on Wednesday in protest at the basic minimum wage of R20 [about £1.20p] an hour. Government, in a statement early on Monday, said marches had played a central role during the apartheid era and culminated into the transition from apartheid to democracy. "Today, marches continue to play a role in the democratic South African society wherein people have a place to make their voices heard….We call on all those participating in the marches across the various provinces to refrain from violence, destruction of property and intimidation. The rights of people who do not want to participate in the marches must be respected. When marches deviate from the intended cause and becomes characterised by violence, looting and civil-disobedience it is less likely to produce democratic progress." Government further called upon the convenors of the march to ensure that chaos does not ensue around Parliament, as this is a national keypoint and the highest law-making arm of the State. The same sentiments should be applied to other areas across the country"…Strike unlikely to impact legislation "Saftu's national strike on Wednesday is more about the federation flexing its muscles and is unlikely to have an impact on the legislative process of amending labour laws. This is the view of labour analysts… the Saftu strike was .. an attempt to try and sell itself as a alternative federation for unions that are unhappy with Cosatu." …lefty "libertarians" give uncritical unnuanced support for this circus

24/4/18:
South Africa, KwaZulu Natal: police station spontaneously combusts "DA Police Portfolio Committee member Dianne Kohler Barnard tried conducting her own investigation into the incident. "Conflicting stories are being told. The police at first said a case of arson had been registered, and a source said it seemed there was no foul play. This means a SAPS station has simply burnt itself," she said…."We have so few stations and such a huge need. The sight of this destroyed building hurts…
23/4/18:
South Africa, KwaZulu Natal: several hours of clashes with cops as informal settlers, demanding free water & electricity, erect barricades of burning tyres & portable toilets, blocking motorway…North-West: looting & barricades as protests spread outside Maheking "Protests in the North West have flared up once again, with Taung and Delareyville now affected.As a result, the police have responded, stopping looting in Taung. On Sunday night, roads were also barricaded with burning tyres in Vryburg.The situation in Mahikeng, however, where the protests began last week – remains calm with a heavy police presence…despite some looting in Taung on Monday, the police have been able to bring all the affected areas under control"…cops kill 16-year-old during protest Video of clashes here shows attacks on school conditioning factories
21/4/18:
South Africa, North West: "calm", apparently, has returned to Maheking (see entries for last 3 days below) "The situation was calm in Mahikeng on Saturday despite two attempts to burn buildings overnight, North West police said. A petrol bomb caused minor damages at the house of a traffic officer in Magogwe Tar village on Friday night, Brigadier Sabata Mokgwabone said. "No one was injured during the incident. In the second, separate incident, a petrol bomb that was apparently meant to cause fire and damage to [the] Mmabana Arts Foundation building failed. This is the same building that was burnt on Thursday." He said the situation in Mahikeng was relatively calm on Saturday. "At this stage, despite visible objects that were used as barricades, traffic is flowing on most of the roads"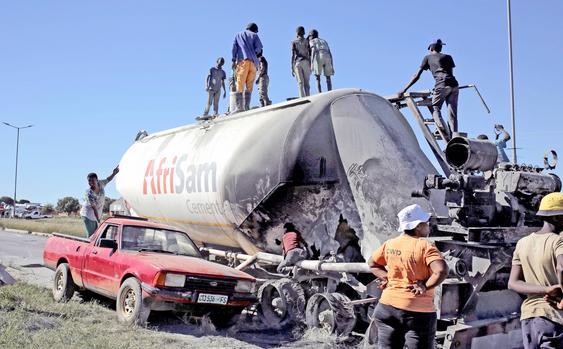 Locals loot cement from an AfriSam cement truck during protests in Mahikeng
20/4/18:
South Africa, North West: protests spread to 3 areas outside regional capital (see 18/4/ & 19/4 below) "A petrol station along the Vryburg road was looted and damaged … An ATM next to the filling station was bombed. Cars were also torched….The administration block of Mmabana Foudation in Mmabatho was partially burnt and two vehicles were torched in front of the building. A filling station and a liquor shop were looted and damaged"…more extensive coverage here…National bus strike intensifies …3 prisoners awaiting trial escape
19/4/18:
South Africa, North West: angry protests continue (see below) "Shops were closed and streets blockaded with burning objects as the calls for Mahumapelo to step down mount. A group of youngsters armed with rocks and sticks barricaded Nelson Mandela Drive linking the North West capital and Botswana, with burning objects littering the road. "We do not talk to media, go and talk to Supra, we do not want Supra and his cabinet," said one man from the group. On the same road, about 10 kilometres away, a truck trailer was torched and youngsters were also piling burning tyres on the road. Elsewhere, a police armoured vehicle (Nyala) was petrolbombed in Danville near the capital, while in Dibate near Mmabatho, a group of youngsters looted tuck shops and police resorted to firing rubber bullets. Protesters, who were aggressive to the media, said they want Mahumapelo to resign as the premier of North West….The capital was totally shut down on Thursday. The protest started on Wednesday in Montshioa where a bus was torched. This was apparently sparked by the death of two people at the Montshioa Stad Clinic, after they reportedly did not get help due to the ongoing strike by nursing staff. Members of the National Education Health and Allied Workers Union (Nehawu) have been on strike since February 26, demanding the dismissal of head of the health department Dr Thabo Lekalakala, the termination of contracted companies by the department, bonus payments, the payment of occupation specific dispensation (OSD) for employees at provincial offices and increases of Community Health Workers salaries." …one person killed by cops…More here "…a police armoured vehicle (Nyala) was petrol bombed in Danville south of Mahikeng….a police officer's house was also attacked by a rioting crowd in Danville."
18/4/18:
South Africa, North West: looting & burning barricades as protest against ANC regional premier turns to rioting in regional capital (formerly Mafeking of Boer war fame) "North West police were outnumbered overnight as angry protesters shut down the entire Mahikeng town. Police vehicles were forced to make u-turns while trying to respond to the chaos that was unfolding as residents barricaded the roads with burning tyres and pelted motorists with rocks. The protesters are calling for premier Supra Mahumapelo to step down. He is reported to have spent the night at his Haartebespoort Dam home. Almost all intersections in Mahikeng and neighbouring villages were closed and police were prevented from coming near to the blockades. Prominent businessman Sefidvash Naraghi and wife Sanao were admitted at Victoria hospital after their vehicle was attacked. According to a family friend, the couple was stopped by protesters who demanded money and cellphones before pelting them with stones….The last time Mahikeng experienced riots like this was in 1994 when residents took to the streets to force the late Bophuthatswana president Lucas Mangope out of office. In Ramosadi, Seweding, Phola, Danville and Motshioa townships, small groups of people were burning tyres. Foreigners are running for help as protesters have emptied their shops while some residents were shot with rubber bullets." More here "Police in Mahikeng had to use teargas and fire rubber bullets when Lonely park residents went on a rampage looting foreign owned shops this morning. Children as young as 10 years-old were seen running out of the shops with stacks of money in their hands. Protesters also looted refrigerators , mattresses and groceries. Petrol bombs were being readied to be used for breaking into more shops….Residents complained that it was unfair for Mahumapelo's son to get R1-million pilot bursary whereas they were struggling to get funding for tertiary education.Over the weekend reports emerged that Mahumapelo Junior had received the bursary from state arms manufacturer Denel. At the crossing shopping complex a food outlet McDonalds , owned by Mahumapelo's wife Kule is situated, shops were forced to closed. Protesters threatened to burn down the outlet before the end of today."If he does not want to step down, this town will be on fire," said one of the protesting youths."We want his Mc Donalds, we want those burgers." …cop's armoured truck torched…National bus strike
17/4/18:
South Africa, Western Cape: interesting housing protests "Protests flared up again in Vrygrond, near Muizenberg on Tuesday. It appeared to be a continuation of a housing delivery protest that started on Monday night, where residents set alight debris, obstructing traffic …A vehicle was also set alight, and a Pick n Pay liquor store was looted. The protest is linked to vacant land which residents want to occupy. Residents of Vrygrond claim they own the land. The police maintained a strong presence in the area as protesters continued to burn tyres and other debris. "We are struggling. We use our Sassa money to pay our rent and we still need to buy food. We can't cope," resident Deborah Brant said."
16/4/18:
South Africa, Western Cape: liquor store looted, burning barricades, after illegal settlers are evicted by cops
13/4/18:
South Africa, Durban: informal settlers block roads with burning tyres in protest against electricity cuts
12/4/18:
South Africa, Eastern Cape: council meeting to work out 5-year plan violently attacked by 200 locals "The meeting started at 18:00 and just before 19:00, a group of about 200 local community barricaded the hall entrances at its gates with burning objects. Seven vehicles were damaged with stones and rocks thrown at them…one Metro vehicle, a Nissan NP200 bakkie, also had a flammable object thrown inside the cab causing fire damage to the seat. Some of the windows of the hall were also shattered by stones…. the Public Order Police Unit (POPS) had to use rubber rounds to disperse the stone-throwing crowd after their vehicles were also thrown with stones. POPS members forced open the gates in order to free the delegates that were trapped inside the hall. By 21:00 some of the crowd moved to the N2 in Colchester where they attempted to close the road with burning tyres and objects and threw stones at passing vehicles. A further nine vehicles, including four trucks, were damaged by these stone throwers."
No mention of what this meeting or the plan was about or why there were such angry protests.
9/4/18:
South Africa, Gauteng: 16 prisoners escape…2 of them later shot dead by the filth…KwaZulu Natal: burning boats used as barricades as informal settlers protest 7-year-old being knocked down by vehicle
5/4/18:
South Africa, Eastern Cape: rocks thrown at cops, burning barricades across 2 major roads, in resistance to state destruction of shacks Meanwhile the phoney 'radical' opposition in the form of Julius Malema, the millionaire leader of the EFF, calls on people to occupy land legally (here).
2/4/18:
South Africa, KwaZulu Natal: road barricaded with massive supermarket trucks, which are looted as they burn during protest Video here More here "People could be seen on top of a truck belonging to a supermarket chain and throwing items down to onlookers….There have also been reports of trucks being petrol bombed in the area."…and here "The exact reason has not been confirmed, but according to provincial spokesperson Colonel Thembeka Mbhele, people from an informal settlement were protesting because they were not being employed by local truck companies."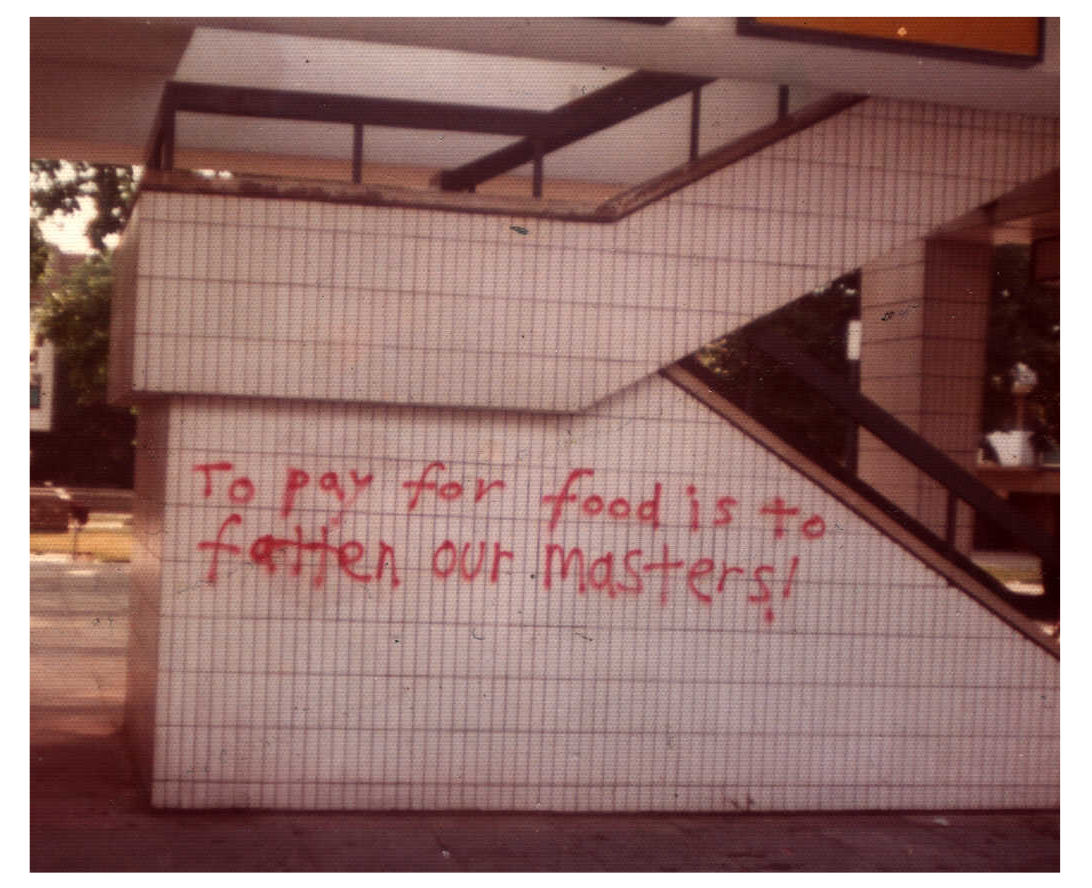 26/3/18:
24/3/18:
South Africa, KwaZulu Natal: lectures suspended after heavy clashes between students and campus "security" "A group of around 200 students disrupted lectures, demanding that their fellow students join the protest action.The students say poor conditions at the residences and problems with the payout of some students' National Student Financial Aid Scheme (NSFAS) allowances led to the protests….Another student from the Westville residence said living conditions there were deplorable. "There has been flooding and no repairs. The roof is not fixed and we are tired of living this way"
19/3/18:
South Africa, KwaZulu Natal: toll gate workers on strike burn tyres at some tollgates
15/3/18:
14/3/18:
South Africa, Cape Town: street barricaded with burning tyres as informal settlers resist cop demolition of shacks
10/3/18:
South Africa: a critique of the electoral circus? " A voting station in the Free State was torched and several others closed across the country on the first day of voter registration… In the Free State, a tent erected as a temporary voting station in Harrismith was burnt down, another was stolen in Kroonstad by residents and a third was demolished and destroyed by residents… In Gauteng, seven voting stations in Ward 55 in Katlehong, on the East Rand, were affected by ongoing community protests; Community residents in Ntabankulu in the Eastern Cape shutdown activities in voting stations…Parts of Wonderkop in the North West were also closed; Gazebos had to be erected by staff in Tongaat in KwaZulu-Natal when communities threatened landlords of venues used by the IEC; Dunoon residents in the Western Cape forced an evacuation of election staff by police; One tent was vandalised overnight and another stolen in Kimberly, Northern Cape; On-going protest over municipal demarcation in Vuwani, Limpopo have affected 10 voting stations which remain closed"
8/3/18:
19/2/18:
South Africa, Limpopo: 3 prisoners awaiting trial escape
15/2/18:
South Africa, Gauteng: 2nd day of wildcat bus drivers' strike
8/2/18:
South Africa, Pretoria: tyres burnt as students shut down campus in protest against lack of accommodation
2/2/18:
31/1/18:
South Africa, Durban: security guards shoot striking university workers…passengers torch 2 trains in anger at delays…Mpumalanga: residents barricade main roads in protest against lack of water
18/1/18:
South Africa, Gauteng: cop van molotoved during 2nd day of heavy clashes between cops & protesters demonstrating for the right of English-speaking pupils to attend Afrikaans-only school Unfortunately, much of this is led by the opportunists of the EFF and ANC youth.
13/1/18:
South Africa, Johannesburg: H & M stores trashed over racist advert Never mind their super-exploitation of third world kids (eg in Myanmar, kids have been paid 13 pence an hour), never mind their manipulative function as image-sellers, etc. – attack them for a crude idiotic ad that they've made a standard apology for. But then this was an action of the EFF, whose millionaire demagogic leader (Julius Malema) is selling himself as a far-left rebel and yet another would-be president aiming to get to power over the backs of proletarian revolt, just like Mandealer before him. Hoping to get in on the act of every movement, on 12th January, the EFF were busy building their "radical" reputation amongst students in Pretoria (see here) and on 11th January at Gauteng's Vaal University of Technology Vanderbijlpark campus (see here).
11/1/18:
South Africa, North West: roads barricaded, mine conveyor belt destroyed, etc. after man killed during protest against lay-offs
22/12/17:
South Africa, Mpumalanga: 6-day wildcat at gold mine ends…nationwide Shoprite strike against super-exploitation and lack of night transport
10/1/18:
South Africa, Limpopo: prisoner escapes cop van
6/12/17:
South Africa, KwaZulu Natal: protesters demanding work block road with rocks
22/11/17:
South Africa, North West: road blocked, bus torched in protest against unpaid wages
18/11/17:
South Africa: student organisation gives rulers & university authorities time to organise repression of upcoming struggles for free education "The SA Students Congress (Sasco), the country's biggest student organisation, has threatened to disrupt the start of the 2018 academic year at universities across the country if free education is not realised. Sasco secretary-general Tembani Makata said the organisation wanted free education to be implemented, saying the ANC had already adopted a resolution on this. To force the government's hand, Sasco has issued an instruction to all its structures that "the 2018 academic year must not commence unless there is free education", she said. The finer details of this protest action would be worked out at Sasco's national congress to be held during the second week of December. However, Makata said the anticipated action would include ensuring that no registration of both new and returning students happened at all campuses."
16/11/17:
South Africa, KwaZulu Natal: informal settlers clash with cops as they block roads in protest at mayor's broken promises following lethal fire "Hundreds of displaced shack-dwellers, left homeless after a fire swept through their settlement at the weekend, barricaded Clare Road in protest as a wave of cold and rain hit the province. Protestors dragged rubbish and trees on to the busy arterial road, obstructing traffic. Riot police forced the mob to disperse using teargas and stun grenades. The protest, the shack dwellers claim, comes after eThekwini mayor Zandile Gumede reneged on a promise to provide building materials to those affected by the fire."
13/11/17:
South Africa, Gauteng: wildcat strike in gold mine…North-West: residents seize control of community radio station
11/11/17:
South Africa, Johannesburg: city's IT bureaucracy sabotaged "A break-in and the theft of copper cable worth about R2 million at the City of Johannesburg's data centre in Braamfontein on Saturday is intended to sabotage the initiative of building and securing the city's data and infrastructure environment, mayor Herman Mashaba said. The city was currently in the process of building its data centre and disaster recovery centre"…revolution on the cards?
2/11/17:
South Africa, Gauteng: roads barricaded by students in anti-fees protests…Western Cape: campus vandalised as student demands are rejected "Violent protests spread to UCT as chaos erupted after a group of students blocked entrances, slashed the tyres of buses and flung human faeces in a lecture hall….six people were arrested – their status as students was unconfirmed following the blocking of entrances on the campus and the vandalism of buses. Student activist Simone Cornelius said that students' demands included a 0% fee"
1/11/17:
South Africa, Western Cape: 3 arrested during student protests "Around 100 students marched on the universities premises, overturned furniture and dustbins and attempted to block roads. UCT staff and students gathered on Wednesday to discuss highly contentious issues, like free higher education and fee increases for 2018."
30/10/17:
South Africa, Western Cape: University of Cape Town bans campus protests "The University of Cape Town obtained an interim interdict stopping students from protesting on campus or shutting down academic activities…at the CPUT Cape Town campus a design studio was set alight and a section of the engineering building targeted by arsonists last week."
27/10/17:
South Africa, Western Cape: university suspends classes due to disruption "The decision follows extensive disruptions and barricades this morning on entrance and exit roads causing severe delays in traffic on campus and surrounding areas" …..university spends 54million rands on "security"…Durban: libertarian critique of state taken up by the weather…Gauteng: Uber taxis torched in taxi driver protests…main roads blocked…Limpopo: 6 escape during prison riot "The police in Makhado have opened cases of arson, malicious damage to property and escaping from lawful custody after the prisoners of Kutama Sinthumule maximum prison went on the rampage, torched and damaged some of the prison facilities"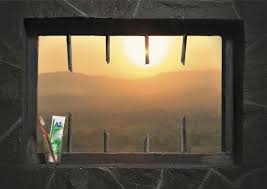 25/10/17:
South Africa, Western Cape: office torched as clashes develop at universities "Unrest continued at UCT and the Cape Peninsula University of Technology (CPUT) yesterday, when private security guards used stun grenades to disperse a group of protesting students who the university said attempted to storm the Bellville library. This as hundreds of students from the two universities marched to Parliament demanding to know when President Jacob Zuma would release the Commission of Inquiry into Higher Education and Training report. Several students were held as they were dispersed outside Parliament shortly after Finance Minister Malusi Gigaba delivered his Medium-Term Budget Policy Statement. UCT student Qondisa James said: "We are on the ground together. We will fight together. This is a call for all universities to unite." The students were escorted by police from Parliament to the CPUT's Cape Town campus. They demanded … the "demilitarisation" of universities, the disbandment of all "paramilitary security", the release of the fees commission report on free education and the withdrawal of court cases against students. Earlier yesterday, an office at the old education building on the Bellville campus was also set alight. On Monday the institution's research directorate office in Bellville was closed after a suspected arson attack. Five people were arrested in connection with the torching of a student shuttle and another vehicle on the same day." …Free State: university shut down during #feesmustfall protests


23/10/17:
South Africa, Western Cape: campus bus torched as protests simmer
21/10/17:
South Africa, Western Cape: situation at University continues to simmer "…there had been "sporadic incidents of cars being stoned but we have identified a secure area which is being heavily guarded by security". Students, who spoke to Weekend Argus on condition of anonymity, said: "We have spoken to (acting vice-chancellor Chris) Nhlapo. He doesn't listen; we will show him flames. We want him to see cars fly, but everything we do from now is done underground, we cannot afford to be seen and we cannot be very vocal about our plans".
19/10/17:
South Africa, KwaZulu Natal: 2 or 3 schools vandalised in protest over exam confusion "Three Pongola schools were believed to have been vandalised and set alight following the protest last week. However, police spokesperson Colonel Thembeka Mbhele could yesterday confirm only two incidents. "On Monday, pupils allegedly broke school windows during a school meeting in one of the high schools… Pongola police arrested a 20-year-old suspect and charged him for malicious damage to property," she said. "On Thursday, at about 8am, a group of pupils allegedly stole cash and laptops from the staff room and set the school property alight… A case of malicious damage to property was opened at Pongola police station. "No arrest has been made at this stage, but the stolen cash was recovered by police".
17/10/17:
South Africa, Pietermaritzburg: pupils crap on crap "education"
16/10/17:
South Africa, Western Cape: university to re-open with armed guards and razor wire fencing after week of angry protests See entry for 11/10/17.

12/10/17:
South Africa, North West: protesters linked to anger at non-payment for work at mine loot stores, torch building "…members of the community went on a rampage and set alight a building that was previously used as a satellite station. They also looted goods from a supermarket, which they allegedly burnt," Brigadier Sabata Mokgwabone said on Friday. "According to information available at this stage, acts of criminality continued when goods were looted from a tuck-shop and a liquor store while an Automated Teller Machine (ATM) was damaged. ..The violence was thought to be linked to Tuesday's protests over retrenchments at the Gupta owned Shiva Uranium Mine. During the protests, 11 people including a Councillor were arrested for malicious damage to property and public violence. Some protesters pelted police vehicles with stones and threw a petrol bomb towards a poultry abattoir." See also this

11/10/17:
South Africa, Cape Town: university fenced off with barbed wire following recent clash between protesting students and security guards & cops
10/10/17:
South Africa, North-West: truck torched, burning barricades in probable service delivery protest…15-year-old shot & killed by car driver opposed to protest "A truck was torched in the early hours of Tuesday, on the Lichtenburg-Coligny road and the road was barricaded with burning tyres and other objects…"…This started out as a protest demanding better living conditions but has now escalated to a full-blown war…"A police armoured vehicle was set alight in Blydeville in April and a truck transporting day-old chickens was also torched. In Coligny also in Ditsobotla, six houses were torched after a teenage boy, Matlhomola Mosweu was allegedly killed by two farmers — Pieter Doorewaard and Phillip Schutte — who accused him of stealing sunflower."…riots in 3 other areas; arrests for burning cop Nyala (armoured truck) and looting "Three houses, three trucks and a tractor were torched in Coligny and several shops were looted. Three trucks were also set alight in Blydeville, Lichtenburg during the violent protest that flared in Blydeville on Friday and spill over to Coligny and Itsoseng. A police armoured vehicle (Nyala) was torched in Blydeville on Monday afternoon." …former workers furious about non-payment of wages "…a group of former employees of the Gupta-owned Shiva Uranium Mine embarked on a protest, claiming they were not paid after their retrenchment…Supported by the community of Tigane, they tried to march to Hartbeesfontein but police managed to stop them before they got into town where they allegedly intended to damage property. In the process, a police vehicle was damaged." About this see also entry for 13/10/17.


9/10/17:
South Africa, Cape Town: 4 campuses shut down as protesting students refuse to submit demands to university administation More here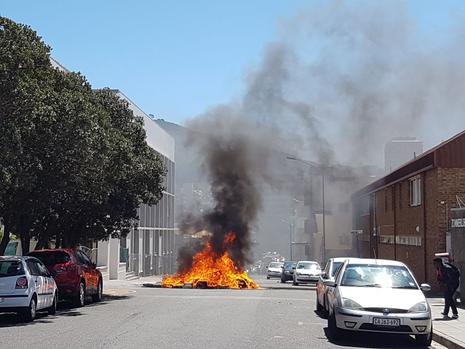 Cape Peninsula University of Technology, 9/10/17
5/10/17:
South Africa, Pretoria: informal traders storm into Town Hall demanding promised education payments "Some children claimed they had been booted out of institutions of higher learning for failing to pay their tuition fees."…Durban: rubber bullets & stun grenades used as barricades burn, cops pelted, in protest about lack of housing

4/10/17:
South Africa, Gauteng: mass squat by about 100 described as "hijacking"
3/10/17:
South Africa, KwaZulu Natal: informal settlers and cops clash after squatters' shacks are demolished "…several shacks' built on the banks of a river that runs through the settlement' had been flooded due to recent rains. The eThekwini Municipality's Disaster Management authority had given approval for the shacks to be rebuilt – but when they were erected in a different location' the City's Land Invasion Unit responded with haste' destroying the newly erected shacks and peppering residents with paintball bullets.Residents then responded by setting up burning barricades and blocking the roads' as the officials from the Land Invasion Unit fled."

2/10/17:
South Africa, North West: 4 Tribal Authority vehicles and bus torched during demo by unemployed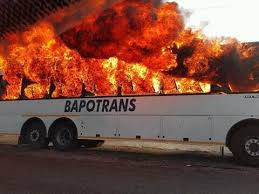 1/10/17:
South Africa, Durban (KZN): cops get heavy again with land squatters
29/9/17:
South Africa, Gauteng: striking shop workers throw stones at supermarket car park cars and windows
26/9/17:
South Africa, Eastern Cape: students riot during fees protest "The University of Fort Hare is still assessing damage caused to property after students went on the rampage on Tuesday night. University spokesperson, Kgotso Moabi, says a couple of buildings have been vandalised on the Alice campus. He says the university has been trying to iron out a number of issues with the students' body. A month-long protest by nursing students has resulted in the closure of the nursing faculty on the East London campus over a lecturer. Moabi says, "I can confirm that Tuesday night the students embarked on a strike and in the process of that strike they have damaged some property at school, they have vandalised a couple of our buildings. We are still assessing damage and lost items. We're not quite sure at this point in time, we are currently doing an assessment of the damage to property and if there are any stolen items…"

25/9/17:
South Africa, KwaZulu Natal: 5 prisoners escape…Western Cape: service delivery protesters lacking electricity on informal settlement block roads etc. "…hundreds of residents from an informal settlement near Sir Lowry's Pass Village took to the streets to protest over the lack of electricity. The violent protest forced the closure of the N2 near Strand between Broadlands and Hazeldene Roads. The roadway was barricaded with burning tyres and debris and protesters also broke down traffic lights and stoned passing vehicles. At least 19 people were arrested for public violence…. said more than 500 residents protested. Two city council vehicles were damaged, two traffic lights were broken and three city council workers injured.,,,The supply of electricity was causing friction between residents in formal housing and those in informal settlements. "People from the informal settlement connect their wiring to the big Eskom poles and that often causes electricity cuts for those living in formal houses". More here "On Monday their protests in Broadlands and Hazeldene caused traffic congestion and the N2 was only reopened about 6pm. This came after roads had to be closed at the same location last week due to protest action."
22/9/17:

South Africa, Gauteng: 2 killed by cops and bailiffs during eviction of land squatters ""The police came in the morning and they started shooting together with the Red Ants. People died. They shoot at everyone they see and they are using live ammunition'" said Sbo Ndlovu. Makhubele said people "started occupying the land last week" and were resisting eviction. Ndlovu said they were not given eviction notices. "We've just experienced the worst experience' which we never thought would happen'" said Ndlovu. "We are requesting government to intervene."" …as if the government hadn't already intervened – on the side of brutal murder.
20/9/17:
South Africa, KwaZulu Natal: main road barricaded as locals protest about housing, unemployment, use of government funds & road safety

18/9/17:
South Africa, Cape Town: buses burnt as taxi strikers get furious "MyCiti bus was set alight, as the taxi strike which started in Cape Town on Monday caused chaos the city's streets. A Golden Arrow bus was also set alight earlier on Monday, while buses and private vehicles have been stoned and commuters, police and traffic officials attacked in various incidents across the city. …protesters burned tyres to blocked the roads. It was removed by SAPS members roads are opened…. buses thrown with stones. …SAPS and Traffic members thrown with stones….Buses, SAPS POPS thrown with stones. Members took action using rubber and gas to disperse the crowd… Delft attack on buses one bus set alight. Also attacked were Traffic and Fire Department members. No injuries reported just damages."[grammatical errors in original]

15/9/17:
South Africa, Pretoria: projectiles thrown into Burmese Embassy during protest against Nobel Peace Prize winner's genocidal policies I was in two minds about putting this up. Though the policies of Myanmar/Burma towards those in Muslim areas is undoubtedly brutal and genocidal often similar brutality is meted out to various sections of the population of countries where Muslims are in charge of the state, and most of these Muslim organisations organising demonstrations against Aung San Suu Kyi remain silent about such things. Many of these organisations are also usually mysogenist, homophobic and generally repressive towards any attempts at asserting a sense of life amongst those at the bottom of their own hierarchies as well, beginning with women. However, this demo included lots of non-Muslims (Buddhists included) – so it seemed worth putting up, with these words to modify any sense of uncritical support. (For an examination of Buddhism in Thailand see this).
14/9/17:
South Africa, Western Cape: exam hall burnt down on 4th day of protests "Violence entered the fourth day after private security guards disrupted a student gathering …The Multi Purpose Hall, an exam venue at the CPUT Cape Town campus, was allegedly burnt by protesting students. … a clash between students and private security guards led to a computer lab being damaged….On Monday, an industrial design workshop building was burnt down, forcing all business and engineering activities to be suspended. Yesterday protesters disrupted classes at the Mowbray campus, forcing a shutdown until further notice, the university confirmed. Students and workers have been protesting for reasons including: the lifting of the suspensions of four students …; the clarification of the insourced worker contracts; the release of two students."…Hout Bay (Western Cape): angry protests continue as cops are charged with attempted murder after shooting 14-year-old in mouth "Protests erupted in Hout Bay when small-scale fishers were unhappy regarding the Department of Agriculture, Forestry and Fisheries' proposed total allowable catch reduction for the West Coast rock lobster. Residents joined the fishermen, aligning their struggle with ongoing housing and service delivery issues. They set benches on fire and used flares and petrol bombs, resulting in public order police being deployed….Protesters set fire to debris and clashed again with police near Harbour Road, setting fire to a digger loader with petrol bombs. City Law Enforcement spokesperson Wayne Dyason said flares were fired at police and the road to Hangberg was blocked off, but no injuries were reported."
13/9/17:
South Africa, Western Cape: angry protests about fishing quotas continue "…angry protesters took to the street for the second day to protest over the allocation of fishing rights and the delivery of basic services….The 14-year-old boy shot on Tuesday with a rubber bullet, allegedly by police, was recovering in hospital….Disgruntled fishers stormed the Foreshore offices of the department on Monday, demanding an immediate suspension of the West Coast Rock Lobster fishing rights allocation process."…KwaZulu Natal: schoolkids loot and burn their school…Western Cape: 3rd day of violent protests at University of Technology forces suspension of studies "Violent protests entered a third day at the Cape Peninsula University of Technology (CPUT), forcing the institution to suspend all academic activities at its Faculty of Business and Management Sciences in Cape Town yesterday.This came a day after CPUT announced that all academic activities were suspended at the institution's engineering faculty on Tuesday.On Monday, the industrial design workshop building was allegedly petrol-bombed and a car stoned….The university has been on lockdown after students and workers clashed with police and private security guards since Monday. They were demanding that CPUT lift the suspension of four student leaders and improve the contracts of in-sourced workers….Yesterday, a group of protesters disrupted classes on the Mowbray campus….A security guard… said: "Management is proving us wrong. We are supporting the students because they are the future leaders of our country – the fight to free the arrested students, lifting of the four students' suspensions and the insourcing of worker contracts are all a struggle for free education."
12/9/17:
South Africa, Western Cape: armoured cop truck burnt, cops pelted with projectiles, barricades of burning tyres as locals protest fishing quotas

11/9/17:
South Africa, KwaZulu Natal: protesting high school students set fire to school "…the pupils were demanding "a more beautiful school", scholar transport and for the provincial Department of Education to provide them with breakfast, as well as the lunch it already gives them."…Western Cape: university building petrol bombed as students support workers' demands over contracts and demand reinstatement of suspended students… Western Cape (Proteadorp, Kleinmond): municipal vehicle burnt, etc. after cops fire rubber bullets against march protesting lack of housing etc."The seaside town was turned into a war zone as protesters and the police clashed following what was meant to be a peaceful march. One person was arrested for firing live ammunition into the air, protesters and police exchanged stones and rubber bullets, and a municipal vehicle was torched….At issue are a lack of housing in the area, inadequate graveyard space, a shortage of schools and a town cleaning tender … Older pupils have to travel to Grabouw, Hermanus, Hawston and Caledon to attend high school. Travel expenses can amount to R700 a month….Residents told Weekend Argus that as soon as they gathered for their March on Monday, police blocked their way down Kleinmond main road towards the municipal offices….Running battles between protesters and police broke out. Further protests took place over the rest of the week."
10/9/17:
South Africa, Limpopo: 4 prisoners awaiting trial escape from police station
7/9/17:
South Africa, Western Cape: street barricaded, car burnt, in furious protest against dangerous drivers
4/9/17:
South Africa, Limpopo: violent clashes with cops during service delivery protest against empty government promises Video here…Durban: 2 members of Abahlali baseMjondolo kidnapped, beaten and tortured
28/8/17:
South Africa, Johannesburg: service delivery protesters burn down bus station, barricade roads with burning tyres and rocks…North West: large tractor tyres burnt in front of municipality offices in protest against electricity bills (morehere)
26/8/17:
South Africa, Limpopo: cop barracks gutted by fire (arson?)
25/8/17:
South Africa, Pretoria: schoolkids boycott school in protest against uniforms
24/8/17:
South Africa, Durban: after days of rioting and land invasion, council forced to guarantee that 500 new homes will be built (see entry for 22/8/17)…though elsewhere brutal evictions continue "The evictions from the housing units in the Sydenham suburb came after residents refused to pay rent, saying that they had been promised to "rent to own" the houses, later finding out that this was not the case. Tempers flared as various items were carried out of homes, resulting in residents throwing stones at police and other law enforcement officers, who fired rubber bullets."
23/8/17:
South Africa, Gauteng: houses of several leaders of scab union petrol bombed as miners' strike continues "Workers affiliated to Amcu, the majority union at Vaal Sanitaryware, have been on strike for the past three months, while NUM members have continued going to work. Vaal Sanitaryware employs just over 400 workers, and around 150 of them belong to the NUM. NUM's branch chairperson at Vaal Sanitary Tebogo Litelu said that the union's leadership had been targeted as seven houses were petrol bombed by unknown people in different parts of the township since the beginning of the strike."…North West: major road blocked with burning truck as residents demand arrest of farmer following disappearance of man shot for "stealing" oranges

22/8/17:
South Africa, Durban: shack dwellers force private security to beat retreat in resistance to evictions (video) More here…Johannesburg: 20 prisoners awaiting trial escape from prison van
20/8/17:
South Africa, Cape Town: local councillor's office torched, his house attacked, as part of resistance to shack destruction
16/8/17:
South Africa, Pretoria: striking taxi-drivers bring parts of city to a halt "…taxi drivers blocked all major intersections in Mabopane, Ga-Rankuwa and Soshanguve, north of Pretoria, in a bid to prevent people from getting to work…. train services have halted…..some entrances to Mamelodi, east of Pretoria, were blocked….Metro police said there was no application made for the protest action and no permission was given for the strike. Metrorail train services operating from Mabopane to Soshanguve were meanwhile temporarily suspended due to violent taxi protesters who blocked the railway lines with foreign objects under the Ruth First bridge. Metrorail spokesperson Lillian Mofokeng said trains are turning around at Kopanong Station. In Pienaarspoort trains are turning around at Mamelodi Gardens station due to taxi drivers burning objects at Pienaarspoort level crossing."
15/8/17:
South Africa, North West: trucks burnt during 3rd day of protest over disappearance of young man shot by farmer for "stealing" oranges

14/8/17:
South Africa, Cape Town: clashes as tenants resist eviction "Water cannon were used to disperse protesters who burnt tyres and rubbish in an anti-eviction protest in Cape Town on Monday. People being evicted from a low-cost apartment complex in Steenberg also started a fire in a building used to store bins. Residents of Steen Villa said they were being evicted for failing to pay rent which had become unaffordable."
11/8/17:
South Africa, KwaZulu Natal: striking call centre workers block off magistrates court with burning tyres
9/8/17:
South Africa, KwaZulu Natal: molotovs thrown at university building during student strike
8/8/17:
South Africa, Gauteng: protests with burning tyres etc. throughout province against President "Areas reportedly affected include Soweto, Turrfontein, Hillbrow, Braamfontein as well as numerous communities in Pretoria. Johannesburg Metro police spokesperson Wayne Minnaar explained that protests began as early as 4am. "Soweto and Turffontein residents burnt tyres and blockaded streets from at around 4am on Tuesday morning," he said. "Routes affected include the Soweto Highway, Chris Hani road, N12, Impala road R55 and Beyers Naude." …Meanwhile, Tuesday's protests also led to the closure of numerous schools in Meadowlands, Gauteng police said. "
3/8/17:
South Africa, Soweto: roads blocked with burning tyres, rocks and burning bus in protest against racial distraction "The residents say government has continuously marginalised the coloured community and has made the Klipspruit saga a racial issue to deviate attention from important national issues."

27/7/17:
South Africa, Western Cape: service delivery protesters block roads with burning barricades, etc.
25/7/17:
South Africa, Western Cape: buildings and cars burnt as negotiations over student fees continue

24/7/17:
South Africa, Pretoria: service delivery protesters block roads… clashes as taxi drivers unblock service delivery protesters' barricades "The taxi drivers threatened to use violence if the protesters refused to open the road. They carried batons and sticks and threatened to use them. Police kept a keen eye on both protesters and taxi drivers. The protesters later dispersed while taxi drivers cleared the road of debris, burnt tyres and stones….The residents…moved their protest action from Pienaarspoort to Metrorail's railway line, stoning passing trains and burning tyres on the tracks. This caused major train delays, with some running two hours behind schedule."
22/7/17:
South Africa, Gauteng: almost 32,000 teachers play truant
17/7/17:
South Africa, KwaZulu Natal: mortuary workers demonstrate against trade union sell-out
13/7/17:
South Africa, Pretoria: 1000 informal settlers battle cops in service delivery protest
"The protesters are reported to have attacked the police, security services and journalists with stones. They also blocked roads and burned tyres and other public buildings including a learning centre of the Tshwane University of Technology"
6/7/17:
South Africa, Pretoria: informal traders hold officials hostage for 5 hours, demanding promised subsidies to provide for their children…KwaZulu Natal: landless movement Abahlali BaseMjondolo block several roads in clash with local council …Pretoria: animals threaten rebellion against city's zoo See also this: AnteatersUmbrella-v1_0 "Here, in the zoo, in this place of hypnotic fascination, human beings come to see their own instincts caged and sterilized. Everything that is intrinsic to humankind, but smothered by capitalist society, reappears safely in the zoo. Aggression, sexuality, motion, desire, play, the very impulses to freedom are trapped and displayed for the alienated enjoyment and manipulation of men, women and children. Here is the harmless spectacle in which everything desired by human beings exists only to the degree that it is separated from the reality of human existence. The cages are merely the extensions of the cages that omnipresently infest the lives of all living beings. Here the animals are placed in the unnatural habitat of a society unnatural to itself. The incandescent speed of cheetahs, the desparate prowling of leopards, the celestial fever of black swans, the immaculate laughter of seals, the absent-minded tumbling of marmosets, the cabalistic brooding of owls: these veritable emblems of grandeur are imprisoned, severed from the past and the future and turned into empty shells of a previous joy. All that has been natural and a source of pleasure, for animals, has been converted into a performative slavery of a zoological bastille. Ability has been made the toil of suffering….One must heed, too, the invulnerable signals through the flames by the animals themselves: a few years ago, for example, the polar bears at Brookfield Zoo, after heavy rains flooded their lair, swam across the moat, broke into a concession stand and frolicked about as they consumed thousands of marshmallows….If enslavement begins with humankind, it must end with the simultaneous liberation of humans and animals from the yoke of commodity fetishism and narcissistic effusions."
2/7/17:
South Africa, Western Cape: cars torched, roads blocked with trees & burning tyres in service delivery protests by informal settlement residents…man killed by cops during these clashes …Pretoria: prison riot over parole issues "The riot follows the handing over of a memorandum to the Justice Minister Michael Masuthla two weeks ago from prisoners in three Gauteng and KwaZulu-Natal prisons listing a string of complaints about parole' overcrowding' poor food and violence meted out by warders. Prisoners from several Gauteng prisons told The Times that the strike would begin in other prisons in the province from tomorrow (Monday). "We are gatvol [tired] of the way we are treated. We are not going to let this continue and will do whatever it takes' including going on strike' to get the minister to address our issues'" said a Johannesburg Central prisoner. A Pretoria prisoner said the problems had been a long time coming. "We are sick and tired of how the parole boards operate. We are treated like animals. Yes we have done wrong' and we have been punished' but the prison authorities and parole boards continue to punish by not releasing us on parole when we should be." He said the strike began when prisoners who were in an exercise yard refused to return to their cells. "When they wanted them to go back to their cells they refused. The warders started pushing the prisoners back' but they fought back. Several of them were armed. That's when they called in the specialised security warders who assaulted the prisoners'" he charged. Contrary to the official statement' he said that at least 15 prisoners and four warders had been injured in the clashes. "One of the warders was beaten with a brick after he called the prisoners the K word. He got what he deserved. He's lucky he wasn't killed and the other warders dragged him away'" the prisoner said." More here

1/7/17:
South Africa, Western Cape: 2 major roads blocked, cops pelted, zinc-roofed shacks burnt, as informal settlers protest lack of service delivery and long delays in getting re-housed
27/6/17:
South Africa, KwaZulu Natal: debris and tyres burnt during service delivery protest This report highlights a molotov attack on a truck. From the outside this appears as pointless violence, but in fact, it happened after cops had cleared the roads. Chucking stuff at vehicles in this country is a way of blocking the roads when barricades are quickly removed or cops charge rapidly: there is usually no way to block a road other than to scare people off from driving along it.

26/7/17:
South Africa, Johannesburg: fire station attacked during protest No information about the nature of this protest
23/6/17:
South Africa, Gauteng: student nurses set bins on fire, storm and occupy council offices after exams are cancelled following leaks of exam papers

21/6/17:
South Africa, Gauteng: municipal workers torch town hall, chuck stones at cops, after march
19/6/17:
South Africa, Gauteng: informal settlers vandalise customer care centre after electricity cuts

18/6/17:
South Africa, Cape Town: clashes as state evicts land squatters…cop does something positive for once

15/6/17:
South Africa, Western Cape: 1500 wildcat strikers at gold mine sacked See entry for 7/6/17
14/6/17:
South Africa, Durban: man killed by cops as clashes arise over shack dwellers' land occupation
12/6/17:
South Africa, Gauteng: residents block all entrances/exits to town, molotov cops, in resistance to electricity & water cut-offs…Cape Town: train set alight as riot breaks out over train delays…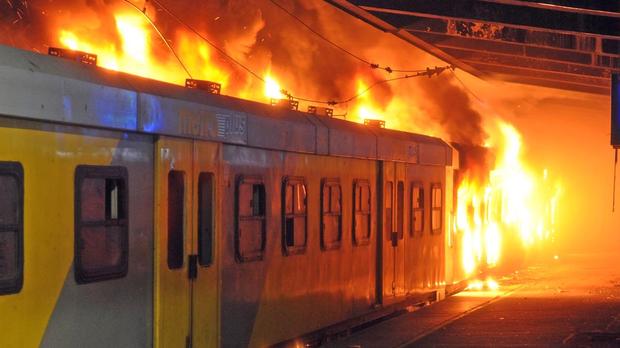 Cape Town Station, where eight train carriages were set alight, following Monday night's anger when shops were also vandalised and looted
….Soweto: 202 illegal miners arrested during wildcat strike at gold mine (see entry for 7/6/17)
7/6/17:
South Africa, Soweto: 16 NUM scabs beaten up in wildcat strike called against bosses' crackdown on illegal mining
6/6/17:
South Africa, Port Elizabeth: cars torched during protests about service delivery and eviction notices
29/5/17:
South Africa, Western Cape : residents block roads with burning tyres in housing protest

27/5/17:
South Africa, Western Cape: cop shop burnt out in arson attack
24/5/17:
South Africa, North West: mayor taken hostage, municipal buildings torched, as part of service delivery protest… Pietermaritzburg (KwaZulu Natal): striking municipal workers sabotage the spectacle of "creativity" See also this

19/5/17:
South Africa, Soweto: burning barricades in housing protest…Bloemfontein: looting during council workers' strike
14/5/17:
South Africa, Western Cape: students continue occupation of admin building
12/5/17:
South Africa, Western Cape: land occupied en masse in movement against lack of housing
11/5/17:
South Africa, Ennerdale (near Johannesburg): 4th day of clashes with cops over housing "Police fired tear gas to disperse crowds in Ennerdale township, south of the economic capital, after residents blocked roads with rocks and burnt tyres. Some schools and businesses were closed due to the protests. The government urged residents to stop violence, intimidation and looting while pushing their demands."…More here…Marikana: workers disrupt mine output and damage property "Platinum producer Lonmin said on Thursday community protesters demanding 1 000 jobs were disrupting output, damaging property and intimidating employees around its Marikana and other operations in South Africa. The Lonmin ructions are the latest flare-up on South Africa's restless platinum belt between impoverished communities seeking a bigger slice of the mineral pie and companies grappling with depressed prices and rising costs. Lonmin said production at two shafts had stopped because of the protests and its output losses amounted to around R40 million ($3 million) over seven days, but it could not meet the protesters' demands for jobs. "These demands are not realistic in the current economic climate and cannot be acceded to without threatening the sustainability of the business," Lonmin said in a statement."…Port Elizabeth: unemployment protesters shoot at cops

10/5/17:
South Africa, Western Cape: wages strike deemed illegal…More here "…more than 200 workers on Wednesday staged a protest at the university in Grahamstown, trashing rubbish bins and littering inside and around the main administration building where they had assembled. This happened despite an agreement the university signed with trade unions "to maintain peace and harmony within the employment relationship""…Tshwane: bins burnt, etc, as locals riot for electricity, water and housing More here…Port Elizabeth: clashes during protest against end of school busing "…chaos erupted as people began jumping over the fence and damaged property. "When problems erupted, members of the Public Order Policing Unit used stun grenades, rubber bullets and teargas to disperse the protesters" …Coligny: bus set alight in protest over jobs…Finetown: clashes during housing protests "The game of cat and mouse continued in Finetown, in the south of Johannesburg, on Wednesday as protesters slung stones, and police responded with rubber bullets and teargas.It has become a game as residents use cardboard shields to sneak up on cops to pelt them with stones.Police then jump into their Nyalas and charge down the road, ignoring and crushing rocks and debris dumped by the community.Protesters have learned to extinguish 40mm teargas grenades by either pouring water on them or starving them of oxygen by placing a bucket over it.Now police follow up the teargas with a volley of rubber bullets. Each time a Nyala charges down the road it is met with a hail of rocks and stones from the community" Video here

South Africa, Johannesburg: clashes as protesters demand land and housing for 3rd day running…Limpopo: police station gutted, 2 cop vehicles burnt, as 700 locals demonstrate over disappearance of woman

8/5/17:
South Africa, Johannesburg: shops looted, roads barricade, in housing protests More here...Cologny: houses burnt, etc. after judge free 2 white killers of black teenager on low bail…Western Cape: students occupy offices in protest against accommodation shortage
7/5/17:
South Africa: attacks on journocops during protests in Limpopo and North-West
2/5/17:
South Africa, North-West: truck torched in unemployment riot
25/4/17:
South Africa, Cape Town: students protesting lack of service delivery burn down wooden security hut
24/4/17:
South Africa, North West: armoured cop vehicle burnt out during heavy clashes potesting lousy service delivery"…roads to and from surrounding areas such as Ottosdal, Coligny and Sannieshof were re-opened on Monday afternoon after being barricaded by dissatisfied Lichtenburg protesters protesting over housing and better service delivery. Four trucks were set alight in the area,"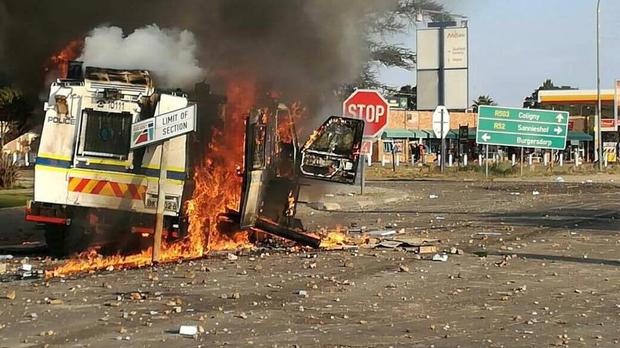 Lichtenburg: cop nyala on fire
15/4/17:
South Africa, Eastern Cape: 100s of villagers squat land
14/4/176:
South Africa, Durban: burning tyres and logs block road in service delivery protest

7/4/17:
South Africa, Limpopo: looting during protest "…residents blocked roads leading to Polokwane…The violence then escalated to the township itself where people started looting shops, including a KFC outlet at the Seshego mall. A truck belonging to a businessman was torched…The suspects then later took advantage of the nightfall and broke into the Total Sport store at the Seshego mall and looted some items. An attempt was made to break into Foschini store" .No explanation of what the protest was about in this article.
6/4/17:
South Africa, Johannesburg: wildcat strike in gold mine ends after over 2 weeks See also entry for 24/3/17
31/3/17:
South Africa, Cape Town: housing activists occupy empty nursing home
29/3/17:
South Africa, Gauteng: burning barricades in protest against electricity cuts Video here
24/3/17:
South Africa, Cape Town: housing activists occupy empty rooms in state buildings …Gauteng: school burnt down after resistance to eviction of land squatters …Johannesburg: wildcat strike begins in gold mine
19/3/17:
South Africa, Cape Town: main road closed due to clashes as cops stop land take-over
15/3/17:
South Africa, Mpumalanga: school burnt down in service delivery protest
14/3/17:
South Africa, Cape Town: school principal and inspector locked in unhealthy toilets by parents and pupils protesting lack of sanitary conditions
9/3/17:
South Africa, Roodepoort: truck set alight, another looted, as service delivery protesters block main roads with burning tyres
27/2/17:
South Africa, Gauteng: amidst spate of xenophobic attacks on foreign-owned shops, cops say this looting is not specifically targetted at foreigners "…a group of hostel dwellers in the area were dispersed with rubber bullets and stun grenades …"We believe it's just criminal acts by these members of the public," Dlamini said. The looting of shops in the area started on Sunday night. One person was arrested when some shops and a preschool were looted and vandalised."
10/2/17:
South Africa, Johannesburg: armoured cop vehicle vandalised at university
7/2/17:
South Africa, Limpopo: mayor's car burnt out in protests against electricity hikes
3/2/17:
South Africa, North West: 6 shops looted over days of protest over lack of water This claims that it was foreign-owned shops that were looted, but the media almost invariably say this even when it's not exclusively the case. We don't know if this xenophobic-targetting took place in this instance.
30/1/17:
South Africa, Cape Town: burning barricades and clashes with cops following eviction from squatted land
28/1/17:
South Africa, North West: ANC politician's parents' house torched after his bodyguard kills a service delivery protester
21/11/16:
South Africa, Gauteng: bus torched during student protests
8/11/16:
South Africa, KwaZulu Natal: arson attack on University's Finance Building…Western Cape: another university building set alight
7/11/16:
South Africa, Western Cape: more student – cop clashes "Clashes broke out between police, campus security and University of the Western Cape (UWC) students on Monday afternoon, with a campus vehicle being overturned and graffiti spray painted on buildings. Exams started at four off-campus venues on Monday morning, but when shuttles arrived to transport students to these locations, protesters tried to stop them from leaving. Police and protesters on Monday afternoon faced off at the student residences, with protesters throwing rocks at authorities. A number of windows at residences were broken, bottles and rocks lay scattered in the vicinity, and messages in red and black spray paint were scrawled across the walls."
1/11/16:
South Africa, Johannesburg: bus drivers on wildcat strike…Limpopo: maths exam subverted
31/10/16:
South Africa, Pretoria: more clashes between students and cops
26/10/16:
South Africa, Cape Town: central business district brought to a standstill as students clash with cops outside parliament More here. "Violence was sparked just before 15:00 following a generally peaceful day when a mock Blade Nzimande "coffin" was set alight and thrown from the protesters' side over the heads of police officers. A police officer extinguished the "coffin". Stun grenades were released in quick succession, and chaos ensued. Protesters ran down Plein, Roeland, Barrack and Commercial streets, followed by police armed with stun grenades and rubber bullets. Students retaliated by removing bricks from the Plein Street pavements, breaking them in half, and throwing them, along with stones from a nearby renovation. A water cannon was used to prevent protesters running further down Plein Street, forcing them down a side street. …Bins were overturned and set alight in Strand and Barrack streets. In Plein Street, a police van window was shattered, a stationary civilian car was damaged, and the window of a KFC was also damaged"…students threaten to arrest wives of cops if cops beat them up…2m. rand's worth of damage "Thousands of people who protested in the city centre on Wednesday left a hefty damages bill in their wake as they went on the rampage , looting shops and destroying private property and businesses…..The protesters caused damage to restaurants, buses, police cars and city property, leaving companies to pick up the pieces and determine the damages….the city was aware of one Law Enforcement vehicle, four metro police vehicles, two police vehicles, one MyCiTi bus, one private vehicle and a number of buildings in the Parliament precinct that were damaged by protesters. Smith said the extent of the damages could total R2 million."
25/10/16:
South Africa, Johannesburg: cop van and bus burnt by protesting students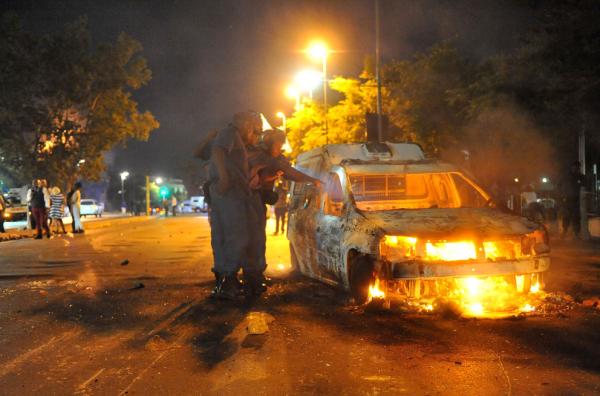 Braamfontein, Johannesburg
…Western Cape: more student-cop clashes
24/10/16:
South Africa, Cape Town: 6 cars set alight at Cape Peninsula University of Technology's Belville campus (and 4 at UCT's lower campus a few hours later)
20/10/16:
South Africa, Johannesburg: student leader hospitalised by cops' rubber bullets after arson attack on library and disruption of lecture "…students were singing peacefully on campus when police fire at them with rubber bullets. They also used teargas….former SRC president Shaeera Kalla was shot at least nine times even though she held her hands up…. students had disrupted a lecture and tore up test papers on the west campus. She said police reacted by dispersing them. Earlier, the university said a case of arson was being investigated by the police after a section of a library was set alight, damaging at least 100 books."…Port Elizabeth: more student clashes…Pretoria: and more clashes with cops outside presidential palace "About 500 students marched to Pretoria from the city center to the presidential palace, flanked by many police…The demonstrators then threw projectiles including stones against the police, who responded with two shots from stun grenades….The striking students held signs demanding "Free education for all" or proclaiming "South Africa is profoundly unequal." "The wealth of this country is confined to the pockets of a few parasites who own the mines, banks and hotels," said one of the leaders of the revolt, Mametlwe Sebei. "One night at the Sheraton Hotel is the equivalent to the monthly salary of five workers," he shouted to his peers gathered in front of the hotel."… student leader killed by hit-and-run driver
19/10/16:
South Africa, Johannesburg: students chase away vice-chancellor at meeting attempting peace agreement following refusal of bail to student leader "After the decision, angry students left the court singing Struggle songs and then headed for the main campus in Braamfontein, where they convened a mass meeting. …It got off to a shaky start when the students chased away Wits vice-chancellor Adam Habib. They shouted at Habib, branding him a "sinner" and said he should release Dlamini before he could speak to them." Bizarre for an atheist like me to hear "sinner" used as a derogatory term, but then this was the vice–chancellor, ho ho. [SF] More here…Cape Town: heavy clashes leads to suspension of lectures for rest of year "…police fired rubber bullets, tear gas and stun grenades on Wednesday to disperse hundreds of student protesters demanding free education at the University of the Western Cape in Cape Town….A private security guard was badly beaten by demonstrators in the latest clash and a campus building was set on fire"
SK recommends this radio discussion: What does decolonisation in education look like?, saying "It presents an example of the sharpest sort of perspectives to emerge from the movement at present. What is most positive about this sort of discussion is the possibility that people across the country will begin to give it practical expression in all the spaces they struggle to transform, and beyond. As has been said before, both by myself and others, we have not seen anything like that at all yet, but the fact that we can at least hear the desire for it among some people like Brian Kamanzi — on national radio no less — is already a significant sign of the times, indicating a very encouraging move in that direction."
18/10/16:
South Africa, KwaZulu Natal: more student – cop conflicts "The day-two of this week of clashes between students at the University of KwaZulu-Natal saw petrol bombs fly, coming from the student's residence towards police. The campus was a war zone for more than two hours on Tuesday morning. The situation forced the closure of some roads within the campus. The National Intervention Unit was called on to campus. They made their way into the students residences and raided the place. Eight students, who allegedly led an attack on police earlier, were arrested and it was later found that they are not registered UKZN students. A student who spoke under condition of anonymity says their bus was attacked upon arrival at the campus. "We are not comfortable around here. Now, even if you want to use the toilet, you find there are security guards there guarding with guns. Can you imagine. There is no freedom at all. The moment we arrived here there were students there. I am not sure if they are students but they threw stones at our bus." …Port Elizabeth: watter cannon, rubber bullets, stun grenades & tear gas v. rocks as students continue shutdown of university "The university was expected to resume classes on Tuesday after it had been closed for four weeks. However, at around 05:30 a group of about 500 students blocked the main entrance – wearing balaclavas and wielding rocks. They used their residence mattresses to block the entrance. Thirty minutes later police arrived on the scene and …told the students that if they did not disperse they would be detained …Police gave students three warnings before moving in. Students retaliated by launching a hail of rocks at them, which led to police moving in with a water cannon. A clash between the two parties then broke out. Police used stun grenades and rubber bullets to try and disperse the students, who had begun running in different directions. Some sought refuge in a private residence near the university's north campus, but continued to throw rocks at the police, who again responded with teargas and stun grenades…The large group had broken up into smaller groups which engaged isolated yet continuous battles with the police. On Monday, four leaders of the NMMU's #FeesMustFall movement were arrested on the main campus. According to students, who did not want to be named for fear of reprisals, the four were part of a #FeesMustFall strategy meeting in the Embizweni building on south campus on Monday afternoon"…Cape Town: protesting students show how shit education is as Stalinists attack anarchy of movement – surprise surprise "protesters broke windows and doors and threw human excrement around buildings at the University of Cape Town in a bid to prevent it reopening in the wake of previous demonstrations." More here "The University of Cape Town re-opened Monday after closing because of security concerns, but police were on campus and used a stun grenade to disperse protesters outside a university building. The university says another building was evacuated because of vandalism by protesters who tossed sewage in the corridors. Separately in Johannesburg, students blocked a road during the morning rush hour and threw stones before returning to their residential building at the University of the Witwatersrand."
17/10/16:
South Africa, Durban: more heavy clashes between students and cops…Johannesburg: more clashes at Wits uni "The students have intensified their protest action following the arrests of several students over the weekend including #FeesMustFall leader Mcebo Dlamini. The situation remains tense at the Knockando Hall residence as protesting students attack police. The students are using plastic bin lids as shields as they throw rocks at officers from the Lighton hall. Most of the students also have their faces covered, so they cannot be identified. Some students are chanting "free Mcebo" and "we demand free decolonised education"….Several roads in the area have been blockaded by police as students earlier stoned passing cars. " A "free decolonised education" is something you give yourself, not something to be demanded, which clearly many students and others are already getting in the streets and elsewhere. "Education is an admirable thing, but it is well to remember from time to time that nothing that is worth knowing can be taught." – Oscar Wilde.
14/10/16:
South Africa, Johannesburg: TV journalists' van torched…supermarket looted & 3 cars burned
13/10/16:
South Africa, KwaZulu Natal: part of building set alight, vehicle overturned, as students clash with the state
12/10/16:
South Africa, Pretoria: further clashes between students and the state More here…Vaal University of Technology, near Johannesburg: 2 buildings set alight More here "A maintenance room at the Vaal University of Technology's (VUT) residences was on Wednesday night set alight, allegedly by protesting students… On Monday and Tuesday, staff members were barred from entering the main campus. A few months ago, a block of offices at the residences was also torched by protesting students….protesting students from the Vaal University of Technology (VUT) in the Vaal are currently clashing with the police. Several tyres have been set alight while rocks can be seen all over inside the premises of the residences. The students have been hurling stones at the two police nyalas (armoured vehicles which are stationed inside the premises. Earlier in the day protesting students barred staff members from entering the main campus. It was the second day in succession staff members were prevented from entering the university. Students here are also demanding free education and the total scrapping of the historical debt. "
11/10/16:
South Africa, KwaZulu Natal: lecture theater and TV room set alight in anti-fees movement…Cape: several campuses in confrontation with the state…slightly hyperbolic report on student movement, with video "What began three weeks ago as a revolt against planned tuition fee hikes has morphed into a wider yell of rage against the manifest inequalities that stubbornly persist two decades into the post apartheid era. Amid the tear-gas, the whiff of revolution is in the air. That and the evaporating authority of the ANC government. Its leaders have been largely silent, leaving universities unable to deliver what the students demand, to fend for themselves. Those who are protesting are a small minority – but they are determined, increasingly violent, and they've manage to close many a campus. If they succeed with their stated aim; a total shutdown, then the cost to South Africa's already enfeebled economy will be counted in the billions of rands."
10/10/16:
South Africa, Johannesburg: Wits university lectures stop because of students' disruption …Video here "Tear gas, rubber bullets and water cannons…As police helicopters circled, some protesters spilled into city streets. A bus was set on fire, and thick smoke billowed into the air. The university, also known as Wits, accused students of throwing rocks "that could have maimed or killed people" and said protesters had responded to negotiation offers from the campus administration with threats. Students disrupted classes and threw rocks on several other campuses nationwide"…More here "Wits security guards in riot gear stood on the top of the stairs preventing the students from moving forward. The students called to be allowed into Solomon Mahlangu House, and gave security to the count of 10 to move, but campus security refused to move and the square exploded as rocks were flung from the crowd of students. Two police nyalas attempted to rush the square but were prevented by human barricade of students. The police then fired tear gas and rubber bullets into the crowd, forcing students to flee and duck for cover. They resurged, however, when they saw the human barricade holding against the nyala. The police were only able to break the human barricade after a number of stun-grades were fired into the mass of people holding the nyala back. Once the barricade was broken police moved a water cannon into the square. Police slowly pushed students towards Jan Smuts, while students barricaded the road leading to Nelson Mandela Bridge with stones and broken dustbins. At the same time a number of skirmishes were taking place between the remaining student protesters and police."…university bus burnt out …shops also looted.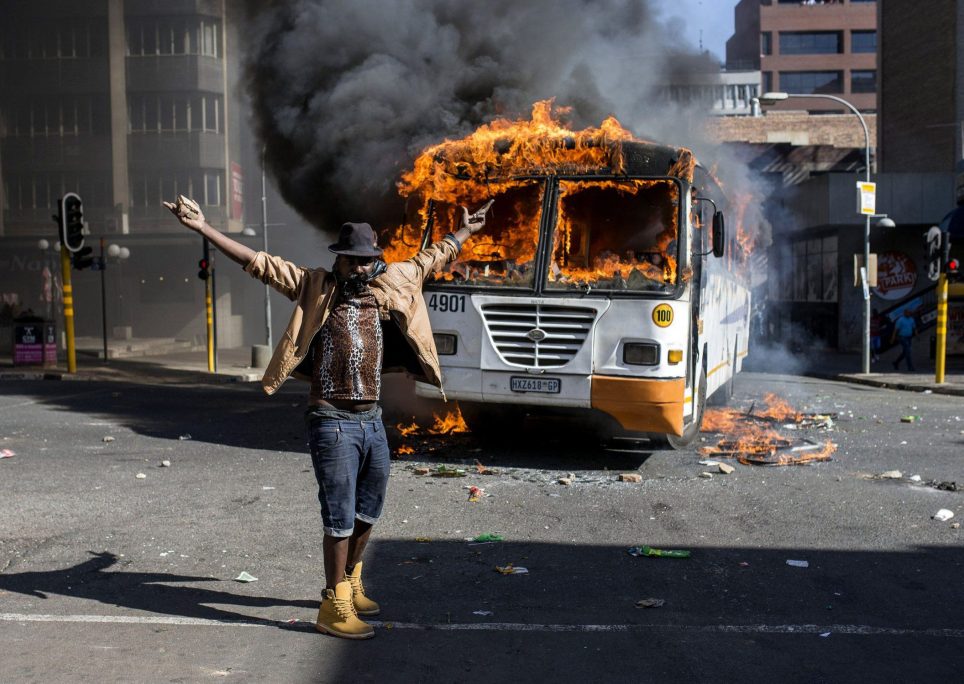 'Wits spokesperson Shirona Patel said police were on the scene and that a pastor from Trinity Church was apparently hit by a rubber bullet in the chaos.'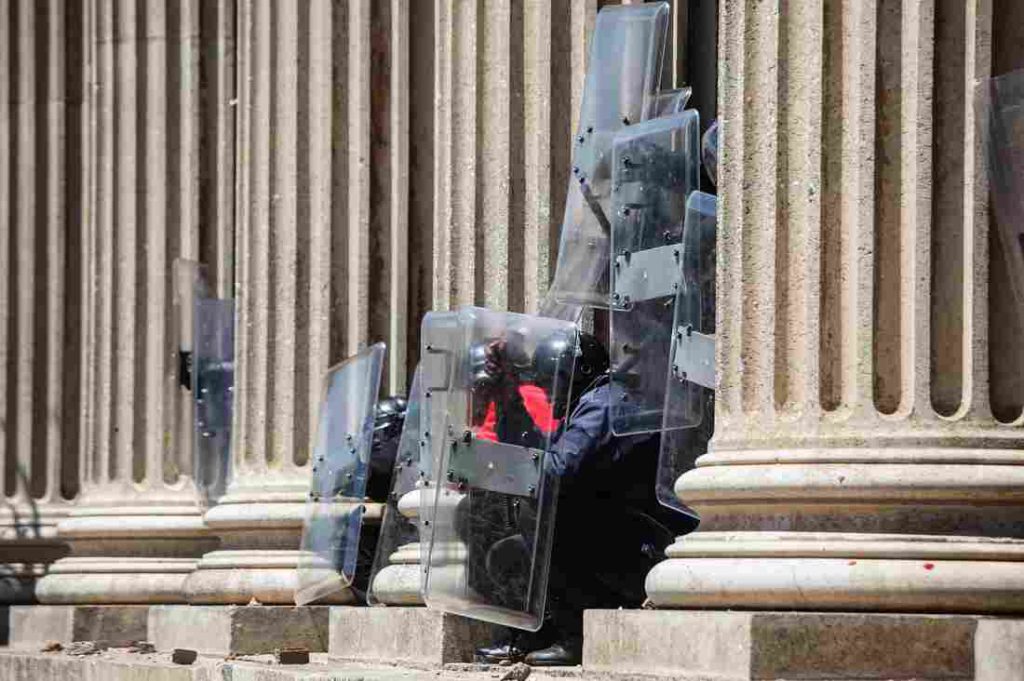 Private security guards Wits
"I accept the definition of those who call police the set of means that serve the splendour of the entire state and the happiness of all its citizens."(Hohentahl, "Libia de politia", 1776).
"The University has always been, in some form or another, an institution for producing the ideological justifications, and consequently their material realisation, for the forces of the state, its image of splendour and the "happiness" of the ruling society. It has been as fundamental an aspect of class society as has been the dominant media: a society in which the ruling class speaks to, and tries to convince, itself and society generally in order to ever-perfect its forms of social control. Whilst academia's differing illusions of "objectivity" and "neutral" acquisition of knowledge have changed and developed, along with its intake, over the centuries, its fundamental prop for this miserable world has always remained."- cop-out – the significance of Aufhebengate
…Western Cape: clashes at Stellenbosch University as students are joined by janitorial and kitchen staff " "We don't have money to send our children to the universities," said a worker who spoke anonymously for fear of losing her job. The entire maintenance staff had been asked to leave Stellenbosch this morning at 07:30, she said. About half the workers joined the student protest. The worker said she also marched because "cleaners should be insourced".
6/10/16:
Nelson Mandela University shut down indefinately in the wake of clashes between pigs and pupils…Wits medical school occupied by students, workers & parents
5/10/16:
South Africa, Johannesburg: further clashes between students and the state; cop vehicle overturned…5 universities across the country closed for the rest of the week after heavy clashes between students and insecurity forces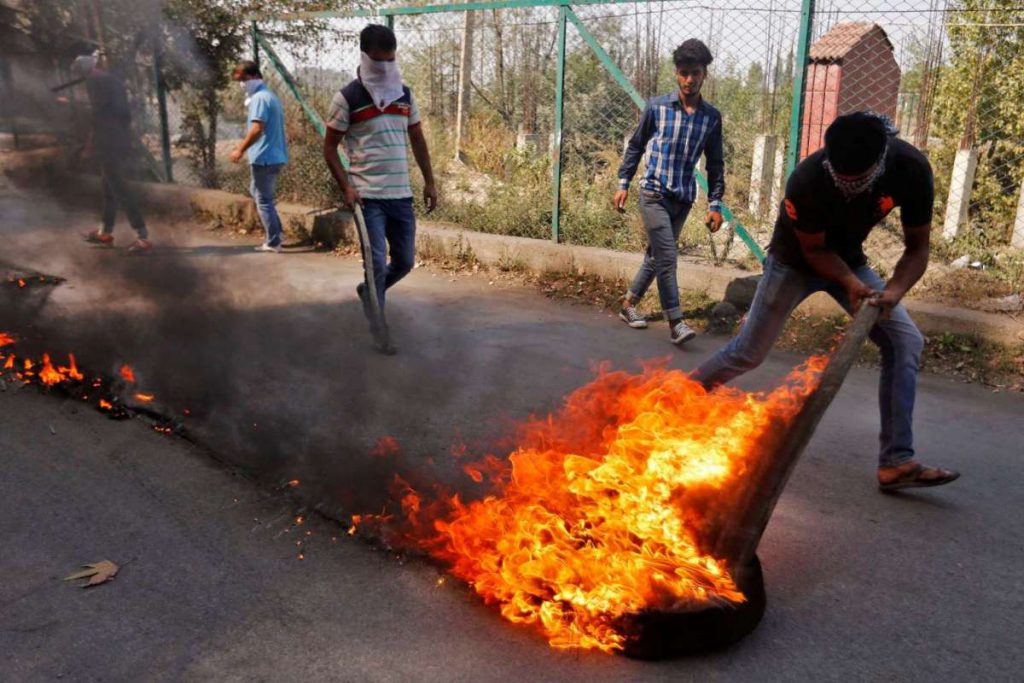 29/9/16:
South Africa, University of Johannesburg: lecture hall on fire as protests continue…1 dead, R600 million in damage and 118 arrested in current wave of student agitation "'No arrests have been made in connection with some of the major property damage but the police have launched a culpable homicide investigation into the death of cleaner Celumusa Ntuli. Ntuli had been cleaning the Jubilee Hall residence at Wits when protesters discharged fire extinguishers on Tuesday last week. He became ill and was hospitalised for three days. At the weekend Ntuli's condition deteriorated and he was to be readmitted to hospital but died before arriving. The cause of death has not been established…The University of Fort Hare, after almost two weeks of protest, closed its campuses because of an attempt by "a certain group of students to destabilise the academic programme". All the CCTV cameras on the university's Alice campus have been destroyed. A maintenance building was set alight on Thursday, resulting in millions of rands' of damage. No arrests have been reported. At the University of Pretoria two cars were petrol-bombed in student protests yesterday. There have been no arrests."
28/9/16:
South Africa, Limpopo: lectures suspended due to student protests at University's Mankweng campus…four universities shut down by students "Students at the University of Limpopo have been protesting since Tuesday night…Students on the ground have confirmed that Tshwane University of Technology in Polokwane, Seshego FET college and University of Venda have joined the protest and also shutdown in solidarity with the University of Limpopo."…Eastern Cape: clashes at Rhodes University More here
27/9/16:
South Africa, Durban (KwaZulu Natal): campus closed for 2 days after students sling stones at cops and journalists during fees protests…students vs pigs in city centre…riots hit new high as students shoot shit at Commerce building…and fire guts turnstile & communal room...
Johannesburg: bank worker steals R3 million, claims 'spiritual healer' made him do it… fees protests disrupt soccer, opera and blood donations 'Protest action at the University of Cape Town (UCT) led to the forced postponement of the opening of The Magic Flute' hosted by the Cape Town Opera (CTO)' which was scheduled to open on Tuesday evening. According to a statement released by the CTO' managing director Michael Williams said the postponement was "an unprecedented situation for CTO which' in 17 years of staging operas locally and internationally' has never had to postpone a production"…In addition' the Premier Soccer League (PSL) was forced to cancel the scheduled game between Bidvest Wits and Orlando Pirates on Saturday after threats erupted that Wits University students were planning to disrupt the match.'… Pretoria: shantytown residents barricade tunnel and roads
26/9/16:
South Africa, Pretoria: 2 staff cars and computer lab burnt out during protest by students against fee increases… KwaZulu Natal: another arson attack on campus "This morning at about 07:15am a building was set alight at the UKZN Campus in PMB by a group of about five people. Last week the campus was the scene of running battles between the police and students amid protests demanding the elimination of fees. A fire was started at the Malherbe Residence. Cars were stoned, one student was injured and police had to use rubber bullets, stun grenades and tear gas."
22/9/16:
South Africa: students clash with cops at University KwaZulu Natal whilst building housing security guards is torched at Eastern Cape campus "The unrest erupted at a Johannesburg university three days ago after the government announced a rise of up to 8 percent in 2017 tuition fees – well above the inflation rate. Demonstrations over the cost of university education, prohibitive for many black students, have highlighted frustration at enduring inequalities in Africa's most industrialised country more than two decades after the end of white-minority rule. Television footage showed students hurling stones at police at the University of KwaZulu-Natal in the east of the country. Police retaliated with tear gas to disperse the protesters as the two sides engaged in running battles across campus. "The students attempted to set a building on fire and were pelting motorists and police with rocks," said Thulani Zwane, police spokesman for KwaZulu-Natal province. Earlier this month, 32 students were arrested after a law library at the university was torched during protests. Police said they were investigating arson at the University of Fort Hare in neighbouring Eastern Cape province after a building housing university security guards was torched. "Three rooms in the building were burnt down," Marinda Mills, police spokeswoman for the province said. Violent protests last year forced President Jacob Zuma to freeze tuition fees for 2016, but universities said that to do so again in 2017 would diminish academic programme standards."…new high for Commerce block, as fire guts turnstile & communal room
21/9/16:
Johannesburg, Wits: Students promise to make university ungovernable until demand for free education is met More here "Protesters threw stones at security guards outside a main campus building, smashing some windows. Some guards threw projectiles back at the students. Classes were also suspended Wednesday at the University of Cape Town because of security concerns."…confrontation with police at Nelson Mandela Metropolitan University "…students blocked the road….they danced at the traffic circle in the middle of the road, banged empty water bottles together, and sang struggle songs. Public order police in riot gear, and armed with shields and batons, pushed the students back onto the campus. Students pushed back and a group at the back began hurling water bottles at police. Hundreds of students scattered as police deployed stun grenades. They soon returned and began to congregate in front of the campus entrance."
20/9/16:
South Africa: comprehensive summary of the day's events at disrupted universities across the country
See here for more detailed context and student voices. …Langa: protesters about service delivery and housing block roads with burning barricades More here "The protesting started last night with the Post Office that they attempted to set alight and they tried to break in at Shoprite You Save. And they attempted to set a railway alight."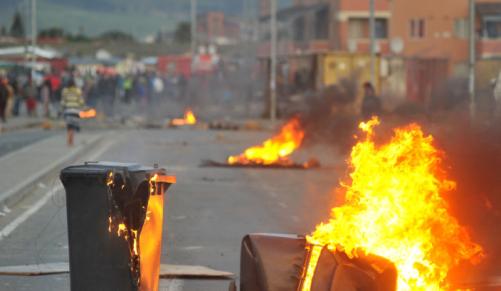 Langer
… Limpopo: primary school barricaded by angry parents protesting against governing body 'The group made up mostly of women were singing while carrying sign boards that said "SGB Must Fall". Some were threatening to burn down the school which is situated on the same street where a satellite police station was torched over a week ago during protests.'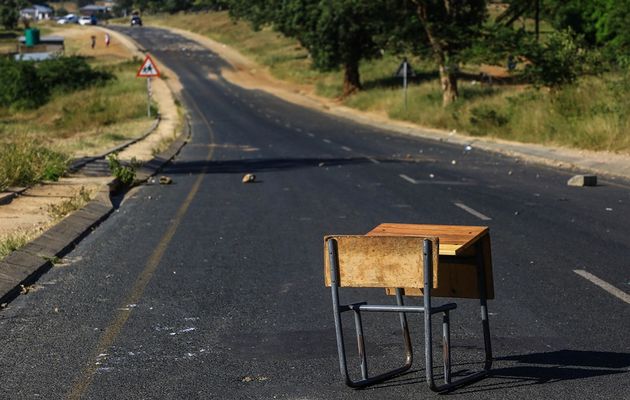 The school for the oppressed is in the streets
19/9/16:
South Africa, Cape Town: UCT shut down in protest demanding return of suspended students… calm returns to Stellenbosch University following a week of disruptions
17/9/16:
South Africa, Limpopo: 3 school classrooms and staff room torched "The burning incident was the second one at Humula high school, where buildings were also torched in June last year. Community leader, Chief Mkhacani Mukhomi, says they believe the perpetrators wanted to sabotage the performance of learners, as their records for the year have all been lost in the fire."… miners demonstration demand unpaid salaries
16/9/16:
South Africa: miners, possibly inspired by their counterparts in Bolivia, arrested for possession of dynamite Conditions in South Africa, where miners are one of the most minutely monitored & controlled workforces in the world, as opposed to Bolivia, where the miners are in a way self-employed (or, to put it another way, outsourced as independent contractors), seem to militate against the strategic use of dynamite in this country.
It's also not certain what the intention was in this instance. Possibly the dynamite was being smuggled in order to be sold on the black market, though I have no idea what demand, if any, there might be for the stuff. Presumably, however, since reports of explosives have never come up during miners struggles before, there are not many who have taken a mind to appropriate this colorful substance for their own uses, as it's difficult to believe that some could not have been smuggled out, if only during moments of unrest when the mechanisms of surveillance and control were compromised — where there's a will there's a way… [SK]…… Eastern Cape: moratorium placed on $200 million after massive resistance by indigenous communities A key strategy of the struggle was the pre-emptive sabotage of all attempts to conduct the 'environmental impact assessment' that is used to greenwash all such developments. Denouncing in advance a procedure whose outcome was determined in advance, the villagers cut through the spectacle of 'consultation' and eco-friendly bullshit with which the bourgeoisie imposes a rubber-stamped legitimacy on its ruthless rapacity (in the face of community opposition Mark Caruso, boss of the Australian firm attempting to open the mine, quoted the Old Testament 'And I will strike down upon thee with great vengeance and furious anger, those who attempt to poison and destroy my brothers. And you will know my name is the Lord when I lay my vengeance upon thee'; following the murder of one of the opponents to the mine, his brother Patrick Caruso candidly admitted:"Well, there is always blood where there are these types of projects … in my experience you cannot have development without blood" — a rare moment of straight talking in these universally mealy-mouthed times).
'Three weeks ago Environmental Impact Assessment consultants sent by Caruso faced a difficult challenge to consult with residents of the six rural village neighbourhoods community (Luphithini, Mnyameni, Mtolani, Mdatya Mpindweni and Nyavini) about the latest mining rights application that he had lodged (see the report). The meeting did not last long and the team, led by EIA consultant Pieter Badenhorst, was told not to come back.
Last Wednesday, on 29 April 2015, confident that since they had the authority of the Amadiba chief Lunga Baleni to back them up, Badenhorst returned with a larger team, who travelled in a convoy led by Caruso's local agent and community 'fixer', Zamile Qunya to gather data for the EIA, their difficulty increased. Soon after the convoy had entered the Amadiba Tribal area, word travelled faster than their convoy and by the time they had reached turnoff to Xolobeni, the consultants were confronted by a barricade of logs and brushwood on the road, manned by an ever-growing group of angry residents.
Believing that opposition to the mining proposal had been orchestrated by outsiders and was confined to a small minority of "just one village", one of the team began to realise that Qunya had greatly exaggerated his influence and that although Chief Lunga Baleni might have had formal powers, he had forsaken his authority and respect.' (here) More context and history to this long-standing conflict can be found here andhere…Gauteng: strike at R164-million Sarah Baartman Centre "Building of the R164-million Sarah Baartman Centre of Remembrance in Hankey was halted yesterday when about 200 Lubbe Construction workers blocked the town's Main Street. The strikers, who all live in the town, want the same pay as those brought in from Johannesburg and Rustenburg. They claim they earn only R3 000 a month while those from the north are paid R9 000. The Department of Arts and Culture started the R164-million project two years ago and planned to have it completed this month.The centre is being built next to the grave of celebrated Khoikhoi beauty Baartman, who visited Europe in the early 19th century and was put on display as a freak." Good example of how arts and culture, nationalist anti-imperialism, and capitalism currently go together [SK]
14/9/16:
South Africa, Cape Town: fifth protest at fifth school in as many days as pupils rebel against drug-tests See here for report on the four others.
13/9/16:
South Africa, Mpumalanga: decision to purchase R1.5-million car reversed after protests
8/9/16:
South Africa, Cape Town: evictions temporarily halted after tourist market occupied
7/9/16:
South Africa, KZN: another campus building set alight
6/9/16:
South Africa, KwaZulu Natal: heavy clashes with cops at university over fees increases "The senate building and six vehicles outside the Westville campus were set alight at about midnight. University spokesman Lesiba Seshoka said students were arrested following the burning. "The damages run into a couple of millions of rand." Student protests also turned violent at the Howard college campus and Pietermaritzburg campus with the stoning of property and barricading of roads. The torching and unrest comes exactly a year after protest action and fires at the campus in September last year' which caused an estimated R80m in damages."…Here for more background info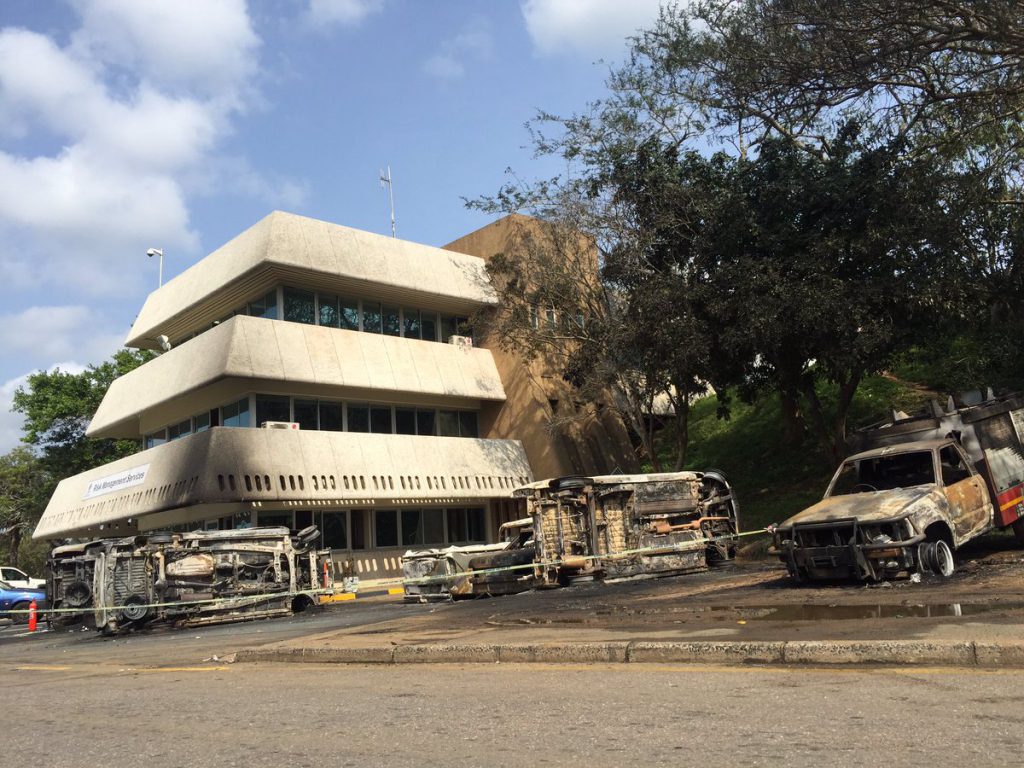 Westville campus, KwaZulu Natal
…Gauteng: evicted land squatters block roads with burning tyres & stones
5/9/16:
South Africa, Western Cape: classroom torched during protest against fines for being late "…children protested against a R5 penalty for arriving late. The group set a classroom and rubbish bins alight, hurled stones at the building, and broke the windows of a classroom where Grade 12s were writing their exams. Cars parked on the premises, including that of the principal, were damaged and learners allegedly threw stones at the police when they arrived." More here. "The pupils say they have also been fined R500 for urinating or defecating at the school when the toilets were locked…Governing body secretary and teacher Vusi Mahobe confirmed pupils were fined at the school as a rule. He said the rule for late-coming was instituted this year, but there was no proper consultation process. Pupils targeted Mahobe's car as well as the school 
principal's yesterday, damaging the vehicles. Mahobe said parents had recently questioned the rule but their queries fell on deaf ears….The school's Learner Representative Council (LRC) wants this practice scrapped or they will continue protesting indefinitely, disrupting classes and damaging property in the process."
1/9/16:
South Africa, Nelson Mandealer University: hundreds of workers walk off the job over working conditions
31/8/16:
South Africa, Eastern Cape: another school razed to the ground as pupils demand farewell party 'Six classrooms were set alight by angry pupils of Nogemane Senior Secondary School in the Eastern Cape. Protesting pupils have completely destroyed a Ngqeleni school after demanding a matric farewell. Six classrooms were set alight by angry pupils of Nogemane Senior Secondary School in Ntibane village on Tuesday night. The principal's office' administration block' library and laboratory were also reduced to ash. School governing body chairman Jongimvula Hohlo said they were shocked at the conduct of the pupils. "Pupils were supposed to start with trial examinations today' but by the look of things that will be impossible." The protest at the school started on August 19 when Grade 12 pupils demanded a farewell. Hohlo said there was a meeting with parents and pupils on Tuesday' at which it was agreed that the farewell would take place on October 19. "We thought we understood each other. We are very shocked that the school has been burnt down'" he said.'
Not knowing anything about this other than the mainstream report, it does seem like the official demand in this protest, which appears to have been already won ten days ago, was just an excuse to burn down the school for some unspoken reason. Possibly the arsonists wanted to prevent exams taking place. Possibly they simply wanted to attack the machinery of bourgeois brainwashing, misery and humiliation. As with the majority of such cases, no statements of responsibility accompanied by eloquent communiques have been released — nor do any such things seem particularly necessary. [SK]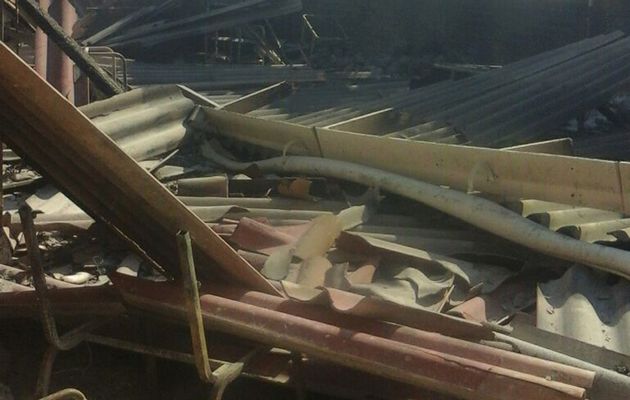 All Must Fall!
… KwaZulu-Natal: labour-commodity production facility razed to the ground.Check out the curious heading for the photo of this education factory on fire... Eastern Cape: yet another school building reduced to ashes "CHB High principal Zalisile Joyi estimated it would cost about R1-million to repair a burnt classroom which contained groceries for the nutrition and feeding scheme, as well as cutlery, stoves, documents and other items. He said attempts had also been made to burn down his office but community members had reacted quickly and doused the flames. Joyi and SGB chairman Mandla Jali said two weeks ago angry pupils had run amok, breaking windows and damaging other parts of the building. Residents suspect some pupils were responsible for the fire as it started shortly after they staged a protest. The pupils were demanding that parents no longer be forced to pay R250 towards salaries of SGB-employed teachers and that they get to participate in all sporting activities in the district and at other levels. "These issues were resolved on Tuesday in a meeting between teachers, parents and pupil representatives, and the protest was called off," Jali said. "So it came as a surprise when the school was found burnt a night later." Again, judging only from this official report, there seems to be motivations other than the officially declared demands, which were here apparently also 'resolved'. But it might well be the case that the pupil-representatives (chosen how and by whom we don't know) and the agreements they made at the negotiations were simply rejected by some of their comrades. [SK]
There is currently also much agitation at certain elite all-girls schools in Pretoria and Cape Town about racist policies; we mention this here but haven't included them as they are getting plenty of coverage already, and although obviously important to those involved, are pretty far removed from the struggles of most young proletarians in this country.
30/8/16:
South Africa: Telkom forced to double reward offer for sabotage during strike from 500,000 rand to a million (approximately 68,000$) "Earlier this month, Telkom offered a reward of R500,000 to anyone who could lead them to the culprits. With no luck thus far, the telecommunications service provider has doubled the reward to R1-million."
29/8/16:
South Africa, Eastern Cape: parts of school burnt down as pupils protest teacher shortage "…one house was burnt and two others vandalised. A school hall was also burnt down. The houses that were burnt and vandalised are where renting pupils stay…One of the pupils staying at the house' Nwabisa Zayedwa' said they were not inside when the house caught fire. "We heard that the house was going to be burnt and we went to sleep in the forest'" she said. "We have lost everything' books' IDs and clothes. Everything that was in our room has been destroyed by fire." On Monday' angry pupils burnt down a school hall. Learning and teaching has come to a complete standstill at the school as the protesting pupils demand the education department provide them with teachers."… Gauteng: young workers protest cancellation of public works contracts
27/8/16:
South Africa, Cape Town: locals facing eviction occupy popular market "No one is getting evicted. We are family. Here the owners are evicting us illegally. They want us to leave so they can do gentrification. We are people with children. Where must we go? You want to throw us in Blikkiesdorp? No." Blikkiesdorp is a settlement near the airport where many evicted Capetonians have been moved in recent years." Note, this particular eviction, should it succeed, would not be illegal. The argument seems to be that legally alternative accommodation must be provided, which in Cape Town means Blikkiesdorp. Understandably most people don't view this as an adequate alternative, but the courts do, and it would be misguided to rely on a legal argument to stop such evictions. Far more effective would be if the same amount of people who carried out this action stand between the locals and the sheriff when he comes to cart people away… [SK]
25/8/16:
South Africa, Eastern Cape: highschool kid murdered by pigs in protest "Two pupils were shot with live ammunition after a group of school children from Lubaleko Senior Secondary School in Mount Ayliff allegedly left their classes to support a community protest. One of the children died from a shot to the chest while another was transported to Mount Ayliff Hospital in a critical condition. It is alleged that disgruntled community members set fire to the headman's house while police were on the scene at about 9am this morning. Police reports say officers on the scene tried to stop the community members but were pelted with stones resulting in police vehicles being damaged."According to this report pigs claim they killed the kid because they ran out of rubber bullets… Gauteng: sevreal municipal offices and 5 cars torched in anti-eviction action
Pi question: how come there are still municipal offices in SA to burn ?
SK answer: because 1) some people prefer to burn schools, traffic copshops, etc, and 2) state bureaucrats need places to rot in so they can pretend to justify their salaries
24/8/16:
South Africa, Cape Town: burning barricades versus rubber bullets as cops demolish shacks
23/8/16:
South Africa, KwaMashu: nurses wildcat strike… Eastern Cape: students disrupt four universities demanding free miseducation… Pretoria: roads barricaded in anti-eviction action after more than 2000 vacant houses occupied
21/8/16:
South Africa, Durban: national highway barricaded by crowd of hundreds three times over the course of several hours…Limpopo: shops looted and roads barricaded as residents 'go on the rampage' against police
18/8/16:
South Africa, Mtata: cops shoot at students in second day of protests "Police had to use rubber bullets after they [protesters] went around forcing children out of schools in the vicinity and blocking the road"… union condemns masssive sabotage of Telkom (national telecommunications network) during strike "On Thursday, Telkom put up a R500 000 reward for information regarding the sabotage of numerous facilities around the country. The reward comes amid a strike by the Communication Workers Union (CWU), which allegedly turned violent this week. But CWU President, Clyde Mervin, told Fin24 by phone that the union was not aware of the sabotage of any facilities…." More here "CWU President, Clyde Mervin, told Fin24 …"While we are striking, members are following the law. We went on strike legally. If it is found that any members of the union have been involved in the incidents we will deal with them," and here "About 13 200 Telkom customers and businesses have been affected by acts of sabotage against the company's facilities. Eighty-five street distribution cabinets have been damaged in the past five days, mainly in KwaZulu-Natal and Limpopo, but also in Gauteng towards the end of the week….Jacqui O'Sullivan, Telkom's managing executive of communication, condemned the incidents as examples of "ongoing acts of intimidation by the Communication Workers Union (CWU) with the spike in sabotage related to the past three weeks of industrial action". "These are not random acts of vandalism or incidents of cable theft. These people know where to go and what to do to wreak maximum damage…When caught, the perpetrators would face the full might of the law. She cited a case in Boksburg, in February, when a copper thief, Paul Mathonsi, also known as Sambol Sambane Nyalunga, was sentenced to 106 years in jail in terms of the Criminal Matters Amendment Act. This act allows for harsher sentencing and bail conditions for people who are found to have purposefully damaged infrastructure. Copper cable theft and the damage to infrastructure is costing Telkom, along with many other companies, millions of rand each year in repairs, lost working hours and lost customers….The 106-year concurrent sentence was handed down as an effective 25 years. While the sabotage continued, she said, the protesters were also committing violent acts against non-striking members with a CWU protester throwing a brick at the car window of one of the non-striking employees as the employee was leaving a Telkom facility in Randburg. The protester was arrested. On Thursday, in the Western Cape, a number of non-striking technicians were sent threatening texts in an attempt to get them to join the strike. On Friday, Telkom took out a contempt of court order against eight of the 870 striking union members for defying last Monday's urgent interdict by the Labour Court prohibiting the CWU and its members from blockading Telkom entrances and exits, intimidating working employees and damaging any Telkom facilities and equipment."
… KwaZulu Natal: pupils torch cottage after sex video involving teacher and pupil goes viral In response to a couple of objections to the inclusion of this, based on the recognition that the moralistic objection to consensual sex after the onset of puberty between "underage" teenagers and adults is usually reactionary and often fascistic (see this, for instance), SK wrote the following:
Given the hierarchical power relations between teachers and pupils in high schools (particularly pronounced in SA where the authoritarian atmosphere is pronounced — hence the recent protests against disciplinary codes that control the minutest details down to hairstyle, fines for late-coming, routine corporal punishment — all of which are worse in rural areas) the possibility of a free relationship in this case is close to zero. Also, given the ubiquity of transactional relationships between males and females in this country, even if it was technically consensual there is a good chance sex was exchanged for favours (good marks in tests, etc) which teachers are able to offer due to their dominant position over pupils within the institution.
17/8/16:
South Africa, KwaDwezi: three shops looted during demonstration against infrastructure project
15/8/16:
South Africa, Inanda (KwaZulu-Natal): 19 arrested, roads barricaded, bus burned, cop shot "In a separate protest in Keats Drift, near Msinga, about 150 protesters barricaded a road with burning tyres and rocks" More here: "protests raged across parts of Inanda' KwaMashu and Ntuzuna in KwaZulu-Natal on Monday. Dozens of people were reportedly injured when they clashed with police in protests against newly elected councillors… Schools were closed and a number of residents weren't able to go to work on Monday… By 10.45am' police resources were stretched' fighting sporadic protests in Maoti' where burning skip bins had been overturned. Roads were littered with rocks' smouldering tyres and ash. Ward 57 resident Nkosinathi Magwaza said the issue was with the African National Congress' which had fielded a councillor candidate the community did not want. "We can't be led by a person we don't know. All we hear is that he grills chicken at Nando's'" said Sphiwe Mdlolo' a protester at Ward 57' Maoti."
… Durban, Pietermarizberg & Johannesburg: three universities shut down, cupboard burnt in middle of road in fee protest
11/8/16:
South Africa, Tshwane: municipal buildings wrecked and municipal vehicles torched in service delivery protest "…an evening of unrest and mayhem which resulted in the destruction of a municipal building, torching and damaging of municipal vehicles… residents had illegally occupied the vacant land parcels in Refilwe extension 5 and the land invasion unit of the Tshwane Metro Police Depart-ment (TMPD) subsequently issued notices to the illegal occupiers to vacate the land. When the request to vacate the land was not heeded, the TMPD enlisted the services of a private company to demolish 397 illegal structures on the invaded land on Thursday. "Incensed by the action, the illegal occupiers took to the streets yesterday and forcefully broke into a municipal housing building, causing damage to the structure … The angry protesters also torched six municipal vehicles and damaged four others, including a TMPD bus." Of course, as responsible citizens the editors of this site do not condone such heinous action. If people are to break into municipal housing buildings, clearly they should only do so unforcefully.
8/8/16:
South Africa: four women stage silent anti-rape protest in front of President during speech on live TV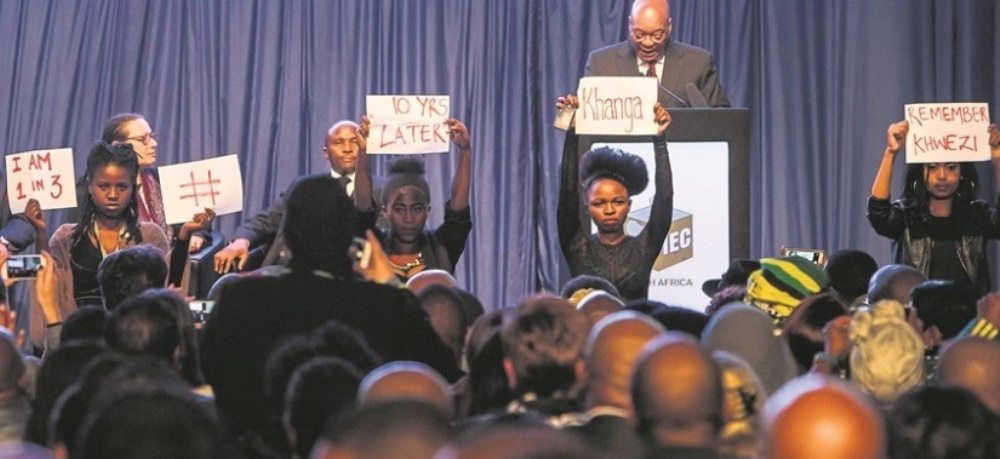 SK writes:
South Africa is a world leader of murder, assault and rape, but we suffer this as a result of the pervasive demoralisation consequent upon the breakdown and disorganisation of formerly established social relations — notably the demise of communal struggle in which the frustration and anger generated by a miserable life was channeled towards revolt, and the decimation of the traditional patriarchal role of the male-worker which for my generation scarcely exists anymore.
This obviously only touches the surface of things, and mainly deals with rape as a function of the general violence inflicted on ourselves and each other. There's obviously much more to it than that. This deals with some of the things, but for me seems very inadequate: http://www.dailymaverick.co.za/article/2015-09-25-review-rape-a-south-african-nightmare
One idea occurred to me as I was reading an incredible report about illegal abortions and child abandonment (http://www.dailymaverick.co.za/article/2015-11-24-gone-without-a-trace-the-shocking-fate-of-south-africas-abandoned-children/). South Africans all know this goes on very frequently as a result of the dodgy adverts that adorn every surface on trains and public spaces but I was still caught off guard to learn that at the moment there are an estimated 150 000 of these happening in this country every year! Apparently many babies survive these abortions because they are often last-minute affairs, leading to the stories of newborns found in bins and so on.
And all of this *should* be completely unnecessary. At the most basic level, there should be no reason for anyone to have unwanted pregnancies in the first place. Contraception is both legal and free. As you know the reasons why this continues to happen at such an immense scale in this country has to do with the powerlessness of females — specifically poor black females — over the basic conditions of their own existence, starting first of all with their own bodies. When the sex itself is not coerced, then the way they have sex is — leading also to the highest rate of HIV infection in the world.
At the next level, there should be no reason for those with unwanted pregnancies to need illegal abortions. This is also legal and free. From what I hear, however, the reactionary attitude of nurses at state clinics, who routinely condemn the sluttishnes of their patients, deters many from using their services.
Lastly, even when unwanted pregnancies result in babies, there should be no reason for them to get abandoned or murdered. But for thousands of people, giving children up for adoption is not an option. Again the reactionary nature of medical staff at state institutions has much to do with it. I heard of someone who went to an adoption agency and was told by a staff member there that her ancestors would be angry if she gave up the baby!
The following also seems symptomatic. Teachers are not the only older men girls are having sex with. I remember reading an article where teenage boys in the townships complained that they can't get girlfriends because they had to compete with men with money. And where there are such mercenary relationships and power differentials there is bound to be all sorts of coercion and expectations for adequate 'payment' in exchange for favours, a sense of entitlement and possible violence when this is rejected or disappointed.
SEX PUPILS ATTACK HEAD
Jan 31, 2011
PUPILS at Mavalani Secondary School outside Giyani, Limpopo, went on the rampage, destroying property after accusing the principal of reporting that 57 of their schoolmates were pregnant.
Eighteen pupils were subsequently arrested.
On Friday pupils accused principal Meserea Mahungu of conniving with the media to expose teenage pregnancies at the school.
This was after Sowetan published damning articles about the school's high pregnancy rate, with the youngest expectant mother being only 13 years old.
It was also reported that parents of pregnant pupils were camping outside the school in case any pregnant pupil went into unexpected labour.
Angered by the negative publicity the pupils turned violent and threatened to kill Mahungu.
Mahungu had to be rescued by a heavily armed police contingent that went to the school to contain the volatile situation.
A pupil said they were angry about the principal inviting the media without consulting them and their parents.
"We had a standing agreement with the principal that issues affecting the school should first be discussed with the parents before being taken out for public consumption," Maluleke said.
He said they wanted Mahungu to apologise but parents were divided about the matter.
Mijhanji Makhubele said pupils were incited by teachers who had grudges against Mahungu and those who were responsible for impregnating pupils.
School governing body chairperson Hlengani Mikhasi said pupils were influenced by people with their own agendas.
The sentiments were also echoed by Limpopo provincial department of education spokesperson Pat Kgomo.
Police spokesperson Lieutenant Colonel Ronel Otto confirmed that 18 pupils had been arrested.
She said they would appear in the Giyani magistrate's court today on a charge of public violence.
***
All of which certainly doesn't amount to a coherent outline of the root-causes of the problem. But I'm not sure this is really possible — it definitely isn't for me anyway!"
SF responds: "Don't think it's possible to be precise about causes of rape etc. though you do give some reasons for it, though how the "decimation of the traditional patriarchal role of the male-worker which for my generation scarcely exists anymore." would effect the amount of rapes is not clear to me – is this causing anger towards women because it's easier to express frustration by picking on those lower in the hierarchy, a sense of impotence that wants to deny this sense by expressing itself in the form of rape? Though rape has little to do with sex, more simply to do with a power game, albeit expressed in a miserable brutalisation of sex; which is one reason why chemical castration would not work even if we were in favour of it – the brutal violence against women would be expressed in some way other than rape."
To the above question, "…is this causing anger towards women because it's easier to express frustration by picking on those lower in the hierarchy, a sense of impotence that wants to deny this sense by expressing itself in the form of rape? ", SK replies:
More or less yes — masculinity traditionally being bound up with the bread-winner role. With half the young men in the country permanently emasculated in this sense via chronic unemployment, new forms of masculinity find expression through gangs & delinquency, with their consequent violence based on informal forms of employment and a stereotyped hypermasculinity usually directed against other young men. When men
1) live in an atmosphere where plundering the pockets of other proletarians & breaking their homes is a pervasive everyday occurrence, together with
2) a traditional patriarchal perspective that sees women as desirable objects, like sports cars, made for the gratification of men, and
3) lack reliable means of obtaining said objects via one or another form of legal or illegal work (whether as head of a working-class family or as a 'blesser'*)
it would be surprising if many did not pillage female bodies the same way they pillage the goods of their neighbours.
Although gangs obviously employ both stereotyped tough-guy roles as well as violence, most violence seems, like most rape, to be an interpersonal rather than professional (gang) phenomenon; it is a result of disorder rather than organised crime. It is ordinary guys who adopt these roles and kill each other. Of all the many violent deaths I have heard of in the townships, every single one was the result of petty personal arguments — bar-room brawls gone out of control, so to speak.
In other countries with comparable levels of violence, such as South American states, murders are the result of a highly developed illicit order running in parallel — completing and mutually reinforcing — the official order. Such is the case with the Mexican cartels and the Chavista paramilitaries. They thus offer a fairly reliable role for the distribution of power and resources (including females) to those who serve them. In South Africa violence seems to be mostly a result of disorder. Organised crime in South Africa does not offer a reliable role for men to fulfill their patriarchal role. Apparently, all it does is further intensify the chaos — adding a layer of substance abuse and desperation to an already miserable mix.
Of course, all of this is entirely anecdotal speculation. I don't know the statistics for gang-related murders vs. crimes of passion (if such distinctions are even made by police statisticians). I don't know how many women of different sociological categories are reportedly raped — their respective age, class, geographic distribution — nor do I know the sociological details of their alleged rapists. Everything I've written is based on impressions gained from living here for 26 years and a bit of incidental reading, much of it forgotten. So it is only fair to warn that I might be sucking theories & generalisations out of my thumb. Obviously, any serious attempt to address the issue would have to marshal the available empirical evidence, and if necessary generate new evidence where it is not yet available. But this is beyond my capacity at the moment, so I will have to leave it at that, however inadequate these random fragments may be.
* see https://www.enca.com/coverage/blessers
… workers at three power stations "with more set to follow" embark on illegal strike as 150 000 petrochemical workers enter second week of legal strike
6/8/16
South Africa: insurance claims due to strikes and protests increase 90% compared to previous years
3/8/16
South Africa, Limpopo: how to start a riot by answering your cellphone at the ballot box "A bizarre chain of events unfolded swiftly after a man answered his phone inside a voting booth at Xigalo Primary School in Malamulele' Limpopo' on Wednesday. Casting his vote escalated into a brawl' the firing of gunshots' theft of a weapon' a police chase' and a bystander being injured in a car crash."
27/7/16
South Africa, Kliptown: protesters and police do battle "About 100 demonstrators took to the streets and children were prevented from going to school. Some protesters tried to loot shops and burn down a construction depot."… train line occupied and service suspended
25/7/16:
South Africa, Paarl: shops looted, state vehicles and building torched during anti-eviction action
22/7/16:
South Africa, Meyerton: journalist attacked, robbed, camera smashed in week-long protest "Residents have been demonstrating since the beginning of the week, demanding housing and electricity… Residents protest over housing singing " DA local government will be overturned"…Several cars have been attacked and stoned by protesters including 3 police vehicles."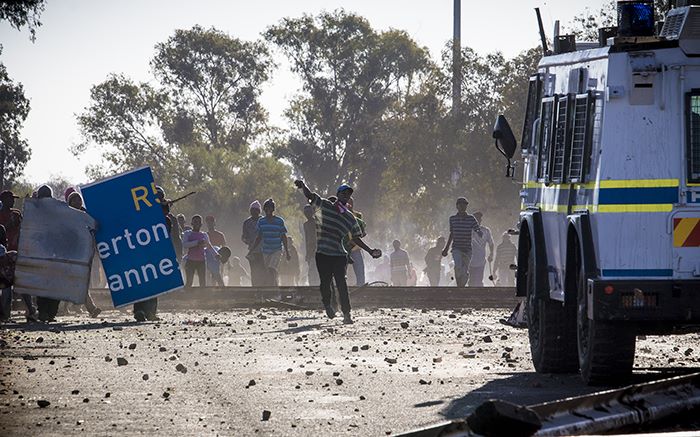 According to video below, the clashes began when residents joined a municipal worker's strike that 'escalated dramatically':
#Meyerton: Several cars have been attacked and stoned by protesters including 3 police vehicles. #SABCNewspic.twitter.com/JYTF6D7gyA

— Manqoba Mchunu (@ManqobaMchunu) 22 de julio de 2016
20/7/16:
South Africa, Johannesburg: city brought to standstill by housing protest "Zamimpilo residents in the south of Johannesburg near Riverlea have blocked roads, burnt tyres and allegedly torched an MEC's residence as they protest for housing."… this report details some of the latest tools of repression, "Just hours after the gear was unveiled, the Joburg metro police department (JMPD) failed to put its new riot and command centre vehicles to use in a violent protest in Riverlea on Wednesday because of "technical hitches".On Tuesday, the JMPD rolled out a R27 million fleet of four mobile command units and two riot vehicles… city mayor Parks Tau said that with these new vehicles, the instigators of violence would be caught on video because they carried internal and external, high-definition, 400m-range cameras. The units also have a mini boardroom, a mobile clinic for conducting breathalyser and blood tests, bar fridges for cold drinks and water for officers during the hot summer months. They also have thermal imaging cameras, a public address system and a "front dozer" mechanism for clearing rubble, such as rocks and burning tyres, off the roads. The units, which are buses which have been kitted out, are also fitted with flood lights and back-up generators."
14/7/16:
South Africa, Braamfontein: post office workers strike in solidarity with those fired on the 6th of this month for wildcat strike… Cape Town: cops use stun grenades to break up illegal anti-Uber demo blocking traffic…KwaZulu-Natal: security guards kill two during hospital worker protest
12/7/16:
South Africa, KwaZulu-Natal: road barricaded in solidarity with residents arrested for burning councillor's house and car
11/7/16:
South Africa, Nelson Mandela University: students shut down campus in protests against financial exclusion… Johannesburg: thousands stranded in wildcat bus-driver strike "Joburg Metrobuses ferry about 90 000 commuters every weekday on 229 routes. Meanwhile, thousands more commuters in the province could be out in the cold and scrambling to find a way to get to their various locations this week if Gautrain employees also go on strike."
9/7/16:
South Africa, Durban: municipal truck and bus petrol bombed during anti-eviction action
6/7/16:
South Africa: 200 workers fired by post office for wildcat strike
5/7/16:
South Africa, Durban: anti-eviction riot
1/7/16:
Cape Town: 6 car pileup on national highway caused by burning barricades
Zimbabwe-South Africa border: border barricaded, shops shut down, customs warehouse torched in riots "Tensions at Beit Bridge border post between Zimbabwe and South Africa reached boiling point over a Zimbabwean ban on importing basic South African goods. Zimbabwe immediately sent in its army to the volatile border town…Residents of Beit Bridge burnt a Zimbabwe Revenue Association warehouse of confiscated goods at the border on Friday, and vehicles and people were prevented from crossing into South Africa with rocks and burning tyres. The plan on the South African side was to blockade the border and turn back all trucks and other vehicles carrying goods from Zimbabwe. Shops in the northern-most South African town of Musina were forced to close due to threats to destroy them if they conducted business as usual, and there were even calls to set fire to a Zimbabwean citizen in protest against the measures and to force Zimbabwe to reverse its ban. The Beit Bridge Taxi Association, the Musina Meter Taxi Association and residents in Musina had extended an invitation to the Beit Bridge Cross-Border Transporters' Association and Beit Bridge residents who were being refused the right to protest to join them on the South African side. The crisis sparked a massive protest at the border post on Friday, with thousands of South Africans and Zimbabweans joining forces to blockade the border in protest against Zimbabwe's enforcement of regulations…" According to this, "The mob also stoned a house belonging to a member of the police neighbourhood watch committee whom they accused of unleashing a reign of terror at the border post."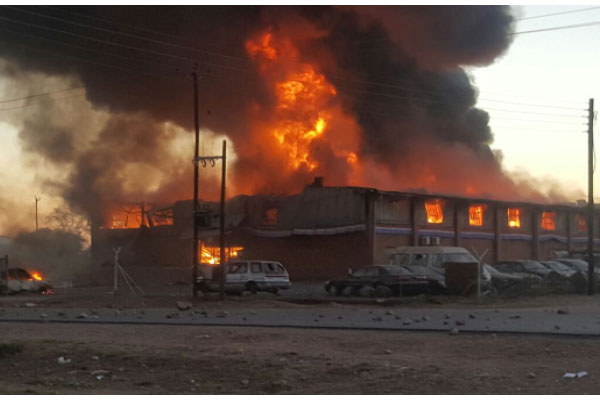 "The security ministers and top military commanders are really worried that the manner in which Beitbridge residents executed their protest could inspire others to do the same given the economic situation in the country… Also, the fear is that Friday's protests came just a week after similar revolts were witnessed in the same town. So, really, it is something commanders are worried about."
29/6/16:
South Africa, Johannesburg: shopping mall looted and ambulance torched during protest… cop killed and partner disarmed… water cut-offs said to have sparked the riots… Cape Town: two busses burnt on national highway near airport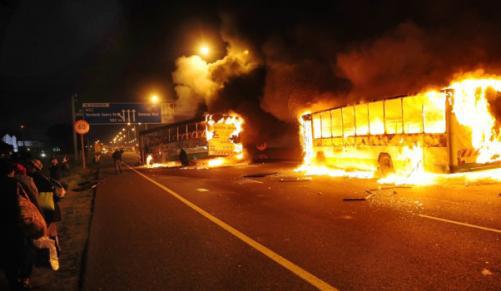 22/6/16:
South Africa, Pretoria: 2 dead, more than two dozen buses and trucks destroyed, dozens of shops looted, in 3rd day of riots similar to those that rocked Durban just weeks ago "The protests were sparked after the ANC's announcement of its decision to deploy former minister Thoko Didiza as its mayoral candidate for Tshwane…Protesting communities were calling for the ANC to allow them to decide on their own mayoral candidate. In reaction to this, more than 20 buses and several trucks were torched in areas of Tshwane, including Mamelodi, Atteridgeville and Mabopane. Morula shopping complex in Mabopane was looted overnight and smaller shops were ransacked throughout the day today. The same happened in Ga-Rankuwa. The shell of a torched bus was seen in front of Morula Sun Casino in Mabopane where it was set alight overnight. Police were deployed to Tshwane from across Gauteng. However, they were thin on the ground. Officers would run from one looting incident to the next only to find that looters had already cleaned out the shops."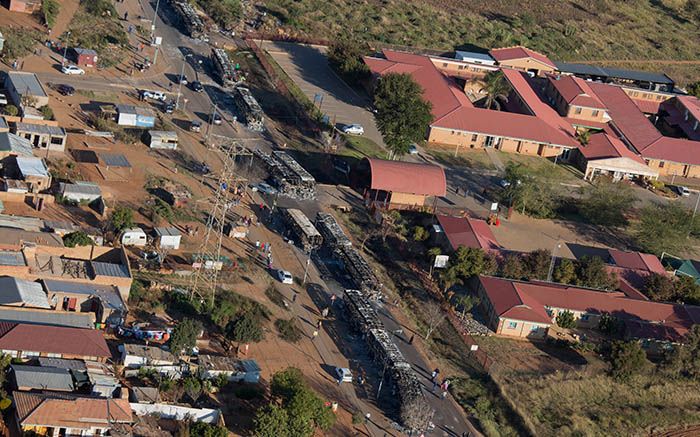 …cops car overturned, pigs run to save their bacon 'Three Tshwane metro police officers had to run for their lives on Monday afternoon after a group of disgruntled African National Congress (ANC) members attacked their marked service vehicle in Pretoria. "They were busy on their normal patrols, unaware that they were driving towards the protesters. They were confronted by the protesters and stones were thrown at them," Tshwane Metro Police Department (TMPD) spokesperson Isaac Mahamba told African News Agency. "All the three were injured. They managed to run away from the protesters and call for backup. The protesters fled."'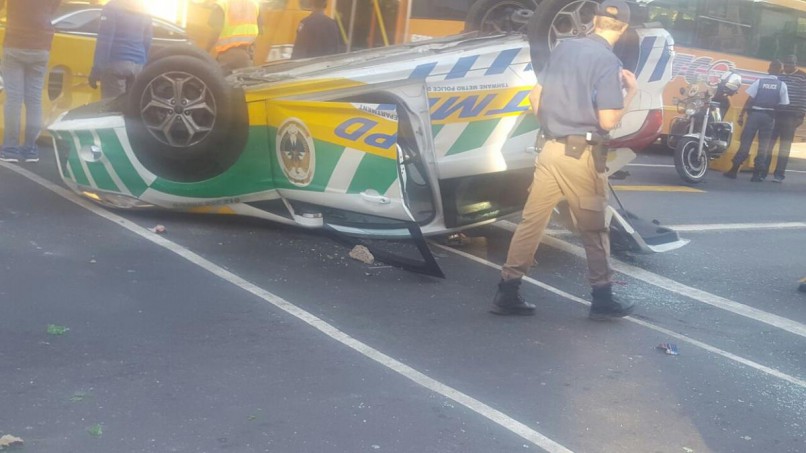 Acting director-general of Government Communication and Information Systems, Donald Liphoko said: "There can be no issue which cannot be resolved through democratic processes and dialogue. Members of the public are encouraged to use channels available to raise their concerns". People in Pretoria beg to differ.
"There has been some admission, including from State Security Minister David Mahlobo, that the violence was instigated from within the ANC … Among the tactics used to send people on the rampage was a false message that those employed through the Extended Public Works Programme in areas around Tshwane would lose their jobs if Ramokgopa was no longer mayor. It is also claimed that taxi bosses exploited the outbreak of violence to deal with the dispute they have been having with Autopax bus services in Mamelodi. It is alleged that they were responsible for the torching of 19 Autopax buses on Monday night. The looting spree, particularly at spaza shops owned by foreign nationals, then followed in the general turmoil." – from here
20/6/16:
South Africa, Cape Town: students nurse fiery grievances
South Africa, Johannesburg: barricades, riots and looting erupt throughout the southern half of the city in response to blackouts… just after a reasearcher at the University of Johannesberg revealed that the country experienced an average of 13 protests a day, "mainly over wages, service delivery, crime, dismissals, unemployment and housing. Over the past 17 years, there have been at least 67 750 protests." According to The Star, "Soweto residents caused mayhem on Tuesday night when they looted shops, stoned cars and destroyed ATMs in Dube in a protest over electricity outages. They haven't had power for three days. A Pep and a KFC at a local shopping centre was broken into and looted… A nearby bakery was also burgled and FNB ATMs smashed with stones."… Protests erupted in numerous areas of Soweto, Diepkloof, Vlakfontein, Eldorado Park, Orange Farm, Sebokeng and Ennerdale… Residents of Soweto sabotage the machinery of misinformation ... apparently the previous day "protesters threw stones at police, burnt a Putco bus and set a delivery truck on fire"
South Africa, Mossel Bay: strike by 200 taxi drivers shuts down town, elections threatened if demands not met
South Africa: cost of damage to property during university protests calculated at R460 million ($30 million)
…Eastern Cape: province-wide taxi-strike causes temporary cancellation of exams and other disruptions… Kwa-Zulu Natal: operations at Isithebe Industrial Estate grind to a halt as disgruntled residents cut off water supply 'The estate employs more than 20'000 people and is "the main economic lifeblood of the Mandeni area"' . This follows widespread rioting that saw the destruction of several factories in April.
Some of the contradictions of these events were revealed in the statements of a few participants, as reported here: '"We just want to choose the best candidates to lead us; we don't want people who are only in the race to enrich themselves and their friends," unemployed Sea Cow Lake resident Sandile Magatyane (29) told The Daily Vox. "People have been killed in shack fires every year here and we cannot tolerate another selfish leader; we need proper houses," he said. A resident of Springfield, Norman Guqa (35), who has been living in a shack for nine years says that his community has been forgotten. Guqa said that something has to change, "and now it will change by force because we never meet our councillor and the current list has names of people we don't recognise," he said. He added that until they get answers they will close down the area and won't let any cars go in and out of Springfield. "Violence is the only language these politicians understand. You cannot reason with a politician, he will use big English words just to confuse you and come up with excuses but we are tired now," said Guqa.'
Certainly this would not be the first time that faction-fighting was the motivation for protests. Like an ingrown toenail, the decomposition of the ruling party has seen the generalised violence perpetrated against proletarians increasingly turning inwards against this or that faction of the ANC. Political assassinations, routinely deployed since the turf-wars between UDF, AZAPO, ANC and IFP in the 1980s, and generalised in Kwa-Zulu Natal in the 1990s during the 'strategy of tension', have been a constant tool in the arsenal of the political class. In the first 9 days of this month alone, at least 4 ANC officials were gunned down by hit-men, presumably by rivals in their own party. It is by no means inconceivable that political riots could be increasingly resorted to, for the same purposes. Unlike assassinations or terrorism, however, such riots seem far more two-edged a weapon, as the danger of them getting out of hand and developing into an actual assault on bourgeois law and property always hovers in the background. Until now, the most radical class-consciousness in the country has expressed itself in through apolitical means: mass election abstention and independent mass organisations such as the Durban-based shack-dwellers movement Abahlali baseMjondolo that even go so far as to criticise the legitimacy of the state as a form of representation for the poor. But, just as present riots begin with disgust for all politicians and end with support for the lesser evil of supposedly less disgusting politicians, so AbM began with election boycotts and ended up, in the previous elections, supporting the supposed lesser-evil of official opposition party.
Unfortunately, until the dissatisfaction expressed in these and similar situations around the country coalesces into a coherently anti-political, anti-hierarchical, anti-capitalist movement, such assaults will always be contained by the contradictory reliance on new, supposedly least-bad forms of representation. As a matter of fact, what seems to be the lesser-evil is often the worst evil of all in that it brings people to accept, under a new coat of paint, the very same no-good future that they violently reject in its old discredited form. The apparently lesser-evil is practically the worst evil precisely inasmuch as, by nipping any potential good life in the bud, it serves to preserve all evil at a time when increasingly radical struggles raise, in ever more concrete forms, the question of whether it is really necessary for people to continue damning themselves to suffer eternally under this stupid, miserable, immeasurably evil mode of existence at all. [SK]
In response to a request by SK for comments on the above, SF wrote the following:
As for your point about lesser or worse evil: the real point is that the movements we're most interested in combat in practice things that the worse or better evil wouldn't tolerate if they were in power. Yet when such movements resort to political demands for the better or worse evil to replace the current lot it both undermines ideologically what in practice is being done (ie something self-organised) by asking for something that is not self-organised, and is just a political reflex to come up with an apparently "realistic" demand that hierarchical power can understand and possibly meet, especially if it buys them time. However, in certain circumstances, demanding a reform is quite clearly and genuinely the better evil insofar as these miserable circumstances need to be resolved practically and usually pretty immediately (eg demanding electricity or water or a wage rise or whatever are obviously concrete demands which if met would ameliorate the situation). Everyone does this almost everyday if they have no other means of getting what they need (eg they can't connect the electricity or get water themselves, or they can't get non-nuclear-powered forms of electricity or they can't abolish money for the moment, etc. etc.). I don't think it helps though to say that demanding some political party in opposition is "the worse evil" – the "evils" are essentially the same, neither worse, nor better. Usually when people demand these false choices without even acting independently it's indicative of how they are avoiding acting independently and how they want to continue avoiding acting independently. Which is not the case with, for example, Abahlali baseMjondolo; I'd guess – though without knowing enough about them – that after years of acting for themselves with all the constant miseries (including some murders committed by the state, if I remember correctly) they felt the need to present themselves "realistically" out of the exhaustion of not seeming to make progress (this is pure hypothesis on my part). If instead they'd made connections with other social movements that had had independent aspects and had theorised this into a critique of external authority more generally, maybe the result would have been different, but almost invariably – and this is a major problem – movements stay within their "comfort zone" because launching into the unknown seems far too dangerous. Much of this "unknown" is not that unknown historically – because history is full of examples that modern movements have yet to try out, mainly because they remain unknown to them, and one of the contributions those of us who want a revolution can make is to try to talk about these historical examples, whilst somehow connecting them to the present…Well all that sounds a bit platitudinous as well, but sometimes banalities have to be repeated.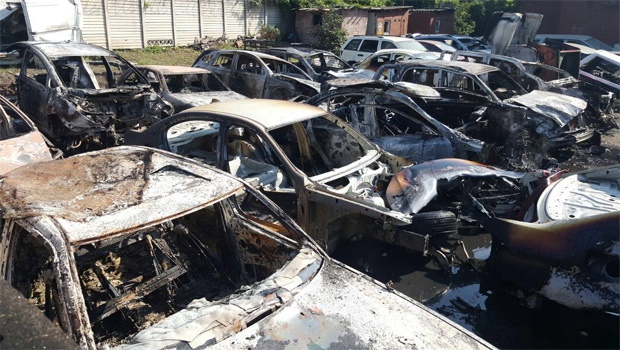 Durban car dealership, 6 June 2016
This chronology – plus links to various texts about South Africa on this site and elsewhere – continues here (but in chronological order, starting with May 2013 and ending up at the end of May 2016)
List of texts on this site:
the third day of september (an eyewitness account of the Sebokeng Rebellion of 1984) by Johannes Rantete (put up on September 3rd 2014, written in September 1984)
south africa & some anarchist responses to mandela's death

(April 2014) Though this is perhaps too focused on 4 individuals' responses to St.Nelson's death, it also contains significant facts about South African, and ANC, history.
south africa: another man done gone & post-marikana notes (2012-2013) About cop murders and various struggles in this period.
south africa – now & then

(2005/1979/1983/1985) This covers many of the struggles in the period up to 2005, plus texts about S.A. in 1985, 1980 and the Black Consciousness movement from 1976 till 1979.
soweto '76 (1978/9) Lots of interesting details about the movement in 1976, though written from a white liberal point of view.
2.
A non-definitive list of other interesting texts:
The Durban Strikes 1973 (added to this list on 22/8/14)
turner – on the "ethics" of black consciousness (added to this list on 22/8/14)
movements in the platinum mines, 2009 – 2013
whiteout (2013) Though much of this is angry, vibrant, witty, genial rhetoric, which nevertheless remains rather over-general and abstract, it also contains some concrete facts about the Philippi squatters camp and other things going on in S.A. in 2013.
report on the farm workers struggles of 2012…and another report on the same struggle
marikana: a point of rupture?

This, by insurgent notes, has some interesting facts – on a rather tame and tedious objective academic level – about SA, though it's particularly tainted by some ridiculous appeal to the Left (rather than to proletarians), to get their politics straight, as if the Left in SA (as elsewhere) hadn't consistently been part of the problem.
this day in prehistory (2012) A mixture of interesting reflections on some aspects of SA history and some stylistically poetic detours.
the big sell-out (1994) Good, though a bit repetitive, analysis of the ANC and Mandela by Dan Mokonyane, former member of a semi-Trotskyist grouping (which nevertheless never had the idea of becoming a political party) "The movement for a democracy of content"
on sexual abuse in the ANC camps (1993)
bounded revolt (chapter 4 of "Theatres of Struggle and the End of Apartheid"). Mainly about the "6 day war" in Alexandra at the beginning of their 6-month struggle in South Africa, 1986."Old-style African Nationalism faded. A new kind of violence emerged…the young rebels reimagined Alexandra in bold and inventive ways…They reinvented "good" and "bad" spaces…They delineated private spaces such as homes and public spaces such as streets. They recast the meaning of official boundaries" (not sure when this was written, but its subject takes place in 1986)
an extract from "My traitors heart" by Rian Malan An extremely interesting (and often extraordinary) account of the daily life of mine workers ("There was no time or chance to prove yourself – who you are and what you want") and their stuggle, both unionised and wildcat, in 1985-6.
the third day of september (an eyewitness account of the Sebokeng Rebellion of 1984) by Johannes Rantete "Can it be denied that the riots of Sebokeng were part and parcel of the fight for liberty by black South Africans? Although the motive was to strike against the rising rents, the course taken by the rebellion was so horrible that even the police could not withstand it. This I say because there was no roof of the business buildings that remained tall after the strikes except the well-planned Mphatlalatsane hall, Perm building and various churches. In Zone 11 all the shops were burnt down. The rent office, the bottlestore and the beerhall were burnt . Three houses were burnt One councillor was killed. Several cars were burnt, , including a brandnew Honda Ballade. The petrol station and the soft-drink cash-and-carry wholesale were also attacked. The roadhouse café was broken into and goods were taken away. Tarred and untarred roads in the zone were blocked with stones, boxes and anything else that was easy to carry. The Post Office was attacked and burned, not surprisingly. All the shops in Zone 12 were burnt down too . The rent office, the bottlestore, the beerhall, a doctor's surgery and the house of a councillor were destroyed by fire. The tarred roads in thie zone were blocked with stones and pelted with bottles and burning objects to hamper the passing of cars – especially police vehicles. Zone 13, where there are more shops, was the first to come under attack. Not a single shop carried its original shape. Everything was in ashes. Here again the rent office was attacked, but the library and two clinics were spared. A house near the shopping centre was burnt. Roads used by buses were pelted with stones and broken bottles. Zone 14 is the undisputed CBD of Sebokeng. It carries public buildings and other large buildings which are not found in other zones . There is the well-known Mphatlalatsane hall, the Perm building, Texido Supermarket, the banks and building societies (Standard, Barclays, Volkskas, United, Allied) and the long frontage of the P & A Dryclearners building. Fire raged through all these buildings. All the shops – a "Hire a TV' shop, a Kentucky, a beerhall, a bottlestore – were burnt….…The third of September has become a historic day. It saw the fulfilment of the forewarned strikes . . . Some of the victims of the strikes can be identified . . . Evaton's deputy mayor Dutch Diphoko died in the Sebokeng hospital on Tuesday. Evaton's mayor, Mr Sam Rabotapi, had to remain homeless after his house was burnt down. His gown was worn by an elderly woman who danced down the streets and called herself the first mayor . . . On Monday the Sharpeville councillor, Mr. Sam Dlamini, was killed by an angry mob. The boy Wisey Mnisi of Zone 12 was gunned to death."
an extract from "Popular Struggles and Resistance movements in South Africa" Another very interesting account of the ultimately successful boycott movement against a flour, and flour-based products, manufacturing company (a struggle for the reinstatement of sacked workers), particularly interesting in how the division between coloureds and blacks was nurtured under apartheid and how they were broken down.
lessons of azikwelwa by dan mokonyane A very, perhaps overly, detailed but also very interesting account of the successful bus boycott of 1957 against the fare increases by one of its leading participants, which also shows how the ANC were amongst the first to want to sell-out the struggle. Also includes a brief history of South African capital from the late 19th century onwards. First published in 1979.
Brief resumé of aspects of the history of the Boers: "…Grievances the Boers held against the British started when British missionaries started to defend the rights of black Africans against the abuse by the Boers; that the "grievances" accelerated when the British outlawed slavery in Britain, and pushed against slavery in South Africa, eventually outlawing it there in 1834.
Dissatisfied with the compensation provided for emancipation, the Boers were positively outraged by the British determination that there should be equality between black and white, and embarked on their "Great Trek." This rejection of racial equality is fundamental to the "Volk" identity of the Boer's and their ideology as a "tribe" not a settler, colonizing formation. The rejection of racial equality was enshrined in the constitution of South Africa.
Secondly, I was referring to the historical role of the Boers as a social formation, as the word coming from the German for peasant but morphing to mean free farmers. The expulsion of black Africans from the land was first a precondition for the development of capitalism in South Africa, and became essential to its maintenance, providing a dispossessed labor force for rural and agricultural employment. That much of the Boer population moved into cities is part of that development, just as it is in every capitalist society. Nothing special about that; and nothing that shreds the legacy of Boer ideology and activity.
The power of the Boer ideology was predominant in South Africa, regardless of the numbers involved in actual farming; just as the ideology of the "happy, pre-Civil War South" was, and still is, dominant in the South. That ideology is white supremacy, and it reflects the very real material relations of the Boers to the black Africans."
The story of a South African revolutionary (1992) (added 12/2/16)
Transition from below, Chapter 5 – "It was just chaotic" The apartheid workplace regime, political challenge and 'ungovernability' in the workplace. (added 12/2/16). 2 more chapters added on 20th July 2016: Strike committee at Witbank and Transition From Below Chapter 7
Added 15/8/16: Letter from Iranian Workers, an open letter of solidarity warning South African workers from having illusions in the ANC, and making comparisons with the situation in Iran at the tme of the 1979 revolution.
Added 16/2/17: INSIDE QUADRO, an article about mutiny in the "people´s army" of the ANC/CP and the torture-camps where dissidents were mutilated (some to death) with the latests methods learned from their sponsors (at that time) the USSR (United Stalinists for the Suppression of Revolution). It´s importance, among other things, lies in the link it makes between the formalised state (in-waiting)-terrorism of the ANC´s insecurity apparatus (convincingly described as an extension of the KGB in Africa) outside the borders of the country, and the informalised para-state terrorism inside South Africa during what is presented by the spectacle as a miraculously peaceful transition — the 18,000 killed in massacres and political violence during this period have literally been wiped out of the history books (the ones I remember reading at school in the New South Africa, in any case). [note by SK]