Continued from here
30/12/15:
France (Loire-Atlantique): several fires in juvenile prison
24/12/15:
Belgium (Mons): prison screws on strike, some of their cars vandalized by some masked attackers
22/12/15:
UK (Manchester): report that the riot squad have been called out to Strangeways prison nine times in less than nine months
21/12/15
UK: report on how riot squads have been called out almost every day this year to beat the shit out of prisoners
Turkey: Anarchist prisoner Osman Evcan resisted and has won his fight again!
17/12/15:
France (Beauvais) : prisoners' destroy their prison before their transfer
13/12/15
France (Osny) : 8 prison vans completely burnt
Several attacks against screws happened in this prison this year, and there was a collective movement of prisoners in August.
UK (Winchester): prison riot – 5 screws (plus a nurse) injured
12/12/15:
Greece: hunger and medication strike in Greece infamous Korydallos prison, where many anarchists are held
5/12/15:
Greece (Korydallos prison): anarchist inmates drop banner inside Korydallos prison
2/12/15:
Germany (Brutzbach, Hessen) : Butzbach prisoners on hunger strike with list of demands
UK, Chelmsford: prison riot – 6 screws hospitalised
29/11/15:
Guatemala: at least 6 dead as cops and army crush prison riot "The prison…houses 3,092 prisoners but it has capacity for 600. Guatemala awarded Mexican construction company ICA, which has been struggling under a heavy debt burden, a multi-million dollar contract to expand the prison late last year, according to official contract data"
28/11/15:
Mexico, Oaxaca: several guards taken hostage in prison mutiny
26/11/15:
Turkey : anarchist prisoner on hunger strike (a letter)
24/11/15:
England : mass deportation to West Africa blockaded and resisted by Yarl's Wood women
20/11/15:
Mexico – Coscomatepec (Veracruz state) : direct action to release imprisoned woman 'Armed habitants of 5 villages block avenues in the town of Cordoba, detain court employees and threaten judge with setting him on fire if he doesn't release an imprisoned 64 yr old woman, and get what they came for.'
18/11/15:
Italy, Torino : incendiary attack at detention centre for migrants (a good part of the building destroyed)
17/11/15:
UK, Norfolk: prisoner tries an alternative to the usual canteen food "Two prison officers were conducting roll call when Beckford launched an unprovoked assault on both men, leaving one with bruising and the other with a deep bite wound to his chest which needed hospital treatment."
14/11/15:
South Africa, Mpumalanga: two inmates die and six badly burned in prison protest apparently they set their mattresses on fire over poor conditions and it backfired [SK]
12/11/15:
US, Idaho: banner hung in support of death-row prisoner
10/11/15:
Guinea, Conkary: hundreds of prisoners riot, 'dozens injured on both sides'
Australia: pigs regain control of immigrant detention centre after intense riot '…there were reports of some detainees barricading themselves inside with petrol bombs, machetes and chainsaws after raiding a garden shed for weapons. The unrest began in the early hours of yesterday morning after upset detainees asked officials what happened to Kurdish refugee Fazel Chegeni, whose body was found on Sunday following his escape from the detention centre.' Interestingly, ethnic solidarity had nothing to do with the riots: 'Media reports suggest New Zealanders were behind the uprising, which saw centre guards flee, fires burn and walls smashed… Attempts to contact New Zealanders in the centre were unsuccessful tonight but yesterday a Kiwi detainee told NZME people being "treated like animals" sparked the riots. The man, who NZME chose not to name, said the riots kicked off after one person was allegedly assaulted by a guard when they asked about the body. "It was just a matter of time, all of us knew it. It was a matter of time because of the way they treat people … They're meant to be so called welfare carers. Duty of care is their number-one policy and bringing service to us, but they treat us like dogs. We're treated like animals in here."'
2/11/15: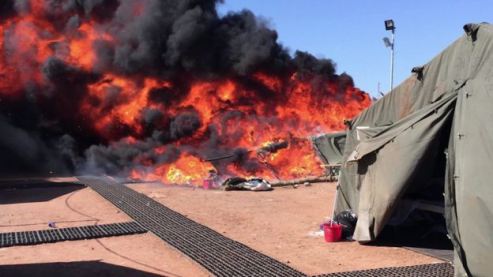 1/11/15:
United States, Utah: inmates of 'youth centre' riot "Our officers went in and tried to take care of the problem, and as they would go into one area, a problem would develop in another area"
27/10/15:
France, Marseille: hunger strike launched by refugees
20/10/15:
France, Isere: travellers politely request temporary release from prison of man to be able to go to his brother's funeral; simultaneous riot in prison "A hundred people with iron bars blocked the station. Around it, there was heavy looting, including the restaurant attached to the station ….. The RD1085 [a major road] at Moirans was blocked "by about thirty people burning pallets and wrecked cars on the road….Traffic remained cut off for hours. At the station, a burning vehicle on the tracks interrupted traffic…." Representatives of the Travellers, settled in Moiran, were negotiating with their lawyer and judge … to ask the brother… of a victim of a road accident that occurred this weekend so he can "attend the funeral to be held on Wednesday," …But "justice seems to refuse to accede to their request." "Their lawyer appealed the decision. Having no response…at 4:01 p.m. the standoff began" on the RD 1085… where having plundered the neighbouring breakers' yard, they blocked the road and then set fire to vehicles, …..A mutiny also erupted in the detention center of Aiton (Savoie) where the young man is incarcerated."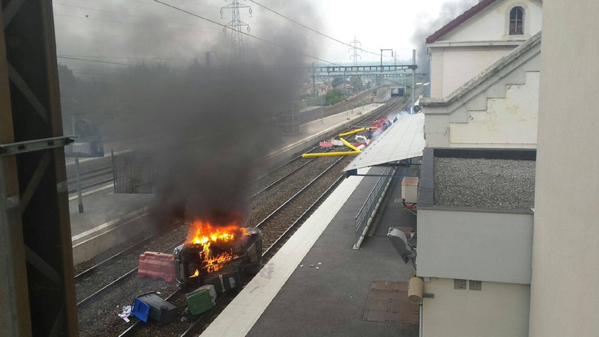 leaves on the line?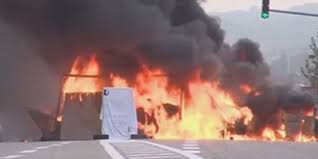 Moirans, Isere
"…some 100 travelers stormed the company and assaulted the enterprise's boss. …Roma almost stormed the city hall building, from which all workers had to be evacuated. The schools of the city were under siege, too, and the administration wouldn't let the students outside….At the same time, a mutiny broke out in the prison of Aiton in Savoy, where the inmate in question is kept. Twenty prisoners set fire to their corridor and destroyed the locks of their cells….No one has been injured in the clashes." – from here
19/10/15:
UK, North Wales: cars of prison project manager attacked
15/10/15:
Australia, Christmas Island: riot cops storm deportation centre…Sydney: Prime Minister's office occupied by people demanding closure of asylum seeker detention centres…article about Australia's youth detention centres (from 21st Oct.)…online comic about Villawood migrant detention centre
12/10/15:
Brazil, Teofilo Otoni: 14 prisoners escape during riot in which 3 prisoners are killed "The prisoners who rioted also damaged the wings where they are housed and set various objects on fire." This article is by Fox News, so one can judge its version of events by the fact that it dares to state that Brazil " has one quarter of the world's prison population". In fact, it has slightly more than ¼ of the US prison population which proportionate to the country's total population is the highest in the world (see this ); the US has 560,000 more prisoners than China., with less than ¼ of China's population. So when this article states "The state government said in a statement that the dead prisoners were murdered by their own cellmates" we know that that is the official version, which may or may not be correct.
10/10/15:
Peru, Chiclayo: 5-hour protest in prison after 2 prisoners die, burnt alive by others
5/10/15:
US, Alaska: prison riot "A Lemon Creek Correctional Center dorm has been left uninhabitable and all inmate visitations have been stopped after a prison riot Monday night. According to sources within the prison, the incident was sparked by an unexpected source: phone service….The riot has exposed inmates' agitation over a phone system that charges them far more than typical rates, then returns some of the revenue to the Department of Corrections. "This is clearly so somebody just can get rich,"… For three calls totaling 28 minutes of talk with one inmate at Lemon Creek, the Empire was charged $3.51. If the newspaper pays by credit card, the bill will rise to $10.46, or 37 cents per minute. That's more expensive than calling a landline phone in South Africa from Juneau with AT&T. In public documents, Securus stated that the fees are necessary for it to earn a profit… To talk for more than 20 seconds, the person receiving a call must register with Securus, handing over name, address, email and telephone number to a permitted database. It's a confusing process that took the Empire 20 minutes to accomplish. Inmates can't leave voicemail messages, dial for an operator or directory assistance or use 1-800 numbers. They can't do three-way calls or use services like Vonage or Google Phone to get around the cost of long-distance calls. All calls are monitored, and the prison or Securus can end them at any time. One such call to the Empire was abruptly stopped with a message: "This call is being terminated — no third-party calls are allowed." For that 16-second conversation, the Empire was charged $1.17…."In reality, the long-distance rate quadrupled,"…The phone system wasn't the only source of contention, of course. There were other contributing factors before Monday's riot, sources said, including a "phase program" that allowed inmates to earn rights and privileges previously granted for free….The spark into violence, however, does appear to have come from the latest development with the phone system. Sometime between 9 p.m. and 10 p.m. Monday, calls were abruptly stopped, and inmates became agitated by the fact that they would be paying for those disrupted calls…. In E dorm (also called E-mod), inmates gathered and organized. They may have attempted to lure the corrections officer into the dorm from for an ambush, but inmates deny this. About 11:15 p.m., an inmate wrapped a towel with eyeholes in it around his face. Events escalated as inmates covered E-dorm's cameras and uprooted a table bolted to the dorm's concrete floor. The table was wedged against the door into the dorm, and a window into the dorm was broken. Bathroom partitions and bunk mattresses were ripped from their places and shoved against the broken window in an unsuccessful attempt to prevent corrections officers from flooding the dorm with pepper spray through the resulting hole."
1/10/15:
France, Lot-et-Garonne: prisoner escapes from sports complex during boxing tournament (his 2nd escape)
23/9/15:
US, Illinois: demonstration outside prison in support of prisoners' hunger strike
France, Beauvais: small prison riot
22/9/15:
UK, Durham: prisoners sunbathe on prison roof and wreck a bit of it This trashy article illustrates a typical journalistic contempt for basic human desires – so what else is new?
15/9/15:
UK, Manchester: 3rd day of rooftop protest by prisoner gets support from demo outside prison walls Morehere "A protest party complete with DJ and fireworks was set up on Monday night in the street outside the Victorian prison"
12/9/15:
UK, Cambridgeshire: one-man prison riot "The cell was flooded with water and according to reports "a series of small fires" were started."
9/9/15:
US, Alabama: prison rebellion – a radical account
France, Pas-de-Calais: deputy director of prison taken hostage by prisoner demanding release from solitary confinement and transfer to another prison
8/9/15:
UK, Yarl's Wood: protests and hunger strike by women at detention centre
7/9/15:
Spain, Valencia: migrants riot at detention centre (6th – 7th Sept.)
3/9/15:
Australia, New South Wales: small prison riot
1/9/15:
UK, Flintshire: prison construction site blocked by anti-prison demonstrators "Prisons are part of the problem. They are abusive places used by the state to control and threaten us."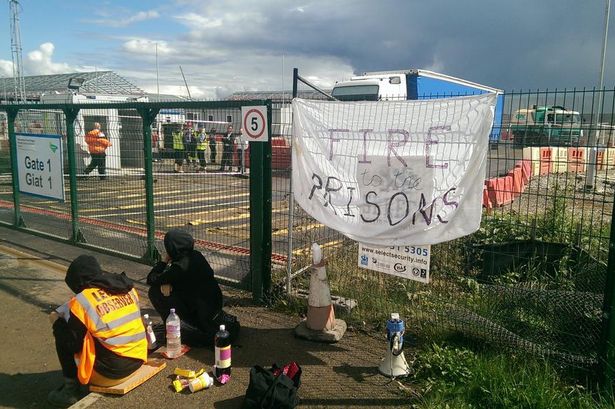 24/8/15:
South Africa, Gauteng: 2 prisoners freed by armed men
18/8/15:
Australia, New South Wales: 10 hours of freedom
17/8/15:
South Africa, Gauteng: 5 prisoners awaiting trial escape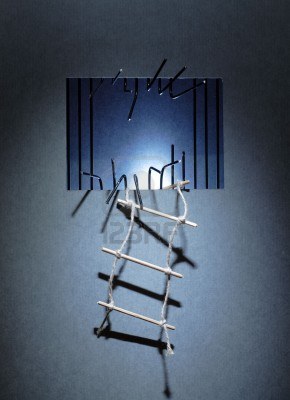 14/8/15:
Germany, Leipzig: court spray-painted in support of prisoners
Syria, Hama: hundreds of prisoners riot against conditions "…furniture and equipment ransacked and beds turned into barricades to sealed iron gates…. inmates, mostly held on terror-related charges and for joining protests against the state, took control of several major wards and ransacked prison quarters."
Iran, Tehran: over 500 on hunger strike in new prison
12/8/15:
US, California: riot follows prisoner's killing of Hugo Pinell, one of the San Quentin 6 politicised prisoners of 1971, a man who'd killed a screw Though this is pure speculation – maybe this was manipulated by screws…? And this seems to confirm something like that…More here "This is revenge," declared his close friend, fellow Black Panther veteran Kiilu Nyasha, on Hard Knock Radio Aug. 13. "They hated him as much as George Jackson. They beat him constantly, kept him totally isolated for 46 years – no window, no sunlight – but they could never break him, and that's why they hated him. "The only way he survived was that this man was full of love….He participated in the hunger strikes and applauded the Agreement to End Hostilities, authored by 16 of his comrades, Black, Brown and White, and dated Aug. 12, 2012, three years to the day before he was killed. It has nearly erased racial violence from California prisons."
10/8/15:
Palestine, Jerusalem: activists occupy Red Cross in support of hunger striking prisoner
31/7/15:
Iran, Tehran: 500 on hunger strike in new prison
29/7/15:
US, Arkansas: riot at prison causes hundreds of thousands of dollars' worth of improvement
29/7/15:
Eire, Dublin: prisoners take to the roof, riot "…two inmates remained on the prison roof staging a protest. They accessed the roof at around 11am, followed some time later by a linked protest at the B Yard in the west Dublin prison. Some 60 inmates in the yard refused to leave at 12pm. Prison authorities identified a core of 15 ringleaders, who …demolished soccer goals and used the metal posts, along with security razor wiring, as improvised weapons." At the same time some of the prisoners take hostage and beat up an Afghani refugee.
28/7/15:
Australia, Melbourne: another fire at prison famous for its earlier riot
24/7/15:
France, Yvelines: report of designer clothes manufacturer-cum-prisoner using his past to gain street cred and trying to calm down angry youths after constant on-off mini-riots "This man in his thirties is known to all here. He is extremely active on social networks and in recent months has launched his clothing brand called "For youv". All this from … his prison cell where he's been incarcerated for almost thirteen years after a series of robberies. "My past allows me to be credible to those kids", says youv, who was given permission to organise a barbecue [presumably outside prison] "Burning cars, throwing stones at the police, I did it! And today I am in prison. And believe me, prison is not really an example. " Sitting in the middle of a group of teenagers consuming a merguez sausage or emptying a coke, the young man commands respect. The kids listen in silence, in awe…. The discussion continues for several minutes. The tone is never preachy. He warns, pacifies, without pointing the finger at one youth or another. "I do not want to appoint blame, I do not want to be in a confrontation. I just use my little notoriety to make things happen in my own way, " insists youv. An intervention that could possibly bear fruit amongst this very young audience who are not very sensitive to traditional prevention messages."
23/7/15:
Algeria, Ouargla: youths attack courtroom and cops after arrests on previous day's riot "…Comrades [of those previously arrested] … moved to Ouargla Court demanding their immediate release, without further ado …Young people decided to throw stones and other objects at the windows of the court in a sudden escalation of violence which sparked a forceful intervention from the security forces to deter attackers from crossing the boundary wall of the court and to protect the public building. The clashes lasted a good half hour before the youths were pushed outside the perimeter of the court which also has several banks, tax management, the headquarters of the wilaya [kind of prefecture] and the operational area of the army ….The authorities had to close their doors, several businesses pulled down their shutters before the street regained its composure."
17/7/15:
Germany, Berlin: security company car burnt, culmination of other anti-political attacks on cars
15/7/15:
Argentina, Wallmapu: indigenous prisoners in Great Escape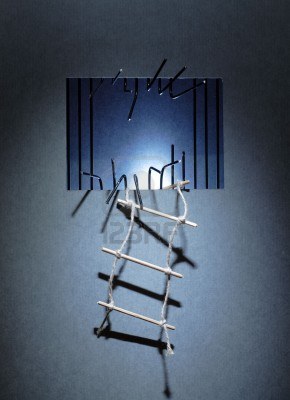 11/7/15:
UK, London: SWP/SYRIZA meeting disrupted by anarchist prisoner solidarity group
9/7/15:
Argentina, Tucuman: 20 youths attack police station with sticks and stones, burn or smash 3 cars belonging privately to cops and 2 hijacked vehicles According to this, this attack was made by friends and family of someone who died of asphyxiation in a prison.
5/7/15:
US, Arizona: I have only one burning desire – let me stand next to your fire
4/7/15:
US, Arizona: July 4th celebrations prison-style "Problems began July 2 in the medium-security Hualapai Unit of the Arizona State Prison Complex-Kingman when inmates were "non-compliant and caused significant damage" in two housing areas"
South Africa, North West: Famous 5 On Adventure Holiday
2/7/15:
US: Arizona: 2nd night of riot in prison "In Wednesday's incident, a small group of minimum security inmates were chasing down an inmate when prison staff intervened to stop the assault, Wilder said. The inmates assaulted the officers, and six officers suffered minor injuries.,.. it took a couple of hours to get the prisoners back to their housing units…Thursday's incident involved many more inmates and turned into a full-blown riot involving an unknown number of inmates…. It took many hours for prison staff and Department of Corrections officers to bring the situation under control, and the prison wasn't secured until early Friday morning, Wilder said. Three guards were hurt."
Mexico, Mexico City: prisoners' hunger strike now in 6th day Pi writes: "A declaration on the sixth day of hunger strike of the "Informal Coordination of Prisoners in Resistance" by Fernando Bárcenas, an anarchist jailed and accused of having burnt a coca-cola tree during a movement against the rise of metro ticket prices. What is pretty interesting is that this new declaration (several have been issued during these last days) clearly states they're against all prisons and the distinction between "political prisoners" and others." See 27/6/15 for original declaration.
1/7/15:
Australia, Melbourne: there's no smoking ban without fire "Fire crews have returned to the scene of a blaze at the Metropolitan Remand Centre in Ravenhall, a day after inmates rioted and lit fires at the prison. At least nine CFA and MFB crews were dispatched to the prison about 11am on Wednesday. The incident was declared over and the fire labelled "safe" about 12.20pm…Five inmates were injured when police clashed with as many as 50 armed prisoners in an operation to end the riot about 3am. Heavily armed police used tear gas, the dog squad and other tactics to quell the riot. Rampaging inmates lit fires, rammed an exit door, and penetrated a control room after guards came under attack at 12.20pm on Tuesday at the prison, 20 kilometres west of Melbourne. …Guards first came under attack at 12.20pm on Tuesday. Up to 300 inmates are believed to have been involved in the riot, but many surrendered to police or prison staff as the situation escalated. More than 100 were still on the loose in the centre at nightfall. They had armed themselves with makeshift weapons found in prison workshops, including metal bars and planks of wood….Several vehicles were believed to have been torched in the rampage, while a fence that divided rival outlaw motorcycle gangs was ripped down at the prison, 20 kilometres west of Melbourne." More here. "Heavily-armed police quelled a riot involving up to 300 inmates at an Australian jail on Wednesday over the introduction of a smoking ban, with a handful of prisoners injured. Melbourne's Metropolitan Remand Centre remains in lockdown after the 15-hour disturbance when doors were smashed, fires lit and some inmates armed themselves with sticks and iron bars from the jail's agricultural sheds. Three prison staff received minor injuries and five inmates were taken to hospital, some with dog bites, after police moved in during the early hours of the morning, reportedly using tear gas. Brett Collins, a former prisoner and spokesman for Justice Action, an advocacy group targeting abuse of authority, called the ban "bullying" and "a denial of their rights". "People are just totally outraged… they have very little to lose" Nearly $8m. worth of damage to state infrastructure "The protest… has on Thursday been described as causing the biggest damage bill from a jail outbreak in Australia…."Everything in there is destroyed, including prisoner files over 20 years old," the source said. "From what I understand, there is not one thing in that prison that didn't get broken. I think it was well thought out."" This report shows that authorities knew that prisoners would riot
30/6/15:
Australia, Melbourne: 300 prisoners riot against smoking ban
27/6/15:
Mexico, Mexico City: prisoners' hunger strike by the "Informal Coordination of Prisoners in Resistance" begins Very rough translation:
"Today, June 27th, a hunger strike of several prisoners in different prisons of Mexico City has begun. Strike demands focus on…torture and abuse in prisons and the actions of the Commission on Human Rights in the City, the institution which is the prison authorities' accomplice . Likewise the business conducted with inmates through their sexual exploitation is denounced.
Beyond the differences in methods and strategies (for us prison should not be improved or reformed, but it must be destroyed), in solidarity with the comrades in struggle they …call upon all related organizations, groups and individuals to express solidarity.
Collective Hunger Strike
Informal coordination of Prisoners in Resistance.
For the following demands:
1) Cease the abuse and torture in all prisons either by word or deed.
2) Termination of the silent repression exercised by the institution in collaboration with the CDHDF (Human Rights Commission of the Federal District)
3) For the people to stop all contact with jailers and / or officials who have been denounced for mistreatment.
4) Total rejection of the austerity measures that are being implemented worldwide, in prisons by various tendencies of economic and political interests.
5) Application of the Istanbul Protocol on torture to all inmates.
6) Clarification and withdrawal of penal article 148/201H from the sentenced comrade Jose Santiago Hernández who was sentenced and imprisoned for eight months before reaching his age of majority.
7) That due respect and consideration to the families of the prisoners when they are in the prisons is maintained.
8) No more illicit enrichment, based on the exploitation of prisoners.
9) No more illicit enrichment by officials based on the sexual exploitation of women and men interned in prisons.
10) Breaking the relationship of complicity between the administration and the medical unit; no more neglect and inhuman treatment.
11) Open more opportunities for cultural recreation and artistic projection and paid work for prisoners; the few that exist are elitist and conditioned by the administration.
12) Waiver of staff who actively shapes the Technical Board in all prisons in Mexico City and generate the necessary mechanisms to eliminate corruption and authoritarianism of management and custody.
13) Let us not be judged or repressed for the activities that we protest about because we have always been incited by the malfunction of the penal institution.
14) No more violations of personal data and correspondence for the purpose of extortion, kidnapping, intimidation and confiscation of information material.
Also we denounce the confinement and incommunicado detention that is practiced against fellow prisoner Jessi Alejandro Montaño and we'll carry out a day of struggle and resistance to make our mark against ignorance and our rejection of prison authority. Side by side with our brothers and sisters, face to face with the enemy!"
23/6/15:
21/6/15:
Belgium, Nivelles: 7 prisoners in rooftop protest "Their anger is linked to the recent arrival of a fellow prisoner, who enjoys the favours of the prison governor."
18/6/15:
Canada, Ontario: 6 hour riot in maximum insecurity prison " Inmates at the maximum security facility in Penetanguishene, Ont., erupted into a random riot Thursday, destroying meal hatch doors, cell doors, phones, duct work and garbage bins in a six-hour incident that was only resolved when a tactical team used pepper spray."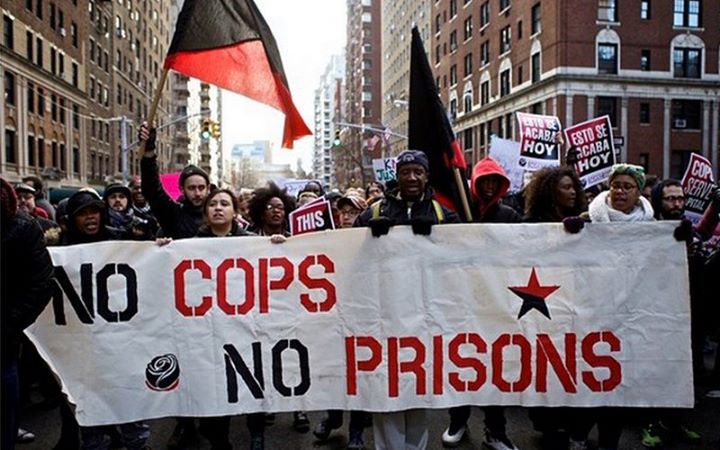 French Guyana: 2nd prison mutiny in 2 days Prisoners refuse to return to their cells, demand improved health conditions (there are rats and coackroaches in the cells), more interesting social activity, end of abuse by guards. More prisoners (189) in protest than Tuesday's (see 16/6/15).
17/6/15:
Trinidad & Tobago, Arouca: prison riot "Five officers were badly beaten … Officers were stabbed and one officer's teeth were broken. T&T Guardian was informed that the prisoners were in possession of weapons crafted by the prisoners. These include shanks made out of tooth brushes and metal objects. The prisoners have barricaded themselves in an area in the prison. The officer said the prisoners have created shields to prevent the officers from harming them if the riot police were to enter. …many prison officers do not want to engage with the prisoners because they fear for their lives. Members of the Riot squad are standing by at Golden Grove to assist if prison officers are unable to contain the situation. A prisoner informed T&T Guardian that the riot ensued following an incident where the prisoners were soaked with water and an Imam was badly beaten inside the prison"
16/6/15:
Egypt, Cairo: arson attack on government building made by black blockers in solidarity with tortured prisoners
French Guyana: 74 prisoners refuse to return to cells in protest especially against screw's union (Force Ouvriere) starving them by blocking food delivery
14/6/15:
UK, Rutland: 6 hour riot by about 100 prisoners "Up to 60 prison inmates attacked officers and started fires during a six hour riot at the weekend…It would appear there were over 100 prisoners involved in the riot"……More here "A prison officer has been hurt in a riot in Rutland involving scores of inmates. Police and fire crews were called in after small blazes were lit during the disturbance. Order was not restored until screws specially-trained in brutal methods of inflicitng pain intervened. The defender of ruling class "justice" who was assaulted was treated in hospital and discharged on Sunday night, while four prisoners were taken to hospital after a savage beating, and two screws were treated for smoke inhalation. Around 30 inmates have been transferred to other prisons far away from friends and relatives to be beaten by cowards in uniform. A Prison Service PR manipulator said: "A serious incident of insubordinate lack of servilitiy on one wing at HMP Stocken was resolved by a specially trained gang of ruling class protection racketeers. …." [translated from the original Massmediatese]
13/6/15:
US, Missouri: 31 railway wagons carrying coal derailed – part of solidarity with anarchist prisoners, apparently (see discussion below this latter article on how useful/stupidly dangerous such actions are/could be)
12/6/15:
Belgium, Brussels: arson attack on prison building company
9/6/15:
France, Val d'Oise: small deliberate fire, screws attacked, in prison…Limoges: 10 Eurovia-Vinci construction engines destroyed by arson Damage is estimated at over a million euros. Threats have been made and sent to various companies involved in building the airport of Notre-Dame-des-Landes. Among the listed companies, there were Eurovia and Vinci. Vinci is particularly involved in the construction of prisons.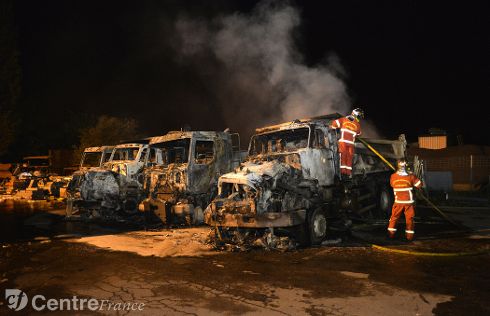 Limoges
8/6/15:
Thailand: prison revolt; 1 prisoner killed, 5 guards injured, as prisoners protest overcrowding etc.
7/6/15:
Kyrgyzstan, Bishtek: prison riot over failure of doctor to turn up
Brazil, Rio: 2 die in prison riot over overcrowding More here "The riot broke out in the Governador Valadares prison of the Minas Gerais state during visiting hours on Saturday morning and ended after a 21-hour standoff, leaving two inmates dead, according to the local Social Defense Secretariat. During the incident, a group of inmates broke security railings and invaded administration offices to protest the overcrowding of the prison, which, with a capacity for 290, holds some 800 inmates. In the end police launched an operation to regain control, using tear gas bombs and a helicopter"
6/6/15:
…Bedfordshire: fence round Yarls Wood prison for migrants torn down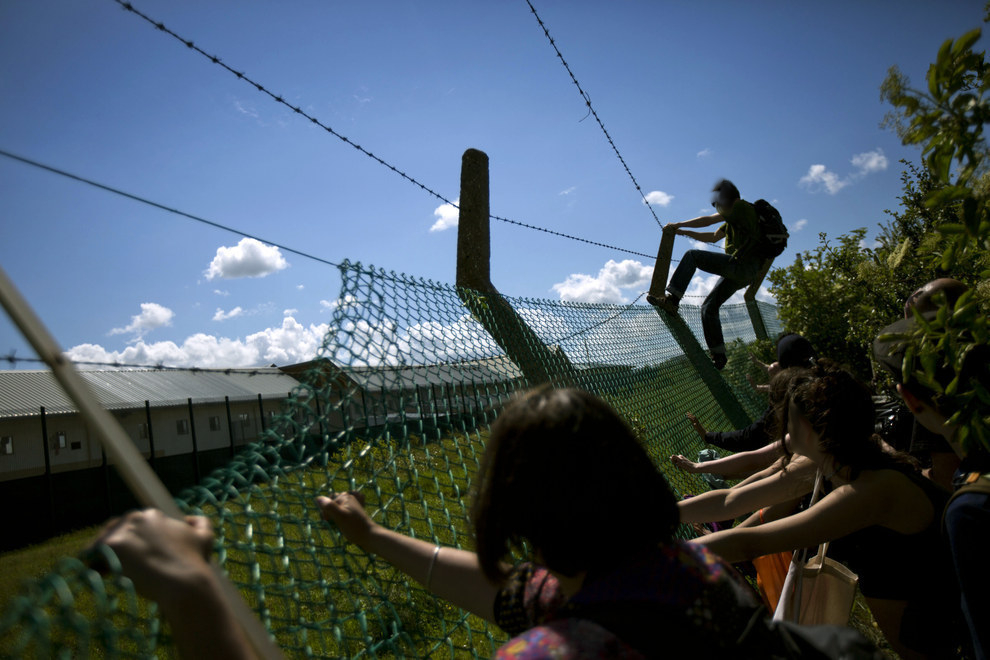 US, New York: 2 prisoners have a nice day
31/5/15:
US, Florida: riot in teenage girls' detention centre "One of the girls managed to steal keys from a member of the detention staff, enabling them to open doors inside the facility and allowing the other defendants to engage in multiple counts of battery"
28/5/15:
27/5/15:
Brazil, Caruaru: 2 teenagers killed in mattress-burning riot at prison for juveniles
France, Paris: JCDecaux (company collaborating in prison building) truck burnt out
26/5/15:
France, New Caledonia: prison riot following suicide
19/5/15:
US, California: 200 prisoners riot (not at all clear what this was about or what happened)
16/5/15:
UK, Wrexham: engines of construction equipment for site of proposed new prison (Europe's 2nd largest) destroyed "The mega-prison, if built, will cage more than 2100 human beings at any one time. Multiple large diggers and construction equipment had their engines destroyed. Slogans were sprayed on the half-built prison fences including 'Fuck Lend Lease' and 'Fire to the Prisons'. This is a warning to any company large or small that that is involved in the North Wales Prison Project, or any other prison building scheme that the state initiates. You are a target and you will feel the venom of the working classes fighting back."
13/5/15:
Russia, Bashkortostan: 2nd prison riot against phoney enquiry into 1st "More than 100 inmates held at a maximum-security prison in the city of Salavat in Bashkortostan, also known as Bashkiria, broke windows and wreaked havoc, some of them climbing onto the roof on the security guards' dormitory"
11/5/15:
Zimbabwe, Harare: prison riot, 5 dead (no real information here)
10/5/15:
US, Nebraska: prison riot as 2 prisoners are found dead"Several disruptions followed in various housing units, resulting in small fires and property damage, prison officials said. … "The inmates have taken over the prison." More here"We've pretty much taken the whole prison," Frank told the newspaper. He said that no prison employees were inside the housing unit and described the scene, saying: "The ceilings are fallen. There's drywall on fire. There's cameras torn down," according to the Journal Star.Foster told the Omaha World-Herald that inmates had gained access to an office with a phone. At some point during the disturbance, a second inmate was injured by a rubber projectile"
9/5/15:
Iraq, Baghdad: prison riot – 6 cops & 30 prisoners dead; 40 escape
6/5/15:
Russia, Nizhny Novgorod: riot of prisoners with TB "…at least one prisoner has been killed and 15 injured as a result of a riot at a prison facility for inmates with tuberculosis…eight inmates were seriously injured….Authorities said about 100 inmates set fire to two facilities on May 6, smashed security cameras, broke furniture, and attacked other prisoners…. tuberculosis-afflicted prisoners have been forced to work up to 12 hours a day there."
4/5/15:
US, California: prison riot (no context for this riot) More here
28/4/15:
US, Seattle: juvenile prison construction truck burnt in solidarity with Baltimore
19/4/15:
Lebanon, Beirut: prison riot "…Asked about what triggered the riots, he replied: "The inhumane overcrowding at the block is one of the reasons." The block is harboring 1,100 prisoners, while it only has the capacity for 400, he revealed. …. "The riot is over and it will not reoccur," he pledged. The first riot at block D took place on Friday where inmates seized the master key at the facility and opened all doors at the building. They also briefly held hostage a number of officers. Roumieh, the oldest and largest of Lebanon's overcrowded prisons, has witnessed sporadic prison breaks and escalating riots in recent years as inmates living in poor conditions demand better treatment."
15/4/15:
US, Ohio: partial victory for prison hunger strikers
7/4/15:
Greece, Athens: anarchists torch cars, fight cops in movement supporting anarchist prisoners (video here – tasteless, horrifying, shocking, nauseating …but that's enough about the music – the video is interesting) "Deputy Citizen Protection Minister Giannis Panousis requested Greek Prime Minister Alexis Tsipras' intervention in order to address the riots issue, while he even hinted that he may resign if Tsipras does not take any action. "The Prime Minister must decide which side he wishes to support and which he will leave behind," he said. Panousis also stressed that the anti-authoritarians want someone to die so that they will be able to repeat the episodes that occurred in 2008 after the death of Alexis Grigoropoulos."
1/4/15:
Greece: various public buildings occupied by anarchists in different parts of the country "Around 20 people entered the courtyard of the parliament building in central Syntagma square…. they left after about five minutes. They scattered flyers and chanted slogans including for the immediate release of "Xiros". Savas Xiros is serving multiple life terms for his role in the November 17 group, which killed Greek, US and British diplomats before being dismantled in 2002. …Protesters also called for the end to high security prisons, which the new Syriza government of Prime Minister Alexis Tsipras has vowed to scrap. Small groups took over Syriza offices in the southern town of Patras, the office of a governing lawmaker in the Cretan capital Heraklion as well as the town hall in a suburb of Athens…Protesters also occupied part of a university in Thessaloniki, Greece's second city, and have been occupying the offices of one of Athens' main universities since Monday." (video here) It should be pointed out that there are many currents of "anarchism" in Greece, including Leninoid-type shitheads who totally oppose looting. Also, see this mainstream journalistic take on these occupations "…there are signs government patience with the protests is finally wearing thin. The prolonged seizure of the Athens' administrative building since March 30 prompted exasperated employees to stage a march last Wednesday outside their occupied offices. …"This hasn't happened for years now — not in this manner," said university vice-rector Thomas Sphicopoulos of the occupation. "We can't work, and the university was already in a very difficult situation due to budget cuts." Other demonstrating employees were more pointed in their anger at the government for not intervening. "Where is the respect for liberty, and where is the state?" fumed one university staffer who asked to remain anonymous."
A friend in Greece wrote, referring to the above link: "The demonstration of the "exasperated university employees" against the main university occupation mentioned in the link you sent was actually very small. Most of the employees were either indifferent or supportive of the anarchists (without taking part in the occupation)."
30/3/15:
Greece, Athens: anarchists occupy Athens University as part of anti-prison movement
28/3/15:
Greece, Athens: another riot in support of hunger striking prisoners
18/3/15:
Australia, New South Wales: small riot at detention centre "Thursday's resolution to the disruption inside the centre came after several days of rising tension. TVs were ripped from wall mountings and at least one fire lit in a rubbish bin."
UK, Doncaster: report showing that riot squad was called to Doncaster prison 8 times last year
17/3/15:
Greece, Athens: anarchists confront riot cops in support of anarchist hunger strikers in prison
16/3/15:
US, Florida: small riot in juvenile prison
13/3/15:
Greece, Athens: anarchists occupy Athens Law School in support of prisoners
Zimbabwe, Harare: prisoners set fire to part of maximum security prison; 3 screws hurt
11/3/15:
Honduras, Tegicigalpa: 3 prisoners killed by cops etc. during prison riot "About 400 officers and military troops sent to the San Pedro Sula prison to restore order were met by gunfire from within the facility and pelted with stones and other projectiles, said a spokesman for the Honduras National Police"
10/3/15:
Bahrain: report in April of a prison riot on this day and its horrendous consequences
9/3/15:
Greece, Athens: anarchists leave Syriza HQ, having occupied it in support of anarchist prisoners…another anarchist joins hunger strike
UK, Durham: mini-riot in young offenders prison "…inmates reportedly began throwing pool balls and lighting fires during the disturbance….prison guards had to withdraw because of the trouble…."The prisoners began throwing pool balls at them. A couple of inmates were injured and also a considerable amount of damage caused."
8/3/15:
Greece, Athens: anarchists take over Syriza HQ in solidarity with hunger striking prisoners (more here) (video here)
7/3/15:
Afghanistan, Jawzjan: 3 cops killed (by prisoners) and a prisoner killed (by cops) as prisoners riot against search operation; 6 other cops wounded, and a prison"health" centre set on fire
Greece, Corinth: cops fire tear gas as demonstrators break into refugee detention camp
2/3/15:
France, Montreuil: truck belonging to prison construction company burnt
UK, London: Get Out Of Jail Free card played, then revoked
28/2/15:
UK, Swindon: riot cops pelted with missiles as they stop rave party (more here)… Staffordshire: report on January prison riot
US, Nevada: Riot Of Passage youth detention centre; fires lit, 4 escape
21/2/15:
US, Texas: 100s of prisoners make prison "uninhabitable" after seizing part of the prison "An official says as many as 2,800 inmates will be moved to other facilities one day after several hundred prisoners seized control of part of a federal prison in South Texas. Inmates were participating in a protest that escalated into throwing objects, burning bedding, and destroying bullet-proof tent structures…In addition, correctional officers released a "chemical agent" to disperse the unruly crowd that were ineffective due to wind conditions…..U.S. Bureau of Prisons spokesman Ed Ross says in a statement that the Willacy County Correctional Center in Raymondville is now "uninhabitable due to damage caused by the inmate population." … a peaceful resolution may take days or weeks to resolve….The inmates being held at the facility are described as "low-level" offenders who are primarily immigrants in the U.S. illegally." More information here….And here
Eire, Dublin: imprisoned water protesters on hunger strike (see also this nicely expressed article)
20/2/15:
US, Texas: about 2000 prisoners "riot" "The disturbance began Friday morning when inmates at the Willacy County Correctional Center refused to report to work or appear for breakfast…some of the prisoners were protesting medical services at the facility. The prison, located in Raymondville, about 40 miles northeast of the border town of McAllen, has been used to hold immigrant detainees…Soon after that, several inmates broke out of their housing units and went out into the recreation yard. About 2,000 prisoners are believed to have joined the protest…Officers deployed tear gas, and two officers and three inmates sustained minor injuries…"We are attempting to speak with the offenders to bring a peaceful solution to this incident," Arnita said late Friday night. "The facility remains secured with no danger to the public."…Earlier in the day, the riot prompted school officials to place three nearby schools on lockdown." More here "Spence said the situation could last the whole weekend. "It's calm right now, but with caution," Spence said. "It could explode any minute."…many offenders broke out of the housing structures and went to the recreation yard. Inmates set fire to three of the 10 prison tents, causing minor damage, officials said. …"There's been some shots fired. Guards on top of the tower were firing. What they were using as ammunition, I have no idea," Spence told the Valley Morning Star….In June 2014, the American Civil Liberties Union released a study that found inmates of these little-known prisons suffer from a lack of medical care….Prisoners interviewed by the ACLU complained of delayed medical care, guards using solitary confinement to punish those who are ill or who complained about squalid and cramped living conditions, and interference by prison officials with inmates trying to correspond with or meet with lawyers, the report says. Most of those in custody are charged either with illegally re-entering the country or with nonviolent drug crimes" Illustrated radio report here

9/2/15:
France, Bordeaux: 45 JCDecaux advertising panels smashed (JCDecaux is a company involved directly in the super-exploitation of prisoners)
5/2/15:
Brazil, Couiba: "Jailbait Jailbreak" – screws get screwed, but not how they wanted to – the dominators get dominated
27/1/15:
Italy, Turin: demonstrators block road in front of prison as 47 anti-TAV protesters are condemned to 140 years in prison altogether (plus massive fines)
22/1/15:
South Africa, Paarl, near Cape Town: prisoners stab 10 guards in retaliation for killing of prisoner
19/1/15:
Brazil, Recife: prisoner and prison guard killed during riot "The violence erupted in a Recife jail when an orderly protest broke down, and was brought under control only after police arrived. One officer died of a bullet wound in hospital, while details surrounding the inmate's death were not released. ….Gunfire and explosions were heard coming from inside the prison, and G1 Globo newsportal showed a helicopter with an armed official flying overhead. Brazilian jails have faced a string of riots in recent months. The system's 563,000 inmates make Brazil's prison population the fourth-largest after the United States, China and Russia, according Amnesty International…."
18/1/15:
Papua New Guinea: Manus Island concentration camp prisoners barricade themselves in against Australian security guard attack (see link for 14/1/15)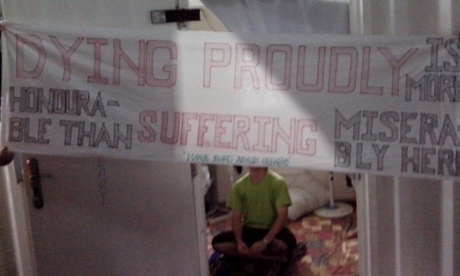 14/1/15:
Australia, Manus Island: report of 500 concentration camp prisoners on hunger strike
5/1/15:
UK, Liverpool: 3 screws get screwed
4/1/15:
Australia, Darwin: small riot in teenage prison
1/1/15:
US, Pennsylvania: teenage prisoners riot in "adolescent treatment centre"…Santa Cruz: anti-cop protesters smash up County Jail vehicles
Germany, Leipzig: Deutsche Bank stoned in solidarity with anarchists imprisoned in Spain
30/12/14:
Spain, Canary Islands: solidarity actions in solidarity with anarchists imprisoned in Spain
27/12/14:
Spain, Barcelona: demonstration against state arrests of anarchists – windows of banks, hotels and posh shops broken, barricades of containers; demos in several other cities, including Madrid, Zaragoza, Burgos, Castellón and Segovia
10/12/14:
South Africa, Gauteng: well-crafted escapist story
9/12/14:
Greece: victory for movement of solidarity with anarchist hunger striker
Russia, Chelyabinsk: 100 prisoners riot
5/12/14:
Greece, Athens: anti-state riot in support of anarchist hunger striking prisoner (slightly absurd but kind of funny video here)
2/12/14:
Greece, Athens: solidarity demo for anarchist prisoner on hunger strike – overturned bus, burning cars used as barricades, National Bank attacked, etc.
28/11/14:
Venezuela: report of prison hunger strike turning into prison riot questions state's version of how at least 13 prisoners died
27/11/14:
3/11/14:
France, Yvelines: premises of prison-building company destroyed in arson attack
30/10/14:
France, Rennes: several bus shelters broken, on demo about Remi Fraisse's murder
One of the reasons bus shelters are constantly attacked is the fact that they're constructed by JCDecaux, which exploits prisoners (JCDecaux also use the bus shelters for advertising other commodities, from where they obviously make massive profits)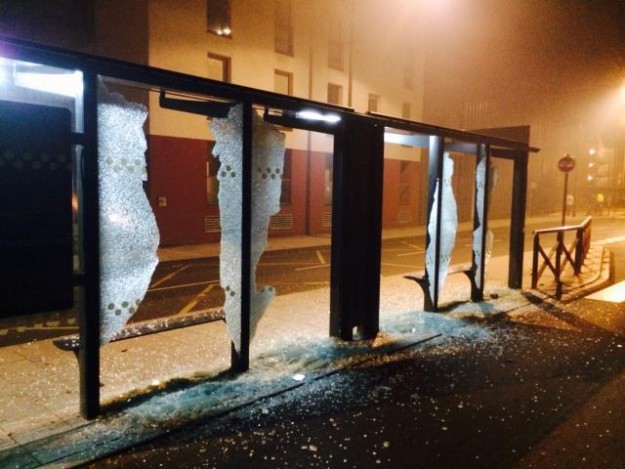 24/10/14:
Dominican Republic, San Cristobal: 4 prisoners killed by screws as 10 escape during riot
Turkey, Izmit: prisoners burn cells in riot
23/10/14:
Paris: various attacks on companies that exploit prisoners or are involved in attacks on immigrants
14/10/14:
Brazil, Parana state: prison riot/rooftop protest…screws accidentally fall down stairs to the cells
10/10/14:
Nigeria, Lagos: major prison protest against governor; 5 escaped prisoners killed "… five inmates of the prison who managed to escape through the fence were killed….the aggrieved inmates started agitating against the way the out going Deputy Controller managed their affairs. They reportedly accused him of being high-handed. It was learnt that during the process, the inmates started stoning their top officials, leading to pandemonium in and around the prison. Eyewitnesses said they also held some of the officials hostage before embarking on the destruction of some offices inside the prison including that of the chief warder which was looted and razed down." (more here)
3/10/14:
UK, Kent: uninformative report of major prison riot; screw stabbed
29/9/14:
Morocco, occupied Dakhla: cops launch tear gas at protest against death of political prisoner
25/9/14:
Chile, Puente Alto: prison riot
20/9/14:
Australia, New South Wales: prison riot
17/9/14:
Bolivia: riot and massive rooftop and courtyard protest at prison against screws' theft of money and other belongings (video) More here and here
South Africa, Rustengerg: 16 illegal aliens escape from jail
14/9/14:
France, Paris: vehicle belonging to prison collaborator company burnt out
11/9/14:
France, Paris: van belonging to prison building and management firm burnt
3/9/14:
US, Nashville: riot in juvenile prison, 6 escape (video) "Juvenile offenders, armed with sticks and poles, busted out of their dorms. Six teens became a mob of two-dozen. Swat teams posted outside watched some rioters shoot off fire extinguishers. Others chased away and attacked unarmed guards. Two staff members were hurt…. James Henry is the commissioner of Tennessee's Department of Children's Services. He said for the second time this week, teens got loose by kicking out aluminum panels under windows…."When they came out of their rooms they breached the door and they got out. They were able to knock those doors out again because they'd done it the night before very quickly." On Monday night, thirty-two teens escaped the same facility. They busted out of their dorms, pulled up a section of chain link fence, and ran for a nearby highway. Six of those escapees remain at large."
24/8/14:
Brazil, Parana: prison rioters take 2 guards hostage, apparently kill 4 prisoners, beheading 2 of them "the food is bad, there are no lawyers to work their trials, no basic hygiene materials"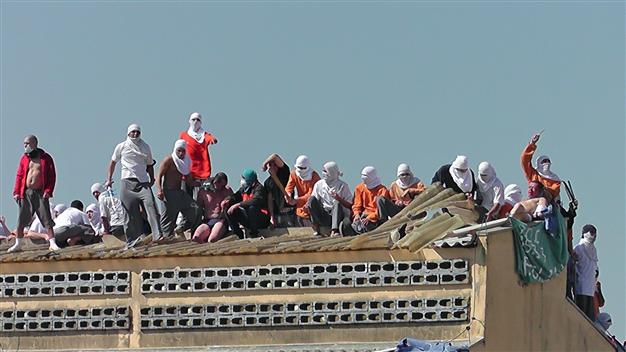 prison rooftop protest, Parana, Brazil
21/8/14:
Australia, Darwin: tear gas used against teenagers' mini-riot in prison
12/8/14:
US, New York: prison riot over missed TV shows
8/8/14:
Panama: multimillionnaire fraudster trampled in prison riot
26/7/14:
UK, Retford: prison rioters take control of entire cell block
16/7/14:
Brazil, Bahia, Amargosa: after cops kill a 1 year-old girl, crowds seize the police station, take the cops' weapons, liberate the 16 prisoners there, torch the station, then burn 30 motorbikes and 19 other vehicles "The violence forced the police chief, judge and prosecutor of Amargosa, located in Bahia state, to take refuge in a hotel."
14/7/14:
Belgium, Steenokkerzeel: prison riot as screws refuse to respect Ramadan fasting hours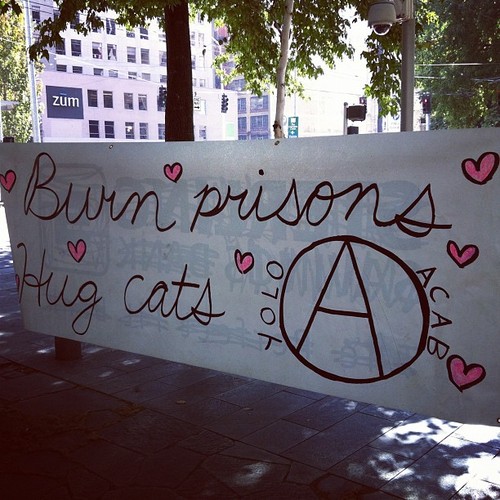 2/7/14:
Kazhakstan: prison riot for the right not to work
1/7/14:
Greece: prisoners' hunger strike called off
30/6/14:
Greece: more on prisoners' struggle
27/6/14:
Israel: 1000 refugees march to Egyptian border to protest indefinite detention in prison camp
25/6/14:
Greece, Thessaloniki: burning barricades erected in solidarity with prisoners' hunger strike
24/6/14:
Greece: hunger strike against maximum security jail by 3800 prisoners...solidarity demo…here it claims that the strike is being followed by 90% of prisoners, though I suspect that's an exaggeration; it also mentions that a banking agency was attacked in Volos in solidarity with the prisoners (June 6th) …list of videos concerning Greek prisons

France, Pantin (93): Bouygues prison construction lorry set alight
22/6/14:
Venezuela, Caracas: very violent prison riot
20/6/14:
Palestine: Palestinian Authority violently disperses demonstration in solidarity with Israel's prison hunger strikers
7/6/14:
France, Toulouse: several molotovs thrown at detention centre for expulsion of illegals
2/6/14:
Australia, Christmas Island: week-long protest by asylum seekers shut down by authorities (more here)…for more about asylum seekers in Australia, see this
1/6/14:
Palestine: shops on strike in solidarity with hunger striking prisoners
31/5/14:
Palestine, Tulkarem: dozens of Palestinian protesters in solidarity with hunger strikers hospitalised by IDA tear gas
27/5/14:
19/5/14:
France, Paris: 453 tyres belonging to JCDecaux bike and ad company that super-exploits prisoners punctured as part of ongoing campaign against them
18/5/14:
France, Paris: 2 vehicles belonging to companies involved in repressive social control torched
13/5/14:
UK, Peterhead: 14 hour prison riot (more here and here)
5/5/14:
Australia, Queensland: prison riot
2/5/14:
UK, Harmondsworth: mass hunger strike at immigration detention centre
1/5/14:
Egypt: thousands of prisoners stage protests against prison conditions and "justice" violations
30/4/14:
Bahrain, Sitra and Sanabis: protests in solidarity with female prisoners
22/4/14:
US, Alabama: prisoner trying to organise prison strike "taken out of his cell … placed in solitary, without clothing or a bed, in retaliation… " Phone warden Carter Davenport on (001) 205-467-6111 to tell him what you think of his slave empire…though one has to wonder what kind of tactical considerations this prisoner was thinking of by announcing the proposed strike on the internet before it was supposed to take place, as if it wasn't obvious that this would allow the authorities to make sure it never happened and to victimise him.
Paraguay: guards kill 2 during prison riot
17/4/14:
Australia, Albany: prison riot
US, Alabama: prisoners announce impending strike against "slave empire" "We decided that the only weapon or strategy … that we have is our labor, because that's the only reason that we're here…They're incarcerating people for the free labor." (article here on some aspects of why prison rate is so high in Alabama…and this IWW statement shows some of the horrendous miseries of prison life there: "The conditions in Alabama prisons are horrendous, packing twice as many people as the 16,000 that can be housed "humanely", with everything from black mold, brown water, cancer causing foods, insect infestations, and general disrepair. They are also run by free, slave labor, with 10,000 incarcerated people working to maintain the prisons daily, adding up to $600,000 dollars a day, or $219,000,000 a year of slave labor if inmates were paid federal minimum wage, with tens of thousands more receiving pennies a day making products for the state or private corporations." However, it has this bizarre sentence: "the struggle of these brave human beings is the same as the millions of black, brown, and working class men, women, and youth struggling to survive a system they are not meant to succeed within.", which implies that "black", "brown" and "working class" are separate categories., though perhaps it's a typo – maybe they unintentionally missed out "white" before "working class".
UK, Berkshire: riot in Broadmoor kept quiet for 9 months
16/4/14:
14/4/14:
Vietnam, Ca Mau: prison riot involving over 300 prisoners lasts 6 hours
2/4/14:
Papua New Guinea: student demo for political prisoners broken up by cops; students relatiate with stones, etc.
28/3/14:
UK, Northumberland: prisoners take control of part of prison wing…Brighton: kids given detention for going on strike during teachers' strike
22/3/14:
UK, Doncaster: 6-hour prison riot
21/3/14:
San Francisco: anti-jail demo – police vehicles & jail vandalized with rocks, spray paint & paintbombs
11/3/14:
US, California: prison riot…Washington: imprisoned immigrants on hunger strike could be force-fed
2/3/14:
Saudi Arabia: riot in migrant workers' detention centre (more here)
1/3/14:
US, Seattle: Department of Corrections graffitied with "destroy all prisons"
26/2/14:
Papua New Guinea: more about the Manus Island asylum seekers' riot (video)
24/2/14:
Greece: hunger strike by prison hospital prisoners
22/2/14:
Papua New Guinea: video of and about the imprisoned asylum seekers' riot
17/2/14:
Kyrgyzstan: riot in mental hospital (ie a prison) – 6 – 9 cops injured; patients (ie prisoners) barricade themselves in
14/2/14:
Papua New Guinea: on the island of Manus asylum seekers confront cops, escape from detention centre,burn part of the centre, destroy tents, smash fences (more here)
Indonesia, Aceh: 100s of prisoners riot
13/2/14:
Brazil, Pernambuco : prison riot against miserable conditions; 2 prisoners killed
10/2/14:
United States, Illinois hunger strikers in the prison now refuse liquid ( see also this)
7/2/14:
United States, Georgia 1000 prisoners begin a hunger strike against the brutality of the prison guards… (Illinois: in another prison, there was a fairly short-lived hunger strike)
6/2/14:
Kenya , Nairobi : clashes between prisoners and screws
7/1/14:
US, Alabama: prisoners use contraband cellphones to spread their protest through the internet
6/1/14:
US, Alabama: prison protests against slave labour and insanitary conditions spread
UK, Wolverhampton: riot in prison previously known for rooftop protest ("incident resolved") …more detailed information here and here
4/1/14:
Sri Lanka: 27 prisoners in rooftop protest
US, Alabama: protest strikes against slave labour in 2 prisons
30/12/13:
Angola: large riot in Viana jail (no further information, but this jail is notoriously brutal)
19/12/13:
US, Ohio: arrests in protests against detention of undocumented immigrants
18/12/13:
Georgia: 900 prisoners go on hunger strike
17/12/13:
Israel: 100s of undocumented African migrants flee detention centre (Sunday) to march and demonstrate (Monday)…..and next day (today) dozens of them demonstrate in Jerusalem outside PM's office (more here)
14/12/13:
Indonesia: 100s of inmates at Palopo penitentiary, South Sulawesi, attack officers, set fire to parts of building
11/12/13:
US, San Jose: prisoners go on hunger strike over visitation misery (lasts a week)
3/12/13:
US, Nebraska: protesting a policy limiting the number of prisoners allowed in the yard at one time, 33 prisoners at Nebraska State Penitentiary in Lincoln refuse to return to their cells after dinner and set small fires in trash cans.
-KHAS TV (no link)
29/11/13:
Canada, New Brunswick: rocks thrown at cops during anti-shale gas demo blocking highway for several hours (see also this)
27/11/13:
UK, Shropshire: prisoners in rooftop protest
21/11/13:
US, Arkansas: frustrated inmates in C-Pod at Baxter County Jail in Mountain Home, Arkansas broke sprinkler heads, lights, and a window, and flooded their cells.
-The Baxter Bulletin (no link for this)
17/11/13:
UK: report of 189 prison uprisings in 2012; screws moan about their lack of monopoly of violence… It's only by the grace of the Devil that a guard hasn't been killed ….
US, Missouri: report of hunger strike by prisoners Another report (no link) said, "Fifteen inmates at Potosi Correctional Center in Missouri went on a week-long hunger strike to protest neglect, sanitation issues, and physical abuse by guards. Thirty-five inmates there also signed a petition in support of the strikers' cause."
7/11/13:
Trinidad and Tobago: prison officer killed, prisoners being starved in consequence
2/11/13:
UK, Maidstone: prison riot – screws "feared for their lives" (more here on the apparent pretext for this riot)…smallish disturbance at Rye prison
30/10/13:
Dubai: prisoners on hunger strike
29/10/13:
Turkey: riot in women's prison
22/10/13:
Yemen: prison riot, director of investigations badly injured, after director of investigations threatens to ban visits and limit water and medicine
US, Illinois: 40 prisoners at Pontiac Correctional Center go on hunger strike " A Chicago activist group says the prisoners have no heat, and they're being denied personal hygiene supplies. They're also upset they have to pay a fee to use nail clippers shared by all inmates. Correctional officers say they're monitoring the health of all prisoners refusing to eat". Apparently a radio report said something along the following lines: "Upset over the current grievance officer, inadequate sanitary supplies, no programs for prisoners in long-term segregation, and a poor recreation environment…prisoners at Pontiac Correctional Center in Illinois went on hunger strike."
10/10/13:
Brazil: prison uprising repressed – at least 10 prisoners killed (some reports say that these killings were caused by gang rivalries…who knows? but this report implies that it was a mixture of both the authorities and the gangs that did it, but claims that in the local town where the prison is situated, 7 buses were set alight in relation to this riot )
4/10/15:
3/10/13:
Canada: prisoners strike over pay cut spreads to 3 other areas
1/10/13:
Canada: prisoners go on strike against 30% pay cut (from $3 per day down to just over $2)…immigrants go on hunger strike in Ontario prisons…
21/9/13:
UK, Worcestershire: stand off with screws in Hewell prison, Redditch, has riot cops called
14/9/13:
USA, Florida: riot at juvenile detention centre Officials at Gulf Coast Treatment Center juvenile detention facility in Ft. Walton Beach, Florida reported rioting youth there threw chairs, flipped tables, damaged jail property, and used a seized staffer's radio to communicate with guards.

10/9/13:
UK, Cumbria: prison rooftop protest
9/9/13:
24/8/13:
UK, Aylesbury: 6-hour 'siege' as prisoners riot
20/8/13:
France: attempted prison takeover by prisoners in Chateaudun
19/8/13:
US, Florida, Polk County: riot wrecks youth detention centre
18/8/13:
Indonesia, Sumatra: prison riot
USA, Florida: 18 buildings destroyed in juvenile prison riot
16/8/13:
US, California: prison hunger strike hits its 40th day
15/8/13:
UK, Sussex: anti-frackers win temporary victory as the fracking company pretends to be concerned about safety
10/8/13:
Greece: riot at immigration centre …. (some escaped)
9/8/13:
8/8/13:
India, Delhi: riot at juvenile prison …riot at Uttar Pradesh adult prison after suicide
5/8/13:
USA, Alaska: cells flooded as prisoners smash toilets etc…Oakland: solidarity demo with Californian prisoners' hunger strike blocks state building (more here)
Canada, Newfoundland: small riot at prison
3/8/13:
Indonesia, Jakarta: prison riot and escape attempt
1/8/13:
France: short heated prison riot
27/7/13:

USA, California: hunger striker dies after being refused medical attention
23/7/13:
Ivory Coast: prisoners riot, set fire to cells and almost kill guard; 3 prisoners killed by guards
19/7/13:
Australia, Nauru: $60m damage to asylum centre in island riot
14/7/13:
UK, Kent: riot at prison – screw stabbed and 2 others injured
11/7/13:
Indonesia, Sumatra: 200 prisoners escape after firey riot
30/6/13:
Vietnam: prison seized by prisoners for a few hours
3/6/13:
US, California: prison riot – screws kill prisoner
1/6/13:
30/5/13:
Pakistan: prisoners destroy wall, attack screws and top bureaucrats
13/5/13:
Kenya: asylum detention centre inmates make a radical critique of conventional notions of mental health
12/5/13:
Thaïland, Bangkok: attempt at prison escape and riot
6/5/13:
Uganda: prison riot and escape
13/4/13:
Guatanomo Bay: confrontations between prison guards and prisoners as hunger strikers are forcefed
7/4/13:
USA: demo in support of hunger strikers in Guatanomo Bay block traffic … hunger strikers forcefed …demos
21/3/13:
Papua New Guinea: 49 escape as prisoners protest against conditions
18/3/13:
17/3/13:
Thailand: 400 riot cops put down riot by 50 prisoners
15/3/13:
Guantanamo Bay: prisoners' hunger strike now in its 2nd month (more here )
12/3/13:
Sri Lanka: massive prison hunger strike and protest on the roof
11/3/13:
Iraq: prison riot in Abou Ghraib, Baghdad
A couple of very minor personal experiences
1.
At the age of 19, I had my only very short-lived experience of being imprisoned. I'd been arrested for "insulting behaviour" putting on a "guerrillla theatre"-type agit-prop play outside a school in Kings Cross, which caused a semi-riot. We were packed off to Ashford Remand Centre, even though our parents had turned up in court to put up surety for the bail which most of us had been granted (the only one of us that wasn't was a couple of years older than us, the only one of us who was from a working class background – he went to Brixton for a week before bail was granted). Ashford, though technically a "remand centre" was no different from an ordinary prison – prison gate, barbed wire on the fencing, etc. There we were made to have a public cough 'n' drop medical inspection. In fact, this was the most humiliating moment for me – being forced to undress in a hallway surrounded by cells consisting solely of bars (no walls) and being examined naked whilst being stared at by several screws and prisoners whilst my balls were held by a doctor to see if I'd had a hernia or something (being a virgin probably made me feel even more anxious about being naked in front of so many people). And then made to have a semi-public bath. We then had to wear prison clothes: my trousers were far too big – I had to permanently hold them to stop them falling down (no belts allowed), and my shoes were far too small, cramping my toes.
The cell smelled half the time of piss – someone had thrown out his slpping out pot out of the cell above and the piss had hit the outward opening window, hinged at the bottom, and the piss had run back down into my cell. Unable to sleep due to the proximity of London airport and a railway line (though the window was too far up to look out of), plus the ever-echoing sound of slamming doors or footsteps along the concrete corridor, I somehow half-composed the following in my mind (no pens or paper and only a Western, with half the pages torn out, to read) and wrote it up properly as soon as I got out – a slightly pretentious poetic-type of attempt at something influenced by the surrealists, but which, despite its literary rhetorical style, also genuinely expresses some life-affirming emotions:
SOCIETY IS A PRISON – OPEN UP THE PRISONS!
There is no freedom for the enemies of freedom, the slaves of their hate and fear of freedom. Inside the corridors of tyranny the jackboots, the truncheons, the barred windows, the barred wire, the barbed wire, the 40 foot high double electrified fencing – are all screaming out the admittance of THEIR failure to exterminate OUR minds. Their judgements, their amnesties, their reprieves, their mercy – are the judgements, the amnesties, the reprieves, the mercy of the dead to the living – the dead beckoning the living to join them in the graveyard. Soon, from the warm comfort of their coffins, six foot under, they will wake up to find their nightmares becoming reality – obscene words painted on their gravestones, shit smeared over the epitaph, and finally their coffins disinterred and thrown into the burning astreets. Soon freedom, the imagination, bruised, castrated, decapitated, buried alive in the dungeons of Pentonville and Ashford – soon, the imagination running riot, shall rise up, shatter the walls and gates, smash the locks, burn down the factories of pain and misery, and seize total power! The dictatorship of the imagination!
It was only 24 hours, but when it's your first time in prison and you've got no idea how long you'll be there, and you've never known anyone who's been inside, it was a little worrying, though it was the boredom I remember most, because we were kept isolated for most of the time. I was so naïve, I remember being really outraged at the fact that teenagers were kept in prison without bail for 6 months or more before trial, at which they were often let off. (see this, for the context of this arrest and the subsequent trial).
2. On July 14th 2013, I was in St.Louis with my daughter at a demo called the day after George Zimmerman, Trayvon Martin's killer, was found "not guilty". This happened at the end of the demo:
So it's pissing down and we all loudly head back toward what I somehow thought was the town courthouse, and I go first into the little vestibule banging a saucepan very noisily. Everybody else seemed a little hesitant, like I'd stepped over an invisible barrier that everybody normally respected. But then this was the vestibule of the city jail, and not merely a courthouse as I'd assumed. Fools rush in where angels fear to tread. The noise we were making was deafening, and seemed to echo into the area beyond the glass doors we were not going through. I suggested going further than the vestibule. Fools rush in where angels fear to tread, urging others to join them. Ignorance is bliss. A masked guy (Zorro? the Lone Ranger? Billy the Kid?) ran in and chucked the only thing that moved – a floor mat. When he returned a bit later, and threw in some flowers that he'd just picked from outside the jail, a black woman got upset – "This is meant to be a peaceful demonstration – Trayvon Martin's family insisted it should be peaceful". What sad/mad times these are when throwing flowers is somehow thought of as not peaceful enough.

"Fools rush in where angels fear to tread

Angels never go to war – they masturbate instead"

We then retreat from the jail as we get pushed out by armed guards. A few minutes later the courthouse is surrounded by heavily armoured riot cops with their sticks at the ready, the TV cameras reappearing for the first time since the downpour. We all go off back to our cars, and then off to a birthday party of a woman friend of my friends. She was born on July 14th, famous in France for what happened in 1789 – Bastille Day – appropriate, since we'd "stormed" the city jail. Well, almost – the vestibule…still, it sounds good – "WE STORMED THE CITY JAIL!!! – ON BASTILLE DAY!!!!!"
– from here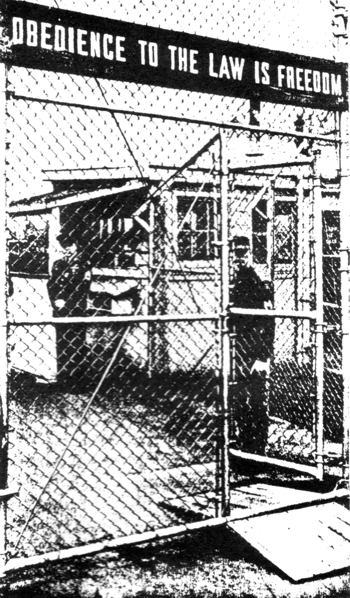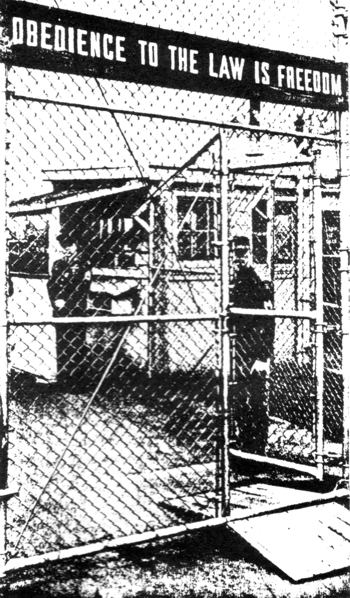 Ideology materialised
The list below has only just begun (22/8/15) (see also the comments box below this page for some additional material):
Victor Serge's "Men in Prison" (1914) "Modern prisons are imperfectable since they are perfect. There is nothing left to do but to destroy them".
Although officially "fiction", because it was illegal to write factual books about prison camps at this time, it's factual, though the names have been changed.
Os Cangaceiros: freedom is the crime that contains all crimes (1985). About the prison revolts throughout France in 1985. Also this by Os Cangaceiros about the theft of architectural plans for prison construction by this group, and some parts of this which put both of the above in context.
This has some interesting things to say about the Attica uprising in September 1971.
This has a report of the 18 (at least) prisons that took part in an uprising in the UK in spring 1986 (see entries for 29/4/86 to 3/5/86 on pages 31 – 34 ). "The UK, 30th April 1986: THE MOST BEAUTIFUL EVENT OF THE YEAR. Between 18 and 21 prisons (depending on which figures you accept) involved in varying degrees of 'disturbance'. 841 gaol places (just under 2% of the total) are destroyed….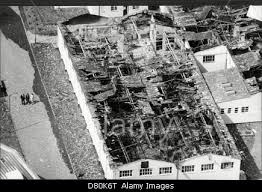 Northeye prison, Sussex, UK – destroyed by rioting prisoners
Strangeways 1990: A serious disturbance The riot at Strangeways prison in Manchester, UK lasted for over 3 weeks during April 1986 and involved fires, the virtual destruction of the prison and a rooftop occupation. Despite being co-written by a member of a dreadful Leftist organisation (the Bolshevik organisation Revolutionary Communist Group) this book is an excellent read; its other author is an ex-prisoner.
Prison riots A pdf of accounts of various riots, including Strangeways, 1990 but also other riots around the world: Hull 1976, various riots in state capitalist Russia's gulags, various US prison riots of the 20th century, Australian riots, etc.
Bad – the autobiography of James Carr – and this online version of the afterword. "Bad is one of many books written by prisoners who have become radicalised by their experiences in American jails. However it stands out from a lot of the others because it avoids portraying the prisoner as a passive victim of social injustice – and also refuses the martyr role that liberals and leftists try to impose on convicts as a vehicle for their own fantasies and careers (whether as social workers, sociologists, politicians or "professional revolutionaries"). Freed from all these limitations James Carr was able to tell his story, warts and all, without worrying about what might or might not alienate liberal/leftist support. So, there is no glossing over his involvement in gang rapes, protection rackets or any of the more horrific aspects of his daily life in jail – nor are there any useless guilty apologies for his past. (Anyway, the story of his development makes clear his eventual understanding of why the prison regime deliberately encouraged this kind of divisive behaviour.)" These are some recordings of Jimmy Carr which were made for the book. "James "Jimmy" Carr, founder of the Wolf Pack, an infamous prison gang in California during the 1960s, tells the story of life behind bars. Carr had unique experiences in the prison system as he was at seventeen still a juvenile and incarcerated in California's oldest correctional facility. The incidents described on this album are taken from tapes Carr recorded as testimonial of his time in prison, and his evolution as a leader."
L'envolée This is a regular anti-prison journal and website in French. Pi writes: It is one of the few papers addressing prison issues with a radical perspective but not focusing on anarchist or "political" prisoners.
This pdf is the latest issue, dedicated to Hafed Benotman, a rebel prisoner and writer who considered himself a thief. He wrote beautiful books: a moving autobiography, excellent novels, short stories, and was one of the co-founders of L'Envolée. This issue contains extracts of his works. He evokes outlaws' and delinquents' lives in many of his works, though there is much more than that. His reflections on prison life in France are brilliant, and even fundamental, as he evokes all its aspects: for example sexuality, or the role of Islam in diverting prisoners' combativity and accepting their fate.
Footnotes
1Apparently in US prisons, you are effectively forced to join one gang or another, divided on racial grounds. Whites who do not join the nazis have to go to black or Latino gangs for protection, but this is risky. If the black or Latino gang refuses you, you lay yourself open to horrific brutality from the nazis, since they will automatically hear of what most of them would consider as "betraying your race".
2 This comment was originally posted on a thread about prison guards going on strike. Significantly, it has disappeared down the memory hole. Though reactions to the comments exist, Fall Back has airbrushed his own reflections from the thread. It is one thing to be embarassed by one's past, it is another to hide and falsify it. I should just add that, though I have no respect whatsoever for libcom admin, they do not – as far as I know- have a collective line on prisons, and I doubt if any of the others have voiced such a Leninist perspective as openly as Fall Back.