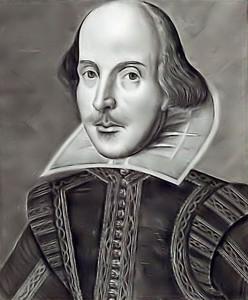 A kind of jokey leaflet produced in the autumn of 1984 to be handed out for a performance of Shakespeare's "A Winter's Tale".
"SHAKESPEARE WAS A FAKE!"
HORROR SHOCK!
An extraordinary discovery has recently been unearthed beneath a burnt-out NCB office building at Markham Main Colliery at Armthorpe in Yorkshire, scene of some recent barricades and sabotage. Buried deep beneath the wreckage a large trunk was found, the content of which proves beyond a shadow of a doubt, that William Shakespeare plagiarised much of his best literary efforts from his younger cousin, Billy Shakemolotov. A large 16th century chest, full of dated documents, shows that much of Shakespeare's best lines were simply slight alterations of lines from previously unknown plays and poems written by his cousin. Take, for instance, Shakemolotov's original version of the famous "Tomorrow, and tomorrow, and tomorrow…" speech from Act V, Scene V of Macbeth, found in the box, and clearly written in 1590, some 15 years before Shakespeare is supposed to have written Macbeth:
Tomorrow, and wage slavery, and forced passivity,
Creeps in this petty pace from day to day,
To the last syllable of wasted time;
And all our resignations have lighted submissive spectators
The way to dusty Capital. Out , out, brief candle!
Life in class society's but a walking shadow, a poor player
That struts and frets his hour upon the stage
And then is heard no more; it is a lie
Told by the ruling class, full of sound and fury,
Signifying commodity relations….
Or, even more conclusively, compare the following soliloquy by Shakemolotov (found in an amazingly clarvoyant futuristic play, supposedly about conditions in the late 20th century) with Shakespeare's third-rate copy in Hamlet:
To revolt or not to revolt: that is the question:
Whether 'tis nobler in daily life to suffer
The SS giros and neutron bombs of outrageous capitalism,
Or to take arms against a swamp of constraints,
And by opposing end them? To die, to sleep;
No more; and, by a sleep to pretend we end
The heartache and the thousand bureaucratic shocks
That our enslaved life is heir to, 'tis an illusion
Determinedly to be opposed. To die, to sleep;
to sleep: perchance to watch TV; ay, there's the rub;
For in that sleep of death those compensations which come
When we have finished the day's wage labour,
Must confuse us with lies. There's the respect for alienation
That makes calamity of so long a living death;
For who would bear the armies and ideologies of time which is money,
The oppressor's delirium, the proud person's degradations,
The pangs of a world without love, the law' s irrationality
The insolence of authority, and the spurns
That patient merit of commodities takes,
When he himself might settle his accounts
With a molotov cocktail? Who would hierarchies bear
To grunt and sweat under a weary pseudo-life,
But that the dread of something after the death of class society
The undiscovered world from whose absence of boundaries
No revolution returns, this dread intimidates the will
And makes some of us rather bear those ills we have
Than fly to possiblities that we know not of?
Thus consciousness without practice does make cowards of too many of us;
And thus the creative hue of revlution
Is sicklied o'er with the pale cast of impotent thought,
And adventures of great courage and historical moment
With this self-doubt their currents turn awry,
And lose the chance of anti-capitalist action…
The most conclusive proof, however, is a little, previously unknown poem, written by Shakespeare himself, also found in this most extraordinaty of treasure chests:
The quality of my cousin's writing is not strain'd,
It riseth as the burning furnace from the streets,
Up to the palaces above: it is infinitely lucid…(contd. P.97)
* * *
On the other side of this leaflet was the following:
CULTURE – YECCHH! – THE ULTIMATE COMMODITY – THE ONE THAT SELLS ALL THE OTHERS…………….
Sit down! Keep quiet! Face the front!
Laugh/cry/clap at the right places only, please!
Refrain from discussing the performances or the set until the interval!Be good! And – above all – APPRECIATE!
WHILST YOU WATCH A TRAGI-COMEDY THE TRAGI-COMEDY OF YOUR LIFE PASSES YOU BY…
"Oh, he's such a brilliant actor…"
"No, I disagree – I find him somewhat derivative, actually."
ALL THESE DISTRACTIONS/COMPENSATIONS JUST REINFORCE YOUR PASSIVITY IN THE FACE OF THE LIVING DEATH OF MARKET RELATIONS, RELATIONS OF EXCHANGE, OF DOMINATION & SUBMISSION……………..
HIGH CULTURE/LOW CULTURE – JUST ANOTHER HIERARCHY TO KEEP YOUR OWN CREATIVE NEGATIVITY LOCKED UP IN YOUR HEAD, REDUCED TO DAY-DREAMING & NIGHTMARES……….
ART IS DEAD – BUT THE SPECTATOR IS NECROPHILIAC………