…neither demockacy nor totalitarianism!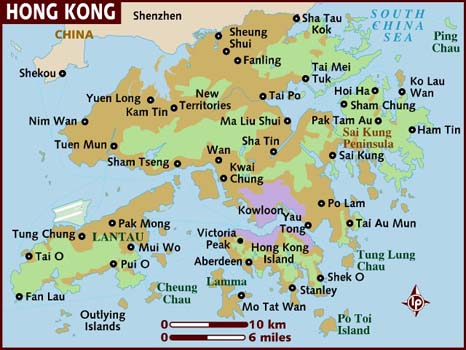 A chronology of events
See also:
"Hong Kong – its relevance to the rest of us……its resistance to the science & technology of social control"
&
this page on China giving masses amounts of information and analysis
&
this interesting Crimethinc interview with Hong Kong anarchists about events up until 22nd June 2019 and some of Hong Kong's history and this interview published on September 20th with the same people: "Three Months of Insurrection : An Anarchist Collective in Hong Kong Appraises the Achievements and Limits of the Revolt"
&
The Meaning of Tiananmen, 1989
&
these texts written by anarchists based in Hong Kong in the 1970s
Although I (SF) am primarily responsible for this, it would have been impossible without the invaluable contribution of GD.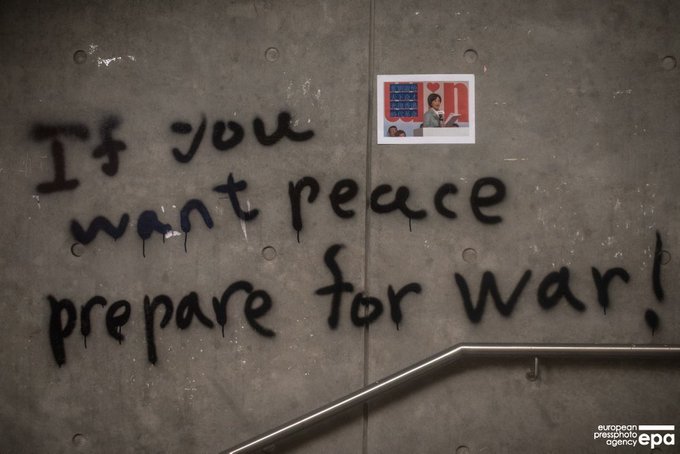 Graffiti: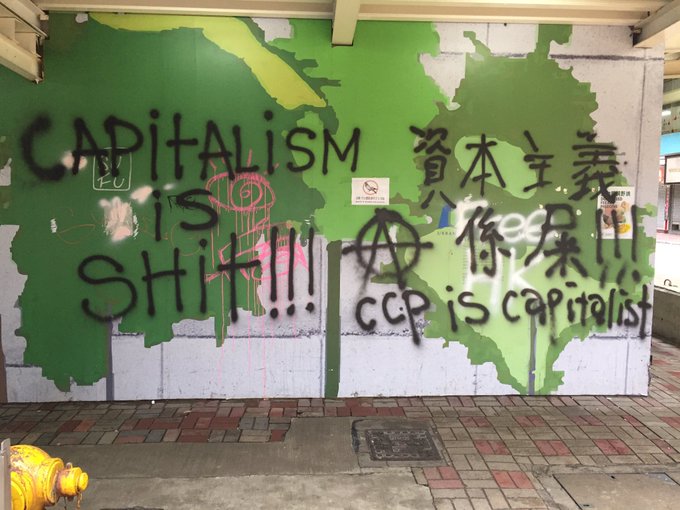 Left one painted near the Hong Kong Legislative Council, 18 August 2019             
Right one painted 31/8/19 (CCP=Chinese Communist Party, for those who don't know)
Chronology
For technical reasons, the chronology for September 2019 is now here and  the chronology for august 2019 back to april 2011 has been placed separately here
Not everything here relates directly to Hong Kong – occasionally there are references to the technology of social control, opposition to which is one of the implicit reasons for this revolt, and to aspects of the situation in China or to developing totalitarianism elsewhere.
14/11/19: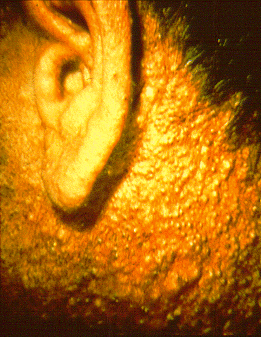 This report is in Mandarin, so a Google Translate is limited and a bit confused, but here is part of it, making comprehensible the bits that were slightly perplexing, hopefully without changing the meaning:
" Patients with chloracne are still suffering from pus after several decades. But the most frightening thing is that chloracne represents a considerable concentration of dioxin in your body (but not fatal)…Ingestion of dioxin-like levels above the threshold may also cause cancer and pose other health risks, such as damage to the immune system, affecting endocrine balance, and pregnant women at risk of miscarriage or birth, even through the mother infant infection (including blood and breast milk), can pass the dioxin-like to the next generation….high concentrations of dioxins can have adverse effects on infant development such as body weight, language, cognitive development, and small muscle utilization… the temperature after the tear gas is emitted exceeds 400 degrees Celsius (400 degrees is the highest measurement temperature of the measuring instrument, that is, the combustion temperature of the tear gas bomb is higher than 400 degrees). At such high temperatures, the main component of the tear gas bomb CS will release dioxins, which can enter the body through skin contact, food, water and air. Skin contact is an important route of contact for journalists who work on the front line and are exposed to a tear-filled environment. In this way, even with protective equipment such as a mask or a respirator, the body cannot avoid intake of dioxins. But what worries … a lot of scholars is that the dioxin-like bacteria  from the teargas can pollute plants, soil surface and sediment in the water. If onshore and marine organisms ingest contaminated plants, soils and sediments, they will accumulate in the food chain for decades. When we eat contaminated seafood, meat, and vegetables, the dioxin enters the body through the digestive system and poisons us. In the past five months, teargas smoke has been everywhere in Hong Kong. On November 12 alone, 1,567 tear gas bombs were fired across Hong Kong, bringing the total to 7,500. The 18 districts were not spared, and many tear gas bombs fell on the side of the market, near the supermarket, polluting all food. The SAR Government has not detected the toxins in these contaminated foods and has not reminded the public of its potential disasters. If Hong Kong people eat or inhale harmful substances in this way, they will remain in their bodies and in their children's bodies for decades to come. Toxic substances will also destroy Hong Kong's ecological environment and will plague it for decades. Finally, we must remember that the Hong Kong SAR Government still fails to understand the chemical composition and derivative compounds of the tear gas bombs ,  and its long-term mental health effects on the human body, because it is difficult for the scientific community to know the residual time of these chemical poisons, or if the impact on the environment will be greater …We call on the SAR Government to stop this humanitarian disaster and to ban the use of tear gas before it has made clear the possibility of  disaster."
"The university remained barricaded by demonstrators on Thursday, with roadblocks and brick walls at the schools various entrances. Protesters also occupied a bridge that leads into the campus. Police have accused the university of being a "manufacturing base for petrol bombs and a refuge for rioters and criminals" after some protesters fired burning arrows – taken from the university sports centre – at officers and threw 400 petrol bombs. Police fired more than 1,500 rounds of tear gas and more than 1,300 rubber bullets at the demonstrators. The city was paralysed, with much of its public transport suspended and all universities closed. Several universities have cancelled classes for the rest of the semester or moved lectures online. Hong Kong's Education Bureau has suspended classes at primary and secondary schools for Thursday because of violence and described the situation in the city as "chilling". The bureau also appealed for "school children to stay at home, not to hang around in the streets, to stay away from danger, and not to participate in illegal activities".
12/11/19:
"More than 1,000 protesters, many wearing office clothes and face masks, rallied in the Central business district for a second day, blocking roads below some of the city's tallest skyscrapers and most expensive real estate. …Universities and schools cancelled classes, with students, teachers and parents on edge a day after police fired tear gas and students hurled petrol bombs on some campuses. "
This largely misses out anything more complex, as pointed out by  Made in China Journal which has said, "we should not hold our breath waiting for a single dramatic event or for the authorities in Beijing to formally announce the end of Hong Kong as we know it.  Hong Kong's assimilation into the mainland governance regime will most likely be accomplished subtly and through systems and infrastructures that are already well developed. As such, opposing Beijing's growing influence in Hong Kong is not enough. It is also necessary to critically examine the structure of governance in the city and to identify the existing structures that are facilitating Hong Kong's ongoing transformation. " – from an article on pages 13 – 16 (it's definitely worth reading this article to get, amongst other aspects of the situation there,  some insight into the contradictions of Hong Kong's NGOs and social workers, and those who aim to participate in such things).
11/11/19:
"The incident occurred during a citywide strike. Protesters had been blocking roads at an intersection outside Tai On Building in Sai Wan Ho. At around 7:15am, a police officer tried to give chase to multiple masked men before he pulled out a service pistol and pointed it at them, according to a live stream by Cupid Producer. He then grabbed a protester in white and shot another protester in black at close range….Parts of Hong Kong ground to a halt on Monday as protesters tried to disrupt the morning commute as part of a wider plan to mobilise a general strike. Arrests were made in Tuen Mun, Wong Tai Sin and Sha Tin. MTR services were disrupted on the Kwun Tong Line, Tung Chung Line, East Rail Line, and the Ma On Shan Line. Light rail services were also affected."
"At Polytechnic University in Hung Hom, police fired tear gas at protesters who were throwing petrol bombs from a footbridge. At the Chinese University in Shatin, police fired rubber bullets at demonstrators. In Wong Tai Sin, protesters dug up bricks and threw them onto a main road to block traffic. Earlier, police said protesters had blocked the Cross Harbour Tunnel, linking Kowloon to Hung Hom, and had lit fires in Shatin and Tuen Mun, obstructing traffic. Several mass transit railway (MTR) lines were delayed or suspended as some protesters were seen smashing gates at MTR stations. At least two universities have cancelled classes for the day…"
10/11/19:
8/11/19:
"The centre of violence was on Nathan Road, in the Kowloon district of Mong Kok, one of the most densely populated locations in the world, where activists built barricades and trashed an entrance to the metro station…UST students trashed a campus branch of Starbucks, part of a franchise perceived to be pro-Beijing, and rallies are expected across the territory over the weekend. "Condemn police brutality," they wrote on the restaurant's glass wall…In Mong Kok, dozens of activists barricaded off Nathan Road, which leads to the harbour to the south. They vandalised a closed metro entrance, throwing in bricks and pouring oil through the metal grill, and destroyed a phone booth in a small explosion. There were clashes and fires in the New Territories town of Sha Tin.In Tseung Kwan O, where people had been leaving flowers and silently crying for hours, people screamed encouragement and abuse after a traffic light was set on fire. …The university called for an independent investigation into Chow's death, saying an ambulance was blocked by police cars and ambulance officers had to walk to the scene, causing a delay of 20 minutes…Protests scheduled over the weekend include rallies in shopping malls, some of which have previously descended into chaos as riot police stormed areas crowded with families and children. Protesters have called for a general strike on Monday morning and for people to block public transport. Such calls have come to nothing in the past. Last weekend, anti-government protesters crowded a shopping mall in running clashes with police that saw a man slash people with a knife and bite off part of the ear of a local politician."
6/11/19:
"The pro-Beijing lawmaker Junius Ho has been attacked in an apparent stabbing…The man could be heard shouting in Cantonese: "Junius Ho, you scum!" The attacker was arrested by police"
On July 21st – 22nd, over 100 armed men dressed in white indiscriminately attacked civilians on the streets and passengers in the Yuen Long MTR station including the elderly, children, black-clad protesters and others. At least 45 people were injured in the incident, including a pregnant woman. After this attack Junius Ho was videoed greeting the white-clothed group of assailants, shaking their hands and calling these triad gangsters "heroes", giving them thumbs-up and saying to them "thank you for your hard work." At least one of the white-clothed men who shook hands with Ho has been shown to have been inside Yuen Long Station during the attacks. Ho defended the attackers at a press conference by saying that the incidents were a "normal reaction to protesters who brought violence to the peaceful community after they stormed the liaison office" and also praised them for "safeguarding" their district. He also said, "We can't pardon the sin, but we can pardon the sinners." His office was subsequently vandalised by the protesters after the attack. A glass partition was broken, and a memo was left that "suggested a link between the violent gangs that carried out the attack the previous day and the police force". Protesters also posted anti-government sticky notes on the exterior wall of his offices in Tin Shui Wai and Tuen Mun. His parents' graves were covered with graffiti.  This piece of scum thinks his words have no consequence. Well, they now have – for him and for the brave guy who was immediately arrested after the attack. This report says that "Before the attack, the man [who stabbed him] thanked Ho for his hard work", a clever quote from Beijing's Ho himself, who back in July had thanked the triad scum who'd badly beaten up train passengers for their "hard work".
X writes: "I'm sure that there will be retaliation both by the triads … and Beijing, to whom he was certainly a useful local proxy. Nonetheless, for many of those who have been attacked by the real terrorists in Hong Kong – the cops and their triad friends – and suffered at their hands, this is a welcome proof that the people of Hong Kong are not defenseless against their oppressors and that what goes around eventually comes around. The object of the exercise for some time on the side of the Beijing's viceroy and her allies in the Legco and business elite, has been to criminalize, and then dispose of, the opposition, in the halls of government and especially on the streets. This attack will hasten the imposition of more drastic measures [not to call them "draconian"- as if Draco had anything on Qin Shi Huang Di but a few years], reminiscent of the earlier days of the CCP dynasty, as well as give a perfectly good illustration of the kind of actual criminality the official organs of the "one state two systems" colonial government is protecting. And the stakes everywhere else will multiply porportionally to the seriousness of events in Hong Kong. The degree to which the official world and the worlds outside it and against it are collaterally affected will show the extent to which the global movement already underway against austerity, authoritarianism and inequality is capable of mutual support and solidarity, while showing by example, one day in Chile and the next in Lebanon or Iraq, the way forward."
5/11/19:
Days after the fall, the student is likely to be brain dead (see this in Mandarin).
4/11/19:
"The only entity in Hong Kong that owns land – with the arguable exception of St. John's Cathedral (see here and here) ­– is the Hong Kong Government. All the rest of us, property developers, tycoons, and common folk, lease land from it. As a result, the Hong Kong Government is not only the world's largest property developer, but its most profitable. Its reserves amount to US$ 2 trillion. The only enterprise that even comes close is Aramco."
3/11/19:
2/11/19:
"Protesters have vandalised the Hong Kong office of China's official Xinhua news agency for the first time in months of anti-government demonstrations, smashing windows and doors.Local media showed scenes of a fire in the lobby of Xinhua's office in Wan Chai district, broken windows and graffiti sprayed on a wall."
"At least 200 people were arrested in Hong Kong as protesters blocked roads, vandalized public facilities and set alight exits of subway stations on Saturday. Police fired multiple rounds of tear gas and deployed a water cannon on black-clad demonstrators who built barricades across busy streets, including a highway, and threw flaming objects in Wan Chai on Hong Kong Island. MTR Corp., operator of the city's rail system, suspended services at the main Central station after arsonists set alight at least two subway-stop exits. Petrol bombs were also thrown outside Cheung Kong Center — the nerve center of billionaire Li Ka-Shing's business empire whose tenants include Goldman Sachs Group Inc. and Bank of America Corp…As protests rage in Hong Kong against China's increased grip over the city, Beijing signaled it would intervene more in everything from education to the selection of the city's top leader. The Chinese government on Friday outlined a series of broad, but vaguely worded commitments to address some of Hong Kong's most divisive issues, including a pledge to "improve the system and mechanisms for appointing and removing the chief executive and other principle officials." Communist Party leaders also vowed stronger measures to teach "patriotism" to young people and public officials"
31/10/19: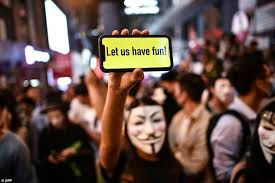 Below: terrifying halloween masks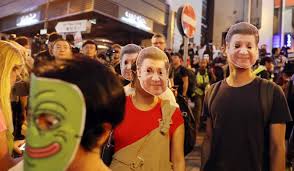 30/10/19:
"…at a press conference held by anti-government protesters on Monday, themed "no racial division in the face of tyranny"….the group said they were hopeful for the future because they felt solidarity with mainstream society for the first time because of the sense of belonging offered by protesters." Of course, there's an ambigiuous expression here – "mainstream society". Though it implies that the movement is now "mainstream", it could also imply that "mainstream" is something to be valued in itself, and that any critiques within the movement of its limitations is unacceptable. Of course, this is stretching a point, but whilst everyone who wants a social revolution would like the most significant of their ideas to be taken up and acted on by movements, and so become "mainstream", it also implies a certain desire for conformity that stifles real movement.
28/10/19:
Two things about this:
Firstly, as Made in China Journal has said, "we should not hold our breath waiting for a single dramatic event or for the authorities in Beijing to formally announce the end of Hong Kong as we know it." A crackdown can simply come from the cops raiding homes of known radicals and arresting them, taking their information from grasses, from slip-ups in not sufficiently securing messaging and from facial recognition cameras (FRCs)  which are sometimes more sophisticated than they  have been most publicly portrayed (ie some can more or less recognise faces through fairly flimsy masks like the surgical ones often used). And after arrests, show trials with draconian sentencing.  Possibly less dramatic, and more "deomcratic",  than much of the repression – e.g. internment without even the pretense of a trial –  used in Northern Ireland at the beginning of the 1970s and certainly no need for a Bloody Sunday (and remember – the Hong Kong cops are being helped by British state thugs).
Secondly, though Lam has denied that Beijing is planning to replace her, it's obvious that once immediate "violence" (mainly against property and the state's defenders of property) has been stemmed, she'll be replaced so as to give the state an image of reform (see below). She can't be replaced until then because that would be seen as too much of a concession to "violent" independent radical opposition. All of which means that a change of tactics and of perspectives needs to happen within the movement – wildcat strikes, occupations, anything that makes it harder for the state to  divide and rule. And that requires ideas that go beyond the 5 demands.
"…economics is critical to any lasting peace. The essence of Hong Kong's current economic policy, which is billed as a laissez-faire nirvana, is a regressivetax [1] in the form of high land prices. It strangles the middle class... prolonged slow growth exposes the corrosive effect the policy has on wealth equality [2]  and labour income [3] . As young people's aspirations are extinguished, a social explosion is inevitable.Chief Executive Carrie Lam Cheng Yuet-ngor's policy address [4]… was very disappointing content-wise. A new initiative to allow homebuyers to borrow up to 90 per cent of the value of flats is sugar-coated poison. Under current circumstances, is a 10 per cent drop in property prices imaginable?If so, the loan-to-value ratio of 90 per cent seems like a trap for the middle class. It just allows property developers to unload flats at good prices in a depressed market. This continues Hong Kong's policy bias towards the super rich, at the expense of the middle class.The Hong Kong government has long touted its tolerance of dubious business behaviour as laissez-faire economics [5] . At best, it is an excuse for laziness. At worst, it is collusion with tycoons [6]  to squeeze every last drop out of ordinary people. The land shortage [7] could be seen as an intended outcome of this collusion. There are many other examples. The odds are good that Hong Kong's laissez-faire economics is corruption in disguise. Supermarkets' [8] high profit margins act as another regressive tax, which hits those in low-income brackets the hardest. Yet another egregious example is construction costs. Building costs [9] in Hong Kong are among the world's highest, approaching New York levels, while those in Shenzhen are among the lowest. To make housing affordable, Hong Kong has to address both the issues of land supply and construction costs. …High land prices have raised much revenue for the Hong Kong government. While they are in fact indirect taxes, the government can claim they are business revenue that makes possible low direct taxes [10] , or none at all, for most people. The perception that little or no tax is being paid has given the government extraordinary freedom of expenditure, whether it is extraordinarily low welfare subsidies for the poor or generous compensation for government employees [11]  . The Hong Kong dollar's peg to the US dollar has deepened the flaws in the system. The US Federal Reserve has been pursuing an expansionary monetary policy over much of the past three decades. Hong Kong is effectively importing super-low interest rates via the currency peg [12] . It covers up the burden of housing debt and allows developers to constantly push up prices, while exposing Hong Kong's labour force to unchecked international competition. Hong Kong's currency peg is a key factor in the unfairness of its economic structure. It should be abandoned at an opportune time. To overcome the land crunch, Hong Kong must remove the incentive to hoard land [13]  ….A remedy would be to introduce a high land appreciation tax; 60 per cent is a good number to start with. The tax should be assessed and collected annually. When such a tax is introduced, the government would suddenly find zero resistance to its initiative to increase land supply. As the government stops relying on high land prices for revenue, it should start collecting progressive taxes on property and income, just like in a normal economy. For example, the tax rate could be zero on properties under HK$5 million, 1 per cent on those between HK$5 million and HK$10 million, 2 per cent on those between HK$10 million and HK$20 million, and 3 per cent on more expensive properties. In addition to the standard income-tax rate of 15 per cent, there could be a tax rate of 25 per cent on incomes above HK$5 million. To close loopholes, business income should be taxed at the same rates.If the violence continues in Hong Kong, the only winner is Beijing [14] …The government must take concrete measures to boost housing supply immediately. …Hong Kong should keep increasing housing supply until prices fall to within a reasonable range of around one month's salary for one square metre. …The necessary restructuring of Hong Kong's economy would inevitably hurt some interest groups. Big businesses would obviously lose their huge profit margins and become like their counterparts elsewhere. Clearly, they could be expected to fight to keep their privileges. As they have good access to Beijing, meaningful economic reform is unlikely to happen without political determination at the top…Hong Kong must accept some pain to enjoy a rebirth. Otherwise, today's youth have no hope of owning a home fit for raising a family. How, then, will stability return to society?"
27/10/19:
"…protesters set fire to shops in Jordan and hurled petrol bombs at Sham Shui Po Police Station, blocking roads and assaulting officers with hard objects and umbrellas…Riot police and protesters also clashed in Whampoa, Yau Ma Tei and Mong Kok, where tear gas was fired."
"Tourists numbers have plummeted, a decline Chan called an "emergency" with the drop in visitor numbers worsening in October, down nearly 50%."
"Tourism — human circulation packaged for consumption, a by-product of the circulation of commodities — is the opportunity to go and see what has been banalized. The economic organization of travel to different places already guarantees their equivalence. The modernization that has eliminated the time involved in travel has simultaneously eliminated any real space from it." – here.  Anybody with a sense of life would be interested in going to Hong Kong now, now that the area has lost its equivalence to other places, now that history is returning there in a unique way and  that opposition to the economy, even if not intentional, makes the secret police that the economy fundamentally is  not so secret after all. Whilst we're a long way from from an explicit opposition to the commodity economy, from such a revolutionary aim, it's clear that despite this absence, the effect of this movement subverts this economy.
25/10/19:
Some people suspect that the Central Government in Beijing aims to draw on the methods utilised in Xinjiang to implement heavy-handed rule in Hong Kong, such as by running relentless campaigns against local culture and forcibly assimilating people through CCP thoughtwork. However, such a scenario is highly unlikely considering that the cost of such Orwellian rule is extremely high. Moreover, due to Hong Kong's cosmopolitan status, applying this kind of model to the city would surely invite violent opposition both locally and internationally. Another more viable strategy is to learn from the governance model adopted in other cities in mainland China, where the Public Security Bureau (公安) and the Urban Management Bureau (城管) cooperate closely and utilise high-tech surveillance systems to 'maintain stability' (维稳). Once this governance model is replicated in Hong Kong, assisted by technologies such as those underpinning the emerging social credit system, the CCP will be in a position to systematically and thoroughly keep any dissident voice under surveillance. To effectively implement this strategy, the CCP would not only require support from local gangs and the middle- and upper-classes of the city, but would also need to domesticate local civil society and academia.
The core groups in the recent anti-government movements are mainly composed of NGO members with varying amounts of influence in Hong Kong's civil society. Hong Kongese civil society has developed a high-level of autonomy from the government since the social movements of the 1960s, and some professional sectors, such as social workers, have maintained a strong tradition of critical thinking and civic engagement. As a result, if the CCP attempts to assert control over Hong Kong's social workers and NGOs with the same strategy used in mainland China—by requiring 'Party-building' in social work organisations and changing them into 'Party service centres'—strong opposition from Hong Kong civil society is to be expected.
However, in dealing with local NGOs, the CCP can take advantage of different types of 'centralised systems' that have been well-developed in Hong Kong since colonial times. Very often, Hong Kong has been seen as a textbook example of a 'free market' society. However, in many aspects, especially in social and welfare services, the Hong Kong government intervenes heavily. Through these service interventions, the government centralises and allocates resources. Today, nearly half of Hong Kong's population lives in houses subsidised by the government; nearly 90 percent of the hospital beds are publicly funded; most established and large NGOs in Hong Kong receive 'lump sum grants' annually from the government for recruiting social workers and supporting their service programmes. In the education sector, all public universities in Hong Kong receive sizable block grants and research grants to support their teaching and research programmes. These centralised systems for the allocation of resources have far-reaching implications for Hong Kong's civil society. For instance, although Hong Kong's civil society is generally seen as vibrant and independent, under this centralised system many small- and medium-sized NGOs active in supporting pro-democracy and human rights movements do not receive much funding from the government. This results in Hong Kong having an active but structurally weak civil society.
Although 'Party-building' in Hong Kong's NGOs is not realistic in the short term, Beijing can still work through these centralised systems to achieve a similar effect. By marginalising 'dissident groups' via the government funding allocation system and simultaneously 'incubating' pro-Beijing organisations, the CCP can fundamentally transform the composition of Hong Kong civil society, making it more pliable to its demands.
Academia is likely to become another target. Since the Umbrella Movement in 2014, the CCP has been treating the higher education sector as a seedbed of anti-government movements, which are accused of colluding with 'hostile foreign forces'. Scholars active in social movements are thorns in the side of the pro-Beijing camp. Apart from jailing Hong Kong scholars and students on trumped-up charges, the CCP will probably exploit the mechanism through which the government of Hong Kong allocates budget and research funding to public and private universities. Consequently, courses and research programmes on undesired topics—such as social movements in Hong Kong, approval ratings of Hong Kong government officials, and 'stability maintenance' in China—will be marginalised or shuttered. If this occurs, research proposals and course materials will end up having to be approved by the Party branch at universities, just like is happening in mainland China.
In fact, 'China' is a hot topic among Hong Kong scholars and there already are different forms of research and teaching cooperation between universities in Hong Kong and the mainland. Today, when Hong Kong scholars want to conduct research in the mainland, they have to 'settle' in partner universities in the mainland. Research proposals and details are subjected to approval by the Party branch at the host university, which makes conducting critical research on sensitive topics almost impossible. As a result, the Hong Kong system is already being assimilated gradually into the China system.
In the end, we should not hold our breath waiting for a single dramatic event or for the authorities in Beijing to formally announce the end of Hong Kong as we know it. Hong Kong's assimilation into the mainland governance regime will most likely be accomplished subtly and through systems and infrastructures that are already well developed. As such, opposing Beijing's growing influence in Hong Kong is not enough. It is also necessary to critically examine the structure of governance in the city and to identify the existing structures that are facilitating Hong Kong's ongoing transformation.
"The ban on publication of photos of police officers without their permission could mean media could come under pressure over their reports… The Justice Department sought the injunction to target protesters or people who "doxx" police officers by releasing their details online. The order also bans "harassing, threatening, pestering or interfering" any police officer or family member…. a person who is having a financial dispute with the spouse of an officer and calling the person repeatedly over this could now be seen as a contempt of court. Sharron Fast, a media law expert at the University of Hong Kong, echoed Wong's opinion that the injunction banned activity "far beyond doxxing". "It would certainly capture the chants and name-calling that the police have long wanted to have legislative protection from," she said…."[It's a] serious restriction on freedom of expression and effectively criminalises a whole range of perfectly lawful acts which will now be punishable as contempt of court," he tweeted."
Mind you, in France the state uses water cannon laced with teargas.
24/10/19:
23/10/19:
"For any future presentations in class, if you use it as an opportunity to broadcast any political announcements or statements, the whole group will automatically get zero points for the presentation," he wrote on Friday. CityU students responded by spraying derogatory graffiti on the front of his office, including the words "white terror" and "Hongkongers rebel"…One wrote: "You are here to teach. Do not bring your political agenda into assessment criteria."
22/10/19:
20/10/19: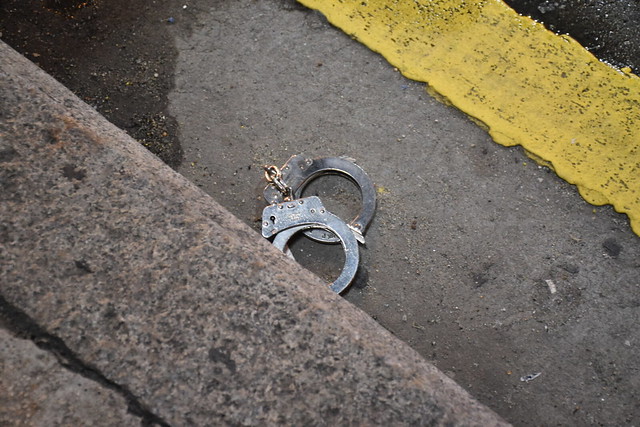 Hong Kong unchained
"The arson attacks began from around 3pm and lasted for more than eight hours as protesters set fires inside mainland-linked businesses and police and metro stations, before gutting a Xiaomi shop and Chinese medicine store Tong Ren Tang in Mong Kok…Protesters cut down a surveillance camera near a Yau Ma Tei MTR exit with an electric chainsaw, before setting it on fire. They then threw petrol bombs inside at least four metro stations through their closed exits – forcing the partial suspension of the Tsuen Wan line and the closure of at least 14 stations…a bomb disposal robot – believed to have been deployed for the first time during the four-month protests – had also detonated a suspected explosive device inside a cardboard box placed at the intersection of Lai Chi Kok Road and Tong Mi Road in Tai Kok Tsui.Protesters also set a traffic light controller ablaze"
Unfortunately the sick anti-looting ideology of the protesters  lead to  the tying up by protesters of an elderly man who'd nicked at least 3 mobile phones from a trashed store. Clearly they'd find what's going on in Chile incomprehensible. Also noteworthy was the spraying of blue dye of a mosque   by the cops for no reason whatsoever (See this). Plus, of course, the above mentioned bomb disposal robot, possibly a psychological preparation for some future genuine bomb, possibly planted by a section of the state. 
18/10/19:
17/10/19 :
This is a quote from the link to a moving video about young protesters ready to die. Though some of this sounds a bit like martyr-wish syndrome, it's not as simple as that. Obviously anybody who is serious about striving for a revolution knows that being killed is a risk you take, though, without compromising fundamentals, it's a risk that precautions should be taken against. This borders on this basic realism and a sacrificial mentality.  
More on explosives find (see entry for 14/10)
Red Guards show how they're Blackguards
16/10/19 :
''…pro-Beijing lawmakers criticised the policy address for not taking decisive steps to quell the ongoing protest movement: "Our view is that the policy address follows a well-worn path and is powerless in breaking the deadlock," said DAB party leader Starry Lee. "Facing the chaos in society today, the public hopes to hear from [Lam on] how to bring things back to normal."  The public does not feel that Lam can solve the deep-rooted issues facing Hong Kong, and the policy address did not offer concrete proposals to change that perception''
Reactions to the speech from the business sector of HK were supportive because she addressed the housing issue, which, despite the official opposition's dismissal of it, could hold out the carrot to some of HK's population as a compensation for withdrawing from invovlement in the struggle, a clever bit of recuperative reform that I've mentioned previously as a possibility, but now seems very likely to go ahead.
Crackdown on social media use coming? – pro-Beijing HK deputy Junius Ho says anti-mask law is insufficient, urges government to regulate social media platforms to avoid children "being misled by press" (link in Mandarin)
14/10/19:
Who knows ? It's certainly possible that the state is preparing the ground for a bigger bomb which would maybe seem to target cops but in fact kills loads of other people (see what I've written far too often before – in particular what I wrote on 11/9/19, though hopefully this is me crying wolf yet again), or some variant on this – eg one that does kill loads of cops, with all its obvious consequences and probably some not-so-obvious ones. It could also have been a bomb made by a protester with no sense of strategy. Who knows ? But speculation is potentially also preparation for such a possible event…
''The government-appointed Minimum Wage Commission has refused to rule out the possibility of freezing it in future, citing the economic risk from the ongoing anti-government protests and the US-China trade war. Priscilla Wong Pui-sze, the chairwoman of the commission, said on Tuesday that any future adjustments would have to be based on "objective data and figures". She also refused to commit to reviewing it on an annual basis, rather than the current two years, saying the commission was still assessing the impact of the latest increase in the minimum wage, which rose from HK$34.50 to HK$37.50 on May 1. Next year the commission is due to submit suggestions to the government on what the new minimum wage level should be in 2021. But commission representatives from both the labour and business sectors said that although no official data was available, the impact from the citywide protests that started in June was already being felt, with workers in the tourism and hotel industries being placed on unpaid leave….''. Regardless of whether this comes from a purely (bourgeois) economic assessment of ''affordability'' or a conscious attempt to turn workers against the movement, this should/could provide an incentive for protesters to work out ways to connect this movement with other sections of the working class (not that most  protesters aren't part of the working class, but that their protest is outside of their work concerns and doesn't express itself in class terms).
13/10/19:
Very interesting report, which I've just received from a friend. Shows not only how the UK cops directly help the HK filth in their tactics against HK protesters, but also how the experience of HK cops in 1967 helped cops at Orgreave against the miners in 1984 and elsewhere in the UK. 
More here. A professional defender of  capitalist violence gets slashed in the neck with a box cutter, and other stuff.
12/10/19:
"…police fired a shot outside the Mong Kok police station. The shot, possibly a rubber bullet or sponge round, was fired after a small group of protesters shouted obscenities and shone laser at police officers, who rushed out to subdue and beat a couple of young men…Many protesters wore medical masks on Saturday but a few also wore balaclavas…Onlookers jeered and yelled obscenities at officers who wore black face masks and obscured their police numbers. The atmosphere became tense when an officer rushed up to a young couple who wore medical masks but were not part of the protest. "Take off your bloody masks. Show your identity cards," he shouted. Another officer said: "See a doctor if you're ill." Passersby shouted back at police. One young father, holding his infant daughter, told them: "Beware of what sort of a world you're creating for your own children." Several police officers rushed up to intimidate him. His wife said through tears: "We're protesting today precisely because we have a child. If we don't speak up for others now, who will speak up for us?" …A police officer shouted at and pointed a metal stick at the face of an elderly woman who was trying to mediate between him and an angry protester, leaving her trembling. Meanwhile, marchers vandalised two government offices and a coffee shop seen as being pro-Beijing, and a petrol bomb was thrown at the gate of a metro station not on the route of the protest. No one was hurt in the incident. Protesters smashed glass and sprayed graffiti on the walls of the Kowloon and Cheung Sha Wan government offices. Police said the demonstrators also broke the gate, entered the buildings and started a fire."
More here "…A small group calling itself the "Silver-Haired Marchers" began a 48-hour sit-in at police headquarters on Saturday, describing themselves as "old but not obsolete". "The young people have already sacrificed a lot, it is about time for us, the senior citizens in Hong Kong to come forward to take up part of the responsibility from the young people," 63-year-old Shiu told local media. "I mean for us, even if we are caught by the police because of an illegal gathering, I don't mind," said Shiu, who was identified with only one name. Police have arrested more than 2,300 people since June. Since September nearly 40% were under the age of 18 and 10% under 15….Protesters have also targeted China banks and shops with perceived links to China, as well as U.S. coffee chain Starbucks, which had a store in Kowloon trashed on Saturday."
It's easy to see limitations from a distance and for this reason maybe it's presumptuous of me to make the following reflections. However,  it seems that this  movement could  well slow down through the repetition of the same tactics and ideas.   New tactics (such as occupations and more extensive strikes) and the development of some more subversive ideas are essential to keep the momentum going and to make some qualitative leaps. Attempting to influence the mainland again – as happened on the 8th July, when protesters used the  AirDrop app to breach China's Great Firewall – if that particular breach hasn't been dammed up since then – would also be an excellent development.

"Trump said the trade deal he struck with China on Friday was "very positive" for Hong Kong and claimed the anti-government protests had de-escalated significantly, leaving some demonstrators disappointed he did not push for their cause. …"Trump thinks we should pack it in. We still want to count on the Americans?" A user wrote and won over 1,000 likes in three hours. Another user said: "I have said western countries would only view Hong Kong as their pawn. Don't be so naive that they value the so-called 'values of democracy and freedoms'." The comment won over 160 likes in 3 hours. While some urged others to be "awake" and just count on themselves and Hongkongers, several others suggested the "escalation of force". Yet another group of users believed they should work harder to explain to the world the reasons behind the drop of participants and organise another massive peaceful rally." Sadly, as far as I can see, nobody suggested that the struggle is international – that they should connect to movements in Ecuador, Haiti, Indonesia, etc., even if the specificities of capitalism in each country are different.
11/10/19:
"Hong Kong's police, he and other officials claim, are behaving like "servants" of crime syndicates loyal to Beijing — and thus "forcing people to defend themselves." …Since the 1980s, Hong Kong's cops have been revered by its citizens and envied across much of Asia. They are the rare department that managed to purge the shakedowns and gangsterism that still plague police units throughout the region. Yet, Lam contends that police are now "colluding" with organized crime — or "at least turning a blind eye" when thugs mete out raw violence toward protesters."…Why would Hong Kong's mafioso take time away from extorting shopkeepers and dealing heroin to beat down protesters? But beneath Hong Kong's surface are complex power dynamics — a world where gangsters can be pro-China patriots and, for crime bosses, terrorizing a protest might actually be a smart investment."
9/10/19:
7/10/19:
Days events (includes 6/10) – videos and links
China state media urges quicker trials and heavy sentences for Hong Kong protesters
Report on the spread of solidarity and the kindness of strangers Report about October 1st on how whole neighbourhood helped protesters escape cops and teargas, inviting them into their flats, providing reconnaissance information about cop movements etc. "So even those not protesting on the streets are protesting, all contributing to the resistance in their own way. The majority of the city is united against the regime. The story of Wan Chai is not new to me: I've experienced the kindness and aid of strangers many times in recent weeks. Just days before, I'd been going toward Causeway Bay together with about 2,000 protesters, again retreating from the police. We heard there were a lot of riot police in Causeway Bay and so decided to head southward, but every street we came to, we saw police at the end of it. Eventually, we had no choice but to go into Happy Valley, a prosperous neighbourhood that has seen little of the protests. It was terra incognita for most of us. Once there, we felt safer, but we knew it was just a matter of time before the police would try to flush us out, and we didn't know where to go. Security guards emerged from middle-class high-rises and offered directions. A taxi driver had seen us and alerted his colleagues. Before long, dozens of taxis started to arrive. Private drivers pulled up, rolled down their windows, and announced their destination. Protesters hopped in. Within about a half hour, of those 2,000 protesters, no one but myself and a few others remained on the street. Among protesters, a guardian rule is you never leave anyone behind. I play the role of the one who remains until last to make sure everyone gets out. I changed out of my outfit and headed back to cross police lines. Along the way, knowing residents who witnessed and helped the evacuation gave me knowing smiles and thumbs up. "Stay safe, stay safe," they said….This kind of resistance – it's a feeling within us. Hong Kong people are famously phlegmatic, unexpressive. We don't talk much or effuse. But these days, we recognise something in each other, a common purpose, a common identity. This is the sort of unity that can't be crushed by force. In fact, police attacks fortify it, drawing us closer together. I'm often asked how this will all end. My true feeling is, it doesn't matter, because the little secret that everyone knows and no one is saying (and perhaps many aren't even admitting to ourselves) is, we've already won. The immediate and original concrete objective, the withdrawal of the extradition bill, has been achieved. We've won the battle for hearts and minds. But beyond that, we've achieved something much more profound than that: confidence in ourselves as a people and trust in one another for what is sure to be a long, hard struggle ahead."
On fires and firebombs The fact that such an apparently 'neutral' source of information as the fire brigade could warn of potentially frightening consequences of firebombs got me thinking that instead of an obvious terrorist attack (like the fascists' Piazza Fontana bombing following the Italian autumn movement of 1969 – see also this), the state might try to arrange a fire that kills loads of people. They did this in Athens in May 2010, when young nihilist anarchists firebombed a bank. It was a strike day, and the young guys thought the bank was empty (the doors were locked). In fact, the management had locked employees in – and 3 were killed. There was no fire exit, no sprinklers or fire extinguishing apparatus in the bank (see this and the following posts for details…eventually 3 bank officials were found guilty, though the head of the bank – Andreas Vgenopoulos – the main person responsible – got off scott-free, surprise surprise). I've cried wolf so many times over the possibility of a state (or maybe triad) strategy like the Piazza Fontana bombing in '69, maybe nobody will believe me, but it seems like a real possibility but maybe taking another form like a fire.
6/10/19:
Fury across the island " For the first time in the crisis, men on the roof of one of the Chinese military's barracks in Hong Kong raised a yellow banner warning protesters they were breaking the law when laser pointers were flashed at the building, according to video broadcast by Hong Kong media…." They can't arrest us all. There are thousands of us…There is no going back — we are at the point of no return." … Groups of black-clad youths roamed the city center, setting up barricades, covering the urban landscape with anti-China graffiti, cutting power lines to traffic lights and using walkie-talkies and messaging apps to coordinate."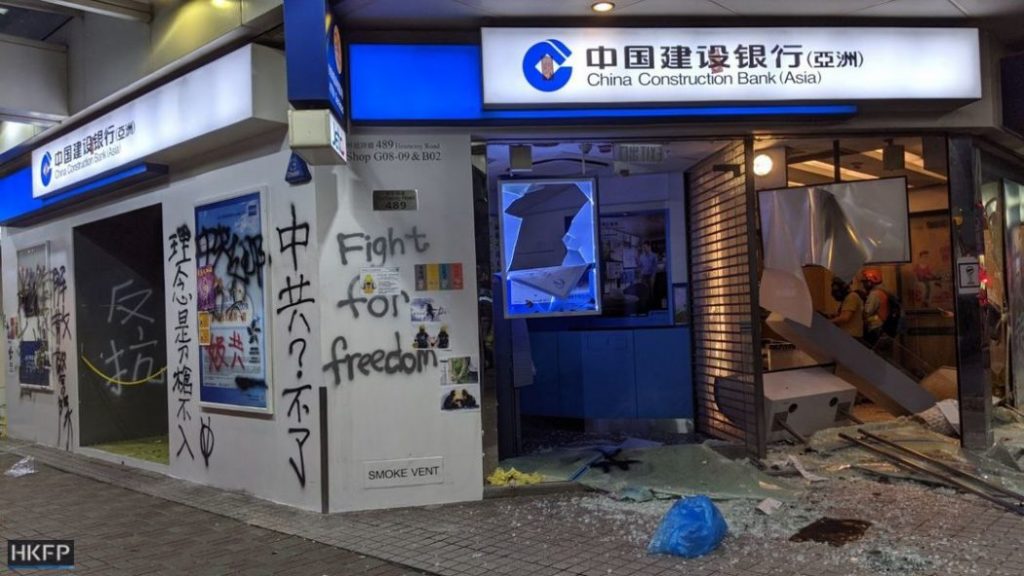 Sadly, it's only mainland banks that are targeted. Although a lot of mainland Chinese-owned shops and businesses have been targeted, no looting to speak of has taken place. On the contrary, there's been a lot of discussion on the internet expressly prohibiting it. In fact, when some middle-aged women went into a Bestmart 360 to take something for themselves recently, they were publicly condemned, without the slightest proof, as being cheap mainlanders who were probably against the movement, but were ready to profit from the disorder if they could. A truly sad indication of how limited to purely political concerns most of the discussion round the movement is, and how shallow stereotyping of anybody who doesn't conform to the democratic discourse is necessary to tightly constrain this discourse. In order to maintain the ideology of "unity" which prevents anybody discussing differences within the movement, those who don't conform to the parameters of this political discourse have to be seen to be outside this movement in order for this ideology to be set aside.
In another context, me and a friend wrote: "…the ideology of unity is mainly used … to say "Shut up" to discordant and minority voices. "Unity", justified by the argument that one must not …be a minority, serves above all to get as many people as possible caught up in the dominant logic… against all aspects of the autonomy of those who revolt. It prevents any discussion, any possibility for individuals to exchange opinions and to go beyond their limits, their illusions, by giving them the false feeling of being part of something… It is only with debate and criticism that those who revolt – proletarians – can glimpse new possibilities, conceive of the project to get rid of this society, and start working on it." – here
.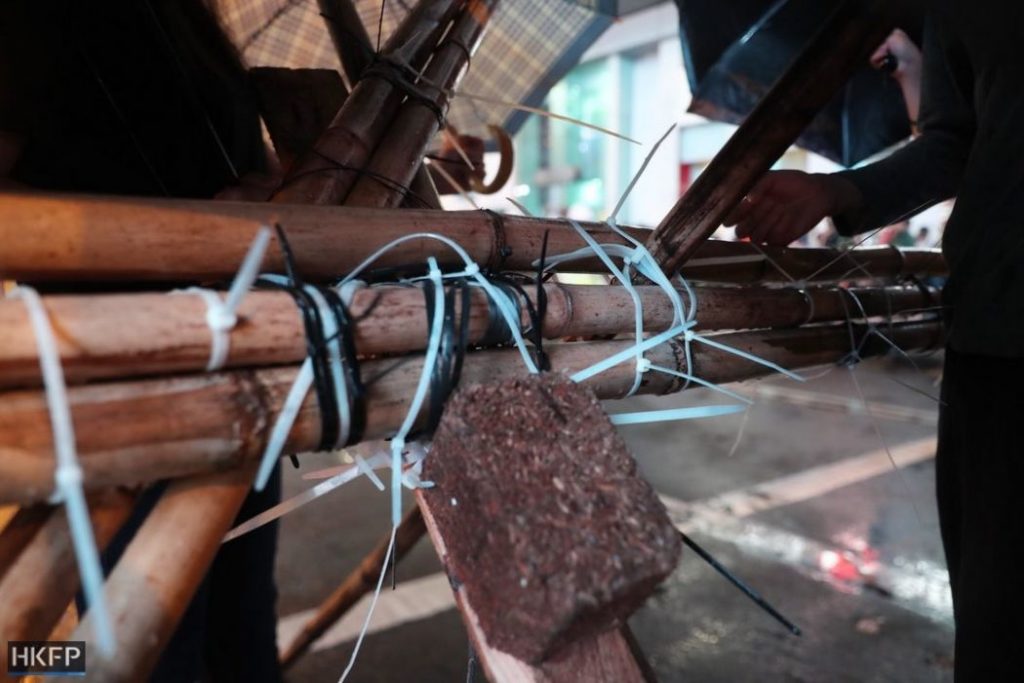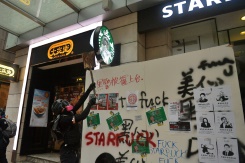 Instead of making out she'd physically attacked them first (which she hadn't), it's a pity these protesters didn't affirm that they were perfectly right to attack her for defending the filth and the state. People like her live such cocooned lives that they don't get anything and think they can arrogantly trash youths desperately worried about their future without suffering the consequences.
5/10/19:
Will Lam get the sack in order to give the appearance of change and reform? This article suggests she should be replaced by Matthew Cheung, a somewhat reticent poolitician whose only notable statement was in response to a high school students' strike – "Schools are places for learning, and are absolutely not places for expressing political views or demands." But as some high school students in Soweto said in 1976 "The school for the oppressed is a revolution". The article also says that any new leader "should find a new voice and immediately announce a wholly transparent and independent inquiry into the anti-extradition debacle that includes an investigation into allegations of police brutality. And the police need to take this bitter bill and swallow it whole for the good of the city.", an option which, from this distance, seems a genuine possibility and more likely than a Tiananmen-type massacre. Of course, "a wholly transparent and independent inquiry…that includes an investigation into allegations of police brutality " is likely to be the way that they'll dress it up rather than be genuinely "transparent and independent". Given that Hong Kongers have some – to be polite – "naive" illusions in the UK, we can expect the kind of "transparent and independent" enquiries that go on there, "transparent and independent" enquiries which have never ever once found a single cop guilty of any one of the innumerable deaths at their hands.
State demands a return to its monopoly of violence as tourist gets his priorities right – the despair caused by his inability to get to Disneyland "Can't go anywhere," said Kevin Cui, a tourist from mainland China who'd planned to visit Disneyland only to discover at a shuttered subway station in central Hong Kong that the network was suspended. "This is very troublesome." …After widespread arson attacks, looting, fighting with police and beatings, the government appealed for a public shift in attitude against rioting. John Lee, the government's security secretary, said by not condemning violence, people are stoking it. "What is adding oil to violence is people's support for these acts," he said."
2nd teenager shot by live round as fury erupts against face mask law "The city's major transport network MTR suspended all of its operations after demonstrators vandalized multiple train stations, setting fire to entrances and smashing ticketing facilities. Numerous mainland Chinese-owned banks and stores were also targeted by protesters. All of the city's 161 MTR stations remain closed Saturday, as do many major shopping malls, bank branches and supermarket chains. Many of the grocery stores and banking facilities that are open have long lines reminiscent of the run-up to typhoons, as Hong Kongers withdraw cash and stock up on supplies. Violent protests which began Friday stretched into the early hours of Saturday, beyond the midnight deadline when the new anti-mask regulations began. They spread out across the city and soon devolved into violent clashes, with protesters throwing petrol bombs and police responding with pepper spray and tear gas. A second protester was shot with a firearm in an incident in Yuen Long — the site of an attack on protesters by alleged triad gangsters in July which has become a key rallying cry for the anti-government movement. Police said a 14-year-old boy was injured in a shooting incident after a lone plain clothed officer was attacked by protesters. Hospital authorities said the boy was shot in the left thigh and is in a "critical condition…police said after the police officer was isolated by protesters, he "fell onto the ground and was beaten up by the group. Facing serious threat to his life, he fired one shot in self-defense. A rioter then threw a petrol bomb at him and his body was on fire." A video circulating online showed the officer, wearing a white t-shirt, getting up from the floor when a petrol bomb hits him and engulfs him in flames. The officer staggers forward and manages to extinguish the fire on his clothes, but appears severely dazed. He drops his weapon and it is almost grabbed by a protester before he lunges forward and manages to wrestle it away from them"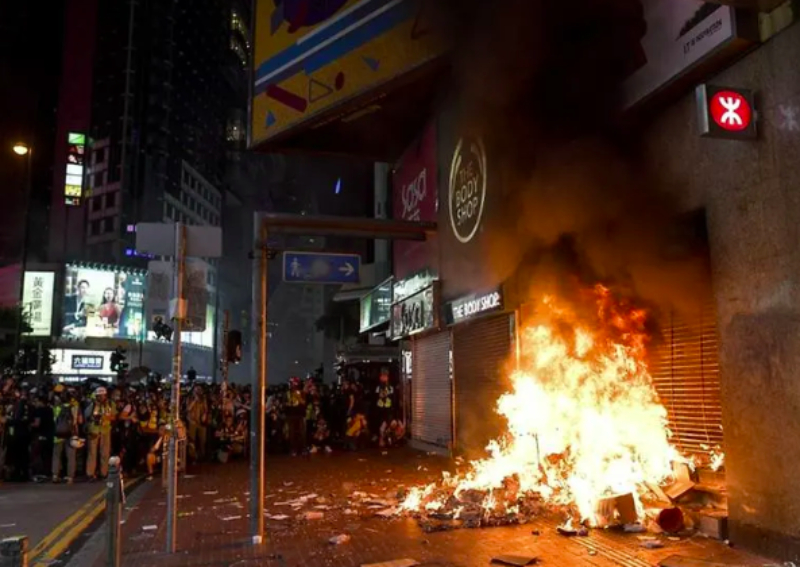 4/10/19:
Pro-Beijing Trade Union bureaucracy that participates in Legislative Council complains about being attacked "The Hong Kong Federation of Trade Unions, Hong Kong's largest labor organization, said its many service centers were attacked by rioters, who scrawled the walls, smashed the gates and broke window glasses. The HKFTU said some centers sustained damage so severe that their service might be suspended for days…Noting that the violence only made it firmer in its patriotic resolution, it urged the HKSAR government to come up with effective measures to combat violence and the police to bring rioters to justice." The HKFTU "…is a pro-Beijing labour and political group established in 1948 in Hong Kong. It is the largest labour group in Hong Kong with over 410,000 members in 251 affiliates and associated trade unions. Presided by Ng Chau-pei and chaired by Wong Kwok, it currently commands five seats in the Legislative Council of Hong Kong and 30 District Councillors. Being one of the oldest existing labour unions in Hong Kong, the HKFTU has a long tradition of following the command of the Communist Party of China… In the 1980s, the HKFTU took the vanguard role in opposing faster democratisation in Hong Kong… It allied with the Hong Kong government on many issues…Due to its government loyalist nature, industrial militancy has been remarkably absent from the HKFTU's action programme" – Wikipedia. Re. the president, Ng Chau-Pei – he is even more anti-democratic than Lam, having slammed the Appeals Court decision in September 2018 to free the group of 13 activists, who had each received jail sentences of up to 13 months from a lower court for unlawful assembly outside the Legislative Council on 13 June 2014, calling the judges "sinners of society", comments which Lam said were "unacceptable".
JPMorgan banker beaten by anti mask law protester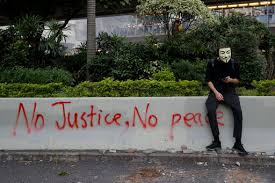 1000s wear masks in protest against impending anti-mask law "Large crowds of mostly office workers hit the streets during the workday lunch break over the pro-Beijing regime's expected use of colonial-era laws that opponents said would tip the city towards authoritarianism… "Youngsters are risking their lives, they don't mind being jailed for ten years, so wearing masks is not a problem," a 34-year-old office worker wearing a surgical mask, who gave her first name as Mary, told AFP at a protest on Friday afternoon… the city's subway system said 83 of its 91 underground stations had been vandalised in recent months after protesters turned on the operator because it began shutting down parts of the network ahead of large protests…Pro-establishment lawmakers and a prominent police officer association have ramped up their calls for the government to invoke the emergency laws, which were last used 52 years ago by the British during deadly leftist riots." Video "Protests in at least 14 neighbourhoods…" …Lam suggests more to come, such as curfews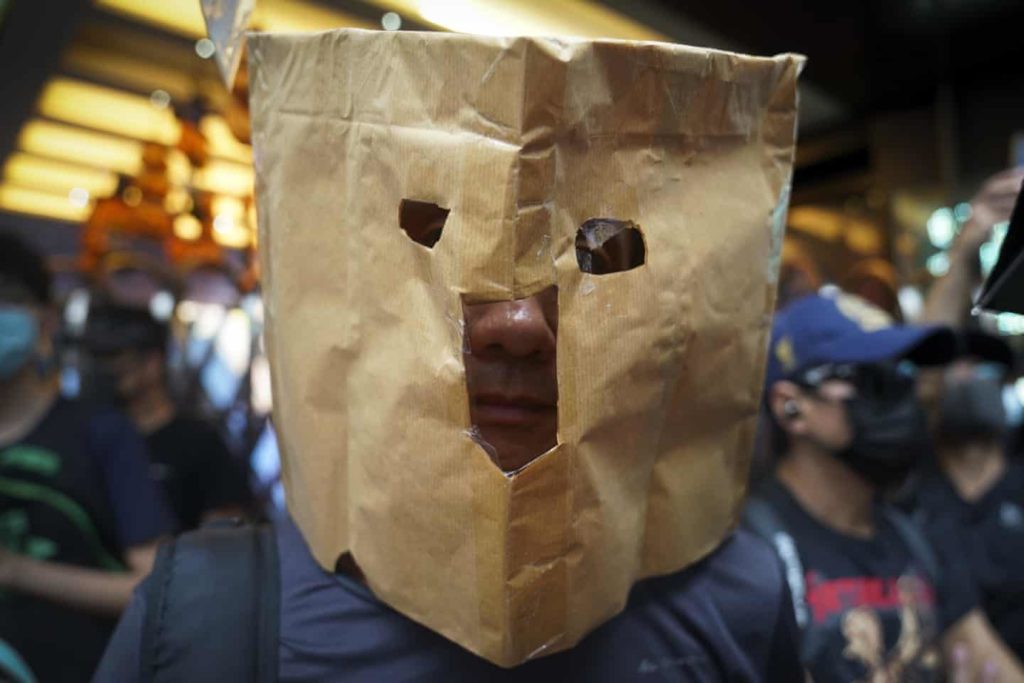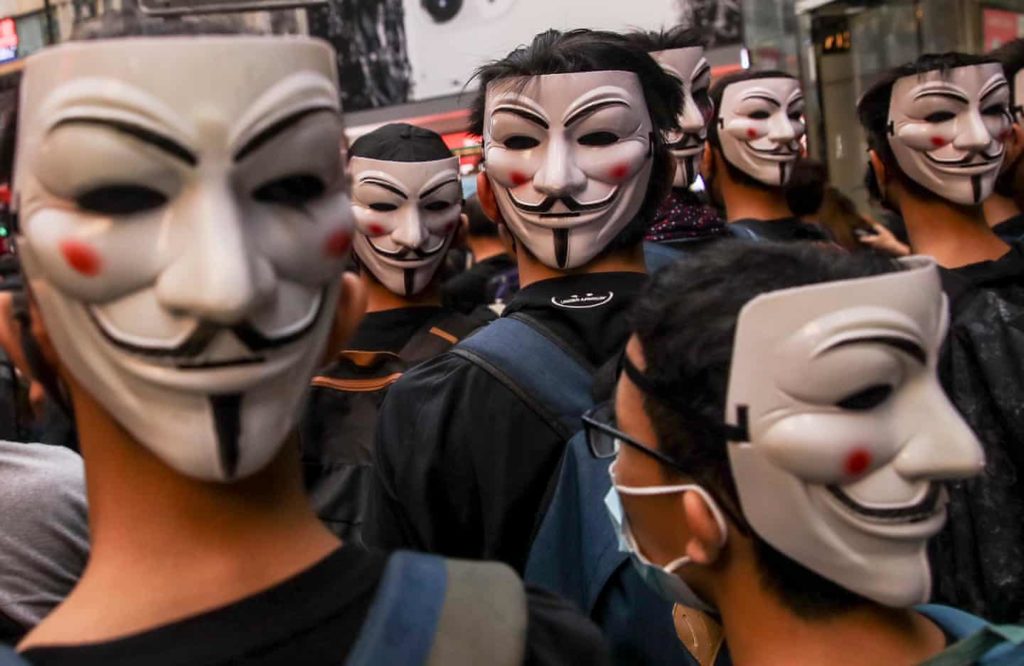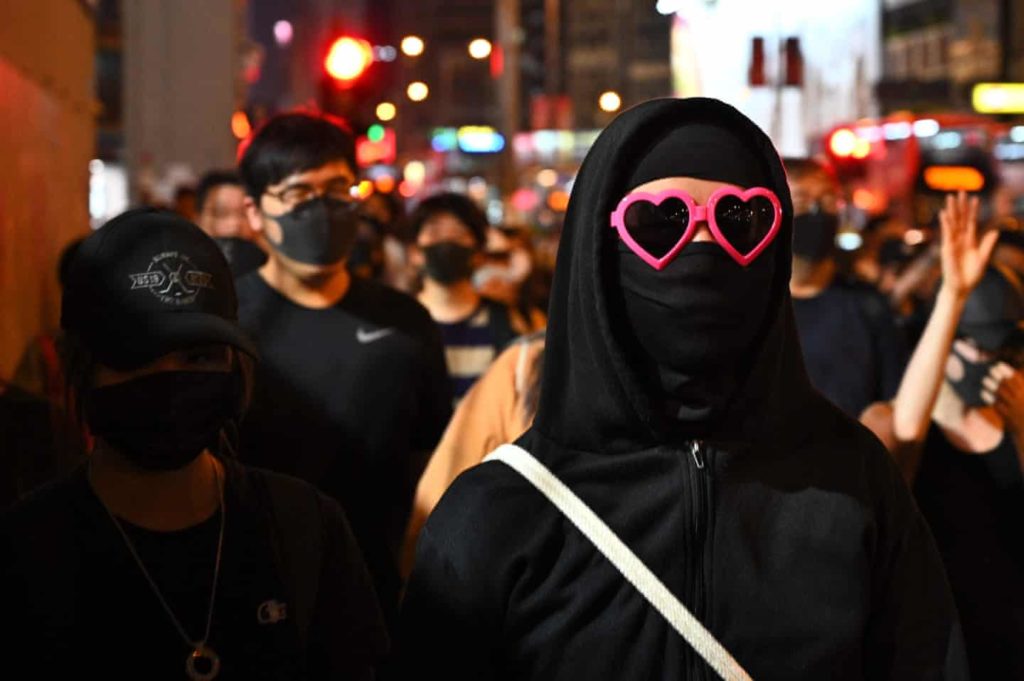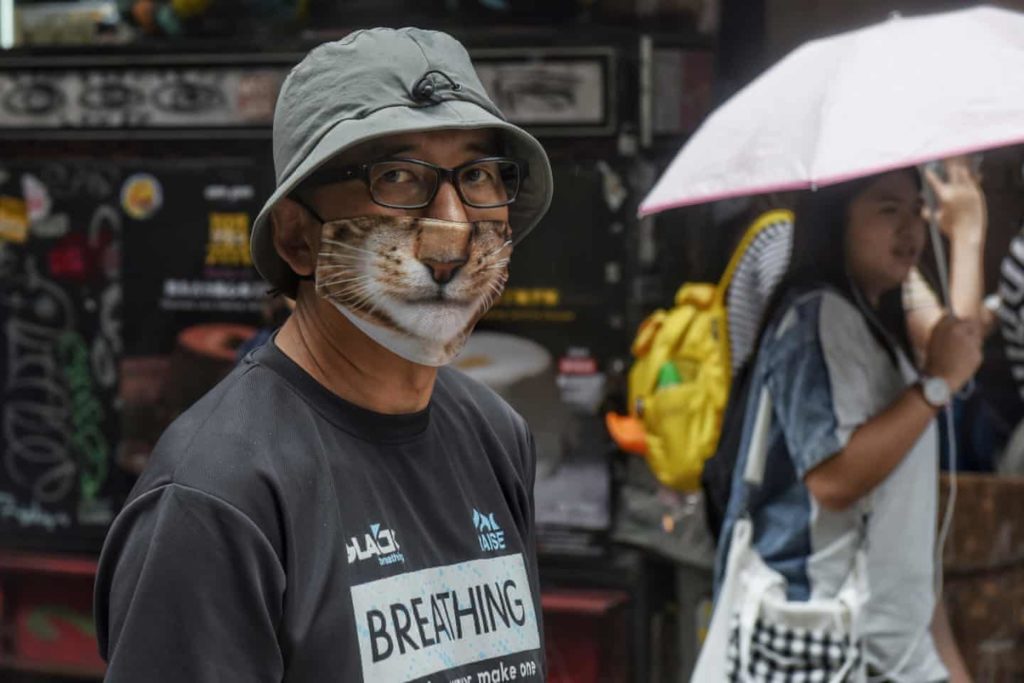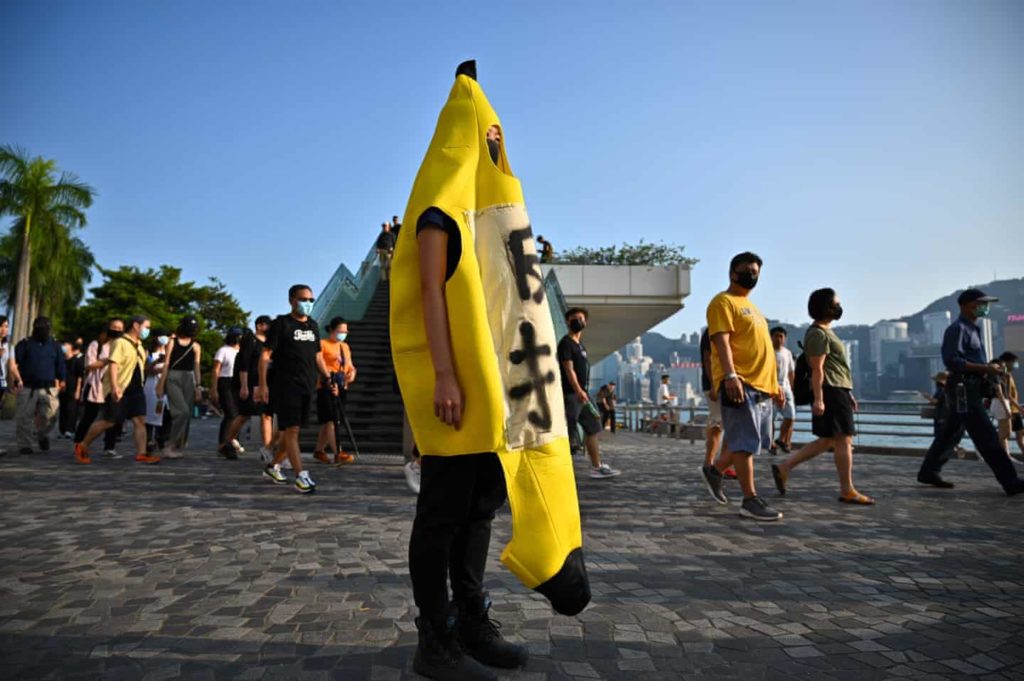 Nobody with a position in the social hierarchy has suggested that people remove the masks imposed by the system they profit from which are needed to hide their inner doubts, dreams and individuality, needed to repress anger and desire, masks that everyone is forced to put on in order to sell their labour and not get sent to an asylum, prison, or Coventry, masks that keep us separate, masks that above all "protect" us against the anxiety of genuine communication whilst also avoiding recognising the absence of genuine communication. There's an irony in the fact that those people who are forced to wear masks to avoid arrest are beginning to overcome these socially-required masks conditioned by the permanent pressure of the system: "Hong Kong people are famously phlegmatic, unexpressive. We don't talk much or effuse. But these days, we recognise something in each other, a common purpose, a common identity." – here
3/10/19:
Face masks to be banned …clashes begin in response to this proposal… Hong Kong police and legal experts say it'd be hard to enforce in streets and courtrooms "A police chief inspector who has been at the front lines of the protest crisis since June, said a ban on protesters wearing masks would "unnecessarily stir up more trouble". "Right now, only when we arrest protesters will they remove, or be forced to remove, their masks," said the inspector who requested anonymity. "But if the law is passed, a protester wearing a mask will be seen as provoking the police and asking for trouble. This will definitely cause more conflict." Another inspector said protesters would strive to find exemptions from the ban. "What if the guy says he wears a mask because has a cold and shows us a doctor's certificate? We'll have to give him reasonable doubt, and it will take a lot of time and energy to find out if he is really ill or not," the inspector said." There's an irony in the ideology of democracy of the movement here – in Canada, a democracy, you can get up to 10 years in jail for wearing a face mask, whereas Lam is proposing up to 1 year. In the UK in May a man trying to cover his face during a cop experiment with facial recognition cameras was jumped on and eventually fined £90, and this outside any demonstration (here). France has draconian anti-face mask laws, similar to the ones they're going to try to apply in HK.
Cops call for imposition of curfew as molotovs continue to fly "Hong Kong demonstrators clashed with police into the early hours of Thursday, throwing petrol bombs and venting their anger over the shooting of a teenager earlier in the week, as months of anti-government protests showed no sign of letting up. Police urged the government to impose curfews to help curb the escalating violence in the Chinese-ruled city, where officers have become a target of protesters amid accusations of excessive force. Activists went on the rampage in districts across the Asian financial hub late into the night, setting fires, blocking roads and vandalising shops and metro stations as police fired tear gas to disperse them. "Wherever there are protests nearby I'll come … I'm out tonight for a simple reason. You don't shoot a teenager at point blank range," said Alex Chan, an interior designer at a protest in the bustling shopping district of Causeway Bay."These protests will continue and we won't give up." . Thousands took to the streets on Wednesday to denounce the shooting by police of Tony Tsang…He has been charged with rioting and assaulting an officer…Rail operator MTR Corp closed stations in districts including Po Lam, Hang Hau and Tseung Kwan O just before midnight on Wednesday as violence escalated once again. All affected stations had reopened on Thursday."
2/10/19:
Further fury "A petrol bomb was thrown at the Tsuen Wan police station and a Bank of China ATM machine set on fire. Police used tear gas. But the police response was mild compared to the 1400 rounds of tear gas, 900 rubber bullets and 190 bean bag rounds fired at protesters on Tuesday. The Wong Tai Sin Mass Transit Railway station was flooded by protesters with a fire hydrant and multiple train stations were shut." For those who don't know what a "round " of teargas is, it's a cannister which explodes to release about 20 or so teargas pellets (at least in France it releases this amount; maybe not in HK). So 1400 rounds could mean 28,000 or so pellets in total. Some teargas is extremely, though temporarily, debilitating, though not sure whether in Hong Kong they're using the short-term, five minutes of blinding-cum-disorientation stuff that's been used in France since February. Ironic that some protesters wave the US flag when much of the teargas supplied to HK comes from the US, produced by wage slaves paid a measly $9.50 an hour. "… interviews with former employees found the company relies on American workers who are paid low wages to assemble products with hazardous materials and few safety measures to protect them. Employees described aging equipment that caught fire and injuries and severe irritation caused by working long hours with chemicals. After one of its buildings burned down, the company declined to rebuild the facility, instead shifting more of the production into shipping containers. The company has been fined multiple times for safety violations by the Department of Labor; the owner himself severely burned his hands in a fire while handling hazardous chemicals. Yet while its American workers are paid very little to work in potentially dangerous conditions, its shipments continue — largely to foreign governments who reap the benefits of its products, employees said, including Turkey, Bahrain, and Egypt during the height of the Arab Spring. "Your skin burns all day long. You're outside in a full suit and gas mask but it still burns," said Mike Dawson, who worked at Nonlethal Technologies for 15 years and became a supervisor. "You could never get used to it."
Cops had relaxed guidlines for use of lethal force a day before shooting
Hundreds take to streets to protest cop shooting of school student
High school students stage sit-in at school of teenager shot by cop …as business focuses on the the most tragic and important result of this movement – their deepened woes coming from plunging retail sales…and $4bn is moved out of HK to Singapore
1/10/19:
Cop shoots protester in chest …Video here and here and here More here " Video footage posted online showed a group of protesters chasing a police officer with a long shield into an alleyway, pinning him to the ground and beating him. Another officer in a gas mask then rushes forward with his service revolver pointed at protesters. As they clashed, the officer with his gun drawn was seen kicking Tsang, who swung his metal rod at the officer. At this point the officer pointed his gun and opened fire." …Cops apparently replace the teenager's plastic rod with heavy iron rod (report in Mandarin, but with more or less comprehensible video). No pity for the defenders of a heavily armed brutal order obviously but let's not fall into the left/liberal trap of seeing those who affirm their humanity against this world as solely victims. FTP ("Fuck the police"), tagged increasingly in Hong Kong, isn't just a complaint against their brutality but also, quite rightly, means trying to physically fuck them over. This is war and it's good to see sometimes that this is not just a one-sided war, that sometimes cops get a beating and the state and market forces are weakened. Nicey nicey moral complaining, as if this is Angels v. Devils, does nothing to encourage fully justified fury. But perhaps the fully justified fury for the whole of this stupid sick society becomes focused on a very specific instance of it (though not the worst). Sure, mass solidarity warns the state to back off and that's vital but peaceful outrage plays the victim role too much and avoids saying that it was quite right that that cop got a thumping, and it was brave and audacious of those youths to attack these armed thugs.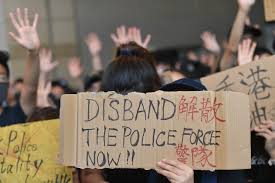 Some are calling for the dissolution of the Hong Kong cops – an impossible demand this side of a revolution, but healthy: the realisation of the 2014 student umbrella rebellion mirroring May '68 in France with their slogan – "Soyez realiste – demandez l'impossible!".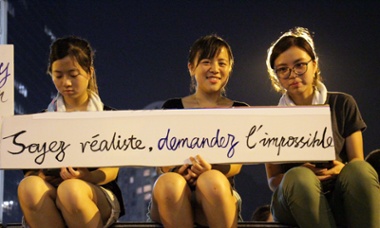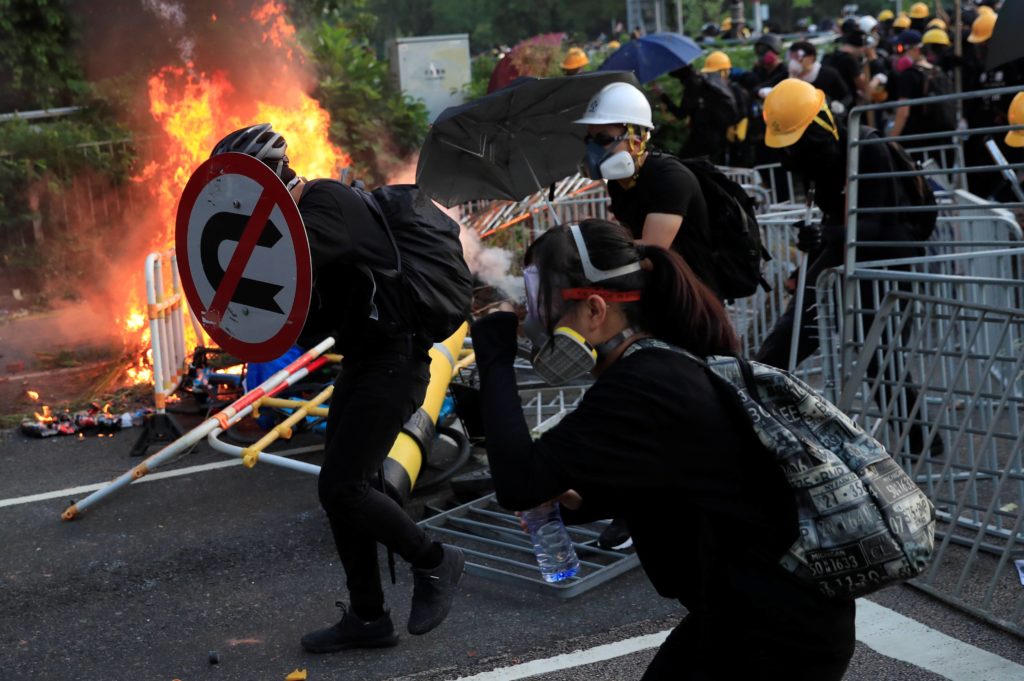 More here "Hong Kong protesters threw petrol bombs and police fired tear gas in street battles across the city …Police fired water cannon and tear gas to try to disperse protesters throwing petrol bombs outside central government offices in the Admiralty area of Hong Kong island and ordered the evacuation of the Legislative Council building, trashed by activists weeks ago, next door. In the New Territories town of Sha Tin, police fired tear gas canisters directly at high-rise windows, though it was not clear why, as the Chinese-ruled city was gripped by the most widespread violence in nearly four months of unrest. Police said "rioters" had used corrosive fluid in Tuen Mun in the west of the New Territories, "injuring multiple police officers and reporters". More here "At least 66 people were injured, four of them seriously, and over 180 people arrested, police said. The demonstrations also paralysed much of the city, forcing the shut down of nearly half its metro stations as authorities tried to prevent larger crowds reaching protest sites. The chaotic scenes over-shadowed a carefully-choreographed military parade and evening gala meant to celebrate China's rise to global super-power status, and showcase the rule of strongman president Xi Jinping. The shooting of Tsang caused particular outrage in Hong Kong and around the world, with the UK calling the use of live ammunition "disproportionate" and Amnesty International calling for an urgent independent investigation."
Trump congratulates Xi on the 70th Anniversary of the People's Republic of China
On the 70th anniversary of the People's [sic] Republic of China, it's worth reminding ourselves of the Tiananmen massacre. See particularly "The Meaning of Tiananmen" . This received a disclaimer from libcom's admin on their utterly compromised site,  a sign that the article is almost certainly worth reading. The disclaimer claims that the article has factual inaccuracies, but they can't be bothered to give even one example of an inaccuracy (there is one – it talks of 1989 as being 30 years after the CCP took power, when it's 40 years, but that's more an easily recognised slip of calculation rather than an inaccuracy). Re. this libcom version, the author, Burt Green, writes:
"The version of my 2004 essay The Meaning of Tiananmen on the libcom.org website doesn't have the graphics or the footnotes with which it was originally produced, and it was pubished without my knowledge or approval.
To compare this piece with that of Katsiaficas, who, years later in 2012, attempts to (re)tell a much longer story of the event, shows what is at best, the bad judgement of Nao and of their obliging hosts at libcom.org, who, in all liklihood, simply took Nao's evaluation as given without troubling to look too deeply themselves.
The two pieces of writing were never attempts at the same object. I wrote my little essay as a reaction to the plethora of books and articles which had come out at the time (among them the crucial text of documents reflecting the struggle within the CCP leadership that concluded in the decision to massacre, The Tiananmen Papers), without, as I saw it, adequately assessing the novelty, profundity, or global implications for social contestation, of the movement whose eruption had led to a crisis of Chinese bureaucratic capitalist power. I took for granted that there was already a great deal of factual material that had been made public by well-informed scholars and witnesses for those who cared to inform themselves in detail as to what had happened, and deliberately kept my narrative of events to a near-absolute minimum, limiting myself to only what I thought essential to the support of my argument.
Katsiaficas, writing in another context, chose his approach to spare his readers the effort of investigating, or selecting from, the existing literature themselves.
My principle motivation was an ovewhelming frustration at the lack of a suffiently incisive analyses of the events presented in the existing stream of literature and the failure to draw conclusions which I felt were obvious, and so consequently I wrote a libertarian communist polemic. In it I put forward the thesis for the first time (as even Nao has had to admit) of the Tiananmen Square occupation as the advent of a new form of mass contestation expressed through the taking possession and self-organizing of social space (inspired to some degree, it must be admitted, by certain ideas in the first book by Kristin Ross on the Paris Commune). To put it another way, I wrote what I did solely to provide a weapon to the proletariat in its fight to abolish class society. "Burt Green" has no "name", no credentials, no institution, and no career aspirations.
Katsiaficas' motivation seems primarily to have been the pursuit of his academic and journalistic career, an impression not at all belied by the unoriginal and unrelievedly leftist presentation I had seen him give to promote his book at an anarchist book fair in San Francisco.
What I had written, bad self-proofreading (quite possibly a redundant term) notwithstanding, was at least in good faith – unlike what I suspect of Katsiaficas' Dan Rather citation (which I had fortuitously caught off a live TV broadcast), like as not snatched from the beginning of my piece (which he never mentions) and inserted as one of three quotations at the head of his, a thing evidently beyond the notice or speculation of Nao or the site administrators. It should be additionally noted, and more firmly established, that libcom.org. itself, in its choice to put up without footnotes what I had written (if not for its silence on Katsiaficas' eyebrow-raising choice in citing an estimation of June 4th casualties as "as many as seven hundred"), has betrayed an attitude toward the business of accuracy rather at variance with the strict disapproval registered in its unsolicited introduction to the piece it had elected to mutilate.
Altogether, in spirit, in execution, and in its goal, what I strove to accomplish was neither intended in the realm of journalism nor in the pursuit of some career, which is precisely where Katsiaficas' work is for the most part situated. It is disappointing but not altogether surprising that Nao and libcom.org, both, would be unable, or unwilling, to tell the difference."