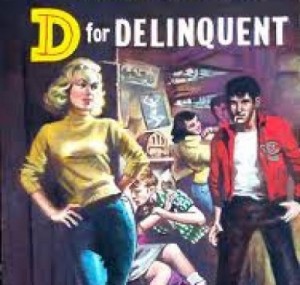 a chronology of events and some reflections, updated daily
Updates on this page ended on 17th July 2014, and there will be no further updates.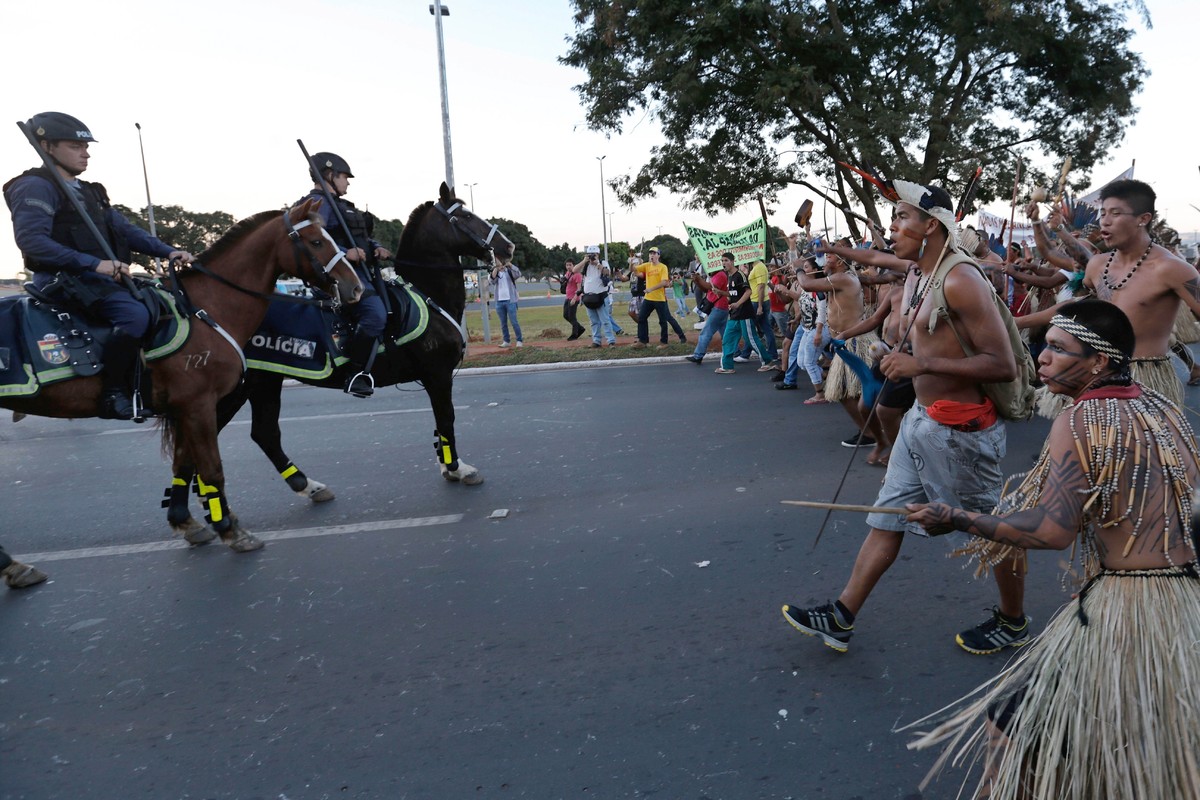 Anti-world cup confrontation, 27th May 2014
"Ironically, it was precisely at the moment that we managed to defeat the fare increase that we started to lose."
– from a sadly beautifully brutally honestly written email from a young participant (see the whole text under the entry for 7/9/13)
A chronology of events beginning with the present and working backwards (taken from the "News of Opposition" page on this site). It goes back to the amazing uprising of last summer, and is interspersed with some reflections on various aspects of all these events. The events described are not  exclusively about the world cup – for example some are about the flashmob movement at the beginning of this year, others about Amazon Indians occupying dam construction sites, others about strikes for wage rises.It includes a text, "Genocide & Spectacle" as addendum 2, at the end. Originally I thought this had only recently been translated,  and had been translated from the French but in fact it was translated into English [by Contra Info] in June 2012 from the  Portuguese original text. A month later, in July 2012, it was also translated into French [by Contra Info] from its English translation. It's also available as a pdf here and  also as an online version here. The  French version is available here
This chronology will be updated each day or two. And reflections will be either added or linked to also.
For instance, this brief essay about football fans and the world cup, just written by me (18/6/14):
....ve haf vays of making you happy…..
17/7/14:
podcast by Crimethink about Brazil (includes a reading of "ve haf vays of making you happy") 
The World Cup discussion is from 29:23-1:01:20, and "ve haf vays…" appears from 49:25-59:20
13/7/14:
Rio: small confrontations between demonstrators and cops (another video here)
Report in Spanish here: "The police on Sunday dispersed  about 300 protesters against the World Cup, who wanted to approach the Maracana stadium minutes before the start of the 2014 World Cup final, with tear gas and percussion grenades. Protesters ran in small groups in every direction  to escape the tear gas. At least one young man dressed in black was arrested and beaten by police,  a journalist from the Afp discovered. Mounted police were deployed to confront the protesters, surrounded by hundreds of members of the security forces in a square in the popular district of Tijuca, a mile from Maracana where Argentina faces Germany in the final of the World Cup. Many protesters left, with about 100 remained in the square, clapping and singing songs against the police. Hundreds of police had blocked the road shortly before the protesters march to the stadium, using pepper spray against some who wanted to cross the barrier. The protesters carried signs that read "Free the prisoners" and "Protest is not a crime," referring to the 19 activists arrested Saturday and charged with vandalism in other protests in Rio de Janeiro. Others said "Fuck FIFA,"…Protesters call for more investment in health, education and transport, rather than in stadiums. "We are against the Cup for the way it has been done. It has become a tool to centralize wealth, social inequality and of state repression," … "The police apparatus is so large that any action is almost impossible. We join social organizations to ask them to release those who were arrested and respect habeas corpus," he said. A total of 26,000 police and soldiers on Sunday guarantee security in Rio de Janeiro, the largest apparatus in the history of Brazil….. detainees …. may face a penalty of up to three years in prison on charges of belonging to an armed group." [rough translation]
One of the constant themes of these demos has been insufficient spending on education, without the slightest (as far as I can see) discussion of the function – the form, content and goals – of  official notions of "education"
8/7/14:
radical film about situation in Brazil:
Although I said a transcript of film will follow, in fact I only have a part of the transcript (see addendum 3, following "Genocide and Spectacle"), and this is from a larger interview with the old man, only a small part of which was used in the film.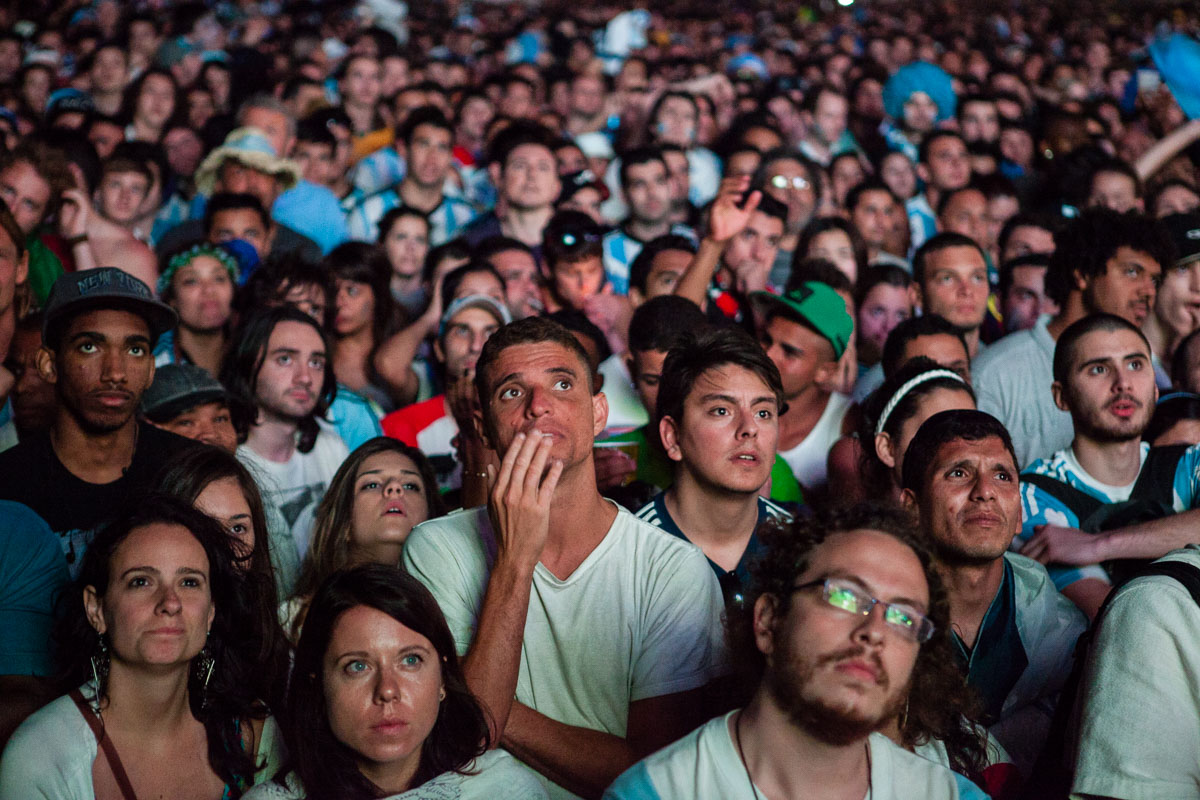 "…a role he felt obliged to play – to put on a show of joy when the team won, to be sad when they lost; it was something he felt obliged to play as an unwritten rule  of his friendship with the other fans." – ve haf vays of making you happy
"Several buses were set on fire and an electronics store was looted in Sao Paulo late Tuesday following Brazil's crushing World Cup defeat to Germany…Folha de Sao Paulo newspaper said on its website that some 20 buses were torched in a garage where unused vehicles were stored…Another three buses were set ablaze in other parts of the mega-city….Looters ransacked an electronics store in the east of the city….Belo Horizonte…A section of the crowd chanted obscenities against the players and President Dilma Rousseff, who during the cup had mostly enjoyed a reprieve from protests over the record $11 billion spent to host the tournament…."This is a terrible match ..I hate this match. It's embarrassing to lose like this," said Beth Araujo, 24, a biology student. "The only good thing is I think it will affect President Dilma in the election. But all our politicians are even worse than the team". In tears, Maria Jose Costa Almeida, 35, asked: "Why spend so much on stadiums, bring the cup to Brazil, to win nothing?"
video of violent protests in rio
protests in Recife met with tear gas launched by mounted cops; Belo Horizonte: Brazilian flag burnt, tear gas launched against mini-riot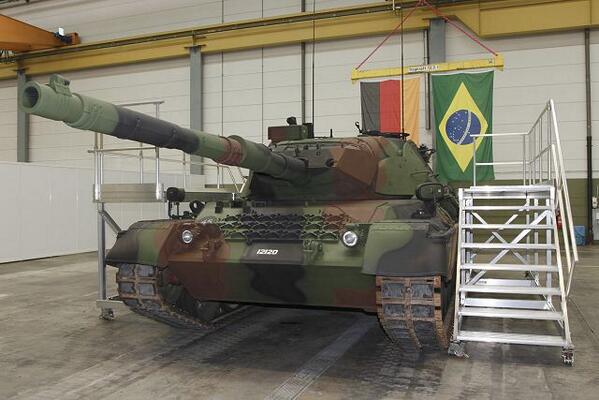 The Brazilian team's transport arrives at Belo Horizonte stadium
riot photos from 2013 but claiming to be a response to Brazil's defeat, posted on internet
Lies – those claiming to provoke revolt as much as the dominant ones – cannot help confront this world because they merely add to a world fundamentally based on lies, to the point that nobody believes in any facts presented to them whatsoever, adding only to their cynicism and resignation. If one doesn't strive to tell the truth, if you mix lies and facts up, then nobody believes you when you're adamantly telling the truth – like the little boy crying wolf. Thus, the photo of the riot from 2013 was connected by some of the media to a flag-burning which they made out was also from 2013, even though in fact it was a flag burnt in Belo Horizonte just after Brazil's defeat. Lies and facts get so mixed up that simply telling the truth is an absolute minimum necessity for those struggling to create an honest life (which has nothing to do with the dominant falsification of the word "honest", meaning "not doing anything illegal").
3/7/14:
Lula denounces opposition to world cup as "terrorist"
Rio: smug scum claims "Brazil has stadiums that are works of art"… shortly before overhead pass collapses in Belo Horizonte, killing two …ars longa, vita brevis

1/7/14:
Sao Paulo: 300 demonstrators calling for the release of those arrested (accused of   Black Block conspiracy) dispersed with tear gas and rubber bullets (more here)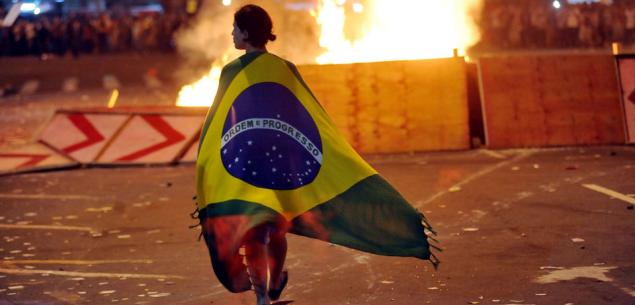 "order and progress"
Salvador: "save favelas children" protester interrrupts US v Belgium game
30/6/14:
Rio: 3 buses and car torched in protest; cops roll out standard claim that  it was provoked by drug gang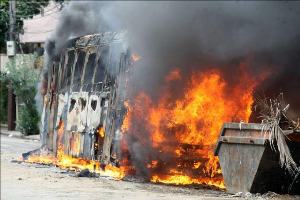 burning bus
29/6/14:
Rio: silent protest at Copacabana beach
"Around 100 demonstrators covered their mouths as a symbol of their voices being silenced by what they claim to be police repression"
28/6/14:
Rio: cops tear gas demonstrators outside Maracana stadium
"The political elite and FIFA are manipulating the people."
27/6/14:
Rio: some of the local state's methods of getting people to evict themselves
"…. in an effort to coax residents to accept a cash payout and leave, the city has uprooted and torn out many of the trees. The city has also, according to residents, slowed garbage pickup and kept streetlights sporadically turned off at night. They cannot legally just evict people from their homes if they want to remain. But they can make life uninhabitable for those who stay….they offered larger payouts for those who would willingly leave—but only if they could convince two other families to pack up and go as well. This pyramid scheme of people's lives embittered those leaving against the holdouts. …The city also said—falsely—that an injunction against demolitions won by the Neighborhood Association prevented them from providing payouts to those who wanted to depart. All of a sudden, the Neighborhood Association, which has provided leadership and strength through several difficult years, became an enemy for a minority of residents. A rock was even thrown through their window."
From the same site as above: an article on the miserable environmental effects on Brazil of the world cup
26/6/14:
liberal report on repression of protests
"[the police] also have taken the offensive, liberally interpreting two already-controversial laws, one aimed at international criminal organizations and another that bans covering the face in protests which was clearly intended for the Black Bloc, not the majority of peaceful protests.  Using the first law, police have been surrounding protestors before they even gather to protest, searching backpacks, shoes and pockets, then moving on to full, groping, body-frisks, visible to everyone.  Under the pretext of the second law, police swooped in and arrested five of six women who were banging on cans, not because they were wearing masks or scarves, but because their faces were painted. Uniformed cops have also been walking through the marches with large video cameras, pointing them at absolutely everyone. Given the prevalence of facial recognition software and considering the fact that Brazil was under an infamously brutal military dictatorship within living memory, such camera presence is highly provocative and intimidating. In Rio, the day the Cup tournament began, the police camera followed a small group of Black Bloc youths   after the march had finished. Despite the fact that the Bloc had kept its promise not to use violence, police grabbed one out of the group for arrest."
25/6/14:
Rio: riot after stray bullet from cop v gang shoot-out kills 3-year-old; several streets blocked, at least 6 buses destroyed (not about world cup at all, but….)
report on protests in Recife, and the crackdown on them
report on how Condor Nonlethal Technologies is making big bucks out of repressing the movement against the world cup
"Condor's large range of riot control technologies are shipped abroad to hundreds of cities around the world, including to countries with documented human rights abuses."
Based in Rio, their address seems to be Rua Armando Dias Pereira 160, Adrianópolis 28053640 Rio de Janeiro  and their phone number is apparently  +55 21 3974 3355
23/6/14:
"International TV channels only show the party but  reality is different –  people are dying"
new text on the black bloc in brazil 
Written by a professor, a student and an author/cartoonist/graphic designer; one suspects that this is a modern form of recuperation – people playing both sides – making their careers out of research into and even support for proletarian violence…But it's a risky form of "theorising" – as Negri found out in the 1970s…
22/6/14:
protests continue on small scale (video)
Several mini-riots in France after Algeria's win:
 Grenoble: after Algeria's football victory against South Korea, clashes with cops lead to   a dozen cars and an empty bus being burnt…Lyon: several clashes with riot cops after Algeria's win (and a shop looted)…similar scenes in Roubaix near Lille (20 cars burnt, shop windows smashed, bins burnt, supermarket on fire) …..Maubeuge and Feignies also
Football riots, when they attack the cops or other aspects of this society, rather than opposing fans or bystanders, are fine, even if they are usually pretexts, symptomatic of a hatred for the organisation of this world. The fact that a previous loss by Algeria's team also sparked a mini-riot or two in France, shows how much it's a pretext: nothing wrong with pretexts (almost every social movement involves those who use it as a pretext to express their rage against the real enemy) but we obviously have to go beyond them. Sports' riots too are historical: in reactionary epochs the more miserable viciousness of fans' rivalry tends to dominate, but when social conflict is being expressed in other areas of life more openly in times of more general contestation,  sports riots also  tend to express themselves more clearly against our real enemies as well as liberating a more positive partying friendliness(e.g. the Stanley Cup riots in Vancouver in 2011) .  But rarely do they see themselves, in even some limitedly explicit manner, within some social context and only very unusually do they involve some kind of development, some sense of advance and retreat (though there have definitely been significant situations globally when football fans have joined in social movements and supported them, including instances in Brazil in 2013). This might seem a rather "politically correct" judgement, but , for instance, it's very rare to hear of sports' riots being followed by some solidarity actions for those arrested, which would indicate something other than the need to  explode in some largely  nihilist moment.
20/6/14:
hackers take down world cup site in Brazil
"…the group claims to have started more than 100 attacks since the World Cup began. Their targets have included the Brazilian Intelligence System, Hyundai Brazil, the Brazilian Football Confederation, Brazil's Justice Department, the Sao Paulo military police, Bank of Brazil and the Africa.com.br website. This week, the group claimed to have hacked the internal servers of the Brazilian federal police."
Germany, Hamburg: demo in  solidarity with those fighting the World Cup in Brazil
"30-40 people demonstrated spontaneously and unexpectedly in the Schanze district to express their hatred towards FIFA, the  states and their minions and their solidarity with those combatting them in Brazil. During the demo, slogans were daubed such as "Fuck Fifa! "Leaflets were distributed, fireworks were lit and the Adidas shop in Schulterblatt   Street was honored with stones and paint. The crowd dispersed just before the cops showed up"
More information: http://wm2014.noblogs.org/
  19/6/14:
Sao Paulo: protesters smash bank windows etc.
"Television images showed groups of masked men spray painting graffiti on cars, firing off rockets and smashing public property as police responded with tear gas."
Videos in spanish here: http://www.youtube.com/watch?v=fm7DplCSFvc and here: http://www.youtube.com/watch?v=wqSb67fkalk
18/6/14:
Chile, Santiago: 527 buses vandalised as Chile fans celebrate winning against Spain
Article from April 2013, only just pointed out to me, linking  the killings of homeless people in Brazil with deliberate social cleansing in the run-up to the World Cup (more, in French, here)
Rio: Chile fans break through security barriers, storm media centre
pictures of anti-FIFA projections
Sao Paulo: biggest demo against world cup since it started
Recife: cops brutally shut down protest camp
"Ivan Moraes Filho, who works for a local human rights organisation, said he was shot in the head by a rubber bullet. "I was tweeting on the sidewalk when they surrounded me. I asked where was a safe place and then tried to walk away. They shot me three times – once on the head and twice on the right arm," he said. "The police didn't attempt to mediate. They were just shooting and spraying randomly".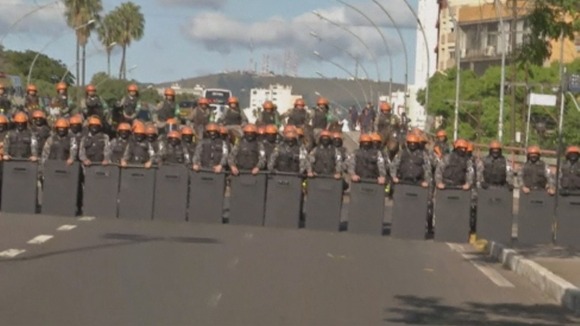 Above: riot cops policing small peaceful demo in Porto Allegre
17/6/14:
Various attacks on cops, and other stuff, throughout France after Algeria lose to Belgium (link in French)
"During the night from Tuesday to Wednesday, incidents took place in a dozen cities….mostly trash fires and stone throwing. No injuries have yet been reported. The most important tensions were recorded in the Lyon area, especially in the 3rd and 7th districts, where a bus had broken windows, and Vaulx-en-Velin, where more than a hundred police were mobilized. Many supporters had gathered on the  Mas-du-Taurus estate, where they attacked the security forces with mortars and projectiles, police replying with flashballs. Two suspected rioters have been arrested. At Saint-Fons, in the suburbs of Lyon, a car was burned, firefighters working on the fire themselves being attacked…. Elsewhere in France, hundreds of police had to be mobilized to Longwy (Meurthe-et-Moselle) to contain a mob of 150 people…".
Various clashes and arrests in different parts of Brazil
"In southeast Rio de Janeiro, at least 15 youth were arrested at a downtown demonstration demanding free public transportation service, in the wake of a recent bus fare hike. In southeast Sao Paulo, at a FIFA-sponsored Fan Fest, where fans with no tickets to events can watch the games for free on giant screens, a group of violent protesters tried to force their way into the venue. "
Fortaleza: clashes between demonstrators and cops
More, daily updated, information, in various languages, here
Another article, mainly about the favela evictions and the Homelesss Worker's Movement
16/6/14:
Curtiba; cops fire rubber bullets as black bloc  block roads with burning bins and smash bank windows, whilst in Natal about 300 block main avenue (link in French)
Interview with Sao Paulo anarchists here
15/6/14:
cop shoots live rounds in Rio….protests  in Porto Allegre and Brasilia
"In Rio de Janeiro, in the early evening, Argentina, Bosnia played at the legendary Maracanã stadium (renovated in a project that cost € 342 million). It was the first game of the 2014 World Cup to be played in the city of Rio. Meanwhile, a demonstration of more than 200 people took place outside the stadium. With an impressive police presence, the demonstrators were violently repressed as they  approached the Maracanã stadium (stun grenades and tear gas, in particular). Despite the repression, the event continued in the streets and neighborhoods of Vila Isabel Tijuca, where several banks were attacked. " (from here) (video here)
14/6/14:
 Various forms of police repression throughout country…protests against FIFA's totalitarian exclusion zones
More here in French:
"In Fortaleza, capital of Ceará, the event went quietly, at the first match being played in the stadium of Arena Castelão (Uruguay, Costa Rica). The protesters, who numbered about a hundred, blocked roads in several places, especially near the stadium where the match was to be played, shouting slogans such as "Death to capitalism."
Zurich: solidarity actions with Brazilians against the world cup
"Approximately 150 people (according to the bourgeois media) demonstrated today in front of the FIFA headquarters in Zurich.
By imposing a whole bunch of rules, and even special laws, FIFA is co-responsible for a lot of actions and acts committed by the Brazilian government following the decision seven years ago to organize the World Cup 2014 in Brazil (including of course the hundreds of thousands of housing evictions, especially in the favelas, and the gentrification process that has accelerated in recent years in several major cities).
The demonstrators arrived  behind two banners "Love Football, Hate FIFA" … and "Não Vai Ter Copa" ("The cut will not take place", slogan of Brazilians opposed to the World Cup organized by FIFA). Smoke and black anarchist flags cheered the demonstration before it arrived at the FIFA headquarters.
On site, the facade of the building was "painted" with red paint being spread, for example – on the logo of FIFA."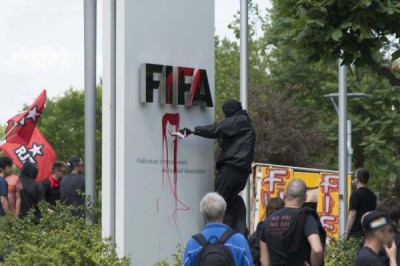 See also solidarity action in Berlin, 12/6/14
Sao Paulo: soaring rents near stadium
"Since Sao Paulo's Itaquerão stadium was built, residents living in its vicinity, including retirees and families with children, told Al Jazeera their rent jumped between 20-35 percent, and new costs associated with living near the stadium were now too hard to manage. On May 2, a group of the Movimento dos Trabalhadores Sem-Teto (MTST, Homeless Workers Movement) took action on behalf of about 4,800 homeless people living near the $350-million stadium, where the first game of the World Cup will take place on Thursday, and set up camp. Residents call it the "People's Cup" and they have flown the red MTST flag to protest billions of dollars spent on the stadiums, rather than housing. Now, after living in the squatter's camp for more than a month, they have a possible victory. The government reportedly has agreed to build new homes in the camp for "People's Cup" residents, which the MTST said was a huge success."
A success of sorts, but I guess this is a clever tactic to take the heat out of the situation, to maybe divide the movement against the cup, to concede basic necessities for some but not overall (see also the final entry for 9/6/14), and maybe to concede them just temporarily.
13/6/14:
Salvador de Bahía : riot during the Spain-Holland match
 "there have also been disturbances that continue to multiply throughout most of Brazil."…(more, in French, here, though they've put the wrong date)
"Friday, June 13, just before the Chile-Australia match which was played in Cuiabá, dozens of people protested quietly in the streets of the capital of Mato Grosso, called by the  Comitê Popular da Copa (People's World Cup Committee ) behind banners against "the World Cup of the  rich" and "FIFA go home" under the massive surveillance and military police (note the threatening presence of two helicopters).
Just in Cuiabá, 780 housing eviction proceedings are currently under court order. The organization of this World Cup is obviously not solely responsible for this state of affairs, but  it has added to the stone edifice of bourgeois private property, through processes of urban restructuring in certain neighborhoods.
…The demonstrators are also protesting against the sexual exploitation of women and teenagers during the World Cup and a lot of sex tourism.
A tribute was also paid to 32 year old Mohamed Ali Afonso Maciel, a  worker who died of electrocution on the site of the Arena Pantanal Cuiabá Stadium that was built specifically for the World Cup, in a city where  football culture is much less present than elsewhere in the country (the first club of the city is in Division 3 and attracts very few spectators). This stage  cost about 185 million euros and will only host four matches during the World Cup. And after? We remember that part of the stadium site was burned on October 25.
12/6/14:
 Berlin: an Adidas store, FIFA's main sponsor, is attacked, its glass facade shattered, in solidarity with the insurgents of Brazil
Communique: "Nao Vai Ter Copa! "- There will be no World Cup!
Fifa in general and the 2014 World Cup in Brazil in particular, are an excellent example of how government, business and international institutions such as the Fifa find common cause for more control, image and profit.
That eight people died on stadium construction sites,  is "only" the visible tip of the iceberg of the brutality and perversity of this World Cup: such as the demolition of homes and evictions of entire metropolitan areas, the so-called "struggle" against the drug lords, the price increases for transport tickets or the everyday racism against people of the favelas …
The message is clear: Brazil wants to present itself as a "first order" industrial nation,"pacifying" the poor areas and offering multinationals like Adidas and Coca-Cola together with FIFA a new stage of commercialization.
Sao Paulo: clashes with cops as official holiday is declared in the city (video) (see also here and  here)
"Riot police were deployed in Sao Paulo ahead of the opening World Cup game amid clashes with protesters. Within 10 minutes of the demonstration, officers had reportedly fired tear gas and sound bombs, and arrested one, according to local press. A foreign journalist with American news channel CNN was also reportedly injured in the confrontation. The protest started in the east of Sao Paulo, which will host the opening ceremony of the World Cup from around 3pm local time this afternoon. More than 10,000 protesters were expected at the anti-World Cup protest organised on Facebook. According to news website G1, police clashed with around 20 protesters near Carrão metro station. There were also reports that Molotov cocktails were thrown in the city near the municipal chamber. There were four protests planned in Sao Paulo yesterday morning.. The demonstration closest to the Corinthians Arena, where Brazil played Croatia, was reportedly invaded by a movement known as the People's World Cup… ."
Rio: ITV studio pelted with rocks…riot cops called in to protect BBC
Gary Lineker, above a picture of riot cops, says "Best defence on show this evening, right outside the TV studios"
(more on this, including video, here)
3 workers died constructing the Corinthian stadium in Sao Paulo, 5 on stadium construction sites in other parts of Brazil. Meanwhile, Pope Francis delivers his message of support for the World Cup: "To win one must overcome individualism, egoism, all forms of racism, intolerance and exploitation of human beings"
And news from other parts of Brazil (link in French):
"Calls for a demonstration on Thursday in nine of the 12 host cities of the World Cup  circulate on social networks. In Belo Horizonte (center-west), bank branches and shops have barricaded their fronts for fear of vandalism. Two events are planned in Rio de Janeiro, one in the center in the morning, the other on the Copacabana beach in the afternoon, not far from FIFA's fan-fest.
 Strikers blocked the main access road to the terminal of Carlos Jobim / Galeao Rio International Airport  for a while,  causing a traffic jam and passengers to miss their flight. In Natal (northeast), a partial bus strike caused queues."
International Day of Resistance. Lots of planned World Copa-lations in Brazil and now in London:
"12th June is Valentines Day in Brazil. It's also the day the World Cup begins in São Paulo. In London the Brazilian Embassy is organising a huge party to kick off the World Cup this side of the world. We know, however, that there won't be any World Cup, so we invite you all to turn off your TV and increase your enjoyment of this moment by having a delicious sexual international intercourse in public space! We will copulate publicly in Trafalgar Square from noon to 7 pm.Bring all your most preferred flavoured ice cream and condoms, your costumes, fetish costumes and sexual props, your partner or your neighbour its been a long time you wait for having a good reason to invite out. We encourage you to make safe sex with respect with whatever you feel like is gonna crack down the World Cup and give you lots of pleasure! Considering some of you might be shy to come in public, we encourage you to build up an improvised tent or why not bring along your hammock to share with a lovely gringo?…
…Our orgasm is not to make the World Cup."
"Several protest groups have called on Facebook for their followers to gather in downtown Sao Paulo on Thursday at 10 a.m. (1300 GMT) and then head toward the Arena Corinthians, some 12 miles (20 km) east. The game is set to start at 5 p.m. Surveillance indicates some protesters are planning to evade police barricades and cut off Radial Leste, a key thoroughfare that will be used by VIPs to get to the stadium, according to three officials informed of the intelligence.
Protesters or disgruntled subway workers who have taken strike action this month may also try to obstruct the train line that most fans will use to get to the game, the officials said. Police have strict orders to keep roads and public transportation open. "If the protesters try to keep fans from arriving, the situation could get ugly," one official said on condition of anonymity. "Police will keep the roads open, I guarantee."
Politicians ordered police to maintain a hands-off stance throughout much of last year, when protests were composed largely of the middle class. But the tone has hardened as the Cup draws closer and polls show that only about half of Brazilians approve of the protests, down from 89 percent last June."
"Using this week's opening of the World Cup as momentum, the fired workers gathered once more to stage a protest. They chanted: "Adidas penindas!" (Adidas is an oppressor) and "Adidas kaya raya, buruh menderita!" (Adidas is rich, the workers are suffering)."
9/6/14:
Brazil, Sao Paulo: supporters of metro strikers block traffic, set fire to bins (link in French) 
"This Monday, three days before the start of the World Cup, the military Police in Sao Paulo dispersed, with tear gas, hundreds of protesters, from groups that support the strike by subway workers …The protesters had blocked, at 06:00 (09:00 GMT), Central Avenue Vergueiro in the financial capital by setting fire to garbage cans, blocking traffic, when police charged to make way for motorists…The strikers are to meet on Monday at a General Assembly at 13.00 (16.00 GMT). They gradually revised their demands down to 12.2%, while the state government of Sao Paulo won't go above 9.5%. They also require a guarantee that no employee will be dismissed at the end of the strike. "I protest for my rights. There is no agreement, only bombs and repression, "said  Wesley Anderson, 23, on Monday, who works at the information service on line 2."
But – after all the typical bluster – the union suspends the strike.
"Less than four days before it hosts the opening game of the World Cup, São Paulo became the scene of protests, street fires and teargas on Monday as striking subway workers brought chaos to the city……..Security is also a major concern, particularly in Rio de Janeiro – the base of the England team – following a recent flare-up of unrest in the city's favelas. Players from Roy Hodgson's England squad were due to visit Roçinha, the nearest shanty town to their hotel, on Monday night as part of an outreach programme.
On Monday night the subway workers' unions announced the strike was being suspended for two days, with a vote to be held to decide whether it would resume on Thursday, when the tournament's first match is due to be played in São Paulo….
Their protest was being supported by activists from the Landless Workers' Movement, who blocked roads and occupied a station in the centre of the city until they were dispersed by riot police using percussion grenades….
The Brazilian team has also come under pressure. Last month their bus was attacked by demonstrators; last week the team was booed by sections of the crowd during a drab warm-up game against Serbia…..
Last year thousands of residents from Roçinha took to the streets to protest about the disappearance of Amarildo de Souza, a bricklayer who was last seen at police headquarters being interrogated with electric shocks and asphyxiation.
Ten officers were subsequently arrested, but this case – and several others since then – have added to a sense of anger among many favela residents about the brutal actions of police in trying to "pacify" their communities in time for the World Cup."
In the comment section someone wrote:
"I am Brazilian and this World Cup is being made with no workers at all. It is a Cup for the criminal rich and corrupt bureaucrats. The most popular catchfrase is #nãovaitercopa, meaning #therewillbenocup, because no ordinary person will be able to enjoy the least.
But it's easy for an english newspaper to speak of enthuasiasm when people come all over the world, and from England, for sexual tourism and to go on shanty towns to tour them as if they were zoos. You're just on the exploring end and nothing will change that. All working class people hate this event."

…whilst Homeless Worker's Movement wins partial victory 
"…With the start of soccer's World Cup tournament just days away, officials agreed Monday to demands that a piece of land occupied by poor families be used for low-income housing, but much of the rest of Sao Paulo remained paralyzed by a subway strike….The Homeless Workers Movement said the agreement to end the land occupation was a "great victory." "The conquests … will mean benefits for the millions of families that suffer due to Brazil's housing problem," it said in a statement. In early May, thousands of families occupied a piece of land near the stadium where the opening match will be held, demanding that the privately held but unused property be turned over to poor Brazilians who have been priced out of their neighborhoods by World Cup development. The settlement, dubbed the People's Cup, became the most emblematic of the Homeless Workers' recent actions, which included thousands of supporters marching across the city's freeways under red flags….The Homeless Workers, a left-wing group carrying on the decades-old tradition of Brazil's land occupations, said the government agreed to provide 2,000 housing units on the land and form a commission to prevent forced removals from property…."
8/6/14:
Brazil, Rio: stadium workers protest, preventing journalists from leaving stadium…Sao Paulo: court rules official metro workers strike "illegal", but union claims it will continue strike despite  $222,000 fine for every day they fail to work
7/6/14:
Brazil, Sao Paulo: 3rd day of metro strike…Unions talk the talk…president clutches at straws (implies that anti-World Cup movement is an attempt by conservative opposition parties to oust her) 
"She said criticism of government spending on the tournament – notably stadia in some host cities with no football tradition – amounted to "disinformation"…The president did not say who was behind the campaign but she recalled a 2011 edition of conservative news magazine Veja that sardonically suggested the tournament's 12 stadium venues would not be ready for decades….Rousseff, who was a leftist political prisoner during the 1964-1985 military dictatorship, said even then "we did not confuse the World Cup with politics".
6/6/14:
Brazil: around 157,000 troops and cops to police World Cup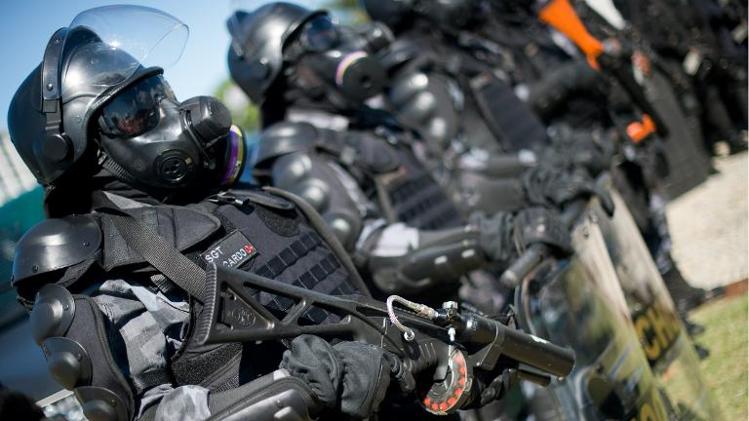 The "Choque" special unit pose during the presentation of security forces for the upcoming FIFA World Cup, in Rio de Janeiro on May 30, 2014. Probably these will – in the not-too-distant future be made redundant in favour of real Robocops – i.e.  "cops" which are robots
Sao Paulo: metro strikers clash with riot cops 
"A third of Sao Paulo's metro stations were closed on Friday morning, and there were more than 200km (125 miles) of traffic jams across the city in the morning rush hour.Police fired tear gas and used batons and shields at a demonstration outside Ana Rosa station in central Sao Paulo." More here…video here… 
 last train to Sao Paulo….. if you miss this one, you'll never get another one
5/6/14:
Brazil: "I'm not going to Brazil because…"
4/6/14:
Brazil, Sao Paulo: 12,000 anti-World cup protesters march on arena as metro workers vote for indefinite strike…more here "They blocked roads in the area with 15 buses and several smaller vehicles and caused traffic jams stretching several kilometres."
3/6/14:
Brazil: professors try to co-opt black bloc…as cops increasingly become useful for  target practice….whilst thousands are made homelesss by the world cup…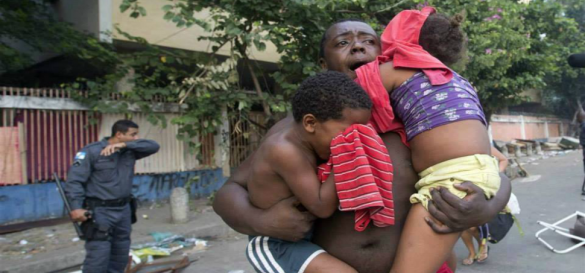 Cops cleansing Rio for World Cup Terrorism Tourism
30/5/14:
Brazil, Rio: anti-World Cup protests block city's traffic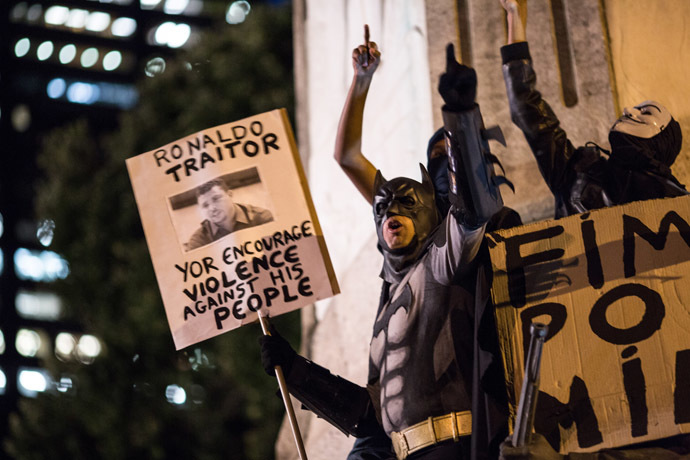 28/5/14:
Brazil: transport strikes in 4 towns, whilst teachers on strike get pepper-sprayed (link in French) 
"…Brazil assured tourists on Wednesday that they would be safe for the World Cup despite a wave of social movements and whilst the stadiums are in a race against the clock to be ready for the day Two weeks before the World Cup, the government has downplayed the protests against public spending invested in the tournament and the event on Tuesday in Brasilia involving  Indians, where one of them shot an arrow in the thigh of a mounted police officer. The police responded with tear gas launched against 500 war painted Indians  who joined  thousands of protesters and homeless people in an anti-World cup demo around the stadium in Brasilia.
"This shows that our policy is to ensure the rule of law, freedom of demonstration and to prevent abuse," said Justice Minister José Eduardo Cardozo…The police checked the event and "foreigners must feel safe here," he added.
"Trade unions and other groups see the World Cup as an opportunity to draw international attention (…) We will provide the security for the event," said  the Executive Secretary of the Department of Sport, Luis Fernandes…
…a bus drivers strike demanding higher wages disrupted traffic in four Brazilian cities. In Salvador de Bahia  … the strike lasted for three days, whilst  the few buses coming out of garages were escorted by police cars. An agreement for an increase of 9% ended the strike on Wednesday afternoon. Sao Luis do Maranhao (northeast) was in its seventh day of strike while in Florianopolis (south) a strike was scheduled for 24 hours only. In Rio, where it is the third strike of bus drivers this month, the strike has however been hardly  followed and more than 80% of the fleet has been circulating normally. Teachers, security guards bank and doctors joined the movement, stopping work in recent weeks. In Rio, the teachers of primary and secondary have been on strike since May 12,  voting for an unlimited continuation of the movement on Wednesday and a group showed up in the city center before being dispersed with pepper spray by police."
A contact has told me that the bus strikes were all wildcat, the decision to go on strike being taken after a rejection of the Union's negotiated settlements with management.
27/5/14:
Brazil, Brasilia: cop shot with arrow after anti-world cup clashes halts trophy showcasing (video here)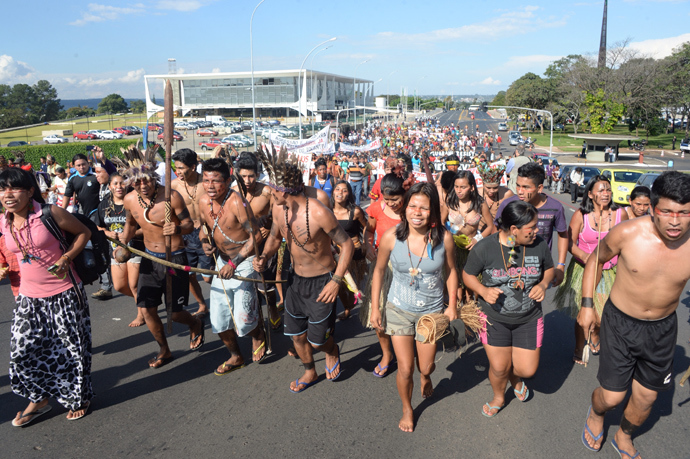 Brasilia: indigenous protesters join city's proletarians against the soccer spectacle, in front of the Planalto palace, the official workplace of Brazil's Presidency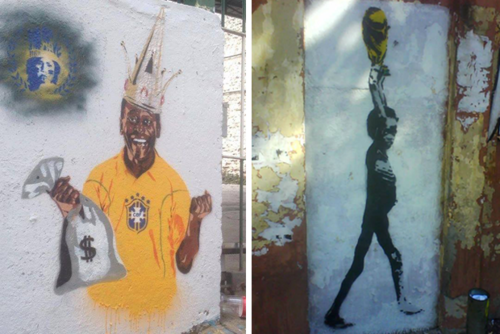 anti-World Cup graffiti in Brazil
23/5/14:
Brazil: "Meet the anarchists who plan to go nuts at the World Cup" mainstream media report
 " The local press has published exposes claiming that the Black Bloc is funded by foreigners intent on spoiling the nation's moment of glory…."It is the violence that has always been in the slums of Brazil but now has come to the center of town," said AM, a 32-year-old native of Sao Paulo."
21/5/14:
Brazil, Sao Paulo: bus drivers "rebel against their union" for 2nd day; go on strike 23 days before World Cup; 230,000 passengers stranded… 260 kilometres of gridlock throughout city
20/5/14:
Brazil, Sao Paulo: wildcat transport strikes, buses burnt, supermarkets looted (link in French)
16/5/14:
Brazil, Sao Paulo: more World Cup clashes with cops…"Here's why some Brazilians want their country to lose the World Cup"
15/5/14:
Brazil, Sao Paulo: clashes with cops at end of anti-World Cup demo  (video in Portuguese) 
"Labor strikes and police, social demands and protests against the World Cup: Brazil faces a turbulent scenario that tests security only 28 days before the start of the World Cup. The protests began early yesterday in São Paulo , on a day when there were about 50 demonstrations against the Cup in ten of the twelve host cities of the World Cup….Flanked by burning tires , some 5,000 protesters of the  Movement of Homeless Workers ( MTST) shouted slogans against the high public spending that is involved in the organization of the championship and demanded  decent housing just 300 meters from the inaugural World Cup stadium , the Arena Corinthians in São Paulo. With huge signs saying 'no Cup Village in the street again "and shouting slogans against the football competition , protesters , mostly dressed in red, blocked traffic in several avenues.
" The countdown began . They have 28 days to resolve it. If they do not have problems, " warned Guilherme Boulos , a leader of MTST . "Such actions are not ruled out  from occuring during the Cup ," he threatened. 
More than 1,500 families occupied private land about four kilometers from the World Cup Stadium and named this new favela the "Copa del Pueblo" (the people's cup) in opposition to the exorbitant costs incurred by Brazil to host the World Cup which amount to 11,000 million. Through occupations MTST press the authorities for housing.
The protests were not limited to the Marginal Tietê and Marginal Pinheiros highway surrounding São Paulo and were blocked by pickets , worsening the already chaotic traffic of the city of eleven million inhabitants . Thousands of metalworkers and Metro São Paulo demonstrated in other areas of the city, where also teachers of the municipal schools  have been mobilized for days. In the rich region of Morumbi , in the south of the state capital, other protesters stopped traffic.
The strike movement scenario resolves various sectors. In Rio de Janeiro , which will host seven World Cup matches , one 48-hour strike this week paralyzed at least 60 % of the bus fleet and left hundreds of vehicles damaged. Rio Bank watchers have also been on strike . In Recife part of the military police went on strike and President Dilma Rousseff was forced to send members of the National Security Force with the return of indiscriminate looting of shops. Federal Police also declared a nationwide strike to demand higher wages which will affect the security and immigration at airports and borders."
And more, in Italian, here. 
"Occupy the World Cup " is the battle cry of the protesters…In Rio de Janeiro , São Paulo , & Belo Horizonte protesters took to the streets and in some cases burned tires and threw stones at the police . "Na Copa ter go luta " (During the World Cup we will fight ) is the slogan chanted by the protesters . The police used tear gas and more than two hundred people were arrested . According to the organizers , with the money used to renovate the Maracanã stadium two hundred schools could have been built . Tomas Ramos Copa Ocupa movement ( Occupy Cup ) explains that the marches are set to increase : " We never imagined that so many people in Brazil would have protested with the approach of the World Cup. When the championships were in other countries Brazilians usually colored the streets with yellow and green , the colors of the flag of Brazil. Not now . Now we want to color the streets in a critical manner . So far the demonstrations have not been impressive , but they will be soon. "…  The puzzle that makes up the categories of discontent is varied : the beginning of this week  employees of museums , bus drivers , geologists and other workers also took to the streets . In Recife  the police protested , in Brasilia , the capital, there were striking teachers and civil servants. Almost all are especially asking for higher wages and better working conditions"
And more here.
13/5/14:
Brazil: FBI training Brazilian riot cops to deal with world cup
10/5/14:
Brazil, Sao Paulo: homeless workers occupy land in protest against unaffordable housing and World Cup 
8/5/14:
Brazil: various occupations of companies profiting from World Cup
3/5/14:
Brazil, Sao Paulo: homeless demonstrate against World Cup…occupy land and build shacks
29/4/14:
Brazil, Sao Paulo: 1000s of homeless/landless confront cops with stones and barricades (link in French)
24/4/14: 
Brazil, Rio: angry favela residents clash again with cops at funeral of man killed by the cops
22/4/14:
Brazil, Rio: barricades after dancer killed by cops 
"Two main thoroughfares were closed after angry demonstrators from a slum set ablaze barricades of tires and hurled glass bottles to protest the death of the dancer, 25, whom Brazilian media say was killed after police mistook him for a drug trafficker….In the resulting protests, a 30-year-old man died after being shot in the head in the slum…One resident of Pavao-Pavaozinho, Daizy Carvalho, who works for a human rights group, said …"…What kind of World Cup is this?" …The people from the favelas need to unite and come out onto the street," she said, calling on tourists "not to come to the Cup".(video here)
19/4/14:
Brazil, Rio: barricades as shanty town residents set fire to 4 buses, a truck and 2 cars in anger against cops killing teenager and  young man 
17/4/14:
Brazil, Bahia state: police strike ends after widespread looting of supermarkets, pharmacies and electronics stores…though there was also an increase in murders this report implies that the increase above the average was only 2 per day – from the average of 15 per day for this state to 34 for the 2 day period of the strike.
11/4/14:
Brazil, Rio: favela riot as squatters clash with cops after court orders eviction of 5000 ahead of World Cup (video)…more here…French site with links to various articles on  this situation in  Spanish, Portuguese, English, French
10/4/14:
Brazil, Curtiba: World Cup stadium  workers seem to win 4 day wildcat strike after roads blocked …Rio: Olympic stadium construction workers continue strike, threaten to give only "10% effort" if forced to return
7/4/14:
Brazil, Rio: striking construction workers at Olympic Park and security guards clash (video of strikers)
31/3/14:
Brazil, Rio: tanks occupy favela to protect world cup against opposition by the poor
14/3/14:
Brazil, Sao Paulo: truckers set fire to buildings and vehicles, clash with cops , over paid parking; hundreds of cops mobilised
13/3/14:
Brazil, Sao Paulo: anti-world cup demos continue (video)….Rio: cops tear down barricades of favela in order to occupy it and install 38 Pacification Police Units
12/3/14:
Brazil, Rio: Anti-World Cup Protesters in Pele Denunciation Horror Shock! 
10/3/14:
Brazil, Rio: cleaners'/bin collectors'  wildcat  strike wins 37% wage hike (compared with 12% offered by bosses)
 "It is a generous offer for a task which deserves to be well paid," said Paes, who earlier had slammed the strikers as "delinquents."…Last Thursday saw some cleaners sweeping up under police escort after reports they had been threatened by gun-wielding striking colleagues….Several hundred cleaners at a protest on Thursday had booed Paes, Comlurb and their own union, which early on had disassociated itself from the strikers."
pdf of text on this wildcat strike:
7/3/14: 
Brazil, Rio: bin collectors go on wildcat strike

"…many workers say the union is not representing their interests…They say they are being "being treated like rubbish" and threaten to cause further disruptions during the football World Cup, due to start on 12 June."
1/3/14:
Brazil: revellers unite for "Occupy  carnival" in order to "contaminate Carnival with the spirit of popular protest"
25/2/14:
Brazil: a policeman's lot is not a happy one
22/2/14:
Brazil, Sao Paulo: black bloc confront cops, smash banks in anti-world cup demo (more here)…Rio: new state tactic – gatecrash opposition demo (here, over lack of sanitation in favelas) with new demo to create confusion
13/2/14:
Brazil , Pernambuco : 2 killed during riot against miserable prison conditions  
12/2/14:
Brazil, Brasilia: landless movement in clashes with cops
 "police moved in after some demonstrators began to erect a barricade of tents….30 police were injured – as well as 12 of the protesters"
11/2/14:
Brazil , Rio : bus and construction machines burnt in protest against the killings by cops of 2 young people 
6/2/14:
Brazil, Rio: violent clashes betwee cops and demonstrators protesting increases in fares 

26/1/14:
Brazil, Rio: shit-in protest on beach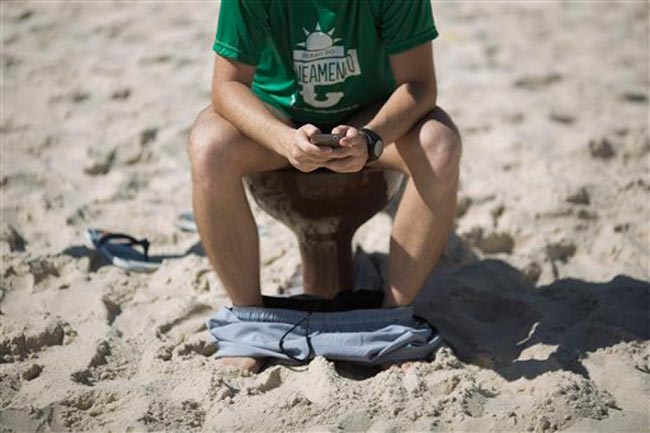 25/1/14:
Brazil, Sao Paulo: anti-World Cup rioters smash banks, attack cop cars (video) (report here on fear of violent demos on the part of most Brazilians)
17/1/14:
Brazil: flashmob protests spread across country…..More detailed information here and   here and a   video here…. More in French here.
And the following, insightful reflection,  comes from a contact in Brazil, on the movement of the flashmobs ( de rolezinhos ) :
"About the flashmobs, they're a quite interesting form of action. They are meetings, called by young people from the poor parts of the big cities, who like "funk ostentação" (something like the rap of rich black guys, except funk) and want to go the mall to "zuar, beijar e dar um role", which is basically mess things up and flirt with other young people. This was called "rolezinho". This kind of thing already existed, poor people went to malls to socialize, but it would usually be in a more passive manner, like good consumers. Now, they actively try to mess up the organization of the mall and the life of the average consumer and defy judicial mandates and very violent police attempting to stop them from getting in the malls or from doing anything in there. Originally, they were just meant to be good natured youngster-meetings (rolês), except larger, but the reaction of mall administration and the violent action of the police would quickly turn them into "arrastões" (mass lootings and thefts). On the other side, though, despite the challenge to authority and normal behavior, there is also a side of these actions which speaks of just "being allowed in higher class spaces", which is, to be included and accepted into capitalist normality. This side is now being reinforced by political organizations which were wholly external to the original actions, but also by the "organizers", that is, the people who happened to make the event on facebook and call other people and who the media turned into "leaders", who are being coopted into left political parties and, alongside the "funk-ostentação" idols of these youths from poor neighborhoods, trying to talk people into giving up the more rebellious aspects of the rolezinhos and embracing the "inclusive" consumerist side. That's what I can say from seeing news and reports from the cities where these rolezinhos have been happening. I have not been participating in them. It is also curious that they have been happening in ALL major cities of Brazil, and wherever they have happened they quickly turned into the most important subject of the week and the day, which means those youths probably hit a sensitive spot with their tactical imagination and desire to kiss and mess things up, hehe."
8/1/14: 
Brazil, Rio: residents clash with cops after more forced evictions and house destructions 
16/12/13:
Brazil, Rio: occupiers of Indian museum evicted and arrested in new World Cup protest…Manaus: 1800 workers on World Cup stadium construction go on strike after death of construction worker ( see also this)
13/12/13:
Brazil, Curitiba: wildcat strike at World Cup stadium against delayed wages; traffic blocked in main avenue (more here) (strike been going on since 10th December)
5/11/13:
Brazil: ongoing civil unrest forces Rio  State sports secretariat   to withdraw support from Soccerex Global Convention
3/11/13:
Brazil: report says that an average of  5 people killed in clashes with cops every day in 2012
1/11/13:
Brazil, Sao Paulo: cops v squatters in burning barricades clash
28/6/14:
Sao Paulo: vehicles  torched and shops ransacked after cops kill 17-yr-old
25/10/13:
Brazil, Sao Paulo: transport protesters burn buses, attack cash points etc.
21/10/13:
Brazil, Rio: demonstrators against petrol privatisation are attacked by rubber bullets ; TV company car burnt.…..and public bath also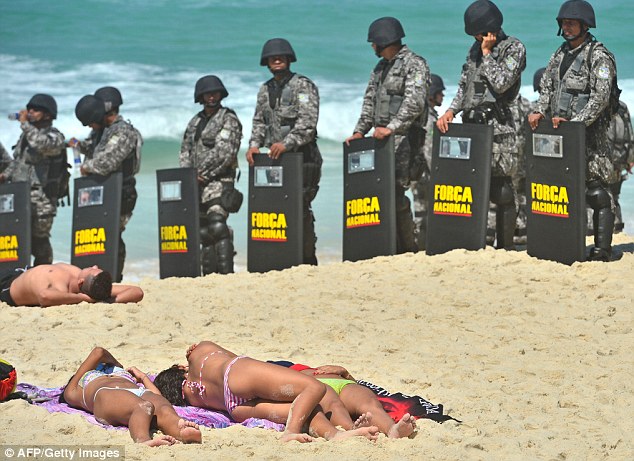 Tourists bury their heads in the sand at Barra da Tijuca, near Rio de Janeiro, where there was fighting against the government auction of oil offshore oil platforms Libra. The government has deployed more than a thousand troops around the sea fron of the hotel   Windsor where the auction is happening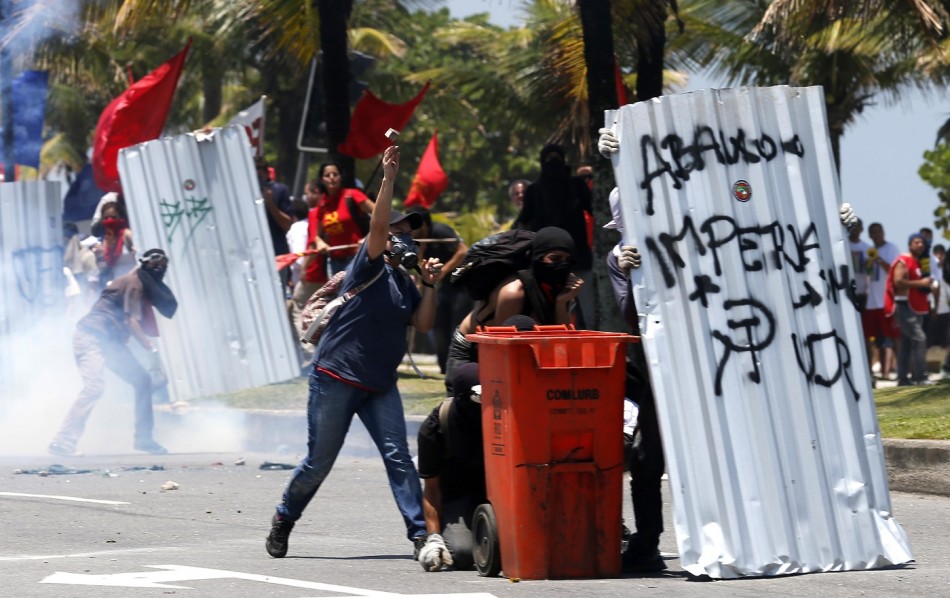 Outside the Rio cop perimeter
17/10/13:
Brazil, Brasilia: brief occupation of mines and energy ministry by oil workers as they go on strike
15/10/13:
Brazil, Rio & Sao Paulo: clashes with cops at end of teachers' demo
  "Four policemen were injured and dozens of protesters were arrested….According to BBC, soon after a peaceful march by more than 5,000 people ended in Rio, a much smaller masked group attacked shops, set fire to a police car and threw petrol bombs. There were also clashes in Sao Paulo, where shops were ransacked. Seven banks were vandalized during the unrest in Sao Paulo." (video here)
10/10/13:
Brazil: prison uprising repressed – at least 10 prisoners killed (some reports say that these killings were caused by gang rivalries…who knows? but this report implies that it was a mixture of both  the authorities and the gangs that did it, but claims that in the local town where the prison is situated, 7 buses were set alight in relation to this riot )
9/10/13:
Brazil,Cuiaba: part of the construction area at  Arena Pantanal vandalised as part of protests against FIFA general secretary and Ronaldo
7/10/13:
Brazil, Rio: riot in support of teachers strike (more here)
"masked anarchists turned to violence, setting fires, breaking into buildings and smashing a City Hall gate….Demonstrators also torched a bus on busy Rio Branco Avenue, and pulled furniture out of banks to use in barricades as they squared off with police." Sao Paulo also had a riotous demo: "A similar rally in Sao Paulo also turned violent. Seven people were injured, including four police officers." (here)…"A similar protest in São Paulo also ended in violent confrontation with police after many banks were ransacked by hooded protesters." (here)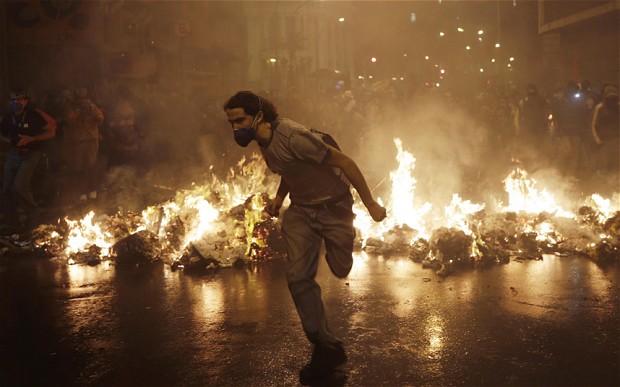 Rio…t, Monday
1/10/13:
Brazil, Rio: teachers strike turns into angry confrontation with state forces (more here and here)
7/9/13:
Brazil: clashes between anti-govt demonstrators and cops in several cities (this includes clashes near Mane Guarrincha stadium before the international friendly soccer match between Brazil and Australia in Brasilia and confrontations near Guanabara Palace in Rio; demonstrations   also held in Sao Paulo, Belo Horizonte, Fortaleza, and several other cities)
_________________________________________________________________________
A contact wrote the following very interesting reflections about the movement  this summer (sent in October):
 "In regards to may, june, july and august, at least here in Goiania what I saw was burgeoning hope that was utterly crushed by an alliance of all conservative forces combined (bureaucrats, politicians, media, "extreme-left", parties, unions…). So much could have changed… yet so little actually has. In my city, during May we managed to bring the city practically to a halt in the transport fare struggle, people were starting to lose the fear of confronting the police, the government and the companies and it came a time during june that EVERYONE, EVERYWHERE (in the bar, the bus, the streets, schools, even universities…) was talking and discussing about demonstrations, struggle, what could be done to change life… and that during the campaign against the misery of transport and concretely against a fare increase. Ironically, it was precisely at the moment that we managed to defeat the fare increase that we started to lose.
Then a media campaign started called "#VemPraRua", "#Cometothestreet", based on a GeneralMotors comercial campaign slogan and everyday they bombarded everyone with how they should demonstrate (in white and "without vandalism") and what they should struggle for ie. against corrupt politicians and better governamental management or even "education"… and at the same time inflated a sense of patriotic pride at these mobilizations. In a way, this was similar to Turkey but in a much more reactionary manner compared to what was happening before. Then there was the 20 of June and the biggest demonstrations we ever saw in all of Brazil. In my city there were around 100.000 people on the street (it is a city of 1.5 million population) and in other bigger cities there were demonstrations of one million, one million and a half… besides very big demonstrations in smaller cities which had a more lasting effect which I have yet to discover… have been researching, though.
Sadly though, most of the demonstrators were caught in this vague wave of happy patriotism and spent most of the demonstration singing the national anthem, repressing violently demonstrators who wanted to do more interesting stuff and screaming "No violence!" at everyone who was wearing a mask. We even had people screaming "No violence!" at kids who were clearly poor and from the suburbs of the city, even when they were not wearing a mask. After followed a few very confused and very violent demonstrations and then it all died off…
When things got very big and started to die off, the extreme-left wing of capital swooped in and killed off what genuine spaces of discussion and action were left. The meetings we had, where despite being tiresome we always managed to come up with creative and thoughtful propposals to try to attack capital and it's lackeys started becoming boring and almost never managed to come up with anything practical.
Somehow, the maoists and anarchists involved in the movement managed to convince a lot of students who had participated in a gigantic and sucessful struggle through direct and active participation that the next step necessary was to dispute electorally and student directory of the university. I tried to make the discussion against that and winded up almost completely isolated. Even the lyceens who had been most active and confrontational winded up being used as electoral labor for the maoist-anarchist alliance. Normality stablished itself again… people were disputing elections and building their ideological organizations again. And speding day and night in that election.
Ironically, a repressive campaign started within the struggle circles I participated in against those who were against the elections and an attempt to isolate us socially from the people who we had been struggling with these last few months. It worked — I lost most of the friends I had met during the process and since I winded up living a miserable 'militant life' for these months, the other friendships I had built during all of my life had become mostly enstranged. It was curious — for a time, it was as if everyone could talk to each other freely and then it was no longer possible even among close friends, all communications had closed off. Quite a few of my friends and myself fell into a pretty severe depression, many started using lisergical/delusional drugs.
I learned that all the things I had sacrificed without even noticing — all my free time, the time I spent with my friends and lover, the time I spent to myself to think — these sacrifices prevented any actual change from occuring in my life despite all the big demonstrations and the "victory" against the fare increase. I acquired, for a time and managed to change now, fortunately, even some authoritarian manners of speaking and relating to people from all that time spent in meetings and more meetings and more meetings. I think I winded up contributing much more to the power projections of these ideological groups with these sacrifices, now that I think of it, than to real struggle against the shitty life I had. At the same time, perhaps, it was sort of an escapist solution — in that I literally no longer lived in the places where most of the production and reproduction of misery occurred, but somewhere else, "in the streets".
Now things are coming up again – a few wildcat strikes here and there, the fear of police did not stablish itself again in many place, all sorts of rioting and struggle is taking place in many cities. In university it is as if an invisible wall had established itself again against all attempts of change… but one thing or another may be coming up too…"
This begged loads of questions, so I wrote to him with this:
"…your understanding of the advances and retreats of the movement in Brazil was original and certainly a lot  more interesting than anything I've read about what's been happening there – i.e.,  the usual purely "objective" accounts of the movement.
 But, as I said, it made me ask lots of questions, mainly to do with the facts of what you say.
For instance:
What happened in Goiania – how was the movement originally initiated and how did it develop (the hesitations and then the decisive acts)? For example, you say "during May we managed to bring the city practically to a halt in the transport fare struggle". How? I don't mean just the highspots of the demonstrations (though it would be interesting to hear some precise details about them, particularly how they were experienced, not just in  terms of facts, but of feelings and thoughts as well) but before them, how were the decisions taken to do something?
You spoke of "the burgeoning hope that was utterly crushed by an alliance of all conservative forces combined (bureaucrats, politicians, media, "extreme-left", parties, unions…). " How? Why did people accept these forces? What precisely did each of these forces  (bureaucrats, politicians, media, "extreme-left", parties, unions…), in their different ways, given their different constituencies,   do? Or did they literally unite and manipulate in the same way altogether? And again, how and why do you think people submitted to these manipulations?
 You say "it was precisely at the moment that we managed to defeat the fare increase that we started to lose." How could such a movement have gone on to challenge other aspects of this society, including, for example, the  bureaucrats, politicians, media, "extreme-left", parties, unions, etc. that are fundamental to keeping things within acceptable limits? In other words, how could such a "defeat" (though to me, as an outsider thousands of miles away,  it doesn't sound at all as definitive as it seemed to you back in summer) be avoided in the future?
Was there any attempt to  point out that   politicians untainted with  corruption are no better than the corrupt ones or anybody else who wants to represent people? In other countries Obama,   Cameron, Hollande, Merkel, for instance, aren't "corrupt" in the sense of taking illegal bribes and backhanders from businesses or the mafia. Did anybody who pointed out that  – at least in the case of politicians – accusations of  "corruption" is a distraction from the essential? 
You said that in June there were "very big demonstrations in smaller cities which had a more lasting effect which I have yet to discover… have been researching, though." Have you discovered any of the more lasting effects? What are lasting effects from your point of view? Clearly not simply the freezing, reduction or abolition of the fares, but would it be something more along the lines of a developing movement becoming more conscious of its power and  the immensity of its tasks? Or what? I mean, in this society nothing "lasts" unless there's a constant development forward, a constant attempt to make progress and develop new areas of struggle.
You said "most of the demonstrators were caught in this vague wave of happy patriotism and spent most of the demonstration singing the national anthem, repressing violently demonstrators who wanted to do more interesting stuff ". What interesting stuff did you witness or hear about (for obvious reasons, don't tell me  anything you were directly involved in)? Can you give me any precise descriptions of how the happy patriots violently repressed those who wanted to do interesting stuff?
You say, "After followed a few very confused and very violent demonstrations and then it all died off…" In what way were they confused? In what way were they violent? Why do you think they died off?
You say, " the extreme-left wing of capital swooped in and killed off what genuine spaces of discussion and action were left. The meetings we had, where despite being tiresome we always managed to come up with creative and thoughtful propposals to try to attack capital and it's lackeys started becoming boring and almost never managed to come up with anything practical." Did this  "extreme left-wing of capital" consist of precise political organsations? Were there any attempts to exclude them from meetings or to hold meetings which they didn't know about? Did people attack them verbally in the meetings?  What  did their discourse consist of? What do you think could be done in the future to avoid the boring weight of  such people?
What precisely was the maoist-anarchist alliance – putting up candidates in the University elections? Were there any anarchists who criticised this suffocating political mentality? Why do you think the repressive campaign against those who were against the elections worked? Is it an expression of the dominant student mentality, of a need for a predictable political activity that's safe? 
In the contradictory advances and retreats with your new friends and old friends, can you give any concrete facts or conversations which would illustrate more precisely what you mean? Do you fantasise of anything you could have done to make the outcome better? If so, what ?(obviously when I say "fantasise" I mean genuinely different ways of relating/connecting that could be helpful for other people – this needn't be anything positive necessarily, but more "this shouldn't have happened" / "I shouldn't have done/said that"). 
You talk of some of this as being an "escapist solution — in that I literally no longer lived in the places where most of the production and reproduction of misery occurred, but somewhere else, "in the streets"." But the streets are part of the misery we experience and changing what happens in them is part of the struggle to not try to find an escape from the contradictions of this world. I can see how – given maybe the element of predictable repetition in some of the activity, that it could be an escape from other relationships, but daily life is everywhere, and your friendships can be strengthened as well as weakened by  struggles in the streets, depending on how such struggles implicate your friends and your communication with them…
What are the wildcat strikes that have been happening? Have you tried to communicate with any of the strikers? 
Were you mainly involved in a student milieu in all this struggle? And where were the favelas in all this?
 It's often that when something big happens after a long period of relative social peace, expectations are far grander than the immediate aftermath of these movements, and when we expect victories to give people the courage to go further, we tend to forget to recognise the heavy weight  of traditional passivity and of all the various representations and escapist distractions that encourage such passivity, particularly on the part of those who get a free ride on the crest of the wave of victory without ever having initiated anything to realise this victory to begin with. These people don't fall into depression, because they've hardly opened themselves up to expression in the first place. But in the end, it's the hope of, the illusion in,  an easy and consistent progress towards an ever-expanding movement that gets dashed – a constant vigilance towards the counter-revolution (particularly when it parades itself as part of this movement) and a constant attempt to realistically assess the contradictions in a   way which is neither optimistic nor pessimistic is perhaps easier said than done, but it's essential to avoid  hope turning to despair.
I guess this is quite a lot of questioning to deal with…"
Unfortunately, for whatever reasons, he did not reply to these questions, though he said they were interesting, but implied that he felt overwhelmed by them given the problems of his immediate life. And now things have moved on, though I guess some of the attitudes he criticised still prevail .
_________________________________________________________________________
30/8/13:
Brazil: blockades of highways as transport workers go on (official) strike; 7 state capitals "paralysed"
21/8/13:
Brazil, Recife: transport struggle continues… …. (more here)
16/8/13:
Brazil: over 80% of food safety inspectors on strike against political and business interference
14/8/13:
Brazil, Sao Paulo: clashes with cops in anti-governor demos
12/8/13:
Brazil, Rio: riot cops confront anti-governor protesters
1/8/13:
Brazil, Rio: sit-in continues outside governor's house
31/7/13:
Brazil: cops receive exquisite makeover (Rio)…Sao Paulo: attacks on banks and businesses….airport workers go on strike, boo president
Rio, yesterday
22/7/13:
Brazil: Rio riot against $50m. Pope visit
18/7/13:
Brazil, Rio: riot as bank foyers, newsstands and public telephones are smashed,  shop looted and fires lit on streets
11/7/13:
Brazil: roads blocked briefly by union demos
27/6/13:
Brazil, Fortaleza: more confrontations between cops and proletarians 2 hours before  football match
26/6/13:
Brazil: protests on motorway blocks Santos – main access route through which the country's products reach the international markets 
Very interesting comment about the recent anti-fascist fronts, taken from here:
Most genuine anti-capitalista organizations are not participating of this supposed anti-fascist front, basically, because the organizations which are now launching this 'anti-facist' scare talk have been the basis of the government against which the transport fare struggle has been undertaken, the Worker's Party Government. These organizations include this MMM, Consulta Popular (student wing of the MST), UNE (The "Student's Ministry") and other alike organizations.
The groups in this list which are not basis of the government have bureaucratic practices which have undermined all previous transport fare strrugles in the other years. And now that this struggle has been victorious and the media is trying to take over the movement they want us to protect them against the furious crowd, which is not just fascist but also angry at the practices of cooptation of movements by these parties. This includes PSTU, PSOL, Intersindical.
These struggles have the very curious caracteristic of being undertaken against both major political parties in Brasil, PSDB (Social-Democrat Party of Brasil) and PT (Worker's Party), both of which have been in power as President, Governor and Mayor in most cities with protests. And they have been victorious in practically ALL CITIES.
I have been participating in the struggle against transport fare increase in the last two months. We created a Front Against the Fare Increase, which included various student groups and teachers, and we established a method of struggle which was horizontal, equal participation equal acess to information, autonomous, self-financed and without the interference of external institutions, and "apartidaria", that is to say, without a political party directing the movement but allowing individual participation of party militants. We undertook a struggle of over two months, massive calumny campaign by the media and very very violent repression, undertook many direct actions which included confronting the police and burning buses, and the legitimacy and participation in the movement was just increasing more and more.
After the victory against the fare increase and the possibility of a massive incorporation of poor worker's from the poorer parts of the city in the struggle, here in Goiânia we faced a major change of behavior by all the media channels (TV, Radio, Newspaper) in which they started telling the populaceabout our next demo and saying how people should behave in our demonstration ("pacifically"), how they should dress (all white of peace), what they should demand (against corruption, for "education" (and not for a concrete gain in education), for "safety" among other things) and basically they have taken upon themselves the role of demonstration organizers. It is something that I never imagined would be possible. Of course, they managed to take over one of our latest demos and it was a mostly nationalist-conservative combo that took over. We have not yet recovered from this attack and are now building more momentum within the poorer parts of worker groups and the students which we actually have moments to discuss and build struggle together.
We are also struggling for the liberation of four political prisioners of the demos, which are being charged with "quadrilha formation", basically, association to commit crimes, which is a serious felony. Basically, a demo, a collective action, is now considered association to commit crime if any serious act against order is commited and people get caught.
Insurgent notes also has a text about fascism and anti-fascism in Brazil here
23/6/13:
Brazil, Rio: protests against corruption on copacabana beach
22/6/13:
Brazil: clashes continue 
21/6/13:
20/6/13:
Brazil: revolt spreads to 80 towns
In Rio "The protesters pulled down the security cameras, smashed bus stops and cars torched. Each poster that announced the Confederations Cup was destroyed …. When a handful of people began to attack posters for the Confederations Cup, the rest of the crowd sat around them and tried to shame them by  chanting "No to violence" and "No vandalism"
SamFanto note:
Nothing wrong with a little internationalist vandalism. We need more vandalism – and more consistent vandalism:
"The alienation of the proletarian consists in this: his work has substance but no freedom; his leisure has freedom but no substance. What he does of consequence is not his, and what he does that is his has no consequences; nothing is at stake in his play..It is this social schizophrenia, this desperately felt need to see their own action, to do something that is really theirs, which causes masses of people to take up crafts or vandalism; and still others to try and suppress the split by attacking the separation in a unified way, by taking up coherent vandalism: the craft of the negative." (Ken Knabb, Double Reflection)
There is virtually nothing in the way the world is organized, which deserves to be preserved in its current form. To break things is an expression of a perfectly valid anger against a world that reduces human beings to things and elevates things to  untouchable idols. The Situationists wrote in their analysis of the Watts uprising there almost 50 years ago:
"Once it is no longer bought, the commodity lies open to criticism and alteration, whatever particular form it may take. Only when it is paid for with money is it respected as an admirable fetish, as a symbol of status within the world of survival.
Looting is a natural response to the unnatural and inhuman society of commodity abundance. It instantly undermines the commodity as such, and it also exposes what the commodity ultimately implies: the army, the police and the other specialized detachments of the state's monopoly of armed violence. What is a policeman? He is the active servant of the commodity, the man in complete submission to the commodity, whose job it is to ensure that a given product of human labor remains a commodity, with the magical property of having to be paid for, instead of becoming a mere refrigerator or rifle — a passive, inanimate object, subject to anyone who comes along to make use of it. In rejecting the humiliation of being subject to police, the blacks are at the same time rejecting the humiliation of being subject to commodities."
19/6/13:
Brazil: more and more towns abandon the transport fare increases ….. but the U-turn doesn't pacify the protests (video and photos here)
…..the President pretends to sympathise with the social movement….whilst sending troops to 5 towns to repress the riots… clashes with the cops continue in Fortaleza during a match against Mexico…Pelé says "forget the protests – enjoy the  football"
"Whilst you watch the telly, I change the world for you"
18/6/13:
Brazil: Rio – demonstrators attack législative assembly….Sao Paulo: town hall attacked….Porto Allegre: fares are not only not increased but are reduced to 5 centavos less than the current price  … "Some said that they were inspired by the demonstrations in Istanbul – "Peace is over, Turkey is here", was a chant shouted on Thursday night  "
The following comes from here:
These protests started the way they do every year: when transportation fares are adjusted because of inflation, etc., a crowd of mostly university and high school students go to the streets and try to pressure for a reduction of the adjustment. It happens in most cities, including mine, and sometimes it's successful. Like Fingers Malone mentioned, the Florianópolis campaign became a reference a few years ago, and with it my own city followed the same path with success. It's the one kind of protest you're sure to have every year. There's a social movement always helping to organize these protests, called Free Fare Movement (Movimento Passe Livre), and they try to defend current prices while pushing for a free public transportation agenda.
For what I understand, this year was about to be the same as every year. A few thousand people go to the streets, we have a few days of protests, some police confrontation takes place, and then life quickly goes back to normal without further consequences. I don't have enough knowledge of the situation to explain why things grew so much as to become the biggest social upheavel in Brazil in 30 years, but it's certainly because it extrapolated the 20 cents issue.
The first protests, like I said, were headed mostly by students, with the usual small group of anarchists and extreme left-wing parties. Then it grew, maybe because of the general indignation to police brutality, maybe because of the well orchestrated campaign in social media, or maybe because of many other things. Working people don't like when the bus gets more expensive, of course, but it's hard to hear someone go beyond the "It's bad, but there's no solution, so we have to take it quietly". In the video bellow you can have a sense of how things escalated (although it's quite long and poorly translated)
http://www.copaemcuiaba.com.br/
So now what it seems is that these initial protests worked as a catalyst to all sorts of problems that accumulated during these last years. There were protests, but now they're all together, and therefore they become massive, even though there's not always much common ground between all causes. And you'll see very little party flags indeed, as the overall feeling is one of disgust over the current political system, and protesters chant "Parties don't represent me" and boo those holding flags. This is good because it opened way for a very diverse public, but it seems hard to explain why, after all, people are on the streets. Some are simply expressing frustration at poverty and at the money spent on entertainment instead of important services, some are protesting against the current wave of Christian fundamentalism in politics, some want to pay less taxes, etc. People are making an effort to remmind everybody that the main issue is definitelly the fare hike, and as it seems to be on a path of success, everybody is enjoying the chance to discuss about other ideas too. And it's really, really interesting to see how there's simply no space for professional political figures, not only because politicians are oddly quiet, but also because they're not being allowed to hijack the causes.
Anyway, I have no idea of what's this going to bring us. I'm quite confident that the fare hikes will be suspended in São Paulo, as they were in other cities already, but asides from this, I guess the rest will be just a peaceful explosion of anger. Perhaps things could become more interesting with more interventions around the stadiums of the Confederations Cup, and there are more protests scheduled this week. There will be one in my city on Thursday, and the people in São Paulo said they'll only stop until they get what they want.
As for the pacification program in the slums of Rio de Janeiro, it's not very much related to the current wave of protests, but it's certainly one of those things that add to the layer of overall mess. There was resistance to it, of course, as poor people know very well that the police is not really a saving force, but on the other hand being controlled by drug lords is even worse, so it's one of those things that are seem as necessary intermediate steps. Violence and corruption, though, are major action triggers for many people protesting these days
And this comes from here
I'll try and keep this short cause I've hardly slept and have an English class to prepare. (I'm interested to know what my students in Tuiuti favela will make of it all!) Besides, I've discussed in detail what I think are the underlying local causes of the protest in another post.
Last night's scenes in Rio were incredible and exhilarating. At times they shocking. I started with a 'bloco' (a music band leading a large crowd of people, as is often seen at carnival) at the Largo São Francisco de Paula, a square in the central shopping district of Uruguaiana. The crowd mainly consisted of university students from the Federal University. The mood was jovial. A standard read "Nada deve parecer impossível de mudar" ("Nothing should seem impossible to change"), a quote by Berthold Brecht.
A speaker shouted out instructions for the route the crowd would take towards the Candelaria Church and exhorted his audience to be disciplined, peaceful and brave in the event of confrontation with police. The crowd collectively repeated the words so that those at the back could hear – a technique developed by trade unions and democracy activists during the 1980s. Everyone sang "Olê olê, olê olá, se a passagem não abaixar, o Rio, o Rio, o Rio vai parar!", roughly translated as "If the (bus) fare is not reduced, we will bring Rio to a halt!". This refers to the recent price hike that inspired last week's initial protests in São Paulo.
The crowd began to move and upon reaching the Avenida Getúlio Vargas converged with a much larger protest (estimates of up to 100,000) making its way towards the Candelaria. I think here everyone began to realise the scale and importance of what was going on. Placards and banners with messages like "O gigante acordou" ("The giant has awoken"), "Saimos do Facebook" (We've come off Facebook"), and "Somos a rede social" ("We are the social network") betrayed a mixture of joy and relief. In a country often seen as politically passive, a silent majority was finding its voice. The marchers gleefully chanted "Não é Turquía, não é Grécia, é o Brazil saindo da inércia" ("It's not Turkey, it's not Greece, it's Brazil leaving its inertia").
The participants were predominantly young – I would estimate the average age as 20-25. But make no mistake, this is a broad-based movement. Suited professional leaving their workplaces mixed in with the crowds. Office workers waved white sheets and threw confetti from the skyscrapers overlooking the procession, as the marchers invited them to join them in the street.
Similarly there was a dominant middle-class presence, but also many who were clearly from humbler backgrounds. In my everyday interactions and in my research I have found people of every age and across the social spectrum voicing the same grievances: a corrupt and arrogant political elite, high costs, substandard public services and a contemptuous attitude towards human rights, particularly by the police. Until now they discussed these problems with resignation, assuming that 'that's just the way Brazil is'. Now they are demanding change.
In Rio the protests have been targeted at the State Governor Sergio Cabral, who chanters accused of being a dictator, and Mayor Eduardo Paes, who they frequently invited to "go fuck himself". Placards criticising favela removal and pacification policies associated with these two men could also be seen, and the image below shows them holding Rio's famous Christ statue hostage. Brazil's highly federalised system leaves significant powers at the state and municipal levels, including in the key areas of health, education, policing and transport. As a result President Dilma Rousseff has been less a target of the protests. However many believe she has not used her powers to pressure for change. One banner called for Dilma to 'wake up', as Brazil had, implicitly referring to her own revolutionary past. Wider disillusionment with her Workers Party, the PT, was expressed by the chant "Não temos partido" ("We have no party").
One central component of the protests which I refer to in my other post, is the World Cup and, in the case of Rio, the Olympics. These mega-events were promised as catalysts for social change, but instead are seen as lining the pockets of speculators, (inept) construction firms and their political sponsors. Meanwhile public services have been left to rot. Innumerable placards and chants highlighted this contrast. For example: "Quantas escolas cabem na Maracanã?" ("How many schools fit in the Maracanã?") and "Copa do Mundo eu abro mão, quero dinheiro pra saúde e educação" ("Forget the World Cup, I want money for health and education"). One sign ominously read "There will be no world cup". This will send shivers down the spines of political elites who see the successful hosting of the events as economically and symbolically crucial for the future of the country, and for their own reputations. They may have been concerned about drugs gangs and street criminals marring the events, but they never foresaw the possibility of mass opposition. (Popular protest is something Brazilian elites are typically unconcerned about).
After reaching the Candelaria the protesters continued on towards Cinelândia. The crowd had separated slightly and many congregated on the steps of the beautiful Theatro Municipal awaiting the main body. The mood was still light-hearted. Occasional loud bangs (I'm not sure what these were, as they were not caused by police or protestors) prompted chants of "Sem violência" ("No violence"). There was a conspicuous lack of police presence, except for two low-flying helicopters which accompanied the protest throughout. This was presumably a deliberate strategy following the outrage they provoked with their indiscriminate use of pepper spray and rubber bullets in São Paulo.
When the march finally converged upon the ALERJ, the Rio state legislative assembly, the picture began to change somewhat. Perhaps around 30 police guards were stationed outside, behind a wall of railings. As the mass arrived some elements began to throw bottle and stones, thinning out the police line and pushing them up the steps towards the entrance of the building. Crackling fireworks that were being set off into the air began to be directed towards the building. Then what appeared to be a molotov cocktail started a fire beneath the building's main columns, causing the remaining police, by now at the top of the stairs, to scramble into the building. The crowd broke through the gates and occupied the steps. (A video I took of the incident is available here). Fires were started in the square and surrounding streets including a particularly large one that I later found out was a burning car.
For the next two hours police attempted to clear the square using tear gas. I was never close enough to see how many there were or which direction they were coming from. Protestors would flee down side streets, only to return as the air cleared. I saw a few people spitting blood. This pattern continued for at least the next two hours. It was only at this stage that I saw any vandalism – mainly masked, adrenaline-fuelled teenagers smashing windows and graffitiing on walls. (The main target of the window breaking seemed to be Itaú bank – I'm not sure if this is because they have done something in particular to offend the protesters, or simply that they were the only ones who had no grilles over their windows). In almost every case other protestors intervened to try and stop the vandalism, usually successfully. In one case a very large crowd chanted "sem vandalismo" ("no vandalism") at a young man trying to kick in a window, and he sheepishly walked away.
I headed home around 9.30pm when there were still several thousand protesters in the square. There have been reports of disproportionate police violence at this stage, though I personally did not witness any apart from the continuous use of tear gas. The firebombing of the ALERJ was certainly a shocking sight, but it only takes a few individuals to do something like that. The vast majority of the protest was remarkably peaceful – and self-policing. A few days ago the violence might have been used to sway public opinion against the protests, but I suspect after the earlier actions of the police elsewhere and the momentum the movement has taken on it is too late for that. Further protests are scheduled for later this week in Rio and other cities.
O Brasil Acordou!  Brazil has awoken!
*************************************************************************************************************
For various photos and videos, see this.
17/6/13:
Brazil: demonstrations in at least 8 towns are some of the biggest since the end of the distatorship in 1985   (video here)…250,000  demonstrate in Sao Paulo

National Congress of Brazil occupied  
15/6/13:
Brazil: new clashes at Maracan stadium  (video)……."I don't care about the World Cup — I want health and education!!"
14/6/13:
Brazil: hundreds burn tyresm blkock roads in protest against the cost of the Confederation Cup and the World Cup 2014
13/6/13:
Brazil: thousand confront cops against the increase in fares   
11/6/13:
Brazil:  Amazon Indians occupy government office 
16/5/13:
6/5/13:
Brazil: Indian continue occupation of dam construction site; 6000 workers  stop work for 5 days
3/5/13:
Brazil: Amazonian Indians occupy continue dam construction site at  Belo Monte
2/5/13:
Brazil: Amazonian Indians invade the invaders at the dam construction site of  Belo Monte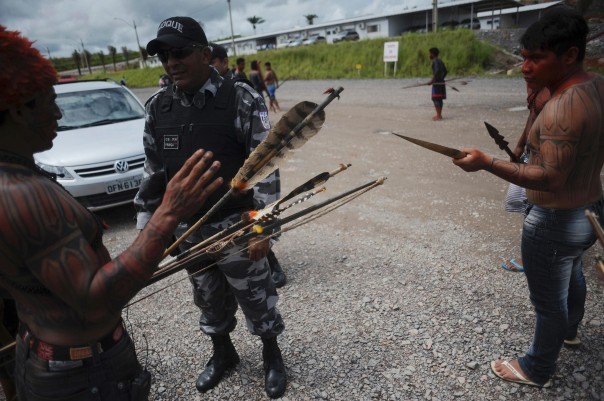 16/4/13:
Brazil: Brazilian Indians occupy Congress
22/3/13:
Brazil, Rio: clashes as cops brutally evict indigenous people's squat …
21/3/13:
Brazil: indigenous people's demo – occupation of hydroelectric power station in the   Amazon
*************************************************************************************
Addendum 1
Here are some excerpts from this, written in  2006 about Brazil, about  things like "Sam Terra", the landless movement which is currently participating in the movement against the World Cup, and about  Lula's "Workers' Party" (now  the party of  Dilma Rousseff, Lula's former Cheif of Staff). Not absolutely sure of the accuracy of everything written here, as some of their other stuff is pure invention, but it's still relevant:
"… it was Lula who had led the biggest working class engineering strike in Brazil's history mainly based in Sao Paulo in 1980  – even perhaps the world's – and sent shock waves throughout the country's military. Lula had played on the fact the strike was a break from traditional trades' unionism and had an autonomous character. Years later elected as Brazil's president, Lula has gone from wearing boiler suits to wearing Armani suits and is regarded as weak and bribeable. …
…Interestingly too, Sem Terra ("Without Land" see later) in Brazil and contrary to what a lot of people think, isn't just a movement among traditional peasantry, it's also made up of the dispossessed urban poor fed up with the difficulties and anxieties of trying to survive through the black economy who simply wish to cultivate abandoned land guaranteeing that at least they have regular food in their bellies….
The Participatory Budget has been active for a fair number of years administered by PT rank 'n' file members. Basically it's a form of city government whereby activated neighbourhood blocks often from the 'periphery' or small peoples' assemblies decide what should happen to a limited city budget whereby manipulations of all-powerful local officials and technicians are circumvented and financial decisions are no longer taken behind closed doors. The PB started off with a critique of voters as 'mere spectators' (Silvio) needing to transform themselves into protagonists of social change as "the world is experiencing a huge social collapse" (Silvio again). This much is true. A permanent, on-going activity rapidly developed and though initiated and sustained by grass roots PT militants it did finally mean that  transparency about money matters was forced on the legislature. It also means that money from the federal state for public use no longer goes to rescuing banks and bankers as happens elsewhere in Brazil and city councillors have been forced to approve the spending decisions of the assemblies. Thus under their pressure the PB has been able to invert spending priorities in favour of the poorest neighbourhoods bringing about very basic improvements relating to extensive road maintenance, street lighting, bus routes, building sewers and municipal housing and as time has moved on, is now able to concern itself with health centres and schools. One can say this is all very pedestrian even though necessary with the PB having "a half-in, half-out relationship to the state" but how about all the real big, big, big things?
The problem is the PB in Porto Alegre (Rousseff's base since the 1970s – SamFanto note) is basically a local para-state and as such really nothing like some kind of insurgent assembly as it must more or less obey the paradigm set by the federal government though pushed beyond the limits of remit. Is it really that different to the time in the early 1980s when the Trotskyist Militant Tendency controlled Liverpool Council even though more obviously contemporary in methods and in turn didn't Liverpool tend to somewhat ape Red Bologna in the Italy of the late 1970s? All that though belonged to the time of a loosening but still patrician Stalinism especially in Bologna. The Porto Alegre experiment however skirts the farther reaches of radical social democracy even suggesting its own future negation. In this city today hip rhetoric tends to outstrip the more mundane backdrop citing experiments like the Paris Commune or the Workers' Soviets from 1917-21 in a way that even British Solidarity of forty years ago, the Solidarity of Chris Pallis's The Bolsheviks and Workers Control would not have completely disagreed with though doubtless would have been wary about all those still extant old power structures still functioning albeit feebly. In Porto Alegre today a relatively popular slogan proclaims: "All Power to the Participatory Budget" mimicking in tone that old more genuine chant: "All Power to the Workers Councils."
A real subversive assembly ushering in a new world (if indeed there is to be another such assembly or even new world which is now plainly doubtful as the times are so bad) must take on an ever-widening connotation heading towards some kind of totality where all major problems – and possible solutions – become practically indivisible. Porto Alegre's PB quite quickly hits a ceiling after having dealt with immediate bread and butter issues. It cannot even intervene in the growing drug problem and related violence in poor areas, as this is not part of local authority remit but a federal issue etc.  However – and this is a difference and something new – these PT ideologues foresee the end of radical social democratic limitations  (its realisation if you like?) talking of a 'rupture' to come. As we know from our own European pasts these limits were breached in an often wild, unrepressed explosion, a convulsive rupture, if you like. Raul Pont, one of the instigators of PB, tries to explain something about this referring back to Rousseau's utopia where a time and space is reached where there's no delegation, no transfer of power and sovereignty is completely undivided. It may happen; this break; this rupture – call it what you will – and the PT reformers of the Participatory Budget may joyfully join in a much more authentic example of revolutionary becoming, but don't hold your breath!……"
Addendum 2
The following is  a  translation of "Genocide et spectacle" (available in French here)
An anarchist reflection on the current context in Rio de Janeiro
Some words about the experiences lived in Rio de Janeiro through an anarchist perspective
This 2011 text emerged from a collective reflection between individuals that worked around the anarchist squat Flor do Asfalto (by now evicted) that was fighting the latest wave of gentrification and intensifying repression in Rio de Janeiro.
This piece is trying to contribute, from an anarchist perspective, to the clarification of the processes of criminalization of poverty and state violence declared against the movements of resistance who have rebelled against such projects.
One of the prime motivations for this initiative was its ability to add more elements to the debates that are continuing in Rio de Janeiro and other cities so that people who haven't had the opportunity to live for themselves this very particular situation can also be briefed about what is going on here. This initiative also springs from the intention to contribute to the social war, seeing as the hierarchical power structures, which have reproduced themselves for centuries, are repeated in different regions at different times.
Finally, we believe that what is being lived here could be an advanced stage of the actual symptoms of large cities as a whole, at least in what it says about the territory controlled by the Brazilian State.
Rio de Janeiro, future host of the World Cup in 2014 and the Olympic Games in 2016, is an emblematic metropolis built around a paradisiacal and admirable ecosystem.[1] Each of its neighbourhoods and streets contain the contrasts of the merchant kingdom: spread around the various parts of the city, the screaming poverty, profound decadence, the administrative abandonment in its crudest state; while in other regions, hygienic luxury makes for the creation of the simulated and superficial backdrop to consumerist and comfortable life constantly watched by cameras and intensive policing. This land of so many stories that make up 'the history of Brazil' is the stage where certain urban character extremisms are played out which can only be lived out in this place, at least in the proportion that they are manifested.
According to the Human Development Index (HDI) – a comparative international measure to classify the economic 'development' of a territory – in the city of Rio there is a co-existence of certain HDI's of some of the richest neighbourhoods of the world, which are equivalent to those of certain parts of Europe, while various favelas have the HDI equating to that of some of the poorest countries of the African continent. At the root of this is the fact that it was always a city where extreme wealth co-existed with extreme poverty, having been one of the major ports of human beings kidnapped from Africa and sold as slaves. Despite this, during 12 years it was the capital of the Portuguese empire and after the 'independence' was the capital of Brazil until the middle of the 20th century. If previously the contrasts surrounded the palaces of the nobility and the black quarters, today this difference is seen between the opulent wealthy neighbourhoods – a true Beverly Hills – and the numerous favelas.
The racial question is inherently connected with the history of Rio de Janeiro. If today there exists a policy of barbarity besieging this city, surely it is because it is a direct descendant of the slave regime. This fact was pivotal in the creation of an autonomous political power and of the actual constitution of the Brazilian State. With the arrival of the Portuguese royal family in 1808, the Rio police was founded to edify a new public order that sought to confront an enslaved population in the street, terrorizing black and poor people with physical punishment in public as well as physical elimination, while at the same time fighting the resistance that was occurring in different ways, of both a political and cultural nature, organized or not. From the rebel escapades and consequent formations of quilombos – black activist communities[2] – to capoeira, a fighting technique developed in the streets and an inseparable tool of the organized black rebels who fought organized revolts during the length of this period. The favela is the daughter and niece of this resistance, birthplace of these wonderful afro-descendant cultural manifestations which created a people that never separated the fight from their iridescent smiles.
The origin of the favelas in Rio de Janeiro emanates from the middle of the 19th century, when with the end of slavery one part of the liberated moved to the federal capital, settling informally in areas that came to be known as favelas. The first of these places to be named a favela was the Morro de Providência ('Providence Hill') located next to the port zone in the centre of Rio, occupied in 1897 by black soldiers of the Brazilian army, that were returning from the War of Canudos and had stopped receiving their wage; without financial means, they went on to live on the hill in temporary barracks. The term favela comes from the Canudos camp that was situated in Bahia and was constructed on a hill that had many plants of a species popularly known as Favela or Faveleiro. This plant was also found on the Morro de Providência, which had led to it being originally called Morro da Favela ('Favela Hill'). With time, the term started to be used as a way of designating areas adapted for popular residence. The favela, within the urban point of view, is a descendant of the slave quarters (senzalas), demonstrating one of the major exponents of acute segregationism, of isolation, the human waste in a regime that had substituted slave-work for salaried slavery as the times had changed and there was a need for different forms of exploitation.
On the other hand, a favela is an exponent of the black cultural resistance that continued developing around cultural manifestations like samba, capoeira and the afro-descendant religiosities (like candomblé and umbanda), apart from being the natural habitat of a genuine underground movement. Therefore the Rio police and the modern slavemaster only substituted the whip for the rifle. If before the devaluation of life was taken from the status of the enslaved black, today it is reflected in the personality of the favela-dweller.
The present reality
What is currently being lived is a civil war, at a level of armed urban conflict unknown in Latin America, camouflaged as 'war against drug-trafficking'. The favelas have always been controlled by drug-traffickers or by local militias[3] and more recently by the police, who use an extensive arsenal to defend their territory. Every day, bullets are dispensed more commonly than rice and beans (the staple Brazilian diet).
Without doubt Rio's economy revolves around tourism, and of course the city is one of the world's tourist hotspots. The 'marvelous city' is comprised of wonders for all who have the economic conditions to consume them, property speculation and beautification being necessary to maintain the atmosphere of the city comfortable for these people. This situation makes for a constant and increasing criminalization of poverty that occurs on different fronts and in different spheres in the present context, disguised as urban reform and improvements in the population's quality of life. But, effectively, they are the paths towards megalomaniac economic projects carried out by a series of public-private partnerships.
The social reality of Rio de Janeiro is each time more explicitly woven around the lines of different state administrative strategies, drawn somewhere between dictatorship and democracy. In the end, torture, physical elimination and incarceration (that gained public visibility in the military dictatorship for reaching sectors of the middle class) for the black, poor and favela-dweller were always a reality. In a period of such acclaimed democracy these are facts that everyday become more and more present. From the new administrative policy of the state (in the hands of Sérgio Cabral Filho since 2006) and the prefecture of the city (in the hands of Eduardo Paes since 2009), distinct tactics have been used, initiatives that appear in different forms:
the war against informal street-workers, that faced with this reality take one of the main survival alternatives available to those who are without money,

the retaking of control of areas previously dominated by drug-trafficking,

the urban development programmes, like the revitalization of the environs of the port,

the overwhelming presence of drugs like crack, or more recently OXI, that reinforce population control.
In addition to all these elements the actual extermination of civilians at the hands of the police, justified as collateral damage in a supposed war against drug-trafficking, many times using the so-called Autos de Resistência – where police assassinations are regarded as the victims' fault[4] – to camouflage summary executions. What exists in practice is a silent genocide that far from reaching the supposed groups it is targeting – that in this case would be the druglords – affects above all every layer of the social strata caught up in the warzone. The number of deaths at the hands of police forces in Rio de Janeiro is extremely high, taking recent years as a sample. In 2008 there were 611 deaths, in 2009 there were 495, in 2010 there were 545 – figures that more or less equate to those killed by the rains that hit the Região Serrana, the mountainous region above the city of Rio de Janeiro, in January 2011, considered to be the 'biggest natural disaster' in Brazilian history.
With sinister songs that glorify war being part of their training, the BOPE ('Special Police Operations Battalion') does not shed any doubt as to its mission from the songs they sing: "Man in black/ what is your mission?/ It's to invade the favela/ leave bodies on the floor", or even: "I will infiltrate a favela/ with a rifle in my hand/ I will fight the enemy/ provoke destruction." The BOPE was conceived and trained to be a war-machine and exterminate favela-dwellers. The fact that they have a skull as their symbol is not purely symbolism.
One of the pilot projects of the current state government, part of the logic of restructuring and beautification of the city, are the Machiavellian-named UPPs ('Police Pacification Units'). These are police units that through permanent invasion are taking back the control of the communities that previously were under control of druglords.
Coincidentally or not, all these communities are favelas in areas of elevated economic interest like the southern zone and the affable areas of the northern zone as well as other areas of touristic/economic interests.[5] The UPPs arise as the top of the 'war' on drugs, and mark a moment in which the State is finally giving a more effective and energetic answer to the trafficking. The permanent presence of the police in the community means it can act with total impunity (a type of undeclared state of exception), acting unashamedly through unconstitutionality, constantly invading homes and terrorizing dwellers. The irony is that in no community where UPP agents currently operate was drug-trafficking ended; much to the contrary, they continue their trade unabated, where the only change is that the traffickers boast less weapons and increase their bribes to the police, carrying on their business as always.
The UPP is deeply connected with the process of socio-economically cleaning up neighbourhoods that is being carried out in every part of Rio de Janeiro, acting as precursors to an innovative process of gentrification[6] of favelized areas. As part of their intervention, clandestine connections to electric and water supply have been cut, causing a drastic increase in the cost of everyday life which most affects the poorest people, and thus enforcing a sort of gradual eviction process.
In the south, shanties are already being sold and hired out at incredibly high prices, at the same time that basic sanitation processes start being introduced for the first time. But for whom exactly are these 'improvements'? Logically, they are destined for the new luxurious lodgings (and other variations of private business) and the new visitors to the area: tourists and middle class individuals.
These operations of mass slaughter, organized by the State and its private partnerships, are only entirely possible after the insertion within communities of the left arm of these interventions: the NGOs. As part of the process of containing damages, the non-governmental institutions are put in charge of infiltrating favelas in the guise of social development funding projects. The presence of these organizations in the communities is, in turn, marked by ambiguity. While these institutions 'provide' for socio-cultural development locally, their interference is relied upon its placative character from the outset; they make profits possible through tax exemptions and transnational investments, that often make themselves sustainable, in addition to their activities in the mapping and registering of residents, inducing them to assume also the role of informers in the community. There are similar cases involving the most recent social programmes of the federal government next to urban areas classified as 'areas of risk' (that are affected by the pilot programme called Fica Vivo, 'Staying Alive').
It is in this general scenery of retaliations and a markedly military invasion that the Choque de Ordem ('Shock of Order' or 'Order Blitz') fits, an initiative created from the beginning of 2009 by the current prefect Eduardo Paes, organized by the Secretariat of Public Security, bringing together different bodies such as the municipal guard, both the civil and the military police, the waste collection agency Comlurb and the Secretariat of Housing to unleash coordinated actions intended for the 'reinstatement of order in the city'. The operation focuses especially on tackling street vendors (camelôs), forcibly removing the homeless – either crack addicts, or nonusers – and carrying out the innumerable evictions of homes considered illegal or lacking the correct paperwork, as is the case of urban squats or of favelas or parts of favelas that are being removed for being in the way of these reforms.
The Porto Maravilha ('Marvelous Port') project
The main re-urbanization project in the city of Rio de Janeiro, without doubt, is the revitalization of the port district, officially called Porto Maravilha, the major public-private initiative of Brazil, in a partnership between municipal, state and federal governments as well as private initiatives. All the surroundings of the port were privatized, passing under the administrative responsibility of three private companies for the next 15 years. In the words of the prefect himself:
"What is the dream of every private company? To register large profits, constantly during the length of time and without risk. The Prefecture of Rio is making this dream a reality for three of them: OAS, Odebrecht and Carioca Engenharia, who jointly form the consortium tasked to run the Marvelous Port. The ingenious private-public partnership (PPP) cannot be seen in any other way: a passing of public money to three large private contractors, with no apparent benefit for the State."
The project covers an area of 5 million square metres, having as its limits the Presidente Vargas, Rodrigues Alves, Rio Branco and Francisco Bicalho avenues. It crosses four neighbourhoods: Centro, Santo Cristo, Saúde and Gamboa. The investments include the establishment and implantation of museums, the construction of luxurious moorings for cruise-liners, of middle-class dwellings and of the largest aquarium in Latin America, in addition to new headquarters of banks, including the Central Bank of Brazil (Banco Central do Brasil). The first phase of construction works was started in 2009 and is ongoing, with basic implementations like the installation of new water/wastewater networks and the re-urbanization of the Morro da Conceição, while the second phase was to be initiated in 2011, with a host of more ambitious forays, such as the demolition of the Perimetral viaduct located over the Rodrigues Alves avenue. The aim is to conclude all these projects by the year 2015.
In the background of the said project a series of repressive undertakings and violations of the dignity of people is being committed from one day to the next. For many years the port district was one of the most neglected and gray zones of Rio de Janeiro, scene to nearly four centuries of stories of bloodshed and of political and cultural resistance, often a refuge and alternative for those who found in squatting idle buildings a practical way of obtaining a home. Countless urban squats have now been evicted, along with houses on Providência, to make way for the construction of a cable car.
The favela of Providência has its own UPP squad since April 2010, which guarantees the 'security' for the continuation of such projects. Other than all this, mysterious fires have hit squats, entire communities – like that of Rato Molhado ('Wet Rat') in the north – and casual businesses (on April 26th, 2010, one of probably the biggest of these fires consumed the street-vending bazaar at Central do Brasil, Rio's main railway station). It is notable that this popular market was located very close to the headquarters of the Rio de Janeiro State Military Fire Brigade; despite this, rescue took more than an hour to arrive. It isn't a magical coincidence that the Prefecture already had planned to 'revitalize' the place.
In practice this project is nothing more than one of the pivots of the processes of beautification that is taking over the city, and makes part of the preparation for the large-scale events that are to come – the 2014 FIFA World Cup and the 2016 Summer Olympics. Like all the cleansing operations, it constitutes a taking over by the wealthier classes of an area previously occupied by lower income strata.
It is not possible to know for certain what types of ailments will remain as the legacy of such atrocious and short-sighted ventures. But it is indeed possible to forecast some of the problems that could be faced, truisms when seen by any minimally observant eye. The most disturbing questions are being quelled by the 'promising' years dreamt of by the blind faith in the mega-events of 2014 and 2016, all cloaked in a mire of ignorance, fear and tourism-centeredness. Lightheadedness is being soothed by the nonsensical fanaticism of an increasingly publicized sportsmanship, entrusted to a wave of warmongering marketing that declares open extermination as the order of the day so as to satisfy the stock market
goals embodied by civil construction and real estate speculation. In a not too distant future, after the stupefying effect of the games has passed, what will be inherited are questions badly resolved on purpose, backlogs left behind by negligence, which only a declared social war can then fulfill.
Until then and as of now, we already assume a position: our refusal is unyielding – the future is already now.
The Flor do Asfalto ('Flower of the Asphalt') squat
"Negligibles wander from one port to another. In front of heavy machinery, they observe with certain disgust the many eyes of a future left for later. Rumours of collapse, days of war… minutes of passions dug from the underground, from the islands and streets. There is the pier of the port, but also hallucinated ports./ In the chaos of the port, in washed-out black cloth, a pirate flag waves, agitated by the tidal winds and the velocity of machines… and it is known that it's there where the renegades are roaming. From port to port, they 'spit out cigarette smoke' – there may be more to get done with one's own phlegm than with any civilized morality."
(Casa Aberta collective …infirm pirates say nothing…)
Originating from the initiative of different people from the libertarian milieu, Flor do Asfalto on Rodrigues Alves avenue was squatted on October 17th, 2006, having as its goal, apart from providing a collective living space, to give a creative political and countercultural ground. From then on, various initiatives and projects started to blossom in that place, like the organization of a library, art and serigraphy workshops, a herbarium, among different practices aimed at promoting a way of living more sustainable and in greater harmony with the Earth, with the maintenance of vegetable patches and an agroforestry system. In almost five years, there have been many initiatives and activities developed in Flor, from workshops and discussions, to parties and live band performances. Flor do Asfalto has publicly assumed a position of conflict against the existing reality, against its relations of Power and oppressive policies, bringing at least two perspectives to the fore: the need of those who have been mobilizing within the squat to retake life itself, and the war experienced in each and every instance of the existence.
The different ruptures and alternatives to such a world are enacted not just as alternatives in themselves but as confrontation, intervention in the reality, a radical positioning in the midst of the eye of a hurricane. Currently (early September 2011), the squat has its days numbered because it is situated exactly in the zone where the next phase of works will be carried out as part of the Porto Maravilha project. Flor is one of the next targets of assaults that precede the construction works. To maintain our resolve in the rejection of the existence of the State and its repressive apparatuses, which can be illustrated in the police, we do not consider the possibility of seeking a dialogue or agreement. Even though, on some occasions, we flirted with the idea, we always kept in mind that the game of laws is a key part of the enemy's game of which we do not want to play.
Mobilizing oneself, and not falling into inertia, has been the strategy used to counteract this present moment. It is in that sense that communiqués have emanated from inside this okupa, which make the position of its squatters explicit, seeking to create ties of solidarity that scream and echo beyond the imaginary lines that demarcate the city of Rio de Janeiro, as these same ties are undoubtedly, in moments like this, the largest arsenal that oppressed rebels can come up with.
Translated in June 2012 from Portuguese original: Diasemcompras.wordpress.com/2011/09/02
[1] The ecosystem in which the city of Rio de Janeiro is situated is the Mata Atlântica (Atlantic Rainforest) that was previously the second major tropical forest in South America, covering all the coastal area of Brazil and reaching Argentina and Paraguay. Today, only 10% of it remains. However, it is still one of the ecosystems of most biodiversity on the planet.
[2] Quilombos are the autonomous zones that are prevalent in many parts of the Brazilian territory, comprised of descendants of those Africans enslaved centuries ago. They were founded as villages created by blacks who escaped or rebelled, normally away from the cities, but also in the urban peripheries, creating an economy of subsistence but always maintaining a constant conflict and attack of the slave regime. The first and the most expressive was the Palmares, situated in Serra da Barriga in Alagoas, which lasted more than one hundred years between the 16th and 17th centuries. Many of those that still exist have their legitimacy over their inheritance of these lands recognized in writings which attest to the battles fought by these peoples. Some of the most recent re-urbanization attempts are based on a declaration of intolerance of these historically-proven facts, and literally betray quilombo communities, throwing them off their lands without any consideration for these writings and the history of quilombo resistance.
[3] These militias are groups of paramilitaries, formed by police officers, ex-cops, firefighters, among others, who took clandestine control of various favelas.
[4] Judicially, the 'Records of Resistance' would be the justification for the taking of violent action on the part of the police. Any execution would become a consequence of offensive resistance on the part of 'the criminal'.
[5] Specific projects have arisen to build cable cars in communities like that of the Alemão complex, among other favelas, so that tourists can take the opportunity to have a panoramic view of the region.
[6] Gentrification or 'nobilization' (from the English word gentry, roughly explained in Portuguese as term close to 'nobleness'): urbanistic intervention that acts through the forceful re-occupation of city areas based on 'urban ennoblement' plans, which displace the poorest so that wealthier middle-class people can move in. Another term oftently used in Portuguese, especially by resistance movements in relation to such operations, is 'hygienization' for sanitization/cleansing, which brings to light the classist aspect of the social 'cleanup' involved in these measures. These urban planning policies come accompanied by various other social measures that assure their efficiency, often turning into a declared war against the poor people who previously inhabited those areas, a veritably proclaimed massacre. Some city planners have used the ambiguous and hazardous term 'regeneration', which, apart from its classist connotations, in some cities assumes an evidently racist character. Gentrification programmes are the same as those which the country's governments and their private partnerships call 'revitalization' and within Rio de Janeiro are most identified with the truculent 'Shock of Order' process.
Addendum 3
A transcript of part, much of which was not used in the final version, of the film: 
LEO INTERVIEW.
Yea, the dynamic of some things changed quite a lot, there are always tensions between the local people and some of the police. There are many media reports including abuses by the police forces of the people who live here. The most famous was the case of Amarildo, who was tortured and killed and certainly it wasn't the first and will not be the last and we have cases like that.
The government uses statistics to manipulate public opinion and says that because the confrontation between the police and the traffickers has stopped the number of deaths in the favelas has obviously diminished. This is one truth.
This statement seems weird to me because it's as if the government could only go into the favelas with the police, the police could only take a position of confrontation, of conflict, which was always the case. During the 90s this was very strong.
Obviously given the militarization of the favelas, halting this confrontation will lower the number of deaths and hence this kind of statistic. There are studies which also show that the number of disappeared in the favelas under UPP (Pacifying Police Unit) control increased. They did, they did. It's an atmosphere of tension that didn't exist with the other group in the favelas then, which continues but in a more discreet way.
(Brrr! Noise of cars…)
Well let's go down and I'll show you.
This here…this side of the footpath, we are going down the Central Avenue of Alemão Hill (morro), the name that the Alemão complex is called after. This part here, as we can see, is a part which was left this way because of the construction they did on the hill, not only because of the cable car but also to widen this section and such. There were some evictions and until now building work hasn't taken place… People think there won't be any more construction because there's already been a lot… People think that for no reason other than compensation for some, those who had their houses demolished were evicted at lower than market prices. Many who were evicted were moved to housing estates but not everyone… No, no, they hadn't places for everyone and so you can see this scene here, of rubbish and demolished houses.
Q.????
Well, this side of the pathway was like the other side. It was full of houses up to here. There was a house right here, all of that part where the cars are was also full of houses and as we go down the hill, we see the same thing…
All this part till here had houses like on the other side, they were removed, demolished, some people evicted to other housing complexes, others negotiated compensation. Well!
As we go down we'll see more of this section, this section of the footpath and that's how it is. And the construction work stopped years ago. And if you talk to people they'll tell you that's how it is, that they are no longer …, or it seems to me there is no more hope, that it seems that growth has stopped here. I don't know.
This here was also a house, up to here.
I lived here in the house behind this gate, that's where I lived, I was born here, I was raised and spent my childhood in this house here.
This side here, this side of the footpath, as you can see, has turned into a parking lot. People use it to park their cars and so on but there is so much unfinished stuff, dumps, half-finished buildings, we'll go down the hill here. This side, all over there, this side is like this.
Q.?????
That's it there, including..
– I can leave them in Botafogo, at the Ramos station.
-At the Ramos station?
-The 485 to Botafogo goes by, the 484.
-Yeah
-Or the metro as well.
-It's just down there.
-There's been a problem with the sound. I could fix it if you hold it.
-Hold you or the equipment (laughter)
-Ok, Let's go on.
-Well. Some people came back to build, like for example that house there, can you see, it's being built because people generally understand that it was going nowhere, the general perception was that nothing was being done on this side…Theoretically, it was to open up this throughway and all that. In August people started rebuilding houses on those sites there as you can see. This here, as you're seeing is a hole, building materials, stones, rubbish. We'll go down there by my girlfriend's grandmother's house which was also demolished. Obviously everyone had a strong affection for their houses and all that but while for the state it was just something concrete, for you it was a house that you remembered from your childhood, with smells and all that. It's just dust but for you a place like this, with all the emotional feelings and personal history has been demolished, it's really suspicious, if you need to do this in the name of some progress or for some arbitrary reason, it's even more disgusting, isn't it? The house was where those three cars are. It was the house of my girlfriend's grandmother. And that's where it was demolished without anything built in its place and your history, your roots, a big part of your life is treated like that. Well…
Q. Then it has something to do with last year's demonstrations?
The demonstrations last year were when many people became militant and started to pay attention to the politics of these times. Many people who had been here ended up reinforcing some…some ideas or going further down this line. Myself, I always had strong political positions but I was never an activist, no, never militant. I started being an activist about two months before the demonstrations. I even enjoyed it. I began to get deeper into… I was a bit uncomfortable with the political philosophy… into how I could be active in my own area and that. And so more or less two months before the demonstrations I dug deeper into this idea. So I did some research at home on my own, in history, on the way that people organised themselves, if they were organising to change reality and that. So I ended up coming to the conclusion that I'd prefer to be active in my own area and became very impressed by the actions of some who lived in the early 19th century, Brazilian anarchists, especially here in Rio de Janeiro, how they were active, always with the workers, beyond the issue of working with political science, the issue of cultures, cultures always linked to this, like popular theatre and such. This interested me a lot and I began to identify with this form of action and I saw that this was more or less how I wanted to be active in my own area.
(Let's stop the music…)
And that's how it was. I stayed and I took these ideas that impressed me from the thinkers and activists of that period at the beginning of the 19th century in Rio de Janeiro and I was deeply struck by this and through reading I understood the necessity of associating with people in order to change reality and try and get some change and that's when I started to look out for people who were politically like me as least to the point of being able to join together so that we could do things together. And from there I began to be an activist, not so long ago really.
Q.- Did the demonstrations that year have an impact on them and you?
Yes, yes, certainly. I think for everyone, no? As I told you it was a little bit before those demonstrations. Those demonstrations surprised everyone because it's said that Brazilians are friendly, that Brazilians are apolitical, that Brazilians aren't interested in this sort of thing. What happened is being studied. So, I can see a series of factors. Even this question, that maybe there are neo-developmentalist signs from the government, and people were seeing the spending and had had enough of the huge spending in construction, with mega events and didn't feel this would translate into more health care or education for them. And there's the matter of violence, of police violence, I think a lot of things came together. It was a combination of things they did that resulted in those huge demonstrations last year.
It was very exciting, it was something you didn't see coming, right? If anyone had told you there were going to be huge demonstrations and such in Brazil this year, right? You just couldn't see it. And this happened on a weekly basis, weekly and in such a strong way that it appealed greatly to people and all. So it was surprising, it was inspiring in the sense that you saw people mobilising in a reality which wasn't like that, people had never mobilised like that. The historical social movements had had their struggles, their own ones, right? But the population joining in was certainly a surprise. For those who were activists, I believe it was very exciting. For anyone who wasn't there, a lot of people I know began to be active and get involved in politics and even develop critical ideas from it. It's funny, right? that it has to do with the big national passion that football is, this question of the World Cup thus got mixed up with a fare increase and the question of the World Cup as a mega event, of the Olympics. So it was the coming together of a lot of things but if you think about it you'll find one reason here and another reason there going into the melting pot.
Q. Can you talk about the Alemão group?
Yes, yes. Well it was the group of people I thought I should join. I already had the idea that I wanted to be active in my own area, and thought it very necessary. I made contact when they were organising a popular library, here in Alemão, some girls from a place called Miners' Hill. The girls were sensational, yea, exciting and such. And they spoke to people in the collective about setting up a popular library and they would support them, raising donations and such. I saw an appeal for this on the social networks on the internet and so I put aside some books that I could give, asked about this popular library which turned out to be this very group, the Alemão group. So I went there and brought the books I was going to give to the library one afternoon when there was a meeting and I stayed for the meeting, gave them the books and took part in the meeting and I don't know what else. I'm still here today.
The group came about due to these tensions from the militarisation of this very area. A young person was killed here in Alemão and another on Borel Hill the very same week and people –I wasn't yet a participant in the collective at that point – and people here who knew people there decided to act simultaneously. Here they called it Occupy Alemão and there Occupy Borel.
After that, people there continued to mobilise and people here, at least they continued to meet and so they gave continuity to these actions and such things. And that's how it happened. I wasn't yet a part of it. I think I joined them about six months after that, if I remember correctly. And that is what we do, we usually… we have different actions basically all of which try to develop critical thinking, and develop a politically critical consciousness in the area.
If you sit in a bar and have a conversation with people, people can talk, they are aware of the reality around them, if only empirically, even people who have no formal education or a higher education. If you sit down to talk politics, about what is happening in this area, then you see that by reemphasizing some aspects of what you are doing something changes, and everything we try to do, we always do along these lines. We have some cultural things as well, with music and such but always advancing this line of developing critical consciousness, politics of looking differently at the area, which is a very criminalised area, which in fact is now a militarised area. In reality this has to do with the local culture and music, musical movements which for example, happened to funk dances in Alemão after the military occupation, when they were prohibited for a long time. They only resumed now so people are returning. Well, leaving aside the favela, right, the state, on the other hand, is always interested in somehow criminalising cultural or other expressions heavily.
Understanding this type of thing, we try to be active along these lines and try to see what we can do about the area and the people who live here. Basically that's it.
Q. Can you tell about what happened a couple of weeks ago?
Ah! Yes, yes. What happened was the following: the weekend before this demonstration there was a police operation in which 9 people were arrested. Of these 9 people, the family and friends of the 2 young people declared that they were innocent, that they had nothing to do with trafficking and mobilised to call attention to this. This was supported by the collectives in the favela and the motorcycle taxi drivers as well. In the demonstrations last year, it was everywhere, the media never tired of showing the harsh reaction to the demonstrations by the Brazilian police, the way and even how… how these moments of tension were used to legitimise police violence. We see in demonstrations in other countries how the police are more cautious, how the police don't react to the demonstrators' provocation and such and here we have the Brazilian police, everyone saw what happened last year.
And if in the centre, in the area, in the city centre, central and southern areas, if the police did what they did and were so harsh, how much harsher here in a favela. Well, the police response was to close this throughway, even though it's a main throughway, one of the neighbourhood's main ones. The police responded in a very violent and harsh way. And a lot of people, after this happened, were traumatised and afraid to demonstrate in a democratic way. I have friends who were threatened because they were filming, taking pictures of the demonstration, that's right, they were threatened by the police.
It was similar to what happened in the city centre but obviously in a very extreme way, very strong. It was a very strong experience for people. And thus because of that experience, the day when the demonstration was repressed, there was an exchange of gunfire as well. There was shooting with the traffickers as well.
It was a very complicated day and after the demonstration we talked, the people of my collective and others who are also active in Alemão, of holding a public meeting so that people could analyse what had happened and see what people wanted and such.
At this public meeting, people raised this, and we asked whether it would be interesting to carry out another demonstration or whether it would be very dangerous, better to go to the city centre because here, right, there was this repression, it was stronger here than in other places where there were demonstrations.
And I also heard this type of rationale by some people who thought it was. I see this question in two ways, right, so we need to be self-critical. This is why I wanted to be active in my own area and everyone knows that I am of the opinion that there are people out there who only need a little push to do certain things. And that's exactly why I focus on my own actions, not just some political group that is going to take part in what I do.
So promoting this kind of thing, this critical thought, well we know that it's lacking a bit. And it's not just in the favela but I'd say worldwide, that it's lacking for the Brazilian, it's lacking for the world citizen, for the American as well as the European. People could think more and I think this has to do with the educational system, well, it has to do with a lot of things.
Now there is another side to it, that the middle class always wants to take over things. Well, it's a bit funny. In the meetings with the favela movement which we saw throughout the city, people couldn't talk, yet it was a public meeting but… This happens in the favela as well.
It's about stimulating critical thinking…
Middle-class people have the matter of, a matter that can also be seen from this side, that the majority of the demonstrators are students and, except for recently, some of the poorest classes of the favelas are getting into the university, the university is still a middle-class environment, so you can also think about that. But I went on various demonstrations; friends here from the favela also went on demonstrations.
I heard it said as well but I think that there is always this consideration, right, that sometimes the middle class want to take over, they want to take over some things…
POSTSCRIPT (added July 5th 2015): interesting text on Brazil's economy here (written in September 20134, but only recently translated)
target="_blank" style="font-family: Geneva, Arial, Helvetica;
font-size: 9px; color: #76766B; text-decoration: none ;">Meter For Webpages