Proletarians show Lenin what is to be done:
A police vehicle burns during a protest against Ecuador's President Lenin Moreno's austerity measures in Quito, October 7, 2019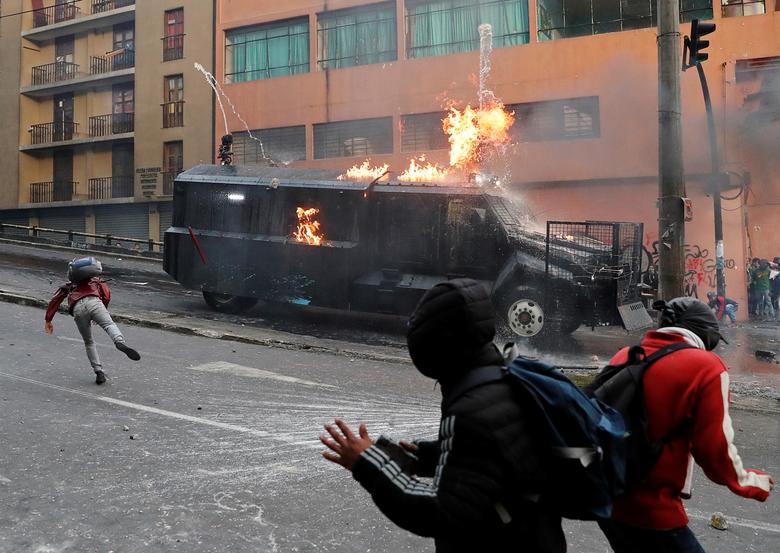 14/10/19: President forced to retreat "Ecuador's president, Lenín Moreno, has struck a deal with indigenous leaders to cancel a disputed austerity package and end nearly two weeks of protests that have paralysed the economy and left seven dead. Under the agreement, Moreno will withdraw the International Monetary Fund-backed package, known as Decree 883, that included a sharp rise in fuel costs. Indigenous leaders, in turn, will call on their followers to end protests and street blockades. "Comrades, this deal is a compromise on both sides," Moreno said. "The indigenous mobilisation will end and Decree 883 will be lifted." The two sides will work together to develop a package of measures to cut government spending, increase revenue and reduce Ecuador's unsustainable budget deficits and public debt. In a shift from the heated language of the last 10 days of protests, each side at the negotiations praised the other's willingness to talk as they outlined their positions in the first hour before a short break. Other indigenous demands included higher taxes on the wealthy and the firing of the interior and defence ministers over their handling of the protests." One has to be very naive to think that any deal that will have to have the eventual aproval of the IMF if the country is going to receive its strings-attached money will be anything other than a sell-out. Of course, the IMF may refuse to give them money – and where will that end? Or maybe it's just a bluff on the part of the government so as  to disband the movement and give them time to work out a better strategy (attacking the whole of the dispossessed almost  all at once was not an intelligent strategy on the part of the state). An interesting potential consequence of this apparently total victory will be how this may very well encourage the poor in other Latin American countries.
Interesting and informative interview  with participant in the uprising (interview given on 10th October)
13/10/19:
Army called as curfew is announced
As protests continue, we see contrary positions from the leaders of the indigenous groups, mainly coming from the confused and contradictory positions of Lenin Moreno " The Confederation of Indigenous Nationalities of Ecuador explained that at the moment there were no talks between the protesters and the government… Indigenous activists in Ecuador will continue protests across the country despite accepting President Lenin Moreno's offer to hold dialogue, the Confederation of Indigenous Nationalities of Ecuador said…"We will hold contact in order to try to ensure the abolition of Decree 883 [on cancelling subsidies on fuel prices] but we will continue protests across the country demanding the government ensure adequate guarantees," the statement said. The confederation explained that at the moment there were no talks between the protesters and the government. "There cannot be any real dialogue until security guarantees are provided for indigenous activists across the entire country's territory," the statement said. On Friday, President Moreno invited protest leaders to hold a direct dialogue in order to stop violence and stabilize domestic political situation. The confederation's first reaction was to reject talks until the government dropped plans to cancel subsidies, but on Saturday the activists said they were in favor of dialogue. The first round of talks between Ecuador's government and the indigenous activists is due to be held the capital of Quito at 3 pm. local time on Sunday, the South American country's UN mission wrote on Twitter. ..Ecuador's authorities said on Wednesday that over 400 people, including 86 police officers, sought medical assistance. The press service of the human rights ombudsperson said that five people died in clashes between protesters and the police. On Saturday, Quito Mayor Jorge Yunda said Ecuador's leadership had agreed to meet the protesters' demands and scrutinize the decree on cancelling subsidies on fuel. Later Moreno made a decision to introduce curfew in Quito and its outskirts."
12/10/19:
Indigenous leaders reverse decision from previous day to not talk with Lenin Moreno   "An indigenous group in Ecuador that has led protests for more than a week against a law that ended fuel subsidies said on Saturday it has accepted direct talks with President Lenin Moreno, the first sign of a possible breakthrough in the dispute. The highland capital of Quito was rocked by a 10th day of clashes over Moreno's austerity plan, with the office of Ecuador's comptroller set on fire and access roads to Quito's airport blocked. TV channel Teleamazonas showed images of its own offices in flames and said its employees were unharmed…Conaie, an umbrella organization for indigenous people in Ecuador, made the announcement about the talks with Moreno. Ecuador's ombudsman Freddy Carrion, who has been monitoring the conflict and encouraging dialogue, said Conaie's leaders were unaware that Moreno planned to announce a curfew and said it could jeopardize talks. "This measure looks like a desperate attempt by the government that will only worsen the violence," said Carrion. He recommended Moreno suspend the subsidy cut immediately…Earlier on Saturday, one of Conaie's leaders told TV channel Ecuavisa that conditions for the talks included them being in public and having them broadcast. "We're not going to talk behind closed doors. It has to be with the Ecuadorean people," Leonidas Iza said in broadcast comments. "There has to be large screens so every tiny input from our members can be heard." On 11th October they'd said "The dialogue that he's seeking lacks credibility" (statement by  indigenous umbrella group CONAIE) , adding that it would negotiate with the government only when a decree to remove fuel subsidies had been "repealed." What's happened to change that basic principle? "Suspending" the subsidy cut should be treated with the same scepticism that with which the movement in Hong Kong treated Lam when  she  "suspended" the extradition law. Nobody believed her, and she had to withdraw it totally at the beginning of September, by which time  it was too little too late.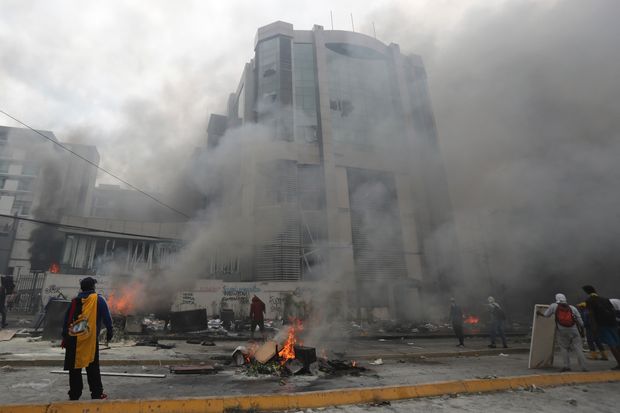 National Auditor's office torched
11/10/19:
Indigenous group rejects pseudo-dialogue with President Lenin Moreno… as clashes continue (video)… lots of videos and links here More here "The protests first erupted last week when truck drivers took to the streets, but indigenous protesters have since taken the lead, with villagers from the highlands walking and hitching rides to reach Quito.Representatives of Amazonian tribes, many carrying spears, streamed into the city late Thursday and early Friday, adding opposition to oil drilling to a growing list of complaints about Moreno's government.While most roads in Quito outside of the center remained clear, dozens of taxis formed a caravan that wound through the city to express solidarity with protesters, honking and displaying anti-Moreno signs."
10/10/19:
Cops captured by movement "The demonstrators detained at least eight uniformed police officers who they forced on stage before a crowd. The stance of the indigenous movement has hardened even more after clashes on Wednesday night left more casualties. Indigenous leaders here said there will be no negotiation with the government, and some are calling for Ecuadorian President Moreno to step down…Foreign Minister José Valencia said it will not negotiate under the threat of violence and vandalism. "This is an extremely critical situation which is not a decision of the indigenous leaders," Valencia said." (cops were later released, deprived of their bullet-proof vests & boots)…5 protesters, including an indigenous leader, killed  
9/10/19:
Ecuador: 1st day of possibly indefinite general strike…whilst some indigenous leaders (certainly not all of them) condemn "vandalism and looting"…clashes in Guayaquil, where government has moved to …More here Videos and other links here…Force Majeure (unforeseeable circumstances preventing fulfillment of  contract.) declared on all oil operations – pipelines shut down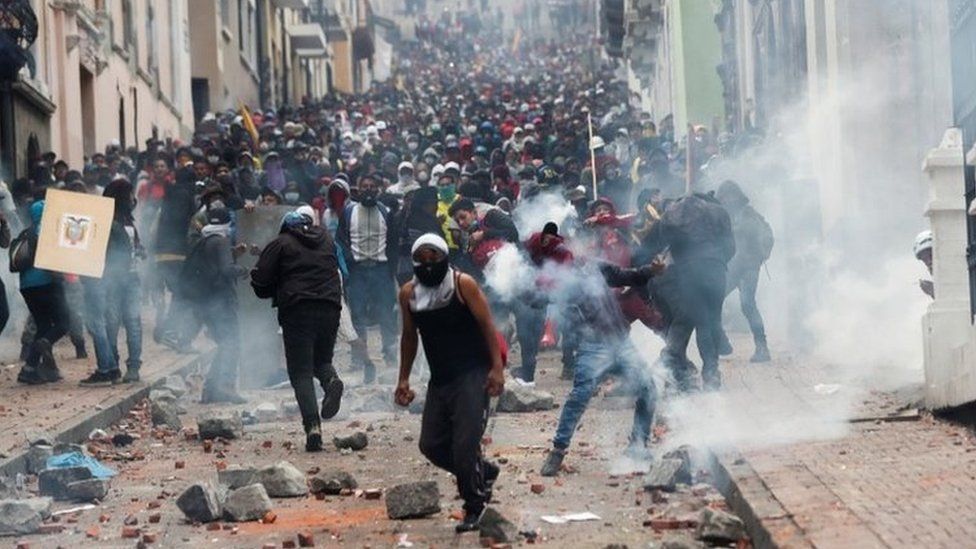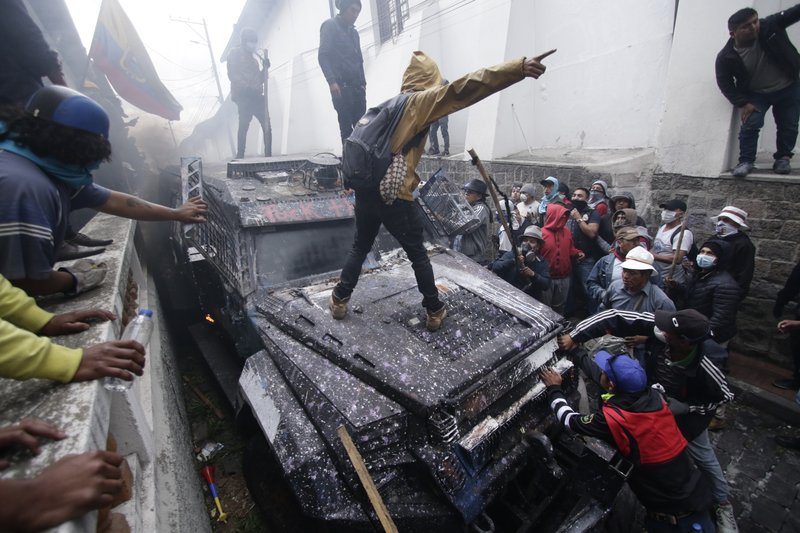 8/10/19:
Ecuador, Quito: anti-austerity riots etc. force Lenin Moreno's government to relocate outside of the capital after state ends fuel subsidies, sacks some public sector workers, threatens privatisations "Images from Quito showed protesters hurling petrol bombs and stones, ransacking and vandalising public buildings as well as clashing with the police in running battles late into the night… The president faces a stiff challenge from indigenous groups and others who blocked some roads for a fifth day from Monday morning with stones, tyres and branches. Indigenous-led protests brought down three presidents in the years before Correa's rule. Rioters in Quito forced their way into the comptroller general's office and vandalised the assembly building on Monday. It followed days of violence in which protesters burned military vehicles, destroyed dozens of rose farms, a dairy and an oil production facility. The outnumbered security forces have been unable to prevent much of the destruction… prices rose overnight by about a quarter for petrol and double for diesel. A state of emergency was imposed on Thursday. Lorry and taxi drivers forced a partial shutdown of Quito's airport and roadblocks have paralysed trunks roads across the country. " More here "The South American country of 17 million people appeared to be at a dangerous impasse, paralyzed by a lack of public transport and blockaded roads that were taking a toll on an already vulnerable economy. Violence has persisted since last week, when President Lenín Moreno's decision to end subsidies led to a sharp increase in fuel prices. Protesters seized some oil installations and the state oil company, Petroecuador, warned that production losses could reach 165,000 barrels a day, or nearly one-third of total production, if insecurity continues. The government declared an overnight curfew around key state installations and government buildings as well as vital infrastructure such as airports and oil refineries. Earlier Tuesday, protesters broke through police barriers and some entered the empty congress building in Quito. Police fired tear gas and forced them to retreat. Indigenous protesters occupied two water treatment plants in the city of Ambato, south of the capital, raising concern about supply to residents, according to municipal authorities. On Monday night, hundreds of people rampaged through the Duran area near the port city of Guayaquil, looting pharmacies, electronic appliance stores and other buildings. In another part of Ecuador, police abandoned an armored vehicle to protesters who set it on fire. In multiple areas, rioters smashed car windows, broke into shops and confronted security forces..."…and here (videos and links).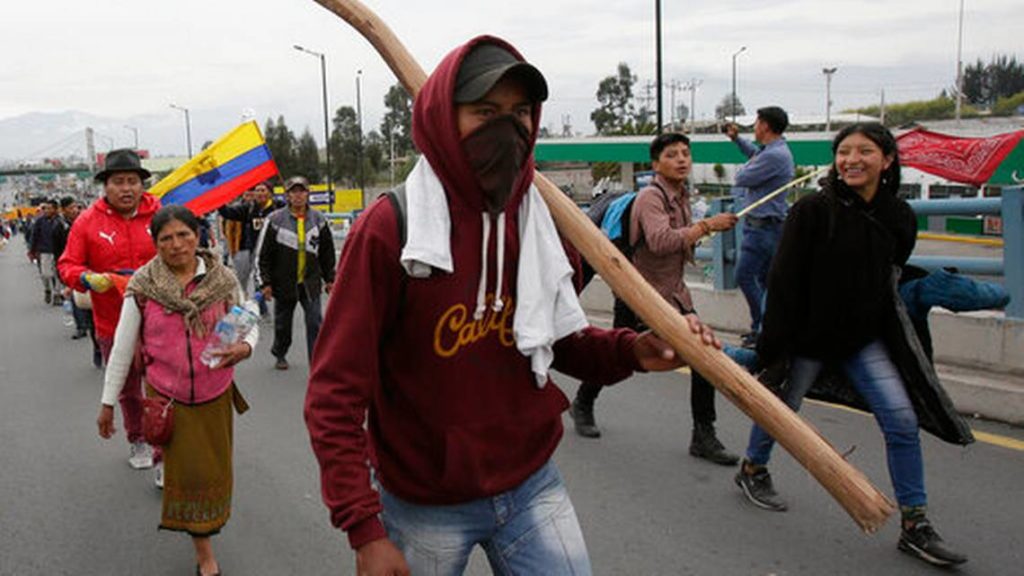 7/10/19:
Ecuador: movement grows and strengthens (videos and links)