The chronology on this page will be regularly updatedBelow: map of protest areas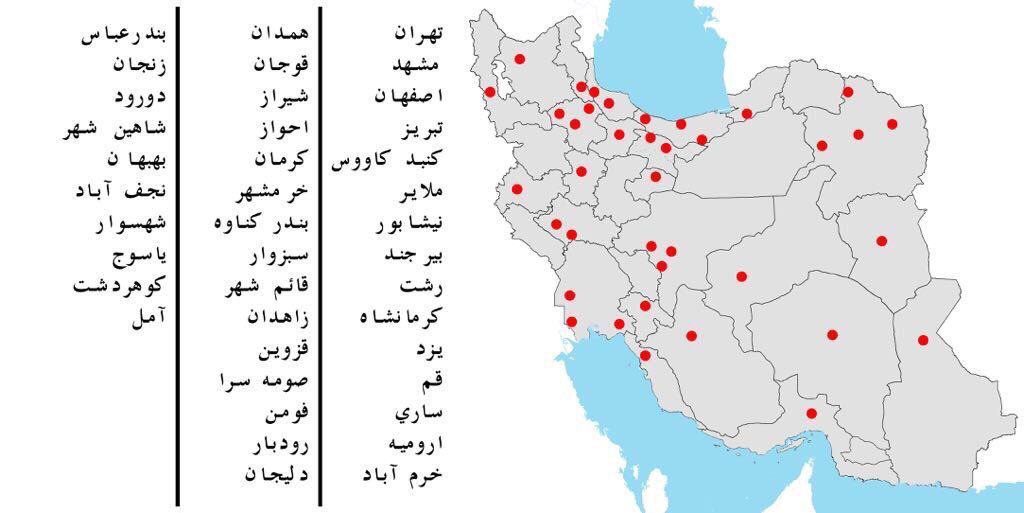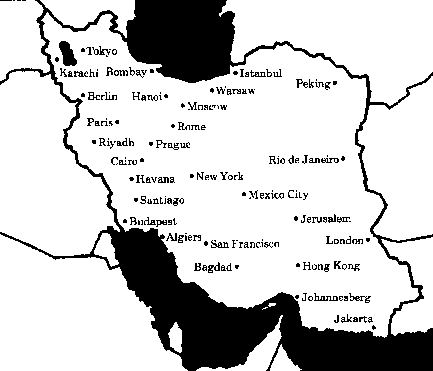 comments, links and various photos have now (9/8/18) been moved to the bottom of this page

a chronology of events both recent and not so recent
I wrote the paragraph below about Tunisia on January 9th, before the dominant English-language media started reporting it:
Iran effect? – On 8th and 9th January, riots against high prices & increased taxes spread across Tunisia, involving around 28 different areas; so far, like in Iraqi Kurdistan, the mainstream media has remained silent about it (for details see News of Opposition).  Of course it's hard to know whether this is partly due to Iran, but it's very likely – overcoming fear with fury is contagious and proletarians historically have always been influenced and encouraged by revolts in different parts of the world to confront their own specific miseries.

31/12/18:
Iran, Tehran: 3rd day of clashes between state and students following bus crash in which 10 students were killed    "Students have protested over the aging transport fleet and lack of accountability from the authorities. A video on Twitter showed students at a campus in Tehran chanting slogans and demanding the resignation of the chairman of the university's board of trustees, Ali Akbar Velayati, an aide to supreme leader Ayatollah Ali Khamenei. In recent months, Iran has experienced demonstrations in different cities as factory workers, teachers, truck drivers and farmers protested against economic hardship and corruption." More here
27/12/18:
Iran: report on truckdrivers strike…ultra-leftist report on strikes over the last month or so
18/12/18:
Iran, Ahvaz: striking steel workers arrested (see entry for 4/12/18)

12/12/18:
Iran: report on various strikes and protests   "…workers at the Iran National Steel Industrial Group (INSIG) continued their strike for the 24th consecutive day under the banner of "Humiliation, Never!", the Free Trade Union of Iranian Workers reported on it its Telegram account…. INSIG workers held an assembly protest on December 11 outside the National Bank office in Ahvaz, the capital of oil-rich Khuzestan Province, while workers rallied in support outside the Iranian Parliament in Tehran….Teachers across Iran, supported by university students, have also held sit-in protests, calling for better pay and free, quality education….Students at universities have rallied in support of the teachers and workers across the country. A support assembly at Amir Kabir University in Tehran was violently disrupted after so-called Basij students stormed the gathering. The Basij is a volunteer paramilitary militia established in Iran in 1979 by order of Ayatollah Ruhollah Khomeini."
4/12/18:
Iran: students protest in solidarity with striking workers and jailed students & teachers
17/11/18:
Shush: report on workers' demo at sugar plant "Haft Tappeh workers have been on intermittent strikes and protests for almost a year, for the mismanagement of their privatized complex, which has resulted in late payment of wages and lack of production by the factory. The workers demand an end to the private ownership and either a takeover by workers or a combination of ownership in which they can have a voice in running the business.The once profitable complex was privatized in dubious circumstances a few years earlier and its current owner appears to be on the run from the authorities for non-payment of dollar denominated loans from government banks."
19/10/18:
Report on repression of peaceful teachers' sit-ins (more information here, from the political opportunists of NICRA)

12/10/18:
On the issuing of death penalty against 17 striking truckdrivers

2/10/18:
11/8/18:
Iran: report on burning down of seminaries (no specific dates given)
"At the beginning of the demonstrations, a Hawza (seminary for training clerics) was attacked and burned in the city of Turkestan in the province of Qazvin in northwestern Iran….The incident was then seen as an unintentional act of anger, but the same thing happened few days later when hundreds of protesters tried to enter and burn a Hawza in the Karaj area near the capital Tehran. It would be understandable if people attack state institutions which they complain of their policies considering they are a direct party in the crisis. However, attacking the person of the Supreme Leader and religious schools is a return to the root of the problem which Iranian youths understand well, and which is that the revolution had created an aura of righteousness around the person of the Supreme Leader and had placed him above any accountability or reproach and allowed clergymen to seize power."
10/8/18:
Iran, Tehran: football fans clashing with cops shout anti-government slogans "Reports from Iran indicate an "intense clash" between security forces and angry fans attending a football match in Tehran on Friday….almost everyone in the stadium was chanting opposition slogans. …"The situation at the stadium is extremely volatile, you can hear loud slogans and horns and TV viewers are watching the match without sound, so they cannot realize what is going on at the stadium. This started after radical slogans were chanted from both sides and the state TV cut off audio broadcast, so the video coverage of the match continued in silence."…Angry fans clashed with the police and broke stadium seats and some window panes at the ticket office and attempted to cross the barriers to reach the additional platforms allocated to Esteghlal fans. A Mehr news agency report titled "Serious clashes between Tractor fans and the police," says Tractor fans clashed with Police because far less seats were allocated to them. According to Mehr, as the violence spread, the two teams' supporters threw seats at each other while also throwing bottles and stones into the court. One day before this match, several fans and policemen were wounded in clashes at a stadium in Ahwaz while Khouzstan's Esteghlal was facing Tehran's Persepolis team. Reports say that some 10,000 security forces were called in to control the situation."
3/8/18:
Iran, Karaj: 500 attack religious brainwashing factory-school "At 9 pm (1530 GMT on Friday) they attacked the school and tried to break the doors down and burn things…They were about 500 people and they chanted against the system but they were dispersed by the riot police and some have been arrested…These people came with rocks and broke the sign and all the windows of the prayer house and they were chanting against the system." According to someone I know about a dozen mosques have been torched.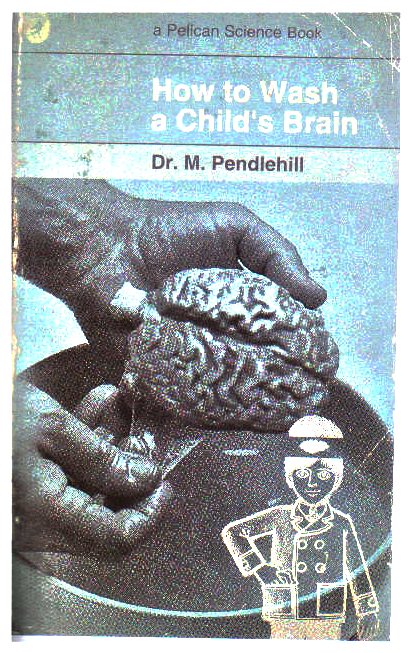 2/8/18:
Iran: clashes with state on 3rd consecutive day as protests spread over  high cost of living and inflation More here "…demonstrators chanting slogans against the dictatorship, clerical rule, and Iranian Supreme Leader Ayatollah Ali Khamenei…. also called for the release of political prisoners. Reports from Iran on August 2 said protests in Isfahan continued for the third day, while the unrest had spread to other major cities…In Shahinshahr, near Isfahan, women were demonstrating against economic hardships and compulsory hijab, and called on Iranians in other cities to support them. In Karaj, a densely populated city near Tehran, demonstrators gathered around the notorious Rajaishahr Prison, where political prisoners are kept next to criminals, chanting slogans about the people's will to open the gates of the prison and free political prisoners. Later reports said police had dispersed demonstrators and were guarding the prison. Elsewhere in Karaj, demonstrators attacked the IRGC-linked militia dispatched to suppress demonstrations and set fire to a militiaman's motorbike." And here "…protests took place on Thursday in the capital, Tehran, and nine other cities: Ahvaz, Hamedan, Isfahan, Karaj, Kermanshah, Mashhad, Shiraz, Urmia and Varamin…On Tehran's Valiasr Street, a main thoroughfare bisecting the capital's eastern and western sectors, protesters set a large container on fire and chanted: "Mullahs, get lost."…a video clip showed protesters in Karaj, on Tehran's western outskirts, apparently throwing small objects toward security forces, as a man shouted that protesters were under attack…. security forces in some areas used social media to find out where protests were being planned and then deployed to those locations ahead of time as a way of deterring demonstrators from showing up." And here "In videos circulated on social media and purporting to have been taken in the town of Gohardasht, a suburb of Karaj, dozens of demonstrators can be seen in the streets, setting fire to police vehicles and shouting "death to the dictator." Police respond with tear gas….Earlier, Iranian protesters had clashed with police outside parliament as the plunging rial triggered three days of protests last month in Tehran."
31/7/18:
Iran, Tehran: barricades and clashes as demos against inflation etc. spread
Iran, Tabriz: railway workers occupy railway building "Maintenance workers in Azerbaijan province, who have not been paid since April, refused to start work on Thursday, having stayed in the railway's offices overnight. They continued their protest yesterday against non-payment of wages, the lowering of the skill index rating for their work and a lack of effective mechanisms to respond to their workplace concerns and demands."
Iran, Abadan: 2nd night of clashes over water scarcity "…protesters threw stones and debris at police and set a car on fire in a protest that began late Sunday in the city of Abadan. The report says police blocked roads near the protest and that the situation is "under control." Similar clashes over water scarcity broke out in the nearby city of Khorramshahr late Saturday. …Abadan is home to Iran's biggest oil refinery. The two cities are in the oil-rich Khuzestan province, which borders Iraq and is home to a large Arab community"…More here "Reports and video posted on social media indicated rallies elsewhere in Khuzestan Province, including in the provincial capital, Ahvaz. In Mahshahr, local media reported that demonstrators took to the streets to express support for the residents of nearby Khorramshahr who have been protesting shortages of drinking water over the past days….State television showed banks with broken windows, and reported in the afternoon of July 1 that "peace had returned" to the city…."In Khuzestan we have oil, water, petrochemical [industry], steel, ports, agriculture, date palms, and a common border with Iraq, but people do not benefit from these blessings and all they get is pollution and rivers that have dried," Kazem Nasab told the semiofficial news agency ISNA on July 2….The latest protests in southwestern Iran came after three days of demonstrations in Tehran starting from June 24 over the country's troubled economy. The rallies included protesters confronting police outside parliament and officers firing tear gas at the demonstrators. They also led to the temporary closure of the city's Grand Bazaar, where shopkeepers denounced a sharp fall in the value of the national currency, the rial."
Iran, Khorramshahr: heavy clashes between state and protesters against water shortages …This reports solidarity demos in 5 towns…More here…This says crowds have armed themselves with captured assault rifles…though this says just one rifle with a few bullets was captured…and this says 4 were killed
26/6/18:
Iran, Tehran: 3rd day of angry protests (see entry for 24/6) "Demonstrators had taken to the streets of Tehran on Tuesday for the third day to protest against the country's deteriorating economy and sharp fall in the value of the national currency. Online videos showed demonstrators again confronting police on Tehran's streets and alleyways. Similar confrontations had taken place on Monday where police fired tear gas at protesters near the parliament building. Video footage posted on social media Tuesday showed protesters setting fire to garbage dumpsters in Tehran streets to block riot police from attacking them. Other videos showed riot police breaking windows of closed shops and striking parked motorcycles with batons. The police has accused protesters in recent days of causing damage to public property. Metro stations near the bazaar were closed for hours as the result of protests, state media reported. Pictures also showed shopkeepers were on strike in other cities including Arak, Shiraz, Tabriz and Kermanshah. The protesters chanted anti-government slogans in various commercial centers in the capital"
Iran, Tehran: large spontaneous demos against fall in value of rial…more here "The Iranian rial has lost nearly 50% of its value in six months … Traditionally conservative, the mighty "bazaar", as the traders are known in Iran, backed the Islamic revolution of 1979, but has used its influence several times since then to push back political plans that it considered going against his interests….In the covered streets of the Grand Bazaar near the Place aux Herbes (Meidoun-e Sabzeh), there is no open shop. Passersby walk along a succession of closed metal curtains. "It's like that in the whole bazaar," says a 45-year-old carpet merchant who grew up in the family shop before taking it back, "it's the first time in my life I've seen this."… "The riot police intervened in the morning" against a bazaar demonstration, "arrested two men and calm returned."

31/5/18:
Iran, Babol: villagers block roads in protest against road insecurity causing high accident rate Also has reports on 10th day of truckers strike and steelworkers' strike
28/5/18:
Iran, Tehran: workers at Tehran Terminal Barracks strike in solidarity with nationwide truckdrivers' strike now in its 7th day "In solidarity with the strike of truck drivers in 257 cities, on Monday, Tehran Terminal Barracks workers and staffs joined the truck drivers strike with slogans.: Do not be afraid, Do not be afraid, We are all together; They have called on marketers and businessmen in Tehran to join the strike as well. …The clerical regime in fear of a united and powerful nationwide truckers strike in Sanandaj sent in a hurry his special forces to the gathering of protesters. In the city of Kangavar (in the province of Kermanshah), also the clerical regime has sent its agents and has deceived truck drivers that the strike is over. But vigilant drivers did not believe in the deception of the regime and continued their strike. Following the drivers and truckers strike, there were long lines at gas stations in the city of Sardasht (West Azarbaijan province). The regime's governor in the city called for people's calm in a statement in panic about the formation of protests and falsely declared that there is no gas shortage in fuel stations. Also on the sixth day of truckers strike, oil tankers from the Sanandaj Oil Company (West Iran) expanded their empty food spread to protest lack of their livelihood. The clerical regime sent its law enforcement officers to the site, in fear of spreading this move to general public. The drivers of oil tankers in Kerman also stopped working. Following the strike of truckers, fresh vegetable whole seller market in Kerman was closed as well. Iranian drivers in Georgia, in a symbolic act, in solidarity with the striking of Iranian truckers also refused to load their trucks." See also entries for 27/5 & 26/5/18.
27/5/18:
Iran: truckdrivers' strike continues "In spite of the repressive measures, the freight terminals in various cities remain half-closed. Striking drivers refuse to load and are lining up their trucks along the roads. … In Ardabil, truckers prevented passage of loaded vehicles….In solidarity with striking truck drivers, taxi drivers and taxi owners in Tehran, protested against low fares and expensive spare parts on Sunday. In the city of Yazd, minibus owners gathered outside the city's municipality to protest high costs of spare parts, and to express solidarity with striking truckers."
26/5/18:
Iran: report on 5th day of nationwide truckdrivers' strike "…the truckers are protesting high commissions charged by transport companies, highly expensive road tolls and government's recent decision to stop paying them social insurance subsidies. Truck drivers are also unhappy for being forced to install tracker devices on their vehicles and pay for the related expenses, while "only security forces, intelligence agents and the National Oil Company benefit from them". There are three types of truckers in Iran; those who fully own their vehicles and others who still have to pay for their trucks to government-controlled companies in installments for years. Still others, a minority, work for truck owners. Most of the time, truck drivers find themselves working for the government, the biggest importer and distributor of strategic commodities, particularly fuel and foodstuff, based on a daily wage, or fee per kilometer."
Iran, Kazerun: people killed as demonstrators burn police station and chant "subversive slogans" during protest against plans to divide city in two More here,  here, and here "Despite pleas from provincial officials and the Friday Prayers Leader, and in apparent defiance of an increased police presence on the streets, on Friday April 20, demonstrators unexpectedly occupied the site for the city's Friday Prayers. They chanted in protest against prayer leader Mohammad Khorsand and called for his resignation. They also chanted political slogans against the government, the Islamic Republic and their representative to the parliament. The protests caught the attention of the media and social networking sites because some of the protesters' chants were very similar to those used in the demonstrations that spread across the country in early January 2018 — suggesting a deeper, more widespread malaise. Some people shouted: "Our enemy is right here; liars say it is America," but there were other, more shocking slogans too, including "Be afraid when we get guns" and "We will kill the traitors." This readiness for violent confrontation is new, and had not been a feature of earlier rallies."
Iran, Arak: workers block railway in protest over unpaid wages and lousy conditions
Iran: workers defy state ban on marches… reports on anti-government mayday demos in at least 8 towns & cities "They chanted: "Arrested workers should be freed," "Bread, housing, freedom, are our inalienable rights," "Astronomical wages (for senior officials), public misery", "Worker, teacher, student, solidarity, solidarity." Placards carried by the workers read: "Our dinner table is still empty". One of the workers carried a large placard which read: "Hey, You, billionaire minister, I haven't been able to buy meat for the past 40 months". The security forces attacked this protest rally and arrested a number of protesters. The identity of seven of those arrested has been ascertained so far. At the same time a large crowd marched towards the regime's "Worker's House" and protested in front of it. They were chanting: "Death to oppressor, hail to the workers…."…report on growing public opposition towards Iran's involvement in Syrian war See also this
24/4/18:
Iran, Marivan: houses of 2 of the states' counter-"revolutionary" guards torched after they murder a local villager "The clash took place when Pasdar-Colonel (IRGC colonel) Kaveh Kohneh-Poushi along with another Pasdar, Latif Nikpay, murdered an inhabitant from one of the villages of Marivan. The people burnt down the houses of the two criminals in protest of this crime. The anti-riot unit started attacking and beating these people in support of the two criminals. The clashes, which lasted for hours, continued up to the Bu'ali Hospital in Marivan. …In Baneh and Javanrood, the strike of the merchants and shopkeepers continued for the eleventh day. The intelligence agents arrested a protesting woman who was calling on people in the Baneh main street to continue the strike, and transferred her to a police station. The people of Baneh, having gathered outside the police station, forced the mercenaries to release her. …The poor farmers in the east of Isfahan continued their protests by staging a sit-in in front of the governorate building…." This report continues, providing interesting information which the racket behind this site would suppress themselves if they ever achieved any similar position to the scumbags presently in power, because this opportunist gang would obviously be forced to be as brutal in the unlikely event of assuming control of Iran's specific capitalist interests.

Iran, Kazerun: "Beware of the day when we arm ourselves" chanted on 5th day of anti-government protests (video) See entry for 19/4/18

Iran, Kazerun: heavily armed riot cops surround demo on 4th day of protests against state plans to divide city
14/4/18:
23/2/18:
19/2/18:
Iran, Tehran: 3 cops killed by bus during whirling clashes with Sufis (later reports say 5 insecurity forces killed). The Sufis, constantly repressed by the ascetic orthodox Muslim state, are the reformist wing of Islam – explicitly in favour of alcohol and pleasure. According to this, "More people are joining protesters and security forces were defeated by the protesters last night. However, dozens of protesters were arrested and their location is unknown." Undoubtedly most of this is hardly "independent" (since the Dervishes themselves were demanding the release of their official leader), but some of it almost certainly is.

9/2/18:
Iran: posters of Khamenei, the Supreme Religious Leader, set on fire
7/2/18:
3/2/18:
Iran: Basij (morality cops) motorbikes destroyed during attempt to arrest Sufi leader
1/2/18:
Iran: large protests in 6 towns & cities "…Sanandaj (west): people gathered in Enghelab (revolution) Square, and Azadi (freedom) square and chanted "death to dictator." They clashed with State Security Force (SSF) and set an SSF kiosk on fire. Authorities tried to disrupt the Internet connection in city. Clashes have continued, and the regime has brought in water cannons to disperse the crowd… Kermanshah (west): Protest erupted at Freedom square, with chants of "death to Khamenei", "death to dictator." A woman started the protest. "Death to Khamenei" was chanted non-stop. Plain clothed security forces have begun arresting protesters. Anti-riot forces arrested 7 protesters, but people charged at them, and the anti-riot forces retreated and released the protesters. Several protesters were arrested."
30/1/18:
Hijab protests continue…29 women arrested

29/1/18:
Slavery, Iran-style (obnoxious pro-US/Trump site, which, despite this, has some interesting facts)

18/1/18:
Former intelligence minister admits his house was attacked during uprising

11/1/18:
Dezful: despite the movement being officially "over" protester is killed

10/1/18:
Iran: report saying about 3,700 people have been arrested during protests

9/1/18:
Tehran: 100s demonstrate against detentions in front of prison More here and here

Paulo Coehlo tweets against riots Whilst he's obviously right to attack all those who'd want the return of the Shah and the Savak torturers, he's an idiot if he thinks the mullahs are any better.

7/1/18:
Sistan & Baluchestan province: elementary school children chanting against Khamenei & Rouhani…similarly in Ahvaz
6/1/18:
Karaj: more clashes (video) … and another here

Report here, which, though containing nothing I object to,  adds little to discussion of the situation that's not been said elsewhere, apart from this: "None of the Green Movement supporters — who are mostly from the educated middle class — have come out in support of the protests, because they see more of a future in Rouhani's policies than any other alternative, even if they are unhappy with the regime," says Ghaemi. "The protests have a clear class dimension. They are coming from a segment of young people who feel they have nothing left to lose."

5/1/18:
Statement by bus workers' syndicate of Tehran & sugarcane workers' syndicate of Haft Tapeh supporting movement

4/1/18:
Iran, Asaluyeh: oil refinery workers go on strike"…three days ago on Monday January 1, 2018 , in line with the nationwide protests against Iranian regime, the headquarter of the people's Mojahedin Organization of Iran (PMOI/MEK) had called for strike in the oil industry in addition to military and ammunition production industries as a necessary and vital step to cripple the Iranian regime. Last month, More than 1,000 workers added their names to a petition to the public broadcaster, calling on the organization to send an investigative team to report on terrible working conditions and unpaid wages. The petition was organized by IndustriALL Global Union affiliate the Union of Metalworkers and Mechanics of Iran (UMMI), and addressed to Seyyed Mehdi, director of the Islamic Republic of Iran Broadcasting Corporation. The petition is significant, because independent union activists are severely persecuted in Iran, and it is rare for workers to publicly identify themselves as union supporters. The workers of the South Pars Oil and Gas fields and the refineries of Bandar Abbas and Bushehr in Southern Iran submitted the petition because they face unbearable conditions. The oil and gas industry is controlled by the Ministry of Petroleum through the state-owned National Iranian Oil Company, the world's second biggest oil company…."… deaths reported as clashes with state continue in Sanandaj, and dozens of other cities…Tehran: sit-in at prison by families of those arrested "Tonight … lots of armed forces were called in to mop up 70 to 80 relatives who were sitting in protest against the detention of their children. They told us we should leave or we will all be arrested. We said we are all ready to join our kids inside the prison. We will not go anywhere until we get some news about our kids. All we know is that they are on hunger strike. We are holding a peaceful sit-in to say we want our innocent children released," she said. "We know they are being held in Evin Prison but four days after their detention we still don't know what kind of situation they are in."
3/1/18:
Iran: state-sponsored counter-demos…as clashes continue in several cities "…in addition to Tehran, various cities of the country kept the flames of the uprising aflame. In Zahedan's Shirabad district skirmishes between the people and anti-riot forces occured. The mercenaries are firing on people and people are confronting with stones. In Ahvaz, the Basijis have come to the scene with police uniforms. The Basijis motorcyclists are moving with a lot of noise. The mercenaries rotate their weapons to exacerbate their intimidation atmosphere. The brave youth of the Shadegan region (Ahvaz) are confronting the attacks of anti-riot guards with throwing stones. In Bandar Abbas, the slogan of death to Khamenei, death to the dictator resonates everywhere. In Dezful, the brave protesters shout Seyyed Ali shame on you, Let go the country, and clashes in the Sabzeh Ghaba neighborhood broke out. In Malayer, a rumbling of the slogan of the nation begs, Ayatollah Khamenei acts like the Lord, has filled the atmosphere of the city. In Isfahan, skirmishes broke out between the people who were chanting Seyyed Ali shame on you, leave your reign, and the riot forces. The anti-riot police officers shot directly at the people. In Ghourtan in Isfahan clashes broke out and the sound of blast is heard from the conflict zone. Some law enforcement officers fled during a clash with the demonstrators in Joughabad, Isfahan. In Kermanshah, some police officers escaped the brave youth. A large crowd rallied on the street of Farmandary in Torbat Heydariyeh. People chanted slogans against the anti-riot forces: Do not be afraid, do not be afraid. We are all together. Leave Syria Think about us."
SF Note: Shirabad and other Zahedan settlements have a population of several hundred thousand and contain one of the largest and most deprived marginalized poor in the country…. 3 police and security forces killed in Piranshahr…Twitter thread mentioning burning of  Basij (Islamic Revolutionary Guard) certificates by Basij members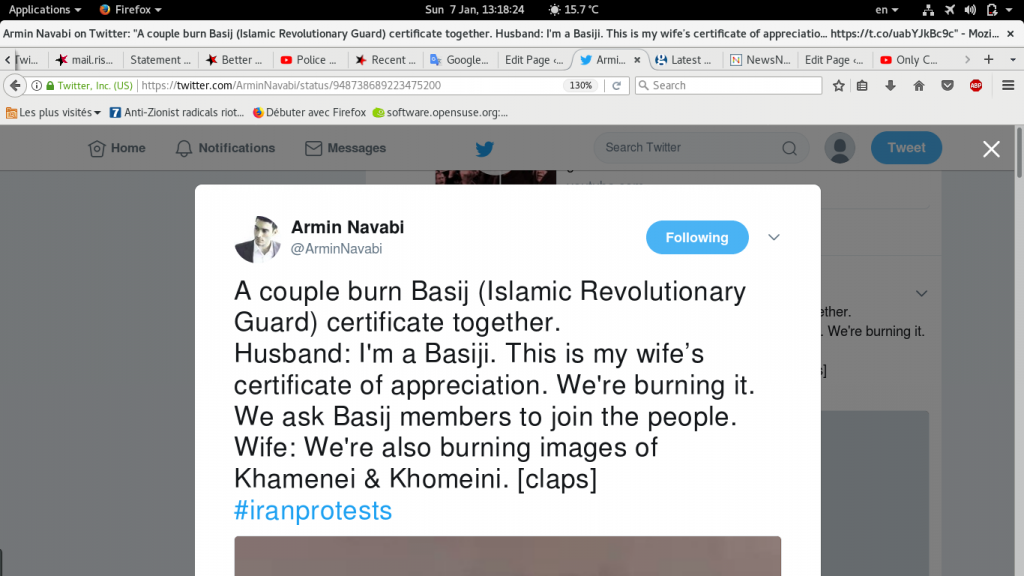 This twitter feed also mentions people barricading the path to a prison.

2/1/18:
Iran, Qahderijan: police station attacked & torched (video)…6 protesters killed there…More here "A young member of the Revolutionary Guards and a passer-by were also reported dead in towns near the cultural hub of Isfahan city, while TV had earlier confirmed the death of a policeman in nearby Najafabad, shot dead with a hunting rifle. That brings the estimated death toll to 21 in five days of unrest that represent the biggest challenge to the Islamic regime since mass demonstrations in 2009….The young are most affected, with as many as 40 percent out of work according to analysts, and rural areas particularly hard-hit." And here "In the western city of Kermanshah, protesters set fire to a traffic police post"…More here "In Rasht, protesters throw hand grenades to the Basijis in the alleyways leading to the Sabzeh Maidan….In Tabriz, scores of Revolutionary Guards, Bassij militias, and anti-riot guards, packed on the central streets of the city including the Clock Square, were deployed. Confrontation broke out between the courageous people and mercenaries, and the people defend themselves with hand grenades…In Behbahan, courageous youth burned down the seminary of the mullahs as a sign of disgust from the corrupt and criminal mullahs…"…claim that over 70 towns & cities involved in protests (largely uninteresting interview with Marxist-Leninist)

1/1/18:
Iran, Najafabad: cop killed, and 3 others wounded, by gunfire; attacks on police stations and military bases reported…call for a General Strike "By calling for a strike, the protesters may be trying to link up with the country's national labour movement, which did not happen during the so-called Green Revolution of 2009, when workers largely refused to participate in marches and demonstrations. Holly Dagres, an Iranian-American analyst warned that a leaderless movement presents risks for the authorities too. "[It] can be problematic for the Iranian government because it's really hard to point fingers at who to blame, which is what they did during the 2009 post-election protests known as the Green Movement," she said. "They blamed the Green Movement leaders and eventually in 2011 put them under house arrest. At the same time, a leaderless movement provides an opportunity for President Rouhani to step in and address the grievances. "It also presents an opportunity for someone to manipulate [the protests] for their own agenda. We're already seeing that happening with opposition groups outside of Iran like the monarchists and Mujahideen Al Khalq and the National Council of Resistance of Iran. They are using the protests as an excuse to push for regime change in Iran." More here "Unemployment in the wider economy is above 12 percent, and double that among young people…. eggs now twice as expensive as a year ago. In addition, his policy of cutting state handouts offered by his predecessor Mahmoud Ahmadinejad has left households more exposed to price volatility. … "We've had enough of life without jobs, life without money," …Some of the cities that have widespread protests are among the poorest cities in Iran."

31/12/17:
Iran:
4th day – protesters take down banner of Supreme Leader (a capital offence) (video)…
Rasht: "Death to Revolutionary Guards!" chanted …
Arak: police centre attacked; cop car overturned; protesters set fire to local HQ of Basij militia; governor's compound occupied…
Mashhad: cop motorbikes burnt…
Isfahan (Shahin Shahr): Basij (Islamic Revolutionary Guard Corps) vehicles torched…
"Several Officers have surrendered and joined the protesters"…
"Reformists, hardliners, your time is up" "Many… Iranians see the reformists in the same camp as the hardliners who give them false hope to keep quiet"…"The so called reformists and the hard liners are the two cheeks of the same arse."…
Iranian flag burnt (video)...More here "The head of Iran's judiciary, Ayatollah Sadeq Amoli Larijani, a hardline cleric, said: "Attacking mosques, public buildings, banks, is unacceptable."…
Kermanshah: Basij guard has his trousers taken off him…
Tuyserkan: government vehicle burnt in front of governorate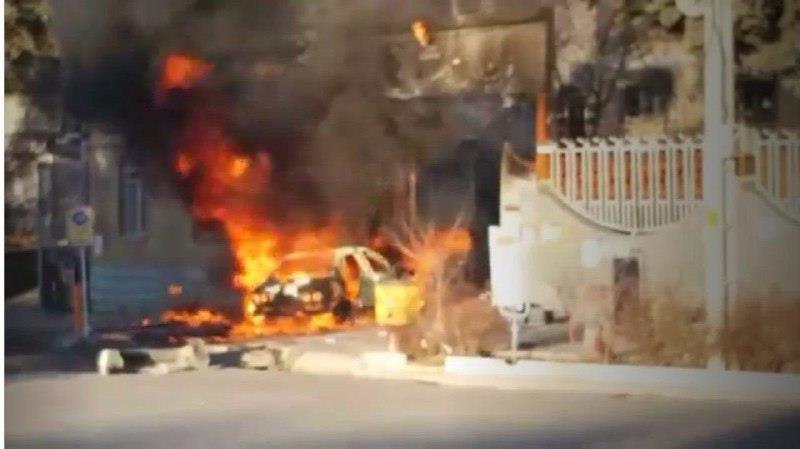 …Instagram & Telegram blocked " Relatively fewer chants were heard in support of two opposition leaders under house arrest, Mir Hossein Mousavi and Mehdi Karroubi. …Some videos showed protesters apparently setting bins on fire and trying to break into government buildings….Ali Vaez, Iran project director at International Crisis Group…said: "Given its lack of leadership, organisation and mission, it is likely to peter out or will be quelled."
This latter comment is obviously bollocks, the wishful thinking of those who would like to impose leadership and organisation on this movement. Which is not to say that its lack of an explicit radical perspective, like that of almost all social movements over the last few years, is not problematic – but that's down to the despair of the current epoch which has long repressed  a significantly effective revolutionary critique which could encourage and clarify those desperately opposing the specific forms the forces of the world market and the state take in different parts of the world.
Apparently in Dorud 10 people have been killed by state forces working undercover (not confirmed). Should be pointed out that in the 1979 uprising against the Shah there were times when 40 people a day were being killed. See, for example, Ryszard Kapuściński's "Shah of Shahs". Also worth pointing out that, despite the dominant, and as we all know all too well, ultimately victorious, Islamic ideology of the 1979 revolution (backed principally by the French bourgeoisie), there were some experiments in workers councils in factories and oil refineries at that time: see this and this.
30/12/17:
Iran: protests spread to other areas such as Kermanshah, Isfahan & Shahre-Kord, as students in Tehran clash with cops Video here & here. Twitter here mentions " … crowds… attacking police, governor, government outposts." This mentions governor's building in Arak city being stormed, and the internet being cut. This says that protestors now control the radio and TVbuilding, and the prison, in Arak. Again, hard to know what this means – which protesters? what are they doing with the prison?

29/12/17:
Iran: 2nd day of protests against high food prices in several cities "When we don't have bread to eat, we are not afraid of anything… we cannot feed our families with silence."…More here and  here.  This twitter thread mentions women taking off their hijab (mandatory in Iran).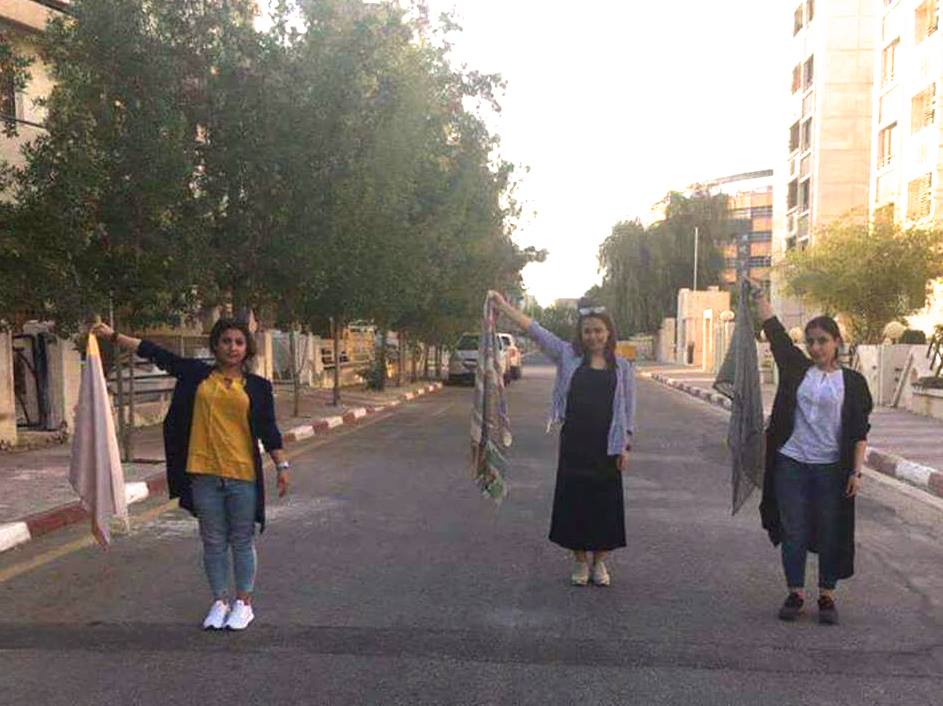 Also mentions  an attack on government offices in Hamedan, with protesters chanting: "Death to the Islamic Republic", "We don't want Islamic Republic"  and similarly in Qom, where they also chanted   "Death to Hezbollah" and Ghavzin where "Mullahs must get lost" was shouted and in Shiraz anti-Hezbollah slogans were also chanted as well as posters of leading military and Revolutionary Guards being torn down; and widespread collective and successful resistance to arrests. This twitter feed also mentions that in some places Revolutionary Guards are "coming over to the people", whatever that means. In fact, a dangerous illusion even if true: whilst some sections of the military and cops may well support an uprising, unless this leads to a general arming of the masses of individuals, and the destruction of the monopoly of arms in the state's hands, it will turn out like a variant of  Egypt following the Arab Spring (or, several other examples of situations where the military could no longer support the previous heads of state, but went on to support new heads of state which crushed all forms of opposition). As always, obnoxious "oppositional" politicians supported by the US or other blocks are hovering like vultures waiting to swoop down and consume this movement.
However, sections of the forces of disorder will invariably come over to the side of social movements as happened to a certain extent on September 23rd when  cops were arrested for not beating up workers protesting unpaid salaries.
28/12/17:
Iran: demonstrations in 4 cities against regime "The residents of Mashhad were protesting against the rising cost of living. There were angry chants of "Death to the Dictator" and "Death to Rouhani." The demonstrators also chanted "Forget about Syria, think about us", "don't be scared, we are all together." Similar protests were held in cities of Neyshabur and Shahroud. In Mashhad, repressive state security forces attacked protesters." This mentions Yazd as another city experiencing protests.

3/12/17:
Iran, Ilam: heavy clashes between cops & villagers as state steals large areas of land
1/10/17:
Iran:  refinery workers go on strike &  warn that they'll destroy refinery "Unfortunately, during the first six months of this year, the situation has been catastrophic for the poor strata of the society, which, like most non-oil companies and factories, most of the oil section force have received only one-and-a-half percent of their salaries in the past six months. Given the hardship and life-threatening dangers of this type of activity in the southern regions, with unbearable heat and sultry weather in the outskirts of the city, in a closed camp environment with very limited facilities, is our share of daily oil and gas production one month salary for every six months of work? …Most companies of the Refinery have closed down or half-closed due to the lack of funding." "We, the workers of the Persian Gulf Star Oil Refinery, announce that in order to end the situation and endure this horrible summer without a salary, we will continue our protests peacefully only a week before October 5, and if our objections are not fulfilled, with apology to the honorable nation of Iran, we will break down and destroy the sites in the refinery.""
26/9/17:
Iran, Arak: CEO of strike-torn industry arrested "It seems likely that his arrest was designed to end the workers' strike, placate the protesters, and perhaps even punish him for causing the protest by not paying the workers. …After Azarab workers held a protest assembly and its subsequent unpleasant events, Azarab's officials settled 18 million rials (roughly $536) wages of each worker; whereas they could have done that before the outbreak of protests."
23/9/17:
Iran, Arak: report of cops being arrested for not beating up workers protesting unpaid salaries (see entry for 19/9/17 below)."The Iran regime has arrested some police officers…The police officers did not follow the order to beat the workers as they said, "We will not beat our countrymen with baton."… On Wednesday, September 20, 1800 workers of the Azarab factory in Arak gathered in the factory for the fourth day of their protests, for lack of payment of their salaries and benefits for six months."
19/9/17:
Iran, Arak: state attacks workers from 2 companies as they block main motorway in protest against unpaid salaries More here "…a number of workers of two factories, Azarab and Hepco, staged protest gathering at two different locations in the city of Arak. Workers of Azarab Company closed the main Arak-Tehran road and demanded the authorities pay attention to their protest when the Special Forces attacked them… workers of Hepco Company also blocked Arak's railway line."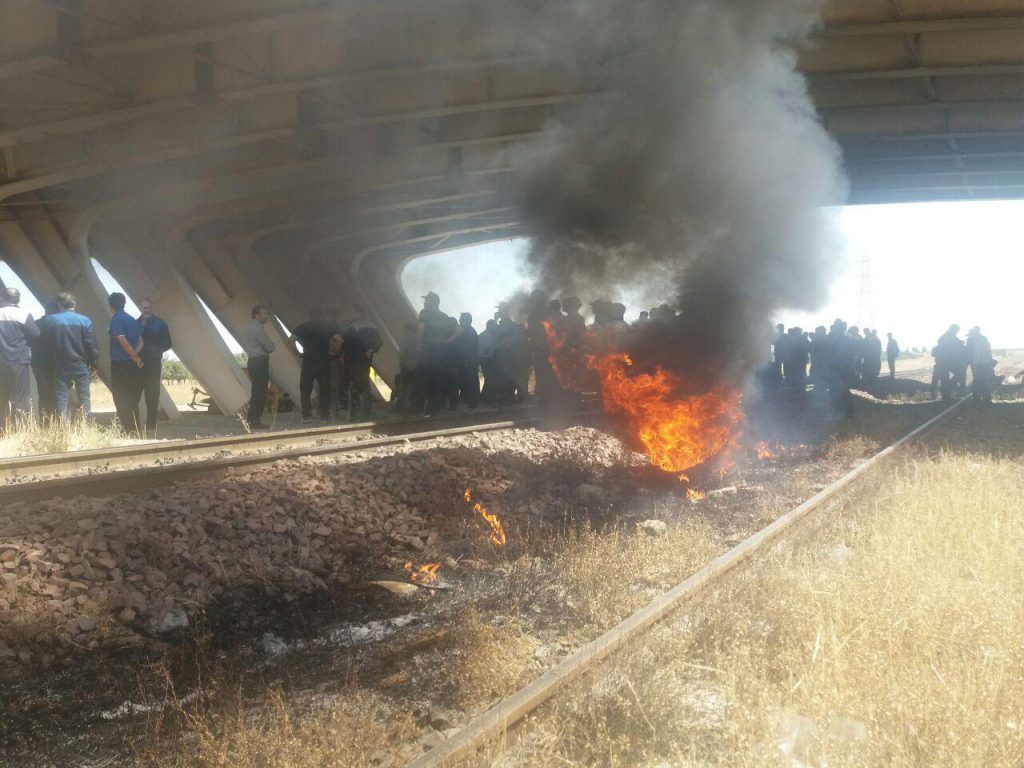 Arak
7/9/17:
Iran,  Kurdistan province: roads closed, clashes with state in regional capital as protests against cop killings of cross-border porters spread "Despite all the security measures and obstructions, protests were held in Sanandaj. On some streets, there was a chase between the riot force and the protesters, during which a number of young people were arrested. Reports indicate the arrest of at least 11 young protesters by security forces. According to reports, a young man's arrest in Ferdowsi Street caused chaos in the protest and led to a clash between security forces and protesters. The cities of Kurdistan are tense after the protests in Baneh. The people of Baneh are still in strike. Local sources say that routes to Baneh are closed."
More here in French "Demonstrations and protests continue in many cities in the province of Iranian Kurdistan for the fifth consecutive day. These spontaneous demonstrations broke out after the killings of two Kolbers workers…assassinated by the repressive forces of the totalitarian and fascist Iranian regime, not far from the city of Siné during the day of Monday 4th September 2017.  Kolbers are the Kurdish name given to local precarious workers, porters and freight carriers who operate in the mountainous border regions of Iran-Iraq-Turkey. They are regularly targeted and shot dead or seriously wounded by border guards and the Iranian military under the guise of "combating smuggling" …While demonstrations continued yesterday 7th September and today 8th September 2017 in the towns of Baneh and Sineh, militants and activists from the city of Kermanshah called for action yesterday, whilst leaflets also circulated inviting the population of Sine and other towns of Rojhelat to descend into the streets. 10 former Kurdish political prisoners and civil activists who had been arrested and later released for showing solidarity with the people of Rojhelat began yesterday a three-day hunger strike to protest the attacks on the Kolbers.…As the anger of the population continues to grow against the genocidal and discriminatory policies of the Iranian regime and its attempts at repression, it has continued to send its police and military forces to the large towns of the Rojhelat in an attempt to intimidate and frighten the Kurdish population.…Teheran has deployed a large number of Etelaat agents in "civilian" form … in Baneh, Marivan, Sine, Sardasht, Kermanshah and Sanandaj . In addition,…the regime is also deploying massively its sinister anti-riot units of Motorcyclist Voltigeurs, and units of the Revolutionary Guards of the IRGC in all the strategic places located around the government buildings of the cities quoted above. It should also be noted that the Fatah Police in charge of surveillance of  Iranian cyberspace has succeeded in virtually cutting off all the internet connections of the province, hence the few videos and photos of the protests in progress in the Rojhelat which reach us via social networks." More here in English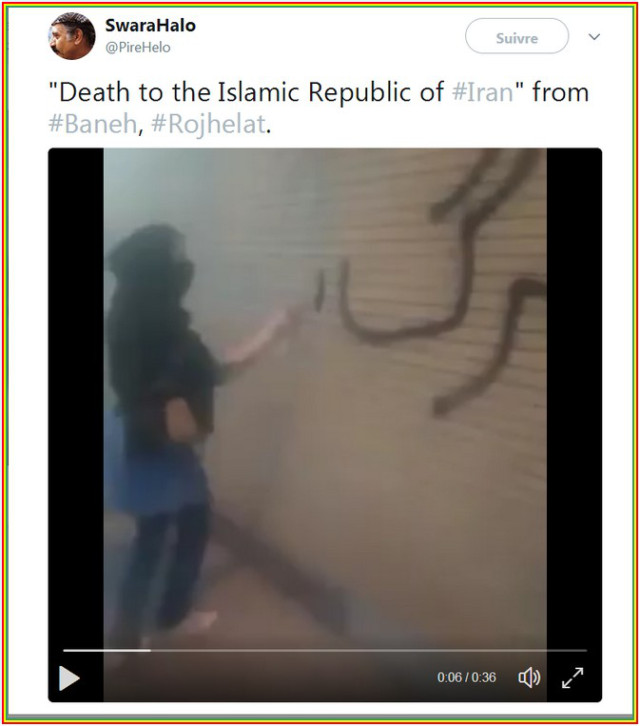 13/8/17:
Iran, Tehran : 1000s of football fans chant slogans against presence of state's plain clothes security forces
6/6/17:
Iran, Kuzhestan: cops fire birdshot at striking workers
28/5/17:
Iran, Khorramabad: depositors ripped off by state affiliated development financial institution block roads, smash windows, chanting "Death to Bazvand [ie the local governor]"
1/5/17:
Iran: a look at workers' opposition over the last year (traditional "reformist" site; e.g. currently – i.e. 6/1/18 – it publishes dreadful opportunist statements coming from Trump's regime without the slightest comment on their indifference to the vast majority of Iranians)
25/4/17:
Iran, Behshar: protesters set fire to state-owned company that had stolen their money
14/3/17:
Iran: various expressions of anti-regime anger during the Fire Festivals in different parts of country "… In Tehran… youth threw firecrackers in front of police vehicle that damaged the front part of the vehicle, causing fear of the suppressive forces. In Tehranpars, youth also burned a large portrait of Khomeini and Khamenei. In Mashhad youth threw Molotov cocktails at the headquarters of the repressive Bassij organ at Vakil Abad Boulevard. The youth of Shahr-e Kurd set up fire all across the city, threw Molotov cocktails at police forces and clashed with them. In Isfahan, the sound of explosions can be heard all over the city. In Baneh, people celebrated using grenades and firecrackers and fireworks. Repressive police forces do not get out of their vehicles in fear of the wrath of the youth. …Fire Feast was celebrated while repressive forces had a dense presence with motorized patrols in the streets seeking to intensify the atmosphere of intimidation in the society. During recent days, the state-run media continually broadcast the ridiculous fatwa of Khomeini and his affiliated mullahs on disapprobation of Fire Feast and calling it sinful. Police chief Hossein Ashtary threatened to seriously deal with the aggressors and violators of the people's rights. Tehran police chief Hossein Sajedinia said: "In case those who disturb the order cause inconvenience, the police will confront seriously." (Tasnim, March 14th ).However, the regime's officials failed to hide the main cause of their fear of this national celebration. Saad, a member of the regime's parliament said, "The Fire Feast in recent years has turned from a traditional one to a dangerous ceremony.""
More here: "…in the Iranian capital, Tehran, a number of local youth who had gathered on the Air Force Fifth Street to celebrate the annual Festival of Fire of the ancient Iranians clashed with the security police who were out in force to prevent the public to carry out their festivities. The youth used fire crackers, sound bombs, squibs and spitdevils to scare off the suppressive security forces….According to reports from the notorious Gohardasht prison, the suppressive prison warden has, as his usual in every year, prevented the prisoners from going outside their cells to take a breath of fresh air on the eve of the Fire Festival celebrations. The warden fears that the prisoners might light up fire and celebrate the Fire Festival. But the political prisoners defied these suppressive measures and lit fire inside the hallways and jumped over the fire in celebration of Feast of Fire. The prisoners chanted 'death to the dictators', and 'Death to Khamenei.'"
"…a good love is one that casts you into the wind, sets you ablaze, makes you burn through the skies and ignite the night like a phoenix; the kind that cuts you loose like a wildfire and you can't stop running simply because you keep on burning everything that you touch!"         – C. JoyBell C.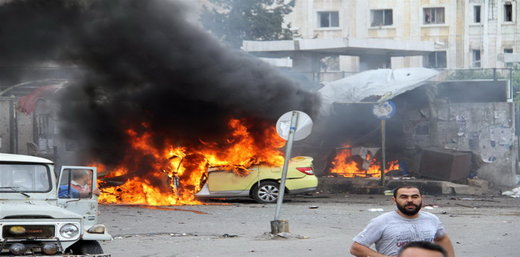 Video here
French version of this here
2/3/17:
Iran, Hamadan: fly pitchers clash with authorities
19/2/17:
Iran, Ahvaz: illegal demonstration demanding clean air, water and electricity "It is noteworthy that over the past week every day, protests over dust storms, power failures and government mismanagement in one of Iran's most oil-rich cities have been continuing. Residents of Ahvaz, a city near the border with Iraq, has been protesting for Seven days in increasingly large gatherings, shown in cellphone video clips shared on social media….It is also remarkable that, frightened of these protest rallies expanding, the Iranian regime has dispatched anti-riot and the Revolutionary Guards' Basij militia groups from neighboring Fars Province to Ahvaz, and meaningfully lowered the internet speeds in Ahvaz to prevent the uploading of any video clips showing people's demonstrations and protests."
1/1/17:
Iran, Yazd: villagers close road & clash with cops over polluting mining
14/11/16:
Iran, Tehran: residents clash with cops during state destruction of their houses and cars
7/9/16:
Iran, Teheran: students and workers in separate sit-ins
19/7/16:
Iran, Boldaji: several cars burnt, 1 protester killed, in attempts to resist suppression of local water supply…local court burnt "…at least one person was killed, 30 were injured and 15 were arrested during the clashes. Footage sent by eye-witnesses at the site of the clashes shows the regime's suppressive forces fleeing as the angry population attack them with wooden sticks and stones." Video here shows this, at the end, though not very clearly:
16/7/16:
Iran, Sardasht: after goods are confiscated,  market sellers and others attack police station, burn cop car, re-take the goods "The merchants and a group of ordinary people attacked the police station to retake the goods in Sardasht. The angry protesters did not pay attention to the aerial firing by the police force."
6/7/16:
Iran, : after security guard  kills young man, protesters against this state murder fire  at cop vehicles who'd been firing at them
2/1/16:
Iran: 1000s of miners go on strike in 2 areas (Kuhbanan & Golestan) demanding unpaid wages
27/12/15:
Iran (Mashad): protesters occupy state-affiliated rip off company to protest scam
31/7/15:
Iran, Tehran: over 500 on hunger strike in new prison
7/7/15:
Iran: nurses hold anti-government protests in several cities under threat of the sack
13/5/15:
Iran, Baluchistan: main road blocked, police station and police vehicles burned after Revolutionary Guard state forces burn and kill 2 diesel smugglers – town and surrounding villages rise up
7/5/15:
Iran, Mahabad: report of Kurds rioting and burning hotel after coverup of death of chambermaid
18/3/15:
Iran: cops repress Festival of Fire "Iranians, particularly young people across Iran, defied the mullahs' regime and its extensive security measures, happily celebrating the Feast of Fire, in the evening of the last Wednesday of the Iranian year ending 20th March. In the Iranian capital, portraits of Khomeini generously supplied bonfires in the Valenjak neighborhood and flames in Isfahan greedily devoured the pictures of Khamenei. Young people  jumped over the fire with redoubled enthusiasm. In Shiraz, southern Iran, despite the deployment of security forces in various neighborhoods, sound firecrackers and grenade explosions could be heard throughout the city…In Mashhad, northeast, large explosions reverberated in the areas of Ghasem-Abad Ahmad Abad and Tolab. In Orumieh in the north-west, people and especially youths jumped over bonfires in several streets and cracked firecrackers and sound grenades all over the city. In Zanjan, northwest, joyful explosions of firecrackers continued to resonate, especially in the city center, in the areas of North and South Saadi, Darvazeh Rasht, instead Sabzeh the Chamran Boulevard, the Safa Street. In the belt of Tehran …sound grenades and mortar fireworks made Varamin tremble with joy. The fire festival lit up the small bazaar Bushehr, in southwestern Iran, Bandar-Abbas (south) and Langaroud (north). Finally as joy and celebration are the enemy to be defeated, all the security organs were on red alert. Young people of Mahabad in Kurdistan were ready to do battle. Despite police reinforcements and arrests, most managed to get away from the police ." (short report in English here)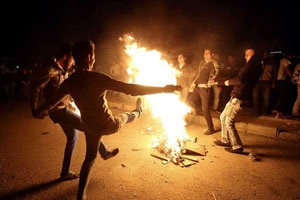 Festivals of Fire as Khomeini burns

17/3/15:
Iran, Ahwazi: following self-immolation of adolescent, football fans, beaten by cops for wearing traditional Arab dress, molotov cop car
20/8/14:
Iran, Yazd: miners on strike against arrests of fellow miners; riot cops deployed
 Comments, links and photos:

(previously at top of page)
Two texts about the situation are worth looking at:
"Iran: Bread. Jobs. Freedom" – interesting radical report & analysis "The bright spot among all the confusion were the students. On the third day, they really shifted the paradigm of the revolt, mostly in Tehran, and it spread in many other parts of the country. They opposed the reactionary slogans with "even women has joined us, but you lazy men are just standing by", they changed the pro-nationalist slogan of "neither Gaza, nor Lebanon, I will die only for Iran" with a much deeper slogan of "From Gaza to Iran, down with the exploiters". They also added some class-conscious slogans promoting councils, or encouraging people to move beyond the fake dualism of reformists and fundamentalists."  This latter comment – "encouraging people to move beyond the fake dualism of reformists and fundamentalists" seems, from my long-distance reading of the situation, not exactly accurate as I've seen comments attacking this false dualism outside the student movement in Tehran (here). Also, one wonders how many people shouted or wrote up the more radical slogans, whether it was a significant number or hardly any. Equally, though undoubtedly this will seem like another quibble, to equate "Jobs" with "Freedom" seems rather populist insofar as I doubt those who wrote this text really think this. I want to add that, though the intensification of miserable conditions can lead to normally conservative elements in the population to feel they have nothing to lose by taking to the streets, such misery in itself doesn't always lead to an uprising; at the same time,  even many of those who have relatively secure living conditions globally are capable of taking risks against the system. I say this to counter the tendency to a complacent determinism – the idea that increasing immiseration leaves the proletariat with no choice but to make a revolution, when  it's obvious from the people and situations we know that it's always a question of choice – that nightmarish situations can just as easily lead to a suicidal death-wish or mad homicidal tendencies as to revolt. Such minor nuances apart, this seems to be probably the best English-language article on the situation there so far.

This too has some interesting facts and analysis: "Banks are loath to begin financing investments, since they could see those projects fall under sanctions if (or once) Trump pulls the plug on the nuclear deal. The never-ending drama about whether Trump will or will not kill the deal has been designed to achieve exactly this: create uncertainty about the deal's future in order to deter investors from entering the Iranian market. This absence of investment, in turn, has contributed to growing unemployment and unmet expectations about the direction of the Iranian economy—an underlying cause of these protests. If the nuclear deal and the sabotaged sanctions-relief process created unmet expectations, it was the government's proposed 2018 budget that left the population seething. The leaked budget proposed slashing subsidies on basic goods, including food and services for the poor, while increasing fuel prices by as much as 50 percent. But while poor people would have to face austerity, opaque religious institutions controlled by conservative political elements would be spared from austerity cuts, as would the IRGC [the Islamic Revolutionary Guard Corps]."
However, it's flawed, to say the least (inevitably, given The Nation's lefty-liberalism and the fact that the author is president of the National Iranian American Council), with comments such as "Iran's youth want to connect with the outside world and be part of the global community, rather than stand on the outside looking in.". For one thing, who is this person who claims to speak on behalf of "Iran's youth"? As if "Iran's youth" was a singular entity with just one conservative desire which the author is privy to? Also – what is this "global community"? Even if many Iranian youths have illusions in such a fantasy "community", it doesn't exist except as an ideology of the dominant insidious colonisation of people's desires and aspirations with the mirage of the happy consumer increasingly neurotically integrated into the pseudo-community of separated individuals. Undoubtedly when you're largely excluded from a vast variety of consumer goods and lifestyles, they seem like something positive from "the outside". But the grass  always seems greener on the other side of the global hierarchical fence, and intensified suicidal depressions and anaesthetisation through drugs etc. amidst the vast isolation and absence of community, coupled with increasingly suffocating work conditions, is not something that those who live in different more impoverished parts of the world are likely, or want, to be aware of.

Added 6/1/18: this has a good summary and radical take on the forces at work, and makes clear  the differences with the movement of 2009. And this interview with an Iranian atheist (about whom I know nothing other than this) is very informative – definitely worth watching.

The National Council Of Resistance Of Iran is sometimes worth looking at for information, even though it publicises this information purely for opportunist reasons.  It's clearly a repulsive political racket that wants to boost its leaders' ambitious fantasies of becoming Iran's heads of state. It even goes so far as to publish, without irony or the slightest critical sense, the very obviously cynical "support" from Washington and Trump's gang, designed to functionalise the movement so as to justify its geopolitical manipulations in the region.

Graffiti in Besancon

Dortmund (from here):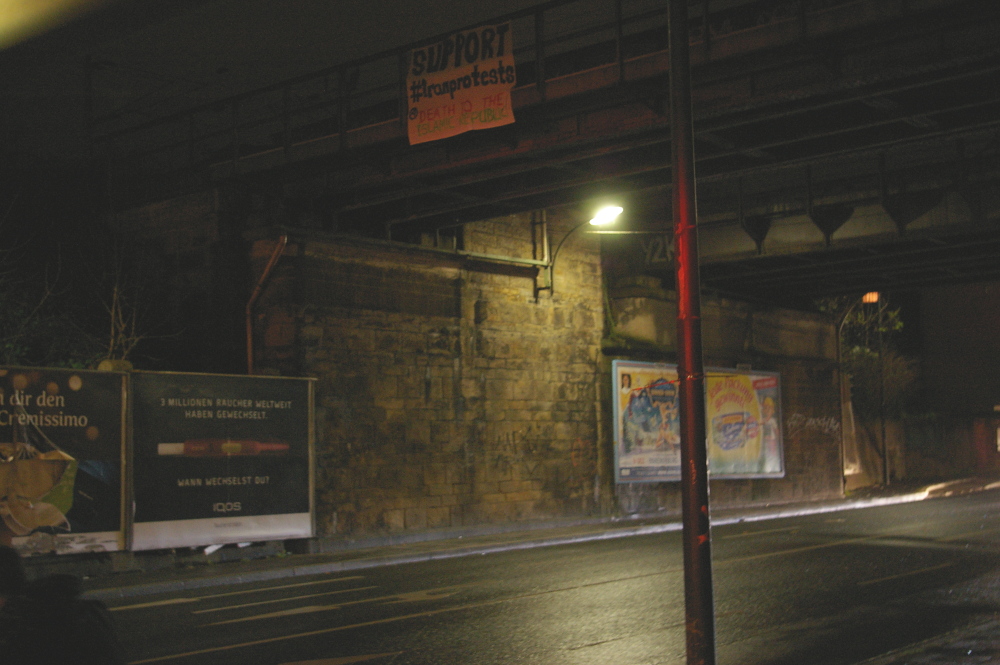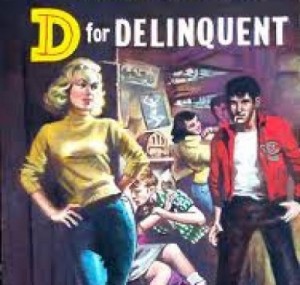 Hits as of 12/5/19: 3640