Bibi – watch out! Baltimore comes to Israel
( translated from the French anarchist site "non fides" )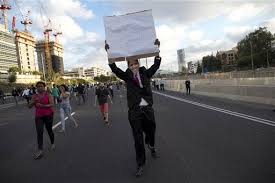 On the placard: "Bibi, better watch out, Baltimore is coming to Israel"
Note: slight translation/typing errors corrected (31/5/15).
You arrived in Israel in the mid-1980s, and now, 38.5% of families from Ethiopia live below the poverty line, against an average of 14.3% for all Israeli Jews . You are only 2% of the Israeli population, yet you are 40% of prison inmates. You're pejoratively called the "Falasha". Since your childhood, you have suffered mockery, beatings and moral violence because your skin colour is not the same. Because you're "bad Israelis" and "bad Jews". But these days, you are no longer simply collateral damage of the old dreams of the movement of "national liberation" or Zionist expansionist Israel today; you are no longer mere victims – you hurt fifty cops, attacked the town hall with stones, and although the mounted police fired stun grenades to disperse you and to protect the municipal building of Tel Aviv, you blocked one of the country's main motorways. It's not so much the actions that count, but your determination to break the silence in which nationalism, capitalism and its various determinisms keep you.
 The interior minister (Yitzhak Aharonovitch), explained that scattering the "rioters" was complicated, because there was no leader to turn to, and that's where all your strength and courage was. Leftists have already abandoned you even after having supported you in the past [1] as in all cases of leaderless revolts throughout the world. There are quite a few self-appointed leaders of the Ethiopian Jewish community who condemn the riots and who talk about  an "anarchist" conspiracy  [2].
This is the  video which set alight the powderkeg which propelled you  into the streets by the thousands – we see an Israeli soldier of Ethiopian origin being beaten for no reason (though he resisted) in the street by two racist police testing their Krav Maga. Images that inflamed the streets as others ignited  American streets in recent months. Images that refer to everyday racism and exploitation that many non-Jews also face: Israeli Arabs, migrants from Asia and sub-Saharan Africa.
As with Ferguson and Baltimore recently, you decided to stop suffering in silence and shame. Armed with your courage you clashed with the police regime that oppresses you after having "hosted" you, confronting the shame in which they would like you to drown. As with Ferguson and Baltimore recently, you attempted to recover your dignity with rage, and hopefully with hope.
For once in Israel the United States is imitated for something other than for the blatant bullshit of its leaders (and their democratic militarism) and of a good part of its population … With this there is something to celebrate, there's something in it to find a bit of  hope, that we can add to the hope that's expressed every day by those who refuse to serve in the IDF [3], those who every day, individually revolt against Israel's militarist and colonialist regime and against the Palestinian Authority from the inside.
As we often say, our revolts create our solidarity and our solidarity create our revolts. Our hearts are with you, far from theirs. Against all authority, for the spread of revolt.
Footnotes
[1] The NIF, for example, a fairly ultra-left organization, released this obnoxious  communique  denying its participation in the events.
[2] In Israel anything Israeli, anti-Zionist and non-Arab is considered anarchist, particularly because of the existence of the extra-parliamentary left group, the self-proclaimed "anarchists against the wall," who are more social democrats than anything else …
[3]  See, for example,  this video by a young Israeli explaining his refusal to serve  in the IDF.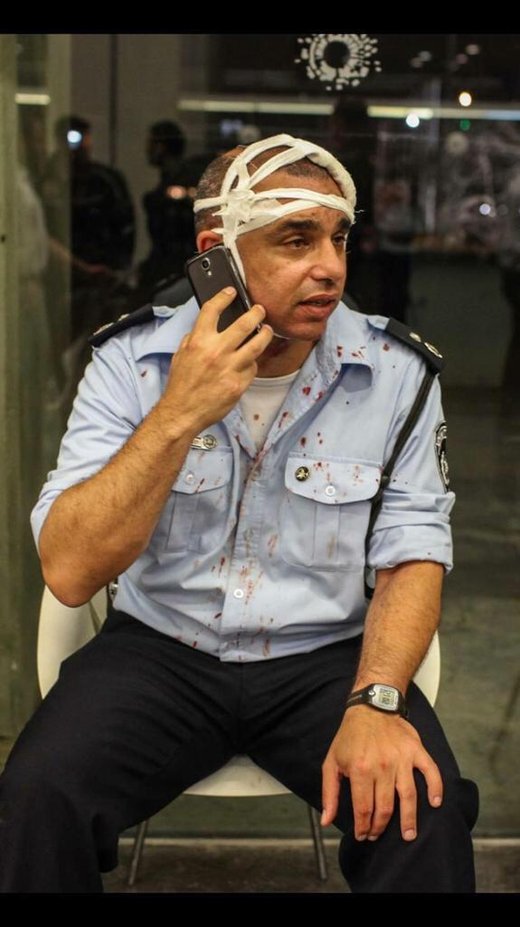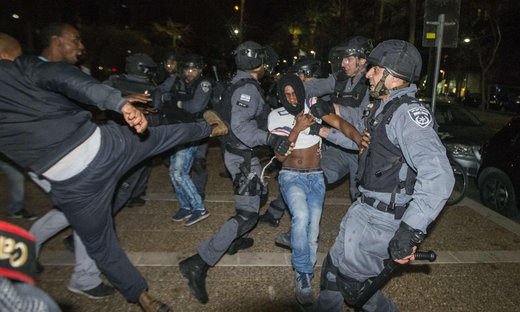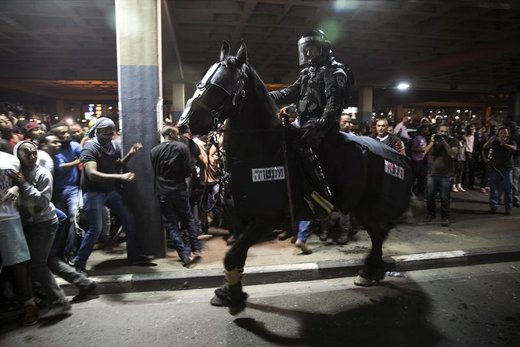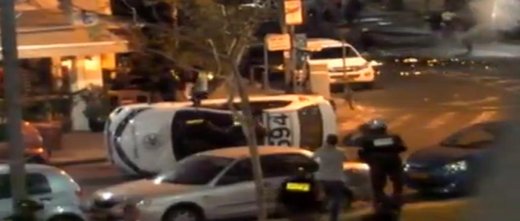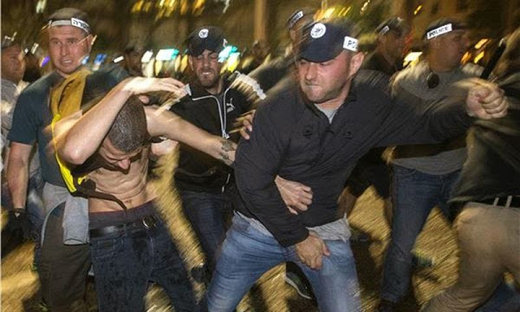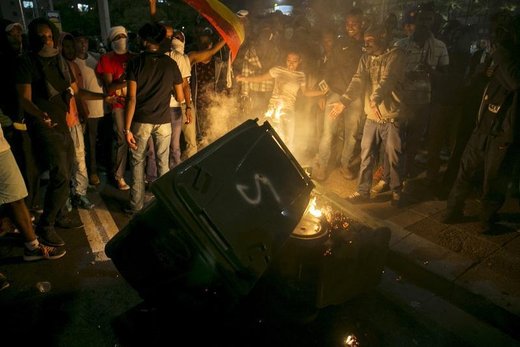 From the News Of Opposition page:
30/4/15:
Israel, Jerusalem: Ethiopian Jews riot against cop harassment "…some 1,000 protesters blocked roads and the Jerusalem Light Rail, and threw rocks and bottles at police sent to quell the rioting. At least three police officers and eight demonstrators have been injured. The protests over alleged police brutality and racism were sparked by the two beatings this week of Ethiopian-Israelis, both captured on video." (video here)
3/5/15:
Israel, Tel Aviv: conflicts between Ethiopian Jews and cops continue "…protesters threw rocks and glass bottles at police, who responded with stun grenades and fired water cannons at protesters. As of midnight Sunday, almost 50 people were injured. According to Israel Police spokesman Micky Rosenfeld, 23 of them were police officers." More here "Israeli mounted police charged hundreds of Ethiopian-Israeli citizens and fired stun grenades on Sunday to try to clear one of the most violent protests in memory in the heart of Tel Aviv. The protesters, Israeli Jews of Ethiopian origin, were demonstrating against what they say is police racism and brutality after the emergence last week of a video clip that showed policemen shoving and punching a black soldier. Demonstrators overturned a police car and threw bottles and stones at officers in riot gear at Rabin Square in the heart of Israel's commercial capital. … tear gas was also used, something the police declined to confirm. "I've had enough of this behavior by the police, I just don't trust them any more … when I see the police I spit on the ground," one female demonstrator who was not identified told Channel 2 before police on horseback had charged. Earlier, demonstrators brought evening rush hour traffic to a standstill for over an hour by blocking one of the city's main highways. …Tens of thousands of Ethiopian Jews were airlifted to Israel in dramatic, top-secret operations in the 1980s and 1990s after a rabbinical ruling that they were direct descendants of the biblical Jewish Dan tribe. The community, which now numbers around 135,500 out of Israel's population of over 8 million, has long complained of discrimination, racism and poverty. Tensions rose after an incident a week ago in a Tel Aviv suburb where a closed circuit video camera captured a scuffle between a policeman and a uniformed soldier of Ethiopian descent."…Netanyahu says "…there is no place for this type of violence" – we know the type he colonises several places for.
Hits (15/4/18): 4143