A collection of texts and links to texts concerning the movements in Mexico, beginning with a chronology of events starting with the latest, and working backwards to April 2013
Thanks to Pi for most of the information and analysis here
(format changed on 17/6/16)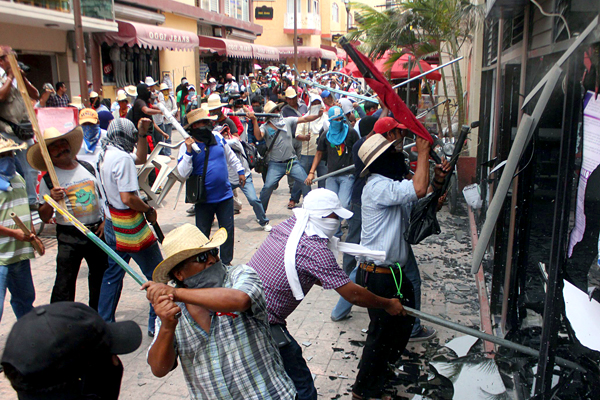 Armed with iron rods and rocks, dozens of masked members of the teachers' union in Guerrero State attack the local offices of the four major political parties, smashing windows and overturning furniture (24/4/13)
1.  
Chronology (present day – April 2013)
Followed by: a text on the movement of day labourers and related matters in Mexico (March 24th 2015); a text and a couple of links to texts about the Zapatistas; other links to texts about significant social movements in Mexico; a critical question and answer dialogue about the CNTE teachers organisation, which has been active for several years now, and is now in the forefront of many struggles, particularly in the state of Oaxaca.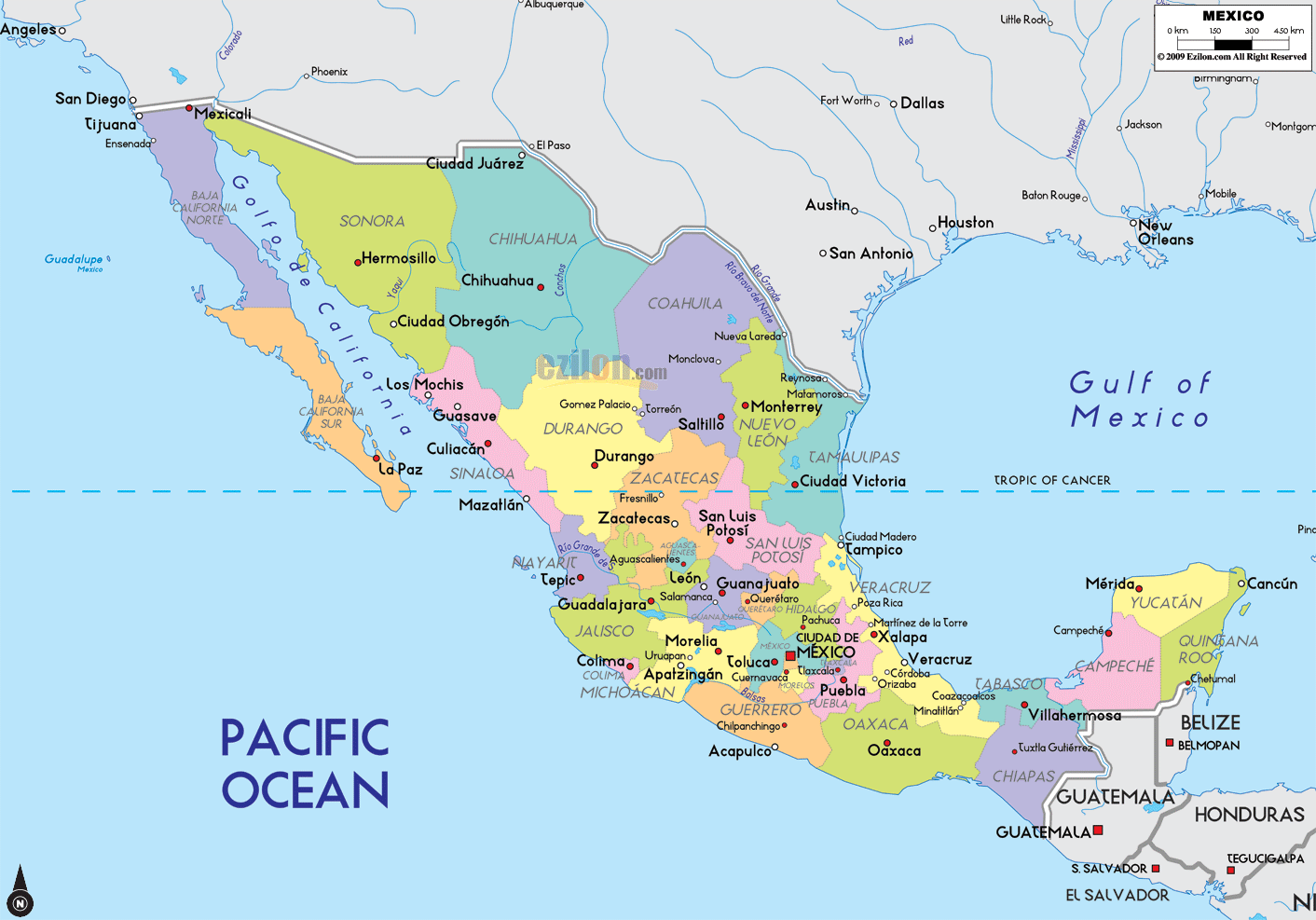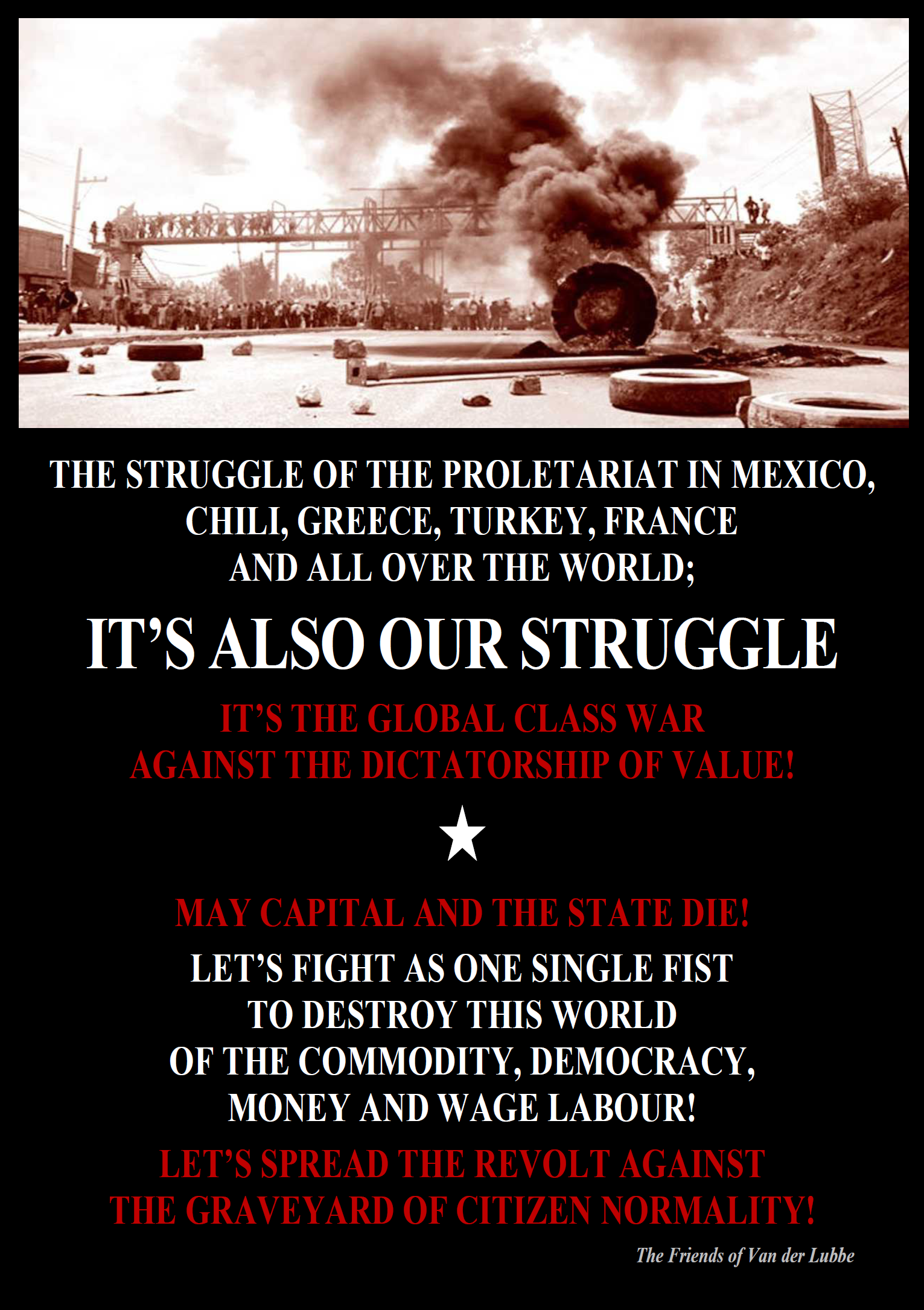 A bit corny ultra-leftist but correct – taken from here, which also includes this expression of fury:
"What rage is felt in seeing that they have the weapons, that from this side you must run because the gases cloud your eyes, they arrive from the front and from the air, two helicopters over you, over everyone, people taking out buckets of water from the streets, settlers, mothers, fathers, youth; children in battle, unifying courage, not for reform, not for section 22, but for the dead, for the poverty, because already one can't make ends meet and  prices rise like the murderous helicopters"
– Testimony of a proletarian at the barricades in Oaxaca
Also worth reading for its take on the use of rumour as a form of state manipulation in the context of Oaxaca: "Oaxaca: The Discourse of Fear, Rumors and Lies"
23/9/18:
Mexico, Mexico City: flypitchers throw sticks & stones at  grenadiers, briefly block roads, after having their stalls closed down
20/9/18:
Mexico, Guerrero: hooded youths attack military barracks with molotovs & fireworks  just after 4th anniversary of disappearance of the 43 'normalista' students, 3½ years after beginning of unending pretension to a State enquiry without the slightest conclusion

19/9/18:
Mexico, Mexico City: clashes after brutal eviction of indigenous Otomis from over 20 year illegal encampment of abandoned area "Dozens of people were wounded in a violent operation to evacuate an illegal camp in central Mexico City on Wednesday, as the capital commemorates the two deadly earthquakes of 1985 and 2017. …the clashes began at dawn when plainclothes officers began to beat them without warning. "We were beaten, the police took out their pistols in front of the children… I was scared, I grabbed my son, they started to beat us with sticks, brooms, stones, machetes"… About a hundred families live on the site, according to the authorities. Margarita Margarito said that the police had not presented any official evacuation order. "They'd only just arrived and just  hit everyone – children, women, the elderly" … A hundred riot police were dispatched to the scene and prevented residents who wanted to recover their belongings from accessing the camp. Residents responded by throwing stones and sticks in clashes that lasted several hours…The wounded include children and police. An AFP photographer, who received a stone on the head, was hospitalized. These clashes took place as the capital commemorated  two deadly earthquakes on Wednesday, one in which 369 people died in 2017 and the other when there were more than 10,000 deaths, on the same date, in 1985. On this occasion protests have been organized by people left homeless since the earthquake last year, who accuse the authorities of abandoning them to their fate."
10/9/18:
Mexico, Mexico City: market stall salespeople block roads in protest against murderous cop crackdown More here
5/9/18:
Mexico, Mexico City: occupation of part of university after mass student demo calling for Dean's resignation following previous fascistic attack and murder of young female student
1/9/18:
Mexico, Iztapalapa: cops attack locals after they block road with bus in protest against prohibition of game machine installations for previously permitted 25th anniversary festival 
15/8/18:
Mexico, Morelia: market salesmen attack cops with avocados, sticks, boxes, etc; as cops try to remove them and confiscate their products (includes video)
9/8/18:
Mexico, Hidalgo: after cops kill one of them, black market gas sellers attack municipal presidency, forcing cops to flee; several cop motorbikes torched "…about 60 people shot in the air demanding that the police who were guarding the barracks leave so they could do justice for the death of their comrade, during the early hours of this Thursday. Spirits rose in tone and the subjects seized two motorbike patrol vehicles, which burned in the street, while the police who watched escaped to take refuge in nearby houses. Witnesses argue that after midnight approximately 20 vehicles were concentrated in front of the Presidency, where the police station is located and that the armed commando carried out acts of vandalism in the barracks and the downtown area of ​​the municipality."
5/6/18:
Mexico, Jalisco: indigenous Indians take 15 federal, state & municipal officials hostage for 9 hours in land dispute "The incident took place early yesterday morning after the officials arrived in the Wixárika town of San Sebastián Teponahuaxtlán. But when they failed to deliver documentation regarding the allocation of funds to a social program intended to help solve the territorial conflict, Wixárika representatives suspended the meeting…The meeting was a follow-up to agreements that were reached last month after blockades cut off access to 35 communities and closed schools and health clinics."
30/4/18:
Mexico, Chihuahua: heavy clashes as co-operative farmers attack illegal wells of wealthy farm family (backed by corrupt local state & cops) because they are effectively stealing their water "During the scuffle, two peasants were injured with a firearm, while the peasants stoned the wells and four trucks parked on the ranch.…Julián LeBaron, said that more than a hundred people attacked his property, forcing the family to leave the premises"
Mexico, Vera Cruz: 6 cops die of smoke inhalation during prison riot "When local police, in support of state police, went into the prison …they were apparently ambushed by prisoners, who blocked their escape and lit a fire that suffocated six officers, the governor said. "The six police officers were attacked and were enclosed in an area with no exit. The inmates started a fire, and with the smoke, they caused the asphyxiation and death of the six police officers" Although this, according to prison officials, was probably initiated by an obnoxious drug cartel, it's also possible that  other prisoners were involved, and besides – surprise surprise! – the official line is not necessarily correct.
16/1/18:
Mexico, Baja California: locals attack aquaduct aimed at supplying water to billion dollar brewery; clashes with cops "The demonstrators are opposed to the construction of the brewery because they say that it will divert water required for agriculture and human needs. State Public Security Secretary Gerardo Sosa Olachea said state and municipal police officers were called to the site after the company reported that protesters were attempting to stop workers from continuing excavation of the last section of an aqueduct that will supply water to the plant. The first clash occurred at around 6:00am after police arrived and were met by protesters throwing stones at them. Intermittent confrontations continued for hours and it was already afternoon by the time police managed to break up the protest following at least five failed attempts. Among the injured were a police officer and a journalist who was struck by a stone….yesterday's events were preceded by another clash between protesters and authorities Monday. Following an act of vandalism that resulted in damage to a pipe that passes near the brewery site and supplies water to the state capital, personnel from the State Public Services Commission attended to shut off valves and repair a leak. However, they were also met by a group of people who attempted to obstruct their work by throwing things at them. After sealing off the leak, the workers were forced to abandon the site without fully completing their work.  Approximately 60,000 liters of water are estimated to have been lost before the pipe was repaired. Since 2016, a group called Mexicali Resiste — made up of farmers and other local residents concerned about pressure the brewery will place on the local water supply — has employed a variety of tactics to demonstrate its opposition to the construction project. They included setting up blockades to prevent access to the site, two protesters climbing to the top of a construction crane to start a hunger strike and physically confronting police officers."
8/1/18:
Mexico, Guerrero: clashes between narco-traffickers and community police leave 8 cops and 4 narcos dead Apparently the "community police" are unpaid indigenous Indians who defend the locals against the drug dealing mafia; though they often play an ambivalent role, in this case they're certainly on the right side.

6/1/18:
Mexico, Puebla: store windows smashed, church set alight, during attempt to loot shops
4/1/18:
Mexico: stores looted in 2 states (Mexico state & Vera Cruz) More here &  here "Workers of the looted shops blocked the entrances of the shops to prevent people taking away what little was left. "It's all destroyed, they took everything … computers, some refrigeration equipment, seeing the destruction makes you speechless, the neighbors are wondering how it can be that people do that," said a worker at the grocery store 'Neto', affected by looting" Should be pointed out, for those who don't know, that Neto is not a "grocery store" in the normal sense: it's a massive international supermarket chain...and also in Chiapas
10/10/17:
Mexico, Nuevo León: at least 13 prisoners killed by state after guards are taken hostage in riot "…the riot occurred at the state prison in Cadereyta and the death toll could climb because eight people were in critical condition….police using non-lethal force were unable to quell the riot…So authorities decided to use lethal force to protect the lives of the guards and the prisoners. Authorities could see through video monitors that at least one prisoner had already been killed and guards had been taken hostage… The guards were being held and beaten on the roof….The trouble started Monday night when one of the half-dozen gangs that are normally kept apart inside the prison protested. The protest died down, but early Tuesday morning fighting broke out and a prisoner was killed and his body burned…When police first went in trying to take control they were met by about 150 prisoners who attacked them with metal tools and rubble from work that was being carried out inside the prison. No guards were killed in the violence, but a police officer was gravely wounded with a punctured lung."
7/9/17:
Mexico, Oaxaca: teachers clash with cops during presidential visit "Members of the National Coordinator of Education Workers (CNTE) union… managed to blockade streets in the early hours of the morning, also decrying educational reforms introduced by Nieto's government. During the clashes, a projectile hit a helicopter carrying media people covering the president's visit to the region. No injuries from those on board the helicopter were reported but an emergency landing was made at a local field. The rocket was reportedly launched by the protesting teachers. At least three police officers were also injured facing off with the protesters." Anarchist report and video here. Photos and report in Spanish here. A friend writes about the earthquake in Mexico: "The most damaged areas after the recent earthquake were the Tehuantepec isthmus' communities struggling against wind farms, and for their "autonomy". The media talked a lot about Juchitan, the main town in the area, since the town hall collapsed and most of victims were reported there, but the nearby villages have experienced lots of damaged : it seems a huge number of houses collapsed, leaving people with very little. According to a comrade there, the situation in these villages, only half an hour or an hour away from Juchitan, is a lot worse. Houses were struck by the earthquake but also by the waves, since several villages are located on the coast. Comrades there are struggling to send autonomous support there, since the State is trying to enter the communities through its aid policy (the
same thing happens regularly when indigenous communities in Oaxaca or
Guerrero especially are struck by "natural" disasters). "So that nobody
feels the need to settle deals with the State", the comrade wrote…."
3/7/17:
Mexico, Oaxaca: army and police enter area blocked to them by residents who'd attacked political/union racket, burning at least 50 houses and 5 vehicles Pi writes: "The Frente Popular 14 de junio is a satellite organization of the PRI [governing party], a sort of union, organizing transport in the neighborhoods (motorbike-taxis and taxis). What happens is these types of organizations are supposed to control neighborhoods through various means (giving out jobs, vote-buying, etc.). Locals are also supposed to pay a fee if they want to sell in the streets (an important activity everywhere in Mexico since salaries are extremely low – maybe it also helps maintaining them so low, but that's another story). They got tired of this and attacked the "company" (or "union"). They also burnt houses belonging to people who just happen to live in the organization's stronghold, but have nothing to do with them."
21/6/17:
6/6/17:
Mexico,

Tamaulipas

: 3 cops killed in prison riot  ….More here "A prison riot in the northeastern Mexican state of Tamaulipas has left three police officers and four prisoners dead, the state government said on Wednesday." Not really sure from this report whether this was the work of some drug cartel gang or other or not, but the State of Tamaulipas is almost entirely controlled by narcos, so it probably was…

29/5/17:
2/5/17:
17/4/17:
9/4/17:
5/4/17:
Mexico, Michoacuan: cops murder villagers
28/3/17:
Mexico, Nuevo Leon: 2 prisoners die on 2nd day of riot "…at least two inmates died and 13 people sustained injuries, including two guards, at the Cadereyta prison near the city of Monterrey….A riot on Monday, in which at least nine people were injured, began as inmates protested the use of X-ray machines to screen visiting relatives, while the one on Tuesday began after inmates set fires and attacked the prison's pharmacy in what they said was a response to a lack of food and water caused by Monday's riot. Aldo Fasci Zuazua, the public security secretariat for Nuevo León state, said the riot at the prison on Tuesday began after 56 inmates from the group known as The Renegades broke into the pharmacy to steal medication. Fasci Zuazua said the inmates stole the medication to use them recreationally and burned mattresses in two areas of the prison to distract authorities. He said one inmate died in a hospital after inhaling smoke and injecting or taking drugs, while the other burned to death."
27/3/17:
Mexico, Nuevo Leon: 4 screws taken hostage during prison riot…video & report here "Four prison guards were taken hostage after a riot broke out at Cadereyta state prison, Monday, with hundreds of inmates reportedly setting fire to mattresses, sending smoke billowing into the sky over the facility. Some 600 members of the prison's 2,000-strong population allegedly began burning the mattresses in retaliation to strict security controls. The four prison guards were taken hostage during the uprising and at least 45 people, both guards and prisoners, were wounded."
24/3/17:
Mexico, Tamaulipas: mass prison tunnel escape and riot precedes fatal clash between prisoners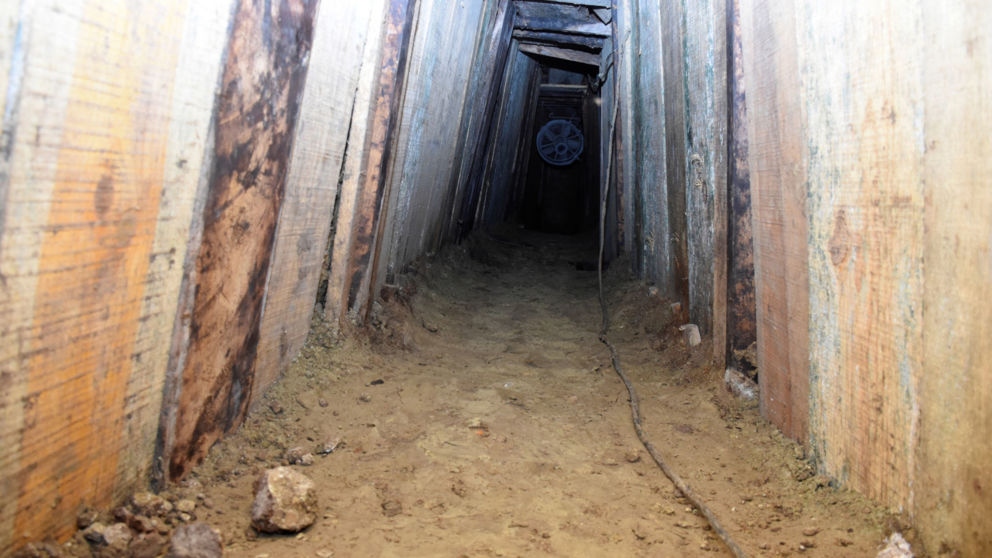 The interior of the 40-metre tunnel, through which 29 inmates escaped; 13 have since been re-captured
23/3/17:
Mexico, Chiapas: part of town hall set fire to in protest against water shortages "…residents from neighborhoods in the town of Coita held a peaceful march demanding water and presenting various popular requests about the security of the municipality. The protest traveled to the offices of SAPAM (Municipal Water and Drinking Water System). Upon not receiving a response at that office nor from the corresponding authorities, the protesters occupied the town hall, set fire to the entrance, several offices, and a car they found parked outside. Similarly, the protesters captured some of the SAPAM bureaucrats in the Central Plaza, demanding immediate dialogue to resolve the situation."
17/3/17:
Mexico, Mexico City : Peñon de los Baños neighborhood locals block Airport Boulevard due to lack of water and clash with cops, throw molotovs (photos)
9/3/17:
Mexico, Mexico state: violent attack on opponents of new airport construction "This violent group was armed and shot on various occasions at campesinos that were protesting with a road blockade in Tocuila. The campesinos stated that, "We are blocking the entries and freight trucks that transport material for the new airport because it passes through our lands and we are not allowed to plant alfalfa and corn that are appropriate for this season. This construction is happening in spite of the various legal challenges demonstrating that it is illegal." Since Thursday morning, ejido members have organized to destroy the road that allows cargo trucks to pass, transporting construction material extracted from hills and natural reserves of the east of Mexico City—the road is almost two kilometers long and 20 meters wide on each side."
8/3/17:
Mexico, Sonora: fishermen riot over restrictions of use of specific nets "About 10 official vehicles burned, officials beaten and roads blocked is the balance of violent riots unleashed by fishermen of Baja California and Sonora in the Upper Gulf of California, due to the ban imposed by federal authorities on the use of gillnets …for the capture of the curvina golfina, as a measure of protection of the vaquita by the illegal fishing of totoaba, both species in danger of extinction….the fishermen and their families overturned two trucks from the Federal Environmental Protection Agency (PROFEPA), then set fire to several boats and six vehicles of the National Commission of Aquaculture and Fishing (CONAPESCA); Allegedly, they also hit at least three inspectors of the Federal Government and blocked the coastal road of the Gulf of Santa Clara,..Studies by authorities and environmental groups state that only 30 specimens of the Vaquita Marina survive" Clearly one cannot simplisticly support such a riot, but it's inevitable  that people whose livelihood within this society depends on relatively low-level environmental destruction are caught up in this society's contradictions. Nevertheless, I would even support workers in the energy industries rioting to keep out of poverty by keeping their jobs, despite the far higher environmental destruction wrought by their work.  Until there's a revolution that abolishes the need for money to survive, it's inevitable that this is a contradiction many proletarians are caught up in.  However, it remains urgent, from an ecological point of view,  for workers to explicitly express the contradictions of their situation and of their revolt if humanity is not to be destroyed by, amongst other things, the destruction of biodiversity, of increasing amounts of endangered species, including fauna,  vital for humanity's survival.

3/3/17:
Mexico, State of Chihuahua (north) : locals block train tracks and oppose pipeline construction  (source in Spanish)…Tehuantepec isthmus, State of Oaxaca (south) : opposition to wind farm project continues, one injured by PRI gunmen during protest
24/2/17:
Mexico, Mexico City: small riot in youth prison
1/2/17:
Mexico, Mexico City : camp workers' union members from 2 States come to Mexico City, block roads, try to set up camp on main square, & fight 500 riot cops sent to repress them – 17 pigs injured
20/1/17:
Mexico, Juarez: politically organised symbolic burning of car in front of gas station The movement has largely been recuperated through large marches full of Mexican flags by leftist parties and organizations. Not so surprising, considering "national" gasoline is the populist issue par excellence. The oil industry was nationalized decades ago to reinforce State control on oil workers (and complying with their demands), through the same kind of anti-imperialist ideology expressed right now. A comrade confirmed that no larger critique of society, social relations and present conditions of life in Mexico emerged from the marches, which was in my opinion the only way the movement could continue and extend. [Pi]
10/1/17:
Passionate revolutionary  report on gas price uprising "…They said that in Baja California people seized fuel lines and began to give gas away to anyone that went by. That they blockaded the highways in Oaxaca, that there were protests in Jalisco, Chiapas, Chilpancingo and Tlaxcala, in Morelos and in Can-Cún. Then the protests began to get closer. In Acolman, Ecatepec, Naucalpan, Nicolás Romero, Cuautitlán, Tultepec and Tecámac, Cuautepec [municipalities in the State of Mexico]. That they even reached Gustavo A. Madero [northern neighborhood of Mexico City]. That they're coming! They're on their way! Who knows who they were, but they were many, angry and committed. They began to appear on social networks via images and videos. They were everybody, every single person, us. The revolt burst forth."
9/1/17:
Mexico, Veracruz: cops arrest cops for looting

8/1/17:
Mexico: struggle spreads to at least 25 out of the 31 states "Because of the protests, that are blocking highways throughout Mexico, freeways in California are being affected and some are again being closed Sunday night."…border traffic halted in Arizona as over 300 prevent crossing of cars & trains between Mexico & the US More on this in English here…cops use live rounds…Nogales: cops use live rounds against occupation of government building This is from a short but very interesting article in French. More from this article here:
"Workers (bus drivers and truck drivers) participated in the blocking of roads, workers demonstrated, such as those in the port of Lázaro Cárdenas (State of Michoacán, center) and bus drivers from Guadalajara (State of Jalisco), the second city in the country, went on strike, like  drivers and truckers in the state of Veracruz who declared an unlimited strike in their state.
Demonstrations and assemblies were organized by various unions, political groups and social organizations from Sunday 8, which raises fears of recuperation around the populist argument that the oil belongs to all Mexicans, in one of the main oil-producing countries, where a worker must work more than ten days to pay for a full tank.
We have already seen good citizens demonstrating peacefully, playing the cops and handing over to the police   protesters who came to express their rage against the National Palace of the city of Monterrey.
Mexico is currently experiencing high inflation, its currency, the peso, is at historically low rates.
Gasolinazos (increases in the price of gasoline) have been frequent since 2000, but have not caused such reactions before.
Oil has officially ceased to be a state monopoly since 2013. The exploitation rate of workers is constantly on the rise, as is the exploitation of natural resources.
While Mexico has experienced social struggles throughout the country, particularly in Indian communities, a movement of this magnitude, largely spontaneous, is rather surprising, as national movements are rather rare.
The large cities of the northern states have been shaken by extensive looting, whereas those states where the presence and control of narco-traffic are the strongest, are calmer from the point of view of the class struggle."
7/1/17:
Mexico, Baja California: heavy clashes as state forces try to destroy blockade of Pemex (Mexican Petrleum) on 5th day of blockade "In addition to the clashes, looting was also reported in Guanajuato and Guerrero, while in Veracruz, the state government reported that more than 500 people were arrested for the attacks on shopping centres….The fifth day of blockade at the Pemex facility in Rosarito ended with a clash between federal, municipal and state police against civilians. The balance was of at least 40 detainees and 15 wounded, including 7 policemen – 2 of them very seriously. Violent acts began after police detained a dozen demonstrators, half of them senior citizens and after a group of young men with their faces covered, threw stones at the police…. the police … arrested about 30 people. Minutes after that confrontation, a car of the company "Refaccionara del Valle" rammed the federal police, knocking down seven of them…
…It should be noted that during these events, three journalists were beaten by police while trying to document the eviction… rumors caused more than a thousand businesses to suspend their operations. In Irapuato, Guanajuato, rumors of possible looting became a reality, after a group of gunmen attacked a Walmart branch, a pharmacy and other establishments….store shelves were empty after vandalism….In Guerrero, looting affected a shop from the company Elektra and two Oxxo establishments, as well as a gas station…At least 135 of the 532 arrested for looting of businesses and vandalism in Veracruz are…charged with the crimes of terrorism and aggravated robbery".…Yucatan: christmas tree torched & nativity scene trashed during attempt to loot store…Chiapas: at least 37 stores looted, and 10 others vandalised Altogether, clashes and looting have been reported in Rosarito, Tijuana, Veracruz, Boca del Río, Medellín, Tierra Blanca, Tres Valles, Isla, Minatitlán, Agua Dulce, Nanchital, Misantla Huixtla, Tapachula, Tuxtla, Misantla, Uman, Campeche et Paso del Macho.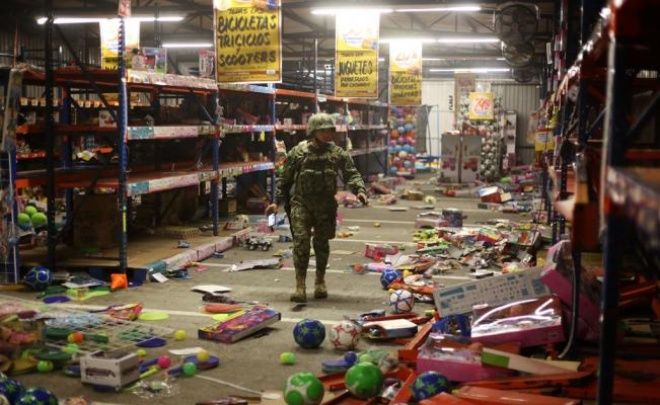 soldier patrols looted toy shop, Veracruz
6/1/17: 
Mexico: clashes in Mexico City, Ixmiquilpan, Chetumal, Veracruz, Uman, Cancun, Hermosillo, Minatitlan, Ixtapaluca, Tecamachalco, Saltillo, Monterrey, Tapachula, La Cuenca…Tapachula; mass looting continues "Supermarket stores and services from the main chains in Mexico woke up Friday with their shelves empty…transport drivers started the suspension of collective transport service against the price increase of fuels"…over 1500 arrested for looting…Nogales: railroad blockaded by 250 protesters…at least 300 stores looted…anarchist site resumé of events…Veracruz: 14000 bus, truck and taxi drivers  announce  statewide strike of indefinite length, whilst unions try to put a brake on the movement "El Financiero warned that there are "signs of a total strike of transport" in Michoacan. In Acapulco, Guerrero, taxi drivers are encircling Petroleos Mexicanos (Pemex) oil trucks, forcing them to stop and taking turns siphoning the gas from their tankers. When a group of soldiers attempted to stop one group of taxi drivers yesterday, the drivers said that if the soldiers intervened they would light the tanker on fire. The soldiers backed down. The trade unions are stepping in to prevent the demonstrations from coalescing into a nationwide strike. Trade union bureaucrats who announced the recent strikes stated explicitly that they were forced to do so by workers, who in the words of one trade union official, are becoming "violent." Castelan Cruvelli, president of the Veracruz transport workers union ASTRAVER, denounced striking workers for threatening scab drivers and appealed to the government for help"…Chiapas: town hall and mayor's house torched, along with gas station, sparked by death of 2 youths. Not explicitly to do with the gas price hike.
5/1/17:
Mexico, Tapachula: mass looting thoughout city in response to gas hikes…Hidalgo: cops kill several people as they clear blocked highway of protesters..though cops are repulsed in Ixmiquilpán (video)
4/1/17:
Mexico, Mexico City: report on looting of at least 2 department stores during rising movement against rising petrol prices as blockades create "critical situation" in at least 3 states…looting in 4 different towns in Hidalgo & Edomex states…79 shops reported looting throughout country…"We should set the gas stations on fire."
People liberating  fuel  from a gas station in Veracruz state
The price of oil rose on 1/1/17 by as high as 20.1% to 88 cents per litre, with diesel at 83 cents — the equivalent of 12 days of a minimum wage to fill a tank of gas – compared to the U.S.'s 7 hours — and the price ceiling will be adjusted daily starting Feb. 18, before letting "supply and demand" determine them in March.
2/1/17:
Mexico : Mexicans block roads, gas stations to protest petrol price hikes "One group blockaded a privately owned gasoline station on Mexico City's main boulevard, shouting: "The people, united, will never be defeated!". "This will increase the cost of living for all Mexicans. It will make more expensive transportation, basic food stuffs, food, and it will ultimately hit Mexican families," said Rafael Sotocruz, a nurse who was protesting at the station. On a busy highway leading into the capital from the west, another group blocked traffic and held up a banner reading "Enough already!". Reports on social media and local newspaper sites suggested small, intermittent protests popped up at a half dozen other sites across the country."
21/12/16:
Mexico, Oaxaca: office & ballot papers of the  Partido Acción Nacional (leading right-wing political party) burnt by a couple of people However this might just be politics-as-normal as the PAN accuse a political rival of having attacked its office (source in Spanish here ); on the other hand, it might just be convenient to say that – we obviously don't know.
14/12/16:
Mexico, Guerrero: normalista students attack military installations with molotovs & stones demanding information 2 years after "disappearance" of 43 of their fellow students
7/12/16:
Mexico, Michoacan: blockades of motorways and railtracks across several municipalities to demand release of 7 CNTE teachers
12/11/16:
Mexico, Veracruz:  police car, municipal palace, Civil Register offices with all their documents burnt, house of mayor and several businesses looted, after priest is kidnapped
10/11/16: 
Mexico, Chiapas: 100s of indigenous people beat up and publically humiliate ex-mayor who burnt down their houses 
29/10/16:
Mexico, La Magdalena Tetela (State of Puebla) : a cop patrol set on fire and roads blocked after cop killing of 16 year old As in many cases of this type around the world, some protesters ask for "justice" (which means asking the State, responsible for injustice of all kinds on a massive scale, to act against itself).
7/10/16:
Mexico, Oaxaca state: poor peasants and farmers, furious at state-approved landgrab, set fire to courthouse, attack state officials with stones 
29/9/16:
26/9/16:
Mexico, Chilpancingo: students launch home-made rockets at army base
16/9/16:
Mexico, Oaxaca: cops clash with teachers again
8/9/16:
Mexico, Ostula, State of Michoacán : Ostula community members reactivate roadblock against narco and mining threats   This communiqué is rather ambiguous, since it calls for the respect of the community's traditional authorities and autonomy, but also asks the State to fullfill its role in the fight against the "Caballeros Templarios" Cartel. This illustrates how the project of indigenous' communities' "autonomy" is often (and has often been in the past) compatible with the existence of the State. (Note by Pi)
30/8/16:
Mexico, San Pedro Apatlaco, State of Morelos : locals opposed to construction of aqueduct fight police for 4 hours ; 14 cops injured, 5 villagers arrested
(in Spanish with pictures and videos)
24/8/16:
Report of how Mexican state is building up to a major confrontation with the teachers' strike
15/8/16:
Mexico (State of Michoacán) : normal school students demanding school posts block roads, fight cops and set vehicles on fire…lots of arrests   (in spanish)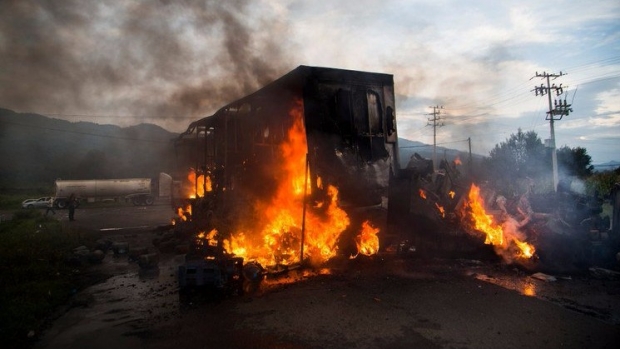 14/8/16:
Mexico (Mexico City) : inmates of Teenagers' detention center block screws from entering and injure three of them (in spanish) Authorities say the action has to do with fights between prisoners, while it seems it has much more to do with the conditions of detention (or detention itself).
11/8/16:
Michoacan: normalista students burn two trucks on train tracks and blockade highway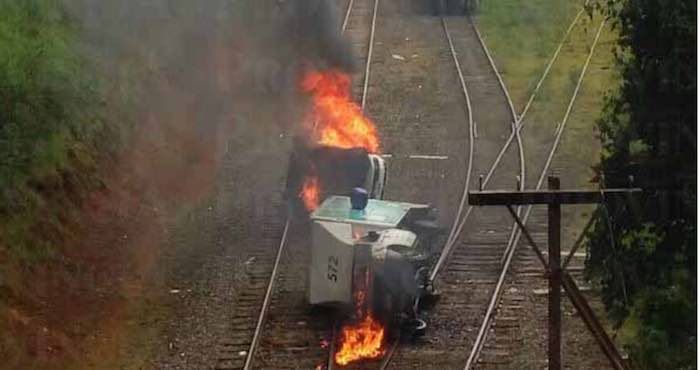 25/7/16:
23/716:

Oaxaca: after announcing it would boycott the famous folkloric Guelaguetza festival, CNTE leaders announce they won't, but that they'll continue betraying the movement by discussing with government over Education reform
Meanwhile, a popular and teacher-lead version of the Guelaguetza was organized for several days in Oaxaca capital…with lots of Oaxaca indigenous communities participating in street parades, concerts, representations. During main event in a stadium on 25-07, lots of reformist slogans calling for social justice, respect for indigenous communities, and much focus on the local traditions…
21/7/16:
Puebla: informal sellers clash with police after operation against them…six injured by firearms, including two cops

20/7/16:
Zitacuaro, State of Michoacan : blockade of railway line put to an end by police intervention ; 25 detained after clashes
Police intervene against roadblock in Chiapas, at least one injured by live bullets…police and paramilitary forces sack and burn militant camp Seems also some of those present at the roadblock and camp refused CNTE orders to leave before police intervention, while lots of leaders and representatives have been involved in negotiations with authorities recently.
19/7/16:
State of Michoacán: some rural school students, teachers and locals organize a road blockade and seize 12 vehicles…police intervene to break it up. It ends up in clashes in which some cops were injured and several vehicles set on fire
In Làzaro Càrdenas, an important portuary city of the same State, 4 cops were injured by members of local CNTE section … in an action against the payment of the last 15 days of work for some teachers. These militants also occupy the city's town hall .
In Mexico City, a caravan of Oaxaca villages' community representatives arrived…a demonstration in solidarity was organized, in which mostly participated leftist organizations. Slogans and banners were pretty reformist (for the defense of Education, for justice and dignity, and so on). (see this)
18/716:
Oaxaca movement and solidarity in the state of Michoacán: the police intervene to stop a solidarity blockade carried out by students from the  Normal school and locals, which appropriated 12 vehicle… clashes, several  vehicles  torched  during the retreat In Lazaro Cardenas, an important port city of the same state, members of the CNTE wounded four cops with stones during an action against the withdrawal of  checks corresponding to the previous fortnight's wage for some teachers (see here, in Spanish) and occupy the town hall.
In Mexico City a caravan arrived with representatives of local authorities from many villages of the State of Oaxaca. The initiative, however, comes from the RPF, a leftist student group, which is the political arm of the Marxist-Leninist guerrilla group EPR (Ejército Popular Revolucionario – "Popular Revolutionary Army"). An obvious aim of breaking the movement, delaying putting up the barricades till later, the day when these organizations  find themselves well placed to realise their political project … It is also important to note, since no one ever does so when the Indian struggles are discussed in Mexico, that many leftist political groups make manoeuvers in these communities, not always visibly, and influence the traditional authorities, which are sometimes under their control. These organizations obviously highlight the issue of specificly local circumstances, community traditions, identity and autonomy … populist themes likely to bring people together more broadly than the radical critique of the state and capital (and not only "neo-liberalism" so dear to Leftists and the Zapatistas), or oppressive traditions that exist in the communities.
Following their arrival in Mexico City there was an event, with mainly organized leftist groups, and  rather populist and reformist slogans and banners (follow in Spanish on Proyecto Ambulante's Twitter feed  here).
In Oaxaca the situation has   pretty much returned to normal… everything in the state capital works as usual under the reign of merchandise, despite the camp set up by Section 22 of the National Coordination of Workers of education (CNTE) in the Zócalo (the main central square of the city). However blockages continue
in the state, especially in Nochixtlan, the site of the massacre of 19 June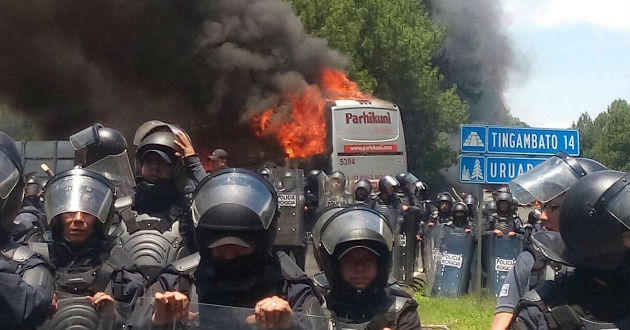 Michoacán
15/7/16:
US, San Francisco: 150 on unpermitted demo in solidarity with Mexican movement clash with cops; professional manipulator confronted "…an argument developed between comrades participating in the march and corporate media filming the event. This lead to a news reporter's body guard attacking and pepper-spraying protesters. The police quickly attacked the protesters, assaulting and arresting 4 people. The crowd held the street in a tense confrontation with a line of riot police on motorcycles where people chanted, challenged police, built barricades with garbage bins, painted anti-colonial and anti-police slogans, and lit a fire in the intersection."
11/7/16:
Update on the movement in the State of Oaxaca and the support for them elsewhere     Road blockades continue in Oaxaca. There were lots of actions in solidarity with the movement recently, such as takeovers of toll-booths, for example on Mexico City's highways, to raise funds for those involved in the movement in Oaxaca or the families of the victims of Nochixtlan´s recent massacre.
A huge number of schools, especially in Mexico City were closed by parents in support of the CNTE. The support is not very critical, and largely uses the reformist demands of  free state schooling or "popular Education".
In Oaxaca, delegates of 90 indigenous villages held a meeting to discuss with members of the CNTE.
The horrible marxist-leninist guerilla movements EPR and ERPI, whose ideology and methods are of course violently autoritarian, called their bases (especially in some villages of the State of Oaxaca) to support the movement and to be prepared for combat (according to this, in spanish : http://oaxacapolitico.com/oaxaca/locales/epr-y-erpi-convocan-sus-bases-solidarizarse-con-oaxaca-y-estar-en-%E2%80%9Cdisposici%C3%B3n-de). Important to mention, because some mexican comrades insist on the increase of their influence in the present movement (which they think is much stronger than in 2006).
4/7/16: 
Comrades of the recently murdered community radio activist, who are members of the Libertarian Block of Huajuapan, have published a communiqué in which they indicate that he was tortured by police, escaped from detention in one of the town's police stations, and was then hit, probably deliberately, by a police car; police then left town

3/7/16:
3 attacks against the boards of 3 businesses (a claim in Spanish, which tends to be rather triumphalist since it doesn't insist on the numerous contradictions of the present movement). English translation here.
Mexico (Oaxaca): continuation of the movement (in Spanish with photos). In addition to the numerous blockades that persist in the State of Oaxaca, many were set up in other nearby states: Michoacán, Guerrero and Tabasco (according to this article: http://www.jornada.unam.mx/ultimas/2016/07/01/bloqueos-en-guerrero-y-michoacan-contra-reforma-educativa , in Spanish).
Few Mexican anti-authoritarian texts  are critical of the contradictions of the movement, mentioning the facts, participants, the various ideologies and the organizations actively involved. A text written by anti-authoritarians calls for the extension of the movement in Oaxaca:  Explosion of anger: extend social unrest and war!, but we would like more details.
We know for example that many Marxist-Leninist or Trotskyist type organizations are involved in the movement as they are in the Coordination of Education Workers (CNTE), and that the influence of the guerrillas still present on Mexican soil and particularly in the state of Oaxaca is an element to take into account.
The EZLN, the Zapatista Army of Chiapas, issued a statement in support of the mobilized teachers and the Coordination, whilst there are critiques of them in the area that are sometimes quite lively. Many newspapers insist on the so-called will of the government to dialogue with the CNTE, that some leader see as a good thing. It's, of course, a way of seeing the State's desire to limit the movement to the CNTE's corporatist demands and their refusal of education reform; which does not deceive everyone in Mexico, since many places (like Nochixtlan where the recent massacre took place, mostly of proletarians of the city) the struggle against the  reform of education is a struggle of secondary importance. (Note: Pi).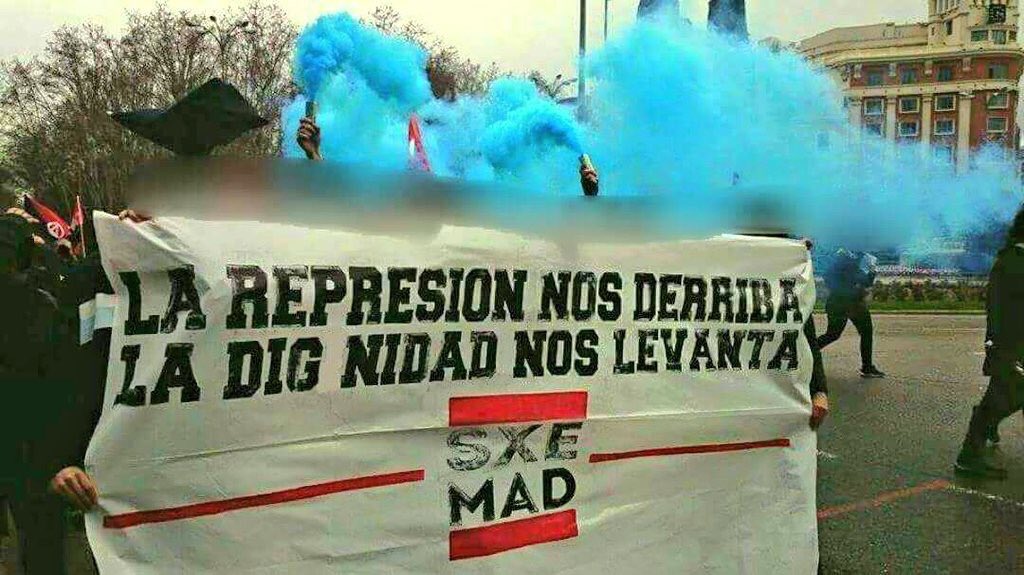 "Repression holds us down, dignity lets us get up"
1/7/16:
Cops threaten relatives of those murdered by cops "…relatives of the dead and wounded are being threatened so they don't take any legal action. This was reported by lawyers advising the families. "There is fear because there have already been threats directed towards the families and the prisoners who were arrested. They even arrested twenty people who were in the municipal cemetery digging a grave to bury a family member who passed away on June 18 due to causes unrelated to this situation. They tortured them during transport and they were held in the state police barracks for more than two days and in the end they released them and told them to go"
30/6/16:
Mexico City: confrontations between armed security from the Ministry of Public Safety and 90 families being evicted from occupied terrain close airport access road more here… video here 
Map of blockades in Oaxaca since start of movement here  There are still mobilisations in both the North and South of Mexico, plus a number of barricades in the state of Oaxaca, including ones which prevent  access to the capital.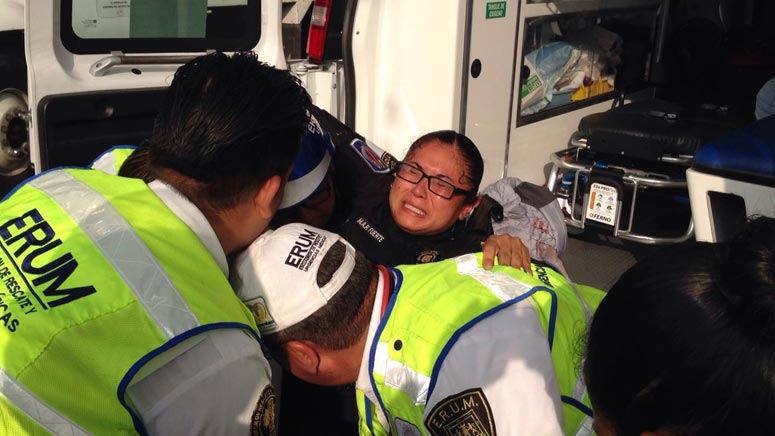 Oaxaca: cop happily smiling at the camera as he takes a well-earned vacation
Teachers' strike begins to cause fuel shortage…presumably because teachers are increasingly using petrol for glowing reports and beacons of excellence like this: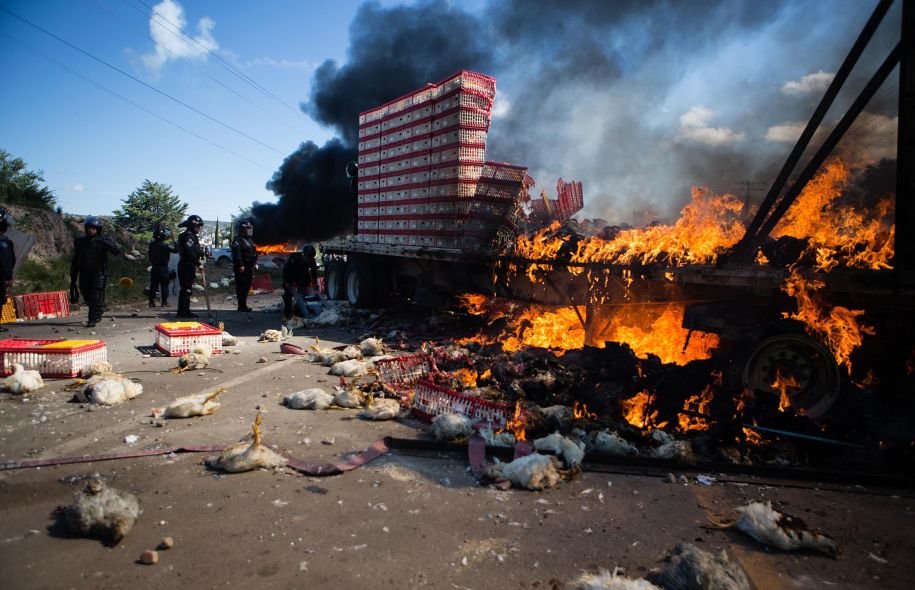 29/6/16:
Oaxaca State,  Huajuapan de León: about 50 probable anarcho-punks avenge the death of their friend/comrade Salvador Olmos García by furiously ransacking the town Some fires in the street, 3 police "modules" burnt, an anarchist flag placed on the national hero Benito Juarez, the construction of which the murdered anarchist radio broadcaster had mobilised against along with other residents (see here for background to this murder). Apparently – according to this article – some CNTE teachers organising against the neoliberal education reform have started a dialogue with these "youths" to "restore calm".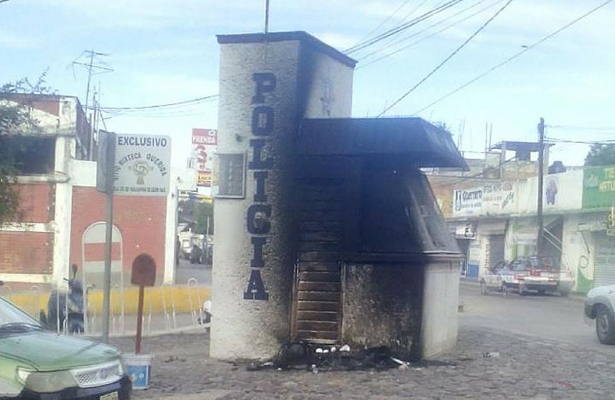 Athens: Mexican embassy occupied in solidarity with Oaxaca uprising and its victims
28/6/16:
State of Oaxaca : further follow-up of the movement in Spanish, with lots of pictures15th day of mobilization. There are now 29 blockades in the State of Oaxaca, which is more than in the first days. Some cops were detained by participants during a march. Still lots of solidarity initiatives all around the country.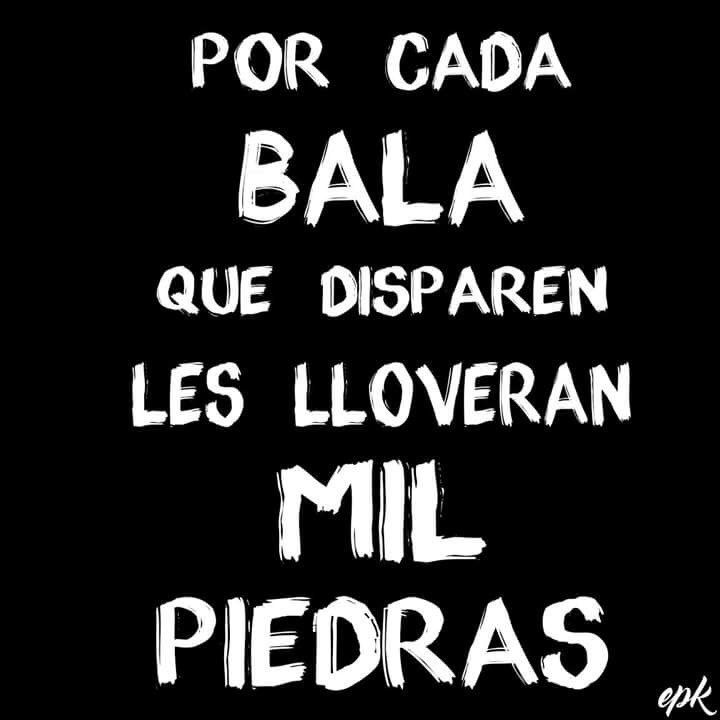 "For every bullet fired, a thousand stones will rain down"
26/6/16:
State of Oaxaca : follow-up of the movement in spanish, with lots of pictures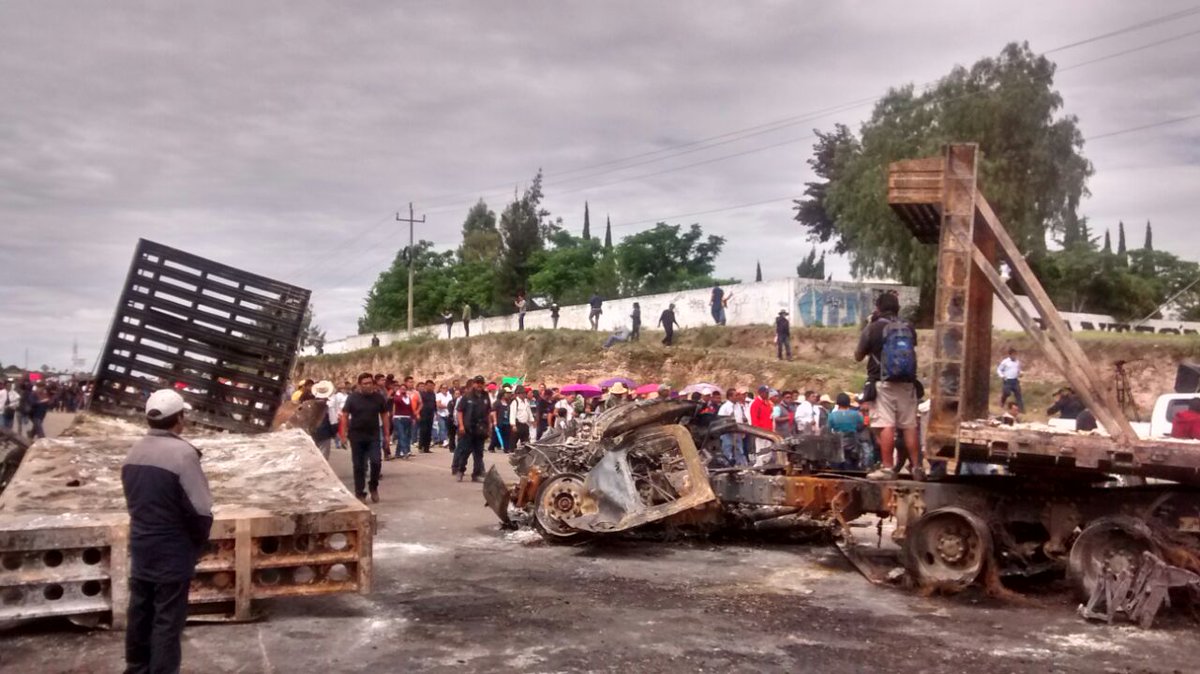 cops destroying Nochixtlan barricade 
Lots of solidarity actions around the country, whether in indigenous communities or in the main towns and cities. In Nochixtlan, where the horrendous police murders took place a few days ago, a march was organized to the center of this very poor town (people in several neighborhoods have no light or electricity – near a highway connecting to State capitals). Participants called the CNTE "not to betray the movement" and for the resignation of Oaxaca's governor. Seems that in Chiapas, where 5 roads blockades took place in the capital, a secret agreement was signed with the authorities to stop unrest (according to this article of the leftist daily La Jornada).
We also heard with sadness the news  of a community radio activist and member of the anarcho-punk movement was killed by police after mobilizing against a police raid on this radio. – here
Nuevo Casas Grandes, State of Chihuahua, north: pirate merchandise sellers mobilize after seizure and detention of colleague threatening police officers to lynch them if they come back
22/6/16:
Mexico: the movement continues Rallies were held in many major cities, responding to calls by the Coordination of Education Workers or activist organizations. There were significantly large gatherings, including some in major cities of northern counties (regions under the control of  narco-traffickers), in which social movements are much less intense than in the southern states (where the Indian population is large). In Indian regions, there were several solidarity marches, sometimes several kilometers long, as in the villages of Chipas of the Sierra Norte of Puebla.
Significant roadblocks are held in the states of Oaxaca and Chiapas (the Chiapas capital, Tuxtla Gutiérrez, was blocked at two major entrance routes).
In Mexico City, UNAM, the largest university of the country, went on strike for 24 hours. Anti-authoritarian students strongly criticized the meeting which took this decision and consider it very lightweight. Many authoritarian leftist organizations were obviously present. (Note: Pi).
21/6/16:
Mexico (Oaxaca) : more about the movement  Many initiatives of solidarity with the current movement in Oaxaca – the killings have left a significant mark on people,  as happens regularly when such events occur in Mexico. In Nochitxtlan the inhabitants are continuing their road blockades and barricades and have kicked out the city's municipal president.
The teachers' Coordination is calling for lots of marches throughout the country, and has begun negotiations with the government, whilst, however,  it must be said not wanting to backtrack on their take about the plans for the reform of Education. Critics of the Coordination are numerous, and rightly so.
In the state of Veracruz, the inhabitants of Coatzacalcos have expelled the military from their city.(Note : Pi).
Mexico City: hooded youths break windows and "attack" people filming them, as some students from the University show solidarity with the movement; major roads, including a major boulevard, are blocked in solidarity with the movement. and at least 10 underground stations closed…some small fires and bus used to block roads
20/6/16:
Huajuapan de Leon (Oaxaca): police station attacked with fire

State education offices smashed up in Guerrero (Chilpancingo); road to Acapulco favoured by tourists blocked by teachers; town hall of Tlapa taken over
Oaxaca: teachers cancel classes after cop killings … possibly as many as 12 killed…reports about  32 dissappearances (people missing or going unreported) Barricades and road blockades are maintained in many regions of the State of Oaxaca. Solidarity is strong in several parts of the country, with people organizing events to support the movement, sending food, medicine, etc. In Mexico City, students of the UAM Azcapotzaco are on strike. A university radio station's offices are also occupied. 30 to 40 anti-authoritarians (the figures vary), having organised a gathering in front of the state delegation of Oaxaca in Mexico City, are arrested and imprisoned for a few hours, and then released, having had lots of support, as word passed around very quickly. The young women were sexually abused by the cops.
19/6/16:
Mexico, Oaxaca: 7 killed as police repress road blockade in Nochixtlán with live ammo; lots of people injured, at least 20 arrested; local hospital seized by the forces of disorder, injured locals not admitted after shootings The government have published communiqués denying having used live automatic ammo. Of course videos and pictures can already be found all over the internet.…Lots of initiatives are organized in the country in solidarity with the education workers and their supporters still maintaining road blockades in the State of Oaxaca. Barricades are set up in Oaxaca's capital. In Nochixtlán, seems things are going on after the horrendous police murders…The town hall is burnt…Some clashes in Hacienda Blanca, near Oaxaca's capital, where police are trying to intervene to later reach the capital…video here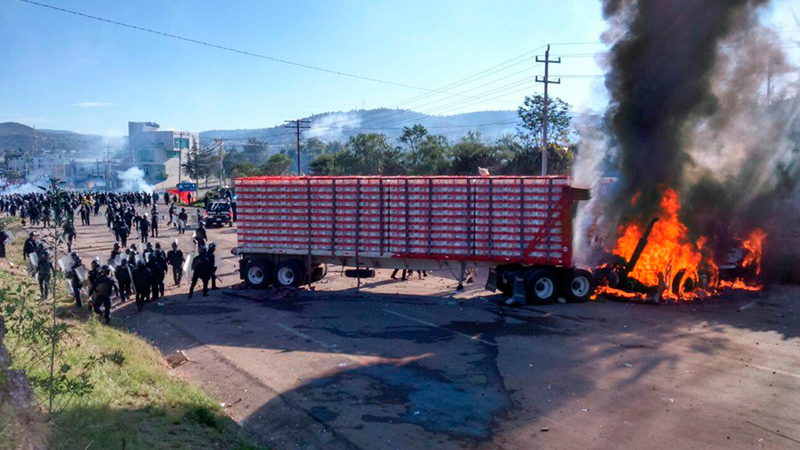 More in English here and here "..clashes were continuing Sunday evening outside Oaxaca city itself, where protesters burned federal police installations. Over the past week, unionised teachers have blockaded streets, a shopping mall and even train tracks in the western state of Michoacan. They have also forced some bus lines to cancel trips to Oaxaca, which is a popular tourist destination, and blocked a highway on the isthmus of Tehuantepec. And in Oaxaca city, protesting teachers have set up an encampment in the city's main square."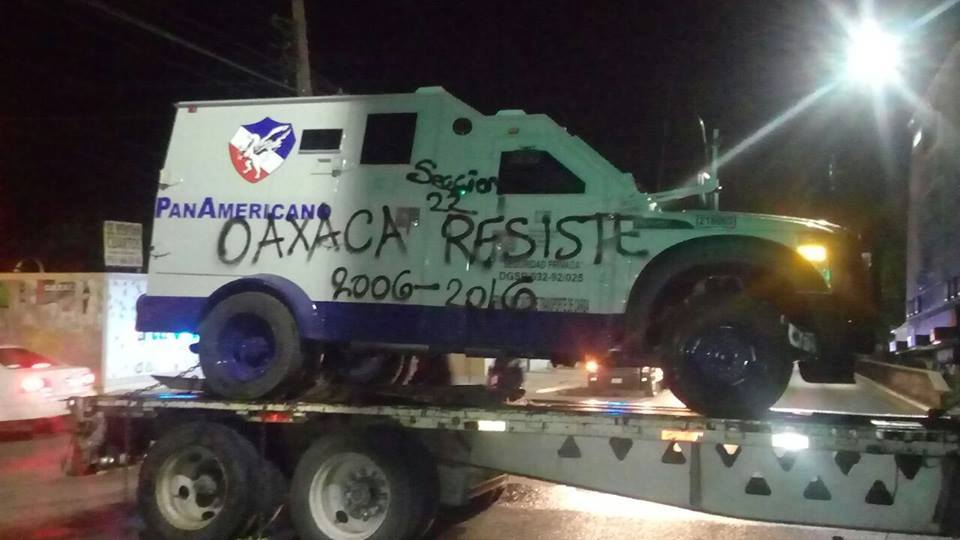 Mexico City, Nezahualcoyotl: Telmex phone booths sabotaged
18/6/16:
Oaxaca: police  sent to Oaxaca by air (7 planes), as they advance slowly by road. They put an end to 2 road blockades in southern Oaxaca's Tehuantepec isthmus… and then to a third one in Salina Cruz, which blocked all accesses to a PEMEX refinery (includes a video)…there are still 9 blockades in the Isthmus and at least 10 in other regions of the State…In Juchitán, the region's main town, 7 shops were attacked by locals, and five vehicles stolen at Nissan…In Oaxaca's capital, explosive devices against electricity company.….In State of Michoacán, a protest was held by miners of the Pacific coast harbour city of Lázaro Cárdenas in solidarity with the movement (see this ).
Nezahualcoyotl: 13 phone booths belonging to prison & environmentally destructive high speed railway construction company destroyed by anarchists "This sabotage has been done in solidarity with the prisoners who revolted in Barrientos prison. This is in support of comrades who are on the run in Mexico: Chivo, Tripa and "Cobi"…Fire to companies building prisons."
16/6/16:
Mexico, Oaxaca : federal police sent to repress movement of blockades of major highways existing now for 6 days…  For now they've only put an end to 2 roadblocks in the State of Oaxaca…20 are still going on in the 8 regions of the State, with at least 10 in Tehuantepec isthmus, where communities are fighting against the expropriation of their land for wind power projects….Teachers from neighbouring State of Chiapas went to Mexico City and set up a camp against Education reforms…Education department offices attacked with molotov cocktails…In Michoacán's capital Morelia, railway line and several companies blocked by teachers and supporters, and some squares occupied
15/6/16
Mexico, Oaxaca : federal police officers' material seized and burnt in the street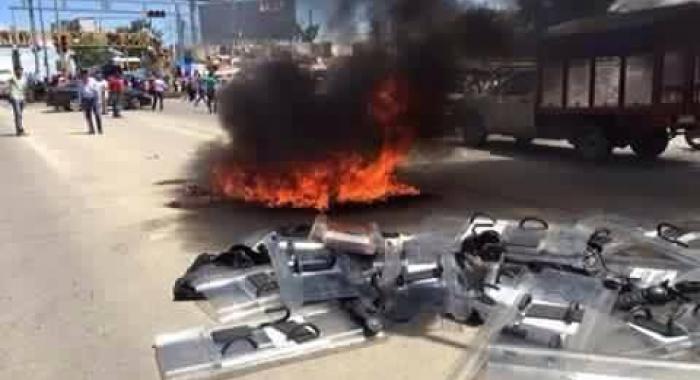 13/6/16:
Mexico, Xaltianguis (State of Guerrero) : educations workers and supporters block Mexico-Acapulco highway in support of struggle against Education reform and what happens in Oaxaca…Mexico City: riot and fire at prison suppressed by 600 pigs
12/6/16:
Mexico (Oaxaca) : 10 years after the movement, education workers resist eviction from camp in the State's Capital, ask for release of recently arrested leader of their independant Coordination (the CNTE, still quite bureaucratic but with strong bases), and install 13 barricades in the city
Photos and a video here
10/6/16:
Mexico (State of Tabasco, south) : highway blocked by Education Workers fighting against Education reform and cuts and allies in local population…anti-riot police, coming to put an end to the blockade, are met with resistance
5/6/16:
Mexico (State of Sinaloa, northern Pacific coast) : molotov cocktails against main political party's premises before elections
4/6/16:
Mexico (Chiapas) : 250,000 in march by Education workers and supporters in population against Education reform and army presence in Chiapas
A few days prior to this march, 65 town halls were occupied in Chiapas as well as 22 in Michoacán (including in main cities and towns) to ask for talks between the CNTE (Education Workers National Coordination), in a reformist logic. Access to the town hall was also blocked in State of Guerrero's capital, Chilpancingo, as well as a highway. This article says 60% of the State of Tabasco's schools were on strike during the week.
State of Veracruz : Mexico's main party (the PRI) premises burnt before elections
State of Veracruz' governor, Duarte de Ochoa, belongs to the PRI. He is accused of maintaining relationships with organized crime, and of having covered up large amount of dissappearances, executions and femicides in Veracruz since he was elected.
29/5/16:
Mexico (Akumal, State of Quintana Roo, Yucatán) : local beach sellers clash with police after privatization of beach threatening their survival…two cops patrols and a local administrative building set to fire, six molotov bombs sent on vigilantes
25/5/16:
Mexico : large mobilization in Several states against Education reform by Coordination of Education Workers – Chiapas capital city paralized by roadblocks, clashes with cops The Education workers received support from local population in several areas. In a Chiapas town (Chiapa del Corzo), police came to expell teachers and ended up expelled by locals (see videos here). The teachers' movement is evidently dominated by political currents, and though it often takes very violent forms and there's a serious and clear hatred of the police, it is also very much influenced by the ideology of the defense of public education, and criticism of the role of teachers (who have an important social status in Mexico and are often called "maestro" [master] by people even out of school) is minimal, to say the least… In the State of Guerrero, where two tendencies oppose and have different forms of actions, 500 schools are blocked by strikes
22/5/16:
Mexico, Cancún : incendiary attack in memory of chilean anarchist Mauri … Coyotepec, State of Mexico: locals oppose politicians' meeting to privatize self-managed water system, clash with City Hall supporters and "granaderos" (mexican riot cops)
14/5/16:
Mexico (State of Oaxaca) : 5 Álvaro Obregón Communitarian Assembly and Police members shot at by Juchitán police The struggles of the Indian communities (including zapotecs) against wind turbines in the Isthmus of Tehuantepec are interesting in more ways than one. The term (and concept) "Community Police" are quite ambiguous in an anti-authoritarian perspective, and local struggles, as everywhere, are not free of contradictions, something which is always good to point out, which current-day texts, more concerned with propaganda, do not do. Some critical elements in an interview in French on Mexico  here.
6/5/16:
Mexico, San José del Progreso (State of Oaxaca) : members of the Coordination of United Villages in the Ocotlán Vallery symbolically occupy mining site and ask for its departure  They accuse the company of the killings of 2 activists in the past years.
4/5/16:
Mexico, Mexico City: group claims attack on construction and engineering company
3/5/16:
Mexico, Chablekal, State of Yucatán : locals fight police sent to expropriate elders and attack shop linked to speculators ; violent repression and several arrests 
28/4/16:
Mexico, Chilpancingo (State of Guerrero) : education workers and family members of the 43 dissappeared normal school students block main highway for reapperance of the 43 Authorities break up the blockade during the night, arrest 73, and make up "proof" of weapon and drugs possession in order to link movement with criminal organizations . …in a video, locals of a nearby indigenous community say 3 children died after gas was thrown by police during clashes…30 police officers had been taken hostages in this community…in another community, locals have taken 12 police hostages, offering to exchange them for the 73 arrested during the blockade
26/4/16:
Mexico (Mexico city suburb): incendiary attack against car dealership – an anti-leftist communiqué
25/4/16:
Mexico, Chiapas : Tzotzil inhabitants of Chenalhó lock up 350 local Congress members and workers, attack shops and clash with cops asking for resignation of local mayor  In the last few year several mayors have been forced to resign by locals.
24/4/16:
Mexico: marches against violence against women and sexism in several cities. Here in Ecatepec, a huge Mexico City suburb where the figures for murders of women have recently been massive. Here  in the main cities of the State of Guerrero (Chilpancingo and Acapulco). Also in state capitals such as Puebla and  Guanajuato, or further north in Chihuahua Lots of feminist or women organizations, whether radical or institutional, have participated in these marches. There was a much-debated incident in Mexico City after a small group decided to tag the monument participants of struggles  dedicated to the 43 dissappeared of Ayotzinapa with "We (women) are not Ayotzinapa",in a rather strange logic of victimization competition. Some groups also criticized the participation of very institutional groups and organizations, and the non-offensive character of the marches overall.[Pi]
23/4/16:
Mexico, Oaxaca : Explosive attack against CORTV Oaxaca by Informal Anarchic Individualities
22/4/16:
Mexico, San Salvador Atenco (State of Mexico): locals expel workers and machinery sent for the construction of local highway as part of new airport project, against which they've been fighting for years
21/4/16:
Mexico (Coatzacalcos, State of Veracruz): after PEMEX petrochemical industry accident that left 13 dead and at least 18 dissappeared, some victims' family members accuse the company of retaining information and clash with soldiers sent to the site of the accident Fearing these soldiers might take bodies out of the site in order to reduce the figures for victims, workers and family members push back several army vehicles off the site.
15/4/16:
Mexico, Tuxtla, State of Chiapas: hard repression against Education workers' march, who tried to block the 7 regions of the State of Chiapas; 22 arrested, people beaten up and tear-gassed…update: a CNTE member found dead after declared missing after protest We mentioned a previous murder of another CNTE member on the 5th of this month (see below), in Veracruz.
12/4/16:
Mexico, State of Michoacán: normal school students block highway toll booth and railway tracks and seize buses after not receiving their scholarships, a hundred injured in police intervention
11/4/16:
Mexico, San Francisco Xochicuautla, State of Mexico : 300 riot cops remove inhabitants from their houses built on the future Toluca-Naucalpán highway, against which this indigenous community has been fighting for years The State of Mexico recently voted new measures on the use of force against demonstrators.
…Atenco, a community fighting against the construction of an airport, locals expel an army truck and workers who entered their lands for preparation work 
10/4/16:
Mexico (State of Guerrero) : Normal school students take over highway toll booth, police brutally intervene…students react by taking a cop hostage and by burning a police vehicle
5/4/16:
Mexico, Orizaba (State of Veracruz) : indigenous street sellers violently repressed by police, women brutalized, some resistance shown We have already mentioned the tensions in the area (see entry on February 19th). In another region of the same State, a teacher and member of the CNTE was killed by a gunman on the same day (see here). Dozens of militants, whether CNTE members or community activists, are killed in Mexico each year. Of course, those who have, voluntarily or not, a public image, are easy targets. [Pi]
3/4/16:
Mexico, State of Guerrero: La Parota dam opponents fight against army presence, supposed to lead a "Crusade against hunger", but sent, of course, to break up local struggles and organization Also in the State of Guerrero, taxi drivers and farmers block Acapulco-Zihuatanejo highway (connecting two main national touristic spots) and demand army retreat from villages (here). Acapulco, the world famous coastal resort, has become, in the last few years, one of the most murderous places in Latin America. There were more than 200 homicides this year (mostly linked to cartels). [Pi]
2/4/16:
Mexico, State of Guerrero : locals from several villages block gold mine entry and ask for compensation after contamination cases This mine is a subsidiary of Torex Gold Resources, a Canadian group. The movement is not exempt from contradictions, as locals also ask for more jobs at the mine, whom they say hires too many people from "the outside". [Pi]
22/3/16:
Mexico, Oaxaca: CNTE teacher's protest for political prisoners and block Congress session
17/3/16:
Mexico, Baja California : a year after their uprising, migrant workers initiate three-day march to Tijuana After marching through Ensenada and Rosarito, in Tijuana they plan to meet CNTE teachers and members of migrant field workers' organizations. Last year's movement was defeated by its proper logic of sending representatives to the negociation table : they accepted to sign documents that ended up having no legal validity, and thus made the negociated advantages amount to nothing.
As for now, a boycott of strawberries' exporter Discroll's has been decided (http://www.jornada.com.mx/2016/03/21/estados/026n1est), and is to be applied in both the US and Mexico.
15/3/16:
Mexico, Costa Chica, State of Acapulco : protest after murder of homosexual adolescent It's positive to see people mobilizing in a country where homosexuality is still a taboo, and where gays suffer all kinds of abuse. Unfortunately, like in many situations in Mexico (a tendency we tend to evoke as much as possible), these people limited themselves to asking the authorities for justice, when everybody knows that the most important part of the daily horrors committed against individuals (particularly women) are committed by the forces of order, protected by  various levels of power.
Another article mentions that five gay men were killed so far in the Costa Chica region of the southern state of Acapulco…but still we read the following inanity: "none of them [the victim's friends] has any hint of the reason of such a horrible murder".
They sadly missed an important opportunity to denounce patriarchal horror, which is not specific to Mexico, but which takes particularly horrible forms in this country. Mexico is second on the list of homophobic crimes (see this article in Spanish).
As for violence against women: 7 were killed every day in 2015 (see here); the femicide phenomenon is not limited to Ciudad Juárez anymore (if it ever was), and has extended all over the country. The situation is now particularly miserable in the State of Mexico (which doesn't include the capital, but does include some of its huge suburbs), with 6 women murdered every week in 2015 (see here). These figures don't include the huge figures for dissappearances.
In a recent affair (http://www.somoselmedio.org/article/acusan-custodios-de-tortura-y-violaciones-contra-mujeres), a female prisoner was killed and several were tortured and raped by screws during a transfer to a new prison.
There are of course various reactions to this situation…there were for example demos during Women's day…or a recent march through Guadalajara's streets (see this link, with pictures and a video). [Pi]
14/3/16:
Mexico (State of Morelos) : police take over community center Police were supported in this operation by representatives of communal authorities, whom villagers oppose on the ground that they function out of proper communal assemblies. These representatives are trying to obtain local plots of land and sell them. The community center served as a base for opposition against these projects. [Pi]
8/3/16:
Mexico, Mexico City: on international Women's Day, 47 women sacked from the National Institute of Women denounce their sackings and heckle the President of this institute's speech
4/3/16:
Mexico, Chiapas: indigenous villagers repelled by the army near entrance of ranch, exchange blows
3/3/16:
Mexico, Tehuantepec isthmus, State of Oaxaca: 5000 education workers block road, clash with police while trying to disturb President's visit. More info here and here. The education workers are members of the CNTE (National Coordination of Education Workers)'s "Section 22" (State of Oaxaca). Enrique Peña Nieto came to launch a new wind farm, in this coastal region where local indigenous communities have been opposing wind power infrastructure for years. The President is declared "persona non grata" in the State of Oaxaca by local fighters.
This happens after heavy repression in neighbour state of Guerrero, see here and here. On the 24th of February, one teacher was killed during the eviction of an occupation and roadblock in the touristic hub of Acapulco, and 4 female teachers raped by the police.
Mexico, State of Michoacán: children and teenagers rebel against ill-treatment in institution for orphans
More info here.
26/2/16:
Mexico, Mexico city: riot as residents attack cops during arrests of alleged drug dealers It happened in a central neighborhood famous for its markets and illegal merchandise.
25/2/16:
Mexico (Mexico City) : armed police group in plain clothes intervenes on campus and "disappear" one…he reappears a few hours later in jail, and is then transferred to a prison in the southern State of Oaxaca (http://www.jornada.unam.mx/ultimas/2016/02/25/ingresan-a-el-yorch-a-penal-en-oaxaca-por-delitos-contra-la-salud-7254.html).
Quick reaction by some students, who blocked an entrance of the campus, and burnt a vehicle belonging to the campus' security department(https://difusionacracia.noblogs.org/post/2016/02/25/quema-de-auto-de-la-seguridad-unam-por-detencion-del-companero-yorch-punk-mexico/).
The authorities accuse "El Yorch" of selling drugs…while everybody knows he's been selling tacos in the campus for years. Just another episode of harassment of those involved at the "Okupa Che", an occupied building of the UNAM, Mexico's main campus and university.
19/2/16:
Mexico, Orizaba (State of Veracruz): indigenous street sellers protest against detention of fellow seller, attack car, mayor, fight antiriot police, detain cops and obtain his liberation
A video here : https://www.youtube.com/watch?v=CrfMADrWMoA
16/2/16
Mexico (Mexico City) : planned anarchist march against the Pope stopped by the forces of order, one arrested
According to the communicate, anarchists were the only ones (along with some feminists) who tried to directly oppose the event. Lots of leftist organizations, groups and celebs have taken part in meetings with the Pope, including some members of the families of the 43 disappeared.
8/2/16
Mexico, Chiapas : women, jailed for human trafficking after rapid trials, on hunger strike
4/2/16
Mexico, Nahuatzen (Michoacán): indigenous villagers hold 20 vehicles, burn one
These Purépecha villagers had expelled local authorities, whom they accused of working with local cartels, from the area in december. They now plan to build their own "Comunitarian Police". The process is kind of ambiguous, as they are having discussions with the State of Michoacán authorities (on which they put pressure by burning vehicles) so as to have their police force recognized. Michoacán is the heart of the autodefense movement, which, unlike the Comunitarian Polices of the neighbour State of Guerrero, is interclassist, and full of links with local politicians and including, in some cases, organized crime. In this case opposition to the authorities is not total, and negociating is a major contradiction in the building of a true process of autonomy.
3/2/16
Mexico (State of Michoacán) : autonomous commune of Cherán students block main highway
2/2/16:
Mexico, Cuernavaca (State of Morelos): garbage collectors clash with police because the ex-mayor left without paying them their salaries
1/2/16:
Mexico, Tecámac (State of Mexico): aggression against autonomous citizen council managing water in the commune
29/1/16:
Mexico, Mexico City: cleaning workers protest against 59 dismissals in several places, block streets
28/1/16
Mexico, (State of Guerrero): Ayotzinapa's normal school students take over highway tollbooth in movement for the 43 disappeared
26/1/16:
Mexico, Axapusco (State of Mexico): after strange death of 15 yr old in custody, 300 locals try to lynch police officer
Mexico, Cruz Grande (State of Guerrero): 500 teachers march to demand that Ayotzinapa's 43 disappeared be presented alive.
(of the 43 normal school students who disappeard 16 months ago, two were confirmed dead – others probably are as well, as cartel members gave details about their killings, but their family members continue to pressure the government for official information and proof).
The teachers are currently targeted by local cartels, probably on authorities' orders, as their central position in the social movements and their links with indigenous communities fighting for autonomy threaten the good functioning of state and criminal affairs (including drug trafficking).
The parents of the disappeared are currently involved in the two caravans that visit several towns and cities of the country, in order to meet human rights NGO's and various organizations and find support for their struggle.
This involves pretty reformist strategies, such as meeting the pope in February (according to this article:http://www.jornada.unam.mx/2016/01/25/politica/005n1pol).
25/1/16
Mexico (State of Chiapas): Selva Lacandona comuneros clash with soldiers after refusal to let them move cattle
Mexico, Veracruz State: families of disappeared people accuse the State of 80 disappearances and close Ministry
All Mexican states are involved in killings and disappearances, often of  young girls. They are largely attributable to the cartels and armed criminal organizations related to various repressive forces, whether local or national. The terror imposed on the population has, therefore, several objectives, which often overlap: control, pacification, expansion of the commercial activities of the cartels. It is usual for people  to consider that when the dead disappear, the disappearances are due to the army or the police, the cartels specialising in  the abandonment of bodies according to the logic of terror (who often target their enemies and their potential allies).
In the case of the murder of women ("feminicide"), they are part of the ultra-macho logic of the cartels (or gangs that serve as their labor, particularly in the border cities of the north), where the body of women is a prestige issue, an object that is appropriated, and a source of confrontation: it is common for members of cartels to kill for revenge, because of  jealousy.
It is also necessary to clarify that with the development of cartels, these attitudes are widespread in the population, and the presence of criminal organizations can serve as justification for the murder of women by their husbands, boyfriends or would-be boyfriends/husbands in a highly macho society where violence against women is a relatively tolerated norm.[Pi]
23/1/16
Mexico, State of Hidalgo: police put end to workers' strike denouncing firings
22/1/16:
Mexico, Mexico City: locals block main avenue to protest against lack of water
20/1/16:
Mexico, Tiburón island (State of Sonora) : local indigenous villagers refuse money offer from company and mobilize against megaproject
The Tiburón island is an island where two Seri/Comcáac communities live. The megaproject consists of building a desalination plant and developping tourism in the area. Villagers have a "Traditional guard" that is active in the communities' protection. The article mentions that villagers are also fighting internal corruption, as a leader of the traditional authorities is on the side of the State and the company planning to come to the area.
A series of interesting short documentaries was made a few years ago on the occasion of Zapatista delegates' visits to several of Mexico's northwestern indigenous communities, who are involved in various struggles. Without necessarily agreeing with zapatista ideology and strategies, the series is pretty relevant, as it shows local indigenous villagers talking about the way they live and what they fight against in their area. Here's a link to one of these documentaries, called "Tiburón island, our heart" (https://vimeo.com/54847040).
Northern Mexico's indigenous groups come from a different history than those living on the central/southern part of the country : before the continent's Conquest, they were mostly nomads, and seen by the more centralized groups and by the European conquerors as "savages". It is the wars against some of these groups that lasted the longest : the "Chichimeca wars". Some of these groups, such as those the movies are about, remain largely autonomous and have some political control over their area, while some, especially the famous Tarahumara in the State of Chihuahua, live horrendous conditions of life, and are special targets of the Cartels operating in the area.
19/1/16:
Mexico, Zacapoaxtla (State of Puebla): market sellers take over town hall and prevent themselves from getting pushed to another area…Veracruz: families protest after disappearance of 5 of their family members and receive death threats. Another article below evokes the recent murder, in the State of Mexico, of a mother who was seeking justice for her son killed in 2012.
17/1/16:
Mexico, Santa María Chimalapa (Tehuantepec isthmus area), State of Oaxaca – Indigenous villagers hold prisoner 12 state workers and block police helicopter
The functionaries were then freed (http://www.nssoaxaca.com/regional/10-general/141541-liberan-chimas-a-funcionarios-pero-mantienen-a-veracruzanos-), but 4 persons are held for several weeks: they're accused of invading lands belonging to local Zoque communities and destroying natural resources and the forest (http://adnsureste.info/?p=79336)
.… Milpa Alta delegation, Mexico City – indigenous commune members protest against installation of Marines in their area
Milpa Alta is one of the delegations of the Federal District (Mexico City), in the southern part. It is rural and populated by indigenous people, some of whom have built autonomy processes in local villages.
Ciudad Juárez, State of Chihuahua: Caravan for the 43 disappeared students of Ayotzinapa starts 2000km away from the State of Guerrero, with visit to the fired workers of Lexmark. They're supported by various activists (including local families of disappeared young women in Ciudad Juárez, where thousands are reported missing or have been killed in the past ten years or so), NGO's and social organizations. It seems some try to create a united front, that should have a struggle program in 2 years. No content is mentioned in the article.
Mexico, Cancún: ecocide in touristic destination as authorities start destroying 74 hectares of mangrove
Resistance plans (denouncing the issue to international bodies) seem to be pretty reformist so far.
For more on Mexico see this.
15/1/16:
Mexico, Huitzizilapan (State of Mexico): indigenous villagers involved in autonomy process elected their commune leaders (instead of political parties representatives) in assembly
People in this area are mobilized to protect their local lands (including forests) and against the Mexico-Toluca highway project, along with other communities such as Xochicuautla and Ayotuxco
Here's a video of the way these assemblies work : https://www.youtube.com/watch?v=N66yIIThRT0
13/1/16
Mexico, Ciudad Juárez (State of Chihuahua): Some of the mobilized workers who were fired from Lexmark plant march in several areas of Mexico City.
They are supported by several unions. They denounced their horrendous conditions of work and extremely low salaries: the company doesn't hesitate to employ illiterate people on contracts not even respecting minimums.  Some work for 2,000 pesos a month, in a country where the minimum for covering the most basic needs is 5,800.
Mexico, San Sebastián Bachajón (State of Chiapas) : Tseltal villagers block roads and resist takeover of some of their lands for touristic-related projects
see pictures (below) and videos of the resistance, as well as a filmed declaration.
Two villagers were injured as police fired live ammo and rubber bullets during their intervention.
12/1/16:
Mexico, Sierra Norte (State of Puebla): 5 indigenous municipalities agree not to let hydro-electric power plant settle on their land
Puebla's Sierra Norte is a poor indigenous area, pretty combative, especially against mining projects.
11/1/16:
Mexico (State of Guerrero) : the situation is extremely tense in the State of Guerrero. 22 disappeared in only 3 days, including 5 teachers who "were disappeared" (as the expression goes in Spanish) during classes.
In Arcelia (Tierra Caliente region), 100 locals blocked a road to ask for  17 persons who disappeared in the area to be presented alive (http://www.proceso.com.mx/?p=425940). They ask for the departure of local police, but seem to have illusions about other forms of authorities, from whom they request action. We often mention these contradictions (that are in some way understandable), while it is known that all levels of power in Mexico are linked in different ways with the various organized crime factions, such as those operating in the State of Guerrero.
Mexico's president just visited the city of Acapulco (where dozens of homicides were reported these last weeks) after these events and offered promises of more security, without even mentioning the disappearance of the 43 normal school students or the most recent ones (http://www.proceso.com.mx/?p=426032).
In the northern part of the State, local villagers of Teloloapan formed the "Communitarian Police" to fight against the organized crime group ("La Familia") operating in this area and responsible for 400 executions in the last 4 years.
8/1/16
Mexico, Oxchuc (State of Chiapas) : 2000 indigenous villagers raise hell to force local mayor to leave office; they block roads, injure 50 policemen and burn 15 houses
6/1/16
Mexico, Quetzalcoatlán de las Palmas (State of Guerrero): six indigenous villagers killed over refusal to collaborate with organized crime groups fighting for control of the region…and two more dead in Guerrero State: Again Nahua villagers who refused to take part in the fights between the two criminal groups ("Los Ardillos" and "Los Rojos") fighting for control of the region. Villagers denounce the protection these groups get from both the federal and local governments, as well as the support from the army. "Los Ardillos" are tied to a politician of the PRD (the third political group in the country). They are those who were involved in these massacres. The situation is tense in the State of Guerrero, with lots of clashes and homicides on a daily basis. This State produces more than half of the total opium and heroin production of Mexico. Raw opium gum sells for $930 per kilo, in one of the poorest regions of Mexico. Nahua villagers are used to leaving their villagers for temporary work in other parts of the country and according to the report, lots have fled the area following the clashes.
Some info and photos in English (environmental NGO source) here: http://www.earthisland.org/journal/index.php/elist/eListRead/in_guerrero_a_battle_between_indigenous_communities_and_drug_cartels/…Veracruz (State of Veracruz) : farmers demonstrate in the port of Veracruz before President's visit against refusal to give them lands.
The article also mentions a critique of the event the President came for –  a homage to Venustiano Carranza, who became Mexico's President during the revolution, and whom they denounce as a traitor (though they seem to have more illusions about Pancho Villa, whose memory they reaffirmed in their statement).
Short digression and debate regarding Carranza, Villa, and the Mexican Revolution in the North:
Despite various military and financial disputes, Pancho Villa was, in fact, a great admirer of Carranza, who was not exactly a "traitor" since he never betrayed his own aristocrat-turned-bourgeois class. Madero, the initiator of the bourgeois revolution beginning in 1910,  said of him "This is a good man! Love and honour him always". Carranza was "an  aristocrat, descended from the dominant Spanish race; a great landowner, as his family had always been great landowners; and one of those Mexican nobles who, like a few French nobles such as Lafayette in the French Revolution, threw themselves heart and soul into the struggle for liberty. When the Madero Revolution broke out Carranza took the  field in truly medieval fashion. He armed the peons who worked upon his great estates, and led them to war like any feudal overlord ; and, when the Revolution was done, Madero made him Governor of Coahuila." (John Reed, Insurgent Mexico).
After the murder of Madero by Huerta, the revolution was fought by other armies, amongst which was Carranza's, who at this time crossed to the West of the country for some unclear reason. He remained there for "six months, apparently doing nothing whatever, keeping a force of more than 6,000 good fighters practically inoperative, attending banquets and bull-fights, establishing and celebrating innumerable new national holidays, and issuing proclamations. His army, twice or three times as big as the disheartened garrisons of Guaymas and Mazatlan, kept up a lazy siege of those places." [ibid] These places took ages to fall, even though it seems, if Carranza had committed himself , they could easily have been defeated a lot sooner. And he virtually contributed nothing to the revolutionary war afterwards. He was more concerned with becoming head of state. And whilst President, he made even discussion of strikes illegal and punishable by death. And it was Colonel Jesus Guarjaredo, of Carranza's army, who betrayed, trapped and murdered Emiliano Zapata. And yet, publicly at least, Villa admired Carranza enormously and never once publicly criticised  his policies.
As for Villa – as an absolutely uncritical adorer of the liberal bourgeois Madero – he had one of Zapata's close associates executed by firing squad for writing an article criticising Madero from a libertarian perspective. Moreover, he was committed to his own self-aggrandisement: "On January 3, 1914, in the city of Juarez, [Pancho] Villa signed an exclusive contract with Mutual [a film company] for the sum of $25,000. It was also contractually agreed that Villa would do his best to win all his battles in sunlight and to forbid the presence of any other rival cameramen on the battlefield! Aitken also stipulated that in case Mutual did not succeed in shooting enough suitable material during the actual battle, Villa would guarantee to re-enact it the next day before the cameras." (Quoted in 'Spectacular Times; Cities of Illusions.) And he never ever did anything to restrain his brother, who, usually when drunk, would shoot and sometimes kill men in Villa's own army for virtually no reason at all. Illusions regarding this guy abound, usually because he did some very courageous and impressive things against the forces of the old feudal system. Doubtless Mexican official history suppresses mention of the disgusting aspects of Villa. People, and the system they acquiesce to, seem to need heroes, the worship of whom represses any consciousness of the obviously stupid and sick sides of the celebrities they put on a pedestal, particularly those long consigned to the misty past.
[SF]
Though all of this seems minor in comparison with what was the most problematic aspect of Villa: his fundamentally authoritarian attitude. Though he never ceased to use strategies gained during his years as a bandit in Chihuahua Sierras, he always had an extreme contempt for human lives, and for anything that had to do with ideas, reflection, or revolutionary thinking and practice. He basically always was a general, though an "underground" one.
Paco Ignacio Taibo's biography of him is definitely a must read, though focusing too much on endless details (and lacking some information on the national context). Particularly because it explains clearly his relationships with all the new or would be leaders of the "revolution" (though in many aspects, and particularly in the north, lots of episodes have much more to do with plain and simple war). It also gives the incredible figures of losses in Pancho's ranks, and lots of facts about his personal life.
[Pi]
Although I'm sure self-aggrandisement does come into it, Villa's PR efforts also have much to do with the war of propaganda that accompanies any modern military conflict, of which film is always of course a significant part. According to his biographer, Villa's rivals used such propaganda very astutely to paint him as a bandit and agent of US and German imperialism, and his sensitivity towards his image must have much to do with political and strategic questions of morale & international relations which could be  negatively affected had he not attempted to counter these allegations.
Frederich Katz's biography points out that not only was film a medium for manufacturing  mythology but that mythology was manufactured even regarding the use of the medium: 'Villa understood not only the importance of favorable coverage by newspapers for his movement but also the impact that an entirely new medium, the movies, was beginning to have on US opinion.
… Villas deals with Hollywood proved to be highly profitable ventures in themselves. They burnished his image and increased his popularity in the United States. They also provided urgently needed dollars, which Villa used to arm and supply his troops… There was absolutely no mention [in the film contract] of re-enactment of battle scenes or of Villa providing good lighting… Such tales, which attracted worldwide attention, reinforced the negative image that many in the United States had of both Villa and Mexico. It was the image of the barbarian leader unscrupulously ready to sacrifice the lives of his men in order to gain publicity.'
This is not to defend the guy in any way, but to emphasise the fact that, just as they need heroes, slaves and the slavery they acquiesce to also need *villains*, whose detestation represses any consciousness of the obviously stupid and sick sides of the celebrities they put on a pedestal, and often justifies, in the name of 'fighting the bad guys', enthusiastic submission to measures that might otherwise arouse vehement objection. States of emergency, such as that recently declared in France, and the repressive measures that have become business-as-usual in bourgeois democracies for the sake of the global 'war on terror', are the products of such spectacular morality tales.
[SK]
Mexico, Ocotepec (State of Puebla) : villagers close town hall in struggle lasting for 4 months over water supply and lack of public works
25/12/15
Mexico City : Demonstration for the 43 disappeared students of Ayotzinapa…from the Cathedral to the Basilica of Our Lady of Guadalupe. After several attempts to meet the Pope (see for example here : http://www.latina.com/lifestyle/news/moms-ayotzinapa-students-pilgrimage-meet-pope), this march to one of the most important pilgrimage sites of Catholicism illustrates some ideological aspects (and limitations) of these protests.
20/12/15:
Mexico (State of San Luis Potosí): Prisoners burn mattresses in jail, police intervene.
Some sources mention that these actions were against the comeback of a prisoner, some that they were against the conditions of life inside this prison. Some articles mention that prisoners were beaten during the police intervention.
19/12/15:
Mexico, Tlalnepantla (Mexico City suburb): Person shot by cops at fundraiser for bike collective in occupied space
17/12/15
Mexico (Acapulco, State of Guerrero): retired teachers and education workers block two avenues of Acapulco and demand their wages
Mexico (State of Aguascalientes, in the center-north) : Normal School students occupy Education Institute in State Capital
Mexico (State of Michoacán) : the 22 female Normal School students arrested on the 7th are freed. See our previous entry for more info
Mexico (State of Chiapas) : Chole indigenous villagers expels municipal authorities from a village, in order to protect the status of their lands
These vilagers adhere to the zapatistas' Declaration of the Selva Lancandona's principles. They published a communique explaining their action and the status of their lands since 1909. A general assembly of the villagers decided that the local town hall ("palacio municipal") should be destroyed.
Another link here :
http://desinformemonos.org.mx/pueblo-chol-expulsa-a-autoridades-del-ayuntamiento-de-su-territorio/
[Pi]
13/12/15:
Mexico, State of Michoacán : supporters block road in Tierra Caliente region for the liberation of last week's arrested normal school students. The 30 men who were arrested are now detained in Hermosillo (it couldn't be any further), and will have to stay in jail and face charges. The 22 women are detained in the State of Morelos.
(according to : http://www.proceso.com.mx/?p=423424)
11/12/15
Mexico (Ciudad Juárez, State of Chihuahua) : after protests at Lexmark factory, 90 workers fired
9/12/15:
Mexico (State of Chiapas) : After 50,000 teachers and supporters' march, clashes erupt – 4 police officers taken hostages by the protesters, who exhibit one of them publicly. Also, a lot of anti-riot equipment seized, a police vehicle burnt, etc. – They later asked for the liberation of 6 of their comrades arrested in exchange for the hostages, and obtained it. A teacher also died during protests, hit by a truck…
 http://www.bernama.com/bernama/v8/wn/newsworld.php?id=1198304
"A protest in southeastern Mexico against a new policy requiring teacher evaluations left one teacher dead…Early Tuesday, more than 3,000 members of the militant CNTE teachers union mobilized to block an intersection in Ocozocoautla, near the state capital of Tuxtla Gutierrez…. the CNTE said Gemayel died after a police truck ran over him."
and also this
http://www.telesurtv.net/english/news/Clashes-Between-Police-and-Teachers-in-Mexico-Leave-1-Dead-20151209-0028.html
"The teachers reportedly encountered thousands of state and federal police wearing full riot gear as they marched along the highway. It is unclear how the clashes began, but police threw tear gas at the protesters who then returned the fire throwing rocks at the officials. Video captured of the event by two nearby security cameras, and released by local Mexican media, showed violent clashes between the two sides, with minor explosions, and at one point a truck was lit on fire.  One teacher was killed in the crossfire, which lasted some two and a half hours, according to local media reports. The highway was left blocked off for at least 10 hours, causing massive traffic issues."
 (State of Michoacán) : 20 local town halls taken over by Teacher's movement after the arrests of their comrades (who were transfered to prisons in other States) [Pi]
8/12/15
Mexico (Ciudad Juárez, Chihuahua State) : Lexmark plant workers on strike over salaries, conditions of work (prices of food at canteen – female sexually harrassed at work, lack or protection equipments) … (State of Mexico) : Mexico suburb locals block highway to protest against lack of water
7/12/15:
Mexico (Michoacán State) : normal school students brutally repressed after occupation of toll booth (for which they had seized several buses), at least 50 arrested This report (http://www.proceso.com.mx/?p=422866) says there were 72 arrested…while some mention even more. A video of the clashes is available on this facebook page… and some pictures of the brutal repression here… Some of their comrades reacted by burning tyres in front of the City hall in Michoacán state's capital, Morelia (see photos here)… Meanwhile, in Guerrero State, some parents of the 43 missing students of Ayotzinapa meet indigenous communities of Guerrero mountains and ask them to join their struggle (these families often send their children to the normal schools presently involved in the struggle)… In a normal school of northern Mexico's Zacatecas State, students have been on strike for one week to protect against government's lack of support for poor students... In the state of Puebla, delegates of 20 indigenous communities met in Cuetzalán and agreed to oppose local mining, fracking and hydroelectrical projects … And in southern Mexico's Oaxaca state, 6,200 education workers march to Oaxaca state capital's main square (zócalo) and block highway to get their unpaid salaries … Chiapas : clashes between Teachers and police in Ocozocoautla (Pi)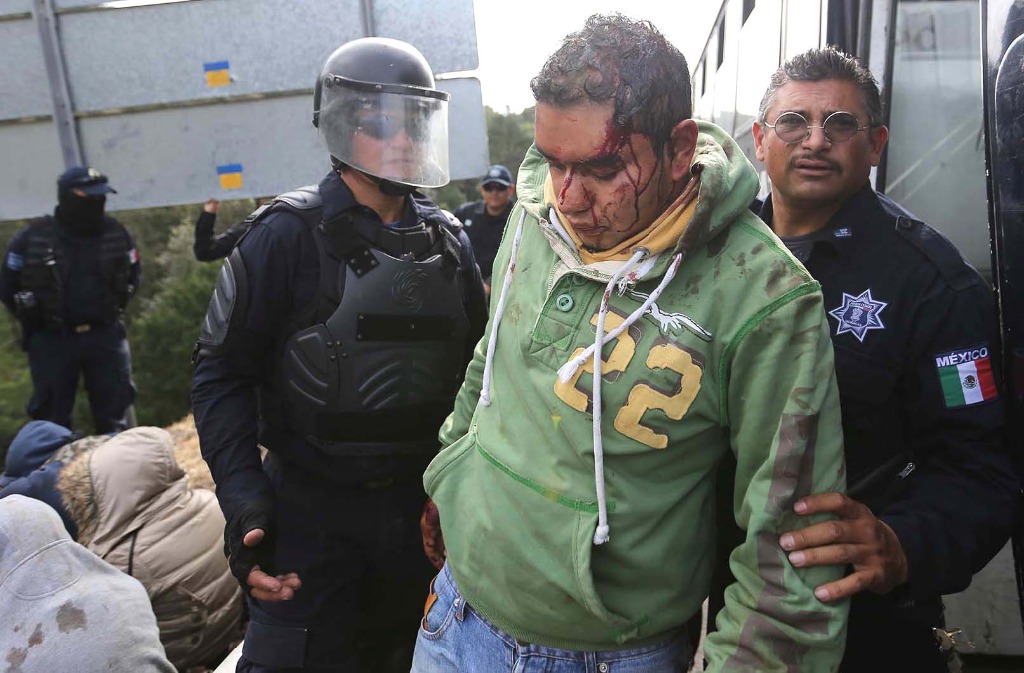 Brave pigs protect the children of Mexico from evil: Michoacan, 7 December 2015
1/12/15:
Mexico, Morelos state: clashes between informal food sellers and 200 anti-riot police members who came to destroy their stalls, 5 injured, including children
30/11/15:
Mexico (Oaxaca state) : 9 communities of Oaxaca's Central Valleys announce to authorities they will block 5 companies' mining projets threatening their land
28/11/15:
Mexico, Oaxaca: clashes between teachers of the CNTE (independant coordination) and cops  This is just before teacher's evaluation day, which  they reject (which is part of a whole reform they've been mobilized against for quite some time)…Chiapas: teachers show solidarity with their fellow teachers in neighbouring Oaxaca and organize blockades and demos in 24 regions (including the capital, Tuxtla Gutiérrez)…Michoacán:   teachers take over toll booth and ask highway users for voluntary cooperation (a common practice in Mexico), and set up "plantón" (a camp) in State's capital Morelia For more information and analysis of the teachers and their organisation, the CNTE, see section 5 (last section) on this page…Oaxaca: several guards taken hostage in prison mutiny
25/11/15:
Mexico (Puebla State) : 300 villagers of Santa Isabel Tlanepantla accuse mayor of corruption and neglecting public works They seize Municipal hall, vandalize his house and two vans. After the intervention of 100 "granaderos" (mexican anti-riot police) and the arrest of a few villagers, they block access to the village and take 2 granaderos as hostages for the release of the arrested. Seems they also asked for government officials to find a solution to their grievances. [Pi]
Puebla
24/11/15: 
Mexico (Guerrero State) : after 4 people are killed, Communitarian Police arrest 6 people In a context of high tension between organized crime and indigenous communities of Guerrero State (see our various recent entries for more information), 4 persons (3 women and a Communitarian police member) were taken out of a bus they travelled in and executed near the village of Acoatzaloya. A community assembly was then organized in the village of Xicotlán, where it was decided to arrest those made responsible for these executions in the village of San Jerónimo Palantla : 6 people, one of them a local municipal commissioner….Four members of the Communitarian Police of the town of Tixtla  executed by an armed commando This happens two days before municipal elections, which are boycotted by those mobilized for justice for the 43 dissappeared students.[Pi]
21/11/15:
Mexico (Xalapa, Veracruz state) : organized teachers block exams. The same type of actions happened in several states the same day, in places where the teachers independant Coordination (CNT-E) is present.
Interesting to see actions in several northern narco-states, such as Chihuahua and Sonora Some clashes reported, see for example here (video) … Iztapalapa, City of Mexico – residents ask for water delivery service and block large avenue [Pi]
20/11/15:
Mexico – Coscomatepec (Veracruz state) : direct action to release imprisoned woman 'Armed habitants of 5 villages block avenues in the town of Cordoba, detain court employees and threaten judge with setting him on fire if he doesn't release an imprisoned 64 yr old woman, and get what they came for.'… from : (21-11 entry)
Mexico
17/11/15:
Mexico – Oaxaca state : after policeman caused serious injuries to two persons, villagers detain 10 police officers and burn 4 police cars during operation to rescue others (see pictures)
13/11/15:
Mexico, Durango State – brawl between protesting Education workers and Durango state police (video)
12/11/15:
Mexico, Guerrero State – villagers retain 200 soldiers after these disarmed the local Comunitarian Police, which lead to the entrance of a local cartel that killed 15 Comunitarian Police members.This happens a few days after shootouts between the Polixtepec Comunitarian Police and the organized crime group "Los Villalobos", in which three cartel members were killed (see our entry on 6/11)… Ciudad Juárez (Chihuahua State): 350 workers of local "maquiladoras" march to official buildings for better conditions of work, the right to create unions, and against professional and sexual harassment [Pi]
10/11/15:
Mexico, Guerrero state : normalistas march, fight police, severe repression (video)
9/11/15:
Mexico: Report on the situation in Michoacán state. The reporters of the independant mexican press agency "Subversiones" visited the different regions of this Pacific coast state and evoke the tension there, as the Federal governement created a "Rual, Citizen and Indigenous Force" to integrate the various "independant" autodefense forces organized against Organized crime (but often linked to or infiltrated by local political, economic or even criminal forces, which are sometimes the same by the way). It seems that those who don't integrate these new groups will become illegal and face charges (or worse). The article shows that there's much discontent and some locals' will to refuse this "deal"…but also that the composition of the autodefense forces is far from classist : land owners and proletarians are part of the same group. As we mentioned before in other entries when refering to Michoacán, the place where the autodefense groups are the most coherent is in indigenous communities : it is confirmed here by a delegate of the Santa María Ostula Nahua community, which points the recuperation and recalls that in his community, the autodefense tasks are part of a larger logic of autonomy.
Another article (http://subversiones.org/archivos/118943) states that indigenous communities are those that react best against the governement's drug politics' "failures" and cartel's presence, with examples in different States (though not very critical of the contradictions of the fight for autonomy with autonomy seen as an end per se, which is often the case). [Pi]
7/11/15:
Mexico (Linda Vista, Guerrero State) : Villagers take arms against organized crime and ask government to attend their demands and make the village's situation better Shows the contradictions of the autonomy process, even in Guerrero State, where it is the strongest in the country after Chiapas and Oaxaca, and not always reformist. The demands here are very reformist, with villagers (though in arms, see the impressive picture) clearly asking authorities (at several levels) for help and care. [Pi]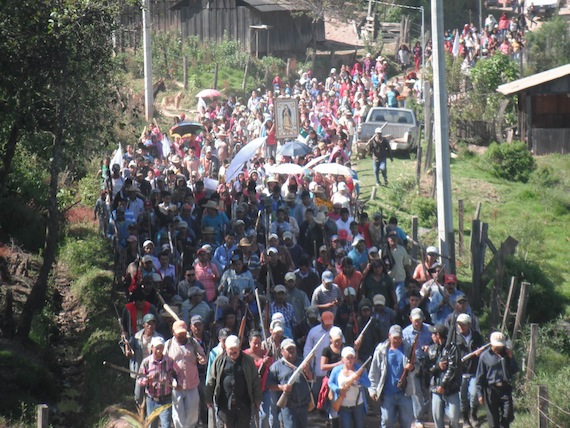 When the saints come marching in…
6/11/15:
Mexico (Polixtepec, Guerrero State) : 7 hour shootout between a Communitarian Police and a cartel.
The Communitarian Police took over the place after 3 cartel members were killed…they were quickly followed by the mexican Army, which installed a camp close to the place and refused to hold those made prisoner by the Communitarian Police. This happens after several shootouts and much tension this week in Guerrero state between organized crime and local indigenous population. The article also evokes rivalries between communities selling opium to the cartels, but no more info is given. [Pi]
4/11/15:
Mexico, Ciudad Juárez (Chihuahua State) : workers of four companies stage protests The article mentions four cases:
1) workers of "Big Cola" took over the headquarters of their company to protest against the dismissals of co-workers who asked for better salaries
2) 70 Lexmark employees organised a protest against the dismissal of two colleagues (one was a manager and the other refused to accept a lower position), and declared that the company took several repressive mesures after workers tried to form an independant union (which is virtually impossible in big international companies in Mexico)
3)About 500 employees (mostly women) of Scientic Atlantic (a Foxconn sucursal) organized a "plantón" (occupation outside of a building) to denounce the sexual harassment they suffer at work (in the city that became famous for its femicides phenomenon) ; two female workers have been dismissed.
4) workers of Commscope involved in a struggle (the information given in the original article is contradictory and confusing) [Pi]
30/10/15:
Mexico, Mexico City : La Merced neighborhood sex workers march against violence against women and for respect of their activity…Puebla State : 2000 villagers try to burn down Mayor's office and local Town Hall   They also tried to lynch him. They accuse him of having done nothing to solve the security issues in the area or to install the public facilities needed. They were apparently stopped by leaders of a farmers organization called FCUM (Frente Campesino Unido de México). This happens after two surveyors who came to work in another village (Acalpan), were mistaken for child abductors, lynched and burnt alive by villagers. Shows that "community justice" can sometimes be even worse than the official one [Pi] .
28/10/15: 
Mexico, Guerrero: villagers detain 5 federal police officers whom they accuse of extortion and several murders As part of these accusations of murder, they also accuse them of being members of the Guerreros Unidos cartel (the one involved in the dissappearance of the 43 normal school students last year in Iguala). They don't want to hand them over to their colleagues or the army…but still seem to rely on Guerrero state police.
22/10/15:
Mexico, Michoacán: normalista school students & supporters react to threats from Governor to forbid further protests or actions in Michoacán by seizing the Secretariat of Public Education building in state's capital and blocking roads  "About 100 students accompanied by 400 more people arrived in Morelia, stationed themselves in the state Department of Education and evicted the staff….On at least two occasions so far this week, the governor warned it would not allow more blockades by normalistas. But on Wednesday, protesters took at least five toll booths …Approximately 500 students, some of them masked and armed with sticks, arrived in Morelia on board at least five buses and blocked the Madero Avenue …Another group decided on Ventura Avenue Bridge, opposite to the Ministry of Finance, where they blocked traffic."...Nahuatzen villagers expel local mayor, accused along with his Security Director of being part of the Caballeros Templarios (Knights Templar) cartel
21/10/15:
Mexico, Michocan: normalista school students close 8 normalista schools to protest against decision to have entrance exams… 5 highway tolls taken over, several buses seized as part of this movement…Durango: gold mine blockaded
16/10/15:
Mexico, Michoacán:  indigenous "comuneros" of Carácuaro block federal police forces in their station after a local was arrested Pi writes: This happens in a zone infested by organized crime, which has seen a very large army operation to occupy several indigenous areas (those actively fighting against the cartels) in the last few days.
15/10/15:
Mexico, Guerrero: members of Guerrero state villages' armed brigades march to army checkpoint to protest against insecurity, police & military abuses in their communities, and also ask for fertilizers  Pi writes: Gives a good idea of how movements are commonly both armed and reformist in their demands, and shows some of the contradictions combative countryside residents are faced with in Mexico: reduced to fight against organized crime and the forces of order at the same time, they often ask the latter to "do their job". Autonomy in the defense of local communities is often adopted as the last option, when no agreements are found with local institutions.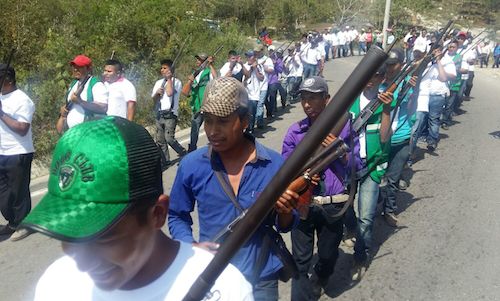 Guerrero villagers,  armed for the 1st time during a protest
12/10/15:
Mexico, Ecatepec: communique of incendiary attack on car dealership…Guerrero: 500 locals  block bridge to force local cops to leave municipality after several theft incidents by them…Tabasco: fights between teachers of CNTE blocking roads and riot police in 3 different parts of state
16/10/15:
Mexico, Michoacán:  indigenous "comuneros" of Carácuaro block federal police forces in their station after a local was arrested Pi writes: This happens in a zone infested by organized crime, which has seen a very large army operation to occupy several indigenous areas (those actively fighting against the cartels) in the last few days.
15/10/15:
Mexico, Guerrero: members of Guerrero state villages' armed brigades march to army checkpoint to protest against insecurity, police & military abuses in their communities, and also ask for fertilizers  Pi writes: Gives a good idea of how movements are commonly both armed and reformist in their demands, and shows some of the contradictions combative countryside residents are faced with in Mexico: reduced to fight against organized crime and the forces of order at the same time, they often ask the latter to "do their job". Autonomy in the defense of local communities is often adopted as the last option, when no agreements are found with local institutions.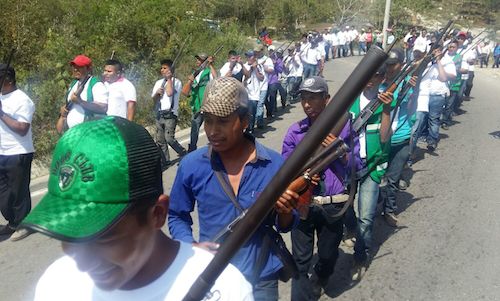 Guerrero villagers,  armed for the 1st time during a protest
12/10/15:
Mexico, Ecatepec: communique of incendiary attack on car dealership…Guerrero: 500 locals  block bridge to force local cops to leave municipality after several theft incidents by them…Tabasco: fights between teachers of CNTE blocking roads and riot police in 3 different parts of state
10/10/15:
Mexico, Oaxaca: victory for "no mining" campaign
6/10/15:
Mexico, Coahuila:  Local residents  mobilize against nuclear waste treatment plant project in their area (one of the poorest), blocking entry to workers & management
According to this other article, they took hold of a local city hall a few weeks ago. This link has relevant information about this struggle, and also makes its limits clear : residents are supported by local priests, and are looking for negotiations with politicians (while denouncing those responsible for this project). [Pi]
2/10/15:
Mexico, Mexico City: 47th anniversary of massacre of students; stones and mototovs v. tear gas as cops guarding National Palace get attacked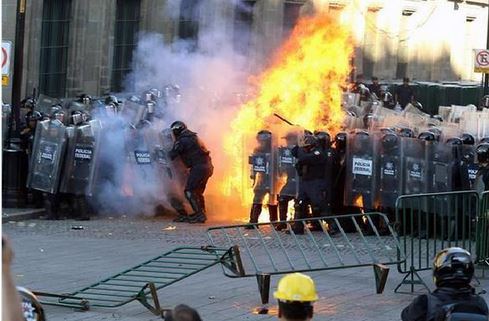 Mexico City
…Oaxaca: shops, banks etc. attacked on commemorative demo for the '68 massacre in Mexico City "…vandalism, including graffiti on various commercial establishments, government offices and historical monuments of the city, and mischief causing damage to two car dealerships; as well as windows…established businesses, banks, homes and vehicles….the Attorney General of the State of Oaxaca was informed of various events in which workers participating in the education service  in the state of Oaxaca seized some vehicles of various private companies and some from the State Government"
30/9/15:
Mexico, Campeche: various actions by workers in 3 towns – cutting water off, depositing garbage in streets etc., demanding payment of salaries before end of local mayors' mandates…Chiapas: riots against the new mayor "The protesters set cars ablaze and people vandalized the Municipal Presidency"
29/9/15:
Mexico, Zumpango: 7th day of occupation of town hall by municipal workers demanding unpaid salaries before mayor (PRI) is replaced….Tierra Colorada: 80 municipal workers strike for the same reason (PAN mayor)
26/9/15:
Mexico, Mexico City: cop, fast food restaurant, cafe and adverts attacked on demo about the 43 disappeared students (anarchist article here)
25/9/15:
Mexico, Michoacan de Ocampo: students hijack bus for demo, clash with cops, attack professional manipulators (more info about Mexico here)
22/9/15:
Mexico, Guerrero: students seize 12 buses to go to demo; petrol bombs thrown at cops; lorry torched "On Monday, protesters had ransacked the prosecutor's office in Chilpancingo." Video here "…the students descended from the buses, placed a truck across the tunnel and set fire to it, local media reported. The students then reportedly threw rocks, molotov cocktails and rockets at the police, who responded with tear gas to try to disperse them…..Four police officers – including two female officers – were held hostage until 10.30am when they were released and sent back to Chilpancingo on board ambulances"…Radical university radio programme organisers increasingly subjected to state-manipulated violence in the run-up to the anniversary of the disappearance of the 43 students
19/9/15:
Mexico, Chietla: city hall, cop motorbike & 2 cars   burnt in response to police indifference to torture and murder of elderly woman 
24/8/15:
Mexico, Michocoan: cop patrol car burnt, facade of presidential municipal palace destroyed, after man apparently "commits suicide" in cop custody
31/7/15:
Mexico, Morelos: farmers and peasants burn the town hall and block roads demanding fertiliser after broken promises by mayor
28/7/15:
Mexico, Mexico City: taxi drivers attack Uber cars, smashing windows with clubs
26/7/15:
Mexico, Mexico City: bank bombed in solidarity with anarchist prisoners
22/7/15:
Mexico, Jalisco:  Indian villagers clash with neighbouring state cops after taking various workers of  mining company  hostages "11 people, including a child, were wounded by stones when faced with police from the neighboring state of Colima and employees of the mining company Peña Colorada ….they were… demanding more than one billion pesos for 50 years occupation of 1200 hectares of their property….the protesters detained  three employees of Peña Colorada for more than eight hours"
20/7/15:
Mexico, Ostula: a thousand indigenous armed just with sticks and stones block bridge to army site to prevent repeat of army attack after previous day's killings… revealed here as 2 kids and a 60-year-old man…Guerrero: 100 members of the  Popular Movement of Guerrero block road to prevent President's access and throw rocks at governor's daughter's car…Michoacan: 50 Normal school protesters arrested; in Chilpancingo (Guerrero state's capital), transport workers linked to PRI (government party) and  local government intervene against CNTE members and students organized around the 43 dissappeared
19/7/15:
Mexico, Ostula: army, supported by narco scum, kill child and wound 2 others  The army attacks the Communitarian Police and villagers' "autonomy". Roads, bridges, tourist projects and land privatization programs are some of the attacks faced by the Nahua community of Santa Maria Ostula, on the coast of the state of Michoacan. These are programs that try to develop the militarization of labour. This article includes a chronology of what happened in this community. It's probably the community which has paid the highest price for their "autonomy" in Mexico. A December 2014 article mentions 32 dissappeared and 6 killed in the process. See entry about Ostula on the 26th of May news of opposition….Oaxaca:  villagers burn municipal offices, a police van and an ambulance in opposition to local elections They accuse the federal governement and the government of the State of Oaxaca of ignoring a national legal decision to stop extraction projects in their area. "In a meeting held yesterday, the Zoque Indians agreed to evict the residents of Belisario Dominguez, led by Oscar Gordillo, accusing them of illegally expropriating wood and destroying the forest. "The authorities have not paid attention to the community's demand to evict the invaders; in April this year the Interior Ministry and the government of Oaxaca  ensured that land would be restored yet so far have done nothing to solve the agrarian conflict "….Last February, community members from Santa Maria detained three people and in March one more, after accusing them of deforesting 200 hectares belonging to the indigenous community."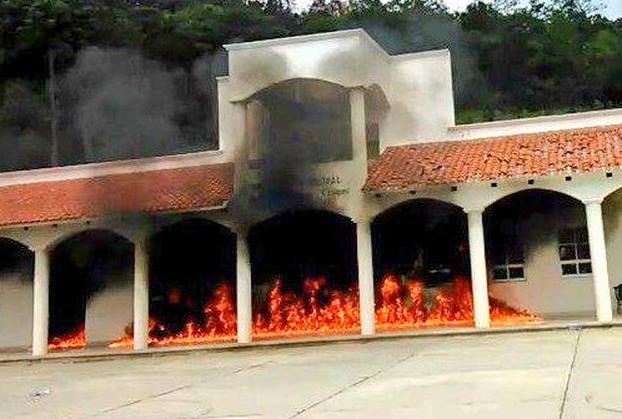 18/7/15:
Mexico, Zacatecas: 7 previously disappeared youths are found to have almost certainly been shot and killed by the army
15/7/15:
Mexico, Puebla: villagers organize assembly, force municipal president and company representatives to sign document saying planned hydroelectric dam won't be built
2/7/15:
Mexico, Mexico City: prisoners' hunger strike now in 6th day Pi writes: "A declaration on the sixth day of hunger strike of the "Informal Coordination of Prisoners in Resistance" by Fernando Bárcenas, an anarchist jailed and accused of having burnt a coca-cola tree during a movement against the rise of metro ticket prices. What is pretty interesting is that this new declaration (several have been issued during these last days) clearly states they're against all prisons and the distinction between "political prisoners" and others." See 27/6/15 for original declaration.
27/6/15:
Mexico, Querétaro: federal forces violently repress freight train expropriators in a poor suburb Pi writes: People of the poor suburbs often rob freight trains passing through their areas. It has been well organized in this area for some time, and there was already  an attempt by federal forces to stop it at the beginning of this year. This time six were injured by bullets, two of them being in serious condition. Here's a video of how these operations are sometimes carried out, in the same state of Querétaro :
https://www.youtube.com/watch?v=2gMGvtBwJbc
Shows clearly how state repression in Mexico not only concerns indigenous communities, the Zapatistas or social movements. It also represses violently various forms of survival, street activities, small theft, graffiti (in Puebla state, a policeman shot and killed a young street artist from behind a few weeks ago, see this link : http://www.proceso.com.mx/?p=403283) , making all of them pretty dangerous to carry out openly.
….Mexico City: prisoners' hunger strike by the "Informal Coordination of Prisoners in Resistance" begins Very rough translation:
"Today, June 27th, a hunger strike of several prisoners in different prisons of Mexico City has begun. Strike demands focus on…torture and abuse in prisons and the actions of the Commission on Human Rights in the City, the institution which is the prison authorities' accomplice . Likewise the business conducted with inmates through their sexual exploitation is denounced.
Beyond the differences in methods and strategies (for us prison should not be improved or reformed, but it must be destroyed), in solidarity with the comrades in struggle they …call upon all related organizations, groups and individuals to express solidarity.
Collective Hunger Strike
Informal coordination of Prisoners  in Resistance.
For the following demands:
1) Cease the abuse and torture in all prisons either by word or deed.
2) Termination of the silent repression exercised by the institution in collaboration with the CDHDF (Human Rights Commission of the Federal District)
3) For the people to stop all contact with jailers and / or officials who have been denounced for mistreatment.
4) Total rejection of the austerity measures that are being implemented worldwide, in prisons by various tendencies of economic and political interests.
5) Application of the  Istanbul Protocol on torture to all inmates.
6) Clarification and withdrawal of penal article 148/201H from the sentenced comrade  Jose Santiago Hernández who was sentenced and imprisoned for eight months before reaching his age of majority.
7) That due respect and consideration to the families of the prisoners when they are in the prisons is maintained.
8) No more illicit enrichment, based on the exploitation of prisoners.
9) No more illicit enrichment by officials based on the sexual exploitation of women and men interned in prisons.
10) Breaking the relationship of complicity between the administration and the medical unit; no more neglect and inhuman treatment.
11) Open more opportunities for cultural recreation and artistic projection and paid work for prisoners; the few that exist are elitist and conditioned by the administration.
12) Waiver of staff who actively shapes the Technical Board in all prisons in Mexico City and generate the necessary mechanisms to eliminate corruption and authoritarianism of management and custody.
13) Let us not be judged or repressed for the activities that we protest about because we have always been incited by the malfunction of the penal institution.
14) No more violations of personal data and correspondence for the purpose of extortion, kidnapping, intimidation and confiscation of information material.
Also we denounce the confinement and incommunicado detention that is practiced against fellow prisoner Jessi Alejandro Montaño and we'll carry out a day of struggle and resistance to make our mark against ignorance and our rejection of prison authority. Side by side with our brothers and sisters,  face to face with the enemy!"
25/6/15:
Mexico, Mexico state (Xochicuautla): locals set up barricades against riot cops sent by local government to protect construction of highway The Otomi villagers have been fighting against this project for several years and has been quite repressed for doing so. The community is involved in the CNI (Consejo Nacional Indigena), with various communities and indigenous organizations close to the Zapatistas….villagers fight against cops to protect their community radio station…Vera Cruz: Toyota dealership destroyed in anarchist arson attack (ever so slightly over-the-top in its rhetoric: " For every dead comrade we will kill a thousand more of them")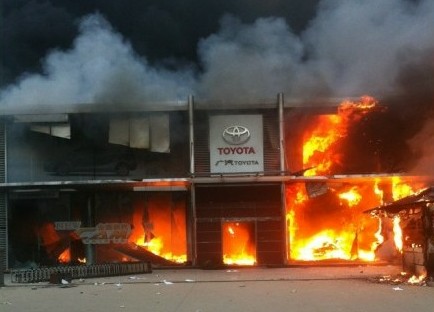 23/6/15:
Mexico, Oaxaca: 6000 hospital workers on strike in 12 hospitals and 500 clinics to protest against labour rights violations and lack of funds, supplies & medicine
15/6/15:
Mexico,  Veracruz: 600 locals burn the town hall, the mayor's house and a public building after the police tortured, killed and left at the entrance of the village a young guy they falsely accused of being associated with organized crime…Tabasco: 3 cops beaten & almost lynched, their cars burnt, when villagers trap them after they robbed 2 grocers…Ecatepec: following previous  day's attempt to lynch gang-thieves protected by cops, 300 people demand the release of 5 locals arrested and block highway
14/6/15:
Mexico, Ecatepec: 300 residents fight 200 cops with stick and stones, the cops having protected 3 gang-connected thieves from being  lynched
13/6/15:
Mexico, Mexico City: bank "burnt to a crisp" in incendiary attack
9/6/15:
Mexico, Guerrero: movement about the 43 disappeared students burn massive truck and liberate its contents "Normalistas of Ayotzinapa intercepted and torched a double-decker trailer …demanding the appearance of their 43 classmates alive; [it] was carrying twenty tons of cement that was stolen by locals….Around noon, a small group of Normalistas intercepted the trailer near Tixtla and forced the driver to get off, proceeding to burn it with petrol bombs, blocking the road … many villagers took sacks and wheelbarrows to take the material."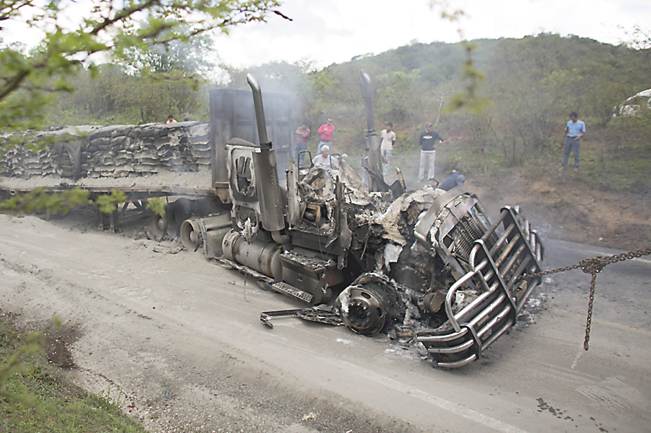 8/6/15:
Mexico: short video against elections
7/6/15:
Mexico, Tlapa: 12 minute video giving chronology of events from 1st to 7th June …ballot boxes burn…election cancelled in Tixtla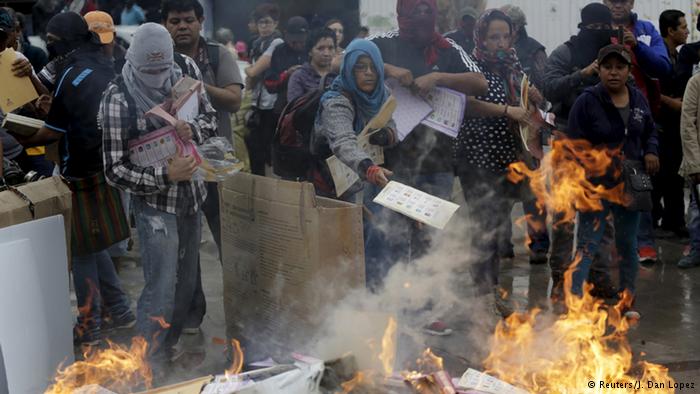 "At least three polling stations were prevented from opening after masked protesters and the parents of 43 students allegedly killed by a police-backed drug gang last year seized and burned ballots in Tixtla, Guerrero, canceling the vote in the town of 40,000. "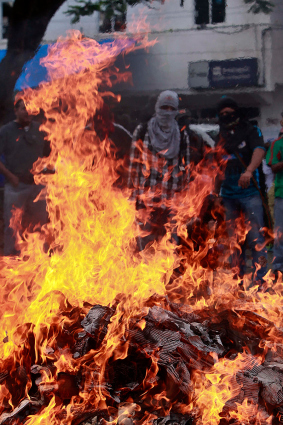 Oaxaca: local mayor shot dead…whilst anti-election movement continues "Teachers of Section 22 of the CNTE burnt electoral propaganda during their march against the FONAPAS gas station, as one of its measures of pressure against election day. In the Isthmus of Tehuantepec, they burned ballot boxes… while in Miahuatlán the situation is very tense as the army looks on"
Police forced to retreat in Tlaxiaco, Teotitlán and  Miahuatlán 
"Oaxaca…teachers refused to surrender the premises of INE [building of the electoral board overseeing the elections]…From the moment the Army, Gendarmerie, Federal Police and Navy, entered the state by air, land and sea, teachers from different regions armed themselves with Molotov cocktails, stones and rockets, to confront the national security forces…..Initially the teachers of Section 22 of the CNTE in the region of Tuxtepec… removed all the furniture and set it on fire in the street, and they seized several different gas stations, shops and, by Friday afternoon, they took the hydroelectric facilities of Temascal, a strategic facility for the state that supplies power to the southeast of Mexico….in the Isthmus of Tehuantepec, Juchitan de Zaragoza, a group of 500 education workers from six sectors of Section 22 of the Isthmus of Tehuantepec in Oaxaca, blocked the main entrance to the refinery "Jaime Antonio Dovalí" in Salina Cruz, preventing the exit and entry of Pemex petrol tankers, however, on Saturday the army and the gendarmerie managed to evict the teachers who'd been struggling with federal forces…In the Mixteca region, or more precisely in Huajuapan de Leon, where  the District Board was besieged… they retained control of a gas pipe to reinforce the blockade. …the pipe was occupied as a barricade to prevent the police forcess coming….In Tlaxiaco grenadiers,  evicting the teachers who were in possession of the local board of INE,  had a heavy confrontation with teachers, who were supported by villagers …these, resulted in several federal forces being  seriously …injured… In Miahuatlán …located in the southern highlands, teachers supported by members of the Revolutionary Popular Front RPF fought  elements of the security forces, but also set fire to the premises of the local board of INE, besides burning a truck owned by the same federal electoral institute….In Tlaxiaco, a major contingent  forced the federal police to retreat… setting fire to a vehicle, tires and … prevented the police from returning…. in the district of Pochutla in the Coast region, teachers were holding the gas station, where a group of people armed with stones, machetes and sticks, were evicted,  several teachers being injured in addition to a number gone missing"
Jiutepec, Morelos State: ballot box and election officials burnt 
"According to witnesses, a guy who pretended to come in order to vote threw gasoline on hundreds of ballot papers and at polling officials, then threw a lighter which caused the burning. Both the president of the ballot…. and the officer were taken to a hospital. The man who burned the box was not arrested"
6/6/15:
Mexico, Oaxaca: 6000 teachers mobilize in main square to boycott the elections "Among slogans such as "no to the farce", "to vote is to lie", the event is followed at a distance by army soldiers while helicopters carried the Mexican Air Force overhead in the area." Video here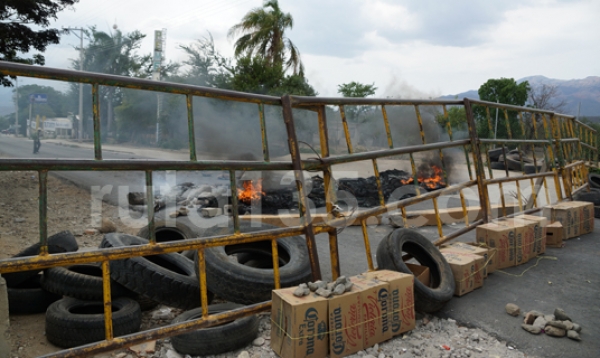 megabarricade in Teotitlan
Teachers  were joined by  locals who came to support them. They  placed two buses,  tires and metal structures across the road. At 1.40 pm about 200 federal agents aboard seven trucks and three buses tried to enter the town but they couldn't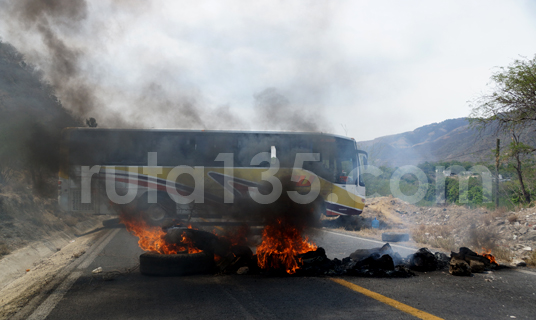 Guerrero: teachers' leader beaten to death by cops (2 other teachers also brutally beaten)
5/6/15:
Mexico, Chiapas: teachers ransack offices of at least 6 political parties, burning papers
Vera Cruz, Xlapa: state forces savagely attack students opposed to elections 
"At about 1 am today, Friday, June 5, 8 students from the Universidad Veracruzana were brutally attacked by a group of hooded thugs and police in tactical vests, with bats, batons and rifles, in a house during a birthday party …Approximately five minutes after they left police patrols arrived to photograph the wounded, some with serious  skull fractures….We hold the government of the state of Veracruz responsible for this campaign of ruthless attacks and criminalization of youth and activists under the electoral process marked by uncertainty and violence generated by the government….Similarly we demand a statement and concrete actions by the rector of the Universidad Veracruzana, Sara Ladron de Guevara, related to the attack. We will not allow a witch hunt."
electoral boycott in Zacatecas (traditionally not one of the most combative)
4/6/15:
Mexico, Oaxaca: movement continues "lack of gasoline…led  members of the National Coordination of Education Workers (CNTE) to resort to…theft of vehicles belonging to  government institutions and companies….In addition,  the protesters stole and burned stationery from the  PRI headquarters on Federal Highway 190 …"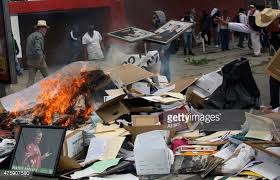 Members of the National Coordinator of Education Workers (CNTE) burn  Institutional Revolutionary Party (PRI) [ie the governing party] documents, as well as  pictures of President Enrique Peña Nieto, on Federal Highway 190
Guerrero: confrontations with cops (video)… This video says that 60% of the population have said that they won't vote 
3/6/15:
Mexico, Oaxaca: 200 teachers block airport in movement against elections "Teachers of the National Coordinator of Education Workers (CNTE) today blocked Oaxaca International Airport as part of its actions to boycott Sunday's election to exert pressure [on the state] to respond to its demands. Having taken  Route 175 leading to the air terminal just after sunrise, about 200 teachers came to the airport installations …After the blockade by the teachers, the airport suspended flights and closed its facilities…Teachers on Monday began an indefinite strike affecting more than one million students seeking to boycott the elections on June 7 and simultaneously press the government to respond to their requests, including….the appearance alive of the 43 students missing in Iguala,  free education, wage increases and the cancellation of the educational reform enacted in 2013, among other things. "…However, teachers announced on Tuesday that, although the government is committed to meeting their demands, they'll continue to boycott the electoral process which they consider a "farce". On Sunday, more than 83 million Mexicans are called to the polls to elect 1,996 officials, including 500 federal deputies and governors of nine states."…More here "… teachers, the National Coordinator of Educational Workers (CNTE)…occupied 11 electoral offices, oil company Pemex's facilities and several commercial installations"…Guerrero: clash between Normalista School and cops – 10 cops injured Video in English here…Tixtla under state of siege as state aims to occupy the Ayotzinapa  School "The head of the Mexican National Electoral Institute, Lorenzo Cordova, admitted that actions in support of the election boycott in the state of Oaxaca have made it impossible for the institute to conduct its work in that state."
2/6/15:
Mexico, Chiapas:  teachers take over 14 gas stations, start distributing free gas; set fire to law library in the House of Culture,  also burn Institute of Elections and Citizen Participation…Nayarit: general assembly of Council of the United Communities announce their refusal to allow the general elections of June 6th to be held in 4 villages…Guerrero: at least 17 armoured vehicles sent to Chilapa to prevent opposition to elections……….Sonora (near US border): locals and miners sabotage water supply of mining project, and other stuff "… during its second day of protests, members of the United Front against Grupo Mexico represented by the Sonora River settlers and miners of Section 65 destroyed the valves and water pipeline booster … which supplies the mine Buena Vista del Cobre….With these actions, the Buena Vista Copper mine has been reduced to 10% of water resources…According to information from leaders of the National Mining Union, this acttion against …Grupo Mexico is causing daily losses of $ 4 million. About three hours later, protesters set fire to a hectare of pastizaje…The president of the strike committee, the National Mining Union, section 65, Jesus Verdugo Quijada said that the union was "tired" of being forgotten. "We're going for everything, we have nothing to lose … it's been  eight years of struggle during which they took away our rights, but not our creativity, conviction and dignity" …In 2013, the consortium reported that its shareholders are responsible for 52% of environmental problems in Peru; 48% in Mexico and only 2% in the United States."
Grupo México is also the company that is behind the Tia Maria project in Peru. Locals and miners created a "United Front against Grupo Maria". It is one of the few places where industrial workers can lead strikes: the last one there lasted 3 years and ended in 2007 (see this in English). It's also the place where one of the first and major strikes in Mexican history took place, in 1906, which prefigured the Revolution (http://en.wikipedia.org/wiki/Cananea_strike). The Magonistas were active. It's a very isolated and desert region of Northern Mexico, close to the US border. Sonora is one of the main "narco-states" of the country, where various cartels are active and have close links with politics. (see, for example, this article).  [written by Pi]
1/6/15:
Mexico, Vera Cruz: molotov cocktails burn electoral building…Oaxaca: despite army protection, 18 ballot boxes are burnt in anti-election movement initiated by teachers' organisation (in Juchitan) (more here, mentioning Tehuantepec, another town in Oaxaca state)…and this talks of teachers expelling soldiers from electoral building and the theft of a van carrying electoral packages in Gorge…Puebla: 6 days before election, molotovs thrown at National Electoral Institute, the Secretariat of the Economy and the  Urban Network of  Articulated Transport…This report resumes some of the events, which include the  "temporary" closure of 9 of the 11 electoral boards of Oaxaca; the assassination of several candidates and a possible boycott of the election in some states, especially Oaxaca, Guerrero and Michoacan; that in the Yucatan town of Peto there was a clash between rank and file members  of the National Action Party (PAN) and a group attacking them that left a toll of two dead and at least six injured; that in Tehuantepec members of the teachers organisation set fire to the premises of the District Board 05; that in Guerrero 3 radio stations were taken over and  broadcasters were forced to transmit a message from the Normalista School about the 43 disappeared students and a critique of the electoral process; that in Michoacan a car carrying the state president of the Social Encounter Party (PES), and his chauffeur was fired upon, though they were unharmed; and that in order to ensure the security and peaceful (ho ho) development of the elections of June 7, more than 12 thousand members of the Mexican Army, the Navy of Mexico and the Attorney General's Office have already been deployed.
29/5/15:
Mexico, Guerrero: riot cops attack parents of the 43 dissappeared while they try to remove electoral propaganda There's currently a movement of removing electoral propaganda in various places in Mexico, especially in indigenous communities fighting for their autonomy (organizing themselves in local assemblies without political parties), in the run-up to the 7th of June local elections.
It's especially strong in Guerrero and Michoacán. In Michoacán, the police killed 43 supposed members of a Cartel on the 22nd of May. Many seem to have been executed, and there are complaints from families and many doubts that all were really affiliated with organized crime (see this in Spanish). [written by Pi]
26/5/15:
Mexico, Mexico City: molotovs v. tear gas as   protest about the 43 disapeared students turns violent (video) 
Mexico……Mexico……Mexico……Mexico……Mexico……Mexico……Mexico…..Mexico
…Morelos state: villagers block thermoelectric power plant (the fight has been going on for several years)…Michoacan: report of confrontations between cartel and indigenous villagers This concerns news of various armed confrontations in the past few days between the indigenous community of Santa Maria Ostula's "Policia comunitaria" and members of the "Caballeros Templarios" cartel. Michoacan state is in a large part ruled by this cartel (including the international harbour of Lazaro Cardenas, a stronghold for international affairs, with China for example), which developed a kind of religious devotion based on particular rules and precepts, and the indigenous communities are its only true opponents – various other non-indigenous paramilitary self-defense forces,  often having ties with political parties and organized crime. This community fought for its land and managed to retake some of it from this cartel (which had previously seized them) in 2009. So far, 32 villagers have been killed and 6 dissappeared. They find themselves in a kind of difficult situation, since other self-defense forces in the state put pressure on the Policia comunitaria to integrate them. The limitations of its actions reside in sometimes calling the army to deal with the cartels or to ensure minimum security, knowing they have close ties. Some reports mention 8 dead (2 communitarian "policemen" and 6 cartel members) [written by Pi]
20/5/15:
Mexico, Mexico City: interesting strike "Thousands of workers from the Innovaplat factory in Mexico City declare strike. They produce plastic bottles for shampoo brands such as Avon and Jafra. The main demands are:
-getting proper uniforms
-more time for lunch
-getting money for extra hours and  respect of legal hours (they have to work 12 hours per day instead of the legal 8 hours, if not some get fired or the next day is not paid) " Not very clear how many are involved…the end of the text says "about 700 persons in each of the two shifts of the three sections". That would be "about (700 x 2) x 3 = 4200″. Not bad for a country in which strikes are pretty unusual.  Vosstanie web radio discussion in French on the situation in Mexico.
18/5/15:
Mexico, Mexico City: football players and supporters beat cops (video)
16/5/15:
Mexico, Oaxaca: statement by Zapotec Indians explaining why they are blocking road (ie to save their land and its flora and fauna from destruction by private interests in collaboration with public officials)
13/5/15:
Mexico, Guerrero: day labourers organise in another state (the other one being Baja California)
Rough translation:
"More than 70 communities of day laborers in the mountains of Guerrero were mobilized to denounce labor exploitation  in the fields. Guerrero is part of the 19 states of Mexico where agricultural workers live ….Sixty percent of farm workers are indigenous people who come from the poorest states in Mexico. Guerrero is part of this statistic, nine municipalities that make up the mountains of Guerrero have the highest rate of expulsion of agricultural workers within the republic of Metlatónoc, Cochoapa the Great, Tlapa, Copanatoyac, Atlixtac, Xalpatláhuac, Alcozauca and Atlamajalcingo del Monte.

On May 13, laborers of the Mountain of Guerrero mobilized to demand better working conditions, fair wages, decent living conditions in agricultural fields based on standards of respect for human rights and guarantees of access to health and social security, better conditions in transfers to agricultural fields, guarantees for women established in the Federal Labor Law, suitable accommodation, guarantees of schools and kindergartens for their children.

Guerrero is part of the 19 states in which exploitative labor conditions prevail in the country there, and with a high probability of detonating like  a similar conflict in San Quentin[Baja California].

…Ninety percent of the people occupy houses without drainage or sanitation; fifty percent live without running water and at least 25 percent do not have electricity; 78 percent of homes have some degree of overcrowding …

Agricultural workers produce food for millions of people, yet more than a third of them cannot eat three times a day, so are food vulnerability.

The fields where agricultural workers work, belong to national and foreign companies who profit by almost 400 billion pesos, but the wages of the laborers does not exceed 110 pesos a day, and there are no job guarantees whatsoever .

Increasingly,  laborers are demanding decent working conditions …. What happens today in San Quintin, Baja California, is a mirror of what is happening in Guerrero and in the country's 19 states."
9/5/15:
Mexico, Baja California: farm labourers pelt cops with rocks, take over government building, burn police station and 2 cop cars "Farmworkers have been seeking higher wages, at least $13 per day, and government benefits, and patience on both sides seems to be wearing thin as negotiations, now in their eighth week, remain at an impasse. The rioting flared Saturday morning when strikers gathered outside a farm near the town of Vicente Guerrero. They were there to persuade arriving workers to stay on strike, according to farmworker leader Justino Herrera.  Police responded in force after some of the strikers began setting fires in the area, according to Mexican state authorities cited in news reports…Protesters reportedly set fire to two police cars and a police station. About 45 people were injured during the clashes with Baja California state and municipal police, and six were taken to a hospital, Herrera said. Videos of farmworkers showing the bruises and cuts purportedly from police beatings quickly circulated on the Internet, fueling complaints of use of excessive force by Baja California state police officers….The laborers for a few hours blocked the main highway linking the region to export markets in the U.S. Similar tactics at the start of the strike on March 17 prompted an aggressive response by Mexican authorities."
26/4/15:
Mexico, Chilpancingo: several vehicles burnt in front of legislature as part of movement about 43 missing students Students from Ayotzinapa rural college, some parents of the 43 dissappeared students and members of the CETEG (independant Coordination of Education workers) attacked the local Congress in Guerrero's capital (Chilpancingo). They entered the square, destroyed a monument dedicated to Morelos, burnt 4 cars, and fought with cops to protest against the authorities' attitude about  the 43 students and about  the next local elections.
16/4/15:
Mexico, Mexico City: blind street sellers injure 13 cops in demo over police aggression "A confrontation between blind street sellers and police …at the doors of the office of prime minister, Miguel Angel Mancera, left a toll of at least 15 people injured. The brawl occurred after noon, when some 150 members of the Mexican Association for Humane Treatment, Social and Cultural Material for the Blind and Visually Impaired tried to enter the Old City Hall to demand, from the president, the reinstatement in the capital of  spaces of work in the Metro Public Transport System that were removed from them last week. As always happens when there are demonstrations in front of government offices, a triple fence of uniformed riot police and traffic police tightened security at the entrance of the building. With their shields, police began to push the demonstrators, causing discomfort and cries, developing into blows…The quarrel left a toll of six injured people who were treated by paramedics and Rescue Squadron Medical Emergencies (ERUM). However, the Secretariat of the Federal District reported that there were 15 injured, of whom 13 were  policemen and two demonstrators. At the time of the beating,  members of the protest were arrested, but minutes later were released at the demand of their peers….Their protest was a response to the attacks suffered in recent days, when the police broke up… the first protest on November 20th Avenue."
9/4/15:
Mexico, Guerrero: demonstrators force riot cops into retreat as part of strike (video)
28/3/15:
Mexico, Chilpancingo: cop commander hospitalised as Normalista School students attacked by riot cops,  in continuing movement against disappearance of 43 students in September… Tixtla: as part of previously mentioned confrontation  cop car burnt, police HQ  set fire to, Directorate of Police and Civil Protection windows smashed (video here) (report in English here)(computers destroyed)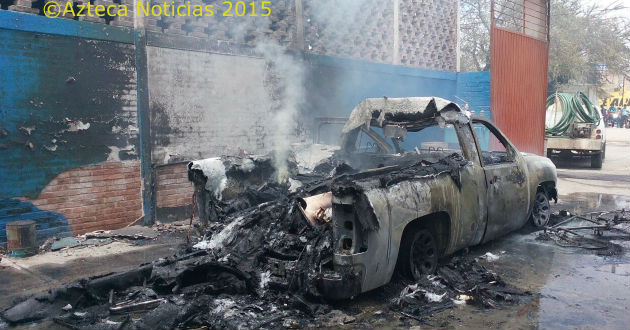 For Sale: 1 slightly used police car 
24/3/15:
Mexico, Baja California: 50,000 agricultural day workers' now on strike state-wide See also this "Bracing for more unrest, business owners this week boarded up shops and restaurants in San Quintin and nearby towns and more than 1,000 police and soldiers have spread across the region 200 miles south of San Diego."  And also see below, 18/3/15, and this in French: Journaliers Mexique (now roughly translated here: Mexico day workers)…Temoaya: villagers furious over long delays in  connection of drinking water destroy the town hall and try to set remains alight
18/3/15:
Mexico, Baja California: 2nd day of confrontations between sticks & stones v. rubber bullets & tear gas as  agricultural day labourers fight for better working conditions "Day laborers marched to demand better working conditions in the fields, registration at the Mexican Social Security Institute (IMSS) and the release of 30 comrades arrested on Tuesday night for alleged vandalism. On Tuesday during demonstrations,  some damage and looting of businesses were recorded… Also on Tuesday, protesters held a meeting with the governor, Francisco Vega, in which it was agreed that they would not use force to evict them. Around 18:00 pm on Wednesday… day laborers engaged in a blockade of the town of San Quintin …" More here in English "…thousands of protesters shut down the main highway linking the coastal agricultural fields with export markets in California. The strike has crippled the region. Schools, stores and gasoline stations were shuttered on Wednesday. Crops went unpicked inside the enormous greenhouses that line the highway. And dozens of families of people arrested camped outside the state government building…Baja California government officials at the meeting thanked union leaders for lifting the roadblocks on the Transpeninsular Highway that prevented hundreds of produce trucks from getting through on Tuesday.But union leaders said the strike would continue and warned that the situation could turn ugly again if negotiations don't progress. Union leaders said their peaceful protests have been infiltrated by radical groups that they don't control." And here "The protesters have presented a list of demands, which includes raising wages from the current $8 a day to $20, health benefits, overtime pay, and an end to sexual harassment by their employers"
14/3/15:
Mexico, Chimalhuacan: cop car torched after arrests  (see also here) My Spanish isn't good at all, but from Google Translate, it seems that 8 heavily armed men arrived at a house trying to assault the residents, who shot and wounded one of them. The guy then returned with the cops and they took and arrested 6 residents, including a child and a couple of 75-year-olds. The child was then set free but abandoned in the middle of nowhere. Then, about 500 enraged residents demanded that they hand over their neighbors after they learned that the child had been abandoned: they then set fire to a cop patrol car. Later they staged a demonstration outside the Public Ministry to demand the release of detainees.
25/2/15:
Mexico, Acapulco: in demo about the 43 missing students, cops kill retired teacher after evicting protesters blocking airport"A new demonstration of hundreds of teachers to protest the death of the protester broke out Wednesday afternoon in the main square of the capital of Guerrero, Chilpancingo (200 km south), halfway between the capital and Acapulco, to block two of the four-lane highway linking Mexico City with the tourist port. The retired teacher Claudio Castillo, 65, died around 04:00 local time (1000 GMT) in a hospital "as a result of the beatings he suffered" in the street clash on Tuesday night with the police…The protest sparked an altercation that left seven policemen and five demonstrators  injured and a hundred arrested Tuesday night…The outcome of the protest involving  five hours of roadblocks, occurred around 20:00 local time, when protesters occupied one of the buses and … headed it full speed against the fence of about 500 police to break the fence preventing them from getting to the airport, according to Mexican television. …The police responded to the attack and began the eviction … with batons and tear gas; while teachers responded by smashing businesses and about 15 private cars.  After four months of protests, in which they have caused havoc and burned all the seats of power in Guerrero,  divisions amongst protesters are beginning to show –  between those seeking to escalate violent protest demonstrations and those who prefer to negotiate for results. A declaration of a section of the leadership issued last week, in which they pledged to stop vandalistic actions affecting the population – implying that this was the work of  "infiltrators" – showed the cracks between the protesters after some teachers  defended the use of molotov cocktails and clubs as "self-defense".(More here and here in English)
21/2/15:
Mexico, Chimalhuacan: residents riot after cop runs over pizza delivery biker; 1 cop patrol car burnt out, 4 damaged, 5 bus windscreens smashed, avenue blockaded 
19/2/15:
Mexico, Guerrero: teachers and students attack army installations with molotovs and stones in continuing movement against the 43 "disappeared" students "Parents of the missing students insist that federal prosecutors investigations should also consider the probable responsibility of members of the Army either by their actions or by failing to act on the fateful night of September 26, when after being shot by corrupt cops and hit men, the 43 students disappeared in the city of Iguala. According to investigations by the prosecution, students were massacred and burned by the local cartel Guerrero States, but parents cling to the idea that their children are still alive and for weeks have even demanded to search military installations ."
5/2/15:
Mexico, Guerrero: 20,000 occupy one of country's busiest motorways in movement about the 43 disappeared students
28/1/15:
Mexico, Oaxaca state: protesters mounting barricades across entrance to town demanding public transport and electric connections shot at by armed gunmen; gunmen repelled, cop module monitoring situation burnt "After the violence, protesters determined to extend the blockade of the federal highway to prevent  passage on the Panamerican Highway…González accuses the mayor of taking orders from several  unions of taxi drivers and motorcycle taxis for a road system that benefits them, and that prevents ATSA trucks passing through the city center. He said that although they have the federal permits to provide a service the City authorities of Oaxaca-Tlacolula Yagul have not respected them, intending to create a monopoly and remove  low transport costs for citizens." (very rough translation)
19/1/15:
Mexico, Guerrero: as part of the movement ignited by the probable murders of 43 students, about 60 people burn part of the Electoral Institute for Citizen Participation  "…electoral stationery was burned and furniture, a laptop and a printer were stolen."… parents of the 43 march to demand the trial of the mayor and his wife for their part in the horrible events, then burn a patrol car
14/1/15:
Mexico, Guerrero: education workers confront cops with stones,  bottles and pipes whilst in Acapulco, masked youths and teachers try to sabotage the processing of photos  for the National Electoral Institute
10/1/15:
Mexico: really tragic video (ho ho)
2/1/15:
Mexico: cops attacked during president's convocation speech (video)
1/12/14:
Mexico, Guerrero: 23 vehicles torched, including 3 belonging to the state prosecutor
28/11/14:
 Mexico, Guerrero: hundreds occupy police academy as part of movement about the massacre of 43 students
23/11/14:
20/11/15:
Mexico, Mexico City: molotovs and rocks chucked at cops, roads barricaded,  police cruiser set alight as movement hots up … 
"Riot police blocked hundreds of hooded demonstrators from shutting down Mexico City's international airport. Protesters a few blocks away set a police cruiser on fire and barricaded streets. TV newscasts showed images of protesters tossing Molotov cocktails at riot police. In one image, an officer was enveloped in flames. …Peña Nieto canceled a military parade to mark the anniversary of the beginning of the 1910 Mexican Revolution, sidestepping a possible confrontation with protesters in the capital's plaza. He exhorted citizens to protest peacefully. "We Mexicans say no to violence," Peña Nieto said at a ceremony to honor the military. "The society and government categorically reject any attempt to provoke or encourage it…." "People are totally fed up. They want something to happen," said Gilberto Lopez y Rivas, a former legislator who now says all political parties are corrupt…But even as protests surge, and sympathy grows for the parents of the missing students, no group or opposition leader has harnessed the anger. …Protesters carried signs that said, "Murderous narco state," "Make all of them go away" … Most had dispersed by around 8:30 p.m. but the La Jornada newspaper website said hundreds remained behind and were tossing bottles at the National Palace and setting fires. Organizers said students from 114 universities and institutes around the country took part in the day of protest, one of the largest in recent decades. …Passengers headed for the international airport earlier in the day found their way blocked by protesters, many of them wearing masks or kerchiefs. Cordons of federal police in riot gear redirected the protesters to side streets, and used pickups to ferry passengers past barricades to reach the airport. Authorities urged passengers to arrive four hours early for their flights. In Chilpancingo, the capital of Guerrero state, thousands of protesters flooded onto the major highway from Mexico City to the Pacific coast and blocked it for two hours. Demonstrations also occurred in Guadalajara, Hermosillo, Monterrey, Cuernavaca andother cities….PRI Deputy Manuel Añorve Baños said some protesters were trying to hijack the issue of the missing students and use it for acts of violence.He said roadblocks and other actions had devastated tourism in Guerrero state, home to the tourist resorts of Taxco, Acapulco and Zihuatanejo. "It is not through roadblocks and by strangling the economy of Guerrero that they will achieve their objectives," he told a legislative news service. At a military ceremony Thursday, Peña Nieto offered a full-throated defense of the military from charges of human rights abuses." …Chiapas: burnin' 'n' lootin' "The contingent of three thousand people was led by students from the Normal Intercultural Bilingual School, among other institutions, as well as teachers of the National Education Coordinator (CNTE) and social organizations such as the National Front of Struggle for Socialism (FNLS)…After walking on Avenue Calzada de la Raza, to reach an   OXXO store [supermarket chain], a group of masked men threw stones and broke windows with bats, smashing up   the business ….Later, they moved to a shopping center, where they set fire to a Soriana…Journalists and onlookers who were filming or taking pictures of the damage to buildings were assaulted with shoving and threats to remove their cameras or cell phones . After the riots, those who were hooded re-joined   the rally, where some contingents threatened not continue if violence continued. … dozens of companies and businesses closed for fear of an attack, while the contingent of people walked to the cathedral square, where after a rally, the hooded ones returned to loot two OXXO stores."
15/11/14:
Mexico, Veracruz: demonstrators set fire to part of governing party HQ "A group of hooded protesters attacked the headquarters…  of the Institutional Revolutionary Party (PRI) in Xalapa, Veracruz, in a protest against the Central American Games played in the state. A dozen protesters left the peaceful march  … to go  to the regional party headquarters, where they threw stones, burned and destroyed windows of an office. "We want justice, we don't want Games," read one of the banners carried by protesters, who also painted the walls of some public buildings, shops and hotels in the city, with no apparent police presence. …The protests are "against the Central American Games, they are not against the athletes. This must be made very clear, we have nothing against the delegations," said Ariel Segura, one of the teachers at the protest. On Wednesday, protesters  managed to extinguish the flame of "righteous centrocaribeña" during one of the relays between torchbearers in Xalapa. The fear of a boycott of the games   in Mexico meant   about 7,000 police officers and 500 soldiers for 800 sporting events to be held from November 30 in the five games venues – Xalapa, Coatzacoalcos, Córdoba, Tuxpan and Veracruz – were being deployed . On Friday, thousands of teachers and students in Guerrero resumed their powerful protests against the government of Peña Nieto, who returns home Saturday after a tour of Asia ahead of schedule because of the crisis in Mexico."  Interesting comment here.
12/11/14:
Mexico: Guerrero state legislature set fire to by protesters, violent demonstrations in other states, airport blocked, local ruling party offices damaged "In neighboring Michoacan state, which has also been a focal point of drug gang violence, students blocked the main entrance to the state capital's airport…. Another group of demonstrators broke windows, furniture and computers at local PRI offices in the capital of Morelia…. Local media also showed images of masked people, purportedly student teachers, looting trucks in the state of Oaxaca, while another group took over a toll booth station in the state of Chiapas and burned several cars."…On the latter see this in Spanish "A group of 50 people set fire to three SUVs and created havoc …to the toll gates…From 8 in the morning men, women and young people took control of the toll booth to charge a fee of 30 pesos to 50 vehicles and trucks….the protesters, carrying slogans against the disappearance of the students of the Normal School of Ayoitzinapa began to destroy the facility….It should be noted that the protesters were not identified as members of any organization".
10/11/14:
Mexico, Acapulco: cops injured by machete-wielding protesters blocking airport for 3 hours
8/11/14:
Mexico, Guerrero: over 300 students torch cars, throw molotovs at state's HQ "More than 300 students, many wearing masks, descended on the Guerrero government headquarters in Chilpancingo on Saturday in protest. The students threw rocks at its windows and burned around 10 vehicles, including trucks and a federal police vehicle…. Attorney-general Jesus Murillo Karam said on Friday three Guerreros Unidos gang members confessed to receiving the students from corrupt police, killing them and incinerating their bodies in a dump near Iguala in the state of Guerrero. Then the perpetrators set about removing all the evidence…"They didn't just burn the bodies with their clothes, they also burned the clothes of those who participated," Mr Murillo said, adding the gang members spent over 12 hours torching the remains."…Mexico City: masked protesters set fire to National Palace door 
29/10/14:
Mexico, Guerrero: teachers attack government house in movement against mass murder of students "After clashing with riot police at the door of  3 Casa Guerrrero, teachers from the  CETEG rolled and set fire to a truck at the same door….Teachers made holes in the official residence …  to evoke symbolically how the Ayotzinapa students were killed in Iguala on the night of September 26. Security staff responded with firecrackers, stones and gravel to scare the teachers who responded with slingshots and  toppled a lamppost against the metal door and tore down part of the high voltage wiring around the building."
25/10/14: 
Mexico, Guerrero, Chilpancingo:  socially explicit looting develops as part of the movement against the disappearance of students "About 09:30 am, a group of students, with their faces covered, arrived here aboard three buses and a standard pick-up truck. Next, the demonstrators marched to Aurrerá supermarket, located south of the city, which they forcibly entered by breaking the  metal gates. They began looting, filling carts   with food and left them in the parking lot to be taken away by citizens . Then, the protesters moved to a branch of Comercial Mexicana, putting graffiti on the glass doors, with the tag "All free" and withdrew from Chilpancingo. Some people took advantage of the vacuum that prevails in the capital of Guerrero and televisions and electronic equipment were stolen…Then state authorities reacted by sending in the police with riot gear to protect commercial establishments. This happened exactly a month after the disappearance of 43 students, which occurred on 26th and 27th September in Iguala, where municipal police acted in collusion with hired assassins to kill students." Video here.
22/10/14:
Mexico, Guerrero, Iguala: dozens of teachers and students sack and burn town hall  in continuing movement over disappeared students
21/10/14:
Mexico, Ecatapec: residents burn 3 cop cars, a council vehicle a police office and ransack a store after death of 2 youths
13/10/14:
Mexico, Guerrero: 100s set fire to Guerrero state HQ in fury against the cop complicity with the disappearance of 43 students "The protesters say the authorities are not doing enough to find the students. They disappeared after clashing with police in the town of Iguala. The protesters allege that the police rounded up the missing students before handing them over to a local drug gang called Guerreros Unidos…. Thousands of people have taken to the streets across Mexico to demand government action to locate the missing students. On Monday, demonstrators gathered outside the government complex in Chilpancingo, allowing workers to leave before ransacking and setting fire to the building and a vehicle parked outside."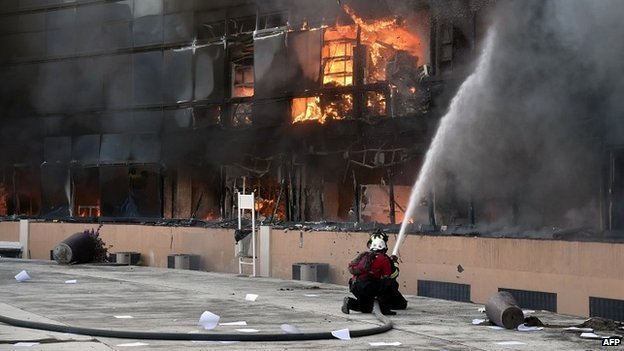 Guerrero: "Since the house is on fire let us warm ourselves."
~Italian Proverb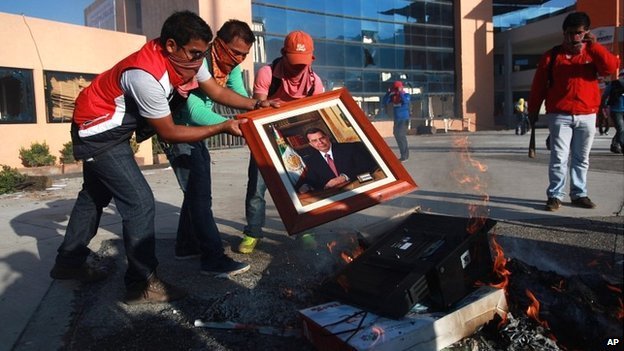 heated exchange with the Governor of Guerrero 
4/10/14:
Mexico, Guerrero: parents of missing students throw molotov cocktails at governors' official residence, and overturn a vehicle in front of it in response to lack of information about mass graves
2/10/14:
Mexico, Acapulco: 1000s block main road in protest about students being disappeared almost certainly through cop and drug cartel collaboration (see entry for 27/9/14 below)…Oaxaca: 46th anniversary of massacre demo; black block anarchists smash windows of government palace, ATM machine, electricity company offices, shops and vehicles; union leader denounces them as government party provocateurs, as 59 of them are arrested
27/9/14:
Mexico, Guerrero: report of 22 cops, probably linked to organised crime, arrested after students demonstrate, seize 3 buses and break windows of legislative chamber because of disappearance of 57 students
21/9/14:

Mexico, Michoacan: cops arrested and charged after riot following the cops' killing of 3 young men
13/6/14:
Mexico, Morelia: hunger leads to road blockades and official vehicles being burnt "people from the commune of Capácuaro, in the municipality of Uruapan, set fire this afternoon to two official cars and have maintained a blockade, since morning, of the Uruapan-Paracho road in support of their demand for a Temporary Employment Program and a meeting with the federal commissioner for security and development …At 14:30 hours, the villagers torched a town hall van  and at 16:30 a municipal patrol vehicle, threatening to burn a vehicle every two hours until their demands are met….Up to 17.00  they were holding eight vehicles, including two taxis and three trucks from the Federal Electricity Commission (CFE)….It's the same group of villagers who yesterday stood in front of Government House in Morelia, and blocked the Southern Bypass, when  they were evicted by the state police.…The protesters…   said that two years ago they'd agreed with the state government that they would stop illegally clearing the forest if granted temporary and alternative productive projects, but the commitment was not met and about three thousand inhabitants of Capácuaro are living in a state of   crisis, which is causing famine."
21/5/14: 
Mexico, Mexico City (San Bartolo Ameyalco): heavy confrontations with cops against suburb's  project of forcing payment for drinkable water and cutting off free water already self-organised by indigenous population "At least 50 policemen were injured, two of them seriously, with head traumas after clashes in the morning and afternoon with residents of the Town of San Bartolo Ameyalco …in opposition to hydraulic work. While 60 of the residents were treated at the Center for Community Health for head injuries and shock. The place of work and clashes remained guarded by about 1500 soldiers, who monitor the pipeline installation being carried out without disgruntled residents impeding the work. Tension began in the morning, when, guarded by  police officers, workers of the Water System of the City of Mexico (Sacmex) resumed laying pipe on the old road to Mixcoac… people rang bells so as to bring people armed with pipes, sticks and stones, to try to prevent the execution of the work….residents detained four policemen to force the release of  protesters. Shortly after 16:00, a hundred soldiers entered the square … sparking another brawl. The retained policemen were injured and at least two of them were reported having serious injuries, so they required their transfer to a hospital for treatment. After the rescue of sections of the Ministry of Public Security in Mexico City, with about two thousand soldiers coming to the town, they began to retreat. The original conflict resulted after last February 14, when workers of the Water System of Mexico City started waterworks for the distribution of drinkable water in the area, but due to the intervention of disgruntled residents, construction was suspended . This morning, workers again tried to start work, and they went guarded by members of the SSPDF, so that residents clashed with them. The square was totally destroyed and several patrol vehicles damaged ." (see video here)
12/5/14:
Mexico: after cops help protect kidnapper of woman, crowds attempt to lynch cops and burn 2 cop vehicles
23/3/14:
Mexico, Guadalajara: football fans attack cops
22/3/14:
Mexico, Oaxaca: students riot, block roads (video)
14/12/13:
Mexico: clashes with cops, and blockades,  in various cities over new energy bill
14/10/13:
Mexico, Cancun: riot cops in clashes with striking teachers at town hall 
2/10/13:

Mexico: cops pelted with bottles, rocks and molotovs on 45th anniversary of massacre of students (more here)
13/9/13:
Mexico, Mexico City: riot pigs take back square from teachers and others "Friday's massive raid by thousands of police against the teachers was a dramatic reassertion of state authority after weeks of near-constant disruption in the centre of one of the world's largest cities. The teachers have marched through the capital at least 15 times over the last two months….. The confrontation erupted after the teachers armed themselves with metal pipes and blocked off the Zocalo with steel grates and plastic traffic dividers, threatening to scuttle the Independence Day gathering. The teachers, many veterans of similar battles with police in poor southern states, vowed to not move from the square where they have camped out since last month. Some fixed knives and nails to wooden planks and declared themselves ready to fight. Others set up sewage-filled portable toilets in the path of police vehicles. Shortly after 4 pm, the police swarmed in, firing tear gas canisters and spraying water from armored trucks. Protesters hurled sticks and chunks of pavement broken from the streets around world-famous tourist attractions including the Metropolitan Cathedral, the Templo Mayor and the National Palace. But within a half hour, police had cleared the Zocalo and much of the surrounding historic center of virtually all demonstrators. Union organisers said they would reassemble away from the main plaza at the nearby Monument to the Revolution. Small knots of teachers, self-described local anarchists and other supporters hurled bottles and rocks at police on some of the main downtown avenues. "We're going to reorganise and go back," said a masked teacher who gave only his first name, Juan Carlos, as he waited in an alley with about 10 other demonstrators. "It's not going to stay like this. The government isn't going to repress us."  – from here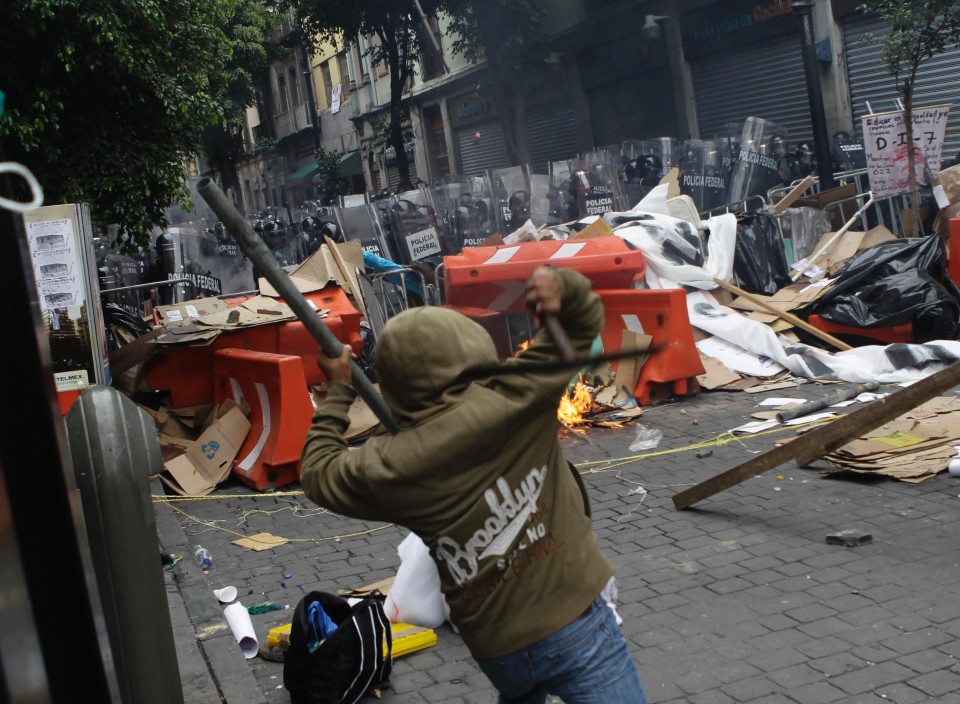 Mexico city
"Manuel Mondragon y Kalb, head of the federal police…. warned that aggressive protesters would be detained. The police were not carrying firearms or truncheons, he said."
(see photo above for confirmation of this upholder of truth)
11/9/13:
Mexico, Mexico City: clashes with cops over education reform (morehere)
5/9/13:
Mexico: striking teachers block airport's main access road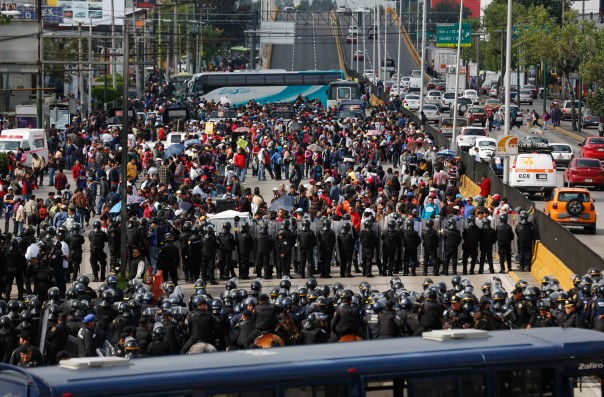 Mexico City teachers demo
4/9/13:
Mexico, Mexico City: riot cops protect Ministry of Interior as teachers continue to demonstrate
3/9/13:
Mexico, Mexico City: teachers block main access to Senate…interesting report of female "Zorro" avenging women sexually assaulted by bus drivers (in English)
1/9/13:
Mexico: students join teachers in riot against state-intensified misery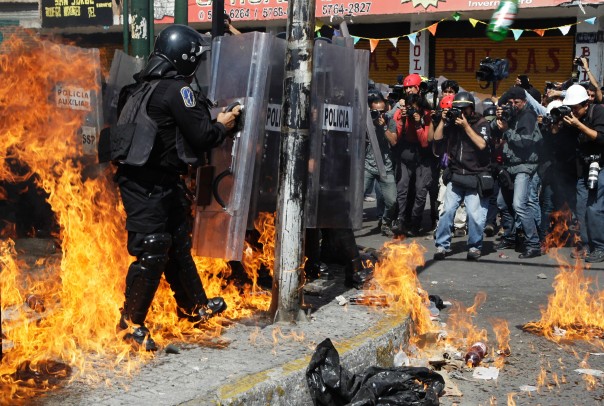 Mexico City
28/8/13:
Mexico : teachers paralyse Mexico city –  international air travel disrupted, two major soccer matches cancelled ,  freeways jammed
23/8/13:
Mexico: teachers camp outside Congress in protest against  miserable "reforms" (more here)
1/5/13:
Mexico, Colombia: mayday confrontations with cops
24/4/13: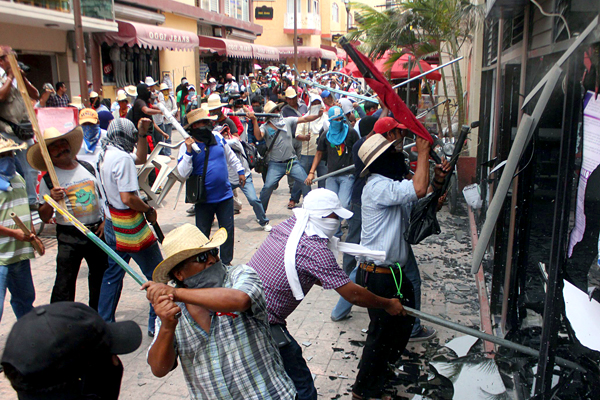 Armed with iron rods and rocks, dozens of masked members of the teachers' union in Guerrero State attack the local offices of the four major political parties, smashing windows and overturning furniture
Mexico: teachers riot over reform plans; main political parties' offices, senate office, state education department building attacked
23/4/13:

Mexico City: radical occupation of university rectory
2. 
Mexico: major strike of Baja California day workers
(translated from the French)
In the state of Baja California, thousands of Mexican migrant laborers are struggling against the conditions of their exploitation.
Most of the information and libertarian or "radical" information and analyses that reach us about Mexico don't go beyond eternal leftist illusions about these movements (above all, the Zapatistas), exalting their most ambiguous aspects (communitarianism, demands linked to identity politics, etc.) or masking them (with a militaristic logic and a vertical mentality, a reformist and political discourse, in their attitudes vis-à-vis other struggles) according to their needs.
This absence of critical logic and nuanced analyses takes on a reductionist form (often linked to ethnic and communitarian identity) around the many struggles carried out by the exploited of Mexico, and does not help to understand the relationship between them in their diversity (urban struggles, struggles against drug trafficking, theft of land and development projects, against repression, against daily social control and various forms of authority and exploitation) and therefore fails to provide an overview of the current state of the the class struggle in Mexico. This brief article, coming from a little bit of experience in Mexico, from some research and from some exchange of information and discussion, attempts to remedy this. It is also a call to discuss and debate.
The movement of San Quintin
On March 17, tens of thousands of day workers (TN: workers hired by the day) rose up in the town of San Quintin (State of Baja California). The strike has lasted for several days. Convened by an alliance of day worker and / or Indian organizations , it saw confrontations between hundreds of farm workers and the forces of oder (diverse police and military bodies) and several offensive actions. The general secretary of the local government described the events of the early days as "a situation of almost total anarchy", with the main road (the "Transpeninsular") blocked for 120 km and the valley of San Quintin practically under the control of the strikers.
The clashes and the road blockade occurred after the authorities' refusal to negotiate demands for improving working and living conditions on the spot ( wage increases, reduced working hours, signed contracts and access to social security, the end of violence against workers and sexual abuse of female workers by supervisors , and – the list goes on). The release of 200 Indian Raramuri (Tarahumara) reduced to conditions of slavery at a nearby operation also contributed towards the mobilisation.
The municipality of San Quintin "hosts" between 60,000 and 80,000 laborers in extreme conditions of poverty. It is part of an area straddling several northern states of the country (Sonora, Sinaloa and Baja California), where hundreds of thousands of migrants coming from the south, especially Oaxaca, are exploited. The products of these gigantic farming operations in which they toil are mainly for export. Their sale is an important part of the wealth of these states, and the land belongs to the families who run them.
While some representatives of the strikers threaten to extend the movement into areas nearby (and perhaps among migrants of US agricultural areas) if negotiations with the institutions fail, thousands of laborers remain mobilized after the demonstrations of strength of recent days.
On Mexico
The current social situation in Mexico is marked by the disappearance of the 43 students of the Normal School of Ayotzinapa (in the state of Guerrero), the result of collusion between the state police and drug trafficking. The Guerrero movement is powerful (with its origins in the armed struggle of the 70s, whose inspiration is Maoist) and conducts almost daily actions to seize the municipalities, and sometimes establish forms of community management (which marks a clear difference with the historical logic of the conquest of power).
The significant skills of organisation and action of these movements (especially peasant and Indian) is embodied in a wide variety of popular organizations, very involved in community management, in the spirit of the historic Zapatism and today influenced by its neo-version . They are also more marked by Leftist tendencies than is generally admitted, and have a long history of political recuperation and tendencies towards authoritarianism , via the traditional authorities of communities in general.
The peasant and indigenous movements are the main actors in the struggles against drug trafficking, with the introduction of "Community Police" in Indian communities (especially in the state of Guerrero), which Power does everything to infiltrate into or to recuperate, and the self-defense militias (especially in the state of Michocán ), outside of these communities, in a much more murky role.
So this represents hundreds of thousands of armed men and women in the country, with an attachment to autonomy vis-à-vis the institutional powers. In general, there are no clear references to a desire for radical change and revolution around the country, outside of the few remaining armed organizations or sections of authoritarian leftists (some significant in terms of numbers): Stalinists, Trotskyists and Leninists.
The trade union movement, since the long hegemonic rule of the PRI (Institutional Revolutionary Party) from 1929 to 1989, is controlled by vertical majority unions, by mafia-type management of sectors of activity which everyone knows about. So strikes are limited. Since the closure in 2009 of the public company Luz y Fuerza del Centro (electricity distribution, whose union included combative tendencies), and a movement among the steelworkers of Arcelor Mittal Port of Lázaro Cárdenas (important economic hub of the narco-state of Michoacán) in 2009, from which the only thing remaining is the CNTE teachers Coordination created by the combative tendencies in the Teachers Union (SNTE) to escape this union's bureaucratic control. This coordination is engaged in most of the Central and Southern States in fairly heavy fights. It encompasses the entire spectrum of leftist authoritarian tendencies, of minorities who are less authoritarian and a combative base.
(This article is deliberately not about antiauthoritarian tendencies and circles in Mexico, which will be later covered by other articles).
Insurgent Sub-Comedian Marcos, March 24th 2015
3.
The Zapatistas
An extract from here (written 2001):
VIVA ZAPATA! – ABAJO MARCOS!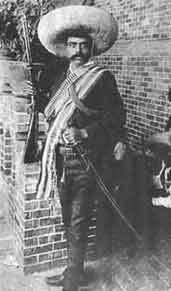 The obvious contradiction glossed over in the anti-globalisation movement is the virtually uncritical eulogising, sometimes masked as positive theorising, of the Zapatistas., when it's been known for 5 years at least that Marcos and co. are another protection racket, more all-embracing than most. Take what an Australian woman said of the '96 encuentros: "… the women doing all the cooking and cleaning, including of toilets, invariably without any footwear (the men had the boots), even after heavy rainfall…Harry Cleaver said "Well, maybe they like it…"…the workshops organised like a bourgeois University – compartmentalised into separate categories like 'Indigenous Culture', 'Politics', 'Economics' etc.…the impossibility of questioning anything openly in the meetings…" She then went on to describe how, when Marcos gave the red carpet treatment to a French journalist who'd just recently slagged off and lied about a wave of strikes in the public sector, a total bourgeois whom Marcos welcomed into his open arms and treated with far greater respect than the vast majority of the French contingent (who, for example, were forced along with lots of others, to endure, without shade, a 2 or 3 hour wait in the scorching shadeless midday sun), the French contingent, the biggest contingent there, revolted a little, and presented Marcos with a letter objecting to this complicity, an insult to the movement in France. A meeting was arranged to discuss this in the middle of the forest at night, in the pouring rain. After some wait, Marcos rode up on horseback with his entourage and, giving a monologue lecture, withdrew the letter from his coat and proceeded to contemptuously read it in a dull monotone (a crude contrast with his normal dramatic poetic style) to the gathering below him, at the end throwing the drenched letter into the mud below, saying "Well, politics forces us sometimes to meet with our enemies", which says how little this movement embodies a critique of politics. At least one of the French critics was woken up in the middle of the night, ordered out of his tent and was confronted by a few armed Zapatistas, who abused him verbally for his lack of submissive respect for his hosts. Coupled with Marcos' star treatment of Mme.Mitterand, an even worse bourgeois scum, this seriously dented the illusions of the less ideological participants in the French contingent. In retrospect, one suspects the armed battles in San Christobal de las Casas in January '94 were in fact bargaining ploys in this political perspective (sacrilege!). Doubtless a future brutal attack by the Mexican State against the population of Chiapas will rejuvenate flagging international support for Marcos and co., and we would certainly feel fury and horror at such a possible brutal development, but the form and content of this nationalist struggle has nothing in common with any independent anti-State activity.
Contradictions of the Assembly Form
   The Zapatistas are hailed by the anarchists and other ideologists of the assembly form for their non-hierarchical form of decision-making. They see what they want to see. The genuine desire for mutual self-determination latches onto a form of organising which is certainly necessary in many circumstances but which usually doesn't go far enough in its refusal of external authority. It ignores the fact that the assembly form has, throughout history, been more than just occasionally compatible with capitalist progress. For example, in Maoist China (the inspiration for the Mexican fore-runners of the Zapatistas, dating from the 70s and 80s) mass self-management within each local commune helped to develop State capital. Significantly, the self- management of local production and distribution was carried out by collective 'non-hierarchical' decision-making but within an externally-defined framework whereby the national comprehension and organisation of this production and distribution was the exclusive, and secret, terrain of the Party (however, some of these projects, such as 'The Great Leap Forward' , were so weirdly ideological that they hardly helped develop State capital, or, for that matter, anything else apart from an atmosphere of utter fatalism). Mao had his central committee, his distant Zapatista heirs have the secret circle of Indian chiefs. Open Democracy for the Masses – Secret Dictatorship for the Elite – the cry, in different forms, of the ruling class everywhere. Politics, like commodity production, is so precious that it should always be attended by a bodyguard of secrets. The defenders of the Zapatistas claim that they are not opportunists, that they have integrity, that they're not Leninist – as if many Bolsheviks before they came to power in 1917 didn't also have integrity and took enormous risks. The point is not that vanguardist manipulators can be defined as purely cynical opportunists (unlike those in Power) but that the logic and practical form of "democracy" allows people to be manipulated – it's mostly based on the resignation of individuals to the limit of externally defined notions of acceptability, to what everyone else says and does. Usually it involves resignation to those who specialise in taking the initiative and to the experts who can put their nebulous feelings into words. The experts in making speeches only express the lowest common denominator of the mass of individuals at the assembly: the different nuances of autonomous self-expression in struggle never get a word in. Especially because of the fear of being ostracised or made fun of, of being humiliated for daring to criticise those who command hierarchical respect. Manipulation falls on the fertile ground of everyone's anxiety of being "incorrect", of making their own mistakes; it falls on the fertile ground of the gang mentality, the corruption of the desire for community.
However, the critique of the assembly form can go too much the other way, dismissing mass decision-making in favour of the 'clarity' of the communist minority. This is the typical line of the Bordigists, for example. That Bordiga, apparently till the end of his life, supported the crushing of the Kronstadt commune is illustrative of how intellectual, abstract and elitist this notion of the 'correct' minority is. Whilst every struggle may have a minority of people who are clearer about the necessary aims of the movement these perspectives have to be argued openly, and a movement should be judged on its practical progress towards these aims, a process over time, not on its failure to spontaneously launch an assault on the totality of commodity relations from the moment of the insurrection, a magical absolutist fantasy that has little practical meaning: an ideology of conversion to an ahistorical truth. Conveniently, the critique of this 'totality' of commodity relations that this intellectual perspective involves excludes a critique of the specialists in consciousness. So much for an assault on the totality. Moreover, it's just as destructive of subversive initiative to submit to the dictatorship of the minority as it is to submit to the dictatorship of the majority.
Other texts about the Zapatistas:
Mexico is not only Chiapas nor is the rebellion in Chiapas merely a Mexican affair  (by the TPTG)
4.
Other texts
5. 
About the CNTE teachers' organisation
( 10th June 2015 )
Questions from SK in South Africa: 
I'd be curious to know why this organisation, which doesn't seem to focus on struggles limited to the interests of a particular sector of workers, groups proletarians on the basis of trade. If its purpose is to coordinate those involved in wider community and even national struggles, which seems to be the case, why not make the membership more inclusive? Or is this, as seems likely, a particularly militant example of 'social movement unionism'? …

If so it might serve as a good contemporary example that demonstrates the strengths and contradictions of this form (particularly in comparison to how it both enabled the development and ultimately contained and diverted the revolutionary movement in SA and the contemporary rise of a new current which wants to revive this tendency with the breakaway Metalworkers union NUMSA — although there was already an even more recent, though smaller scale, precedent in the contradictory role of militant unionism among teachers in the 2006 Oaxaca rebellion).
Answers from Pi in France (who's travelled quite extensively in Mexico):
There are probably various elements to take into accounts to understand the teachers' movement and their involvement in the recent struggles :

-historically, teachers tended to come from middle class leftist families and went to villages and indigenous communities to teach and spread "revolutionary ideas". This kind of changed recently, many teachers coming themselves from indigenous communities. There are, as a matter of fact, very strong disagreements among the teachers of the Coordination in various fields : the content of education (spanish language or indigenous languages), the way they should behave in the communities, their involvement in local struggles (vanguard, simple collaboration, etc.). Education in general is not really criticized, and, to my knowledge, there is no particular promotion of "alternative" educative models. Teachers sometimes even have a basic authoritarian and traditional conception of education, which can be surprising when they're the first to throw molotovs on a regular basis. They also tend to consider their job to be essential (which of course has to do with a

All leftist currents are involved in the CNTE, from marxist-leninists to those promoting local "autonomy". This last influence (zapatism, "comunalidad") is of course very strong. The CNTE is not as democratic as its members say it is. It's just not extremely rigid and completely state-controlled like the SNTE (the vertical union).

-The way Mexico unionism is organized : to make it simple and quick, its model dates back to the institutionalization of the mexican revolution and was inspired by the fascists vertical unions : all workers of a sector belong to its unique union when they get their job. These unions are managed by politicians, extremely hierarchical and corrupted, and tend to make labour struggles impossible.

This is why the objective of "democratizing" is so important in Mexico, and is the idea that prevails (over the idea of revolution of course, when the two are not mixed together). Of course it often leads to creating new structures (there are hundreds in the country) with large adherence, that lack a clear ways of functioning and almost always lead to rapid institutionalization. There's a large history of that, and it could even date back to the era of "caciquismo".

…and now lots of people fight within the CNTE to make it more "democratic".

-The central role of indigenous communities in all these struggles. Labour struggles tend to be weak in the country, with few sectors able to organize collective struggles. It might change in the next months with the Pemex workers that are going to be out of work by thousands, but in general, behind every important struggle are indigenous communities : wether it be Mexico City suburbs (Atenco, San Bartolo Ameyalco), in the recent movement in Baja California, in Oaxaca 2006, in Guerrero.

Basically the "organized" social movement as of now tends to be a blend of the idea of "autonomy" (indigenous communities and various farmers' organizations) and the teachers, who were involved in most of the recent important struggles. They had ties with the SME (Electricity workers union), before this sector was privatized.

-I don't think the members of the CNTE really have the possibility, as of now, to associate with or spread to other sectors, besides communities (of course teachers have close ties with them, which makes it easy).

You're right to point a very "political" way of functioning : it partly comes from the maoist history of the teachers' movement. Teachers were really involved in armed struggle, in Guerrero for example.

However this changed and they're now much more into the heavily-promoted idea of "autonomy". It's interesting in Guerrero for example, where the CNTE kind of leads the MPG (Movimiento Popular Guerrerense), because they don't seem to be interested in seizing power anymore (and they said it various times). But there's also, on the other hand, a distance from the idea of revolution (and when the term is used, it mostly means a "democratization", pretty unclear and ambiguous).

I think the CNTE way of acting developy has in common with Social movement unionism, political demands for better conditions of life, a kind of large discourse focusing on "people". Teachers refer a lot to the "working class"…though they're much more proletarian than their counterparts in most countries, there is of course differences between them and other workers.

Well here is some of what I know for sure about the CNTE. Many elements would need to be much more detailed, as the coordination is extremely contradictory … in Michoacan for example the regional section is under the influence of "narco-politicians", and in many states it's members are not mobilized. Basically when it is, it has to do with communities and the general spirit of struggle in largely indigenous states or areas.
SK in South Africa wrote:
"When you say the CNTE associates with communities, what are the particular ways this works out? Does this involve, for example, students, unemployed, housewives, subsistence farmers? And if so how exactly are these people related to the teachers? Are they more in the role of supporters of the organisation, which makes decisions without them, or do they have some influence on the direction of the CNTE?Or perhaps the organisation itself tends to adopt the role of supporter for independent (indigenous) community struggles. If so how do the teachers relate to the other members of the community within these struggles they support — do they usually take direction from what's already going on, or play a more active role interacting with people and exerting influence through open discussion, or try to assume a leadership position and control struggles in an authoritarian way?

Probably all of the above happens in different places and different times, but I'm trying to get a sense of how things tend to work out in general especially in the most important/popular/intense struggles."
 Pi in France replied:
Mexican teachers have always been at the forefront of social movements, from the 20's at least (a huge number of teachers' organizations existed at this time). When the CNTE was created in the 70's-80's its members were very linked to various farmers' or indigenous organizations,

and since then its most active members are very often those who are bilingual and/or from indigenous backgrounds, and those who worked in communities ruled by local "caciques" (and involved in fighting against it, which was the main issue at that time in the countryside).I would say the CNTE historically tried to gather support for its demands in local communities, and tends to this day to have a kind of vanguard role in the movements. Creating movements and large fronts is definitely a part of its strategy, and its principles (though including references to revolution) are vague enough to leave much room for all kinds of political activity and alliances with leftist organization and groups.

This strategy is mentioned in its Principles. It has to do with "democratizing" society at all levels, and is clear about the part the CNTE should play in that general movement.Of course this then differs in every state…and there's now much influence from zapatism ("lead by obeying", the idea of "popular power", the unity of the social movement, etc.), with all its ambigueties.

The CNTE in Guerrero impulsed the creation of the "Movimiento popular Guerrerense" in that State, which is formed by various farmers' unions or organizations, students and human rights organizations, along with indigenous communities through the CRAC-PC (communitarian police). These are the sectors most involved in alliances with the CNTE as far as I know.

In general, the CNTE tends to support the autonomy processes in indigenous communities.I don't think locals can really participate in the decision processs of the CNTE, but community struggles certainly have an impact on the teacher's strategies (they're often members of these communities, unlike in the past when the "missionary teacher" attitude must have prevailed).

From what I know the CNTE tends to have a central role in the struggles, having to do with the fact that its membership base is huge, and is able to organize things at state levels, sometimes national. Fronts can also be created easily since the CNTE mobilization is almost permanent in these last years, allowing communities (for example) to benefit from it and have their own demands included in large mobilizations.