June 2015
Now with a question and answer afterword about the teacher's organisation – the CNTE (updated 16th June 2015)

ballot boxes and papers burning in Guerrero
the movement against bourgeois democracy,
against the absolute dictatorship of the commodity
See also this: Mexico – a reader
And this Facebook page has lots of information, mainly in Spanish
short video against the elections
7/6/15:
Mexico, Tlapa: 12 minute video giving chronology of events from 1st to 7th June ….ballot boxes burn…election cancelled in Tixtla
"At least three polling stations were prevented from opening after masked protesters and the parents of 43 students allegedly killed by a police-backed drug gang last year seized and burned ballots in Tixtla, Guerrero, canceling the vote in the town of 40,000. "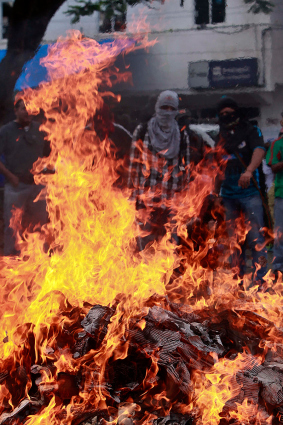 Oaxaca: local mayor shot dead…whilst anti-election movement continues 
"Teachers of Section 22 of the CNTE burnt electoral propaganda during their march against the FONAPAS gas station, as one of its measures of pressure against election day. In the Isthmus of Tehuantepec, they burned ballot boxes… while in Miahuatlán the situation is very tense as the army looks on"
Police forced to retreat in Tlaxiaco, Teotitlán and  Miahuatlán 
"Oaxaca…teachers refused to surrender the premises of INE [building of the electoral board overseeing the elections]…From the moment the Army, Gendarmerie, Federal Police and Navy, entered the state by air, land and sea, teachers from different regions armed themselves with Molotov cocktails, stones and rockets, to confront the national security forces…..Initially the teachers of Section 22 of the CNTE in the region of Tuxtepec… removed all the furniture and set it on fire in the street, and they seized several different gas stations, shops and, by Friday afternoon, they took the hydroelectric facilities of Temascal, a strategic facility for the state that supplies power to the southeast of Mexico….in the Isthmus of Tehuantepec, Juchitan de Zaragoza, a group of 500 education workers from six sectors of Section 22 of the Isthmus of Tehuantepec in Oaxaca, blocked the main entrance to the refinery "Jaime Antonio Dovalí" in Salina Cruz, preventing the exit and entry of Pemex petrol tankers, however, on Saturday the army and the gendarmerie managed to evict the teachers who'd been struggling with federal forces…In the Mixteca region, or more precisely in Huajuapan de Leon, where  the District Board was besieged… they retained control of a gas pipe to reinforce the blockade. …the pipe was occupied as a barricade to prevent the police forcess coming….In Tlaxiaco grenadiers,  evicting the teachers who were in possession of the local board of INE,  had a heavy confrontation with teachers, who were supported by villagers …these, resulted in several federal forces being  seriously …injured… In Miahuatlán …located in the southern highlands, teachers supported by members of the Revolutionary Popular Front RPF fought  elements of the security forces, but also set fire to the premises of the local board of INE, besides burning a truck owned by the same federal electoral institute….In Tlaxiaco, a major contingent  forced the federal police to retreat… setting fire to a vehicle, tires and … prevented the police from returning…. in the district of Pochutla in the Coast region, teachers were holding the gas station, where a group of people armed with stones, machetes and sticks, were evicted,  several teachers being injured in addition to a number gone missing"
Jiutepec, Morelos State: ballot box and election officials burnt 
"According to witnesses, a guy who pretended to come in order to vote threw gasoline on hundreds of ballot papers and at polling officials, then threw a lighter which caused the burning. Both the president of the ballot…. and the officer were taken to a hospital. The man who burned the box was not arrested"
6/6/15:
Mexico, Oaxaca: 6000 teachers mobilize in main square to boycott the elections "Among slogans such as "no to the farce", "to vote is to lie", the event is followed at a distance by army soldiers while helicopters carried the Mexican Air Force overhead in the area." Video here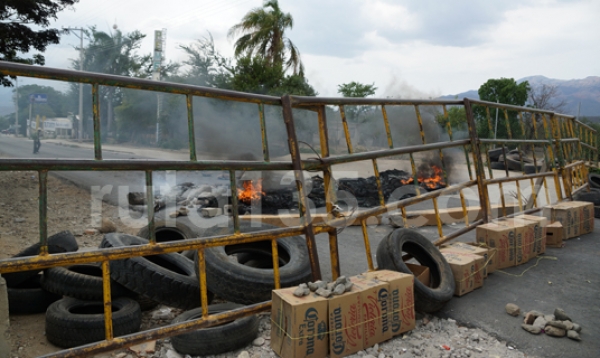 megabarricade in Teotitlan
Teachers  were joined by  locals who came to support them. They  placed two buses,  tires and metal structures across the road. At 1.40 pm about 200 federal agents aboard seven trucks and three buses tried to enter the town but they couldn't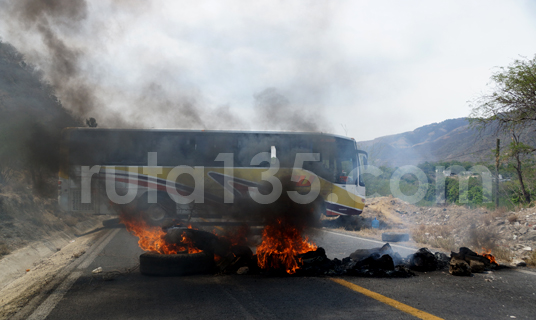 Guerrero: teachers' leader beaten to death by cops (2 other teachers also brutally beaten)
5/6/15:
Mexico, Chiapas: teachers ransack offices of at least 6 political parties, burning papers
Vera Cruz, Xlapa: state forces savagely attack students opposed to elections 
"At about 1 am today, Friday, June 5, 8 students from the Universidad Veracruzana were brutally attacked by a group of hooded thugs and police in tactical vests, with bats, batons and rifles, in a house during a birthday party …Approximately five minutes after they left police patrols arrived to photograph the wounded, some with serious  skull fractures….We hold the government of the state of Veracruz responsible for this campaign of ruthless attacks and criminalization of youth and activists under the electoral process marked by uncertainty and violence generated by the government….Similarly we demand a statement and concrete actions by the rector of the Universidad Veracruzana, Sara Ladron de Guevara, related to the attack. We will not allow a witch hunt."
electoral boycott in Zacatecas (traditionally not one of the most combative)
4/6/15:
Mexico, Oaxaca: movement continues 
"lack of gasoline…led  members of the National Coordination of Education Workers (CNTE) to resort to…theft of vehicles belonging to  government institutions and companies….In addition,  the protesters stole and burned stationery from the  PRI headquarters on Federal Highway 190 …"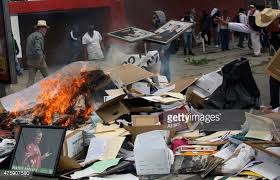 Members of the National Coordinator of Education Workers (CNTE) burn  Institutional Revolutionary Party (PRI) [ie the governing party] documents, as well as  pictures of President Enrique Peña Nieto, on Federal Highway 190
Guerrero: confrontations with cops (video) 
This video says that 60% of the population have said that they won't vote 
3/6/15:
Mexico, Oaxaca: 200 teachers block airport in movement against elections 
"Teachers of the National Coordinator of Education Workers (CNTE) today blocked Oaxaca International Airport as part of its actions to boycott Sunday's election to exert pressure [on the state] to respond to its demands. Having taken  Route 175 leading to the air terminal just after sunrise, about 200 teachers came to the airport installations …After the blockade by the teachers, the airport suspended flights and closed its facilities…Teachers on Monday began an indefinite strike affecting more than one million students seeking to boycott the elections on June 7 and simultaneously press the government to respond to their requests, including….the appearance alive of the 43 students missing in Iguala,  free education, wage increases and the cancellation of the educational reform enacted in 2013, among other things. "…However, teachers announced on Tuesday that, although the government is committed to meeting their demands, they'll continue to boycott the electoral process which they consider a "farce". On Sunday, more than 83 million Mexicans are called to the polls to elect 1,996 officials, including 500 federal deputies and governors of nine states."…More here "… teachers, the National Coordinator of Educational Workers (CNTE)…occupied 11 electoral offices, oil company Pemex's facilities and several commercial installations"
Guerrero: clash between Normalista School and cops – 10 cops injured Video in English here
Tixtla under state of siege as state aims to occupy the Ayotzinapa  School 
"The head of the Mexican National Electoral Institute, Lorenzo Cordova, admitted that actions in support of the election boycott in the state of Oaxaca have made it impossible for the institute to conduct its work in that state."
2/6/15:
Mexico, Chiapas:  teachers take over 14 gas stations, start distributing free gas; set fire to law library in the House of Culture,  also burn Institute of Elections and Citizen Participation…Nayarit: general assembly of Council of the United Communities announce their refusal to allow the general elections of June 7th to be held in 4 villages…Guerrero: at least 17 armoured vehicles sent to Chilapa to prevent opposition to elections
1/6/15:
Mexico, Vera Cruz: molotov cocktails burn electoral building…
Teachers take over election board offices in Cordoba, Coatzacalcos and Orizaba in  Veracruz…
Oaxaca: despite army protection, 18 ballot boxes are burnt in anti-election movement initiated by teachers' organisation (in Juchitan) (more here, mentioning Tehuantepec, another town in Oaxaca state)…and this talks of teachers expelling soldiers from electoral building and the theft of a van carrying electoral packages in Gorge…
Puebla: 6 days before election, molotovs thrown at National Electoral Institute, the Secretariat of the Economy and the  Urban Network of  Articulated Transport…
This report resumes some of the events, which include the  "temporary" closure of 9 of the 11 electoral boards of Oaxaca; the assassination of several candidates and a possible boycott of the election in some states, especially Oaxaca, Guerrero and Michoacan; that in the Yucatan town of Peto there was a clash between rank and file members  of the National Action Party (PAN) and a group attacking them that left a toll of two dead and at least six injured; that in Tehuantepec members of the teachers organisation set fire to the premises of the District Board 05; that in Guerrero 3 radio stations were taken over and  broadcasters were forced to transmit a message from the Normalista School about the 43 disappeared students and a critique of the electoral process; that in Michoacan a car carrying the state president of the Social Encounter Party (PES), and his chauffeur was fired upon, though they were unharmed; and that in order to ensure the security and peaceful (ho ho) development of the elections of June 7, more than 12 thousand members of the Mexican Army, the Navy of Mexico and the Attorney General's Office have already been deployed.
Afterword about the CNTE teachers' organisation
(added 10/6/15)
Questions from SK in South Africa: 
I'd be curious to know why this organisation, which doesn't seem to focus on struggles limited to the interests of a particular sector of workers, groups proletarians on the basis of trade. If its purpose is to coordinate those involved in wider community and even national struggles, which seems to be the case, why not make the membership more inclusive? Or is this, as seems likely, a particularly militant example of 'social movement unionism'? …

If so it might serve as a good contemporary example that demonstrates the strengths and contradictions of this form (particularly in comparison to how it both enabled the development and ultimately contained and diverted the revolutionary movement in SA and the contemporary rise of a new current which wants to revive this tendency with the breakaway Metalworkers union NUMSA — although there was already an even more recent, though smaller scale, precedent in the contradictory role of militant unionism among teachers in the 2006 Oaxaca rebellion).
Answers from Pi in France (who's travelled quite extensively over a good period of time in Mexico, speaks good Spanish and has a few contacts there):
There are probably various elements to take into accounts to understand the teachers' movement and their involvement in the recent struggles :

-historically, teachers tended to come from middle class leftist families and went to villages and indigenous communities to teach and spread "revolutionary ideas". This kind of changed recently, many teachers coming themselves from indigenous communities. There are, as a matter of fact, very strong disagreements among the teachers of the Coordination in various fields : the content of education (spanish language or indigenous languages), the way they should behave in the communities, their involvement in local struggles (vanguard, simple collaboration, etc.). Education in general is not really criticized, and, to my knowledge, there is no particular promotion of "alternative" educative models. Teachers sometimes even have a basic authoritarian and traditional conception of education, which can be surprising when they're the first to throw molotovs on a regular basis. They also tend to consider their job to be essential (which of course has to do with a

All leftist currents are involved in the CNTE, from marxist-leninists to those promoting local "autonomy". This last influence (zapatism, "comunalidad") is of course very strong. The CNTE is not as democratic as its members say it is. It's just not extremely rigid and completely state-controlled like the SNTE (the vertical union).

-The way Mexico unionism is organized : to make it simple and quick, its model dates back to the institutionalization of the mexican revolution and was inspired by the fascists vertical unions : all workers of a sector belong to its unique union when they get their job. These unions are managed by politicians, extremely hierarchical and corrupted, and tend to make labour struggles impossible.

This is why the objective of "democratizing" is so important in Mexico, and is the idea that prevails (over the idea of revolution of course, when the two are not mixed together). Of course it often leads to creating new structures (there are hundreds in the country) with large adherence, that lack a clear ways of functioning and almost always lead to rapid institutionalization. There's a large history of that, and it could even date back to the era of "caciquismo".

…and now lots of people fight within the CNTE to make it more "democratic".

-The central role of indigenous communities in all these struggles. Labour struggles tend to be weak in the country, with few sectors able to organize collective struggles. It might change in the next months with the Pemex workers that are going to be out of work by thousands, but in general, behind every important struggle are indigenous communities : wether it be Mexico City suburbs (Atenco, San Bartolo Ameyalco), in the recent movement in Baja California, in Oaxaca 2006, in Guerrero.

Basically the "organized" social movement as of now tends to be a blend of the idea of "autonomy" (indigenous communities and various farmers' organizations) and the teachers, who were involved in most of the recent important struggles. They had ties with the SME (Electricity workers union), before this sector was privatized.

-I don't think the members of the CNTE really have the possibility, as of now, to associate with or spread to other sectors, besides communities (of course teachers have close ties with them, which makes it easy).

You're right to point a very "political" way of functioning : it partly comes from the maoist history of the teachers' movement. Teachers were really involved in armed struggle, in Guerrero for example.

However this changed and they're now much more into the heavily-promoted idea of "autonomy". It's interesting in Guerrero for example, where the CNTE kind of leads the MPG (Movimiento Popular Guerrerense), because they don't seem to be interested in seizing power anymore (and they said it various times). But there's also, on the other hand, a distance from the idea of revolution (and when the term is used, it mostly means a "democratization", pretty unclear and ambiguous).

I think the CNTE way of acting developy has in common with Social movement unionism, political demands for better conditions of life, a kind of large discourse focusing on "people". Teachers refer a lot to the "working class"…though they're much more proletarian than their counterparts in most countries, there is of course differences between them and other workers.

Well here is some of what I know for sure about the CNTE. Many elements would need to be much more detailed, as the coordination is extremely contradictory … in Michoacan for example the regional section is under the influence of "narco-politicians", and in many states it's members are not mobilized. Basically when it is, it has to do with communities and the general spirit of struggle in largely indigenous states or areas.
SK in South Africa wrote:
"When you say the CNTE associates with communities, what are the particular ways this works out? Does this involve, for example, students, unemployed, housewives, subsistence farmers? And if so how exactly are these people related to the teachers? Are they more in the role of supporters of the organisation, which makes decisions without them, or do they have some influence on the direction of the CNTE?Or perhaps the organisation itself tends to adopt the role of supporter for independent (indigenous) community struggles. If so how do the teachers relate to the other members of the community within these struggles they support — do they usually take direction from what's already going on, or play a more active role interacting with people and exerting influence through open discussion, or try to assume a leadership position and control struggles in an authoritarian way?

Probably all of the above happens in different places and different times, but I'm trying to get a sense of how things tend to work out in general especially in the most important/popular/intense struggles."
 Pi in France replied:
Mexican teachers have always been at the forefront of social movements, from the 20's at least (a huge number of teachers' organizations existed at this time). When the CNTE was created in the 70's-80's its members were very linked to various farmers' or indigenous organizations,

and since then its most active members are very often those who are bilingual and/or from indigenous backgrounds, and those who worked in communities ruled by local "caciques" (and involved in fighting against it, which was the main issue at that time in the countryside).

I would say the CNTE historically tried to gather support for its demands in local communities, and tends to this day to have a kind of vanguard role in the movements. Creating movements and large fronts is definitely a part of its strategy, and its principles (though including references to revolution) are vague enough to leave much room for all kinds of political activity and alliances with leftist organization and groups.

This strategy is mentioned in its Principles. It has to do with "democratizing" society at all levels, and is clear about the part the CNTE should play in that general movement.

Of course this then differs in every state…and there's now much influence from zapatism ("lead by obeying", the idea of "popular power", the unity of the social movement, etc.), with all its ambigueties.

The CNTE in Guerrero impulsed the creation of the "Movimiento popular Guerrerense" in that State, which is formed by various farmers' unions or organizations, students and human rights organizations, along with indigenous communities through the CRAC-PC (communitarian police). These are the sectors most involved in alliances with the CNTE as far as I know.

In general, the CNTE tends to support the autonomy processes in indigenous communities.

I don't think locals can really participate in the decision processs of the CNTE, but community struggles certainly have an impact on the teacher's strategies (they're often members of these communities, unlike in the past when the "missionary teacher" attitude must have prevailed).

From what I know the CNTE tends to have a central role in the struggles, having to do with the fact that its membership base is huge, and is able to organize things at state levels, sometimes national. Fronts can also be created easily since the CNTE mobilization is almost permanent in these last years, allowing communities (for example) to benefit from it and have their own demands included in large mobilizations.