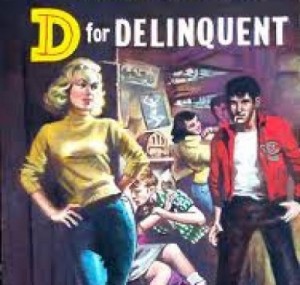 Report on the Crimethinc site on the 1st anniversary of the uprising
Introduction followed by the latest reports of the social movement (including the transcript of part of this podcast), which is followed by a text from the 1980s critiquing all those Lefties supporting Sandinista state capitalism.
Originally published on April 25th 2018, this page has been re-organised (June 11th 2018) to report the latest information immediately following this introduction.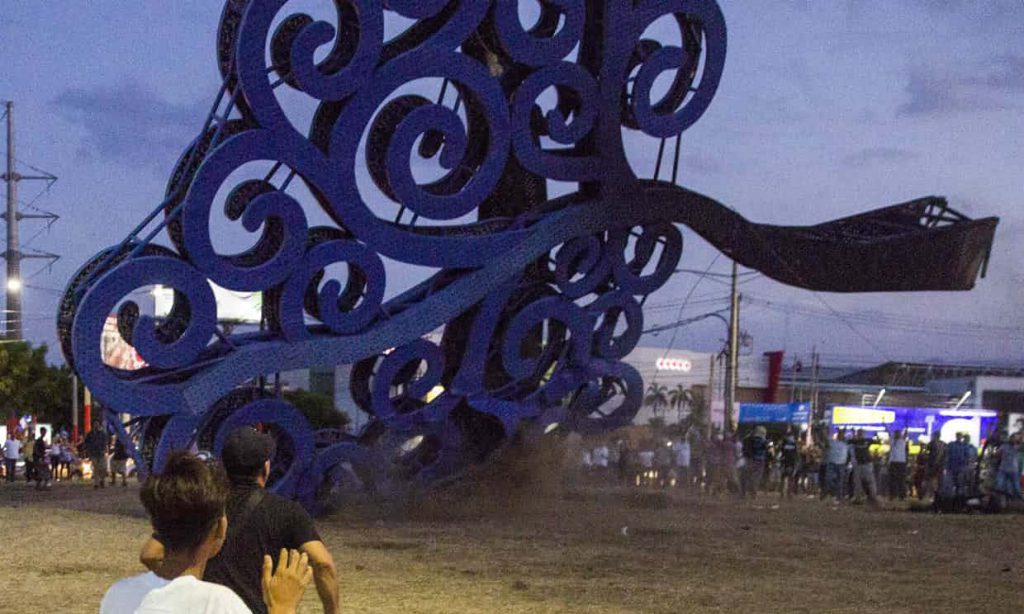 Nicaraguans affirm true life against the mere artistic representation of life: the pulling down, on 22nd April 2018, of one of the Tree of Life sculptures erected in the capital by the vice-president, Rosario Murillo, Ortega's wife.
(video and Spanish language article here)
"Murillo's metal tree reforestation project has been received with little enthusiasm from the public. Local media estimate that the trees have cost Nicaragua – the poorest country in the Western Hemisphere after Haiti – upwards of $3.3 million to construct and an additional $1.1 million annually in electricity bills. The trees have been springing up around Managua for three years now, and more are under construction. The behemoths have taken over virtually every public park and monument. A cluster of trees surrounds a gaudily painted tribute to the late Venezuelan leader Hugo Chávez on the city's main thoroughfare…As the official government spokeswoman, Murillo writes the lyrics for campaign songs and sets the official Sandinista dress code. Every day at noon, her breathy voice careens across the national airways with messages of peace, love and fraternity…."They keep cutting down all of our real trees to put up metal ones," my taxi driver said as we pulled off the highway. "They cut down our forest and built their own." – 30/11/15, here
Reports from 2018
23/9/18:
Nicaragua, Managua: 16-year-old killed by pro-Sandinista forces on anti-government demo More here
15/9/18:
Nicaragua, Managua: 2 people wounded by pro-government forces on peaceful anti-government demo
7/9/18:
Nicaragua: nationwide general strike called for today
2/9/18:
Nicaragua, Managua: cop vehicle destroyed as clashes erupt following Sandinista murder of 2 protesters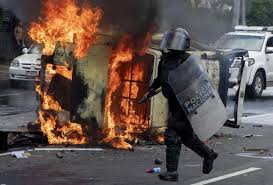 19/8/18:
Nicaragua, Masaya: march against government attacked by Sandinistas
17/8/18:
Lefty-liberal report with some interesting facts "The spark for the opposition movement was, ironically, a fire. Reflecting on the early days of the resistance, Santos Méndez, an engineering student at Managua's Universidad Centroamérica (UCA), said: "At the beginning of April, news spread rapidly of a fire in the Indio Maíz Biological Reserve.… It was the delay in response from the government, little information about the situation, and the rejection of international aid to extinguish the flames that caused UCA's environmental conscience to surface." Indio Maíz is home to indigenous and Afro-descendant Rama-Kriol communities, making the government's neglect reek of environmental racism…As outrage over the fire grew, the government announced unexpected reforms to raise social-security taxes and reduce benefits. "The Nicaraguan population woke up when the 'solidarity government' made a reform to social security…[that] would obligate pensioners to pay 5 percent to the INSS [Nicaraguan Social Security Institute]," Méndez explained. The sudden change that sought to fund the INSS is symptomatic of what Perez called the Ortega regime's "clientilism," which lies at the heart of popular dissatisfaction. Regardless of what drew them to the protest, Perez said, most dissenters agree that access to the public goods provided by Nicaragua's self-proclaimed socialist government is unequal, determined on the basis of party loyalty rather than mere Nicaraguan citizenship. "The party [is] intervening in what should be neutral," he said. "One of the biggest critiques of Orteguismo is that Ortega co-opted all these public goods." He refers to the party as Orteguista, rather than Sandinista, a linguistic distinction that has become a common indicator of Ortega's divorce from the FSLN's founding values. Where the Sandinista Front was established as socialist, the Ortega government has privatized Nicaraguan industries and made welfare services contingent upon party allegiance. "They'll give you a pig for free, but you have to sign a document saying you're pro-government," Perez said, making reference to a government program called Hambre Cero, or zero hunger, which claims to have ending food insecurity as its goal. Public hospitals are similarly exclusive; amid recent unrest, doctors have been fired for treating injured resistors. And at public universities, professors are prohibited from criticizing the government in the classroom. The latter reality led a to key demand of the student movement: educational autonomy, which according to Perez, means "free, public, quality education without the intervention of the party."
14/8/18:
State uses budget cuts to punish the poor for daring to challenge it

3/8/18:
Death toll rises to 270…state defines all forms of practical opposition as terrorism

22/7/18:
Nicaragua, Jinotega: 3 dead in further clashes
17/7/18:
Nicaragua, Masaya: at least 3 dead as Sandinista forces re-take proletarian neighbourhood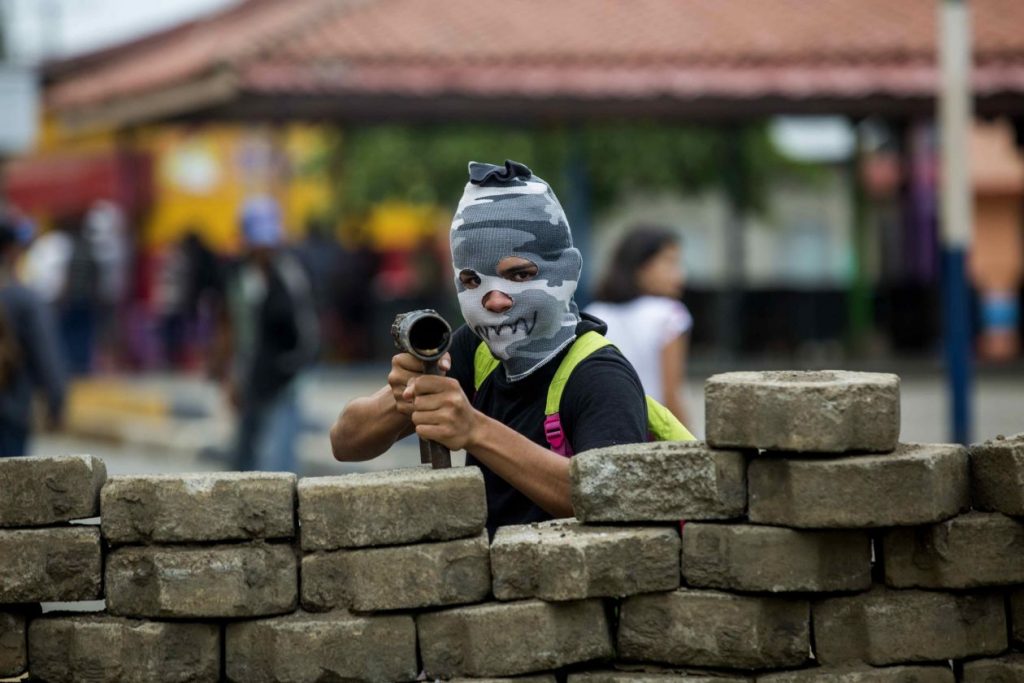 Monimbo, Masaya: smile at the camera
(the aestheticisation of a deeply lived  desperation)
14/7/18:
Nicaragua, South-East: capitalist law & disorder being restored
13/7/18:
Nicaragua: general strike; student killed in capital…Masaya: 1 cop dead "During the confrontation two people lost their lives. Unofficially it is known that one is a policeman and the other a civilian….A group of people who were in the Divine Misericordia Church… denounced the fact that they were being attacked by armed civilians [ie state or Sandinista-supporting forces in plain clothes]and that they were not allowed to leave. In images shared on social networks, people were observed locked in the church and asking for help….The Archdiocese of Granada reported that at the time of the celebration of the Mass in La Merced church, a mortar was intentionally thrown from the street when a demonstration by groups related to the Government passed through the sector. …The students who are in UNAN have been attacked since this Friday afternoon, several  young people have been injured and taken to the hospital. It is also reported that the attackers have set fire to parts of the university campus."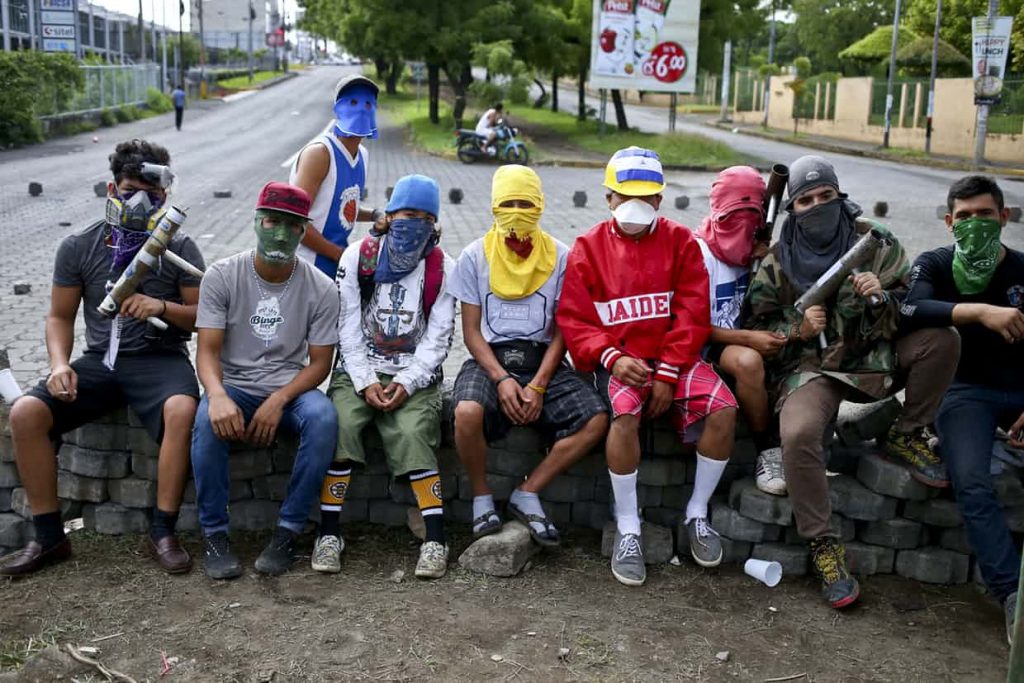 Pretty photo of an ugly situation (which is world-wide)
8/7/18:
Nicaragua, Carazo: at least 14 dead, including at least 4 of our uniformed enemies, as the state dismantles barricades…this claims 20 are dead
5/7/18:
Nicaragua, Sutiaba: 3 die as state removes barricades
30/6/18:
Nicaragua, Managua: several people wounded in new clashes as demos spread throughout country…This says 1 killed "The first attack happened at 9:30 in the morning in the vicinity of the National Autonomous University (UNAN-Managua), taken by students for weeks. Two police patrols opened fire on the barricade located near the entrance to the Lomas de Monserrat district…The socio-political crisis leaves more than 212 dead in Nicaragua, according to the CPDH. Although organizations such as the Nicaraguan Association for Human Rights (ANPDH) indicate 286 murdered." Other reports say that 2 were killed; certainly 2 have been reported as brain dead.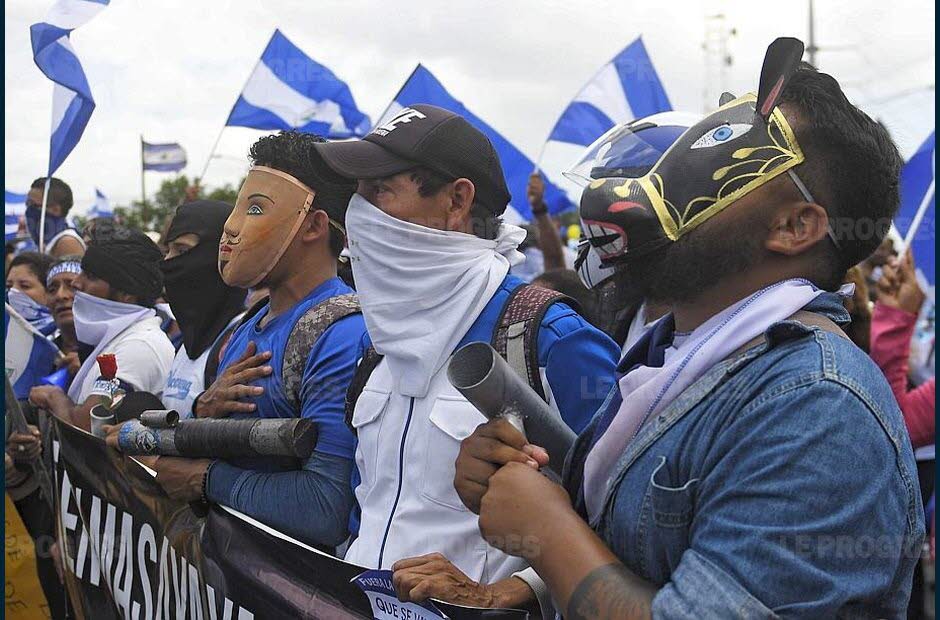 Sadly, for the moment, no internationalist perspective here
21/6/18:
Nicaragua, Masaya: further clashes Church sends in bishops, as if proletarians in this city haven't suffered  enough.

20/6/18:
Nicaragua, Masaya: resistance to state continues, as locals set up new barricades throughout city…Monimbó neighbourhood resist state attack
19/6/18:
Nicaragua, Masaya: at least 5 dead as state begins to re-take the town "Shooting at will, riot police and paramilitary forces took control of part of the City of Masaya, to the east of Nicaragua's capital on Tuesday, after they broke down roadblocks, which had been set up by civilian protesters…Government's forces also rescued the city's Police Chief, Ramon Avellan, held up at the police station, which protesters had surrounded for nearly a month. Masaya, a city located 25 km to the east of Managua, had been under residents' control, protesting against President Daniel Ortega and demanding his resignation ever since April 18th…The latest violence comes two months after a civic rebellion against Ortega broke out on April 18th, which has left an estimated 215 fatalities and over 1400 people injured" More here "The city of Masaya, 30 km southeast of Managua and 100,000 inhabitants, declared itself in rebellion on Monday to demand that the president of Nicaragua, Daniel Ortega, and his wife and vice president Rosario Murillo abandon their power.…As a result of the state attack, the police delegation of Masaya managed to be resupplied with arms and food, after a month of being isolated, because the population kept it under siege."  It seems, from this distance, naively tolerant to have kept the police under siege and then declare a kind of independence from the official state without seizing the police station and getting rid of the cops inside, or locking them up.
17/6/18:
Nicaragua, Managua: phoney truce shattered as cops set fire to house, killing 8, following refusal of occupants to allow state snipers on their roof "Local television showed images of firemen carrying two soot-streaked toddlers in diapers from the burning building. "This is a massacre. A barbarity. These police surrounded the house and burned it after my nephew refused to let them put snipers on the roof," Jose Maria Hernandez, 63, uncle of the building's owner who died in the blaze, told Reuters outside the smoking wreckage." …President of Agricultural Workers Union participates in talks with these mass murderers… State propaganda here "Nicaragua is calling for peace, said Nicarguan Vice President, Rosario Murillo, condemning the acts of terrorism and violence that caused eight deaths in this capital. 'We had never seen so much monstrosity, so much profanation of our faith and Christian practices,' referred Murillo, while she was lamenting the death of six people, including two children, in a fire, and the murder of two citizens by criminal groups. According to Murillo, these terrorist practices, of disrespect for the human condition, are intended to intimidate, hit, panicize the population, and in this case in particular, the Sandinistas. 'A disaster caused according to those sinister, malevolent, perverse plans that not only provoke tragedies, pains, crimes, suffering, pains, tragedies, crimes and the suffering that they have caused,' she said. It is totally perverse, abominable, causing pain, crime, aberration, and then, accusing. 'How much impudence and how much evil,' she denounced." – vice-president Murillo looking in the mirror.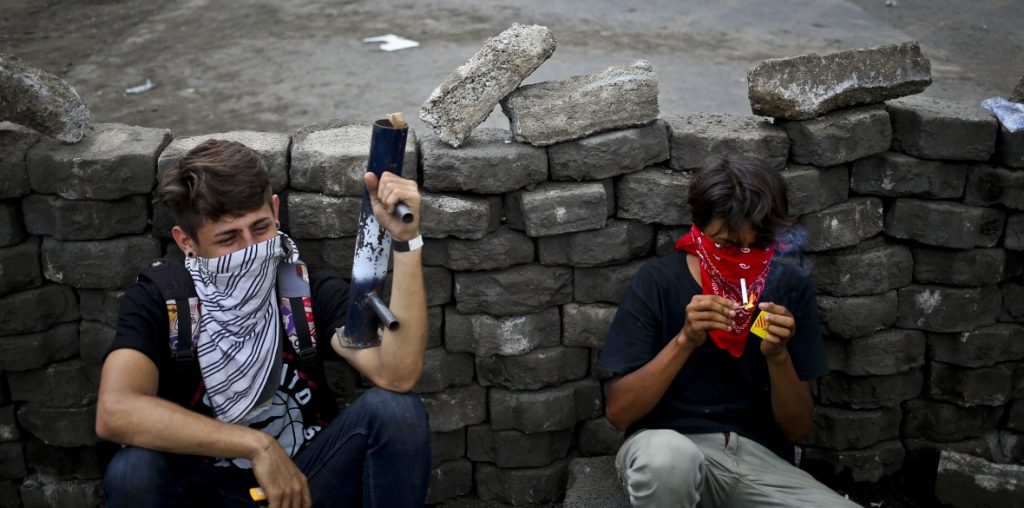 totally perverse, abominable,  pain-causing,  abberant, impudent, evil criminals
14/6/18:
Nicaragua: official opposition try to recuperate movement with general strike supported by businesses & the church, amongst others More here "New deadly violence erupted Thursday in Nicaragua, paralyzed throughout the day by a general strike, bringing to more than 160 the number of dead since the beginning of the wave of protest against the president Daniel Ortega, harshly repressed by the regime. At least four people – including a 15-year-old – have been shot dead in recent hours by riot police and paramilitary pro-government militias against barricades erected by protesters…"For me, what is happening is a civil war," said a student leader dubbed "El Gato" (The Cat)" More here in English "Despite the 24-hour work stoppage that gave the capital Managua the air of a ghost town, fierce unrest in other areas persisted, leaving at least four dead during pro-government attacks on activists guarding barricades. Managua's auxiliary bishop Silvio Jose Baez reported that a 15-year-old altar boy from the country's second largest city Leon died after a paramilitary's bullet struck him in the chest. "God welcomes (him) to the altar of heaven," the bishop tweeted. He also warned of riot police indiscriminately shooting in the streets of Nindiri, a city 20 kilometers (12 miles) southeast of Managua. The Nicaraguan Center for Human Rights (CENIDH) raised to 162 the death toll from two months of sociopolitical upheaval…Amid the confrontations that saw a bus set alight, hundreds of women took to the streets banging on "cazuela" clay pots, waving handkerchiefs and shouting at aggressors to "go away" — a tactic that ultimately worked, according to local footage…The country was otherwise closed for the strike slated to end at midnight, the streets desolate and shops, banks and eateries locked shut….Activists have erected blockades on more than two-thirds of the country's roads in a bid to fend off Ortega-backed forces." The Church up till recently has consistently supported Ortega, especially when abortion for whatever reason was outlawed in 2006 (also supported by the opposition parties now vying for control over the management of misery). After all, what does it matter if a woman gives birth to a child despite her desire not to have one? – such a child may well eventually be welcomed by God, the Supreme Justification for the State,  to "the altars of heaven" having been forcibly sacrificed despite  the fact that God's son had already died for his sins. The duty of womankind is to provide God and the State with its army of cannon-fodder. And the meek shall inherit the earth under which they're buried. The Church, having initially broken off talks with Ortega, has returned to them – after all, challenging one form of hierarchical Order could end up with other forms, such as that of the Church, being threatened. What's sad is that those who are now taking enormous risks against the State still seem to think that merely changing the personnel of the State is going to somehow allow them to determine their lives, despite the fact that 40 years ago or so changing from a right-wing state to a left-wing one hasn't helped them determine their lives at all. As is well-known, insanity is doing the same thing over and over again and expecting different results.

11/6/18:
Nicaragua, Managua: at least 4 barricaded popular areas invaded by heavily armed cops "The assault began at dawn with a simultaneous operation in El Edén, Larreynaga, Costa Rica and Ducualí, where police and civilians armed with AK-47 rifles raided homes, shooting people. "The police entered in vans and on foot firing at those who were in the barricades on the El Paraisito bridge and behind them came the 'mobs' (paramilitaries) smashing the barricades," a neighbor told a dpa agency. "People had erected barricades with paving stones to stop the nightly harassment by the paramilitaries who move in trucks," … hours earlier, in Las Maderas, some 50 kilometers north of Managua, the National Police and the "para-police" forces attacked peasants who were blocking the road  in protest against Ortega. In that place at least two dead and five wounded were reported,…Violence in Managua preceded violent riots on Sunday night around Chinandega (northwest), Boaco (center) and Sébaco (north), where police and paramilitaries attacked demonstrators who had placed "barricades" (roadblocks). ). In Boaco, protesters reported skin burns when sprayed with an unknown acid by government-affiliated groups on Sunday night." …Milukuku: 2 cops killed, 1 kidnapped in assault on cop station More here "The blockade of almost 70% of the roads seeks to protect the cities from attacks by paramilitary groups and to pressure the government to agree to negotiate an agenda to democratize the country…Some 6,000 cargo vans from Central American countries that were in transit through Nicaragua were trapped with merchandise on the country's roads…The operation against the blockades began early Monday morning in the capital, where villagers placed barricades of paving stones to protect themselves from paramilitaries who move in trucks and fire at night at everything that moves….The American airline American Airlines canceled its flights to Nicaragua scheduled for Monday and Tuesday for security reasons due to "civil unrest"…In Leon, 90 km northwest of Managua, civic groups called for a work and school stoppage for 24 hours in response to the government's repressive escalation….Between Thursday and Sunday, six people were reported dead in Managua, Masaya, Sébaco, Jinotega and Mulukuku (northern Caribbean region) during attacks by irregulars and anti-riot forces on positions of entrenched settlers"
10/6/18:
Nicaragua, Leon: 3 cops sequestrated by locals are freed
9/6/18:
Nicaragua, Masaya: pro-government sniper killed during clashes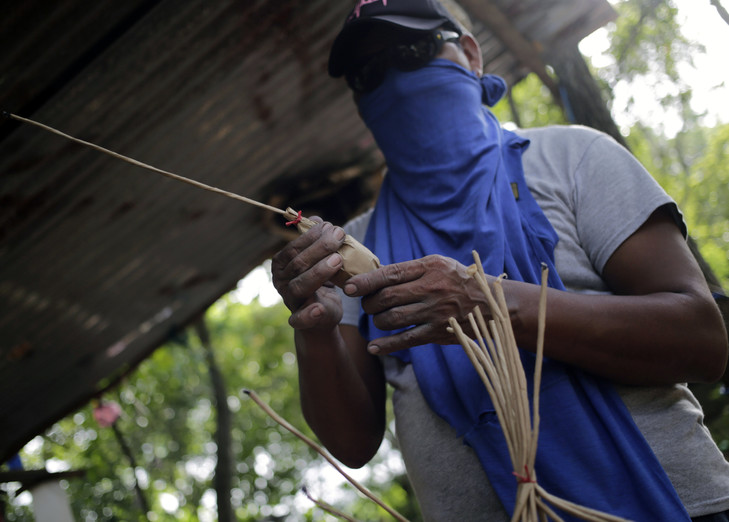 A man holds a homemade mortar shell used by anti-government insurgents in Masaya

"No smoking" signs are everywhere in this wooded area near Masaya, a town in western Nicaragua that has become the epicenter of violence in recent days. But it is not tobacco that is problematic: the area contains all the explosives needed to make homemade mortars. The demand for these shells tinkered on an improvised bench corner has increased sharply in recent weeks. They are now the favorite weapon of demonstrators fighting the riot police of President Daniel Ortega's regime…In a small clandestine workshop in the open air, a man wearing sunglasses, his face covered with a blue cloth not to be identified, mixes by hand the necessary ingredients: potassium chlorate associated with carbon, sulfur , aluminum and some sand to give weight. He pours the mixture into a tube of artisinal paper, adds a stiff wick and knots the whole thing with a red cord…From his small factory that he nicknamed "The artisans of Monimbo" – the name of the Masaya district at the forefront of the rebellion against the dictatorship of Anastasio Somoza, which in 1979 brought Daniel Ortega to power and whose inhabitants have risen against this Sandinista leader – he explains that these weapons are used for protest and self-defense, adding that they "do not cause lethal wounds. It's a way to protect ourselves during this fight," he argues.…Alvaro Torres, a mechanic in Masaya, makes the launchers with tubes and military equipment, assisted by his neighbors. The whole district is mobilized "to prevent the massacre of  people," he says. "This is obviously artisanal – but it works to repel the enemy," said the 47-year-old, saying that making these mortars – which takes him about an hour each – is vital "to be prepared."  These weapons aim above all to frighten; once fired, the shells explode almost instantly, causing a loud explosion and an impressive cloud of smoke. A mortar shell that reaches its target can hurt, recognizes a 20-year-old activist nicknamed "The Fox", but the goal is mostly to push government forces away from the barricades in the streets by the protesters. A mortar wound will cause "just a burn or sore but it's not deadly," he says. For this resident of Masaya, protesters are in any case engaged in an asymmetrical battle because "the police are armed with Kalashnikovs" and "they are the only ones to have access to weapons. People repel them with stones, Molotov cocktails or mortars, these are the only things we can use to beat them." …The dozen mortar shells are trading between 400 and 450 cordobas (12 to 14 dollars), but prices are on the rise because the government has imposed restrictions on the sale of powder.  As for the companies that market the chemicals necessary for the preparation of ammunition, they are now closed, complicating the task of manufacturers, says the founder of "Artisans de Monimbo".  But it will continue, he says, because mortars help keep security forces at bay and help protesters achieve their goal: "peace in Nicaragua, not war." The mechanic Alvaro Torres is of the same opinion. "In the end, I think everyone will have to arm themselves," he says. To achieve a simple goal: To keep defending ourselves until everything stops." – here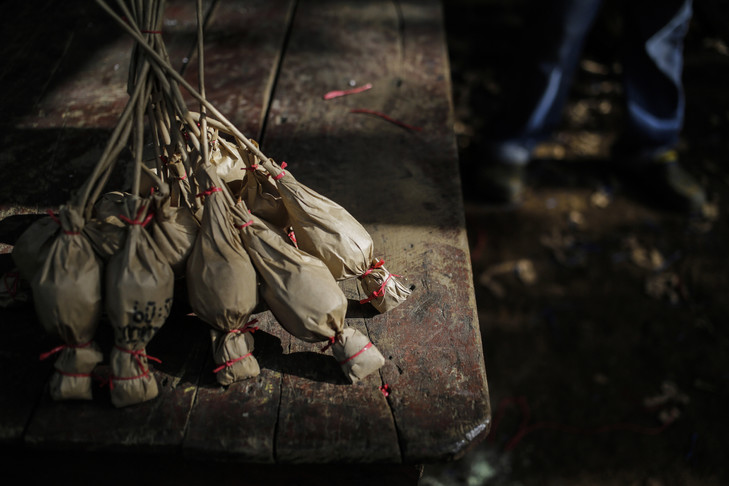 Before: mortar bombs, Masaya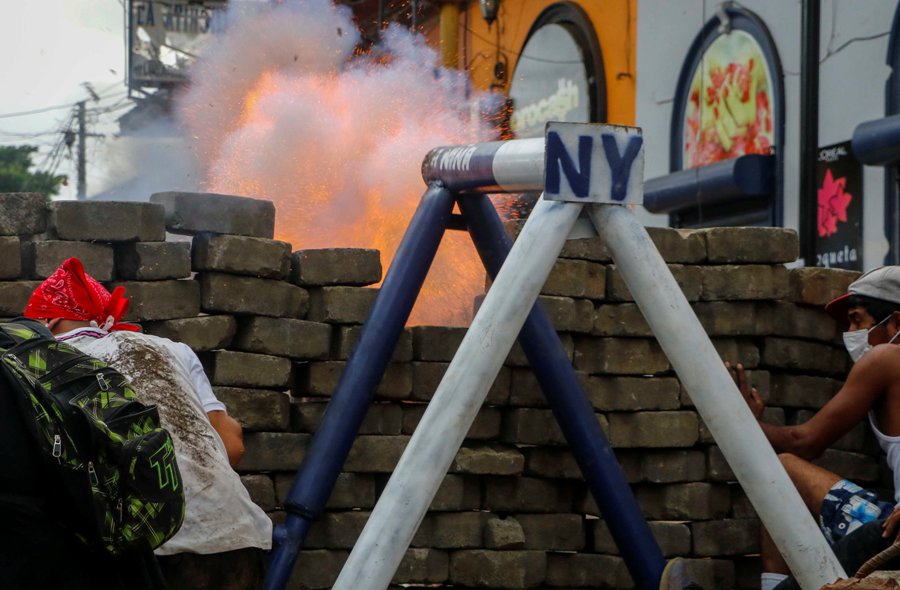 After: mortar bombs, Masaya
Below: facilities of the Ministry of Agriculture and Forestry (Magfor) in  Jinotega torched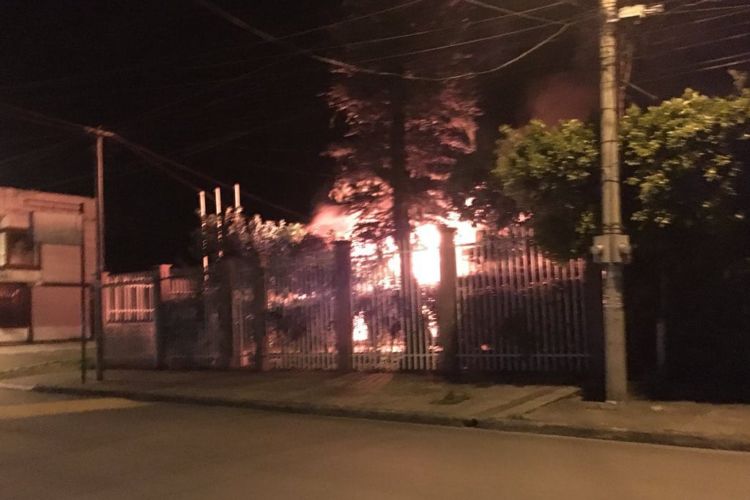 8/6/18:
Nicaragua, Jinotega: 12-year-old shot dead by Sandinistas as barricades continue to spread  "The calm experienced in Jinotega broke down at eight o'clock on Friday night, minutes after the bishop Monsignor Carlos Enrique Herrera managed to get the leaders of the barricades in the city to commit themselves  to not continue building more barricades and to maintain the peace….When Monsignor Herrera returned to the episcopal palace of the cathedral jinotegana, paramilitary groups opened fire on those who were on the barricades and merchants  taking care of their businesses…Archbishop Herrera said that before the calls for help he communicated by telephone with the Sandinista mayor Leonidas Centeno and with the police chief…to help the wounded, and to deliver  the body of the 12-year-old boy Abraham Antonio Castro Jarquín, who died of a bullet impact, to his parents"
6/6/18:
Nicaragua, Masaya: youth killed on 4th day of total blockading of town by insurgent youth "Entering Masaya is practically impossible. All the streets of Masaya have barriers, which are being surveilled by the inhabitants of the neighborhoods – they are well organized. These have been made since last Sunday, since people became tired of these (of the mobs) coming to kill people, looting businesses and setting fire to businesses and houses… until yesterday there was no shortage of basic grains or perishables in the shopping center, since the small producers of districts near the center of Masaya continued to take their products to the municipal market" More here and here in English "Dozens of barricades, cobbled together with tree trunks, concrete paving stones, metal signs and nail-studded planks, block the path into the heart of what was once a bustling tourist town famed for its artisan market. Mortar-wielding combatientes stop, question and search passersby. Stencil artists have set upon homes and businesses with spray cans to pour more scorn on their president. "Go to hell Daniel, you murderer," is one recurring motif. Meanwhile, perhaps 50 police officers are said to be pinned down inside a local station. "We have no more law," said Father Edwin Román, a local priest"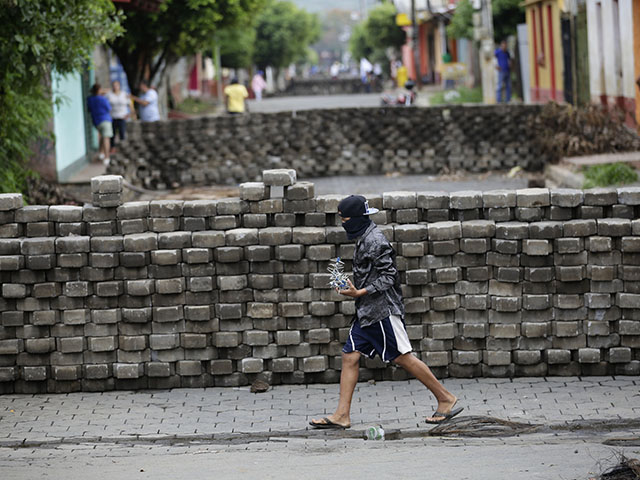 4/6/18:
Report saying that, despite movement emanating "mainly from the left of the political spectrum", the US state inevitably wants to profit from it This Russian state-backed journocop says that the US is behind it, despite all the evidence that it is primarily an autonomous movement.

2/6/18:
Nicaragua: at least 6 dead as Masaya, La Concepción and Diría experience street confrontations with the state
30/5/18:
Nicaragua, Managua: 2 Sandinista youth members killed by hooded men; 20 protesters wounded, 1 dead in Esteli; Ortega's business and church support begins to crumble "…clashes took place near the Sandinista rally site. This is where the opposition chose to end a march that was led by dozens of women dressed in black and carrying pictures of their children killed during the crackdown on anti-government protests. "Neither forgive nor forget – justice and punishment," chanted the protesters. In the evening, the authorities and the opposition accused each other of violence. According to the mayor of the locality of Esteli, about 130 kilometers north of Managua, while sympathizers of Sandinism were going to the capital to participate in a rally, clashes occurred at a roadblock. There was one dead and 20 wounded, said the mayor. Meanwhile, police said at least two people were killed and a dozen injured in Managua when supporters of President Ortega were attacked by unidentified gunmen. According to the deputy director of the National Police, Francisco Diaz, "hooded individuals attacked with guns" people who participated in a rally to support the government. Two members of the ruling Sandinista youth movement have been killed and around 10 people wounded, according to the police chief…."Massacre! Guns are fired against peaceful protesters, "Silvio Baez, Auxiliary Bishop of Managua, wrote on social media. Opposition protesters fled to the headquarters of the Central American University (UCA) and Managua Cathedral, and students raised barricades to protect themselves from further attacks…. Carlos Pellas, Nicaragua's richest man, called for an early presidential election. This stance marks a turning point as Mr Pellas, and the business community in general, have so far been in favor of President Ortega…"From my point of view, and this is something widely shared in the private sector, we must find an orderly exit, within the constitutional framework, which implies reforms including an early (presidential) election in Nicaragua," he said….the date of the election be decided in the framework of the dialogue led, under the aegis of the Catholic Church, between the government and the Citizens' Alliance for Justice and Democracy, which group of students, business leaders and representatives of civil society. In addition, "the immediate resignation of all the members of the Supreme Electoral Council (CNE)", currently controlled by judges close to power, added Mr. Pellas, 65, president of the group of the same name, a conglomerate also present in Central America, the Caribbean and the United States. Another worrying sign for Mr. Ortega, the Higher Council of Private Enterprise (Cosep) announced that it was suspending all meetings with the government to express "its opposition to repression."…Video of clashes in Chinandega…later report showing 11 killed "…an initially peaceful procession descended into violence after armed pro-Ortega forces opened fire on protesters, activists said. The Associated Press reported that demonstrators armed with improvised bottle-rocket launchers also opened fire….The national police said 15 people died across the country, in violence which the force's second-in-command, Francisco Díaz, blamed on "criminal gangs"….Leon: transmitters of radio station critical of government burnt by Sandinistas…latest figures – 15 now dead "Political analyst Oscar René Vargas told The Associated Press that it seems that Ortega is willing to stay in power at any cost. "It does not matter how many people have to die," Vargas said."
28/5/18:
Nicaragua: Managua: students clash with cops, burn pro-government building (video)Longer video here.More here"Violence returned to the streets of Nicaragua on Monday after students who took over a new campus clashed with riot police unleashing  heavy repression that has resulted in the partial burning of a means of communication, several injured and detainees. …the protests…have left at least 84 dead . The students of the University of Engineering of Nicaragua took over the facilities asking for justice for those killed in the protests and the departure of President Daniel Ortega and his wife, Vice President Rosario Murillo. Paramilitaries related to the government attacked the students, who were defended by some people – in addition to confronting those who attacked them, they partially set fire to the building of the ruling Radio Ya." And here "The Church had fallen behind its former adversary when he embraced Christianity before his 2007 return to office as a more moderate figure who avoided hostilities with Washington and business leaders. …On Monday, a smaller group of government, private sector and church representatives restarted talks behind closed doors. Students and government authorities agreed in the first days of talks to a truce that quickly fell apart when groups of youths attacked protesters entrenched at the Agrarian University of Nicaragua, badly wounding at least two people…. Thousands took to the streets again on Saturday. At night, protesters hunker behind barricades of brick pulled up from the streets or walls of chairs and desks on university campuses, bracing with homemade mortars for clashes with pro-Ortega gangs whom witnesses and rights groups blame for many of the casualties….Daily highway blockades have snarled transportation across the country, as students and farmers erect makeshift barricades to damage the economy and wear down the government. The government estimates the turmoil has cost the economy some $250 million. Despite the losses, many in the private sector are openly backing protesters and demanding change, turning against Ortega after an uneasy alliance in recent years that has undergirded strong economic growth. In its most explicit move yet, the Superior Council of Private Enterprise in Nicaragua, which represents the private sector, called Sunday on businesses to "join the clamour of mothers, grandmothers and wives who demand justice for the murder of their loved ones" in a march on Wednesday. …police were shooting to maim or kill, with rubber bullets aimed directly at eyes, chests, and heads, or even with live ammunition…Building an effective anti-government coalition could prove difficult, however…Another base of Ortega's support is the army. But in recent days it has signalled its refusal to appear in the streets. Privately to business leaders and then in a statement through a spokesman, senior commanders called for dialogue and said they would not repress the population…."
26/5/18:
Nicaragua : 3 dead during further clashes in different parts of the country  "…two men died and two more were injured in a confrontation between people who intended to take over private land in the Managua area. Another person, identified as a security guard, was killed in the sector of the National Autonomous University of Nicaragua (UNAN), which remains occupied by university students in protests….Also, in the province of Boaco (center of the country) heavy confrontations were reported during the detention of students and peasants protesting against the government of President Daniel Ortega. According to official sources, the attack was carried out by demonstrators against Sandinista activists, seven of whom were wounded. However, spokespersons for the opponents said they were attacked by government paramilitaries with assault rifles and powerful homemade bombs."
23/5/18:
Nicaragua, Leon: heavy clashes between Sandinistas and anti-statists leaves 1 dead each on both sides "Manuel Chévez, 31, was shot dead when government supporters tried to dislodge students and residents who had set up a barricade on the main access road to Leon..Pro-government demonstrator Luis Diaz is also dead, visibly hit by  homemade mortar fire…
The clashes between the two sides lasted five hours and injured 54 people, 10 of them seriously ill, shot by firearms, rubber bullets, and mortars…
Other clashes have been reported in several cities in Nicaragua, between protesters, policemen and government supporters."
15/5/18:
Nicaragua, Matagalpa: Sandinista snipers on roofs kill at least 1 and injure 40;  rioters demanding end of repression respond by attacking police station with molotovs etc.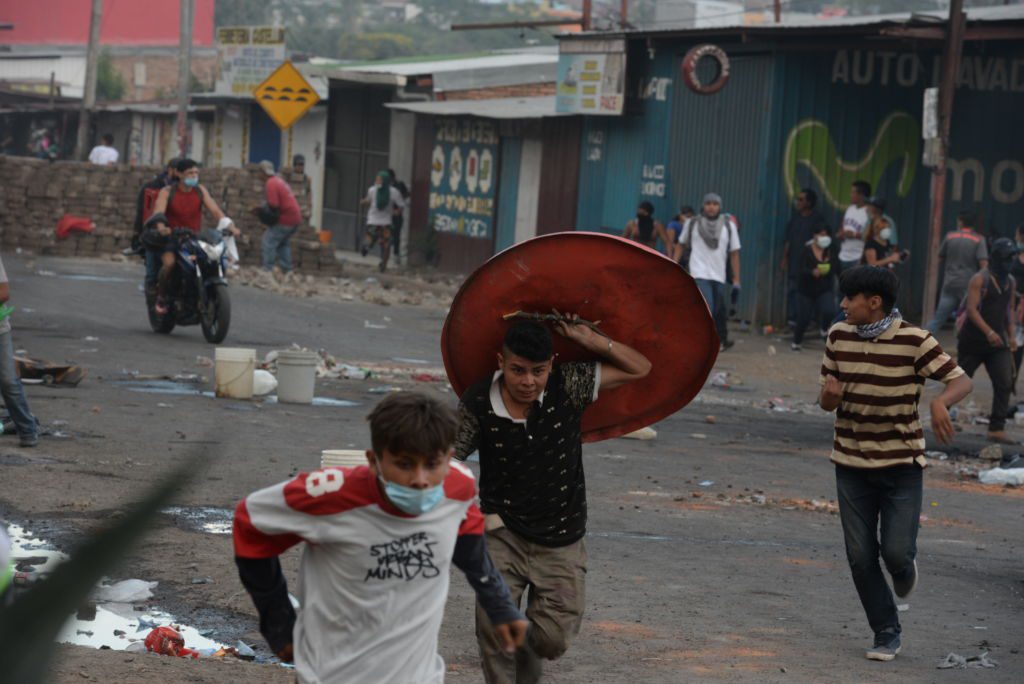 Matagalpa (sandbag barricade in background)
12/5/18:
Nicaragua, Masaya: local residents erect barricades against cops after cops kill a guy
11/5/18:
Nicaragua, Managua: further clashes between state and students
10/5/18:
Nicaragua, Managua: more "Tree of Life"s destroyed in anti-government demo (for further explanation, see this)
5/5/15:
Nicaragua, Masaya: renewed clashes between students and state
3/5/18:
Nicaragua, Managua: cops beat up anti-Sandinista students

26/4/18:
Nicaragua: the struggle continues "…the clashes have killed more than 2 dozen people including students and 2 police officers…Ortega has caved to demands and reversed the social security reforms that triggered these protests in the first place, but the protests haven't slowed down. "This protest isn't only because of the reforms, this protest is because we're tired of all this abuse". Now marchers are calling for him to step down." (video)

25/4/18:
Podcast report about uprising on anarchist site Crimethinc
"Hello friends, this is Miranda. I am part of a group of delegates that are doing international media outreach here in Managua, Nicaragua. I am also part of several other affinity groups that have been working nonstop for the last two weeks, because Nicaragua is recently experiencing an unprecedented wave of nationwide protest. At the beginning people were protesting because of how the government mismanaged an environmental crisis. It took them ten days to effectively shut down a fire that was happening on top of a natural reserve in indigenous community. And the fire happened because the government has allowed, and has interest, in cattle ranchers expanding their territory into indigenous communities. Also, the government has interest in the monocrops of, for example, palm oil, in indigenous communities and the Caribbean. That is what started the environmentalist movement and protests. In the middle of that the government did a reform to the social security institute which basically recognized that the social security institute was going bankrupt and needed to take more money out of all the people that were receiving pensions from there. Basically the social security institute has been used as a piggy bank for the government's private investments. But those investments haven't gone so well, so now they want to reform how everything works so they can get away with their failed adventure.
But then, those two movements got together and started protesting together, it basically led to a protest, which was quickly and violently displaced by the police, by anti-riot police, by Sandinista Youth, and by motorcycle gangs that have ties to the police and the Sandinista Youth. So basically, the image that sparked all of this was anti-riot and Sandinista Youth attacking peaceful protesters that were protesting against the changes in the reform of these social security institute. That happened on Wednesday, on Thursday three major universities were protesting the same thing but specifically added police repression and lack of free speech in this country. All day Thursday we had very violent confrontations between students and riot police and Sandinista Youth. By Friday, the government still hasn't made any official communiqué and the protests continue, but then expand to other cities all over Nicaragua. All protesting at this point, not so much about the reform or the environmental damage that happened, but now against authoritarianism, against all the bad things that the government has done since they came in power in 2006, and specifically against police brutality and against the fact that a lot of students were being murdered by the police. So right now we have calculated that over 30 people have been murdered. Over 100 people have been detained. And over 40 people are still missing, stemming from Thursday. And all of this is the responsibility of the government. But then the government made a public speech claiming that this movement was a rightwing conspiracy theory funded by the CIA basically, which is completely false, specifically because the student movements have made it clear that they don't want any political parties co-opting the student movements. The student movements have made it clear that they are denouncing the private sector because they recognize that the private sector has their own interest in negotiating with the state. The self assembled movement, which is what came out of the environmentalist and the anti-reform movement, have also denounced the complicity of the private sector and have basically been very vigilant of not just the private sector but of upper class and other right wing movements from co-opting this entire movement since everybody wants a piece of the pie.
In terms of the anarchist influence in all of this, its very complicated. Because Nicaragua doesn't necessarily have a big anarchist tradition. Our national hero, Sandino, did become radicalized in Mexico in the 1910s and 1920s, he did adopt the red and black flag from Spain, and he did basically work in cooperatives and learned about class struggle and had very much anarchist leanings, but right now I think that the state is still—there's a very harsh critique of the state, but the state is still seen as a solution. Right now, the biggest anarchist presence has been this non-hierarchical, horizontal organization by which the students are organizing in, and by how these affinity groups are organizing in. So right now people aren't claiming to be anarchists but they're practicing all these anarchist tactics and anarchist philosophy of power, of representation, of anti-state, of solidarity, of mutual aid, of affinity groups. A clear example of an anarchist tactic has been this idea of the occupation of a university ground.
We have several reports of friends who have gone inside the university, the polytechnic university, and have said that its like an anarchist utopia inside—where there's delegates for medics, for cleanup, for security, for fabricating bombs, for absolutely everything inside of the university, inside the occupied university, which is at this moment the biggest stronghold against the police. But it's also the place that has received the most violence and repression from anti-riot police.
But its important to recognize that in the march that happened today, there were hundreds and probably tens of thousands of people convocated and the only thing that hey have in common is that they don't like the government. But inside of that movement, there are very different and even contradicting ideas, because in one march you will see the private sector marching next to the feminists marching next to the environmentalists marching next to the self-assembled movements. But right now, people aren't protesting against the reform of the social security institute, which the government actually revoked and they said that they're going to start from scratch with the social security institute. Which is a partial victory, but at this movement it's no longer about social security. It's about the fact that the government has allowed for thirty people to die and hasn't commented about it.
It's about the fact that the government has concentrated so much power and so much wealth in their model at the expense of marginalized communities. So the entire political platform of the government was based on a dependency between lower classes and government.
The last thing I want to mention is about something that happened yesterday, which is basically the case of the lootings. A lot of people right now are collecting enough resources to survive the next two weeks and enough gasoline to have enough for transportation. So that's kind of the feeling in the air.
Today, the US embassy sent a communiqué saying that families of the workers inside the embassy had to leave the country. Also they said that the Peace Corps had to leave the country. So that's the level of uncertainty that the united states intelligence is saying might happen, and it does give you a sense of the intensity and resonance of these student movements that have been happening here.
To be honest, things seem like they're winding down, but they could easily wind back up at any second. It only took a matter of hours for the entire nation to see police brutality attacking peaceful demonstrators and students to get everybody enraged against the government."
22/4/18:
Nicaragua: pension reforms withdrawn as result of riots "Several television stations were taken off the air as the government tried to stem the unrest…."We have to restore order. We cannot allow for chaos, crime and looting to prevail," Ortega added in his televised address. "We cannot allow it. And we will act under the rule of law and under the constitution to ensure and guarantee the restoration of stability and social peace so that workers can peacefully go to work."…. death toll rises to at least 25 "A further 43 people were reported to have "disappeared" over the weekend…Snipers were reportedly placed in Nicaragua's national stadium to shoot at protesters holed up in Managua's cathedral. The demonstrators symbolically pulled down one of the brightly coloured Tree of Life sculptures erected in the capital by the vice-president, Rosario Murillo, Ortega's wife….In the city of León, university offices were torched …Ortega, who is facing the biggest crisis of his leadership, said on Saturday that he was ready to consider changing an unpopular social security overhaul announced last week, which would increase worker contributions and lower pensions. He said, however, that talks would only be held with business leaders and not with other sectors of society…people spilled back on to the streets in seven cities including the capital, after tensions had calmed somewhat on Friday night." Video here…More here "Nicaraguan newspaper La Prensa said more than 30 had died…Some students vowed to keep the pressure on the government up as their demands had now widened beyond protecting pensions. "We are fighting …for all those years of pillaging of the people by the Sandinista regime," an engineering student in Managua who identified himself as Cristofer told AFP news agency."
The people pillage back a tiny fraction of what has been pillaged from them: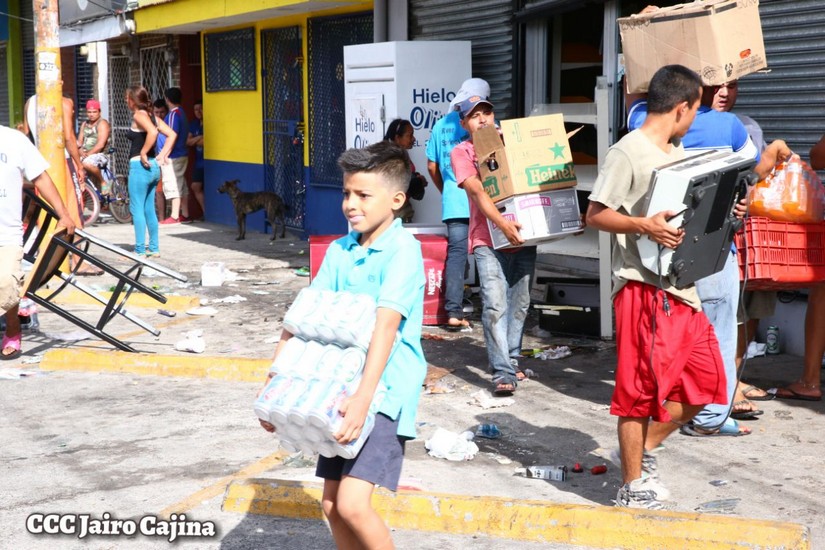 Proletarian shopping, Managua –
Bargains galore! Everything must go go go!!!
More photos here
21/4/18:
Nicaragua: report about 3 days of clashes with the Sandinista state and its neoliberal policies…at least 10 dead "…Violent protests against pension reform left at least 10 people dead in Nicaragua on Thursday and Friday. Called "riots" organized by individuals seeking "to break peace and harmony" by Vice President Rosario Murillo, the protests hardened on Friday, the third day of mobilization, with barricades erected, clashes with police and attacks on government buildings, in Managua and in other cities of the country. About 80 people were also injured in these demonstrations, the most violent since Daniel Ortega came to power eleven years ago. Four independent TV channels were prevented by the government on Thursday from covering them…This mobilization seems to have taken the government by surprise, which until now had managed to contain the discontent thanks to the influence of the ruling party in the public and military spheres. "It's a grassroots protest, not a political party…I think the government did not anticipate this reaction"
Introduction to "Socialism (in quotation marks)"
This was a text from the 1980s  critiquing leftist approval of the Sandinistas. 
Below:
a different form of the representation of life from Rosario Murillo's "Tree of Life" sculptures- The Clash's "Sandinista!" album, December 1980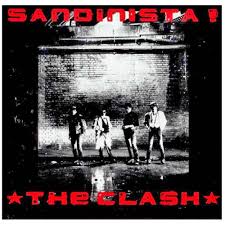 Back in the late 70s/early 80s the Sandinistars were the heroes of the hour for all the Leftists who defined themselves according to whatever the USA opposed. In 1980 The Clash produced an entire album of 3 LPs devoted to these Lenino-Guevarist Sandinistas. Yet, when this band performed in Paris, asked to publicise the plight of libertarian prisoners in Spain jailed on raps ranging from 10 to 40 years,  they just simply refused. Loads of others either hailed the new state capitalist regime as the birth of genuine communism in that country or prevaricated, saying that there was good and bad in this new government (this included fence-sitters lacking integrity and some element of consistency from Processed World). The songs on The Clash "Sandinista!" album included  lyrics such as "the blood money men are shooting those Washington bullets again". Now (June 11th 2018) with the announcement of 137 deaths,  including that of those who dared challenge these Sandinista "anti-imperialists", and a considerable amount of people still mssing, one wonders what the surviving "revolutionaries" from this past must be planning to say in order to rationalize their former sick positions. Probably nothing – certainly  better than their previous bullshit, but hardly an attempt to supersede the populist idiocies they spread because it made them seem radical by proxy.
Nowadays, following the end of pseudo-communism in Europe which has made such obviously phoney "revolutionary "ideologies unfashionable, various people have fallen into a vague amorphous "libertarianism". This reproduces the same populist crap, this time directed towards Rojava and its "self-managed" state, its "self-managed" police, its "self-managed" conscription and its "self-managed" taxation system: "anarchism" (in quotation marks). How long will it be before some "libertarian" band produces an album called "Ocalan!" ?

****
"The absence of a revolutionary movement …has reduced the Left to its simplest expression: a mass of spectators who swoon with rapture each time the exploited in the colonies take up arms against their masters, and who cannot help seeing these uprisings as the epitome of Revolution. …False consciousness is its natural condition, the spectacle is its element, and the apparent opposition of systems is its universal frame of reference: wherever there is a conflict it always sees Good fighting Evil, "total revolution" versus "total reaction."
"In the process of capital accumulation, the bureaucracy fulfills what was only the unrealized ideal of the bourgeoisie. What the bourgeoisie has taken centuries to accomplish "through blood and mud," the bureaucracy wants to achieve consciously and "rationally" within a few decades. But the bureaucracy cannot accumulate capital without accumulating lies: that which constituted the original sin of capitalist wealth is sinisterly referred to as "socialist primitive accumulation." Everything that the underdeveloped bureaucracies present as, or imagine to be, socialism is nothing but a realized neo-mercantilism. The bourgeois state minus the bourgeoisie"
– both quotes from different articles in International Situationist no 11, October 1967
************
Given the recent – and maybe ongoing – uprising in at least 10 cities in Nicaragua – it seemed worthwhile putting this up. It's taken from "No Middle Ground", Fall 1984 – Winter 1985, which so far does not seem to have been put up anywhere on the internet. Most of it is both informative and accurate, but the sentence "the death by starvation of one out of every four human beings on this planet" seems like an unnecessarily gross & grotesque exaggeration.

My apologies for the slightly erratic nature of the scanning on this text – though it remains pretty much as readable as the  version I got it from. This  was reprinted in 1987 by Box 14, 136 Kingsland High St., London E8 2NS, and taken from No Middle Ground, published by Information Network on Latin America, San Francisco.
Socialism
(in quotation marks)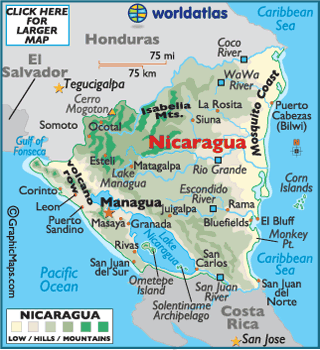 Bottom of page badly scanned (due to technical problems):
Footnote 10 (on left of page): Recently eased as part of the FSLN electoral campaign
Bottom of right-hand part of page:
"…masking capitalist repression behind radical rhetoric and the…" (continues below section of Oakland Tribune article)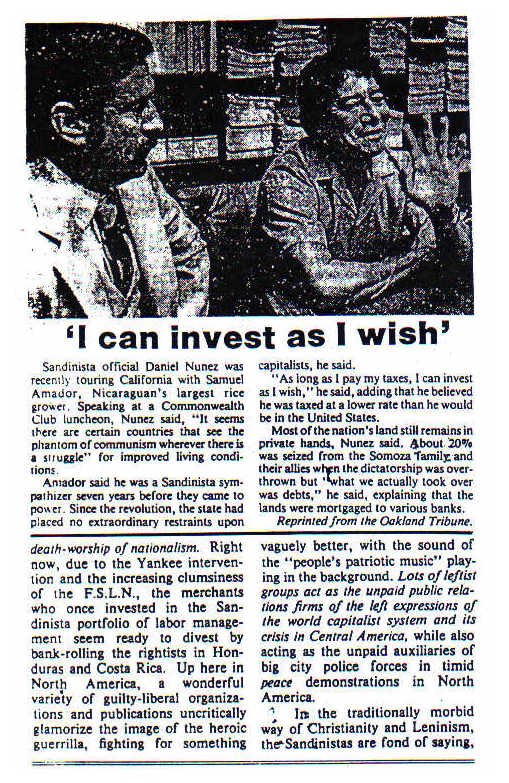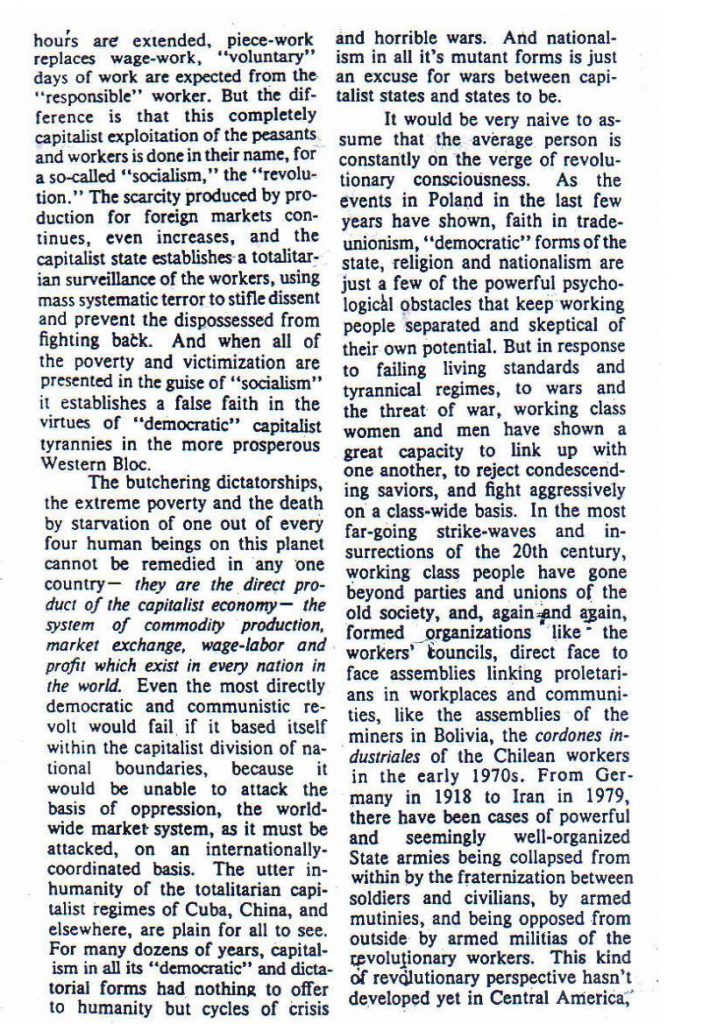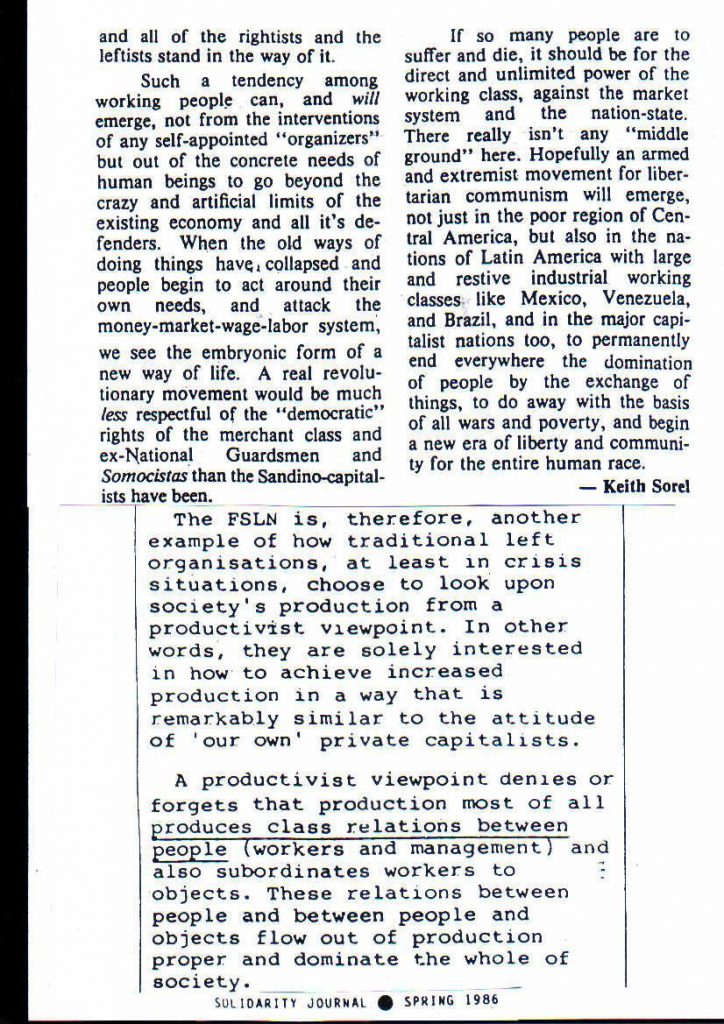 See also:
this Crimethinc article from 6th May 2018, 
and
It should be pointed out that the latter text talks of  "Ortega, a one-time revolutionary". By what criteria was he "a one-time revolutionary"? The bourgeoisie too were one-time revolutionaries. His perspective was always the development of capitalism (under state rather than private management) in a country where US imperialism retarded capitalist development. Which simply meant he had to initially bring in certain elements of a welfare state as part of the necessity to have a relatively healthy workforce for such a development. See "Socialism" in quotation marks" above.