October 2013
Serbia: 10 day blockade of roads and railways by transport staff ends (more research on this seems necessary, particularly as this link gives no context or content for the events)
Italy, Rome: clashes with cops in anti-eviction demo (video) (more here) Indonesia: contradictory reports of strike's success… (video reports of destruction of company property)…or…failure…?
India, Goa: Nigerians block roads, attack cop vehicle in confusing protest
South Africa, Randfontein: roads blocked in  water protest
Thailand: rubber protesters continue 4 day blockade of highways, creating massive damage to detour route
30/10/13:
Dubai: prisoners on hunger strike
South Africa, Cape Town: shop and car windows broken, stores looted as 1000s protest in business district about housing (unfortunately, led by ANC councillors, which shows that there's a growing movement that some of the scum-politicians recognise needs to be recuperated for their own benefit, even if this means they're playing with fire)…Bekkersdal: riots cost local authorities 11.2 million rand (about $110,000) for repairs to municipal buildings
US, Massachusetts: small riot after Boston win the World Series 
                                                         storm the skybox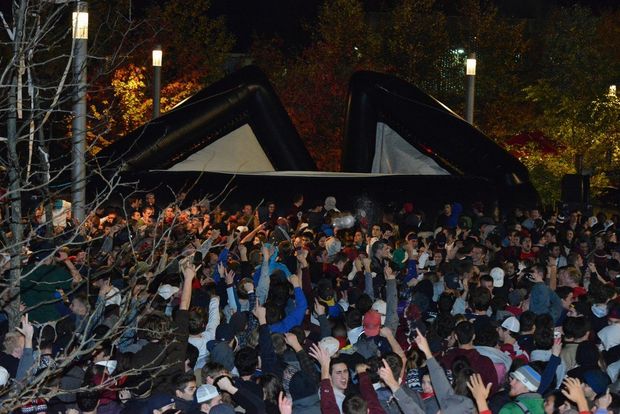 Crowds cheer as a bottle deflates TV screen after  defeat of St Louis' Cardinals
Australia, Melbourne: students sit-in against "education" cuts, block and surround Federal Treasurer, cops "pelted with shoes and chalk", cop hospitalised 
Cambodia: clashes with security guards over forcible eviction
29/1013:
UK, London: squatters occupy council building worth almost £3m. in protest against social cleansing
Bulgaria, Sofia: students occupy university buildings Bangaldesh: garment workers vandalise 10 factories for wage increase
India; more road blockades by villagers against crap flood relief distribution
US, California:   another insufficient protest against another cop murder of  yet another teenager……Verizon workers on wildcat sympathy strike……Florida: pro-immigration sit-down protest blocks traffic…..Rhode Island: students force abandonment of New York Police Commissioner's speech
Turkey: riot in women's prison Indonesia: 10s of thousands of workers on semi-official/unofficial strike in warm-up for Thursday's official national strike for raising of minimum wage
28/10/13:
India, Bangalore: wildcat strike by 3000 cabbies fizzles out
South Africa: brewery company uses the courts to suppress month-long violence of striking brewery workers as the unions, predictably, condemn the violence "68 incidents of violence and intimidation had taken place since the strike started…These have included burning employees' cars, firebombing employees' houses and malicious damage to property, as well as anonymous intimidatory calls to working employees and their families." Workers have been on strike for four weeks, demanding a nine percent salary increase across the board and equal participation in the board of trustees of the provident fund. SAB has offered a seven percent average wage increase with performance-related pay. The union distanced itself from violence and intimidation. "The Food and Allied Workers' Union condemns the alleged incidents of violence and intimidation brought to the attention of its leadership by the management of SAB," president Atwell Nazo said in a statement. He appealed to members on strike not to be party to any acts of violence and intimidation and to picket peacefully within the parameters of the law. "Fawu is a disciplined organisation and will remain as such," he said.
Thailand: rubber planters block roads with trees and trucks…1500 cops dispatched
Bangladesh: opposition political party  recuperates fury against system This strike comes just a month after a wave of labor unrest, in which up to 200,000 garment factory workers walked off the job to demand a higher minimum wage, met with tear-gas and rubber bullets from police. At least two factories were set ablaze by protesters, who also blocked roads and confiscated and destroyed rifles from security officials. Some 200 garment plants were closed for a week.
Israel: government prepares for possible wildcat dockworkers strikes in Haifa and Ashdod (for a bit of background to this, see here)
27/10/13:
South Africa,Bekkersdal: barricades of burning tree stumps and rocks, but community leaders pacify the anger
Pakistan, Peshawar: once again, roads blocked against constant power cuts
Peru: anti-bullfighting protesters beaten by cops  Though this is hardly part of the class struggle nowadays, it should be pointed out that the anarchists in Catolonia in 1936 banned bullfighting because of its cowardly fascistic overtones. Often what happens is this: bulls are kept "free" for the first 2 years of their lives, frolicking in large fields with cows to fuck and other bulls to play with. Then one day  individually they are taken and kept on their own for 2 or 3 weeks in a dungeon under the arena without any light, sound or company, then let out into the bullring  blinded by the sunlight and frightened by the roar of the crowds and after 2 minutes, before they have completely accustomed themselves to this, they get their first stab in the back of the neck….The matador, like the fascist leader, appears brave, but clearly isn't in reality… (French anti-bullfighters also get the riot cop treatment)
India, Bangalore: cabbies at airport on wildcat strike against limited airport facilities after driver dies
26/10/13:
US, Texas: ghosts refuse to die as 200 haunted house  rioters chuck rocks at the living dead
France, Brittany: protests against "ecotax" on large vehicles " Protesters set fire to hay bales and stacks of tires next to the ecotax toll gate at Pont-de-Buis, the only one still functioning in the region after the other two were put out of commission by acts of sabotage in recent months.Others spilled truckloads of cauliflower onto the road, while more than 250 vehicles including trucks, tractors and trailers were also used to block the route.As riot police arrived to quell the protests, demonstrators hurled eggs and flares at the security forces, who responded with volleys of teargas and shots from Flash-Ball weapons…"
Malaysia: anti-dam construction movement chase out "…all the workers there who are working for the contractor assigned to test rocks at the site…..protesters tore down the workers camps and temporary office site and also disrupted work there….They have also dismantled some equipment and blocked the road leading to Long Kesseh….I am worried about the developments there. At this stage, it is not safe for me or any government officials to enter the area.", says MP
India, Odisha:  flood victims pelt cops, burn vehicle, block roads…..Hafizabad: roads blocked by family of man killed by cops
Turkey, Ankara: more clashes over road construction on university campus (more here) (and here)
25/10/13:
Canada, New Brunswick: arson attack on Royal Canadian Mounted Police station  
South Africa, Bekkersdal:  service delivery protests continue – heavy cop presence (video here)
Brazil, Sao Paulo: transport protesters burn buses, attack cash points etc.
Malaysia: more blockades erected against dam construction
24/10/13:
USA, New York: riot as students try to take over abandoned college building; students charged with riot 4 weeks later

Malaysia: tribes blockade dam construction site (more here)
Tunisia: government party building burnt and ransacked (more here)
Bulgaria, Sofia:   blockade of University's main hall
23/10/13:
South Africa, Bekkersdal: riot against cops, building burnt and looted, rocks thrown, etc
India, West Bengal: blockades in flood-hit areas against inadequate relief; tyres burnt as educational institutions, business establishments, government offices, & banks are closed down; govt. officials pelted with stones
France: blockade of pork processing plant by workers demanding improved redundancy payments
Spain: 2nd day of student strike against rising fees etc.. ..(teachers also strike).
22/10/13:
Bahrain: another funeral another riot (unless something unusual or there's  a significant development in the situation in Bahrain, from now on  I'll refrain from reporting on each and every expression of mass anger)
Yemen: prison riot, director of investigations badly injured, after director of investigations threatens to ban  visits and limit water and medicine 
Colombia: successful sex strike by women  against bad road conditions  
Chile , Valparaiso : students confront cops
21/10/13:
Israel: dockworkers go on unofficial action against partial port privatisation "dock workers at Haifa have openly protested against any possible reform to their industry, instigating an unofficial go slow, while those at Ashdod are working to rule, causing disruption to handling operations."
Libya: disabled veteran rebels against Gadaffi vandalise Libyan parliament
India: general strike ("bandh") called by students along the   Imphal-Jiribam road after they imposed an economic blockade there, which will take place from midnight of 23rd October
Bangladesh, Dhaka:  students and cops confront each other; main roads blocked
Turkey, Ankara: clashes with cops on campus by protestors fighting against road construction  
Indonesia, Jakarta: Thousands of workers block the main road in front of the House of Representatives to demand a 50% increase in the minimum wage; demonstration controlled by more than 8,500 police and military
 Brazil, Rio: demonstrators against petrol privatisation are attacked by rubber bullets ; TV company car burnt.…..and public bath also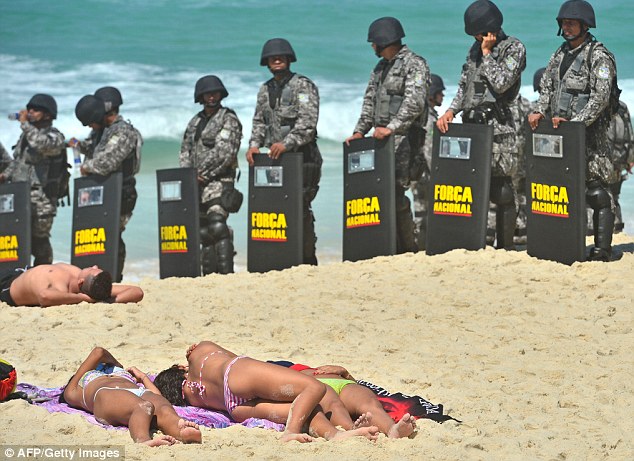 Tourists bury their heads in the sand at Barra da Tijuca, near Rio de Janeiro, where there was fighting against the government auction of oil offshore oil platforms Libra. The government has deployed more than a thousand troops around the sea fron of the hotel   Windsor where the auction is happening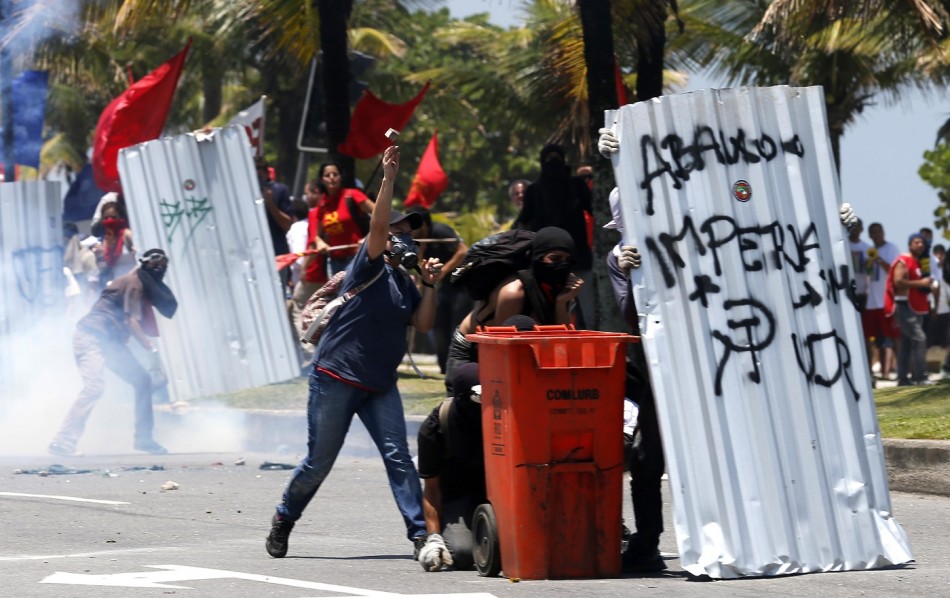 Outside the Rio cop perimeter
Morocco: stones and Molotov cocktails used in retaliation for cop brutality 
  20/10/13:
Bahrain:putting the fun in funeral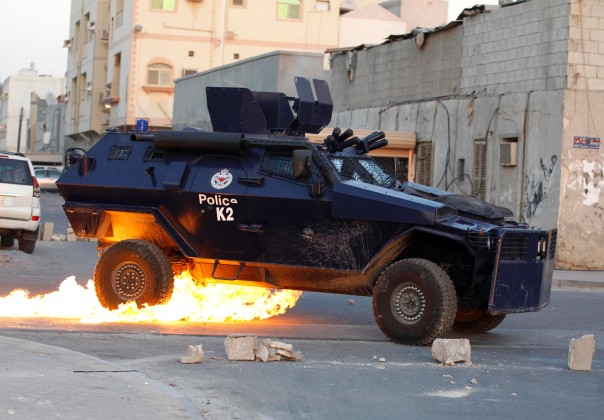 An armored vehicle was attacked by a Molotov cocktail thrown by anti-government protesters during clashes following the funeral procession of Hossein Mahdi in the village of Sitra south of Manama
India: blockade of highway by student unions… merchandise expropriated
19/10/13:
Canada, Toronto: protests against oil pipeline force cancellation of official hearings (leaflet here)…..New Brunswick: anti-fracking protesters force media to retreat, block highway The native American hierarchy shows its desire for a nice cosmetic image makeover – "The Assembly of First Nations Chiefs in New Brunswick issued a statement Saturday "condemning the acts of intimidation against representatives of the media."  (for some unintentional insight into the contradictions of both the political and business representatives of the indigenous population,  see this and this; the problem for the hierarchy seems to be more a question of being consulted, and it seems, from their point of view, that the mistake made by the cops on Thursday was to arrest one of these leaders, going in heavy, when patient softly softly tactics should have been used…anyway, that's my very long-distance reading of these very interesting events…)
Pakistan: protesters against power outages burn tyres, throw stones
Italy, Rome: clashes with cops on anti-austerity demo (video)
US, San Francisco: scab manager in Bart strike "accidentally" kills 2 maintenance workers whilst driving train  "The people operating the trains are managers who may at one time have operated trains, but not recently"
18/10/13:
"I decided a long time ago to do this, but we needed to come together as a group to make the decision," said Bello. He described the strike as a response to "abuse and discrimination" by managers, as well as insufficient hours….A representative from Walmart's human resources department came out of the store to try and have a dialogue with the protesters, but they did not come to an agreement. Human resources wanted to meet with each employee individually, but protesters said "all of us or none of us."
…
Texas: unfortunately rare (in the USA itself) attack on the unfortunately all-too pervasive US flag
Cambodia: striking garment workers defy court ordering them to return to work; factory occupied by  military police
South Africa: more service delivery protests – cops stoned, burning tyres block roads, municipal building set alight
Chile, Valparaiso: students clash with riot cops
Turkey, Ankara: cops use tear gas  against late night anti-road construction protest
France, Paris: cops use tear gas against high school students protesting immigrant deportations (more here and here)…videohere…50 schools involved
Canada, Montreal: brief blockade of highway in  solidarity with anti-fracking protesters (list of 29 solidarity actions mainly in Canada here) (more here ) About 400 protesters block traffic in Vancouver…Protesters disrupt National Energy Board meeting in Toronto…Police in Montreal clear Cabot Square demonstration…etc (here)
17/10/13:
Brazil, Brasilia: brief occupation of mines and energy ministry by oil workers as they go on strike
Chile, Santiago: 14 cops injured in clash between students and state (video here)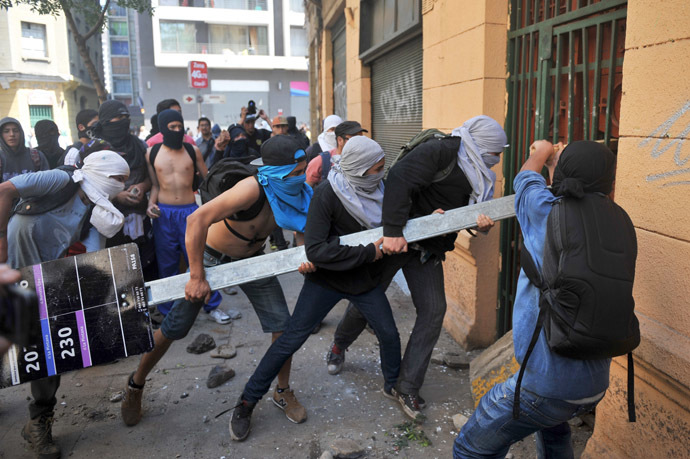 Demonstrators in Santiago try to knock down the door of a house with cops inside 
India: football fan killed by cops during attack on police post; 12 hour protest strike called
Colombia, Mondomo: indigenous protestors block main highway, confront cops (more here)
Canada, New Brunswick: mounties' raid on anti-fracking protest camp greeted with molotovs….five police cruisers torched….small solidarity demos throughout country... … major highway blocked with burning cars….more here and here
US, San Francisco: activists block bus deporting immigrants
16/10/13:
Romania: anti-fracking protesters block highway, scuffle with cops
China: riot cops sent to flooded areas after protesters attack government building, removing the party slogan "Serve the people" (more here)
South Africa, Bekkersdal: kids join service delivery protest; police station stoned
15/10/13:
India: women attack police post in land dispute
South Africa, Bekkersdal: local police station stoned and molotoved; 3 cop cars  and "disaster management" vehicle damaged….Malumele – 20,000 residents riot, burn down government building, block roads;  shops looted and burnt
Brazil, Rio & Sao Paulo: clashes with cops at end of teachers' demo  "Four policemen were injured and dozens of protesters were arrested….According to BBC, soon after a peaceful march by more than 5,000 people ended in Rio, a much smaller masked group attacked shops, set fire to a police car and threw petrol bombs. There were also clashes in Sao Paulo, where shops were ransacked. Seven banks were vandalized during the unrest in Sao Paulo." (video here)
Greece, Athens: shipyard workers scuffle with cops during anti-austerity rally
Pakistan: main highway blocked in protest against non-payment of salaries and pensions 
Australia, Victoria: protesters blocking tunnel construction company in clashes with cops  
14/10/13:
Mexico, Cancun: riot cops in clashes with striking teachers at town hall France,
Brest: slaughterhouse workers blockade airport runways in protest against redundancies; flights cancelled
13/10/13:
Romania: thousands in 3 different areas renew protests against ecological timebomb goldmine…more here "Protesters are battling Canadian company Gabriel Resources (TSX:GBU) – which has been advancing the project since the late 1990s at a cost of well over $500 million under seven different CEOs – over the firm's plans to use cyanide and other environmental impacts of building the open cast mine….The company proposes four gold quarries with the potential to produce 500,000 ounces of gold per year over the mine's lifespan, which would destroy four mountaintops and wipe out three villages of the 16 that make up Rosia Montana."
Bahrain: high school students join struggle "… two days of clashes last week at Al Jabriya Secondary Technical School for Boys, Zinj….Students joined forces with masked thugs to attack policemen and block roads, damaging public and private properties."
US, New York: billboard altered (not by Wanksy)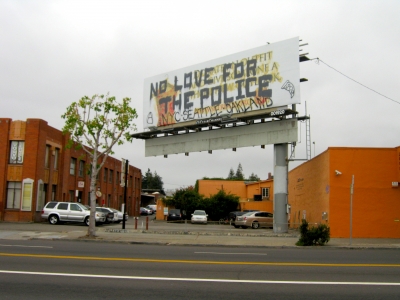 12/10/13:
US, Mississippi: small riot at Walmarts after food stamp failure (see also this)
Chile: clashes with cops after demo against state use of anti-terrorist laws  against Mapuche Indians struggle for their land
USA, Washington State, Bellingham: hundreds of students riot after cops stop party
11/10/13:
US, New York: Wanksy "graffiti" graffitied again – "We don't need more rats"…New Hampshire: Christians graffiti Republican Party
Lebanon: residents block main road with burning tyres in protest against destruction of homes
UK: a suggestion on how to improve life
10/10/13:
Kyrgyzstan: pro-nationalisation protests block highway again with burning car and tyres "One of the protesters, who identified himself as Abylas Usenbaev, told RFE/RL that 100 men on horseback, armed with Molotov cocktails, would be used against police if they tried to clear the highway."
South Africa, Limpopo: cops  fire rubber bullets and tear gas students after stone-throwing protest
Brazil: prison uprising repressed – at least 10 prisoners killed (some reports say that these killings were caused by gang rivalries…who knows? but this report implies that it was a mixture of both  the authorities and the gangs that did it, but claims that in the local town where the prison is situated, 7 buses were set alight in relation to this riot )
France: wildcat strike by air traffic controllers
Germany, Berlin: Ethiopian refugees sit-in during hunger strike to protest against German cops
9/10/13:
USA, Boston: wildcat bus strike leaders suspended (see also this)
Brazil,Cuiaba: part of the construction area at  Arena Pantanal vandalised as part of protests against FIFA general secretary and Ronaldo
Uganda: security company workers go on wildcat strike, block roads, throw stones
8/10/13:
Brazil, Rio: more exciting demos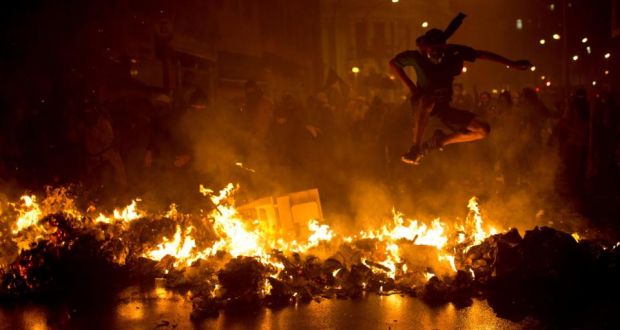 Kyrzygstan: blockades and attacks on cops in protests for nationalisation of gold mines after government envoy kidnapped and doused with petrol…….chief of police hospitalised
USA, Boston: dominant media do their usual – in this case, attack wildcat bus drivers strike with vitriol and lies…call-out for 2nd day of strike against rapacious Veolia…is then called off
7/10/13:
UK, Dumbarton: vandals refuse to be fenced in/out
US, Seattle: school building occupied by Africatown Innovation Center
Belgium: anti-austerity firefighters block roads with burning tyres, razor wire and firetrucks
Brazil, Rio: riot in support of teachers strike (more here)…"masked anarchists turned to violence, setting fires, breaking into buildings and smashing a City Hall gate….Demonstrators also torched a bus on busy Rio Branco Avenue, and pulled furniture out of banks to use in barricades as they squared off with police." Sao Paulo also had a riotous demo: "A similar rally in Sao Paulo also turned violent. Seven people were injured, including four police officers." (here)…"A similar protest in São Paulo also ended in violent confrontation with police after many banks were ransacked by hooded protesters." (here)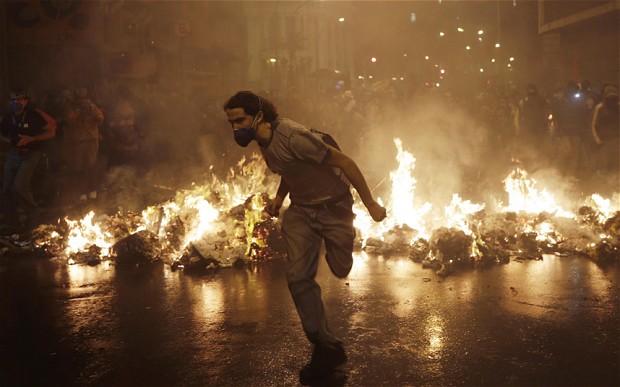 Rio…t, Monday
India, Andhra Pradesh:  70,000 power workers on indefinite strike
6/10/13
USA, Hollywood: shrine of  dead demi-god daubed  (see "Death Of A Walrus")
India, Telangana: movement against state division grows   – power and rail strikes, barricades, riots…(not at all clear what the implications of this government division of the state is, or the nature of the opposition, which has been developing for some time,  but…)
Canada, Alberta: shoppers show solidarity with official stores' strike
5/10/13:
Canada: blockade against shale gas exploration now in its 6th day
Australia, Melbourne: up to 400 teenagers pelt cops with bottle and fireworks as cops shut down party……cop memorial gets makeover
4/10/13:
France, Calais: 60 Syrian refugees occupy ferry terminal
Sudan: movement causes conflict within ruling class…see also Znet here
USA, New York: Wanksy gets out-graffitied …taking the piss out of the piss artist…also, see some of the comments after this article – in particular, this: "3 weeks ago a 29 year old got over 3 months in prison for graffiti. (see this: http://www.thestar.com.my/News/Regional/2013/09/08/Jailed-for-graffiti-mischief-29yearold-man-sentenced-to-more-than-three-years-in-jail.aspx? ) but this is nothing compared with what happened about a month ago – in Florida, I think – when a teenage graffiti tagger got tasered to death by the cops.  This stupid sick society knows how to co-opt aesthetic graffiti and take out what was a little subversive in it by turning it all into Art, with Banksy laughing his way to the bank. One law for the rich, another for the poor – surpise surprise. One law for the artist another for those who don't want to pretend to be "creative" in socially acceptable ways."
UK, Pembrokeshire: 200 schoolkids walk out of school in solidarity with suspended teenager
Sudan: movement in the streets smaller after crackdown; sit-in in front of security HQ in Port Sudan; over 200 killed during last week of September
3/10/13:
Canada: prisoners strike over pay cut spreads to 3 other areas
India, Sealdah: passengers block railway line over delays…strike for 72 hours begins in Seemandhra over state's division; burning tyres block roads
2/10/13:
Canada, Calgary: wildcat cab drivers strike – cabbies fired
Mexico: cops pelted with bottles, rocks and molotovs on 45th anniversary of massacre of students (more here)
South Korea: 2000 riot cops deployed against local residents as anti-high voltage power line struggle continues
Ukraine, Kiev: protesters tear-gassed trying to storm town hall
1/10/13:
Brazil, Rio: teachers strike turns into angry confrontation with state forces (more here and here)
Indonesia, Sumatra:   miners riot against cops after miner killed; cop dies.
Canada: prisoners go on strike against 30% pay cut (from $3 per day down to just over $2)…immigrants go on hunger strike in Ontario prisons…
Quebec – Nude Femen anti-crucifix demo disrupts Question Time in parliament
South Korea: residents and cops clash in struggle against construction of high-voltage pylons
South Africa: cop car attacked in housing protest; cops kill 17 year old woman (more here)
Lebanon: main highway and roundabouts blocked in protest against boat sinking
Zimbabwe: workers at radio and Tv stations embark on hunger strike against unpaid salaries
UK:  Leicestershire, Harborough…Nottingham…. Hertfordshire etc. – no classes today – no class society tomorrow…?…if only!