To return to latest "News of opposition" click here
April 2014

Another "food for thought" video, made by a friend independently of me, which he uses (and you and I could also use) as a catalyst for discussion alongside a meal
30/4/14:
Bahrain, Sitra and Sanabis: protests in solidarity with female prisoners
Colombia: student "disturbances" in solidarity with national rural peasant movement in Bogota, Pamplona, Tunja & Tolima…peasant clashes with cops in Pitalito (video)
Poland: how to tackle riot cops
South Africa: an economist's assessment of miners' strike
29/4/14:
Ethiopia: state massacres protesting students 
Brazil, Sao Paulo: 1000s of homeless/landless confront cops with stones and barricades (link in French)
India, Delhi: parents pelt cops and school with stones in protest against teacher molesting kids
Eire, Cork: more water meter installations blocked 
Phillipines, Manila: more clashes with riot cops over US military installations
Nepal: sherpas strike continues; yeti demonstrates in solidarity (see entry for 23/4/14)…see also this
28/4/14:
South Africa, Rustenberg: 4000 loot entire shopping centre; several houses & community centre torched as miners strike hots up "Police have confirmed an entire shopping centre next to Impala Platinum's number 9 shaft in Rustenburg was looted"…4 arrested…sports minister forced to abandon election rally as strikers throw stones at cars…some business analysis of platinum prices related to strike
Colombia, Bogota: students blockade roads and riot, confont cops…national agrarian strike leads to riots in Cundinamarca and Choachí (where a group of farmers, having blocked the road,  clashed with riot cops removing blockade) and blockades in Huila & Caquetá (link in Spanish, but more here and here in English, giving context of strike)
Pakistan, Faisalbad: gas shortage provokes angry protests "angry protesters threw stones on textile factories and at Jaranwala Road, demanding smooth supply of gas…."The gas shortage has caused great trouble as we are unable to cook anything to eat", one of the female protesters told media."…protests throughout country
Taiwan, Taipei: anti-nuke demonstrators get water cannoned, despite apparently winning definitive closure of nuclear power plant under construction…not so definitive – closure to be put to a vote 
Greece: nationwide fruit & veg market stallholders go on indefinite strike against increased state social control
US, New Brunswick: students occupy University building in protest against Condoleezza Rice
27/4/14:
UK, Brighton:  anti-fascists in violent confrontation with fascists
Taiwan, Taipei: anti-nuclear  demonstration breaks through cop barriers, begins mass sit-in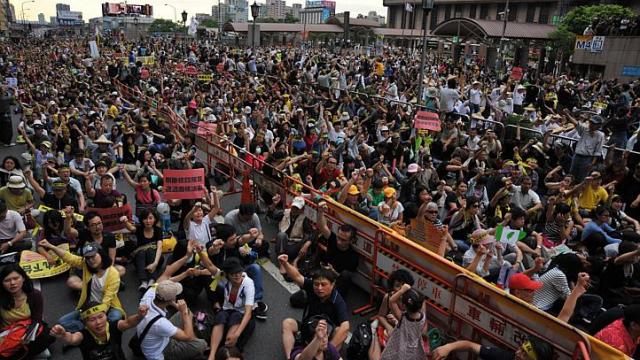 Taipei
26/4/14:
Germany, Berlin: stones and bottles chucked at cops during anti-nazi demo
India, Alwar: workers pelt cops with stones, set fire to factory vehicles
US, New York: squatters occupy mortgage conman's house
25/4/14:
South Africa, Cape Town: 2 solid waste plants on wildcat strike, as municipal workers' union threatens widespread strike "At least 12000 Samwu members would down tools if the union decides on the move….Khumalo said they felt aggrieved about the lack of action against line managers who fail to implement the decisions of senior managers….The seriousness of the situation was marked by work stoppages at the Athlone and Woodstock solid waste plants last Friday…..Workers demanded action against ill-disciplined managers who refused to obey orders to implement important decisions….Khumalo said the union would, however, not go on strike until after the elections."
Nigeria, Apapa: riot after naval officer kills truck driver
Peru: 500 indigenous protesters been occupying  country's biggest Amazon oilfield since Monday; 70% drop in production…400 cops dispatched to region
Eire, Dublin: more water meter protests prevent installations
Bolivia: inevitably contradictory soldiers' strike continues "Bolivian President Evo Morales on Friday urged striking members of the armed forces to return to their barracks…"A military without discipline, ceases to be a military," Morales declared …The striking non-commissioned officers, most of whom, like Morales, are of native origin, are protesting the lack of opportunities for advancement in the military, complaining that most of those promoted are white or of mixed-Indian and white heritage.…Bolivia sacked some 700 members of the military on Thursday in response to the strike….The military acted after about 2,000 uniformed sergeants from all services protested through downtown La Paz. The protest was set off by the sacking of 13 non-commissioned officers last week for refusing to obey orders and for mutiny. But the strikers' grievances extend to treatment of the mainly Aymara and Quechua non-commissioned officers by higher-ups. Among their demands were changes to rules that block non-commissioned officers from promotion beyond the rank of sergeant, or entry to training institutes. "We are not against the government," said Johnny Gil, head of an association of non-commissioned officers."We are against this system, this capitalistic, neo-liberal, colonial model within the military."
China: shoe factory strikes – heavy pressure forces majority of workforce back…more here…video of interview with sympathetic "experts"
24/4/14: 
Brazil, Rio: angry favela residents clash again with cops at funeral of man killed by the cops
23/4/14:
Taiwan: anti-nuclear activists scuffle with cops
Eire: resistance to water meters spreads from Cork to Dublin
US, Oakland: offical strike against suicide-inducing policies
Ukraine, Lugansk: miners on strike for wage rise and against 10% tax to pay Kiev damages bill
Pakistan, Karachi: protesters against lack of water & electricity block streets as temperatures hit 38 degrees "…police were called in to disperse the enraged groups of protestors at several locations, including Surjani Town, New Karachi, North Nazimabad, Baldia, Keamari, SITE, Liaquatabad, Gulshan-e-Iqbal, Landhi and Korangi."…Quetta: lawyers pelt cops with stones after cops torture one of them
South Africa: platinum strike costs bosses about 1.3 bn euros
Philippines, Manilla: protesters against increased US military presence clash with cops
22/4/14:
Brazil, Rio: barricades after dancer killed by cops "Two main thoroughfares were closed after angry demonstrators from a slum set ablaze barricades of tires and hurled glass bottles to protest the death of the dancer, 25, whom Brazilian media say was killed after police mistook him for a drug trafficker….In the resulting protests, a 30-year-old man died after being shot in the head in the slum…One resident of Pavao-Pavaozinho, Daizy Carvalho, who works for a human rights group, said …"…What kind of World Cup is this?" …The people from the favelas need to unite and come out onto the street," she said, calling on tourists "not to come to the Cup".(video here)
Bolivia, La Paz, unprecedented illegal strike by 500 soldiers
China: 10s of thousands of striking shoe workers reject bosses' latest offer…Addidas moves some production away

India, Alwar: car parts factory sit-in by wildcat trikers now in 2nd week
Pakistan, Tank: roads blocked, tyres burnt, as protests against power cuts continue
Eire, Cork: residents prevent installation of water meters
US, Alabama: prisoner trying to organise prison strike  "taken out of his cell … placed in solitary, without clothing or a bed, in retaliation… " Phone warden Carter Davenport on (001) 205-467-6111 to tell him what you think of his slave empire…though one has to wonder what kind of tactical considerations  this prisoner was thinking of by announcing the proposed strike on the internet before it was supposed to take place, as if it wasn't obvious that this would allow the authorities to make sure it never happened and to victimise him.
Paraguay: guards kill 2 during prison riot
Egypt, Cairo: women sit-in against law outlawing protest
Germany: 78 "riot-proof" armoured water cannon trucks ordered by state found to  not  be egg-proof
21/4/14:
France, Calais: mini-riot in "ZUP" (high priority zone housing estate)
China:  shoe strike spreads from Guandong to Jiangxi 
Malaysia, Malacca: students expelled for "homosexual activity and alcoholism" riot outside welfare home
20/4/14:
Pakistan, Karak: residents block main road for several hours against government-forced suspension of power supply
China, Lingxi: as thousands protest, 5 "quasi-police officials" are beaten by protesters after officials beat street vendor and passer-by taking photos of incident…more here: "When a bystander, 36 year-old Mr. Huang, came to the woman's aid by filming the confrontation, he was reportedly attacked by cops with a hammer and began to vomit blood before dying on the way to hospital.,,,After word spread on social media about what had just happened, a huge mob of citizens arrived to surround the Chengguan officers, who attempted to hide in their van. "Kill them, kill them!" chanted the mob as the officers were savagely beaten with bats, bricks and stones, leaving them bloodied and unconscious.,,,Angry onlookers deflated the van's tires, while others smashed windows and doors with bricks, rocks, and wooden sticks. The men were dragged out of the van and beaten senseless by the mob," reports Epoch Times.…When an ambulance arrived to provide medical treatment, the mob tipped over the vehicle. Some reports state the the five cops were killed, but state media later claimed, "Two of the injured remained in a critical condition while a further three who suffered minor wounds received treatment."
Turkey, Istanbul: 100s of football fans tear gassed as they protest against e-ticketing system (video) (more here)
India, Malda: villagers invade Indian Reserve Batallion camp, attack personnel with stones and bricks, after soldier molests girl
19/4/14:
Brazil, Rio: barricades as shanty town residents set fire to 4 buses, a truck and 2 cars in anger against cops killing teenager and  young man 

China: number of strikes up almost a third on same period last year "This is going to be a very tough year for employers in China," said Lesli Ligorner, Shanghai-based partner at Simmons & Simmons. "There will be more strife and strikes. It's only going to continue."
18/4/14:
Zambia: bus drivers storm District Commissioners office in protest against fuel hikes
China: more workers join shoe factory strikes, as cops "haul away " workers on demo
World: list of some global riot tactics, both defensive and offensive
17/4/14:
Brazil, Bahia state: police strike ends after widespread looting of supermarkets, pharmacies and electronics stores…though there was also an increase in murders this report implies that the increase above the average was only 2 per day – from the average of 15 per day for this state to 34 for the 2 day period of the strike.
US, Alabama: prisoners announce impending strike against "slave empire" "We decided that the only weapon or strategy … that we have is our labor, because that's the only reason that we're here…They're incarcerating people for the free labor." (article here on some aspects of why prison rate is so high in Alabama…and this IWW statement shows some of the horrendous miseries of prison life there: "The conditions in Alabama prisons are horrendous, packing twice as many people as the 16,000 that can be housed "humanely", with everything from black mold, brown water, cancer causing foods, insect infestations, and general disrepair. They are also run by free, slave labor, with 10,000 incarcerated people working to maintain the prisons daily, adding up to $600,000 dollars a day, or $219,000,000 a year of slave labor if inmates were paid federal minimum wage, with tens of thousands more receiving pennies a day making products for the state or private corporations." However,  it has this bizarre sentence: "the struggle of these brave human beings is the same as the millions of black, brown, and working class men, women, and youth struggling to survive a system they are not meant to succeed within.", which implies that "black", "brown" and "working class" are separate categories., though perhaps it's a typo – maybe they unintentionally missed out "white" before "working class".
Peru, Madre de Dios: over a week of confrontations between miners and cops (videos)
Algeria, Kabylie:  youths attack election con and demockracy's cops "…groups of youths seeking to disrupt voting in the Bouria region, southeast of Algiers, ransacked polling stations in three localities shortly after they opened at 0700 GMT, with the police firing to disperse them….Forty-one people were injured in the unrest, including 28 policemen"Video here: "We're not supporting anyone, we're not with either candidate.We're fed up with Power. We're fed up with this system. We're fed up with everything in Algeria." (more here and here in French…less than 17% turnout in most areas of Kabylie)
Australia, Albany: prison riot
India, Ghaziabad: lawyers vandalise tables and chairs, break metal detector, at police post in court complex in protest against cop mishandling of  lawyer….film by Kammunist Kranti on class struggle in Delhi
UK, Berkshire:  riot in Broadmoor kept quiet for 9 months  
16/4/14:
Pakistan,  Khyber Pakhtunkhwa: road blockades across region as energy minster cuts off electricity' Pakistan's energy minister, … is implementing a tough policy that cuts off communities where most people do not pay their bills… "In these places 92% of people are not paying their bills…The people will come out and burn our offices… "
South Africa, Pretoria: squatters vow to spoil votes "It seems the only language this municipality understands is violence and vandalism. We have done this the gentleman's way for too long. Now we are going to be outrageous to get what we deserve"
Italy, Rome: squatters clash with cops
Peru, Iquitos: violent confrontations between cops and squatters (video)
Haiti, Port-au-Prince: cops tear gas & open fire on mass demo against crap government reconstruction after 2010 earthquake
15/4/14:
China, Gaobu: over 30,000 on strike at Nike and Converse shoe factory "The industrial unrest at Yue Yuen Industrial (Holdings), now stretching to around ten days and sparking sporadic scuffles with police, has centered on issues including unpaid social insurance, improper labor contracts and low wages. Workers have demanded improved social insurance payments, a pay rise and more equitable contracts."
South Africa, Olievenhoutbosch: residents block road in protest…Kliptown, Soweto: another protest (against rent rises)….as report declares that 56% of children live below poverty line
14/4/14:
Vietnam, Ca Mau: prison riot involving over 300 prisoners lasts 6 hours
Nigeria, Delta state: protests against electricity cut-offs "…some angry persons invaded the Aladja office with dangerous weapons. They destroyed office appliances and documents. Staffs were robbed, threatened and chased out …"
Pakistan, Lahore: sit-in in front of Punjab Assembly by mostly female sacked teachers and others now in its 4th day
13/4/14:
Greece, Athens: 100s battle cops in protest against Sunday opening for shops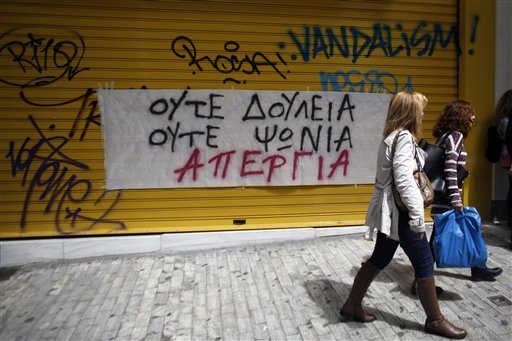 "No work – no shopping"
12/4/14:
India: Stalin stabbed with iron bar (Trotsky's revenge?), and 5 other cops injured,  after fishermen riot
US, Michigan: party turns into "riot" – bottles and rocks thrown at killjoy cops…Minnesota: riot cops called after hockey game lost "…young people moved from sidewalks to the streets, chanting "USA!", hurling profanities at police officers and throwing rocks and bottles. Some lay down in the intersection of Fourth Street Southeast and 14th Avenue Southeast."   Youth confrontations with the cops nowadays in  America seem to often happen after sports games, whether lost or won, or during mass student, or other, parties. One can dismiss these incidents as "apolitical" (after all, what could be more stupid than chanting "USA"), but in the atmosphere of zero tolerance, even something which is normally not very interesting  and directionless is considered a threat by the state, simply because it involves crowds gathering independently of the usual express reason – commodity consumption – and blocking the roads.  "After the experiences of the French Revolution, the efforts of all established powers to increase the means of maintaining order in the streets finally culminates in the suppression of the street" – Debord. Nevertheless, devoid of any perspective, these situations can hardly be called struggles, and usually have no ongoing consequence. For example,  given the mostly apolitical nature of these events, there is very very rarely any form of solidarity expressed for  those arrested.

Egypt, Gharbiya: villagers destroy armoured vehicle in clashes with cops over tunnel construction
Italy, Rome: anti-austerity march turns violent (Italian video) (morevideos here) (…English video and report here)
11/4/14:
Greece, Athens: expropriation of the expropriators by group calling itself "poor but dishonest"
Brazil, Rio: favela riot as squatters clash with cops after court orders eviction of 5000 ahead of World Cup (video)…more here…French site with links to various articles on  this situation in  Spanish, Portuguese, English, French
US, San Francisco: another Google bus blockaded in anti-gentrification, anti-eviction protests
Australia, Melbourne: cop cars renovated
10/4/14:
France, Essonne: before a robbery, several masked men trap the gendarmes in their barracks by puncturing the tyres of all their vehicles (text in French)
Vietnam, Ha Tinh: 4 cops abducted and beaten, 9 cops hospitalised, 11 motorbikes belonging to officials burnt, police chief's house ransacked, in protest against cemetry project
South Africa, Vlakfontein: protests against power cuts block main highway, burn tyres…Rustenburg: NUM scab's house burnt down…Boitumelong, Christiana: videos of riots from 6th April to today, plus numerous links to various articles…Wolmaranstadt: 5 shops looted during protests
Brazil, Curtiba: World Cup stadium  workers seem to win 4 day wildcat strike after roads blocked …Rio: Olympic stadium construction workers continue strike, threaten to give only "10% effort" if forced to return
Argentina: police and strikers clash during official General Strike…over a million join .… more here….cost to capital put at about 1 billion dollars

US, Minnesota: journalists and cops redefine riot to mean people partying in the streets (more here)
9/4/14:
South Africa, Christiana: teenage looter shot dead by shop owner during riot…road blocks prevent people going to miserable situations (school and work)
France, Grenoble: over 100 cars vandalised over the last week by someone protesting against pollution
UK, London: anti-eviction protesters occupy Department of Communities and Local Government
8/4/14:
South Africa, Boitumelong: community hall torched…12 police houses burnt down (video)…protests spread to neighbouring townships (video)
France: main evening news interrrupted as striking casualised cultural workers invade studio (video about 1m30seconds in: report in French) (see also this, from 10 years ago)
US, Iowa: student festival turns into mini-riot
7/4/14:
France, Rouen: several windows of the town hall smashed, just over a week after they'd previously been smashed
South Africa, Boitumelong: mayor's and 2 municipal officials' houses torched as protests continue (video)…protesters demand the municipality be disbanded
Brazil, Rio: striking construction workers at Olympic Park and security guards clash (video of strikers)
UK, Sussex: wildcat electricians'  strike on Friday leads to total victory today
Canada, B.C.: indigenous people's bockade of pipeline continues
US, Albuquerque: at least 4 cop substations vandalised ...as mass anti-killer cop   protest jams up city council ….St.Louis: nearly 100 bus drivers in wildcat sickie over retirement payments…San Francisco: horror shock vandalism  riot disorder disaster terror aaaaagh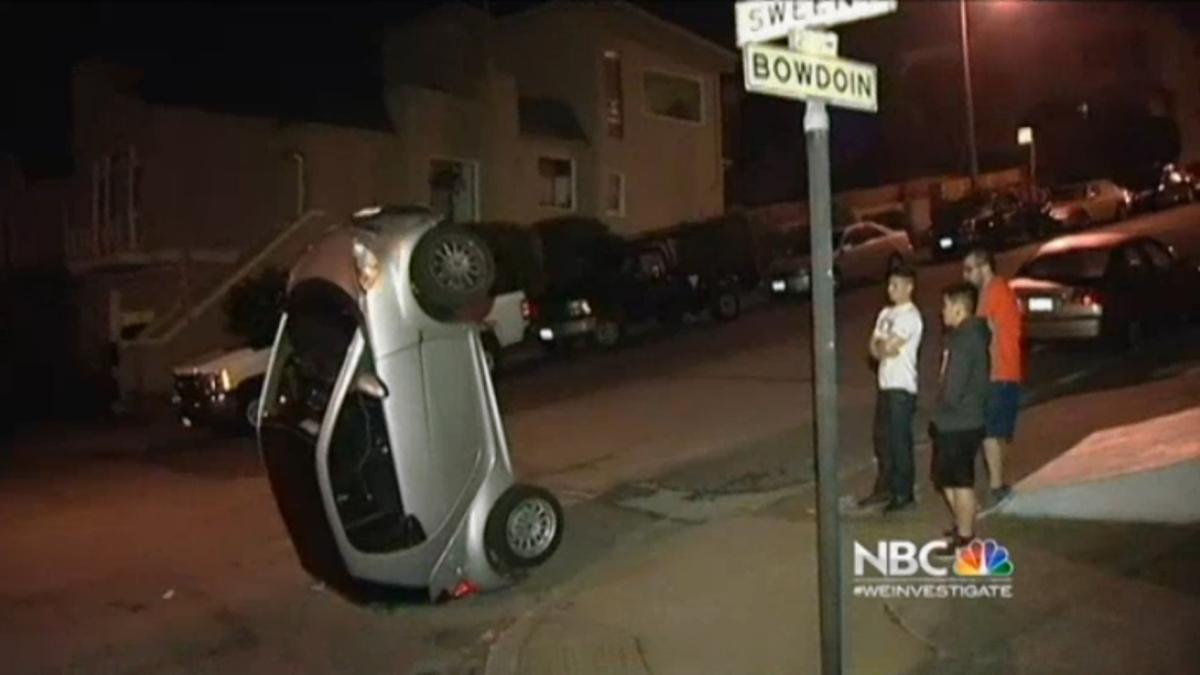 the realisation and suppression of art: a non-authorised installation in San Francisco
6/4/14:
US, Kentucky: mini-riot during arrest (sofa so hot)…Cincinnati: campus party repressed by riot cops
Romania: anti-fracking demos in 60 cities…more here "…Protesters also lashed at the government of leftist Prime minister Victor Ponta. After fighting against shale gas while in opposition, Ponta is now a supporter of this new source of energy."
Bahrain: just a reminder that riots are continuing there, now in their fourth year (video)…but, as far as I can tell, no sign either of any progress in this movement, nor of any retreat
5/4/14:
Algeria, Kabylie: violent  clashes with cops over election cons
US, Santa Barbara: Deltopia festival turns into riot – 6 cops injured … (video here) (more here)…Denver: small conflict between Anonymous and cops
Jordan: at least 22 cops injured as 700 people try to help 3 Syrian refugee families escape asylum camp (report here of 1 refugee killed by cops)…UN upset that official vilence is met with a little bit of violence in response (more here)
4/4/14:
Belgium, Brussels: cops pelted on anti-austerity demo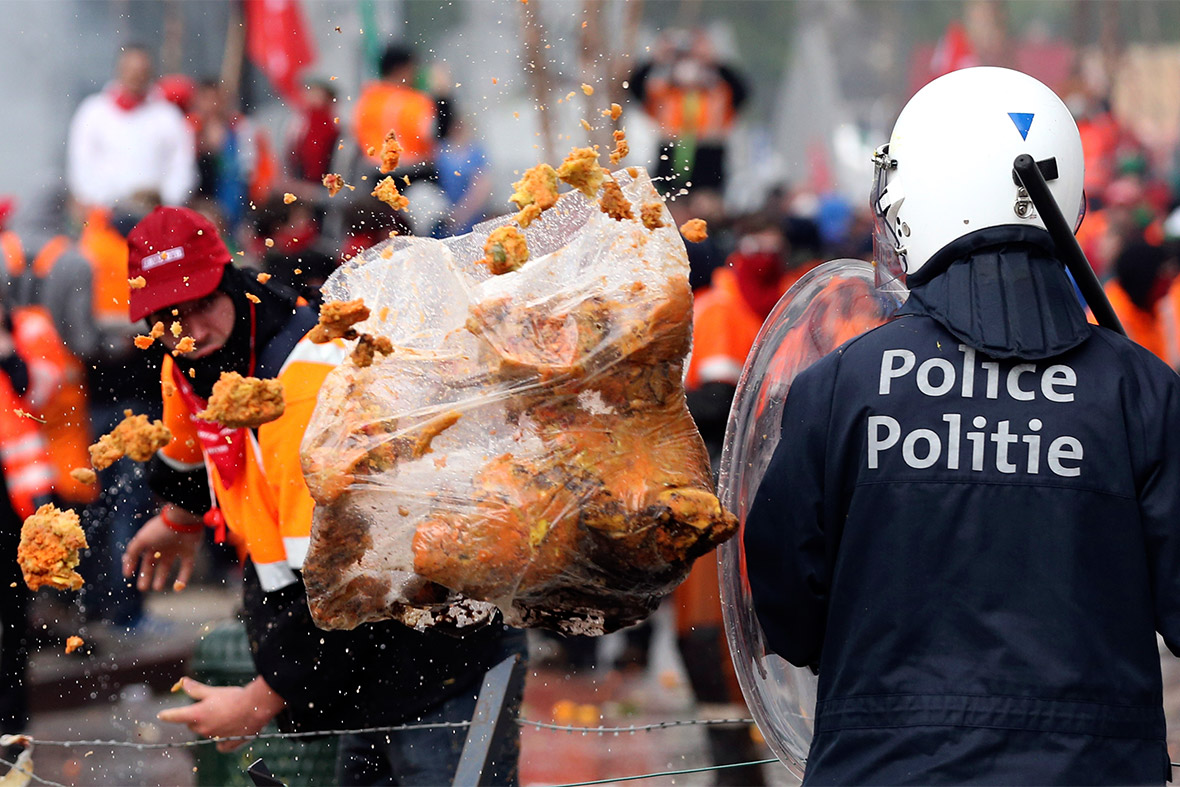 spot-the-rubbish
3/4/14:
Canada, Montreal: anti-austerity march turns into clash with cops
Peru: clashes during wildcat miners' highway blockades  – 15 miners, 3 cops injured
France, Calais: burning barricade during port strike
Spain: largely uninteresting union-organised anti-austerity protests in over 50 cities and towns 
South Africa: 48 major service delivery protests since January
2/4/14:
Papua New Guinea: student demo for political prisoners broken up by cops; students relatiate with stones, etc.
Tunisia, Ben Guerdane: strikers torch  building of union that scabbed on strike
US, St.Louis: "Occupy St Louis" guy gets acquitted of obvious frame-up by cops (see also "Occu…POW! – the jolt of occupy St.Louis")…..Oakland: pig who permanently damaged Iraq war veteran during "Occupy Oakland" promoted to 2nd-in-command of Oakland Police Department…report of 2-day student/worker strike at University of California
South Africa, Cape Town: wildcat bus strike

India, Mumbai: 2nd day of illegal bus strike
Lebanon, Beirut: students occupy campus with tents in movement against tuition hikes
Australia, Sydney: 8 arrested at blockade against transfer of asylum seekers
1/4/14:
South Africa: fishermen blockade port
Greece, Athens: anti-austerity demo – clashes with cops (video)
India, Mumbai:  illegal wildcat strike by bus employees, later made official, against longer hours
**********************************************************************************************
To return to latest "News of opposition" click here




News of opposition 2013 – click here