To return to latest "News of opposition" click here
January 2014

Video collage of some of the events of this month (though also including a bit from the beginning of February), produced by an American friend on 10 Feb 2014
"Invite friends and family over for a monthly dinner! Gather round the TV and watch this month's installment of "News of Opposition!" featuring the most promising and rebellious news of the past month from around the world! Really, do it!"  (from here)
31/1/14:
South Africa, Western Cape: another service delivery protest with burning tyres blocking roads….successful blockade by strikers armed with "fighting sticks" against scabs going to work in platinum mining strike (more here)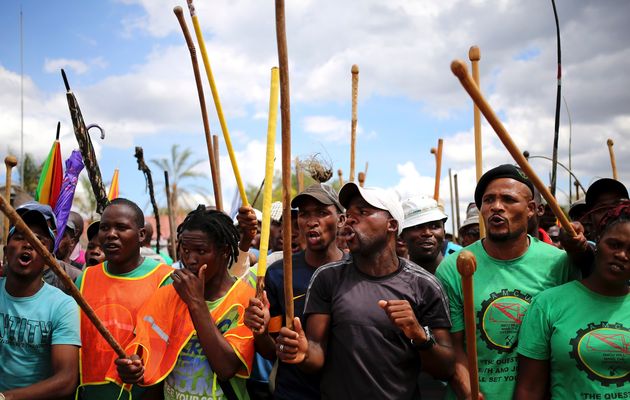 Israel: anti-settlement movement takes over town Palestinians were expelled from
30/1/14:
World: "riots will engulf  world" report "This selloff in the emerging markets, with their currencies going down and their interest rates going up, it's going to be disastrous and there are going to be riots everywhere…." 
South Africa, Bronkhorstspruit: police station and municipal building torched in service delivery protest
Spain: strikers strike over unpaid wages; game abandoned just before kick-off…team banned
29/1/14:
South Africa, Pretoria: 3rd SA student riot this week shuts down University…Limpopo: more about previous events (see 28/1/14)….Cape Town: harbour blockaded by fishermen supporting drowned poachers
Kenya: tourist briefly abducted during angry wildcat boat strike 
28/1/14:
South Africa, Limpopo:  cops kill 2 more people as 1500 attack police station with petrol bombs and stones after cops killed 15 yr old; 15 cops, 19 cop vehicles damaged
Kenya: main road blocked in protest against cop killing driver for refusing to give him a bribe
27/1/14
South Africa: platinum mine companies stockpile 6 to 8 weeks worth of platinum customers' demands to beat strike….regional politician calls for end to anti-scab violence
26/1/14:
US, Oakland: nice graffiti on cop highway patrol station…. after not-so-nice cop murders
Cambodia, Phnom Penh: garment workers and others clash with cops
Check out this extraordinary article called "Workers of the world – faint" – about mass fainting in Cambodian  garment factories.
Trinidad: protesters against cop shooting of man in foot block roads (same area as major riots in September)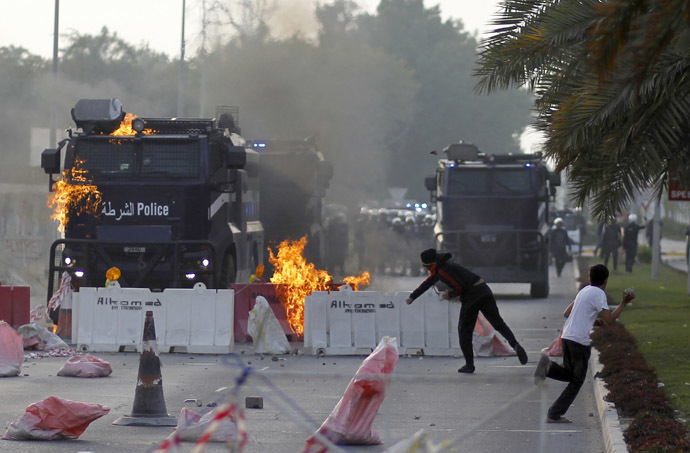 Bahrain, a village west of Manama
South Africa: business interests worry about service delivery protests putting legitimacy of state at risk
India, Calcutta: jute mill workers blockade rail tracks
Australia: mini-riot against Perth police party-poopers
Brazil, Rio: shit-in protest on beach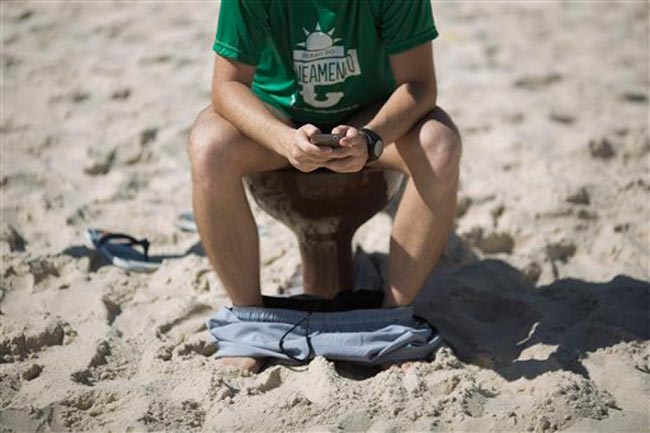 Ukraine: confused and confusing movement spreads to areas traditionally supportive of  government
25/1/14:
Brazil, Sao Paulo: anti World Cup rioters smash banks, attack cop cars (video) (report here on fear of violent demos on the part of most Brazilians)
 Chile: port strike ends with strikers winning most of their demands 
24/1/13:
South Africa: various incidents in the platinum miners strike yesterday and today "Amcu protesters pelted cars with stones and barricaded roads in Rustenburg where a strike in the platinum industry entered its second day on Friday, North West police said…."This is happening despite the request by police as well as Association of Mineworkers and Construction Union (Amcu) days prior and on the first day of the strike that all those who are on strike must respect the rule of law including the rights of those who are not on strike…"We still urge AMCU leadership to take control of their members on the ground so that the police can continue to do their work in providing safety to lives and properties." …Several incidents have been reported since the strike for better wages started on Thursday, said Ngubane…."A group of about 50 people barricaded a road between Jabulani Hostel and Khuseleka Shaft with burning tyres, stones and rubble yesterday (Thursday)."…He said in another incident in the early hours of Friday, a Chinese furniture shop was burnt to the ground at Wonderkop in Marikana…."The cause of fire is unknown at this stage and police are investigating a case of arson."…He said cars travelling on the road between Chaneng and Shaft 12 of Impala in Luka were pelted with stones….On Friday morning, an Amcu coordinator told Sapa mine security used water cannons on strikers at Anglo American Platinum's (Amplats) Khuseleka mine…."The situation is out of control, it is tense," said co-ordinator Evans Ramokga…."Mine police (security) without any provocation sprayed workers with water. The workers had gathered to picket outside the mine's operation."…He said the workers retaliated by pelting the security staff with stones….On Thursday, Ramokga said the union had roped in more marshals to ensure that the strike was peaceful"…and more here: "Hundreds of striking employees wielding fighting sticks and machetes and singing protest songs marched yesterday at Impala's mines in Rustenburg, 116 kilometers (72 miles) northwest of Johannesburg. Members of the National Union of Mineworkers, displaced by the AMCU as the most powerful union at platinum mines, took refuge at NUM offices after being prevented from reporting for duty.
"We again saw large-scale blockading of entrances" at the start of the strike's second day, Johan Theron, a spokesman for Johannesburg-based Impala, said today by phone. The company canceled its night shift for the duration of the walkout to avoid non-striking employees from commuting in darkness."
Australia, Melbourne: Captain Crook's cottage spray-painted
23/1/14:
South Africa, West Rand: cops kill man during housing eviction protests… cops arrested

Nigeria, Lagos: students riot about exam registration, attack vice chancellor…..   Bayelsa State –  students riot about  fee hikes; Lagos State University closed indefinitely (more here)
India, Kochi: rickshaw drivers go on strike against cop harrassment
Ukraine: this take on some of the contradictions there   seems better than most "radical" commentators…meanwhile, government buildings seized in 2 other towns  Also, this from a Ukrainian in reaction to a libcom article seems interesting: "That is not really the whole the truth. Let me, as a Ukrainian, speak up.   You are right, when you're saying, that Svododa is a neofascists party. And you're right with all of these pics.
But you're wrong with the term 'Neo-Nazis and far-right protesters'. People, who are now fighting and giving their health or even lives away on the streets of Kyiv are simple people, not enganged in neither 'far-left', nor 'far-right' movements.
The RIght sector (fasсists organisation) started the uprising on 19th of January, thus it does not mean that only they are now continuing it. People from all over Ukraine (mainly west part of it) are supporting this uprising, only because they are fed up with all of dictators rules and laws and because the president's family live in prosperities, while simple Ukrainian is labouring day and night.
The uprising is spontaneous, that is people's fit of anger.Svoboda and other opposition leaders are losing their authorities among people, but the other thing is that people do not know what to do and how to live without the statutory authority. So they will, probably, vote for one of opposition's leader, not for Oleh Tyahnybok, but for Vitalii Klytschko or the third one. That'll happen if the opposition wins. What will happen when Yanykovych wins, I am afraid even to think. Ukraine will become the second Belarus or even worse. Both 'far-right' an 'far-left' activist will be sentenced or killed."  And here's a Ukrainian anarchist statement
22/1/13: 
UK, Birmingham: students break injunction and begin sit-in against privatisation (with stupid "Defend education" slogan ie "state-run methods of making people stupid are better than privatised methods of making people stupid"…though obviously I know it's more complicated than that)
Thailand: unpaid farmers block major highway, planning to block for 3 days
US, Washington DC: food service and janitorial staff in Pentagon go on strike against even worse wages than Walmart or Macdonalds
India,Haryana:  strike by govt employees provokes residents to block roads against power and water cut-offs Although the implication of this news item is that the residents are hostile towards the strikers, effectively this is a kind of solidarity action as I would have thought  it increases the pressure on the government to accede to the strikers' demands.
21/1/14:
India,  Tiruchiraphalli: farmers block major highway
Cuba: proletarianised "petit-bourgeoises" in rare protest against state attacks (video)  (more here)
Chile, San Antonio: arrests as port strike enters 3rd week…..possible arson of part of port (videos) (interesting report here)
Ukraine:  3rd day of heavy conflicts, after 80 cops are hospitalised (videos); cops dismantle large "medieval" catapult  (see this, including videos, one claiming the extreme right attacked cops.…) built yesterday by rioters to hurl rocks at cops   "Opposition leader Vitali Klitschko accused the government of paying thugs to delegitimise the protests through violence. He said the thugs, who were tasked with smashing windows and burning cars, were chased away by protesters." (here). Unless there are some particularly interesting developments,  reports on the Ukraine on this site will cease (mainly because I really know very little about it and haven't yet found any clear take on this explosion). But having said that,the use of cellphone tracking by the state is something that has obvious significance internationally: "the sending of cellphone messages on Tuesday to people standing in the vicinity of the fighting that said, "Dear subscriber, you are registered as a participant in a mass disturbance.".….the government seemed to be using cutting-edge technology from the advertising industry to pinpoint people for political profiling. Three cellphone companies in Ukraine — Kyivstar, MTS and Life — denied that they had provided the location data to the government or had sent the text messages, the newspaper Ukrainskaya Pravda reported. Kyivstar suggested that it was instead the work of a "pirate" cellphone tower set up in the area."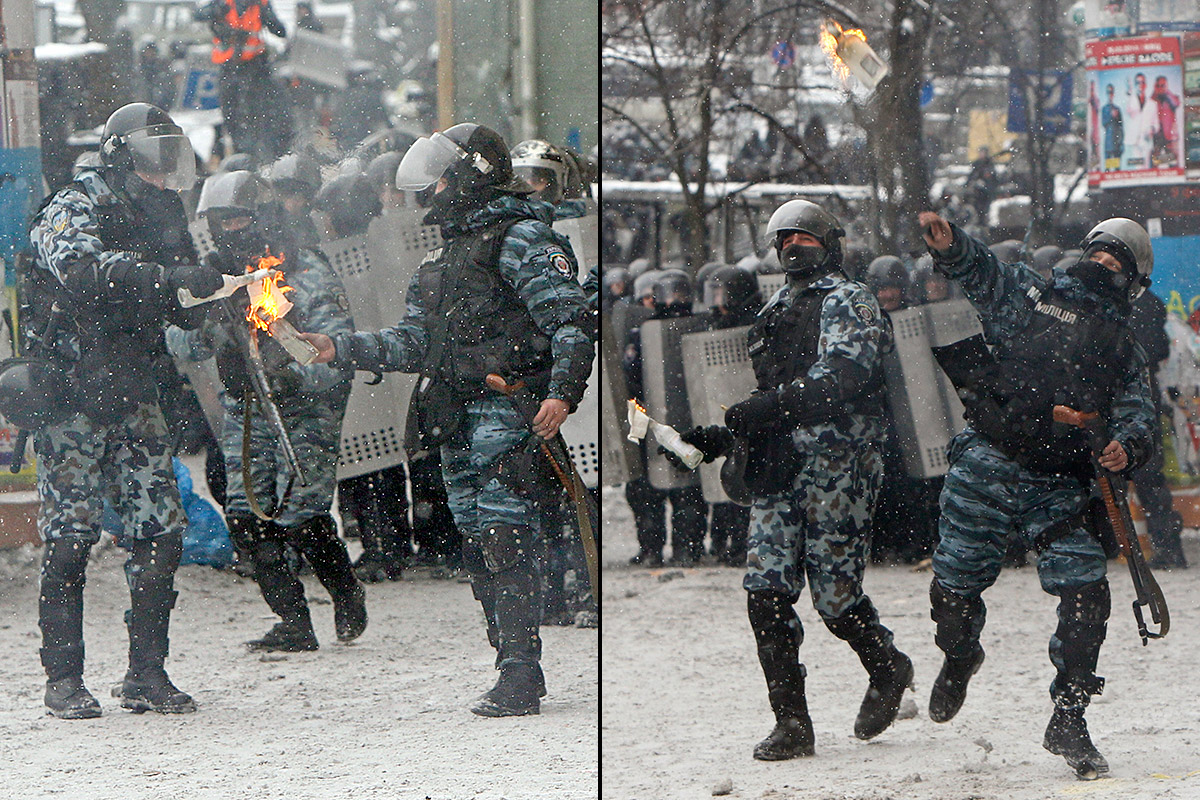 role reversal: cops in Kiev
20/1/14:
South Africa, West Rand: housing and  service delivery protesters block road for nearly a week; Institute for Race Relations predicts 4 anti-govt protests a day…….looming platinum/gold mine strike – low level union bureaucrats clash with top level ones
Greece, Athens: petrol bombs launched at riot cops
Ukraine: cross-party commission to deal with crisis implies that rioters have, at long last,  outflanked the official opposition (video)"Despite appeals from opposition leaders not to resort to violence, a minority threw molotov cocktails and stones at police overnight…President Yanukovych says he will negotiate with opposition leaders and that a cross-party commission would be set up on Monday to try to resolve the crisis….Euronews correspondent in Kyiv, Sergio Cantone, … describes how the most radicalised sector of the crowd wasn't ready to calm down and continued throwing molotov cocktails at riot police. "...rioters show how to  deal with pacifist opposition leaders (video)….."initially there was anger inside the main protest camp on Independence Square at "provocateurs" causing the violence, but many quickly began to support those clashing with police"…… Originally a pro-EU movement, maybe the latest attempt by the state to ban protests means that at least sections of it will ditch this absurd pretext, which up till now has meant it's  been a cross-class movement, with pseudo-oppositional politicians trying to lead it…..Though maybe I'm being over-optimistic. After the long sleep of counter-revolution, it's clear that waking up is complex and uneven, and certainly groups, movements and individuals can't simply be judged either by their anti-cop violence or by their explicit consciousness (right-wing or some other hierarchical ideology). People change over time – and the advances and retreats of struggle involve right-wingers, and others, either breaking with their past and opening up to other proletarians in a common struggle or retreating into the "security" of a gang mentality…all of which remains to be seen.

UK: particularly obviously obnoxious politican hit on head with placard (video)  
19/1/14:
Romania: 400 heavily armed riot cops stand guard over 250 peaceful anti-shale gas protesters
US, North Carolina: police substation attacked after demo against cop murderer (video) (more here)
South Africa, Johannesburg: one of  Mandela's 2m rand houses squatted and vandalised…Mbombela: service delivery protesters barricade roads….Brits: 4th victim of cop brutality dies…Marikana cop involved in these killings
18/1/14:
Nigeria, Lagos: 200 youths attack police station, free detainees, attack home of local state official  
US, California: TV journalist attacked in protest against cops getting away with murder (more here)
Turkey, Istanbul: riot cops break up demo against expansion of state control of internet (more here and here)(video here)
17/1/14:
Tanzania:  2,000 people  with machetes, stones and hammers raid  gold mine hoping to seize its gold
Brazil: flashmob protests spread across country…..More detailed information here…. More in French here. A contact wrote the following very interesting reflections about the movement in the summer (sent in October): "In regards to may, june, july and august, at least here in Goiania what I saw was burgeoning hope that was utterly crushed by an alliance of all conservative forces combined (bureaucrats, politicians, media, "extreme-left", parties, unions…). So much could have changed… yet so little actually has. In my city, during May we managed to bring the city practically to a halt in the transport fare struggle, people were starting to lose the fear of confronting the police, the government and the companies and it came a time during june that EVERYONE, EVERYWHERE (in the bar, the bus, the streets, schools, even universities…) was talking and discussing about demonstrations, struggle, what could be done to change life… and that during the campaign against the misery of transport and concretely against a fare increase. Ironically, it was precisely at the moment that we managed to defeat the fare increase that we started to lose.
Then a media campaign started called "#VemPraRua", "#Cometothestreet", based on a GeneralMotors comercial campaign slogan and everyday they bombarded everyone with how they should demonstrate (in white and "without vandalism") and what they should struggle for ie. against corrupt politicians and better governamental management or even "education"… and at the same time inflated a sense of patriotic pride at these mobilizations. In a way, this was similar to Turkey but in a much more reactionary manner compared to what was happening before. Then there was the 20 of June and the biggest demonstrations we ever saw in all of Brazil. In my city there were around 100.000 people on the street (it is a city of 1.5 million population) and in other bigger cities there were demonstrations of one million, one million and a half… besides very big demonstrations in smaller cities which had a more lasting effect which I have yet to discover… have been researching, though.
Sadly though, most of the demonstrators were caught in this vague wave of happy patriotism and spent most of the demonstration singing the national anthem, repressing violently demonstrators who wanted to do more interesting stuff and screaming "No violence!" at everyone who was wearing a mask. We even had people screaming "No violence!" at kids who were clearly poor and from the suburbs of the city, even when they were not wearing a mask. After followed a few very confused and very violent demonstrations and then it all died off…
When things got very big and started to die off, the extreme-left wing of capital swooped in and killed off what genuine spaces of discussion and action were left. The meetings we had, where despite being tiresome we always managed to come up with creative and thoughtful propposals to try to attack capital and it's lackeys started becoming boring and almost never managed to come up with anything practical.
Somehow, the maoists and anarchists involved in the movement managed to convince a lot of students who had participated in a gigantic and sucessful struggle through direct and active participation that the next step necessary was to dispute electorally and student directory of the university. I tried to make the discussion against that and winded up almost completely isolated. Even the lyceens who had been most active and confrontational winded up being used as electoral labor for the maoist-anarchist alliance. Normality stablished itself again… people were disputing elections and building their ideological organizations again. And speding day and night in that election.
Ironically, a repressive campaign started within the struggle circles I participated in against those who were against the elections and an attempt to isolate us socially from the people who we had been struggling with these last few months. It worked — I lost most of the friends I had met during the process and since I winded up living a miserable 'militant life' for these months, the other friendships I had built during all of my life had become mostly enstranged. It was curious — for a time, it was as if everyone could talk to each other freely and then it was no longer possible even among close friends, all communications had closed off. Quite a few of my friends and myself fell into a pretty severe depression, many started using lisergical/delusional drugs.
I learned that all the things I had sacrificed without even noticing — all my free time, the time I spent with my friends and lover, the time I spent to myself to think — these sacrifices prevented any actual change from occuring in my life despite all the big demonstrations and the "victory" against the fare increase. I acquired, for a time and managed to change now, fortunately, even some authoritarian manners of speaking and relating to people from all that time spent in meetings and more meetings and more meetings. I think I winded up contributing much more to the power projections of these ideological groups with these sacrifices, now that I think of it, than to real struggle against the shitty life I had. At the same time, perhaps, it was sort of an escapist solution — in that I literally no longer lived in the places where most of the production and reproduction of misery occurred, but somewhere else, "in the streets".
Now things are coming up again – a few wildcat strikes here and there, the fear of police did not stablish itself again in many place, all sorts of rioting and struggle is taking place in many cities. In university it is as if an invisible wall had established itself again against all attempts of change… but one thing or another may be coming up too…"
Spain, Madrid: scuffles with cops on demo in solidarity with Burgos (video)…Burgos mayor cancels project (or is it just suspended?)…..Barcelona: police station attacked (video)….anarchist account and analysis here ….Trotskyist analysis and account here….clashes in Alicante, Valencia and Zaragoza
South Africa, Johannesburg: service delivery blockades continue into 4th day  … Brits: member of mayoral committee attacked at memorial service for 3 victims of cop brutality  From an email from South Africa: "… everything is cracking up in SA. Numsa looks like it will split from Cosatu's submission to the ANC – only to form a 'worker's party'. The townships are still in flames every day. At the moment, the pseudo-radicalisation of some unions and politicians does not seem to have any prospects of seriously containing the ongoing contestation, certainly not for the long term. The fate of all other opposition parties, some of whom had significant mass support, like the IFP, not to mention the defacto voting boycott by half the country, indicates that people are unwilling to chain their desires for change to political leaders any longer. Besides, in a country where revolutionary workerist rhetoric has been institutionalised by the oppressors for two decades, more of the same is unlikely to fool any but the moronic intellectuals who stand to benefit most from such bullshit."
Canada, Edmonton: OAPs occupy Health Minister's office overnight in protest at prescription payment plan (more here)
16/1/13:
Brazil, Rio:   strike gives thumbs down to sacrifice personified
Spain, Madrid: more clashes with cops on demo in solidarity with Burgos (link in Spanish)
Madagascar: total university strike in solidarity with student victims of state brutality
Tunisia: energy price hike suspended  after riots (see 10/1/13)
15/1/13:
New Zealand, Auckland: prisoners wreck prison bus
South Africa, Pretoria: train services stop due to service delivery protest … Roodeport: roads blocked due to another service delivery protest…Brits another protester dies… (almost certainly killed by cops)
Spain: protests spread to 46 cities, clashes with cops in Madrid and Burgos  (also here)…Burgos: 6th day of riots (link in French) (interesting comment in English here) (more here and here)
14/1/14:
South Africa: ANC tries to calm  anger in wake of 2 murders by cops 
Lebanon, Beirut: sacked workers block motorway, scuffle with "security"
India, Gurgaon; thousands  of workers demonstrate outside police station against company goon violence
S.Korea: Korail union leaders and supporters in 6 hours of scuffles with cops…dismissed workers sit-in on crane
Since the 1st link keeps on cutting off, I've put the whole of the article here:
KORAIL STRIKE LEADERS LEAVE REFUGES AND SURRENDER
Jan 15,2014
Union leaders facing arrest for leading last month's railway strike turned themselves in to police yesterday for questioning, surrendering after hours of scuffles between union supporters and police in central Seoul.Kim Myung-hwan, head of the state-run railway operator's union, said the voluntary surrender was intended to "express union members' willingness to shoulder the burden caused by the dispute between management and the union."Kim also said during a press conference yesterday morning that the leaders will justify the strike in court before his surrender at the headquarters of the Korean Confederation of Trade Unions, where he was in hiding for about a month.After the surrender of the 13 wanted men, including Kim, no union fugitives remain at large. The men had been taking refuge at relatively secure locations such as the KCTU and Democratic Party headquarters, and Jogye Temple.Other leaders surrendering yesterday included Park Tae-man, deputy director of the railway workers' union, who has been at Jogye Temple in central Seoul since Christmas Eve.The union called a strike last month following Korea Railway Corporation's decision to form a separate subsidiary to run a new bullet train service linking Suseo-dong in southern Seoul with Busan.The union saw the move as a stealthy step toward the privatization of Korail, which the government denied.They ended the 22-day strike, the longest rail walkout in the nation's history, after ruling and opposition parties reached a deal to form a parliamentary subcommittee dedicated to discussing pressing issues in the railway company.
Despite the strike's end, law enforcement agencies vowed to discipline over 1,000 union members for being involved in what they dubbed an illegal strike.
Yesterday's surrender did not go smoothly. The leaders were scheduled to turn themselves in before noon, but they refused to do so after finding police officers waiting to arrest them when they came out of their places of refuge. The leaders demanded that the officers be withdrawn so that they could surrender voluntarily.
The police maintained that they would arrest the fugitives first.
Following physical clashes that lasted for six hours in several sites, but most particularly at the KCTU headquarters, two Democratic Party members mediated and the 13 leaders were allowed to enter the police cars without being forcibly arrested.
A court issued arrest warrants for a total of 35 union leaders, and the other 22 have been arrested or appeared voluntarily for investigation.
None are currently being detained, including the 13 arrested yesterday.
Tensions still remain over the core issue: Korail's new subsidiary and concerns about privatization. Opposition representatives suggested that the subcommittee should come up with legislative measures prohibiting the privatization of the state-run railway operator.
The ruling Saenuri Party asserted once again that the government has no intention of privatizing Korail.
 SamFanto note:
13/1/14:
Spain, Burgos: government send in 100 extra riot cops after 3rd day of rioting (more here, including video) (more videos here)
Morocco, Western Sahara: pro-independence youths torch cop car, chuck molotovs
South Africa, Brits: service delivery protest blocking roads met with brutal cops – 2 killed (more here) Undoubtedly cop violence has been encouraged by such statements as these, by former Archbishop Desmond Tutu, who said, in the aftermath of Marikana:  "Under apartheid, we faced daily battles for the right to gather, to protest and to march. Now that these rights are enshrined in our law, we abuse them. When we march, we demand, we destroy and we loot. We care not whether our demands are reasonable, or what actions we take… our police appear powerless to stop tidal waves of violent crime and what we euphemistically refer to as "service delivery protests", the latter regularly accompanied by violence and destruction committed with utter impunity….While we rightfully condemn the police for massacring 34 mine workers last week, and demand the use of non-lethal methods of crowd control, we also sympathise with the vast majority of good policemen and women who have battled to do their very difficult jobs"  (here). Following the intensification of mystification brought about  curtesy of the spectacle of Mandealer's funeral, aimed at disarming opposition to the horror, we can expect  even more violence committed with utter impunity on the part of the state.
This, from a text published in 1985, is prescient: "… for most of those in the ANC military camps, the future after the glorious event, if it comes, is more mundane: as the elite of the ANC police….Though bitter enemies, with profoundly opposing interests, the ANC and the white state are united in at least this: the infrastructure of the economy must be saved. Ownership, personnel and the style of administration are what is at stake here….For the ANC to come to power in South Africa then, at some point in time & preferably somewhere, the revolution must stop." (from here)
India, Durgapur: road building project stalled as engineers & officials are surrounded by residents armed with bows and arrows
Kenya: primary school pupils stone teachers in protest against financial burden of transfers
France: taxi drivers fighting neoliberal "VTC [voiture de tourisme avec chauffeur] multinationals, financed by Google and Goldman Sachs" trash cars, set up roadblocks, create traffic jams etc. in 4 cities
Chile: port strike spreads…clashes between cops and workers; offices of port company wrecked
Australia, New South Wales: environmentalists blockade mine construction site (more here)
US, Colorado: vandals trash investment in country's future horror shock!….California: more cops get away with murder
Israel: curious end to African immigrant protest Protest organizer Emmanuel Yamna, from Eritrea, told Israel Hayom that "people should get back to work for their own sake, as well as their employers. It's not [the employers'] fault and we don't want to hurt them. They don't have to lose money over this." …Yamna said that the passing of former Prime Minister Ariel Sharon also played a part in the decision to end the strike. "He was the prime minister of Israel and we respect that," Yamna said.
UK: demonstrations against particularly nasty & manipulative reality TV show
12/1/14:
India, Uttar Pradesh: villagers pelt stones at cops coming to arrest a villager for having pelted stones at cops last year
Palestine, West Bank:   a divided proletariat creates a twisted kind of logic – refugee camp residents clash with Palestinian cops in protest against UNWRA workers' strike (more here )…..general strike of health workers against divide and rule tactic of selective increased wages
11/1/14:
Spain, Burgos: anti-gentrification protesters destroy at least 5 banking offices, shops, telephone booths, rubbish bins, and attack cops (video) …… street barricades erected (more here)

India, Mumbai: wildcat train strike after union train driver is suspended from work for assaulting personnel manager; strike successful – suspension revoked
10/1/14:
Tunisia: anti-economic riots flare up in Tunis and Bouchebka; burning and looting; one dead….more here
India, Mumbai: wildcat rail strike against suspension of worker accused of slapping official
Australia, Queensland: party turns into mini-riot; cops pelted with bottles
Vietnam: Samsung construction workers charged over riot (related article here)
9/1/14:
Bangladesh, Chittagong: 20 yr old woman killed by cops as footwear workers riot
Vietnam: Samsung factory construction workers  riot (video here)  (more videos here)
Turkey: Kurds clash with cops  (video) This is  partly PKK-connected, the PKK being a longstanding Maoist organisation – see this from 1991: "the PKK is used by Syria because they're against the dam built across the Euphrates by the Turkish government and which starves Syria of water. Patronising the PKK, the Syrian govemment has given the leadership safe headquarters in Lebanon's Bekhar valley. The Maoist-oriented parties go back to the early 70s and they want a system of peasant collectives, nationalisation of the land, etc. But throughout their 20 year history they've killed people they've got minor ideological disputes with — individuals who leave the party, etc. Also, in attacking collaborators they tend to kill simple and harmless peasants from the same villages as the collaborators — creating a climate of fear."
Palestine, West Bank: angry protesters shatter window dressing for brutal occupation [note: resistance to the ethnic cleansing of the Palestinians is a daily occurrence and I don't normally report it, as it's constant and constantly repressed; but this was slightly different]
Germany, Hamburg: continuing tension despite cop curfew being scaled back
Canada, New Brunswick: journalist scum show, once again,  whose side they're on in shale gas protests
Tunisia, Tatouine: 2 police stations and governing party offices attacked in protests against cost of living; protests force government to suspend vehicle tax increase  
8/1/14: 
Brazil, Rio: residents clash with cops after more forced evictions and house destructions  
US, New York: anti-frackers take over Empire State Plaza (news video) 
France, Amiens: Goodyear factory occupied after plant managers held capitive are released by cops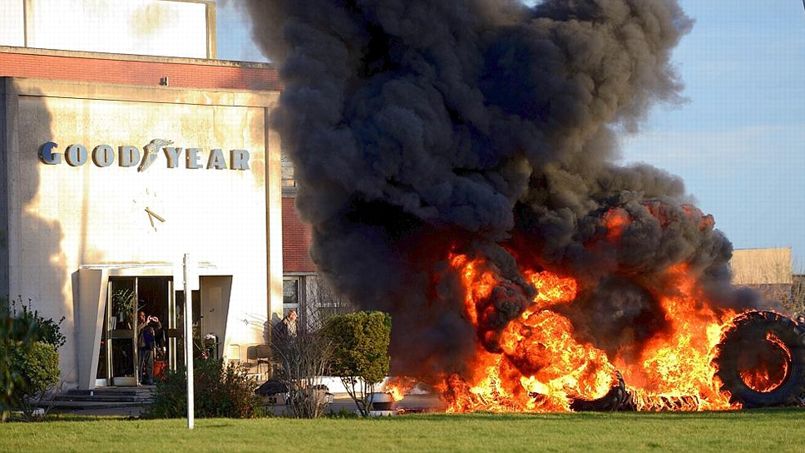 2014 – a good year for untyring struggle…?
India, Jammu: various clashes with cops in anti-government protests
UK, London: Tottenham –  professional manipulator punched in face on angry Mark Duggan demo…Archway – hospital boardroom occupied on director's 1st day 
Peru: construction workers clash with cops (video)
Greece, Athens: School guards protesting their induction into cost-cutting civil service mobility scheme met with riot cops' tear gas…government bans protests for 18 hours
Tunisia, Kasserine: General Strike against lousy living conditions; police post attacked (more here and  here) (video here) "Dozens of protesters tried on Wednesday to force their way into the offices of the ruling Islamist party Ennahda in the town of Kasserine, but were pushed away by tear gas fired by police…In the village of Thala, which lies in the Kasserine region and had already witnessed clashes on Tuesday evening, protesters attacked a police post, partially burning it and driving away the security forces, witnesses said….A policeman was injured during the clashes after he was hit by a tear gas canister fired at him by one of his colleagues."
Israel: asylum seekers'  mass march  (video here and here) (update here)
7/1/14:
Trinidad: residents set up burning barricade in protest against crap roads
Cambodia: contradictory reports on "the end" of the garment workers' strike after state  terror  (contradicted by this) (international retail industry worried)…arrested strikers held incommunicado…bosses sue unions for damages caused by strike (Al Jazeera video, with standard political agenda, here)
Lebanon:  teenage anti-martyrdom internet "movement" spreads
US, Alabama: prisoners use contraband cellphones to spread their protest through the internet
6/1/14:
US, Bay Area: curious local state reaction to anti-gentrification movement…Alabama: prison protests against slave labour and insanitary conditions spread
Cambodia: garment workers return to work after at least 4 killed by cops (more here)
Israel: African migrant protests continue
UK, Wolverhampton: riot  in prison previously known for rooftop protest ("incident resolved") …more detailed  information here and here
4/1/14:
China: off-the-back-of-a-lorry orange disorder faces the peelers
Sri Lanka: 27 prisoners in rooftop  protest
Ghana: loading boys refuse to load
US, Alabama: protest strikes against slave labour in 2 prisons
Israel: asylum seekers from Sudan & Eritrea declare nationwide strike (more here) (see entry for 17/12/13)
Cambodia: riot cops evict protest camp
3/1/14:
Cambodia: striking garment workers clash with riot cops for 3rd time in a week ….. cops kill at least 3 (see entry for 31/12/13) (more here and here and here) (video here)
Pakistan, Mingora: protesters against power outages block road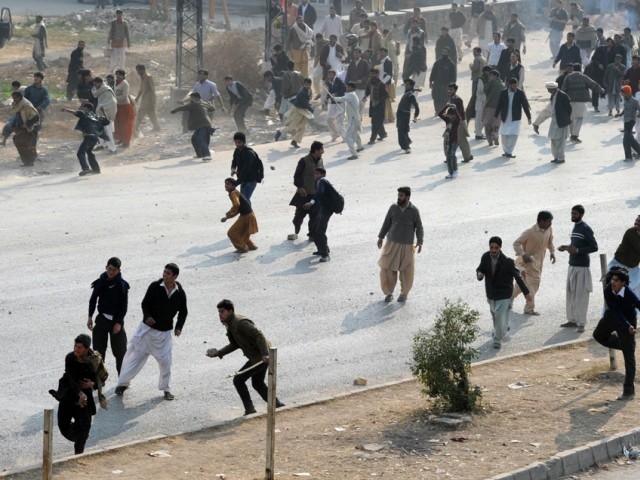 Power cuts protest, Pakistan
2/1/14:
India, Mumbai: medical services to go on strike against cop brutality (more here)…Mumbai: road blocked against rubbish dump…Calcutta: rickshaw drivers on wildcat strike…Bangalore: students block road in sit-down protest against power cuts
1/1/14:
India, Surat: 85,000 rickshaw drivers on official strike…Madurai: lorry owner-drivers go on wildcat strike… Inamkulathur: truck drivers at bottling factory on official strike…Bangalore: sand transporters' official strike badly effects construction industry (more here)…Ahmedabad: local state threatens temp workers' strike…Turupur: workers blockade main road after worker dies
Ghana, Accra: hotel workers in sit-down strike
Malaysia, Kuala Lumpa: massive illegal protest against rising cost of "living"  stops News Years' eve concert as protesters seize stage; cops worried
Nepal: cops pelted with stones in protest against delay in compensation
Portugal: binmen's strike trashes banks (an improvement on the usual stench coming from these places )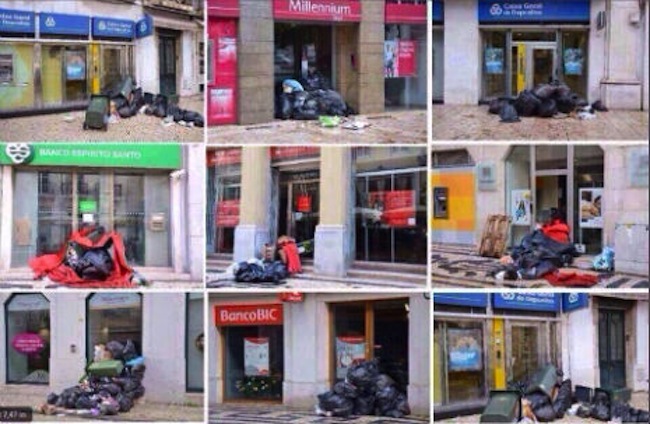 _________________________________________________________________________




News of opposition 2013 – click here