To return to latest "News of opposition" click here
March 2014

"Food for thought" video made by a friend, loosely based on this month's information here. Used by him at a meal-come-get-together each month as a catalyst for discussion.
31/3/14:
South Africa, Cape Town: journalists attacked,  cops pelted with stones, etc., rocks and burning tyres used as barricades in angry protest against house demolition; cops use rubber bullets and stun grenades…Hammanskraal: bus & car burnt in protest against fare hike; most township inhabitants refuse  to work
Bolivia: heavy confrontations between cops and miners, after miners block highways; 2 miners killed as miners chuck dynamite at cops
Brazil, Rio: tanks occupy favela to protect world cup against opposition by the poor (see also entry for 13/3/14, below)
30/3/14:
France, Beziers:  election (on just under 50% of the vote) of   National Front mayor met with anger in poor district of town (report in French)"… clashes occurred in the popular area of Devèze, ranked as a Priority Security Zone (ZSP) where young people threw stones at the CRS. 2 cars and a transformer were burned in the neighborhood Iranget . In another popular area of Iranget , two cars , containers and a transformer were also burned , leaving the entire neighborhood lit up."
China: heavy confrontations with cops over polluting chemical factory…. reports of several people killed
Chile, Santiago: more clashes with cops (video)
US, Albuquerque: demo against cops murdering people turns violent (more here, here and here – video) "…one police officer was injured in the "mayhem"….At one point, protesters trapped police in a vehicle and tried to break the windows, the Albuquerque Journal reported. The police department said its website had also come under a cyberattack on Sunday afternoon."
29/3/14: 
US, Arizona: student basketball fans clash with cops
Chile, Santiago: clashes with cops
28/3/14:
UK, Northumberland: prisoners take control of part of prison wing…Brighton: kids given detention for going on strike during teachers' strike
27/3/14: 
Spain, Madrid: more university bin burning, barricades and blockades as students and high school pupils demonstrate…rallies and  some clashes also in  Barcelona, Valencia, Bilbao, Pamplona and elsewhere
Ukraine: From Russia Without Love
UK, Retford: blockade of fracking site
26/3/14:
Spain, Madrid: barricades at University entrance, containers burnt, 50 students arrested
Canada, Vancouver: truckers apparently win most of their demands after "alarming reports of physical violence, threats and vandalism involving local truckers."
25/3/14:
South Africa: arrests over February service delivery protests….whilst ANC tries to boost its irredemably   discredited "radical" image….as genuine service delivery protesters threaten intensification (see this, about previous protests)
Georgia: miners apparently win 40-day strike (15% – 20% wage increases, health insurance)
US, Salt Lake City: alcohol-free mini-riot
Egypt: widespread strikes, postal workers arrested
24/3/14:
Peru: 5th day of informal miners movement; 3000 clash with cops in Lima; roads blocked around the country  (see also this)
South Africa, Cape Town: more tyre-burning protests
US, Maine: University campus occupied by students in fight against cuts etc.…Washington: resumption of detained immigrants' hunger strike
23/3/14:
Mexico, Guadalajara: football fans attack cops
22/3/14:
UK, Doncaster: 6-hour prison riot
Spain, Madrid: clashes with cops on anti-cuts demo (video here, note particularly 8 minutes in)
Mexico, Oaxaca: students riot, block roads (video)
21/3/14:
Turkey: state fails miserably to ban access to twitter
US, Maine: students occupy University hallway…San Francisco: anti-jail demo – police vehicles & jail vandalized with rocks, spray paint & paintbombs
20/3/14:
France, Paris: seasonal cultural workers occupy the Opera (see alsothis, from 2004)
Greece, Athens: teachers occupy office of Minister of Administrative Reform…clashes with cops
South Africa, Cape Town: several service delivery protests, clashes with cops…over a billion dollars lost to capital by platinum miners strike SK from South Africa wrote this about the union: "…quite frankly I don't give a damn whether AMCU ends up undermining its own social base through its double dealings. The tendency for all forms of proletarian representation to do so is by now quite well established around the world. I don't think it's particularly something to mourn about. During the course of which of course the rank and file will have plenty to complain of, just as most people in democracies are quite critical of all politics, but this criticism without action is all they are allowed and as long as they remain within the realm of the possible the talk is just talk. From what others who have gone to the area told me, even during the wildcat strikes when AMCU was just rising to power, the miners were very wary of all unions, but that didn't stop them from joining it en masse and placing their struggle within its hands, to no discernible benefit whatsoever (the fact that this is a 'protected' strike changes little — most miners fired during unprotected strikes are rehired as long as they return to work in the end anyway, although the bosses try, with varying degrees of success, to reset their accumulated benefits). The proof of the pudding is in the doing. Of course it's important to understand the whys and wherefores of the doing or non-doing, but these reasons actually permeate the conditions we all find ourselves in, and as such can be investigated everywhere."
Poland: parents of disabled kids occupy parliament overnight
19/3/14:
Nigeria: students riot over crap infrastructure (lack of provision of electricity and water, etc.)
Canada, Ontario: rail line blockaded by First Nations in continuation of protests about disappeared indigenous women
Nepal: student-initiated general strike against fuel hikes; protesters forcing shops to close arrested
Sri Lanka, Colombo: cops use water cannon and  tear gas against  students
Armenia: villagers block roads, go on strike against construction of hydroelectric power station
18/3/14:
France, Paris: scandalous graffiti outrage horror shock!
UK, London: squatters occupy closed down police station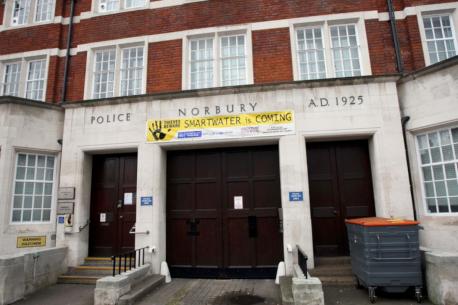 Home Sweet Home Office
Algeria: student movement in Berber area block roads with burning tyres
Panama: indigenous opposition to hydroelectric  construction intensifies
Greece, Athens: city hall occupied by workers fighting redundancies
India, Neyveli:  wildcat strike after security guard kills worker; schools & shops closed; 1000 villagers pelt cops with stones
Nigeria, Ekiti: youths start bonfires on major roads in protest against power cuts
17/3/14:
South Africa: interesting  business report on Amplats strike: "Platinum strike is no run-of-the-mill wage dispute"….statistics record an average of 34 protests a day since the start of the year
16/3/14:
France: Chanteloup-les-Vignes – 60 people attack cops trying to nick someone,  car in police station grounds burnt out – 4th attack on cops in 3 days (other places: Ales, Nancy,Grigny)
Sri Lanka: cop dies as protesters against polluting rubber factory get tear gassed 
15/3/14:
Canada, Montreal: 300 arrested after demo against cop brutality had hardly begun
14/3/14:
Brazil, Sao Paulo: truckers set fire to buildings and vehicles, clash with cops , over paid parking; hundreds of cops mobilised
13/3/14:
Brazil, Sao Paulo: anti-world cup demos continue (video)….Rio: cops tear down barricades of favela in order to occupy it and install 38 Pacification Police Units
US, California: City College of San Francisco students in confrontation with cops, sit-in of admin building (more here)…Texas: concert-goers break barricades to get  into festival This is described as  a riot in this report, and a rapper has been arrested for inciting it (though it's probable that this break-in had already begun before he shouted "riot!"). This kind of thing used to happen all the time in the 70s and early 80s and no-one called it a riot – it was just a way to get in for free. Nowadays things that used to be normal – like a few kids chucking stones at an the windows of an empty house, or drunks breaking glasses outside a pub – are met  by the riot squad.But so far  zero-tolerance for us is not being confronted with zero tolerance for the state.
Canada, Vancouver: port "on its knees" as wildcat strike turned official begins to bite
Singapore:  Little India riot enquiry – " government eager to pin alcohol to riot"
12/3/14:
Turkey, Istanbul: cops kill another protester (video) ….cop cops it after heart attack (another video)    Account from a friend of a friend:
"Protests have kicked up again in Istanbul, so I went out with a friend. We saw a kid block a gas canister with his head and get taken to the hospital. My friend later got arrested. We're both safe and sound now, but Turks are still setting things on fire and the Turkish governmentthinks the protestors are necrophiliacs.
In Turkey, mourning is a very public act and funerals sometimes become
political. This used to be the case in the US, 100 years ago, too (I'm
thinking of the funeral for Sacco and Vanzetti, specifically). The funeral
of Armenian journalist Hrant Dink in 2007 was the most recent major
political procession I have witnessed in Istanbul, before yesterday.
Tens of thousands of people joined yesterday's funeral procession for
15-year-old Berkin Elvan. I was at my firm's office in Gayretepe, and the
silence outside the building from the lack of traffic was a palpable
indication that many people were on the move all day. Mourners walked
along the highway from Okmeydana, Berkin's neighborhood, to the Sisli
Merkez Mosque, two minutes from my house, at around 1PM. They gathered
there for several hours, and then slowly began to move toward Taksim
square around 4PM.
By 4:30PM, there were reports of city-wide metro closings and clashes with
the police, and when I tried to bike home at 6:15PM I had some of the
clearest streets I have ever enjoyed for cycling in Istanbul… Right up
until I was denied passage along Halazkargazi Boulevard by two TOMA water
cannons and the commuters and protestors fleeing them. I found another
route home, got my gear, and joined a friend to head to Taksim around 8PM.
Didem (the friend) has been something of an icon for journalists. This
summer, she and I had a lot of adventures, but she got really creative by
making signs, blowing bubbles at the police, and decorating gas masks. I
saw her photos attached to several local and international articles. She
lives close to Taksim and her home is a great staging area. We packed the
usual: bike helmets, gas masks, and water, but my spray bottle for antacid
solution broke and we had to go without. As it turned out, the sting of
teargas was something that I'd come to miss a little, and it does wonders
for clearing the sinuses.
In Taksim, it was the usual back-and-forth between jubilant demonstrators
and severe cops. We were in front of the Starbucks along the Istiklal, and
present for several actions against police lines. We would hurl jeers and
insults, and rapidly retreat from a hail of gas canisters and plastic,
gas-filled bullets. The mood was buoyant, but after each response by the
cops, an ambulance had to come in and either provide oxygen to someone, or
cart someone away.
There was a young (or short) teenager who got struck in the head by a gas
canister. Didem and I were close enough that we ran to pick him up, but an
older man reached him first. The kid was limp like a doll when the man
lifted him, but the kid came to in a few minutes and an ambulance that
happened to be at the scene took him away. When the gas cleared, there was
a trail of blood leading back to a pool on the ground where he'd fallen.
That became a sort of battle-line for protestors for the next few hours,
and TOMA would spray the spot when they passed to erase the stain.
This kind of thing went on until about 11PM, and Didem and I began heading
in the direction of home, which was also blocked by police. I indicated an
alley we could slip down, but she suggested that instead we could "leave
after the next attack", which came a few minutes later. When the battle
lines between protestors/cops moved, we mostly huddled on the side and let
the cops pass. They think we're journalists, or maybe they just weren't
interested in us, so all night we were basically stationary while this tug
of war took place before us.
Around 11:30PM, we were at the edge of Taksim Square (where it meets the
Istiklal), standing next to a burger joint with a bunch of bored
reporters. Plain-clothes police started coming through and hassling people
to 'move along'. Some people argued or fought with them, but most would
just shuffle about ten steps and then stop, only to be told to get moving
again.
Didem held her A4-sized, laminated sign that reads "Daima Katil, Daima
Hırsız", a play on the AKP's election posters that reads, "Always
murderers, always thieves". I looked away for a second to take stock of
the situation, and when I turned back to her, two plain-clothes police
officers grabbed both her arms from behind and dragged her into custody.
One took her sign.
All she said was, "Oh, c'mon!", in the exasperated tone of a teacher among
unruly children.
They detained her until about 4AM, then released her. She's in good
spirits and will probably go back out into the fight tonight. Another
protestor was not so lucky yesterday. Burak Can Karamanoğlu was shot to
death, and it's unclear who the perpetrator is at the moment. In any
event, his funeral has sparked additional demonstrations, and it looks
like this sort of thing might set the tone for the coming spring and
summer."
Venezuela: riots continue, death toll rises (video)…fairly good statement from anarchist group "Only the official propaganda in its shamelessness, plus the blindness -paid for or quasi-religious – of the authoritarian Left always ready to kneel in front of the Beloved Leader du jour, have been able to see in this sorry spectacle the machinations of a certain imperialism they don't like (while other sorts are presented as "friendly")."
Greece, Athens: students chuck rocks at cops hassling foreigners (2nd day of clashes)…token official union 24 hour strike of state employees against brutal austerity
Kenya: university lecturers and non-teaching staff go on strike in defiance of court order
Brazil, Rio: Anti-World Cup Protesters in Pele Denunciation Horror Shock! 
11/3/14:
Spain, Galicia: fishermen and cops confront each other, as parliament is suspended due to clashes (video)
Turkey: riots/protests throughout country after 15 yr-old dies after long coma from tear gas cannister fired point blank at him last June (video) (and another video)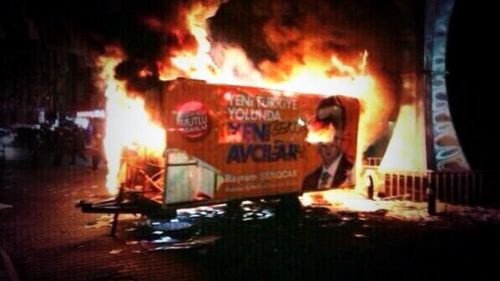 Interesting account here: Demonstrations have been occuring in all major Turkish cities today, some of them are spontaneous and some organized by the bourgeois left. Students in lots of universities, apparently in quite massive numbers are walking out off classes as are high school students in several cities. DISK, the leftist private sector trade-union, has declared that it will go on a strike tomorrow midday which, I expect, will be a half-a-day show thing….Ankara seems lost for now though the demonstrations in Ankara universities were apparently incredible, as big as it has ever been in possibly all universities, students sponteneously walking out. Students from most universities joined the central demo in Kizilay except the METU students, who tried to march from their university to Kizilay, were blocked by the cops, engaged in a battle with the police yet couldn't pass….The central demo was attacked with an unprecedented brutality, even compared to the Gezi days. They tore all the pictures of or about Berkin they could lay hands on, the boy their fellows murdered in Istanbul. Demonstrators regrouped and were joined by those coming from work in numerous parts of the city yet most of these are as far as I know over. The police is using more advanced tactics compared to Gezi, such as chasing demonstrators to the neighborhoods they escaped into and throwing cans of tear gas into those neighborhoods….  In some neighborhoods thousands demonstrated and in others the number was tens of thousands. Some of these demonstrations are still going on, there are clashes with the police in several parts of the city. There are demonstrators who are still trying to get into Taksim square….Throughout the day, there were massive demonstrations in many cities around the country, the ones in Eskisehir, Adana, Mersin, Izmir, Antakya, Canakkale and Dersim being incredibly massive. There were wide-spread clashes in many of these cities as well. Also, there were reasonably large demonstrations in Kurdish cities such as Diyarbakir and Batman where there hadn't been demonstrations before, and there were massive demonstrations in certain cities like Erzincan and Trabzon which weren't very active during Gezi and the first of which was a tradition AKP power-house….All in all, the demonstrations, while not as massive as Gezi had been at its most massive moment yet in Istanbul and Ankara, are certainly on the same level with the general average of the Gezi days which, if this lasts, is a promising beginning. Erdogan, feeling at his most vulnarable due to the mountains of tapes about his corrupt practices which had been published online and the mountains to be published before the local elections of the coming month, has been getting increasingly aggressive and violent, threathening to ban facebook and youtube after the elections and passing laws for tighter internet control and laws giving the Turkish Central Intelligence Agency much greater powers. The policemen attacking the demonstrators seem to reflect his mood, taking their orders from a wounded and cornered beast who, naturally, is at his most dangerous. Already, there's been demonstrators who were heavily injured by the police….On a personal level, what amazed me the most was how the sorrow and indignation about the death of this young boy was shared by so many people, how a mood of mourning was dominant everywhere today, how so many people started their day with tears upon hearing the death of a boy who they did not know, and how they came out in numbers so massive it doubled, perhaps tripled every demonstration since Gezi. Many demonstrations had been organized in the recent months about varied subjects such as the internet ban, corruption etc. yet many were wary of their demonstrations could be used by the Gulenist cult or the opposition parties so they hadn't come out. When Berkin died, they did.
US, California: prison riot…Washington: immigrants on hunger strike could be force-fed
Sudan, Khartoum: student killed by cops, 100 arrested, in University protest
Australia, Victoria: protesters disrupt parliament debate on bill to repress protest
South Africa, Eastern Cape: another service delivery protest – roads blocked, cops stoned…..Some reflections on the Amplats miners strike by SK from South Africa: "Although I have not been following events very closely, it seems to me the progress of the unrest in the platinum & gold mines over the past two years confirms the theses advanced in Kammunist Kranti's Self-Activity of Wage Workers. The workers are being brought out on strike by union officials who want to reinforce their own influence; wage negotiations which end in annual increases below or barely in line with inflation result in strikes lasting for weeks which cost workers more than they gain. And then of course companies use this as an excuse to push through retrenchment of thousands during restructuring. Whereas the wildcat strikes which led up to Marikana displayed tendencies which pointed towards a move from quantitative to qualitative struggle (see the 'Post Marikana Notes') the moment workers accepted official representation, even by 'independent' unions, this was recuperated into mere posturing (the current platinum strike called by AMCU where the wage demand of R12 500, originally raised by the Marikana strikers, has become a token of false militancy used by the union to bolster its image of radicalism). Of course there is also pressure coming from the base to table these demands but the fact that it is being channeled through corporatist legal structures necessarily limits the continued intensive and extensive escalation of the struggle (unlike what happened in the wave of wildcat strikes before and after Marikana) which alone could open the possibility of victory. As it stands now, the AMCU officials, after wearing down the strength of the workers on a hopeless strike which they cynically called for self-serving purposes, will convince their membership to accept a 'realistic' offer, 3 or 4% more than is currently being offered by the bosses. This is already starting – seven weeks in, with AMCU revising its R12 500 figure, originally demanded for immediate application during the wildcat movement, saying the number can be reached in four rather than the three years it initially insisted on. Through this subtle manipulation they maintain their image of a democratic union which does not push through unpopular settlements like their competitors NUM but merely follows a mandate given by the rank and file during consultation. But if disgust and anger at the blatant manipulation of NUM and COSATU has undermined the basis for their powers of recuperation, dejection and dissapointment due to deliberate defeats will do the same thing with AMCU, and its rapid rise will fast fizzle into exhaustion and apathy. As happened in the miner's strike of 1946 (in which an identical number of workers — 70 000 — suffered a crushing defeat due to the underhanded tactics of their own union) the success of AMCU in engineering the defeat of the workers will be their own downfall.
The primary question for me in this sordid story is: what can we do to counter the recuperation of the enthusiastic fighting spirit we see so terribly doomed to destruction all around us? How can we warn our fellow proletarians whose tentative steps towards self-activity, as briefly taken in the independent strike comittees surrounding Marikana, always fall into mines, quicksand and booby-traps, against the danger that surrounds them? What are the best ways to propagate the theoretical and practical tools which could arm them? Clearly, what we have been doing has not worked. There are so many modes of struggle, from sabotage & go-slows to the 'checkerboard strikes' developed in Italy during the 70s, that might be more appropriate to the situation of today. In what ways could they be appropriated? In what ways are they unsuitable? How would they need to be modified? How might the challenges to their application be overcome? Who is to do these experiments? What entirely new methods are already being explored? How might they be altered and improved? Could aspects of the old and new be incorporated into an effective synthesis? These are some of the questions that need to be put to the revolutionary movement. Who will do it? "
I responded: "If you don't want the miserable history of '46 to repeat itself,  I'd say that the best way to find out how much is true in what you say and how the miners themselves could make use of what is true in what you say is to go along to speak with some striking miners (the proof of the pudding is in the speaking first of all…). How feasible this is (geographical distance, where you would stay if you stayed for some time, possible antagonistic reactions from strikers, etc.), I don't know, but I know that I only really found out about the UK miners strike, whose 30th anniversary began a few days ago, by going along to picket lines (providing beer to ease the awkwardness) and chatting with miners themselves. Contrary to the media image, many were quite critical of the union. " 
10/3/14:
Nigeria, Ondo: workers storm streets, lock all government complexes in early morning, stalling all  government business throughout  day in protest against pension con "A letter by the workers' Joint Negotiation Committee…alleged that the scheme was a fraudulent means of enslaving the entire workforce in the state."
Brazil, Rio: cleaners'/bin collectors'  wildcat  strike wins 37% wage hike (compared with 12% offered by bosses) " "It is a generous offer for a task which deserves to be well paid," said Paes, who earlier had slammed the strikers as "delinquents."…Last Thursday saw some cleaners sweeping up under police escort after reports they had been threatened by gun-wielding striking colleagues….Several hundred cleaners at a protest on Thursday had booed Paes, Comlurb and their own union, which early on had disassociated itself from the strikers."
China:  wildcat strike at IBM continues "Chen, a striking IBM factory worker, said "the union exists in name only. It's useless." Reading between the lines of this report in a business journal, it seems to be subtly hinting that some "genuine" unions be formed so as to recuperate independent struggles. If I remember correctly, Loren Goldner a few years back said that he thought that China might be heading towards a massive strike wave like in Poland in 1980-81, awaiting only a Chinese-style "Solidarity"/Lech Walesa to recuperate the movement back into even worse neoliberal policies. We shall see….
9/3/14:
Japan, Tokyo: anti-nuke demos  pre-3rd anniversary of Fuckyoushima
US, Massachusetts: pre-St Patricks day piss-up – 4 cops injured, 73 arrests…Hollywood shattered by "Breaking Glass" & "Rear Window" "It's not for nothing that endles movies  (e.g. Superman) represent the destruction of cars as fun: capital has learnt well how to profit from the spectacle of our desires. The representation of our fantasies of wrecking the commodities which maiitain our isolation and separation is not meant to be practiced in reaiity, of course – we're all just meant to pay to watch it in passivity on a screen. Rioters who act on such desires are inevitably seen by spectators as "animals" because spectators have to see their submission to  the "civilised " alienation which turns these desires into cultural fantasies as innately superior and 'human'. The compensation of the spectacle of our destructive desires is  not meant to be taken seriously but appreciated without risk." (from here)
8/3/14:
Australia, Perth: teenage party ends in riot against cops
Canada, Ontario: native activists block railway line in demo about native women  disappearing
Venezuela:  something beyond the standard  frying pan or fire false choice of left-wing capital v right-wing capital? or another case of pots calling the kettlers black?
Turkey, Istanbul and Ankara: women clash with cops 
7/3/14: 
Brazil, Rio: bin collectors go on wildcat strike…."…many workers say the union is not representing their interests…They say they are being "being treated like rubbish" and threaten to cause further disruptions during the football World Cup, due to start on 12 June."
Spain, Vigo: fishermen fight cops (video)
South Africa, near Johannesburg: 1000 residents block main road in another service delivery protest…more pig brutality
Portugal, Lisbon:  police police police
6/3/14:
South Africa: another NUM scab hospitalised…COSATU issues press release showing contempt for the strikers…  new film about Marikana massacre"…Four mortuary vans were ordered in advance and …ambulance services and emergency medical personnel were apparently kept out of the killing fields for an hour after the shooting had stopped…documents clearly reveal the attempts by Lonmin to criminalise the strike by rock drill operators without whose labour no mining can take place. One of the most damning of these is an email by Ramaphosa maintaining that the action of the miners is not a strike but a criminal act." 
Greece, Athens: scuffles with riot cops as state bans demos in parts of city 
5/3/14:
South Africa: Zuma condemns violence of miners' strike; union changes its demands to a slow implementation of wage rise over 4 years
Kenya, Nairobi: taxi drivers' strike involves  abandoning taxis, blocking roads, 111 vehicles being impounded
4/3/14:
India, Assam: student protests force 50% drop in Oil India's output
3/3/14:
Spain, Bilbao: big riotous demo greets Christine Lagarde and the IMF troika; windows smashed etc (video in Basque)
Canada, Ontario: Mohawks blockade roads to try to force national inquiry into murdered and missing Aboriginal women 
South Africa: NUM scab beaten up and hospitalised by platinum miners on strike
2/3/14:
Saudi Arabia: riot in migrant workers' detention centre (more here) 
Ukraine: report of anti-war demos in Russian-speaking areas in the East; also anti-war demos in Moscow and London 
1/3/14:
US, Seattle: Department of Corrections graffitied with "destroy all prisons"
Canada, Vancouver: container truck drivers strike hots up as union workers vote to join non-union strikers
Turkey, Istanbul:  as anti-govt protests continue throughout country, cops fire tear gas near Taksim Square
Brazil: revellers unite for "Occupy  carnival" in order to "contaminate Carnival with the spirit of popular protest"




News of opposition 2013 – click here