To return to latest "News of opposition" click here
May 2014

Another "food for thought" video produced by a friend, based very loosely on some of the entries on this page…
"Invite friends and family over for a monthly dinner! Gather round the TV and watch this month's installment of "News of Opposition!" featuring the most promising and rebellious news of the past month from around the world! Really, do it!"
31/5/14:
Spain, Barcelona: more clashes with cops …interesting anarchist resumé of the last 6 days here "The police chief has resigned. The mossos have been simultaneously criticized for their brutality and their inability to restore order. The mayor has been disgraced and the ruling party has been thoroughly discredited. Can Vies has been reoccupied and people have begun reconstructing the half of the building that was demolished. The sixty-some arrestees enjoy widespread social support, and nearly all of them have been released…"

Turkey, Istanbul & Ankara: cops fire tear gas on anniversary of Gezi Park movement
Palestine, Tulkarem: dozens of Palestinian protesters in solidarity with hunger strikers hospitalised by IDA tear gas

30/5/14:
Brazil, Rio: anti-World Cup protests block city's traffic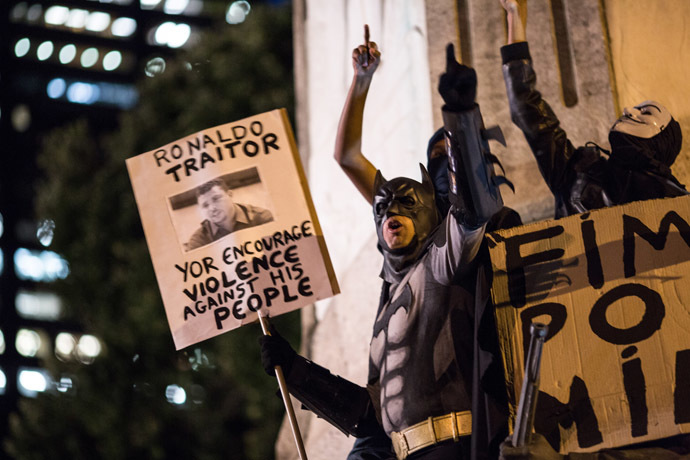 Spain, Barcelona: 4th night of clashes after eviction of squat…as state passes law fining unauthorised street protesters €600,000
South Africa: attempts by bosses to undermine strike fail, as platinum industry loses about $2billion (more about strike here) "We understand that the issues are not simply collective bargaining issues but go to the heart of the migrant labour system and the apartheid spatial planning which we are still dealing with 20 years into our democracy."…metal and engineering unions threaten wage strike
UK, London: 12-yr-old plans school students strike against school being turned into an academy
29/5/14:
France, Calais: resistance to filth-infested authorities continues
Spain, Barcelona: 3rd night of rioting against eviction of squatters (video) (more here)  " A television outside-broadcast truck and the excavator used to demolish Can Vies were set on fire and banks have also been attacked." Anarchist account here
Colombia, Cartegena: residents burn tyres, block roads in protest against power cut
28/5/14:
Chile, Valparaiso: students occupy school, block main road, advance close to Congress before being tear gassed etc, in protest against education policy and homelessness after fire
Kashmir, Pattan: protesters ransack hospital, clash with cops after death of woman due to negligent doctor
Ukraine, Donetsk: miners strike and rally apparently independent of all authorities 
Morocco, Melilla: 400 immigrants successfully break through frontier fence
Spain, Barcelona: streets in flames (video) Anarchist accounts hereand here
Abkhazia: protesters occupy presidential palace (is this something independent or part of the proxy war between the USA and Russia?)
27/5/14:
Brazil, Brasilia: cop shot with arrow after anti-world cup clashes halts trophy showcasing (video here)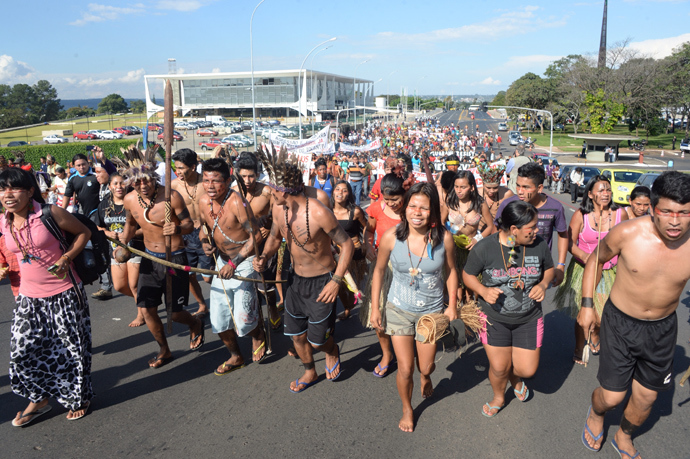 Brasilia: indigenous protesters join city's proletarians against the soccer spectacle, in front of the Planalto palace, the official workplace of Brazil's Presidency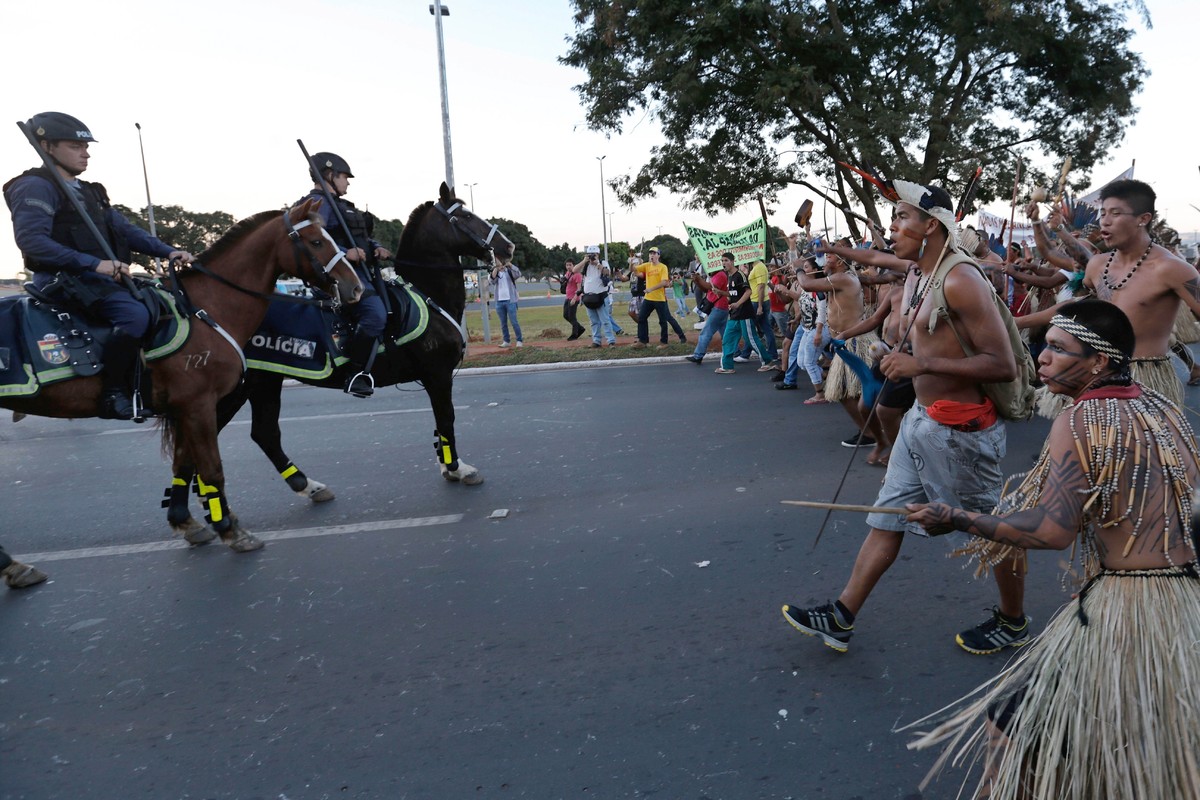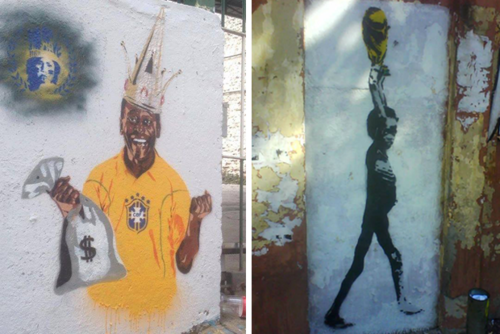 anti-World Cup graffiti in Brazil
Mexico, Tehuacán: access to city blocked as clashes develop from protests against compulsory wearing of helmets by bikers to demands for mayor's dismissal over his nepotism 
Tunisia, Ouchteta: clashes with cops after seizure of contraband petrol; 4 cops injured, 2 official vehicles destroyed
26/5/14:
US, Fort Lauderdale: beneath the beach, the riot (video) …morehere (another video)
Chile: violent protests (video)
France, Marseille: occupation of the roof of benefits office against its definitive closure and the harrassment of the poor (no link; see this in French: affiche version2)
Turkey: mine workers invade union offices, resign from union (link dependent on having twitter account) )
UK, Cambridgeshire: cops crack down on illegal rave party 
25/5/14: 
New Zealand, Christchurch: police party poopers pelted
24/5/14:
Guatemala: 2 year non-violent blockqde against US-owned gold mine construction evicted brutally by cops
23/5/14:
Chile: interesting report and interview with an artist who burned paper records of $500m. worth of student debt (thus eradicating the debt for the students concerned) and then displayed the ashes as an art exhibition "It's over. You are free from debt. You don't have to pay one more cent. This is the artwork. This is the project, simply. This is a small project. If we all had the ability to continue doing things for love, for solidarity, we will find each other again. But we have to lose the fear, the fear of the idea about criminality that this state has wanted to impose on us, that we are criminals for being poor, for wanting our rights to be met." (video in Spanish here)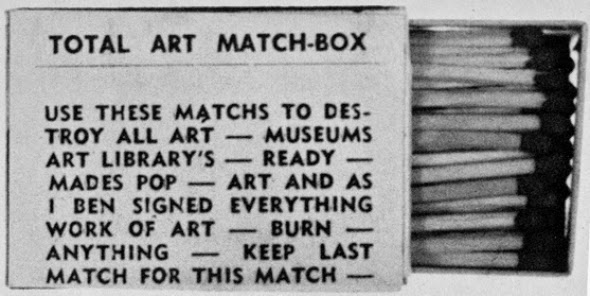 Turkey, Istanbul: further riots after 2nd person dies (video)
China, Foshan: blind justice "ANGRY passers-by who saw a group of security guards assaulting and chasing away some blind buskers reacted by burning police vehicles and a fire engine"
Brazil: "Meet the anarchists who plan to go nuts at the World Cup" mainstream media report " The local press has published exposes claiming that the Black Bloc is funded by foreigners intent on spoiling the nation's moment of glory…."It is the violence that has always been in the slums of Brazil but now has come to the center of town," said AM, a 32-year-old native of Sao Paulo."
22/5/14:
South Africa, Cape Town: "Remember Marikana" graffiti on statue of Rhodes, COSATU headquarters and ANC offices "statement reads: "In honour of all black UCT students whose land was stolen from their ancestors and whose natural resources were privatised by one Cecil John Rhodes…."Tokolos reminds us that colonialism and the massacre at Marikana are not only interconnected but part of a long history of disposession, exploitation and murder of blacks (and especially poor blacks)."…. interesting, though confused, interview with Marikana survivor now on strike at platinum mine 
Zimbabwe: 100s occupy sugar plantation illegally (more here)
Turkey, Istanbul: 2 killed in clashes between rioters and cops (see also this)
Australia, Sydney: students clash with riot cops after Education Minister and Prime Minister are forced to cancel University appearances (videos)
France, Lyon: graffiti and fire in solidarity with movement against high speed train between Turin and Lyon
21/5/14:
US, California: "cops are murderers" protest after 2nd cop within 2 weeks murders someone (more here) (video in Spanish here) (radio interview here)
Brazil, Sao Paulo: bus drivers "rebel against their union" for 2nd day; go on strike 23 days before World Cup; 230,000 passengers stranded… 260 kilometres of gridlock throughout city
Turkey, Istanbul: students fight riot cops over mining disaster crackdown…rulers use surplus value extracted from mass exploitation to maintain system based on surplus value extracted from mass exploitation
Australia, Melbourne: clashes between students and cops in demo against budget cuts
20/5/14:
France, Paris: 3 electric car-sharing cars, part of billionaire's business empire, sabotaged
Malawi: voting materials burnt, roads blocked over fraudulent election
Niger, Niamey: students clash with cops over living stipends
Kenya, Nairobi: clashes between students and cops over student fee increases
Colombia, Bogota: university clashes
South Africa, Rustenberg: a matter of death & death
19/5/14:
France, Paris: 453 tyres  belonging to JCDecaux bike and ad company that super-exploits prisoners punctured as part of ongoing campaign against them
Australia: 2 leading politicians harangued by students
UK, Burghfield: 8  anti-nuke campaigners block Atomic Weapons Establishment
18/5/14:
France, Paris: 2 vehicles belonging to companies involved in repressive social control torched…Verzege: cars ouside bullfight arena vandalised Not sure if this is the case here, but often what happens with the bulls is this: they're kept in fields from birth, free to play with other bulls or fuck the cows, free to enjoy the sun and rain, and are then taken after 2 years and kept alone, for the first time in their lives, in a small enclosed space under the arena in total darkness, when – for the corrida – they are let out, after 2 weeks, into the arena with the loud cheering crowds and the literally blinding sun and, virtually incapable of seeing a thing, and are then provoked by the matadors, who have to wound them within 2 minutes before they get their eyesight back. Very courageous.
Turkey, Soma: state clamps down on all protests
17/5/14:
Turkey, Istanbul: 1000 students occupy mining department of Istanbul Technical University  "The faculty is complicit in the deaths of the miners. The mining company delivered a seminar here two weeks before the disaster. We will not leave this building until those responsible are brought to account," Orkun told AFP. They have other demands, including the resignation of Orhan Kural, a mining professor at the university who said those who died from carbon monoxide poisoning "died beautifully". Kural later apologised, saying he was just trying to explain the science behind the deadly gas, which caused the deaths of many miners at Soma after an initial fire on Tuesday sent it coursing through the mine. "Carbon monoxide is lighter than oxygen, that's why it is a favourable way to commit suicide," he told local TV. "It is a very sweet death. You don't feel anything." Access to the faculty building is only possible through a small window, and only students and "fellow occupiers" are allowed in. Inside, the corridors are covered with anti-government slogans, graffiti and long lists of required items including food, blankets and computers. The department has blossomed into a lively community, with "sleep rooms", unisex restrooms and makeshift movie theatres where students screen documentaries about problems in the mining industry. Students hold heated debates one after another in jam-packed hall. Just a few steps away, the names of each of the 301 miners who died at Soma have been written on the wall. "We won't be engineers of the murderers. We will be the engineers of the people," reads one piece of graffiti."
16/5/14:
France, Brittany: "greenwashing" eco-capitalist organisation sabotaged as part of anti-airport struggle "Some machines belonging to Chupin parks have been damaged and  their depot has been graffitied . This action is part of the campaign "Adopt a subcontractor" launched by the collective in  support of the opposition to the airport Notre-Dame -des- Landes. To achieve the airport project , Vinci needs a complicit army of companies like Chupin . Without their cooperation , it would not be possible to destroy 2,000 hectares of farmland or impose a project on a population that does not want it. Today is a first step in a campaign against Chupin aimed at its dissociation from the airport project ….Chupin received a subcontract as part of  ecological compensation measures proposed for the airport Notre -Dame- des-Landes , especially for moving timber that houses the great Capricorn . Chupin wants to  help Vinci   to create its " High Environmental Quality" airport with areas of ecological compensation aimed at legitimizing this devastating project. This greenwashing also involves testing out  experimental techniques to legalize the destruction of animals and protected areas in the future , such as the transfer of habitats for recreating species ….resistance and sobotage!" (more here, in French)
Solomon Islands, Honiara: looting and rioting (more here….and here)"At least four buildings were reportedly looted and torched on Friday and there were further disturbances again on Saturday, leading to at least five arrests….According to reports, a crowd of more than 400 people started looting in an area near the King George VI High School in eastern Honiara on Friday night."
Brazil, Sao Paulo: more World Cup clashes with cops…"Here's why some Brazilians want their country to lose the World Cup"
15/5/14:
Turkey: video of fury with PM, etc. For some analysis of this massacre, see this.
Brazil, Sao Paulo: clashes with cops at end of anti-World Cup demo  (video in Portuguese) "Labor strikes and police, social demands and protests against the World Cup: Brazil faces a turbulent scenario that tests security only 28 days before the start of the World Cup. The protests began early yesterday in São Paulo , on a day when there were about 50 demonstrations against the Cup in ten of the twelve host cities of the World Cup….Flanked by burning tires , some 5,000 protesters of the  Movement of Homeless Workers ( MTST) shouted slogans against the high public spending that is involved in the organization of the championship and demanded  decent housing just 300 meters from the inaugural World Cup stadium , the Arena Corinthians in São Paulo. With huge signs saying 'no Cup Village in the street again "and shouting slogans against the football competition , protesters , mostly dressed in red, blocked traffic in several avenues.
" The countdown began . They have 28 days to resolve it. If they do not have problems, " warned Guilherme Boulos , a leader of MTST . "Such actions are not ruled out  from occuring during the Cup ," he threatened. 
More than 1,500 families occupied private land about four kilometers from the World Cup Stadium and named this new favela the "Copa del Pueblo" (the people's cup) in opposition to the exorbitant costs incurred by Brazil to host the World Cup which amount to 11,000 million. Through occupations MTST press the authorities for housing.
The protests were not limited to the Marginal Tietê and Marginal Pinheiros highway surrounding São Paulo and were blocked by pickets , worsening the already chaotic traffic of the city of eleven million inhabitants . Thousands of metalworkers and Metro São Paulo demonstrated in other areas of the city, where also teachers of the municipal schools  have been mobilized for days. In the rich region of Morumbi , in the south of the state capital, other protesters stopped traffic.
The strike movement scenario resolves various sectors. In Rio de Janeiro , which will host seven World Cup matches , one 48-hour strike this week paralyzed at least 60 % of the bus fleet and left hundreds of vehicles damaged. Rio Bank watchers have also been on strike . In Recife part of the military police went on strike and President Dilma Rousseff was forced to send members of the National Security Force with the return of indiscriminate looting of shops. Federal Police also declared a nationwide strike to demand higher wages which will affect the security and immigration at airports and borders."
And more, in Italian, here. ""Occupy the World Cup " is the battle cry of the protesters…In Rio de Janeiro , São Paulo , & Belo Horizonte protesters took to the streets and in some cases burned tires and threw stones at the police . "Na Copa ter go luta " (During the World Cup we will fight ) is the slogan chanted by the protesters . The police used tear gas and more than two hundred people were arrested . According to the organizers , with the money used to renovate the Maracanã stadium two hundred schools could have been built . Tomas Ramos Copa Ocupa movement ( Occupy Cup ) explains that the marches are set to increase : " We never imagined that so many people in Brazil would have protested with the approach of the World Cup. When the championships were in other countries Brazilians usually colored the streets with yellow and green , the colors of the flag of Brazil. Not now . Now we want to color the streets in a critical manner . So far the demonstrations have not been impressive , but they will be soon. "…  The puzzle that makes up the categories of discontent is varied : the beginning of this week  employees of museums , bus drivers , geologists and other workers also took to the streets . In Recife  the police protested , in Brasilia , the capital, there were striking teachers and civil servants. Almost all are especially asking for higher wages and better working conditions"
And more here.
South Africa: interesting report on platinum miners strike…near Marikana: 16 people released after arrest given heroes' welcome, following blockade on 14th May when councillors house was set on fire
14/5/14:
India, Mansa: angry relatives ransack nursing home, burn doctors house over death of boy due to negligence etc.
South Africa: residents block roads near Marikana with burning tyres to demand release of 16 people arrested, amongst other demands  (more here)
Turkey, Ankara: anger at miners "accidental" massacre provokes riots as union calls for national strike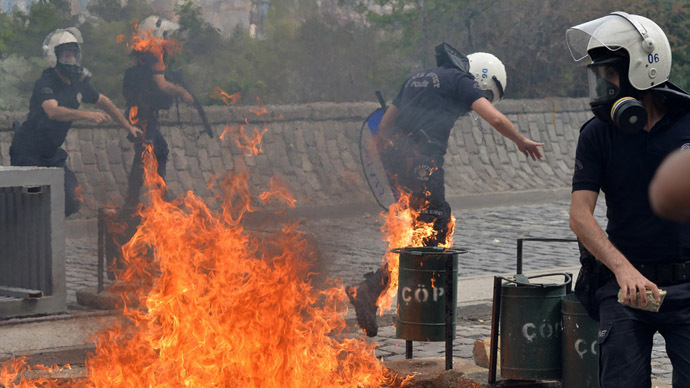 Ankara
Haiti, Port-au-Prince: petrol station goes up in flames in protest against president
13/5/14:
UK, Peterhead: 14 hour prison riot (more here and here)
France, Chelles: school students riot against rules of procedure "The atmosphere remains tense in front of the school Gaston Bachelard – Chelles . In the aftermath of clashes between youths and police outside the building , two hundred teenagers gathered this morning in front of the gate of the school. According to our information , most are students from Bachelard , about 15 aren't. ..we have seen some with hoods carrying stones   or chains in their backpack . Police use covert surveillance of the street. At 10.30  Tuesday morning , no incidents had been reported . Monday morning , after a group had locked the gate of the school, clashes erupted between rioters , some hooded, and police outside. The police used flash-balls to overcome the protesters, some of whom were throwing smoke bombs . Seven young people were arrested and placed in custody . Two of them do not attend school….What was involved was the hardening of the rules of the institution decided by the Board of Directors. Now the doors of the school will close at 8.20 and not reopen until an hour later."
China, Zhatong: man killed by state thugs in clashes over authority's land grab "Photos of the scene posted to social media and later deleted showed a body wrapped in a white shroud, surrounded by protesters carrying red banners…"The Taiping village government has beaten up the villagers of [Zhaoyang's] Fuqiang village," the banners read."Our leaders are dominating the people, occupying their farmland, illegally detaining villagers who petition," they said."Give us back the land that is legally ours," the banners said.A Taiping resident surnamed Wang said the standoff had been going on for around three weeks before flaring into violence. Villagers had been taking it in turns to maintain the blockade, with dozens of people sitting in at any given time, he said."There have been clashes in recent days, as the government has brought in police and chengguan [urban management officials] to move them away," Wang said."One person died and several more were injured," he said. The clashes came after the government tried to begin work on a planned commercial district on local farmland, Wang added.
Brazil: FBI training Brazilian riot cops to deal with world cup
12/5/14:
Mexico: after cops help protect kidnapper of woman, crowds attempt to lynch cops and burn 2 cop vehicles
US, Massachusetts:  students succeed in forcing Christine Lagarde to withdraw from graduation speech 
Nigeria: tricycle operators attack road safety marshals after their excessive zealousness causes 2 kids to be killed in "accidental"  road killing, vandalise their vehicles and smash up part of road safety admin building "The marshals on seeing the angry mob were said to have run for their dear lives and took refuge at the Headquarters of the Central Naval Command at Agudama area of the state. Still upset that the marshals, who allegedly caused the accident, had fled the scene, the operators that had already constituted themselves into a mob, went to the FRSC state command and vandalised some parts of the corps building.When our correspondent was conducted round the premises by Sector Head of Operations, Mr. Faustinus Kalu, it was observed that the corps conference hall, operations office, and some doors and windows of the command were vandalised"
South Africa: 4 killed during miners strike "Two non-striking employees died near Lonmin's Eastern Platinum mines in an attack that involved a machete, Livhuwani Mammburu, a spokesman for the minority National Union of Mineworkers, whose members aren't taking part in the stoppage, said by phone. Another laborer and his wife were killed at a house, he said."
11/5/14:
UK: unofficial anti-cop poster appears at bus stops outside Tottenham Police Station, New Scotland Yard, Bethnal Green and all round Bristol
outside Bethnal Green police stasion
Nigeria, Abuja: peaceful protest against state failures over mass abduction of girls cracked down by heavily armed cops…see also this, on Boko Haram
10/5/14:
Brazil, Sao Paulo: homeless workers occupy land in protest against unaffordable housing and World Cup  
China, Hangzhou: incinerator protest leads to 3 dead; riot follows killings….apparent victory for protesters (more here and here)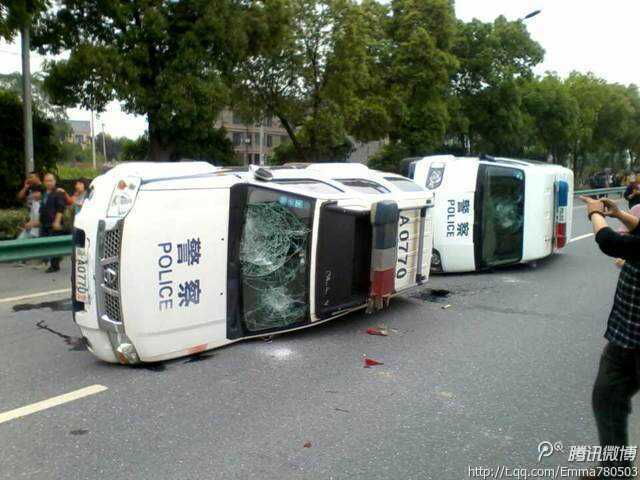 8/5/14:
Brazil: various occupations of companies profiting from World Cup 

South Africa, Alexandra: electoral commission centre room burnt by local residents…as voter abstentions increases by about 10% by my calculations…"…of 1.9 million voters aged 18-19, only one in three is registered to vote" – from here….over 250,000 spoilt ballot papers…more election stats…and more news of attacks on voting stations, suspected vote rigging etc. " IEC centre was burnt down by angry residents, who alleged that there was vote rigging….The protesters targeted state property, torching and vandalising buildings including a yet-to-be opened clinic and council offices… Alexander yesterday after chaos erupted in the township. They were protesting for marked EFF ballots that were found dumped in Alexander and were asking for a recount of votes….Yesterday a large contingent of police was seen patrolling the streets and potential violent hot spots. "We're relieved the army came this morning," said a policeman who asked not be named as he's not a spokesman…. Buildings owned by council were burned down…Tensions started mounting across the country after voting on Wednesday.… two people were arrested after they stormed a voting station in Tzaneen, Limpopo and attacked police on duty, election officials and party agents, and damaged voting material….On election day there were five protests across the country – in Maruleng in Limpopo, Gugulethu in Gauteng, Botshabelo in the Free State, eNgcobo in the Eastern Cape, and Barcelona in the Western Cape….There have also been media reports of a group of people in Bekkersdal storming a voting station and attacking police on duty, a group of IEC officials, and party agents accusing them of marking ballots and smuggling it into the hall….And in a separate incident a man was arrested in Bekkersdal for allegedly setting alight the IEC's tents in the area on the eve of the elections."
And from here: "Julius Malema called for calm. "People in Alexandra, we call on you to accept defeat. Do it in a dignified manner," said Malema, a populist politician who founded the left-wing EFF after being expelled from the ANC. "Don't put South Africa into ashes because of election outcomes."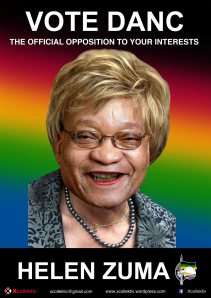 Of course, abstaining from voting is not in itself indicative of any intensification of class struggle, though it does indicate a basic contempt for bourgeois politics. This, from SK about Abahlali Basemjondolo's decision not to call for abstentions in the election, is an interesting take on the whole question: "I agree with them that something further than abstention is necessary. It's purely defensive — equivalent to a hunger strike or the withdrawal of labour — to boycott elections on the basis that no political party has the ability to keep even a fraction of the empty promises they make. If the more rebellious proletarians (whether workers, students, homemakers or unemployed) don't initiate some real democracy – some form of mass democratic dialogue – by occupying large buildings or any other large area, and attack both the dictatorship of the media, and the confusions of the Union bureaucracy, as well as the limitation of the protests to special interest demands, then any rejection of the dominant notion of democracy will appear abstract, an argumentative manoeuvre. But this new move of AbM is by no means an advance beyond the limitations of abstract criticism. Rather, it exemplifies the contradictions of such criticism which inevitably engender the practical submission characteristic of all fatalism.

Besides the of contradiction of favouring organisations such as the IF [Samotnaf note: this was written before AbM decided to "tactically" support DA]– who have murdered thousands more in KZN than the ANC (some 4500 compared to 1500, according to the TRC report), were the ruling party in their province immediately after 1994, and are the sole opposition with any chance of victory at the polls — as the 'lesser evil', this perspective reverses reality for the simple fact that the career of the ruling party has not been murderous because the role has been occupied by the ANC; rather, the ANC has had a murderous career because it has occupied the role of the ruling party. Any other racket responsible for managing an fundamentally murderous capitalism throughout the country for 20 years would necessarily end up with blood on its hands. To court any party whatsoever is to court disaster, more or less brutal as the case may be. 

Even on purely tactical grounds the move is unsound. The effect which a few thousand members of their organisation will have on the elections is statistically minimal. If it is to have any chance of deposing the ANC at all, it would have to be for the benefit of the Buthelezi and the IFP, which as we know has an even more bloody history of repression. As for the 'guarantees' they are demanding from their potential patrons, they of all people should know that the only guarantee in politics is the failure of politicians to stick to their promises. The entire legal framework is built around such irresponsibility, if there was anyway to hold representatives responsible through the courtrooms it would have been done long ago. 

That said, they will continue to go their own way regardless of who they vote for, so as far as diversions go this will not prove to be a particularly disasterous one. All the same, the fact that the most theoretically advanced mass organisation has adopted this position is an indication of how far the revolutionary movement as a whole is from the sort of democratic initiative that would move us closer towards any potentially positive outcome."
5/5/14:
US, Albuquerque: families of victims of cop murderers take over city council (for more reports on cop violence here, see this)
Australia, Queensland: prison riot
South Africa, Durban: striking municipal workers pelt ANC mayor & council executive committee with plastic bottles and stones; beat up union shop steward who pointed gun at them 
Colombia: brutal suppression of peasant camp by cops, as movement spreads; road blockades in 6 municipalities in Huila "…a brutal onslaught against the peasants ,  shooting rubber bullets, tear gas bombs , shrapnel and incinerating a ranch that farmers had built to store their food," the statement said…."At this point about 30 injured are recorded , of which seven are in a serious state of health , one lost one eye and another is seriously injured in his skull ; ambulances are located near the site … but the police prevented their passage to help the farmers , "added the release….recent days also saw a complaint that two police officers… were victims of acid attacks in the southern department of Huila…"
Senegal, Dakar:  stones thrown after cops break up general assembly of student strikers with tear gas (phone camera video,  rather limited in its content)
4/5/14:
Sudan, Khartoum: pro-governing party students attack sit-in by other students protesting non-release of findings into cop killiing of student in March
3/5/14:
Pakistan, Larkana: angry people, including medical attndants, protest medical negligence after patient dies, ransack hospital infrastructure
Brazil, Sao Paulo: homeless demonstrate against World Cup…occupy land and build shacks
2/5/14:
UK, Harmondsworth: mass hunger strike at immigration detention centre
India, Mumbai: 100s riot against power cuts (more here)
Greece, Athens: market vendors block traffic, hand out tons of fruit and veg for free, as their strike continues
Cambodia, Phnom Penh: 2nd day of clashes "…civilian security auxiliaries, who are armed with clubs and other homemade weapons and are often employed by the government to break up protests…."
South Africa: miners strike to end soon…?
1/5/14:
South Africa, Marikana: ANC offices torched, President Zuma's campaign visit cancelled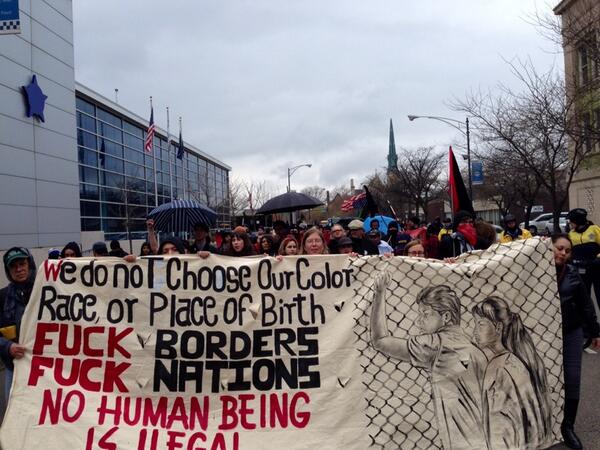 Banner in Chicago
Canada, Montreal: cops repress  mayday demos
Colombia, Suaza: confrontations between cops and farmers
Chile,Santiago: cop motorbikes burnt…  confrontations with cops (video)
Spain, Barcelona: clashes during mayday demo 
Italy, Turin: clashes with cop, 7 cops injured

US, Wisconsin: high school students sit-in against school's censorship policy
Egypt: thousands of prisoners stage protests against prison conditions and "justice" violations
Haiti, Port-au-Prince: protesters force closure of main road with rocks
Greece: uneventful "general" strike…market vendors hand out free  fruit & veg as part of indefinite strike against intensified state social control (see also entry for 28/4/14)
Cambodia, Phnom Penh: cops attack May Day rally by garment workers




News of opposition 2013 – click here