August 2014

Due to unforeseen circumstances, there will be no "Food for thought" compilation video this month….or, if there is, it will be considerably delayed
31/8/14:
US, St.Louis: new "flash-bang" cop weapon used on Ferguson protest "Peter Callahan was caught between two police lines in the West Florissant section of Ferguson, Mo., on Sunday night, when something fiery hot  singed his leg. A nearby protester's shirt briefly caught fire."
India, Chandigarh: example of proletarian divisions as residents clash with striking sanitation workers
30/8/14:
Uganda, Hoima: day 3 – evicted residents clash with insecurity guards after brutal eviction  "The guards have complained that they were attacked by residents who were armed with arrows and bows."
Malaysia, Kuching: rioting football fans torch at least 4 cop cars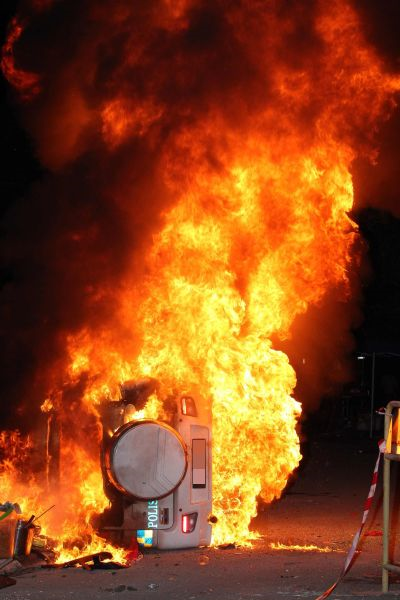 Malaysian-style barbecued pork ribs
Sweden, Stockholm: anti-fascists clash with riot cops "While the protesters were unable to break through the police barrier, they hurled bottles, bricks and fireworks across the security fence."
29/8/14:
France, Haute Savoie: arson attack on shopping mall; over 4000 square meters burnt out (more here)
Eire, Sligo: water meter resisters seem to win  "Irish Water came to an agreement with resident groups that if anyone doesn't want meters, they won't be getting them." 
South Africa, Johannesburg: informal settlement residents turn area into no-go zone with barricades of burning tyres and rocks…Gauteng: residents "rampage" during another service delivery protest 
UK, Bristol: ruling class protection racket seize records of Bristol Indymedia
28/8/14:
Iran, Bafgh: 10th day of miners strike against arrests of strikers; 5000 on strike "The strike is unusual in its scope and duration, especially given the fact that nine of the strikers have been arrested and warrants for the arrest of 18 strikers have been issued, and in the citizen involvement in the matter, which has included the sit-ins at the Governor's Office by other miners, the families of the arrested, and citizens of the town of Bafgh, demanding the release of the arrested miners. Moreover, the mine company agreed to withdraw the charges against the striking miners, so that the arrested individuals could be released, but judicial officials have still refused to release them."
Guinea, Conakry: youths set up burning barricades in riot against electricity cut-offs
27/8/14:
Dominican Republic, Bonao: ecological strike in favour of national park brings transport to a halt and suspension of school classes; Store Association and Opera windows are broken amidst burning tyres and clashes with cops
Chile, Santiago: small riot outside University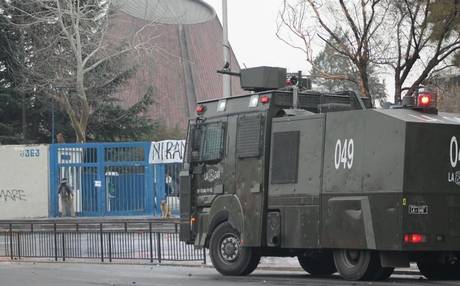 small water cannon for small riot
Bolivia, Riberalta: evicted landless squatters attack TV channel that owns land and burn administrator's house
France, Lisle-sur-Tarn: barricades, burning tyres and molotovs in resistance to dam construction…Paris: arson attack on truck & 3 utility vehicles belonging to council
South Africa, Nelspruit: bus set alight in protest…KwaZulu Natal: rubber bullets, tear gas used against protesters intermittently blocking roads, stoning vehicles (…protesters win)
26/8/14:
US, Chicago: mini-riot at vigil for yet another teenager killed by the filth "…some pelted police with candles and bricks, authorities said. People threw branches, bottles and other debris from the street while yelling "CPDK," which stands for "Chicago Police Department Killer," officials said. At some point, a woman drove a Ford Escape into an officer, sending him to the hospital with a fractured leg. Two other officers also were hospitalized after they crashed their squad car heading to the melee… police intentionally provoked family members who were devastated by Desean's death. "The police officer kicked over a candle and said 'Awww, too bad he's dead,'" White claimed outside of the courtroom Wednesday. "Why would he do that?"…Other family members said the officer laughed, tore down memorial posters and stomped on morecandles."…Pennsylvania: small riot at juvenile prison….New York: anti NYPD graffiti on school and cop car…graffitist fails to hide her face from CCTV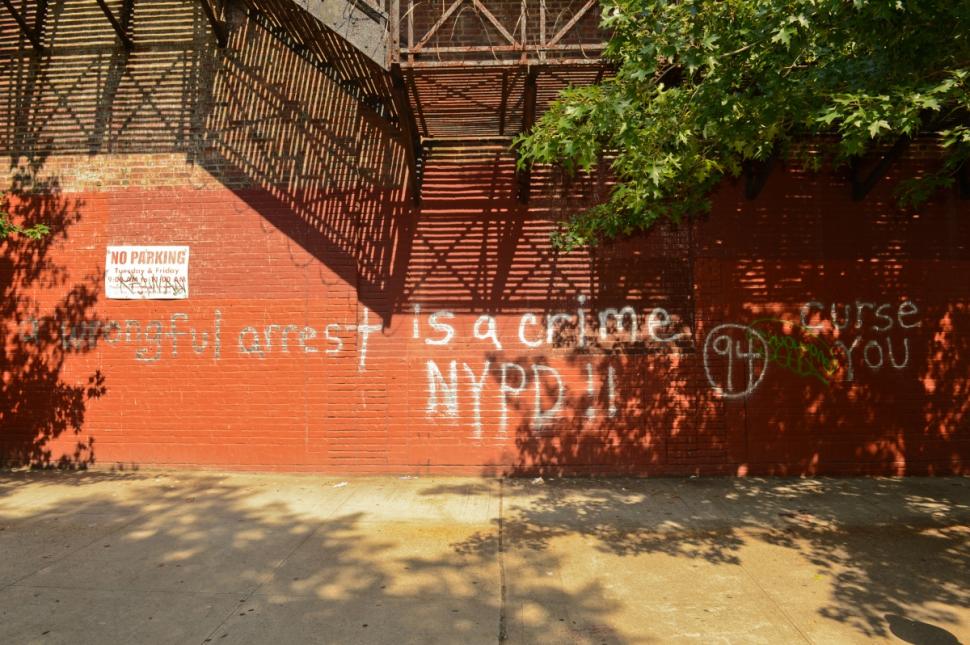 Malaysia, Johor: 2 days of rioting by Nepalese factory workers…fire at factory
Tanzania: report of constant murderous clashes with cops at gold mine
25/8/14:
Chile, Santiago: high school occupied, barricades set up, on 3rd anniversary of killing by cops of high school student
Venezuela, San Cristobal: residents erect barricades against the introduction of biometric systems in supermarkets (more here) "a group of protesters put up barricades with trees, barbed wire, stones and rubber tyres. They threw rocks and homemade explosives while police and military troops responded with tear gas and rubber bullets….Among the reasons given by those who were protesting …the fingerprint reading system for the purchase of food…"
South Africa, Durban: protesters against local mayor block roads with burning tyres and rocks…Mpumalanga: roads barricaded during service delivery protest; cops shoot pregnant woman with rubber bullet
Spain, Santiago de Compostela: protesters clash with cops as Merkel meets Prime Minister
France: travellers ambush cops, throw stuff; cops retaliate with tear gas
24/8/14:
Colombia, Nuevo Giron: furious crowd try to lynch soldiers after 20 year old woman killed
Brazil, Parana: prison rioters take 2 guards hostage, apparently kill 4 prisoners, beheading 2 of them "the food is bad, there are no lawyers to work their trials, no basic hygiene materials"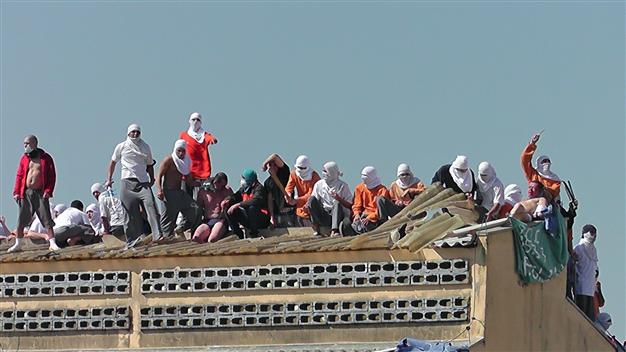 prison rooftop protest, Parana, Brazil
South Africa, Johannesburg: shack residents attack firefighters for arriving too late and under-equipped…Daveyton: groups burn tyres, chuck rocks after mayor's empty promises
23/8/14:
US, Phoenix: anarchists and others in party/demo against another cop murder
Sweden, Malmo: anti-fascist rock-throwers beaten by mounted cops
India, Bangalore: clashes with cops after cops beating provokes young man to commit suicide…Haibowal: clashes after boss beats up worker
Spain, Tarbes: up to anti-bullfight activists occupy bullring, set off smoke bombs, beaten up by cops 
22/8/14:
US, Minneapolis: workers show solidarity with Ferguson revolt (more here andhere)
South Africa, Cape Town: evicted land settlers in violent clash with cops…some looting…cops use live ammunition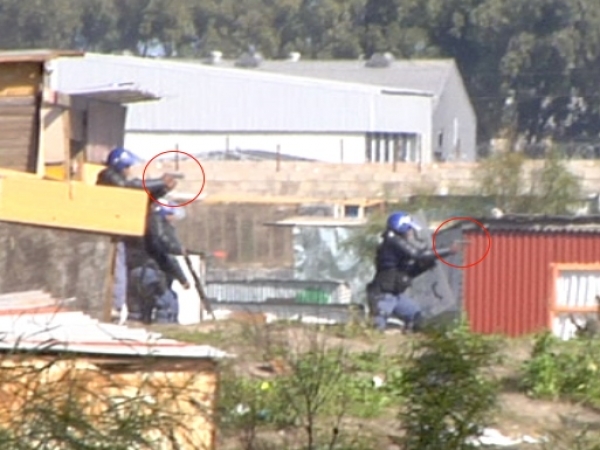 Philippi filth firing live rounds
Chile, Santiago:clashes between cops and high school students  …tear gas used on 4-year-olds
21/8/14:
Australia, Darwin: tear gas used against teenagers' mini-riot in prison
Chile, Santiago: riot by students and high school students (video)
Nepal, Johur Baru: mechanical component manufacturing workers riot against management's handling of death of fellow worker
US, Indiana: cop and private security vehicles attacked in solidarity with Ferguson…St.Louis: Jesse Jackson told he's a sell-out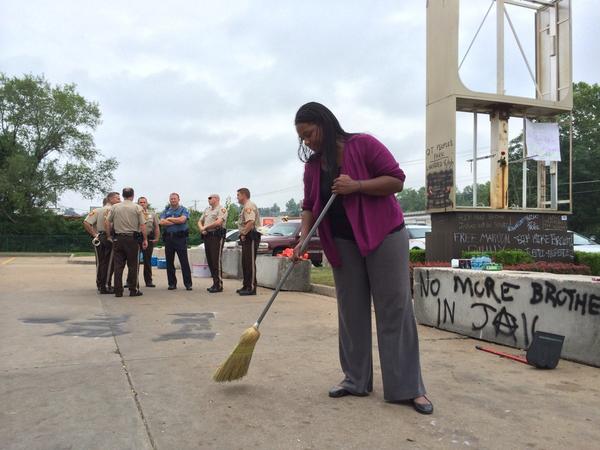 ferguson: cleaning-up after the filth
20/8/14:
Iran, Yazd: miners on strike against arrests of fellow miners; riot cops deployed
India, Assam: roads blocked with tyres and trees in anti-cop protest (lots ofvideos here)…Malda: wildcat bus strike
US, St.Louis: more clashes (video)…more here…no justice, no sleep…50 arrested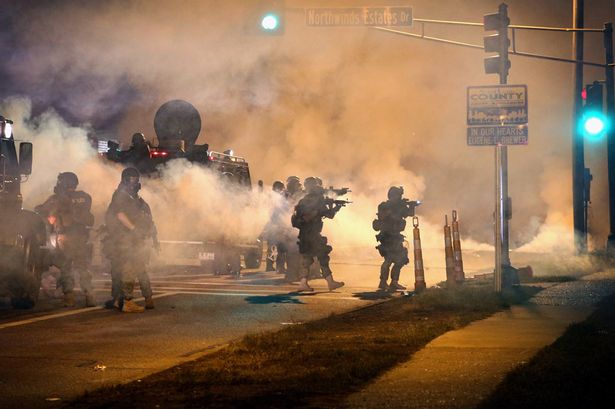 All Quiet On The Ferguson Front
peace. calm, peace. calm, peace. calm, peace. calm………
As for those who say cops should taser people rather than shoot them, check out this
St. Louis anti-statist article "The situation in Ferguson is scary. It's easy to understand why some, especially those who live near the activity, want a return to normal: bullets, tear gas, sound cannons, check points, fire. But despite all this, there are a sizable number of us who don't want a return to normal. We descend on West Florissant day and night to figure out how to avoid it. To us, the struggle is not limited to justice for Mike Brown and the conviction of a single cop of murder in a court of law. We are doing this for ourselves, our friends and family, as well as Mike Brown. We've already found this system guilty – the racism, the class structure, the government, the police. When the "peace" you are continuously urged to return to looks like powerlessness, humiliation, poverty, boredom, and violence, it shouldn't be a surprise many choose to fight. And to witness the ferocity with which some of us fight, it's almost as if we've been waiting for this moment our entire lives. Two nights ago people took a run at the police command post forcing the authorities to call in the National Guard. Previously this would have been unthinkable, but then again just two weeks ago this whole thing would have been unthinkable. And so we raise a shot of looted gin – A TOAST! May we continue to surprise each other."
South Africa, Johannesburg: wildcat bus drivers' strike…then  end it…Gauteng: another land seizure protest; schools close…shops looted This claims that it was foreign shops that were looted. As has been said here before, this might be xenophobic, or it might be that other shops were also looted but the reporter chose to mention only foreign shops,  or that there are only foreign-owned shops in the area … Cape Town: empty train totally bunt out by service delivery protesters, 4.5km of track damaged…Pretoria: roads barricaded all day in service delivery protest

19/8/14:
Zambia, Chingola: miners riot, smash mining company property, demanding wage rises and better conditions
India, Assam: cops attacked, road blockaded in protest
China, Tibet: cops arrest all over 12-year-old males in order to prevent protests against imprisonment of elder, after firing on demonstrators
Pakistan: report that over 250 schools have been squatted for up to 20 years
Yemen: anti-government protests against massive fuel hike
South Africa, Gauteng: protesters block roads after being prevented from taking over land…Cape Town: more fights as cops and demolition companies destroy newly-built shacks
US, St. Louis: state forces order everybody but the media to leave…then make arrests…no classes today – no class society tomorrow "The Ferguson-Florissant School District announced Monday night that schools would stay closed for the rest of the week….Originally, the school year had been scheduled to start on Aug. 14. That was delayed to Monday, then delayed again. In its announcement, the district said it made the decision with input from local law enforcement and the district's security staff."…cops come under fire, molotovs thrown ….soft cop recommendations from the guy who was top cop during the Battle of Seattle…no more official midnight curfew, now just an unofficial 10p.m. curfew…lying manipulative cop-loving prosecutor still in place to apparently prosecute the cop who killed Mike Brown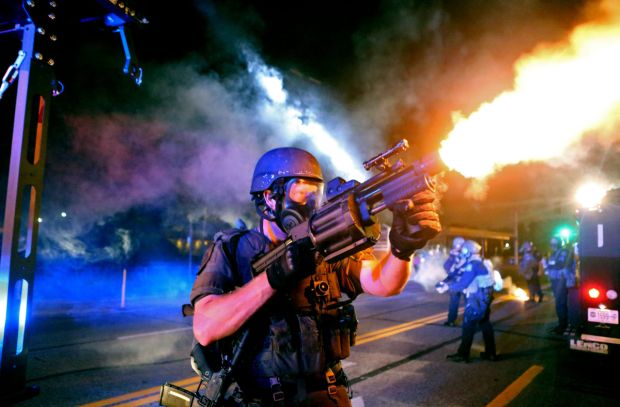 Order reigns in Ferguson
If nothing else, it's kind of funny to see the panic that's being shown amongst the policy makers for the situation. First they militarise, then when that seems to exacerbate things, they try the soft cop approach, then when that doesn't seem to work, they impose a curfew. Then when that seems to exacerbate things, they withdraw the midnight curfew. Then they impose an unofficial curfew at an earlier time. They say they won't bring in the national guard, then next moment they do. They say they won't use tear gas then the next moment they do. They say peacful demonstrations are ok, then tell everybody to get off the streets. They tell people to go home, then arrest people trying to go home. Meanwhile, Obama keeps his distance, playing non-commital verbal games with bland assurance. Which merely shows he's watching which way the wind is blowing,  fearing that things might flare up outside of Ferguson, but hoping that people will just get tired.
Which could well happen –  repeating the same strategy rather than trying to atack using different tactics (e.g. outside of Ferguson, or not just street demonstrations, but occupations or going to workplaces or…?)  does get exhausting and even demoralising.
18/8/14:
Ivory Coast, Abidjan: major clashes between pigs and residents expelled from their houses
Canada, Montreal: city councillors and security guards "roughed up" as public sector workers storm City Hall in pension protest "The protesters threw drinking glasses and broke windows…At least one city councillor says he had water thrown at him and was punched in the side."…more here "Union leaders deplored the acts afterward"
UK, Blackpool: anti-frackers sit-in at Chamber of Commerce (see this, for a quite interesting take on fracking, though it doesn't pose the whole "energy question" in terms of the only rational possibility – that  of  a total reorganisation of society  which would result in a massive reduction in the need for "energy" supplies)
India, Calcutta: taxi drivers on strike against "police atrocities" and state policies
US, St.Louis: $4.3 billion worth of equipment transferred from Pentagon to US cops  ….molotovs thrown at cops…Governor calls in the National Guard (after having said he wouldn't)…LIVE FEED OF ALL NEWS ABOUT FERGUSON…morehere  "This is a revo-fucking-lution," said DeAndre Smith, a 30-year-old barber. "Plain and simple, this is the revolution. The one everybody was waiting on. It happened like this. It's the gain in culture by a people who want respect. African American people in this country."I been out here since day one. I was on the frontline. Mike Brown was the straw that broke the camel's back. That's when we said this is enough. That's it." …Ferguson schools still closed…American football players in gesture of  solidarity with Ferguson…video of former head of New Black Panther party claiming the party and the Nation of Islam are keeping the peace in Ferguson…Cincinatti Black United Front gives cops lessons on how to recuperate Ferguson revolt (based on what they did after 2001)
A cop-defined protest zone is being put into effect to give the appearance of the right to demonstrate as long as it's utterly passive and  contained and surrounded by the National Guard with their millions of dollars worth of equipment. The burnt-out QT supermarket, previously an area where people gathered spontaneously, has been surrounded by cops and declared out-of-bounds…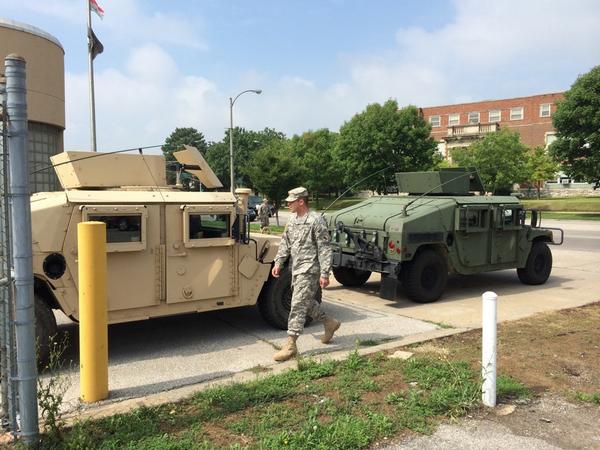 The National Guard going off to Ferguson
17/8/14:
France, Paris: convoy of Saudi Arabian prince robbed of 250,000€ and documents
Saudi Arabia, Asir: women in orphanage riot, assault director, burn records
Israel: busy intersections blocked in different parts of country in protest against jailing of drafter-dodger "At least six protesters were arrested and a police officer was wounded in demonstrations protesting the arrest of a yeshiva student for ignoring a draft notice. The demonstrations took place Sunday in Jerusalem and other cities with large haredi Orthodox populations, including Bnei Brak, Modiin Illit and Beit Shemesh. The hundreds of protesters blocked busy intersections during the demonstrations….The student reportedly is affiliated with the Jerusalem Faction, a non-Hasidic haredi faction led by Rabbi Shmuel Auerbach, who has ordered his students to ignore draft notices."
US, St.Louis: Saturday night – 200 blacks and whites  brave tear gas as midnight to 5 a.m. curfew is defied (more here) " Activists from the Black Panthers, Nation of Islam and Christian groups urged people to go home by 11.30pm."… more here"Earlier that day the civil rights campaigner Jesse Jackson fell foul of the generational gulf when he asked a Ferguson audience to donate generously to a church, prompting scorn. "We were, 'What? People here are poor. And angry……it seems he may be doing it for camera time." …
A guy on the streets was accidentally shot and almost killed, losing a kidney and his spleen.The doctors eventually found a bullet inside him – in his heart! But he survived, amazingly! He was shot twice  by an armed idiot apparently aiming at the cops. The streets cleared pretty quickly, bullets ricocheting everywhere. How pleased the cops must be that this moron was doing their dirty work for them,  that if someone breaking curfew had got killed, they wouldn't have had to face the blame. And how pleased they must be that the moron hadn't done any target practice since  the age of 4, when  he threw a stone at the neighbour's car and hit the cat instead.  Another guy who knew the guy who'd been shot, hurled abuse for about 20 minutes at the top cop, blamed him for what happened to his friend,  told him he wanted the top cop's kidney and that he would pay if his friend died. There was a small crowd following the top cop around for a while. Some people were interested in shaking his hand, others just in getting him to leave/intimidating him. The fact that people were able to yell all kinds of abuse at the officer in charge of the police operation without any immediate negative consequences speaks to the power of the moment. Acting like that at a normal protest would certainly have different results. When there's such raw anger that it's obvious that people don't care much about getting arrested or not is when they get scared and feel the need to back off, at least when it's just verbal abuse or stuff which doesn't too physically threaten their power.
See this cop blog for an idea of how cops try to convince themselves of the reasonable nature of everything they do to protect and serve the forces of unreason.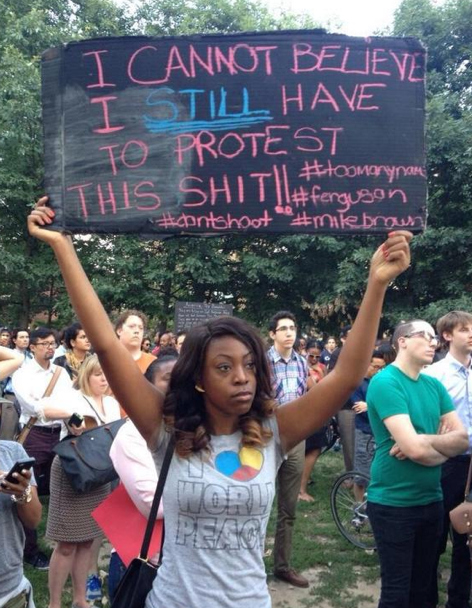 Unfortunately it's all too easy to believe that it'll take a lot more than mere protest to change the shit definitively. All failed social movements get recuperated in the form of apparent change (e.g. a black president) whilst the reality of the hierarchy and divide and rule of the social organisation of each against all intensifies. Unfortunately it's all too easy to believe that the vast majority don't want to believe that contributing to an anti-hierarchical, anti-commodity revolution is the only way to overcome belief in illusions and to make progress.against this shit world. Without that fundamental recognition history will endlessly repeat itself as tragedy upon tragedy compounded by incomprehension.
Sunday night – smoke cannisters fired at about 400 demonstrators "Police drove into the protest area in armored vehicles and shot smoke canisters at watching media representatives during a protest that had until then appeared to be peaceful"..…whilst in L.A. – nothing so far…Oakland: blockade of Israeli cargo ship, picket lines respected, in protest against atrocities in Gaza (more here)
16/8/14:
US, St.Louis: another Ferguson (mini-) riot "…police in heavy gear and armored vehicles confronted more than 100 protesters near the place where Michael Brown, an 18-year-old black man, had been shot dead by police. While peaceful demonstrators tried to dissuade them, even attempting to block shop fronts with their bodies, small groups of looters smashed windows and rushed into several stores, grabbing merchandise. Police in riot gear shouted on bullhorns, ordering them to disperse…At least three Molotov cocktails were lobbed"…state of emergency and curfew imposed on Ferguson
 "…peaceful demonstrators tried to dissuade them, even attempting to block shop fronts with their bodies"
The desire for a nice moral image of respectable "opposition" unites with a near-total incomprehension of any critique of commodity relations to produce the impotent Good Citizen. The Reified Good Citizen always tries to dissuade any anger other than a verbal show. The Good Citizens always attempt to block, with their bodies and minds, any attack on  the commodity form that makes them and us miserable, and which mentality  is essential to the entrenched reification of which cop murders are part of. Anger has to be channelled respectably because the Good Citizen fears losing the image of respectablity. As for those proletarian Good Citizens who don't play any paid social role  in any respectable official capacity – they fear their own anger  against a dead-end deadened life, and crave the acceptability of normality.
"Everything they say …now closely mirrors what the media and 
authorities say …outwards they say firey words (though completely hollow)."
Ferguson crowd control equipment
New York Time bemoans lack of leadership "One protester…said, "Do we have a leader? No."  Pointing to the spot where Mr. Brown was killed, he said, "You want to know who our leader is? Mike Brown."… Many African-American civic leaders in St. Louis said they were frustrated by their inability to guide the protesters. At an emotional meeting at a church on Thursday, clergy members despaired over the seemingly uncontrollable nature of the protest movement and the flare-ups of violence that older people in the group abhorred."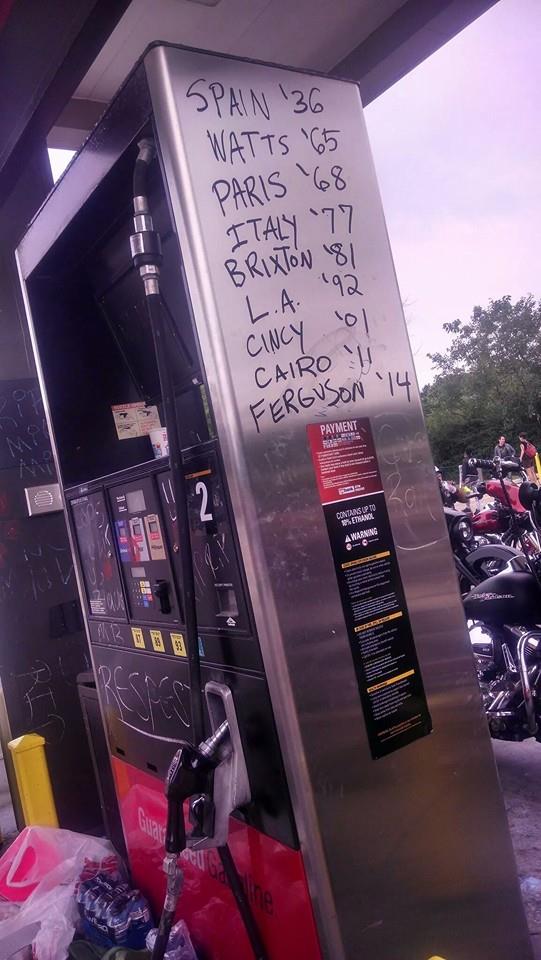 unlead:
the burnt-out gas station in Ferguson
Oakland: demonstration in solidarity with Ferguson, and a nice photo of a cop getting pepper-sprayed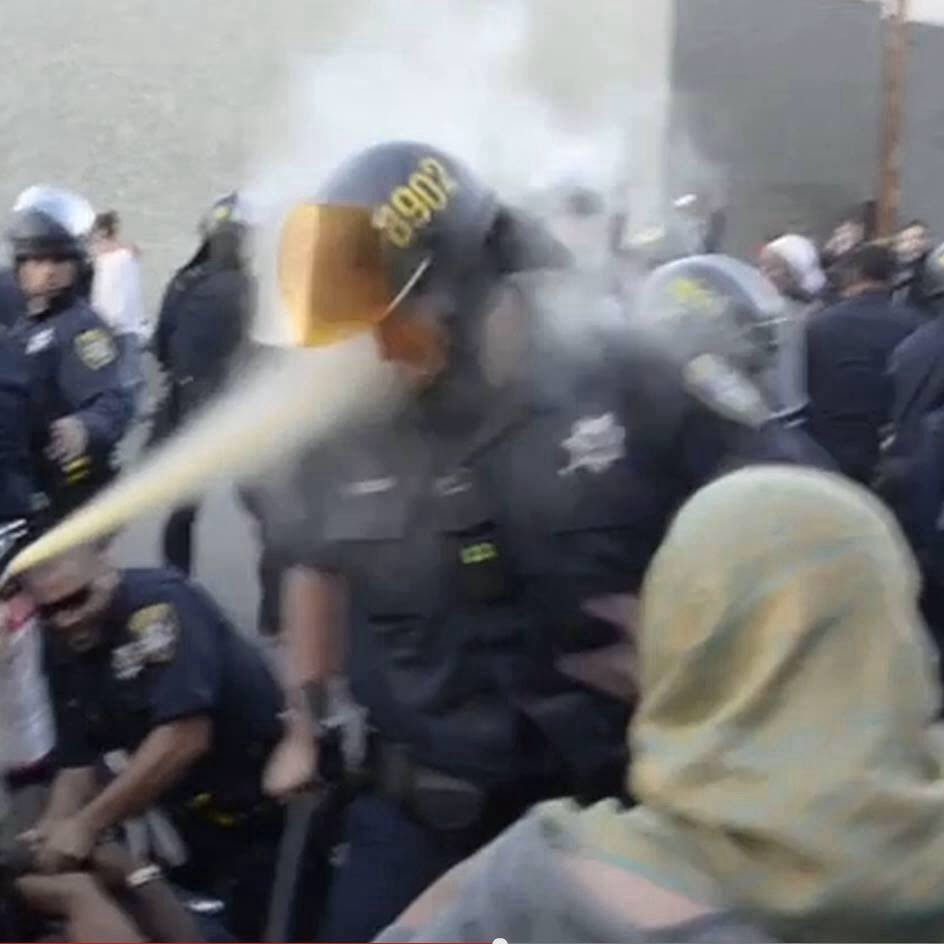 South Africa: report on debt amongst former AMCU strikers
15/8/14:
UK, Heathrow: mass eviction successfully resisted
Algeria, Algiers: riot over housing, rocks flying
South Africa, Durban: ANC member shot  during service delivery protest
Guatemala, Alta Verapaz: clashes with cops over dam construction after 5 indigenous opponetnnts of dam go "missing"
US, St. Louis: "calm descends" on  Ferguson as Good Cop replaces Bad Cop and tries to disarm the movement's moment  The need for this appearance of calm is essential before  the demonstration this weekend in LA because of another cop murder, where one can imagine that soft cop tactics will do their best to prevail. The ruling scum don't want another Ferguson.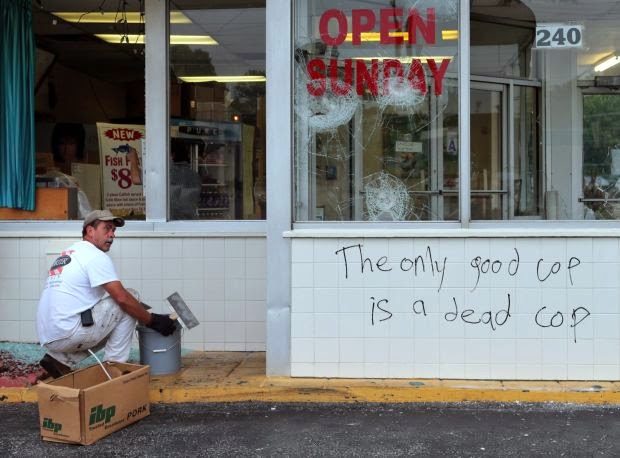 Ferguson graffiti: Good Cop replace Bad Cop….?
Eyewitness report:"Haven't been up there as much lately, but it seems like a chapter is over. The days of tame, but boisterous protests, followed by the nights of violence is over. The looting couldn't sustain itself past Monday night. And it failed to really geographically spread (some orchestrated daytime marches downtown and in the suburb with all the government offices and also heard recently of 3 more smash-and-grabs that took place on Monday night in places outside of North County).
And slowly the mish-mash of "community leaders" have developed, not 
really a following, but a confidence and cleverness to stifle crowd 
criticism, organize pressure valves to release anger buildups, and put 
forth demands that actually echo some of whats being said on the street. 
Of course you could see it coming, but it's still heartbreaking. 
Everything they say to the crowds now closely mirrors what the media and 
authorities say. But they can get away with it, because outwards they 
say firey words (though completely hollow).

The loud ones have also engaged in a strategy of racializing the 
situation to the farthest extent possible ("This is *all* about race.") 
to "unify" the black community for their own ends. They refuse to 
acknowledge how *willingly* fragmented that "community" is. Over the 
course of the week, thousands chose to shout them down and loot, 
vandalize, and fight the police when they told them not to. They have no 
place to put the "white" rioters in all this either, so they downplay it 
or demonize them.

Authorities got real smart. Pulled the police out. Put black public 
figures in charge. Put "new" police in charge. Obama says blah blah 
blah. They release the name of the cop. The top cops mingle in the 
crowd. Other police departments come out against the old one that was in 
charge.

The contradictions are deafening, but the "community" leaders are doing 
their best to skirt them.

I didn't make it out last night, but those who did, described it as a 
block party. There was nowhere to direct anger at last night. No police. 
And most of the businesses in the area were already pillaged. Only thing 
to do was occupy public space- the burned out gas station. A 
well-travelled LA Times reporter on the scene described it as a 
"Suburban Tahrir." It's become a tourist destination, with people 
visiting it just to take selfies in front of it.

The future is uncertain. Anger and the experience of our collective 
power are still fresh."
Australia, Melbourne: protesters occupy roof of subsidiary of  Israeli arms manufacturer
14/8/14:
Senegal, Dakar: student killed by cops in riot over delayed scholarship payments
Burma, Singtu: 40 cops briefly held hostage after they point guns at farmers trying to reclaim land
UK, Lancashire: 100s of  anti-frackers occupy field and set up camp
South Africa, Western Cape: 5th day of violent protests over power cuts "Hundreds of residents have been protesting since Sunday over the disconnection of electricity. Roads have been barricaded, tyres burnt, and shops looted. Police said 34 people were arrested on Tuesday and Wednesday for public violence and looting. A municipal building, situated next to the police station, was also set alight. At the time, Pojie said protesters tried to burn down the station, but police prevented it. Protesters threw petrol bombs at police, who fired rubber bullets and teargas to disperse the crowd." (see also this, this, this, this and this) …Philippi: 4th day of violent protests against demolition of  Marikana informal settlement (see also this, this, this ,  this and lastly this,  in part about this settlement)…..news article about poo protests (see also this and this) 
These links cover, day-by-day,  the last 4 or 5 days of these protests, which would normally be put up on each individual day
Canada, Toronto: striking workers briefly occupy company offices
US, St.Louis: 1st day of school in Ferguson district suspended till Monday in response to cop killing of Mike Brown, as top cop declares his fear of anarchists "Police Chief Thomas Jackson… said his fear is not of the understandably angry residents, but "the anarchists that are coming in, the people that don't want healing, the people that just want to continue to fight."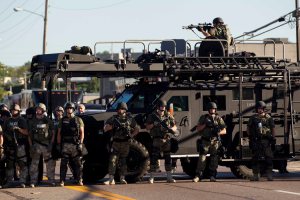 Democracy in action: protectors of life, liberty and the pursuit of happiness defend their mine-resistant truck in Ferguson 
Soft cop policing descends on Ferguson "Captain Ron Johnson …..refused to rule out using the military-style equipment that drew sharp criticism from the state's senior senator, Claire McCaskill, and a plea for calm from Barack Obama, who said there was "no excuse" for excessive force by police. However he signalled his intent was to rid Ferguson's streets of the teargas, rubber bullets and pepperballs that have been shot at dozens of demonstrators this week. "Before I came here today, I had all my troopers take their teargas masks off their belts," he told reporters. As evening began several of the few police officers who were present were chatting with demonstrators and residents – an unthinkable sight over the past four nights."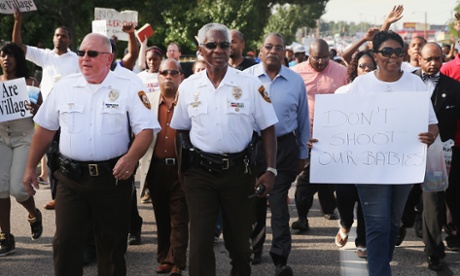 black and white unite and flight
(from confronting the contradictions)
St.Louis anarchists speak of the revolt (radio broadcast)
North Carolina: 3 police cruisers smashed in solidarity with Feguson rioters etc.
Brazil, Belo Horizante: call for support against mass eviction
13/8/14:
Colombia, Barranquilla: all-day rioting by motobike taxi drivers against new measures restricting their work situation – blocked roads, burning tires, barricades with tree trunks,  and oil spread over roads 
US, St.Louis: more tear gas and arrests… critical look at how cops spread disinformation about Ferguson riots…left-liberal video constrasting  cop attitudes with Nevada stand-off in April (also shows other stuff – eg massive amounts of tear gas)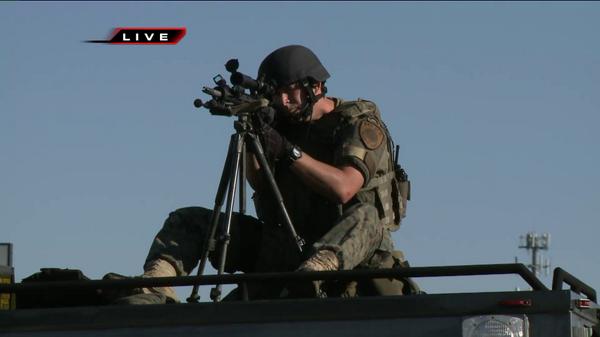 St Louis – cop sniper trying to decide which pretext he'll use after he's decided which teenage black guy to shoot
12/8/14:
UK, Nottinghamshire: Mansfield mayor's house and car sprayed with graffiti
US, Los Angeles: will this new cop murder in LA see a repeat of the Watts uprising of 49 years ago or is this just wishful thinking…? (see this also)…morehere….New  York: prison riot over missed TV shows…St Louis: another eyewitness account
South Africa, Durban: mayor narrowly misses being pelted with stones
11/8/14:
US, St.Louis: some personal account of what happened written by anti-statists…more clashes – rocks thrown at cops, tear gas and rubber bullets fired at crowds
Different eye-witness account from that mentioned above: " been busy… shopping and such…. good deals these days here in st. louis. Was out late last night. Lots of roads blocked off by police. Ended up
in neighborhood trying to get to ground zero (burned out gas station)
where crowds were gathered all day. Police cleared it out, before we got
there, with tear gas, and rubber and wooden bullets. They pushed a bigger
crowd south and a smaller one to the north and into the surrounding
neighborhoods. We ended up on the north end – a line of riot cops
occasionally firing pepperballs at people who got too close, people
watching from their yards and in cars and on the street and sidewalk. a
small crowd. The cop on the loudspeaker was responding to what people
were saying in a conversational tone. "Go home," someone yelled. They
responded, "It's simple. Everyone go home and then we'll go home."
Someone reported someone asked "Can we go home?" They responded, "Maybe
you shouldn't have acted a fool" Later, some in the crowd threw rocks
and bottles. Then the SWAT vehicle zoomed up and shot pepper balls right
at us. We scattered into the neighborhood side street and eventually
everyone trickled home."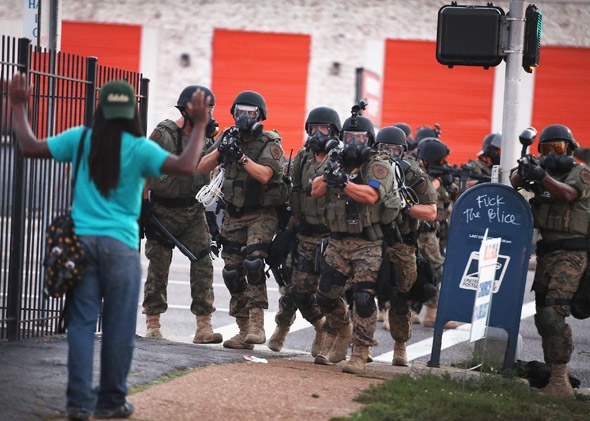 The free world in Ferguson 
South Africa, Gauteng: Africa's 29th richest scumbag shouted down at Marikana enquiry
India, Calcutta: 30,000 taxi drivers on wildcat strike for the release of arrested colleagues
10/8/14:
US, St.Louis: looting begins as yet another young black is killed by the cops (some occasionally intelligent, but mostly idiotic, comments on this thread here) "TV footage showed streams of people walking out of a liquor store carrying bottles of alcohol, and in some cases protesters were standing atop police cars or taunting officers who stood stoic, often in riot gear. Other witnesses reported seeing people vandalize police cars and kick in windows. Television footage showed windows busted out of a TV station van." (more here and here) Lots of videos here. Philadelphia: cop substation tagged
Another St Louis eyewitness account: "Thousands of people. Police lines a mile apart. For hours, they left us alone. After an initial confrontation with one line of cops (rocks, bottles) and 5 or 6 trapped cop cars running a gauntlet of angry kids, the gas station that reportedly called the cops on a boy for shoplifting was the first to go. What started as  a mob rush on the store gave way to a slow-motion unreal atmosphere as word spread and people drove or walked up and helped themselves. Down the street, a liquor store, then a beauty supply store, etc. etc.  Probably a dozen or so stores just in that stretch. Atmosphere was cordial. Smell of weed, people drinking in the street, smiling, cars cruising the stetch, playing lous music… but there was an edge, people were angry after all. Someone fired a gun into the air right next to me.
A white friend got hounded a few times by a group of black youth (but that sort of thing was the exception). By the time we left, the gas station was totally engulfed in flames. Others left the stretch and looted strip mall stores north of the police lines. Auto parts stores, Walmart, shoe stores, cell phone stores, a thrift shop…
The young people who "have no direction, no leadership" easily stole the night from the old guard of black nationalist leftists, ministers, and sympathetic politicians who appealed for calm earlier in the day at a protest at the police station. Also at that daytime protest, a younger faction of New Black Panther Party members sang bizarre theatrical group songs and chanted "Black Power" and oftentimes rambled nonsensically about that devil rap music, the Moors, etc. It found little traction with others there. A black minister was shouted down as was the black leader of the County government at that daytime rally. The tension between the young and the old was clear at that point, and once it kicked off that night, there was no hope in recuperating it for any of
those groups.
Along with the youth's disconnection from (and disinterest in) the political world (including that of the tired 60s black nationalists), another interesting dynamic was that this was not an urban riot. It was a suburban riot. North County, where this took place, has seen waves of black folks migrate from the City over the past 20-25 years. Most of the North St. louis suburbs (homes orginally built for 1950s white Americana) are majority black these days – and though there is a healthy dose of a Black middle class, most are poor, working class. So there's no street grids, there's strip malls and subdivisions. Subdivisions that over the last few days have been risky for police to cut through. So though the major four-lane strip mall-heavy streets seem impossible for people to control (Sunday night being the exception because of the sheer number of people – & the threat of gunfire aimed at the police), they are perfect for the style of smash-and-grab looting that occured outside the zone of rioting. Roll your cars up to the stores, smash windows, load the cars, get  off the major arteries, and disappear into the subdivisions. Hell, a group of kids cut through a subdivision on foot, crossed railroad tracks and looted a shoe store in a strip mall where the police were staging their operations! I used to think the poor getting pushed to the suburbs, decreases density and decreases the chance of any social, collective resistance. I'm glad I was wrong.
Keeping my fingers crossed for it spreading… The initial night, people in the middle of the melee were already thinking about how all the police were here containing us and how other stores were wide open. Then stores 2 or 3 miles away got hit farther north in the suburbs. Last night 10-20 cars took part in a smash-and-grab in the city on the south side. And in the afternoon, a mob of kids seemingly tried to steal from an electronics store and a shoe store in an indoor mall in the wealthier suburbs to the west. It's hard to tell how big this is when I'm in it. It feels big though, and hopefully other cities will see this is their chance too.
And finally, nobody with a loud mouth is on the side of what happened Sunday night, though to thousands who were there, it made perfect sense. The radio is hideous, the TV, preachers, the politicians, the internet… nobody is saying anything interesting or remotely thoughtful. It just doesn't compute. I'll be surprised if any of these youth are duped by a "leader" in the near future "
The focus on the precise minutae of what happened or didn't happen – whether Michael Brown reached for the cop's gun, how many witnesses saw it  or whatever –  helps detract from the obvious:  cops are there to protect and serve this system and the capitalist mass murderers (black or white) who profit from it. Which is why all that idiocy about getting some police accountability (e.g. the Anonymous video about the situation in Ferguson) is just so much reformist shit aimed to get people to yet again believe that they could control the cops through some bourgeois democratic crap. The abolition of the cops as a specialised form of social control involves abolishing the stupid society which needs these filth. To the question "who polices the police?" the answer should be – "the mass community of proletarians abolishing their enslaved situation" – ie no specialists-in-order. Having said that, however, there are immediate things that anyone with some semblance of humanity should support – like looting QT and burning it probably had the support of most rebellious young people in St Louis, but other shops being looted were met with a lot of moralistic finger-wagging which merely shows how colonised people are with the ideology of exchange value that is inculcated in people as soon as they begin to watch TV. Looting implies mass communal direct power, unmediated by buying & selling: it is the necessary 'chaos' through which we must pass in order to organise the distribution of things on a rational and playful human basis. Theft, particularly mass theft, gives you the chance to re-invent the use of a thing beyond the resigned individuals' normal submission to the insult of its market value the use to which the Economy demands the individual sacrifice himself to, for which degrading irrationality all the Property Laws are the tedious justification. As for the shop-keepers – if they identify with their present means of survival, they always always side with the perpetuators of their misery in the end, regardless of their colour – and black and white youth are beginning to recognise it. It's not too difficult to see that behind the shopkeepers' "May I be of any assistance sir?", behind the "Thank you" and "Please" and the occasional smile, lurk petty-minded shrivelled little tyrants,who think they're free because they're 'their own boss', content with their island of illusory dictatorship, where power is reduced to short-changing. However, historically, the non-employing petit-bourgeoisie has not always been on the side of the ruling class by any means (those who are bosses almost invariably are, however much they complain about the rulers). And times change – more and more people are forced into petit-bourgeois work by the system. But at the same time, it's inevitable that they became a target for the poor – they always have been and always will until the abolition of poverty and of shops.
The rumour on the internet is that it was QT that called the cops on Mike Brown for shoplifting – don't yet know how true that is
9/8/14:
US, St.Louis: cop murders Mike Brown; cops leave body lying there for several hours, then desecrate makeshift memorial to him
India, Mathura: Queen Victoria is not amused
France, Corsica, Bastia: 44 cops and gendarmes injured (8 hospitalised) by football fans (video)
8/8/14:
Mozambique: former workers occupy mine demanding 6 months of  unpaid wages 
Panama: multimillionnaire fraudster trampled in prison riot
France, Toulouse: police station stoned
7/8/14:
South Africa, Gauteng: violent protests against demolition of illegal shacks (morehere)
Tunisia, Tunis: police lieutenant injured during clash over house demolition
Chile, Santiago:  students put up barricades
India, Kashmir: strike shutdown in area where youth was killed in police custody (there are constant riots and strikes in Kashmir, usually associated with the struggle for an independent state, which is why I hardly mention them, though some of these events have something independent of this political movement)…Calcutta: wildcat taxi drivers' strike against cop mistreatment
Ukraine, Kiev: protesters in heavy clash with cops after government try to ban protests; opposition leader attacked trying to defend cops   A fascist riot or what?
6/8/14:
South Africa, Johannesburg: 2 sets of  protesters block roads with rocks…Durban: violent 3 day water protest ends in protester's death
5/8/14:
South Africa, Johannesburg: student union apologises for "criminal elements" looting on student demo…Cape Town: rail line wrecked by sacked workers
UK, Staffordshire: Israeli drone factory occupied
1/8/14:
India, Bharatpokhari: locals invade District Development Committee meeting, throw laptop & projector, manhandle  planning officer, clash with cops in struggle against sand and boulder extraction
Malaysia: bus drivers in wildcat strike over steep rise in toll gate prices block border with Singapore for several hours (more here)
Ukraine: rising wave of antiwar, anti-conscription protest  in cities/towns of western Ukraine…rise in desertions claimed on  this pro-Russian site…more here in French about the Romanian minority's resistance to call-up "We don't want war! "" Leave our kids alone! " For five days  members of the Romanian minority have blocked roads in the Chernivtsi region, refusing the mobilization order…They erected barricades to block the highway linking the city to the Ukrainian capital, and roads joining Romania and Republic of Moldova….Monday night, after five days of protests, the protesters decided to unblock the roads, because the local authorities have assured that  enlistment in the army would be suspended for the locals. However, according to local media, the suspension may be temporary, so Romanians asked for written guarantees from the Ukrainian authorities. "
South Africa, KwaZulu Natal:  mayor  orders metro police to suspend roadblocks after violent two-day stand-off between taxi operators and police…student protests take nasty turn "a suspected arsonist or arsonists" set fire to one of the female residences on campus. None of the students was injured…."The affected building is one in which we have placed female students with disabilities. The suspected arsonists chose the most vulnerable students who they knew would find it more difficult to escape."
July 2014

"Invite friends and family over for a monthly dinner! Gather round the TV and watch this month's installment of "News of Opposition!" featuring the most promising and rebellious news of the past month from around the world! Really, do it!"
Produced by a friend independently of me, and taken from here: https://www.youtube.com/watch?v=xSxh-_TT5xA
31/7/14:
US, Washington: over 100 arrested for blocking roads in protest against deportation of immgrants
Italy: steelworkers block most important road in the country in movement against job cuts
Australia, Newtown: riot cops evict squatters from former factory turned social squat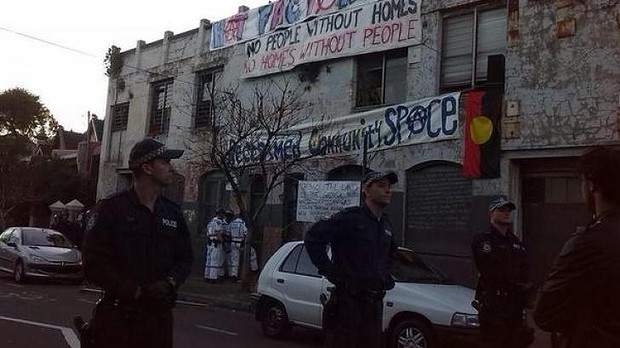 South Africa, Kimberley: school admin blocks burnt, possibly part of protest…KwaZulu Natal: major clash between cops and taxi drivers after taxi driver shot "A police water cannon and a Nyala were called in, with the crowd given "five minutes to disperse". When they failed to move away, the water cannon sprayed the crowd while policemen fired rubber bullets, pepper spray and teargas. The fleeing crowd, in turn, hurled stones and burned tyres." (more here)…Johannesburg: parliament condemns student protests
Pakistan, Karachi: residents block main roads in protest against lack of drinking water and power cuts
30/7/14:
South Africa, Johannesburg: hundreds of schoolkids loot shops on unpermitted demo about school conditions "Pupils are demanding an end to corporal punishment, a ban on application fees for placement at tertiary institutions, and they want proper food in the feeding schemes, to name a few demands. Provincial Cosas chairman Nkhobo Khomong compared the quality of food in feeding schemes to those served to prisoners. "Schools don't serve proper food. They serve pap and fish full of water, cabbage full of water…..Feeding schemes serve us uncooked pap. The food is expired." (photos)(more here, including endless moronic and depressing comments )…Cape Town: rail line sabotaged
…Durban: court hears of wildcat strikes and squatting settlement attacks on flyover construction site "… there were numerous illegal work stoppages for various reasons, all of which were marked by intimidation, mob violence and destruction of property. There were also legal strikes and, even when the labourers did come to work, they were militant and unproductive. In May, after a month-long wildcat strike, they were dismissed en masse. "In anticipation of further trouble, we established an escape plan for employees and we enhanced security. At a public liaison meeting, the ward councillors adopted an extremely aggressive attitude and threatened bloodshed unless the workers were reinstated. "It was stated that the community is prepared to die for their jobs. They would stop the project and no army or police force would prevent that," Williams said. Since then, there had been further acts of violence. A worker had been struck on the head so hard that his hard hat had shattered. Another had had a lucky escape after being dragged into the bush by an angry, armed mob. The cab on a mobile crane had been set alight. Special "car port" screens had been requested to protect vehicles belonging to employees of the engineer on site from "projectiles thrown during riots". An interdict granted by the labour court had had little effect and, on June 2, a security guard had been fatally stabbed. So far losses, excluding stoppages and strikes, were estimated at R113m"
France, Thiais: cops giving chase to someone who refused to show ID are stoned
29/7/14:
Vietnam, Hue: 100s occupy hospital in protest against baby's death
South Africa, Cape Town: enquiry into eviction shows how much has changed since apartheid…Durban: students occupy residence, throw stones at cops etc. as Technology University protest continues "Protesters had occupied a residence and emerged to throw stones and rocks. Police fired teargas and rubber bullets. Some protesters wore home-made masks, and one a balaclava. A palm tree, next to the residence, was set alight. The fire was extinguished. The protest erupted around midday when a group of about 200 students broke bottles, threw bricks and stones at police, and used cupboard doors to shield themselves from rubber bullets. Security guards fired paintball guns loaded with pink plastic balls in an attempt to disperse the students….Those protesting had refused to negotiate with the university." …Cape Town: Municipal union members kicked out of union meeting after questioning disappearance of money
Canada, New Brunswick: anti-shale gas protesters get 15 month jail sentence for violent demo back in October 2013
Yemen: woman killed in protest against fuel price hikes
28/7/14:
US, New York: 9 Jews arrested for protesting Israel's war on people of Gaza This Jerusalem Post article deliberately confuses 2 demos – one pro-Israel, the other against what Israel's doing, misquoting in one part of the article what is said in another, and putting a pro-Israel demo as illustration for an article about Jews demonstrating  againstIsrael. To counter the "telegenically dead" victims of the war, some of the TV reportsportray Gaza deaths and destruction as something that Hamas has done to Israel.Others also contribute to the confusion…..Washington state: railtracks blockaded in move to stop transportation of crude oil
Brazil, Cumana: cops use buckshot against families of prisoners demonstrating & throwing stones in various parts of the region in solidarity with prisoners' hunger strike
South Africa: metal workers win above inflation wage rise, as some bosses threaten lock-out…Pretoria: ANC members storm ANC office, suspect dodgy audit (more here)…Medical University students' strike in its 3rd day…Durban: University of Technology closes due to students' protests about debts and accommodation…students "run riot" "students blockaded the road with rubble, burnt tyres and stoned police vehicles. Police retaliated by firing tear gas while a water cannon was used to douse the flames."….Ladysmith: 2km blockade as protesters against water supply cuts block main roads, pelt cops with stones, etc.
Austria, Vienna: heavy eviction of 2-year-old anarchist squat…cops use "tank" (armoured   vehicle) (more here)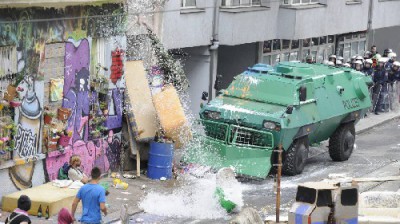 Vienna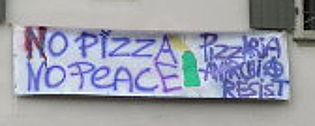 UK, Birmingham: students occupy part of Uni in solidarity with victimised students
India, Delhi: rickshaw drivers on 24-hour strike against cop harassment
Spain, Andalucia: report of evicted jobless families in mass squatting movement ""United we are stronger. What we want are solutions for everyone. Not in dribs and drabs," said Juan Jose Munoz, a spokesman for the squats"
Turkey: deputy PM is not amused
27/7/14:
Burma, Latpadaung: farmers and cops clash in long-running fight with corporate land-grabbers over cattle grazing rights
Israel, Tel Aviv: thousands protest war In Gaza….whilst fascist zionist scum   "merrily sang "Why is there no school in Gaza? Because no more kids are left."
video of refusenik in Hebrew – with English subtitles
US, Orlando: 200 strangers respond to potential evictee's request for support against bank's would-be eviction…  riot cops use white smoke to break up street party (video shows riot cops banging shields)
Pakistan, Sindh: several sit-ins against power cuts
26/7/14:
UK, Retford: prison rioters take control of entire cell block
Chile, Collahuasi: copper miners on wildcat strike after death of miner
25/7/14:
South Africa, Johannesburg:  firey electricity cuts protests continue
Italy, Turin: Transport Minister Maurizio Lupi says protests against  TAV high-speed rail line are being used to "attack the State" after trouble overnight 
UK, Plymouth: anti-nuke protesters blockade dockyard
24/7/14:
South Africa, Johannesburg: another firey service delivery protest over electricity cuts…..Pretoria: medical students run riot in protest against "irregularities"; Medical University blockaded for 5 hours, doors smashed, etc. "The crowd overturned a Medunsa vehicle and lit a fire next to it, blockading the exit lane of the main gate…. more than 1000 students had forced open security gates at the administration block, demanding that seven lecturers leave their offices and be escorted off campus….After singing and toyi-toyiing…, a crowd surged forward to the main administration entrance, breaking the security gates' padlocks and storming into the building…They ran up several flights of stairs, breaking glass and grabbing fire extinguishers. The group then occupied the space outside the executive suite, singing and demanding that the lecturers come out….They sang about their patience wearing thin, and then smashed the glass doors to reach the security gate…Marakalala said: "We demanded a meeting with executives, where they must show us the suspension letters, because they cannot be here while being investigated. Some of these people have questionable qualifications, others have an agenda against students," he said, adding they were a "mafia" not wanted on campus….The students vowed to root out racism, nepotism and unfair practices. There would be no classes until issues were addressed satisfactorily, and the objects of their displeasure removed, they said."
India, Delhi: cop vehicles, etc. trashed in riot against Union Public Service Commission (more here, video here)
23/7/14:
Sweden, Stockholm: riots against cops
Israel: reservists refuse to serve in Gaza "The Israeli Army, a fundamental part of Israelis' lives, is also the power that rules over the Palestinians living in the territories occupied in 1967. As long as it exists in its current structure, its language and mindset control us: We divide the world into good and evil according to the military's categories; the military serves as the leading authority on who is valued more and who less in society — who is more responsible for the occupation, who is allowed to vocalize their resistance to it and who isn't, and how they are allowed to do it. The military plays a central role in every action plan and proposal discussed in the national conversation, which explains the absence of any real argument about non-military solutions to the conflicts Israel has been locked in with its neighbors. The Palestinian residents of the West Bank and Gaza Strip are deprived of civil rights and human rights. They live under a different legal system from their Jewish neighbors. This is not exclusively the fault of soldiers who operate in these territories. Those troops are, therefore, not the only ones obligated to refuse. Many of us served in logistical and bureaucratic support roles; there, we found that the entire military helps implement the oppression of the Palestinians."
Nigeria, Abuja: workers barricade Ministry of Finance gate in protest against crap welfare benefits and broken promises
UK, Shetland: 900 gas plant workers on wildcat strike
France, Gap: cops stoned during Gaza demo; anti-semitic attack on handicapped woman.…Sens: report of  series of min-riots spreading on and off throughout the month "…firemen and policemen attacked, cars and bins torched  ." The deputy mayor of Sens adds: "… These extremely serious acts can not go unpunished because the first victims are the police, bus drivers, firefighters and residents of these neighborhoods. " On the night of Monday 14 to Tuesday, July 15, London Street, two vehicles were burned, requiring the intervention of emergency units and  police security around 5 pm, Tuesday, July 15. In Avenue de la Marne adjacent firefighters had to also control a pile of garbage on fire in the middle of the road. The work of "a dozen youths" according to residents. …New incidents occurred, including the Champs-le-plaisant, Sens, on the night of Wednesday, July 16 to Thursday July 17. Cars and garbage were burned….After a quiet night, the Champs-le-plaisant is ignited on the night of Wednesday 16 to Thursday, July 17 again. Vehicles and garbage were burned between 22 hours and 3 am. Firefighters intervened Boileau Street around 22:45, rue de Rome around 1:30, avenue de l'Europe at 1:45 ET Racine Street, around 3 am, a fire container bins and three vehicle fires. A fourth car was burned as the fire spread….A car was also burned rue de la Fosse-aux-Salmon, and a garden shed, in the Boutours"
Pakistan, Shabqadar: residents block main roads for 3 hours in protest agaijnst power cuts…Lahore: protesters smash doors of electricity company in similar protest
US, New York: another man done gone…musical version The US cops seem to constantly get away with murder without anything other than standard complaints in reaction (unlike what happened in Brazil, Bahia state on 16/7/14). Not like the riots that spread throughout Los Angeles and beyond when, in 1992, the cops filmed beating  Rodney King  were acquitted .  Proletarians in far too many countries have yet to break out of their domestication like they used to.
22/7/14:
Nigeria, Plateau state: workers block council secretariat in protest against unpaid wages
South Africa, Rustenburg: another Marikana murder
India, Kochi: students pelt cops in protest against hostel raid
Venezuela, Caracas: the glories of Chavezesque socialism
21/7/14:
US, Utah: tar sand protesters block tar sands site
Bulgaria, Stara Zagora: clashes between cops and Roma as mayor orders destruction of houses
South Africa: metalworkers strike: picking scabs...more on this (from the businessman's point of view) here….Amplats to sell its mines after strike……major  conflict between Eksom power company and Sowetans ahead as only 16% of electricity bills are paid (debt to Eksom is 3.6 billion rand)…cops forcibly moving vagrants are pelted with stones, their vehicle careering off the road...In the face of the sad demise in respect for them…pigs…try to reform their image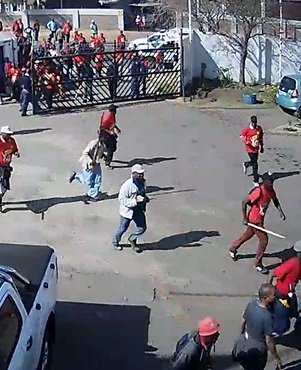 striking metalworkers "invade" business premises in Gauteng
India, Bangalore: right-wing student organisation (ABVP) tries to recuperate anger against child rape (see entry for 17/7/14)
20/7/14:
France, Paris: looting of shops  during banned anti-Israel demo-turned-riot… (here it says these shops were exclusively Jewish, but I have been informed that, though there's a lot of anti-semitic shit in these demos – including from those on the ultra-left/"libertarian" scene – lots of non-Jewish shops were also looted).  The president of the "League for Human Rights" said, "It was a big mistake by the government to ban the march. By forbidding it, it opened the way for trouble and for radicalisation. It encouraged anti-Semitism."
India, Kashmir: riot against killing of 15 year old 
19/7/14:
Greece, Crete: NATO base blockaded in protest against destruction of Syrian chemical weapons
Nigeria, Ibadan: students and cops clash in protest against student's arrest
France, Calais:  border cops complain about constantly being the object of stone-throwing by immigrants…. Paris: predictably, riots follow state's prohibition of pro-Palestinian demonstration(from a French right-wing Islamophobic site, by the way) Undoubtedly there's a lot of stupid anti-semitism ("the socialism of fools" – August Bebel) in these demonstrations, but also some genuine hatred of zionism and Israel'sethnic cleansing not tainted by such stupidity. Zionism and anti-semitism have a symbiotic relationship – they mutually reinforce each other in their false opposition, and that's why the whole history of zionism since the end of the 19th century is also the history of the acceptance of the "inevitability" of anti-semitism.
Israel, Haifa: clashes between insecurity forces and Israeli demonstrators protesting Gaza bombing (not very clear report, surprise surprise)…Tel Aviv – clashes between anti-war Israelis and pro-war Israelis "300 people chanted slogans against the operation, screaming "the IDF is a terror organization," "the Occupation will kill us all," and "liberate Gaza!". Hundreds of nationalists held their own counter-demonstration, waving Israeli flags.  Tel Aviv's demonstration eventually descended into violence, according to the daily, after about 100 extremists on both sides broke police barriers at the site, with some reportedly screaming "Death to Arabs." Eight people were arrested. " For a brief analysis of the war, see this.
India, Kashmir: 15 year old killed in Gaza protests  
18/7/14:
US, Detroit: protesters  block "city contractors who've been shutting off water to delinquent customers"
UK, Staffordshire: protesters against hospital clasure camp outside hospital
Niger: state represses protest against Areva (massive French nuke power company) just before  Francois Hollande's visit One of the reasons  for France's war in Mali, whose pretext is anti-Islamic terrorism, is to secure access for France's uranium mining interests in the region.
South Africa, Johannesburg: an example of the real conflict of interests among proletarians for which there seem to be no easy immediate solutions
17/7/14:
South Africa, Gauteng: service delivery protest area "resembles war zone", afteran apparently  peaceful sit-down protest….fairly interesting report, though rather obvious "analysis", of the Langa riots of 9th July, just over a week ago "The local Shoprite Usave was cleaned out by rioters and hungry residents alike." Mainstream media reported that it was exclsuively foreigner-owned shops that were attacked but "Shoprite is a large supermarket, the only one functioning in the township. The fact that all the other shops which were looted alongside it happened to belong almost exclusively to foreigners was an accident of local circumstances (such as when Chinese owned stores are looted in American ghettos), not a deliberately targeted expression of xenophobia, although no doubt plenty of that exists too." (SK)…for an example of some of the miseries of xenophobic attitudes towards foreign-owned shops, see this report (and this one also, but maybe this looting is not specifically targetted at foreign-owned shops, just that those are virtually the only ones located here, maybe)…Conflicts between rival capitalists over settlement of metalworkers strike
India, Bangalore: 100s of parents tear down school gate, smash windows and invade school over school cover-up of rape of 6 year-old (more here)
Sri Lanka, Sapugaskanda: workers prevent MPs visiting oil refinery Workers being used as pawns in political game or…?
France, Paris: several "mortar" fireworks thrown at police station…. topless women protesting new anti-prostitution law broadcast live from the Senate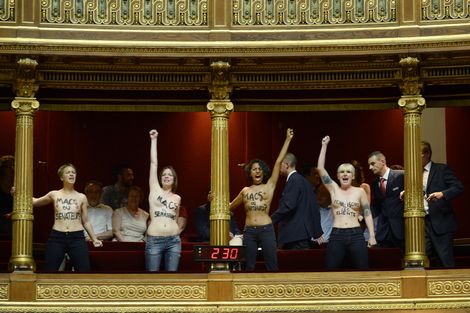 16/7/14:
France, Calais: massive recylcing plant occupied by immigrants etc.
Brazil, Bahia, Amargosa: after cops kill a  1 year-old girl, crowds seize the police station, take the cops' weapons, liberate the 16 prisoners there, torch the station, then burn 30 motorbikes and 19 other vehicles "The violence forced the police chief, judge and prosecutor of Amargosa, located in Bahia state, to take refuge in a hotel." (please note: from now on all references to Brazil are back on this page, rather than the "Brazil against the world cup" page)
India, Gangtok: government vehicles vandalised, Inspector General attacked, main road blocked for 8 hours, in movement against student fee hikes

Nigeria, Abuja: University closed down indefinitely after cops fire tear gas
Pakistan, Bahawalpur : villagers block roads with burning tyres in movement against power plant construction on their land
Bulgaria, Shumen: unpaid workers block roads
15/7/14:
France, Fécamp: bikers attack cops with projectiles after cops harrass them; cops use tear gas and "disencirclement" grenades (whatever those are – presumably something to stop them being surrounded)…Argenteuil: another mini-riot 
Cuba, Guantanamo Bay: US navy nurse refuses to forcefeed prisoners
Morocco, Ceuta: 2 Moroccans killed… 20 cops injured in confrontation in Spanish border enclave
India, Patna: cops attack protesting teachers…Uttar Pradesh: crowd attacks vehicles, including that of a magistrate, in fury after rape victim kills herself by self-immolation
Eire, Cork: protesters occupy town hall over housing
Cambodia, Phnom Penh: protesters and cops clash in struggle to re-open "Freedom Park" "Cambodian police on Tuesday fired tear gas to disperse demonstrators demanding authorities reopen the country's main protest venue, as clashes left at least 30 people injured, rights groups said. Violence erupted after around 300 opposition activists protested outside Phnom Penh's "Freedom Park" which has been closed since a bloody crackdown on striking garment workers in January. Scores of security guards and protesters fought with sticks and stones injuring at least 30 people, mostly guards, said Chan Soveth of the Cambodian Human Rights and Development Association (ADHOC). An AFP photographer at the scene saw at least two guards lying on the ground bleeding with head wounds."
14/7/14:
Belgium, Steenokkerzeel: prison riot as screws refuse to respect Ramadan fasting hours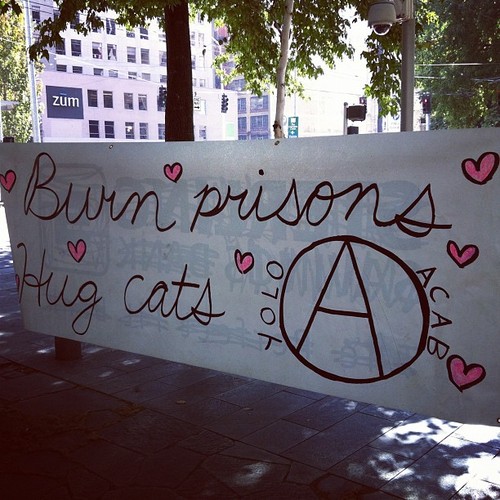 France, Nantes: cops pelted with projectiles, bins, cars, scooters and an excavator burnt, after cops arrest driver for minor offences…Val d'Oise: several people arrested in confrontations with cops as youths throw smoke bombs causing fires, blocking roads and chucking "bombs" (probably very loud fireworks) at cops…Lyon: youths chuck "mortars" (again, probably very explosive fireworks) at cops (remember, this is Bastille day in France)
US, Washington DC: anti-frackers blockade Federal Energy Regulatory Commission
India, Itahar: students block road, damage bus
Italy, Torre di Pescopagano : African immigrants riot after 2 of them are shot
Canada, Toronto: just a dozen people stop pipeline construction
South Africa, Free State: electricity company threatens to cut off 3 municipalities as a result of $50million worth of  unpaid billls…NUMSA striking metal workers clash with cops…Toyota and General Motors halt production due to metal workers/engineers strike……Ford also….and BMW…Mercedes production now "critical"
UK, Bathroom: oh dear what can the matter be….loos woman's 3 day shit-in ends and other crap lavatory humour
13/7/14:
South Africa: union officials, and other cops, condemn metal workers'/engineers' strike violence "…national police commissioner Riah Phiyega called for a meeting with Numsa over the violent incidents which have marred the strike as it enters its third week. Deputy general secretary Karl Cloete said they had replied … the leadership also alleges that the union may be getting infiltrated by a "third force" of agents provocateurs who aim to discredit the union through acts of criminality. "A group of gangs are marauding within our own structures trying to cause confusion to unseat elected leadership in regions," Jim said. "We've called on members to be vigilant, to take care of their strike because agents provocateurs could undermine our strike, which is not a political strike – it is aimed at improving wages and benefits."
India, Shakurpur: 7th day of sit-in by sacked workers 
US, Chicago: 4 cops injured in small riot
Argentina, Buenos Aires, Cordoba, Mar del Plata: riots after Argentina lose against Germany in World Cup (video; more videos here, here and here ) "dozens of rowdy vandals smashed shop windows, ransacked a theater, beat up journalists and attacked police officers with bottles and rocks"  (from here)
12/7/14:
Pakistan, Mansehra: protesters against power cuts block roads
US, Santa Rosa: demonstrators against cop killing of 13-year-old block high road
Israel, Haifa: Jews and Arabs protest Gaza massacre
Germany, Berlin: cops break up unregistered march as rocks are thrown on anti-Israel demo
11/7/14:
Colombia, Barraquilla: riot cops in hot water as hooded protesters resisting eviction chuck hot water and stones at them; I cop shot, 3 burnt with hot water
Tunisia, Djerba: re-opening of waste disposal site causes clashes between islanders and cops, who tear gas them; waste disposal admin building burned
10/7/14:
Turkey, Istanbul: women with illusions in democracy occupy Family Ministry building in protest against recent murders
9/7/14:
Mali: report of confrontations between miners and cops; 1 cop killed; mine research section attacked; offices and plant ransacked; fuel stock completely burnt (this happened on 3rd July, but has only just been reported) More here andhere. "Opposition parties declare,  "According to our ancient traditions, social dialogue is the first weapon to avoid exacerbating the situation. ""
Germany, Berlin: refugees occupy TV tower
South Africa, Cape Town, Langa: looting, roads and rail tracks blocked, during service delivery protest (more here, here and  here) Here it says that the shops looted belonged exclusively to foreigners…Though apparently this is not so – seehere….in another protest – a land dispute – in another suburb, residents burn barricades, etc. and a cop  kicks a pregnant teenager (more here, which claims teenager went into premature labour, and here)
France, Corsica: government aims to stop ferry/ship blockade after strike violence This, though this is a fairly tentative assessment from afar, might be due to the fact that the small businessmen, farmers and others dependent particularly on the tourist season, have started to attack the company (SNCM) running the ferries of those on strike by wrecking their offices in Bastia and by attacking the prefecture there, in contrast to a few days ago when some of these were attacking the sailors on strike…video here
8/7/14:
Argentina, Buenos Aires: car workers confront cops in protests against redundancies (video)
South Africa: platinum miners wildcat strike ends after 4 days…Democratic Alliance – main opposition party – introduces legislation to intensify Union control of violent strikes "legislation that would force unions to take practical steps to prevent strike-related violence. This would include educating workers about the law, forcing unions to provide marshals to help with crowd control, and the extension of crowd control training available to more police. Ollis also proposed empowering courts to force employers and unions into arbitration where strikes were excessively violent, or declare such a strike unprotected. In cases where unions had not taken certain measures to prevent violence and damage to property, courts should also have the power to award damages against that union."
Papua New Guinea: students fight amongst themselves over whether to protest or not
India, Tamil Nadu: cops protect gas drilling company amidst local protests
UK, Llanelli: improving the filth
7/7/14:
Nigeria, Awka: 11 government vehicles vandalised in Government House grounds
UK, Lanarkshire: mourners attack cops and cop vehicles
France, Nantes: opponents of new airport construction site occupy courthouse where demonstrator gets 4 month prison sentence, then expelled violently by cops (video)…Avignon festival: 100 of the fringe shows are on strike, and 30 of those which worked gave most of their wages to the strike fund. There are daily general assemblies of strikers and supporters (debate and voting is open to all). There was a 2 hour blockade and occupation of FNAC, a major book and media chainstore, with a discussion inside; also occupations of the offices of FO and the CFDT, the 2 unions that don't support the strike. No link – information got frpm an email list. And at a pre-play (a play that didn't take place because of the strike)  party, the Minister of Culture (who officially "sympathises"with the intermittents) was greeted with the words: "Us, Belgian cultural workers, haven't got the heart to clink glasses with you this evening" and then remained totally silent, creating an awkardness between the minister and the officials gathered there (see here in French). Despite the fact that these Belgians aren't directly affected by the change in status of the intermittents, they came out on strike in solidarity.
India, Kozikhode: bus drivers on wildcat strike against cops' arrest of colleagues
Pakistan, Faisalabad: workers block roads to force cop investigation of worker's death by company negligence … Battagram: health workers block roads in protest against workers' dismissal … Kohat: residents block roads against electricity cuts
South Africa, Marula: wildcat platinum miners strike continues…Tshwane: meter tampering and illegal connections cost municipality 150 million rand per annum…Cape Town: 2nd service delivery protest this week blocks road
6/7/14:
France, Lyon: cops fire tear gas and flash balls in crowded square as people do their shopping; projectiles thrown at them (more here) 1st report is cop report; 2nd is an eyewitness report

Greece: unions call off electricity strike after state threatens to jail strikers "There is no avoiding war. It can only be postponed to the advantage of your enemy." –Machiavelli
5/7/14:
France, Mende: occupation of social security offices by intermittents and other precarious proletarians
India, Bijapur: farmers and others set fire to cop vehicles and chuck stones in protest against building of thermal plant
South Africa: hacktivists to target  organisation responsible for evictions
UK, Cheshire: riot at mental disease hospital; inmates go sane
Argentina, San Carlos de Bariloche: cops fire rubber bullets after riot and looting in wake of Argentina's win agaiinst Belgium in world cup
Greece: electricity workers continue strike despite court rulling it illegal
4/7/14:
Liberia: cops shoot over heads of protestors against mine company's unpaid wages, unrenovated homes and unfulfilled promise to compensate for loss of crops "The protesters, who also fired shots, blocked entries to the mine, the company's railroad and offices. The company said in a statement they also entered the mines and looted equipment and building materials near the mine entrance, causing significant damage." …more here: "The full extent of the damage, which is still being assessed, includes destruction of private properties, as well as injuries to at least six police officers and damage to public roads and bridges." Union condemns protestors' anger

France, Avignon: 2 opening shows of festival cancelled as intermittents go on strike (link in French; English link here)
Greece: state rules electricity strike illegal
3/7/14:
Chile, Santiago: confrontations between hooded protesters and cops in front of University
France, Avignon: striking casualised cultural workers ("intermittents") leave supermarket en masse without paying This is just before the start of the festival in Avignon, where the intermittents look like they could possibly stop the whole festival, the most prestigious of the summer festivals. A few weeks ago they hung a big banner from the famous bridge there saying "Intermittents on strike", below which they gave a phone number, the number of the bosses' organisation "Medef", which is behind the new contract which greatly intensifies precarity/austerity. Their phone lines were blocked for the rest of the day. They have also occupied the Avignon Chamber of Commerce for 6 hours, as well as the offices of the organisers of part of the festival. And today, in Mende, Languedoc Roussillon, there was an occupation of the social security offices.
Unlike the movement in 2003, the intermittents this time around have gone beyond merely defending their own previous juridical status, and  are well aware of the fact that the attack on them is part of a wider attack on not just French proletarians, but also on those in the rest of Europe, and are making connections across Europe (so far, they don't seem to have leapt to an understanding of how international this struggle is, but maybe this is for the concrete reason that it is the EU that is issuing the directives that concern people in this part of the world ). Meanwhile, the CGT is – surprise surprise – shitting on the independent actions by issuing a statement calling for unity but against  the cancellation of shows and festivals or blockades without a direct strike of those technicians etc. working on the shows etc.It seems that each local work situation votes whether to go on strike or not, despite most of them belonging to the CGT union nationally. So much for "unity". Unity in submission. Unity in division. "Unity"= obey the CGT bureaucracy….Corsica, Porto Vecchio: professional cadres representing, amongst others,  the bosses' organisation Medef, attack striking sailors with stones; sailors respond with water jets "The vessel sailed around 20:00 after a few hundred business professionals, who consider that the strike penalizes the  economic activity of Corsica, tried to board. According to police sources, the professionals set fire to the ropes and threw stones, while the sailors responded with water jets. The police had to intervene and use tear gas to separate the protagonists. Many professional organizations, including the chambers of commerce and industries of the two Corsican departments, the chambers of agriculture, several island bosses' syndicates, including the  trade association of transporters of Corsica and the MEDEF, are protesting against the strike of the SNCM, which is  leading Corsica to a "dramatic economic situation." These organizations believe that the strike …jeopardizes the economy of the island, limiting the arrival of tourists and the movement of goods. These organizations  called on Thursday, in a statement, for "the whole world economy, the agricultural sector and civil society to mobilize" and demonstrate in front of the prefectures of Haute-Corse and Corse-du-Sud on Friday at 15:00."
Guinea, Conakry: peaceful demo demanding wage rise and minimum wage attacked by cops, after clashes earlier in week
South Africa, Soweto: residents angry over power cuts barricade roads, storm electricity company compound, burn loads of vehicles, stone journalist's car, etc. (more here and here)…Khayelitsha: munipal building molotoved in housing/land protest…Elandsfontein: engineering/metal workers on strike break gate of  business, stone cop vehicles; rubber bullets used to disperse them….Benoni: around 2000 striking workers cause damage estimated at several million rand; Wadeville, strikers break windows at  business premises…..strike violence also in KwaZulu-Natal If the incident of the truck driver being attacked by strikers without them even talking to him is true, that might indicate more about the gang mentality of the strikers  most of whom were apparently  wearing red T-shirts, the uniform of the, essentially Leninist, EFF. SK from South Africa has corrected me about this: "I doubt these striking workers are members of the EFF. The t-shirts of almost almost all unions are red. The uniform of the EFF in parliament are red overalls, the rank-and-file wear red berets, not sure about whether they have red shirts too. Anyway NUMSA have rebuffed the overtures of Maolema, and although many of their members might have voted for him I doubt many workers are actually card-carying members of this particular gang, which could be more accurately described as vanguardist of the Second International vintage, not Leninist (they don't aim for the violent overthrow of the state)."…Johannesburg, Sun City:  workers go on wildcat strike after sackings SK  writes: "On 3 July 2014 workers at Sun City, playground for the idle rich their working-class wannabe imitators, concluded a short strike which 'brought the place to a standstill' after some of them were fired for theft. Hundreds of casualised workers from four different 'service providers' united with permanent staff against the totalitarian methods of the bosses who introduced surveillance cameras without informing workers – even in the bathrooms. Having successfully overcome the divisions which put them in various categories under various employers, they forced the bosses into re-instating the dismissed workers. Unfortunately they accepted a union, which had nothing to do with organising their action, to negotiate on their behalf. As a result, the unions accepted an outcome unacceptable to some of the workers, who remained on strike after the rest returned to work. The acceptance of a separation between the strikers and the power to impose their own conditions, as embodied by the union, resulted in the emergence of a new separation between workers themselves… Thus weakened, it is highly unlikely that the remaining strikers will be able to remedy their grievences, while those who returned to work will have gained no new organisational tools with which to employ the force of their new-found unity when new conflicts inevitably arise….Another example of a similar process was seen when 200 workers came together to protest a deal made behind their backs between their union and the bosses, were locked-out and then dismissed for holding an illegal strike in June 2013. The factory then selectively re-hired them, leaving 50, presumably the most combative, unemployed. There was no collective response by the workers towards this abuse of their comrades, who were left to their own devices, and are now seeking redress in the Labour Court. The weak (non)response of the workers not only leaves their most class-conscious colleagues in the lurch, it also signals to the employers how easily new miserable moves can be forced through in the future, undermining the ability of all those in the factory to resist the everyday depradations of the bosses as a whole. (http://www.cwao.org.za/news_article.asp?ID=226) All of which confirms the observation 'The working-class is not weak because it is divided, it is divided because it is weak.'
Nigeria, Ibadan: motorcyclists block only useable road in protest against killing of  2 by hit-and-run SUV
Chile, Santiago: workers and students protest intensified miserable working conditions after worker's self-immolation
Germany, Berlin: local state apparently allows refugees to occupy part of squat so long as they don't allow others to join them
2/7/14:
Swaziland: cops attack 2000 striking sugar workers with tear gas and water cannon
Pakistan, Lahore: residents protesting against power cuts ransack electricity company's equipment and block roads
Chile, Valparaiso: cops tear gas/water cannon fishermen who respond with stones
Kazhakstan: prison riot for the right not to work
Ukraine: town governor attacked by angry mob escapes through window…whilstentire village is destroyed by EU-backed state with little media coverage
South Africa, Mbombela: cops fire rubber bullets at taxi drivers blocking several roads during strike…Mmabatho: cops fire rubber bullets on students protesting closure of nursing college…Ladysmith: roads blocked, etc. in protest against taxi fare hike (a pretty miserable riot, on the face of it)…business premises and vehicles damaged on metal workers strike march…Soweto: power cuts provoke mini-riot; 15 cars torched (one way to keep warm – it's winter in South Africa)
China, Hong Kong: 500 arrested after sit-in
Germany, Berlin:  updates on the resistance to eviction of refugees' squat…Greek consul's car  burnt out
France, Calais: riot cops seal off their attack on refugees & supporters from eyes of the media (more here, here and here)…report on strike, now in its 5th week,  and  occupation at famous old psychiatric hospital near Paris; strikers sabotage computer against union wishes; strike is against speed-ups and "rationalisation"… Paris/ cops use  "dis-encirclement grenade" after being surrounded by nearly 200 stoning and gassing them
US, Vermont: knit-in/sit-in protesters against gas pipeline arrested
1/7/14:
Greece: prisoners' hunger strike called off
France: several mini-riots against cops after Algeria lose to Germany (French right-wing Islamophobic site)  Saint-Denis, Drancy, Villepinte and Aulnay-sous-Bois: Groups of youths throw projectiles and  fireworks at cops. Fireworks thrown at the premises of the municipal police in Aulnay-sous-Bois and the town hall ofBondy. Bourgoin: 60 people pelt cops with stones, cops use tear gas. Lyon:   several young people throw projectiles at cops . Same in  Fennec (another area of Lyon), where the cops used water cannon and tear gas. In Vénissieux, Bron, Villeurbanne and Saint-Priest (areas of Lyon), similar clashes. Marseille: 200 Algerian supporters quickly surrounded by cops  (about 350 police and CRS); supporters dispersed without a fight, beyond a few cans thrown. Nantes: clashes with cops as numerous bins are set on fire, and three cars burned; bus shelters  destroyed, several trams stoned; stones thrown at firefighters and cops;  no arrests. None of this in the media; according to this site (with cop connections)  the media were given orders to say that everything went well after the match.
Ghana, Accra: "Occupy Flagstaff House" clash with cops "A flagbearer aspirant of the New Patriotic Party (NPP), Stephen Asamoah Boateng was booed by the 'Occupy the Flagstaff House' demonstrators with chants of 'no politician'. Asamoah Boateng was attempting to join the protesters who are currently near the TV3 premises near the Flagstaff House". (more here)
China, Hong Kong: clashes with cops on demo demanding "real democracy" (whatever that means)





News of opposition 2013 – click here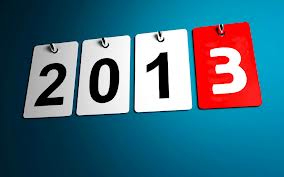 News of opposition 2013 – click here
News of Opposition
This explanatory "preamble" originally appeared at the start of this page, but to make the information more immediately accessible, I have now (20/7/14) put it here at the bottom.

 
This section will be mostly full of links to various (often mainstream) articles giving information about certain aspects of independent opposition to this society throughout the world that might have escaped the notice of other sites claiming to oppose capitalism. What I automatically exclude here, given the attempt to focus on  "independent opposition", are clashes in which either ethnic or religious  or sport team or political faction fights seem to dominate. Admittedly, some of these bits of information here are more spontaneous symptoms of opposition than developing struggles.There will be no pretension that this information is at all definitive – doubtless loads of things will be missed out. For one thing, there's no point in putting up the more well-publicised bits of news here. For example, the movement in Greece is far more comprehensively covered in "Occupied London: From the Greek Streets".  Equally, there might be things put here which on further investigation do not prove to have anything independent about them. Nor does this part of the site pretend to  constitute an analysis of these struggles: the intention is simply to inform people of things that they might otherwise have missed. And neither does putting them here all together mean that these very different events in very different situations are simplistically equivalent.
And this should be made very clear: the fact that throughout the world people, in a variety of different ways, are increasingly fighting back against the powers-that-be, does not mean in any way that we should be simplistically optimistic.  We have been here before  – e.g. in the post-1968 world, or before that in the world of 1917 and after. It may seem superfluous and obvious to say this, but the outcome of these struggles is not in any way determined, and the counter-revolution is also strong (for example, Bangladesh, which has had some on-and-off forms of significant contestation, especially in the garment industry eruptions since 2006, has just recently had some very nasty sectarian riots in which over 40 people have been killed). An optimistic determinism, which virtually sees history from some external God-like point of view, is a total waste of time and thought. But equally, pessimism is useless and self-fulfilling: it's always a question of what risks people are prepared to take so as to contribute to furthering and clarifying these very different struggles, and helping the world advance towards a genuinely liberatory future.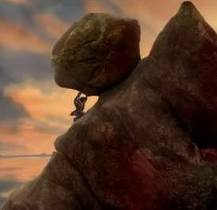 Sysyphus: both an individual and collective project – inseparably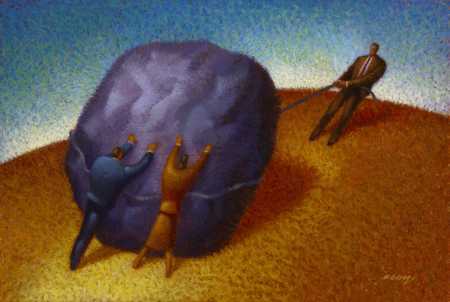 I hope people reading this will also add more insights into these events, and also provide interesting information that is not included here.
This introduction to the "News of Opposition" was written in February 2013
PLEASE NOTE:
8 compilation videos, about events in November & December 2013, and January, February, March, April, May and June 2014 –  loosely based on some of the information on this site, are available here:
https://www.youtube.com/user/m0bi/videos
They were put together by a friend totally independently of me and are taken from mainly mainstream media sources. He shows them at a get-together with a meal as a catalyst for discussion, called "Food for thought". They are also included on this page at the beginning of each relevant month.
Also note:
The updates on these events can sometimes include things that have happened a week or even several weeks ago that I missed, so it might be worthwhile for those interested, to scroll down to check out if there's anything new