June 2014
      "food for thought" – eat, watch, discuss, digest
All world cup references to Brazil for this month will now be on the "Brazil against the world cup" page
30/6/14:
Zimbabwe, Chimanimani: high school students cause several 100s of thousands of dollars worth of damage in protest against corruption, crap meals, etc. "On Monday, officials from the Ministry of Education's Chimanimani district offices addressed the agitated students and promised to attend to their concerns. But the students embarked on more violent demonstrations soon after the official's departure, leading to a crisis induced closure of the institution. Some of the damaged property include gates, furniture, staff quarters as well as several window panes."
Greece: more on prisoners' struggle
Japan, Tokyo: 1000s protest in front of PM's office against attempts to intensify militarisation of country 
"A protest in opposition to the myriad abysmal policies of the Abe Administration: Right of Collective Self-Defense, Lifting of the Ban on Arms Exports, Consumption Tax Hike, Restart of Nuclear Power Plants, Export of Nuclear Power Plants, the Special Secrecy Law, Social Welfare Reductions, Elimination of Overtime, Foisting of Bases on Okinawa, the Tokyo Olympics, Exclusion of Korean Schools from Tuition Waver Program, Comfort Women Issue. The horrendousness of Abe's LDP stretches the bounds of credulity!!! We invite like-minded people around the world to join us in our fight." – here
Palestine, Gaza: health workers sit-in in front of WHO offices in protest against unpaid wages
Pakistan, Swabi: 100s block roads in protest against power cuts
Germany, Berlin: latest on resistance to eviction of refugee squat (see also this) "Posters and banners in the area were critical of the authorities. One poster demanded to let the refugees stay in the school. Another attacked the Green Party, which leads Kreuzberg's local government -"Green Politics: Eviction, corruption, divide and rule," it said. …The protesters also repeated claims made by the refugees in a statement on Sunday that some police officers had shown racist behaviour. "They were watching us from another roof and waving, not only with handcuffs, but also with bananas," the statement said. Petra and Thomas, two employees inside the pharmacy who preferred not to give their last names, were also critical of the police's behaviour. Petra described an incident last Thursday when four people toppled a barricade outside the pharmacy. "Police immediately got their batons and teargas out," Petra said. Most days, she felt the protest resembled a funfair. "There are families with buggies, not radical people," she said. "I would understand it if it were a dangerous situation," said Thomas about the massive police presence. "But this is being treated like a siege."
29/6/14:
Bizarre transformation of protest against surveillance technology into fashion accessory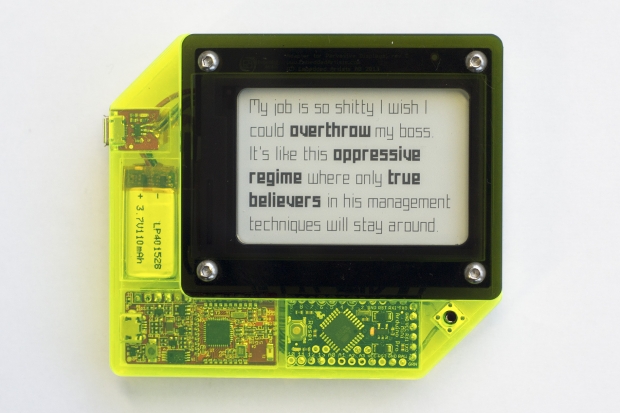 "The badge is coupled with an app on your smartphone, which searches your phone's messages and communications for NSA trigger words like "assassination" or "bomb." It then displays those words on the badge in bold for everyone to see. "By openly displaying what is currently taken by forceful stealth," the creators explain, "we question the intrusive forms of mass surveillance adopted by democratic nations on its own citizenry, and in the process, shift the conversation around wearables from being about you and your body as machine, to the culture of machine intelligence and algorithmic monitoring… The aesthetics of this wearable are purposefully embedded in the popular DIY culture," the designers say, "to encourage greater adoption and use."
This seems like a modern form of the transformation of the method of state imposition of the death penalty for rebels in Roman times – the cross – transformed "magically" into a symbol of defiance by Christianity…technologically-equipped masochism, given an aesthetic-cultural justification.. But even worse – it recuperates the DIY autonomist/activist expression into the language of the commodity.
France, Paris: casualised cultural workers force cancellation of another show Their demands now include a demand for a minimum universal salary for all of those in precarious work/unempoloyment, not just for themselves – a kind of "utopian" capitalist fantasy which, though it exists in a couple of countries, is hardly likely to be conceded in France, a far-greater crisis-ridden country than Finland, say.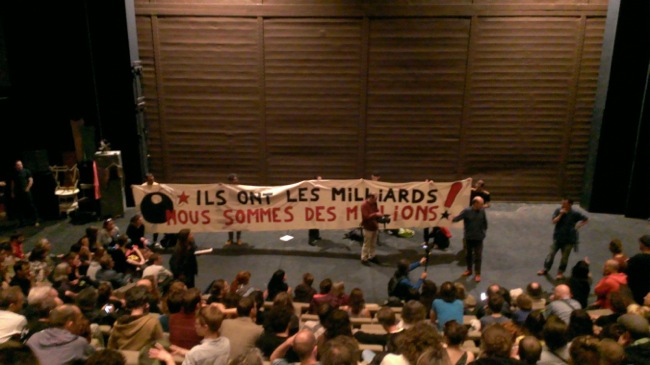 They've got billions – we are millions: Paris, Théâtre de la Ville
Israel: cops forcibly break up 3 day sit-in by African refugees near Egyptian border… African refugees begin hunger strike
South Africa: business report on how to reform labour relations after platinum miners strike…poo protests taken one step further   (explanation: the headline now linked to has been changed -"corrected" – from the original typo one which I originally linked to: "ANC councillor shat at in Cape Town"…undoubtedly this had been a deliberate "typo" – "a" and "o" are very far apart on the keyboard)
28/6/14:
Colombia, Cartagena: police station stoned after cops kill motocyle taxi driver with stray bullet; medical centre attacked and looted
Tunisia, Skhira: cops violently disperse 6 day sit-in by unemployed (which had blocked the movement of trucks, and threatened to endanger petrol distribution), who then go on to block main road and attack cops with stones etc.
Algeria, Biskra: residents block main intersection in protest against lack of water supply
UK, London: disabled protesters occupy Westminster Abbey grounds
27/6/14:
UK, Andover: Barclays Bank rolling in it
South Africa, Sun City: striking sacked workers smash vehicles and attack scabs…Western Cape: shack dwellers destroy electricity substation…Blomfontein: sit-in of health department's HQ by unpaid health workers
Germany, Berlin: door of Kreuzberg disctrict court set fire to in solidarity with evicted refugees
Israel: 1000 refugees march to Egyptian border to protest indefinite detention in prison camp
26/6/14:
Colombia: 6-day blockade of rail lines to mine company by security guards worried about job losses ends…Bolivar: riot in response to cop eviction of several thousand; kids and others tear gassed
France, Roubaix: mini-riot after Algeria's team in world cup qualifies for 8th finals ""Roubaix, 1.30 a.m.  … a group of people managed to get inside the  Eurotéléport Transpole building [metro station]. "They climbed on roofs and through a dome, they were able to get inside. The damage is very significant," explained a second police officer .. ...Police and CRS were … stoned at the corner of boulevard UN and rue Gambetta. It took tear gas and the provision of a helicopter  specialized in the fight against urban violence (with a high-powered projector) to repel small, highly mobile groups. …In total, …there are between 15 and 30 cars on fire… ..not counting trash fires…. Four shops in the High Street were vandalized and looted. The windows of the facade of Pôle Emploi [social security offices, notorious for fucking people over] were also attacked. … a cart was turned over in the middle of the road and then burned. It should be noted that the incidents were concentrated in the downtown area……In Lille and Maubeuge also…In the city, many cars were on fire in the night in Wazemmes and other areas of Lille…Other damage, including to bus shelters, was recorded. Worse, a tobacco shop was looted…Several individuals  forced the door and stole cigarettes and scratch games. … in the streets of Maubeuge….in Sous-le-Bois…at least five cars alight … "We saw people spraying vehicles with liquid before starting the fire,".. This double fire caused large explosions. … Meanwhile, urban rodeos [a cop car chase, usually with stolen vehicles] increased in the streets. …people tried to set fire to a supermarket."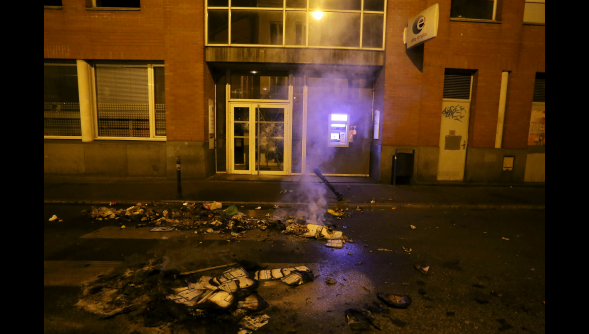 social security offices, Roubaix
 …same in othe parts of the country: Paris, Champs Elysee: projectiles thrown at riot cops, tear gas thrown at rioters…Tremblay, Paris suburb (video)… Lyon: cops use tear gas and water cannon to stop supporters going to the shopping district; Vaulx-en-Velin: 30 cars burnt , plus loads of garbage bins…Marseille: two motorcycle cops  attacked and stoned by supporters as cops tear gas them….les Ulis, South West of Paris: 2 attacks on a police station within 20 minutes of each other causing extensive damage to the glass  facade and some cop vehicles…and 3 minor incidents in the Jura
25/6/14:
Germany, Berlin: Green Party offices trashed (probably in solidarity with evicted refugees)
France, La Rochelle: mini-riot against cops Bins, pallet burnt; cop windscreens shattered;  windows of  office of  municipal police also shattered

Greece, Thessaloniki: burning barricades erected in solidarity wqith prisoners' hunger strike
Belgium, Brussels: German embassy  occupied in solidarity with those opposing eviction of refugees' squat in Berlin 
Brazil, Rio: riot after stray bullet from cop v gang shoot-out kills 3-year-old; several streets blocked, at least 6 buses destroyed
Jordan, Ma'an: cops tear gas protesters fired up at them for killing man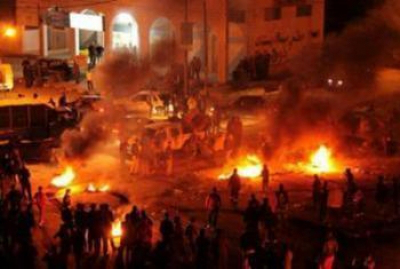 Ma'an
Colombia, Santiago Apostol: 50 demonstrators attack mayor's offices on demo demanding more investment in town
Chile, Santiago: clashes with cops on  education demo (video)…Providencia: middle school students (12 – 15) set up barricades outside school, pelt cops with stones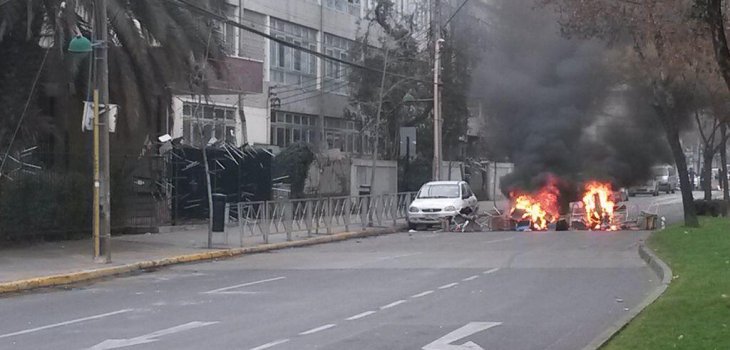 Providencia
South Africa, Sasolburg: rubber bullets and stun grenades used against striking municipal workers who attacked municipal building…business report on "problem" of violent strikes…threat of wildcat strike at Eksom Presumably this is the union trying to  prove how necessary they are to control things at the same time as trying maybe to get a little improvement so as to sell themselves to the workers in a work situation where strikes are illegal. Anyway, threatening a strike is usually a way of averting one: like most threats – it's  a show of doing something in lieu of really doing something.
Pakistan, Faisalabad: rickshaw drivers block busy intersection for hours in protest against crippling fines
India, West Bengal: railway track blockade unblocked by passengers
24/6/14:
Germany, Berlin:  school squatted by refugees  evicted "900 cops surrounded the school. The district authorities had lied to the refugees, promising not to evict the building itself. District and church people try to create a rift between the refugees, as well as to force them to move out of the school under the threat of a martial police force. Some refugees and families have left the school, but many more are still inside and refuse to go out. Some of them stand on the roof shouting slogans; petrol was spilled inside the house; cops evicted a sit-in at the entrance door; several hundred people are protesting in front of police barriers. Refugees are threatening to jump from the roof if they are evacuated. Roma families moved out when they were promised that there will be new accommodation for them, but now they stand on the street."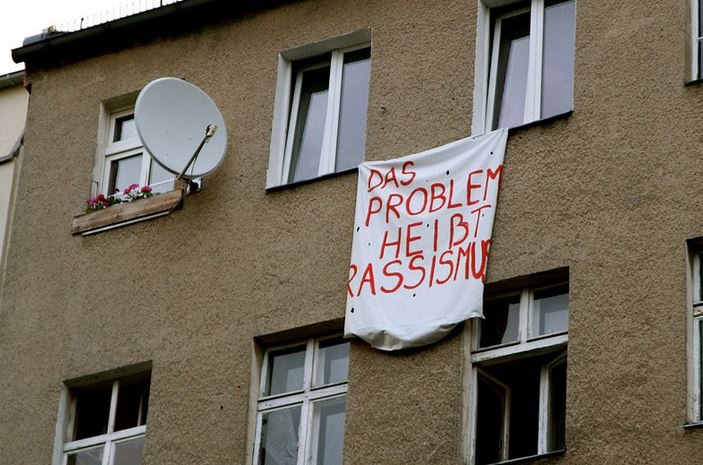 The problem is called racism
Chile, Nunoa: hooded youths start a series of riots, with burning barricades and attacks on cops…Santiago: school students from highly prestigious high school erect burning barricade out of school furniture, attack cops with sticks, stones, chairs, bottles and molotovs
Yemen: oil production partially suspended due to workers' blockades
Uraguay, Montevideo: cops injured during football riot
Pakistan, Islamabad: about 500 refugees pelt provisions offices with stones, block road,  in protest against lack of distribution of rations
South Africa, Western Cape: government vehicle burnt  as service delivery protesters barricade roads, clash with cops…Macassar: 2nd day of angry protests (video here) (turns out that the protests in Macassar have been about stopping over 800 people, whose shacks were destroyed by the state, from being re-located into the area; see this) 
Greece: hunger strike against maximum security jail  by 3800 prisoners...solidarity demo…here it claims that the strike is being followed by 90% of prisoners, though I suspect that's an exaggeration; it also mentions that a banking agency was attacked in Volos in solidarity with the prisoners (June 6th) …list of videos concerning Greek prisons

France, Pantin (93): Bouygues prison construction lorry set alight
23/6 /14:
France, Toulouse: casualised cultural workers occupy the regional council
South Africa: union declares platinum strike over "AMCU…leader…Mathunjwa, a Salvation Army lay preacher who casts himself as a class warrior doing battle for downtrodden black miners whose lives have changed little in the 20 years since apartheid ended, was exultant…. "companies agreed to the bulk of our demands," although "it has not been easy." He acknowledged that not all workers would obtain their wage demand of 12,500 rand (850 euros, $1,150) a month in three years but added that "many will easily reach it" within this period"  Let's wait for the small print….more here and here…Macassar, Western Cape: housing protest met with rubber bulllets after admin office molotoved…Cape Town, Kosovo: residents destroy 100 bucket-type toilets
India, Jajpur: security guards pelted with stones after they attack workers' sit-in ("dharna") in front of steel plant's vice-president's office; guards fire live rounds…more here "Police said trouble started when hundreds of workers held a demonstration, demanding overtime dues of the last two months. When the company rejected their pleas, they ransacked the office."
22/6/14:
More technological methods to control us from a distance (more here) "Innovative ideas are sought that may support a potential new Defense Advanced Research Projects Agency (DARPA) program designed to develop a compact system that can expand into a large structure (e.g., web, wall, blockade, barrier) without human intervention, defining space from a distance and/or making an area inaccessible. These deployable systems are expected to have many potential applications…"
Venezuela, Caracas: very violent prison riot
France, Pau: at 2a.m.,  after music festival organisers ignore cops' demand to finish their party, cops attack violently with tear gas and rubber bullets; party-goers respond with bottles, chairs, pallets, barriers, hospitalise 2 cops and vandalise several cop cars…Nancy: after the end of the music festival, cops are pelted with bottles, stone and signposts; 6 cops injured…  Grenoble: after Algeria's football victory against South Korea, clashes with cops lead to an empty bus and a dozen cars being burnt…Lyon: several clashes with riot cops after Algeria's win (and a shop looted)…apparently 300 rubber bullets were fired in Lyon, though no mention of rubber bullets appeared in the media (see also, this banal example of standard  gratuitous cop fuckeheadery)…similar scenes in Roubaix near Lille (20 cars burnt, shop windows smashed, bins burnt, supermarket on fire) …..Maubeuge and Feignies also…NONE OF THIS APPEARS IN THE NATIONAL MEDIA, ONLY LOCAL MEDIA AND INTERNET….Montpellier: first night of dance spectacle is stopped by about 100 intermittents seizing the stage Amongst the slogans were: a big banner right at the front (which is possibly why the photo in this link is taken from behind)  saying "The bosses and the State organise precarity…let's organise ourselves!",  "Grève ou crève"  (strike or die), and "La mélancolie ne sera passer pas!" ("Melancholy will not pass/happen!" – a play on words referring  to the law changing the intermittents' status, which they don't want to be passed). The organisers of the show went on stage to declare their sympathy for the intermittents as well as their sympathy for the (quote) "suffering" of the disappointed audience. Throughout the country the intermittents are threatening to close down the higly lucrative festival season, which begins with the biggest one – in Avignon at the beginning of July.
Trinidad & Tobago, Port of Spain: cops declare all-out war on neighbourhood after they are shot at 4 times after they'd killed a 19-yr-old (see also this) "Police say they have declared war with protesting residents of Laventille. "As far as we are concerned, this is an all-out war. There is nothing to negotiate," an angry Head of the North Eastern Division, Inspector Roger Alexander, told the Guardian yesterday. Using words like "enemy" to refer to the residents, he said police officers were shot at four times during patrols in different parts of Laventille yesterday… residents are planning major protest action today. They have been burning debris and engaging in protest action since the shooting of 19-year old Keshorn Daniel from the area."
Tunisia, Khenchela: tyres burnt, roads blocked in angry protest against disciriminatory housing allocation "Violent clashes  took place outside the headquarters of the daïra in Khenchela where disgruntled people burned tires. …This tension goes back to last Friday when the city experienced serious incidents over the situation of housing allocation. Unknown people torched the car of the Vice-President of the PCA.."
India, Delhi: government vehicles, including cop jeep, smashed in angry protest against bus killing of 30-yr-old
21/6/14:
France, Evry (near Paris): cop hospitalised as a  dozen or so youths attack the cops on an estate.,… Montpellier: during free music festival, "intermittents" (casualised cultural workers) are allowed on stage by top celebrity to put over a message on the telly, saying that their strike is not just about them but is part of an attack on all precarious workers and unemployed ; celebrity endorses some of what they say (videos) It should be made clear that there was a hint of a threat behind the intermittents' discourse – the threat of pulling the plug on this TV show if they weren't given the chance to speak.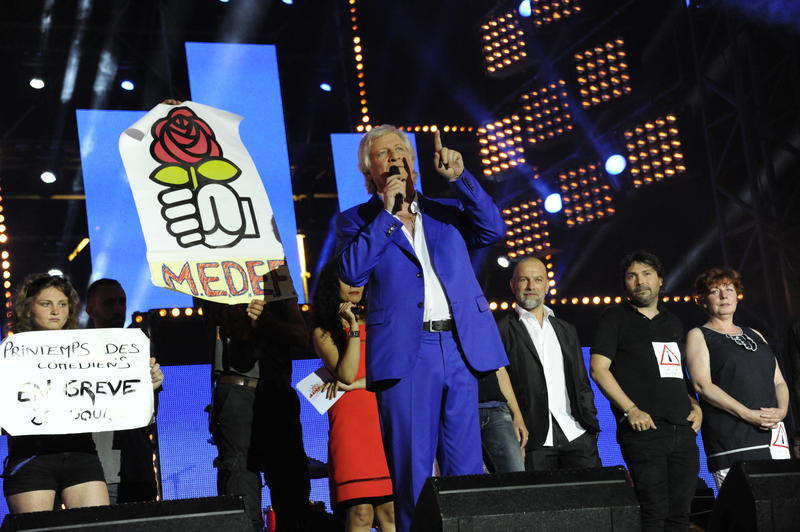 India, Uttar Pradesh: angry demonstrators block railway tracks etc. in protest against fare rise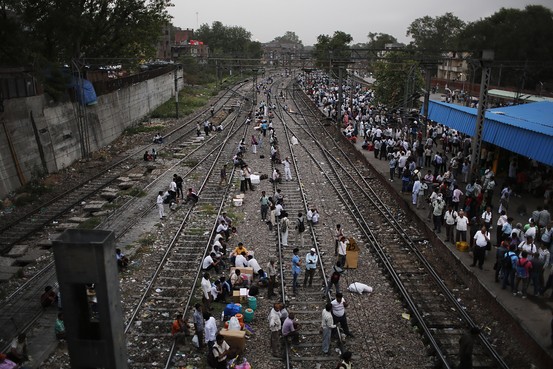 don't go off the rails!  – no more sleepers! – keep the movement on track! – corny puns!
Trinidad & Tobago, Port of Spain: residents block major road with debris etc. and set fire to it to express fury against cop killing of 19-yr-old
20/6/14:
Palestine: Palestinian Authority violently disperses demonstration in solidarity with Israel's prison hunger strikers
France, Nantes; casualised cultural workers occupy local offices of national bosses organisation "Medef" (equivalent of CBI  in UK) ...and the Paris suburb offices of the president of Medef (links in French) " Over 150 of us came here after leaving a general meeting to arrest  the president of MEDEF. Already today in Brest, unemployed, precarious workers and casualised cultural workers tried  to engage in a necessary dialogue with him, but Pierre Gattaz fled, and no one knows where he is hiding. A rumor indicates that at present he's in Baden Baden… The site of the Bouygues Paris Philharmonic was immobilized the day before yesterday. This was also the case for  public works  companies  in Quimper, where social security offices were closed or occupied. Our actions will not remain confined to the field of culture, or even tourism. We promise to affect the wallets of those responsible. The savings they want to achieve by impoverishing the unemployed and precarious is  going to cost them a lot. We call on the unemployed, precarious, casualised, temporary and all employees to join existing groups and coordinations and create new ones to oppose … austerity." …..as they occupy other buildings throughout France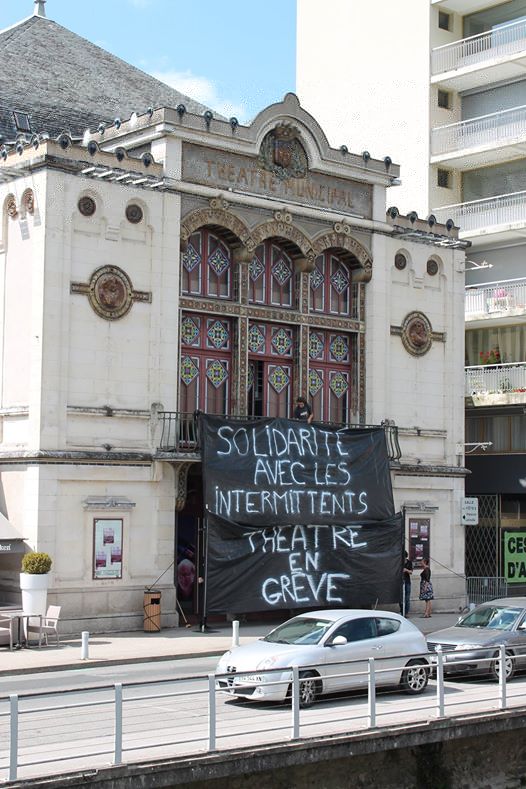 Solidarity with the casualised cultural workers – theatre on strike
UK, Yorkshire: barricade goes up against frackers
India, Bangalore: sugar cane growers bring city to a standstill in protest against unpaid dues
South Africa: sweetly benevolent intentions of pepper spray drone manufacturer (see 18/6/14 link below)  "The operator has full control over each marker. He can select the RED paint marker and mark the protester who carries dangerous weapons, he can select the BLUE marker to mark the vandalising protestors and if needed the pepper balls to stop the advancing crowd before they get into a 'life threatening situation'." The Skunk is also fitted with bright strobe lights, "blinding lasers" and on-board speakers to enable communication and warnings to the crowd. It has a thermal camera and high-definition video camera with on-board recording. Desert Wolf insists: "Our aim is to assist in preventing another Marikana; we were there and it should never happen again."
19/6/14:
France, Paris: arson attack on Gare de Lyon; over 600 square metres destroyed 
India, Lahore: cop informer (probable agent provocateur)  badly beaten up by crowd; lawyers join in… the accused "came into the limelight after he was caught on cameras brazenly damaging several vehicles in the presence of police, during the clashes between Pakistan Awami Tehrik workers and police in Lahore's Model Town on Tuesday." Though at first I thought this sounded great, I realised  that this was also part of a political party fight with the local state. Still, sometimes one appreciates things (like that catapult in Kiev) separate from their intentions. But, as with  Ukraine, if you separate the form of an action from the explicit ideas and perspectives of the participants, you end up ignoring so much and avoiding the contradictions. And you face the miserable results of such  burying of the head in the sand….Mumbai: Campa Cola residents stop official disconnecting electricity supply…Puducherry: footpath vendors blockade road in protest against cops confiscation of goods
18/6/14:
South Africa, Pretoria: informal traders protest leads to looting and petrol bombing of businesses "… the leadership had nothing against the attacks, as those who stood against the revolution risked being crushed. A petrol bomb was hurled at the premises of the Office National Africa in Johannes Ramokhoase Street, causing a fire that was extinguished by staff and police officers. …Stones were thrown at businesses as the informal traders fled from gun-wielding police officers dispersing a vocal crowd that had closed Lillian Ngoyi Street in front of municipal offices at Isivuno House. Police had charged towards the marchers who had been singing songs insulting the metro police and mayor Kgosientso Ramokgopa….They are demanding that metro police stop harassing them and return stock that was confiscated. They wanted Ramokgopa and Community Safety MMC Terrence Mashego to resign – a demand described by mayoral spokesman Blessing Manale as being misplaced. Metro police confiscate stock informal traders sell from unauthorised areas, or without a permit…….Police were ordering the protesters to disperse or be shot, but "there was no reason to return to work if metro police were going to confiscate stock", he said."…Limpopo: service delivery protests barricade main road, pelt cars with stones
France: casualised cultural workers take action, occupy various buildings, in 14 areas of  the country 
Tunisia, Tizi-Ouzou: riot over clearly discriminatory housing allocation ( link in French)
China, Guandong: hundreds clash with cops in protest against waste disposal construction site
Indonesia, Surabaya: sex workers block roads in protest against closure of red light district
Nigeria:  Obafemi Awolowo University students chase out admin staff in movement against fee hikes
Ukraine, Donetsk: large anti-war demo, mainly by miners (not sure how independent this demo was – could have been manipulated by pro-Russian forces…who knows?)
Pepper spray drone now enables cops to avoid close contact with rioters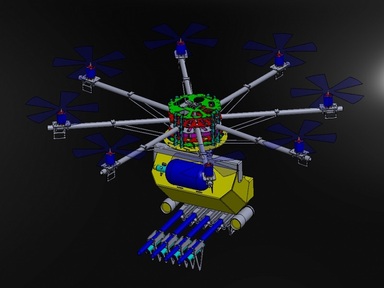 Airborne riot control: pepper spray drone has first buyers
"The drone features four high-powered gas propelled chambers, each of which is capable of firing 20 pellets per second. It is also capable of firing other similar-sized pellets, including paintballs and solid plastic balls with an ammunition capacity of 4,000 pellets. While the company has not disclosed the recipients of these mobile projectile dispensers, Desert Wolf's managing director Hennie Kieser told the BBC that many of them are based in South Africa. "Some (are) mines in South Africa, some security companies in South Africa and outside South Africa, some police units outside South Africa, and a number of other industrial customers."
…but even drones are not immune to a crowd's desire to enjoy themselves (more here) "After a light tap from an unidentified object on its left side, a black Kings T-shirt knocked the drone on the right and sent it careening down within arm's reach of the fans. Video footage shows the drone getting pulled into the mass, where it was smashed to bits by a skateboard"
17/6/14:
Chile, Concepcion: high school students occupy school in protest against lack of spending on infrastructure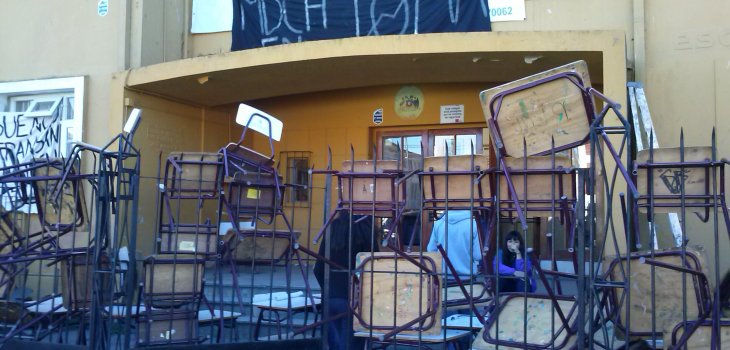 Concepcion, Chile
South Africa, Soweto: roads blocked with burning tyres, rocks thrown in 2nd day of electricity cuts protest  (more here and here)…as the platinum miners strike apparently nears its end, "the devil is in the detail"…..and so the strike continues …..a mainstream look at AMCU's development and  prospects…cops flee from informal traders protest "Members of the Tshwane Barekisi Forum were protesting in the city against alleged harassment and abuse by municipal police. Hundreds of protesters, men in red Economic Freedom Fighters attire, carried sticks, sjamboks, and rubber pipes. The metro police cars were hurriedly removed from Lilian Ngoyi (former Van Der Walt) Street and taken to Isivuno House, the municipal head office….Members of the forum called for the resignation of Tshwane mayor Kgosientso Ramokgopa, alleging that he had failed them. Some in the crowd waved placards stating "Ramokgopa is a liar, the most corrupt mayor ever", and "Ramokgopa must step down"…Earlier in the day, shops in central Pretoria closed their doors as hundreds of hawkers protested in the city centre….Traffic was gridlocked as hawkers sat, danced, and sang on the roads while frustrated motorists hooted in despair. Police officers were at the scene but did nothing to stop the protesters. Some of the protesters overturned rubbish bins as they marched along Paul Kruger Street. In January, the forum claimed that Foster Jan Rivombo, a vegetable vendor, was shot dead in the city for refusing to hand over his stock to Tshwane metro police." EFF involvement makes me doubt the element of independence in this movement of street vendors, though it's hard to tell. Nevertheless, as SK wrote, about the EFF leader and demagogue: "an opportunist like Julius Malema will be greeted warmly in almost any situation of struggle in the country, not because of the practical consequences of his activity but because of the publicity he astutely manipulates, the populist rhetoric with which he decorates his electioneering, and the paltry tokenistic patronage he offers (he was the first to offer financial support for the funeral services after the Marikana massacre and recently this millionaire donated the grand sum of R50 000 [i.e. just under $5,000] to the strike-fund)."
France, Paris: train drivers clash with riot cops as strike enters 8th day…Lille: train drivers occupy town hall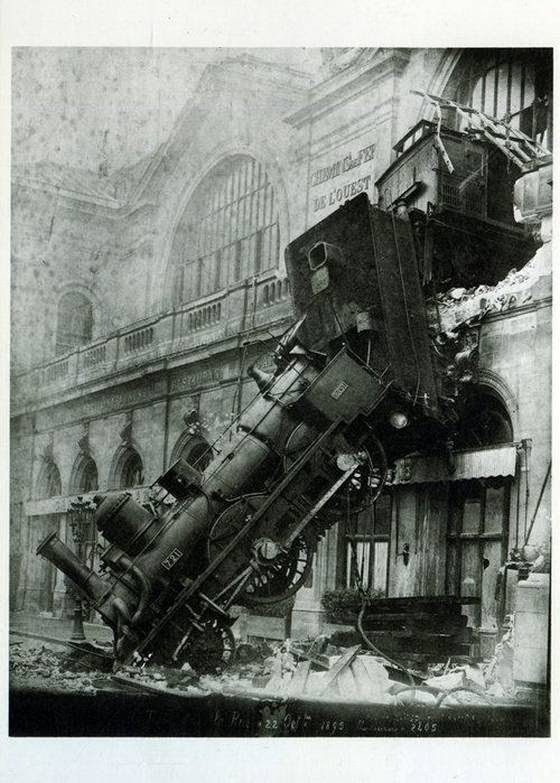 Eire, Dublin: bosses use courts to stop bin collectors blockade
Uganda: pigs raid parliament … residents in new form of protest against bad road "They did not barricade the road but got hoes, spades, rakes and started digging trenches and clearing the busy areas on the road in order to create a way to their Kisenyi village."
16/6/14:
Nigeria: University of Abuja closed down indefintely after student protest
Bahrain: wildcat garment workers on strike threatened with deportation after a week on strike "STRIKING workers at a Riffa garment factory now face deportation if they do not return to work today following an ultimatum issued by the Labour Ministry yesterday. An estimated 2,000 workers at MRS Fashions, which manufactures garments for global brands such as Macy's, JC Penney and Walmart, held a mass walk-out last week amid allegations of withheld salaries, unfair deportations, poor working conditions and mistreatment. The Indian and Bangladeshi employees downed tools on Tuesday after trashing the company's factory in Hajiyat and have since refused to co-operate with company management and Labour Ministry officials – instead issuing a set of 12 demands, including calls for a pay rise and better food and medical care.Labour Ministry inspection and labour unions director Ahmed Al Haiki told the GDN that a written warning had now been issued to those on strike, alerting them that legal action would be taken – ultimately leading to deportation – if they did not return to work."This strike is illegal and we have issued a warning to the workers," he said."I personally went and spoke to them, but they refused to negotiate and are adamant that they would only go back to work if their demands are met."Among the problems hindering negotiations is the fact that the workers are effectively leaderless and refuse to select a front man", Mr Al Haiki said."We have asked them to select a leader who can talk on their behalf, as we cannot talk to 2,000 people at the same time," he said...."last week we arranged transport for the workers to come and talk to us, but they refused.…They are not co-operating at all and severe action will be taken against those who go against the law.…Demands should be discussed with the management and the ministry in the presence of the workers. But they are not willing to talk and that's the major problem we are facing.…A representative of the striking employees claimed their current salary was as little as BD55 a month, adding that they were ready to be deported if their demands were not met."We have been working here for a long time but no one is listening to our problems," he told the GDN, on condition of anonymity."We are ready to go to jail or be deported back home, rather than work in these conditions," he added.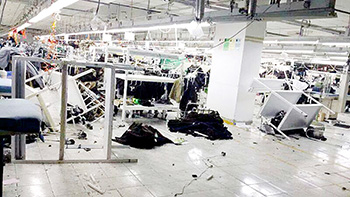 Riffa's factory in Hajiyat after it was trashed last Tuesday
India, Uttar Pradesh: major road bmpcked by protesters – though not clear whether this is due to cop complicity in rapes and murders or not…Firozabad:  account of  bizarrely confused riot after 2 cops killed "two police constables were shot dead late on Sunday night in Firozabad, the constituency of SP chief Mulayam Singh Yadav's nephew Akshay Yadav. The killings by alleged robbers led to widespread protest in the west UP district as angry mob vandalized vehicles, tried to set a police jeep on fire, and threw stones on public and policemen alike."
15/6/14:
Germany, Berlin:  27 cops injured in riot against rent hikes
France: various concerts cancelled as casualised cultural workers strikes hit festivals etc. Not mentioned here is that these strikers are making links with the train workers' strikes, which are now in their 6th day, and no sign of ending
14/6/14:
US, St. Louis: sign of the times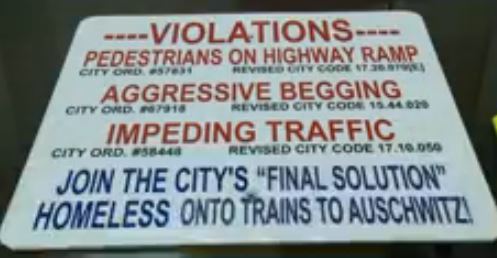 sign detourned from this: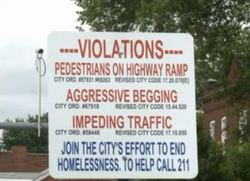 UK, London: riot pigs break up illegal rave party by over 1000 in disused post office
France, Toulon: 2 high-speed TGV trains brought to a slow stop by "malicious acts" (ie sabotage) as SNCF train strike hots up; 2,200 passengers have unexpected overnight stay in train
Australia, Melbourne: union condemns series of acts of sabotage against construction site company noted for its crap safety record
India, Bhopal: cops baton charge anti-rape protesters
China, Hong Kong: protesters push down barriers to Legislative Council "Police used pepper spray to scatter protesters at Hong Kong's government headquarters in an angry rally against plans for a new town development, with 21 arrested, officials said on Saturday. …Around 900 people gathered at the city's harbourfront government complex with some trying to force their way into the building to oppose the project, which they say will displace villagers and turn farmland into housing estates — favouring property developers...Television footage showed protesters pushing over barricades and surging towards an entrance to the Legislative Council as lawmakers met to discuss funding for the development.…Police cordons inside and outside the building pushed back the rally late Friday as protesters tried to prise the doors open with bamboo sticks, shouting "Withdraw the plan".…They managed to smash a hole in a glass panel, which police inside then used to pepper-spray protesters, while lawmakers were forced to suspend the meeting.…Around 200 protesters then chained themselves together for a sit-in outside the building and anti-riot police were sent in to disperse them and make the arrests."
Colombia, Valledupar: riot and road blockade because of power cut just before Colombia-Greece match
13/6/14:
Bangladesh, Badda: at least 10 garment workers hurt in clash with cops
Italy, Rome: squatters occupy opulent church "Pope Francis' avowed commitment to the poor and the homeless is being put to the test by a group of out-of-work, homeless people who have bedded down amid the gold leaf and opulent marble of one of Rome's most stunning and sacred churches.A band of 110 squatters, including around 20 children, have been camped out for nine days at the fifth-century church of Saint Mary Major – one of Rome's four papal basilicas."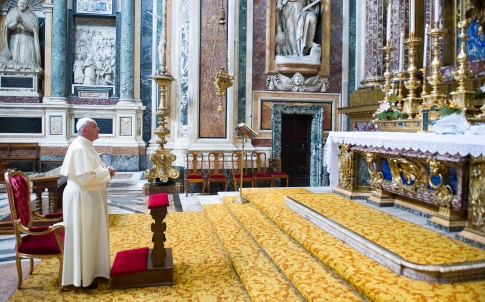 Saint Mary Major basilica, where over 100 squatters have decided to try to live
India, Singrauli: interesting, though possibly manipulated, tribal protest against Greenpeace
Mexico, Morelia: hunger leads to road blockades and official vehicles being burnt "people from the commune of Capácuaro, in the municipality of Uruapan, set fire this afternoon to two official cars and have maintained a blockade, since morning, of the Uruapan-Paracho road in support of their demand for a Temporary Employment Program and a meeting with the federal commissioner for security and development …At 14:30 hours, the villagers torched a town hall van  and at 16:30 a municipal patrol vehicle, threatening to burn a vehicle every two hours until their demands are met….Up to 17.00  they were holding eight vehicles, including two taxis and three trucks from the Federal Electricity Commission (CFE)….It's the same group of villagers who yesterday stood in front of Government House in Morelia, and blocked the Southern Bypass, when  they were evicted by the state police.…The protesters…   said that two years ago they'd agreed with the state government that they would stop illegally clearing the forest if granted temporary and alternative productive projects, but the commitment was not met and about three thousand inhabitants of Capácuaro are living in a state of   crisis, which is causing famine."
Greece, Athens: a journos lot is not a happy one
12/6/14:
South Africa, Barberton: cops kill someone as service delivery protesters burn down councillor's house, barricade roads etc.
France, Nice: molotov thrown at police station as youths gather in estate
Canary Isles, Gran Canaria: barricades formed in protest against oil exploitation and against election of Minister (link in Spanish)
Australia, Melbourne: movement against budget cuts builds up, as Union bureaucrats channel anger into peaceful demos
11/6/14:
France, Paris: dozens of youths attack cops in Athis-Mons, a Paris suburb
Argentina, Cordoba: a dozen cops injured as anti-Monsanto environmentalists get angry ( link in Spanish)"At least 20 environmentalists were arrested this afternoon while a dozen policemen were injured …one of the troops suffered serious injuries. "He suffered the impact of a stone slab. His health is fine"…The environmental group that opposes the debate in parliament and calls for the eradication of Monsanto plants in the province, staged a violent clash with the Guard Corps. "We demand that we be allowed to live in a healthy way …" said an activist….protesters tried to seize the Legislature, removing the perimeter fence. The unrest forced the closure of shops in the area as well as damage to their windows….After the incident, the column of protesters headed toward the intersection of Avenida Velez Sarsfield and San Juan Boulevard, opposite the Patio Olmos, causing traffic chaos during the "rush hour".
Bahrain: garment workers strike now in its 2nd day "AROUND 2,000 workers at a Bahrain garment factory – which makes clothes for US retailers Macy's, JC Penney and Walmart – continued their strike for a second day yesterday. The Indian and Bangladeshi employees at MRS Fashions downed tools on Tuesday after trashing the company's factory in Hajiyat, near Riffa, amid allegations of withheld salaries, unfair deportations, poor working conditions and mistreatment. It followed an incident on Monday evening when Indian machine operator Tariq Iqbal was allegedly mistreated when he tried to resign. Mr Iqbal later admitted that he slapped one of his superiors, but claimed he had been provoked. When his co-workers heard that Mr Iqbal had been handed over to police and potentially faced deportation, a riot broke out in the factory leaving machinery, furniture and office equipment smashed and broken….workers' spokesman Pavan Kumar said yesterday that staff were refusing to return to work until their demands for a pay rise and better food and medical care were met. "The managers who visited us on Tuesday evening said that they were ready to ignore the damage to the factory and asked us to resume work," Mr Kumar told the GDN yesterday. "But we decided not to and insisted on our demand for a salary raise."
South Africa, Durban: taxi strikers in conflict with cops "There were cases reported of vehicles being damaged and shops being damaged." Earlier, police had used teargas and stun grenades on the 300-strong crowd." more here...Soweto: cops tear gas  protesters for mooning to express their anger about their shitty life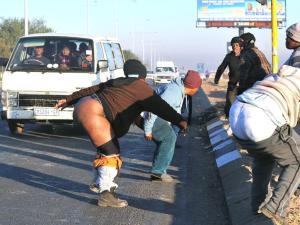 the moon in june…
The law is an ass:

"The police's Kay Makhubela said, "They were taking off their trousers and showing motorists their bottoms and that's why we had to use teargas to disperse them".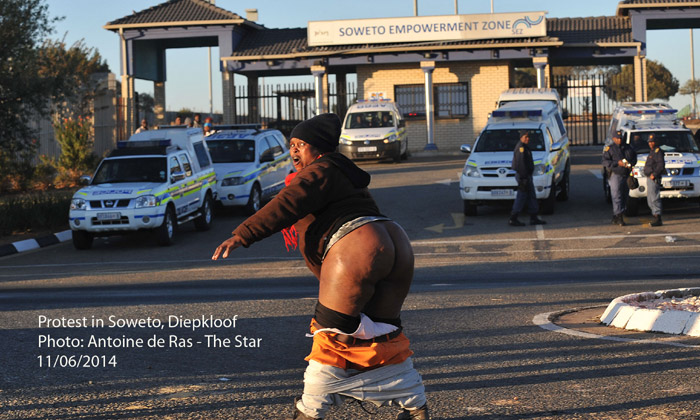 … platinum strike continues as stockpiles run low.…interesting report on daily life of miners on strike "He laughs before telling me he and his neighbours don't have to worry about rent as they "own" the houses in which they live because "we kicked in the doors" and forcibly took possession after they were built in 2009. "The municipality bulldozed the shacks of the people who lived here, but when the houses were complete they said they were built for people who lived in another section of the township, so we just occupied them."...Mr Sukude's house has prepaid electricity and the six shacks are connected by extension cords. After much hesitation, both men tell me they don't pay for power. "Some municipality employees bridged it for us, at a fee," says Mr Zimbi."
Chile, Santiago: more tear gas as students clash with cops
Colombia, Medellin: hooded group block roads and attack University property with exploding potatoes (bangers and mash)
India, Delhi: 400 run riot over power cuts
Yemen, Sana'a: hundreds protest outside presidential palace against power cuts, etc. … more here "As anger continues to sizzle under the summer sun, reports of clashes were confirmed across Yemen, from Aden to Taiz and Sana'a, tension has become palpable, making officials rather nervous."
Tanzania, Mwanza: small traders run riot for 8 hours after their stalls are demolished, block roads, spread their struggle throughout town
Spain, Madrid: 24-hour taxi drivers' strike against Uber, the internet car sharing app…taxi drivers strike in other European cities as well
US, Kansas: a critique of sport…?
10/6/14:
India, West Bengal: clashes between parents and school & cops, over demand to lower fees "The parents wanted to submit a deputation demanding lowering of fees for class 11 students but they started pelting stones and lobbed crude bombs after the school refused to agree." (video) (more here)
Chile, Santiago: students and cops clash in front of presidential palace
France, Brittany: ecotax "gate" deliberately set fire to, forced to be dismantled
China, Shenzhen: another wildcat strike over non-payment of benefits
South Africa, Rustenburg: scab car torched
9/6/14:
Brazil, Sao Paulo: supporters of metro strikers block traffic, set fire to bins (link in French) "The military Police in Sao Paulo dispersed Monday, three days before the start of the World Cup,   hundreds of protesters from groups that support the strike by subway workers,with tear gas…The protesters had blocked, at 06:00 (09:00 GMT), Central Avenue Vergueiro in the financial capital by setting fire to garbage cans, blocking traffic, when police charged to make way for motorists…The strikers are to meet on Monday at a General Assembly at 13.00 (16.00 GMT). They gradually revised their demands down to 12.2%, while the state government of Sao Paulo won't go above 9.5%. They also require a guarantee that no employee will be dismissed at the end of the strike. "I protest for my rights. There is no agreement, only bombs and repression, "said  Wesley Anderson, 23, on Monday, who works at the information service on line 2."
But – after all the typical bluster, the union suspends the strike.  "Less than four days before it hosts the opening game of the World Cup, São Paulo became the scene of protests, street fires and teargas on Monday as striking subway workers brought chaos to the city……..Security is also a major concern, particularly in Rio de Janeiro – the base of the England team – following a recent flare-up of unrest in the city's favelas. Players from Roy Hodgson's England squad were due to visit Roçinha, the nearest shanty town to their hotel, on Monday night as part of an outreach programme.
On Monday night the subway workers' unions announced the strike was being suspended for two days, with a vote to be held to decide whether it would resume on Thursday, when the tournament's first match is due to be played in São Paulo….
Their protest was being supported by activists from the Landless Workers' Movement, who blocked roads and occupied a station in the centre of the city until they were dispersed by riot police using percussion grenades….
The Brazilian team has also come under pressure. Last month their bus was attacked by demonstrators; last week the team was booed by sections of the crowd during a drab warm-up game against Serbia…..
Last year thousands of residents from Roçinha took to the streets to protest about the disappearance of Amarildo de Souza, a bricklayer who was last seen at police headquarters being interrogated with electric shocks and asphyxiation.
Ten officers were subsequently arrested, but this case – and several others since then – have added to a sense of anger among many favela residents about the brutal actions of police in trying to "pacify" their communities in time for the World Cup."
In the comment section someone wrote:
"I am Brazilian and this World Cup is being made with no workers at all. It is a Cup for the criminal rich and corrupt bureaucrats. The most popular catchfrase is #nãovaitercopa, meaning #therewillbenocup, because no ordinary person will be able to enjoy the least.
But it's easy for an english newspaper to speak of enthuasiasm when people come all over the world, and from England, for sexual tourism and to go on shanty towns to tour them as if they were zoos. You're just on the exploring end and nothing will change that. All working class people hate this event."

…whilst Homeless Worker's Movement wins partial victory "…With the start of soccer's World Cup tournament just days away, officials agreed Monday to demands that a piece of land occupied by poor families be used for low-income housing, but much of the rest of Sao Paulo remained paralyzed by a subway strike….The Homeless Workers Movement said the agreement to end the land occupation was a "great victory." "The conquests … will mean benefits for the millions of families that suffer due to Brazil's housing problem," it said in a statement. In early May, thousands of families occupied a piece of land near the stadium where the opening match will be held, demanding that the privately held but unused property be turned over to poor Brazilians who have been priced out of their neighborhoods by World Cup development. The settlement, dubbed the People's Cup, became the most emblematic of the Homeless Workers' recent actions, which included thousands of supporters marching across the city's freeways under red flags….The Homeless Workers, a left-wing group carrying on the decades-old tradition of Brazil's land occupations, said the government agreed to provide 2,000 housing units on the land and form a commission to prevent forced removals from property…."
UK, Burghfield: 5 hour blockade of nuclear power site
8/6/14:
Algeria: clashes with cops over housing problems spread to different areas "Clashes broke out Sunday afternoon in Laghouat, when dozens of young people, having previously taken part in  a sit-in in front of the daïra to raise claims related to housing, improvised a march to the headquarters of the province and demanded to meet the leaders of the administration. The situation escalated into clashes with police that have spread to other areas, including that of Esseddiqya. This protest resulted in a dozen policemen being injured before calm returned in the late afternoon."
South Africa: platinum strike talks break down; "country moves closer to recession"
Nigeria, Kano: angry protests over former governor of bank of Nigeria becoming Emir  "The protesters, who set a car ablaze, burnt tyres and carried sticks, tree branches and other dangerous weapons, chanted war songs and demanded the reversal of Sanusi's emergence as the emir…. tyres were burnt at the palace, Kuramawa, Soron Dinki, Kofar Nassarawa, Gwale, former Silver Jubilee Roundabout and Chrianchi areas, as well as on all the major roads in the state"
China,  Guangzhou: red light district riot "social media sites showed several police vehicles lying on their sides after having been flipped."
India, Mangalore: prison riot leaves 20 cops injured
Brazil, Rio: stadium workers protest, preventing journalists from leaving stadium…Sao Paulo: court rules official metro workers strike "illegal", but union claims it will continue strike despite  $222,000 fine for every day they fail to work
Thailand, Bangkok: military leaders insure the right to shop till you drop…dead
"Bangkok is the shopping Mall capital of the world, with the 3 largest Malls on earth and over 100 in city, the mediium size ones the size of the largest in Britain." (from here)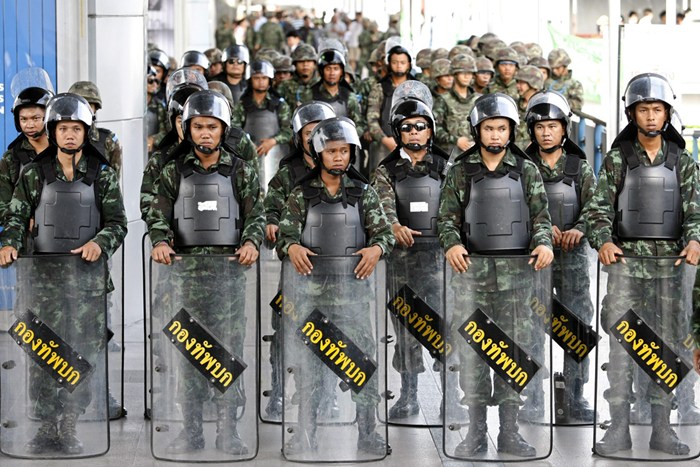 cop till you drop: a shopping mall in Bangkok this weekend
So far it seems that the opposition to the coup is purely symbolic (see  these photos), and, unfortunately, dominated by an ideology of democracy. For example, reading "1984" out in public,  the Hunger Games 3 fingered gesture. The junta leader said on Friday; "I beg you not to raise the three fingers. Why do you have to imitate them (foreigners)? If you want to show it, you can, but can you show it inside your house? Don't show it outside" Such generosity is the "softly softly" approach of today's forms of totalitarianism, as compared with, say, Pinochet's coup in Chile in '73. For instance, a leading social democrat journalist (Pravitt) was arrested, but released after a few days under a gagging order. On the other hand, a leading union organizer is now serving a 14 year sentence for a magazine article, and his wife and son were captured and locked up; the leading ghetto organizer, a 60 year old woman, was also locked up; one leading civil society organizer went on the run, and his 16 year old daughter is now being harassed in her school; a Belgian guy was arrested for wearing a "peace now" sign at a public thoroughfare; 2 old Thai women were arrested at the same spot for holding a sign in English which said "No Fascists". But the military won't, for the most part, crack down  heavily on these gestures (and will only do so very very selectively) because they act as a safety valve, giving people the feeling that they're doing something against a miserable situation but only a feeling – whilst making  it seem dangerous. So the military might threaten people with arrest, and actually arrest some of them; but if this outlet is very heavily repressed, some people might find other ways of genuinely expressing their opposition. A massacre might provoke an explosion in reaction, and besides, it puts the tourists off. Better to kill people off with economics than bullets – crumbs  and circuses. See this, for example: "Are you in need of a pick-me-up? How about a free haircut or hot meal? A dance show by women in PVC miniskirts? Perhaps a chance to pet a pony? All this – and more – is now available to you courtesy of the Royal Thai Army's "Happiness" campaign, which is staging free festivals across Bangkok to "bring back happiness" to the Thai public following last month's military coup. A bizarre combination of an army-controlled street party and a music festival, the "parties" have been taking place in parks and squares, where the public is showered with free food and drink and given an opportunity to watch the army sing and dance — and take selfies next to trussed-up soldiers."
I suspect that the coup has come about because the dominant capitalist class in Thailand cannot afford even a mildly social democratic programme. And social democracy only thrives because workers, peasants, unemployed, housewives, children, have given up their struggles and put their hopes in some form of "nice" government. Until they find different ways to take their struggle into their own hands, feet, minds and hearts (or rather, to extend the limited element of independent struggle that's already been expressed) they will always be fucked over one way or another (of course, this applies to you and me as well as proletarians in Thailand).
This, from 4 years ago, seems still relevant to a certain extent: http://libcom.org/forums/news/red-shirts-try-overthrow-government-13032010#comment-368320
and all subsequent jaocheu comments below this are interesting.
UK, Milton Keynes: canal blockade aiming to halt canal boat evictions
7/6/14:
France, Toulouse: several molotovs thrown at detention centre for expulsion of illegals
South Africa, Eastern Cape: 30 instances of violent attacks on property since metal workers vowed to intensify strike 3 days ago
US, Boston: 60 people occupy  house belonging to company profiting from foreclosures
Brazil, Sao Paulo: 3rd day of metro strike…Unions talk the talk…president clutches at straws (implies that anti-World Cup movement is an attempt by conservative opposition parties to oust her) She said criticism of government spending on the tournament – notably stadia in some host cities with no football tradition – amounted to "disinformation"…The president did not say who was behind the campaign but she recalled a 2011 edition of conservative news magazine Veja that sardonically suggested the tournament's 12 stadium venues would not be ready for decades….Rousseff, who was a leftist political prisoner during the 1964-1985 military dictatorship, said even then "we did not confuse the World Cup with politics".
India: border guard lynched after guard shoots villager  
6/6/14:
India: thousands riot over power cuts "…recent temperatures that soared to 117 degrees Fahrenheit have caused the demand for power to spike at 11,000 megawatts — far higher than the state's capacity of 8,000 megawatts — setting off blackouts that shut down fans, city water pumps and air-conditioners….Thousands of people stormed an electricity substation on Friday near the state capital, Lucknow, ransacking offices and taking several workers hostage for 18 hours until the police intervened Saturday morning, said a state utility official, Narendra Nath Mullick….Elsewhere, an angry crowd set fire to an electricity substation in Gonda, 112 miles southeast of Lucknow. It took three hours for firefighters to put out the flames on Friday. Another substation was set on fire in Gorakhpur, 200 miles southeast of Lucknow.
South Africa, Western Cape: residents pelt cops with rocks in housing protest ""police officers in Malmesbury have had to duck and dive this morning, as they come sporadic attack by angry residents who are protesting over housing issues.  ..Some protesters are pelting policemen with rocks… …Schools in the area are closed for the day and some children are watching the violence play out….The police's Lorencial Johnson says, "Early this morning riots occurred where about 800 protesters took to the streets to demand better housing…" (more here and here) …"Police arrested 26 people for public violence during hours of running battles with protesters in Malmesbury yesterday after Lingelethu residents took to the streets and tried to burn down a municipal building…Residents, angry at a perceived halt in the rollout of government housing in recent years, succeeded in seeing the N7 closed for most of the morning and early afternoon. The N7 is adjacent to the township….There were riotous scenes as hundreds of protesters charged at police armoured vehicles while pelting journalists and Public Order Police with stones. Roads were blocked with burning tyres and municipal vehicles vandalised….Police responded with tear gas, rubber bullets and stun grenades. A police helicopter circled low."
Nigeria, Lagos: students riot over tuition hikes
Brazil: around 157,000 troops and cops to police World Cup….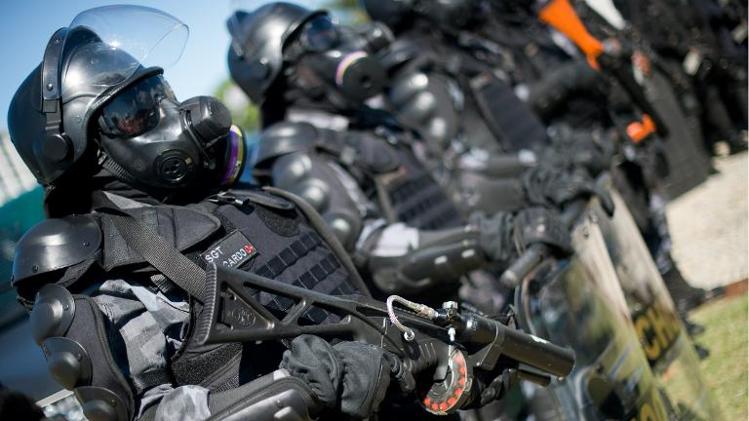 The "Choque" special unit pose during the presentation of security forces for the upcoming FIFA World Cup, in Rio de Janeiro on May 30, 2014. Probably these will – in the not-too-distant future be made redundant in favour of real Robocops – i.e.  "cops" which are robots
Sao Paulo: metro strikers clash with riot cops "A third of Sao Paulo's metro stations were closed on Friday morning, and there were more than 200km (125 miles) of traffic jams across the city in the morning rush hour.Police fired tear gas and used batons and shields at a demonstration outside Ana Rosa station in central Sao Paulo." More here…video here… 
 last train to Sao Paulo…                                                                                                          if you miss this one, you'll never get another one
5/6/14:
Nigeria, Lagos: students take over government house and cook meal (more here)  "The lingering crises rocking the Lagos State University (LASU) over the hike of tuition fee by the state government, took a new dimension on Thursday, as scores of students of the institution stormed the office of Governor Babatunde Fashola at Alausa, Ikeja, vowing not to go home until their demands are met….the students, including male and female ones, who stormed the office at about 3pm, in over 10 buses including two Bus Rapid Transit (BRT) buses, with registration numbers XQ 837 EPE and LRS 652 XC, came along with mats, mosquito nets and cooking pots… the female folks among them quickly swung into action setting up the firewood to prepare beans, just a stone throw from the entrance to the governor's office…The students also defied a sudden downpour that threatened their demonstration, as they danced to solidarity songs, even as they held mid-day prayers to seek divine intervention on the issue."
Brazil: "I'm not going to Brazil because…"
UK: hackers to face life imprisonment if they sabotage national insecurity
4/6/14:
France, Montpellier: La Traviata cancelled as casualised cultural workers seize the stage (see also this, from 2004)…Brittany: ecotax "gate" set fire to
Colombia, Cali: riot as residents resist mass eviction…Cartagena: roads blocked with burning tyres in protest against power cuts
US, Washington state: offices of US representative occupied for a few hours in protest against immigration policies
Palestine, Gaza: Hamas prevent PA state employees collecting their wages 
Brazil, Sao Paulo: 12000 anti-World cup protesters march on stadium as metro workers vote for indefinite strike…more here "They blocked roads in the area with 15 buses and several smaller vehicles and caused traffic jams stretching several kilometres."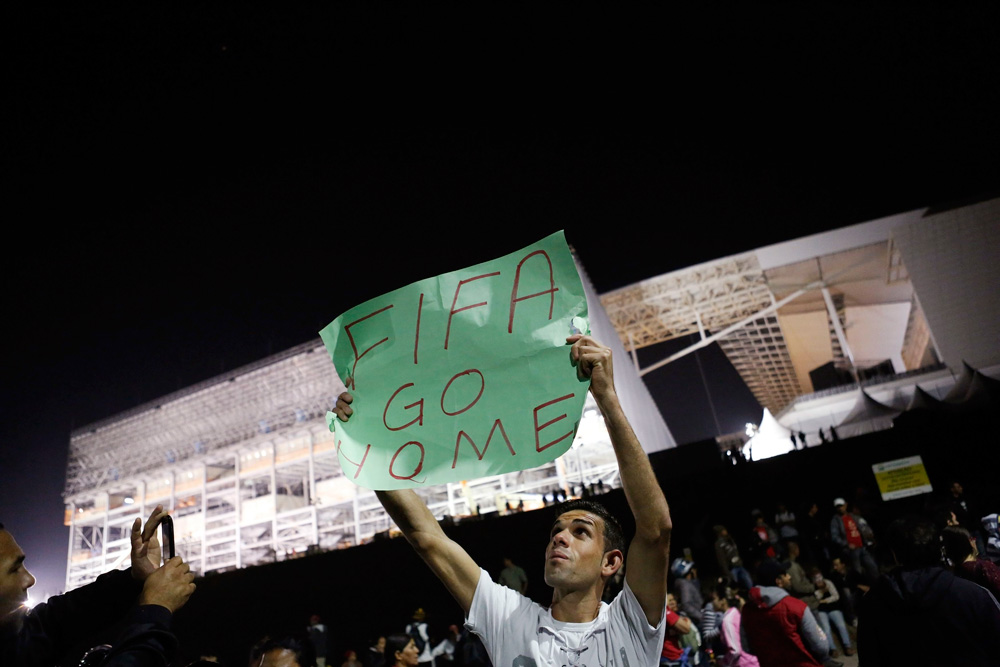 India, Bangalore: residents of several villages block roads against landfill sites
Pakistan, Islamabad: workers stage sit-in in protest against low-level wage rise
Italy, Rome: wildcat airport  baggage handlers strike
Canada, British Columbia: school students walk out of classes in several schools in confused  protest against both the local government and teachers…who are striking   against 10% pay cut
3/6/14:
Canada, Vancouver: heavy cop raid over anti-pipeline graffiti
Morocco, Casablanca: shanty town dwellers attack cops with stones during vicious eviction (link in French)
UK, South Yorks: "freedom ride" demos – pensioners refuse to pay the fares on public transport
Venezuela, Valencia: protests over water shortages "traffic on the Eastern Freeway  …was interrupted with burning tyres in the morning on Tuesday…in protest at  water supply cuts which  have increased in recent weeks . They also demonstrated against the high levels of insecurity and to demand the freedom of students who remain in detention."
US, San Francisco: 2nd day of transit workers' "sick-out"
India, Lucknow: 1000s of aspirants to teacher eligibility tests block roads, pelt cops with stones, damage property, etc.
Bolivia, El Alto: striking transport workers block roads, burn tyres, attack vehicles, cops respond with tear gas
South Africa, Western Cape: molotovs thrown and tyres burnt as evictions of shack dwellers continue (more here, here, here and here)  …Johannesburg: wildcat bus strike…as footwear workers go on official strike  …whilst there's a possible end to platinum strike looming as government intervene…business report on damaging effect of strikes (see also here)…meanwhile, a policeman's lot is not a happy one
Brazil: professors try to co-opt black bloc…as cops increasingly become useful for  target practice….whilst thousands are made homelesss by the world cup…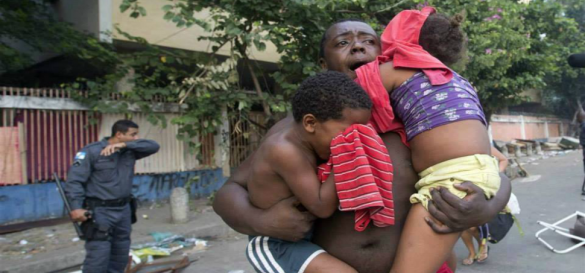 Cops cleansing Rio for World Cup Terrorism Tourism
2/6/14:
Zambia, Kabwe: students riot over tuition hikes ""All they should do is to relay their grievances to their unions which can engage government to dialogue. That's how we are going to lead this country," Mr Lungu said.
Ms Mutale said the students mobilised themselves around 23:00 hours and wanted to riot in protest against hiking of tuition fees.
She said the university management intended to hike the tuition fees by 10 percent.
"Of course, there were intentions to increase [tuition fees] by 10 percent but as much as the students might seem to be justified, that's not the way you go about it. It was wrong for them to have decided to riot," Ms Mutale said.
She said riots will not be condoned because Government has allowed unions in learning institutions to be the bridge between the students and managements."
US, Albuquerque: council meeting  canceled as demonstrators storm Mayor's office , stage sit-in against cops; protesters stick up "crime scene – do not cross" tape  
India, Lucknow: cops fire water cannon at women protesting rape…This seems to be dominated by the BJP  (video, and another video)  (also see the following about proletarian women in India: Reports concerning various conditions of proletarian / working class women – For the debate on how the struggle against exploitation in general relates to the struggle against gender (violence) in particular ) Ironic that the demonstrations seem to be dominated by the BJP as the BJP home minister for the area has just said this: "This is a social crime which depends on men and women. Sometimes it's right, sometimes it's wrong"  (see here)
Australia, Christmas Island: week-long protest by asylum seekers shut down by authorities (more here)…for more about asylum seekers in Australia, see this
South Africa: interesting mainstream business report on platinum strike "…the government's credibility as an honest broker has been severely compromised by the involvement of senior ruling party officials in the mining sector as shareholders, as well as its political alliance with the Congress of South African Trade Unions (Cosatu). The union federation's National Union of Mineworkers (NUM) affiliate has been superceded on the platinum belt by the Association of Mineworkers and Construction Union (Amcu), a union that has made it clear that it sees the government as a tool of mining capital that is biased towards the NUM…Reports that the African National Congress's solution to the conflict within Cosatu could extend to choosing its leaders for it, and "redeploying" those whose presence is considered divisive, will not help restore the governing party's credibility on the platinum belt. The same stresses that caused Amcu to break away from the NUM are manifesting in other sectors of the economy that are dominated by the private sector, especially heavy industry, and the ANC's response will be noted by Amcu……What is required is a mediator who is able to convince both sides that compromise is the only way out of the hole they have steadily dug themselves into. If the mines are in dire straits due to the anaemic dollar metal price and soaring rand costs, and therefore cannot meet Amcu's demands without bankrupting themselves, what other options exist to help their undeniably hard-pressed and overindebted employees make ends meet?…One option is to increase the "social wage" — improved housing and living conditions for the miners and their families — without the mines having to fork out cash they do not have. This would require the government to come to the party in terms of service delivery to mining towns and the informal settlements on the platinum belt."
Nigeria, Lagos: doctors resume official indefinite strike "… the doctors had 12-point contention, including: "the astronomical increase in hospital charges, which have increased the number of avoidable deaths and affected the training of resident doctors….Lack of basic facilities and equipment, chronic shortage of stationeries, epileptic water supply, disorganised and dirty environment and inadequate manpower have led to poor service delivery to Nigerians."…state bans protests about abduction of girls by Boko Haram
1/6/14:
Turkey, Ankara; cops launch tear gas at demo on anniversary of cop murder of 26-yr-old (more here)
Palestine: shops on strike in solidarity with hunger strikers Please note: if I rarely report on clashes between Paelstinians and the IDF it is not to minimise the relevance of these clashes; but, like Bahrain for the last 3 years, these clashes have become non-stop, and virtually a daily affair and are only worth mentioning if they express some new development or new tactic.





News of opposition 2013 – click here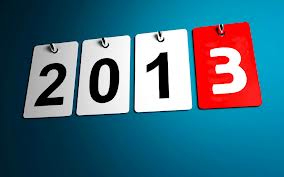 News of opposition 2013 – click here
News of Opposition
This explanatory "preamble" originally appeared at the start of this page, but to make the information more immediately accessible, I have now (20/7/14) put it here at the bottom.

 
This section will be mostly full of links to various (often mainstream) articles giving information about certain aspects of independent opposition to this society throughout the world that might have escaped the notice of other sites claiming to oppose capitalism. What I automatically exclude here, given the attempt to focus on  "independent opposition", are clashes in which either ethnic or religious  or sport team or political faction fights seem to dominate. Admittedly, some of these bits of information here are more spontaneous symptoms of opposition than developing struggles.There will be no pretension that this information is at all definitive – doubtless loads of things will be missed out. For one thing, there's no point in putting up the more well-publicised bits of news here. For example, the movement in Greece is far more comprehensively covered in "Occupied London: From the Greek Streets".  Equally, there might be things put here which on further investigation do not prove to have anything independent about them. Nor does this part of the site pretend to  constitute an analysis of these struggles: the intention is simply to inform people of things that they might otherwise have missed. And neither does putting them here all together mean that these very different events in very different situations are simplistically equivalent.
And this should be made very clear: the fact that throughout the world people, in a variety of different ways, are increasingly fighting back against the powers-that-be, does not mean in any way that we should be simplistically optimistic.  We have been here before  – e.g. in the post-1968 world, or before that in the world of 1917 and after. It may seem superfluous and obvious to say this, but the outcome of these struggles is not in any way determined, and the counter-revolution is also strong (for example, Bangladesh, which has had some on-and-off forms of significant contestation, especially in the garment industry eruptions since 2006, has just recently had some very nasty sectarian riots in which over 40 people have been killed). An optimistic determinism, which virtually sees history from some external God-like point of view, is a total waste of time and thought. But equally, pessimism is useless and self-fulfilling: it's always a question of what risks people are prepared to take so as to contribute to furthering and clarifying these very different struggles, and helping the world advance towards a genuinely liberatory future.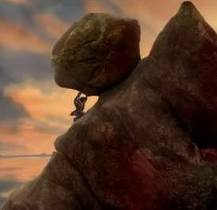 Sysyphus: both an individual and collective project – inseparably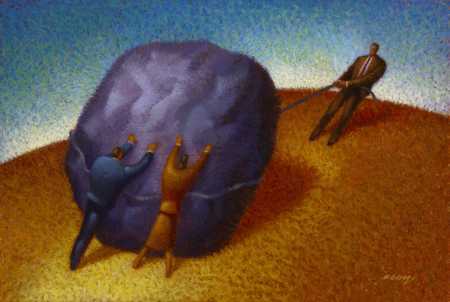 I hope people reading this will also add more insights into these events, and also provide interesting information that is not included here.
This introduction to the "News of Opposition" was written in February 2013
PLEASE NOTE:
8 compilation videos, about events in November & December 2013, and January, February, March, April, May and June 2014 –  loosely based on some of the information on this site, are available here:
https://www.youtube.com/user/m0bi/videos
They were put together by a friend totally independently of me and are taken from mainly mainstream media sources. He shows them at a get-together with a meal as a catalyst for discussion, called "Food for thought". They are also included on this page at the beginning of each relevant month.
Also note:
The updates on these events can sometimes include things that have happened a week or even several weeks ago that I missed, so it might be worthwhile for those interested, to scroll down to check out if there's anything new