Mexico, Mexico City: molotovs and rocks chucked at cops, roads barricaded,  police cruiser set alight as movement hots up … 
"Riot police blocked hundreds of hooded demonstrators from shutting down Mexico City's international airport. Protesters a few blocks away set a police cruiser on fire and barricaded streets. TV newscasts showed images of protesters tossing Molotov cocktails at riot police. In one image, an officer was enveloped in flames. …Peña Nieto canceled a military parade to mark the anniversary of the beginning of the 1910 Mexican Revolution, sidestepping a possible confrontation with protesters in the capital's plaza. He exhorted citizens to protest peacefully. "We Mexicans say no to violence," Peña Nieto said at a ceremony to honor the military. "The society and government categorically reject any attempt to provoke or encourage it…." "People are totally fed up. They want something to happen," said Gilberto Lopez y Rivas, a former legislator who now says all political parties are corrupt…But even as protests surge, and sympathy grows for the parents of the missing students, no group or opposition leader has harnessed the anger. …Protesters carried signs that said, "Murderous narco state," "Make all of them go away" … Most had dispersed by around 8:30 p.m. but the La Jornada newspaper website said hundreds remained behind and were tossing bottles at the National Palace and setting fires. Organizers said students from 114 universities and institutes around the country took part in the day of protest, one of the largest in recent decades. …Passengers headed for the international airport earlier in the day found their way blocked by protesters, many of them wearing masks or kerchiefs. Cordons of federal police in riot gear redirected the protesters to side streets, and used pickups to ferry passengers past barricades to reach the airport. Authorities urged passengers to arrive four hours early for their flights. In Chilpancingo, the capital of Guerrero state, thousands of protesters flooded onto the major highway from Mexico City to the Pacific coast and blocked it for two hours. Demonstrations also occurred in Guadalajara, Hermosillo, Monterrey, Cuernavaca and other cities….PRI Deputy Manuel Añorve Baños said some protesters were trying to hijack the issue of the missing students and use it for acts of violence.He said roadblocks and other actions had devastated tourism in Guerrero state, home to the tourist resorts of Taxco, Acapulco and Zihuatanejo. "It is not through roadblocks and by strangling the economy of Guerrero that they will achieve their objectives," he told a legislative news service. At a military ceremony Thursday, Peña Nieto offered a full-throated defense of the military from charges of human rights abuses." …Chiapas: burnin' 'n' lootin' "The contingent of three thousand people was led by students from the Normal Intercultural Bilingual School, among other institutions, as well as teachers of the National Education Coordinator (CNTE) and social organizations such as the National Front of Struggle for Socialism (FNLS)…After walking on Avenue Calzada de la Raza, to reach an   OXXO store [supermarket chain], a group of masked men threw stones and broke windows with bats, smashing up   the business ….Later, they moved to a shopping center, where they set fire to a Soriana…Journalists and onlookers who were filming or taking pictures of the damage to buildings were assaulted with shoving and threats to remove their cameras or cell phones . After the riots, those who were hooded re-joined   the rally, where some contingents threatened not continue if violence continued. … dozens of companies and businesses closed for fear of an attack, while the contingent of people walked to the cathedral square, where after a rally, the hooded ones returned to loot two OXXO stores."
South Africa, Cape Town: taxi drivers join anti-eviction protesters to block much of the city centre
19/11/14:
Ecuador, Quito: students and workers clash with cops over new labour laws and transport costs
Cyprus, Nicosia: stones thrown as protesters against banks robbing depositors clash with cops
India, Punjab: students and cops clash in movement against fees hike
Haiti: video of anti-government protests over the last few days
UK, London: students scuffle with cops over  fees and cuts Not quite Millbank 2010, but…The main critique one could make of the student/high school student movement of 2010, excellent as it most definitely was,  is that it remained a largely student affair – if they'd made connections with post office or NHS workers (for instance) it could have gone beyond its limitations into something magnificent.
If only if only if only …..Connections, solidarity, contact, community, communication,  connectionsconnectionsconnections…The way out is through the door. The problem is opening it.
US, Berkeley: students occupy lobby of admin building in movement against fee hikes…St.Louis: road blocked outside Ferguson police HQ
China, Hong Kong: pro-democracy protesters clash with cops as they break into government building "A small group of protesters charged towards the building and used metal barricades and concrete tiles to ram a glass side door. They eventually smashed through, with several managing to get inside, witnesses said. Police rushed over, using pepper spray and batons to keep other demonstrators from also smashing their way in. Four people were arrested while three officers were treated in hospital for injuries, police said in a statement. …It was the first time protesters had broken into a key public building, defying the expectations of many political analysts who had predicted that Hong Kong's most tenacious and protracted protest movement would slowly wind down. A democratic lawmaker at the scene, Fernando Cheung, said he and other protesters had tried to stop the activists from breaking through. "This is a very, very isolated incident. I think it's very unfortunate and this is something we don't want to see happen because the movement so far has been very peaceful," he said." More here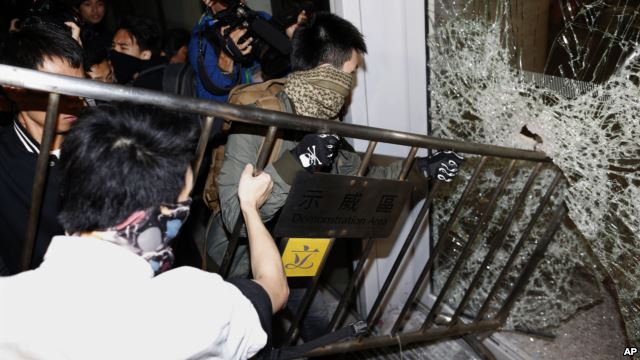 18/11/14:
Colombia, near Bogota: prison riot  – at least 27 cops and screws injured, 23 young offenders escape (video)
France, Paris: all the windows of 11th arrondissement  police station broken
17/11/14:
Eire, Sligo: Prime Minister's car attacked 
Italy, Milan: rioting against cops as squat gets evicted
Nigeria, Onitsha: union executive member killed by cops "But for the intervention of union officials led by Dr Jim Okonkwo, chairman Board of Trustees, Motorcycle Transport Union of Nigeria (MTUN/OWAN), members of the union would have taken laws into their hands and burn down the police station and security buses at the scene."
Senegal, Dakar: road blockaded in riot over high electricity bills to be paid within 3 days of receipt
Greece, Athens: some clashes with cops as at least 40,000 demonstrate against austerity
South Africa, Johannesburg: city brought to a standstill as 2 motorways are blocked by striking taxi drivers The article is a good example of a typical piece of journalistic manipulation and confusion: it starts with "Terror and chaos stalked the streets of Joburg on Monday morning as a strike by taxi drivers turned ugly. A taxi association calling itself the United Taxi Association Front (Utaf) not only brought the city to a standstill by blockading the M1 and M2 freeways, but terrorised motorists by pulling passengers out of passing vehicles." and we can read a bit further on: "Commuters who gathered at the Bree Street taxi rank in the city centre tried to get into the vehicles of people who stopped to help them, only to be forced out by strikers." but this is followed by: "Earlier, commuters had packed these private vehicles to capacity paying more than usual for the trip. But when a man began banging on bonnets, ordering commuters to get out, the motorists left the rank." In other words, the "passing vehicles…who stopped to help them"  were, in fact, scab strikebreakers helping themselves by charging more than what the strikers had charged before. And the "terror" did  not involve "pulling passengers out of passing vehicles." but was  just strikers "banging on the bonnets, ordering the commuters to get out".
"Of all the principles for journalism, the most important is to complicate simple things and simplify complicated things" – Judy Polumbaum
"Journalists – no ideas and the ability to express them" – Karl Kraus
"In the old days men had the rack. Now they have the Press." ― Oscar Wilde
"The life of a journalist is poor, nasty, brutish, and short. So is his style" ― Stella Gibbons
Cape Town: particularly and obviously crappy artwork vandalised
US, St.Louis: dry-run protest in anticipation of Grand Jury verdict freeing the killer Darren Wilson briefly closes streets and blocks traffi; governor to order in National Guard again…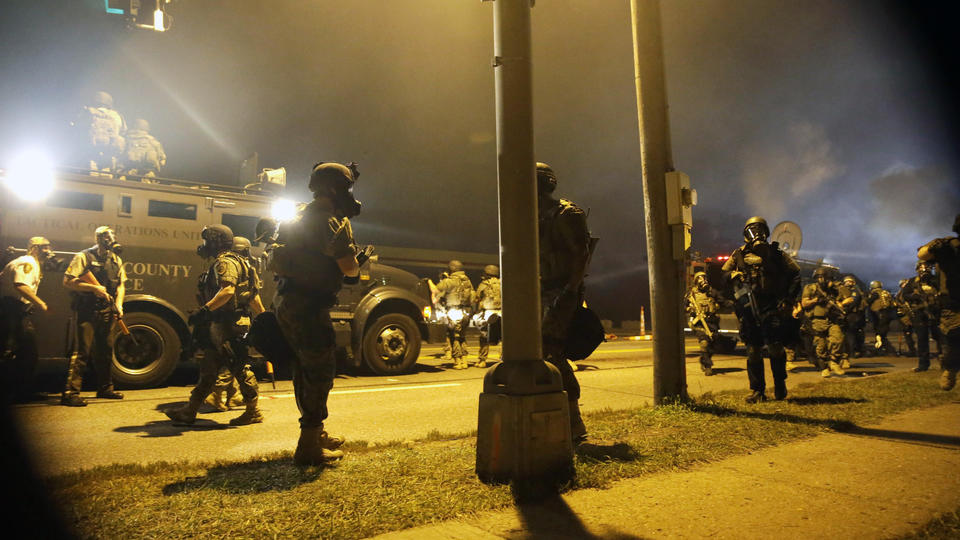 "premeditated anarchy" of the market
16/11/14:
US: Anonymous hacks and  seizes KKK twitter account over their threats to use lethal force against Ferguson/Mike Brown protests
Turkey, Ankara: university to be closed for 3 days after riot
France, Montpellier: 3rd night of mini-riots round impoverished group of housing estates "Forty to fifty young people, some of whom had their faces covered with hoods and scarves assaulted police and firefighters, with no casualties, on Saturday night 15th to Sunday, November 16th on the tense estate of Petit- Bard..They threw stones at police, traveling first by car and then on foot, while igniting gas cyliniders placed in skips . There  were no injuries or damage to vehicles. Groups of youths had already  ambushed firefighters and police on the night of Wednesday and Thursday to Friday in this sensitive estate in the west of Montpellier."
15/11/14:
Mexico, Veracruz: demonstrators set fire to part of governing party HQ "A group of hooded protesters attacked the headquarters…  of the Institutional Revolutionary Party (PRI) in Xalapa, Veracruz, in a protest against the Central American Games played in the state. A dozen protesters left the peaceful march  … to go  to the regional party headquarters, where they threw stones, burned and destroyed windows of an office. "We want justice, we don't want Games," read one of the banners carried by protesters, who also painted the walls of some public buildings, shops and hotels in the city, with no apparent police presence. …The protests are "against the Central American Games, they are not against the athletes. This must be made very clear, we have nothing against the delegations," said Ariel Segura, one of the teachers at the protest. On Wednesday, protesters  managed to extinguish the flame of "righteous centrocaribeña" during one of the relays between torchbearers in Xalapa. The fear of a boycott of the games   in Mexico meant   about 7,000 police officers and 500 soldiers for 800 sporting events to be held from November 30 in the five games venues – Xalapa, Coatzacoalcos, Córdoba, Tuxpan and Veracruz – were being deployed . On Friday, thousands of teachers and students in Guerrero resumed their powerful protests against the government of Peña Nieto, who returns home Saturday after a tour of Asia ahead of schedule because of the crisis in Mexico."  Interesting comment here.
Holland, Gouda: dozens arrested at forbidden anti-racist demonstration
Australia, Perth: once again, no classes today – no class society tomorrow
14/11/14:
Italy: 10s of 1000s strike, block traffic, confront cops, etc in latest demos against austerity  (more here)
Greece,  Thessaloniki: administrative faculty of Aristotle University occupied
US, Pennsylvania:  self-defeating individualist notion of how to spark a revolution The road to permanent incarceration is paved with good intentions (not that many of us haven't had these fantasies, but…)…St.Louis: report that  local form of the commodity-spectacle is in crisis
UK, London: bottles etc. thrown at cops as they crack down on Facebook-advertised party
13/11/14:
Indonesia, Makassar: deputy chief of police shot in leg with arrow as students continue to clash with cops over fuel hikes (more here)
Greece, Athens: cops fire tear gas as authorities ban sit-ins celebrating 1973 anti-colonel uprising (more here)
US, St.Louis: transforming  the protection of the crime of business-as-usual into the defence from the protectors of this crime
12/11/14:
South Africa, Pretoria: landless re-expropriate land, fired on by cops, used for political point-scoring by EFF (millionaire Malema's party)…but they managed to ransack an ANC councillor's home (who managed to retain the roof and walls – more than can be said for those whose shacks he'd had destroyed)
Colombia, Bogota: 3 hour riot at Universidad Pedagogica; bus burnt with "potato bomb"
Pakistan, Bannu: at least 2 "Internally Displaced Persons" killed by cops in riot; 17 cops injured
France, Seine-Saint-Denis: some incidents in front of high schools demonstrating  about  Rémi Fraisse…Eure: report about a few town halls in Normandy being broken into and the bureaucracy partially destroyed
Mexico: Guerrero state legislature set fire to by protesters, violent demonstrations in other states, airport blocked, local ruling party offices damaged "In neighboring Michoacan state, which has also been a focal point of drug gang violence, students blocked the main entrance to the state capital's airport…. Another group of demonstrators broke windows, furniture and computers at local PRI offices in the capital of Morelia…. Local media also showed images of masked people, purportedly student teachers, looting trucks in the state of Oaxaca, while another group took over a toll booth station in the state of Chiapas and burned several cars."…On the latter see this in Spanish "A group of 50 people set fire to three SUVs and created havoc …to the toll gates…From 8 in the morning men, women and young people took control of the toll booth to charge a fee of 30 pesos to 50 vehicles and trucks….the protesters, carrying slogans against the disappearance of the students of the Normal School of Ayoitzinapa began to destroy the facility….It should be noted that the protesters were not identified as members of any organization".
11/11/14:
Chad: first day of riots and protests about fuel shortages, escalating prices and unpaid teachers' salaries; cops kill 5 "Around the country, high school students organized and made up the bulk of the protestors and some resorted to violence when police arrived on the scene. …. Liberty High School fared the worst as protestors burned tires and clashed with police, wounding nine officers. Two protesters died in the densely settled neighborhood of Walia. "
France, Eure: report about a few town halls in Normandy being broken into and the bureaucracy partially destroyed
Mauritania, Alakhbar: riot by movement against "property slavery" demanding the unconditional release of arrested leader (main market closed 11/12/14 because of this riot)
US, St Louis (Ferguson): black group prepares…
10/11/14:
Colombia, Arjona (Bolivar): riot as locals loot $7m worth of jewellery, smash up bank and cop car after cops attack resident during fire
France, Seine-Saint-Denis:   demo about the  cop murder of Remi Fraisse attacks supermarket; 5 schools blockaded; bins and school facade burnt "On Monday morning, a group of more than a hundred "casseurs" attacked   cars and businesses in   Seine-Saint-Denis during a rally   in memory of Rémi Fraisse. … It was around 10am that things started hotting up at   Paul Eluard school, which had been blockaded all morning…A group of about 150 casseurs, " small, highly mobile groups" according to police,  left the vicinity of the school and started walking towards the center. Along the way, cars were stoned, and shop windows smashed. A police source claimed "They   attacked some motorists," they sprayed teargas ."They stopped cars, broke windows, opened up the boots," says Ariane Touko, in the final year of Paul Eluard. "It was  for a good cause, a blockade to defend the memory of Remi Fraisse, and then it degenerated," she lamented. The schoolgirl, who "condemned the violence," said she was "very shocked" by a scene: that of a pregnant woman who got out of  her car and was thrown to the ground. A testimony that the authorities were not able to  immediately corroborate. In front of  the Carrefour supermarket, "it was violent," recalls Roman Miah, a traveling salesman selling flowers  in front of it. "There were forty of them, they wanted to go into the store, but employees  closed the metal shutters. They banged on it… The police arrived, they ran away. "One of the black shutters of the supermarket was smashed in. The "first reflex of the employees was to close the shutters," but they were "hit, beaten," he said. "They were casseurs, full stop. They have no political consciousness, " ….A bus that passed the high school had one of its windows broken, … which stopped tram traffic for over an hour . The subway station serving the Basilica of Saint-Denis was also closed. Along with these excesses, "local youth took advantage of the confusion to increase mugging," according to a police source. To restore calm, the police mobilized 200 officers. A helicopter circled over the town. Some young people (including many girls) called on Monday afternoon on Twitter   to mobilize in order to attack the shops on Wednesday, now closed due to "the bridge" to the  Nov. 11 holiday. [Note: November 11th in France is a holiday; "the bridge" is a common custom in France to take any day off between the weekend and a mid-week one day holiday] In addition to the rally in front of Paul Eluard school,  five other high schools were blockaded Monday morning in Seine-Saint-Denis. The academy has sent "mobile security teams" to lend a hand to the teams of the relevant high schools, in front of which bins were sometimes burned. The facade of Suger school was partially burned"
Mexico, Acapulco: cops injured by machete-wielding protesters blocking airport for 3 hours
9/11/14:
Israel: much of country's Arab sector on strike, students protest, clashes continue, after cop murder of young Israeli Arab …more here…and here "Community leaders of the Arab minority declared a 24-hour general commercial strike Sunday that was more faithfully observed in Arab cities in the North than in the central Arab cities, where schools also closed……..Amnon Beeri-Sulitzeanu, co-executive director of the Abraham Fund Initiatives, said his organization has been working with the police over the past decade on ways to improve its work in the Arab sector. The Abraham Fund has pushed the police to work with the Arab leadership and demanded that the Arab public receive equal and efficient policing services…."The danger," he said, is that such incidents "will simply destroy the limited achievements that have been made and will take the level of trust between both parties many miles back."…Yaniv Sagee, CEO of Givat Haviva, an NGO dedicated to promoting mutual responsibility, civic equality and cooperation between divided groups in Israel, said …The police need to show there is one law for all Israelis and the police need to open an investigation that will calm the Arab public, he said.…"The police's job isn't to kill, it's to neutralize the danger," he said, …"Police in a democracy have to treat all citizens equally," he said, adding that Arabs should be viewed as citizens by police and not as terrorists."
8/11/14:
Belgium, Charleroi: Belgacom (equivalent of British Telecom or France Telecom) sabotaged "Individuals entered two  Belgacom technical buildings in the Charleroi region last night and severed cables there. The result: thousands of people are still deprived of the services of Proximus . Repairs will take "some time" according to Belgacom. The police  speak of "several days"! At the same time some of the banking terminals using the infrastructure of Belgacom …are out of order….  Nothing was stolen….   Proximus (internet, telephone and television) network is down in the region, including  Belgacom  alarm systems for individuals. Several homes have been burgled…The outage affects "thousands of customers," … About 2000 according to the Charleroi police …. Charleroi Airport is also affected."
Spain, Burgos: 3rd night of riots; bins burnt, cops prevent march to mayors' residence 
Italy, Tuscany: flood victims furious about failure to defend town occupy town hall amidst increasing tensions " The flood-related emergency has, in effect, become a real democratic emergency, because public confidence in the institutions no longer holds; it is like a river that has broken its banks and spreads in disturbing forms. The pact that binds the state and its citizens is based on the safety of life and property, which the state must guarantee. "  More here   "… as two thousand people, after the flood of recent days,   arrived in front of the town  hall to demand the resignation of the board, the police  reacted to the  screams and shoving by intervning with rapid response charges in order  to prevent the crow coming into contact with the mayor. Two officers were injured, Zubbani suffered a mild illness. In Carrara, tension remains high. Three days ago part of the river bank of the river Carrione gave way, causing the flooding of the city. In 2003 and two years ago   the same thing happened. Citizens are at the limit of their endurance. This morning they found themselves in front of the Town Hall to protest against the council junta. …After 2003, the region financed projects to rebuild the bank, which were contracted by the Province,  were carried out in 2006-2007 and were tested in 2010. In Carrara, however, people naccused the city of failing to check that the works had been done well. The mayor tried to minimize what happened today: "It was not anything serious. I felt  only slightly faint. I felt the tension, I have not slept for two days. But now I'm back at work. "In the melee he was wounded in the leg. "Perhaps an  object was thrown, perhaps a football… in moments of tension things like that can happen." The protesters, however, managed to get into the town hall, occupying a room… Their intention is to remain in the building all night. To avoid further tensions, the administration has given them permission to do so. "Today is the time to show our  closeness to the people and to be among the citizens – said the Secretary for Justice, Cosimo Maria Ferri, visiting Carrara. But today they do not help by fighting or feeding  controversy, but through  dialogue to try to provide concrete answers. "
Israel, Galilee: thousands of Israeli Arabs riot after cops kill young Israeli Arab…general strike of village…video exposing cop lies……General strike planned for Sunday. Normally I don't post news of riots in Israel/Palestine because they're so frequent, and almost daily – but the fact that this is on such a large scale and is not directly related to the ethnic cleansing of Palestine seems, admittedly from a fairly immediate superficial reading, to imply a fairly new development.
France, Toulouse: at least 2 cops injured during "unauthorised" demo about murder of Remi Fraisse and cop brutality in general " Clashes erupted late afternoon between police and hundreds of demonstrators wearing scarves and gas masks, who began throwing projectiles at the forces of order. Police launched  tear gas in response. A vehicle was burned and a bank damaged… Of the 21 arrests made on Saturday night, 16 people are in custody…. In Rennes, 200-300 demonstrators marched  quietly despite   the prefecture's ban. One person was injured among the demonstrators. In Lille, 130 people participated in an undeclared , but not prohibited demonstration ."
An email mail-out says: In Toulouse, there was a real push to kettle the protesters and make them sweat to discourage any further demo. The demonstration was banned last night, but the NPA [leftist, semi-Trot organisation] had assured us that it had negotiated with the police the ability to stroll down Avenue Jean Jaures – up to the library. In fact it was a trap because after about 1km, we got stuck in front of the  gates where there were  cop trucks . Most side streets were also blocked by the CRS and finally when we tried to escape, we found  they had also blocked all escape at the rear of the demo. On the sides of the avenue,   groups of CRS and BAC were everywhere. Then they started throwing tear gas and other grenades and moved forward with grids attached to the trucks to gradually tighten the net. On one side of the boulevard, there was a block or two, I don't know, that was not blocked and some protesters escaped  that way, but by chance,  the BAC (the BAC are the worst) had been waiting for them and pursued them into buildings, where they continued until they found  people in the flats willing to protect them. I have a boyfriend who managed to flee with his wife into the flat of  an old lady who refused to let the cops in, claiming to them to be unaware of anything. He was not a "casseur". Like me, he did not want to take risks and perceiving the increasing tension, wanted to get out of the demo before the trap closed completely; we felt that the situation would escalate and that the cops were waiting to load and fire   tear gas. But he was 3 seconds behind me. I managed to pass the cordon of riot police at the rear of the march, saying that I just wanted to go home. I must have been the last to pass. For over two hours we screamed in vain "let them out" . Helicopters, CRS cars galore, water cannon, tear gas, grenades, batons and arrests … state of war.
Account by a friend  who was with me:
I was at the demonstration in Toulouse yesterday, I was really motivated, I was well prepared  psychologically, I told myself, if they want war, they will have it, I wanted to take a baseball bat, and then I said it was stupid, I decided to put on my daughter's trainers, I did well to do that, we were charged, gassed, arrested. I had not thought  we would be caught in in an ambush, the Gestapo had locked us in an avenue, no way to get out, to get away from the state's violence,  they were everywhere, had blocked all the emergency exits, tear gas, people arrested trying to escape the gas, the violence of the state,   everyone screaming "Let us out!", we had defied the ban, so we had to pay …and then something happened , a man came to help us, he took us through a residence overlooking a much more tranquil avenue… but others were still on the other side so I expected they'd get out, some of them were able to pass, but when the Gestapo realized, they  came, threw tear gas into the residence to prevent people getting out, I thought I would explode, later I learned that some friends had gone and they took refuge in an apartment, an old lady had opened her door, the Gestapo was on every  floor, knocking on doors to arrest people who had managed to escape. So,  perhaps we should be getting off our ass, now we must take to the streets!
Yet the demo had been  really calm, people applauded the clowns trying to lighten the mood and danced to their music.
Many had been sitting on the ground, many shouted "We are pacifists," which did not prevent them from being  clubbed and gassed  at close range.
Obviously, this is to discourage people from going to demonstrate through fear.
Not counting the jail convictions…
It seems that this strategy has worked because we were about 1500 that day –  certainly less than 2000, which is not much for Toulouse. What next? And what about another demo?
… Paris: mainly peacefuol demo ends in a bit of genuine anger "Protesters, some hooded, booed a cordon of CRS deployed around a gas station and threw   projectiles at them . At the approach of the end , near the Père Lachaise cemetery  in the northeast of the capital, clashes then erupted. Some punches were exchanged and tear gas sprayed." …Levallois-Perret: molotov thrown at HQ of internal security (equivalent to UK's Special Branch, or US's CIA) in Paris suburb…text in French on state terrorism and the new "anti-terrorism" laws being introduced: Terrorisme d'Etat 
Mexico, Guerrero: over 300 students torch cars, throw molotovs at state's HQ "More than 300 students, many wearing masks, descended on the Guerrero government headquarters in Chilpancingo on Saturday in protest. The students threw rocks at its windows and burned around 10 vehicles, including trucks and a federal police vehicle…. Attorney-general Jesus Murillo Karam said on Friday three Guerreros Unidos gang members confessed to receiving the students from corrupt police, killing them and incinerating their bodies in a dump near Iguala in the state of Guerrero. Then the perpetrators set about removing all the evidence…"They didn't just burn the bodies with their clothes, they also burned the clothes of those who participated," Mr Murillo said, adding the gang members spent over 12 hours torching the remains."…Mexico City: masked protesters set fire to National Palace door 
7/11/14:
Indonesia, Makassar: burning tyres, etc. as students clash with cops over fuel hike
Spain, Burgos: 2nd night of riots against 5.6m euros cost  of renovation of bullring amidst massive conditions of austerity "skips overturned, some set on fire, street furniture smashed…windows of banks reduced to rubble…rocks and bottles thrown…ani-riot police…using rubber bullets…"    (see the week 11/1/14 to 17/1/14 here, for the massive movement in Burgos in January this year)  
Colombia, Bogota: heavy confrontations between masked students and cops at University Pedagogica
US, New York state: students occupy ground floor of admin building in protest against cuts etc.…Alaska: riot at teenage prison…Ohio (Akron): if the cap fits, wear it
Italy, Naples: clashes with cops in demo against state giving free rein to property speculators on old steelworks site "Five police officers and a television cameraman were injured Friday when demonstrators clashed with police during a march protesting authorities' failure to renovate the Bagnoli former steelworks area in the bay of Naples. Masked demonstrators threw firecrackers and baseball bats at police and threw up barricades made of street signs and rubbish carts during the protests"
France, Rouen: pigs use tear gas to evacuate ecological camp (in memory of Remi Fraisse) at 4.30a.m. "The camp included a dozen tents, a hut and stands built with pallets and cardboard, and a "chat room" with couches. One demonstrator was installed last night on top of a tree. Clearly visible, they called on the population to engage in a dialogue about "police brutality", served hot drinks and offered some food. "We do not make any demands: what's at stake  is a chance  to fight and to envisage other futures" proclaimed their leaflets."
6/11/14:
Belgium, Brussels: 12 cops wounded, 2 "seriously",  as water cannon and tear gas are used against large anti-austerity demo "After the clashes, the mayor of Brussels reacted strongly: "I want to expose these few Antwerp dockers and types that, for me, are utter hooligans who  came  to smash  up Brussels. To me this is unacceptable. It is not the aim of the demonstration nor the social objective of trade unions." … (more here)
France, Val d'Oise: cops taser and tear gas 40 anti-fascist demonstrators to protect Jean-Marie le Pen's granddaughter, now a 25-year-old Front National MP
5/11/14:
US, St Louis (Ferguson): news vehicle vandalised as intersection is blocked on masked demo
China, Guangdong:  riot by students  over food quality and other things "More than 3,000 students rampaged through buildings at the Guangdong Provincial Economics and Trade Technical College in response to what they said was poor management on the part of college leadership and unfair restrictions on their eating habits. They smashed windows in the controversial on-campus store and the canteen as well computer equipment in college offices, according to online and eyewitness accounts."
UK, London: Russell Brand booed as he calls for "loving peaceful protest"…More here and  here "One critic tweeted: "Media whore Russell Brand went maskless at the #millionmaskmarch so we could all see him doing a politics."" …. Gwent: cops give 4 year olds a lesson on how nice they are ""Parents were contacted by a senior officer to explain what happened, discuss any concerns and offer our sincere apologies," a spokesman said."…Edinburgh: firework attack on police station
3/11/14:
France, Yvelines: premises of prison-building company destroyed in arson attack
Greece: hundreds of high schools occupied
Italy, Brescia: demonstrators clash with cops as Prime Minister addresses industrialists…cops given new rules of engagement " Under the new rules the forces of law and order would have to stay at a required minimum distance from protesters in order to avoid physical contact, which should only occur as a "last resort"… Batons should only be used in extreme cases.   The new rules are being mooted following ugly scenes at a protest in Rome last Wednesday when workers from AST steel plant in the Umbrian town of Terni demonstrating against redundancies clashed with police, who used batons on them allegedly in an effort to prevent them from occupying Termini rail station.  Eight people were hospitalized as a result, including five workers with head injuries and three cops with contusions."
2/11/14:
UK, London: firework attack on cops in cop car
Israel: Ben Gurion airport workers on wildcat strike
Burkina Faso, Ouagadougou: crowds once again invade state TV compound (though this seems mainly to get the leader of the opposition the right to broadcast)…  young man killed by troops dispersing these crowds (more here)
1/11/14:
India, Mathura: 6 vehicles torched, cops pelted in farmer's conflict with state over poor  compensation for dam construction "The trouble started when Additional District Magistrate (ADM) Dhiren Pratap went to the spot to pacify the protesters. The protesters pushed the Superintendent of Police (City) Manoj Sonkar during the negotiations, the ADM said, adding that police resorted to lathicharge to disperse the mob."
France: demonstrations throughout country over death of Remi Fraisse, confrontations with cops in Nantes and Toulouse, windows smashed in Dijon (in French) …flashball fired at face of one demonstrator (Nantes)…report in English here…video here...more detailed report about Dijon here "The protesters then walked down the streets. Along the route, a "hard core" composed of  "twenty hooded window breakers"  began breaking store windows with a hammer, protected from view by the smoke of a large number of smoke bombs…. A dozen businesses were affected. Demonstrators also covered  the downtown  facades with a lot of graffiti and set fire to some trash cans. The event was then dispersed without further incident around 6.30pm. There were no arrests."   ….French text critical of recuperators : Mort de Rémi et affrontements les récupérateurs…Vannes: cars and bins torched, stones thrown on  3rd night of riots


News of opposition – august 2014 and july 2014 – click here





News of opposition 2013 – click here