October 2014 – news of opposition

31/10/14:
Hungary: victory for protests against tax on internet
France, Blois: 2nd night of rioting as 20 year-old loses an eye due to cops firing a flashball at this face…Vannes (Kercado) rioters attack cops with molotovs and stones "Lucien Jaffré first deputy mayor and resident of Vannes for 40 years, said he had never seen such a scene in Kercado "…Givors, near Lyon: a dozen garbage bins and 4 cars burnt, firefighters stoned in halloween celebrations … Cannes: projectiles thrown at cops, bins burnt, in 3 different areas of town…Rouen: demonstration against murder of Remi Fraisse – cops pelted with cans & eggs, graffiti everywhere, police station covered in paint
Burkina Faso, Ouagadougou: looting begins in the government district just hours after the President resigns and the army seize control "Windows torn out of buildings, doors, tables, chairs, air conditioners … Everything was methodically nicked and now circulates through  the streets. "We are not thieves. We only retrieve what the  Compaoré gang stole from us," justified a looter…Thursday…shopkeepers near the ousted president or his brother Francis were particularly targeted. Nothing was left on Thursday at an appliance  store, whose owner was known for his links with the family of the former head of state. "
Malaysia, Sarawak: cops and forestry department dismantle blockades against dam project without any resistance
30/10/14:
France, Rennes: several fires lit, a dozen windows and several bus shelters broken,  on demo about Remi Fraisse's murder "..protesters, many wearing masks, headed towards the city center chanting "revenge for Remi" or "cops, pigs, murderers!" behind a banner saying "Vengeance for all." They also tagged many buildings on the way. Arriving near the city center, around 8pm, protesters were blocked by a large police presence  preventing them from accessing it. They repeatedly tried to circumvent the CRS and gendarmes, without clashing with them. A car was over-turned, and police used tear gas….before the start of the procession, the demonstrators had started distributed a leaflet denouncing  "police terror" which "will not survive the death of a comrade." The leaflet also launched the following appeal: "blockade your high schools and universities, lets' block the towns and stations, let's occupy the street!". Shortly after 9pm, the protesters, who had gathered near the barriers of the forces of order, surged towards the western districts, breaking a dozen windows and several shelters. They also set fire to several garbage bins as well as bottle banks, pursued by the BAC police [Brigade Anti-Criminelle – the worst of the cops, set up some 15 years ago under the Socialist Party president Jospin]  equipped with rubber bullets. Around 9.30pm, there were several fires at the crossroads, covered with tear gas clouds…"…dam construction halted 
 Rennes: red sky at night, rioters delight
Below: Rennes…One of the reasons bus shelters are constantly attacked is the fact that they're constructed by JCDecaux, which exploits prisoners (JCDecaux also use the bus shelters for advertising other commodities, from where they obviously make massive profits)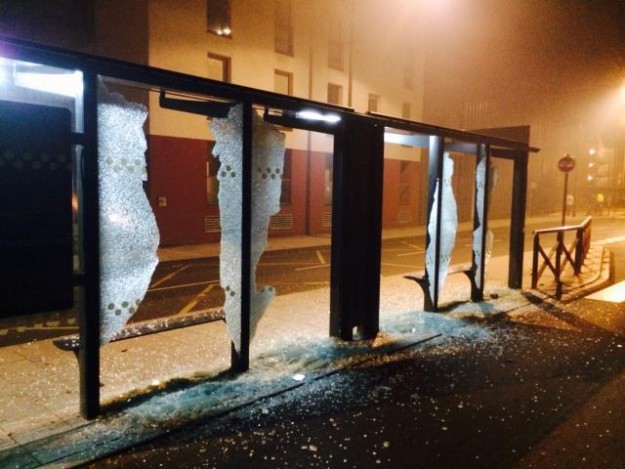 Burkina Faso, Ouagadougou: parliament  set ablaze and state TV ransacked as President extends his dictatorship "Anti-government protesters in Burkina Faso have set parliament ablaze in a surge of violence that forced the government to at least temporarily scrap a vote on constitutional amendments that would allow President Blaise Compaore to extend his 27-year rule. At least one person was killed…Hundreds of people broke through a heavy security cordon and stormed the National Assembly building in the capital Ouagadougou, ransacking offices and setting fire to cars, before attacking the national television headquarters. Police had tried to control the crowds using tear gas, but the demonstrators were able to push through the barricades and make their way into parliament. The crowd then headed towards the presidential palace as a government helicopter flew overhead, shooting teargas at protesters. Security forces fired live rounds and tear gas at protesters near the presidency …Most deputies had not yet arrived for the vote when protesters, who had set up barricades outside parliament from early on Thursday, stormed the building.  The government, facing its worst crisis since a wave of mutinies shook the country in 2011, later announced it was calling off the vote but it was not immediately clear if this was a temporary move. State television was ransacked and forced off the air."…Bobo-Dioulasso: police station stormed and prisoners freed, a dozen     houses of politicians are ransacked as revolt spreads "..protesters managed to storm the police station to free their imprisoned comrades …From there, the demonstrators headed towards government buildings such as the city hall or the head of the presidential party which were  ransacked along with private homes, such as a borough mayor  said to be close to the Congress Democracy and Progress Party, the party of Blaise Compaoré. The owners of the property had deserted their homes. There was no order given by leaders of the protests, it was a spontaneous mass movement. … I was taken to task by protesters who wanted me to stop taking pictures…. They hit me, pulled me by the hair, …cut the straps of my bag to steal my camera. They did not clearly tell me why but I think they were afraid that I'd transmit them to the police or perhaps show a bad image of the  mobilization… According to several media reports in Burkina Faso, a dozen homes were ransacked, including the residences of the President of the Assembly, Soungalo Ouattara, Minister of Secondary and Higher Education, Moussa Ouattara, the Mayor and Deputy marie-Bobo-Dioulasso and the villa of a daughter of Blaise Compaoré. Our Observer says that three people died and two others were injured in the clashes, but no official report has been made public for the time being. The demonstrations were still going on at the end of the afternoon" It seems worth pointing out that Burkina Faso is  a significant gold mining country, with 90% of the gold owned by Avocet Mining, and with considerable financial interests coming from JPMorgan, Rothschild, Bell Pottinger and Investec Bank. Not simply a tinpot dictatorship – more a goldpot demockracy and  obviously, despite being a  landlocked country with a relatively small population, it's not one in which international capital is going to allow  anything other than political reforms. Without international revlution,the vast majority will remain very poor (to get some idea of this poverty  –  the under five mortality rate is 10.2% and the infant mortality rate is 6.6%)
South Africa, Cape Town : wildcat bus strikers bare their teeth (more here)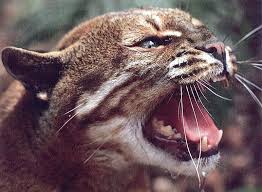 "A MyCiti bus was damaged on Thursday morning after angry drivers pelted the vehicle and police with stones during an illegal protest in Dunoon that started on Wednesday. On Wednesday the strike turned violent when residents burned tyres and police responded with stun guns, rubber bullets and tear gas. Uniformed drivers, as well as residents, screamed and scattered as police officers shot rubber bullets into the crowd. Residents lobbed stones at police vehicles…. bus driver Sibusiso Den said their working conditions were unacceptable and that all efforts at negotiating had failed."…We get up at 3am, we work until 7pm and we only get paid for seven hours. We are the guys loading passengers on to the buses and we are only paid R5 000 a month."…Den warned that there could be trouble in Dunoon because residents would join in the strike. "It's going to be worse there – the community will come and join us," he said. "We wanted to keep this away from the community." Sure enough, when the crowd of drivers arrived at Usasaza station, near the bus depot, some Dunoon residents threw stones and blocked roads with tyres. Periodically buses came through but were blocked by the tyres. Some of the drivers moved the tyres and cleared the way. A man who was not wearing a MyCiTi uniform threw the tyres back into the road, and soon they were set on fire. The bang of a stun grenade sent people running for the nearby shacks, some hit by rubber bullets or tear gas as they went. "We need answers, otherwise we're going to close down this depot," said one driver who did not wish to be named. "We know it's illegal but we have to do something. The anger and frustration is growing."
Eire, Cork: water meter protesters force suspension of meeting between councillors and privatised water company (video)
29/10/14:
Peru, Andoas: increasing participation on 3rd day of indigenous occupation of airport in opposition to oil company 
Mexico, Guerrero: teachers attack government house in movement against mass murder of students "After clashing with riot police at the door of  3 Casa Guerrrero, teachers from the  CETEG rolled and set fire to a truck at the same door….Teachers made holes in the official residence …  to evoke symbolically how the Ayotzinapa students were killed in Iguala on the night of September 26. Security staff responded with firecrackers, stones and gravel to scare the teachers who responded with slingshots and  toppled a lamppost against the metal door and tore down part of the high voltage wiring around the building."
Costa Rica, Limon:  dockers' struggle blocks whole of town for several hours as truckers, cycilists, motorcyclists  and private car drivers show support"While trade unionists have said repeatedly that the disturbances at night in the most populated districts of Limon are unrelated to the strike, blockades and clashes with the police have not stopped over the last two days. Monday night again involved clashes between a group of young people stoning the security forces ..Every night in these places there are  groups of boys  stoning the police as they remove barricades. Another focus of nightly violence continues in Cieneguita where blockades and clashes with stones cause  tear gas to be used in large quantities."
Pakistan, Islamabad: cops pelted with stones in anti-privatisation protest by oil and gas worker; cops do their usual to protect their masters
Sri Lanka, Rameswaram: as 5 fishermen are sentenced to death in show trial, over 3000 supporters put their anger on the map "…protesters cut roadside trees, pelted stones at vehicles and set ablaze a bus in different localities, triggering tension. 
Armed police personnel had been rushed to troubled spots. Top police and revenue officials were also rushing to the spot to control the situation and hold talks with the agitating fishermen. Police said more than 3,000 fishermen and women blocked road traffic at nearby Thangachimadam and indulged in violence by felling the trees and pelting stones at vehicles. A state-owned transport corporation bus plying between Rameswaram and Pamban was torched and a Kanyakumari-bound tourists bus damaged by the protesters. The mobs also damaged railway tracks and other railway properties at Thangachimadam, police said."
France, Paris: bottles & stones thrown at cops on demo over cop murder of Remi Apparently there were only about 400 people, which for Paris is very small – and there were at least twice that many cops. Every bottle thrown at them resulted in an arrest. A friend who was there left quickly because Melenchon (demagogic leftist politician, president of the Front de Gauche, former minister under Jospin) and Bove – both of whom had been insulted in the Tarn – were accepted there with virtually no opposition. He was also angry because everything is concentrated on the death of Remi without a mention of all the deaths in the banlieux at the hands of the cops (there've been a few this year alone), a bit like the way political prisoners are considered as more important than prisoners as a whole. However, this is more part of the discourse in Paris – in Montpellier, people did discuss, at least in small groups, some of the differences between banlieux riots and "political" riots and the need to overcome this separation.
Italy, Rome: metalworkers and cops clash in demo over job cuts
South Africa: at least 167 cases of post office strike-related violence Some comments, moved here, where it seems more relevant to immediate reports, from 27/10 14) from SK in South Africa about the ongoing Post Office workers strikes (mainly of casualised workers struggling for permanent work):
"The reportage in the bourgeois press has been ridiculously superficial and contradictory. Here are some quotes from various sources:
'There have been five strikes since 2011 at the Post Office — one of SA's oldest and most vital institutions — and there seems no end in sight to its labour disputes.' One of these reportedly cost 100 million rand, other reports list this figure in a way that implies it is attributable to the various strikes as a whole. 'The police are investigating 41 cases relating to the strike, including arson and assault.' Multiple post office vehicles have been torched, scabs persuaded to join strike, offices stoned. Shareholders aren't getting their invitations to meetings, bills are not being received or paid, millions of ads languish unsent, students fail to get their exam papers.
'As the South African Post Office strike goes into its 10th week, some workers are demoralised about their union's "failure" to negotiate permanent employment contracts even though independent minority groups have succeeded.

A post office employee, who did not want to be named for fear of victimisation, asked the Mail & Guardian on Tuesday: "Why are you talking to management and the union? They are feeding you lies."

Another said the "union leaders are in bed with politicians and management and that's why we can't trust them". Another frustrated union member said: "These guys [casual labourers] were able to mobilise themselves and talk to the big bosses. Now they have [permanent] jobs and the rest of us are still waiting.'

'Some workers said they felt the negotiations would have gone better had they negotiated with management independently.'

'The Communication Workers' Union (CWU) says while it didn't initiate the strike, it has now taken the lead in negotiating with management.'
Apparently the latest round of the dispute started as a sympathy strike when thousands came out around the country in solidarity with a few hundred who were fired for conducting a wildcat strike previously. Because of the long-standing grievances however the demands reported have to do with wages and permanent contracts. Where this leaves the fired workers I don't know. The SA postal service, like those around the world is losing millions each year due to competition from electronic communications. It certainly seems, however, that the economic blackmail normally used to cow workers into obedience everywhere — the need to sacrifice and submit to increasing humiliations for the sake of 'saving' a struggling firm and with it their own jobs — has produced the opposite effect here."
28/10/14:
Colombia, Bogota: protesters against lousy bus service and fare increases block main road into and out of city …riot follows cop tear gassing of protesters
France, Montpellier: between  250 and 400 demonstrate their anger towards the murder of Remi during the resistance to the dam construction in Sivens This took place during the evening/nighttime – 7.30pm to 9.30 pm. There was no visible cop presence (though obviously they were amongst us pretending to support the demo, and carefully monitoring it all through the increasingly proliferating CCTV cameras). Obviously they'd been told to keep a low profile, for fear of becoming a more concrete target for the anger., and in the authorities' hope that the movement would die down through inertia. Slogans included what has now become the slogan everywhere: "Remi – neither forgive nor forget", but also things like "The police punish,  the police mutilate, the police murder! " and " police violence, proletarian response! ". Graffiti was sprayed quite openly, some by people without face covering, including on the city's massive 2 courthouses. The most stupid moment however, was reserved for one of the organisers who made a little speech telling people not to throw very loud bangers as the family wanted to keep it all peaceful. As if fireworks are violent. Needless to say, this was totally ignored and the sound of loud bangers resounded throughout the 2 hour demonstration.
Israel, Haifa: port workers on wildcat strike
Zambia, Kitwe: students block roads with burning tyres, logs and stones in protest against unpaid meal allowances; cops do their usual
South Africa, Pretoria: cop shoots the right man for once…Gauteng: failed job applicants blockade road to shopping mall "The protests began around 4am. The roads leading to the mall were barricaded with stones, rocks, burning tyres and tree stumps."
27/10/14:
Peru, Andoas: hundreds of indigenous Peruvians occupy airport in movement against oil pllution of drinking water " The protesters are considering seizing wells and valves as well if the company does not agree to cleanup negotiations and compensation efforts."
France, Nantes: demonstration against cop murder of Remi Fraisse in the Tarn turns into riot "as the rally dispersed, about a  hundred rioters remained in the center. Highly mobile, these masked protesters with helmets smashed 20 windows  (including banks) …. They also destroyed many bus shelters and billboards and lit several fires from garbage bins"..….Albi: clashes with cops after the announcement that Remi had died in an explosion…demonstrations about this murder take place in a dozen cities…Yvelines: Marine Le Pen, head of the National Front, gets stoned in her car (sadly, not wrecked)…also Nantes: attack on army recruitment office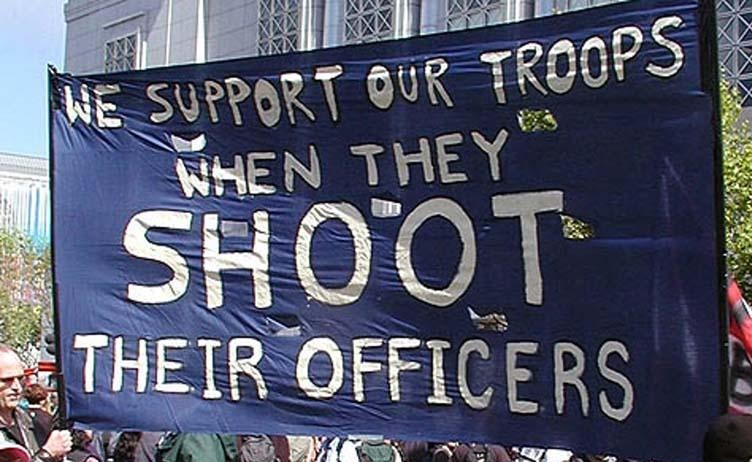 South Africa, Eastern Cape: 3 arrested for burning statue of former president of ANC, Oliver Tambo…  statue burnt on 22/10/14   "We bemoan this insensitive act and find it hard to believe that there are people who could commit such a crime, with such impunity, lawlessness and contempt during the month that we celebrate the untarnished legacy of president Oliver Reginald Tambo," Masualle said." Of course, it's impossible to say – for the moment – what the motivation was for burning this statue of a Stalinist-turned-neoliberal, and it's possible that it was burnt by white racists obviously ignorant of his services to the continuation of the power of the white bourgeoisie in South Africa – I don't know. Still, he was a total shit who was part of a gang which are still committing enormous crimes against the poor with  impunity and contempt, but lawfully…And these statues of the famous invariably are a way of saying, "Look up at us and look up to us, us – your betters, us role models in bronze who will outlast  mere nonentities like you, us the Great Men & Women whom you must admire as much as this society which we represent, this world of celebrities that always appears far greater than little you looking up at it, us monuments to the pettiness of your lives ". 
26/10/14:
France, Tarn: 21-year-old anti-dam protestor killed by cops…. as 2 riot cops are hospitalised whilst "anarchists" clash with state over dam constructions…"Neither forgive nor forget" written on war memorial where demo is held for the young guy killed…video here (these incidents range from 25th to 26th; links in French) "Activists concerned to keep the protest  peaceful, interposed themselves repeatedly in order to …avoid damage to windows. …The small group of militants, faces hidden, dumped  stones on the ground, throwing smoke bombs in the direction of law enforcement, lit fires. The gendarmes followed by firing stun grenades and tear gas filling the entire Liberation Square with smoke, a large number of people …try to clear their lungs by spitting , their eyes red,  trying to protect themselves with handkerchieves or lapels, not managing to breathe…."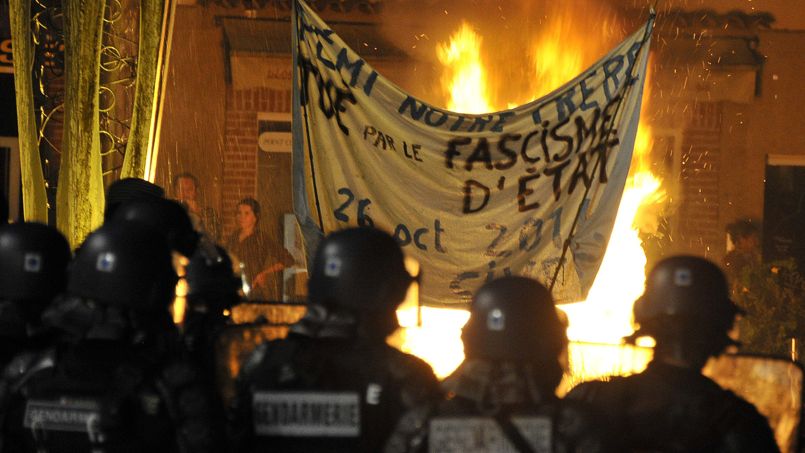 More here: "A handful of masked militants attacked the war memorial and some windows in Gaillac during the rally in memory of Remi, the young man who died on the site of the disputed Sivens dam…. A tribute  event that turned bad. Scuffles broke out early Sunday evening between   gendarmes and a hundred or so activists who'd come to salute the memory of Remi, the young man who died on the site of the disputed dam Sivens in the  Tarn …the march of 450 people   immediately began in a tense atmosphere.… A minute of silence in a sea of fists was observed near the war memorial which had been tagged "neither forget nor forgive."...This was followed by a long discussion as to what form the protest should take. Some suggested  a "die in" where protesters   lie on the ground as if dead. Others wanted to fight   the gendarmes   and target the gendarmerie building….The most determined activists had masked their faces and lit smoke bombs despite the interposition of more moderate protesters. In vain. At 7pm   the first stone throwing happened to which the police responded by firing tear gas and stun grenades. At 7:25 p.m., the police received the support of five additional vehicles. Calm returned shortly before 8pm, revealing the damage. Apart from  the vandalised memorial,  flags were burned, street furniture and  the ground were  tagged, garbage burned, and three   windows broken and vandalized. The Interior Minister denounced  the violence "with the greatest firmness"  . "No question, the rule of law, cannot justify this outburst of repeated violence," said Bernard Cazeneuve, launching "an appeal for calm and responsibility from the  politicians and association leaders.." … This electric atmosphere also hampers the investigation into the death of Remi. Because of the "hostility" of the protesters, investigators were unable to make any  search for evidence  where the body was found.
This is in English. Though this article claims it's not known how the demonstrator died, in a conversation I've been told that the cops fired an "anti-encirclement" grenade (an explosive ball that shoots out hundreds of small rubber pellets, designed mainly for use on the estates when cops get surrounded by angry youths) in the face of the 21-year old. I was also told that  when anarchists and others hurled abuse at Melenchon, the Leftist politician mentioned in this English article, he denounced them as extreme right-wing fascists.
Rough translation of press release from the movement against the dam: "Remi, 21, died during the night of Saturday to Sunday in Sivens. Lots of different evidence – he collapsed a few meters from the entrenched police camp, hit by a shot in the shoulder, before being immediately picked up by the police. Was it a flash-ball or, more likely, an anti-encirclement  grenade …? 
Only the police know who, up to now, has hidden the truth in various ways. They claim that there were no injuries among the protesters, whereas the coordination medical team demonstrated that there were many on Saturday. Police said they "discovered a body" in the night, failing to mention the violent clashes at that time (the prefecture said that the fighting had stopped at 9 pm and failed to say they started up again at midnight). They claim to have been unable to come  on Sunday to launch the enquiry (once the crime was committed, the police suddenly left without, so far, having  tried to come back). 
We demand that  light be shed on this homicide as soon as possible, out of respect for Remi, his family and his friends. We also hope that those responsible for this tragedy are brought to justice as soon as possible. And for us, the person responsible  is not just Robocop Regiment XXX who pulled the trigger Saturday night – and even less Remi.  It is those  who created this violent situation that could only turn into a tragedy.
So what were the forces of order  doing there on Saturday in  Testet [site of dam construction], while the prefect was committed to not be at his post during the weekend when  thousands of activists were expected (7000)? There were no workers to protect nor any machine to defend: the only one which had not been evacuated on Friday had been burned on the same night. Why have 250 CRS riot police armed with grenades and flash-balls to keep a small square of land surrounded by a moat several meters wide? Was it to protect precious fencing? Or to generate tension and  be provocative? The authorities knew very well what would happen to a vehicle left at  Testet on Friday and by sending  an  armada in on Saturday.
Now, when the futility of the proposed Testet dam has appeared in broad daylight, at a time when all the lies and conflicts of interests denounced by those opposed to it for months has been confirmed by the investigations of journalists (Le Monde 24/10 and Figaro, 26/10) and by the report by government experts released today, the President of the General Council and the Prefect of Tarn no longer have any argument in favor of the dam except to blow  the alleged violence of those who opposed the dam out of all proportion. They therefore needed violence on Saturday. They provoked it. They killed Remi.
We are in shock and extend our deepest condolences to his family.
The Coordination of October 25th
PS: We demand a second independent autopsy be performed and notify the prefecture that if the body is not preserved so that this counter-expertise becomes possible, it would prove that the authorities want to hide the truth. We denounce attempts to sully the memory of Remi claiming that the cause of his death was  related to his "level of alcohol" or his "violence".
Australia, Gloucester: anti-fracking movement turns beautiful
25/10/14: 
Mexico, Guerrero, Chilpancingo:  socially explicit looting develops as part of the movement against the disappearance of students "About 09:30 am, a group of students, with their faces covered, arrived here aboard three buses and a standard pick-up truck. Next, the demonstrators marched to Aurrerá supermarket, located south of the city, which they forcibly entered by breaking the  metal gates. They began looting, filling carts   with food and left them in the parking lot to be taken away by citizens . Then, the protesters moved to a branch of Comercial Mexicana, putting graffiti on the glass doors, with the tag "All free" and withdrew from Chilpancingo. Some people took advantage of the vacuum that prevails in the capital of Guerrero and televisions and electronic equipment were stolen…Then state authorities reacted by sending in the police with riot gear to protect commercial establishments. This happened exactly a month after the disappearance of 43 students, which occurred on 26th and 27th September in Iguala, where municipal police acted in collusion with hired assassins to kill students." Video here.
Nigeria, Ondo: police station vandalised and razed by youths in revenge for cops killing 14-year-old; soldiers put down 6 hour riot
Greece: call no lager – a pdf of a call out  from comrades in Greece about the upcoming trial of the migrants accused of the uprising at Amygdaleza detention center in Athens. The Amydgaleza uprising of August 2013 is a major event within a continuum of migrant struggles against detention centres, which consists of revolts, frequent hunger strikes and even actions of self-harm. This is why we believe that the trial of those accused of the Amygdaleza uprising is of extreme importance, and it is essential that it gains broader attention. This is a call to initiatives abroad, asking for their support in any way.
US, Arizona: brutal cops stop protest against brutal cops
24/10/14:
South Africa, Limpopo: cops fire rubber bullets at workers blocking entrance to diamond mine
Dominican Republic, San Cristobal: 4 prisoners killed by screws as 10 escape during riot
India, Bangalore: villagers ransack several forest offices and block roads after poacher is killed by forestry cops
Costa Rica, Limon: port strike hots up with burning barricades (see entry for 21/10/14) Videos here and here. (see also here)
Haiti, Petit Goave: boy shot and hospitalised after 2 weeks of anti-government protests…more here "According to an official … protesters including a prison escapee were arrested for disturbing the peace, destruction of public property and throwing stones against the police officers. …The police have regained control of the situation to restore order. The deputy spokesman … has denied reports that protesters were beaten during the police intervention."
Colombia, Bogota: students commemorate killings of 4 youths in an explosion 8 years ago with barricades, stone & stick-throwing 
Turkey, Izmit: prisoners burn cells in riot
US, St.Louis: cops get constitutional rights/riot training (spot the difference) in preparation for Grand Jury's decision to let cops get away with murder once again
23/10/14:
Jordan, Aqaba: report of  container terminal bosses playing hot and cold with unions after  cops arrest 150 striking port container transport workers
France, Montpellier: violently evicted squatters of social squat "Luttopia" block tramway for 2 hours (video)…Lille: cops fire rubber bullets (including one at Everton fan's head); fans respond with beer bottles….Paris: various attacks on companies that exploit prisoners or are involved in attacks on immigrants
22/10/14:
UK, Hampshire: over 100 postal workers on wildcat strike (more here)
Haiti, Petit Goave: heavy clashes between cops and supporters of opposition party & others, as cops tear gas schools At around 10:30 am,…agents of the Departmental Unit for Maintenance of Order (UDMO) and the Corps of Intervention and Maintenance of Order (CIMO), tried to disperse the demonstration using tear gas making the air unbreathable quickly. Groups of youths retaliated by throwing stones and bottles against the security forces….More than 17 students were rushed to the hospital Notre Dame where they received care with difficulty, due to the strike of employees, claiming payment of their salary arrears…Some local residents and opposition supporters erected barricades and burning tires in the city center: in particular on the street Lamarre, St. Paul Street, Jubilé, Grand Rue and street Dessalines…Youth of the street Lamarre clashed with UDMO and CIMO with stones, forcing security forces to fire into the air to disperse the violent groups. For over an hour, the residents of Jubilé, of the Dessalines street and street Lamarre defied the security forces, the preventing them from entering in their neighborhood, pitting them strong resistance, entrenched behind burning barricades and throwing all kinds of projectiles at police. Most of the streets of downtown were blocked by youth and the national road #2 was closed to traffic…Finally, the security forces took over on demonstrators and regained control of the situation….Early on Thursday, the security forces are through the streets of Petit-Goâve and still fail to free some streets in the downtown area that are completely closed to traffic. The security forces have thus attempted, unsuccessfully, to unblock the street Lamarre and Dessalines under the stones and they shoot in the air before retreating…Schools are closed on Thursday. Several teargas have fallen on the court of school facilities : École Pierre Mendes, École des filles de la Sagesse and École Sacré-Coeur. Many students had severe breathing difficulties, several fainted. Distraught and in tears, parents rushed to schools to bring their children at home."
Indonesia, Solo: football pitch invasion after ref stops game due to smoke bombs  leads to clashes with cops and one fan killed by the cops
US, St.Louis: more clashes with cops in Ferguson (more here, including lots of photos)
Papua New Guinea, Mt Hagen:  report of looting by 500 people during a fire
Mexico, Guerrero, Iguala: dozens of teachers and students sack and burn town hall  in continuing movement over disappeared students
Argentina, Zarate: unemployed workers union smash  state offices
Australia, Melbourne: anti-climate change protest intensifies blockade
Ivory Coast, Abidjan: clash between soldiers and high school students
Zambia, Lusaka: high school students riot improves country's 50th anniversary celebrations
21/10/14:
Nigeria, Nyeri: eruption of student protests closes down 2 campuses   "There was tension on both campuses, as students angrily protested a recent fee increase that they say will not benefit their education. 
Two Kenyan universities have closed indefinitely after students protested against the recent decision to increase fees without giving prior notice…
Students accused both universities of providing poor quality education and using student fees to fund corruption in the institutions…A
ccording to media reports, students and police engaged in running battles throughout the day, while students barricaded all roads leading to the universities and destroyed property estimated to be worth several million dollars. 
Students at Karatina University broke windowpanes and doors and destroyed three buses, over 10 schools vans and several staff vehicles on campus. Events at DKUT were similar, as students destroyed a school bus, personal transportation, ambulances and vandalized a teaching center facility on campus. "   See also here: "Student 
protests in Kenya have rarely been as violent and destructive as the disturbances on a number of campuses and secondary schools in recent days and weeks…..There have been reports of arson in a number of secondary schools' dormitories and other facilities. One school's students are claiming that they burnt down a dormitory as a result of "exam fever".
Costa Rica: 150 cops arrest 68 strikers who'd blocked port to re-open it and employ scabs "Security Minister Celso Gamboa said that police officials would remain at the terminals indefinitely to ensure they remain open…. Police were forced to respond to several small riots and disturbances in Limon's Cieneguita and Barrio San Juan neighborhoods following the police action that reopened the terminals, according to reports. …Sintrajap Secretary General, Ronaldo Blear, told Diario Extra that yesterday's operation was heavy-handed. "There was disrespect and abuse of authority. […] We were protesting peacefully and in the afternoon a group of security forces arrived and arrested all of our colleagues who were at the gates.  They were beaten and sent to headquarters," Blear said. "
Mexico, Ecatapec: residents burn 3 cop cars, a council vehicle a police office and ransack a store after death of 2 youths
20/10/14:
France, Calais: 12 hours of on/off confrontations between immigrants and cops
Algeria, Algiers: 100 or so rioters block tunnel in protest against housing allocation policies
South Africa, Limpopo: parents/pupils go on  strike at several schools as support for water & electricity protests, blocking roads with burning tyres and rocks
Colombia, Bogota (and elsewhere): bus strikers stone scab buses
New Zealand, Aukland: students occupy Vice Chancelllor's office and roof in fees protest
Eire, Dublin: lorry drivers block main road & tunnel in dispute about  road taxes
18/10/14:
Italy, Bologna: heavy clashes between anti-fascists and cops
France, Paris: hard-on loses its potency – a critique of art and Christmas or just a sad reminder of how retrograde people's mentality has become?…the destruction of the Vendome Column 2014 (more here) …though both took place in the same square, it's certainly hardly this: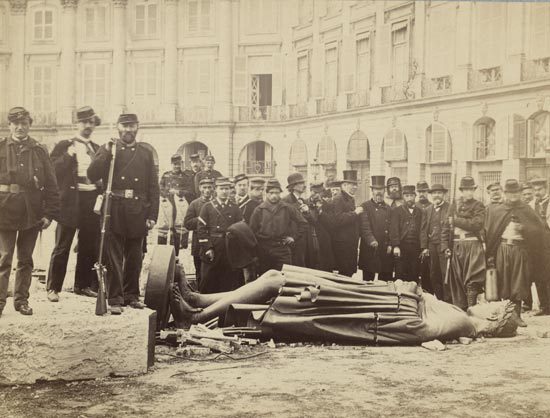 " the greatest work of art of the 19th century" (Paris 1871)
Egypt: riot cops storm universities around the country "Protests are taking place condemning the arrest and suspension of fellow students, according to Students Against the Coup (SAC) spokesperson Youssef Saleheen….Students blocked the Kasr Al-Nil Road in front of Cairo University clashing with security forces. …At Mansoura University, students burnt a security gate and a motorbike owned by private company Falcon. SAC group issued a statement on Sunday morning claiming that a new wave of protests took place at the universities of Suez, Beni-Suef , Al-Fayoum, and Helwan….The students, the group added, will continue protesting the presence of security forces, including private security firm Falcon, on and around campuses. The group said that the oppression of students will result in an "uprising", where they expect more confrontation with police and Falcon security firm."
Germany, Gelsenkirchen: football fans turn on cops after having battled each other; 12 cops injured, 3 hospitalised
US, New Hampshire: another party riot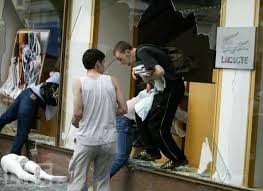 low cost lacoste
Some fairly weak well-known lyrics by  wealthy recuperators, now – in these scarily reactionary times almost 40 years later – sounding dangerously subversive:
 "White riot – I wanna riot
White riot – a riot of my own
White riot – I wanna riot
White riot – a riot of my own
Black people gotta lot a problems
But they don't mind throwing a brick
White people go to school
Where they teach you how to be thick
An' everybody's doing
Just what they're told to
An' nobody wants
To go to jail!….

All the power's in the hands
Of people rich enough to buy it
While we walk the street
Too chicken to even try it…
Are you taking over
or are you taking orders?
Are you going backwards
Or are you going forwards?"
"The Clash also at a recent concert in Paris refused to publicise the plight of libertarian prisoners in Spain jailed on raps ranging from 10 to 40 years. Yet they were prepared to devote an entire album of 3 LPs to the Leninist/Guevarist Sandanistas in Nicaragua whom in comparison haven't an ounce of revolutionary potential…. One would think from The Clash's first LP that the entire group had ever looked out on was the Westway flyover in London W10 from the top of some tower block. It later, much later, turned out Old Joe (Strummer that is) had been to a public school and Dad was a diplomat. Lack of honesty in these matters is in the UK astonishing and Americans for one find this ability to successfully cover all traces very puzzling. It tended to confirm their impression Britain is a nation of born double agents." (from here, 1982)
…whilst black (and liberal/left white) ideologues contribute to the divide and rule (see also this, from 20/10/14). Though it's obvious that cops and their media respond differently to (predominantly) black riots  as opposed to (predominantly) white riots, and the differences are also there in the reasons for these riots, those who want to make sure that there's no link-up made between white and blacks against the state, the market system and their ideologues invariably reduce everything to race.…West Virginia: rubber bullets and tear gas used against football fans celebratory riot "The WVU student body took to the streets last night to celebrate …in an embarrassing, unacceptable, and childish fashion…. Morgantown Police Department shooting rubber bullets and tear gas into crowds on Grant Avenue…. Morgantown Fire Department ….responded to 37 fires and that they expect that number to rise. They also stated one fire engine and two administrative vehicles were damaged from thrown debris….This kind of behavior is completely unacceptable and it needs to stop now!…Destroying city property, breaking into construction sites and throwing rocks and beer bottles at police is embarrassing to the University, its embarrassing to your families and most of all its embarrassing to all WVU graduates. …Most importantly, these childish actions tarnish all the hard work and all the sacrifices we all have had to make, and still have to make to earn our degrees from a school we love so dearly."…."There was a large crowd singing country roads and the cops just started macing everyone ( myself and girlfriend included when we were just walking by). At that point the kids went apeshit crazy and it escalated into the riots.",,,"Hey WVU students we did the same stuff when I was there in school. You guys are doing a good job carrying on the tradition…. ignore the finger waving in the media. They're mostly old gezers who wish they could be in college again."
China, Hong Kong: heavy cop tactics used against protestors "…the latest clashes came after activists had issued calls on social media for protesters to expand barricades and take over another intersection in Mong Kok. "This is a worrying trend for authorities, where protesters are almost using a flashmob tactic," he said. "It is very difficult for them to control." Pictures from the scene of the scuffles showed some protesters wearing helmets, masks and foam pads."
17/10/14:
Australia, Newcastle port: islanders threatened with climate change blockade port "We are not willing to drown because of climate change. We are trying to change the narrative from 'we are drowning' to 'we are not drowning, we are fighting',"
Italy, Turin: anti-EU summit protesters clash with cops 
France, Essonne: 3 cops caught in ambush by 20-30 people on housing estate hospitalised
16/10/14:
US, Winnipeg: burning desire for self-education
Mexico, Guerrero: 3 town halls occupied in movement over disappeared students…Mexico City: 30 mainly hooded anarchists block major road to demand release of prisoner on hunger strike, amongst other things
France: the end of the cinema as we know it …see also "Escape from Alcatraz"… 
South Africa, Lingelthu: protests for 18 year old imprisoned for throwing stones at  cop cars "Masixole Poswa, 18, has been released on a warning. He was arrested after Lingelethu residents clashed with police on October 8 when a suspected criminal, Melikhaya Dyasi, 29, they accused of terrorising the community was released from police custody. Dyasi was hunted down by an angry mob and burnt to death in Lingelethu the same day…   Malmesbury police spokesman Henry du Rand confirmed that Dyasi had a list of pending cases, including murder, robbery and assault.  "He was a known terror in the community and when he was released after his case of armed robbery was finalised in court, the community became violent and attacked our vehicles," Du Rand said. "The public order police unit witnessed Poswa throwing stones at one of their vehicles and tracked him down before arresting him along with five of his friends. "The (other) five suspects were released, but Poswa was charged and appeared in court before being sent to Pollsmoor. "He appeared again today (Thursday) and was released on a warning."…if Poswa is prosecuted "the community will make the town ungovernable". "The locals have told me they won't tolerate this sort of nonsense and will cause a major uproar if Poswa goes to jail again"  
Germany: some comments from a Berlin contact about the situation in what s/he calls "the land of deadly silence" (no link – sent via email), a person who's in a group  which  describes itself as "…basically a small zine from Berlin trying to keep up a destructive spirit. We are probably something like anarcho-communists, influenced by the S.I. , anti-authoritarian commuists, and so on. We are trying to get out of the small circles the radical milieu is reduced to and spreading some poison as much as our means allow it.":
What can I say about Germany? or more precisely Berlin? First of all,  as you know like in many countries there is a rise in real estate prices and a lot of capital is pushed into the construction and/or housing sector. this we feel especially in berlin where there is still much space for new buildings (besides the typical big investors that build some shit like universal records etc. there are also some pseudo-gated community projects, luxury car lofts, and prison like country houses batteries for the so called middle class). And with the city's attractivity there is also the possibility for some investors, young bourgeois scum to buy up some old houses or complete streets, paint them new and get a lot more rent. In comparison to the other European capitals it is still quite cheap here, but for many people it is already too expensive to live in the inner districts (like Kreuzberg or Neukölln which were historically quite fucked up cause during the times of the Berlin wall they were the West's border districts, many migrants lived there, or to make it precise: were told by the authorities to live there).

So before I bore you to death: since 4 or 3 years there had been several attemps to fight it with some grassroot tactics like spontaneaous solidarity when an eviction took place or starting to organize within the district to tighten the connection among those usually seperated and isolated in everyday life. That goes for several districts, namely Neukölln, Kreuzberg and Wedding – others were dominated from the beginning by a more – let me call it – conservative/green party ideology à la citizens self governing for a clean city and shit like that. But in some areas it was more leftwing/radical. There was also some small success at blockades. But just for a few days. In the end every flat got evicted. The success was 'merely' to get – sometimes – hundreds of people to the streets, also "normal" people who wouldn't come to a demonstration who were confronted with the power of the state. It seems a German speciality to prevent any form of unrest as small as it could be with a huge police presence. In no time there are hundreds of them, copters and so on. 
I don't mean that for a sign of radicalisation there always has to be a riot;  it was more a negelcted chance. People already were astonished in "what kind of democracy" they live if the state needs 300 or more riot cops to put a family out of their home onto the streets. But the majority of the left does what they always do: make politics. The protest now dwindles into some kind of civil engagement of demanding tenants protection by the state, old ideas of cooperative property, more social housing, etc. For, now we can't say what chances  there are to break out of this statist crap.

It is now also a growing problem of very poor workers from abroad and Roma people living here in Berlin or basically on the streets and parks. They lived on an empty space directly at the spree. There were planes for eviction cause an investor had been found. then, last week, the place was set on fire. Many left for Görlitzer park. There they were harrased by the police. Children separated from their parents and more shit like that. You can find information here: http://asylstrikeberlin.wordpress.com/2014/09/21/cuvrybrache-got-violantly-and-without-any-notice-evicted/

The one good thing is it brought those parts of the social question together once more. The housing problem and the problems of those parts of the global working class trying to find a better life here.

But with the refugee/immigrants protest it is quite the same like with the housing protests. Most of the people protesting were people from Sudan, Nigeria, Somalia and Iran. They originally started from different cities throughout Germany as a protest march against the strict German asylum laws. They ended up in Berlin where they try to take some action. They fight a bitter battle. They did several hunger strikes and occupations and get fucked by the politicians every time. The usual way politicians "answered" the demands was like this: first police pressure, then more police pressure, then they started to talk with a specific group (that was the part where divisions amongst the refugees were useful, who already was applying for asylum who was completely illegal) then they had a sneaky compromise while upholding police pressure on the camp, the house – whereever the majority of the group the delegates were talking for were staying. It's fucking demoralization tacticts! (one of the guys from the former occupied school in Kreuzberg was using words like this).

At the end most of the people signing this shit compromise paper are now in some kind of asylum jail on the end of fucking nowhere (eisenhüttenstadt)

You will probably have heard of the siege of the former school in July in Kreuzberg. For about 2 weeks three blocks or more (a huge area around that school) were sealed off by the police. More and more police was brought in (at the peak 1000 riot police) – like i said the tactic of the police here is to crush you with their mere presence. They are maybe not really superior (many of them were pretty demoralized because everybody was insulting them, they were hated by almost everybody) but I guess it's a mood of futility and hopelessness, maybe not so much fear but the feeling that there is no immediate solution which keeps people paralized and try not to realize the aggressiveness of the situation. Meanwhile some hippies playing songs on accoustic guitar, some activists chatting to some politician jerk across the barriers – while in the building people threating to set themselves on fire. The fear comes later…

That was the calm I meant and therefore I wrote "deadly silence", like a graveyard. Not for the people that are pushed to the edge like those immegrants, they are still trying to fight on. But for the working people, the unemployed and especially for the leftovers of the radicals, we all are pretty clueless. As for the activists they are agitated but just some bullshit demands for justice and protection by the state slogans coming out of their mouths (at least most of them) – the same state sending the police to beat them up next time but I guess I don't have to tell you that.

Last action I know of was that some immigrants were rushing into the building of the deutsche gewerkschaftsbund(DGB) – the German union assoziation- demanding support for the  possibility to be allowed to work here in Germany to make themselves a living. But for a broader grassroot perspective (e.g. solidarity strikes by local workers which would be an illegal action) I see no way as for now.

That's all very pessimistic I guess. But that's the situation right now. there are some smaller tendencies of coming together and i sense a broader need to overcome the old rotten structures. A need which has not yet formed a general and specific expression. 
15/10/14:
Canada, Manitoba: indigenous groups occupy grounds of hydro dam"In a letter to Hydro president Scott Thomson, Chief Catherine Merrick said the First Nation is taking control of its traditional territory and evicting the Crown corporation. "You do not respect our rights," she wrote in the letter dated Oct. 6. "You do not even respect or acknowledge who we are as people. Money and profit — that which you make off our traditional territory and people — is apparently all you care about."
France, Nevers: farmers dump manure, and tyres in front of prefecture,  clash with tear gas dispensing cops in protest over administrative burdens, cop controls of farm vehicles, etc.
South Africa, Chatsworth: best reason for entering a police station voluntarily
China, Hong Kong: protesters barricade harbour-front road, cops strive to make the world safe for commodity-trafficking
14/10/14:
Peru, Congata: residents blockade road to mine in movement against contaminated water treatment
Algeria, Oued el mar: riots over last 2 days because of long delays in installation of gas and electricity; HQ of the local municipal council stormed
Egypt: violent student clashes with cops continue throughout country
Brazil, Parana  state:  prison riot/rooftop protest…screws accidentally fall down stairs to the cells
Palestine, Gaza: union announces ahead of time a proposed sit-in of all ministries, committees and schools by unpaid workers 
South Africa: 4 Post Office vehicles burnt as casual post workers continue their strike……bill submitted to parliament to allow courts to award judgments for damages against  unions that don't limit strikers' violence 
13/10/14:
China, Guizhou: over 10,000 go on strike or leave their classes to protest against county government's expropriation of large areas of land at low prices under false pretenses; 2 dead " Witnesses said vehicles in the square were all smashed and that police officers attacked protesters.One of the witnesses said the overwhelming number of police, water cannon and police dogs made the square look like a war zone. The number of injured strained the capacity of local hospitals and some patients had to be transferred to other hospitals nearby.Protesters who rushed to the hospital to confirm reports that two people had died were attacked and arrested; the building was locked down for an hour before the bodies and the protesters disappeared" (more here)
Mexico, Guerrero: 100s set fire to Guerrero state HQ in fury against the cop complicity with the disappearance of 43 students "The protesters say the authorities are not doing enough to find the students. They disappeared after clashing with police in the town of Iguala. The protesters allege that the police rounded up the missing students before handing them over to a local drug gang called Guerreros Unidos…. Thousands of people have taken to the streets across Mexico to demand government action to locate the missing students. On Monday, demonstrators gathered outside the government complex in Chilpancingo, allowing workers to leave before ransacking and setting fire to the building and a vehicle parked outside."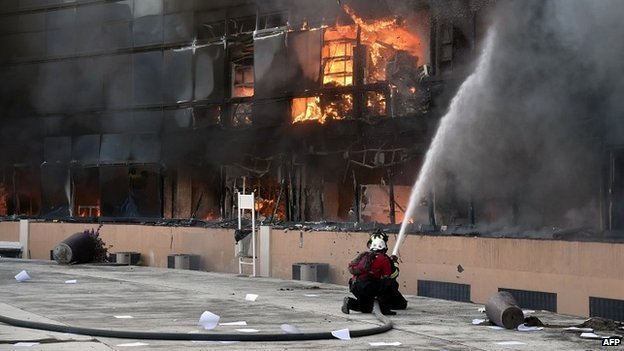 Guerrero: "Since the house is on fire let us warm ourselves."
 ~Italian Proverb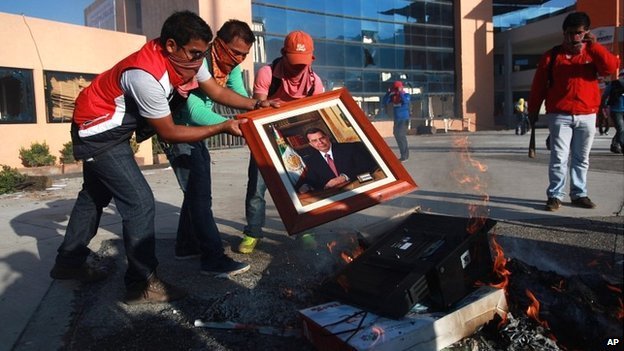 heated exchange with the Governor of Guerrero 
US, St.Louis: University occupied in protest against killer cops……town hall occupied ….interesting report of meeting about cop murders of blacks Shows how professional leaders, having been the object of the anger of mainly black youths for their complacency, are now busy recuperating that critique. But there was one particularly interesting statement from the father of Meyers, killed on Wednesday by an off-duty cop: "As the protesters gathered and debated how confrontational to be with the police, Myers's father appeared and told them: "Whatever it is y'all want to do, I'm fine with it"."  When one considers the usual "appeals for calm" on the part of black families pressurised by the cops to make such appeals, this is indicative of what a friend from St.Louis had already said: "That there is now precedent for a public confrontational response every time the police kill someone is a dramatic shift from years past."
South Africa, Johannesburg: service delivery protest blocks roads with rocks, etc.…Alexandra: youths barricade roads with rocks etc. in protest against not being employed on construction work for bus rapid transport system…Limpopo:   protests about electricity and water connections barricade 3 major roads.. Gauteng: stay-away strike, schools closed, as community "goes on rampage" after officials sabotage water supply 
12/10/14:
Israel: wildcat strike by pilots
Saudi Arabia, Duba: unpaid Egyptian workers riot, block off major international road with burning tyres, etc.
Chile, Santiago: Violent clashes after a 5,000-strong group of Mapuche and members of other indigenous communities march to demand greater autonomy etc. More here "At the end of the rally, groups of hooded youths, apparently without any links with indigenous communities, broke some windows and clashed with riot police units, which used water jets and tear gas to disperse them."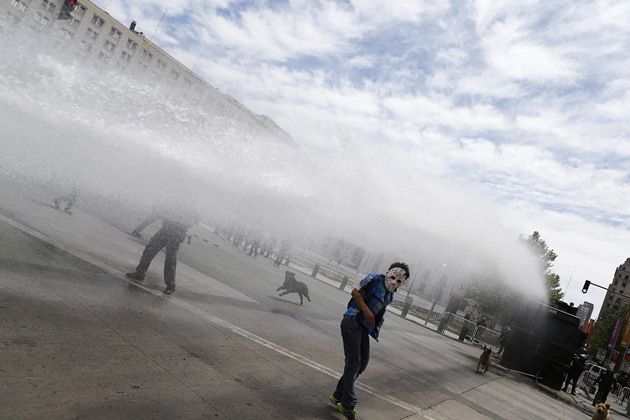 US, St.Louis: 17+ arrests after sit-in protesters refuse to disperse; contradictory stories of rocks being thrown at cops …more here –   "A police car was attacked, prompting at least 10 arrests, and tear gas was released to disperse the crowd.St Louis Police Chief Sam Dotson said on Twitter to say that protesters were "throwing rocks" at officers and that arrests had been made for "continued illegal behavior." The St. Louis Metropolitcan Police Department said its officers arrested 17 people for unlawful assembly in the QuickTrip parking lot. The St. Louis County Police Department said its officers made no arrests, despite "a few occasions of assaultive behavior directed toward officers."  …report on how the cops changed their story over the Myers killing (though one can get bogged down in such details and miss the point.)
Egypt: student protests throughout country; riot cops surround universities as students clash with private security company Hopefully this has nothing to do with demonstrating for Morsi; it certainly seems it doesn't, so maybe a good sign after the misery of the last 15 months or so.
11/10/14:
Jordan, Amman: market vendors riot over closure and change of market venue "…two gendarmes were shot and injured by rioters…they are hospitalised and listed in fair condition.  Around 100 street vendors clashed with anti-riot personnel at Hashemite Square in downtown Amman on Saturday in protest against a decision to move the Abdali Friday market to Ras Al Ain…Protesters threw Molotov cocktails at gendarmes, and security personnel responded with tear gas to disperse them."
US, St.Louis: riot cops confront protesters near University A friend writes: "I don't have much detailed information to pass on. My sense though is that after the first week or so of street-fighting, the terrain shifted from "uprising" to "protest" and that not much has changed since then. Even the latest flareups were more politicized-activist oriented than the initial rioting. Rocks were thrown at the cops, windows broken (even a house in a wealthy neighborhood) and American flags torn from houses were burnt, but still it seems like this activity is qualitatively different.  
There are a lot of old and new political formations acting and organizing events right now and it can be difficult to distinguish them all. Some groups, OBS [Organisation of Black Struggle] included, want resistance and protest to happen only on their terms. Hence the current weekend of marches and civil disobedience actions. But where are all the people who rioted two months ago? Have they changed their perspectives? Are they just sitting it out or going along with the leftist flow? Some of them are certainly still out there but it's a much smaller number of committed youngsters who while not necessarily belonging to specific groups are approaching events more like activists than pissed off neighbors. I guess I'm still trying to make sense of it all. 
Part of the shift in locations (north county to south city) means that more people who had been in Ferguson are unfamiliar with the neighborhood and that some of the neighborhoods are less sympathetic or directly involved in the conflicts than was the case in Ferguson. There's a lot of upper middle class white families that live in the area the most recent shooting took place. Some people who live around there did come out for the two marches but they were mostly activists/politicized people and because of both their own politics and the politics of racial separatism/white privilege (which have been loudly espoused by a few influential individuals) they haven't really participated in the riotous aspects of the last few nights. Last night was quiet on the south side despite expectations that it would kick off again. Cops were staged all over the area and a gathering was announced on twitter, but no one showed, maybe because of the rain, an earlier (wet) protest in Clayton, and/or a competing vigil in Ferguson.
In the end, even if it's very different now than it was in August, that doesn't mean its all bad or that we couldn't see a return to massive rebellion in the near future. That there is now precedent for a public confrontational response every time the police kill someone is a dramatic shift from years past. Another interesting aspect of what's happening is that people are shooting at the police (in isolated, individual circumstances) more frequently than normal. It certainly puts the cops on the defensive but it also escalates tensions and has the potential to result in more tragic deaths."….
Washington: cop gets off with a warning (video here)
Eire, Dublin: big demo against water metering and the Minister of Thirst 
10/10/14:
Nigeria, Lagos: major prison protest against  governor;  5 escaped prisoners killed "…  five inmates of the prison who managed to escape through the fence were killed….the aggrieved inmates started agitating against the way the out going Deputy Controller managed their affairs. They reportedly accused him of being high-handed. It was learnt that during the process, the inmates started stoning their top officials, leading to pandemonium in and around the prison. Eyewitnesses said they also held some of the officials hostage before embarking on the destruction of some offices inside the prison including that of the chief warder which was looted and razed down." (more here)
China, Hong Kong: 1000s renew protest after governors break off talks
Canada, Vancouver: 10 people demonstrating solidarity with the Ferguson week-end of resistance force cops to shut down US consulate
9/10/14:
India, Guwahati: flood victims block major road, smash cars, in fury at crap government-issued clothing
US, St.Louis: 2nd night of clashes with cops "Throughout Thursday night and into the early hours of yesterday as many as 400 demonstrators spread out across several city blocks in south St Louis, shouting and chanting at police officers, many of whom were clad in riot gear."  Excellent eyewitness accounts here.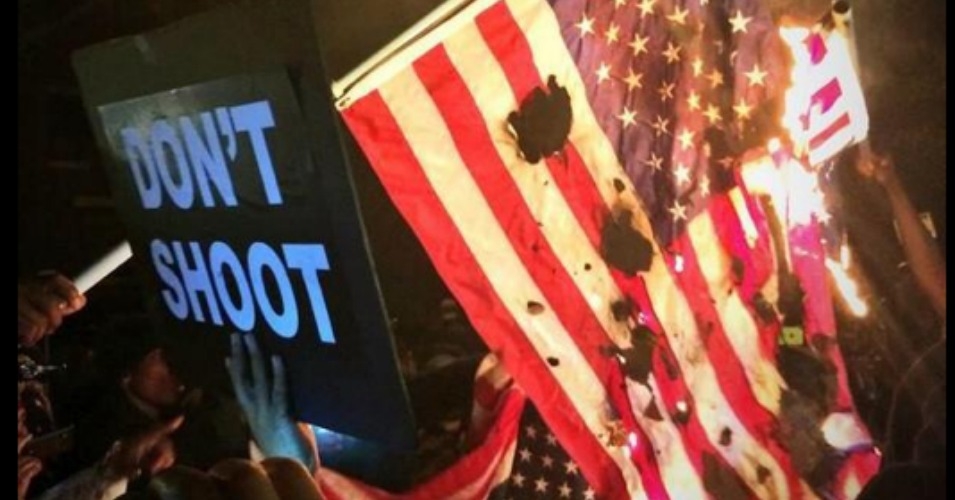 "Some protesters in St. Louis burned an American flag on Thursday night, with one activist telling USA Today, "It's not our flag. Our children are being killed in the street. This flag doesn't cover black or brown people… " ( here ) …nor is it on the side of most whites, of course…..
Las Vegas: 4 union protesters arrested 
France, Lyon: cops surrounded by angry crowd after 2 homeless people are stopped; cop car damaged, occupants hurt, tear gas, rubber bullets….
Italy, Milan: riots against Merkel, as Italian unemployment rate hits 44%
8/10/14:
South Africa, Pretoria: informal traders and cops clash as cops harass them "…around 50 hawkers pelted metro police with stones during a routine inspection at midday. "Two of our vehicles were damaged."…Johannesburg: protesters become "violent and disruptive" when cops approach them….Tongaat: fury over deaths of 3 young men trying to reconnect electricity "Rubber bullets and water cannon had to be used to disperse a 1 000-strong crowd who had been demanding to see the mayor.They gathered in the town hall at about 8am on Wednesday morning, following a rampage which left bins overturned and rubbish strewn on the main road.An officer at the scene described the scene as "Tongaat burning"; another source said more than 50 municipal bins had been burned….A resident said she had never seen Emona residents so angry before. She said while marching to the town's centre, the protesters had destroyed every electricity box along their path."
Colombia, Bolivar: parents block roads, use sticks and stones against the army, in demo demanding explanation for their children's  bad post-vaccine symptoms 
UK, Somerset: 100s of farmers blockade supermarket chain  
US, St Louis: cop cars damaged by protestors as cop kills another black teenager; no arrests (more here and here)
7/10/14:
France, Toulouse: cops stoned again in joint operation "Around midnight, two policemen want to stop a car that had committed an offense but its driver flees to Empalot. Once there, the police are stoned and surrounded by a hostile group. They use tear gas to break free and call for reinforcements, including the Anti-Crime Brigade (BAC). The latter locate the vehicle that had fled, and monitor it, waiting for the driver. The driver gets back in…he escapes again. He knocks over a policeman and crashes into  a car of the BAC, injuring another officer. One of the two officers is hospitalized for a dislocated shoulder and the other is only slightly injured. Friday night, in the same neighborhood Empalot, "a dozen" people had stoned the police called because a minor had run away. The same evening, police were stoned in the same area again, this time helping a person threatening to jump from the eighth floor of a tower in the area."
Dominican Republic, Bonao: riots in different parts of town after cops kill 15-year-old bystander during protests about electricity supply
South Africa, Limpopo: incendiary attack on house of chieftain who authorised mine blasting; mine company equipment trashed 
Eire, Co. Dublin: 2 workers occupy building site crane in protest over pay and conditions
6/10/14:
US, St.Louis: moronic pro-cop baseball spectators clash with mainly black Mike Brown protesters…Ohio: students and others occupy police station in protest against another cop murder of a young black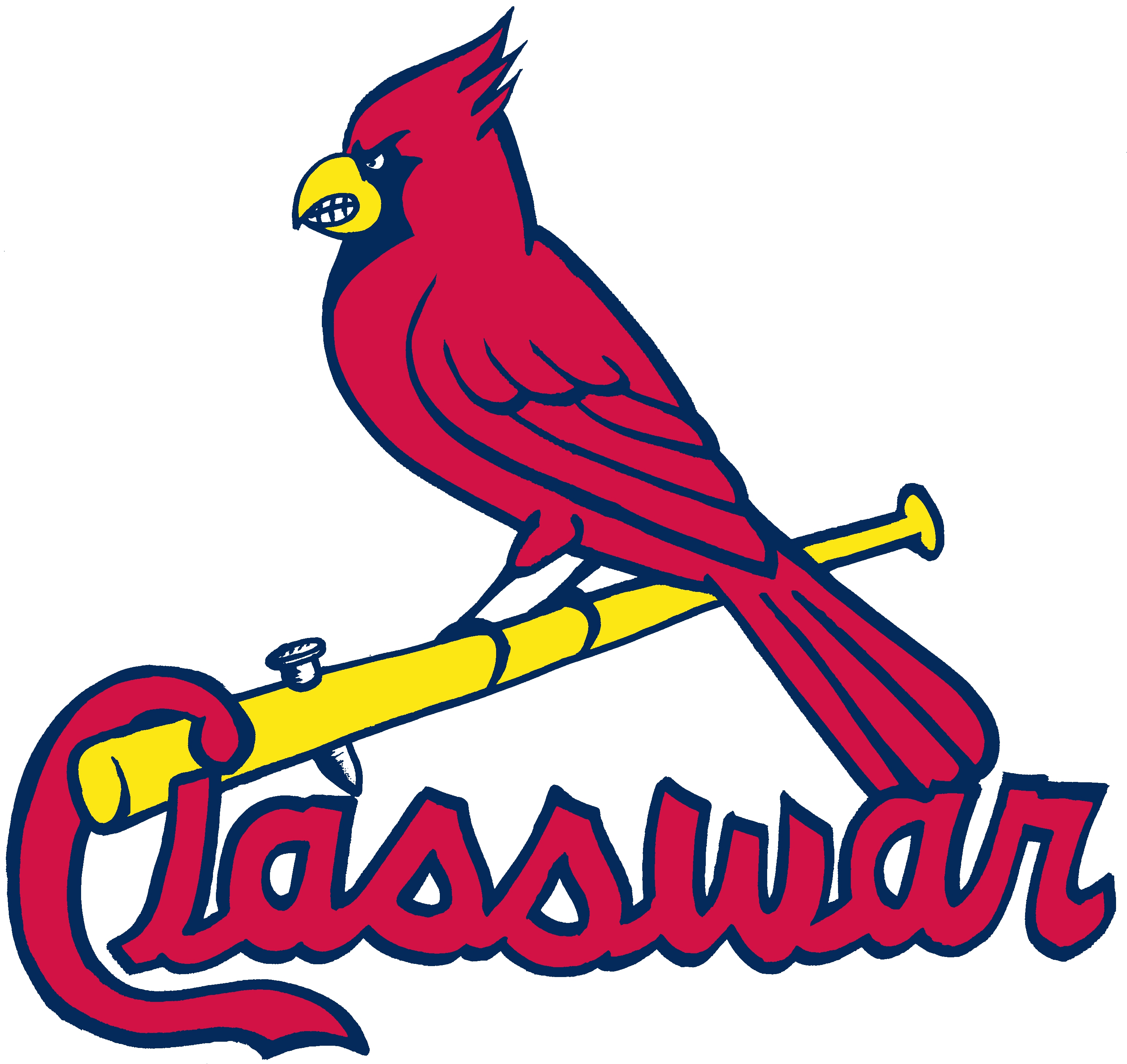 v.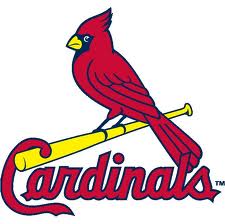 India, Bihar: Eid party turns into riot confrontation with cops; 6 vehicles burnt, municipal excavator trashed, cops attacked with bricks and stones
South Africa, Johannesburg: informal settlement protesters burn train station office and break windows – security guards kill one, cops fire rubber bullets etc.…rail company condemns vandalism, ignores killing, as 2nd building burns; computers etc. stolen; damage estimated at 6.5m rand…more here
Israel, Haifa:   unexpected port workers' wildcat strike
China, Hong Kong: as the movement prepares (possbily) for a massive repression, various scum show up valid contradictions in the movement "Charles Powell, who served as private secretary to then British Prime Minister Margaret Thatcher when Britain agreed to return Hong Kong to China, said … "The position about elections has been clear since the law was published in 1991 and I don't believe for one moment that Chinese are going to change that basic position …Hong Kong has always been part of China…We rented for a while and we didn't introduce democracy," …Singapore's Foreign Minister Kasiviswanathan Shanmugam said …They have intentionally ignored a fact that Hong Kong had never implemented a democratic system under the British rule for some 150 years, he said, adding that Beijing's plan has granted Hong Kong much more democratic space than what Hong Kongers got in the times of British-ruled Hong Kong….Jeff Bader, who ran Obama's first term White House East Asia policy, told the Washington Post that for Beijing, there is no room for compromise on issues such as Chinese stability and the leadership of the Communist Party of China. He also mentioned that millions of Hong Kongers will not support or tolerate the protest that grinds the city to halt for days.The negative impact of Occupy Central includes a bit of a brain drain, Bader predicted." All of which is another way of saying that unless movements to change things make links with other proletarians and develop an expliciltly global anti-capitalist class war perspective, they will be defeated anyway and will have hardly learn much from such a defeat. Undoubtedly movements that do  make links with other proletarians and develop an expliciltly global anti-capitalist class war perspective will also be crushed, but they will find out a lot more, and develop a great deal more possibilities of global solidarity, both of which could help future movements. Sadly, over the next 5 or 10 years people are going to have to learn from the strengths and weakenesses of previous social movements  to change the world spanning 200 years, and to develop the networks of solidarity increasingly repressed by the post WWll development of the spectacle, merely to arrive at banality. Playing the good citizen, as in the censorship of basic proletarian slogans shown below, will hardly endear these protesters to their potential allies.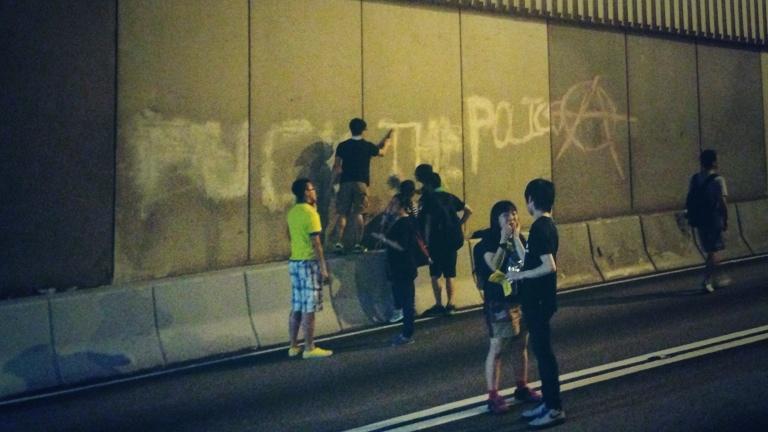 protesters erasing graffiti, because they think sex with cops is perverse
5/10/14:
India, Ahmedabad: cops investigating forbidden sacred cow slaughter attacked with stones, etc.;  cops kill one guy
Canada, Ontario: indigenous blockade main motorway in effort to get investigation into disappeared or murdered aboriginal women
US, St.Louis: "Black lives matter" liberals disrupt concert by singing "requiem for Mike Brown" to the indifference, occasional outrage and some polite applause amongst St.Louis's upper crust… as  4-day long weekend protest looms

4/10/14:
Switzerland, Geneva: barricades and tear gas at anti-cop demo against the bicentenary of the police 
Mexico, Guerrero: parents of missing students throw molotov cocktails at governors' official residence, and overturn a vehicle in front of it in response to lack of information about mass graves
Spain, Madrid: cops crack heads in brutal crackdown on anti-monarchy demo
3/10/14:
UK, Kent: uninformative report of major prison riot; screw stabbed
China, Hong Kong: as the movement seems, though maybe only temporarily, to be moving backwards into a reliance on negotiations between leaders and would-be leaders…this long interesting text from people who seem to  know their stuff appears (though, I admit, I've read less than half of it so far)…whilst the state-manipulated attacks on demonstrators has lead to the end of the talks with the government, on the level of ideas and critiques, people seem to be more disarmed than 200 years ago, ideologies of "democracy" colonising their brains
2/10/14:
France, Dordogne: anti-social insecurity office hots up "An arson attack partly destroyed … the offices of the Family Allowances Fund (CAF) in Bergerac (Dordogne). The fire started shortly after 2:30, apparently from a garbage container with tires inside. It quickly spread to the small building on the first floor, mobilizing a dozen firefighters for nearly four hours,…The fire destroyed the facade above the entrance to the CAF and the reception room for the public, and also computer equipment, and made the other rooms unusable  " Updated on 7th October: "The young man from Bergerac, 25,  placed in custody Friday morning by police on suspicion of setting fire to the  Bergerac CAF has confessed. While he was uncooperative or aggressive with the police during the first twenty-four hours of being held in a police station, the suspect admitted placing a bin filled with tires at the entrance of the CAF before setting it on fire. He wanted revenge for the little regard which had been given  his parents during their visit to the CAF  the day before the arson attack."
South Africa, Johannesburg: tenants lay seige to 266-flat housing estate following 2 riots about high rent over past month
Turkey, Istanbul: "Women's Initiative Against War" attempts to block Bosphorus Bridge in protest which seems to be against both sides in this brutal conflict
Brazil, Rio: unclear report about protest against killings of 2 youths; bus burnt "15 minors got all the passengers off the bus and set it on fire."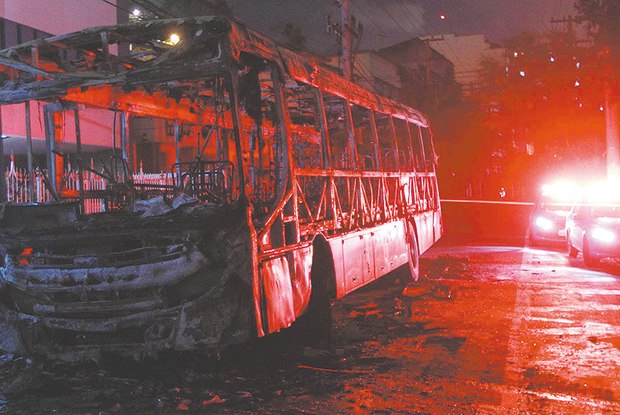 Mexico, Acapulco: 1000s block main road in protest about students being disappeared almost certainly through cop and drug cartel collaboration (see entry for 27/9/14 below)…Oaxaca: 46th anniversary of massacre demo; black block anarchists smash windows of government palace, ATM machine, electricity company offices, shops and vehicles; union leader denounces them as government party provocateurs, as 59 of them are arrested
Italy, Naples: anti-European Central Bank protesters attacked by riot cops
US, St.Louis: several arrests of Ferguson protesters for making a noise after 11 pm…whilst illusions in electoral system seem to be increasing
1/10/14:
Haiti, Petit Goâve: blocked roads, burning tires, barricades, official vehicle burned, closed schools and paralyzed economy… though the official opposition is also participating in this: "An official car, Nissan Patrol, from Port-au-Prince who was going in the south having on board a Director of EDH and a motorcycle were intercepted and burned by opposition supporters on National Road #2, bloc André Dicette, a zone become inaccessible when barricades and burning tires were erected yesterday. The occupants of the vehicle had to find refuge in the sub-police station of Petit-Goâve located in Borne Soldat, before finally returning to Grand-Goâve, because they do not feel safe, even in the company of police officers… In addition, a police delegation that went to the South of the country to attend a ceremony was forced to quickly enter the central police station in order to get help… before heading back to their destination."
Chile, Temuco: confrontations with cops after murder of 32-year-old guy (video in Spanish)
Bolivia, Cochabamba: villagers angered by cop killing of 22-year-old man, take 16 troops, 2 cops and a tax inspector hostage after burning cop car
Colombia, Cundinamarca: clashes between students and riot cops (radio broadcast in Spanish)… Huila, indigenous people occupy park in protest against road construction
South Africa, Cape Town: how to shop rite