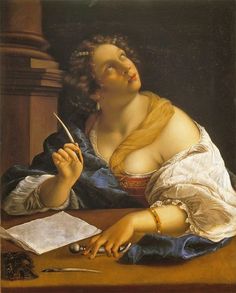 "All moanday, tearsday, wailsday, thumpsday, frightday, shatterday till the fear of the Law" – James Joyce, Finnegans Wake
Thumpsday, 30/4/15:
Israel, Jerusalem: Ethiopian Jews riot against cop harassment "…some 1,000 protesters blocked roads and the Jerusalem Light Rail, and threw rocks and bottles at police sent to quell the rioting. At least three police officers and eight demonstrators have been injured. The protests over alleged police brutality and racism were sparked by the two beatings this week of Ethiopian-Israelis, both captured on video." (video here)
France, Lille: report of shopkeepers arming themselves against massive increase in shoplifting, aggression etc. "A lot of shopkeepers are armed, from  pump action shotguns to Magnum 357s…We've lost 30% of our finances…It's become like Chicago here"
US, Philadelphia: light clashes with cops on Freddie Gray  solidarity rally…"Several times, the clash of protesters and police officers at Broad and Vine Street resulted in heavy pushing and shoving. In one photograph, a protester sitting on the shoulders of another wore a police cap that had been tossed into the air….About an hour later, the demonstrators rallied at the Federal Bureau of Prisons on Chestnut Street. Once there, they blocked the doors of the building. Prisoners inside the building could be heard banging on the windows and flashing their lights….A crowd eventually gathered at a statue of Frank Rizzo, a former police commissioner and mayor of Philadelphia from 1972 to 1980. …someone spray-painted "FTP" on the back of the Rizzo statue"… Baltimore: tragic story of injured police officers only doing their job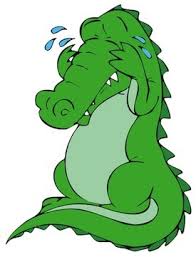 Sadly,  there's always a dark cloud in front of every silver lining: "We've seen officers dressed in riot gear show their uniforms to little children and share laughs with teenagers and that's encouraging" …hopefully laughs of derision…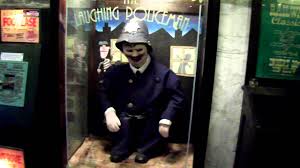 "He said "I must arrest you!"
He didn't know what for.
And then he started laughing
Until he cracked his  jaw.
Oh ho ho ho ho ho ho ho. Ha ha ha ha ha ha ha ha ha ha ha ha ha ha ha ha ha ha ha ha ha ha ha ha ha ha ha ha ha ha ha ha ha ha."
Right-winger inadvertently reveals uncomfortable (if partial) truth amongst distorting lies "…support for rioters comes from a particular kind of thinking. This thinking sees oppression not as something that individuals do, but as a systemic process…In this view, Person A does not oppress Person B. Rather, "society" is structured in such a way as to make any action by Person A oppressive by definition to Person B. Person B is not oppressed by a man, but by The Man. This is a very dangerous kind of thinking. …Support for mass violence is the logical conclusion of this type of thinking. Once you believe that oppression is part of The System, the only way to stop oppression is by destroying The System…and there's no way to do that without mass violence. The oppressors are not just going to let you change things peacefully, are they? There's no effective way to argue against this, in my experience."
Nigeria, Akure: riot cop "arrested" at gas station by petrol pump attendant
Peru, LaPampilla: riot cops v. surfers
South Africa, Thembelilhe: report of army sent to town supposedly to crack down on xenophobic attacks See this critical text
Wailsday, 29/4/15:
France, Paris: projectiles thrown at cops during an arrest "A scuffle then broke out, forcing the police to suddenly use  tear gas, and three shots of flash-balls …. The confrontation had only one victim: a policeman was slightly wounded in the left knee, who had to be rushed to the hospital in Gonesse. Among the thirteen men who landed in custody, the majority are from Deuil-la-Barre and the youngest is 14 years old."…Vigneux-de-Bretagne: company biologists chased off ZAD and their vehicles sabotaged
Tunisia, Tozeur: protesters against arrest of 5 people for trying to kill cop, block road with tyres, burn down tourist police station and vandalise admin vehicle (here also)
Brazil, Curitiba:  rubber bullets, stun grenades, tear gas, water cannon used on striking teachers as some try to enter Congress building "Curitiba mayor Gustavo Fruet called the scene a "war without precedent" in the city and labeled it a "tragedy foretold" that he blamed on the security forces, who are under the responsibility of the state government….The Parana state government, which controls the security forces that clashed with the teachers, said… it "deeply regrets the acts of confrontation, aggression and vandalism caused this afternoon by protesters" not associated with the striking teachers. It said masked protesters used stones, fireworks, sticks and iron rods to try to break through the police lines to invade the state congressional building and that they're "directly responsible for the confrontation."… seven people had been arrested for attacking policemen."
Nepal, Katmandu: angry earthquake survivors confront riot cops as the state gives out misinformation and proves not much help in the  distribution of essentials like water (video in French here) More here "…when the buses failed to materialise, anger began surging and scuffles broke out between the crowds and riot police who were sent in to try to contain the situation near parliament. Some protesters forced a truck carrying drinking water off the road and climbed on top of it, throwing the bottles to the crowd. "We've been left starving in the cold and the best this government can give us is this queue."
US, Baltimore: report on curfew horrors…report of fire…protests in New York, Washington DC, Boston and Ferguson…Denver: cop pushed off motorbike (more here)
Palestine, Gaza: Hamas' cops beat up Palestinian protesters
Canada, Ottawa: high school students walk out in solidarity with teacher
Tearsday, 28/4/15:
Chile, Iquique: 4 molotovs thrown at offices of the head of regional government
South Africa, Limpopo: cops disperse power workers on month-long illegal strike blocking road…report showing government "ignored" (ie encouraged) threats to disrupt anti-xenophobia march
US, Baltimore: National Guard enforce week-long curfew Also here for live updates.  Looks like the Crips and Bloods have backtracked on their original resolve: "In amazing scenes in the run-up to the curfew at 10PM, the Crips and the Bloods, the US's two most famous gangs, held what appeared to be an impromptu press conference and appealed for calm." See also this. 
And this comment from someone on A-News
Not everyone completely acquiesced with  the gang leaders' backwards "lead"- see here: "Police in Baltimore fired smoke bombs and pepper pellets at hundreds of protesters who defied a night-time curfew that took effect across the city late on Tuesday, police and US media said, a day after the worst rioting in the United States in years. …"The curfew violators are refusing to follow lawful orders by officers to leave the area," police said on Twitter, adding that "criminals" had started a fire outside a city library.  Armoured vehicles were moving into the area of the standoff between police and protesters, television images showed."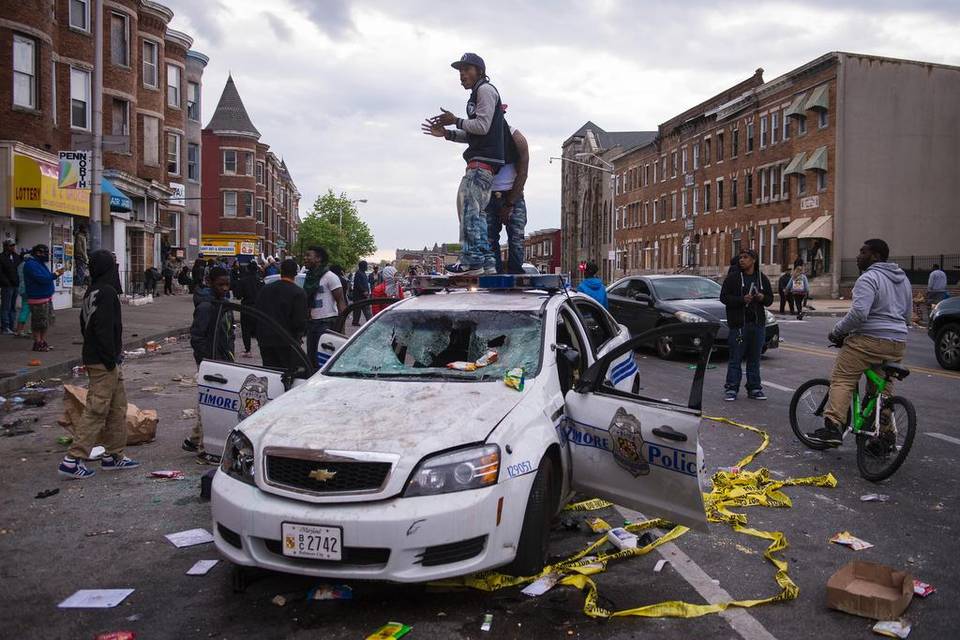 ….Ferguson: rocks thrown at cop patrol cars, dumpsters set on fire across town…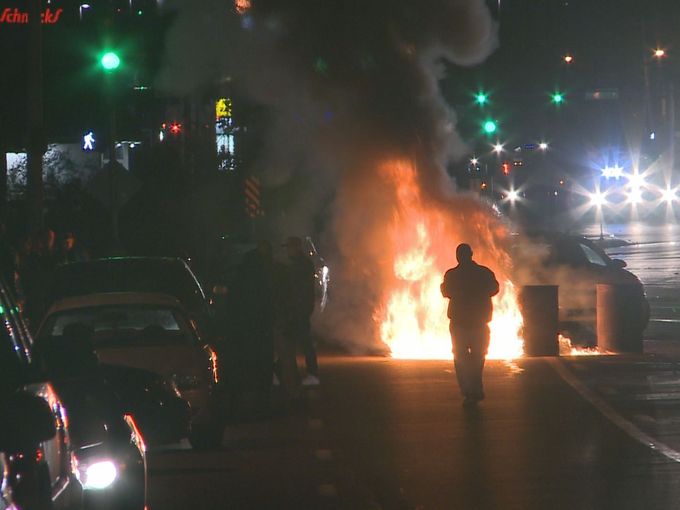 Ferguson 28/4/15
…Seattle: juvenile prison construction truck burnt in solidarity with Baltimore
Ivory Coast: national teachers strike gets angry as pupils come out in solidarity "A strike called by teachers for wage demands caused several injuries among teachers, students and security forces… various demonstrations, some violent, have taken place in several regions of the country. At Ferkessédougou (North), disgruntled students stopped classes in their schools and  headed en masse in the morning to  private institutions to force students out. Clashes occurred between supporters … and opponents. In Korhogo (north), Bouake (center) and Aboisso (southeast), demonstrations of students led to clashes between students equipped with stones, wood and sticks and armed security forces with batons and tear gas, causing injuries on both sides. In Divo (southwest), teachers who organized a protest against the hole in  their wages were attacked by groups of parents, injuring several people. Several student demonstrations were reported in other localities, sowing anxiety in the country…."
Greece, Athens: finance minister who aims to save capitalism from itself (by working out how to sell the Troika's debt payments to the Greeks) saved by his wife from attack by anarchists
Moanday, 27/4/15:
US, Baltimore: cop cars and buildings burned, windows smashed after funeral of Freddie Gray  "The rioters set police cars and buildings on fire, looted a mall and liquor stores and hurled rocks, bottles and cinderblocks at police in riot gear. Police responded occasionally with pepper spray or cleared the streets by moving in tight formation, shoulder to shoulder. At least 15 officers were hurt, including six who were hospitalized. There were 144 vehicle fires, 15 structure fires and nearly 200 arrests." Also this "…police understood the Bloods, Crips and Black Guerilla Family gangs had met and each pledged to kill a police officer." If you look back at the 1992 Los Angeles riots, the truce between gangs was an essential part of the uprising; check out section 5 of this Aufheben text (this is not to endorse the constant use of Mike Davis, the proletarian-turned-academic, by Aufheben which, in retrospect, could be seen as in some way an endorsement of their own fence-sitting balancing act between academia and revolt which lead to the absurdity of John Drury's schizophrenia)
Another video here.
The mayor of Baltimore called Monday night "one of our darkest days as a city". No surprise that a politician gets everything the wrong way round –  confusing day and night and dark and bright. "We cannot allow our city to devolve into chaos", she said.When they  refer to it as "our city" they show they have nothing in common with those who live there  but who in no way can say it's their's, those  whose  lives are normally chaotic but who create clarity when they create chaos for those who possess the city.
India, Madurai:  cops attack blind and visually impaired blockading road against delays in being given housing
Stunday: 26/4/15:
Mexico, Chilpancingo: several vehicles burnt in front of legislature as part of movement about 43 missing students Students from Ayotzinapa rural college, some parents of the 43 dissappeared students and members of the CETEG (independant Coordination of Education workers) attacked the local Congress in Guerrero's capital (Chilpancingo). They entered the square, destroyed a monument dedicated to Morelos, burnt 4 cars, and fought with cops to protest against the authorities' attitude about  the 43 students and about  the next local elections.
Burundi, Bujumbura: clashes with commodity/class society-defending state mercenaries (ie cops) as political groups condemn president seeking 3rd term Once again, it sounds like not all of this is respectable "opposition": "In one northern neighbourhood, protesters burnt tyres on the road and threw stones at police, who also shot in the air and used water cannons to disperse the crowd. Witnesses said violence had spread to a second neighbourhood where one protester was wounded when police shot him, while a police officer had been injured after being hit by a rock. The witnesses said police were also using live bullets."
France, Boissy-Saint-Léger: stones and glass thrown at police station windows (same happened on 24/4/15) "…In november 2013 it was bottles of hydrochloric acid"
Shatterday, 25/4/15:
India, Delhi: police post and cop motorbike  attacked by angry crowd incensed about insensitive 4-day delay and misinformation in cops' contacting family  over dead body of their 10-year-old daughter "The mob damaged the police post and torched three motorbikes parked in the vicinity. Some of the protesters also threw stones and damaged several cars in the area. Two police teams had to be deployed in the area to disperse the crowd… The protesters had blocked the road for hours and then they turned violent setting one PCR motorcycle and a couple of other private vehicles on fire, besides damaging the police post. We had to use mild force to disperse the crowd. An FIR under sections of rioting and damage to property has been registered though no one has been detained so far…."
Chad, Kyabe: after cops kill someone in their custody, crowd burns 2 cops cars, attack police station; 3 more killed by cops
UK, London: Brixton Town Hall briefly occupied and other stuff
France, Gard: as gendarmes confiscate stuff from  illegal rave party, people fight back "18 gendarmes were injured…These are minor injuries – "bruises, wounds, bent fingers" – most of them. However, a policeman was hospitalized with "significant facial trauma," …… 85 police came to remove the sound system… "Everything was dismantled and loaded at 9:30 p.m.," … Some of the participants threw stones, some of which contained …metallic nodules. "There's been  great damage to vehicles," including one whose "bodywork has been pierced," ..Samuel Raymond, …one of the organizers, who defends "free party" culture… denounced the "pretty brutal" gendarmes."
US, Baltimore: 5th day of protests against killer cops gets angrier "Multiple police cars were damaged and the protests bled into neighborhood businesses, with windows of bars and restaurants broken from thrown objects. Fights inside bars near Camden Yards between baseball fans and protestors also occurred" More here "…there were several cars with broken windows. Police are calling for officers scheduled on later shifts to report for duty immediately. One protester broke out the window of a police cruiser, grabbed a police hat inside and wore it while standing on top of the cruiser with several other protesters." More here "Soon, demonstrators began smashing police cruisers' windows. "We have isolated pockets of people from out of town causing disturbances downtown," a tweet from the Baltimore Police Department stated….Baltimore Mayor Stephanie Rawlings-Blake tweeted a brief statement.  "… Concerned about the violence and those who want to destroy our city," she said."
Another video here .
Some minor looting.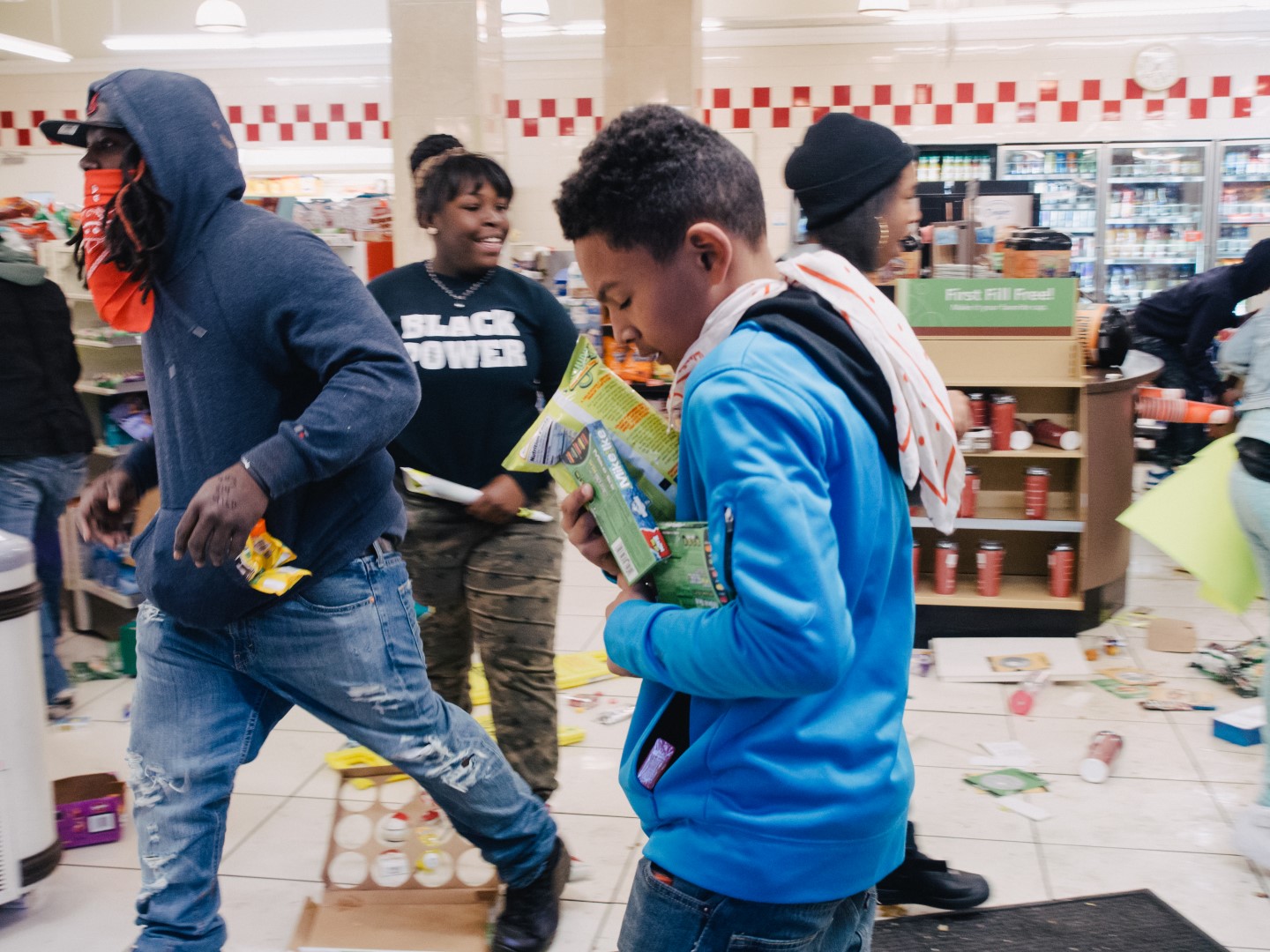 loot now while shocks last
Right-wingers complain about the Mayor's softly softly approach. In fact, when she said "It was a very delicate balancing act because while we tried to make sure that they were protected from the cars and the other things that were going on — um — we also gave those who wished to destroy, space to do that, as well,"  she expressed a more intelligent strategy for the dominant forces than the "zero tolerance" ideology of the more dogmatic right. Often, if you don't bend you break. "Softly softly catchy monkey" is the ideology of the more subtle sections of ruling policy which will undoubtedly come to the fore the more  social contestation there is. It of course doesn't rule out brutal repression, but combines it in a "a very delicate balancing act" involving allowing  people to let off steam, arresting them later on the basis of CCTV and other evidence and at the same time giving an image of taking up the concerns of the – rightly angry – blacks so as to hold out some hope of reform and pull the rug out from under their fury. "Softly Softly" was also the title of a 70s cop show in the UK which was  propaganda aimed at the gullible intended to make them believe in this tough but fair and often soft police force, which nevertheless was also very nasty behind the facade. For those who haven't read it, see the section "Good Cop Bad Cop" (in particular the subsection "Far from the madding crowd controllers" onwards) in "Cop-Out…" which looks at soft cop policing and it's worthwhile seeing how such strategies develop, in tandem with brute force, over the next months and years, and how such state strategies could be subverted .
France, Tarbes: street birthday party ends with fights with cops "At 2.50 am they began to set fire to garbage containers. Firefighters supported by the police intervened. Then a person threw a projectile at the vehicle of the security forces, damaging the driver's door. A young man was arrested and taken into custody. Soon after,  at 3.30 am, a flaming container was again rolled into the middle of the avenue…. Further violence: many people, hidden in the darkness, threw stones, cans and bottles at police who had intervened to protect firefighters. "
South Africa, Cape Town: shack-builders attack journalists, cops and bus "…residents returned to rebuild shacks on Saturday on Denel-owned land in Cape Town from which they had been removed after police intervention earlier this month….When police arrived, the shack dwellers took to the streets and threw stones at a passing Golden Arrow bus, putting passengers to flight, with some even leaving handbags behind. Police threw stun grenades at the crowd and fired bullets. Some in the crowd threw stones at the police. …When comment was sought from people in the crowd, they said: "We are not talking to journalists today. "Just go away." They threw stones at the photographer who was taking pictures. Meanwhile, opposite Lookout Hill, some Khayelitsha residents, whose building materials were confiscated by the city when they first moved on to the land earlier this month, returned with new material to build shacks…."They took my material the last time, but I managed to buy new material. We won't stop until we get this land. We'll fight till we die." Mlokoti said she lived with her husband and three young men in a one-roomed shack. "My husband and I can't even enjoy the pleasures of being married because there are always other people."… "I'm tired of paying rent because it's expensive, and having to share a one-roomed shack with other family members means here's no privacy." Poponi said the land they were invading was not being used.  "This land is a total waste because it's just here, not being used for anything. "I don't see what's the problem when we build houses here."
Serbia, Belgrade: big fight between football fans and cops
Australia, Sydney: cops pepper spray  fans in cop-fan clash "Pepper spray was used in the grandstand, with a 13-year-old reportedly one of those affected. A number of the team's Red and Black Bloc supporter group walked from the ground at half-time, apparently in protest to the perceived overreaction from police….The stand-off between around 150 fans and police continued outside the ground before officers were forced to use pepper spray after tensions escalated. No fans were taken to hospital. Two male officers treated for minor injuries, one of whom had a coin hurled into his face."
Croatia, Zagreb: 1000s protest against debt slavery
Frightday, 24/4/15:
South Africa, Gauteng: cops fire rubber bullets as tyres and sewerage pipes are burnt in service delivery protests
South Korea: state defines general strike as "illegal"
France, Corbeil-Essonnes: BAC cop car attacked by masked youths; no arrests…Montpellier: 4th day of middle school staff common room occupation by parents and students in over 4-week old struggle against course-cutting This is during the half-term holiday, though some parents and students are sleeping there at night, and aim to continue until Tuesday, which will include the Monday when teachers and students return from their vacation. The cuts involve suppressing special needs classes, which will particularly impact on kids in difficulty and will also involve the end of German-French bilingual classes (the only other school in the country doing this is in Strasbourg), rock climbing, swimming, and other things.  Whilst I think schools are fundamentally rotten institutions, making them worse and narrowing options in a working class neighbourhood is hardly contributing to a critique of miseducation.
Thumpsday, 23/4/15:
South Africa, West Cape: service delivery protesters burn Metro ticket office More here "…an angry crowd descended on the terminal on Thursday night, ripping apart its tin roof and setting fire to tyres on its tracks and in its offices, closing off the railway until late on Friday morning. …"Protesters evidently took issue with their local authority about the provision of electricity and vented their dissatisfaction by rampaging at the station." On Thursday night police found themselves in a tense stand-off as residents barricaded roads and threw stones. A group stormed the train station, reducing the inside to rubble as they smashed walls, stormed into the station's offices and set fire to tyres."
Lebanon, Sidon: taxi drivers burn tyres, block roads, against very heavy fines in new traffic law "The controversial new traffic law took effect on Wednesday despite concerns over the high and unprecedented fines against violations. Internal Security Forces chief Ibrahim Basbous sought to appease fears by stressing that the law is aimed "ending the tragedies on the roads and ensuring the safety of the people." Also on Wednesday, Interior Minister Nouhad al-Mashnouq hoped citizens will respect the law "out of their faith in the state." "It was adopted to save their lives, not raise taxes"
US, Baltimore: continuing protests against killer cops "Baltimore police were out in large numbers, and the department said it had canceled time off for its officers." …videos here..."I would  hope that the crowd there will settle down and give this investigation an opportunity to come forth…" – President of the National Organisation of Black Law Enforcement Executives. "In a typical mob scene-type situation you do often see just an escalation and the group behaviour and group think take on a mind of its own and in this case it's getting uglier…and you just can't have anarchy on the street for a long period of time" – CNN Law Enforcement Analyst…Hawaii: protesters against building of 30 meter telescope occupy Office of Hawaiian Affairs…Los Angeles: graffiti now a capital crime…California: dockers announce May 1st port shutdown in protest against cop brutality
Guinea: 4th day of clashes in 2 cities; protester killed by cops (see 20/4/15)
Wailsday, 22/4/15:
Peru, Cocachara: vehicles etc. burned as part of clashes with cops after 61-year-old is killed during anti-mine protests (video here) (more in English here) "Demonstrations on Wednesday were scattered throughout the region of Arequipa. Unions, university students and local political groups marched in the regional capital, Arequipa, while farmers rallied in surrounding valleys. … Organizers said the demonstrations on Wednesday were the biggest so far, with tens of thousands turning out across the region." Also this in English: "Yesterday clashes broke out between protesters and police in southern Arequipa, resulting in 22 wounded (11 police and 11 protesters) and one death,…Victoriano Huayna Nina (62), a protesting participant, was identified as the victim. He died in the town of Mollendo at the local hospital, after receiving bullet fragments in his leg. The protesters had just taken the Pampa Blanca bridge yesterday afternoon when clashes began …The protesters are currently fighting against the U.S. based Southern Copper mining project Tia Maria. It has been shut down since 2011 when three protesters died for similar causes. However, the company intends to reopen the project despite social conflicts…The government has attempted dialogue with the local leaders, but the defense front is persistent and has announced multiple strikes and protests."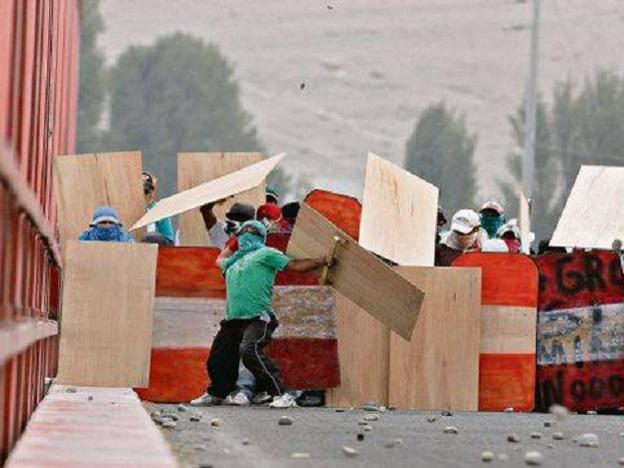 Mollendo against the Tia Maria pollution project
Colombia, Tunja: Students fight riot cops protesting visit of  Vice-president & Housing minister and supporting  national teachers' strike Pi writes: Some of them display the flag of the 19th of April movement, ex-guerilla movement which is now a political party (see this). Might have to do with regional differences as well…'cause it seems it happened in the "afro" part of Colombia.
Argentina: 700 teachers block the Panamerican highway to get unpaid salaries
France, Yvesline: 2 cops attacked and bruised by large group  during traffic control stop
US, Baltimore: relatively feeble response so far to what seems like another cop murder "… police officers, who were stood behind metal barriers and concrete road blocks erected at the intersection before the station, were occasionally pelted with plastic bottles and regularly goaded by protesters…one lieutenant was doused in water from a bottle hurled from the crowd…The lieutenant…bore much of the protester's goading and was later struck by a box of fried chicken thrown from somewhere in the crowd."
Australia, Perth: so-called "violent " protest outside parliament as state cuts funding for indigenous areas Seems maybe almost superfluous to point it out but this is more indicative of the use of the word "violent" by the press: as part of the media's standard manipulative function something pretty innocuous is termed "violent", to frighten spectators into hostility towards those expressing even the slightest degree of anger and as a threat of, and justification for, state violence.
South Africa: report of some of the sad problems faced by Eksom bosses and the ingratitude of the oiks privileged to work for them See entry for April 14th…. Cape Town: cop car attacked on 3rd day of taxi driver violence
Germany: 6th official rail strike in 10 months "Strikes in Germany are relatively unusual due to a system of collective bargaining between unions and employers which are usually settled at the negotiating table." Of course there is nothing "independent " in this kind of strike, but the fact that this is unusual in a country whose working class is notoriously docile indicates a bit of a change in atmosphere there.
Tearsday, 21/4/15:
Russia: report of unpaid workers developing links during wildcat strikes "In the far east, the teachers went on strike. In central Russia, it was the employees of a metallurgical plant. In St. Petersburg, autoworkers laid down their tools. And at a remote construction site in Siberia, laborers painted their complaints in gigantic white letters on the roofs of their dormitories."
France, Yvesline: 15 youths throw projectiles at BAC (Brigade Anti-Criminelle) as they arrest guy for racing stolen 4-wheeled motorbike; cop car window broken Apparently in some areas on run-down banlieux estates in France, young people are forming the  BAK (Brigade Anti-Keuf = Anti-cop Brigade).
Ivory Coast, Bouaflé: high-school students clash with cops as teachers go on strike "…a group of students, saying they were frustrated by classes being stopped by state school teachers, decided to force out their fellow pupils in private schools . But their march was  immediately stopped by the gendarmerie. Angry, these students stoned the police who responded with tear gas…According to the teachers interviewed, the judgement of the course is due to levies taken from the wages of many of their comrades."
UK, London: nursery occupied by parents and kids against its closure
Moanday, 20/4/15:
Italy, near Naples: workers stage highway blockade again in struggle against job cuts
France, Corsica, Bastia: riot cops attack farmers' protest against subsidy reductions after they burn tyres and throw stones at prefecture (video)
Guinea: violent clashes with cops in 2 cities "Demonstrators burnt tyres and barricaded roads across Conakry on Monday as police responded with tear gas, leading to a number of violent confrontations. Medical sources said at least two protesters had been wounded by gunshots fired by police in the Hamdallaye neighbourhood, an opposition stronghold….Opposition activists and security forces also clashed in the city of Mamou, 300km east of Conakry, with around a dozen police officers treated for injuries in hospital, a medical source said. Meanwhile, the government said a trainee policeman, apparently shot by protesters, was seriously wounded. Since protests began last week, at least three people have been killed and 50 injured." I put this here even though much of this movement seems to be dominated by  political party considerations. But the fact that parties almost invariably try to divert anger into their political ambitions doesn't mean that there's no element of autonomous activity in these kinds of movement (of course, that's a very general "rule" and I have no knowledge of how precisely this is played out in Guinea).
Canada, Montreal: college grounds occupied as part of anti-austerity movement
India, Bihar: 5 students' deaths in road accident triggers fury against a variety of targets "…hundreds of people blocked roads, ransacked Siwan Sadar hospital and also torched half a dozen vehicles including six ambulances. Protesters also attacked police and pelted stones at them, when they tried to disperse them, a district police officer said. "The protesters, who were mostly youths turned violent, when they found that doctors were missing from their duty and other staffs present appeared uninterested in the treatment of injured admitted to the hospital. They ransacked hospital and set ablaze vehicles in the premises"
Stunday, 19/4/15:
Lebanon, Beirut: prison riot "…Asked about what triggered the riots, he replied: "The inhumane overcrowding at the block is one of the reasons." The block is harboring 1,100 prisoners, while it only has the capacity for 400, he revealed.  …. "The riot is over and it will not reoccur," he pledged. The first riot at block D took place on Friday where inmates seized the master key at the facility and opened all doors at the building. They also briefly held hostage a number of officers. Roumieh, the oldest and largest of Lebanon's overcrowded prisons, has witnessed sporadic prison breaks and escalating riots in recent years as inmates living in poor conditions demand better treatment."
India, Bengaluru: 11 toll booths stoned, one burnt, as villagers riot…Mumbai: workers riot at petrol refinery "When CISF jawans deployed at the east gate checked the papers of a group of labourers, they found that the men were late for work. As they sought an explanation from the workers, the latter got upset and started arguing with the security personnel."  The altercation took a new turn when the labourers started pelting stones and vandalising the properties."
Israel/Palestine, West Bank: five-year-old fights fifty-year-old force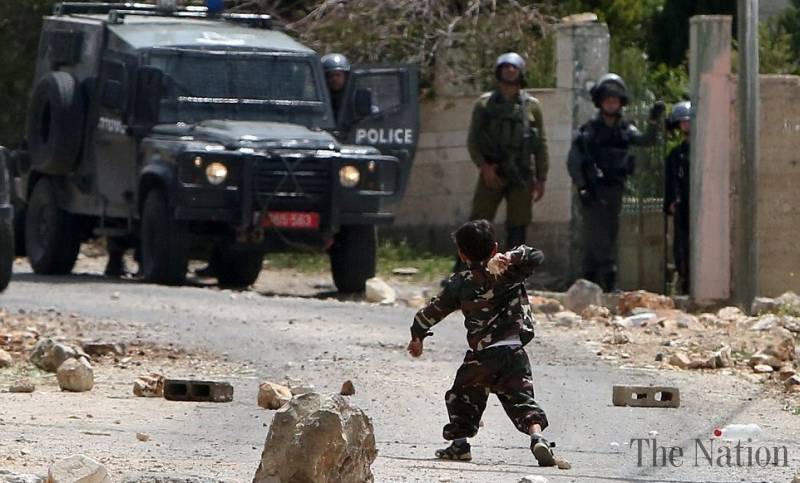 Shatterday, 18/4/15:
Dominican Republic: video report of week of violent movement in Bonao, Salcedo and Barahona against corruption, and lack of punishment, of the wealthy More here (see also entries for 15/4/15, 10/4/15, 31/3/15 & 27/3/15) Seems lots of political parties and all kinds of institutional groups are involved, but there are clearly independent elements as well [thanks to Pi].
US, St.Louis: protesters against another killer-cop block road outside of police station
UK, Liverpool: tame respectable nicey nicey occupation of former Bank of England building "Jack, one of the