"How did it get so late so soon? It's night before it's afternoon. December is here before it's June. My goodness how the time has flewn. How did it get so late so soon?"
– Dr. Seuss
"On Christmas day you can't get sore, Your fellow man you must adore, There's time to rob him all the more The other three hundred and sixty-four."
– Tom Lehrer
31/12/15
Egypt (Nag Hammadi): aluminum factory workers on strike for unpaid salaries
Hait (Port-au-Prince): 1500 fired workers ask for their promised compensation and block all accesses to their previous workplaces
Argentina, Guaymallen: municipal workers chuck stuff at bank, forcing its closure, after discovering they hadn't been paid
Israel (Jerusalem): sanitation workers strike after 170 fired
Uganda (Luanda): public transport workers on strike for two weeks over unpaid salaries for 9 months
According to the article, 20 workers died due to lack of resources in the past 9 months…
Cambodia (Phnom Penh): fired bus drivers protest in front of their ex-employer's office (seems they were fired for trying to unionize)
30/12/15
France (Loire-Atlantique): several fires in juvenile prison
China (Gansu): riots after girl's suicide because of shoplifting accusation by well-connected businessman; mayor beaten up
"The incident drew a crowd of around 1,000 local people who protested outside the supermarket, overturning police cars and beating up Jinchang's mayor Zhang Yinghua…Armed police were dispatched to disperse the crowd, sparking clashes with local people…"When they saw military vehicles driving to the scene, the people assembled there got angry, and a group of them stood in front of one vehicle, blocking its path," a local business owner surnamed Song said. He said the crowd had begun gathering outside the supermarket on Tuesday, and swelled again to its peak of several thousand on Wednesday after being dispersed the day before….The municipal authorities had dispatched some 1,000 riot police to the scene, prompting protesters to throw things at them, attack them, and overturn their vehicles. "There was fighting, and some people overturned police vehicles, because the crowd was really very angry," Song said…They detained around a dozen people … and [the crowd] pretty much smashed up all of the police vehicles," A Cai said. "I saw 10 or more vehicles with broken glass."
China has had a 13-fold increase in labor disputes and protests in the last 5 years – http://qz.com/580553/china-is-cracking-down-on-labor-rights-ngos-in-its-worlds-factory-with-a-state-media-smear-campaign/
28/12/15
Protests and road blockades across dozens of American cities (New York, Cleveland, Philadelphia, Bloomington (IN), Memphis, Burlington, Boston, Cincinnati, Colorado Springs, St. Petersburg (FL), Detroit, among others) in response to 12 year old Tamir Rice's murderer getting off without charges.
26/12/15
Burma: protests in several cities against Thai court verdict to sentence to death two Burmese for killing of two British citizens
There might be nationalistic reasons for these protests (at the time of political transition in Burma), but what's interesting is the solidarity shown with Burmese migrants suffering all kinds of abuses in Thailand (killings, rapes, exploitation for extremely low salaries, beatings and discrimination, extreme sentences for minor offenses, etc.).
USA (Kentucky and New Jersey): Massive flash mobs descend on shopping malls, which right-wing blog calls part of the "Ferguson Effect." And in New Jersey:  http://www.nj.com/gloucester-county/index.ssf/2015/12/uproar_involving_500_people_at_mall_were_juveniles.html
U.S. (Indiana) – Hoosier Teenagers Fighting For Their Right to PARRRRTY
25/12/15
Mexico City : Demonstration for the 43 disappeared students of Ayotzinapa…from the Cathedral to the Basilica of Our Lady of Guadalupe. After several attempts to meet the Pope (see for example here : http://www.latina.com/lifestyle/news/moms-ayotzinapa-students-pilgrimage-meet-pope), this march to one of the most important pilgrimage sites of Catholicism illustrates some ideological aspects (and limitations) of these protests.
France (Corsica): Racist mob sacks Muslim prayer hall after estate ambushers injure fire fighters
"After an attack on firefighters on a poor estate, locals march to several poor estates against Arab immigrants, chant racist slogans and make threats."
Since the arrival of Arab migrants in Corsica in the early 60's (as field workers), the island has been plagued by virulent anti-Arab racism. It is the only place in France where Arab migrants and French youth of immigrant origin truly fear the local population, and massively suffer discrimination of different types openly from locals.
This time, some members of the local Corsican population clearly showed support for the police and the firefighters after a small incident, kind of contradictory knowing that the Corsican mentality is usually pretty critical of the French authorities on the island : which doesn't mean it is opposed to authority as a whole. Corsican traditions are related to the local clans families and individuals belong to, which determine their behaviours and social relationships.
These traditions have always been a good base for the constitution of mafia clans, and never-ending rivalries make the island the most murderous region of Western Europe. This clan logic tends to lean towards the infiltration of institutions and small arrangements with the system through informal relations.
Much more could be written about the links between the French national State and local Corsican representatives. France always found ways to deal with them ever since Corsica became French, especially by enrolling Corsicans in the military, repressive forces (screws, etc.) and the administration. French governments have always made deals with Corsican clans, for example those close to Charles Pasqua, a rightist politicin close to De Gaulle, who created the SAC  (https://en.wikipedia.org/wiki/Service_d%27Action_Civique), a paramilitary organization who did dirty work against the Algerian independentist movement. Just like at the times of the French connection (sometimes called the Corsican connection), the French State never hesitated to use the mafia (involving lots of Corsican gangsters) for its dirty work: against the Jewish population during the Nazi occupation, against the worker's movement in Marseille in the 1950's, and against the Algerians through the SAC in the 60's.
The clan logic perverts society so much that social movements are, generally speaking,  much less radical than in the rest of France, though the whole island is poverty-stricken. Proletarian solidarity through common struggles is of course not widespread, as these actions against a very marginalized population indicate.
Nevertheless, sometimes class struggle erupts in significant expressions of solidarity.  For instance, at the end of September 2005 in Corsica and in Marseille on the mainland, there was  a mini-insurrection over privatisation and redundancies. A few sporadic mini-barricades went  up around Marseille and in Bastia in Corsica there were some small burning obstacles here and there on and off all over the place for at least  48 hours, trucks chucked in the harbour, some riot cops pelted with stones, a blockade of the two ports, solidarity strikes with dockers and petrol refineries coming out in support of the ferrrymen sailors threatened with privatisation – 40 of whom hijacked (unarmed) a massive ferry ship, a virtual mutiny, and took it to Corsica where it was intercepted by three French navy ships, helicopters and armed masked French soldiers, arresting them all but holding only 4 of them after demonstrations of solidarity with them in Marseille and Corsica. The whole island was blockaded, because the airline workers   came out on strike in solidarity, and because nothing is getting into or leaving Marseille. Workers in Corsica held the Town Hall under siege, occupying it, until the last remaining sailors arrested for the mutiny were released, which happened the evening of September 30th 2005.  The word "Freedom" in Corsican was rapidly painted onto banners, whilst the Corsican nationalists clearly tried to represent this movement even though workers on mainland France were also at the centre of things. The "Chamber of Commerce", a state enterprise that deals with the bureaucracy of businesses, has also been briefly blockaded.
A terrorist rocket attack on the Prefecture in Ajaccio  led to workers to put up banners saying "Terrorists – No! Workers – Yes!" and even a politician said the terrorist attack (in which, by chance, no-one was hurt) was an attempt to distract from the events, though he didn't say whether he thought it was the French State or Corsican nationalists who wanted to do the distracting. Meanwhile, de Villepin, the P.M. at that time, deliberately connected the terrorist attack with the unarmed mutiny, saying they were equally horrifying (though clearly, the mutiny was far more horrifying for him and his class). On the evening of 1st October 2005, after the riot cops had managed to get rid of the blockade of the ports (Marseille, however, remaining totally blocked), mini-riots of a few hundred youths attacking the riot cops, erupted in Bastia and Ajaccio (the main port towns of the island), whilst a Customs boat was severely damaged by a small explosive device (no-one hurt).
Some mass media info on the recent changes in Corsica's status :
http://www.independent.co.uk/news/world/europe/corsica-islands-new-nationalist-government-sparks-concern-in-paris-amid-renewed-calls-for-a6787016.html " [Pi & SF]
24/12/15
Belgium (Mons): prison screws on strike, some of their cars vandalized by some masked attackers
India, Assam: cop stoned to death as villagers rise up against cops trying to arrest thief
23/12/15
Mexico (San Isidro Los Laureles, State of Chiapas): Indigenous villagers take over land that was expropriated from them and turned into private property.
Burma (Kachin State): jade miners protest after detention by local army
After the recent elections, some armed groups still operate in Burmese predominantly indigenous regions, fighting for independence or autonomy. Most of these armies depend on mining or drug trafficking revenues. As can be seen here, the interests of these armed groups contradict those of exploited proletarians.
South Africa, Johannesburg: refuse collection workers win wildcat strike
22/12/15
Burma (Sagaing): police open fire and kill woman in protest against copper mining project
The project is managed by the Chinese Zanbao firm, also operating in African regions such as Katanga.
Mexico (Tlalnepantla, Mexico City suburb): Employees of public administration protest to get unpaid salaries. After the arrests of three, the protest grow. Protesters denounce the fact that political leaders declared there's not enough money for salaries, while they received huge amounts of money for themselves during the year
Canada (Montreal): Attack on yuppie business with paint-filled fire extinguisher.
Argentina, Buenos Aires: after 5 days of blocking roads to airport, sacked poultry workers demanding unpaid wages and bonuses are attacked by state with rubber bullets, tear gas and water cannon
http://www.romandie.com/news/Argentine-les-forces-de-lordre-dispersent-les-manifestants-qui-bloquaient-un-aeroport/661076.rom
Video here: https://www.youtube.com/watch?v=JSncY8GBLBI
In English here: http://news.yahoo.com/argentina-violent-clashes-during-protest-poultry-workers-201231630.html
Chile, Santiago: unauthorised student march against increased fees; cops pelted with stones, water cannons used, state closes roads around the university
Nepal, Katmandu: locals attack gas refilling plant over broken promises
UK (Manchester): report that the riot squad have been called out  to Strangeways prison nine times in less than nine months
Cambodia (Bavet, Svay Rieng province): the movement in the garment factories continues; protesters attack police, one fire truck completelely destroyed and police "almost lost control"
"Nevertheless, Tharith said the volatile situation was calming down, with only two factories reporting strikes, down from the 39 last Thursday."
More here http://www.khmertimeskh.com/news/19004/bavet-worker-violence-flares-again/
"Violence flared again yesterday at long-running protests for higher wages in the town of Bavet in Svay Rieng province, leaving three police and military police officers injured in fresh clashes with workers. Police used water cannons for the second straight day to break up the demonstrations. Two fire trucks were also damaged …"The workers threw rocks at the police and military police who tried to break up their protest," said the official, who asked not to be named. "They were wearing helmets, but the rocks broke them." He said the injuries were minor…."When they started throwing stones at us, we decided to use water cannons to disperse them," he said, "but they moved forward and destroyed two fire trucks, although the drivers escaped.""
21/12/15
UK: report on how riot squads have been called out almost every day this year to beat the shit out of prisoners
Cambodia (Bavet, Svay Rieng province): mass arrests during strike and protests in garment factories – 8,000 still on strike after 6 days
Turkey: Anarchist prisoner Osman Evcan resisted and has won his fight again!
UK (London): 3rd "riot" in 6 months in Manor House area
19/12/15
France (Paris): some Autolib (electric car sharing service) vehicles burnt
The service is operated by the multinational Bolloré group, involved not only the gentrification projects in Paris (against which these attacks were organized) but also in the exploitation of natural resources in the ex-french colonies. The company currently is currently involved in a 2,700km railway network project accross several countries of Central Africa.
India,  Visakhapatnam: students go on rampage after callous authorities and lecturers ignore plight of dying student
France (Nantes): youths try to invade cop christmas party in order to eat and drink for free; cop car damaged by stones, 2 very young teenagers arrested
Indonesia, North Kalimantan:  governor's office burnt and several cars destroyed in riot over election results
A riot over election results is always dubious, but I've put this here just in case anyone else can provide more detail about a part of the world with which I am unfamiliar [SF]
Switzerland (Geneva): unauthorised demo paints the town, red, black, yellow and orange
"An unauthorized demonstration against budget cuts in culture erupted Saturday night in Geneva, where several shops, banks and buildings were vandalized, police said Sunday. Several luxury shops and banks had their windows broken or covered in graffiti, and the facade of the Grand Theatre from the 19th century was smeared with black paint and splashes of different colors.
Amongst the graffiti one could read "The rich are ugly", "Let's eat the rich" and "fight against that cop in your head" … "The damage is considerable," said a spokesman for Geneva police, Jean-Philippe Brandt. This wild event was convened on social networks to protest against budget cuts targeting alternative culture sites while large organizations are subsidized.
"We take to the street because the future of our party venues and culture is threatened," read the slogan of the protesters,  intending to denounce the fact that "the State of Geneva subsidizes overwhelmingly The Grand Theatre, a place of bourgeois culture charging inaccessible rates to most people". Police intervened to block the advance of the demonstrators but made no arrests."
Mexico, Tlalnepantla (Mexico City suburb): Person shot by cops at fundraiser for bike collective in occupied space
18/12/15
South Africa, Johannesburg:  another wildcat refuse collectors' strike 
Israel/Palestine: Israeli troops teargas Father Christmas
France (Montpellier): a few disturbances in poor neighborhood (bins set on fire as well as part of building)
17/12/15
Mexico (Acapulco, State of Guerrero): retired teachers and education workers block two avenues of Acapulco and demand their wages
Mexico (State of Aguascalientes, in the center-north) : Normal School students occupy Education Institute in State Capital
Mexico (State of Michoacán) : the 22 female Normal School students arrested on the 7th are freed. See our previous entry for more info
Mexico (State of Chiapas) : Chole indigenous villagers expels municipal authorities from a village, in order to protect the status of their lands
These vilagers adhere to the Zapatistas' Declaration of the Selva Lancandona's principles. They published a communique explaining their action and the status of their lands since 1909. A general assembly of the villagers decided that the local town hall ("palacio municipal") should be destroyed.
Another link here :
http://desinformemonos.org.mx/pueblo-chol-expulsa-a-autoridades-del-ayuntamiento-de-su-territorio/
And video here: https://www.youtube.com/watch?v=-9o8W4iae-I&feature=youtu.be
[Pi]
Cambodia (Bavet, Svay Rieng province, southeast) : Massive protest over minimum wage continues, some damage caused.
30,000 workers walked out to demand a $20 rise in salaries. The article contains extremely interesting information, namely this:
"Also, no union has claimed leadership of the protests," he added. Sok Khemara, a local representative of the Collective Union of Movement of Workers, confirmed yesterday that no union was responsible for the protest", which is very uncommon in Cambodia, where institutional unions usually have the lead in protests and strikes. It might indicate that people are getting tired of their unions' leaders' negotiations with the States, especially when they prove their inefficiency to obtain agreements for such miserable salaries as $148.  It seems there was also a surge of breaking factory windows and
destroying property.
France (Beauvais) : prisoners' destroy their prison before their transfer
France (Mantes-la-ville) : graffiti against the National Front after the FN victory in this municipality
Ethiopia: Truck burnt, security forces shot at, agribusiness 'looted and destroyed' in anti-development movement
France, Yvelines (Mantes-la-Jolie): cops play with their new toys (Cougar grenade launchers) as a dozen youths attack them with stones etc.
U.S. (San Francisco, CA): Ongoing graffiti campaign against new real estate agencies, gentrification projects, and the SFPD. 
16/12/15
France, Lille: EDF (France's electricity suppplier)  tagged with: "neither nuclear nor CO2", and a BNP bank tagged with "collaborator with ecological disaster"
France (Eure): 2 cops stoned and teargassed by about 15 youths; cop car damaged
France (Draguignan): police commissioner injured during forbidden pro-Kurd demo
Ethiopia: Massive, ongoing protests and riots in response to state's proposal to develop traditional Oromo lands. At least one mayor physically evicted from his office. Dozens reported to have killed by police so far. Website of National Defense Forces reported to have been hacked.
Greece (Maroussi, Athens agglomeration) : 7 arrested after anarchists' claimed responsability for raid on the offices of Teiresias, the electronic database for insolvent borrowers
15/12/15
Romania, Bucharest: shepherds refusing to be fleeced are teargassed  trying to storm Parliament
"Grigore Popa, 68, waved a big stick and shouted: "I was born among the sheep and we will cut lawmakers' heads off."
France (Besancon) : 20 offices vandalized in business building
14/12/15
'Opposition supporters say more than 30 people have been killed in three weeks of protests in the Oromia region around the capital, Addis Ababa.'
The people  mobilized  to spread a pleasant local recipe around the town hall :   fish and pig blood, food residues, rice wine, sand, ash, chili and fake money. The spell is supposed to make the officials lose face , and incidentally cause accidental death. Despite the usual monstrous repression of the authorities,  it will take conscious actions to complement these mystical threats however  legitimate they are, otherwise the battle is likely to be lost again. In previous mobilizations, repression was severe: several  women, including one  75-year-old , being given prison  sentences (article in French:
http://tempsreel.nouvelobs.com/immobilier/monde/20141113.OBS4930/cambodge-un-an-de-prison-pour-avoir-manifeste-contre-un-projet-immobilier.html
); likewise the severity of the consequences of the eviction (one article 
http://www.cambodge-post.com/des-cambodgiennes-reduites-a-vendre-leurs-cheveux-pour-survivre/
refers to the case of women forced to sell their hair after being kicked out of their homes and their jobs, and another in English
http://www.rfa.org/english/news/cambodia/borei-keila-women-03142014182502.html
, speaks of some having to resort to prostitution). (Notes by Pi).
Cambodia (Poipet, Banteay Meanchey Province, northwest): the organizer of a demonstration against  evictions is arrested
(Source: English). About fifty people from this miserable town, located in one of the regions  controlled by the Khmer Rouge for the longest time, living mainly from cross-border trade with Thailand, marched through the streets of the town with a decapitated  figure. This was the twelfth illegal demonstration of this kind conducted by the inhabitants threatened with eviction as part of a railway line project.
We  already wrote a note about the troubles in the same town: you can see it in the entry for  25th May 2015 (notes by Pi).
13/12/15
France (Osny) : 8 prison vans completely burnt 
Several attacks against screws happened in this prison this year, and there was a collective movement of prisoners in August.
UK (Winchester): prison riot – 5 screws (plus a nurse) injured
France (Caen): 7 or 8 youths battle the cops
France (Avignon): a dozen youths surround cops trying to arrest someone for giving them the finger and smash the cops' car
Brazil: thousands demonstrate demanding impeachment of president. 'The turnout hit a total of about 83,000 across 87 cities, the Globo G1 news website cited police as saying. Organizers disputed that figure, saying that 407,000 had marched in protest. Either way, the figures are sharply lower than the 2.4 million anti-Rousseff marchers that took to the streets on March 15, or the nearly 900,000 that marched in mid-August.'
Mexico, State of Michoacán : supporters block road in Tierra Caliente region for the liberation of last week's arrested normal school students. The 30 men who were arrested are now detained in Hermosillo (it couldn't be any further), and will have to stay in jail and face charges. The 22 women are detained in the State of Morelos.
(according to : http://www.proceso.com.mx/?p=423424)
Germany (Leipzig): demos against fascists followed by clashes.
And in English :  http://www.foxnews.com/world/2015/12/13/6-german-police-officers-injured-in-clash-with-left-wing-protesters/
"Leipzig police say 69 officers (!) have been injured in clashes with rioting leftwing protesters and that they had to use tear gas and water cannons to disperse the group.  Some 50 police cars were also damaged in the riots Saturday evening"
And in Hamburg:  Facebook offices vandalised
"Vandals have damaged the entrance to a building in Hamburg that houses the offices of social network Facebook, smashing glass, throwing paint and spraying "Facebook dislike" on a wall"
12/12/15
France (Paris) : anti-COP21 demo, a few ATMs attacked 
France (Caen) : demo against the State of emergency, some protesters take a few blows from forces of order
U.S. (San Francisco): High school/middle school walkouts in response to the execution of Mario Woods. Students surrounded police car and shouted "Fuck the Police!"
Chicago, IL — Subway graffiti in response to the video release of Laquan McDonald's execution.
France, Lunel: firefighters attacked with stones on poor estate
Greece: hunger and medication strike in Greece infamous Korydallos prison, where many anarchists are held.
Algeria (Rouiba): Vietnamese workers on strike since 12/12 against Chinese employer, demanding to go back home.
U.S. (Indianapolis): Police car smashed in small clashes after cops kill 25-year old Christopher Goodlow.
U.S. (Chicago): Demonstrators throw rocks, among other things, at local politicians house.  Three arrested and charged with "mob action"
France (Rennes): march for man shot 5 times and killed by police 10 days ago
see photos here : https://www.facebook.com/enrage.e.s.org/posts/479656678873089
France (St Denis): TV truck broadcasting COP21 is burnt in front of Paris' biggest stadium
12/12/15:
France, Seine-St-Denis (outskirts of Paris): scandal as 2 national flags are liberated from WW1 memorial and burnt, anti-nation slogans shouted, after recent forced closure of nearby mosque as part of state of emergency; 5 young adolescents arrested afterwards for "outrage"
Note: This article states that the burning of the flags had nothing to do with the closure  of the mosque, but then they would say that. It might not have, obviously – there's no proof either way.  Of course, this flag-burning  could have been done by youths influenced by fascist Islamic fundamentalists – but more likely just by anyone disgusted by the rise of nationalism in France, this being just 24 hours before the regional elections, which Le Pen's Front National failed to win, though getting 28% of the vote and at least 6.6 million votes.
Marine Le Pen's got a better image than her torturer dad – wears jeans and good at demagogic populism and recuperative rhetoric in a far less ranty style. In 2011 she  said, there was discontent and "a desire for revolution in France" similar to the revolts in the Arab world. There was a particularly nauseatingly sycophantic interview with the daughter of the torturer in The Guardian of March 22 2011.
Some quotes ( from the 2011 interview) are interesting to show their relation with what's happening today: 'Le Pen's verdict is that France is on the brink of a revolution to rival that of the Arab world. Social injustice, people who can't make ends meet, a growing gap between rich and poor, and overwhelming disappointment with president Nicolas Sarkozy means France hasn't been this angry since the storming of the Bastille. "There isn't that much difference between the French people and the Tunisian people or Egyptian people," she said. "The French want justice – political justice, democratic justice, social justice – they want an end to double standards and they want some ethics from their political class. The French are suffering. They are permanently being asked to make sacrifices and yet there's a political-financial caste that is reaping all the benefits of the economic situation and awarding itself endless privileges.
"We're in a pre-revolutionary situation here. What's happening today resembles what was happening before the French revolution. I think the desire for a revolution like those on the other side of the Mediterranean exists here. Of course, I'm appealing for a democratic revolution – and that's also perhaps the role of the Front National – for a peaceful revolution by the ballot box, a patriotic revolution."…How am I party of the extreme right? … I don't think that our propositions are extreme propositions, whatever the subject." Intellectuals love to psychoanalyse the "raucous, tomboy" Le Pen, who looks uncannily like her father, with a similar gravely, cigarette-inflected voice, and whose trademark on TV is a beaming grin that infuriates opponents….Le Pen's following is the biggest among the working class, but she is attracting the lower middle-class and the women's vote. She is a feminist and long-time single mother heading a notoriously male-dominated, traditionalist party. But she feels this works in her favour. "I've always thought the French people are the least macho in the world," she smiles.' [SF]
11/12/15
South Africa, Pietermaritzberg: more than 50 municipal workers arrested in continuing wildcat strike 
Mexico (Ciudad Juárez, State of Chihuahua) : after protests at Lexmark factory, 90 workers fired.
France (Paris): a thief steals one million euros worth of jewelry in one of Paris' most "secured" areas during state of emergency !
10/12/15
France (Dieppe): migrants clash with forces of order after trying to get on boat to England
France (Ouans): school's out as arsonist critiques conformist notions of "education"
China (Wuhan): clashes with state over waste dump
"The demonstrators overturned a police car and scuffled with officers…Four residents told Reuters by telephone that the protests had been going on for at least four days"
9/12/15
South Africa, Gauteng: businesses attacked and looted after hostel occupation evicted… Pietermaritzburg: city crippled  by intensified municipal worker strike 'The workers, who are demanding permanent employment, have camped day and night at the Doull Road depot since Monday. Temporary workers from the water, sanitation and electricity departments barricaded the depot with burning tyres and piles of rubbish resulting in permanent workers unable to attend work.'
Mexico (State of Chiapas) : After 50,000 teachers and supporters' march, clashes erupt – 4 police officers taken hostages by the protesters, who exhibit one of them publicly. Also, a lot of anti-riot equipment seized, a police vehicle burnt, etc. – They later asked for the liberation of six of their comrades arrested in exchange for the hostages, and obtained it.
 http://www.bernama.com/bernama/v8/wn/newsworld.php?id=1198304
"A protest in southeastern Mexico against a new policy requiring teacher evaluations left one teacher dead…Early Tuesday, more than 3,000 members of the militant CNTE teachers union mobilized to block an intersection in Ocozocoautla, near the state capital of Tuxtla Gutierrez…. the CNTE said Gemayel died after a police truck ran over him."
and also this
http://www.telesurtv.net/english/news/Clashes-Between-Police-and-Teachers-in-Mexico-Leave-1-Dead-20151209-0028.html
"The teachers reportedly encountered thousands of state and federal police wearing full riot gear as they marched along the highway. It is unclear how the clashes began, but police threw tear gas at the protesters who then returned the fire throwing rocks at the officials. Video captured of the event by two nearby security cameras, and released by local Mexican media, showed violent clashes between the two sides, with minor explosions, and at one point a truck was lit on fire.  One teacher was killed in the crossfire, which lasted some two and a half hours, according to local media reports. The highway was left blocked off for at least 10 hours, causing massive traffic issues."
(State of Michoacán) : 20 local town halls taken over by Teacher's movement after the arrests of their comrades (who were transfered to prisons in other States) [Pi]
Madagascar, Toamasina: after strikers demanding unpaid wages prevent mayor from going to this office for several weeks, mayor uses his cops to get heavy: 10 strikers hospitalised, 1 in serious condition
France (Albi): cops complain about recurrent "ambushes with bonfires of rubbish just to do battle with the police" as they get stoned twice within a few hours
U.S. (Atlanta):  Rash of oppositional graffiti roils city. Two large swastikas with a picture that resembles Donald Trump at its center were found around Atlanta Wednesday morning.
And anti-police graffiti on brand-new grocery store in a black proletarian district: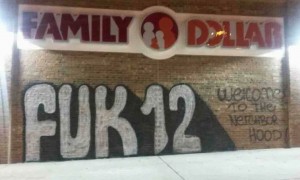 8/12/15
Mexico (Ciudad Juárez, Chihuahua State) : Lexmark plant workers on strike over salaries, conditions of work (prices of food at canteen – female sexually harrassed at work, lack or protection equipments). … (State of Mexico) : Mexico suburb locals block highway to protest against lack of water
Cambodia : Protests over conditions break out at two garment factories
India, Uttar Pradesh: migrant workers riot after migrant is lynched by local youths "The protesters set vehicles ablaze, including three police vans and jeeps, and clashed with police for nearly three hours. The police lobbed 34 tear gas shells to disperse the crowd….The group of migrants, mostly autorickshaw drivers, blocked traffic on a bridge connecting Vapi and the Union Territory of Silvassa by placing the auto driver's body on the bridge for nearly two hours."
Eire, Dublin: anti-austerity protesters briefly occupy Bank Of Ireland
United States, Yucca Valley, CA – Teenagers riot and trash their school "When deputies stepped outside the classroom to speak with the teacher, students forcefully slammed the interior classroom door shut locking it, preventing deputies and school staff from entering the classroom. While deputies were trying to enter, the students vandalized the classroom by knocking over bookshelves, throwing desks, chairs, and trash cans."
Germany: Hunters outfoxed – prisoners freed – cages burnt out
France, Niort:  radical kept in cell for 12 hours and then placed on house arrest for 4 days without any charge whatsoever
7/12/15:
Mexico (Michoacán State) : normal school students brutally repressed after occupation of toll booth (for which they had seized several buses), at least 50 arrested This report (http://www.proceso.com.mx/?p=422866) says there were 72 arrested…while some mention even more. A video of the clashes is available on this facebook page… and some pictures of the brutal repression here… Some of their comrades reacted by burning tyres in front of the City hall in Michoacán state's capital, Morelia (see photos here)… Meanwhile, in Guerrero State, some parents of the 43 missing students of Ayotzinapa meet indigenous communities of Guerrero mountains and ask them to join their struggle (these families often send their children to the normal schools presently involved in the struggle)… In a normal school of northern Mexico's Zacatecas State, students have been on strike for one week to protect against government's lack of support for poor students... In the state of Puebla, delegates of 20 indigenous communities met in Cuetzalán and agreed to oppose local mining, fracking and hydroelectrical projects … And in southern Mexico's Oaxaca state, 6,200 education workers march to Oaxaca state capital's main square (zócalo) and block highway to get their unpaid salaries… Chiapas : clashes between Teachers and police in Ocozocoautla (Pi)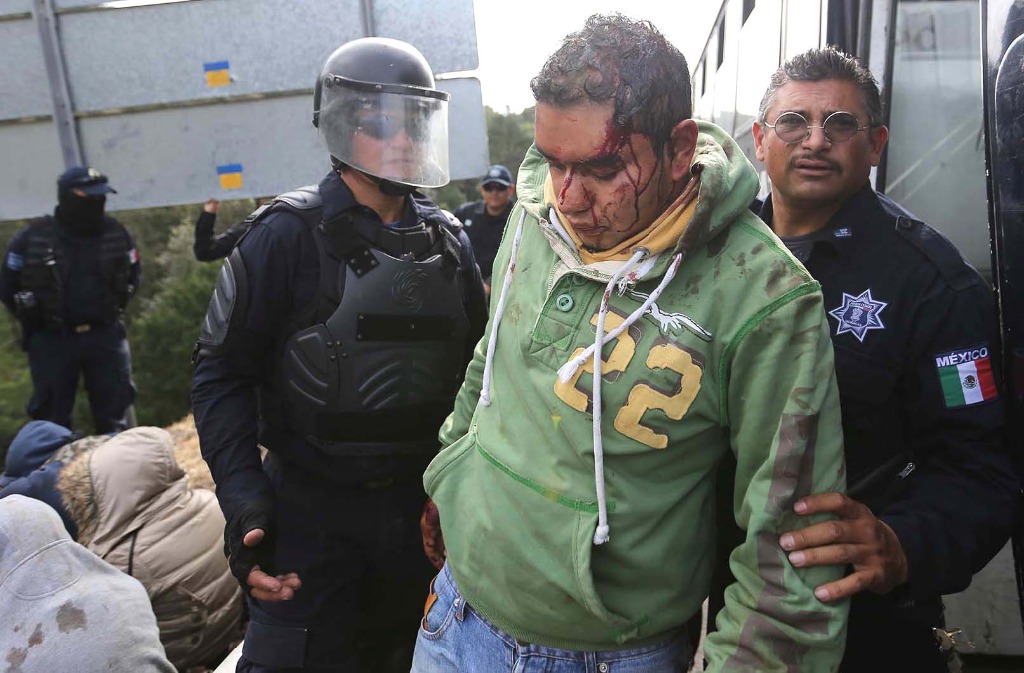 Brave pigs protect the children of Mexico from evil: Michoacan, 7 December 2015
South Africa, Pietermaritzburg: About a hundred municipality workers on temporary contracts downed their tools and protested outside the municipal depo yesterday demanding permanent positions.
Nepal, Makanwanpur: cops stoned, not wrecked "Locals obstructed a team of police, who were set on to destroy the cannabis farm, attacking with stones and firing guns…In the counterattack, police had fired 17 rounds of bullets while the opposite side had fired 15-20 rounds of bullets"
6/12/15:
Greece, Athens: anarchists v. cops on anniversary of cop murder of Alexis Grigoropoulos
France (Toulouse): Arson against five electricity company vehicles, in response to COP21 negotiations.
South Africa, Limpopo: residents burn dozens of vehicles in conflict with mine 'Disgruntled residents of Steelpoort, Limpopo, reportedly said they would burn cars belonging to "white people" as a dispute with mining companies over employment issues continued… Protest leader Skhalo Motubatse reportedly said burning the vehicles was in an effort to disturb production at the mines. "If they don't remove the mayor, we are going back to the streets and will cause more damage. We are burning trucks and cars belonging to white people. There is no black people's car that were burnt, it's only because whites don't participate in the protest.' According to one report, 11  Trucks, 4 Buses and 3 Cars went up in flames.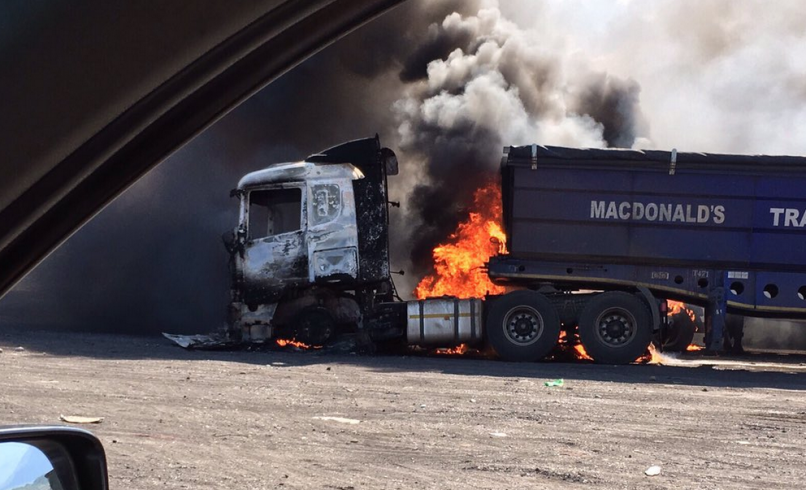 old MacDonald's truck got torched, heeya heeya ho: Steelport proles yell 'You're fired!' at permanent unemployment
This interesting article from July provides some historical context to the present movement, which seems to be a continuation of what is described therein: 'For a long time, the African National Congress (ANC) government has claimed to be the buffer between the rich and the poor. However, this is no longer the case. If you do not believe me, please ask Mineral Resources Minister Ngoako Ramatlhodi… The residents were demanding jobs from the local mines. By the end of Ramatlhodi's first meeting with the mine bosses and community representatives at the Greater Tubatse Local Municipality chambers, it was clear the angry masses were dictating the terms. According to the local Steelburger newspaper, the meeting was brought to a standstill when the minister told the crowd that he did not come to Tubatse to be disrespected. "I don't have work opportunities in my pocket; I never came here to be disrespected by you," he said. The residents started hurling vulgar words at Ramatlhodi and were escorted out of the council chambers by a strong police presence. The final word from the residents was that "the unrest will stop" when people were employed. Otherwise, there would be no peace. At the second meeting the next day, Ramatlhodi and the mine bosses realised that they had to play by rules that were not written in the boardrooms but on the streets. Suddenly, 239 job opportunities were available in the six mines. Also, each mine agreed to provide 500 learnerships and to train 10 artisans. So up to 4,000 people have, by use of force, been taken off the streets into some form of employment. Who said violent protests do not solve anything? The angry mobs won the day and the protests stopped.' [SK]
5/12/15:
Guinea, Siguiri: cops fire live rounds and teargas at indegenous who refuse to participate in census
Italy, Venice: anarchists run riot
South Korea, Seoul: despite previous threat to arrest everyone demonstrating, demo goes ahead without any clashes This article does not mention the previous police threat, so see entry and link for 2/12/15. 
Greece (Korydallos prison): anarchist inmates drop banner inside Korydallos prison
France, La Reunion (department in Indian Ocean): annex of town hall forced to close after vandalism
4/12/15:
Russia, Moscow: truckdrivers' blockade paralyses city in movement against tax designed to enrich a few oligarchs"We're people who've been working all our lives. We never thought much about politics at all, but now we're being forced to"…After days of evading police checkpoints and alleged official measures to intimidate them into cancelling their protest, scores of unidentified large trucks blocked Moscow's outer ring road, paralyzing the city's main artery. Similar protests have been held in other big cities since the tax took effect a month ago, but by blockading streets in the capital the truckers are deepening a confrontation with Putin's government. "
France, Nantes: cops unleash their fascistic mentality against peaceful demonstration in opposition to state of emergency and its house arrests, etc. 'A demonstration "against the State of Emergency and COP21" was held in the evening … It was above all to avoid abandoning the streets after the ban on the Paris demonstration and to protest against the house arrests of activists and the administrative raids of residences targeted at people who are openly Muslim. The rally was also to enable people to get together and to break the isolation and fear. Shortly after 6pm, the small gathering takes shape… The police are not visible, the atmosphere is calm. Around 6.45 p.m., the small procession of about 150 people rushed along letting off a few smoke bombs. People of all ages are present at the event. For some, this is their first demonstration. Their faces are not hidden, the atmosphere is clearly not on the offensive, nor aiming for conflict. The slogan "State of Emergency – police state, they will not remove us, the right to demonstrate" is passionately taken up. After barely a hundred meters, the procession meets the cars and motorcycles of the municipal police. There follows a confused exchange. [SF note: this refers to the arrest of a man who was begging, and not part of the demo; some people apparently went to his rescue]. Municipal cops very quickly and massively use tear gas cannisters and baton some of the demonstrators. The scene that follows is staggering…. a real outburst of police violence. Everything happens in less than 5 minutes. A brigade of the BAC advances from the heart of the procession, batons forward. These plainclothes police were therefore hidden at the back of the group from the very beginning. One protester is wrestled to the ground and beaten, while a woman of about 50 crying "no violence! " is also thrown to the ground by police and thrown against a window of Galleries Lafayette. They receive a few blows. The arrested protester is well and truly beaten up on the ground. He is thrown into the municipal police car, his face burned by the gas and twisted in pain. The cops continue to pump their tear gas into the air so as to saturate the street with irritant spray, even though the protesters are more than ten meters away from them. The air is unbreathable. Police trucks arrive immediately. The Grand Chief of Police – the Departmental Director of Public Security – is present in the middle of his men. The attack, then, had been premeditated. He unleashes the charge. Incredible. Policemen in armour, helmets and shields run at full speed, screaming in total confusion, striking at all those within their reach. A couple of passers-by receive blows, customers seated at a terrace are frightened. A protester… is evacuated to hospital with a large wound in his skull. Outraged passers-by intervene. A man dressed in a suit, leaving the Decré store, interposes himself in front of a policeman who unrelentingly persists with beating the young woman on the ground with his baton. Everything goes very fast. Meanwhile, a municipal police vehicle rushes at full speed at a group of demonstrators who drew aside at the last minute, narrowly avoiding being crushed. When starting, the car had already hit a person lying handcuffed on the ground. The injured is evacuated to the hospital, unconscious….' Normally I would not put up such a report here, in which the state displayed its inherent brutality in an overt manner without the least bit of resistance, because it tends to add to the sense of demoralisation. But it's necessary to show the nature of the state of emergency in France which is nowhere talked about in the international media (or, for that matter, in the mainstream media in France itself). I repeat what I've said elsewhere, which, though obvious, needs to be made explicitly once again: the state of emergency has not cracked down on concerts or sports events, the main scenes of carnage on November 13th, but has, outside of the raids on individuals and (to be fair, rather minimal for the moment) harrassment of anarchist bars etc, concentrated on demonstrations, one of the types of public events that ISIS has so far ignored in France (but not in Turkey, of course, where the state and ISIS are clearly complicit). It would be overstating the obvious to say why. [SF]
Ivory Coast, Cocody: violent confrontations between students and cops over expulsions of students; administration vehicles, including that of the University Secretary General, are wrecked
Greece, Athens: stones and molotovs against teargas
Mexico (Guerrero state) : the movement against teachers' evaluation continues some teachers march to local Congress, destroy local at the entrance, throw rocks against car and write graffiti… Mexico (Oaxaca State) : Leader of an indigenous Triqui indigenous organization killed. Organization members accuse a paramilitary force belonging to the historical mexican political party, the PRI. This happens after the two Triqui organizations : the MULT and the Ubisort agreed to have a peace agreement after years of rivalries. The Triqui are an indigenous people from the northwestern part of Oaxaca state, in the region where the Mixteco group is a majority. According to the report, more than 350 Triqui social fighters were killed in 34 years of local struggles. [Pi]
3/12/15:
Tunisia, Sfax: striking council workers block all entrances to town hall, preventing the mayor, amongst others, from entering "The protesters contest "bad working conditions, outdated hardware and insecure premises," according to a union source. The demonstration degenerated into clashes with police who used tear gas to disperse it. There were two or three wounded, according to eyewitnesses at the scene. The staff protest eventually blocked the road from the main Sfax downtown avenue (opposite the town hall) by using large trucks belonging to the council. According to the same source, in protest against the "muscular" intervention of the police, the regional office of the UGTT called for solidarity from  port staff and that of  SORETRAS to stop their activities today and to block access to the city with company buses."
US, Minneapolis: demonstrators briefly occupy City Hall "Some 300 protesters showed up at city hall, chanting "Shut it down! Shut it down!" and "No justice! No peace! Prosecute the police!" Some used a marker to leave a message on the windows of Wings Financial inside city hall — a business which lists on its website that it is a sponsor of the Minneapolis Police Officers Federation. Protesters then took their message outside through the streets of downtown Minneapolis, blocking off streets just as rush hour ended." Lots more info here
Greece, Athens: clashes with cops during 2nd general strike (video)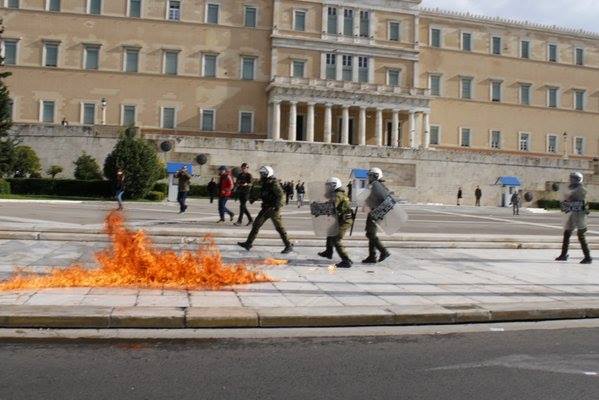 fire outside national assembly, Athens
2/12/15:
Germany (Brutzbach, Hessen) : Butzbach prisoners on hunger strike with list of demands
Algeria, Algiers (Dergana): riot as large area squatted & built on (shops, car parks as well as homes) over last 20 years or so is demolished with help of 150 cops "Barricades are erected. Bins are burned. The black smoke makes the air unbreathable. The security forces storm and charge the rioters. There is talk of two minor injuries among the rioters and ten arrests. …Suffocated by tear gas, Dergana schoolchildren  can barely make their way to join their parents at home. The sidewalks and pavement overflow with various debris, broken glass and projectiles thrown by rioters. …the operation, which also affects the whole community of Dergana, will take several days. Around the estate, youths…seize the goods scattered on the sidewalks. At 1 p.m. the rioters withdrew to an empty field pending the resumption of clashes."
Ghana, Volta region: cop kills protestor as residents fight salt company's takeover of indigenous land "Raymond Etse Zevor was shot at the back when police fired warning shots at the protesters. …The Keta Divisional Police Commander, Supt Alex Wowolo and three other officers were also injured by the protesters…The community is kicking against the takeover of a reserved concession of the Keta Lagoon for the indigenes by the Satelin Salt Company. Angry residents burnt two of the company's vehicles during the protest."
South Korea, Seoul: cops raid union in relation to 21 November riot…cops declare demo planned for Saturday 5th December illegal, threaten to arrest every participant
UK, Chelmsford: prison riot – 6 screws hospitalised
1/12/15:
Brazil, Sao Paulo: cops and high school students clash during movement against education reforms…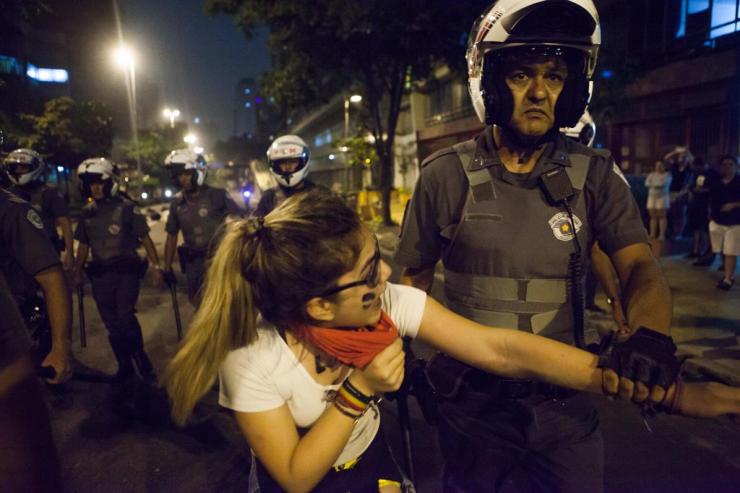 nice cop bravely faces dangerous hooligan
Report here about how 193  Sao Paulo education institutions have been occupied over the past weeks and how the government is "at war" with the students  "Under the state's "reorganization plan," 43 percent of the schools in Sao Paulo will offer only one of the three levels of education in the Brazilian system, instead of offering primary through secondary education all under the same roof. In Brazil, basic education is divided into three levels: two kinds of "elementary school" (first to fifth grade and then sixth to ninth grade) followed by a final three years of "high school." Currently, most public schools in São Paulo offer more than one level, but that changes under the new plan. Most importantly, the new policy results in the closure of 93 different schools across the state, and another thousand affected in less drastic ways. More than 300,000 students are expected to need to transfer to new schools. The governor of Sao Paulo, Geraldo Alckimin, promises that at least 66 of the vacant buildings will give way to public nurseries and technical colleges, while the others still have no definite fate. Students and activists who oppose "reorganization" claim the changes are simply budget cuts in disguise. 
Padula, the chief of staff of the state Secretariat of Education, and school directors…says, "We will fight until the end and we will win. We will demoralize and disqualify the movement." He accuses the occupation movement of being "political and partisan," and "deviating the focus from Brasilia."…Padula also says that the Governor asked the staff to visit the schools and try to "restart the classes," instructing officials to "give preference to the schools that are not too radicalized yet." Schools where the movement has taken a stronger hold, he says, should be merely isolated and dealt with gradually. …Finally, Padula calls on officials to wage an "information war" against the students. "When it comes to manipulation, it is studied, [and] it has method. What you need to do is to inform, inform, inform in an information war. Because that's how you will demobilize them."….
In the school Maria José, a few parents of students against the movement entered the campus in an attempt to end the occupation. On Facebook, students reported that the police backed the parents, and used pepper spray against occupiers, despite the absence of a judicial order to enter the school. One female student says she was assaulted by the school's own principal….Protests against the reorganization started as soon as the plan was announced, in the beginning of October. As the protests against the reorganization have gained momentum, students started to occupy their own schools, taking shifts with cleaning and cooking and the general maintenance of the schools, sometimes with the help from parents, teachers, and some social movements…. In one school, a whole room full of brand new school material was found, for the absolute surprise of the students, who claim the school's management was always complaining of lack of resources….students have shared a manual drafted in 2011 by secondary students in Chile, who that year occupied 700 schools in demonstrations for better public education."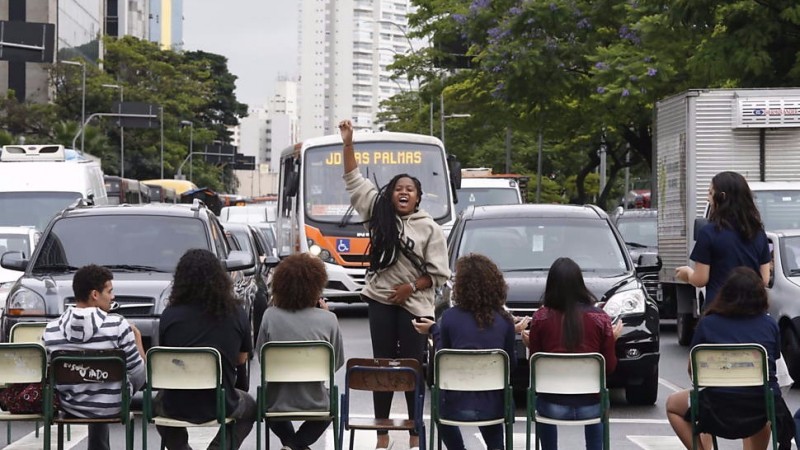 Sao-Paulo: street education 
Kenya, Busia: 16-yr-old killed by cops during resistance to unauthorised cop raid "…the shopkeeper demanded the officers' identification before the search…. members of the public… threatened to burn the officers' vehicle…. the crowd …barricaded the road and waited for the car carrying the Mastermind employees and police, and the GSU vehicle escorting them….They started stoning the two vehicles."
Morocco, Fez: cops stoned, barricades set up, cop van smashed as students demonstrate against show trial of fellow students (video here)
France, Calais: more confrontations between cops and migrants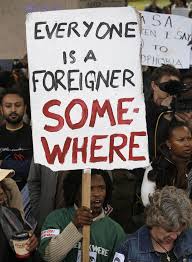 …Perpignan: 15 youths attack cops with stones as they begin impounding vehicle; 2 cop cars damaged
Zambia, Chipata: squatters riot against eviction order, burn tyres, block roads
Macedonia, Greek border: more clashes between refugees and cops
Mexico, Morelos state: clashes between informal food sellers and 200 anti-riot police members who came to destroy their stalls, 5 injured, including children
Algeria, Rouiba: riots as striking workers block main road to capital in protest against non-payment of wages since November 25th …cops throw tear gas into factory
South Africa, Johannesburg: 4 scabs shot by wildcat Pikitup waste disposal strikers (though cops say that it was the scabs who shot each other)…Contradictory reports on shooting has head of scab agency saying they were "willing to bring in another 15 000 security guards to protect the cleaning crews"