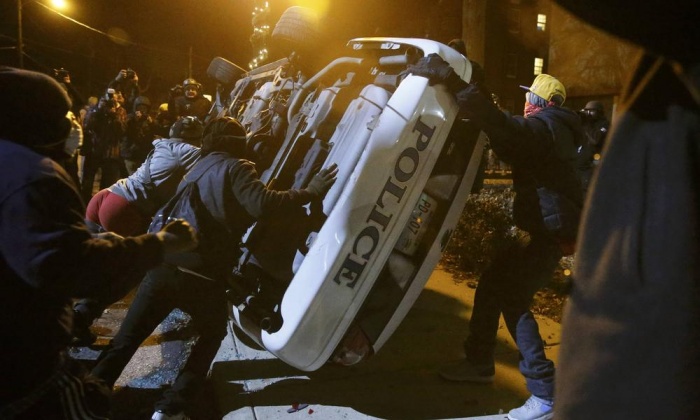 28/2/15:
France, Tarn: new clashes at dam construction site – ZADists build barricades 3 times, cops and  farmers destroy them 3 times

Algeria, Salah: riots against shale gas/fracking (video here and here)
UK, Swindon: riot cops pelted with missiles as they stop rave party (more here)…  Staffordshire: report on January prison riot
US, Nevada: Riot Of Passage youth detention centre; fires lit, 4 escape…New Jersey: protests against another killer cop
27/2/15:
India, Gujarat: cops attack women after women block main roads for hours in protest over lack of adequate drinking water
Poland, Siedlce: farmers blockade Moscow-Warsaw railroad in movement demanding State pork and milk subsidies
Italy, Pisa: right wing football fans v. left wing football fans turn against cops and stewards; stones, bottles, street furniture, paper bombs thrown – 3 cops and 2 stewards injured
26/2/15:
Peru, Loreto: indigenous Indians end month-long occupation of 14 oil wells 
Colombia, Cauca: indigenous Indians injure 3 cops in rifle & explosive attack after cops attempt to evict them occupying farm land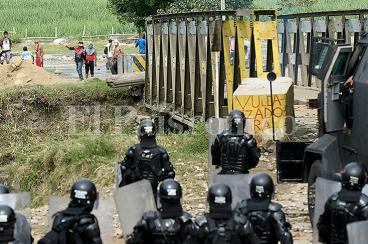 Corinto, Cauca, Colombia
Spain: 2nd day of student union strike sees demonstrations in 40 cities…Madrid: some minor clashes with cops after someone lights a fire "On the banners could be read slogans like: …"neither public nor private, but libertarian" 
Greece, Athens: anarchists get angry after fascists attack monument to anti-fascist musician "anarchists marched through the city center, broke one car, threw Molotov cocktail on the other, burned garbage bins, broke some shop windows…After the march, anarchists staged a protest against new agreement between Greece and the international creditors."…though this report claims it's only about the Syriza-Troika agreement (video here) (see also this, on privatisation in Greece) 

South Africa, Mpumalanga: cops kill 15 year old boy as service delivery protesters block roads with rocks and burning tyres, demanding clean water…Limpopo: roads blocked, bus burnt in protest demanding employment in mines and new road
25/2/15:
India, Andhra Praddesh: family's protest against death of student erupts into fury "The parents and relatives of the victim went berserk, thrashing the school Principal Naduri Bharati and several others, damaging furniture and computers on the school premises. Five school staffers were admitted in the local government hospital with grievous wounds. … Earlier, a large number of people from Ramaraogudem in Denduluru mandal, the victim's native place, blocked the traffic on the Kolkatta-Chennai National Highway-5 along with the body seeking deterrent action against the school authorities. The traffic on the busy highway came to a grinding halt for more than two hours."
Mexico, Acapulco: in demo about the 43 missing students, cops kill retired teacher after evicting protesters blocking airport"A new demonstration of hundreds of teachers to protest the death of the protester broke out Wednesday afternoon in the main square of the capital of Guerrero, Chilpancingo (200 km south), halfway between the capital and Acapulco, to block two of the four-lane highway linking Mexico City with the tourist port. The retired teacher Claudio Castillo, 65, died around 04:00 local time (1000 GMT) in a hospital "as a result of the beatings he suffered" in the street clash on Tuesday night with the police…The protest sparked an altercation that left seven policemen and five demonstrators  injured and a hundred arrested Tuesday night…The outcome of the protest involving  five hours of roadblocks, occurred around 20:00 local time, when protesters occupied one of the buses and … headed it full speed against the fence of about 500 police to break the fence preventing them from getting to the airport, according to Mexican television. …The police responded to the attack and began the eviction … with batons and tear gas; while teachers responded by smashing businesses and about 15 private cars.  After four months of protests, in which they have caused havoc and burned all the seats of power in Guerrero,  divisions amongst protesters are beginning to show –  between those seeking to escalate violent protest demonstrations and those who prefer to negotiate for results. A declaration of a section of the leadership issued last week, in which they pledged to stop vandalistic actions affecting the population – implying that this was the work of  "infiltrators" – showed the cracks between the protesters after some teachers  defended the use of molotov cocktails and clubs as "self-defense". (More here and here in English)
Brazil, Rio: report on occupation of Olympic golf course "Local people struggling with intermittent water supplies in the midst of a severe drought have also expressed irritation at the liberal use of sprinklers to keep the new course green. Every day, 5m litres of water are pumped over the R$60m (£13.7m) course….the mayor of Rio, Eduardo Paes, won approval to site the course inside the Marapendi reserve, a protected part of Brazil's Atlantic Forest. The reserve is home to various endangered flora and fauna, such as the Fluminense Swallowtail butterfly and the barredtail pearlfish."
"Golf is a good walk spoiled" said Mark Twain. Apart from any ecological aspects, golf really is the most individualist of sports – what one person does has virtually no relation to what his/her opponent does; each one could almost be playing on different days, utterly separately. The American comedian George Carlin said golf "is like watching flies fuck" but  for spectators of it, watching flies fuck is more interesting than golf – at least it involves some interaction. And in the UK this sport, which used to be largely confined to the aristocracy, has over the last 20 years or so been proletarianised: now some sections of the relatively well-off working class play it, which would have been extremely rare before 1990. Which says something of the development of idiotic individualism in the UK.
France, Beziers: mayor's pro-cop poster campaign subverted "Twenty billboards have been degraded in Béziers (Hérault). These acts are linked to the communication campaign of the mayor, Robert Ménard – the arming of the municipal police. Visibly, the advertising campaign has had trouble moving to Beziers. Nearly twenty panels dedicated to local council posters were vandalized, and others tagged, Midi Libre reports on Wednesday. According to the regional newspaper, these degradations are related to the communication campaign of the Mayor Robert Ménard about the arming of the municipal police. Since February 1st, in fact, the municipal police has been armed in the county of Herault. And Mayor Robert Ménard, elected with the support of the FN, launched a major communication campaign to make his decision known with hundreds of posters being put up in the city. In a rather hard-hitting style, the images show a close up of a pistol, an automatic 7.65, a French crest on the butt…"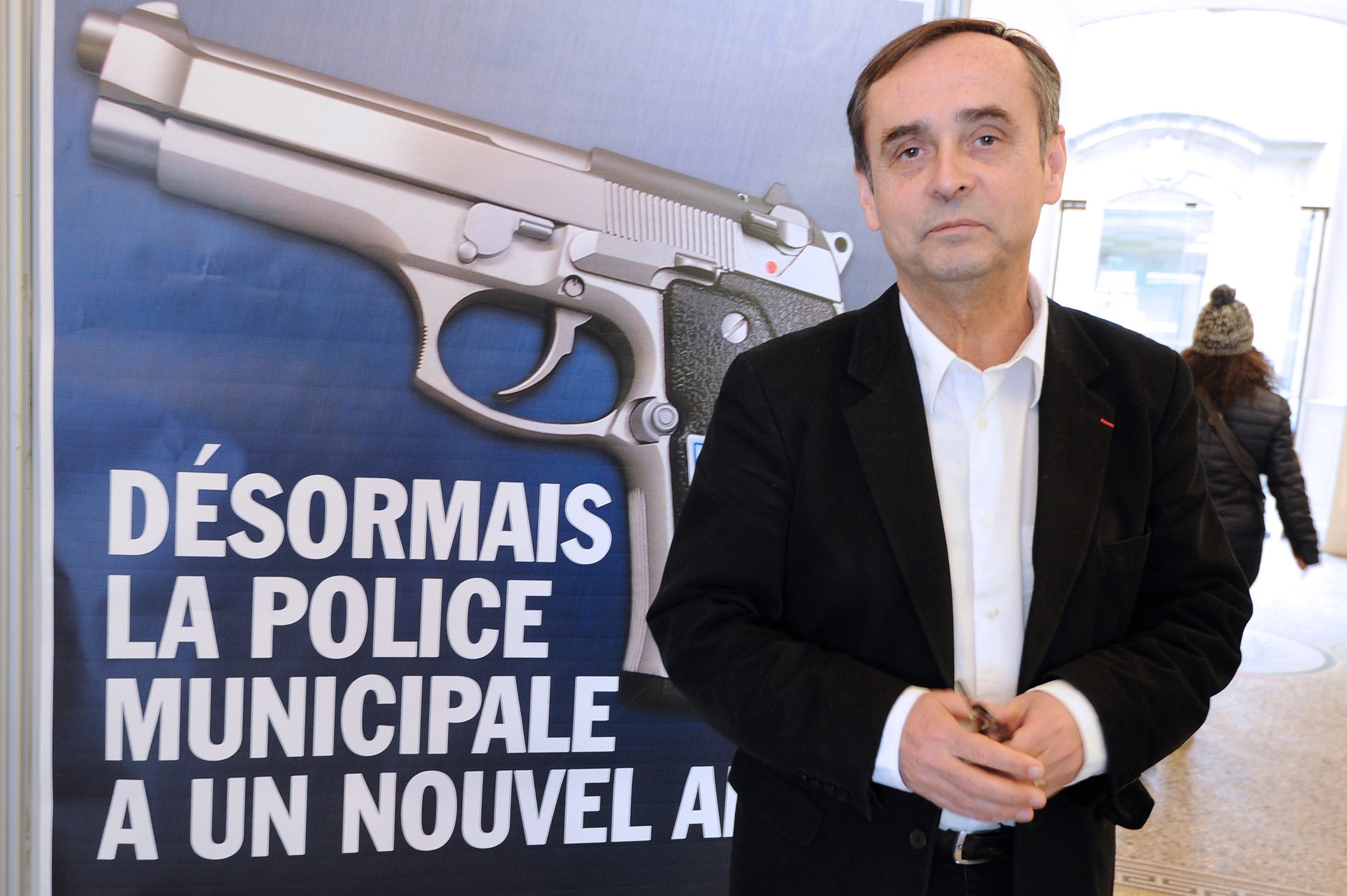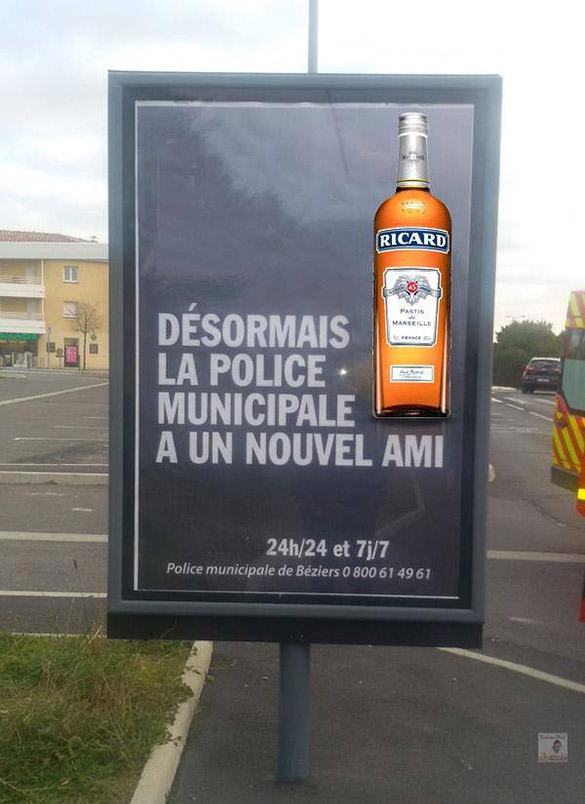 "From now on, the municipal police have a new friend"
24/2/15:
Venezuela, Maracaibo: students burn truck in anti-government protests "Around noon hooded people took hold of an Alquiveca company truck  with medicines and set it on fire. Students rescued some boxes of medicine that were in the unit and took them to the headquarters of IPASME in Maracaibo….Security Secretary, Jairo Ramirez, reported that eighty people were arrested, including 20 children (13 females and 7 males), following clashes at the University Rafael Belloso Chacin during Tuesday evening. He explained that hooded people blocked access to the university and there was a confrontation in which a young man named Luis Fernández Naveda was hit with a blunt object in the head and taken to a hospital…."You cannot call for vandalism, breaking the perimeter fence that divides the street from Urbe [the University] … destroying public and private property". …In the vicinity of the police headquarters, neighbors protested … to support students and others arrested in protests in Urbe. On Wednesday, a group of students focused on the Cecilio Acosta Avenue near the Faculty of Engineering of Light with banners and slogans to support the family of the student Kluiber Roa, who died after being shot in the head, by an official of the GNP in Tachira state. They demanded justice and that those responsible be punished…Traffic was closed in that area, also at the Faculty of Humanities where tires were burned …Barillas reported that so far this year 6 students have been killed "and no-one found guilty." … Merida: riots protesting this death; TV crews vehicle burnt  
Holland, Amsterdam: occupying students get evicted by riot cops
Sudan, Khartoum: fury after woman dies from cop-inflicted injuries
Australia, Sydney: man foils truckloads of heavily armed riot cops
23/2/15:
Colombia, Bolivar: 100s of local residents block main road demanding water connections to their home after 3 months of disconnection
France, Savoie: cop building set alight as car thieves burn car they parked alongside it
22/2/15:
Nepal, Simara: police post torched after cops attack street meeting of locals demanding service centers
Kenya, Eldoret: cop car burnt out as students protest cops' failure to protect them after rape and murder of 3rd female student
21/2/15:
Mexico, Chimalhuacan: residents riot after cop runs over pizza delivery biker; 1 cop patrol car burnt out, 4 damaged, 5 bus windscreens smashed, avenue blockaded 
France, Nantes: Notre-Dame-de-Landes again …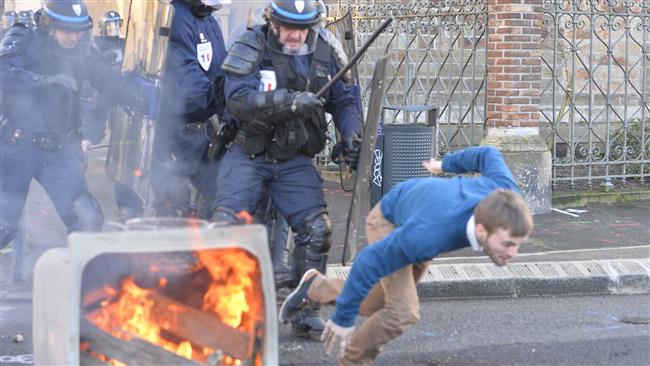 Nantes
…Toulouse: cops use water cannon & tear gas as luxury, arty, bank & insurance  shop windows are smashed, walls get anti-cop graffiti, advertising billboards damaged in movement against dam construction "Shouting their rejection of a world dominated by  "commodification" and proclaiming their hostility to the dam project at Sivens in the Tarn where the law has ordered the partial evacuation of the site occupied by  opponents, ZAD ("zones to defend") protesters marched for more than two hours….slogans against the police quickly blended with  the procession of hooded protesters dressed in black…."Everyone hates the police!" "Cops – murderers!". Protesters deployed a black banner in memory of Rémi Fraisse, the young environmentalist killed by a defensive grenade by the Gendarmerie at the disputed project for a dam at Sivens, October 26, 2014….The fronts of vending machines were cracked. The "casseurs" were obviously well organized. Having finished their  attacks  they  fled to the Tounis quay-side to change clothes. "The detestible  unemployed thugs came to fight, destroy, let off steam, especially against the police," said Didier Martinez of the union SGP-FO Police Unit."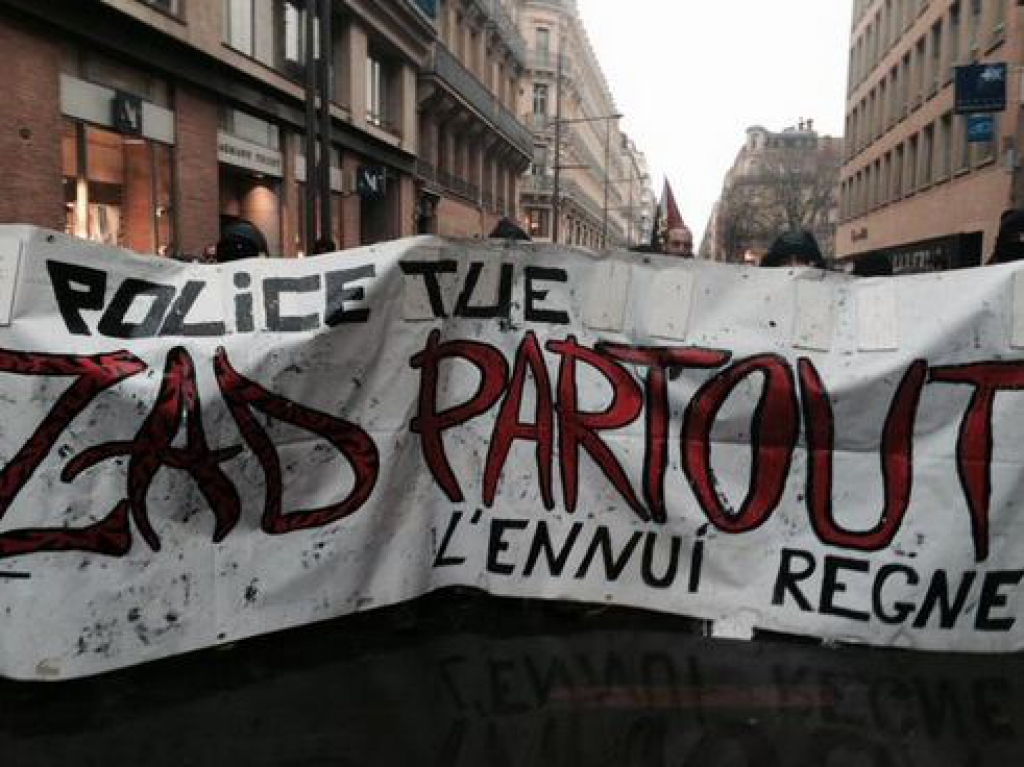 "Police kill – ZAD everywhere – boredom rules"
US, Texas: 100s of  prisoners make prison "uninhabitable" after seizing part of the prison "An official says as many as 2,800 inmates will be moved to other facilities one day after several hundred prisoners seized control of part of a federal prison in South Texas. Inmates were participating in a protest that escalated into throwing objects, burning bedding, and destroying bullet-proof tent structures…In addition, correctional officers released a "chemical agent" to disperse the unruly crowd that were ineffective due to wind conditions…..U.S. Bureau of Prisons spokesman Ed Ross says in a statement that the Willacy County Correctional Center in Raymondville is now "uninhabitable due to damage caused by the inmate population." … a peaceful resolution may take days or weeks to resolve….The inmates being held at the facility are described as "low-level" offenders who are primarily immigrants in the U.S. illegally."  More information here….And here
Eire, Dublin: imprisoned water protesters on hunger strike (see also this nicely expressed  article)
20/2/15:
US, Texas: about 2000 prisoners "riot" "The disturbance began Friday morning when inmates at the Willacy County Correctional Center refused to report to work or appear for breakfast…some of the prisoners were protesting medical services at the facility. The prison, located in Raymondville, about 40 miles northeast of the border town of McAllen, has been used to hold immigrant detainees…Soon after that, several inmates broke out of their housing units and went out into the recreation yard. About 2,000 prisoners are believed to have joined the protest…Officers deployed tear gas, and two officers and three inmates sustained minor injuries…"We are attempting to speak with the offenders to bring a peaceful solution to this incident," Arnita said late Friday night. "The facility remains secured with no danger to the public."…Earlier in the day, the riot prompted school officials to place three nearby schools on lockdown." More here "Spence said the situation could last the whole weekend. "It's calm right now, but with caution," Spence said. "It could explode any minute."…many offenders broke out of the housing structures and went to the recreation yard. Inmates set fire to three of the 10 prison tents, causing minor damage, officials said. …"There's been some shots fired. Guards on top of the tower were firing. What they were using as ammunition, I have no idea," Spence told the Valley Morning Star….In June 2014, the American Civil Liberties Union released a study that found inmates of these little-known prisons suffer from a lack of medical care….Prisoners interviewed by the ACLU complained of delayed medical care, guards using solitary confinement to punish those who are ill or who complained about squalid and cramped living conditions, and interference by prison officials with inmates trying to correspond with or meet with lawyers, the report says. Most of those in custody are charged either with illegally re-entering the country or with nonviolent drug crimes"
19/2/15:
Mexico, Guerrero: teachers and students attack army installations with molotovs and stones in continuing movement against the 43 "disappeared" students "Parents of the missing students insist that federal prosecutors investigations should also consider the probable responsibility of members of the Army either by their actions or by failing to act on the fateful night of September 26, when after being shot by corrupt cops and hit men, the 43 students disappeared in the city of Iguala. According to investigations by the prosecution, students were massacred and burned by the local cartel Guerrero States, but parents cling to the idea that their children are still alive and for weeks have even demanded to search military installations ."
Spain, Valencia: no arrests as demonstrators break windows, tag benches and burn containers "Described by its organizers as a "disobedient" demonstration, several hundred people from thirty social groups have taken to the streets of Valencia in protest against "capitalism, patriarchy and repression" which they believe is expressed in the Public Safety Act."
South Africa, Western Cape: black striking students clash with  whites scabbing on strike This is presented by the media as a racial clash but it's clear it's based on class (which obviously in SA is still very linked to race), and if these whites hadn't scabbed and attacked the strikers they would have been treated totally differently:  "A CPUT student, who refused to have her name published, claimed she and other protesters had prevented cars from going in or out. A group of white students then started assaulting them and told them to get out of the way. "They started pushing us to the ground and forcing their way past. That's when we fought back because we explained to them why we were blocking the gate. But they refused to listen and started to fight us. Why can't they join us as fellow students? Why must they learn while we struggle. We are poor and don't have money" (more here)
Italy, Rome: Dutch football fans clash with cops (photos here, video here)
Eire, Dublin: 5 jailed for water meter resistance
18/2/15:
South Africa, Malamulele: 5th school torched despite protests being officially suspended…6th school burnt, as another protest turns "violent" "A protest has turned violent in Mfuleni on the Cape Flats on Wednesday night, when residents set a bus and a truck alight….Residents have vowed to continue protesting until government officials solve their housing problems….In Malamulele in Limpopo a sixth school has been torched. The PP Hlungwani high school, at Green Farm village, was set alight on Wednesday morning, but only the curtains in the principal's office were burnt….The incident happened at almost the same time as the burning of the Nkatini high school at Shigalo village in the area."
France

, Montpellier: riot cops and BAC get heavy with carnival This facebook entry says nothing about what happened, and this even less. Here's a translation: "There were no major incidents, unlike previous years, at the traditional Carnival of Peasants, which began last night and ended early in the night, in the Crest in Montpellier. Several hundred people marched in the streets. According to the CODIS 34, only 5 rescue people were taken away by firefighters and physicians … for significant alcohol abuse. … The police had to intervene, but for benign reasons. The assessment made by the police and the prefecture will be known in the morning." This is, unsurprisingly from the professional liars of the media, absolute bollocks (to use marxist terminology). This carnival, first initiated by anarcho-situs about 15 years ago, coincides with the official carnival; but the official one ended at 9pm (17th Feb), whereas this one continued into the night with lots of people doing graffiti. "Je suis Charlie Bauer" was a favourite – a slight alteration of the ubiquitous "Je suis Charlie" slogan  (Charlie Bauer had been tortured by the cops over his opposition to the war in Algeria at the age of 18, spent 25 years in prison partly for "Robin Hood"-type robberies, giving some of the takings to strikers, befriended Jacques Mesrine and was involved with Action Directe, but ended up defining himself as an anarcho-communist , before dying at the age of 68 in 2011). The party finally ending up outside the  Cathédrale Saint-Pierre, a monument to Catholicism, towering, almost overwhelmingly, above the crowd like a gigantic tombstone. Here, at about 2am, a couple of hundred people danced, drank, smoked and chatted.  A bonfire lit up the square outside the main doors of the cathedral, with a plank of wood across it balanced on overturned shopping trolleys, which people walked across with the fire burning underneath.  Mainly young people grasping some sense of joy out of this dying world were resentfully observed by the BAC (the most psychotic of the police force, set up by Jospin's Socialist Party government in the 1990s), waiting for the moment they could compensate for their boredom to attack this reminder of the sense of  life they were missing out on. A bottle or 2 were thrown towards the cops, who occasionally made charges into the crowd trying to arrest the bottle-throwers, who – with the help of the crowd – managed to escape. Eventually, the BAC charged, hitting out with their batons, then courageously running back behind the the riot cops with their shields and alsatian dogs who were advancing fairly slowly to clear the square. A man on crutches trying slowly to flee the cops was pushed over on the stairs and was kicked by the cops before being pulled up by friends. The whole area was surrounded by the cops, with only one exit, where the dwindling crowd was pushed.  The cops remained still for a short while, which gave some in the crowd the opportunity to put up makeshift, purely symbolic barricades which were obvious beforehand would be as easy as Lego to destroy. Then they charged, this time spraying tear gas direct into individuals' faces, hitting out fairly indiscriminately, pushing people to the ground. 3 arrests…So much for "The police had to intervene, but for benign reasons."…But this video (and this one) show some of what happened….La Ricamarie: cop commander hurt by people throwing stones  after they intervene against use of very loud firework during carnival 
US, Newark: students occupy school offices
17/2/15:
Venezuela, Caracas: underground stations close because of riots
Dominican Republic, Santo Domingo: university suspends classes as students block roads, clash with cops
16/2/15:
South Africa, Western Cape: security guards throw stones at students and vice versa
15/2/15:
New Zealand, Aukland: clashes with cops at rich men's yachting club party
14/2/15:
US, Washington: demonstration against another killer-cop…Orlando: the storming of the picture palace
From here:
 ABC Spectacle
Picadilly Circus Wl (836 5131) 'Further Adventures In Vicarious Compensation' (U). (Jean-Luc Hitchcock, 1984 Br.) Jane Fonda, Norman Wisdom, Barbara Windsor, Robert de Nero. 131 mins.
In the same genre as his previous 'You Pathetic Passive Consumer Morons', this extraordinary tour-de-force by the Master pulls all the stops out in it's painful confrontation of the audience with their own impoverished situation. From the opening shot of a couple scanning Time Out and arguing over what movie to see, to it's final scenes of mayhem and festivity, we are bombarded with the agonising truth. The pathos of the cinema-lover, whose life is dominated and mediated by images and the repression and lies that justify them, is revealed in character after character. One, played excruciatingly and embarassingly by Norman Wisdom (once more at his best) goes to watch an adventure he dare not, or cannot, live in the real world: the film is exposed as the alienated form of both his real and his colonised aspirations. Another (stereotypically played by Barbara Windsor) specialises in interpretations of Bunuel's symbolism, with which useless expertise she attempts to impress her so-called friends. Another (Fonda) examines the twitches and fixed gestures of the actors in order to emulate them: the rigidities and falsity of the characters are used to reinforce the spectator's role-bound life, in which all creativity is seen in terms of appearance. A fourth (de Nero) knows all this, but sees this as cynically inevitable, and goes to the flicks to analyse this so-called inevitabiity. What happens, when they understand thé com­mon basis of their miserable escape from the possibiity of conscious creativity against that which suffocates their lives, is when the plot really hots up. This really is the film to end all films – and I mean that literally. And that's no joke – at the World Premiere at the Berlin film festival last March the film sparked off riots. The audience took its message at face value & turned the auditorium into a vast spontaneous seminar, much to the irritation of the management. At first they tried the softly softly approach – "You can stay – just as long as you leave by 11.30. We've all got to have a good night's rest so we can return refreshed to work in the morning." However, the discussion – on how and why to transform all social space – quickly lost some of its abstract wanderings because of the arrival of squatters who'd just been evicted by the cops: they wanted to use the cinema as shelter for the nlght, and had sleeping bags to provide them with a bit of comfort. At this point the cops were called and the audience was forced to either take them on – or suffer the usual indignity of submitting. Some people seized the projector and the film and smuggled them out, whilst others taking their cue from the "Jailhouse Rock" movie riots of the fifties – tore up whole rows of cinema seats. One guy beat off the cops with the emergency fire hose, whilst others raided the cash desk. Outside in the streets, barricades of cars went up and the cops were forced into a position of retreat until suddenly the rioters disappeared, only to be discovered later in the night to have occupied one of the buildings of the University. News of this got round some other cities in Europe, so that when the film was shown in Paris, for example, no less than 17 film critics resigned their jobs, whilst in Rome the film incited the occupation of at least 3 cinemas. An extraordinary (contd. P.97)…
More about this here: "A whole bunch of kids came in the store and just started stealing stuff," witness Taylor Davis said. "They (were) just taking everything out of the store"
UK, London: squat protest against increasingly nasty social cleansing of city (see also this interesting site on gentrification in London)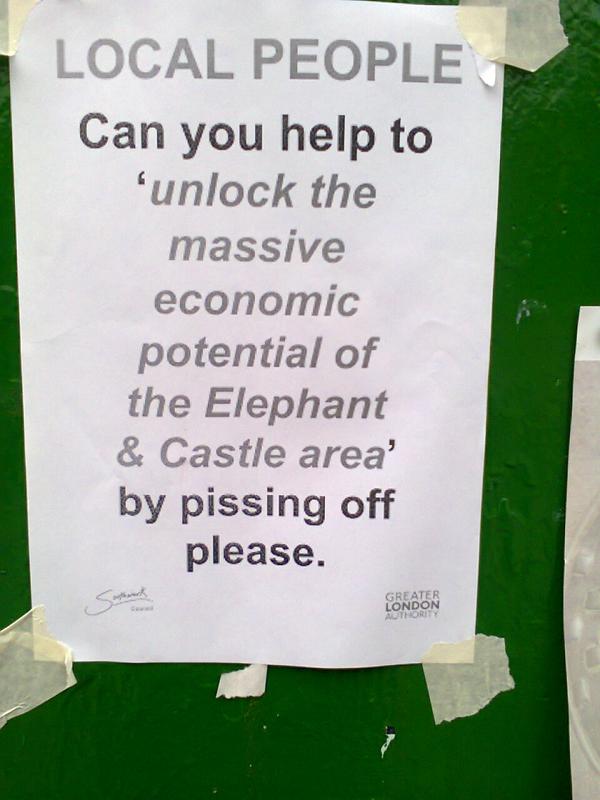 13/2/15:
South Africa, KwaZulu-Natal: students erect burning barricades "…students burned more than a dozen fridges, a tree stump, desks and refuse bins at the entrance to Oval Residence in the campus. Other entrances were barricaded with burning refuse, tyres and bins. Public Order Police and campus security were on hand to monitor for violence. Students gathered near the residence sports stands singing and chanting. The interdict comes after violent protests – particularly at the Pietermaritzburg, Edgewood (Pinetown) and Westville campuses this week, where students have been demanding that more students be given financial assistance."
Australia, Sydney: cops pepper-spray students trying to disrupt Education Minister's speech
Bahrain: 3-day strike, as riots increase in build-up to 4th anniversary of uprising…video here  (another video here)
India, Telangana: cops hit out at  the right target for once (the same in Mexico, Oaxaca) We might disagree with their aims, but their methods are impeccable.
12/2/15:
India, Gurgaon: nearly 1000 workers riot, trashing machinery etc. after rumour that worker was killed for being late " The quiet boulevards of Udyog Vihar, the manufacturing hub in Gurgaon, resembled a war zone on Thursday as nearly 1,000 industrial workers went on a vandalism spree from factory to factory, damaging machinery, burning cars and bikes and smashing furniture….Eleven factory buildings had suffered various degrees of damage and at least 100 cars were targeted, some of them upended and set on fire along with bikes in the middle of the road…. Several policemen and factory workers were among the injured. " More here "The workers are made to work from 8 a.m. to 12 midnight. When Shammi got late by a few minutes earlier this week he was not allowed to enter the company. He then got into an argument with the security guards who took him to a room and beat him up. He was then admitted to a hospital"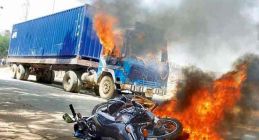 Gurgaon riot
South Africa, Gauteng: roads blocked with burning tyres and rocks during another  protest…TUT student protests spread
Ghana, Upper West: school students riot "Students of the school went on rampage Thursday afternoon after a teacher instructed a female student to undress before her colleagues for wearing unapproved attire.  The development angered the students who went about vandalizing and looting school property. …"Students were vandalizing things in the school so female students came to the station to lodge a complaints against a teacher after haven been beating. …When we got to the school, they had all left. They vandalized many things including the staff common room and the assistant head teacher's bungalow. They also destroyed things in the library, computer laboratory and also made away with 46 computers so we picked some of them up for investigations"

11/2/15:
South Africa, Johannesburg: thousands of students march in solidarity with Malumele struggle; looting occurs "Malamulele has been on complete lock down for more than a month when protesters took to the streets demanding their own municipality because the current municipality has failed the students. Cosas has warned government that they're encouraging its members to stay away from schools today until their counterparts in Malamulele resume classes.  The student union president Sandra Baloyi has encouraged their members to march to their nearest police station until President Jacob Zuma answers their demands. "Those who were at the march in Gauteng agreed, starting from today, they must not go to school."…Pupils were dispersed by metro police Tuesday who said the protest was illegal and unregistered with reports of looting and business disruption by protestors. …Four schools have been set alight since January."…Here, a journalist laments the burning of schools:  "the people who burnt those schools, despite paying taxes such as VAT, just don't feel that they own them. They are alienated from their own structures."
Durban: confrontations between residents and municipal electricity workers over illegal electricity connections "Municipal electricity workers were met with resistance from residents when they swept through the Welbedacht East area to remove illegal cable connections on Wednesday. Security men guarding eThekwini Municipality electricity department workers clashed with residents, who tried to stop them by barricading the road with rocks and refuse….some who heard about the swoop, took their cables out, only to reconnect them when the municipal workers left. Several homeowners also hired people to reconnect the wires."
Tunisia, Ben Guerdane: confrontations with state continue; tyres burnt, stones thrown…
Venezuela, San Christobal and Caracas: protesters in firy confrontations with the state "Protesters clashed with police in this anti-government stronghold Thursday amid a storm of tear gas, rocks and rubber bullets as Venezuelans staged dueling marches on the anniversary of last year's bloody protest movement. …A sea of protesters marched in San Cristobal's streets. Some youths covered their faces with bandanas and threw projectiles at police officers clad in riot gear, who fired tear gas canisters while onlookers ran in the opposite direction with young children in their arms….Young protesters in Caracas set up a flaming barricade to shut down the main thoroughfare of a wealthy neighborhood where much of last year's protesting was centered. As dusk fell, some youths threw Molotov cocktails at police, who responded with rubber bullets."
Macedonia, Skopje: over 1000 students occupy  university faculties  proclaiming them an "autonomous students' territory"
10/2/15:
Peru, Pichanaki: 1 dead as fight against Pluspetrol continues
Colombia, Valledupar: stores looted in movement against motorcycle controls…Monteria: students block roads with rocks for several hours
Tunisia, Ben Guerdane: general strike as movement against taxation of Libyans crossing border is renewed (see 8/2/15)  More here"…despite the peaceful nature of the march, the participants headed to the square of the Great Arab Maghreb in the city, burned tires and threw stones, causing the situation to slip into clashes with the security forces who used tear gas to subdue protesters. According to the ULT, the strike has achieved a success rate of 99%,  however, with no response to the demands of the protesters. … the protesters say they are committed to the pursuit of their movement, considering it "a revolution of the hungry and a spark towards a new revolution that seeks to get to the area's  plundered wealth…"
Comoros, Grande Comore: general strike throughout island demanding water and electricity "The National Development Army used its weapons in the city of Mitsoudjé, about 10km from the capital, wounding seven people, including two seriously…..The major supermarkets in the capital were requisitioned by the government to force them to open. …some roads were blocked  with tires and with wrecked cars. The official vehicle of the Prosecutor of the Republic was burned. It is in this context that the National Development Army opened fire on civilians, wounding seven, including two with life-threatening injuries. …Twenty strikers had been placed in custody along with the President of the Federation of Consumers on Monday, but were released after the clashes with the army."
India, Uttar Pradesh: power workers in heavy clash with cops ""The contractual employees of the power department were staging a sit-in dharna to demand regularisation of their employment. When the police tried to remove them, the employees indulged into brick batting," Additional Superintendent of Police Rajesh Kumar said.  "The protesting group went on a rampage and torched two vehicles, including a police jeep and a motorcycle," he said. "Police then resorted to a baton-charge to disperse the agitating employees," Kumar said adding that, "more than 100 people have been detained in this regard."
US, Washington: pro-immigration activists occupy Senators' offices in Capitol
9/2/15:
South Africa, Pretoria: burning tyres and rocks block roads in another service delivery protest
Peru,  Pichanaki: general strike by environmental movement against Pluspetrol operations – unemployed invade army campsite, destroy tents; roads blocked; clashes with riot cops "The company currently faces two more conflicts with indigenous populations in the northern jungle of Peru, who continue to block   a section of the Tigre River and paralyze at least 14 wells of the largest oilfield in the country, demanding compensation payments for the use of their lands." 
Eire, Dublin: water meter protesters prevent councillors leaving meeting
Haiti, Port-au-Prince: roadblocks set up, confrontations with cops, as movement against high fuel prices continues More here "Anti-government protesters clashed with police in Port-au-Prince over high fuel costs in Haiti, as opposition parties and a minibus drivers' union called for a two day strike. A policeman was stabbed and around twenty people were arrested during violence, with police using tear gas to disperse small groups. Organisers warned people to stay off the streets due to fears of violence, while barricades were erected to hinder motorbike taxis that did not observe the strike. Most government buildings were forced to close as state workers ignored calls from Prime Minister Evans Paul to come to work and not participate in the strike. Drivers living in poverty are complaining about the high cost of petrol, calling for a reduction in prices. However, Haiti's government needs to raise money from fuel sales to pay off debts."
France, Bordeaux: 45 JCDecaux advertising panels smashed  (JCDecaux is a company involved directly in the super-exploitation of prisoners)
US, New York: protests about killer cops continue; die in at Grand Central station Read this for a critique of die-ins: "…the die-in aspires (on the one hand) to a disruption that re-enacts scenes of police murder within spaces of civil society that are normally sheltered from the regular barbarities of racial and class-based violence. On the other side, the tactic is a kind of didactic theater, communicating a message[7] on police brutality to oppressors and oppressed alike. The common targets for die-ins have included luxury retails stores (like Macy's or the Apple Storeon 5th Avenue, or Brooklyn's Barclays Center), hubs of human and commodity circulation like Grand Central Station and Times Square, and of course the blockaded streets themselves. To the surprise of many, it has progressively become common sense that "diversity of tactics" is an integral part of most historical movements that have changed society. Existing alongside and supplementing more aggressive forms of protest (road occupations, blockades, even urban riots), the die-in has played a useful role in the post-Ferguson cycle (and not only in NYC). However, as the more militant, "practical" dimension of the street protests faded, the preponderance of the die-in shows the extent to which the previous mobilizations had become largely symbolic; rather than spontaneous efforts at disrupting or challenging the police or the flows of commodities, these demonstrations risk becoming mere appeals to the state for reforms that it will not and cannot concede. Although we cannot explore the issue further in this account, considered strategically, we call attention to how the die-in might shed light on a fundamental tension within both the discourse of the movement emerging after the killing of Michael Brown (#blacklivesmatter) and its tactics (#shutitdown)."
Colombia, Valledupar: riot cops called after crowd gets angry with cop control of motorcyclist; largeish area burnt with molotovs
8/2/15:
South Africa, Durban: municipality's loss of over 602 million rand in water supply costs in year 2013/14 partly due to illegal water connections
Tunisia, Ben Guerdane: confrontations between insecurity forces and demonstrators demanding end of tax on Libyans and suppression of new law forbidding Libyan goods; young guy loses an eye (more here)
7/2/15:
Brazil, Brasilia: country's biggest land occupation ever organised by Homeless Workers Movement
Tunisia, Dhehiba: National Guard post burnt, protester killed, during riots over transfer of goods between country and Libya
South Africa, Majakaneng: 9m. rand injected into area's water infrastructure following several days of water riots
France, Rouen: crowd throw glasses at cops as they arrest man for stealing car 
6/2/15:
South Africa, Pretoria: Tshwane University of Technology students hold M.P.s hostage, threaten to stone them "Desperate students held Committee members hostage for an hour and threatened them with stoning. Heavily armed police were called to the campus, and a march of about 700 students was under way when the Committee left after concluding its business. Further protests are to be expected at this campus, where violent protests took place last year, ending in the death of one student."
France, Soissons: flammable liquid pushed through airlock of police station and set on fire as cars burn
US, San Francisco: anti-frackers blockade California State Office Building and main intersection 
UK, Liverpool: anti-austerity protesters occupy cathedral
5/2/15:
Malawi, Lilongwe: illegal vendors in running battle with cops "…on Thursday other vendors who had not managed to find space went on and occupied every piece of land around the Lilongwe Town Hall, Wulian Supermarket and all the stretch between Sunset Lodge and the Lilongwe River without authorization from the City Council. Early Friday morning the police, in conjunction with the City Council, destroyed all the structures the vendors had erected in the non-designated places, a development that evoked fury in the vendors who claimed they had lost a lot of money erecting the structures. The usual battles then ensued with the vendors stoning the police while the latter returned the missiles with tear gas.  Lilongwe Police Publicist, Kingsley Dandaula, told Malawi News Agency they had arrested a number of people who were involved in the riots and that the operation was on going. "The vendors went beyond the space the City Council had allocated them so we had to come in to enforce order," explained Dandaula.  During the battles, hundreds of disgruntled vendors, men and women, marched to the District Commissioner's office where the police dispersed them with tear gas even before they got organized to draft the petition." (more here)
Brazil, Couiba: "Jailbait Jailbreak" – screws get screwed, but not how they wanted to – the dominators get dominated
Mexico, Guerrero: 20,000 occupy one of country's busiest motorways in movement about the 43 disappeared students
South Africa,  Cape Town: 2 buses smashed and put out of service during bus drivers' strike…Johannesburg: wildcat bus strikes "While Rea Vaya buses are still on strike, Gautrain bus drivers have also embarked on an unprotected strike today. Rea Vaya drivers have been on strike for four days, leaving commuters stranded. Piotrans general strategic manager Dumisani Mnthambo yesterday announced the operating company would suspend all drivers who were part of the strike and would be taking legal action against them….Meanwhile, Gautrain also announced its customers must make alternative arrangements as buses would not be operating today as a result of a "wildcat" strike."
UK, St Albans: the burning bright tigers of wrath are wiser than the horses of instruction
Haiti, Port-au-Prince: cops fire rubber bullets at gas price demonstrators "In downtown Port-au-Prince, protesters threw stones at police who approached the law faculty located just meters from the presidential palace. "Police fired on us, and people were wounded. The police threw gas canisters inside the law school. We denounce police behavior that prevents us from exercising our right to protest," one student said. Several hundred people also marched through the capital's streets, and two cars were burned and multiple windshields smashed with stones. At a similar protest Monday, three people were injured."
US, Massachusetts: sign of the times…?
4/2/15:
Poland: miners pelt cops with screw-packed snowballs
Austria, Vienna: cops attacked with molotovs in 2 different attacks
Venezuela: state recuperates proletarian anger by arresting boss of supermarket chain and distributing food to poor
South Africa, Mohlakeng: road barricaded with burning tyres in service delivery protest "Since 4am, people barricaded roads and have been stopping commuters from going to work and stopping children from going to school," said Randfontein police spokeswoman Captain Appel Ernst. "Tyres are also being burnt …Right now [8.30am] around 1,500 people are entering Randfontein." More  here "The protesters began to march to the Randfontein local municipality offices in Mohlakeng, many carrying pangas and sticks. When they reached a police cordon line on the main road, the police began firing rubber bullets. Most of the crowd dispersed, but some protesters retaliated, throwing stones at the police. The police then fired a second round of rubber bullets. An unknown number of people were injured. Rosinah Motlhaping was wounded in her leg, apparently by a rubber bullet."  And here  "… the library, economic hub, maternity clinic, home affairs offices as well as mayor Sylvia Thebenare's house were set on fire." …And here "Children as young as 5 were used to gain entry into foreign-owned shops in Mohlakeng… On Wednesday many of the foreign-owned shops were closed as a result of the protest as residents, including several children, came out in numbers to take part. Children were used to squeeze through burglar bars of some shops and hand over the goods to adults. Some children were seen carrying the stolen items in the streets. …."We are going to cause chaos until justice is done," resident Lengslot Madika said."We are sick and tired of officials who can buy fleets of cars but can't give us proper service."'
…Johannesburg: wildcat (probably) bus strike continues "Rea Vaya buses were still not operating in Johannesburg on Wednesday after drivers abandoned them on Monday…the drivers have not communicated their grievances to management. … management had sent a notice to them on Monday to return to work. There was no response and on Tuesday, the company sent a final notice to them to return to work. "No one came until after 8am today (Wednesday). Now they are coming in to make representations to management." Mntambo explained that because the drivers had not made any demands, there would not be any talks with them. …. Around 160 Rea Vaya drivers abandoned their buses on Monday without explanation."…
…Pretoria: water protesters block highroad, burn cars "…smoke bellowed from two trucks that had been set alight – a delivery truck and one that was taking coal to the mines. Further down the road, another truck had been burnt, as had several private cars. Scrap metal scavengers started tearing them apart as soon as the flames had died down. A bus transporting tourists was burnt on Monday, the first day of the protests. Witnesses said truck drivers attempted to make a U-turn on realising the chaos, but were outnumbered and forced to abandon their heavy duty vehicles. The Clicks truck was looted while the second still had its full trailer of coal. But it was the bridge that connects Majakaneng and the neighbouring Bapong that was the scene of the altercation between residents and the police. The lawmen and women fired teargas and rubber bullets into the unrelenting crowd burning tyres on the on- and off-ramps." More here: "Protesters in Majakaneng village near Mooinooi, North West, threw stones at Methodist Bishop Paul Verryn and his colleague as they tried to speak to residents on Wednesday…Police fired rubber bullets to disperse the crowd, he said."Roads have been closed, there is chaos everywhere…I am standing on the side of a road right now and there is a vehicle on fire as we speak"
….Limpopo: 4th school set alight as part of uprising in area "Five classrooms and the office of the principal were damaged in the fire on Wednesday evening…This was the fourth school to be set alight following days of violent protests in the area. A section of Malamulele High School was set alight on Monday night. On Tuesday, another school in Gikana village, about 40km from Malamulele, was torched. A third was set alight at the nearby Xikunda village." 
Reproducing some comments I received today from South Africa re. this movement in Malamulele (already produced in the January News of Opposition for 30/1/15, but given these recent events, it seemed worthwhile reproducing it here as well; it includes, in addition, a quote about Oakland):
A while ago I wrote you about the increasing importance of blockades as a
current form of social contestation in SA and elsewhere. The situation in
Malamulele, a town of 13 000 people (also the name of the wider area of
around half a million people in which the town is situated) in Limpopo
province, furnishes support for this thesis in abundance. Since 2014
proletarians of this district have joined their fellows elsewhere around
the country in their demand to dissolve the local government, which has
failed utterly in its task to administer the basic municipal utilities
essential to survival in the modern world, and reconstitute it according to
their own desires. When the ANC had an electioneering rally the people
booed President Zuma and burned the party flags after their demands were
addressed in the usual language of bureacratic-democratic procedure. Shops
at the local mall were looted and burnt, causing millions of rands in
damage. At the beginning of 2015 they took things further and imposed a
general strike which has, at the time of writing, been 100 percent
effective for four weeks. All schools and businesses have been shut down,
all major roads leading into and out of the area have been barricaded from
6am to 6pm. The local mall has been closed, Police have according to their
own account maintained a heavy presence in the area but remained powerless
to break the strike. Appeals by state officials for residents to return to
work and school have fallen on deaf ears. In response to a finding by the
Municipal Demarcation Board that their demands do not qualify to be met,
they shut down an entrance to the famous Kruger National park. Two days
later two schools were damaged by arson attacks; a day later another school
was burnt out. It is claimed that school children themselves are leading
the struggle, and talking about a 'new June 16'. These claims are lent
credence by the fact that school pupils were among those arrested for
attacks on the shopping mall in 2014 (doubtless this would have been called
'xenophobic' had these shops not been owned by South African citizens).


Due to its exceptional efficiency and ferocity, which has far exceeded
anything previously achieved in recent years (eg. the one-day social-strike
in Langa late last year); the struggle in Malamulele expresses in an
unusually clear way the contradictions inherent everywhere the new tactics
of modern revolution make their appearance. To phrase the question in the
language of the bourgeois: "Why do these people destroy their 'own'
businesses and services?" Whereas trade unionists, racists and state
bureacrats can only answer: 'ignorance'; liberals and leftists can do no
better with their own half-arsed apology of 'desperation', which implies
such actions, while unfortunate and generally harmful, are excusable as the
only means to get the attention of government fat-cats. This justification
represents only one part of the picture, but the reality is that the
destruction unleashed by proletarian struggle only involves an appeal to
the state, a reformist demand, and a servile relationship of political
patronage inasmuch as *all* working-class struggle has to do with *both*
the 'bread and butter' fight for a few more crumbs from the table of
capital *as well as* the fight to destroy capital and the working-class
itself which always necessarily *begins* with bread and butter issues,
always lies *beyond* them, and is always implicitly *contained within *them.
That implication starts to become* explicit* the moment that struggle over
bread and butter issues* itself *destabilises the normal hustle for daily
bread; traditionally this took place in the form of the strike, where
workers confronted capital by withdrawing their labour, bringing capitalist
production to a standstill only to confront starvation themselves, unless
they restarted production under their own control. As the strike in
Malamulele demonstrates, the basic process today remains the same now as it
has always been. For proletarians to act as a class is to have as a horizon
only capital and the categories of its reproduction, and, on the other hand
it is, for the same reason, to be in contradiction with one's own class
reproduction, to call it into question. It is only the technical aspects of
this process that have changed; the *meaning* of 'strike' – the *means* of
a potentially revolutionary strike – is different today than the
traditional definition. Although workers participate in this strike through
the withdrawal of labour as before, the principal site of struggle is no
longer the workplace but the street. The principal actors are not
proletarians as *workers* but as *the dispossessed *(now including
housewives, the unemployed, and school kids) as *proletarians* in the
precise definition of those who have nothing* (niether jobs, nor
'education', nor 'services') *to lose *and know it*, those who own nothing
and are therefore tied to nothing. So it is that proletarian self-activity
primarily has to do with the organisation of destruction, and moreover the
destruction of their 'own' equipment and buildings on the job, their 'own'
schools and state services, their 'own' businesses, precisely because all
of these things, presented to them as their 'own' and 'for their own
benefit' by the spectacle, are produced and reproduced without them and
against them. *Organisation of destruction* is precisely the correct term
here, since it is exactly in the realm of organisation that the positive
aspect of proletarian self-activity develops hand in hand with the negative
aspect; to organise a force capable of sweeping aside the poverty of
everything that exists is simultaneously to organise a force capable of
transforming everything that exists, and vice versa. To recognise that one
does not build socialism, one only destroys the obstacles that prevent its
development is precisely to recognise that under capitalism the passion for
destruction is the only creative passion.

We live today in the era of the *social strike, *which primarily targets
the circuits of commodity circulation rather than the points of
production*. The effect, however, is almost identical. Just as a normal
strike either collapses or moves further in a revolutionary because its
disorganisation of production soon threatens the ability of the strikers
themselves to survive, the disorganisation of reproduction caused by a
social strike involves the same dynamic. This is clearly illustrated by the
desperate measures taken by residents of Malamulele to circumvent the
blockade they themselves imposed. According to one newspaper report, around
50 people a day are forced to undertake an arduous journey on foot through
thick bush, during which they must cross a crocodile infested river, in
order to buy basic necessities. One of these people stated in an
interview: "It's
not that we don't support the strike. We want our own municipality but
desperate times call for desperate measures. We have to eat". Clearly,
strikes like these must either move further in a radical direction,
communicating and co-ordinating with neighboring areas to prevent such
desperate strike-breaking evasions, organising the production and
circulation of basic necessities on their own terms – and the self-defense
necessary to resist the inevitable repression that will result from such
steps – or it will continue to be undermined by more and more of its own
participants until it collapses. Considering the consciously imposed
self-limitations of the current struggle, and the unfortunate attitude of
its most combattive participants towards its internal contradictions (one
person who braved the crocodiles to evade the strike blockades said "Going
through the access point with plastic grocery bags is risky. The people who
patrol there will confiscate your food and spill it on the ground as
punishment for defying the shutdown") such a development seems unlikely in
this particular case. What is certain, however, is that the Malamulele
strike has been an exemplary moment in that arduous process which remains
'the task of the world and of us... the self-clarification (critical
philosophy) of the struggles and wishes of the age'.

Meanwhile, an area supposedly involved in the so-called Xenophobic violence
has been occupied by riot police after four trucks and two cars -- none of
which were reportedly owned by 'foreigners' -- were torched last night. The
actions of Majakaneng residents, who on Monday looted 'foreign owned' shops
(when last year residents of Langa looted the local supermarket, which is
owned by Wallmart, it was not reported as an attack on a 'foreign owned'
shop) in addition to burning a bus, can in no way be catagorically
separated from those of proletarians in revolt around the country, such as
the residents of Mohlakeng who yesterday torched the house of 'their'
mayor, as well as 'their' library and municipal hall, but were not reported
to have attacked any 'foreign owned' shops. It should be noted, lastly,
that the victims in the current so-called Xenophobic violence were
overwhelmingly* private property*; there have been more South African
citizens killed (whether by petty-bourgeois defending their property from
looting, or police doing the same, or unknown causes) in the unrest this
year than foreign nationals. This is in stark contrast to the unequivocally
Xenophobic pogroms of 2008 where scores of *human beings*, most of whom did
not hold the priveledge of SA citizenship, were attacked and killed simply
for speaking the wrong language in the wrong place at the wrong time. As
usual, the bourgeois press has an active interest in a definition of
violence which conflates attacks on commodities with attacks on people.



* Referring to the general strike called in response to the suppression of
the Occupy Oakland encampment, Jasper Berne wrote: 'The actions of the
participants in the port blockade are, in this regard, doubly determined by
the restructuring of capital. They are there not only because the
restructuring of capital has either left them with no jobs at all or placed
them into jobs where action as workers according to the classical tactics
of the worker's movement has been proscribed, but also because capital
itself has increasingly taken the sphere of circulation as the object of
its own interventions...We now know that the restructuring of the
capital–labour relationship has made intervention in the sphere of
circulation an obvious and in many ways effective tactic. The blockade, it
seems, might assume an importance equal to the strike in the coming years,
as will occupations of public space and struggles over urban and rural
environments remade to become better conduits for flows of labour and
capital — as recent struggles in both Turkey and Brazil have demonstrated.'
(*Logistics, Counterlogistics and the Communist Prospect*
<http://endnotes.org.uk/en/jasper-bernes-logistics-counterlogistics-and-the-communist-prospect>  )


Romantic Malamulele directs the flame of its burning desire at the ruling party outside an ANC rally
Brazil, Brasilia: heavy clashes with cops as 400 families evicted from favela shantytown "The operation sparked a clash between police, who used pepper spray, and a large group of demonstrators who erected barricades of burning tires and trash and took over a trash truck to try and block a local street….After evicting all the occupants of the homes in the area, police isolated the zone and prevented people from returning to their houses to try and salvage their furniture and other belongings"…Porto Alegre: teenager shot dead by cops as football fans clash

3/2/15:
US, Detroit: angels arrested  "An Angel can illuminate the thought and mind of man by strengthening the power of vision." ~ St Thomas Aquinas
2/2/15:
Tunisia, Gabes-Metouia: protesters demanding dismissal of Chief of Police hurl stones at cops, burn tyres, etc.
South Africa, North-West: 400 residents burn bus and tyres in protest about water and electricity
1/2/15:
Guinea, Labe: all major roundabouts barricaded with stones and  treetrunks in movement against government (unfortunately also initiated by opposition party), as cops heavily tear gas protesters
France, Seine-et-Marne: man offers gendarme a cocktail "Sunday at the end of  the evening, a man entered the  private dwellings of the  gendarmerie of La Ferte-Gaucher, with a Molotov cocktail. He did not have time to use it against the police. He was arrested and taken into custody….It seems that these military men, known for their service, have proceeded with a litigation against the man: this is what it would have led him to want to attack them."
Holland, Maastricht: if wishes were horses…  "Two people were arrested before the match because they had their faces covered and were throwing fireworks. A third person was arrested for assaulting a steward. The fourth person was arrested for throwing stones at the police and placing a firework bomb under a police motorcycle. Parts of the stadium, including the fencing, were vandalized during the match. There were riots after the match in Kerkrade, where Roda JC supporters wanted to express their dissatisfaction against the players. …A police officer was injured while the police were trying to prevent disturbances before the game. He was hit by a police horse. The officer was taken to the hospital where he was treated for a wound on his face."
India, Imphal: 3rd day of women's blockade of main highway to Myanmar, demanding withdrawal of section of army