************************************************************************************************************************************************************************************************************************************************************************************************************************************************************************
31/1/15:
US, Missouri: chief cops car set alight outside police station….  Los Angeles: a strange evening Not really sure what to make of this. Although there is no explicit social contestation in this event, and though it's dominated by a certain aesthetic mentality, it shows how scared the US cops are of even essentially pacifist phenomena getting out of hand…A friend called this event, and events like this, "a multiplicity of bizarre, sometimes interesting, but usually autistic subcultures." Which, admittedly from a long distance outside, seems spot-on.
Eire, Dublin: anti-water meter movement making progress "ANTI-WATER CHARGES protests took place across the country, with the largest in Dublin. The Right2Water group — the umbrella group supported by trade unions, left politicians and others — did not have any role in organising today's actions. Today's protests were organised by grass root campaigners around the country, with Dublin's march organised by the Dublin Says No campaign. There were major disruptions in Dublin, but roads have since re-opened."
South Africa, Diepsloot: cops prevent mass squat of land with rubber bullets…. Cape Town: an eviction to be cheerful about
UK, London: Parliament Square occupied unlawfuly
30/1/15:
South Africa, Limpopo: residents block roads with burning tyres after municipality status is refused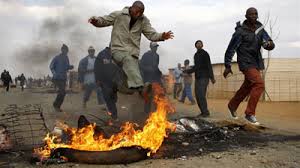 Reflections on this movement from South Africa:
A while ago I wrote you about the increasing importance of blockades as a
current form of social contestation in SA and elsewhere. The situation in
Malamulele, a town of 13 000 people (also the name of the wider area of
around half a million people in which the town is situated) in Limpopo
province, furnishes support for this thesis in abundance. Since 2014
proletarians of this district have joined their fellows elsewhere around
the country in their demand to dissolve the local government, which has
failed utterly in its task to administer the basic municipal utilities
essential to survival in the modern world, and reconstitute it according to
their own desires. When the ANC had an electioneering rally the people
booed President Zuma and burned the party flags after their demands were
addressed in the usual language of bureacratic-democratic procedure. Shops
at the local mall were looted and burnt, causing millions of rands in
damage. At the beginning of 2015 they took things further and imposed a
general strike which has, at the time of writing, been 100 percent
effective for four weeks. All schools and businesses have been shut down,
all major roads leading into and out of the area have been barricaded from
6am to 6pm. The local mall has been closed, Police have according to their
own account maintained a heavy presence in the area but remained powerless
to break the strike. Appeals by state officials for residents to return to
work and school have fallen on deaf ears. In response to a finding by the
Municipal Demarcation Board that their demands do not qualify to be met,
they shut down an entrance to the famous Kruger National park. Two days
later two schools were damaged by arson attacks; a day later another school
was burnt out. It is claimed that school children themselves are leading
the struggle, and talking about a 'new June 16'. These claims are lent
credence by the fact that school pupils were among those arrested for
attacks on the shopping mall in 2014 (doubtless this would have been called
'xenophobic' had these shops not been owned by South African citizens).


Due to its exceptional efficiency and ferocity, which has far exceeded
anything previously achieved in recent years (eg. the one-day social-strike
in Langa late last year); the struggle in Malamulele expresses in an
unusually clear way the contradictions inherent everywhere the new tactics
of modern revolution make their appearance. To phrase the question in the
language of the bourgeois: "Why do these people destroy their 'own'
businesses and services?" Whereas trade unionists, racists and state
bureacrats can only answer: 'ignorance'; liberals and leftists can do no
better with their own half-arsed apology of 'desperation', which implies
such actions, while unfortunate and generally harmful, are excusable as the
only means to get the attention of government fat-cats. This justification
represents only one part of the picture, but the reality is that the
destruction unleashed by proletarian struggle only involves an appeal to
the state, a reformist demand, and a servile relationship of political
patronage inasmuch as *all* working-class struggle has to do with *both*
the 'bread and butter' fight for a few more crumbs from the table of
capital *as well as* the fight to destroy capital and the working-class
itself which always necessarily *begins* with bread and butter issues,
always lies *beyond* them, and is always implicitly *contained within *them.
That implication starts to become* explicit* the moment that struggle over
bread and butter issues* itself *destabilises the normal hustle for daily
bread; traditionally this took place in the form of the strike, where
workers confronted capital by withdrawing their labour, bringing capitalist
production to a standstill only to confront starvation themselves, unless
they restarted production under their own control. As the strike in
Malamulele demonstrates, the basic process today remains the same now as it
has always been. For proletarians to act as a class is to have as a horizon
only capital and the categories of its reproduction, and, on the other hand
it is, for the same reason, to be in contradiction with one's own class
reproduction, to call it into question. It is only the technical aspects of
this process that have changed; the *meaning* of 'strike' – the *means* of
a potentially revolutionary strike – is different today than the
traditional definition. Although workers participate in this strike through
the withdrawal of labour as before, the principal site of struggle is no
longer the workplace but the street. The principal actors are not
proletarians as *workers* but as *the dispossessed *(now including
housewives, the unemployed, and school kids) as *proletarians* in the
precise definition of those who have nothing* (niether jobs, nor
'education', nor 'services') *to lose *and know it*, those who own nothing
and are therefore tied to nothing. So it is that proletarian self-activity
primarily has to do with the organisation of destruction, and moreover the
destruction of their 'own' equipment and buildings on the job, their 'own'
schools and state services, their 'own' businesses, precisely because all
of these things, presented to them as their 'own' and 'for their own
benefit' by the spectacle, are produced and reproduced without them and
against them. *Organisation of destruction* is precisely the correct term
here, since it is exactly in the realm of organisation that the positive
aspect of proletarian self-activity develops hand in hand with the negative
aspect; to organise a force capable of sweeping aside the poverty of
everything that exists is simultaneously to organise a force capable of
transforming everything that exists, and vice versa. To recognise that one
does not build socialism, one only destroys the obstacles that prevent its
development is precisely to recognise that under capitalism the passion for
destruction is the only creative passion.

We live today in the era of the *social strike, *which primarily targets
the circuits of commodity circulation rather than the points of
production*. The effect, however, is almost identical. Just as a normal
strike either collapses or moves further in a revolutionary because its
disorganisation of production soon threatens the ability of the strikers
themselves to survive, the disorganisation of reproduction caused by a
social strike involves the same dynamic. This is clearly illustrated by the
desperate measures taken by residents of Malamulele to circumvent the
blockade they themselves imposed. According to one newspaper report, around
50 people a day are forced to undertake an arduous journey on foot through
thick bush, during which they must cross a crocodile infested river, in
order to buy basic necessities. One of these people stated in an
interview: "It's not that we don't support the strike. We want our own municipality but desperate times call for desperate measures. We have to eat". Clearly,
strikes like these must either move further in a radical direction,
communicating and co-ordinating with neighboring areas to prevent such
desperate strike-breaking evasions, organising the production and
circulation of basic necessities on their own terms – and the self-defense
necessary to resist the inevitable repression that will result from such
steps – or it will continue to be undermined by more and more of its own
participants until it collapses. Considering the consciously imposed
self-limitations of the current struggle, and the unfortunate attitude of
its most combattive participants towards its internal contradictions (one
person who braved the crocodiles to evade the strike blockades said "Going
through the access point with plastic grocery bags is risky. The people who
patrol there will confiscate your food and spill it on the ground as
punishment for defying the shutdown") such a development seems unlikely in
this particular case. What is certain, however, is that the Malamulele
strike has been an exemplary moment in that arduous process which remains
'the task of the world and of us... the self-clarification (critical
philosophy) of the struggles and wishes of the age'.

Meanwhile, an area supposedly involved in the so-called Xenophobic violence
has been occupied by riot police after four trucks and two cars -- none of
which were reportedly owned by 'foreigners' -- were torched last night. The
actions of Majakaneng residents, who on Monday looted 'foreign owned' shops
(when last year residents of Langa looted the local supermarket, which is
owned by Wallmart, it was not reported as an attack on a 'foreign owned'
shop) in addition to burning a bus, can in no way be catagorically
separated from those of proletarians in revolt around the country, such as
the residents of Mohlakeng who yesterday torched the house of 'their'
mayor, as well as 'their' library and municipal hall, but were not reported
to have attacked any 'foreign owned' shops. It should be noted, lastly,
that the victims in the current so-called Xenophobic violence were
overwhelmingly* private property*; there have been more South African
citizens killed (whether by petty-bourgeois defending their property from
looting, or police doing the same, or unknown causes) in the unrest this
year than foreign nationals. This is in stark contrast to the unequivocally
Xenophobic pogroms of 2008 where scores of *human beings*, most of whom did
not hold the priveledge of SA citizenship, were attacked and killed simply
for speaking the wrong language in the wrong place at the wrong time. As
usual, the bourgeois press has an active interest in a definition of
violence which conflates attacks on commodities with attacks on people.

Peru, Islay: anti-mine protesters in 6-hour confrontation with pro-mine demonstration; stones met with tear gas 
Austria, Vienna: anti-fascists confront racist "Academics Ball" "Following criticism against previous crackdowns, Viennese police this year decided to allow people to cover their faces in the city center, and imposed a smaller prohibited zone around the palace. A number of Viennese taxi drivers also organized on Facebook to boycott the event, and refuse to take participants there"
29/1/15:
South Africa, Atteridgeville: teenager shot dead during non-xenophobic looting "…residents protested over land occupations on Wednesday. This continued into the early hours of Thursday, when they damaged a councillor's house. "After that they went on a rampage looting spaza shops throughout Atteridgeville township." Makgale said the looting was indiscriminate and not necessarily aimed at foreign shop owners.  It was during the looting that the teenager was killed, bringing the death toll in violence between foreigners and locals over the past two weeks to seven, by the police's count. "There are allegations that it was one of the foreign nationals that did it…"
Turkey, Istanbul: workers occupy local governing party's HQ demanding unpaid severance pay
Colombia, Valledupar: riots flare up again as Mayor sticks to restricted use of mototaxis More here "Whilst …[a]… cameraman was filming public disorder for RCN TV news and CM, five men stole his camcorder. The incident occurred when two of them approached him to discuss the riots and three surrounded him…Caracol TV cameraman, Jaime tortello, reported that during the riots there were no guarantees for covering the news. A stone hit him in his throat…."
UK, Kent: Isle of Sheppey rolls out red carpet for tourists
28/1/15:
Algeria, Laghouat: 2nd night of clashes between cops and mainly unemployed youths, with cops firing tear gas and rubber bullets (this, in an area of very highly carcenogenic chemicals; see here )
UK, Bristol: anti-frackers pay extraordinary compliment to MP
Peru, Junin: striking metal miners blockade main highway
India, Manipur: locals blockade road for 2 days in protest against state acquisition of fields "Three women sustained injuries when police fired tear gas canisters and mock bombs to disperse the villagers who blocked the road by burning old tyres and logs. Seven others were taken into custody."
Mexico, Oaxaca state: protesters mounting barricades across entrance to town demanding public transport and electric connections shot at by armed gunmen; gunmen repelled, cop module monitoring situation burnt "After the violence, protesters determined to extend the blockade of the federal highway to prevent  passage on the Panamerican Highway…González accuses the mayor of taking orders from several  unions of taxi drivers and motorcycle taxis for a road system that benefits them, and that prevents ATSA trucks passing through the city center. He said that although they have the federal permits to provide a service the City authorities of Oaxaca-Tlacolula Yagul have not respected them, intending to create a monopoly and remove  low transport costs for citizens." (very rough translation)
France: striking truck drivers blockade 2 oil refineries and 2 oil depots 
27/1/15:
Italy, Turin: demonstrators block road in front of prison as 47 anti-TAV protesters are condemned to 140 years in prison altogether (plus massive fines)
Venezuela, Merida: 18 people arrested (including 10 year-old) on 4th day of student protests after gym building is burnt (for what seems to be more credible analysis of what's going on in Venezuela than the usual leftist dross, see El Libertario in Spanish)…and student movement continues in Maracaibo as well
Nigeria, Owerri: students riot "The students who felt angered that no government official showed interest in agitation, went berserk at about 7p.m., prompting the destruction of the governor's campaign billboards and posters at the popular Government House roundabout. As if that was not enough, the rampaging students who were in their thousands, blocked the major roads of Wetheral/Okigwe/Bank roundabout, smashing streets lights and chanting anti-Okorocha songs until the police were drafted to disperse the rioters."
Papua New Guinea, Port Moresby: 5 day blockade against cops shooting 2 betel nut vendors comes to an end "Port Moresby city almost came to a standstill with the fuel for the city running short because tankers were blocked, and at the same time the power station that supports supply to city, the expatriates that operate that power plant had to be evacuated, so the power plant was shut down."
Eire, County Mayo: arson attack on politician's office 
Bahrain: report of trial talks of "an attack on police who were ambushed when they responded to an illegal roadblock in Nuwaidrat, where a highway was obstructed with burning tyres."
26/1/15:
Nigeria, Delta State: students put up barricades on main road in movement against fee hikes
Italy, Calabria: about 50 immigrants block highway in both directions with rocks etc. to demand work permits 
Kenya, Narok: cops kill Maasai during protests against local governor's corruption
25/1/15:
Morocco, Agadir: 20 cops and 4 other security officials injured by football fans
24/1/15:
UK, Wiltshire: hunt saboteurs sabotage huntsman
Italy, Cremona: 100s of anti-fascists clash with cops after cops release fascists responsible for severe beating of anti-fascist; banks smashed
23/1/15:
Brazil, Sao Paulo: more clashes with rubber-bullet firing cops as protesters against fare hikes smash street furniture and windows of 2 banks
UK, Nottinghamshire: 500 strangers stop bailiffs evicting cancer-sufferer by forming a human blockade round his bungalow "Supporters travelled from across the country to support the family after viewing Mr Crawford's latest video outlining his situation on YouTube. Luke Smith, 25, a chef from Leicester, said: "The recession has crippled so many people and they are taking it out on everyone."
22/1/15:
New Caledonia, Canala:  cops pelted with stones, seek shelter in patrol car, then shot at, 2 of them badly injured, bullets hitting head 
Congo, Kinshasa: more mass protests (video) (another video in French here)(leftist take on all this here)
South Africa, Soweto: mass looting after shopkeeper kills 14-year-old shoplifter This is being portrayed as xenophobic because it's mainly foreign shops that are getting looted. But there have been South African-owned shops also looted and often the vast majority of shops there are foreign-owned – so inevitably if there's looting it's going to be of mainly foreign-owned shops. The description of this as xenophobic in fact merely adds to the ideological racist forms of divide and rule, since the basis of this looting is class, not race. This is not to say that there may be racial elements to this but in portraying this in such a simplistic unnuanced way it encourages a  racist false consciousness that it claims to oppose…report here says cops encouraged people to loot foreign-owned stores (not hard to guess why they might do this)….Paarl, near Cape Town: prisoners stab 10 guards in retaliation for killing of prisoner
Equatorial Guinea: football fans clash with cops (more here ) "Some fans allegedly did not have tickets for the game and they reportedly threw stones and bottles at the police, who responded by using smoke grenades. Hundreds of supporters were involved as they tried to access the stadium in Bata through a single entrance. It is the second time during the competition where there have been confrontations between supporters and the authorities following similar problems before the opening two matches. The previous scuffles came after fans were delayed by authorities testing each supporter for ebola before they were granted access to the stadium."

France, Nanterre: cops molotoved in ambush on estate…Champagne-sur-Seine: Civial Protection offices vandalised and burgled for 2nd time in 18 months "… the damage is very significant. The thief or thieves stole two video projectors, two computer monitors, a satellite phone, four portable radios, two blue flashing lights, uniforms branded Civil Protection rescuers, first aid equipment and € 860."
21/1/15:
Congo, Kinshasa: riots continue
Colombia, Cordoba: groups block roads with burning tyres cutting off town from coast in opposition to eviction of squatters
20/1/15:
Colombia, Cartagena: residents of local borough block main road with burning tyres demanding drinkable water; usual brutal response from cops (video here)
Israel: Arabs stage general strike against cop brutality after 2 Bedouin are killed "Tensions between Israel's police and the Arab community, which at 1.7 million people accounts for 20 percent of the population, have surged since a 22-year-old Arab man was shot dead in the Galilee last November moments after banging on the window of a police vehicle. Tuesday's strike is a relatively rare occurrence and represents a show of unity among the Arab population" (more here) "Bedouin protesters and Israeli police clashed again in the southern Israeli town of Rahat on Tuesday night, after a day-long strike by Arabs across Israel in protest of the death of two Bedouins that involved Israeli police. An Israeli police spokesperson said that dozens of youths hurled stones and burned tires in front of the town's police station and that three suspects were arrested…About 192,000 Bedouins, indigenous Arabs dwelling in the southern Israeli Negev Desert, are now living in Israel, half of whom in more than 40 unrecognized villages. The Israeli authorities do not provide services to these villages, including electricity, running water, health services or education." (mainstream radio report)
19/1/15:
US, Indiana: cop's body camera liberated on demo against cop brutality (see also this) "A tire on a squad car also got slashed Monday evening. "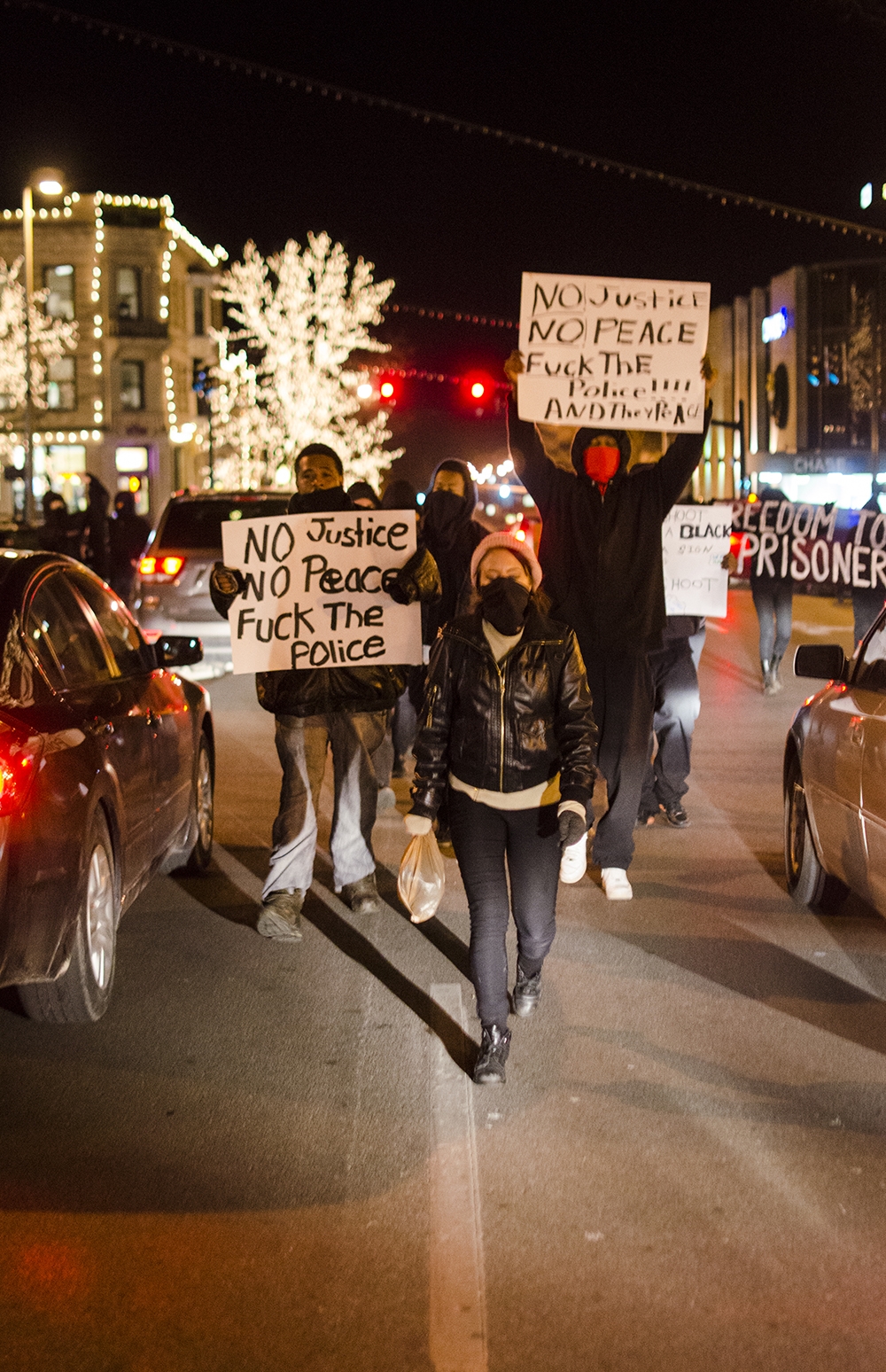 demo in Bloomington, Indiana
Mexico, Guerrero: as part of the movement ignited by the probable murders of 43 students, about 60 people burn part of the Electoral Institute for Citizen Participation  "…electoral stationery was burned and furniture, a laptop and a printer were stolen."… parents of the 43 march to demand the trial of the mayor and his wife for their part in the horrible events, then burn a patrol car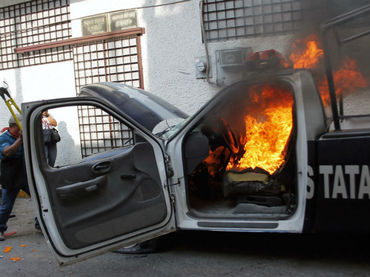 Congo, Kinshasa: 2 looters and 1 cop killed, as protesters against new electoral law start looting shops More here "In several neighborhoods, including Bandalungwa, youths ignited tires and mounted roadblocks at certain intersections, witnesses said. An AFP reporter saw several clashes between groups of young people throwing stones against the police, who fired tear gas."
Colombia, Bogota: heavy confrontations with cops (video)
South Africa, Limpopo: protest against discriminatory service delivery between different sections of municipality gets furious "several vehicles and offices were set alight, roads blockaded and shops looted." More here "Protesters demanding their own municipality have brought the area to a standstill and barred pupils from attending school. They forced shops in the local mall to close two days before inland schools were due to open for the new academic year. …only health workers were allowed in and out of the area. Roads in the area were monitored to make sure no business took place. "All shops are closed… we do not even have bread. We are prepared to continue like this until our demands are met."
Kenya, Nairobi:  8 – 13 year-old schoolkids are teargassed as they demonstrate against the destruction of their playground "Kenyan police yesterday fired teargas at children as young as eight when they protested against the seizure of their school playground by a property developer. About 100 primary school children and a small group of activists pushed over a newly built wall that separated playing fields and the school buildings, in the capital, Nairobi. Most of the children were aged between eight and 13. About 40 armed police accompanied by dogs dispersed the protesters by firing teargas…Dozens of children were caught in choking clouds of teargas before being forced to take shelter on a pedestrian bridge over the main road to escape the fumes. Children screamed as police officers in riot gear and waving truncheons pushed them back, some children panicking as they sought water with which to rinse their burning eyes. At least five children received medical treatment and one policeman was seen with blood pouring from beneath his riot helmet. A senior police officer at the demonstration, Mwangi Kuria, told Kenya's Daily Nation newspaper that officers had been deployed to "safeguard the property", and that rocks had been thrown at his men. …Some of the children carried placards protesting against the "land grab". The incident sparked angry reactions on social media, including Twitter with the hashtag "#OccupyPlayGround"….Yesterday was the first school day since the wall was built, during the holidays. Nairobi, a city of more than 3 million, is growing rapidly and land prices are rising at some of the fastest rates on the continent, according to real estate experts." (video here)
Brazil, Recife: prisoner and prison guard killed during riot "The violence erupted in a Recife jail when an orderly protest broke down, and was brought under control only after police arrived. One officer died of a bullet wound in hospital, while details surrounding the inmate's death were not released. ….Gunfire and explosions were heard coming from inside the prison, and G1 Globo newsportal showed a helicopter with an armed official flying overhead. Brazilian jails have faced a string of riots in recent months. The system's 563,000 inmates make Brazil's prison population the fourth-largest after the United States, China and Russia, according Amnesty International…."
Papua New Guinea: Manus Island barricades broken by goon squad "One detainee said: "They attack on Delta compound and beat us very harshly. Tied our hands and bring all of us in different jails." Another said: "We are not safe … they beat us like dog.""
18/1/15:
Sudan, South Darfur, Nyala: large clashes between demonstrators and government forces after Rapid Support Force kills man (more here)
Papua New Guinea: Manus Island concentration camp prisoners barricade themselves in against Australian security guard attack (see link for 14/1/15)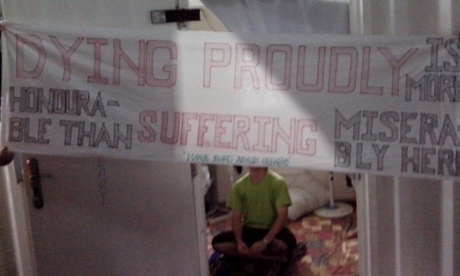 India, Mumbai: over 1000 truckers block roads, pelt cops with stones, burn police van in dispute over delays caused by crane operator's go-slow
Israel, Rahut: rocks thrown at cops at funeral of Bedouin killed by cops More here "One dead, 22 hurt as police clash with Rahat residents at funeral…. A police patrol car erroneously reached the funeral procession, which numbered in the thousands, and sparked unrest which resulted in the squad car being pelted with rocks, shots fired in the air and the officers surrounded."
16/1/15:
India, Vellore: residents' road blockade succeeds in getting them water
Tanzania: judge declares rail strike illegal "The ruling was made on Friday by Judge I.D. Abdul who also ordered that the Tazara employees are permanently restrained from conducting illegal strikes in future. The workers have been on strike demanding payment of their past five-months salaries"
South Africa: Northam Platinum suspends mining due to violent illegal strike
Brazil, Sao Paulo: clashes with cops over fare hikes
Bosnia: Croatian football fans clash with cops
15/1/15:
Spain, Madrid: clashes with cops as cops protect Coca Cola bosses' squad dismantling factory "Decommissioning a Coca Cola factory in the town of Fuenlabrada, Madrid, ended Thursday in clashes that left four injured to varying degrees as well as  arrests, according to the Spanish police. A group of workers who spent nearly a year camped outside the plant, were preventing a group of people entering the factory with the intention of dismantling the company and force its closure. A strong police contingent prevented…employees …coming near  the factory by charging them".

South Africa, Gauteng: illegal miners ambush cops
Mauritania: anti-slavery protesters smash up police van etc. after some opposed to slavery are sent to prison (more here)
Peru: 1000s clash with cops over new wage slavery  laws  in 11 cities "…In Lima, some of the more than 5,000 marchers clashed with tear gas-hurling police, pelting them with sticks and stones and setting fire to trash in street bins.Sixteen police officers were injured, one seriously…Under the law, workers ages 18 to 24 who are dismissed will not get severance pay. Workers in the age group also will now be entitled to only half the vacation time given to older employees. And young workers won't be paid the twice yearly bonuses of one month's wages standard for others. "
US, Boston: another interstate blocked (more here)
Armenia, Gyumri: protesters against Russian soldier killing 6 people stone cops protecting consultate
14/1/15:
Mexico, Guerrero: education workers confront cops with stones,  bottles and pipes whilst in Acapulco, masked youths and teachers try to sabotage the processing of photos  for the National Electoral Institute
Algeria, Mostaganem: daïra of Sidi Lakhdar burned and ransacked on 4th day of "uprising" "… clashes between demonstrators and the police  resulted in 10 injured, including three in serious condition, 25 arrests and the ransacking of the headquarters of Daira and the adjoining housing function, as well as the destruction of furniture and documents and other computer equipment. On the fourth day of the uprising of the people of Sidi Lakhdar, the event that was meant to be peaceful degenerated into clashes between protesters and security forces. According to corroborating testimonies, long before sunrise, members of the riot squad intervened to dislodge the people camped outside the gates of the daïra….shortly before noon, when the fighting reached its peak, ten were reported injured, including three seriously. Parents report … a young demonstrator…had to have his leg amputated. According to several witnesses, he was crushed by a vehicle of the security forces. While thousands of protesters of all ages continued to flock to the site of clashes, police managed to arrest 25 demonstrators….The headquarters of the daïra facing the police station was soon taken over by the demonstrators, who burnt two cars, and unceremoniously sacked the administrative offices. Another group then attacked the head of daïra housing who miraculously managed to evacuate his family. The latter had remained locked in during the first three days of rioting….On the main street that leads to the Daira, the protesters decided to ostentatiously sit a few meters from the riot squads. Others have settled on waiting room chairs taken onto, and blocking, the street. The night promises to not bode well. …All speak of provocation on the part of law enforcement. All maintain their main demand is the departure of head of daïra and the establishment of a ministerial inquiry. On the way back, we passed no fewer than 12 riot squad vehicles who have  returned from Sidi Bel Abbes to lend a hand to those already there. The night could be very agitated in this charming seaside city, whose streets are littered with cobbles and stones brought by tractors from the countryside" [SamFanto note: I'm having internet problems; when they're sorted I'll be able to do a bit of research into exactly what this uprising is about.]
Australia, Manus Island: report of 500 concentration camp prisoners on hunger strike
Venezuela, Barcelona: at end of march group try to loot supermarket; cops shoot and  injure ordinary customers
13/1/15:
Gaza, Ramallah: unpaid workers stage mass sit-in in front of Palestinian Authority's HQ More here: "The Palestinian unity government condemned a break-in of former Hamas government officials to its offices in Gaza on Tuesday and criticized them for damage done to vehicles and equipment. The protestors broke into the government offices in protest of salaries that had not been paid in over seven months"
US, Ohio: cops tear gas and pepper spray students after they burn dumpsters and couches as part of celebrations of footbal victory
12/1/15:
India, Hansi: as 300 farmers are charged with attempted murder, other farmers block main road and pelt cops with stones
Mexico: heavy clashes with cops at military bases in Iguala and Acapulco
South Africa. Kwa-Zulu-Natal: service delivery protesters block roads with burning tyre and rocks…Limpopo: protesters against discriminatory delivery of services force closure of shops
11/1/15:
South Africa, Eastern Cape: roads blocked, motorist's car burnt, in another service delivery protest
Haiti, Port-au-Prince: 2nd day of clashes with cops as protesters demand president's resignation (see also here)
10/1/15:
Mexico: really tragic video (ho ho)
Haiti, Port-au-Prince: clashes between cops and demonstrators demanding president's resignation "The protest turned ugly after riot police used tear gas and batons against the demonstrators. Angry protesters set tires on fire and threw rocks at security forces in retaliation for police brutality."
Australia, Melbourne: riot cops called as mass chair-chucking sport improves on  individual dart-chucking sport
Singapore: engineering students design riot shield with strobe lights to dazzle rioters
9/1/15:
Brazil, Sao Paulo: violent clashes between cops and demonstrators protesting fare hikes…anti-fare hike protests in Rio also
8/1/15:
US, Washington: anti-cop graffiti on 10 businesses in Olympia district
7/1/15:
India, Calcutta: construction workers and cops clash violently after worker is killed in work "accident" "A mob torched at least four vehicles and damaged several others, including an ambulance. … other labourers asked for compensation from the construction company and staged a sit-in outside the main gate …"… Kavaratti: 2 cop bikes burnt as students clash with cops
Kenya: state declares teachers strike illegal (but….)
France, Paris (no link for this – taken from a friend in Paris): demonstrations (including many of those working for the Press) take place throughout Paris over the Charlie Hebdo massacre, the main one being in Place de la République. There were many Muslims (including many women, veiled and unveiled), disgusted by what had happened (the massacre also included at least one ordinary proletarian – a proof reader), and obviously fearful of Islamophobic reprisals. Journalists tended to be in favour of intensifying "security measures" (ie repressive laws), as if such things could or would have prevented such a massacre (it's the typical unthinking knee-jerk response of those who can only see hierarchical "solutions" which merely make things worse). Those lower down in the hierarchy of the Press (eg copy editors and proof readers) were apparently more sceptical about the use by the state of such events as a pretext for intensified "security" measures. The Front National turned up with the French national tricolour flag, were met with immediate hostility from most of the crowd and were given 2 minutes to leave, which they did.  The local 11th arrondisement section of the governing Socialist Party turned up in an official capacity and were told to stay outside the demonstration (which they also did), the crowd telling them to leave because they were using the events to make political capital out of it.  The former minister under Sarkozy – Borloo – was there but made it clear that he was there as a "citizen", and just milled around like anybody else. A clever move – he was not threatened, and was allowed to stay. In Montreuil, however, the Greens and the Front De Gauche (leftists, including the Communist Party) were allowed to display their party colours and though some were hostile to them, this had no practical consequence, unlike what had happened in the Place de la Republique. This, despite the fact that the Front de Gauche had voted for the intensification of anti-terrorist measures back in November (the Greens had abstained).
In the meantime, in Le Mans the predictable burning of a mosque has provoked a response from youths in the area – burning of cars, containers and smashing of bus stops
Added 9/1/15: apparently not only a proof reader was killed but also a male cleaner. For some obscure reason, the media do not talk about these invisible people, perhaps because they weren't professional ideologists and are therefore considered by the media who justify nearly every state-run massacre (the Gulf War of '91, the current killings organised by the French state in Mali, Ivory Coast and Afghanistan, etc.)  as nonentities, rather like the  jihadists who executed them. For the dominant discourse the choice is never between "socialism or barbarism" but "civilised barbarism or jihadist barbarism" – i.e. "frying pan or fire".
India, Bangalore: violent clashes with cops after PT teacher sexually molests 7-year-old
6/1/15:
Nigeria, Benin: students riot in response to beatings of lecturers and destruction of ex-VC's house "students are rioting, blocking roads, burning cars, buses, and lorries " More explanatory detail here
Chile, Santiago: indigenous Mapuche clash with cops on anniversary of guy killed by cops in 2008
Belgium, Brussels: several molotovs thrown at police station
Mexico, Michoacan: cops kill at least 9 people in crackdown on armed residents Not clear whether these people armed themselves against the narcotic gangs or the state or both.
5/1/15:
Tunisia, Redeyef: police station torched in protests against phosphate transportation
Germany: counter-demonstrators  against fascistic anti-Islam demos attack cops and demonstrators " …in Dresden, Saxony,  the leftist counter- demonstrators attacked the demonstrators. In Berlin, leftists attacked the police with stones and bottles. The police made arrests. Five policemen were injured. Leftists chased demonstrators who took the train after the event at the Alexanderplatz station. In Cologne, the police had to face leftists who wanted to attack the demonstration. The leftists threw bottles at the police. The leftists were stopped. …In Munich [where no event was announced] 1500 counter-demonstrators  blocked 100 PEGIDA protesters . Police were  stoned by the leftists. Two policemen were injured. At the end of the event, leftists clashed with police" This is a right-wing report, so it inevitably defines all the counter-demonstrators as "leftists".
UK, Liverpool:  3 screws get screwed…yet another  example of state-directed insanity
US, New York: cops overjoyed to find that people really like them…especially when they do something like this
France, Saint-Denis: cop car hit by different projectiles, including "incendiary device" "
Nigeria, Akure: unlawful strike by law workers
South Africa, Eastern Cape: villagers blockade major road  with burning tyres demanding electrification after having waited over 20 years
4/1/15:
Colombia, Valledupar: local state's intensification of rules for motorcyclists – mainly for motorcycle taxis – provokes riots My Spanish is pretty crap, but from what I've understood, this is a rule allowing only the owner of  a motorcycle the right to ride it, which clearly prevents people earning money as motorcycle taxis. This is purely speculation, but I'd guess this local rule is maybe a testing ground for the extension of such rules nationally. It fits in logically with the dominant tendency to make life worse for those at the margins who are excluded from the the means of exploitation by "normal"  forms of capital accumulation, those who are not directly exploitable.
US: Oakland and New York: anti-cop protests move into restaurants… right-wing report on how illegal immigrants are joining anti-cop movement "Some illegal alien activists… are threatening to kill U.S. police officers if their demands are not met. Threats are nothing new, but what is new is the audacity displayed by protesters who have no fear of retribution by police or federal law enforcement agents and no fear of public outrage."
Australia, Darwin: small riot in teenage prison
Algeria: movement against shale gas spreads to 3 towns
3/1/15:
France, Champigny: molotovs thrown at police station
2/1/15:
US, New York: reports on the cops' go-slow (and here)
Haiti, Anse-a-Pitre: Haitian and Dominican Republic cops join forces to "restore calm" after fishermen attack Dominican Embassy, seize 3 soldiers and 2 citizens, over Dominican's destruction of their boats and arrest of 4 Haitian fishermen for fishing in Dominican Republic's territorial waters Not sure how much this expresses an "opposition" to the crazy contradictions of territorial conflict – but…. 
India, Mumbai: commuters riot at railway  stations "Violent crowds ran amok on Central Railway's suburban network on Friday morning following train delays…The situation … led to a flash motormen's strike … While some sat on a rail roko [a form of protest where people lie down on the tracks, or sleep on the sleepers], some miscreants vandalized three booking counters and seven ATVMs at Diva and Diva level crossing gate, and two booking counters and six ATVMs at Dombivli. The machines were thrown on the tracks to block rail movement. Irate commuters also went on to vandalize five police vehicles of which three were torched, and damaged ten suburban trains along Diva, Dombivli and Kalyan…At 10.45am, after a motorman, R K Chawda, was seriously injured in the head during pelting at Diva, the motormen's union went on a flash strike. This brought the entire rail network on the Main, Harbour and Trans-Harbour lines to a complete standstill. It was a day of high drama as the strike continued for nearly two hours and motormen resumed operations only after being assured of protection by the RPF top brass. By then, commuters, including senior citizens, women and children, had jumped off the coaches in frustration and walked on tracks to the nearest stations. ….Railway police lathi-charged protesters who were throwing stones; it took them nearly an hour to clear the tracks by noon….A group of people started pelting stones and another mob charged at the station manager's office on platform one, smashing windows and ransacking all equipment. A group also vandalized the booking window and destroyed the computers and seven ATVMs before fleeing with Rs 1 lakh in cash and coupons worth Rs 50,000, said a railway official. The situation turned uglier after some miscreants torched three vehicles, a bike and two police jeeps, belonging to Mumbra police and railway protection force and went on a rampage stoning other police vehicles that had arrived…. the attackers did not seem like regular commuters but were likely to be anti-social elements who took advantage of the situation. " (video here)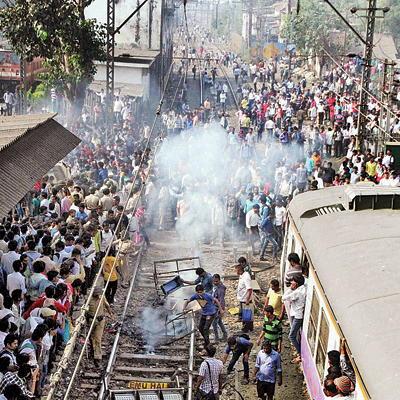 Mexico: cops attacked during president's convocation speech (video)
31/12/14 – 1/1/15:
Australia, Pingelly: how to celebrate the new year, part 1
France: part 3 – cars burnt in Strasbourg, Selestat, Colmar, Macon, Toulouse and Trappes…but this says car burnings are down 12% due to heavy policing after mad attacks…La Rochelle: as youths try to stop arrest of guy for burning car, bowling balls, stones and concrete blocks thrown at tow-away vehicle

US, Oakland: Part 4 – bricks and bottles thrown at cops on New Year's eve….Part 5 – Pennsylvania: teenage prisoners  riot in "adolescent treatment centre"…Part 6: Santa Cruz: anti-cop protesters smash up County Jail vehicles
Germany, Leipzig: Part 7 – Deutsche Bank stoned in solidarity with anarchists in Spain