"By night, on July's sky, deep, and transparent, new constellations are thrown. And something miraculous will come close to the darkness and ruin, something no-one, no-one has known, though we've longed for it since we were children" 
– Anna Akhmatova 
"Reading the morning newspaper is the realist's morning prayer. One orients one's attitude toward the world either by God or by what the world is. The former gives as much security as the latter, in that one knows how one stands. "   – Hegel
Frightday, 31/7/15:
Iran, Tehran: 500 on hunger strike in new prison
Mexico, Morelos: farmers and peasants burn the town hall and block roads demanding fertiliser after broken promises by mayor
Colombia, Huila: confrontations with riot cops, mayor's house stoned, as cops unsuccessfully try to evict residents squatting municipal land
Venezuela, St.Felix: state trucks attacked, 4 supermarkets/food shops looted…1 person shot dead by cops in riot as president blames the USA…and this "… most of the shops in Ciudad Guayana remained closed and guarded by soldiers….The Venezuelan Observatory of Social Conflict (SVCO), which monitors the situation of public policy, said in a report that in the first half of the year there were 56 cases of looting and 76 attempts at looting  across the country." 
France, Calais: port workers block major port road with massive fire…Video here "We're finished with being nice…Calais is going to have a hot summer" …Paris: 200 migrants and supporters occupy abandoned school

Thumpsday, 30/7/15:
Saudi Arabia, Riyadh: after nasty intra-class fight between Indian and Bangladeshi proletarians, anger turns on cops etc, as cop cars are flipped over and burned
Pakistan, Islamabad: cops pelted with stones as "illegal" houses are bulldozed
US, Ferguson: mayor forced to leave meeting as clashes break out in Town Hall protests…Florida: confed lives don't matter
Bosnia-Herzogovina, Sarajevo: workers protesting against new slavery law disrupt traffic   4 articles here: "The town is completely blocked" … here:  " …miners arrived in front of  the Parliament of Bosnia and Herzegovina and joined the demonstrators. "We will be 100,000 in the streets! " The demonstrators announced that "they will not move until their demands are met." They demand the complete withdrawal of the proposed new labor code. Meanwhile, more and more protesters join thousands of people occupying the streets leading to parliament. Delegations of workers and laborers arrived from Republika Srpska (the Serb entity of Bosnia and Herzegovina) with the message supporting workers' solidarity beyond the nationalist and religious divisions that the powers of all stripes are trying to impose on them. Messages of support from labor organizations from Serbia and Croatia are increasing…." …here:"At exactly 12.45, a delegation of protesters gathered in front of the BiH parliament, where the debate is ongoing on the new draft law on labor, bringing a message to parliamentarians, "You have 15 minutes to announce the withdrawal of the project or we will proceed to new actions." The delegation gave no further details about future actions. Meanwhile, pensioners have joined the protesters in solidarity. All trade union organizations …of Bosnia and Herzegovina that are not affected by this bill, called "massively to support and join the comrades in Sarajevo in solidarity" highlighting "workers' solidarity first of all ". Dozens of buses are still blocked by police at the entrance of Sarajevo. Protesters threaten to increase the blockading actions if the police do not let them pass."…and here: "The protesters destroyed the police building barriers protecting parliament. They are now in front of the parliament directly  in front of a large police contingent."… delegates to upper house forced to leave building by emergency exits
Australia, Melbourne: students smash window of shop where Minister of (Mis-)Education launches juvenile book
India, Bihar: students clash with cops, attack college, set fire to bus after college refuses admissions
Belgium: farmers burn tyres, blockade motorway, in protest against being forced to sell below cost price
Wailsday, 29/7/15:
US, Arkansas: riot at prison causes hundreds of thousands of dollars' worth of improvement
Nigeria, Warri: union workers protesting controversial leadership election shoot cops and attack businesses
Colombia, Cucuta: riots and protests after smuggler is shot dead; border with Venezuela closed
Eire, Dublin: prisoners take to the roof, riot "…two inmates remained on the prison roof staging a protest. They accessed the roof at around 11am, followed some time later by a linked protest at the B Yard in the west Dublin prison. Some 60 inmates in the yard refused to leave at 12pm. Prison authorities identified a core of 15 ringleaders, who …demolished soccer goals and used the metal posts, along with security razor wiring, as improvised weapons." At the same time some of the prisoners take hostage and beat up an Afghani refugee.
Tearsday, 28/7/15:
Mexico, Mexico City: taxi drivers attack Uber cars, smashing windows with clubs
Chile, Chuquicamata: striking copper miners blockade world's largest copper mine
South Africa, Johannesburg: service delivery protesters block roads with burning debris and chopped down trees
Nepal, Mahottari: heavy clashes between residents and cops after local state bans CD 
Australia, Melbourne: another fire at prison famous for its earlier riot
France: farmers continue barricading for price rises…Languedoc-Roussillon: cop car badly damaged by paving stone, cops attacked with apricots and eggs
Moanday, 27/7/15:
Ivory Coast, Abidjan: fight between students and cops
Argentina, Buenos Aires: striking bus drivers and workers expressing solidarity  disrupt traffic, then attacked by riot cops "The forces of "order" attacked the protesters around 7:20 a.m., and the drivers answered with a hail of rocks. Three workers were arrested. At least 18 people were injured, including journalists. Around 10:00 a.m., the scene was repeated at the La Noria Bridge. The police used tear gas and rubber bullets, while the workers defended themselves with whatever they could get their hands on."
Greece, Athens: anarchists burn loads of Porsches
Lebanon, Beirut: anti-rubbish protesters clash with cops This does not give any information as it's for subscribers only, but this gives some background to the situation. 
South Africa, Cape Town: no respect for the dead…continuing story of occupied mobile school…Eastern Cape (Port Elizabeth): schoolkids & parents protesting teacher shortages & school closures clash with rubber-bullet firing riot cops More here "The whole area has been shut down and the situation is tense with police firing rubber bullets to disperse the crowd. In retaliation, the residents are pelting them with rocks and petrol bombs. A number of police vans have been damaged. There is large police contingency in the area including a helicopter. Smoke from burning tyres has engulfed the area."…and here "…areas – including Gelvandale and Bethelsdorp – were ablaze over the closure of 33 schools due to a lack of teachers. Protesters blocked roads with burning barricades… some protesters making petrol bombs. Others displayed spent bullet casings, claiming live ammunition had been fired into the crowd by police. But police spokeswoman Brigadier Miranda Mills said: "We did not fire any live ammunition. Shots (of live ammunition) were fired at the police." Mills said that police had to use stun grenades, rubber bullets and water cannons to disperse protesters….Parents, pupils and even taxi drivers reportedly took part in the protests that erupted on Monday morning, with protesters also complaining about a lack of infrastructure at the schools, apart from the closures and a lack of teachers. Police said: "Criminal elements seized the opportunity" to loot a shop in West End…"Six police vehicles and one vehicle belonging to a resident were damaged."
Canada, Toronto: "Black Lives Matter" shut down motorway for 2 hours
Stunday, 26/7/15:
France, La Reunion (French department in the Indian Ocean near Mauritius): cops launch tear gas after shops and bar attacked and wrecked, firemen stoned, bins set on fire
Phillipines, Manila: protesters and riot cops clash as president gives state-of-nation speech
Manila
US, Cleveland: cops and anti-cop protesters clash after 14-year-old is beaten for carrying open container
Turkey, Istanbul: full-scale war as cop is killed after leftist is killed by cops …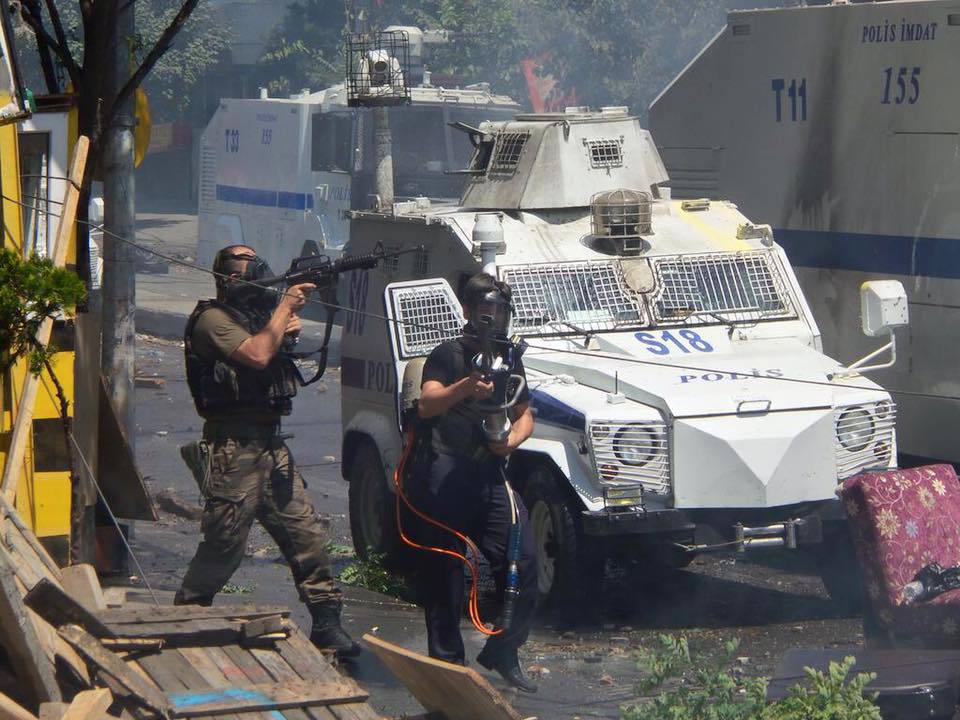 Erdogan's anti-terrorist squad in Gezi, after having set fire to the Alevi centre
…but, sadly, no critique of the PKK or of Kurdish nationalism. The fact that anarchists can repeatedly ignore essential critiques of the PKK is the triumph of desperate hope over reflective experience, bordering on an almost religious faith in words – as if Ocalan's use of anarchist-sounding words somehow magically transforms him from his former Stalinism (without seriously making any critique of his past) into a Durruti.  "The search for critical truth … must struggle in practice among the irreconcilable enemies of the spectacle, and admit that it is nothing without them. By rushing into sordid reformist compromises or pseudo-revolutionary collective actions, those driven by an abstract desire for immediate effectiveness are in reality obeying the ruling laws of thought, adopting a perspective that can see nothing but the latest news. In this way delirium reappears within the camp that claims to be opposing it. A critique seeking to go beyond the spectacle must know how to wait." – Debord, Society of the Spectacle.
Mexico, Mexico City: bank bombed in solidarity with anarchist prisoners
Shatterday, 25/7/15:
US, Arizona: excellent "Black Lives Matter" disruption (video)
France, Languedoc-Roussillon: cops attacked with stones and table legs…Loire: 30 youths attack cop dog squad with chairs and stones
India, Mumbai: stone-throwing clashes between local residents and cops as electricity company officials get heavy 
Frightday, 24/7/15:
South Africa, Port Elizabeth: wildcat electricity strike stop electricity cuts
France, Yvelines: report of designer clothes manufacturer-cum-prisoner using his past to gain street cred and trying to calm down angry youths after constant on-off mini-riots "This man in his thirties is known to all here. He is extremely active on social networks and in recent months has launched his clothing brand called "For youv". All this from … his  prison cell  where he's been  incarcerated for almost thirteen years after a series of robberies. "My past allows me to be credible to those kids", says youv, who was given permission to organise a barbecue [presumably outside prison] "Burning cars, throwing stones at the police, I did it! And today I am in prison. And believe me, prison is not really an example. " Sitting in the middle of a group of teenagers consuming a merguez sausage or emptying a coke, the young man commands respect. The kids listen in silence, in awe…. The discussion continues for several minutes. The tone is never preachy. He warns, pacifies, without pointing the finger at one youth or another. "I do not want to appoint blame, I do not want to be in a confrontation. I just use my little notoriety to make things happen in my own way, " insists youv.  An intervention that could possibly bear fruit amongst this very young audience who are not very sensitive to traditional prevention messages."
India, Andhra Pradesh: strikers clash with cops "The 14-day long strike by municipal workers turned violent on Friday, when they forcibly tried to enter the sub-collector's office to stage a protest, resulting in many arrests and injuries in the scuffle between the police and workers." For an account of factory riots, occupations and wildcat strikes in Delhi's industrial south in 2014  see this.
Chile, Salvador: striking copper miner killed by cops in clash "Police said they used guns in response to "a heavy machinery attack" by protesters that put an officer's life in danger, but didn't say what that the alleged attack consisted of…."For some days a group of people had been interfering the free flow of people and even the supply of (the town of) El Salvador, and the mine's operations. They took over the road several times in different points," Burgos said."
China, Taiwan, Taipei: students occupy office of Minister of Education "Scaling ladders, the activists slipped by police and stormed the ministry building late on Thursday evening. According to the police, 18 activists subsequently barricaded themselves inside Minister of Education Wu Se-hwa's office, using furniture to block the door. By about 1 a.m., police had succeeded in expelling the students, some of whom had their hands tied behind their backs with plastic restraints. In total, 33 persons were arrested, including 24 students—11 of them under the age of 18. …Reporters at the site complained they were prevented from doing their work.Footage provided by one of the journalists who was taken away (he was released in the afternoon on NT$10,000 bail) shows police using strobe lights to prevent him from taking photographs, while other officers are pulling at him and are heard saying, "No one asked you to come to cover the story."
Thumpsday, 23/7/15:
Algeria, Ouargla: youths attack courtroom and cops after arrests on previous day's riot "…Comrades [of those previously arrested] … moved to Ouargla Court demanding their immediate release, without further ado …Young people decided to throw stones and other objects at the windows of the court in a sudden escalation of violence which sparked a forceful intervention from the security forces to deter attackers from crossing the boundary wall of the court and to protect the public building. The clashes lasted a good half hour before the youths were pushed outside the perimeter of the court which also has several banks, tax management, the headquarters of the wilaya [kind of prefecture] and the operational area of the army ….The authorities had to close their doors, several businesses pulled down their shutters before the street regained its composure."
Indonesia, Rembang: Kendeng indigenous clash with cops over land destruction More about this movement here "People in Rembang City in Jawa Tengah, Indonesia make a protest because the company PT. Semen Indonesia will build a factory in Rembang City. Why the farmers and people protest to that capitalism is because Jaringan Masyarakat peduli Pegunungan Kendeng (JMPPK) and Semarang Caver Association [farming and local community groups in Rembang City] found 109 springs, fountains or wells, as well as 49 caves and 4 underground rivers that make a great amount of pure water there. And this is different news from Analisa Dampak Lingkungan (AMDAL) which is an organisation, or an 'Non-Government Organisation' that is a bullshit organisation that belongs to the government and PT. Semen Indonesia. They say they only found 20 fountains. If PT. Semen Indonesia still make their factory and cement production in Rembang City, it will destroy nature and the water supply in Rembang City, because that water is directly produced from Watuputih mountain. That's why we must boycott PT. Semen Indonesia and AMDAL. Feed the fire… burn baby burn….!!!!"
France, Lyon: farmers blockade the city "…farmers have stationed tractors on the key roads around the southern city, vowing to block or slow access until at least Thursday night."…
South Africa, Pretoria: high school students loot shops on march about schools "…pupils from across the province stormed into shops and trashed hawkers' wares on the pavements. A clash between the pupils and vendors ensued in the afternoon as the traders fought to protect their goods. Police spokesman Sergeant Asnath Melatsi said 50 pupils from Springs township were arrested on Thursday afternoon after vandalising three shops in Sunnyside….One of the vendors in the CBD hurled a plastic chair at pupils who wanted to help themselves to fruit and snacks from his stall. Pupils then picked up stones, rocks and vegetables from nearby stalls and pelted the vendor with them….they wanted tablets and that the appalling conditions of school toilets should be urgently addressed….Their trip to Pretoria from different townships was not sponsored by anyone but "pupils had hijacked" trains to their destination. They also demanded healthy menus for lunch, beefing up of security, parents to take interest in the education of their children and the distribution of condoms at schools. Pupils also wanted scholar transport to be arranged for them."
Wailsday, 22/7/15:
UK, London: immigration cops egged, vans sabotaged "While they were busy raiding Chapman Street, their tyres got slashed, valves taken and cars scratched. The local garage refused to sell them tyres or help them. To top it all off they got egged from the local tower block and a few landed direct on their heads. Welcome to Shadwell."
Zambia, Livingstone: taxi drivers riot, block roads over fuel price hikes and road charges
Mexico, Jalisco:  Indian villagers clash with neighbouring state cops after taking various workers of  mining company  hostages "11 people, including a child, were wounded by stones when faced with police from the neighboring state of Colima and employees of the mining company Peña Colorada ….they were… demanding more than one billion pesos for 50 years occupation of 1200 hectares of their property….the protesters detained  three employees of Peña Colorada for more than eight hours"
US: various demos against the cop murder of Sandra Bland Sandra Bland had stated during her arrest, " "Don't it make you feel good officer Encinia? You're a real man now.". After her death her mother said : " Sandra Bland's mother stated: "I have a baby to put in the ground. She wasn't my convict, she wasn't my suspect – she was my baby. Once I put this baby in the ground, I'm ready. … This means war."
Bolivia, La Paz: another dynamite confrontation between miners and the state "Bolivian miners detonated a dynamite charge at the doors of the Interior Ministry and hurled rocks at the building. The miners placed the dynamite at the side door of the ministry and detonated it but only damaged the door, after which they occupied the building's interior patio and threw rocks at the building, breaking a number of windows…Police repelled the demonstrators with tear gas, but the miners responded by throwing more dynamite charges. Several government ministers who had been inside the building managed to escape through a back door before the disturbance. "
Greece, Athens: assembly of workers and unemployed continue in Syntagma square daily….conflicts outside parliament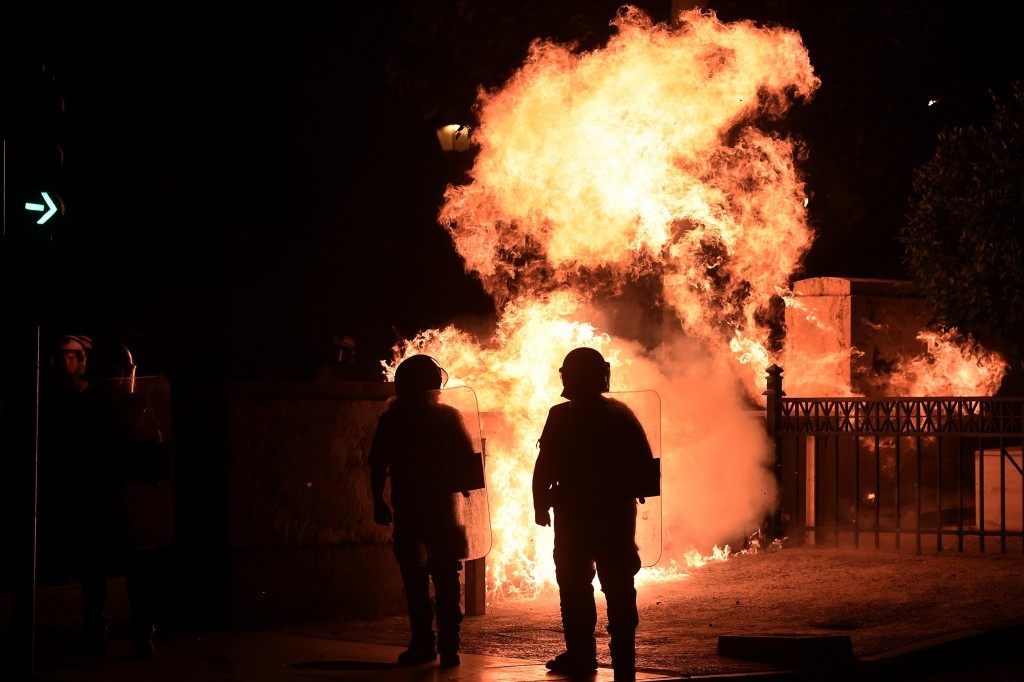 molotovs against syriza
France: around 50 farmers' blockades scattered over northern areas of country
Tearsday, 21/7/15:
France, Yvelines: another night of low-level attacks on the cops in popular area "Hostilities started at 11 pm [Monday]…A specialized patrol brigade …was taken to task by twenty individuals, suspected of throwing projectiles at the police vehicle which was damaged by an impact. Around half past midnight, a patrol of the BAC…was also a victim of projectiles launched by a group of twenty individuals. A Molotov cocktail thrown at the police vehicle set a wheel alight. Reinforcements responded immediately to secure the area. The author of the thrown incendiary device was arrested – a neighborhood youth aged just 14 years. A few minutes later,  four incendiary devices were thrown from the roof of a building at police patrolling on foot. No injuries. 1 a.m. gendarmerie squads and police crews in turn experienced missile throwing. The BAC saw three young people aged 12-15 years picking up stones off the ground. They fled and took refuge amongst a group of twenty individuals. The group, up until then peaceful becomes hostile with the  arrival of law enforcement and tries to prevent the intervention of security forces. The men of the BAC carry out the arrest of a suspect author of the rebellion and incitement to rebellion. A crowd gathers to try to prevent the arrest, but the arrival of reinforcements push the attackers away. The individual arrested is a 30 year old man, a native of Mantes-la-Jolie."…report listing the  19 gendarmeries and police stations that have been attacked since 5th July
India, Bargarh: villagers block main inter-town road for over 12 hours after guy dies in cop custody
Turkey: 2nd night of riots in several parts of country after Suruc bombing I've generally avoided reporting on movements in Turkey, mainly focussed on Kurdish nationalist perspectives, because they're usually dominated by PKK influences and I have no desire to join the anarchist delerium in which Ocalan is now painted in glowing black and red having adopted Bookchin and "feminism" (whilst never mentioning the fact that Ocalan, before his imprisonment, was pretty explicitly a rapist). Nevertheless, there may well be some aspects of this fury that are independent – but the anarcho-ideological 3 deaf, dumb and blind monkey  bandwagon of uncritical support makes me very wary of getting sucked in….informative text by Middle Eastern Muslim anarchists against Islam "We as Anarchists are against all religions. But for Middle East the worst one is of course Islam and Zionism !! It means we are strongly against religion, but we are not against people who believe in religion."
US, Alabama: protesters block roads after cops claim 18-year-old woman hanged herself in police cell
Greece, Athens: poster from anarchist high school students
AGAINST
Their national vision
Their system of creating internal divisions (Memorandum Vs Anti-memorandum)
The efforts of the State and of capital together to become embedded in our lives
We respond with our combative  action
See you in the streets for the anarchist conflict without compromise
– Group of anarchist high school students – anti-educational Attack
Moanday, 20/7/15:
US, Denver: disruption of pro-cop demo (video)
India, Hazaribag: crowd clash with cops, burn store, after woman killed for her dowry
Mexico, Ostula: a thousand indigenous armed just with sticks and stones block bridge to army site to prevent repeat of army attack after previous day's killings… revealed here as 2 kids and a 60-year-old man…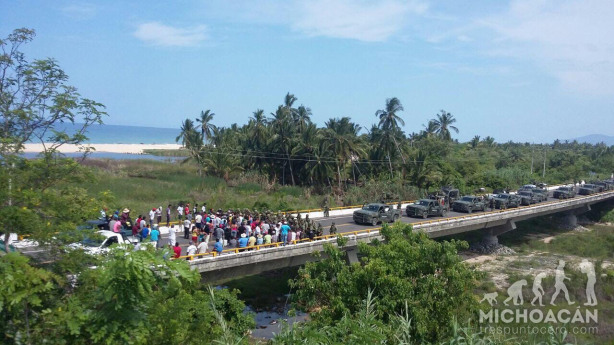 Guerrero: 100 members of the  Popular Movement of Guerrero block road to prevent President's access and throw rocks at governor's daughter's car...Michoacan: 50 Normal school protesters arrested; in Chilpancingo (Guerrero state's capital), transport workers linked to PRI (government party) and  local government intervene against CNTE members and students organized around the 43 dissappeared
South Africa, Cape Town: 3rd week of occupation of vacant mobile school by parents protesting lack of school places for their kids
France, Calais: striking ferry workers again blockade channel tunnel, set fire to tyres…Yvelines (Mantes-la-Jolie): yet another night of anti-cop attacks"The first events were reported shortly before half past midnight. A CRS security patrol in Val Fourre spots a trash fire of trash…. CRS were subsequently the object of projectiles thrown at their vehicle, which was damaged. …Moments later, firefighters are called to intervene in a fire that broke out on a billboard …. A crew of the BAC is responsible for assisting the firefighters for their safety during the procedure. Upon arrival at the scene, firefighters and police officers establish the presence nearby of a dozen individuals, who start launching projectiles at them. The police are obliged to make use of their weapons (flash-balls, grenade launchers …) to disperse the assailants. Shortly before 1:30, another fire – this is a trash fire – is reported…. Firefighters must apply again the police assistance to be able to intervene safely…a vehicle of the BAC street is the target of projectiles."…Normandy:  farmers movement against supermarkets forcing them to sell at (or below) cost price and banks  that encourage these supermarkets in its 3rd week….access to Mont-Michel blocked…more here Of course, even as 10% of farms face bankruptcy (25,000 farms), such a perspective is unlikely to win them solidarity from other proletarians; as consumers, no-one wants prices to rise. If they distributed their stuff for free (as happened on a mass scale in Brittany in May-June 1968) outside the supermarkets and banks on top of their aggressive actions, that might prove to be more popular…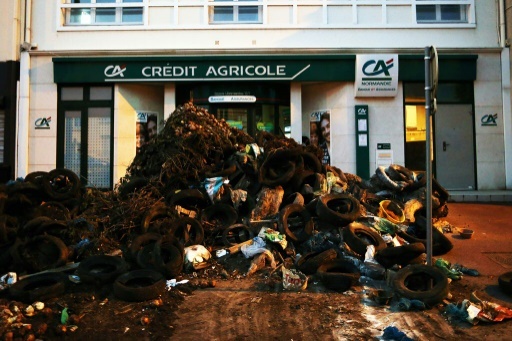 India, Odisha: villagers re-occupy land stolen from them
UK, London: cops try to brainwash kids with anti-occupy propaganda making social movements equivalent to terrorists
Stunday, 19/7/15:
India, Jadavpur: students post posters on police station, block entrance after arrest of student;  sub-inspector hospitalised; cops apologise  "Around 5.30 pm, OC Vijay Kumar Singh appeared at the entrance of the police station and addressed the students. "Last night, there was a clash between an officer and a student. The officer is in hospital in critical condition. We are sorry for the incident and will take measures so that such incidents are not repeated." 
Mexico, Ostula: army, supported by narco scum, kill child and wound 2 others  The army attacks the Communitarian Police and villagers' "autonomy" . Roads, bridges, tourist projects and land privatization programs are some of the attacks faced by the Nahua community of Santa Maria Ostula, on the coast of the state of Michoacan. These are programs that try to develop the militarization of labour. This article includes a chronology of what happened in this community. It's probably the community which has paid the highest price for their "autonomy" in Mexico. A December 2014 article mentions 32 dissappeared and 6 killed in the process. See entry about Ostula on the 26th of May news of opposition….Oaxaca:  villagers burn municipal offices, a police van and an ambulance in opposition to local elections They accuse the federal governement and the government of the State of Oaxaca of ignoring a national legal decision to stop extraction projects in their area. "In a meeting held yesterday, the Zoque Indians agreed to evict the residents of Belisario Dominguez, led by Oscar Gordillo, accusing them of illegally expropriating wood and destroying the forest. "The authorities have not paid attention to the community's demand to evict the invaders; in April this year the Interior Ministry and the government of Oaxaca  ensured that land would be restored yet so far have done nothing to solve the agrarian conflict "….Last February, community members from Santa Maria detained three people and in March one more, after accusing them of deforesting 200 hectares belonging to the indigenous community."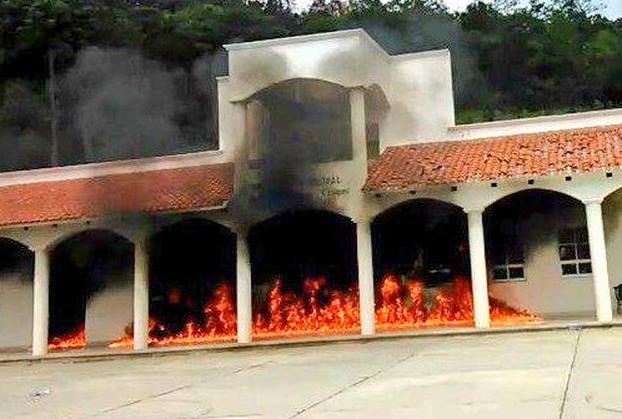 Shatterday, 18/7/15:
France: report showing that 17 police stations have been attacked in less than 2 weeks
Germany, Bremen: windows of immigration offices broken
Greece, Athens: call out for further assemblies of workers and unemployed This is in Greek; translation here: 
CALL
of
THE ASSEMBLY of WORKERS and UNEMPLOYED
AGAINST THE ONGOING POLICY OF AUSTERITY AND DEVALUATION
NEXT MEETING
at SYNTAGMA SQUARE
MONDAY 20/7, 7 pm
For the last five years, the policy of devaluation not only of our labour power but also of our life as a whole (also known as "Memorandum") has been relentless and inexorable. It is served and promoted both by the Right wing and the Left wing of the state and capital.
We, waged workers, unemployed, students and housewives who make this announcement, are people who have been involved in various class struggles, either within the workplaces or in the working-class neighborhoods, all these years.
We are the ones who, whether we voted in favor of NO, meaning NO to the policy of austerity and devaluation as a whole, or abstained from the referendum consciously, rejecting the dilemmas posed by the political parties, share a common desire. The desire to defend the interests of our class against the interests of the bosses and to contribute to all possible ways of collective action to meet our social needs.
We share, in short, the necessity:
TO ORGANIZE THE VISIBILITY OF OUR CLASS AND OF OUR NEEDS IN THE PUBLIC SPACE 
For the last five years we have suffered far too much and now the capitalist state is assuring us, after adopting the 3rd Memorandum, that we will continue to suffer: wage and pension reductions, cuts in health and education spending, non-existent unemployment benefits, increases in the direct taxation of our homes, increases in the indirect taxation on food, catering, transport.
We spit on the "humanitarian aid" offered to us by local and the international capitalists and the political personnel that represents them. We are not beggars, we do not need them; they are the ones who are still here thanks to our own "humanism" and the coercive labour time that we provide them with.
WE WILL NOT REMAIN PASSIVE SPECTATORS OF RECENT DEVELOPMENTS. WE WILL NOT GO WINDOW-SHOPPING STARING AT THE PRICE OF THE VARIOUS POLITICAL COMMODITIES
"We were spared the grexit and  financial suffocation! ",  say the government crooks who share smilingly together with the usurer states the same mystifying ideology and practice of the "state of exception". Behind this ideology and practice of false blackmailing dilemmas ("euro or drachma?") they hide not their 'exceptional' but their permanent need to usurp the wealth produced by the productive and reproductive labour of the local and "foreign" proletariat.
WE WILL TAKE BACK WHAT BELONGS TO US! WE KNOW THAT THE SATISFACTION OF EVEN OUR MOST IMMEDIATE NEEDS NECESSARILY LEADS US TO THE REAPPROPRIATION OF THE MEANS OF PRODUCTION, DISTRIBUTION AND COMMUNICATION THAT WE AND THE PAST GENERATIONS OF PROLETARIANS HAVE CREATED 
We declare that the presence and involvement of fascists, racists, sexists and stalinists in our assembly is undesirable. We are not patriots, we do not struggle under any national flags. The earth is our homeland. We do not struggle under the vague and misleading labels of "citizens", "residents / neighbors", "private owners" and the "people" that crooked politicians everywhere use to obscure the reality of social inequality and the exploitation of labor.
We invite all comrades, all the people who have been fighting, and still are, in an autonomous way in workplaces and neighborhoods against the policy of devaluation and recuperation in the previous years, to join organizational efforts with us and continue resisting the application laws of the new memorandum to be voted these days in the Parliament by the informal all-party government of SYRIZA-ANEL-ND-PASOK-THE RIVER. And above all, to find ways for the immediate satisfaction of our needs.
ASSEMBLY of WORKERS and UNEMPLOYED at Syntagma Square 
14/7/2015
ADDENDUM: On Wednesday 15, after the end of the morning demonstration of workers in the public sector, the Assembly made an intervention at the subway to claim free transport. On Thursday 16,  working groups which were proposed in the first meeting for the organization of activities and events were formed. On Sunday 19, the Assembly will take solidarity action with the striking workers in the commercial sector who will blockade the central commercial street of Athens against the abolition of the Sunday holiday. On Tuesday 21st and Thursday 23rd, the Assembly will organize two public meetings, one on the new austerity measures and one on the self-reduction of prices and debts in Syntagma Square.
http://synelefsi-syntagmatos.espivblogs.net/
synel.syntagma@espiv.net
Nepal, Kathmandu: anti- Australian cop graffiti sprayed on Australian embassy
Mexico, Zacatecas: 7 previously disappeared youths are found to have almost certainly been shot and killed by the army
US, South Carolina: report on anti-KKK demo (see also this, on the wave of attacks on the confederate flag and other racist symbols) 
Frightday, 17/7/15:
Germany, Berlin: security company car burnt, culmination of other anti-political attacks on cars
Bolivia, La Paz: miners march and fight cops with dynamite, block streets in the centre Following 12 (some reports say 9) days of conflict in the capital, they're demanding  a meeting with president Evo Morales to talk about their 26 demands. Video in English here "They want Bolivian president Morales to fulfill a promise to develop the area"
France, Yvelines (Mantes-la-Jolie): 3 separate attacks on cops in banlieu
Thumpsday, 16/7/15:
Canada, Toronto: protesters against cop killing of mentally ill guy crash cop board meeting 
France, Beauvais: 3rd night of ambushes and attacks on cops and firemen in normally "calm" banlieux…Yvelines (Chanteloup-les-Vignes): cops attacked with stones, molotovs and mortar fireworks; cop car window broken…Paris: Vinci (prison construction company) car set on fire…Ariege: Tour-de-France sabotaged
Wailsday, 15/7/15:
South Africa, Gauteng: angry commuters burn trains because of changed routes; 30m rands worth of damage
Mexico, Puebla: villagers organize assembly, force municipal president and company representatives to sign document saying planned hydroelectric dam won't be built
India, Puducherry: high school students block roads against teacher shortages "Though officials pacified them the students refused to relent…. "
Colombia, Risaralda: motorbike taxis block roads, attack mayor, confront riot cops Although the report does not mention it, I suspect that this is due to the local intensified limitations on who can drive motorbike taxis and the intensified bureaucratisation of this kind of wage labour.
France, just outside Paris: cop surrounded and beaten (Epinay), molotovs and heavy petanque balls thrown at cop car, and a lot more (Ulis)  "The return of a second night of "high tension" in the Essonne after the attack on the police station of Les Ulis on the night of July 13th to 14th. Les Ulis, fires and bowling balls were thrown. It's midnight. An armed group threw stones and Molotov cocktails at cars and buildings of the residence of the Châtaigneraie, a few hundred meters from the police station. They especially target the porter's lodge. A patrol was sent to secure the premises. A flaming bottle struck the police vehicle and left a black mark on the body. A stone smashed the mirror. In the process, to disperse those guarding the police station, several fires were reported in the surrounding streets. Each time the fire crews were sent there they became the target of a rain of projectiles. At around 2 am, the mobile company of gendarmes installed at the entrance of the Avenue des Champs-Lasnier to bar access to those attacking the police, were hit by thrown stones and bowling balls. The gendarmes responded by defending themselves. The assailants retreated a few meters and barricaded themselves using metal barriers and dumpsters and bins set on fire . The armed group was nevertheless pushed further back. Half an hour later, the gendarmes are hit by a second attack. But they scare away the youths  who set fire to two cars …. At Epinay-sous-Senart…heavily explosive mortar-type fireworks …street furniture is smashed up… some vegetation is seen on fire. The police arrested two of the four men they saw fleeing. But when they check their identity, forty youths surround the officers, allowing the two to escape. The officers forced  the hostile group to disperse and then found one of the two youths they wanted…Once again, a group forms around the officers and retrieved the youths from the police…. An additional patrol arrived at that instant. But one of the peacekeepers was caught in a pincer movement by a score of assailants. he was hit several times. The police used a dispersion grenade to release their colleagues. Many projectiles were launched at both crews as they retreated. A man was arrested in the wake of these incidents at 10pm. He was placed in custody."…Val d'Oise: 2nd night of attacks on cops with fireworks, bricks and even gunfire; 2 molotovs thrown at police station ….Calais: whiskey galore on the ferries occupied by strikers "Angry French ferry workers who have illegally occupied two cross-channel ferries have caused damage and drunk the bars dry, it has been claimed. Striking crew members protesting over 600 job losses are said to have run amok on the Rodin and her sister ship the Berlioz….parts of the ferries have been daubed with graffiti and the ships' evacuation slides have been released"…Seine-St.Denis: 20 cops surrounded and stoned on estate…Essonne: 2nd night of attacks on cops, hit by molotovs, stones and bottles; 7 cars burn…Seine-et-Marne: railway cop who threatens noisy neighbours with gun beaten up and hospitalised
Greece, Athens:  biggest riot for 2 years (video here)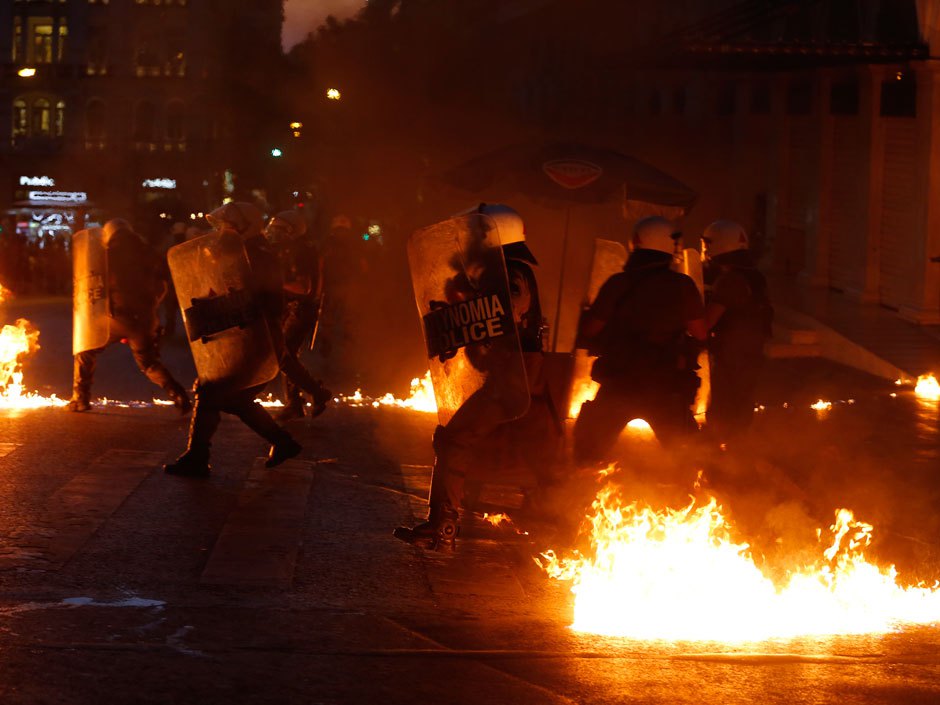 …anarchists intervene in private hospitals…cops tear gas cops
Japan, Tokyo: massive  mainly passive demo against legislation legalising constitutionally illegal ability of state to go to war (more on this here)
Argentina, Wallmapu: indigenous prisoners in Great Escape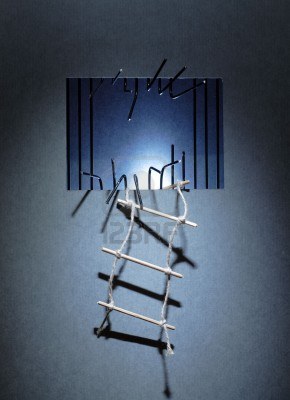 Tearsday, 14/7/15:
France, Paris: Bastille Day celebrated with confrontations between cops and youths in 5 districts; in one cops are attacked with molotovs; in another several bins & about 20 cars are torched. More here…Val d'Oise: 14-year-old's  testicle smashed by cop flash-ball because he happened to be in the area of a small riot, though not involved….Normandy: 3 different towns see confrontations between youths and cops "In Evreux, Gisors and Vernon (Eure), the night of Monday 13th to Tuesday, July 14th, 2015 was marked by urban violence. In several neighborhoods, cars were burned. Police officers have also been attacked on the estates, including missile throwing….In Gisors at 11:45 pm between 40 and 50 young people threw stones, paving stones and fireworks at the forces of order in the city center. About 40 gendarmes, supported by a helicopter from the air section of Vélizy-Villacoublay (Yvelines), were deployed. A soldier was wounded in the foot …In Greater Rouen (Seine-Maritime), "some" cars were burned …The previous night between Sunday 12 and Monday, July 13, 2015, a middle school in Vernon (Eure) was the target…Broken windows, damaged goods. These acts of vandalism at Cervantes College, in the district of Boutardes, have revived the issue of video surveillance of schools…"…721 cars burnt nationwide, 603 people arrested…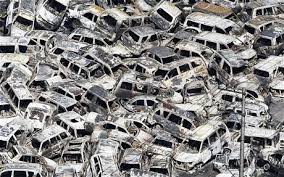 Pakistan: Rashakai: security guards and cops "taken hostage" in electricity outage protests "Several persons were injured Tuesday when the police and protesters clashed during an anti-loadshedding protest…The residents of Rashakai and surrounding villages took the streets to protest the unannounced and excessive power outages and blocked the busy Nowshera-Mardan road for traffic for two hours. ….The protesters said that unannounced power cuts were being carried out in Rahshakai and surrounding localities in the sweltering heat. …The protesters turned violent after a security guard of the Member Provincial Assembly (MPA) Jamshed Khan Mohmand, who was on way to Peshawar, fired warning gunshots and tried to reopen the road by force. The enraged protesters circled the vehicle of the lawmaker and snatched weapons from his security guards.The violent protesters deflated the tyres of Jamshed Mohmand's car and made him and his security guards hostage…The protesters also beat up cops and Station House Officer (SHO) of Jabar Police Station in Jamal Garhi and snatched weapons from them as one of the gunmen fired shots to break up the protest and reopen the road. …The protesters also made hostage the cops and the SHO for four hours. Several protesters were injured due to the stampede after the firing incident and the clash with the cops of the Jabar Police Station. …Police officers from Nowshera city and cantonment reached the spot to control the situation. They held talks with the protesters and assured that their demands would be taken up with the Pesco and other officials.The protesters released MPA Jamshed Mohmand, his guards and cops after they tendered apology."
South Africa, Limpopo: 4th mine's truck set on fire in protests against unemployment
Ireland: report showing less than half of population paid their water bills
Moanday, 13/7/15:
France, Lyon: 2nd night of "disturbances" in Vaux-en-Velin, popular quarter  of city More than 5 cars burned, flaming barricades mounted to slow down emergency services. The night before, cops had been pelted with stones and highly explosive "mortar" fireworks, and the police station was attacked with a "plaster grenade" (?)…Castres: cops attacked with stones, cop patrol car  window smashed…Seine-St.Denis: chief BAC cop beaten unconscious
South Africa, Limpopo: protesters demanding new road block road with burning tyres, rocks and burning truck
Thailand, Mae Sai: farmers block border with Myanmar (Burma) after state destroys improvised dams made for irrigation of farmland 
Pakistan, Karachi: cops shoot and wound 2 kids as residents surround police station in protest against arrest.
Greece, Athens: demonstration of impotence…public sector unions announce 24-hour general strike  for 15th July "The deal involves increasing taxes, pension reforms, making the Greek statistics office independent and automatic spending cuts in case Greece misses primary surplus targets – all of which must be legislated by Wednesday. Greece also has to commit to overhauling the justice system and implementing European Union rules on handling bank failures by July 22. These are noticeably tougher reforms than those Greece overwhelmingly rejected in a referendum earlier this month."...EU demands limitations on ability to go on strike "…a drop in the national minimum wage and the weakening of sectorwide collective bargaining agreements. On top of that, Athens will pursue further measures designed to bolster the leverage of employers against unions. Likely among that new batch: laws that pave the way for companies to issue mass layoffs and rein in the ability of workers to go on strike."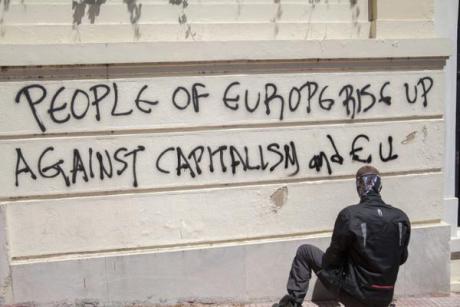 Stunday, 12/7/15:
US, Louisville: "EXPLETIVE the police!"
France, Doubs: car burned, 2 attacks on BAC cops with mortar fireworks
Shatterday, 11/7/15:
France, Essonne: attacks on cops with explosive fireworks in 3 different areas
India, Kashmir (Rohama): cop car torched as youths protest against guy injured by cop car during water protest  So far, I've not included in this "News…"  the ongoing massive movement against Indian domination of the area, because this movement is colonised by political perspectives of an independent Kashmir state. This particular protest, however, is not directly linked to this movement even though some of its slogans were against the Indian state.
UK, London: anti-gentrification marchers pelt cops with bottles and sticks Bit strange that this demo took place in Camden, where gentrification began already 40 years ago…SWP/SYRIZA meeting disrupted by anarchist prisoner solidarity group
Frightday, 10/7/15:
UK, London: Queen's Wedding Cake Destroyed Horror Shock!!!!

After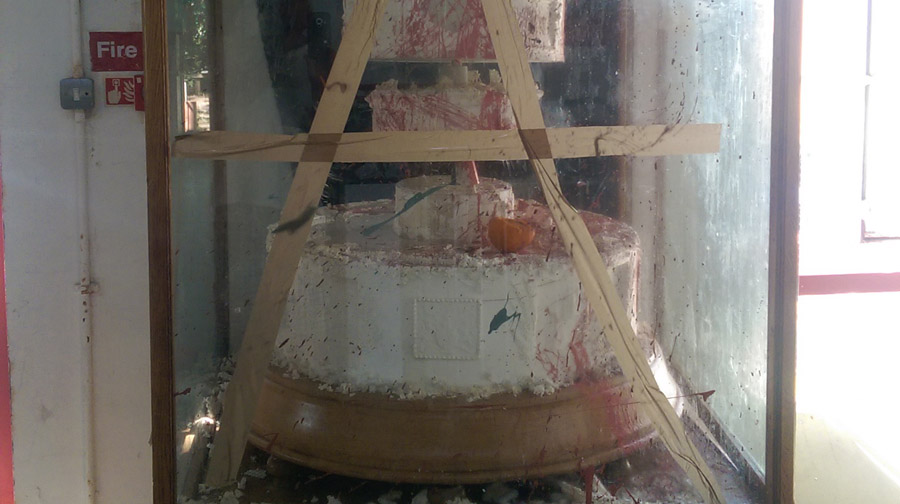 South Africa, Northern Cape: cop badly injured as protesters stone mayor and councillors…Johannesburg: striking telecommunication workers block roads
Greece, Athens: Syriza's pro-austerity cops fire stun grenades at anti-austerity demo…Superyan (Yannis Varoufakis) asks to have his luxury home privatised "On Friday, July 10, 2015, when the Hellenic Parliament voted on the "Tsipras submissions" to the EU, Yannis Varoufakis, former minister of finance, and current MP, wasn't there.  He wasn't there to vote "yes" "no" or "present." …If the Syriza  had a hair on its ass, which it does not, it would designate all of Varoufakis' property for immediate assignment into the privatization fund."
Syriza up in flames
France, Toulouse: mini-riot in popular district after cops chase youths for stealing car "…fifty individuals reportedly began stoning police vehicles while the alleged thieves were cornered in the area with no possibility of escape …The police were forced to call in reinforcements and use tear gas to disperse the agitators. Finally, the three individuals who were aboard the stolen car were arrested. According to the regional newspaper, the confrontations have multiplied since mid-June…"…Melun: 2 police crews attacked by 30 youths after cops clamp down on fire hydrant use during oppressive heatwave; cops respond with tear gas and rubber bullets "The instructions of the police are to show "zero tolerance towards the opening of fire hydrants."
India, Imphal: women storm police station after arrested youths are beaten by cops
Thumpsday, 9/7/15:
Kenya, Embu: high school students go on strike, break windows, because of crap school food
Peru, Huancayo: Official union strike – strikers beat up boss, block highway and railway track, throw stones at vehicles 
Argentina, Tucuman: 20 youths attack police station with sticks and stones, burn or smash 3 cars belonging privately to cops and 2 hijacked vehicles According to this, this attack was made by friends and family of someone who died of asphyxiation in a prison.
Greece: Athens: anti austerity anarchists confront cops… when no means yes – or The 5 stages of Leftism (see also this)
WANTED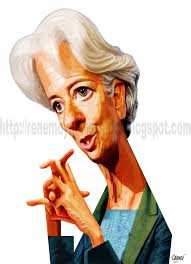 DEAD OR ALIVE
(preferably the former)
REWARD: Satisfaction
Cambodia, Prey Vihear: villagers camp on land to resist companies' land clearance project Pi writes: "This is a northern province of the country, bordering Thailand (the two countries dispute the Prey Vihear temple in Thai territory). Often companies (foreign or mixed capital) seize land from villagers in campaigns for different types of projects, the authorities often playing on ambiguities in the terms of land ownership. The Khmer Rouge regime, which had "communised" the land by force (2 million deaths) under the inspiration of Maoist China in 1979, left a devastated country, which has allowed the elite to monopolize natural resources (especially in areas with indigenous populations) and peasant land (because they have no documents proving ownership of the land; when they do, the authorities manage to declare them non-valid), and to lay hands on the economy and political power in a short period of  time.
In the context of very violent state repression (regularly, wherever dissenting voices are heard people die), struggles often place themselves at a level of confrontation far weaker than that of the state (mostly, its army, its cops and other coercion is used: henchmen, etc.). Given that the Khmer Rouge wielded maximum Marxist-Leninist rhetoric, most revolutionary vocabulary is now immediately seen as an expression of the horror of this bloody regime. This may partly explain why an important place is given to NGOs in struggles, which often take it upon themselves to express the demands and to be the intermediary between power and the participants in these movements,  in a very obviously  reformist logic"
Wailsday, 8/7/15:
South Africa, Durban: 2 separate  protests against electricity cut-offs block roads
France, Valence: heavily armed "vigipirate" "security" guards (i.e. 2 soldiers and a cop) ambushed in impoverished district 30 hooded men break a military car window, try to burn down the police station, barricade the street with street furniture and manhole covers, burn car, smash health company business, break 3 bay windows…cops fire a dozen flashballs, fight continues up till 1.30 Thursday morning.
Kenya, Eldoret: university riot over hike in student fees The vice-chancellor, after closing the university "indefinitely", referred to a slight increase in accommodation and tuition fees. These "slight" increases are 40% and 60% respectively.
Turkey, Artvin: anti-mining protesters block road against construction company and gendarmes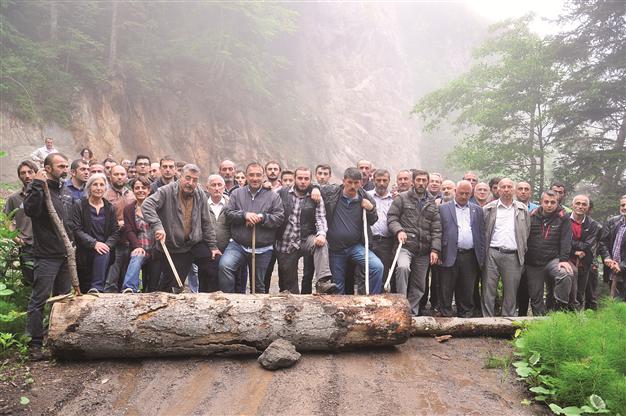 Artvin
Tearsday, 7/7/15:
Greece:  reports, which though ideologically leftist, show why Greece is hardly to blame for its debt – here ; and  here (the latter is a broadcast: details about the history of the debt start at about 8 minutes 30 seconds in)
Iran: nurses hold anti-government protests in several cities under threat of the sack
Venezuela, Barcelona: 2nd day of looting of contents of trucks and clashes with cops at university
France, Doubs: cops and firemen attacked with stones and very explosive fireworks in ambush This manipulative journalist (is there any other kind?) conflates 2 utterly separate incidents – this attack and a nasty attack on a handicapped youth, as if all violence other than the violence of the state is the same. 
India, Odisha: villagers and cops in furious battle over bridge construction "More than 50 persons, including a magistrate and four police personnel, were seriously injured … The situation became violent when the administration with help of police force tried to disperse villagers and facilitate construction of the bridge. Infuriated by the early morning action by the police, hundreds of villagers started pelting stones at the police personnel and physically assaulted the cops and other government officials. The Block Development Officer was thrashed by protesters who also torched the site camp of contractor firm …After more than hour-long pitched battle, the situation was brought under control. As many as 15 platoons of police were deployed at the construction site." More here "Agitated villagers also torched a camp of a construction company and some vehicles and equipment at the site… more than 450 police personnel were deployed to prevent further flare up and restore normalcy….Demonstrations and dharnas have also been held by the residents in the last seven months demanding that the location of the bridge be shifted."

Holland, The Hague: state-inflicted ban on group assembly remains in place 4 days after 4 days of riots
UK, outer London: attempts to evict those resisting 3rd runway at Heathrow fails
Moanday, 6/7/15:
Burma (Myanmar), Mandalay: a dozen motorbikes belonging to cops and officials and a company building set on fire during villagers' resistance to mining project
Venezuela, Maracaibo: clashes between students and riot cops at University as youths seize bus, throw stones and bottles at cops
Senegal, Dakar: students block roads and University to prevent Minister of Education's visit.
France, Essonne: 15 youths attack police station with stones yet again; 2 vehicles damaged also "The police station was already the object of an attack in  November 2012,  January 2013 and February 2014."
US, New York: representative of the ruling class orders construction workers to end illegal strike This is an opportunity for those who fought, blocked roads etc. against the racist cops to make connections with other proletarians involved in a very different struggle. Whether connections are made or not…who knows?
South Africa, North West, protesters demanding work barricade roads, pelt cars with stones, burn truck…KwaZulu Natal: 2 striking drivers shot and killed 20 metres from police station
Armenia, Yerevan: cops remove barricades
Stunday, 5/7/15:
Tahiti, Punaauia: cops and police station attacked
France, Britanny (Laval): farmers' eggs v state's tear gas "300 farmers demonstrated outside Lactalis [dairy product distributor which forces farmers to sell at loss] …They released twenty pigs onto the  site. They also wrote "Thief" on the entrance of the company  wall and destroyed fences near the entrance. Then they went down to the prefecture, where they threw eggs at police who responded by firing tear gas"…Lyon: 13 & 16-year-old fire heavily explosive firework at police station
Greece, Athens: anarchists celebrate No victory by chucking molotovs at cops…Part 2 of Wolf Report's "We interrupt this referendum…" …and more from the wolf, FWIW…and another interesting article
the birthplace of democracy: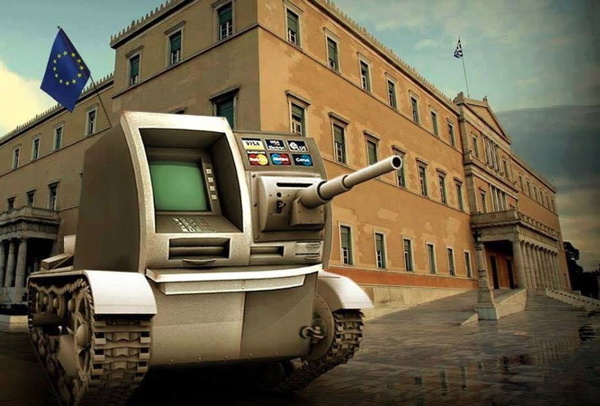 "Democracy is when "no" and "yes" mean the same thing"
Rough translation (from French) of anti-election leaflet originally written in Greek (added 11/7/15):
For abstention in the referendum and conflict with the institutions of democracy
The Greek state is in search of accomplices. The referendum is the best way to
find them. By generously offering illusions of free mediation and making us  contribute to the project of its reinforcement, its maddest desire is  materialized: We will be the ones
who will bury ourselves under our own tombstone! The dilemma is simple: yes or no? Bad
foreign creditors or good management of the state by the Left? Memorandum heavy or light? Measures totaling 12 billion or 8 billion? Another opportunity to put our lives
in the hands of the government and saviours. Another opportunity for national unity,
to forget what divides us and unite the motley crowd (fascists, patriots, bosses,
good citizens) to address the common external enemy, the lenders, and by this path
clear the local bosses of all responsibility.
As anarchist high school students, we choose to abstain in the referendum (although
we do not have the right to vote). We are opposed to the system's dilemmas and its
illusions, and we clarify in advance that we will not participate in any institutional  or electoral proceedings of government. Because simply, such a process is aimed at stabilizing the system and preserving and strengthening the national and  institutional domination of the state, as is each option given to us through this expedient. However, we do not support abstention as an alternative or third way, because we think that abstention alone only leads to passivity and assimilation.
So based on this mindset, the only abstention that satisfies us is that resulting
from conflict,  insurrectional action and anarchist struggle. Far from the parties and their
lines. Far from saviours and leaders. Self-organized, radical and aggressive, because it is
only in this way that can we take our lives into our own hands.
For a frontal attack against the state, capital and all forms of authority.
Group of anarchist high school students – anti-educational Attack.
Chile, Santiago: football fans loot shops
US, Arizona: I have only one burning desire – let me stand next to your fire
Shatterday, 4/7/15:
Czech Republic, Prague: cop car torched by anarchists furious about repression of anarchists
France, Corbeil-Essonne: 2nd night of cops being attacked with stones and molotov after burning of car
UK, Somerset: nearly half a village block road against threat to axe bus route…London: video of young people getting into festival for free (though it should be added, that this was so common back in the 1960s, 70s and 80s that it would have hardly been worth noting). See this, for a resentful reflection by someone who paid on people getting in for free and on how that ruins the respectable image of young people that every young person should feel obliged to portray as ambassadors for their age-group, as representatives of Good Citizenship that should be compulsory for everyone performing on the world's stage.
US, Arizona: July 4th celebrations prison-style "Problems began July 2 in the medium-security Hualapai Unit of the Arizona State Prison Complex-Kingman when inmates were "non-compliant and caused significant damage" in two housing areas"
South Africa, North West: Famous 5 On Adventure Holiday 
Kenya, Nyandarua: strange brew
India, Muzaffarnagar: crowds block roads, pelt cops with stones, after 2 kids killed and 3 badly injured by speeding truck
Frightday, 3/7/15:
China: report of strikes reaching record numbers (almost as high for first 6 months as whole of last year) Another report here.
Greece, Athens: pepper spray and stun grenades used against rock-throwing demonstrators…supermarket raided by anti-austerity people " "A group of around 30 people raided a supermarket in the Athens neighborhood of ‪Vyronas‬ on Friday, throwing anti-austerity flyers into the air and grabbing food off the shelves. The youths, who were believed to belong to anti-establishment groups, left the supermarket without paying and shared their loot with passers-by in the street before fleeing." See this on the referendum.
Canada, Toronto: wildcat strike at airport
India, Bombay: lawyers against the law – court rules 15-day lawyer's strike "illegal"
Thumpsday, 2/7/15:
France, Britanny  (Quimper): Lidl supermarket trashed, 2 cop vehicles attacked, prefecture attacked, stolen tyres burnt just alongside the prefecture, in night of anger by farmers forced to sell at a loss …Sens: cops stoned by 15 people, car and garbage cans burnt
Venezuela, Barquisimento: student center and 2 vehicles torched
US, New York: carpenters in illegal strike "The contractors basically want to cut our throats," said one carpenter" More here...Arizona: 2nd night of riot in prison "In Wednesday's incident, a small group of minimum security inmates were chasing down an inmate when prison staff intervened to stop the assault, Wilder said. The inmates assaulted the officers, and six officers suffered minor injuries.,.. it took a couple of hours to get the prisoners back to their housing units…Thursday's incident involved many more inmates and turned into a full-blown riot involving an unknown number of inmates…. It took many hours for prison staff and Department of Corrections officers to bring the situation under control, and the prison wasn't secured until early Friday morning, Wilder said. Three guards were hurt."
Holland, the Hague: 4th night of rioting as locals break cops' curfew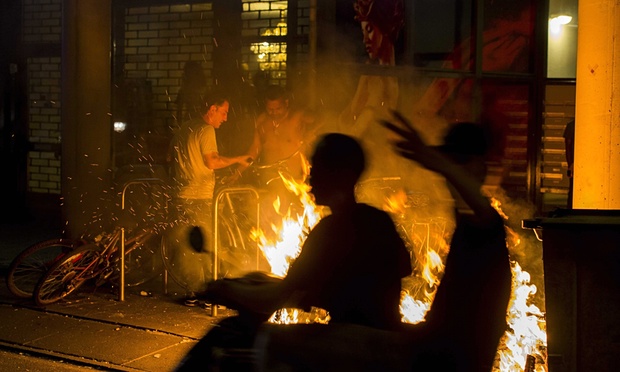 …to destroy all that you've done…to burn all you've become…
Mexico, Mexico City: prisoners' hunger strike now in 6th day Pi writes: "A declaration on the sixth day of hunger strike of the "Informal Coordination of Prisoners in Resistance" by Fernando Bárcenas, an anarchist jailed and accused of having burnt a coca-cola tree during a movement against the rise of metro ticket prices. What is pretty interesting is that this new declaration (several have been issued during these last days) clearly states they're against all prisons and the distinction between "political prisoners" and others." See 27/6/15 for original declaration.
UK, Nottingham: protection racket gang working for Bradford & Bingley extortionists clash with protesters as cancer victim is evicted from home
Greece, Athens: Syriza's cops tear gas leftist trying to put up "No" poster on EU offices The headline here wrongly describes the protesters as "anarchist"; they're not – they're various forms of Leninists (Trots, Maoists, Stalinists).
Wailsday, 1/7/15:
US, New York: disarm the cops demo burns stars and stripes
Algeria, Bouira: cop vehicle torched, entrances to police station barricaded, as clashes erupt over  cop killing of young man
South Africa, Northern Cape: housing protesters block roads with burning tyres and rocks
Holland, The Hague: 3rd night of rioting against killer cops 
Australia, Melbourne: there's no smoking ban without fire "Fire crews have returned to the scene of a blaze at the Metropolitan Remand Centre in Ravenhall, a day after inmates rioted and lit fires at the prison. At least nine CFA and MFB crews were dispatched to the prison about 11am on Wednesday. The incident was declared over and the fire labelled "safe" about 12.20pm…Five inmates were injured when police clashed with as many as 50 armed prisoners in an operation to end the riot about 3am.  Heavily armed police used tear gas, the dog squad and other tactics to quell the riot. Rampaging inmates lit fires, rammed an exit door, and penetrated a control room after guards came under attack at 12.20pm on Tuesday at the prison, 20 kilometres west of Melbourne. …Guards first came under attack at 12.20pm on Tuesday. Up to 300 inmates are believed to have been involved in the riot, but many surrendered to police or prison staff as the situation escalated. More than 100 were still on the loose in the centre at nightfall. They had armed themselves with makeshift weapons found in prison workshops, including metal bars and planks of wood….Several vehicles were believed to have been torched in the rampage, while a fence that divided rival outlaw motorcycle gangs was ripped down at the prison, 20 kilometres west of Melbourne." More here. "Heavily-armed police quelled a riot involving up to 300 inmates at an Australian jail on Wednesday over the introduction of a smoking ban, with a handful of prisoners injured. Melbourne's Metropolitan Remand Centre remains in lockdown after the 15-hour disturbance when doors were smashed, fires lit and some inmates armed themselves with sticks and iron bars from the jail's agricultural sheds. Three prison staff received minor injuries and five inmates were taken to hospital, some with dog bites, after police moved in during the early hours of the morning, reportedly using tear gas. Brett Collins, a former prisoner and spokesman for Justice Action, an advocacy group targeting abuse of authority, called the ban "bullying" and "a denial of their rights". "People are just totally outraged… they have very little to lose" Nearly $8m. worth of damage to state infrastructure "The protest… has on Thursday been described as causing the biggest damage bill from a jail outbreak in Australia…."Everything in there is destroyed, including prisoner files over 20 years old," the source said. "From what I understand, there is not one thing in that prison that didn't get broken. I think it was well thought out."" This report shows that authorities knew that prisoners would riot
France, Calais: 2 ships continue to be occupied by strikers on 3rd consecutive day of strike…Sens: 4 vehicles burnt and a cop car attacked with stones…Besancon: team coming to clean up paint thrown at security cameras pelted with projectiles…Post Office and Vinci vehicles burnt out by arson attack The Post Office grasses up the undocumented, and finances the construction of new offices for the  Ministry of the Interior; Vinci constructs prisons.
Canada, Vancouver: pro-cop hero learns that, for the cops, no good deed goes unpunished, as Cannabis Day rally goes to pot "Among those taken off to jail was Bert Easterbrook, the recipient of a police citation for being a hero during the Stanley Cup riot. On that occasion he helped stop rioters from burning a truck. The crowd turned on him and he was badly beaten up, all of which was caught on video."…"hero" to burn award
UK: lawyers go on wildcat strike against legal aid cuts