This site welcomes insights, facts, analysis or corrections to add to the information here on this page, to be sent to the comments boxes below
"What potent blood hath modest May."
–  Ralph W. Emerson
Stunday, 31/5/15:
US, Florida: riot in teenage girls' detention centre "One of the girls managed to steal keys from a member of the detention staff, enabling them to open doors inside the facility and allowing the other defendants to engage in multiple counts of battery"
Taiwan, Taipei: laundry workers occupy China Airlines site as they go on official strike
Guatemala, Suchitepéquez: locals burn police station and police car in order to try to lynch men who tried to rape 8-year-old girl
France, Corbeil (Essonne): cop car hit by several projectiles…Val-de Marne: anarchists attack main window of Communist Party offices "For the PCF, this is no ordinary act of vandalism. "This is a commissioned operation, it is not just that on  a Sunday morning at that hour that they were equipped by chance …". And denounced "a despicable act against the Communists and democracy", "a violation of political democracy." "In our city where the population predominantly, in the last elections, chose to trust elected communists and the Left Front, we call for a Republican upsurge to reject this dirty work"
Shattterday, 30/5/15:
France, Essonne (south of Paris): attacks on cops on 4 different housing estates " Savigny-sur-Orge…Saturday, around 7pm, three cars were burned. Upon arrival … firefighters and police officers were the target of projectiles up until 10pm. Projectiles launched in Epinay-sous-Senart. Friday late afternoon, a policeman was injured during clashes with young people in the district of Cinéastes… Saturday night, at the end of a rap concert, shortly after midnight, a group of youths  visited  the offices of the municipal police where they tried to burn two plastic bags…. officials then intervened but they received a rain of projectiles. There were nearly a hundred people outside these offices. …Molotov cocktails in Corbeil. In the district of Montconseil Saturday night, a man drove a scooter without a helmet and without license plates. When police went to investigate, it accelerated and started honking …before leading the police into a street where fifteen silhouettes, hooded, came out of the shadows and threw stones and Molotov cocktails…In Evry, youths bar the way to the police. At 10pm, in  square Amouroux, in the district of Epinettes, a police patrol saw four or five people who stood in their way. The police stopped but soon a bottle was thrown from a building. When they back off, they are stoned." It's quite possible that these attacks on the cops are linked to  the recent acquittal of the cops who chased 2 youths into an electricity sub-station and failed to help them when they were electrocuted back in November 2005, an incident which happened close by in Clichy-sous-Bois, and which launched the massive riots of November 2005 (see this)….Brittany: mayor punched in the face by travellers…Mantes-la-Jolie (just outside Paris): cops attacked with stones, cans, etc. respond by teargassing everyone, including kids,  at end of street party
South Africa, KwaZulu Natal: service delivery protest blocks road with burning tyres etc.
UK, London: despite classic superficial lefty "critique", 100s occupy Westminster Bridge, bring traffic to standstill, in  anti-austerity protest 
US, Baltimore: report of how much damage was done to shops in the riots last month "More than 380 businesses were struck, a mix of national chains and local vendors. The toll included dozens of shops selling phones and other electronics, more than 30 liquor stores, pharmacies and at least seven jewelers, according to a list compiled by the Baltimore Development Corp. Family Dollar saw damage at eight locations, Boost Mobile at 14."…Washington: nazis attacked
Frightday, 29/5/15:
Mexico, Guerrero: riot cops attack parents of the 43 dissappeared while they try to remove electoral propaganda There's currently a movement of removing electoral propaganda in various places in Mexico, especially in indigenous communities fighting for their autonomy (organizing themselves in local assemblies without political parties), in the run-up to the 7th of June local elections.
It's especially strong in Guerrero and Michoacán. In Michoacán, the police killed 43 supposed members of a Cartel on the 22nd of May. Many seem to have been executed, and there are complaints from families and many doubts that all were really affiliated with organized crime (see this in Spanish). [written by Pi]
France,  Epinay-sous-Senart: cops attacked with stones twice in a few hours "Regularly some young people insult us and assault us. We are still waiting for some response – reinforcements. What does it take for us to be heard?"
US, Michigan: pig craps on pigs
Thumpsday, 28/5/15:
Peru: 2nd (last) day of national 48 hour strike in support of anti-mining movement paralyses 2 cities "…the second day of a 48-hour anti-mining protest brought a few hours of chaos last night to the downtown area of Lima, where no environmental organizations or labor unions had previously announced joining the national protests organized two weeks ago. Around 3,000 protesters gathered in Lima's San Martin plaza yesterday afternoon. The crowd burned tires and ultimately moved along Nicolas de Pierola avenue, where they removed cobblestones from gardens to smash windows in cars and businesses. Two police officers were injured and the downtown area was shut down for most of last night. Protests in Puno completely paralyzed the city. Taxis and buses did not run and businesses did not open in the cities of Puno and Juliaca. The few merchants who opened for business in the La Cachina market were looted. In Tacna where 4,000 demonstrators marched the town's main roads, windows were broken in a public ministry truck and some local businesses. In the city of Arequipa, the regional capital closest to the Tambo valley in Islay province where Southern Copper's $1.4 billion copper project is to be built, over 3,500 police guarded key strategic sites which proved to be flashpoints for damage and violence in a three-day strike in that city two weeks ago. Over 3,000 demonstrators marched peacefully in the city's Plaza de Armas."
South Africa, North West: angry residents block main road with burning barricades after kids are hit by vehicles "Residents resorted to blockading the road between Madibogo and Delareyville with burning tyres, stones and other debris….According to North West police some vehicles were pelted with stones. …Residents have constructed speed humps themselves but the humps got eroded during the rainy season"…Gauteng: students stage sit-in of Vice Chancellor's office in support of sacked electrical workers….Western Cape: councillor's house destroyed, 9 vehicles torched (some worth 2m. rand each), several roads blockaded in movement demanding water and sanitation. Video here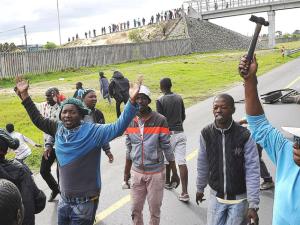 protest by residents of the Marikana informal settlement, near Phillipi
Bolivia, Llallagua: violent protests about police indifference after rape and murder of 4-year-old "The police failed to contain the mobilized crowd, which caused damage to at least three institutions: the police, the prosecutors and the Ombudsman. …at least five injuries among the police who tried to contain the protest, which forced the closure of all businesses in the area on their way from the town square…. Gov. Felix Gonzalez…urged …"…the population to return to calm … resume work so that dialogue with the people can be resumed. You are right to protest, but the person who committed this terrible crime will be judged and is already under arrest," he promised. He said he received reports of destruction committed against the premises of the police and the prosecution, although a radio report Vanguardia, from the area, explained that the infrastructure also suffered attacks from the regional office of the Ombudsman."
Colombia, Bogota: stun grenades used against angry student protest…Cali: masked men attack cops and throw explosive potato bombs outside University to close road to traffic in protest against disappeared students
Chile, Santiago: stones & bottles v. tear gas and water cannon during unauthorised student demo More here."…In the riots, several shops located in the mall were damaged, including hooded youths who burned the doors of the Church of National Gratitude…Mayor Claudio Orrego said that after these outrages, 34 people were arrested,  14 of them for theft…The highest regional authority also said that a policeman was burned by acid. The central reason for this event were three points: to support the student Rodrigo Aviles, who is on the danger list after the demonstration on May 21st in Valparaiso; oppose the actions of police during the protests; and to press for educational reforms….This mobilization was replicated in several Chilean cities, like Valparaiso, where the mobilization ended with isolated incidents and was led by the mother of Rodrigo Aviles, Soledad Bravo, who urged the …authorities to "assume their responsibilities" in the events that occurred on 21 May…."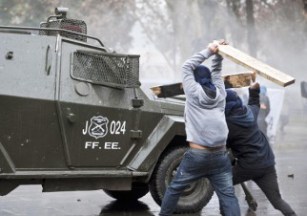 Santiago
Turkey, Ankara: public sector workers show solidarity with car factory strike as strikers complain about Nazi-like conditions
Wailsday, 27/5/15:
Turkey, Izmir: petrochemical workers go on wildcat strike
Israel: port workers on wildcat strike in Haifa and Ashdod
UK, London: clashes with cops on Parliament  opening day(video) 
Brazil, Caruaru: 2 teenagers killed in mattress-burning riot at prison for juveniles
Colombia, Santander: "potato bombs" used to attack riot cops outside University
France, Compiegne: hail of stones force cops to retreat on housing estate… Savigny-sur-Orge: cop attacked, car and dumpsters burnt, stones thrown at firemen in small housing estate riot…Paris: JCDecaux (company collaborating in prison building) truck burnt out
South Africa, Cape Town: striking workers barricade main road with burning tyres…Richards Bay: 121 students arrested for "violent" protest over lack of financial assistance
Tearsday, 26/5/15:
Liberia, Sinoe County: youth group protesting over land wound deputy internal affairs minister, loot equipment and take manager briefly hostage
Morocco, Marrakech: violent confrontations between students and cops as students protest about long delay in arrival of grants; 24 cops wounded
Mexico, Mexico City: molotovs v. tear gas as   protest about the 43 disapeared students turns violent (video) 
Mexico……Mexico……Mexico……Mexico……Mexico……Mexico……Mexico…..Mexico
…Morelos state: villagers block thermoelectric power plant (the fight has been going on for several years)…Michoacan: report of confrontations between cartel and indigenous villagers This concerns news of various armed confrontations in the past few days between the indigenous community of Santa Maria Ostula's "Policia comunitaria" and members of the "Caballeros Templarios" cartel. Michoacan state is in a large part ruled by this cartel (including the international harbour of Lazaro Cardenas, a stronghold for international affairs, with China for example), which developed a kind of religious devotion based on particular rules and precepts, and the indigenous communities are its only true opponents – various other non-indigenous paramilitary self-defense forces,  often having ties with political parties and organized crime. This community fought for its land and managed to retake some of it from this cartel (which had previously seized them) in 2009. So far, 32 villagers have been killed and 6 dissappeared. They find themselves in a kind of difficult situation, since other self-defense forces in the state put pressure on the Policia comunitaria to integrate them. The limitations of its actions reside in sometimes calling the army to deal with the cartels or to ensure minimum security, knowing they have close ties. Some reports mention 8 dead (2 communitarian "policemen" and 6 cartel members) [written by Pi]
Guatemala, La Puya: cops dismantle peaceful blockade of mine …this report shows how pacifist ideology aims to repress any angry expression of opposition.
Philippines, Manila: cops and squatters clash as demolition crews move in to evict and destroy More here
South Africa, Durban: public transport strikers stone scab taxis and buses; taxis block highway (more here)
France, New Caledonia: prison riot following suicide
Moanday, 25/5/15:
Cambodia, Poipet: cross-border porters attack Customs and Excise Department in protest against import taxes "…cross-border porters began hurling bricks at the department, breaking down the gate and burning tires. Hean Trein, 26, a representative of the porters, said that protesters dispersed after the shots were fired, but a violent confrontation in which they used their carts to break down the gate of the customs office left at least three injured. Trein identified the most seriously injured as Mao Son, also known as Sras, 35, who had been badly beaten by military police in the face, kneed in the chest and kicked in the stomach. Police had handcuffed Son and were attempting to transfer him to a truck when protesters rushed the officers, seized Son back and attempted to send him to hospital.In the ensuing scuffle, Son sustained further injuries, and lost consciousness, though protesters were ultimately successful in bringing him to hospital" 
Poipet is the main Cambodian border town with Thailand, its "rich" neighbour. It's a miserable place  for Cambodians, who come from various places in the country to get work in the cross-border trade (it mostly involves moving carts from one side of the border to the other for local merchants, small shops, and prostitution for women). The province (Banteay Meanchey) and the whole north-western region were heavily destroyed by the war, and remained Khmer Rouge strongholds long after the official defeat of the regime – up until the nineties in different parts. There's not much besides rice fields, in a country where rice production activity suffers such abuses that farmers can't live off it.
Cambodia is ruled by an extremely authoritarian, mafia-like regime, a small elite born out of the economic depredation following the terrible years of war and destruction.
There are lots of protests these days: especially in the garment production factories, where country girls work in terrible conditions for very low pay (around $100 a month); and over the protection of environmental resources (mostly NGO environmentalists), and land disputes (involving indigenous communities, especially from the north-eastern part of the country). They're usually heavily repressed by the state, which hardly ever hesitates to send in the military, or its paid gunmen. [written by Pi]
Turkey, Eskisehir: new car strikes at Fords "Workers at the Turkish arm of French carmaker Renault, however, turned down company concessions, including a cash lump sum, on Sunday….It was not clear whether Ford Eskişehir employees would get back to work on Monday. Workers said they will maintain their strikes "in solidarity with other colleagues."
wildcat strikers trying to escape the prison of wage slavery: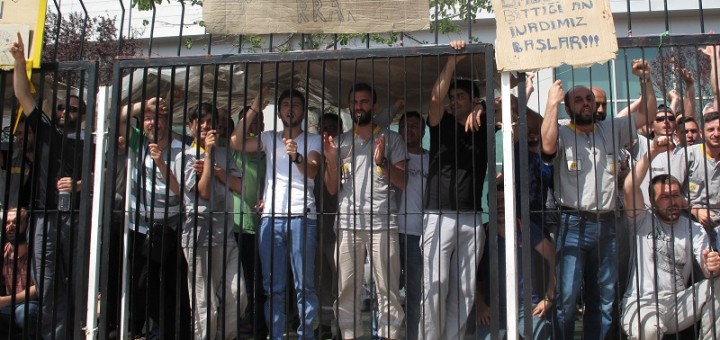 hundreds of auto workers at Renault plant in Bursa  barricade themselves behind locked gates in  wildcat strike over pay and working conditions
South Africa, Durban: ambulance strike leader detained for participating in sabotage "Dlamini was arrested on charges of intimidation on Saturday, and was reportedly linked to "numerous incidents", including the burning of state EMRS ambulances in the lead up to the illegal strike action. He will appear again on Tuesday for a formal bail application. On Friday, hundreds of EMRS medics stayed away from work in a move that crippled the state ambulance serve in the province… Outside court, Health MEC Sibongiseni Dhlomo held a press briefing, which was largely drowned out by a group of over 100 medics, who chanted denigrating slogans. "It is startling to me that someone who was dismissed from the department more than two years ago is able to mobilise a mob of people who are supposed to be delivering service, instead they are coming here to support an alleged saboteur," he said. "There have been instances when our ambulances have been damaged and that he needs to answer for that"
Italy, Rome: football fans in heavy clashes with cops
Venezuela, Maracaibo: over 3 hours of riots as youths clash with cops using stones and homemade incendiary devices; part of University set alight
Chile, Santiago: unauthorised march by high school students leads to clash with cops
Peru, Marcona: cops use live rounds after miners protesting lay-ffs burn offices of mining company
Stunday, 24/5/15:
US, Oakland: cops crack down on night time protests "…the city began implementing a law that requires that protest marches be permitted and that they be limited to sidewalks and take place before dark. The group then headed towards Oakland Police Department, but officers turned them back. Some of the marchers— and the police who followed— blocked a portion of Broadway."
Algeria, Algiers: riots demanding free housing; highway blocked; cars and dumpsters burnt
Shatterday, 23/5/15:
Spain, Barcelona: Spanish Telecom workers occupy Mobile World centre as strike develops (see also this)
UK, Lincolnshire : rave partygoers and cops clash More here "A total of 21 police officers and a police dog were injured after around 200 people became violent as officers attempted to stop the rave going ahead in Twyford Woods, Lincolnshire. One of the police officers received "serious", but not life threatening injuries when he was hit by a car, while another four were treated in hospital and let out later. The rest sustained minor injuries."
Turkey, Bursa: car parts company stocks fall 4% as one factory of strikers win (apparently) "Concessions won by the Tofaş and Mako workers:
1. The removal of Türk Metal from the shopfloor.
2. Management will not fire striking workers.
3. 1.000 Lira payment to each worker when they start again in addition to an annual premium (amount currently unknown)."
Greece, Athens: about 40 anarchists chuck molotovs & stones at cops, burn emptied trolley bus 
France, Mantes-la-Jolie: firemen ambushed by group of youths who throw stones at them In this particular case they were called out to a non-existent fire: it was a deliberate ambush. Should be pointed out that firemen in France, although kind of proletarian, also follow military discipline and are not allowed to go on strike (they sometimes do go officially "on strike" – a pretended "strike" which  usually means that they put up a sign in their fire engine reading "on strike" but continue to do their job)….Marseille: cops launch tear gas to disperse sit-in by football fans at busy roundabout
Chile, Temuco: soldier wounded in protests outside University
Argentina, Buenos Aires: riot after girl found killed; police station attacked; town hall, mayor's house and security chief's house burnt All this accompanied by the demand for "greater security"!!!
Colombia, Sucre: tyres burnt, town hall windows smashed in protest against power cuts
Peru, Arequipa: government  declares state of emergency as 4th person is killed by cops in anti-mining movement
US, Cleveland: highway blocked in protest against cops' acquittal after killing black youths
Frightday, 22/5/15:
UK, London: immigration officers shouted down and sent packing (more context given here)…    Bristol: report suggesting that anarchists will be to blame if terrorists succeed in city "Crimes committed by anarchists have put Bristol at a higher risk of suffering a terror attack than London, according to a new report. The city is second in the UK, behind Belfast, in a list of places in danger from terrorists. Anti-establishment attacks are said to be the reason why the city is so far up the list. Operation Rhone was set up by police last year to investigate around 120 different attacks in and around the city, which caused damage valued at more than £20 million. They include burning down the £16 million police firearms training centre in Portishead, damaging 13 communication masts and setting light to dozens of luxury cars. Groups are also thought to have smashed windows at banks and damaged a courthouse. They broke windows and poured paint over the entrance to the offices in Temple Way which the Western Daily Press shares with our sister paper, the Bristol Post. The attacks took place in Bristol and Portishead over a period of three years. In February 2014, three military vehicles in Bristol were destroyed. The attack was claimed to be the work of a group called the Informal Anarchist Federation (IAF)."
New Zealand, Aukland: anti-poverty protesters clash with cops as they try to force their way into convention centre
Germany: report about strike wave A German contact sent me this (in German): Gedanken zum Bahn-Streik final – a leaflet "distributed in front of Dortmund main station by our local anarchist group about two weeks ago. The distributing action was rather nice, we had some good discussions and the attitude of the people in the streets was by no means so hostile towards the strikers as has been claimed by the corporate media propaganda which suggested that everybody hated the troublemakers who held a whole nation hostage for their egoist interests."
Thumpsday, 21/5/15:
US, Washington: a few rocks thrown at cops after cop shoots and badly wounds unarmed would-be shoplifters  (video here)…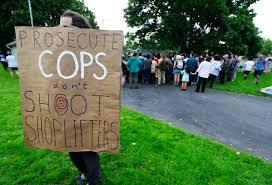 Philadelphia: clashes with cops after homeless man is arrested
Turkey, Ankara: wildcat strikes spread to "Turkish Tractors" in capital (though apparently not a full strike) More here
Some questions from me and answers from a Turkish Kurdish contact, referring to this leaflet:
Me: "What kind of participation is there by partners and their children? ie does it involve picketing? sitting-in? organising collections? organising the canteen? is there some classic division of labour based on gender? or what?"
A: It involves occasional picketing, bringing food (which means organizing the canteen I guess?) and organizing demonstrations in the city center. Also there were some workers who went back and their partners opposed it more than others. Yes, mostly it's the men who are working, but there are some women workers on strike too I think, in Delphi.
Me:"Are there attempts to create a new union and what are the chances of this also becoming an obstacle to struggle?"
A: There's talk of it but from what I understand it isn't a realistic possibility at the moment; so not yet, basically.
Me:"Are leaders emerging who could play a part in putting a brake in one way or another on the movement?"
A: Not really. I don't think the people in the workers' committees are emerging leaders. There was a leftist political organization who meant to play that role but there was a police operation against their members on the spot and they're now under arrest and I don't think they'll be coming out soon. Not that they were any close to being considered the leaders realisticly anyway.
Me: "You say "Victory is near" but this is often said as some rhetorical flourish – what could prevent victory or at least compromise the demands being met?"
A: It's not really really a rhetorical flourish: today there was news that Renault wanted to meet the demands and even prepared a protocol accepting all the demands but the Metal Industrialists Union and the Turk Metal (the workers union). Also, it is quite possible for this to keep expanding, and the workers get messages from many other cities from metal factories saying they too are preparing to go out. Many factors can, of course, still prevent victory. Some (perhaps even most) of Coskunoz workers went back (though many more workers came out as they did). Production in all these factories is connected which makes it easier for the workers to take a joint stand. Still, the bosses will try to isolate them factory by factory. They're also pressing charges (what the workers are doing is of course technically illegal). We'll see how things go.
Me: "Is the state really scared about the cops getting too heavy and so provoking a wave of solidarity with the memory of 2013 still in people's minds?"
A: Possibly. So far, for all the talk, they haven't physically attacked the strikers. The cops here get out of control whenever attacked.
Me: "How far do the upcoming elections play a part in the state's strategy? I mean, the state seems to be stuck between a rock and a hard place"
A: The government complained that the timing of the strike was "telling". Obviously, the elections are a factor preventing them from unleashing police brutality. I don't think it's a major factor though.
Me:"I imagine that there are basic material reasons why the strikers might be prepared to compromise, given what seems like their dire financial situation – or have I got this wrong?"
A: So far, they haven't compromised at all for anything less than their demands, even though they were offered increasingly better compromises. They probably just got paid their salaries (people are paid on a monthly basis here) so they're alright for the month, besides there is a lot of solidarity in the city and in factories far beyond the strikers. The number of workers who've resigned from Türk Metal are considerably higher than those who went on strike so far.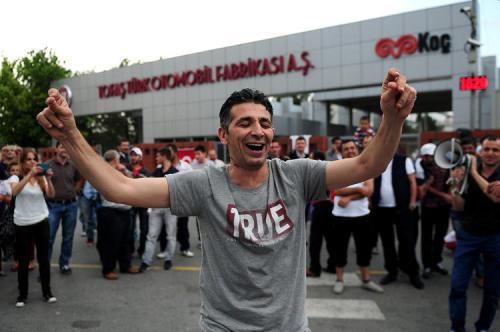 Peru, Chiclayo: sugar company strikers riot "About two thousand employees of the sugar company Pomalca have been more than 40 days on strike, demanding wage increases and better working conditions. A demonstration in the northern Peruvian region of Lambayeque…left one striker and a policeman wounded during the riots, demanding increases in salaries. The protesters claim that they earn less than the official minimum monthly salary, which comes to $ 240, equivalent to 742 Peruvian soles. …  Junior Diaz, the union leader, was hurt by a volley of buckshot, shot by a police officer…. This incident occurred when sugar workers blocked several kilometers of road in the La Puntilla, Chongoyape district of Lambayeque, the major gateway that connects Chiclayo with Chota (Cajamarca). According to a police spokesmen, they had to intervene, because the strikers had placed stones, shrubs and trunks, while burning tires, to block the passage of vehicles."
Brazil, Recife: rubber bullets and tear gas v. stones as cops clear large squatter site "Some residents protested police action and blocked major roads. Violence erupted at least twice, with local media reporting security forces, who were pelted with stones, dispersed crowds with rubber bullets and tear gas. …Globo Nordeste also reported that a car was torched and a bus window smashed"
Chile, Valparaiso: stones v. water cannon in demo against government education policy…Santiago: similar to Valparaiso
Ukraine, Kiev: protesters break into parliament, tyres burnt in street, cops attacked in protests against financial crisis (video here)
Morocco, Fez: cops wounded as students try to get into court of appeal in murder case
Tunisia, Dhehiba: unemployed youths clash with cops over repression of black economy cross- border commerce, also demanding work
France, Rennes: skirmishes with cops continue into 2nd night…Seine St Denis: cop badly injured as projectiles are thrown from upper floors of estate building during cop control of motorcyclist
Wailsday, 20/5/15:
Turkey, Kocaeli: Ford forced by wildcat strikes in Bursa to halt production More information here on Bursa ….Strike spreads to Izmit – see this good basic radical leaflet "…the wave of struggles jumped to Izmit: On May 20th, the workers in Ford Otosan and Hyundai also joined the strike. It has to be underlined that one of the strongest aspects of the strike movement is that the workers partners and children participate in the struggle with as much determination as the workers themselves." More here and here …Activists arrested (in German)
Peru, Lima: cops in heavy clash with squatters (video) More here
Thailand, Songkhla: oil tanker drivers blockade fuel terminal
Mexico, Mexico City: interesting strike "Thousands of workers from the Innovaplat factory in Mexico City declare strike. They produce plastic bottles for shampoo brands such as Avon and Jafra. The main demands are:
-getting proper uniforms
-more time for lunch
-getting money for extra hours and  respect of legal hours (they have to work 12 hours per day instead of the legal 8 hours, if not some get fired or the next day is not paid) " Not very clear how many are involved…the end of the text says "about 700 persons in each of the two shifts of the three sections". That would be "about (700 x 2) x 3 = 4200". Not bad for a country in which strikes are pretty unusual.  Vosstanie web radio discussion in French on the situation in Mexico. See also text on this site.
France, Rennes: cops get stoned as they control motorbike rider; patrol car window broken
South Africa, Johannesburg: part of church set alight by residents being evicted by Methodist church
Colombia, Cordoba: major trunk road blocked with burning tyres, clashes with riot cops, as part of movement for drinkable affordable water…Bogota: students block bus stations; hooded students attack riot cops with explosives (see video of armoured cars hit by explosives); 10 cops hospitalised; University temporarily suspends classes...Tunja: similar confrontations
Tearsday, 19/5/15:
US, California: 200 prisoners riot (not at all clear what this was about or what happened)
Philippines, Cabuyao City: violent clashes between striking workers and insecurity guards
Ukraine, Kiev: confrontations with cops and hired thugs in movement against shopping mall
Colombia, Meta: molotovs against state forces due to massive petrol company layoffs and broken promises
India, Thiruvananthapuram: residents block road pelt cops with stones and bottles after death of youth  More here
South Africa, Mpumalanga: part of police station and other buildings burnt down as community demands release of locals who killed  gang members"Parts of the police station have been burned down early Tuesday morning and Offices of Home Affairs and the local municipality were set alight last night.  Roads in the area have been barricaded with stones and burning tyres in the area and all shops are closed.  ….the contact point of the police, offices of home affairs, two guard houses one belonging to SASSA department were also set alight. The conference centres of the municipality together with four trucks belonging to the municipality were destroyed"
France, Montpellier: parents and supporters block tramway in front of station in continuing movement against ghettoisation/social apartheid See entry for 13/5/15.  The demo was lively, winding its way across town for several miles until it came to the station where it blocked the tramway for about 30 minutes. Stupid  "cityoenniste" discourse, dominated by statist republican values demanding integration and the mixing of classes, though the organisation of this movement is totally independent of parties or any other organisations. Lots of Arab women. A late middle aged white French woman angrily held up an improvised piece of paper with the words "Les cheveux a vent"- roughly translated as "let the wind blow through your hair"- an attack on the wearing of the veil. She was surrounded by mainly young Arab women who laughed at her and chanted "We love you", which made her more aggressive. An obviously non-Arab French woman came up to her and pushed her. The cops arrived and took the woman who'd provoked the incident away. Such nice republican cops. She wasn't arrested, so  later continued her highly stressed aggressive stance when the demo arrived at the main square. 
UK, London: new social squat resisting "regeneration" A law criminalising squatting for residential use since 2010 has politicised squatting – because now it's just a civil offence if you squat for any other reason than to live in the building. Or if you squat a property that is registered as commercial.Since this time, any squat that has the chance of lasting and not being subject to brutal state criminalisation (all squatting was permitted, to a certain extent,  in the UK from the 13th century crusades onwards up until the passing of this law) has now become the focus of explicit critiques of aspects of capitalist development…..
The Bank Of England's Dreaming…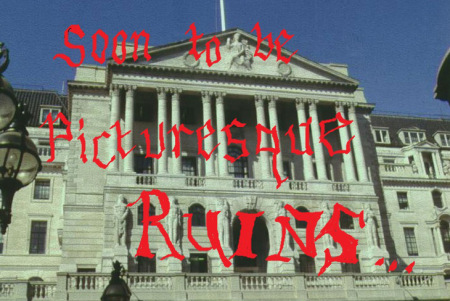 …but don't bank on it
Manchester: students occupy second building
Moanday, 18/5/15:
US, Oregon: small anarchist demo against killer cops; Starbucks and bank windows smashed, traffic disrupted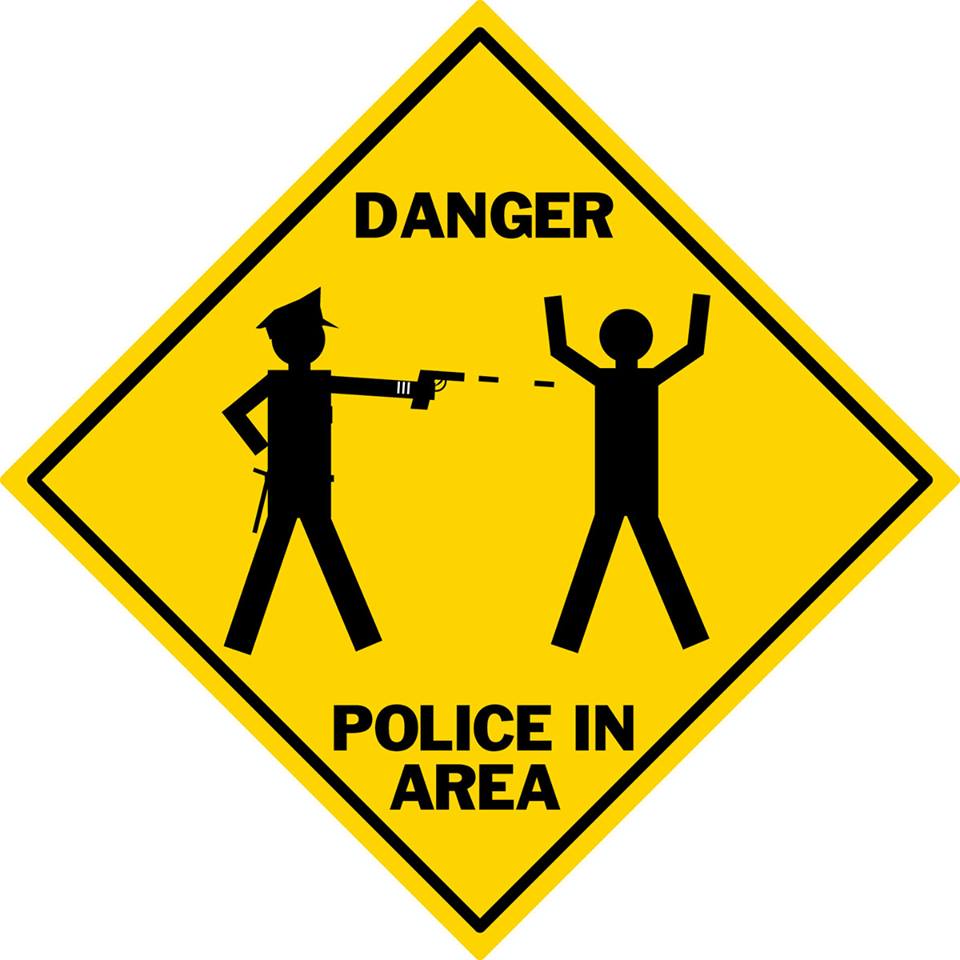 Mexico, Mexico City: football players and supporters beat cops (video) See also text on this site.
Trinidad & Tobago, Port-of-Spain: riot as cops recover truck used in robbery of large amounts of food
Chile, Santiago: barricades erected outside high school, high school students throw molotovs and stones at cops
Turkey, Bursa: 15,600 workers now on wildcat strike.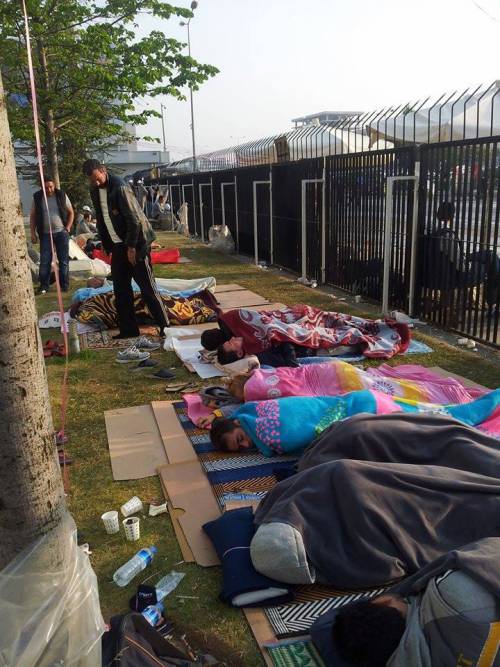 sleep-in at forecourt of Bursa factory
More here:
"The demands of workers are as follows:
– Our agreement should be re-negotiated and signed on the basis of Bosch agreement
– Workers alone must be able to choose their own union representative by democratic process
– We want assurance that in case we resign from the Turk Metal union that we won't be fired from our factories
– Turk Metal should leave factories immediately"
France, Melun: youths stone cops and firemen as they deal with accident scene
Stunday, 17/5/15:
Germany, Stuttgart: anti-fascists clash with cops
Shatterday, 16/5/15:
UK, Wrexham: engines of construction equipment for site of proposed new prison (Europe's 2nd largest) destroyed "The mega-prison, if built, will cage more than 2100 human beings at any one time. Multiple large diggers and construction equipment had their engines destroyed. Slogans were sprayed on the half-built prison fences including 'Fuck Lend Lease' and 'Fire to the Prisons'. This is a warning to any company large or small that that is involved in the North Wales Prison Project, or any other prison building scheme that the state initiates. You are a target and you will feel the venom of the working classes fighting back."
Turkey, Bursa: wildcat strike spreads to other factories  "After some 5,000 Renault workers went on strike over wage increases on Thursday night, workers at another automaker, Tofaş — a joint venture between Italian Fiat and Turkey's Koç Holding — and those at Çoskunöz Holding, a well-established domestic producers of auto parts, initiated their own protest. While Renault announced that it had suspended production at the factory until May 18, Tofaş sent their workers an SMS message that said operations had ceased until further notice. Coşkunöz said the workers' demands were unlawful and would not be met, vowing to take legal action. The strike is supported by workers from a host of companies operating in the automotive sector in Bursa such as Beltan Trelleborg Vibracoustic (TBVC), Delphi, SKT, Ototrim Automotive, Rollmech and Mako….Employees on strike and their families have been protesting in front of their companies since Thursday, with some staying overnight in tents in the factory yards….Metal Industrialists' Union (MESS) and The Turkish Confederation of Employers' Unions (TİSK)….called on workers to end their protests…. Turkey had the lowest rate of unionization density in the OECD, with merely 4.5 percent of its labor market being a member of a union in 2012. The OECD average in the same year was 17.1 percent. " More here  Various videos.
China, Linshui: thousands battle riot cops in movement demanding railway construction (more here)
Guatemala, Guatemala City: massive demo against corruption organised independently through social networks, critical of all political parties  after vice president resigns
Mexico, Oaxaca: statement by Zapotec Indians explaining why they are blocking road (ie to save their land and its flora and fauna from destruction by private interests in collaboration with public officials)See also text on this site.
Frightday, 15/5/15:
Greece, Athens: anarchists force temporary shutdown of Golden Dawn trial
Turkey, Bursa: 2500 car workers on wildcat strike (more here and here)
Brazil, Rio: roads blocked, buses set on fire, after state forces kill 2 young workers blaming deaths on drug gangs
Senegal: confrontations between youths & cops after sit-in and demo over land dispute banned by state
India, Gurgaon: magistrate and cops injured as residents are evicted from land (more here)
Thumpsday, 14/5/15:
Kenya: students burn lorry driven by cop after cop runs over and kills 2 students "The demonstrators denied the police access to the scene where the two bodies lay under electricity poles, said Kisii County Police Commander Simeon Kiragu. They burned the lorry and used some of the poles to block the road, and hurled stones at motorists paralysing transport, Kiragu said. They torched eight vehicles at a nearby police station, he said, adding that police patrols have been intensified. Kiragu said two police officers sustained injuries as the students engaged them in running battles."
Chile: demos in several cities throughout country against increasing intrusion of market in education; 2 killed by son of shopkeeper for doing graffiti "The market is making  education sick, the struggle is the cure"More here in English   Video here
Peru, Arequipa: anti-mining protests spread"Demonstrators in Cocachacra, at the epicenter of the conflict, threw stones at police, who responded with tear gas. …The protests, which began in March, have claimed the lives of two civilians and a police officer."A strike lasts 48 hours; it is not normal for it to last 53 days," said the head of the police operation"
Nigeria, Plateau State: state assembly occupied by workers demanding payment of salaries unpaid for 7 months  "organised labour has been on strike since May 5 over unpaid seven months' salaries by the state government. The lawmakers, who were about to begin a sitting yesterday when the workers stormed the Assembly, ran away. Some of them scaled the fence while others escaped through the backdoor of the complex. The security agencies locked Speaker Titus Alams in his toilet and lied to the workers that he had fled."
South Africa, Mpumalanga: taxi drivers block roads with burning tyres in protest against refusal of licences "police were forced to use rubber bullets because the group got violent". He said one person was injured after being "scraped by a rubber bullet".However, he dismissed media reports that the taxi drivers shot back at the police."There were no shots fired by the taxi drivers," said Col Hlathi.He said the taxi operators were accusing the Mpumalanga transport department of refusing to give them operating licences."People could not go to work because taxis and buses were not operating"…Western Cape: striking construction worker killed by security guards in wildcat strike
Spain, Barcelona: University campus labour office windows broken as students and lecturers go on strike
Germany: already twice as many strikes as the whole of last year
Wailsday, 13/5/15:
Iran, Baluchistan: main road blocked, police station and police vehicles burned after Revolutionary Guard state forces burn and kill 2 diesel smugglers – town and surrounding villages rise up
Ivory Coast, Port Bouet: thousands confront cops after young man killed by cops
Peru, Arequipa: shopping mall attacked, trees cut to block roads, riots on 2nd day of indefinite strike against mining project…businesses attacked, railway track blocked
Senegal, Medina Sabakh: middle school students demanding release of fellow students  in heavy clashes with cops
India, Allahabad: roads blocked, police station attacked after private bus kills 4
Russia, Bashkortostan: 2nd prison riot against phoney enquiry into 1st "More than 100 inmates held at a maximum-security prison in the city of Salavat in Bashkortostan, also known as Bashkiria, broke windows and wreaked havoc, some of them climbing onto the roof on the security guards' dormitory"
UK, Manchester: students occupy business school
Mexico, Guerrero: day labourers organise in another state (the other one being Baja California)….See also text on this site.
Rough translation:
"More than 70 communities of day laborers in the mountains of Guerrero were mobilized to denounce labor exploitation  in the fields. Guerrero is part of the 19 states of Mexico where agricultural workers live ….Sixty percent of farm workers are indigenous people who come from the poorest states in Mexico. Guerrero is part of this statistic, nine municipalities that make up the mountains of Guerrero have the highest rate of expulsion of agricultural workers within the republic of Metlatónoc, Cochoapa the Great, Tlapa, Copanatoyac, Atlixtac, Xalpatláhuac, Alcozauca and Atlamajalcingo del Monte.

On May 13, laborers of the Mountain of Guerrero mobilized to demand better working conditions, fair wages, decent living conditions in agricultural fields based on standards of respect for human rights and guarantees of access to health and social security, better conditions in transfers to agricultural fields, guarantees for women established in the Federal Labor Law, suitable accommodation, guarantees of schools and kindergartens for their children.

Guerrero is part of the 19 states in which exploitative labor conditions prevail in the country there, and with a high probability of detonating like  a similar conflict in San Quentin[Baja California].

…Ninety percent of the people occupy houses without drainage or sanitation; fifty percent live without running water and at least 25 percent do not have electricity; 78 percent of homes have some degree of overcrowding …

Agricultural workers produce food for millions of people, yet more than a third of them cannot eat three times a day, so are food vulnerability.

The fields where agricultural workers work, belong to national and foreign companies who profit by almost 400 billion pesos, but the wages of the laborers does not exceed 110 pesos a day, and there are no job guarantees whatsoever .

Increasingly,  laborers are demanding decent working conditions …. What happens today in San Quintin, Baja California, is a mirror of what is happening in Guerrero and in the country's 19 states."
France, Besancon: firemen pelted with stones as they put out fire of car…Montpellier: parents block tramway for over an hour in protest against social apartheid "After having  blocked 4 schools for several days against the indifference of the Town Hall, on Wednesday, May 13 this afternoon  nearly a hundred parents and residents of the neighborhood of Petit Bard blocked the tram line 3 for more than an hour. This mobilization aims to end the social apartheid experienced by the inhabitants of this popular neighborhood, including the modification of the school map, which increases the ghettoization of the district. Already hit hard by social deprivation, stigmatization by the media, by a heavy  police presence and many problems related to housing (unhealthy conditions, eviction), the Petit-Bard neighborhood has rallied against contempt and and segregation, in particular calling for equality for all in schools to make their demands about co-education heard in particular."
Tearsday, 12/5/15:
South Africa, Limpopo: 2 killed by cops as platinum mine protest blocks roads, confronts cops More here"A mobile crane that was travelling on the R37 has been torched by the protesters. Residents are demanding to be employed at the nearby Bokoni Platinum mine. Residents are also accusing the mine of not developing their area."The R37 between Polokwane and Burgersfort remain barricaded with stones and other barricades."
Peru, Arequipa: bridges, motorway and other roads blocked, airport occupied, as 72 hour strike in support of anti-mining movement…riots on 36th day of  sugar cane workers' strike "…a mob of men and women came to the police station in order to rescue them, throwing many stones and even a petrol bomb, causing serious material damage to facilities. They then set fire to a motorcycle …which belonged to a police officer…. one of the administrative offices of the sugar company , which is located in the heart of the city, just meters from the branch of the National Bank, was burned and the fire destroyed  documentation  where  apparently  workers forms were kept. A few minutes later, a group of individuals threw a Molotov cocktail at another office, but fortunately the flames were controlled. ".Video here
Eire, Dublin: deputy PM blockaded in her car by anti-water meter protesters
Moanday, 11/5/15:
Bolivia: indigenous farmers clash with cops over road construction
Greece, Athens: video of anti-authoritarians occupying Siemens for a few hours calling for European workers solidarity More here. Details here
Zimbabwe, Harare:  prison riot, 5 dead (no real information here)
South Africa, KwaZulu Natal: intentional or accidental – but still a reason to be cheerful
Stunday, 10/5/15:
Algeria, Ghardaia: heavy rioting by youths against riot cops; cops prevent media  entering area
Guatemala: football fans shoot and wound 3 cops and burn cop car
US, Nebraska: prison riot as 2 prisoners are found dead"Several disruptions followed in various housing units, resulting in small fires and property damage, prison officials said. … "The inmates have taken over the prison." More here"We've pretty much taken the whole prison," Frank told the newspaper. He said that no prison employees were inside the housing unit and described the scene, saying: "The ceilings are fallen. There's drywall on fire. There's cameras torn down," according to the Journal Star.Foster told the Omaha World-Herald that inmates had gained access to an office with a phone. At some point during the disturbance, a second inmate was injured by a rubber projectile"
Shatterday, 9/5/15:
Mexico, Baja California: farm labourers pelt cops with rocks, take over government building, burn police station and 2 cop cars "Farmworkers have been seeking higher wages, at least $13 per day, and government benefits, and patience on both sides seems to be wearing thin as negotiations, now in their eighth week, remain at an impasse. The rioting flared Saturday morning when strikers gathered outside a farm near the town of Vicente Guerrero. They were there to persuade arriving workers to stay on strike, according to farmworker leader Justino Herrera.  Police responded in force after some of the strikers began setting fires in the area, according to Mexican state authorities cited in news reports…Protesters reportedly set fire to two police cars and a police station. About 45 people were injured during the clashes with Baja California state and municipal police, and six were taken to a hospital, Herrera said. Videos of farmworkers showing the bruises and cuts purportedly from police beatings quickly circulated on the Internet, fueling complaints of use of excessive force by Baja California state police officers….The laborers for a few hours blocked the main highway linking the region to export markets in the U.S. Similar tactics at the start of the strike on March 17 prompted an aggressive response by Mexican authorities."  Report here says 3 dead. Video here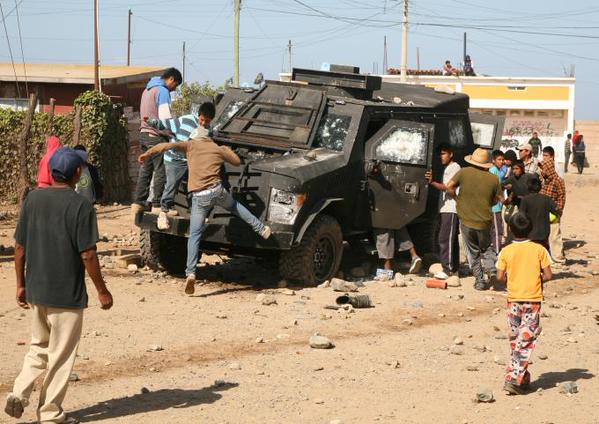 Tunisia, Kebili: National Guard post set fire to, journalists threatened as part of movement of unemployed demanding work
India, Telangana: bus workers strike declared illegal More here "APSRTC employees protested at different places in the two states, demanding a 43% hike in their salaries. They tried to prevent buses from being operated by temporary staff brought in by the APSRTC management to run bus services with police escort."
France, Besancon: 3 separate attacks on cops "Saturday night was particularly rough in the Planoise neighborhood of Besancon. Shortly after 8pm, rue de Bruxelles, riot police came under fire from an explosive firework…Around 10 pm, avenue Ile-de-France, the bus carrying the riot police was targeted by a Molotov cocktail that fortunately missed its target. The perpetrators immediately fled and have not been located. Finally, around 11 pm, again in rue de Bruxelles, a dozen young people threw a Molotov cocktail at the forces of order. They  also missed their target and fled immediately. Police were able to identify them"
UK, London: scuffles with cops in Whitehall (more here)
Iraq, Baghdad: prison riot – 6 cops & 30 prisoners dead; 40 escape
Frightday, 8/5/15:
Nicaragua, Malpasillo: 2nd consecutive day of anger at power outages forces small concession from company – a temporary reduction from 12 to 9 hours of outages per day "…people who demand stability in the energy service, which subsidizes the mining company B2Gold in El Limon, municipality of Malpaisillo, department of León community clashed Friday with stones and sticks against the Special Riot Police Nacional, who tried to evict them from the main gate of the company."
Macedonia: big demos against cop brutality  in 9  cities, partly recuperated by opposition party (see also this, which includes "The government and the opposition have accused each other of planning to destabilize the country to take or preserve power, and some analysts fear leaders on both sides are ready to provoke ethnic clashes as leverage.")
France, Mantes-la-Jolie: cops surrounded and projectiles thrown at them as they arrest man for not putting his seat belt on
Italy, Venice: no call for the realisation and suppression of art in this occupation of the Guggenheim Collection…this other occupation indicates how art and political activism combine to give the Venice Biennale an image of subversive chic: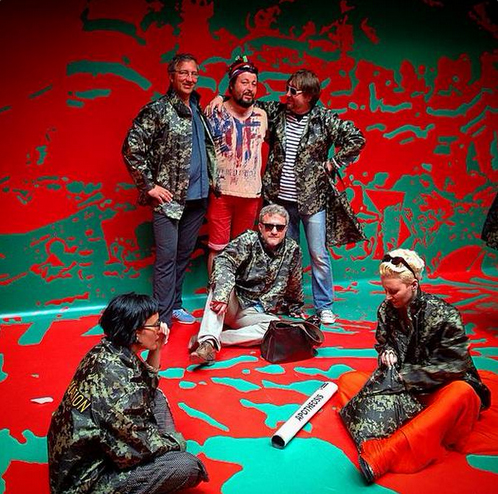 Thumpsday, 7/5/15:
Tunisia, Kebili: confrontations between cops and protesters demanding work in petrol companies, etc.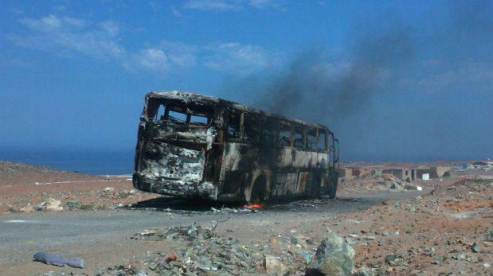 Tia Maria
Iran, Mahabad: report of Kurds rioting and burning hotel after coverup of death of chambermaid
Senegal, Thies: students block road in solidarity with teachers' struggle
Guinea, Conakry: youths block roads, drive back cops in popular area of city "…in the capital, Conakry, blocked roads with burning tires and drove back police in some neighborhoods in the latest unrest over the timing of elections….Witnesses said police fired tear gas in the Bambeto and Cosa neighborhoods to disperse demonstrators."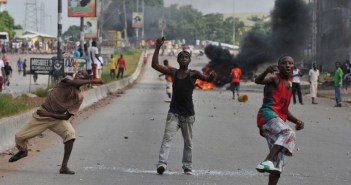 …cops in another part of the capital incite  and protect looting of shops and houses whilst youths set up forms of self-defence against this  at serious risk to their lives
Nicaragua, Malpasillo: villagers resist cops evicting them from protest in front of company after electricty is reduced to 12 hours a day"The clash occurred when the Special Riot forces of the National Police proceeded to evict the protesters from the main entrance of the mining company, who responded by throwing stones and sticks against law enforcement, which after several minutes they controlled by firing tear gas…."
India, Srinagar: cops get heavy with government workers march demanding job regularisation…Telengana: bus company workers on strike burn bus tyres, clash with cops "The police arrested three employees who damaged the window panes of a bus and tried to attack a temporary driver who reported for duty. As they were being shifted to the police station, hordes of striking employees tried to stall the police jeep forcing the police to disperse them. Enraged at the police, some employees set ablaze unused bus tyres at the bus stand leading to further commotion."
Burundi, Bujambura: member of governing party's youth wing  burnt in angry protests
Wailsday, 6/5/15:
South Africa, Cape Town: 1000s of striking council workers riot as Soweto also erupts "THE City of Cape Town and the South African Municipal Workers' Union (Samwu) agreed late on Wednesday to set up a task team after thousands of striking workers went on the rampage in city streets. …Meanwhile, tyres were set alight and streets barricaded in Orlando West, Soweto, on Wednesday as residents took to the streets to protest against the installation of prepaid electricity meters by Eskom. Soweto owes Eskom more than R8bn…Residents say since prepaid meters have been installed' they pay an average of R1'000 a month, against about R300 a month before the installations. In Cape Town, chaotic scenes unfolded in the city centre on Wednesday when Samwu-affiliated employees looted stalls, tipped over rubbish bins and engaged in running battles with the police during a march to the Civic Centre. Police fired stun grenades to disperse the crowd." More here…Video here...wildcat strike at power company building site enters 6th week…Durban: 11 train coaches torched because commuters "were unhappy with the service"
Italy, Caserta: worker occupy motorway between Rome and Naples demanding no job cuts
Russia, Nizhny Novgorod: riot of prisoners with TB "…at least one prisoner has been killed and 15 injured as a result of a riot at a prison facility for inmates with tuberculosis…eight inmates were seriously injured….Authorities said about 100 inmates set fire to two facilities on May 6, smashed security cameras, broke furniture, and attacked other prisoners…. tuberculosis-afflicted prisoners have been forced to work up to 12 hours a day there."
US, San Francisco: students occupy uni admin building for a few hours
Tearsday, 5/5/15:
Peru: 2nd protester against Tia Maria mining project killed by cops "Henry Checcla died early Tuesday in a clash that began Monday night when about 500 protesters tried to block a highway and were repelled by police….Interior Minister Jose Perez said Tuesday that some 140 police officers have been hurt in the protests."
South Africa, Rustenburg: road barricaded over night in water cuts protests…Johannesburg: land squatted by families
Macedonia, Skopje: protesters burn dumpsters, throw stones at cops, in demo calling for PM's resignation…38 cops injured
India, Srinagar: traders clash with cops over lack of flooding compensation
Germany: national official rail strike extends into 2nd day Anarchist leaflet here
Burundi: politically-dominated protests leads to more  killings by cops Whilst this movement is undoubtedly dominated by the opposition parties and the illusion in a change of personnel at the top, these photos seem to show that some of what's happening is a bit better than that.
Moanday, 4/5/15:
South Africa, Soweto: 100s of housing protesters burn tyres along road…cops fire rubber bullets and tear gas
US, California: prison riot (no context for this riot) More here
India, Kolkata: villagers blockade mine for failing to give them jobs in exchange for their land
Stunday, 3/5/15:
Israel, Tel Aviv: conflicts between Ethiopian Jews and cops continue "…protesters threw rocks and glass bottles at police, who responded with stun grenades and fired water cannons at protesters. As of midnight Sunday, almost 50 people were injured. According to Israel Police spokesman Micky Rosenfeld, 23 of them were police officers." More here "Israeli mounted police charged hundreds of Ethiopian-Israeli citizens and fired stun grenades on Sunday to try to clear one of the most violent protests in memory in the heart of Tel Aviv. The protesters, Israeli Jews of Ethiopian origin, were demonstrating against what they say is police racism and brutality after the emergence last week of a video clip that showed policemen shoving and punching a black soldier. Demonstrators overturned a police car and threw bottles and stones at officers in riot gear at Rabin Square in the heart of Israel's commercial capital. … tear gas was also used, something the police declined to confirm. "I've had enough of this behavior by the police, I just don't trust them any more … when I see the police I spit on the ground," one female demonstrator who was not identified told Channel 2 before police on horseback had charged. Earlier, demonstrators brought evening rush hour traffic to a standstill for over an hour by blocking one of the city's main highways. …Tens of thousands of Ethiopian Jews were airlifted to Israel in dramatic, top-secret operations in the 1980s and 1990s after a rabbinical ruling that they were direct descendants of the biblical Jewish Dan tribe. The community, which now numbers around 135,500 out of Israel's population of over 8 million, has long complained of discrimination, racism and poverty. Tensions rose after an incident a week ago in a Tel Aviv suburb where a closed circuit video camera captured a scuffle between a policeman and a uniformed soldier of Ethiopian descent."…Netanyahu says "…there is no place for this type of violence" – we know the type he colonises several places for. More here
India, Gorakhpur: residents clash with cops "The mob blocked the road in Majnu Chauraha village after death of one Shravan Paswan, the police said….Angry over the incident, locals torched a kiosk, two police motorcycles and demanded compensation for the deceased's family. The mob indulged in brick-batting"
South Africa, Xolobeni: anti-mine locals attacked violently by mining group after locals barricade roads with trees and rocks
US, Philadelphia: some graffiti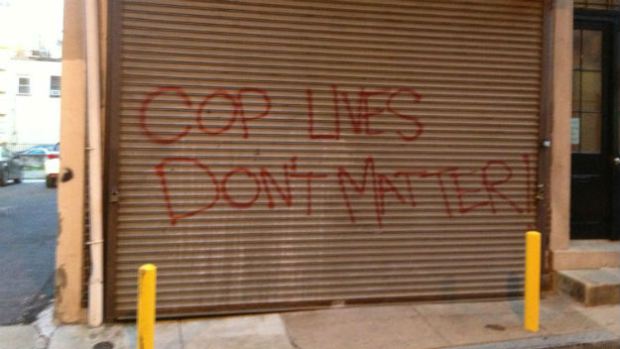 France, Lyon: about 20 youths throw bottles and stones at cops after arrest of 14-year-old
Shatterday, 2/5/15:
India, Kandhala: residents attack police station, set vehicles on fire
Poland, Knurow: molotovs and stones against cops after cops kill football fan
UK, Cardiff: bank briefly occupied after rally
Frightday, Mayday:
US, Seattle : clashes with cops "Anti-capitalist protesters hurled wrenches and rocks at officers … Footage on social media showed protesters smashing shop windows in Seattle and crowds scattering as police in riot gear threw in "flashbang" grenades. Demonstrators set fire to garbage and damaged at least two dozen vehicles"….(Critique of Seattle media)…Oakland "More than 100 windows at businesses, restaurants and banks along the route were smashed, and several people were taken into custody overnight. At least one vehicle was burned and others damaged on the lot of a local car dealership." More here …Portland "Pepper spray and flashbangs were also used in Portland after some protesters threw objects at officers and tried to force their way onto a bridge, the city police department said on its Twitter account. One officer was injured, it said."….New York: Guggenheim Museum occupied by traditional labour activists…Minneapolis: high school students walk out to join anti-cop brutality demo….Baltimore: unintentionally funny video of CNN journalist moaning about hearing anti-cop  speech…Atlanta, Georgia: cops pelted with stones, road blocked…
Brief notes from someone in Baltimore:
" The situation remains quite fluid. In the "good" neighborhoods, life pretty much is going on as before. In the rest of the city, there's been an effective militarization of the streets. The National Guard and police have a heavy presence. Last night, on my job, which borders one of the riot areas, I saw over 100 police cars silently stream up the street, sirens flashing, followed by rows of National Guard trucks. This stepped up military presence of course is intended to send a message.

 This weekend I think will determine how far events go. Several rallies are scheduled in support of the rioters. There's still a lot of palpable  anger in the poor areas, an anger that will continue to simmer, especially if a whitewash of the police actions in Freddie Gray's death is issued, which looks likely. Already, the Mayor and police department are attempting to downplay the results of the investigation and may even try to hold off releasing the information. New information is regularly coming out, such as news of a highly unusual and unplanned stop made by the police van carrying Gray on its way to the station. Small groups of protestors have tried to defy the curfew and this weekend, the numbers might grow. Another wildcard is if the nation wide demonstrations in solidarity expand. Contrary to what the authorities are trying to say, that the worst is behind, I think there's a strong possibility of new eruptions.

 It's impossible to summarize anything now. However, I don't think the standard left response about poverty, unemployment, the need for jobs, captures the full dynamics of what's going on. In some ways, the unrest reminds me of what happens in the French suburbs. The young people in the streets Monday night are still unheard; most of the "spokespeople" for the demonstrators are Black college students who don't always have the raw contact with the street. In contrast to Ferguson, where you had a rebellion against a white-dominated political establishment, in Baltimore, there's been an entrenched and self-serving Black political leadership ruling the city for decades. In some ways, it can be said the riots have been the first significant rebellion against this type of leadership and it's been a welcome sign that many protesters see through the  hollowness of this establishment.

 These are just some quick thoughts."
South Korea, Seoul: clashes with cops "South Korean workers have clashed with riot police …Thousands of riot police set up barricades and tight perimeters with their buses in Seoul to block the 10,000 workers from marching toward the office of President Park Geun-hye … However, demonstrators tried to move the buses by ropes and police fired water cannons and tear gas in clashes with them to disperse the protesters occupying roads. The demonstrations on Friday came for a third week of protest rallies against the conservative government's labor policies as well as the last year's ferry disaster. Protesters blame the government for failing to properly address the tragedy, which claimed more than 300 lives."
Canada, Montreal: clashes with cops
Italy, Milan: cars torched, stones thrown "…the tail of the procession meanwhile, began to destroy everything it encountered." More here "Thick clouds of smoke from burning cars filled parts of central Milan where groups of protesters, their faces masked against the fumes, threw stones and faced off against lines of police in riot gear. The confrontation came hours after a glitzy opening ceremony at the Expo site, with Prime Minister Matteo Renzi …'Today it is as though Italy is embracing the world,' he said at the opening….'I like to think that tomorrow begins today.' …the elegant centre of Milan was transformed into a battle ground…riot police had to help put out the flames which had engulfed a colleague after he was hit by a Molotov cocktail….There was no immediate official estimate of the damage, which included smashed windows and street fittings and burned-out cars. The Expo had already been tarnished by a corruption investigation that saw several top officials arrested, and by cost overruns and construction hold-ups. Large parts of the site were not ready for opening day."
Milan
Turkey, Istanbul: molotovs v.cops
Mexico, Oaxaca: various protesters including union workers, angry at their leader suspected of taking bosses' bribes, attack gates of governing party HQ , put up graffiti  See also text on this site.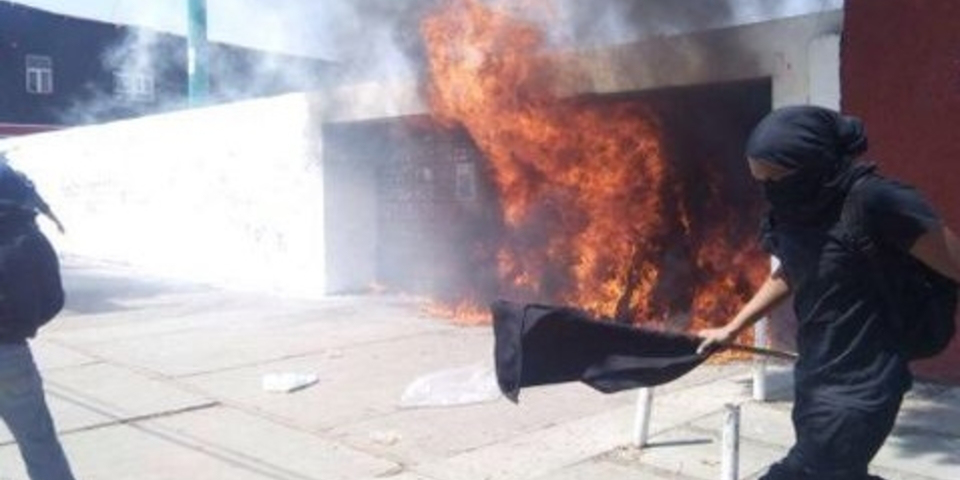 Oaxaca
Colombia, Bogota: sticks and stones v tear gas and stun grenades
Greece, Athens: anarchists clash with cops
UK, London: scuffles with cops…Middlesborough: building occupied by anarchists
France, Nantes: court painted blood-red