"Remember, remember the Fifth of November,
Gunpowder Treason and Plot,
I know of no reason
Why the gunpowder treason
Should ever be forgot.
Guy Fawkes, Guy Fawkes, t'was his intent
To blow up the King and Parli'ment"
Sam Fanto note: from this month onwards  I will be increasingly handing over the production of the "News of Opposition" page to various people in different parts of the world
"Reading the morning newspaper is the realist's morning prayer. One orients one's attitude toward the world either by God or by what the world is. The former gives as much security as the latter, in that one knows how one stands. "  
– Hegel
30/11/15:
UK, London: student rent strike victory
Belgium: Brussels – Lille high-speed railway line sabotaged; all trains cancelled See also "The despotism of speed"…Louvain: part of army barracks burnt by home-made incendiary device
Mexico (Oaxaca state) : 9 communities of Oaxaca's Central Valleys announce to authorities they will block 5 companies' mining projets threatening their land
Germany: chic new uniforms for riot cops
Greece (Athens) :  anarchists occupy Italian consulate against extradition of 5 students (video)
Brazil, Rio: protests against murder of 5 youth by military police '…the city – like Brazil as a whole – has one of the worst records in the world for killings of and by police. Between January 2011 and October 2015, 2,510 people were killed in "self-defence" actions by the city's police – an average of 1.4 deaths per day, according to the newspaper Extra. Overwhelmingly the victims tend to be young, black males from poor communities…'
29/11/15 :
China, Guangdong: heavy clashes between villagers and state over waste incinerator "Over 1,000 police were dispatched after a mass protest began in the city of Shantou, in the east of Guangdong. Some police vehicles were burned by protesters…On Saturday residents of the city's Chaoyang district heard a police warning that they were about to enter their village. In response, many villagers gathered and blocked the road using gas cylinders. The following day, police advanced into the village, which became the scene of violent clashes as demonstrators smashed police vehicles and threw rocks and stones at riot police. The villagers had been striking for two weeks and students had also been boycotting classes for a week in an attempt to prevent construction of the incinerator from going ahead." More here: "…more than 1,000 police in the Chaoyang District of Shantou City, Guangdong Province fired tear gas and high-pressure water hoses at protesters from eleven villages in Jinzao township. Dozens of villagers were arrested, and a police car and earth excavator were burned by the villagers….altogether 11 villages and more than 10,000 people at the end of October 2015 again began resisting the construction of a large-scale waste disposal power plant in their village. Their protest is ongoing. According to the villagers, peasants in the 11 villages have been on strike for half a month, protecting their villages day and night against government invasion. Six middle and primary schools in the 11 villages have been boycotting classes for 10 days. During this time a large number of villagers who have demonstrated and posted information on the Internet have been arrested. Villager "Blockhead" commented online: "Six middle and primary schools have been boycotting classes for 10 days. Farmers haven't gone to the fields to work for more than half a month. They're standing guard day and night to prevent the township government invading the village. This conflict has been going on for two years. Until now no media has reported accurately on this issue…. The police were temporarily beaten back by the villagers…. A police vehicle transporting a water cannon was burned….A SWAT vehicle was burned by the village defenders and the riot police withdrew. It's not stubborn resistance but protecting our homes. If the waste disposal power generating plant is built, our home will be ruined and the people will die…." The villagers' protest was still in progress on the evening of Sunday November 29, 2015. All the roads into the village were blocked by the police. Most of the information the villagers had posted to the Internet had been deleted."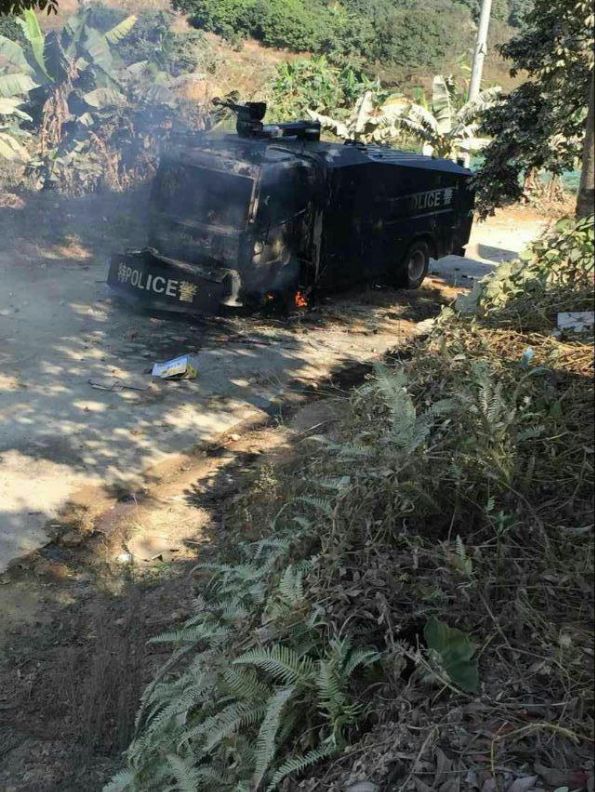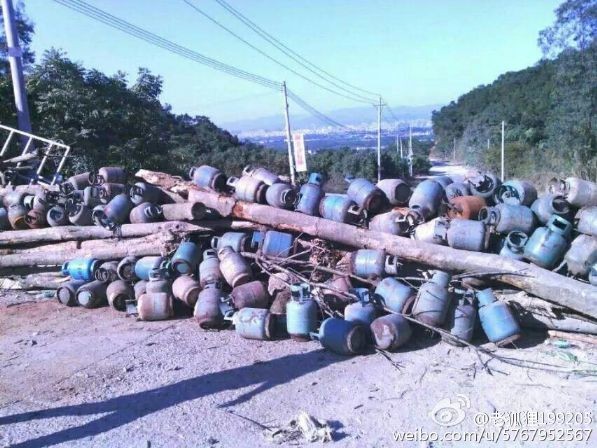 Shantou, Guangdong
Bangladesh, Tejgaon: illegal transport workers' confrontations with cops force mayor to seek refuge for 3 hours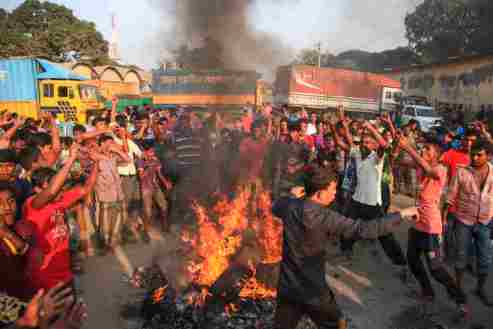 Tejgaon workers dancing against eviction
Haiti, Port-au-Prince: Demonstrators attempt to free a detained activist during a protest against election results.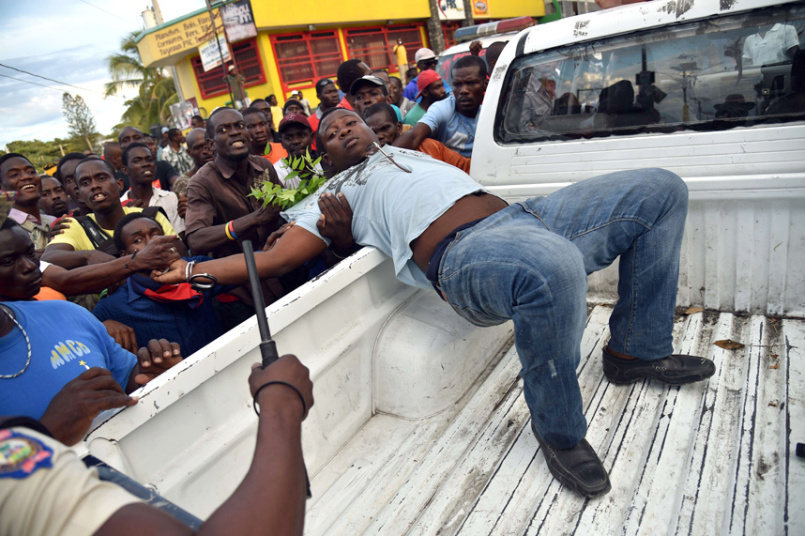 Cambodia (Phnom Penh) : massage workers on strike… Mondulkiri province, northeast: ethnic Pnong villagers refuse "gifts" from company in order to protect their land These conflicts are common in Cambodia. Minority villagers (especially the Pnong and Tompuon), because they have a tradition of maintaining forms of autonomy from the States and its officials, are usually those who resist with the most determination to public and private projects on their lands. (Pi)
Guatemala: at least 6 dead as cops and army crush prison riot "The prison…houses 3,092 prisoners but it has capacity for 600. Guatemala awarded Mexican construction company ICA, which has been struggling under a heavy debt burden, a multi-million dollar contract to expand the prison late last year, according to official contract data"
Macedonia: 18 cops injured during further clashes between migrants over fenced  border
France, Paris: Hollande scandalised by  climate change clashes…video shows (19 min, 10 secs in), amongst other things, how it was the cops who were the first to run roughshod over the candles, contrary to global propaganda (surprise surprise)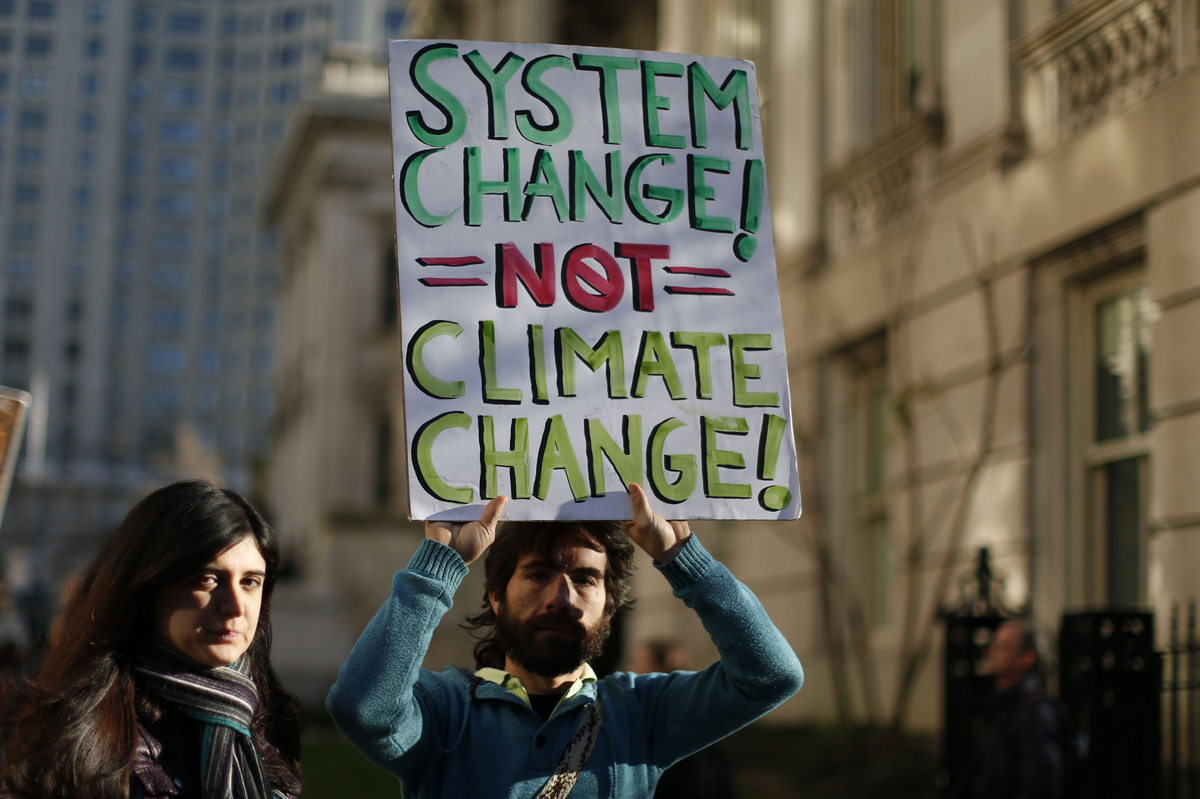 or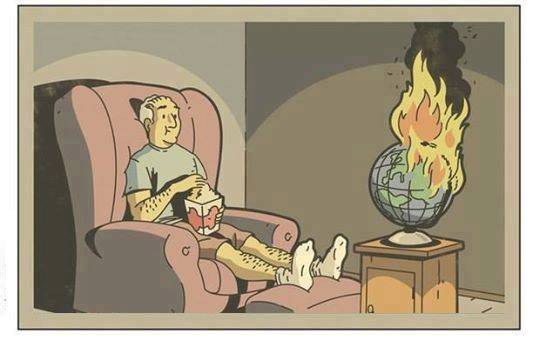 Account in English of some aspects of the use of the state of emergency in France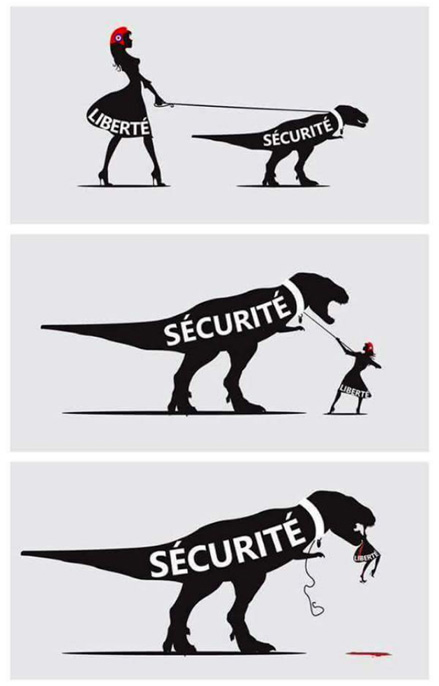 28/11/15:
UK, London: fountains of Trafalgar Square get died red to represent blood in protest against cuts to domestic violence services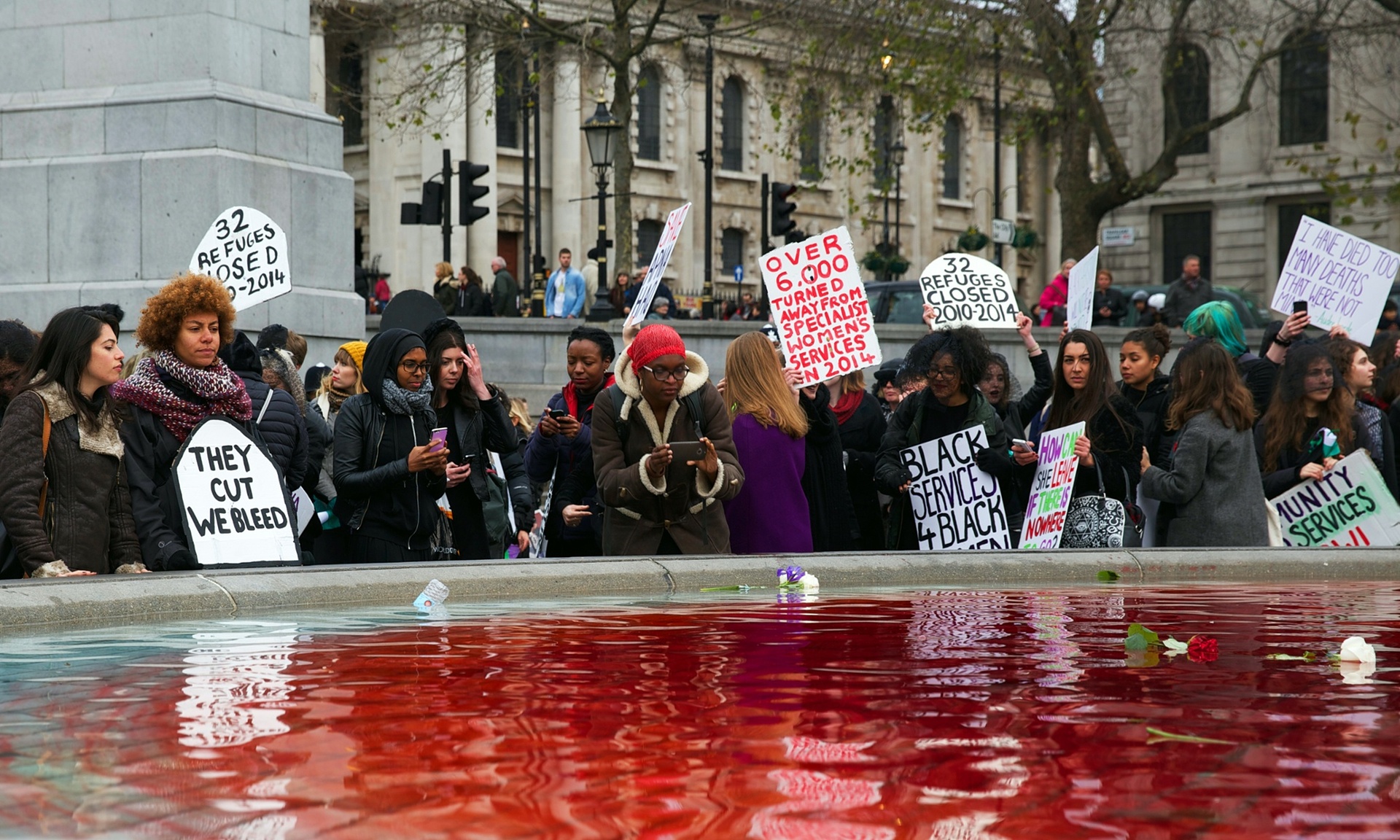 Mexico, Oaxaca: clashes between teachers of the CNTE (independant coordination) and cops  This is just before teacher's evaluation day, which  they reject (which is part of a whole reform they've been mobilized against for quite some time). 10,000 riot police were sent there just a few days ago to try to contain the actions ahead of time. Other photos of the day on this link…. Report in English here…Chiapas: teachers show solidarity with their fellow teachers in neighbouring Oaxaca and organize blockades and demos in 24 regions (including the capital, Tuxtla Gutiérrez)…Michoacán:   teachers take over toll booth and ask highway users for voluntary cooperation (a common practice in Mexico), and set up "plantón" (a camp) in State's capital Morelia For more information and analysis of the teachers and their organisation, the CNTE, see section 5 (last section) of this…Oaxaca: several guards taken hostage in prison mutiny More information follows later…
Macedonia, Greek border: migrants & cops clash at border fence under construction (video) (Huffington Post report here)
US, Twin Cities, Minnesota:  "Leader" of Black Lives Matter of St. Paul unsurprisingly running for state congress…Seattle, Washington: #blacklivesmatter Black Friday protest through shopping malls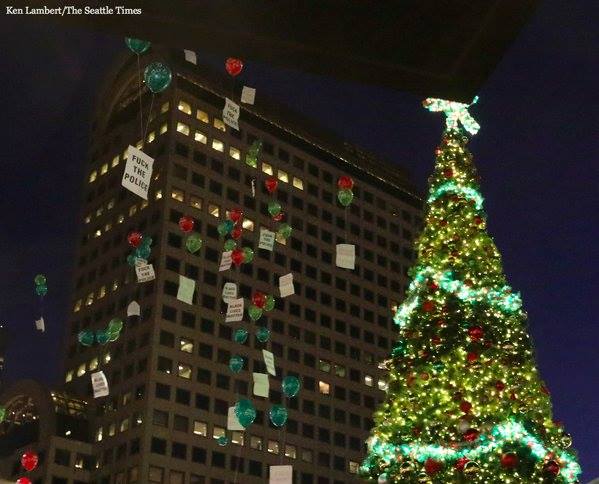 Balloons released saying "FUCK THE POLICE" during annual lighting of Christmas tree; some get stuck in powerlines
South Africa, Johannesburg: Smelly Christmas and a Crappy Poo Year
27/11/15:
Mexico (Guerrero State) : 2 more Comunitarian Police members killed
US, Chicago: blockades against the "Magnificent Mile" (bourgeois shopping district) "Hundreds of protesters galvanized by the fatal police shooting of 17-year-old Laquan McDonald closed a stretch of Michigan Avenue on Friday and blocked would-be customers from entering high-end, Magnificent Mile stores on what's usually among the busiest shopping days of the year. Many protesters remained in the area for hours, moving up and down Michigan Avenue, pausing in front of stores, waving flags and signs, and chanting — though by about 9:15 p.m., many of them had decided to call it a night." 
Words from a worker in the district: "I was working the Water Tower yesterday. I lost a lot of money that I really needed because people couldn't get into the mall and come to my restaurant. And I would gladly work that shift all over again. What a complete success."
Peru, Lima: more clashes between workers and state (and another video)
26/11/15:
Mexico (Tixtla,  Guerrero) : 4 members of the Communitarian Police murdered The self-organized armed force linked to the Indian communities of the State of Guerrero were murdered by a commando, while two organized crime groups battle for control of the area. This also occurs in the context of powerful mobilizations in the state of the social movement around the disappearance of the 43 students of Iguala, which are blocking the municipal elections of Tixtla scheduled in 2  days time.(Pi)
Togo (Mango) : popular uprising, a police officer killed It seems these clashes started after violent repression against protests to transform the area where people are living into a nature reserve, and kick them off the land. According to this article, the city is now under siege by the army, and lots of residents who took part in the clashes left for other regions. The army fired live bullets, beat people up, burnt houses and took food reserves. This other article  says (in French) that "it is the soldiers who are now repressed by the population", with rock-throwing, barricades. "It seems precise advice was given to make the forces of order's agent's lives difficult. No street food seller is allowed to serve those in uniforms. Anyone identified as an agent of order is chased back to their last outposts." This says that the prefect has put the mayor in jail on corruption charges. Both are chosen by the State and imposed on the population, and it seems the clashes were against both of them. Another article here (in English), though not very informative.
France, Paris: amongst things like harrassment of squatters, arbitrary summonses etc.,high school students attempting to put up a blockade of their school are tear-gassed and truncheoned as part of the state of emergency
Turkey : anarchist prisoner on hunger strike (a letter)
Colombia (Bucaramanga, Santander) : masked attackers throw home-made bombs in University on the day of the signing of a pact for transparency by candidates to University management
South Africa, Mpumalanga: teachers walkout, refuse to administer student tests… three unions, representing 400 000, vow to boycott tests…Pretoria: new footage of thirsty students looting liquor shop at Pretoria union building protest…Johannesburg: cops and wildcat strikers fight it out "Loud bangs and a flash of light followed volleys of rubber bullets being fired as Pikitup protesters ran for cover in Juta Street in Braamfontein. A torrent of stones, refuse and glass bottles rained down as the protesters fought back….A man driving a bakkie tried to run officers down. The police shot back at them, shattering the bakkie's window as a stand-off between the two began. Several times, the driver of the vehicle made a U-turn and tried to hit police officers. The officers responded by firing more rubber bullets. At one stage, a driver emerged from his vehicle holding a club, threatening to hit police who pointed their guns at him. As the stand-off escalated, firearms from both sides were drawn. A group of unarmed protest leaders rushed forward, pleading with the warring parties to put their guns away. "Stop! Stop! Hey Stop!" they shouted at a protester brandishing his club. Others held him back as he tried to attack police. Protest leaders appealed to police to put their firearms down. But the police again began throwing teargas and flash bangs. Suddenly, it started raining glass as people from the nearby flats threw bottles at the police, who fired rubber bullets at them."They are going to kill us," shouted one woman, as she streaked past, dodging rubber bullets. Police retreated as the crowd regrouped and pelted them with stones. Moments later three water cannon drove forward spraying marchers as more flash bangs were thrown."
25/11/15:
Greece, Athens: anarchists break into German ambassador's home to protest European refugee policies
US: arrests in Chicago and New York in protests over more police murders of black men… Minneapolis, MN — More anonymous shots fired upon protestors outside 4th Precinct. No injuries reported. … Freeways across the city get redecorated with "Justice 4 Jamar" tags: Pic one, Pic two …Walkouts at at least four high schools in solidarity with those injured by white supremacists at the 4th Precinct… Designers create a riot-based strategy video game (see video) – risk-free rioting from the comfort of your own armchair!… Walmart hired Lockeed Martin and FBI to spy on workers "A document made public Tuesday by worker organization OUR Walmart reveals company testimony to the National Labor Relations Board (NLRB) in January stating that Walmart had enlisted the help of arms manufacturer Lockheed Martin and the FBI Joint Terrorism Task Force to monitor workers who were organizing for higher wages and the right to unionize. OUR Walmart workers said they were illegally fired and disciplined for taking part in the "Ride for Respect" strike during Walmart's shareholder meeting in June of 2013.
But the surveillance had long been in progress. Walmart executives mobilized the so-called "Delta" emergency response team in 2012 when they first got wind of plans for a nationwide Black Friday worker strike. As Bloomberg explained in an investigative piece published Tuesday, "the stakes were enormous." In addition to the NLRB testimony, the new reporting states, "The details of Walmart's efforts during the first year it confronted OUR Walmart are described in more than 1,000 pages of e-mails, reports, playbooks, charts, and graphs."
"Any attempt to organize its 1 million hourly workers at its more than 4,000 stores in the U.S. was an existential danger," Bloomberg's Susan Berfield wrote. "Operating free of unions was as essential to Walmart's business as its rock-bottom prices."
Mali, Bamako (Dianeguela): cop van with 12 cops overturned, causing broken legs, as youths use slingshots against teargassing cops in movement against dangerously unhealthy waste disposal mountains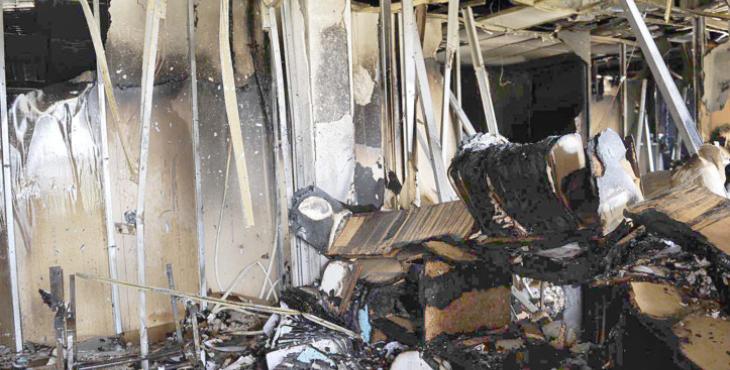 Arson at CPUT Bellvile campus
France, Calais: cops prevent Kurds from demonstrating outside their camp, blocking their exit and teargassing them
Congo, Kinshasa: students burn university admin vehicles, throw stones at cops, cops briefly sequestrated, during demo against rising fees, unhealthy conditions etc.
USA, Minneapolis: Protestors Occupy Police Precinct, Shut Down Highway After Police Kill ANOTHER unarmed black man
Zimbabwe, Harare: 15 female students arrested in education demonstration against high fees and low quality
Council, Idaho, US: protest over police brutality This might seem strange to include, but it's worth noting because this is the first protest I've seen in the US (since August 2014) in response to a white person being murdered by cops. Unsurprisingly, it was attended by some members of "3% of Idaho," a right-wing militia group (www.iiipercentidaho.org/) [B]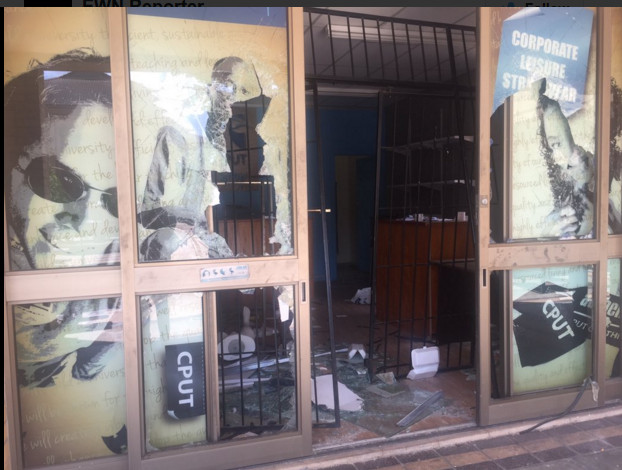 corporate leisure vs student displeasure 
…Johannesburg: cops attack night vigil when non-students try to storm campus, students respond with petrol-bombs… closing down a neighbouring pub and burning a bus stop '"Students fled from the police right to our area. They grabbed tyres from the tyre shop, Enume Tyres, next to the Bohemian Pub in Westdene," said Rossouw. Leaders of the protest demanded that the pub be closed. "They told us that we should close and let our customers out in support of the protest. They aimed to get as much public support as possible in order to taunt the police," he said. The protesters then set tyres as well as a bus stop alight.'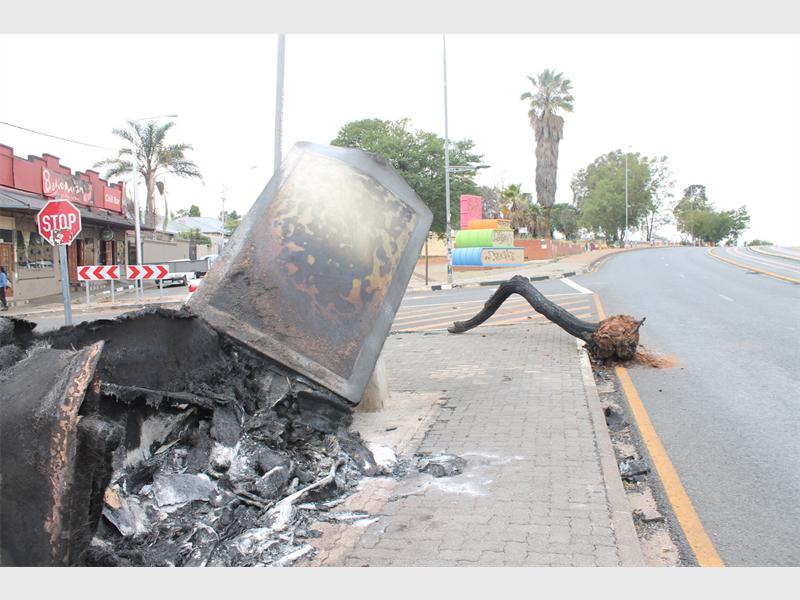 Italy, Naples: students use polystyrene shields against cops in demo against education reforms
Mexico, Durango State – brawl between protesting Education workers and Durango state police (video)
Chile – Police violently evicts Mapuche community (video, pictures and an appeal in spanish)
12/11/15
France, Mayotte (French department in the Indian Ocean): blockades all over the main island despite the desires of the unions as they lose some control over their official general strike demanding defence of the public sector and for social equality "The day was to begin with an operation snailspace [driving convoys of vehicles at a very slow speed] in order to paralyze traffic, but the unions quickly lost control of the movement and were overwhelmed by gangs of young people blocking roads and using violence all over the island, the security forces for the time being powerless in this very tense situation. Blockades were prepared on the roads north, south and center of Mayotte, in particular using the carcasses of burnt cars . By late morning, the convoy, the snailspace in full operation, was itself blocked by Doujani [an area of Mayotte] youth. Incidents occurred between youths and some motorists who were trying to force their way through the blockades. Automobiles, including that of the municipal police were stoned….A journalist from Mayotte France Télévision … was chased and assaulted by youths unhappy to see him filming them with his phone, which they snatched from him. A photographer of the Journal of Mayotte was attacked and slightly injured. Maritime connections between the mainland and the Petit Terre [another island of Mayotte] were blocked by the strike. "
Greece: general strike against state budget cuts
Mexico, Guerrero State – villagers retain 200 soldiers after these disarmed the local Comunitarian Police, which lead to the entrance of a local cartel that killed 15 Comunitarian Police members.This happens a few days after shootouts between the Polixtepec Comunitarian Police and the organized crime group "Los Villalobos", in which three cartel members were killed (see our entry on 6/11)… Ciudad Juárez (Chihuahua State): 350 workers of local "maquiladoras" march to official buildings for better conditions of work, the right to create unions, and against professional and sexual harassment [Pi]
US, Idaho: banner hung in support of death-row prisoner 
Students advance on pigs, who are soon forced to retreat
South Africa, Cape Town: hundreds riot late into the night at University of Western Cape to demand release of arrested students… torching a residence, an administration building and various furniture including a piano… damage from burning and looting estimated at millions of rands (video)… another video with interview of protesters and presentation of context… this eye-witness report stating cleaning workers also involved… riot police fire stun grenades, smoke grenades and tear-gas to disperse wildcat strike at parliament after workers storm committee meetings stating their grievances directly to MPs… but prove unsuccessful as workers regroup… [SK]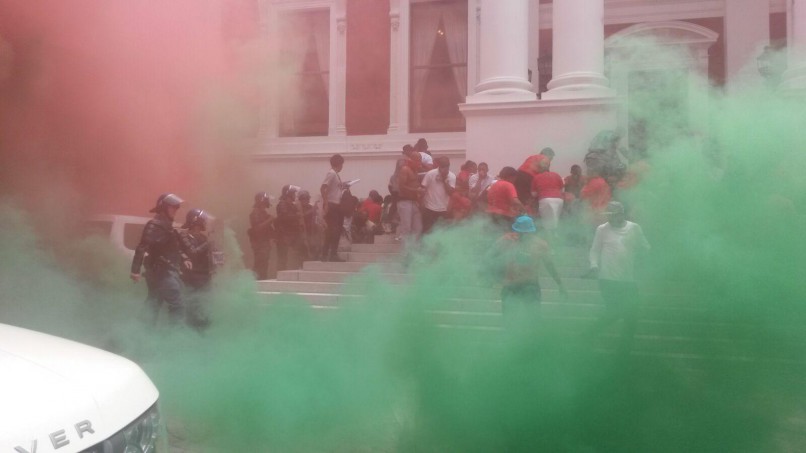 Police attack workers picket outside parliament
Limpopo: police escort construction equipment to repair trenches dug across road by rioters… apparently this tactic has been fairly widespread in the region [SK]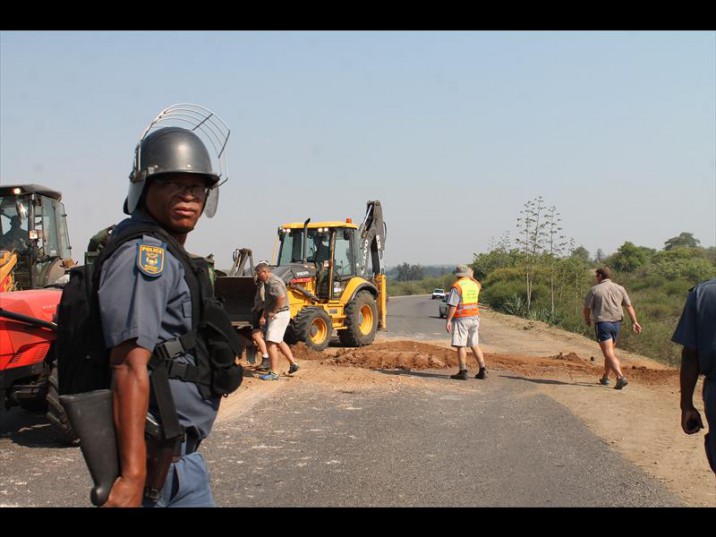 France, Seine-et-Marne (Pontault-Combault): from rap to riot The shooting of an amateur rap video on an estate ended up with about 60 youths attacking the cops with stones and loud fireworks, the cops using rubber bullets, when the cops drove to where they were filming, a part of the estate where vehicles aren't allowed. [SF]
Belgium, Brussels: confrontations with cops after underage youths try to see film about urban gangs Cop truncheoning of young guy after his expulsion from the cinema provokes heavy confrontations that forces the film to be stopped after 3 minutes, and the later session to be cancelled [SF]
UK, London: regular resistance to immigration raids revealed 'Missiles have been thrown – eggs most predominantly, but rocks. Vans get blocked in; we've had vans with the tyres slashed. We've had instances where officers have had to retreat, as I said, inside commercial premises and wait to be rescued… how effective are they at disrupting action by immigration enforcement? That depends on who you talk to. Senior managers within immigration enforcement will tell us that only a very small number of high profile operations have been successfully disrupted. What my members are telling me is that immigration enforcement jobs are disrupted to a greater or lesser extent pretty much every week.'
France, Calais: 3rd night of clashes between cops and refugees …radical report in French here
Nepal: country runs out of fuel, govt blames Indian state, Indian state blames Nepalese prosktestors  difficult to know which is true as police previously moved to clear away protestors… who responded by fierce riots… [SK]
Scotland, Glasgow: CCTV vans given form to fit their function by mysterious benefactors "Most recently, our officers' CCTV vans have been targeted and the doors, and door handles, have been covered in excrement. This is not only extremely unpleasant and dangerous for the officers involved, but means the vehicles have to be returned to be cleaned, which reduces the amount of time the officers are in communities."
Guinea, Conkary: hundreds of prisoners riot, 'dozens injured on both sides'
Australia: pigs regain control of immigrant detention centre after intense riot '…there were reports of some detainees barricading themselves inside with petrol bombs, machetes and chainsaws after raiding a garden shed for weapons. The unrest began in the early hours of yesterday morning after upset detainees asked officials what happened to Kurdish refugee Fazel Chegeni, whose body was found on Sunday following his escape from the detention centre.' Interestingly, ethnic solidarity had nothing to do with the riots: 'Media reports suggest New Zealanders were behind the uprising, which saw centre guards flee, fires burn and walls smashed… Attempts to contact New Zealanders in the centre were unsuccessful tonight but yesterday a Kiwi detainee told NZME people being "treated like animals" sparked the riots. The man, who NZME chose not to name, said the riots kicked off after one person was allegedly assaulted by a guard when they asked about the body. "It was just a matter of time, all of us knew it. It was a matter of time because of the way they treat people … They're meant to be so called welfare carers. Duty of care is their number-one policy and bringing service to us, but they treat us like dogs. We're treated like animals in here."' 
England, Egham: teenagers riot at train station
South Africa, Cape Town: a thousand parliamentary staff continue strike over outsourcing, pensions and bonuses… 
Mexico, Guerrero state : normalistas march, fight police, severe repression (video)
France, Calais: after about 200 migrants try slowing traffic with objects thrown onto the road, 16 cops are injured by stoning as cops launch 300 tear gas grenades
South Africa, Cape Town: students set up barricades on campus at University of Cape Town and attack Vice Chancellor… "A UCT statement said that the protesters had "particularly targeted…Price with utterly unacceptable verbal abuse and threw bottles' food and other articles at him" – and a fire extinguisher was "set off" in his face"… and march to parliament, joined by workers inside parliament itself who stage sit-in protest…Stellenbosch University: workers and students hold rally against outsourcing… Johannesburg: protesters shut down road outside courtroom… as charges against workers and students withdrawn
US, Missouri: president of Missouri University resigns as a result of anti-racist protests…Ohio: death rowprisoner Keith Lamar on hunger strike protesting conditions at OSP
Russia: artist sets fire to door of modern-day KGB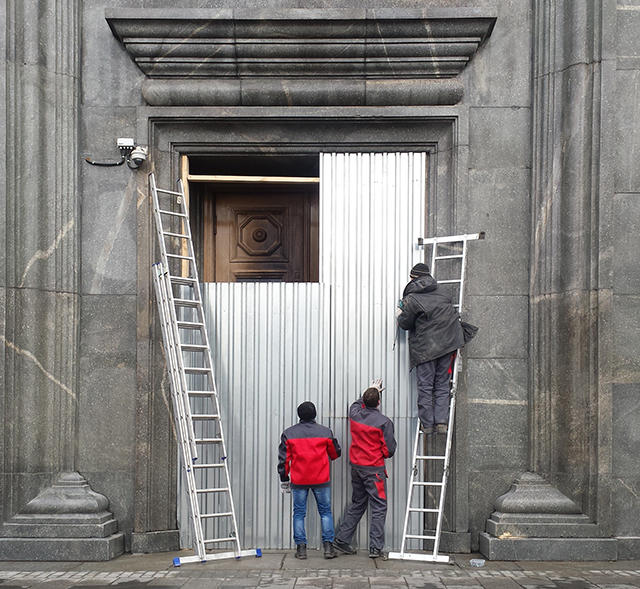 modern-day KGB door gets makeover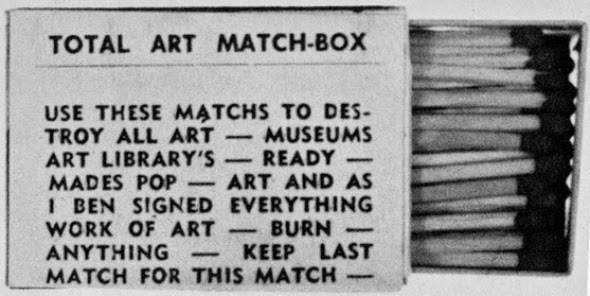 the art of destruction & the destruction of art
Romania: protest sparked by nightclub fire continues for sixth day, leads to resignation of leftist government A friend in the US sent this: 'From a Romanian friend (who now lives in italy) about the romanian protests. she said you can use this on the website if you want: Today I spoken with my friend from Timisoara about the situation there.
The demonstrations started after the accident in a club during a rock concert. Around 48 died burned and suffocated, and other 100 are seriously injured. The people got very uptight and went on the streets without a goal, at the beginning. Than something changed and they started to reclaim the abdication of the prime minister and the government, asking for a technical government.They think this will resolve the problem of corruption. In one word they are just asking for reforms.
The people got angry with the church too, because the priests refused to celebrate the funeral for the "satanist" rockers.
The few radical anarchists didn't participated to this circus of democracy and superstition. Another bad news is that Noua Dreapta (New Right) ,a fascist organization became a legal party on 4th of November. The situation in Romania is very complex, and is difficult to explain it. But in general is consolidating a savage capitalism, sustained by a right wing political feeling, with the support of the majority of the romanians.' [SF]
Canada (Québec) : second day of strike in the public sector, protesters block a bridge in Alma. 15,800 workers involved overall.
Mexico: Report on the situation in Michoacán state. The reporters of the independant mexican press agency "Subversiones" visited the different regions of this Pacific coast state and evoke the tension there, as the Federal governement created a "Rual, Citizen and Indigenous Force" to integrate the various "independant" autodefense forces organized against Organized crime (but often linked to or infiltrated by local political, economic or even criminal forces, which are sometimes the same by the way). It seems that those who don't integrate these new groups will become illegal and face charges (or worse). The article shows that there's much discontent and some locals' will to refuse this "deal"…but also that the composition of the autodefense forces is far from classist : land owners and proletarians are part of the same group. As we mentioned before in other entries when refering to Michoacán, the place where the autodefense groups are the most coherent is in indigenous communities : it is confirmed here by a delegate of the Santa María Ostula Nahua community, which points the recuperation and recalls that in his community, the autodefense tasks are part of a larger logic of autonomy.
Another article (http://subversiones.org/archivos/118943) states that indigenous communities are those that react best against the governement's drug politics' "failures" and cartel's presence, with examples in different States (though not very critical of the contradictions of the fight for autonomy with autonomy seen as an end per se, which is often the case). [Pi]
Mozambique: rioters attack mine "An angry mob attacked a tantalum mine in Gile district, in the central Mozambican province of Zambezia, and destroyed millions of dollars worth of equipment… The mine…is a wholly owned subsidiary of the Canadian Pacific Wildcat Resources Corporation. The trouble began on 9 November when police shot dead an illegal miner who had slipped inside the mine in order to steal material. Spotting the intruder, a policeman shot and killed him. A group of rioters then descended on the mine armed with rifles, machetes and pickaxes and proceeded to loot and destroy. They intended to lynch the South African director and other expatriates at the mine, but they were able to drive to safety before the rioters could catch them." (from here)
8/11/15
US, Providence, Rhode Island — Famous "Dancing Cop" fired for staging protest against Dunkin Donuts employees "Last month, after a Dunkin' Donuts employee wrote "#blacklivesmatter" on a police officer's coffee cup, Lepore organized a protest outside the establishment. According to the AP, Lepore said he wanted to see that employee fired. "I had a mission to make sure all police officers were treated like police officers, not like dirt," he said."
France, Limoges: cops surrounded by 50 youths, 5 cars burnt out, cops and their car stoned, gendarme's vehicle rammed, after cops control driver… Ardennes (Charleville): as rodeo (stolen vehicles used in a race/dodgems) is broken up by cops, tear gas is launched against stone-throwers [link in French]
Italy, Bologna: protesters clash with police
South Africa: University of Johannesburg caves in to pressure and signs agreement to end outsourcing
7/11/15
Venezuela, Carabobo: after 14 hours without electricity, destroying the food in their fridges, residents riot, burn tyres, and other stuff in at least 10 different areas of town (San Joaquin)
US, Missouri: black football players refuse to play until University President resigns Seems like white players and the coaching staff are in on it too now: Really unprecedented as far as I know. These college football programs rake in millions and millions for the universities on the backs of these unpaid players (most of which are on scholarships that now may be in revoked – quite a risk for those striking). There's been a lot of hit and run racist incidents – nothing organized- that has provoked this, but really that sort of thing has been going on at mizzou for years. Why now? I think it is a combination of a Ferguson-fueled protest/"social justice" atmosphere that has found its unique flavor in the college town AND the football team is having a terrible year, so the players couldn't care less about losing more games. The President has till next Saturday's game to make his move… and in the meantime – there's a grad student on hunger strike demanding his resignation, grad student professors recently got their health benefits back after a series of protests, and there's a boycott of the dining facilities…here's a timeline of things at the university… Didn't realize there had been a couple of walk-outs and the graduate teaching assistants were trying to unionize. We'll see if the 'movement' can transcend the racial focus and the ruts of college activism. [friend of Sam]… Alabama: prison riot 'The cause of the riot is unknown, but the word is that it was racial. Then a couple of days later a queer prisoner at the St. Clair Correctional Facility named Kay Kay allegedly stabbed a pig guard after the guard slapped him in the face. St. Clair has been the scene of stiff resistance and retaliation against brutal guards by prisoners. Since June a number of guards have been beaten and stabbed by prisoners.'
England, Reading: bank and 8 other businesses instantly improved by vandals overnight
Afghanistan, Kabul: demonstration against stoning of women… and here
France, Hauts-de-Seine: cop car attacked with fireworks and other missiles
Mexico (Polixtepec, Guerrero State) : 7 hour shootout between a Communitarian Police and a cartel.
The Communitarian Police took over the place after 3 cartel members were killed…they were quickly followed by the mexican Army, which installed a camp close to the place and refused to hold those made prisoner by the Communitarian Police. This happens after several shootouts and much tension this week in Guerrero state between organized crime and local indigenous population. The article also evokes rivalries between communities selling opium to the cartels, but no more info is given. [Pi]
5/11/15
England, London: thousands attack police, burn cop car in Guy Fawkes day demonstration "Demonstrators threw fireworks and bottles at police, some of whom were knocked from their horses… Some demonstrators ran through London's major shopping district around Oxford Street, smashing windows and engaging in running scuffles with police as shops closed their doors." A Mexican anarchist, besides making various idiotic statements revealing a radical imbecility, assists the work of the police by claiming on behalf of an imaginary community that "Anyone who is violent is not with us."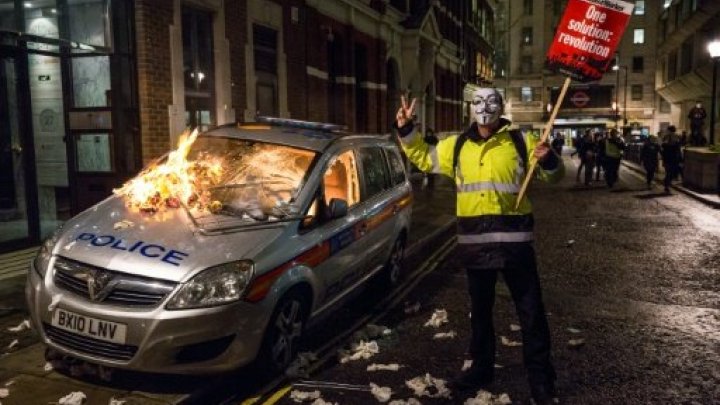 Guy Fawkes manages to burn something this time round
Quebec, Canada: Dairy farmers stage block two highways in protest of Trans-Pacific Partnership
St. Louis, MO: Antonio Whiteside, 24, sentenced to 5 years in prison for burning down the market who called the cops of Mike Brown before he was killed.
Colombia, Chibolo (Magdalena): cop station burnt down after cop is suspected of killing man
France, Seine-et-Marne (Melun): missiles rain down on cops from upper floors of estate… Yvelines (Mantes-la-Jolie): 20 youths surround cops, chuck stones at them and their car; 4 bins set alight in different areas
China, Jianxi: villagers clash with police over pollution
South Africa, Cape Town: 150 residents riot against electricity disconnections "Egoli is situated on private land and as such cannot be electrified. The community is therefore connecting themselves illegally to the grid, and wilfully vandalising distribution infrastructure in the area. The continual vandalism of the system has resulted in power supply to neighbouring communities being interrupted for hours and sometimes days at a time… The residents of Egoli have declared that while they do not have electricity they will continue to vandalise infrastructure in an attempt to strong-arm the City into supplying electricity to the settlement."
1/11/15:
United States, Utah: inmates of 'youth centre' riot "Our officers went in and tried to take care of the problem, and as they would go into one area, a problem would develop in another area" Not sure what exactly a youth centre is, presumably prison for children…California: 5000 riot for their right to party at Berkley university campus during halloween 
Germany, Magdebourg: 80,000 euros worth of damage to property of main organiser of right-wing anti-migrant organisation
Afghanistan, Kabul: demonstration of unemployed demanding work or unemployment benefit Not that it's very dramatic, but it's significant because it shows that there are more things going on in a country ravished by constant war than what is usually reported [S]