"Even though February was the shortest month of the year, sometimes it seemed like the longest."
― J.D. Robb
29/2/16
Eire, Wexford: mindless Senator's car attacked by mindful vandals, along with 9 other cars
Greece/Macedonia:  Migrants tear down border fence, attack police, and are dispersed with tear gas.
27/2/16:
France, Toulouse: several trucks belonging to Vinci (famous for prison construction) burnt out
US, Pine Ridge Reservation, South Dakota: 43rd annual Liberation Day march to the site of the Wounded Knee massacre results in clashes with police and ceremonially firing guns.…Salt Lake City: Clashes after police shoot a teenager.  "There were pockets of that disturbance for hours," a detective said Sunday.
More coverage.…Anaheim: Three protesters stabbed, thirteen arrested at Ku Klux Klan rally.  Several Klan members beaten
26/2/16:
Mexico, Mexico city: riot as residents attack cops during arrests of alleged drug dealers It happened in a central neighborhood famous for its markets and illegal merchandise.
Chad: demonstrtations in 3 towns against repression and killings of high school students following demos against rape by cop family members of girl
France, Marseille: 2 luxury cars burnt out by anarchists
25/2/16
Peru, Lima: cops beat up demonstrators against Trans-Pacific Partnership
South Africa, Durban: striking workers barricade entrance to university, stone cars and overturn security vehicle in struggle against outsourcing …Pretoria: two universities shut down campuses in response to protests over language and fees…KwaZulu Natal: roads blocked with burning tyres during strike of schools, municipal offices, taxis, public transport, residents demanding to be led by different councillor
Mexico (Mexico City) : armed police group in plain clothes intervenes on campus and "disappear" one…he reappears a few hours later in jail, and is then transferred to a prison in the southern State of Oaxaca (http://www.jornada.unam.mx/ultimas/2016/02/25/ingresan-a-el-yorch-a-penal-en-oaxaca-por-delitos-contra-la-salud-7254.html).
Quick reaction by some students, who blocked an entrance of the campus, and burnt a vehicle belonging to the campus' security department (https://difusionacracia.noblogs.org/post/2016/02/25/quema-de-auto-de-la-seguridad-unam-por-detencion-del-companero-yorch-punk-mexico/).
The authorities accuse "El Yorch" of selling drugs…while everybody knows he's been selling tacos in the campus for years. Just another episode of harassment of those involved at the "Okupa Che", an occupied building of the UNAM, Mexico's main campus and university.
Papua New Guina : 11 killed in prison escape, more injured, others could escape
Thailand (Samut Sakorn province) : strike wins pay promise for workers (mostly burmese migrants) "There are at least two million Myanmar workers in Thailand, mostly working in low-paid menial jobs as factory workers and housekeepers. Samut Sakhon is home to some of the world's largest seafood suppliers, such as Narong Seafood Co. and Thai Union Group."
Brazil, State of Pará : Kayapó indigenous villagers block highway
24/2/16
Georgia, Tkibuli: hundreds of striking miners storm HQ of mining company; student movement in solidarity with miners
France (Rennes): migrants declare hunger strike in detention center after a miscarriage and a suicide attempt
South Africa, Cape Town: doors and windows broken in third day of worker and student protest against outsourcing and repression at UWC
…Mafikeng: North-West University campus closed indefinitely as security vehicle and several buildings burnt to the ground in ongoing protest
"An administration block that included a science center was burned down… Student protesters also burned down the residence of a dormitory supervisor…A suspended student leader was addressing his supporters when private security tried to disperse the crowd using rubber bullets and tear gas, the university said in a statement. Students then pelted security guards with stones and burned a vehicle that belonged to the private security company, the statement said. In chaotic scenes posted on social media, large police vehicles rolled onto the campus to restore order. Students retaliated by setting fire to campus property."
…Free State: classes suspended as statue torched in response to white attack on black protesters
India, New Delhi: protestors against arrests of students chatnting anti-national slogans and student suicide clash with cops
South Africa, Tongaat: taxi drivers bring traffic to standstill after arrest of striking cabbie for intimidation of possible strike-breaker
US, Colorado: Occupy activist against eviction and bank theft of home shoots deputy but didn't get the sheriff
More here: http://www.dailymail.co.uk/news/article-3462650/Deputy-killed-two-wounded-arrived-serve-eviction-notice-house-Occupy-Denver-activist.html?ITO=1490&ns_mchannel=rss&ns_campaign=1490
France, Laval: farmers clash with cops – eggs v. tear gas
23/2/16
UK, London: Calais solidarity group chuck smoke bombs, blockade private club where French ambassador was visiting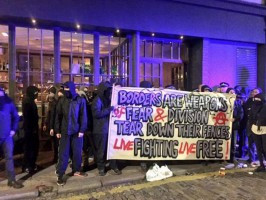 South Africa, Johannesburg: illegal strike by Roads Agency workers – burning tyres block roads… Limpopo: houses of 2 cops torched, mayor's house stoned and her electricity disconnected, municipal building torched, and 14 arrested in ongoing protest over water shortage (video)

Greece, Athens: anarchist group disrupts state news broadcast
France, Vigny-sur-Seine: 2 CCTV cameras destroyed on estate, the third such destruction in area in a month
22/2/16
Greece, Idomeni: Afghan refugees ooccupy rail tracks against exclusion from neutral zone
El Salvador, La Paz: 700 fired textile workers  block  airport road in both directions with burning tyres etc. in protest
South Africa, Kwazulu-Natal: University shut down by workers and students in protest over outsourcing
… Durban University of Technology shut down by protests, at this institution apparently lead by the official Student Representative Council which has been completely discredited almost everywhere else.
Free State: University shut down as white rugby players and spectators attack black workers and students in protest over outsourcing.
"One of the best features of the #FeesMustFall movement was the unity of black and white. Struggle and solidarity overcame racial divisions. We call on white students to mobilise alongside their black brothers and sisters to protest against reactionary attempts to divert this class struggle into a racial conflict", said one statement. As is apparent by the language used here, the protests at this institution are lead by a political racket:
"Workers were protesting today demanding the implementation of last year's agreement to end outsourcing and demanding the reinstatement of Trevor Shaku, a leader of #OutsourcingMustFall and the Socialist Youth Movement, who was dismissed from his post as a research assistant at the university for his role in the campaign".
http://mg.co.za/article/2016-02-23-university-of-free-state-suspends-lectures-after-varsity-cup-violence (video)
…Durban: two cops injured in protest, apparently over candidates for municipal elections
South Africa, Western Cape: University's cleaning staff occupy  admin building to protest against outsourcing & low wages
…Pretoria: clashes between students over Afrikaans
India, Kashmir (Jammu): clashes (1 killed) as residents burn earth-remover during eviction, block major highway
Whilst the relentless ongoing crisis in Kashmir seems to be dominated by nationalistic perspectives, in  this case at least, such struggles also clearly involve basic class struggle aspects [SF]
Albania, Tirana: state project to turn green area into children's playground met with angry protests; fence torn down, private company machine damaged
21/2/16:
France, Grenoble: vandals improve classrooms to the value of 10,000 to 15,000 euros…Essonne: 1.5m. euros of damage to 6 machines for constructing road for police and fire engine use through enclosed estate, as 30 hooded youths  molotov site
Greece : Police allege helicopter escape attempt by revolutionary comrades held hostage in Korydallos Prison, implicate a comrade in clandestinity, Pola Roupa, of Revolutionary Struggle
Bolivia, Santa Cruz: ballot boxes and ballot papers burnt in protest against election fraud
20/2/16
New Zealand, Auckland:  cops stop No Pride In Prisons protesting cops and screws on march from joining gay pride; punches thrown
"Protesters held placards and chanted slogans, such as "stop the police, abolition prisons"…Punches fly as police block #NoPrideInPrisons from their parade. Pride began as protest against police brutality"
 India, Haryana:  central state sends troops to quell riots
"[…] over the past few days, parts of Haryana have resembled a
battleground as angry members of the Jat caste — traditionally
landowning farmers — went on a rampage to press their demand that
university places and government jobs, be reserved for their community.
At least five people were killed, and fifteen injured in violent clashes
on Saturday, adding to the toll of three killed on Friday.
Jat protesters set fire to a milk-processing plant on Saturday […]"...…And  water cut to millions due to Jat riots now restored
"Thousands of troops have been deployed to quell protests, which flared again on Monday near the town of Sonipat as protesters set fire to a freight train. A compromise with the Jats brokered by Modi's home minister on Sunday failed to get protesters to clear highway roadblocks. Disruption has been huge, with 850 trains cancelled, 500 factories closed and business losses estimated at $2.9 billion."
While the actors may not be pure of heart, the article and others on the same topic describe a very interesting development: the submerging of what we in America call the middle class converging with urbanization, political disaffection, and the state requiring military intervention to pacify unrest . [N]
There was strong involvement of political parties in these actions. I've noticed (and it was confirmed by various readings) that it's common for Indian political parties and/or unions to promote very violent modes of actions.  See, for instance, here:
http://www.hindustantimes.com/india/andhra-pradesh-kapus-quota-protest-turn-violent-train-bogies-torched/story-o3XPw4SO3u5xP1LTtCFvAI.html?
Something could be written about the contradictions of caste members protesting to go back to the old system of quotas for caste members. [Pi]
Isn't the demand for the caste-system due to affirmative-action benefits given to the lowest castes? [SK]
France, Nantes: smoke bombs v. tear gas as 300 demonstrate against state of emergency; banks, EDF, Socialist Party offices, get paint-bombed; several billboards attacked, Town Hall tagged; no direct confrontations with cops
19/2/16
Guinea: unions suspend general strike after 5 days, getting 12 out of 13 demands
Mexico, Orizaba (State of Veracruz): indigenous street sellers protest against detention of fellow seller, attack car, mayor, fight antiriot police, detain cops and obtain his liberation
A video here : https://www.youtube.com/watch?v=CrfMADrWMoA
South Africa (Pretoria): two campuses shut down as protest against Afrikaans language instruction escalates
If the footage (note the red, yellow and green T-shirts that serve as their uniforms) is anything to go by this seems to involve heavy participation by the EFF and other political rackets of various kinds [SK]
Video here: http://www.enca.com/media/video/university-pretoria-students-arrested-following-clash-police
South Africa, Limpopo: residents riot, block roads with burning tyres, force closure of shops & government offices, in protest against lack of clean water
Johannesburg: bus burnt and university buildings occupied in solidarity with Cape Town students
18/2/16
South Africa, Eastern Cape: councillor's house torched in social strike
"This comes after Intsika Yethu Municipality demolished houses at Nyanisweni, Nkanini location, leaving about 15 families homeless. The incident happened on Thursday. Since then residents have protested by closing shops in town and demanding that the municipality find them accommodation… Residents also prevented people who work in town from going to work until the municipality agrees to have a meeting with them. They also set alight a ward councillor's house on Thursday."
Senegal,  Kedougou: 3rd day of uprising against gold mine operators; prefecture set fire to, prefect's house burnt, cop vehicle and several mine operators' vehicles burnt, roads blocked
Photo: https://berthoalain.files.wordpress.com/2016/02/violences-xenophobes-2013-orange-farm-johannesburg-642×436.jpg
France, Paris & Seine-St.Denis: 5 Socialist (governing) Party offices have their windows smashed, anti-state and anti-state of emergency communiques sent to Indymedia
https://attaque.noblogs.org/post/2016/02/20/paris-et-seine-saint-denis-contre-letat-durgence-contre-le-ps/
17/2/16
Guatemala, Villa Nueva: protesters against tripling of water and garbage collection fees block roads, clash with cops
France, Toulouse: 2 youths arrested by cops freed by travellers, but re-arrested after cop is hit
…Rennes: farmers and cops in clashes as massive amount of rubbish is dumped at the entrance of the prefecture
…Corsica (Corte): 100 youths attack gendarmes &  gendarmerie (kind of police station) with molotovs after arrests and flashball wounding of football fans (video)
…Amiens: cops forced out of estate by rapping youths (quite funny video)
..Metz: 2 buildings of detention centre for refugees awaiting expulsion from country made unusable by arson
16/2/16:
India (Rajahstan): illegal strike by Honda workers
Mexico (Mexico City) : planned anarchist march against the Pope stopped by the forces of order, one arrested
According to the communicate, anarchists were the only ones (along with some feminists) who tried to directly oppose the event. Lots of leftist organizations, groups and celebs have taken part in meetings with the Pope, including some members of the families of the 43 disappeared.
Tukey, Artvin: 3000 opponents of forest destruction for gold & copper mine in clashes with cops
Chile (Santiago): anarchist group claims attack of police building
India, West Bengal: inspector injured as protesters against repeat road accidents where pedestrians were killed or injured attack cars, cops and cop cars
South Africa, Cape Town: piles of paintings, bus and car burnt at University of Cape Town protest over accommodation shortage. "Tonight we witness the Black psyche unleashing generations of repressed pain. 2016 is the year we no longer pander to whiteness" stated the Rhodes Must Fall twitter account. "We [must] go to each and every building and every problematic white person's picture we must take down," announced a protester to the crowd. According to the protesters this was a "decolonisation project" and the burning of artworks represented "colonial symbols being eradicated".
I'm not certain what to make of all this. Despite the outdated black nationalist rhetoric, the statement that this is an instance of some people 'unleashing generations of repressed pain' seems to contain a kernel of truth. The explicit grievance given as the source of the protest does not otherwise explain what happened very well. Certainly university accommodation is a pressing concern for many in a country where, as Van Onselen observed, scholarships are valued as much for providing desperately poor students food in their stomachs and a roof over their heads as it is for providing qualifications. A 2015 survey, which focused on nine universities in South Africa, found that there were just over 68,000 spaces for more than 140,000 residence applications received in 2015. UCT could only accommodate 6,600 students in residence, but received over 21,000 applications. The problem is that the scholarships given to the most desperately poor students provide for accommodation either on campus or in private dwellings if no space is available at residences. It is possible that the stipend provided with these scholarships is not enough to pay for rent in the suburbs, neighbouring UCT, many of which are pricey, leading to a long commute for those who don't get a place in residences.
Evidently it has to do with resentment that, according to the Rhodes Must Fall group, "white foreign students are given preference over local black students". In any case they are quite right that the art and architecture of this miserable world are weapons in the hands of those who would extend their poverty indefinitely, and as such deserve to go up in flames. Everything about this excuse for a life is terrible and ought to be treated with the contempt it inspires. But our beloved neocolonial order will hardly be threatened so long as its enemies remain content to target vacuous abstractions like 'whiteness' — which is precisely analogous to declaring war on crime, terrorism or drugs… Thankfully, the appallingly muddled ideology spouted by the Rhodes Must Fall group seem not to have any influence outside UCT, an institution whose recent proliferation of revolutionary bombast seems redolent of its heyday during the anti-apartheid movement when it was known colloquially as 'little Moscow on the hill'… [SK]
15/2/16
Chad, N'Djamena: 1 shot dead by cops as high school students & others protest gang rape of girl by cop family members
Guinea, Conakry: general strike – youths barricade roads threaten cops with heavy sticks, teargassed etc…
13/2/16
USA (Anaheim, California): Clashes and vandalism of police cars after cops kill Gustavo Najera
Anaheim had large riots against killer cops almost 4 years ago;  see, for instance, this: https://www.rt.com/usa/anaheim-police-shoot-another-833/
Greece (Athens) : claim for explosive attack against tax office building
12/2/16
Greece, Athens: farmers clash with cops, break windows in Agricultre Minsitry, block roads, burn bins (video included)
"…farmers from the island of Crete clashed with police outside the agriculture ministry after arriving by ferries at the port of Piraeus.  They pelted the police with tomatoes and other items, broke windows in the ministry and set fire to dustbins. Police, who blocked their route, responded with teargas, and arrested four people. "The first floor of the building sustained damage, it is fortunate that no staff were hurt," Agriculture Minister Evangelos Apostolou called on the farmers' leaders to contain "extreme" elements in their midst. The junior interior minister for police, Nikos Toskas, said 10 police officers had been hurt, two of them requiring hospitalisation."
Unfortunately they also waved the Greek flag all over the place.[SF]
…farmers blockade Bulgarian border
…and make Eurocrats anxious
"The European Commission (EC) is following the developments regarding the blockade on the Greek-Bulgarian border closely and with concern, considering the risk of disruption to the free movement of goods…the Bulgarian and Greek authorities have sent notifications to the EC within the context of the so called Strawberry Regulation. Under this regulation, whenever a potential obstacle to the free movement of goods occurs, the member states are required to notify the EC about the state of play and the measures they indend to take to remedy the situation. . "
11/2/16
South Africa, Cape Town: cops fire stun grenades at protesters trying to breach parliament's barricades
10/2/16
Nigeria, Lagos: students manhandle rector, destroy property etc. in protest following student's death
Uruguay (Montevideo): claim for two molotov cocktails used against house of a torturer under the dictatorship
8/2/16
Mexico, Chiapas : women, jailed for human trafficking after rapid trials, on hunger strike
China, Hong Kong: fly pitchers resist state's eviction  policy – riots and clashes throughout the night
"During the clashes, police fired live gunshots into the air, wielded batons and hand-held water cannons and used pepper spray as protesters overturned and set alight rubbish bins and other debris, shattered car windows and threw stones at the police. …During the night, at least 24 people were arrested, while 44 policemen and members of the press were reportedly injured. It was not immediately known how many protesters were injured. As traffic started to resume in the early hours of Tuesday morning, many crossroads remained blocked by police and protesters cordons, and some fires continued burning unabated." Video here: https://nz.travel.yahoo.com/video/watch/30773621/riot-police-protesters-clash-over-hong-kong-street-vendors/
More video:  http://edition.cnn.com/2016/02/08/asia/hong-kong-riots-shots-fired/ (video)
Kenya, Tharaka Nithi County: students riot against student election results
"Chuka University has been closed indefinitely following chaos sparked by disputed student elections….students went on the rampage, destroying property after they disagreed on the outcome of Students Council elections. They barricaded the Meru-Nairobi road, destroyed school and private property before torching a university bus. Students allied to a poll loser claimed the election was rigged."
More here: http://www.the-star.co.ke/news/2016/02/08/chuka-university-closed-after-students-riot-burn-school-bus-over_c1291428?
"The students smashed several windows at the institution and the windscreens of several other vehicles belonging to the university. They also burned tyres on Meru-Nairobi Highway disrupting transport, engaged police in running battles for about three hours and hurled stones at journalists. They further destroyed property of unknown value at Ndagani shopping centre in the chaos that resulted in the deployment of police officers."
Greece, border with Bulgaria: farmers fighting pension theft renew blockade
Russia, Moscow: protesters briefly block road in front of country's central bank
7/2/16
Berlin, Germany:  Autonomists and anarchists in Berlin's Friedrichshain "Danger zone" neighborhood burn dozens of luxury cars and threaten to "exact revenge for any police raids on their squats and other 'projects' in the capital…"
Colombia, Bogota: riot in poor neighbourhood  against heavily armed cops with armoured vehicles supposedly cracking down on drugs (video)
U.S. (San Francisco): Vandalism in the lead-up and then small riots after the Super Bowl
Nigeria, Ado Ekiti: students riot, smash property
"Students of Afe Babalola University, Ado Ekiti, on Sunday night  went berserk and destroyed property worth millions of naira over yet-to-be ascertained reasons. During the violent protest in the six-year-old university, the students …destroyed property…A police truck  and several Hilux vans loaded with anti-riot policemen  and men of the Nigerian Civil and Security Defence Corps, were stationed in the university  campus with intention to quell any crisis that may resurge. The irate students, who smashed and overturned a Toyota Corolla car and Toyota Highlander …looted the sum of N10 million [£34,800] being the proceeds of sales kept in the Accountant's  office in one of the cafeterias….While the rampaging students also  beat up some porters at the female and  male hostels, they descended on the security at the gate and burnt eight motorcycles belonging to them. During the bedlam, several cars parked within the university at different locations were smashed, while virtually all the magnificent edifices on campus had their slide doors either removed or broken."
US, Denver: post Superbowl victory riot
"Some superfans even tried to reenact Peyton's pass plays by throwing debris at police. Others strived to create a more well-rounded riot atmosphere by busting out the window of a police patrol car and tipping over trash cans. Streets had to be closed off and pepper spray was used to shut down the impromptu party earlier than expected."
6/2/16
France, Rennes: banks, insurance companies, estate agent and travel agents attacked in anti-airport carnaval after judge orders explusion of ZAD
Before the carnival, a somewhat Leninist line was voted for by the General Assembly – that there should be no window-breaking  so as to seduce/entice/win over farmers and others to come along and have fun in the traditional normal carnival manner, by which means the politics of the ZAD could be seen as acceptable. It's classic Leftism to develop ones actions  in submission to the point of view of the spectators of revolt, a "correct" image argued for by the Tiquunists/Appelistes, who according to some were not a sufficiently invisible committee. On the actual demo/carnival, there were clearly some who weren't into this notion of democracy but wanted all different forms of expression to be allowed, in this case including  physical attacks on obvious expressions of this stupid society (if the majority had voted to smash windows would those who subsequently didn't smash things up have been attacked for going against the wishes of the General Assembly…?). Some of the Tiqqunists were outraged, and one of them hit one of the window-breakers – hitting people is ok  but hitting banks etc. is clearly bad publicity. They also made out that it was only 4 or 5 people who did this,  but in fact it was clearly a lot more – 35 – 50 ). The effect of all this has made more and more people actively sympathetic to the anti-airport movement seriously question these politicians. Though perhaps, in the eyes of the more passive, their image has been improved.  [SF]
See these threads in French: https://nantes.indymedia.org/articles/33269
https://nantes.indymedia.org/articles/33268
http://non-fides.fr/?Rennes-Les-tractations-politiques-finalement-sont-venues
5/2/16
Australia: Teen "surfer gangs" start riots and attack tourists.
4/2/16
Mexico, Nahuatzen (Michoacán): indigenous villagers hold 20 vehicles, burn one
These Purépecha villagers had expelled local authorities, whom they accused of working with local cartels, from the area in december. They now plan to build their own "Comunitarian Police". The process is kind of ambiguous, as they are having discussions with the State of Michoacán authorities (on which they put pressure by burning vehicles) so as to have their police force recognized. Michoacán is the heart of the autodefense movement, which, unlike the Comunitarian Polices of the neighbour State of Guerrero, is interclassist, and full of links with local politicians and including, in some cases, organized crime. In this case opposition to the authorities is not total, and negociating is a major contradiction in the building of a true process of autonomy.
Zambia, Lusaka: students riot against increased tuition fees
"…students ran amok at about 22:00 hours on Thursday, blocking Dushambe Road with logs and burning tyres, much to the disappointment of some motorists who reacted angrily by apprehending some of the rioters and handing them over to police"
Haiti, Port-au-Prince: former captain of disbanded army killed by anti-government protesters
"When the ragtag group of ex-soldiers in pickup trucks passed near an anti-government protest with a couple thousand participants the two sides shouted insults. Some protesters hurled rocks at them, prompting a few former soldiers to fire their weapons. It was not clear if any protesters were wounded.  A group of young men rushed the ex-soldiers, who sped off. But one veteran, identified as former army captain Neroce Ciceron, was caught and battered repeatedly with rocks. As he lay dying on the street, Associated Press journalists saw a couple of anti-government protesters remove his boots, lace them together and throw them up on a utility line. They also took his rusty .38 caliber pistol. …"This soldier got what he deserved. They used to kill the people. Today, it was him"
Athens: tear gas vs. molotovs in anti-austerity demos during general strike
More here:
https://www.rt.com/news/331265-greece-tear-gas-protet/
Nigeria, Imo: doctors launch 3 day strike against cop brutality after shooting during protest
India, Manipir: 48-hour blockade of all motrorways begins in movement against killing of 9 tribal activists and anti-tribe legislation
South Africa, Johannesburg: waste disposal workers go on illegal strike again
California, USA – Riot and cursing police at "school for children Kindergarten to 12th grade with special needs."
Thailand : Doctors say lèse majesté suspect with mental illness can face trial
In the land of the  Madness of the God-King, the accusations of lèse-majesté currently unfolding, suggest that some  Thais are beginning  to supersede, at least tentatively, the absolute taboo linked to everything related to King Bhumibol.
The case is abject but interesting for two reasons. Firstly, because it reminds us of  the role of  psychiatric institutions, which is the same in Thailand as elsewhere, namely as a means of  social control (of course with specific  local characteristics).
Secondly, in a country where any criticism of the king is subject to an absolute taboo nationally, here we see that it is the "crazy man" (in this case a man who says he can communicate telepathically with the former Prime Minister ) who has   targeted   major social taboos in the most straightforward way . The man in question tore a King's portrait at the entrance of his village with a knife (the country is covered with such portraits, which are also found in all forms of housing). This is, to our knowledge, the most radical gesture directed against the King since he was installed on the throne of the land of smiles,  69 years ago.
For some notes on Thailand and its monarchy, see our notes of 15 December 2015 (news of opposition, December 2015).  [Pi][loosely translated by SF]
3/2/16
France, Toulouse: stones v flash balls & tear gas
Guy summons friends to avoid cop control –  guy drives off as about 20 youths attack cops ; cops hurt by breeze block; cops use flash balls and tear gas to get away
Mexico (State of Michoacán) : autonomous commune of Cherán students block main highway
New Zealand, Aukland: protesters against neo-liberal trade agreement block roads, etc
This movement, though obviously provoked by the inevitable decline in the standard of survival implied by  such a trade agreement, has  a somewhat nationalist tendency which could form the basis for a protectivist xenophobia. Still, there's one video here showing the Maoris on the demo which is quite fun to watch. [SF]
France, the Somme: 2 customs officers, trying to control car car carrying illegal migrants, slightly hurt
Peru (Lima): repression against movement of opposition to Transpacific agreement
2/2/16
Greece: over 6000 tractors block country's borders and main motorways in movement against attacks on  pensions
Mexico, Cuernavaca (State of Morelos): garbage collectors clash with police because the ex-mayor left without paying them their salaries
Cambodia, Kampong Speu province : locals from 10 villages block road they say companies damaged and ask compensation from them
Three companies are supposed to pay for using this road: one is Chinese, the two others belong to president-dictator Hun Sen's nephew.
Thailand, Aranyaprather (Cambodian border): Cambodian vendors shut down Thai police counterfeit crackdown, reverse cars
Thousands of Cambodians from Poipet, a miserable border town, work in the border trade and transport from one side of the border to the other. Considering all the abuses and the extreme conditions Cambodian workers face in Thailand, such an action, since it happened on the Thai side, is pretty risky for them. Thousands of Cambodians are sentenced to long prison sentences in Thailand, after botched trials, even for minor offenses. According to more recent news, two were sentenced for the riots (in which 12 officials were injured), fortunately to "short" sentences (http://www.phnompenhpost.com/national/poipet-vendors-charged-over-riot). Probably has to do with the fact that it happens on the border, where activities bring important revenues to both countries.
Peru, Manchay (outskirts of Lima):  2nd day of riots despite suspension of fare increases, demanding written guarantees of non-increase in fares
Chile: arson of Andrés Bello University, a claim
Pakistan, Karachi: 3 killed by cops during airport strike against privatisation
"The clashes led to the disruption and then suspension of many domestic and international flights around the country's main airports. The incident took place near the Jinnah International Airport here after the joint action committee which represents all unions of PIA gave a complete strike call for February 2, despite the government enforcing Essential Services Maintenance Act (ESMA) under which all union activities were suspended and employees told to report on duty….Following the deadly clash, PIA Chairman Nasser Jaffer announced that he has resigned from his post on the same day. He expressed grief over the deaths of the PIA employees and lamented at the events which lead to their deaths. "My conscience doesn't allow me to head the organisation anymore," he told TV channels while in tears. "
1/2/16
Italy, Florence : CasaPound bookshop/meeting place attacked
South Africa, Limpopo: over 600 truck drivers go on illegal strike after wage reductions
Mexico, Tecámac (State of Mexico): aggression against autonomous citizen council managing water in the commune
Zambia, Kitwe: students riot over unpaid food allowances
"RIOT police in Kitwe yesterday fought running battles with students at the Copperbelt University after they ran amok over unpaid meal allowances…the students who had earlier in the day boycotted classes, started marching within the campus, chanting slogans denouncing the government. The students ran amok within campus, breaking university property and later attempted to block Jambo Drive. Riot police that thwarted the protests fired tear gas to disperse the unruly students who blocked several access roads within campus with logs, tyres and concrete blocks. …"It is a shame that we have a government that wants us to die of hunger in campus. We don't have money to buy food and all we need is a responsible government that is ready to take care of us the children. "
As long as people wish to remain like children and use riots merely as a form of complaint,  they will never grow up  to use riot (and other methods) as a form of expressing a desire for the truly adult task of  determining their own existence without and against the state's  need to present itself as protective parents. [SF]
Peru, Manchay (outskirts of Lima): burning tyres and rocks try to resist 1000 cops repressing struggle by poor neighbourhood against increased fares and redundancies Video here: https://www.youtube.com/watch?v=ZPQLAiIN_6M
USA (Georgia): Occupations at three different universities, resulting in multiple arrests.  The occupations came after four years of struggle against university bans and restrictions on undocumented immigrant students.