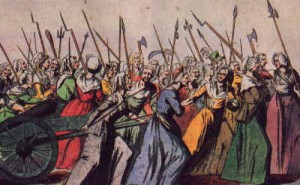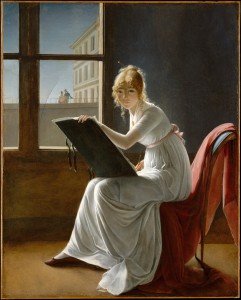 "April is a promise that May is bound to keep."
– Hal Borland
As with all the "News of Opposition", this section is mostly full of links to various (often mainstream) articles giving information about certain aspects of independent opposition to this society throughout the world . What is automatically excluded here are clashes in which either ethnic or religious  or sport team or political faction fights seem to dominate, though sometimes we will put in things where, even if such hierarchies and separate identities dominate, there are also clearly independent aspects. Admittedly, some of these bits of information here are more spontaneous symptoms of opposition than developing struggles. Equally, there might be things put here which on further investigation do not prove to have anything independent about them. Likewise, putting them here all together does not in any way mean that these very different events in very different situations are simplistically equivalent. Nor does this list have the slightest pretension to being definitive.
30/4/16:
France, Savoie: cops stoned after bins set on fire on popular estate
Germany, Stuttgart: 500 anti-fascists detained by cops in clashes "Police counted up to 2000 left-wing protesters, some of whom burned tyres and hurled stones and fireworks to try to stop the AfD's congress going ahead"
29/4/16:
US, Nebraska: mini-riot in county jail
Greece, Athens: victory for anarchist prisoners after setting fire to isolation wing & inspiring solidarity from other prisoners – they receive the transfer they were demanding
South Africa, Eastern Cape: municipal workers win strike a day after having overturned bins and setting fire to electricity boxes "Mayoral spokesperson, Sibusiso Pindi warned that investigations were in the pipeline with regards to workers who vandalised buildings and broke equipment. Pindi said that even the unions did not condone such behavior which amounted to "breaking the law"."
France, Paris: car and scooters burnt after cops attack remnants of Nuit Debout...account of events of day in French…video of handcuffed arrested people being thumped by cops…Correze: local Socialist Party HQ vandalised with indelible paint…Toulouse: office windows of journal smashed because of its crude sexism…Nice: politicians emerge out of Nuit Debout 2 significant partcipants in Nuit Debout here are put up as candidates for the legislative assembly.
Germany: 110,000 metal workers go on official union strike for wage increase
Italy, Pisa: protesters clash with cops during visit by PM & Education Minister
Bolivia, La Paz: disabled confront cops in movement to increase pathetically low state disability payments (video)
Malta: minister's front door re-decorated
28/4/16:
Mexico, Chilpancingo (State of Guerrero) : education workers and family members of the 43 dissappeared normal school students block main highway for reapperance of the 43 Authorities break up the blockade during the night, arrest 73, and make up "proof" of weapon and drugs possession in order to link movement with criminal organizations . …in a video, locals of a nearby indigenous community say 3 children died after gas was thrown by police during clashes…30 police officers had been taken hostages in this community…in another community, locals have taken 12 police hostages, offering to exchange them for the 73 arrested during the blockade
Switzerland, Zurich: almost 200,000 euros of damage by 60 masked youths "A vehicle and several bins were burnt, windows smashed and walls covered in dirt…a letter published on the site indymedia.ch …presented the action as a protest against speculation, embourgeoisment, and repression"
Finland, Pyhäjoki: cops use rubber bullets to evict anti-nuke camp "The police started to shoot people with a projectile / rubber bullet gun and the people at the camp defended themselves by throwing rocks. The police was clearly aiming for the activists heads, backheads and upper bodies with the gun. People got hit several times on the area of their upper bodies. As far as we know, not to the heads though.. The police got hit several times with the rocks, and there was one police car burning up in flames at the area."
US, California: cop car smashed up during anti-Trump rally
France: various confrontations with cops in Paris, Rennes, Marseille, Nantes, St Etienne…high school students in several regions are still on vacation, but in places where classes were supposed to have started again…at least 15 high schools blockaded (totally or partly)… 124  arrested in whole country, in about 10 cities; at least 100,000, maybe double, took to the streets; clashes and autonomous actions reported in 9 cities or towns…various photos and videos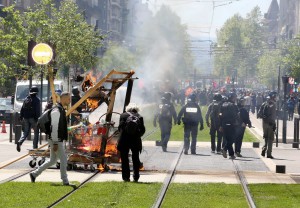 Grenoble(above)
Mulhouse (below): "Those who sow misery, reap fury"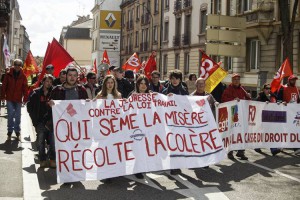 …Alès (Gard): windows of banks, estate agents, temp agencies, etc. smashed; brief dance party held in bank (radio programme)
…Lyon: 11 cops injured…3 Bosch factories blockaded, with unlimited strike mostly involving unions
…Paris: flights cancelled at Orly…lots of police violence after Genneviliers' harbour occupation Mentions also that several refineries were blockaded, as well as a few gasoline dumps, Le Havre harbour (France's main harbour) and an industrial zone in Amiens (northern France)….injured cop "between life and death" (so, no change there then).
…Marseille: 57  arrested after several clashes and an attempt to block train station
…Bordeaux: clashes as youths try to march on town's station
…Rennes: small home-made incendiary device thrown at cops (video)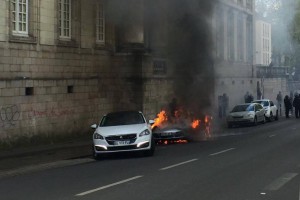 Nantes: Porsche burning in front of prefecture (video here)
South Africa, Gauteng: multi-million housing project vandalised because of corrupt housing allocation "… housing officials are allocating homes to outsiders allegedly in return for bribes."
27/4/16:
Switzerland (Basel) : Lufthansa attacked for involvement in deportations of migrants … Zurich: Greek consulate attacked in solidarity with comrades who are on trial
Turkey, Istanbul: bank robber redistributes well-gotten gains
Algeria, Tuvirett (Kabyle): peaceful student demo attacked by cops
US: big increase in sabotage during Verizon strike More here "Verizon says its network has suffered 57 incidents of vandalism in seven states in the two weeks since 36,000 workers went on strike. ….Under normal conditions, there are only about a half-dozen incidents of sabotage over the course of a year"
26/4/16:
Mexico (Mexico city suburb): incendiary attack against car dealership – an anti-leftist communiqué
Germany, Berlin: car sharing company car in arson attack
France, Paris: precarious workers, etc. occupy world-famous theatre; show cancelled…10 national theatres now occupied – mainly by casualised cultural workers ( "intermittents")
…Toulouse: cops stoned in 2 separate attacks on working class estate…police station attacked with molotovs (communiqué)
UK, Liverpool: 6th day of wildcat postal workers strike More here
Senegal, Dakar: uprising in village on outskirts of capital against corrupt land sell-off
Greece, Lesvos: migrants riot against teargassing cops "There were reports on social media that refugees had taken control of the camp, chanting "Freedom, freedom" over the public address system. The clashes broke out after a Greek policeman reportedly slapped or hit a minor, refugees inside the camp said.  The violence took place during a visit to the camp by Yannis Mouzalas, the Greek migration minister, and a Dutch minister." More here "Tension sparked when the ministers entered the unaccompanied minors department and some young men asked them if Europe wil ever open the borders for them. The reply of the Dutch minister was a desicive and rude "no". Anger spread out and some teenagers sprayed with him water. Greek riot police answered with a really violent attack, beating at least 2 minors. That incident provoked a full uprising with young refugees throwing stones at the police, lighting fires and taking over the sector. New police forces arrived and with the extensive use of tear gas they managed to control the situation. Sources speak of at least 20 injured refugees, 2 of them with broken legs." Video here
Lesvos containers on fire
Finland, Pyhäjoki: anti-nuke protesters clash with cops "Stop Fennovoima issued a press release Tuesday afternoon claiming to have succeeded in shutting down work on the site. The group said that activists has had been able to commandeer heavy equipment and Destia work barracks. Chief Inspector Alavaikko also questioned that claim. "There is no information that work had been stopped," he remarked." Video here . More here
25/4/16:
Mexico, Chiapas : Tzotzil inhabitants of Chenalhó lock up 350 local Congress members and workers, attack shops and clash with cops asking for resignation of local mayor  In the last few year several mayors have been forced to resign by locals.
24/4/16:
Mexico: marches against violence against women and sexism in several cities. Here in Ecatepec, a huge Mexico City suburb where the figures for murders of women have recently been massive. Here  in the main cities of the State of Guerrero (Chilpancingo and Acapulco). Also in state capitals such as Puebla and  Guanajuato, or further north in Chihuahua Lots of feminist or women organizations, whether radical or institutional, have participated in these marches. There was a much-debated incident in Mexico City after a small group decided to tag the monument participants of struggles  dedicated to the 43 dissappeared of Ayotzinapa with "We (women) are not Ayotzinapa", in a rather strange logic of victimization competition. Some groups also criticized the participation of very institutional groups and organizations, and the non-offensive character of the marches overall.[Pi]
Germany, Hamburg: 2 limos and 3 other bourgeois vehicles go up in smoke…Leipzig: 30 to 40 people attack the bank branch of the 'Sparkasse'. The agency was covered with paint and tar. Many windows were smashed with stones. The damage amounted to several thousand euros. On a wall near the target, a tag in red paint was noticed by journocops, saying, "Fight the Nazis and cops."…Forest of Hambach:  cables burned, for some time paralyzing the activity of the polluters 'RWE', in charge of lignite exploitation in this forest area…Mannheim: lots of bank windows smashed in solidarity with movement in France Communiqué: "This is an attack against a symbol of capitalism… For a world without classes, without exploitation and war! We welcome the struggling youth in the squares and in the streets of France! Your struggle is our struggle! The world is Ours !"
Algeria, Lesnam (Kabyle): riots after youth is hospitalised in critical condition caused by brutal cops Apparently this involves supporters of the MAK, a political party "fighting" for Kabylian autonomy, not a perspective we support at all.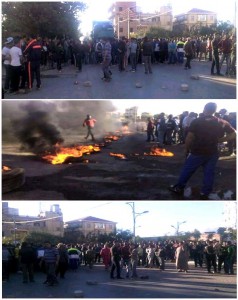 Lesnam, Kabyle, Algeria: still very far from this
Moldova, Chisnau: clashes with cops in protest over government-business corruption "…protesters hurled stones and other objects at police as they walked toward the home of one of Moldova's most influential businessmen. Moldovan police said 14 police officers and two protesters needed medical treatment from injuries sustained in the scuffles. Political leaders and parties declined to take part in the protest …Moldova has been rocked by protests since September 2015, when demonstrators began demanding a proper investigation into more than $1 billion that went missing from three banks prior to parliamentary elections in November 2014." Unfortunately loads of national flags (video)
Austria, Brenner Pass: clashes with cops against intensified border controls
Australia, Queensland: bright future for school of the oppressed
23/4/16:
Mexico, Oaxaca : Explosive attack against CORTV Oaxaca by Informal Anarchic Individualities

Indonesia, West Java: prison riot after suicide of prisoner "Part of the Banceuy Narcotics Prison was set alight during the riot, causing extensive damage to the front of the facility. Two cars and two motorcycles were also destroyed in the blaze, before the arrival of three fire trucks. At least five of the nearly 600 police officers deployed at the prison were injured when inmates threw stones at them, before reportedly setting fire to the building." Family of dead prisoner attacks official position; says he was tortured to death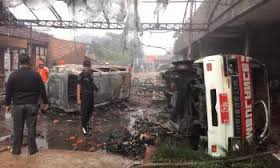 West Java, prison riot – fires started in 6 different places
France, Paris: cop car burnt on the margins of the Nuit Debout just after midnight Friday to Saturday "a hundred individuals formed in procession headed towards the Boulevard du Faubourg Saint-Martin" around 0:15. The security forces, which had managed to contain the square, were then pelted with projectiles. A police car parked nearby was "deliberately torched and completely destroyed." Another police vehicle and two vehicles were also damaged…. "Up to 2 am and, despite the call for dispersal by the police, the clashes multiplied against officers – requiring tear gas" .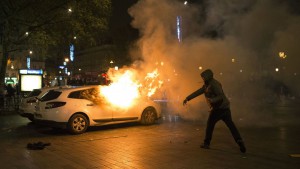 …Ales (Gard): several banks, estate agents, temp employment agencies, etc. covered with anti-work etc. posters and stickers [from an email list] "Saturday morning in downtown Ales a charming band of revelers changed the decor. Our posters adorned the windows of banks, temp agencies and real estate, as well as the sad municipal areas of underemployment. Overjoyed, the group tried to organize a crazy dance in a CIC bank, but executives wearing ties didn't play along …Despite the arrests of the police, we nevertheless showed our anger.  For sure: WE WILL RETURN !!!"

India, Kashmir: students demanding corporal punishment of cops clash with lathi-charging filth
Belgium: statement of solidarity with  anarchists arrested for "terrorism": "Tuesday, May 10, 2016, the council chamber will decide if it considers it appropriate to confirm the holding of a terror trial against 12 anarchists and anti-authoritarians.
From 2008 to 2014, the Belgian State conducted an extensive investigation into struggles taking innumerable forms, but always outside the box, against the detention centres, borders, prisons and the world based on authority and exploitation.
Searches, microphones, cameras in front and inside of homes, tailing, wiretapping, infiltration … They never lacked such methods. So, after years of investigation, the State now aims to paste the "terrorist" label onto potential defendants. But in fact it targets any individuals  in their fight against this world through self-organization, direct action and hostility to all authorities. As such, this trial is a criminal attack against the anti-authoritarian struggle as a whole, an attack  in a context of growing repression against all undesirables and rebels, from the borders to the neighborhoods, the workplace and prisons …
We offer a moment of encounter for:
• disseminating information and laying the foundations of active solidarity
• trying to understand the ins and outs of this and seeing how it does not only address just those indicted
• talking again  about  struggles that have been criminalised
• and reflecting on what answers we can give to this repressive attack.
Wednesday, May 4
19h at Garcia Lorca Street Foulons 47 – Brussels
The terrorist is the state and its competitors.
Active solidarity!"
US, Georgia: clashes with cops at anti-KKK counter-demo More here "…demonstrators attempting to confront pro-white rally participants on Saturday set a barricade on fire, and after police showed up, hurled rocks, chairs and fireworks at officials trying to restore order. At least one state trooper was hit with pepper spray"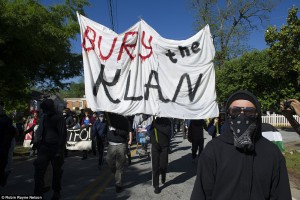 22/4/16:
Germany, Hamburg: 2 vehicles belonging to food company for the rich burnt out
South Africa, Gauteng: squatters invade land and build shacks
Greece, Athens: hotel occupied to support migrants
Mexico, San Salvador Atenco (State of Mexico): locals expel workers and machinery sent for the construction of local highway as part of new airport project, against which they've been fighting for years
21/4/16:
Mexico (Coatzacalcos, State of Veracruz): after PEMEX petrochemical industry accident that left 13 dead and at least 18 dissappeared, some victims' family members accuse the company of retaining information and clash with soldiers sent to the site of the accident Fearing these soldiers might take bodies out of the site in order to reduce the figures for victims, workers and family members push back several army vehicles off the site.
South Africa, Western Cape : Anti-Rape protests continue at Rhodes University after alleged rapists named in #RUReferenceList 
Tunisia, Kerkennah: further clashes with cops over unemployment "Clashes took place on the night of Thursday to Friday in Kerkennah between police and protesters after the latter blocked the arrival of six trucks of the Petrofac company from the port of Sidi Youssef…Acts of vandalism and violence occurred in an area where several protesters gathered outside the port, threw various objects and threw gas canisters on fire in the direction of the security agents. … A general strike was observed on Tuesday in Kerkennah, scene of several days of tension, following the intervention of the security forces on 3 April, to disperse a sit-in of unemployed outside the offices of the company Petrofac." More here. "On April 18, in the archipelago of Kerkennah, the use of force against the blocking of the oil company Petrofac degenerated into riots. … Since January 19, the oil company Petrofac,…was blocked by protesters who demand the Government keep its promises about jobs….The only reaction of the State: the use of force, which degenerated into riots on 18 April. …To reduce unemployment, the state has helped 266 unemployed people, including university graduates, with an "environmental program" funded by Petrofac since 2011 through the Regional Council of Sfax. They obtained jobs in the government of the island without having a contract or social security coverage. They now demand the regularization of their situation, under agreements with the government in April 2015, while Petrofac's lack of transparency in the management of its funds, has suspended its funding program since late 2015. …In fact, the government's room for maneuver is limited: the fiscal deficit forced the state to reduce hiring." See also entry for 14/4/16.
China, Zhejiang: heavy clashes with state over incinerator construction "More than 1,000 police officers deployed to the scene clashed with protesters, leaving scores injured or taken away after the most serious round of confrontations late Thursday…Despite the government announcing a halt to the incinerator project, some protesters carried on and broke through a police cordon and entered the county government premises, where police used water cannon, tear gas and pepper spray to disperse the crowd…  Video clips and photographs posted online showed violent clashes between police and protesters, vandalized cars, and individual protesters with blood over their bodies and faces or with broken fingers."…Daleks join China's police force
Chile, Santiago: students clash with cops over education reforms…indigenous Mapuche indians claim responsiblity for arson attacks "The group also claimed responsibility for attacks on over 30 vehicles, including buses, since May 2013, 15 attacks on residences, and multiple attacks on police officers. Dozens of pieces of agricultural and logging equipment have also been burned by the group…Churches have also been targeted in arson attacks. In its statement, the Weichan Auka Mapu blamed the Catholic Church for complicity in the taking of Mapuche lands" However, the communique in Spanish (http://metiendoruido.com/2016/04/grupo-en-resistencia-weichan-auka-mapu-reivindica-mas-de-treinta-acciones-de-sabotaje/) talks a lot  about obedience to "Mapuche traditions", and even asserts a Mapuche nationalist struggle. So, presented like this, it cannot develop into connecting with other proletarian struggles (even though the possibility of  a Mapuche nation, in the bourgeois sense of the term "nation", is somewhat unrealisable, unless things change drastically). However, in the communiqué the Mapuche alliance calls for armed struggle against the State saying they respect other struggles but fight on their own basis (Mapuche traditions, spirituality, forms of organization), etc, though it's true that they don't really evoke possibities of connecting with those involved in class struggle. Lots of Mapuches, including those who wrote this communiqué, consider themselves to be one people or nation: this "unity" is kind of recent, as various tribes who opposed the Spanish united in the struggle, and then considered themselves the same "people". So in fact they can be considered a "Nation", though what is more or less unrealisable would be a Nation-State or a project involving a Mapuche nation, at least for the foreseeable future (and in any case, even if realisable, would not be desirable).

Macedonia, Skopje: demonstrators against corrupt politicians clash with cops 
UK, London: old crown court squatted This is where the committal proceedings of those arrested for the Angry Brigade bombings (the Stoke Newington 8, etc.) were held back in 1972.
…if only it was only the state…
Peru, Chiclayo: from goosestep to step dance – the neoliberal face of fascism
Indonesia, Bali: prisoners riot against transfer of murderous gang to their prison "Prisoners inside the prison, numbered in the hundreds, broke windows, threw stones and tried to kick out the returning inmates"
20/4/16:
France, Montpellier: 100 demonstrators against labour law blockade motorway toll booth for 90 minutes Apparently this followed a decision by the Nuit Debout (and was also announced by high school students on Facebook), so they're not all utterly impotent like the citizenist crap going on in Paris. These 100 or so people tried to lift the barriers of the  tollbooth so cars could travel for free, but being greatly outnumbered by heavily armed riot cops who'd followed them all from the centre of town (making very public this action beforehand helped them) and started pointing their flashball guns at them when they tried to do this, they decided that it wasn't worth the risk of being maimed.
…Paris: 3 fast food joints blockaded
…Nantes: bank and employment agency  windows smashed, prefecture gets paint and stuff thrown at it, by about 200 "The security forces,  targets  of stones or glass bottles, responded with tear gas. A group of demonstrators faced the police, flowers in hand, chanting "the police with us" and shouting "stop throwing stones"  at the younger ones"
…Lille: stones thrown at department store, paint at Apple store, some clashes with cops…police station gets new paint job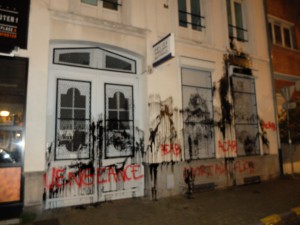 …Besançon: Chamber of Commerce graffitied, windows broken "As I was strolling in the area of the Jules Haag high school  on this lovely sunny Wednesday afternoon, splashes of different colors on the front of the gigantic building caught my attention. And what a pleasant surprise to see that these were only the visible part of the iceberg! In addition to the ten paint stains visible on several meters high on a white façade of the ICC [chamber of commerce], some windows were cracked by thrown projectiles. On one wall of the huge edifice, a piece of graffiti said "On the ashes of the old world freedom will be born  – Let's light the fire! (A in a circle)". It's nice to see that some spend their night standing [reference to NuitsDebout] by staying away from the citizenist and pacifist discourse, held for several weeks in the company of journocops and politicians."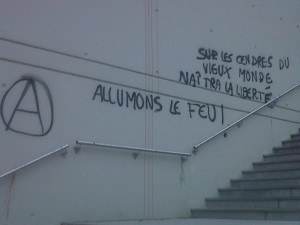 …Lyon: border police vehicle, High Court & Town Hall – windows broken and graffiti following a  break away group from the Nuit Debout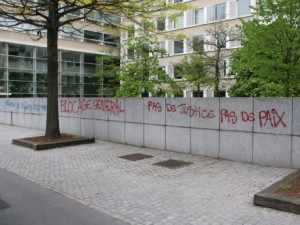 Lyon High Court: "no justice no peace"
…Yvelines (Mantes-la-jolie): 3 cops injured, cop car attacked, as 50-60 youths try to stop cops arresting someone during afternoon
…Marseille : molotov cocktails against Turkish consulate 
South Africa, Eastern Cape: cops fire stun grenades and rubber bullets after anti-rape demonstrators set up barricades
…Cape Town: sacked railway worker accused of massive arson attack during strike "Damage to 17 coaches, the equivalent of two train-sets, caused by recent arson attacks on Metrorail trains in stations around Cape Town, have amounted to R70 million… this has "strongly coincided" with an unprotected and illegal strike by 182 provincial South African Transport and Allied Workers Union members (Satawu)." More here
…Limpopo: angry protests about electricity disconnections "…residents…marched to the police station to demand electricity be reconnected. Eskom disconnected power cables in the area, citing the danger the illegal connection could pose. They were expected to hand over their memorandum of demands to Mayor of Johannesburg, Parks Tau, but he did not arrive. They then burnt tyres, pelted passing cars with stones and blocked off roads demanding they be provided with electricity which they are prepared to pay for and say at the moment they are forced to connect illegally."
US: report on growth in riot control economy
Nigeria, Ebonyi: youths in confrontations at electricity company "…youths destroyed the billboard of the company and also manhandled one of the EDDC staff, who came out to address the youths. The aggrieved youths besieged the EEDC office on Awolowo Street in the state capital to protest against non-provision of prepaid meters, over-estimated billing, blackout."
19/4/16:
UK, Liverpool: wildcat postal workers strike
South Africa, KwaZulu Natal: councillor's house burnt down in 2-day service delivery protest "…about 5000 residents had been involved in the protest action and had blockaded New Greyyown Road with burning tyres, stones and metal barriers. Apart from Ndlovu's house, two park homes at the local clinic were also set alight."
France, Besançon: army recruitment agency tagged and splattered with eggs
…Lille: new courthouse sprayed with old engine oil and graffitied just before its inauguration by the new "Justice" Minister
…Grenoble: Macdonalds gets refurbished…But why all this effort when they could simply do this…?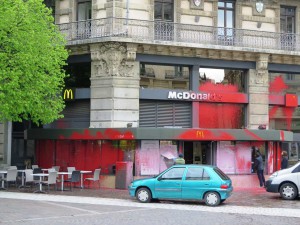 Calais: report on how migrants are constantly blocking major roads with tree trunks "These constant acts provoke a feeling of impotence amongst businessmen and the riot police"
Germany, Frankfurt: wildcat demo chucks paint at French consulate in solidarity with movement against labour law
India, Bangalore: 3 buses burnt as garment worker protests continue More here "After I appealed to the people, they started moving. All of a sudden male garment workers started throwing stones at police vehicles. Police vehicles got damaged, constables sustained injuries, four of them are admitted in hospital" More here "Several buses were set on fire and a police station was attacked as protest by garment factory workers against the new provident fund rules turned violent on the second day of their stir here today. Protesters pelted stones at Hebbagodi Police Station and torched seized vehicles parked there, as the spontaneous agitation with no trade union leading it spun out of control."  
Movement wins amazingly speedy victory: "..on Monday morning, workers, of whom over 80% were women, left factories and poured into the streets. Within hours, workers from adjoining factories joined them, blocking the highway connecting Bengaluru to Mysuru and Chennai that cuts through industrial areas on the edges of the city. As protests intensified, the workers entered a police station and set fire to vehicles in the compound. They also damaged 50 buses across Bengaluru. The protests forced the central government to respond immediately. It first offered to hold off for three months the changes that made it more difficult for employees to withdraw from their provident fund before retirement. But by Tuesday, as the protests grew in scale, engulfing more industrial areas near the city, the labour ministry had to withdraw the proposed changes entirely. Employers as well as union leaders have since used the words "spontaneous", a "massive flash-strike", and "leaderless" to describe the protests."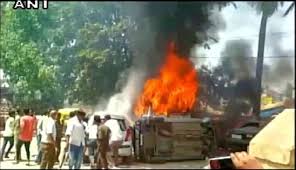 Greece, Idomeni: migrants riot over cop van's hit-and-run "Hordes of men reportedly wanted revenge when it was claimed cops had run down a migrant in a van….The mob is said to have smashed a window of a police van before they were driven back by officers."
18/4/16:
India, Bangalore: 1000s of garment workers block main roads for up to 10 hours in protest over pension fund reforms; usual brutal cop attack
France, Brest: half a dozen banks and ATMs targetted as part of movement against labour law, costing our enemies  tens of thousands of euros
Mali, Kidal: UN troops fire live rounds on peaceful demo (against arbitrary arrests & searches) of mainly women and kids after previous demo had stormed airport; several deaths On previous demo, see this "A Mali official says four civilians have died, and seven have been wounded in protests at the airport of the northern city of Kidal against arrests made by French forces. …Protester Mohamed Ag Ibrahim said dozens of demonstrators set fire to a firefighting car and generators to protest against French forces for extraditing recently arrested people to Gao and Bamako."
Chile, Valparaiso: boat and building belong to underground railway burnt as fishermen clash with cops over quotas
17/4/16:
Kuwait: strike by oil & gas workers over state sector pay reforms force production down from 3 million barrels per day to 1.1 million
Venezuela, Zulia: protesters burn oil tanker after state officials kill gasoline smuggler
Greece, Idomeni: more clashes between migrants and cops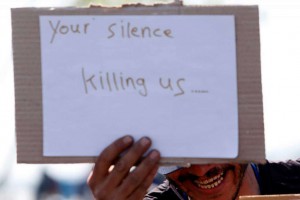 16/4/16:
France, Paris: a 100 or so clash with police and destroy various things The media insists on the fact that disturbances after the "Nuits Debout"  have finally stopped …though it's hard to believe, it seems they're slightly careless with the truth. Video here – half a dozen brand new Jaguars smashed outside Jaguar salesroom, CCTV cameras attacked, etc.
…Marseille: about 200 attack fascist offices after a "Nuit Debout" (report in English)
India, Kashmir: protesters clash with cops after 5 people killed following fury at soldiers molesting girl and then forcing her to deny this Though national liberation ideology tends to dominate events in Kashmir, events that I don't  normally list here because for one thing they're so frequent and for another they seem to be dominated by political forces hoping to become part of a future "independent" state, clearly much of the fury is just over simple basic horrors like this and involve people not specifically demanding national "liberation". [SF]
15/4/16:
Macedonia, Skopje: 3rd night of riots after government gives amnesty to criminally corrupt politicians Although this involves official opposition parties, it also clearly involves some element of independent expressions of anger: "Two riot police officers remained wounded, cars near the headquarters of the party in power, VMRO-DPMNE, were damaged…. A clash between special police and protesters has occurred several meters from the headquarters of the party in power when protesters threw stones, fireworks and other objects to police."
Mexico, Tuxtla, State of Chiapas: hard repression against Education workers' march, who tried to block the 7 regions of the State of Chiapas; 22 arrested, people beaten up and tear-gassed…update: a CNTE member found dead after declared missing after protest We mentioned a previous murder of another CNTE member on the 5th of this month (see below), in Veracruz.
France, Montpellier: high school students march again while nothing happens in the rest of France – just a few minor clashes and some disturbances …This gives an account in French of cop behaviour: "…several high schools in Montpellier were blockaded to continue the movement against the Labour Law. … the revenge of the security forces  on Friday was unprecedented in the city….In front of  the blocked Clemenceau high school, hundreds of students were trying to maintain their barricade across the boulevard despite heavy tear gas fire. At the same time, the high schools of Jean Mermoz and Guesde were partially blocked, calmly. A procession started from the second high school around 9:15 am to increase the numbers of the rally outside the Clemenceau school, who were being increasingly harassed by agents of the BAC. When they linked up, the riot police suddenly charged the students covering themselves by firing tear gas, pushing the procession towards the city centre. … the crowd of 600 high school students joined the rally in front of the Jean Mermoz Lycée, where several hundred students were present. The students of these three schools, from the working-class, hardly had time to greet each other when hundreds of riot police immediately charged the crowd without warning, with disencirclement grenades and tear gas. BAC officers followed, armed with batons and rubber bullets, and hitting the slow ones on  the ground. The  crowd of schoolgirls gathered at the entrance of the Polygon shopping-mall overlooking the Antigone district, found itself face to face with a booth run by activists of the party Lutte Ouvrière, which distributed leaflets to passersby. It was at this time that a dozen plainclothes police bolted the  doors of the shopping center and threw grenades at everyone – students, Lutte Ouvrière activists and customers from the shopping center, which caused the rapid flight of the high school students to the adjacent streets, towards the station area. The BAC officers then conducted a real hunt through the city, shooting at the students at close range with their rubber bullets, and consistently beating those they managed to catch. Many students and some bystanders were injured by these armed men, some seriously." 
…Rouen: at the "Nuit Debout" some participants attack National Front offices and a bank 
 …Lille: symbolic attack on Socialist Party offices
UK, Manchester: glowing report about school becoming beacon of excellence
14/4/16:
France, Montpellier: about 300 (according to some reports) tear gas grenades launched in 2 hours against 2000 high school students in centre of town…at least 8 Montpellier high schools blockaded during national strike Lots of videos here. Report in English here.The morning began with various blockades at different schools, with at least 2 of them involving burning bins to block the tramway, resulting in the suspension of trams for about 6 hours. There's a nice irony in the fact that one of the main high school student banners throughout France has been "We won't get up in the morning for just 1200 euros" (ie per month), when they're often getting up at 5.30 am to blockade their schools: whilst work as wage slavery is increasingly put in question, the work of the negative is always worth getting up for….Apparently, passing through the main shopping centre of the town, which leads to the main square, some high school students completely smashed 2 large sections of the windowed doors of this cathedral to the commodity. The high school students then moved to the "esplanade", a tree-lined strip running from the main square (Place de la Comedie) to a large theatre complex. It's about 400 meters long with a park area, some cafes, a bandstand, statues, etc. A couple of minor fires (just small piles of rubbish burning on the pavement), and the scattering of lots of free daily propaganda sheets (free "newspapers") incited the CRS to overkill after having arrived in about 12 – 15 vans. Their firing of tear gas into the large crowds created panic but also incited someone to set fire to a large bin that made the situation more dramatic with the flames and smoke. For about 2 hours there was a lot of running from one end to the other as the riot cops launched tear gas first near the main square, then at the other end near the theatre. Some stone throwing, lots of masking up and lots of small groups chatting. Occasionally people distributed some anti-tear gas serum, or some lemon for those most distressed by the gas. At one point some "good" students, union-organised sat down on the pavement in front of the CRS to protest the stone-throwing; some students hurled stones at the cops, some of which missed their target and hit the good students; when the cops retaliated with tear gas these "good" students clapped them. Most of the time the cops were just firing tear gas just to piss people off: e.g. teenagers dancing round some loud music were fired at. The media, of course, made out it was all in response to "casseurs", of which, sadly, there were very few. But then, apart from the cops, there were hardly any viable targets. A lot of fear of cameras also helped. Youths have yet to learn how to hide their faces with t-shirts like in the US.
At about 1pm the demo moved off from the main square and immediately it was clear that this was essentially a "wildcat demo", with virtually no union, and no political party or anarchist organisation, banners or flags – almost all banners and placards being self-made. Apparently the official union demo had refused to join up with the high school student mob. Very large banners included "High schools are angry" and 2 held by high school students at the head of the march saying "We won't live live like slaves any more" and "Neither boss fodder nor truncheon fodder". Lots of tags (mainly "ACAB") paint bombs against the mainly luxury shops. There were very few stewards trying to keep order, and these few were largely ineffectual – for instance a couple of people carrying a UNEF (university union) banner were angrily confronted by a small group and forced to roll their banner up. Another – an elderly unionised teacher – tried to let the cars pass on the road, whilst people marched on the tramway; he was unsuccessful as the demonstration spread right across the road, halting traffic.
Lots of funny untranslateable slogans like "Ni droite ni gauche ni troglycerene" (literally "Neither right nor left – nitroglycerine!", but the repetition of "ni" makes it funny in French). Another, which unfortunately was hardly taken up, was "Je te dis sans faille, Ni loi ni travail" –  which means literally "I tell you unwaveringly – neither law nor work"  – the first part being a line from a song (of course, it rhymes in French – maybe it could be unliterally translated as "Let me tell you how much I adore Neither labour  nor the law").
It was a long and winding march all over the place, eventually – though by this time the march had dwindled to maybe just 300 people – going towards the the town's main police HQ, where bins were overturned and used to block the road a bit, with a small fire of rubbish close to this HQ. Many went there to chant "Free our comrades!" (about 30 were arrested) – don't know if this was a naive slogan or just a way of hopefully boosting the morale of those inside who may have been able to hear the chants. A more popular chant was rhythmically shouting out  "Everyone detests the police!" over and over again. If only it were true. Someone managed to throw a bottle of beer through a cop car window, the beer going all over them. A bit later someone, probably having just recently read situationist stuff for the first time, spray-painted in very large letters: "Never work ever!".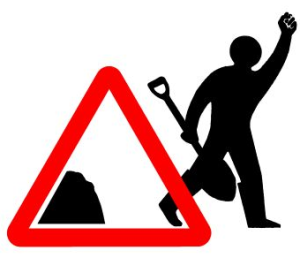 It wasn't all good though – the worst thing was that about 10 high school students managed to rip off other students' mobile phones, etc, which must have been quite demoralising to the victims, even if these muggers also got chased, threatened and insulted (eg "You're just like the cops" or "steal from the shops or the rich – not from poor youths"). However, it should be pointed out that these didn't seem to be gangs, but individuals, protected by their friends who, despite protecting them, often seemed quite embarrassed by what their friend had done. Another limitation of this event was the fact that most people seemed to confine themselves to their small clique – of friends or fellow "radicals" or whatever, that they didn't try to communicate all that much outside of these little groups, when normally in situations like this people generally open up and show curiosity towards "strangers"  that they would normally avoid.   [modified 23/4/16]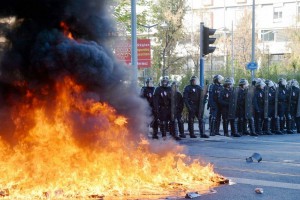 Outside Jean Mermoz high school, Montpellier
…Paris: repressive normality disturbed by at least 300 after Nuit Debout broadcasts Hollande's TV speech on a big screen saying the Labour Law will not be withdrawn "300 youths, according to police, some wearing balaclavas,  broke … windows, bus shelters, a branch of Pole Emploi [social security office], a Franprix [supermarket] store and even Autolib [electric cars provided by the town hall] vehicles. "Everyone hates the police!", "The street it is ours!" shouted the protesters, defying the CRS. …clashes broke out for about twenty minutes in the Place de la Republique. Hooded protesters threw chairs, sticks and bottles at riot police, who responded with charges and tear gas."  Video of clashes with cops
…Nantes: stones thrown at prefecture and cops…Rennes: bosses' local offices invaded and vandalised
…Caen: offices of the university president paint-bombed; press cameramen threatened; lively wildcat demo
Thailand, Yala: 1000 prisoners riot, quickly repressed
Tunisia, Kerkennah: molotovs etc. thrown at cops during protests over unemployment "Clashes erupted on Thursday evening in Kerkennah between police  and demonstrators as the latter prevented Petrofac trucks coming from the port of Sidi Youssef from entering,…Police used tear gas and water jets to disperse protesters who threw stones at law enforcement officers…A general strike was staged Tuesday in Kerkennah after police broke up on April 3 a sit-in of unemployed people outside the premises of Petrofac." Video of underwater police
South Africa, Gauteng: violent service delivery protest
13/4/16:
Macedonia, Skopje: protesters demolish national office of president
Finland (Fennovoima): barricade and fire against nuclear power 
12/4/16:
France, Montpellier: casualised cultural workers occupy theatre 
Cultural workers in traditional theatrical costume: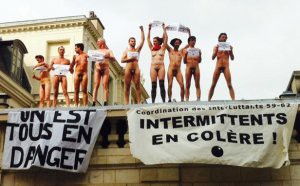 "We're all in danger" "Angry cultural workers"
It has to be said that these nude photo-shots, in very cold weather, are purely for the cameras, quickly carried out, then back on with the clothes.  They're standard "intermittents" practice and are never carried out in crowds, because that would be exhibitionism and therefore – heaven forbid! –  illegal! So these intermittents confine themselves to one hall, and don't want to break into the shower room area, because there's lots of stuff there that could be damaged maybe. Since most of this theatre is not being used at the moment, this really is merely a show, Particularly as the most immediately obvious problem with this action was that it's taking place far from everywhere: an area in which only buildings associated with culture exist, no shops or residential buildings or any non-cultural workplaces. Those who take their work far too seriously find themselves defined by it totally even when they think they're struggling; hence these performers can only perform , whether paid for it or not (of course, a lot of them aren't paid performers; they work the ropes  or do the electrics or whatever in theatres, concerts, etc.).  But although this occupation is rather  miserable it's all for the cause, even if their cause – carried out in this timid fashion – is doomed to failure.
…Mayotte (French departement in Indian Ocean): two weeks of general strike, some blockades organized by unions, youths involved in clashes with police 
Mexico, State of Michoacán: normal school students block highway toll booth and railway tracks and seize buses after not receiving their scholarships, a hundred injured in police intervention
Belgium: traffic controllers launch wildcat strike over pensions and staffing
11/4/16:
South Africa (Drieziek) : riot after Pikitup strike ends
France, Montpellier: high school students blockade schools, burn bins, etc At least 3 high schools involved.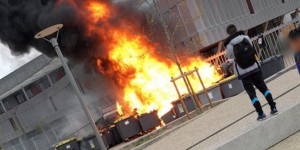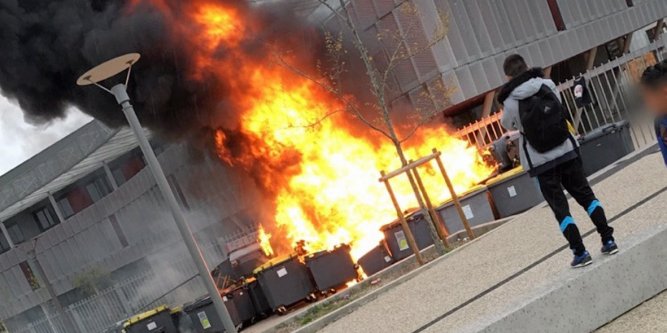 lycee Villeneuve, Montpellier
Belgium, Liege: unpaid workers, threatened with being sacked in the near future, partly destroy their workplace; 3 managerial representatives of company sequestrated, 1 beaten, by workers for most of the afternoon (video, particularly impressive after 1 min. 25 secs)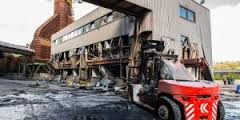 Liege factory under workers' control
Canada, Montreal : riot after another police murder, this time of an Aninishinabe man, whose brother was killed by police a few years ago 
Greece, Athens: two churches attacked in solidarity with imprisoned anarchists Mónica and Francisco
Peru: 50.000 march to ask for justice in the 300,000 cases of compulsory sterilizations of women during Alberto Fujimori's presidency 
Mexico, San Francisco Xochicuautla, State of Mexico : 300 riot cops remove inhabitants from their houses built on the future Toluca-Naucalpán highway, against which this indigenous community has been fighting for years The State of Mexico recently voted new measures on the use of force against demonstrators.
…Atenco, a community fighting against the construction of an airport, locals expel an army truck and workers who entered their lands for preparation work 
Argentina, Buenos Aires : claimed arson of two public buses against rise of transports fares and much more
10/4/16:
UK (London) : resistance against eviction (again) at Hope & Anchor Pub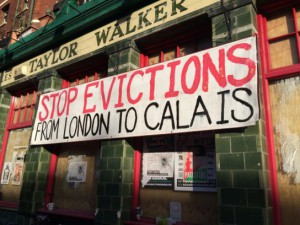 Mexico (State of Guerrero) : Normal school students take over highway toll booth, police brutally intervene…students react by taking a cop hostage and by burning a police vehicle
South Africa, Western Cape: land settlers fight with cops in rejection of voter registration "Roads leading to Hopefield, which is in the south of Johannesburg, have been blocked with burning tyres and bricks since yesterday. Protesters have been adamant there will be no voter registration in their area this weekend. They said President Jacob Zuma himself must come to the informal settlement to tell them when they will get their RDP houses before they will allow any voter registration to take place."
Greece, Idomeni: refugees break through border, beaten back by cops (video) More here (this thread here has constant updates on the situation with refugees and migrants in Greece)
US, Tampa: small riot at juvenile prison Check out this on US prison slavery
9/4/16:
France, Paris: confrontations between cops and demonstrators over new Labour Law Video here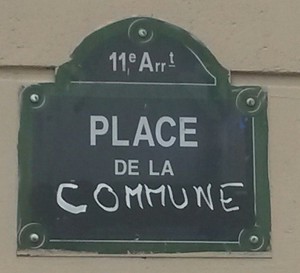 More here. Leaders of NuitDebout call the cops:"About 300 people", according to police headquarters, decided at about 11pm  to leave the Place de la Republique  to protest at the home of Manuel Valls [the PM] in the eleventh district of Paris. An initiative that has resulted in incidents leading to the arrest of eight people. …For one hour, the whole neighborhood was cordoned off…and a strong police presence was deployed on site. To block the advance of the procession, the police used tear gas. Rubbish bins were burned and a small group of protesters also threw objects at the police station of the eleventh arrondissement. Violent actions that were visibly disapproved of by most of the protesters. But later, several windows of banks or insurance agents in Boulevard Voltaire were smashed, kicked in or by using iron bars by masked casseurs. At Place de la Republique, one of the members of NightStandingup shouted "these guys, they have nothing to do with us." According to the police department, "six bank branches" were targeted by rioters, three were victims of intrusion. "A temp agency and an insurance agency" were also damaged. …At 2.50am, a manager ["responsable: in this case, a person presumably elected to a position of "responsiblity"] of NightStandingup requested the assistance of the police "because of the difficulty his stewards were having in ensuring security"…Police were sent to secure the rally, and they were made "the object of provocations and many thrown stones." An Autolib vehicle [Paris car-sharing electric cars] was "burnt at the corner of Republic Square and Boulevard Saint Martin," requiring the intervention of firefighters." From a friend I've heard that when a group of fascists arrived at the Nuit Debout in Paris lots of people shouted abuse at them. The Nuit Debout stewards told those shouting at them to shut up because the Nuit Debout is "open to everyone". Citioyennisme = toleration for your future torturers.
…Rennes: confrontations as local state bans demonstrations in historic centre "The security forces repeatedly used tear gas and stun grenades against young people trying to access the historical downtown centre of the city…The CRS also charged… when they were "attacked by extremely violent elements using smoke bombs and projectiles" against them, said the prefecture…Scores of people were inconvenienced by the gas, the procession consisting mostly of employees, families with children, pensioners. "We're sick of being gassed", complained Isabelle, recently  retired from Telecom. "This is disproportionate, "she said…The prefect of Ille-et-Vilaine  earlier in the week banned any event in the historic centre of Rennes….The demonstrators…were joined by youth and students, some wearing carnival masks or balaclavas, which were placed at the head of the gathering. "Beneath the ashes, embers are burning again" and "The objective conditions have come together" could be read on banners." Video here  Tag: "End of work, magic life" Rioters shield themselves with light plastic transparent windows
…Nantes: some confrontations with cops (video)
…Montpellier: demo of a couple of thousand; paint bombs thrown at various targets (mainly banks and army recruitment); some shop windows smashed; lots of tags A NuitDebout was held with about 300 people in the main square. As soon as it started, much of it came over as bureaucratic bullshit, suggested partly by anarcho-leftists of the CGA (Coordination des Groupes Anarchistes): creating committees of small groups of  people who would act out what the large assembly had decided. Whilst this idea may have some use in far larger circumstances, such as those involving hundreds of thousands, for 300 or so people  to delegate others to act for them is an absurd evasion of responsibility for doing actions themselves, a wilful submission to "experts".
At one point a guy suggested that the form of the meeting should be changed: that everyone should sit in a circle rather than face one spot at the front, and that the mic should be rotated from person to person, rather than someone standing up in front like in a traditional meeting. He immediately went to a vote and most people who voted voted for his idea. But it was overruled – without debate – by those who'd initiated the NuitDebout because they'd decided beforehand that this wasn't the correct procedure. So much for "horizontalism".
As for content, the usual citizenship mentality dominated (though not absolutely), including applause for a guy advertising Podemos, whereas someone who insulted his speech was told off by a bureaucrat from the CGA.[SF]
Tunisia, Tunis: big demo of unemployed try to get into main government building demanding public sector jobs "Clashes erupted Saturday in front of the government headquarters in Tunis between the police and the unemployed who attempted to enter the building, injuring several people. …The ministry said five policemen were injured by protesters throwing stones. … several protesters were injured in clashes with police and that two of them had been taken to hospital . …19 protesters were arrested."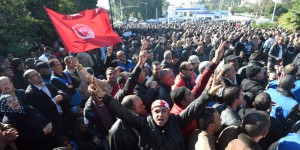 Tunis: according to the Ministry of the Interior this is a photo of "60 unemployed people"
UK, Glasgow: Afro-Caribbean centre set up barricades in resistance to eviction
8/4/16:
South Africa, Johannesburg: striking refuse workers trash city's Central Business District "Hundreds of workers affiliated to Samwu protested again late on Friday afternoon outside Samwu House in the Johannesburg CBD, tossing garbage onto the streets and breaking concrete rubbish bins as news of the deadlock reached them. …When approached for comment, the workers became aggressive and did not welcome the media."
France, Paris region: confrontations between cops and high school students outside at least 4 high schools on day where nothing national is organised "In Hauts-de-Seine (92) and Seine-Saint-Denis (93), protesters attacked the security forces, and burned garbage…At Courbevoie (92), nine people were arrested in front of the Paul Lapie high school for throwing projectiles at law enforcement and damaging things. Another person, accused of throwing projectiles was arrested at Guy de Maupassant school in Colombes (92). Three others were arrested near Voillaume high school in Aulnay-sous-Bois (93) for throwing projectiles and setting fire to trash….The biggest clash took place in Tremblay-en France (93). One hundred hooded high school students… faced a dozen police officers in front of the Hélène Boucher high school. A vehicle was set on fire, two others overturned, and police "copiously stoned," … the police used tear gas and  flash-balls."
…Montpellier: 3 high schools come out on strike against labour law   More here. "In front of Jean Mermoz school, more than a thousand students blocked traffic with some rubbish, some in flames, causing the rapid arrival of several CRS trucks. These arranged themselves in line immediately, then began running toward the high school crowd, firing tear gas and rubber bullets without any warning. This police aggression immediately provoked a defensive reaction expressed by aiming a fire extinguisher  towards the armed men. As the police advanced in front, the crowd …dispersed towards the city center and the Antigone district, where groups of youths were pursued by the CRS and the BAC. To slow down the advance of the police, barricades were quickly improvised on the way. The massive arrival of students in the city center caused the immediate closure of many stores, including the Polygone shopping center…." [though this says "more than a thousand students", apparently this is grossly exaggerated – 350 is more exact]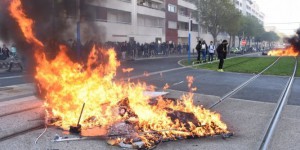 burning bins at Jean Mermoz high school, Montpellier…trams suspended, firemen stoned
Australia, Melbourne: clashes with cops as protesters against education cuts confront PM's party fundraiser 
Ukraine: protests against corruption in several cities "…piles of tires appeared in front of the Prosecutor's Office in Odessa and outside the Presidential Administration building in Kiev. On Friday, at about 1 p.m., groups of protesters …set the car tires on fire in the center of Kiev. When the pile burnt down, activists brought new tires. Surrounded by police, protesters… demanded that President Petro Poroshenko come out to explain why in spite of all the promises to reform political institutions, the country's leading positions were still occupied by corrupt bureaucrats. The activists also called for the president to fire a host of unpopular officials. These include Vitaliy Malikov, head of anti-terrorist center at the SBU (Ukraine's security service)…There were plenty of reasons… President Poroshenko's pre-election promise "to wipe the country clean" of corruption now looked like a sad joke. While the majority of the population lives on less than $500 a month,Poroshenko grew richer by $100 million in the last couple years and is now worth about $858 million, according to Forbes. …The Panama Papers investigation drew a lot of public attention on Poroshenko's personal income. …it turned out that Poroshenko had also set up an offshore holding company in the British Virgin Islands to save millions of dollars on tax payments in Ukraine, a country badly suffering from economic crises and the war….In Kiev and other Ukrainian cities protesters are determined to stay on the streets until they see real changes. In Odessa activists spent days by the pile of tires, ready to make a big fire, if Kiev did not dismiss the regional prosecutor Nikolai Stoyanov…. activists installed a gallows and hanged a big doll of the president in effigy in front of the newly appointed prosecutor's office. …Protesters also gathered in the center of Kharkiv to call for the resignation of the regional prosecutor. In Zaporozhye, demonstrators tore Poroshenko's portrait into pieces. Clashes between activists and police continued on Friday…"   … I've put this here even though much of it is not autonomous – it's "organized by Automaidan, a civic movement". Nevertheless, it seems clear that this could become interesting; though without the development of some independent class consciousness it's very possible that the extreme right will recuperate this movement, as happened a few years ago. However, anarchists are making a name there also – see this claimed attack on court [SF].
US, Minnesota: Burger King management and staff duped into making structural improvements on their restaurant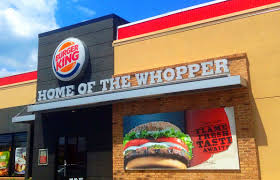 7/4/16:
France, Hauts-de-Seine: 22 arrests following confrontations at 5 high schools "Two days after the blockade degenerated at Leonardo da Vinci school in Levallois-Perret, causing damage amounting to some € 150,000, other institutions of the Hauts-de-Seine experienced  a very tense situation on Thursday morning….At Clichy, a hundred policemen were deployed …It all started around 7.15 a.m. when a group of ten youths torched garbage bins. The fire under control, they stoned the municipal police who'd rushed to the scene. The tension rose a notch with the arrival of students. Difficult for officers to make the distinction between those who wanted to go to class and those who hoped to blockade the high school. The police eventually pushed them back towards the Seine, tear gas responding to various projectiles thrown. In the confusion a car was torched…Firefighters also had to help two youths inconvenienced by the stinging gas. "The ground was covered with puddles of milk",  a passer-by witnessed. "Young people use it to protect themselves against the gas" … The situation also escalated on the outskirts of Newton High School, north of the town. Many CRS were deployed Thursday morning near the building, where a vehicle was torched.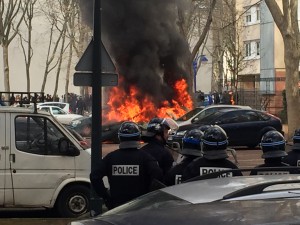 Newton high school discovers gravity
Courbevoie: around 8am, the vocational school of Paul Painlevé…was also targeted by a group of young people. The latter… emptied and burned garbage and threw bottles against the walls of the establishment. Very quickly, police in riot gear and firemen were mobilized on site while the streets of La Montagne and Victor Hugo were closed to traffic. Colombes: The situation was very tense this morning in front of the general and technological lycée Guy de Maupassant, Robert-Schumann Street….30 policemen in riot gear  advanced, meter by meter, in order to disperse the demonstrators. "It's super hot," says a young woman in a flat voice…Gennevilliers: youths and police also found themselves face to face near the Galilee school, already the scene of incidents late last week. Projectiles  were thrown."
…Montpellier: burning bins block boulevard as high school students strike against labour law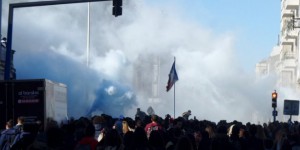 Montpellier, Georges Clemenceau high school
Greece, Samos: migrants force cops to let them out of detention centre "Rioting broke out at a migrant "hotspot" reception center on Thursday on Samos, which resulted in 250 refugees pouring into the streets of the Greek island…About 560 people from the hotspot demanded the police officers, who had been protecting the center, to let them leave the facility and started threatening policemen with knives and broken glass… the local police chief decided to open the facility's doors and allowed some 250 migrants to leave the center, however the local authorities continued their efforts to return them back"…Athens: anarchists attack offices of nauseating newspaper
6/4/16:
Uruguay (Montevideo) : anarchists claim attack against air force premises
Finland : nuclear plant construction site blocked for more than 2 hours
Canada, Montreal: police station and police cars attacked after death of young man by rubber bullet "A small group of protesters broke away from the peaceful demonstration around 9 p.m. to vandalize a financial institution and police station, police say. Police say they went on to damage patrol cars. Throughout the night, one citizen was wounded, half a dozen shops were vandalized and several cars torched" Video here
France, Compiegne: 34 cars burnt in industrial zone, security guards  for major accomodation rental company attacked with loud fireworks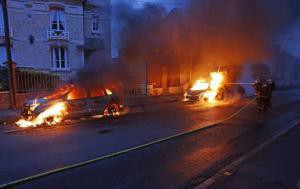 ignition key, Compiegne
India, Hyderabad: student clashes resume after Vice Chancellor's return following 2 month leave after student's suicide Whilst this seems to be dominated by political groups it's also indicative of a general anger against the stressful misery of student life. More here "Students who have been demanding Vice Chancellor Appa Rao's removal were taken away after they broke open the campus gates. The protesters had tried to approach Mr Rao's office past heavy security and barricades. "Appa Rao has turned the university into a jail. We want Appa Rao to be sacked immediately," a protester said."
Italy, Renzi: clashes between protesters against PM's visit to town and cops
Nauru: clashes between guards and migrants at Australia's notorious detention centre "…members of the Wilson Security emergency response team hit teenagers who had been protesting…the detainees locked the response team members out of part of the camp, and retaliated by throwing rocks and chairs."
5/4/16:
South Africa, North West: bakkie (4 X 4) burnt out, shops looted, in illegal protest
France: various confrontations in Rennes, Paris and elsewhere over labour law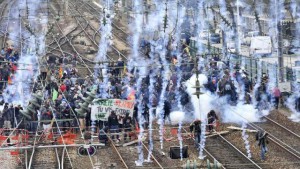 Rennes railtrack occupied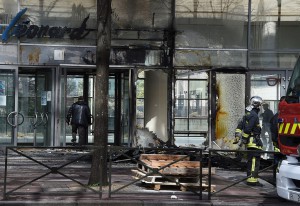 Hauts-de-Seine (outskirts of Paris): Leonardo-da-Vinci high school facade burnt after barricade is torched – Leonardo says he's quite pleased with this  realisation and suppression of  his art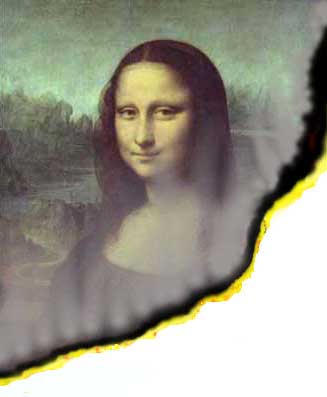 video here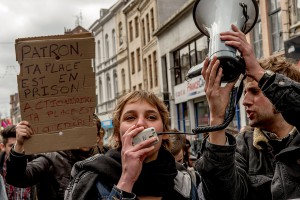 Lille "Boss, your place is in prison. Shareholder, your place is in the cemetery"
…Nantes: Socialist Party HQ, banks, insurance companies, estate agents attacked, railway track occupied, etc.
Kenya, Nairobi: university closed indefinitely following riots
Mexico, Orizaba (State of Veracruz) : indigenous street sellers violently repressed by police, women brutalized, some resistance shown We have already mentioned the tensions in the area (see entry on February 19th). In another region of the same State, a teacher and member of the CNTE was killed by a gunman on the same day (see here). Dozens of militants, whether CNTE members or community activists, are killed in Mexico each year. Of course, those who have, voluntarily or not, a public image, are easy targets. [Pi]
4/4/16:
South Africa, Gauteng: Wits lecture hall burnt during free education protests
Honduras: indigenous women demonstrating against murder of anti-dam activist in front of ministry violently evicted by cops
India, Uttar Pradesh: another riot in same prison as 2/4/16 
Kenya, Nairobi: students torch student union office over rigged election See also entry about this on 2/4/16.
Bangladesh, Gandamara: cops kill at least 4 in clashes over construction of massive power plant "Dozens were injured, including 11 policemen, he added. One officer was shot in the head"
France, Compiegne (Oise): deputy mayor's car burnt out
3/4/16:
Mexico, State of Guerrero: La Parota dam opponents fight against army presence, supposed to lead a "Crusade against hunger", but sent, of course, to break up local struggles and organization Also in the State of Guerrero, taxi drivers and farmers block Acapulco-Zihuatanejo highway (connecting two main national touristic spots) and demand army retreat from villages (here). Acapulco, the world famous coastal resort, has become, in the last few years, one of the most murderous places in Latin America. There were more than 200 homicides this year (mostly linked to cartels). [Pi]
Tunisia, Sfax: 3 month strike-cum-sit-in by workers of petrol company broken up by security forces ""These people attacked the security units' agents and their cars. Two buses and two security cars were wrecked, and an officer was wounded in the face…sit-ins and repeated blockades…cost about 200 thousand dollars a day."
Austria, Brenner: cops clash with pro-migrant demonstrators at border
2/4/16:
Spain, Navarra : electric poles sabotaged in solidarity with imprisoned anarchists Mónica and Francisco
Mexico, State of Guerrero : locals from several villages block gold mine entry and ask for compensation after contamination cases This mine is a subsidiary of Torex Gold Resources, a Canadian group. The movement is not exempt from contradictions, as locals also ask for more jobs at the mine, whom they say hires too many people from "the outside". [Pi]
France, Nantes: several cop vehicles are the target of projectiles in different parts of town; a dozen cars also burnt out
Brazil, Rio de Janeiro: demonstrations and riot after 5-year-old is killed by cops shooting at drug gang "There were 12 buses torched and several shops looted."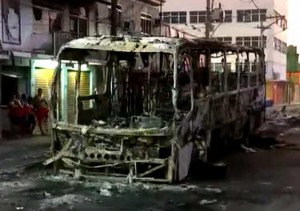 replacement bus service, Rio
India, Uttar Pradesh: prisoners take over prison after screws beat up prisoner (video). More here.
Namibia, Walvis Bay: cop station and cop vehicles damaged in conflict between land occupiers and cops
Kenya, Nairobi: cops beat blind student to death during protests over rigged student election
1/4/16:
France, Haute-de-Seine: 2 cars torched outside high school as 100 students block classes; cops stoned, very loud fireworks thrown at firefighters…many squares throughout country "occupied" (ie with people chatting, eating, sleeping etc. in groups) SF writes: Apparently this initiative of "NuitDebout" ("night standing up") has partly been made by some of  the old "indigenes" ("indignants") with their citizenist ideology and their secret connections with the left of capital – the "Front de Gauche" (ex-Minister Mellenchon's party) and other rackets, and use  such words as "assembly", "democracy", "self-organisation" in a purely demagogic manner, to sound correct, but in fact are against "violence" (but not the intrinsic violence of the state and the whole market system) and prefer symbolic "attacks". Back in 2011, square assemblies spread throughout France (as they did elsewhere) but were manipulated behind-the-scenes by the left of the Socialist Party, who participated in these assemblies specifically to merely talk and to consistently avoid and decry any practical suggestions other than sitting down in a square and endlessly talking (and to constantly suggest reformist & often electoral solutions to the crisis, as in Iceland. Which doesn't mean that everyone participating in these attempts to occupy the squares is taken in by these recuperators. "Alongside these trade unionist and citizenist masquerades, there are individuals who want to screw up the old world. To burn down factories rather than self-manage them, to make those who have exploited us all this time pay the price for their disgusting acts. Individuals who want freedom, not just a piece of it…. Individuals who don't want to "barter a part of now for a fictitious share of tomorrow" (Albert Libertad, To The Resigned, 1905). Individuals who want neither Labour nor the Law. Individuals who understand that to re-take our lives, lives that have been stolen from us, we must necessarily go through the joy of violence against those who are responsible – by fire everywhere we find the tools of our exploitation to reduce it to ashes. And these citizenist collectives, and these productivist trade-unionists, are an insult to uncontrollable revolt, and an insult to intelligence also. Because today, the only intelligent action that is concrete is to destroy, in deed, what destroys us." (from here)
Someone from Paris wrote me this email about the text partly translated here and the situation in the Place de la Republique in Paris: "[This article] summarizes well what is going on with "Fakir," the journal  that in reality is published for Mélanchon and is organising three days of massive political-cultural shows in the Place de la République in Paris. The Place de la République is really disgusting, French-style citizenist posture  par excellence, with a lot of people who, hardly even  a few months ago, paraded  against terrorists and for freedom of expression at the time of Charlie [reference to Charlie Hebdo killings]. With the free gift, in Place de la  Republique, of the film of the shit guru from "Fakir",  "Thank you boss"  which was applauded by high school and University students. All with the agreement of the Paris police headquarters. Blessed state of emergency! Meanwhile, the police use their truncheons on undocumented Syrians squatting under the elevated railways, just three station stops from this place! And when one speaksof this in Plkace de la Republique, no-one moves. Misery and shit without end!"
South Africa, Cape Town: councillor's home looted, fire-station and community hall burnt out after demolition of shacks "The house has been totally destroyed, contents looted and the car damaged. Nobody was at home when it happened. No injuries were reported," said JP Smith of the city's safety and security directorate…Three fire engines and a firefighter's private car were damaged.' … More here "Residents allege that councillor Themba Honono promised them that they could occupy the land. But when they made their move, law enforcement officers broke down the shacks the next day. "This is not the first time he has not honoured his promises. This time we are not going to be stopped by anyone. We are only waiting for the law enforcement to go and then we [will re-]occupy the land," said Yakho. Today, law enforcement were clearing the area. Boards and plastic sheeting were being loaded on trucks. The community could be seen in small groups along Ngubela Street. Burnt tyres were removed. The roof of the community hall was burnt and the councilor's house in Mbaba Street was vandalised; a garage door and a broken window pane could be seen. In the garage was a car with the back window smashed. "They had broken the outside drainage pump and water was flowing all over. A petrol bomb was thrown inside our house breaking the window pane" 
Phillipines, Mindanao: cops kill farmer during protest over lack of drought relief "About 6,000 farmers blocked a portion of the main highway in North Cotabato province on the southern island of Mindanao, demanding government assistance after drought …"Loud bursts of gunfire erupted," Norma Capuyan, leader of a farmers' group, told reporters. "There was heavy volume of fire. We ran to a church compound and the police surrounded us." A farmer died on the spot and about a dozen others were wounded in the legs and shoulders, Capuyan said, adding the police first tried to disperse them with water cannon but started shooting when they held their ground. North Cotabato Governor Emmylou Mendoza said about 20 police were wounded when the farmers attacked them with sticks and stones."
Peru (southwest): students clash with cops over delayed opening of campus; many cops injured (video) More here "4 injured police officers were reportedly held by the protesters for some 20 hours before being released"
UK, London: naked protesters occupy pharmaceutical company HQ attacking excessive prices of medicine
US, North Carolina: 9 students sit-in to demand resignation of university vice president after publicity of his racism and other accusations More here
Greece, Chios: 100s of migrants break out of detention centre