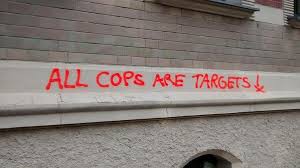 "August brings into sharp focus and a furious boil everything I've been listening to in the late spring and summer….August… is one of the great and awful tests of one's endurance, sanity and stamina. "
– Henry Rollins
31/8/16: 
Morocco: migrants migrate to EU on jet skis "Subsaharan Africans usually attempt the perilous crossing in packed rickety boats that travel thousands of miles from places like Senegal – although those coming from Morocco have been known to try the journey in rubber dinghies, tyres and even surfboards."
UK: outbreaks of rebellion in prison archipielago
Spain: "tourist" – how yankees pronounce terrorist
Zimbabwe, Harare: Very interesting on the ground report on near-total generalisation of anti-state resistance as almost daily riots continue 'Tawanda*, who sells illegal sex boost drugs on the streets of Harare, says three options face him every day in Zimbabwe´s riot-torn capital: "police jail me for being a rioter; protesters loot my shop or I simply join the riots." "I am proud that I can simply slot my medicine bottles in my pockets and join the protesters calling for a change of government. I am angry that the rioters or police can loot my business anytime, or smear it with teargas, or worse – throw me into prison," says 32-year-old Tawanda. Daily riots against the government of Robert Mugabe are forcing Harare's residents to plan each day well in advance. Just getting to or from work is a problem. "How is the city today? Which roads are safe? Where is the teargas convoy heading tomorrow?" are WhatsApp messages doing rounds on Zimbabwean cellphones daily. "The city´s security situation is like a malaria patient whose blood pressure must be monitored hourly," says one message… 
[Tawanda] scratches his arm to numb the pain where blue water from police cannons discoloured his skin and left an itch. "I have to sell my sex-boost pills or join the rioters. I chose to protest," he says. It is easier now than in the past for leaders to assemble thousands of protesters, says Sten Zvorwadza, the leader of the Vendors' Union of Zimbabwe. "We have thousands of college graduates roaming Harare streets selling water bottles or phone recharge cards. They simply fold their wares into their pockets and melt into protests, any time, any day."… 
Sandra, 24, is a waiter at a South African-owned chain restaurant in Harare. She comes from Mbare Township, the capital's poorest suburb and hotbed of resistance to Mugabe. She sees it as her duty to spread advice about dealing with teargas on WhatsApp. "These days before I dress in my work apron, I carry a wet towel and a tube of foam water. To wash over my eyes in case police teargas splashes into my eyes."…"Dear group members," writes Sandra on WhatsApp, "In case of police dogs, water cannons, tear gas etc – run away from a crowd; flee in an opposite direction; pull old women and children into flowerbeds under bridges; run as fast as you can; forget your expensive stiletto shoes; rather throw your shoes into the face of police dogs."… 
Penyo, 21, is a mechanical engineering student at a technical college in Harare. He describes himself as a "stone carrier." These days, he says, his studies take second spot to public activism. "Every morning I carry a backpack of books, of stones, and spikes." Spikes are short metal rods that are sharpened to hook or slice. "The aim is to ghost through the chaos of riots and deflate tyres of police water cannon lorries and vans," says Penyo. "It is scary." While crowds flee for cover from the "bowsers" – the vans which spray the itchy water – he takes advantage of the teargas mist to puncture the tyres of police vehicles.'…Bulawayo: cops clash with youths as opposition party pulls out of demo "Zapu youth leader Iphithule Maphosa said most of their members pulled out of the demo on the last minute"
France, Le Havre: 6a.m. home arrest of 2 dockers for their participation in demo of 14th June provokes solidarity strike stopping, according to the CGT, all port activity
wheels on fire, driven by fury, Le Havre
South Africa, Eastern Cape: another school razed to the ground as pupils demand farewell party 'Six classrooms were set alight by angry pupils of Nogemane Senior Secondary School in the Eastern Cape. Protesting pupils have completely destroyed a Ngqeleni school after demanding a matric farewell. Six classrooms were set alight by angry pupils of Nogemane Senior Secondary School in Ntibane village on Tuesday night. The principal's office' administration block' library and laboratory were also reduced to ash. School governing body chairman Jongimvula Hohlo said they were shocked at the conduct of the pupils. "Pupils were supposed to start with trial examinations today' but by the look of things that will be impossible." The protest at the school started on August 19 when Grade 12 pupils demanded a farewell. Hohlo said there was a meeting with parents and pupils on Tuesday' at which it was agreed that the farewell would take place on October 19. "We thought we understood each other. We are very shocked that the school has been burnt down'" he said.'
Not knowing anything about this other than the mainstream report, it does seem like the official demand in this protest, which appears to have been already won ten days ago, was just an excuse to burn down the school for some unspoken reason. Possibly the arsonists wanted to prevent exams taking place. Possibly they simply wanted to attack the machinery of bourgeois brainwashing, misery and humiliation. As with the majority of such cases, no statements of responsibility accompanied by eloquent communiques have been released — nor do any such things seem particularly necessary. [SK]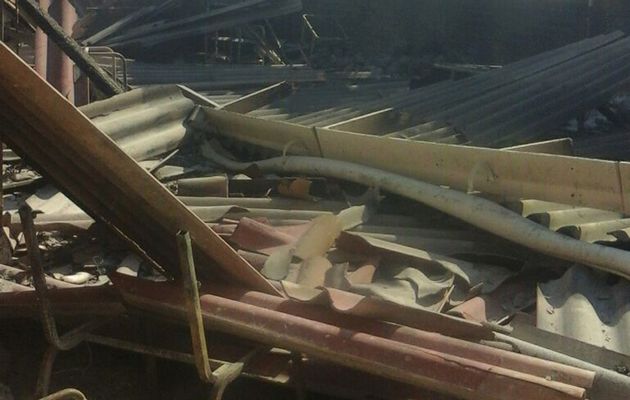 All Must Fall!
… KwaZulu-Natal: labour-commodity production facility razed to the ground. Check out the curious heading for the photo of this education factory on fire…Eastern Cape: yet another school building reduced to ashes "CHB High principal Zalisile Joyi estimated it would cost about R1-million to repair a burnt classroom which contained groceries for the nutrition and feeding scheme, as well as cutlery, stoves, documents and other items. He said attempts had also been made to burn down his office but community members had reacted quickly and doused the flames. Joyi and SGB chairman Mandla Jali said two weeks ago angry pupils had run amok, breaking windows and damaging other parts of the building. Residents suspect some pupils were responsible for the fire as it started shortly after they staged a protest. The pupils were demanding that parents no longer be forced to pay R250 towards salaries of SGB-employed teachers and that they get to participate in all sporting activities in the district and at other levels. "These issues were resolved on Tuesday in a meeting between teachers, parents and pupil representatives, and the protest was called off," Jali said. "So it came as a surprise when the school was found burnt a night later." Again, judging only from this official report, there seems to be motivations other than the officially declared demands, which were here apparently also 'resolved'. But it might well be the case that the pupil-representatives (chosen how and by whom we don't know) and the agreements they made at the negotiations were simply rejected by some of their comrades. [SK]
There is currently also much agitation at certain elite all-girls schools in Pretoria and Cape Town about racist policies; we mention this here but haven't included them as they are getting plenty of coverage already, and although obviously important to those involved, are pretty far removed from the struggles of most young proletarians in this country.
Venezuela, Caracas: massive demonstrations against government However, this kind of political demo in Venezuela almost invariably tends to be dominated by the right-wing official opposition, whereas  these parties ignore the more obviously proletarian revolts involving looting and rioting. For what seems like a fairly reliable source of analysis and information from an anti-state perspective in this country, see this site in Spanish. [SF]
30/8/16:
Montenegro, Podgorica: workers clash with cops as they try to enter parliament to demand unpaid wages
Kenya, Kirinyaga: tea farm workers burn the house and other property belonging to their boss in protest against crap bonuses "Three houses were Tuesday set ablaze as hundreds of rioting tea farmers continued wreaking havoc in Kamugunda, Kamwana and Kavote villages in Kirinyaga County in protests over what they say is poor bonus payment. The farmers who deliver their produce to Thumaita Tea Factory in Gichugu constituency, raided the home of their director, Bundi Kagai, on Tuesday evening, chased away family members and torched his three houses. They also destroyed his crops and made off with his three calves, a cow and five chicken as they protested over poor bonus payment. A senior police officer, Mr Eliud Monari, lost property worth Sh2 million in the attack that left everyone shocked…The incident brings to six the number of houses belonging to tea factory directors which have been destroyed since Monday when the farmers boycotted tea picking."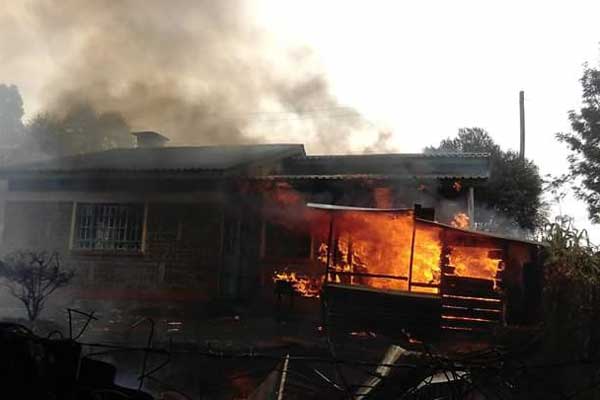 More here: "The troubled Thumaita tea factory in Kirinyaga County has been shut indefinitely…. The farmers in their hundreds stormed the factory on Monday and attempted to set it on fire but were repulsed by police. The unrelenting farmers, however, managed to sneak into the factory later in the day and set ablaze a heap of firewood the facility uses as fuel to process green tea. The county fire engine, which rushed there shortly after 6 pm, was pelted with stones, forcing the firemen to abandon their mission. …When these riots started last Friday, the angry farmers, supported by their school-going children, attacked factory staff and burnt down a motorcycle used for field services. On Monday, they razed houses belonging to two of our factory directors and this volatile situation is therefore not conducive for any business." 
Although not as fiery as their Kenyan comrades, one of the tactics used by temporary workers at the South African Post Office that brought about an end to outsourcing was a friendly visit en masse to their bosses house. It might be a good idea for workers everywhere to learn whenever possible where their bosses live so as to make polite requests that, considering the location, tend to be rather difficult to refuse… [SK]
Australia, Kalgoorlie: riot after lenient charge of man who killed  indigenous 14-year-old "The teenager was killed when he was allegedly struck by a ute while riding a motorbike in the town of Kalgoorlie on Monday….Twelve police officers were injured and buildings and patrol cars damaged as up to 200 people protested what they said was racist leniency towards the 55-year-old man charged over Elijah's death. …racist comments …sparked the courthouse riots….  12 officers were injured, with one requiring stitches, while five police cars and a nearby business were damaged…."When they were told to leave, they threw missiles at the building and we had to lock down the building…"…The violence continued in the street with several shops forced to shut down.Mr Gaunt said he had never seen anything similar in his more than 30 years experience."
More here: "According to reporters on the scene, a crowd of about 200 people armed with rocks and bottles have broken the gates at the court and surrounded police sent to calm the situation. The police, heavily outnumbered and are using pepper spray and riot shields to defend themselves…."A protest mob have smashed up court windows, people running around with knives and wrenches, hiding weapons under cars. It's seriously f—ed out there."
India, Jharkhand: 2 people killed over power plant construction which will lead to loss of homes; protesters also demand jobs at plant "The police say the management of Inland Power had called the villagers for talks and when the attempts at a compromise failed, a mob threw stones and ransacked the company's factory. Policemen allegedly then fired at the crowd…. They attacked the premises of the factory and burnt down the generator…"
More here: "…mob also torched official vehicles and blocked the Ranchi-Sikidiri and Gola road. A BDO was seriously injured in stone-pelting, and the Circle Officer was also manhandled. Besides, more than 25 policemen sustained injuries in the stone-pelting and alleged firing by the mob, "
South Africa: Telkom forced to double reward offer for sabotage during strike from 500,000 rand to a million (approximately 68,000$) "Earlier this month, Telkom offered a reward of R500,000 to anyone who could lead them to the culprits. With no luck thus far, the telecommunications service provider has doubled the reward to R1-million."
Mexico, San Pedro Apatlaco, State of Morelos : locals opposed to construction of aqueduct fight police for 4 hours ; 14 cops injured, 5 villagers arrested (in spanish with pictures and videos)
29/8/16:
Eire, Dublin: youths set prison on fire
South Africa, Eastern Cape: parts of school burnt down as pupils protest teacher shortage "…one house was burnt and two others vandalised. A school hall was also burnt down. The houses that were burnt and vandalised are where renting pupils stay…One of the pupils staying at the house' Nwabisa Zayedwa' said they were not inside when the house caught fire. "We heard that the house was going to be burnt and we went to sleep in the forest'" she said. "We have lost everything' books' IDs and clothes. Everything that was in our room has been destroyed by fire." On Monday' angry pupils burnt down a school hall. Learning and teaching has come to a complete standstill at the school as the protesting pupils demand the education department provide them with teachers."… Gauteng: young workers protest cancellation of public works contracts
Nigeria, Kuje: prison riot over cellphone confiscation
France, Colomiers: windows of Socialist Party deputy, local bank and Job Centre attacked with a hammer and paint 
28/8/16:
India, Murshidabad: man killed as cops attack residents blockading roads in protest against electricity cuts
27/8/16:
Moldova, Chisinau: anti-government protesters clash with cops on independence day "We decided to celebrate this day in this manner, because we do not at all feel free. People are poor, people leave the country…Those who have recently stolen a billion dollars from us, organise military parades, waste millions from the budget on it, which essentially means from our money in the time of crisis."
South Africa, Cape Town: locals facing eviction occupy popular market "No one is getting evicted. We are family. Here the owners are evicting us illegally. They want us to leave so they can do gentrification. We are people with children. Where must we go? You want to throw us in Blikkiesdorp? No." Blikkiesdorp is a settlement near the airport where many evicted Capetonians have been moved in recent years." Note, this particular eviction, should it succeed, would not be illegal. The argument seems to be that legally alternative accommodation must be provided, which in Cape Town means Blikkiesdorp. Understandably most people don't view this as an adequate alternative, but the courts do, and it would be misguided to rely on a legal argument to stop such evictions. Far more effective would be if the same amount of people who carried out this action stand between the locals and the sheriff when he comes to cart people away… [SK]
Nantes: funeral procession for the ruling Socialist Party ""with mourning clothes, red roses in buttonholes, candles …" The funeral procession was  organized "with dignity and restraint, in the streets of Nantes." The procession entered the Bouffay neighborhood chanting anti PS slogans. …Galerie Lafayette's [expensive department store] windows were broken, tags inscribed on the walls and on bank ATMs" Tags included "For Adama" (young guy killed by cops in Parisian banlieu in July) and "The PS is dead".
26/8/16:
Guinea, Kindia: youths block main roads all day in protest against EDF's failure to provide electricity for 3 months
Zimbabwe: Message just received from Harare "Harare is now a war zone and police is losing the battle and losing ground, city now shutdown with everyone not involved running out of town, makombi hamuchina(there are no more commuter cars) showground besieged, its total"…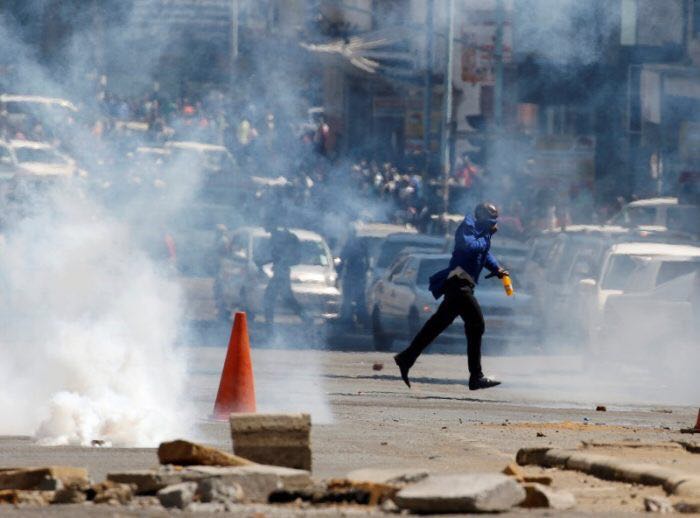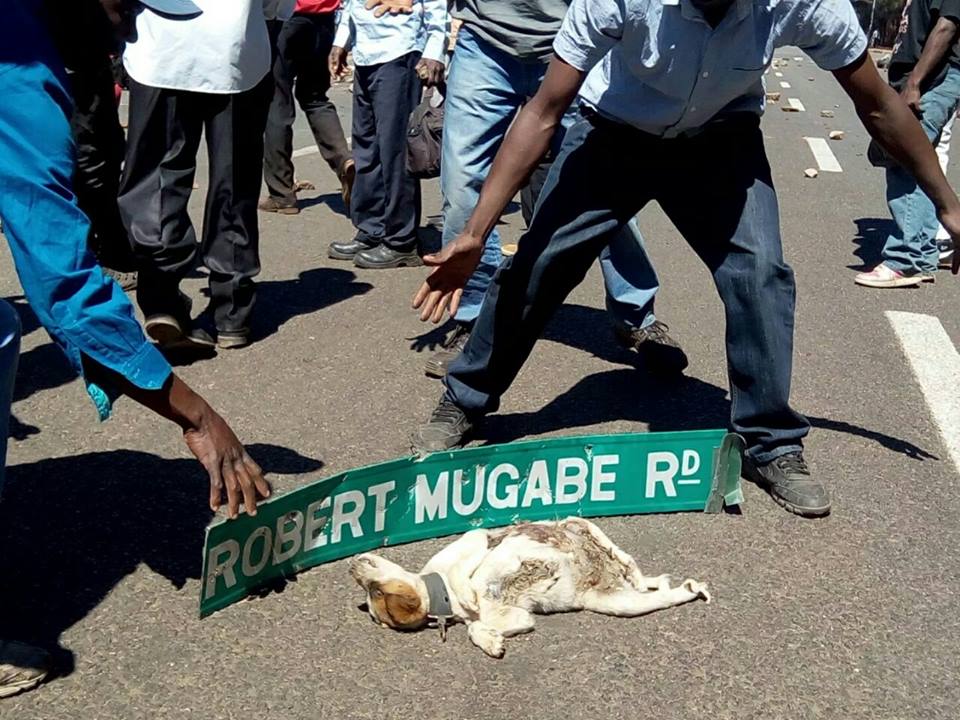 More here: "Business was ground to a halt in Zimbabwe's capital, Harare, on Friday as protesters turned violent and burned tyres in streets, smashed shop windows and looted shoes, clothing, food, cash registers, cellphones as well as computer gadgets…Protesters gathered as early as 8am, singing the "war mode" song "Ihondo Muchengete Vana", meaning "It's war, those who will remain behind, please look after the children"…Anti-riot police officers gathered and parked three water canons nearby. The protesters grew in numbers and police tried to chase them away…However, when police realised they were being outnumbered, they started firing teargas canisters at the protesters, who rushed for cover inside the courts… The demonstrators would disperse and regroup a few seconds later, gathering their arsenal and stoning the anti-riot police officers as well as their trucks.
Along Samora Machel Avenue and Rotten Row, the protesters barricaded streets with burning tyres and huge stones. The protesters then walked into town and defaced Robert Mugabe Way street signs. The group had also defaced street signs at Freedom Square…At the busy Copacabana commuter omnibus terminus, there were fierce clashes between Zanu PF youths and the protesters, mostly opposition party supporters. The Zanu PF supporters were defending their market stalls and second-hand bales from being burnt, but despite their resistance…The protesters torched the market stalls and bales of second-hand clothes worth thousands of dollars. At around mid-day, a military helicopter hovered over the central business district. Several Toyota Landcruiser trucks carrying Zimbabwe Republic Police military units roamed around the town. 
Protesters smashed the cellphones of people and accused them of circulating pictures of the violent protests on social media groups. They feared the photos could be evidence enough to secure their arrest. Stones were hurled at those watching from balconies of high-rise building. As the number of protesters swelled, the police ran out of the water canon skunk spray and had to resort to what seemed as tap water to control the crowd. Several groups led the protests from different points in the city, while police reinforcement teams were still outnumbered to take on the protesters."
25/8/16:
Bolivia, Panduro: striking miners kill deputy minister after 2 miners are killed by cops "…late Thursday Romero and Defense Minister Reymi said that the vice minister of government had been beaten to death by the miners, who are demanding more rights, including the right to associate with private companies. Illanes had gone to Panduro, a town 80 miles (130 kilometers) south of the La Paz, where the strikers have blockaded a highway since Monday, to open a dialogue. Thousands of passengers and vehicles are stranded on roads blocked by the strikers. The strike has turned violent recently with two protesters being killed and riot police failing to clear a highway in a western part of the mining-dependent Andean nation. Bolivia's informal or artisan miners number about 100,000 and work in self-managed cooperatives. They want to be able to associate with private companies, which is currently prohibited. The government argues that if they associate with multinational companies they will cease to be cooperatives"… also see this video
This looks like it's building up to something really explosive. With all that dynamite it seems unlikely to turn out another Marikana. Maybe another Asturias? In any case the outcome looks grim unless there is some indication of workers in other non-mining sectors rising up as well. [SK]
Without knowing anything much about the situation there, from this distance it seems pretty unlikely to incite solidarity amongst other sections of the proletariat there, given that their main demand is so specific to their particular situation; of course, given that they're also against the neoliberal direction that the state is going in there might conceivably be significant support outside of their workplaces and localities, but I'd guess a Marikana is a real possiblity. [SF]
More discussion on the situation here
South Africa, Eastern Cape: highschool kid murdered by pigs in protest "Two pupils were shot with live ammunition after a group of school children from Lubaleko Senior Secondary School in Mount Ayliff allegedly left their classes to support a community protest. One of the children died from a shot to the chest while another was transported to Mount Ayliff Hospital in a critical condition. It is alleged that disgruntled community members set fire to the headman's house while police were on the scene at about 9am this morning. Police reports say officers on the scene tried to stop the community members but were pelted with stones resulting in police vehicles being damaged." According to this report pigs claim they killed the kid because they ran out of rubber bullets… Gauteng: sevreal municipal offices and 5 cars torched in anti-eviction action
Pi question: how come there are still municipal offices in SA to burn ?
SK answer: because 1) some people prefer to burn schools, traffic copshops, etc, and 2) state bureaucrats need places to rot in so they can pretend to justify their salaries
Panama, Gualaquita: clashes with state during resistance to hydroelectric dam by indigenous Indians "At least five policemen were injured in Panama in clashes with Indians, who threw axes and spears at the militarised police as part of rejecting the reactivation of a controversial hydroelectric plant… riot police intervened on Thursday night to clear a road in Gualaquita in the Atlantic province of Bocas del Toro, whose transit had been cut by Indians for more than two days…. five policemen were injured, of whom three were flown by helicopter to the capital to receive specialized care….On Monday, after over a year of UN mediations, Varela signed an agreement with the Indian authorities Ngäbe Bugle to allow the continuation of the Barro Blanco hydroelectric plant, located 350 km southwest of the capital. The project, funded by DEG (Germany), FMO (Netherlands) and the Central American Bank for Economic Integration (BCIE) banks, was suspended in 2015 by the government of Panama because of  environmental violations…The agreement provides that Genisa will be replaced by another company and that 15% of the profits will go to the …indigenous territories, although some groups reject it … for fear of losing their land and accuse their leaders of treason. A journalist who covered the protests posted on his Twitter account images of indigenous people with serious injuries, but it is unknown how many protesters were injured as many prefer not to go to hospitals to avoid arrest."
24/8/16:
Zimbabwe, Harare: protesters burn car belonging to national Zimbabwe Brainwashing Corporation, raid supermarket belonging to vice president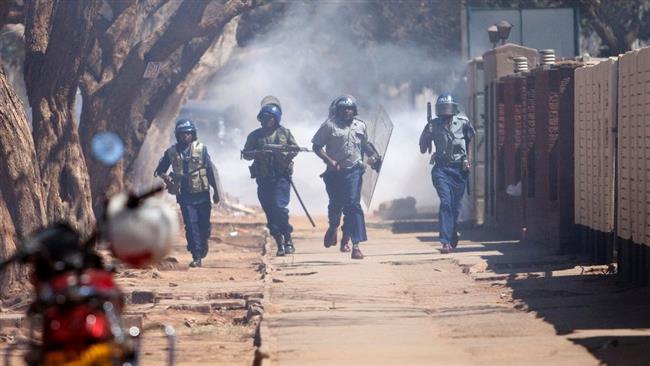 South Africa, Cape Town: burning barricades versus rubber bullets as cops demolish shacks
Nigeria, Benue: 2 students die as cops attack demonstration against exclusion from and cancellation of exam "…another student was said to have been hospitalised and two policemen injured in the clash while properties worth millions of naira were destroyed. The crisis was said to have broken out in early hours of Tuesday and ran through Wednesday evening. An eyewitness told our correspondent that among the properties destroyed were the school bakery, bursary, ranch and pen house…. immediately the protest commenced, policemen stormed the school premises firing teargas canisters and shooting sporadically. He said, 'In the process, a student was hit on the chest and he died instantly while another died at the hospital."  As the crisis raged on, hoodlums known as 'Shawa' were said to have entered the institution to dislodge the students but they were overpowered by the students.  The authorities of the polytechnic, however, had since shut down the institution and also announced the outright cancellation of the examination. Angered by the cancellation, the students were said to have regrouped and embarked on a massive destruction of the school property. Miscreants and students overpowered policemen during a peaceful protest in the school and in the process, two police officers were injured and six vehicles, one belonging to the police, were damaged"
Bangladesh, Chittagong: beautiful fiery factory girls: 20; ugly foul insecurity goons : 30 
"We tried to disperse the workers peacefully when they attempted to vandalise public properties. They attacked us at that time."
At least 20 pigs, including the Assistant Commissioner, were injured. Around 30 workers were also injured during law and disorder enforcement. Scum detained around 110 workers, most of them female. The workers said that after shifting the factory at Uttar Kattali area some female workers were harassed by some outsiders. The matter was reported to the bosses but they did not give a flying fuck. For this sexist bourgeois impertinence, the workers demanded the whole factory be shifted back to its previous place. Probably a strong flavour of the old revolutionary slogans 'Be realistic, demand the impossible!' and 'Less work, more pay!' prevails on the proletarian side of the barricades. All the same, the whole situation is a vivid demonstration of how the triple dialectics of sex, race and class twine inseparable. [SK]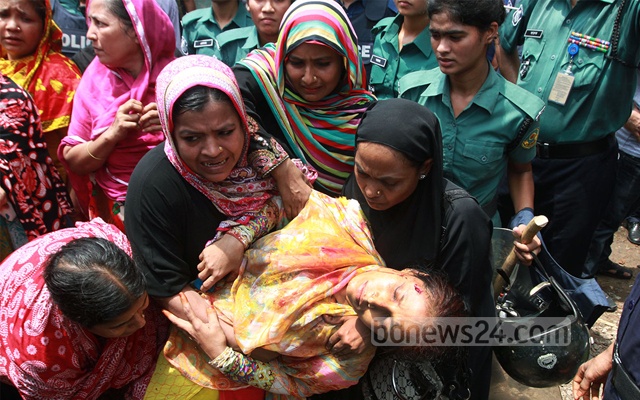 France, French state plans massive insecurity drive in schools for beginning of September, using terrorist threat as pretext for even heavier control of the institutions of miseducation "Over 3,000 reservists of the police will be mobilized for the next school year…To prepare the staff and students in crisis, three simulation exercises will be conducted in each school, including providing for an "assassination attempt"….As part of this preparation for the terrorist threat, the Ministry of Education provides training for students, appropriate to their age and understanding of events. For younger people, it will not raise the subject directly… For older ones, the subject will be addressed more directly…. Three new police centers will be open to welcome teachers, principals or school inspectors….The Minister of Education said that 50 million euros will be devoted to the issue of the security of the institutions, in addition to 70 million already paid as part of Interdepartmental Delinquency Prevention."
Mexico: Report of how Mexican state is building up to a major confrontation with the teachers' strike
23/8/16:
South Africa, KwaMashu: nurses wildcat strike… Eastern Cape: students disrupt four universities demanding free miseducation… Mamelodi: roads barricaded in anti-eviction action after more than 2000 vacant houses occupied
Argentina, Buenos Aires: unemployed block both sides of major motorway, clash with cops and drivers (in Spanish) Unemployed people who set up barricades throughout the country, known locally as piqueteros, were (along with the workers who occupied the factories) the most radical section of the population during the 2001 crisis. From the little that I know of developments since those days, it seems that many if not most of them were co-opted via systems of patronage, as with much of the popular movements elsewhere in Latin America during the 'pink tide' that swept leftists governments into power throughout the continent. [SK]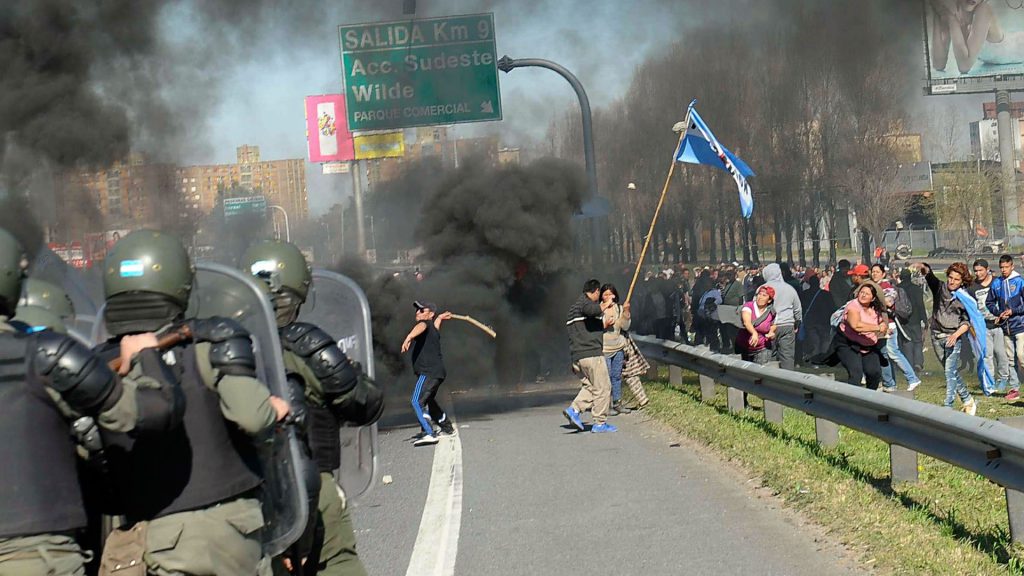 Interestingly, of the four stone-throwers in this picture, three are women
DRC: nationwide general-strike dismissed by debonair riposte "The strike, according to reports, was most successful in Kinshasa, which has a population of at least 11 million. Business activities were also slow in Goma, the main trading centre in the east. Kabila's government, however, dismissed Tuesday's strike as the work of 'radicals having some old fashioned fun'".
Bolivia, Panduro: new clashes between cops and miners "Security forces and protesters reportedly traded tear gas and dynamite amidst the scuffles. Speaking to media, police commander Juan Torrelio said nearly two dozen officers were injured in the clashes. Reports say ten miners were also detained. The protesters accuse President Evo Morales of heading a "neoliberal" economic agenda in the Latin American country. …So far, 11 routes across Bolivia remain sealed off in protest to changes to Law 356, which prevents the miners from signing contracts with private sector companies. The miners argue that the amendments undermine their rights."
England, Essex: demonstration ends in drunken brawl "A Class War demo outside Boris' Islington home earlier in the month ended in a fight with some drunken tosser estate agents, who subsequently lost their jobs. According to the mainstream media, the local branch of 'upmarket' estate agents and uber-gentrifiers, Foxtons – whose windows have previously been a target of protests – had decided to close early over security concerns"
22/8/16:
Chile: ove a million march against the continuation of Pinochet's pension privatisation misery
Togo, Zegle: demonstration against forced displacement because of phosphate mining  ends with cop dying "…their demonstration to demand better living conditions at the new site, where they were moved to, led to  a confrontation  forcing police and security to use tear gas to disperse the protesters…According to the testimony of a parent of the injured, this event, which initially was not intended to be violent, was to demand rights that have not been granted, to facilitate travel from one place to another. "There is no school, children are forced to travel  distances to get to school…There is no water. Some are bitten by snakes … some resulting in death. For this coming school year, we asked for a school. But as we approach the fall  nothing has been done."
Canada, Quebec: an appeal to spread the US prison strike to Canada
South Africa: sabotage continues in Telkom strike "About 13 200 Telkom customers and businesses have been affected by acts of sabotage against the company's facilities. Eighty-five street distribution cabinets have been damaged in the past five days, mainly in KwaZulu-Natal and Limpopo, but also in Gauteng towards the end of the week….Jacqui O'Sullivan, Telkom's managing executive of communication, condemned the incidents as examples of "ongoing acts of intimidation by the Communication Workers Union (CWU) with the spike in sabotage related to the past three weeks of industrial action"….When caught, the perpetrators would face the full might of the law. She cited a case in Boksburg, in February, when a copper thief, Paul Mathonsi, also known as Sambol Sambane Nyalunga, was sentenced to 106 years in jail in terms of the Criminal Matters Amendment Act….The 106-year concurrent sentence was handed down as an effective 25 years. While the sabotage continued, she said, the protesters were also committing violent acts against non-striking members with a CWU protester throwing a brick at the car window of one of the non-striking employees as the employee was leaving a Telkom facility in Randburg. The protester was arrested. On Thursday, in the Western Cape, a number of non-striking technicians were sent threatening texts in an attempt to get them to join the strike. On Friday, Telkom took out a contempt of court order against eight of the 870 striking union members for defying last Monday's urgent interdict by the Labour Court prohibiting the CWU and its members from blockading Telkom entrances and exits, intimidating working employees and damaging any Telkom facilities and equipment. "
Australia, Sydney: students occupy Arts College in movement against cuts "We have a bucket people keep sending stuff up with, like cookies, cake and pizza,"
France, Villeneuve-Saint-Georges: 4 people, high on Dutch courage, attack police station…Essonne: cops attacked with heavy duty fireworks…Mantes-la-Jolie: cops ambushed by about 30 stone and brieze block throwers following chase of stolen car; car burnt
21/8/16:
South Africa, Durban: national highway barricaded by crowd of hundreds three times over the course of several hours…Limpopo: shops looted and roads barricaded as residents 'go on the rampage' against police 
Israel/Palestine, Jerusalem: orthodox anti-Zionist Jews riot against the Israeli state (video)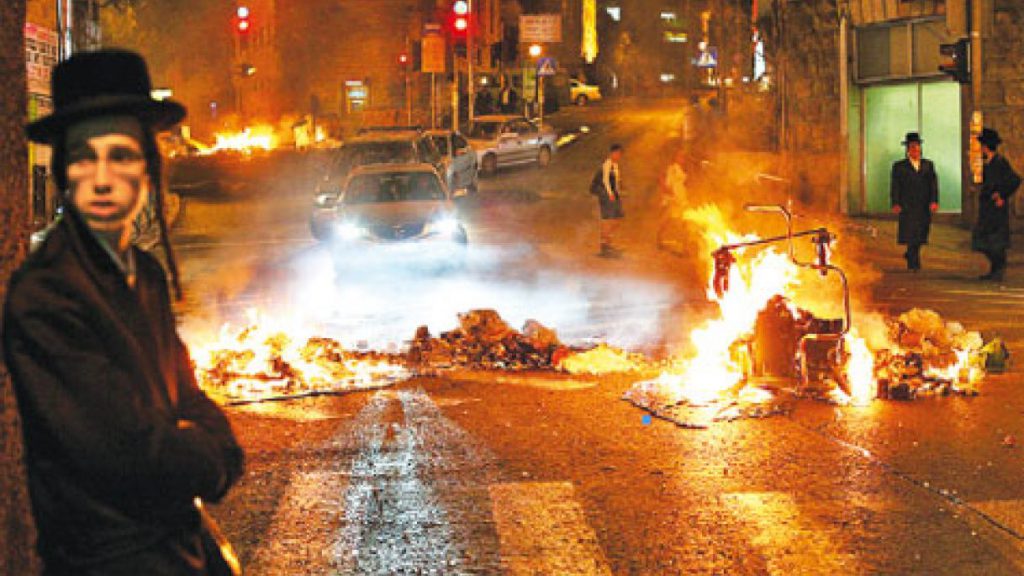 "Several dozen ultra-Orthodox protesters clashed with police Sunday as they demonstrated outside the Jerusalem army recruitment office against the arrest of a yeshiva student who failed to show up for his enlistment…Later on Sunday evening, Haredi protesters in Jerusalem blocked off the Mea Shearim neighborhood, while demonstrators in Beit Shemesh pushed dumpsters into the street, blocking traffic, and hurled stones at police officers. Last Thursday, hundreds of demonstrators in Jerusalem and Beit Shemesh torched dumpsters and threw rocks at police officers in protest against the same arrest. Seven were detained in the capital and one in Beit Shemesh. Many in the ultra-Orthodox ("Haredi") community shun the mandatory national service that applies to most Israelis, and the community has historically enjoyed blanket exemptions from the army, in favor of religious seminary studies. 
Police have sporadically detained ultra-Orthodox draft-dodgers in the past year. In July, five Haredi demonstrators protesting the IDF draft outside a Jaffa courthouse were arrested. At the end of the mostly peaceful protest, some of the demonstrators attacked policemen, overturned garbage cans, blocked traffic, hurled eggs and stones at cops, and flipped over two motorcycles, damaging them, police said at the time. There were no reports of injuries. Reforms passed in the Knesset in 2014 that sought to do away with the exemptions and gradually increase ultra-Orthodox recruitment met fierce opposition from many in the community."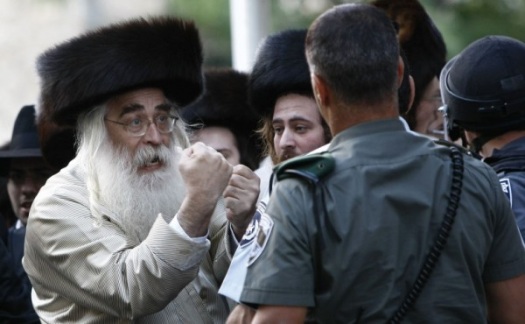 The Ben Torah, as they call themselves, are a very interesting phenomenon in the region. To clarify the terminology: Haredi Judaism, Hasidic Judaism, and Orthodox Judaism are all names for different religious movements within the Jewish faith. The three can be looked at as a family, with Haredi Judaism existing as a subset of Orthodox Judaism, and Hasidic Judaism existing as a further subset of the subset. Hasidim, the mystic branch of the religion, share similarities with Sufism in Islam: an emphasis on mysticism as a communistic social-relation (e.g. the dreadlocked Baye Faal Sufi order of Senegambia) rather than an individualistic head-trip, a certain anti-authoritarianism, and a certain literary quality (tales of the Sufis and of the Hasidim are both often humorous and supra-logical).
Besides resisting conscription and denouncing the existence of the State of Israel as idolatrous (which it is, like EVERY other state), the Haredim also have the highest unemployment and birth rates of Israeli citizens, and their constituency plays a swing-vote role between the two major political parties in the electoral system. Other practical opposition to the state manifests in their refusal to send their children into the secular compulsory miseducation system, and the refusal of their own schools to impose standardised testing on their children. It is hardly surprising therefore that "A study in late 2006 claimed that just over a third of Israelis considered Haredim the most hated group in Israel."
Their estimated global population currently numbers 1.3–1.5 million and, due to a virtual absence of interfaith marriage and a high birth rate, their numbers are growing rapidly. Their numbers have also been boosted by a substantial number of secular Jews adopting a Haredi lifestyle. The chief political division among Haredim has been in their approach to the State of Israel. As with most radical movements, one branch is made of sell-outs who collaborate with the state blubbering about moderation and pragmatism in excuse for spinelessness, and the other is made of those who refuse to prostitute themselves out as hypocrites for the sake of an ease and comfort suitable to courtesans rather than free men and women.
As of 2012 it was estimated that 37% of Haredi men and 49% of Haredi women were employed. The most recent figures from the Central Bureau of Statistics on employment rates place Haredi women at 69.3% comparable to 71% for the women's national figure, whilst working Haredi men have increased to 44.5% but still fall far below the 81.5% for the national picture.
It is estimated that half as many of the Haredi community are in employment as the rest of population. This has led to increasing financial deprivation and 50% of children within the community live below the poverty line.
There are, of course, plenty of less than exemplary, not to mention plain reactionary tendencies at work among every existing social sub-category of the human species. Maybe most glaringly among the Haredim and many other religious traditions, the patriarchal sexual morality at play here seems more than a little outdated. Far from a move that liberates women from the bonds of domestic slavery to leap into the mystically superior shackles of wage-slavery (as in the Gospel of mainstream feminists), the dramatic decrease in the percentage of unemployed women relative to that of men more likely means that young women are increasingly being sent off as breadwinners (maternal duties devolving onto grandmothers, as is often the case among the poor in South Africa) while males remain at leisure to commune with THE LORD.
Other than their solidarity, bravery, consistency, voluntary poverty & spiritually employed economic unemployment, what is possibly most outstanding about these admirable people is the fact that they are able to marshal enough buying-power to dictate business policies, despite their poverty (more than 50 percent live below the poverty line and get state allowances) and their statistical minority (7% of the population). For this reason, some companies and organizations in Israel refrain from including women or other images deemed immodest in their advertisements to avoid Haredi consumer boycotts (very widely used — and often effective — tactic in the South African struggles of the 1980s). Through the organisation of volunteer medical associations they make a major contribution to the healthcare services of the state — and so benefit themselves, considering the poorest rely most on state facilities. [SK]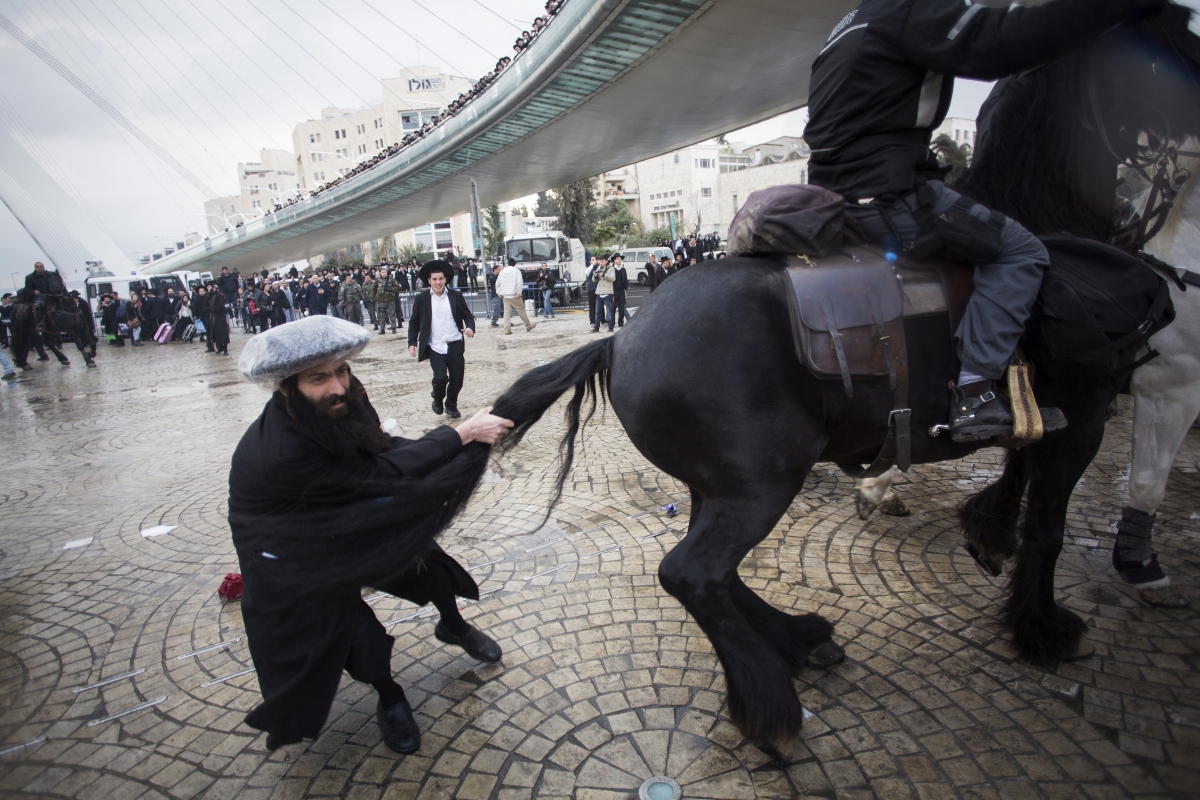 Discussion about this added on 7/9/16:
A Jewish woman I know objected to this verbally over the phone and I got in contact with a Jewish guy (who wrote this about the riots of Ethiopian Jews last year), who said: 
"I have to say i'm not a big connaiseur of jewish theology and branches,
yet i have to say that presenting the hasidic movement as a subversive
movement is a mistake. They are ultra-orthodox and intolerant like the
others. Their only real difference is that for them religious practices
have to be done as a party (dancing, chanting, etc.), but that doesn't
make them more friendly at all !
About the Haredim in general, they are not ALL against the state of
israel, it's more complicated and diversified than that. Also, the reason
why some of them are against the state of israel is not a good reason from
an anti autoritarian point of view. They are against the state of israel
because it was created by man and should be created by god with the
arrival of the messiah, wich stays unclear in SK's note.
The whole note seems like an apology of the haredim, this is very weird
and problematic.
Also, most of the haredi are forbiden to work, because they have to study
and focus themselves on Talmud everyday. That's why, most of the time,
only women works (several jobs at a time… treated like slaves while
giving birth almost every year…). The statistics in the note may be
true, but they should be verified.
But the most important thing, is that unemployment in the Haredi community
is volontary, its not for economic reasons, like the note would leave us
guessing. Also they receive a shitload of money from orthodox around the
world and evangelists from america.
Most of the bullshit said in the last paragraph of the note about the
haredi could be applied to an anti-capitalist support of Daesh!!"
SK replied:
"My sympathies are with the militant atheism of your/our comrade. There is every reason to oppose religious sects especially in countries like Israel, Iran and the Spain of the 1930s, etc, where clerical authority also involves real political authority. However I try not to react against these things in a way that just becomes an equal and opposite dogma….
If my comments seem to present the hasidic movement as subversive that would indeed be a mistake. All I wanted to do was to contextualise those particular riots as a specific, contradictory an by no means totally subversive MOMENT, alongside all other such equally contradictory moments we document on this site.
It seemed particularly important to do so as the assumption might
otherwise be (I myself thought this before looking into it) that these
were people who supported the state of Israel (and by extension its
army) but just wanted to get out conscription for some reason. If such were the case, I don't think such opposition would belong on this site at all.  
There was also a fair bit of irony in my comments which could easily be mistaken for unqualified praise. My note does not leave anyone guessing about the reasons for unemployment — it specifically lists their 'voluntary unemployment' as one of their admirable qualities. Obviously, for those of us who believe in 'the right to be lazy' and the abolition of work, it is ironic that some of those who practice it should do so from perspectives so different to our own in many ways. But fundamentalism of all sorts, including the atheistic variety, unfortunately anaesthetises people to the subtleties, ironies, and humor of such 'ruses of history'. Probably the Haredim themselves would be scandalised to be associated with the louts, layabouts, and other lumpen elements praised by anarchists for their indolent contempt of alienated labour.  
Then again anarchists themselves are often far too rigidly schematic to appreciate how often more congenial versions of apparently religious unemployment can be to their own perspectives. The beauty expressed by Rumi, a Sufi Muslim (as I pointed out there are certain similarities between the some Sufis and some Hasidim) in the following poem is wasted on them, simply because it's made from the (clearly tongue in cheek) viewpoint of religious mysticism:
As for us, He has appointed the job of permanent unemployment.
If He wanted us to work, after all,
He would not have created this wine.
With a skinfull of this, Sir,
would you rush out to commit economics?
Now, I myself am as 'Muslim' as our comrade is 'Jewish', yet I don't
feel the need to express haughty and automatic contempt for all those
who take Allah seriously just because they may not be very tolerant or friendly towards me and my ideas. Maybe that's one reason why many anarchists aren't particularly friendly towards me and my ideas either, for that matter. As a matter of fact, militant activists in general have hardly got a sterling record when it comes to tolerance, even (especially!) for each other.
Again, my note specifically pointed out the inevitably problematic aspects of sexual division of labour among those who subscribe to a patriarchal ideology. Yes, the Haredim men's contemplation of God is supported by female drudgery, just as the radical academic's contemplation of her own navel is supported by the intellectual and manual drudgery of her inferiors. The point is not to condemn the idle from our moral high-horses, but abolish a world based on hierarchy and useless drudgery altogether. Unfortunately, the latter being so daunting a task, too many comrades prefer the former pastime, which is as easy as farting downwind.
Shalom"
The Jewish woman I mentioned at the beginning eventually wrote the following: " there is nothing subversive about trying to force all men to spend their time studying God – I exclude women because they don't have to bother their little heads with such weighty philosophical debate.  Their place is in the maternity hospital and making chicken soup in any spare moment."
I [SF] finally wrote:
"Whilst the actions of the Haredi come over as a subversive moment (I myself sent the original link, if I remember correctly), it's not like most of the subversive moments we talk about on the site. As I said in the original "News of Opposition" preamble: " What I automatically exclude here, given the attempt to focus on "independent opposition", are clashes in which either ethnic or religious or sport team or political faction fights seem to dominate." And there's a vast difference between a riot by an organisation of Orthodox Jews that has been going for over 150 years (and was originally set up to oppose any tendency towards secularism) which has a very rigid and entrenched hierarchy and riots involving people from very diverse tendencies, who could go beyond their very specific identities and experiences of alienation. So it's not like " all other such equally contradictory moments we document on this site. "
As for the " fair bit of irony in my comments which could easily be mistaken for unqualified praise. " – well, the irony passed me by as it did at least 2 other people I know, so it really was mistaken for unqualified praise. And the support for unemployment on the part of the men is a bit like support for unemployment amongst any aristocracy or royalty, since it depends on the intensification of exploitation of those lower in the hierarchy. I'm sure, like me, you've known people whose assertion of the "right to be lazy" meant refusing to do the housework and leaving it to others (usually women). I don't see "tolerance" for this kind of use of religion is at all haughty or expressing some automatic contempt. Criticising such attitudes, or ignoring them, is hardly some "fundamentalism of …the atheistic variety". It's fundamental, but hardly an ism.
You say, "the Haredim men's contemplation of God is supported by female drudgery, just as the radical academic's contemplation of her own navel is supported by the intellectual and manual drudgery of her inferiors. The point is not to condemn the idle from our moral high-horses, but abolish a world based on hierarchy and useless drudgery altogether. Unfortunately, the latter being so daunting a task, too many comrades prefer the former pastime, which is as easy as farting downwind. "
I would most definitely "condemn" such academics, and it's certainly not from a moral high-horse, but from a need to critique social relations, although that also presupposes some kind of "moral" attitude that's not at all like the hypocritical self-contradictory dominant "morality". This is a prerequisite for participating in a movement that tends towards abolishing a "world based on hierarchy and useless drudgery altogether. " And this task is not so daunting if one sees it not in terms of the final result but first of all as something which can immediately involve a refusal of tolerance towards those people who maintain hierarchical relations in areas of life where they don't at all have to. (When I say "immediately" I don't mean literally from one second to the next, but over a period of time between critique and the possibility of change arising from such critique, ie progress over time) . Moreover, it's not in any way as easy as farting downwind and dismissing it as a"pastime" comes over as a bit like condemning from a moral high-horse.
There's a bit of defensive intellectual contortionism in your reply. And it's rather ungenerous towards to the 2 people who felt angry enough to respond to the bit you wrote, to dismiss their attitudes as "fundamentalism". We who wish to oppose this world certainly need to develop a critique of religion not from some crude atheism but from a recognition that all entrenched ideologies and theologies maintain individuals in their complicity with this society, with their misery, whilst at the same time recognising that religion, as well as dogmas of other varieties, contain elements of subversive desire in an utterly conservative and miserable form: " the heart of a heartless world…the soul of soulless conditions….Critique has plucked the imaginary flowers on the chain not in order that man shall continue to bear that chain without fantasy or consolation, but so that he shall throw off the chain and pluck the living flower."
I think in future it might be best when putting up something about things we don't know very much about that we make clear that any remarks are tentative and coming from a distant relation to the subject, that we are prepared to admit that we might have got things wrong. For the moment I'll put up the various remarks about this under the entry for the 21/8/16 and on the "What's New?" page. But I don't seriously want to continue with this discussion unless you or others provide some new insights or research into this particular religious grouping ."
19/8/16:
Brazil, Rio: report on occupation of schools against Olympic spending Interesting report, but focuses far too much on one individual "leader", albeit only 16 years old and despite the fact that he says ""We all are the head of the movement," Grecco said. "There's no such thing as one main leader. I didn't start the occupation alone, all of us did it together … and I was just there to not let anyone give up, just as they were there to not let me give up." 
Colombia, Caqueta: house of petrol company doing seismic work  burnt down during protest against it by local peasantry
France, Cantal (Aurillac): festive confrontations with cops at festival "Clashes broke out Friday in the late afternoon between security forces and hundreds of festival goers…between 300 and 400 festival-goers demonstrated against the police presence and security measures imposed on this festival, especially against the searches at the entrance of the city center… For the demonstrators, the police presence "changes the tone" of the festival…In the city center of Aurillac, protesters set up barricades, stoned cars, lit fires and attacked shop windows….A hundred demonstrators forced the end of police roadblocks in the afternoon…The police retaliated launching teargas grenades."

More here in English 
…Givors (close to Lyon): firemen stoned whilst putting out car fire after 2nd night of attempt to burn annex of town hall "Since the beginning of summer, vehicles and dustbins have been burnt, even a school has been the target of molotov cocktails"… Savoie: firemen stoned after bins set alight following arrest of 16-year-old
20/8/16:
UK, Edinburgh: 3 screws' cars firebombed
18/8/16
Chile, Santiago: anarchists detonate explosive on bus I don't think it's the place of distant observers to judge, applaud or condemn those who carry out such actions. I do think we can usefully compare the aims and methods of such comrades with our own and those of other proletarians. In the pages of this site hundreds, possibly thousands of examples will be found of incendiary attacks against "the machinery of the social order". Two major differences will be seen between the vast majority of such attacks and those such as has been executed by the Chileans and those like them. Firstly, most attacks take place in the context of some sort of more or less public collective struggle within which they are comprehensible other sectors of the population (opening the possibility for extension of resistance via solidarity); secondly, which follows on from the first, most such attacks are strategically directed: care is usually taken to avoid harming other proletarians and their livelihoods as much as possible, and to hurt the servants of repression as much as possible. I don't know who was on this particular bus, but know that attacks by other groups, in Mexico for example, have declared their indifference to who is harmed by their actions in favour of 'indiscriminate attack'.
I'm not sure whether it's accurate to say such people adopt the role of 'specialists of violence' — I know little to nothing about them — or whether this is always necessarily a bad thing, but from their public words and actions, they do seem to adopt a special mode of opposition as distinguished from most participants of working-class struggle. [SK]
Whilst I have no problem with many of the actions of "insurrectionist anarchists" (though I'm utterly opposed to anyone expressing indifference about who is harmed by these actions), the main problem is that their ideology prevents them looking at much outside of their international circle of insurrectionists; and they usually ignore other categories of struggle, particularly the more obviously work-based struggles. Their attitude tends to be some kind of purist "us against the world" take on things, which prevents them seeing not only some of their own contradictions but also what is subversive in struggles that don't have this explicit perspective, and thus also potentially escaping from their ghetto. As for SK saying "I don't think it's the place of distant observers to judge, applaud or condemn those who carry out such actions.", this seems kind of self-contradictory as he has just done that albeit in an undogmatic way tempered by tentative and  hesitant suggestive insights. On this site, we always, insofar as we have some understanding of events in which we're not directly involved,  offer some element of judgement, applause or condemnation, though we try to avoid any categorical dogmatic stance about such things. [SF]
Zimbabwe, Harare: cops attack small anti-Mugabe protest.. and leave alone a much larger demonstration by thousands of women in favour of free education 
South Africa, Mtata: cops shoot at students in second day of protests "Police had to use rubber bullets after they [protesters] went around forcing children out of schools in the vicinity and blocking the road"… union condemns masssive sabotage of Telkom (national telecommunications network) during strike "On Thursday, Telkom put up a R500 000 reward for information regarding the sabotage of numerous facilities around the country. The reward comes amid a strike by the Communication Workers Union (CWU), which allegedly turned violent this week. But CWU President, Clyde Mervin, told Fin24 by phone that the union was not aware of the sabotage of any facilities…."… KwaZulu Natal: pupils torch cottage after sex video involving teacher and pupil goes viral In response to a couple of objections to the inclusion of this, based on the recognition that the moralistic objection to consensual sex after the onset of puberty between "underage" teenagers and adults is usually reactionary and often fascistic (see this, for instance), SK wrote the following:
Given the hierarchical power relations between teachers and pupils in high schools (particularly pronounced in SA where the authoritarian atmosphere is pronounced — hence the recent protests against disciplinary codes that control the minutest details down to hairstyle, fines for late-coming, routine corporal punishment — all of which are worse in rural areas) the possibility of a free relationship in this case is close to zero. Also, given the ubiquity of transactional relationships between males and females in this country, even if it was technically consensual there is a good chance sex was exchanged for favours (good marks in tests, etc) which teachers are able to offer due to their dominant position over pupils within the institution.
France, Cantal: anti-fascists piss & shit all over Front National offices; furniture smashed, front window completely destroyed, chairs stolen, texts and posters destroyed, graffiti like "here is the theatre's urinal" painted on walls Apparently when the cops launched teargas grenades, more than 100 people spontaneously picked up scattered cardboard posters and everyone together wafted them up and down in the air so that the teargas clouds retreated back towards the police lines. Afterwards someone put up some large graffiti saying "One solution – ventilation"[SF]
…Melun: cops stoned during arrests following "rodeo" (car racing) of stolen cars
Ghana, Donkorkrom: police post and cop vehicles destroyed after cops apparently allowed to escape after arrest for robbery "The Ghana Police Service has withdrawn all personnel stationed at Donkorkrom in the Eastern region due to the destruction caused to a Police post and its properties in that town. The decision comes after residents in Donkorkrom torched the Police post and police vehicles in protest of two police officers who escaped after they were arrested for their involvement in the robbery on a GCB bullion van in the region. Residents who suspected that the police officers were deliberately let off the hook, angrily attacked the police station and demanded the transfer of all personnel in the town. "
Colombia, Popayan: government property damaged during riot of unemployed teachers
Nigeria, Abeokuta: radical mass-movement unleashes practical critique of compulsory miseducation "For over five hours, the students took to the Alabata road and Abeokuta – Ibadan road and helped by people suspected to be street urchins and miscreants, they set ablaze nine vehicles, vandalized scores of others in their trail. The church where FUNAAB Vice – Chancellor, Prof Olusola Oyewole is the founder and General Overseer, and located few metres away from the Headquarters of the Ogun State Command of the Nigeria Police Force (NPF), was not spared of the students' wrath." No explanation for this riot… prison riot leaves 13 prisoners and 1 screw dead  "… the inmates rioted over alleged poor meals served them by the prison officials…. the inmates allegedly snatched a rifle from one of the guards in the prison yard and purportedly shot some of the prison officials which provoked the officials into retaliation."
UK, Bridgend (Wales): prisoner starts 3 fires
17/8/16:
Germany : claimed attacks against AWO, which manages migrants' housing and takes part in deporting them (in french)
Spain, Las Palmas: man goes on rampage in police station "There was damage to three motorcycles, one inside door and an outside door, as well as fire extinguishers and furniture; he also caused damage to other property outside municipal ownership of the offices of the local police, where he broke a glass door and two vehicles in the street and in a  privately owned building."
Colombia: report on the contradictions of  state crack-down on coca growers' movement involving over 100,000 protesters blocking roads in 75 locations (videos)
Mali, Bamako : 3 killed by state as barricades are built for protests against arrest of anti-government activist and other stuff "Police had arrested Bathily, nicknamed Rasbath, two days earlier on the charges of breaking public morality rules due to his polemical presence on local radio and his frequent attacks on the policies of the government of President Ibrahim Boubacar Keita…. The Wednesday protest was also fueled by public discontent in the West African country over corruption, unemployment, the costs of living and insecurity blamed on years-long violence over ethnic divisions and al-Qaeda-linked militancy in the north."
South Africa: Telkom, national telecommunications provider, sabotaged in various parts of the country – probably linked to strike, though union condemns it "CWU President, Clyde Mervin, told Fin24 by phone that the union was not aware of the sabo-tage of any facilities. "While we are striking, members are following the law. We went on strike legally. If it is found that any members of the union have been involved in the incidents we will deal with them,"  Telkom said that its facilities in Midrand, Pretoria West, Silverton, Durban, Pinetown, Pietermaritzburg, Makhado and Messina, were targeted on Wednesday.…"Cables have been cut to cause maximum damage. Entire street distribution cabinets' which are located in neighbourhoods to serve multiple streets at a time' have been ripped apart and' in a few instances yesterday' set on fire." O'Sullivan said in the statement that "at some sites' specialist equipment was required to access the fibre cables and the criminals were clearly using equipment that is not commonly available"…. On Monday, Telkom secured an urgent court interdict against the CWU after allegations of violence and intimidation surfaced regarding the strike against the company. The Johannesburg Labour Court ordered that CWU restrain its striking members from certain "illegal activities". The court also ordered that CWU members refrain from "blocking Telkom entrances" to its premises in all provinces, interfering with business operations, and threatening non-striking staff. The dispute between Telkom and the union stems from a failure between both parties to reach an agreement this year over a 'Performance Pays' incentive and annual salary increases."
US, Denver: sign of the times…Milwaukee: podcast about riots and some videos and report … 8 commercial fires reported
From an email:
"heard from friends … that while police have put down the clashes in Milwaukee, fires have been continuing but aren't  being reported.  And this troubling phenomenon of internet nerd "alt-right" "journalists" turning up everywhere continues – apparently one of the only confrontations on Monday night was unmasking some alt-right video blogger and physically driving her off."
France, Meuse (Bure): 6 rocket fireworks fired at low flying cop helicopter surveilling eviction of anti-nuclear occupation…Grande Synthe: motorway blocked in both directions by 150 migrants…Tarn: 4 ATMs sabotaged in solidarity with those arrested for bank robbery in Aix-la-Chapelle
Turkey: state shuts down opposition paper during ongoing post-coup repression "Özgür Gündem began publication on 14 May 1992, at the height of the 1990s' violent conflict in the Kurdish region. In that context, wherein the production of any non-official knowledge on the Kurdish issue was punished under a draconian State of Emergency Rule (1987-2002), the newspaper provided the only alternative, non-official public information on gross human rights violations and struggles in the region.
Hence, the daily was the target of an unremitting campaign of judicial and paralegal state violence and intimidation. Twenty seven staff members of Özgür Gündem, including journalists, distributors and writers, were murdered over the first two years of its publication, mostly in acts of extrajudicial execution. Out of the 580 published editions of the newspaper, 486 were seized on court orders."
What could better illustrate the real significance of the War on Terror than newspaper whose producers are murdered by state terrorism is banned for propagandising terrorism? Yet it's unlikely we will see patriotic "I am Özgür Gündem" demonstrations anytime soon.
As a small expression of solidarity with the victims of (soon to be EU?) Freedom & Democracy, Law and Order in Turkey, I've undertaken to revive the "President Erdogan offensive poetry contest" that was held a while ago by a certain UK publication in response to censorship in Germany executed on the Emperor of Byzantium's orders.
There are only two rules of the contest. 1) limericks must be obscene and 2) they must be defamatory.
Readers are encouraged to send in their insulting limericks via the comments box. The winning poet will receive an artisan molotov cocktail making kit in the mail, complements of a generous anonymous donor.
To kick things off here is my contribution:
The Mullah Chews Over Law and Order
The Mullah of Constantinople
Must mumble: his foul mouth is so full
Of shit when he talks,
And that's why he stalks
All those who speak clearly – the bold fool!
Pretty tame, as far as it goes, but that's cause I want to encourage others to surpass my stodgy efforts. Do your worst – and send them to your local papers! [SK]
South Africa, KwaDwezi: three shops looted during demonstration against infrastructure project
16/8/16:
Sweden: car fires throughout country "Dozens of vehicles were set alight overnight in towns across Sweden.  Cars were torched in Malmö for the ninth consecutive night."
Benin, Abomey-Calavi: clashes with cops at university campus over suspension of students; exam room covered in shit
Argentina, Buenos Aires: activists occupy main square in protest demanding release of indigenous prisoner on hunger strike
Guinea, Conkary: young man shot dead as 500 – 700 000 demonstrate against corruption, unemployment and poverty
Montreal, Canada : when nights falls, the bats come out to dance
Sierra Leone, Freetown: military curfew announced, three people killed by cops during riot against relocation of job training centre. "Police in Kabala, Koinadugu district, said youth activists set fire to homes, burning two to the ground, while the protesters spoke of a peaceful rally, attended by dozens, that was fatally halted by bullets fired into the crowd… A police officer reached by AFP said anti-government demonstrators had attacked and burnt down the office of the ruling All Peoples Congress and his own residence. Local Unit Commander Superintendent Alimammy Bangura said he had been "reduced to a pauper" with his home razed to the ground. Police said an investigation had been opened and appealed for calm, announcing a curfew. Military reinforcements were sent from the regional capital, Makeni, and were guarding key institutions and facilities by nightfall. Around 70% of Sierra Leone's young people are unemployed or underemployed, according to UN figures."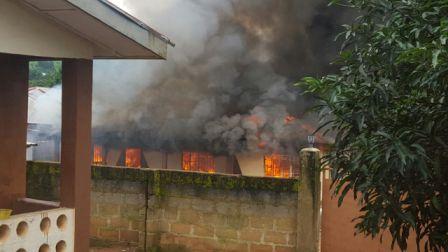 15/8/16:
Mexico (State of Michoacán) : normal school students demanding school posts block roads, fight cops and set vehicles on fire…lots of arrests   (in spanish)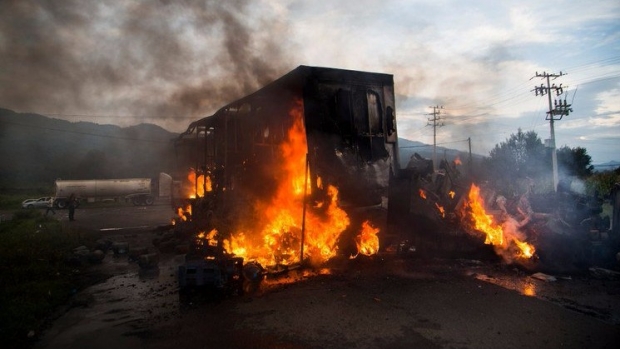 Sweden: spate of car burning  "In Husby, a suburb in northern Stockholm, emergency services were called at 2am to a parking garage. "There was a lot of smoke. Two cars were totally burned out. There were 47 cars in total in that part of the garage and most of them have sustained smoke damage…rescue service were also called out to Jordbro, a south-eastern suburb of Stockholm. "Seven vehicles were on fire in the centre there," said Olsson. In Malmö, which has seen a rash of car burnings in recent days, police received reports of cars on fire in nine different places in the space of half an hour."
France, Elne, south : more than 3 hectares of sunflowers plants genetically modified so as to tolerate herbicides destroyed by militants (communicate in french here)
Hong Kong: refugees clash with cops
South Africa, Inanda (KwaZulu-Natal): 19 arrested, roads barricaded, bus burned, cop shot "In a separate protest in Keats Drift, near Msinga, about 150 protesters barricaded a road with burning tyres and rocks" More here: "protests raged across parts of Inanda' KwaMashu and Ntuzuna in KwaZulu-Natal on Monday. Dozens of people were reportedly injured when they clashed with police in protests against newly elected councillors… Schools were closed and a number of residents weren't able to go to work on Monday… By 10.45am' police resources were stretched' fighting sporadic protests in Maoti' where burning skip bins had been overturned. Roads were littered with rocks' smouldering tyres and ash. Ward 57 resident Nkosinathi Magwaza said the issue was with the African National Congress' which had fielded a councillor candidate the community did not want. "We can't be led by a person we don't know. All we hear is that he grills chicken at Nando's'" said Sphiwe Mdlolo' a protester at Ward 57' Maoti."
… Durban, Pietermarizberg & Johannesburg: three universities shut down, cupboard burnt in middle of road in fee protest
Mali, Bamako: street traders fight for their livelinhood against state evictions "Unhappy with the continued eviction operation, these young traders  managed to block the different routes into the Grand Market in Bamako. They burned tires and barricaded passages. …the police fired tear gas…. they retaliated by throwing stones. "We are not allowed to defend our survival. This is the beginning of a long struggle to tell the authorities that we do not agree with the operation of shame and disgrace… We will fight to defend our interests and our jobs. Mali belongs to us all and we are not bandits, but just Malians like others who want to feed their families."
14/8/16:
Mexico (Mexico City) : inmates of Teenagers' detention center block screws from entering and injure three of them (in spanish) Authorities say the action has to do with fights between prisoners, while it seems it has much more to do with the conditions of detention (or detention itself).
France, Meuse (Bure): 6 rocket fireworks fired at low flying cop helicopter surveilling eviction of anti-nuclear occupation…Grande Synthe: motorway blocked in both directions by 150 migrants…Tarn: 4 ATMs sabotaged in solidarity with those arrested for bank robbery in Aix-la-Chapelle
US, Milwaukee: 2nd night of clashes with cops (video)…Washington state: anti-cop graffti throughout downtown
Ivory Coast, Abidjan: clashes after cop killed having killed transport worker-driver
13/8/16:
USA, Milwaukee, Wisconsin: cop hospitalised, police car torched, after cop killing of yet another young guy "After the shooting, which occurred in a predominately African-American section of Milwaukee, protesters fired shots and hurled rocks as police attempted to disperse the crowd, which local media reported numbered more than 100. The windows of at least two squad cars were smashed, and one officer sitting inside one of the vehicles was hit in the head with a brick….Protesters set another police car on fire and a gas station ablaze. Fires broke out at least three other businesses, including an auto parts store…gunshots were fired from various locations during the disturbances."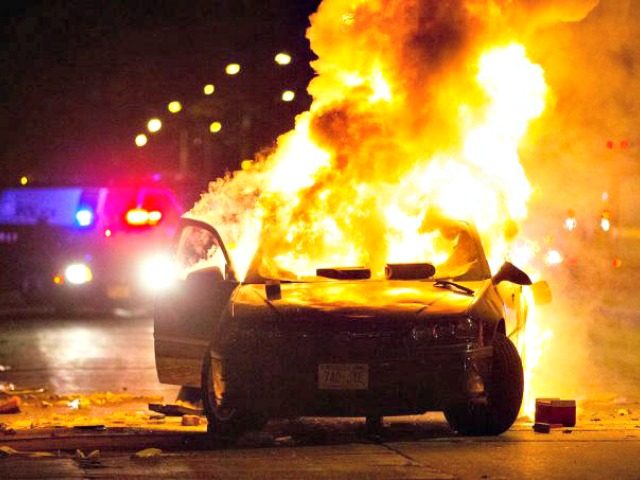 SK asked: 'for those in the US, what is the attitude in your experience of non-activist white people towards systemic racism and the struggles against it? I can say that in South Africa the attitude is still very much 'let bygones be bygones', apartheid is over now so stop dwelling in the past and 'playing the race card', etc. Of course dynamics are bound to be different here since blacks are a majority of the population.'
H replied: 'Regarding racism, that sounds about right on for here too. Though over the past few years, there's been a spreading sense of sympathy – I wouldn't say solidarity – for anti-police brutality activism. At least a passive sense of acknowledging "Black Lives Matter" as an important thing to do for a fairly wide swath of the white middle class.
I don't know much more about the Milwaukee thing yet, but it's worth noting that a bank was also burned and barricades were built.'
12/8/16:
Bolivia, La Paz: miners in heavy confrontations with state over lack of investment "Marching towards Plaza Murillo – the main square housing the President Palace and National Congress of Bolivia – protesters threw dynamite and police officers retaliated with tear gas. There were also reports of rocks being thrown at the protesters by police." If anyone can elaborate on the use of dynamite by Bolivian miners it would be appreciated. This seems to be a regular occurence during their struggles, with recent examples of dynamite being used to (forcefully) break in to buildings they intended to occupy. But it seems incredible that they could chuck TNT against the cops and get away with it! [SK] Video here.
Finally got a reply from my [SF's] French friend about the use of dynamite by Bolivian miners: "Arresting a Bolivian miner … I have trouble seeing that. Dynamite is part of their job. President Evo Morales  banned the use   in  protests a year ago. Of course, this prohibition is not respected. I'd say there are no arrests of miners or very few but there are  injuries and deaths of miners. Last year Bolivian miners killed a policeman by throwing him from the top of a mountain. Another policeman, I believe, was killed by  dynamite during a demonstration. It's very difficult to arrest Bolivian miners, the most combative sector, once considered the workers' vanguard. There are lots of  videos   available on the Internet showing  how   the last 20 years of protests in Bolivia,  and especially those of miners, have unfolded. What's more, miners are almost "untouchable" (except that you can kill them on demonstrations), having  overthrown two dictatorships in the past   (1951 and 1978 I think)."
More about Bolivian miners (and Peruvian cops):
"There was just one cop killed during the miners' strike a year ago: he was cast into the void by miners. Apparently no cop has been  killed (at least this time) by dynamite. An armed undercover cop with a gun was arrested by the miners   in La Paz 3 years ago during a strike – he was manhandled by the demonstrators. The riot cops and the police, from the little I've seen   in Peru, are pretty pathetic and the army is quickly sent in and anti-terrorist laws were passed allowing   a  state of emergency with curfew following 2 days of riots. Just a few months ago, the French CRS were sent to Peru to train their Peruvian counterparts in the management of   riots."
Sweden, Insjön: Sex pigs halt traffic after laser attack on Pokémon teens "It was Friday night in the village of 2,000 souls when two teenage siblings wandered out with their smartphones to play Pokémon Go. But instead of finding Pikachu or Squirtle they soon came face to face in the park with a couple who must have seemed scarcely more real. The teenagers' mother, who reported the incident to the police, told newspaper Dalarnas Tidningar: "They wore rubber masks depicting pigs' heads and they started screaming and waving a green laser."A laser beam hit one of the teens in the face and the children rushed back home, shaken but luckily unharmed. The masked shooters, who also wore T-shirts labeled 'King' and 'Queen', were next spotted by incredulous motorists as they had sex beside the hamlet's waterwheel. Traffic backed up on the highway as some drivers slowed down and others clambered out of their cars to behold the bizarre spectacle, one motorist told the paper. The police didn't care so much about the traffic jam, she said, but officer Daniel Hagthorpe was concerned about the alleged laser attack and public sex. "Pointing at someone with green laser can cause injury if it hits the eyes," he told Dalarnas Tidningar. And their waterwheel sex could be considered sexual harassment if anyone took offence, he added. The couple's identity and whereabouts remain unknown."
Italy, Genoa:  TV broadcasting masts sabotaged by 2 fires, claimed by anti-capitalists "Every regime needs its propaganda and its infrastructure. It is necessary to act to stop the false opposition  of the  "average citizen" against "refugees / illegals." Everyone is exploited, excluded and oppressed. The real enemy is the state, capital and alienation by the mass media. Clenched fists  to Marco, Gimmy, the AS2 held in Ferrara and Alessandria. Greetings to Vincenzo Pola and Gabriel, wherever you are."
11/8/16
UK, Wolverhampton: week of disorder as screws attacked and 'multiple' fires
Nigeria, Niger Delta: oil pipeline blown up, Chevron plant blockaded by displaced villagers
Brazil, Sao Paulo: students clash with cops over reforms which will see 94 state schools closed and 300,000 students relocated in order to make miseducation more compatible with modern capital accumulation "In recent weeks, Brazilian demonstrators across several cities have held protest rallies to vent their anger at political upheaval, corruption and overspending on the Rio 2016 Olympics." …Rio: report on the occupation of schools previous to the Olympics and the brutal repression of this movement " Just beyond the city's northern borders, a five-month strike by public-school teachers ended only last month, just in time for the games to begin. Of 166,000 teachers, 70 percent went out, confronting violent police repression in an effort to win a raise and confront unendurable working conditions that produce student-teacher ratios of 50-1.  What made this strike so remarkable was that it did not end on a picket line. Dozens of schools were occupied by teachers and students and for months, where they staged their own classes while union leaders negotiated their futures and the police knocked down their doors. … Rio de Janeiro state police alone have killed more people than the entire American police." This is taken from an obviously limited liberal-lefty standpoint which includes celebrating the fact that teachers can now elect their own headmasters/mistresses. We'd prefer it if it had been followed by a Brazilian equivalent of this [SF]: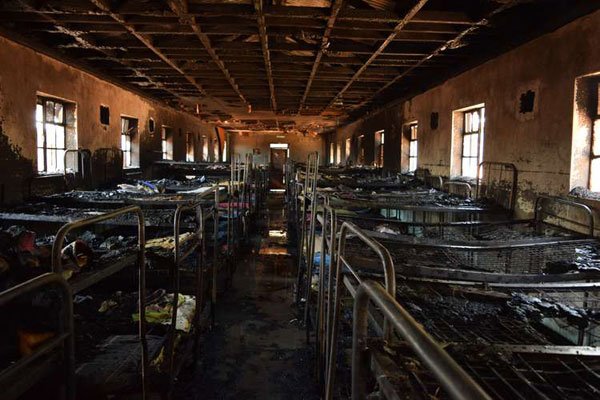 School's out, but the fire of our anger is not: one of over 100 schools hit by 'unrest' in Kenya as of 29 July 2016. A new day in the practical application of critical thinking? '"Critical thinking" is a term we hear frequently these days as a form of training which will herald a new day in mass schooling. It certainly will, if it ever happens. No common school that actually dared teach the use of dialectic, heuristic, and other tools of free minds could last a year without being torn to pieces.' (John Taylor Gatto, The Six Lesson Curriculum)
South Africa, Tshwane: municipal buildings wrecked and municipal vehicles torched in service delivery protest "…an evening of unrest and mayhem which resulted in the destruction of a municipal building, torching and damaging of municipal vehicles… residents had illegally occupied the vacant land parcels in Refilwe extension 5 and the land invasion unit of the Tshwane Metro Police Depart-ment (TMPD) subsequently issued notices to the illegal occupiers to vacate the land. When the request to vacate the land was not heeded, the TMPD enlisted the services of a private company to demolish 397 illegal structures on the invaded land on Thursday. "Incensed by the action, the illegal occupiers took to the streets yesterday and forcefully broke into a municipal housing building, causing damage to the structure … The angry protesters also torched six municipal ve-hicles and damaged four others, including a TMPD bus." Of course, as responsible citizens the editors of this page do not condone such heinous action. If people are to break into municipal housing buildings, clearly they should only do so unforcefully.
France, Toulouse: sabotage of nuclear power vehicles "On the night of August 10 to 11, we punctured the tyres of several "Electricity Transport Network" vehicles  and a vehicle of the SNCF [French national railway company], which amongst other defects, covets nuclear waste. The fight against nuclear power can be conducted anywhere at any time. We undertook this action to express our solidarity with the individuals fighting against the nuclear dump in Bure. Through this modest attack, we also salute the comrades accused of robberies in Aachen and the comrades of CCF, against whom the repression continues unabated."
Chile (Santiago) : barricades and clashes with molotov cocktails in solidarity with imprisoned comrade Tamara Sol   (in spanish)
10/8/16
Chicago, U.S.:  The Freedom Square occupation, outside the CPD's infamous "black site" for secret interrogations, enters its third week and calls a neighborhood demonstration on the anniversary of Mike Brown's murder by cops in Ferguson.… Indigenous occupation at Standing Rock against an oil pipeline – ongoing for several months now – moves towards blockading in response to a new round of bureaucratic approvals for the pipeline.
UK, London: delivery workers on wildcat strike… Good video here
South Africa, Eastern Cape: Mandealer's grandson shot in one of several violent protests that have broken out near Lord Nelson's in recent days
Ethiopia: state shuts down internet as protests continue "Scores of people were arrested in Ethiopia in a wave of anti-government protests that rocked the capital Addis Ababa and dozens other towns in Oromia and Amhara regions over the weekend…At least hundreds of thousands of protesters reportedly took to the streets in more than 200 towns and cities across Oromia, Ethiopia's largest regional state with over 40pc number of the country's over 100 million population, to demonstrate against the widespread and systemic prosecution. Human Rights Watch said over 400 people were killed while the government confirmed the loss of less than half of that number. In addition to the report from HRW activists are also documenting the death, injuries and forced disappearances of individuals from areas where protests are taking place. Hundreds of university students have also been dismissed from several state universities located in the region."
8/8/16
South Africa: four women stage silent anti-rape protest in front of President during speech on live TV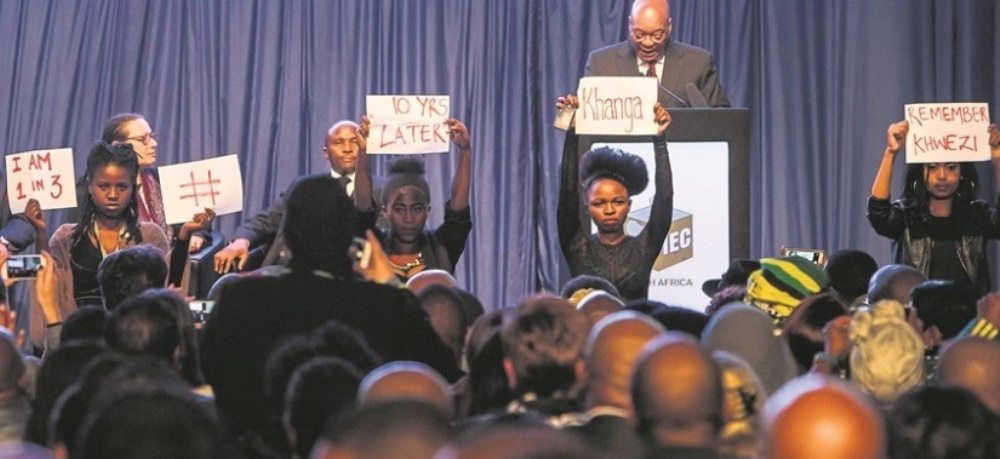 SK: South Africa is a world leader of murder, assault and rape, but we suffer this as a result of the pervasive demoralisation consequent upon the breakdown and disorganisation of formerly established social relations — notably the demise of communal struggle in which the frustration and anger generated by a miserable life was channeled towards revolt, and the decimation of the traditional patriarchal role of the male-worker which for my generation scarcely exists anymore.
This obviously only touches the surface of things, and mainly deals with rape as a function of the general violence inflicted on ourselves and each other. There's obviously much more to it than that. This article deals with some of the things, but for me seems very inadequate.
One idea occurred to me as I was reading an incredible report about illegal abortions and child abandonment (for example). South Africans all know this goes on very frequently as a result of the dodgy adverts that adorn every surface on trains and public spaces but I was still caught off guard to learn that at the moment there are an estimated 150 000 of these happening in this country every year! Apparently many babies survive these abortions because they are often last-minute affairs, leading to the stories of newborns found in bins and so on.
And all of this *should* be completely unnecessary. At the most basic level, there should be no reason for anyone to have unwanted pregnancies in the first place. Contraception is both legal and free. As you know the reasons why this continues to happen at such an immense scale in this country has to do with the powerlessness of females — specifically poor black females — over the basic conditions of their own existence, starting first of all with their own bodies. When the sex itself is not coerced, then the way they have sex is — leading also to the highest rate of HIV infection in the world.
At the next level, there should be no reason for those with unwanted pregnancies to need illegal abortions. This is also legal and free. From what I hear, however, the reactionary attitude of nurses at state clinics, who routinely condemn the sluttishnes of their patients, deters many from using their services.
Lastly, even when unwanted pregnancies result in babies, there should be no reason for them to get abandoned or murdered. But for thousands of people, giving children up for adoption is not an option. Again the reactionary nature of medical staff at state institutions has much to do with it. I heard of someone who went to an adoption agency and was told by a staff member there that her ancestors would be angry if she gave up the baby!
The following also seems symptomatic. Teachers are not the only older men girls are having sex with. I remember reading an article where teenage boys in the townships complained that they can't get girlfriends because they had to compete with men with money. And where there are such mercenary relationships and power differentials there is bound to be all sorts of coercion and expectations for adequate 'payment' in exchange for favours, a sense of entitlement and possible violence when this is rejected or disappointed.
SEX PUPILS ATTACK HEAD
Jan 31, 2011
"PUPILS at Mavalani Secondary School outside Giyani, Limpopo, went on the rampage, destroying property after accusing the principal of reporting that 57 of their schoolmates were pregnant. Eighteen pupils were subsequently arrested. On Friday pupils accused principal Meserea Mahungu of conniving with the media to expose teenage pregnancies at the school. This was after Sowetan published damning articles about the school's high pregnancy rate, with the youngest expectant mother being only 13 years old. It was also reported that parents of pregnant pupils were camping outside the school in case any pregnant pupil went into unexpected labour. Angered by the negative publicity the pupils turned violent and threatened to kill Mahungu. Mahungu had to be rescued by a heavily armed police contingent that went to the school to contain the volatile situation. A pupil said they were angry about the principal inviting the media without consulting them and their parents. "We had a standing agreement with the principal that issues affecting the school should first be discussed with the parents before being taken out for public consumption," Maluleke said. He said they wanted Mahungu to apologise but parents were divided about the matter. Mijhanji Makhubele said pupils were incited by teachers who had grudges against Mahungu and those who were responsible for impregnating pupils. School governing body chairperson Hlengani Mikhasi said pupils were influenced by people with their own agendas. The sentiments were also echoed by Limpopo provincial department of education spokesperson Pat Kgomo. Police spokesperson Lieutenant Colonel Ronel Otto confirmed that 18 pupils had been arrested."
***
All of which certainly doesn't amount to a coherent outline of the root-causes of the problem. But I'm not sure this is really possible — it definitely isn't for me anyway!"
SF responds: "Don't think it's possible to be precise about causes of rape etc. though you do give some reasons for it, though how the "decimation of the traditional patriarchal role of the male-worker which for my generation scarcely exists anymore." would effect the amount of rapes is not clear to me – is this causing anger towards women because it's easier to express frustration by picking on those lower in the hierarchy, a sense of impotence that wants to deny this sense by  expressing itself in the form of rape? Though rape has little to do with sex, more simply to do with a power game, albeit expressed in a miserable brutalisation of sex; which is one reason why chemical castration would not work even if we were in favour of it – the brutal violence against women would be expressed in some   way other  than rape."
To the above question, "…is this causing anger towards women because it's easier to express frustration by picking on those lower in the hierarchy, a sense of impotence that wants to deny this sense by  expressing itself in the form of rape? " SK replies:
More or less yes — masculinity traditionally being bound up with the bread-winner role. With half the young men in the country permanently emasculated in this sense via chronic unemployment, new forms of masculinity find expression through gangs & delinquency, with their consequent violence based on informal forms of employment and a stereotyped hypermasculinity usually directed against other young men. When men
1) live in an atmosphere where plundering the pockets of other proletarians & breaking their homes is a pervasive everyday occurrence, together with
2) a traditional patriarchal perspective that sees women as desirable objects, like sports cars, made for the gratification of men, and
3) lack reliable means of obtaining said objects via one or another form of legal or illegal work (whether as head of a working-class family or as a 'blesser'*)
it would be surprising if many did not pillage female bodies the same way they pillage the goods of their neighbours.
Although gangs obviously employ both stereotyped tough-guy roles as well as violence, most violence seems, like most rape, to be an interpersonal rather than professional (gang) phenomenon; it is a result of disorder rather than organised crime. It is ordinary guys who adopt these roles and kill each other. Of all the many violent deaths I have heard of in the townships, every single one was the result of petty personal arguments — bar-room brawls gone out of control, so to speak.
In other countries with comparable levels of violence, such as South American states, murders are the result of a highly developed illicit order running in parallel — completing and mutually reinforcing — the official order. Such is the case with the Mexican cartels and the Chavista paramilitaries. They thus offer a fairly reliable role for the distribution of power and resources (including females) to those who serve them. In South Africa violence seems to be mostly a result of disorder. Organised crime in South Africa does not offer a reliable role for men to fulfill their patriarchal role. Apparently, all it does is further intensify the chaos — adding a layer of substance abuse and desperation to an already miserable mix.
Of course, all of this is entirely anecdotal speculation. I don't know the statistics for gang-related murders vs. crimes of passion (if such distinctions are even made by police statisticians). I don't know how many women of different sociological categories are reportedly raped — their respective age, class, geographic distribution — nor do I know the sociological details of their alleged rapists. Everything I've written is based on impressions gained from living here for 26 years and a bit of incidental reading, much of it forgotten. So it is only fair to warn that I might be sucking theories & generalisations out of my thumb. Obviously, any serious attempt to address the issue would have to marshal the available empirical evidence, and if necessary generate new evidence where it is not yet available. But this is beyond my capacity at the moment, so I will have to leave it at that, however inadequate these random fragments may be.
* see https://www.enca.com/coverage/blessers
… workers at three power stations "with more set to follow" embark on illegal strike as 150 000 petrochemical workers enter second week of legal strike… Durban: national highway barricaded and cars stoned during anti-eviction action
China, Lianyungang: several thousand residents protest planned French nuclear waste processing facility
Ethiopia : at least 90 killed in protests
Chile, Tarapaca: eviction of illegal land settlers results in barricades and cops getting stoned etc.
Italy (Brindisi) : revolt in migrants detention center (in Italian with a few pictures)
England, London: Clapham turned into Wild West as rave turns into riot
7/8/16
Iraq, Zubair: violent clashes as protesters aginst lack of jobs block road to oil field
France, Oise: 5 cars burn on working class estate which has never before experienced such things
6/8/16
South Africa: insurance claims due to strikes and protests increase 90% compared to previous years
France, Paris: legal demonstration by undocumented migrants blocked by riot cops "Given the proliferation of informal settlements of migrants which are replenished regularly in northern Paris, the police, who have orders to dismantle them,have been using early intervention and strong-arm methods over the last few days… This Saturday, August 6, they [the refugees] shouted their anger in the streets. Despite the Prefecture's official authorization of the demonstration in Place de la Republique in Paris, they were blocked by riot police beforehand, in Flanders Avenue. Violence, arrests, beatings, tear gas. …. "350 people arrested in 4 days, 25 people hospitalized, 5 people in prison. Sleeping in the street is illegal in France today, when you are an asylum seeker, when one is undocumented. This is war," he says. Abudiana is Eritrean. He has been in Paris for only a week. "We, we came here to ask for protection, and make an application for asylum in France. And what I have suffered is an absolutely unspeakable violence. Every day, the police come and tear gas us. Every day at 4 am they force us to gather our belongings and make us leave"
5/8/16
Brazil, Rio: thousands protest Olympics opening ceremony…kids teargassed as protesters against Olympics burn Brazilian flag
England, London: four arrested as road to Heathrow airport blocked in Black Lives Matter protest "We call a nationwide #Shutdown: 05.08.16. #Shutdown racism. #Shutdown violence. #Shutdown borders. #BlackLivesMatter" The slogan Shutdown Borders seems to be indicative of a new direction "to end all deportations" taken by the movement, both in England and the US. Needless to say, if anything substantial comes of it, this could be quite a promising development.
Ethiopia, Gonder: two killed in clashes between cops and crowd bringing one of their comrades to court. "The issue boiled over into violence two weeks ago when crowds came out in Gonder saying they were protesting against an attempt to arrest Wolkayt campaigners. Government spokesman Getachew Reda said at the time six policemen were killed by the protesters and accused an "illegal committee" of stoking ethnic untest. The dispute, while centred on a relatively small patch of land, is particularly sensitive because it challenges a division of Ethiopia along ethnic and linguistic lines, imposed by the core of the current ruling EPRDF coalition when it came to power in 1991."
Italy/France: migrants break through Ventimiglia border… video here
4/8/16
British Columbia, Canada: An indigenous militant group, the Secwepemc Women's Warrior Society, blockade a mine entrance as part of ongoing land dispute.  Video here
3/8/16
South Africa, Limpopo: how to start a riot by answering your cellphone at the ballot box "A bizarre chain of events unfolded swiftly after a man answered his phone inside a voting booth at Xigalo Primary School in Malamulele' Limpopo' on Wednesday. Casting his vote escalated into a brawl' the firing of gunshots' theft of a weapon' a police chase' and a bystander being injured in a car crash."
Belgium, Hellemmes: 7 vehicles burnt out, including 3 vans belonging to Town Hall, being part of local state job creation scheme
Syria, Busra al-Sham: locals force rebel leader to leave town after violent protest
France, Calais: truck used by cops to block tunnel set on fire by furious migrants "…the French police placed a truck to block the migrants from entering the tunnel. This provoked a savage response from the violent outsiders. "The truck was set on fire last night, where illegal immigrants had set up a blockade, piled trees, stones and so on. After they began to throw bottles with an inflammable mixture to burn down the barricade, they also hit the truck." The language of this report clearly shows its stance: not that I care whether they're legal or not, many of them are clearly not "illegal" by state definitions of the term.

UK, Norfolk: prison governor beaten up in provoked attack "A prison governor has been seriously injured in an "unprovoked" beating at the hands of an inmate….Mr Cawkwell, who has held a number of senior positions in the prison service, has received hospital treatment for his injuries….There have been a number of reports of disruptions at HMP Wayland this year. In May, about 20 inmates were involved in a "food fight"which broke out during lunch, while two inmates attempted to grab keys from officers in a separate incident in June. Another HMP Wayland inmate was jailed in June for an assault on two guards, during which one was bitten, according to police."
Holland: 2-month area ban for anarchists
2/8/16:
Brazil, Rio: route of Olympic torch forced to change due to demonstrations "With just hours left before reaching Rio de Janeiro, the Olympic torch was targeted on Tuesday when new protests forced it to alter its route in the neighboring cities of Sao Goncalo and Niteroi. Protesters calling for a boycott of the Olympic flame clashed with police in Niteroi, a satellite city located off Rio de Janeiro …Police used pepper spray and arrested at least two protesters…While the organizers present the epic journey as an opportunity to ignite public enthusiasm, repeated security incidents have become the symbol of organizational failures and social unrest that overshadows the first Games in South America. As with the massive street protests during the Confederation Cup in 2013 and the World Cup in 2014, protesters calling for a boycott of the passing of the torch complain about the use of public money to organize such sports events, rather than being aimed at improving public health services, education and housing."
US, New York: occupation of city hall park (renamed "Abolition Square"),  in movement against killer cops, provokes resignation of chief cop More here
UK, Northumberland: an eye for an eye, a jaw for a jaw…screw finds himself in hot water "A prison officer has been left with a suspected broken jaw and fractured eye socket after he was attacked by an inmate….A prison officer, who asked not to be named, also alleged an inmate had thrown boiling water over another guard on the same day. The whistle-blower said: "We have lost control of the jail and there will be another major incident if something isn't done. … staff are scared to go to work."
France, Toulouse: about 40 youths attack forces of disorder and de-arrest scooter driver who ran into cop  "…a scooter was controlled by the police before scooting off, hitting one of the policemen. The young driver was immediately arrested. Following this eventful arrest, a crowd of 30 to 40 people  formed, and clashes took place with the  forces of  order who had to use tear gas. During the operation, and while the police were being stoned, the arrested individual managed to escape."
1/8/16
US, Alabama: prisoners take over dorm, set fires
Greece, Heraklion (Crete) : Incendiary solidarity with squats
Chile, Santiago : coordinated blockades of streets and attacks on cops in solidarity with emprisoned comrades (in spanish)