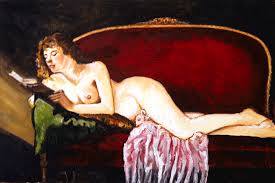 "Spring is too busy, too full of itself, too much like a 20-year-old to be the best time for reflection, re-grouping, and starting fresh. For that you need December….December has the clarity, the simplicity, and the silence you need for the best FRESH START of your life."
― Vivian Swift
31/12/16:
France: cars burnt in Strasbourg, Brest, Vannes, Creil, Montataire, Nogent sur Oise, Compiègne, Carcassonne, Mantes la Jolie, Chanteloup les Vignes, Nanterre, Rennes, Nantes, Forbach, Watrelos and  Poitiers…almost 1000 cars burnt, 17% up on previous year…Besançon:  demo outside prison, heavy duty fireworks thrown over wall, "Everybody out!" graffitied, loud slogans – "stone by stone, wall by wall, we will destroy all the prisons", "death to jails!", "set fire to the  prisons, the screws in the middle …"; similar demos round Paris and Toulouse
Similar demos in Greece (Athens), Germany (Dortmund, Flensbourg, Wuppertal, Cologne, Stuttgart & Fribourg) and USA (Ashville, Portland, Oakland, New York, Minneapolis, Bloomington, & Philadelphia)

Trinidad & Tobago, San Juan: report on recent trend of arson & looting of businesses See this , this, & this
30/12/16:
France (Neuf-Brisach, northeast) : attack on gendarmes A gendarme's car was completely destroyed by fire, and the entrance to the gendarme's barracks was also burnt a bit. …Vesoul: National Front HQ vandalised
Nepal, Kathmandu: government vehicles torched or vandalised
29/12/16:
Congo, Brazzaville: 3 die – a gendarme, a rioting prisoner and a civilian – in brief prison riot
28/12/16:
France, Tours: riot cops attacked with hydrochloric acid & heavy-duty fireworks
US, Philadelphia: another shopping mall mini-riot "…the youths "were pelting cops with fountain sodas and all kinds of trash." Another witness, who wished to remain anonymous, said that they saw "multiple fights" break out. The police reacted to the rioters and swiftly broke them up, but not before one of the offenders, according to a report, "grabbed [an] officer around his neck and tried to wrestle the officer down to the ground while ripping the officer's patrol jacket and punching the officer in his head while yelling, 'F— the Police!'"

Greece, Athens: municipal workers clash with cops
Coriolanus, Act 1 Scene 1:
[Enter a company of mutinous Citizens, with staves, clubs, and other weapons]…
First Citizen. We are accounted poor citizens, the patricians good.
What authority surfeits on would relieve us: if they
would yield us but the superfluity, while it were

15


wholesome, we might guess they relieved us humanely;
but they think we are too dear: the leanness that
afflicts us, the object of our misery, is as an
inventory to particularise their abundance; our
sufferance is a gain to them Let us revenge this with

20


our pikes, ere we become rakes: for the gods know I
speak this in hunger for bread, not in thirst for revenge.
27/12/16:
Guatemala (Santa Cruz Barillas, department of Huehuetenango) : Hydro Dam Project Defeated After Eight Years of Struggle

Switzerland, Lund : bank attacked as part of mobilization against G20 in Hamburg
South Africa, Limpopo: 50 prisoners attack screws
26/12/16:
South Africa, Port Elizabeth: 3 prisoners killed during riot The riot began as an an attack on screws but these reports  give no indication of who the prisoners were killed by – prisoners or screws. Given that the authorities would normally indicate that it was prisoners doing the killing, one suspects that this was yet another case of state murder. And this report implies the killings were by the state: "During the attack on the warders, which started in the food hall in the late morning, another group of inmates forced their way into the administration building and locked themselves inside. They used teargas to keep the staff and ERT officials at bay. Some of the records housed in the building were destroyed. Thirteen warders were wounded – some of them stabbed with home-made knives – and 19 prisoners were injured, besides the three fatalities."
Chile, Santiago: bins burnt during clashes between cops & Mapuche Indians as imprisoned leader goes into 4th day of hunger strike Video here

France, Nancy: 2 cop cars hit by low caliber bullets in 2 different parts of town…Etampes: about 15 masked youths attack and destroy CCTV camera and its mast; cops pelted with stones and bottles

Bangladesh, Ashulia: garment workers sacked, arrested, beaten during massive  movement (see entry for 20/12/16) "Up to 3,500 workers have been sacked and 50 leaders have gone into hiding." See this for an account of events and a critical take on the unions, NGOs, etc.

US: the joys of post-Xmas shopping – the struggle against boredom  "By night's end, at least 15 fights had broken out in shopping centers from Connecticut to Arizona…officers… believe the … common thread is that teenagers have too much time on their hands during the holiday break from school…Fights were reported in at least a dozen states, with two episodes in Connecticut and three in Tennessee. Fights were also reported at malls in Pennsylvania, North Carolina, Illinois, Ohio, Arizona, New Jersey, Indiana, Colorado and Texas."

24/12/16:
Australia, Papua New Guinea: asylum seekers riot at notorious detention centre over  death of  Sudanese "Asylum seekers held at a Papua New Guinea detention center briefly took control of two compounds and expelled guards following the death of a refugee who fell ill at the center…The man's death is not being treated as suspicious by Australian authorities, but detainees and refugee rights groups have claimed the man was seriously ill for months and had made repeated requests for medical assistance before the emergency."
Palestine/Israel, Bethlehem: Israeli border guards  teargas Santa Claus
France, Pignan (west of Montpellier): MacDonalds windows smashed 18 days after opening

23/12/16:
Colombia, Tolima: stones & explosives thrown at riot cops during anti-austerity protests

Chile, Concepcion: illegal street vendors set fire to barricades in clash with cops

22/12/16:
UK, Isle of Sheppey (Kent): 60 or so prisoners take over prison wing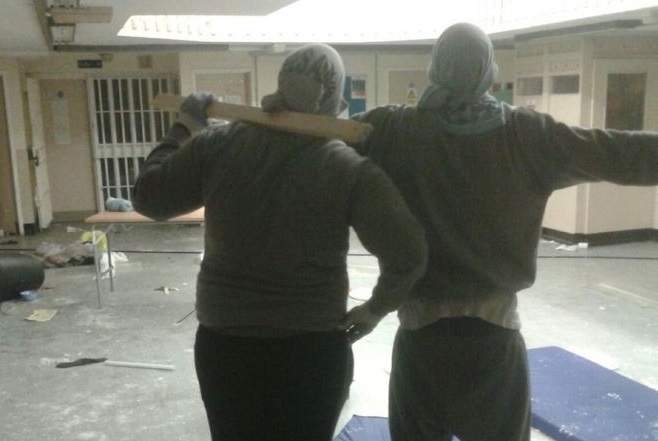 Swaleside Prison: no face no case
…London (Ealing): mini-riot after cops close down music event
France, Creuse: incendiary attack against animal concentration camp (with capacity of 1,000 calves)
21/12/16:
France,Trégor, Lannion (Côtes-d'Armor, Brittany) : windows of forensic radiology office smashed & tagged with named forensic scientist rightly described as "collaborator" "This action was aimed particularly at Remy Bonfils, a forensic pathologist and radiologist known for performing bone tests in the service of the state. This action seeks to highlight the actions of these cops in white coats, participants, too often forgotten, in repression. These tests, intrusive as well as humiliating, include scans to study calcification of the bones of the wrist as well as thorough examinations of the body (palpation of the breasts, weight gain, size, examination of teeth and hair … ) and serve to get rid of and enclose those which are considered as significant. Because doctors are in the service of control and surveillance technologies. Because they serve the state and its logic of security. Because under the guise of ethics, their deontology allows them to be detach themselves from any responsibility for their actions. Because they seek to bring our bodies into social and moral norms especially with regard to  women's bodies and reproduction. Because they seek to stifle our "deviations" with masquerades and diagnostics. Because they work hand-in-hand with pharmaceutical companies and all the participants in deathly projects on humans and non-humans (DNA research, Genetics, biotechnology, etc.) and seek to bring more and more technologies into our lives and bodies. Because they think they know what is good for us. They are not neutral, they are responsible and are our enemies –  the silence of pacification has lasted long enough. Let us attack them  and the enterprises in which they work everywhere. Through these acts we also express our solidarity with the people who make the choice of critique through  attack. Solidarity and couRAGE with the comrades who led the offensive, without mediation, against the physical workings of the control of people with or without official documents. Today, they are accused of several attacks (in particular) against the construction of a detention centre in Brussels and against the world that produces them. Let us not wait until tomorrow to bite the hand of those who set themselves up as master and expert. Let us unleash our bodies and our desires"

Switzerland, Aarau: obnoxious bureaucrats at asylum centre attacked after chasing drunk 18 year-old Eritrean to hand him over to the cops

Mexico, Oaxaca: office & ballot papers of the  Partido Acción Nacional (leading right-wing political party) burnt by a couple of people However this might just be politics-as-normal as the PAN accuse a political rival of having attacked its office (source in Spanish here ); on the other hand, it might just be convenient to say that – we obviously don't know.
20/12/16:
Bangladesh, Ashulia: report that workers at at least 55 clothes factories have been  refusing to work for 9 days in pursuit of wage hike See this for an account of events and a critical take on the unions.

US, California: 100 prisoners riot
Colombia, Barranquilla: destruction of fly pitchers stands results in stoning and injury of 10 official "facilitators" and 2 cops
19/12/16:
Greece, Athens : three trolley buses set on fire in solidarity with arrested comrades
Canada, Val Saint-Côme : ski resort sabotaged
Algeria, Bejaia: riot outside Directorate of Education (its windows broken) as 1000s of primary, middle & high school students protest reduction of winter holiday from 15 to 10 days."In addition to throwing stones, tires were burned and Molotov cocktails were used. The clashes paralysed part of the city closed to road traffic. If  calm returned in the late afternoon, tension remains alive around the Directorate of Education where high school students decided to camp"...high school students on strike in 10 schools in Boumerdès, and high school students' demos in Constantine & Annaba…Setif: another high school demo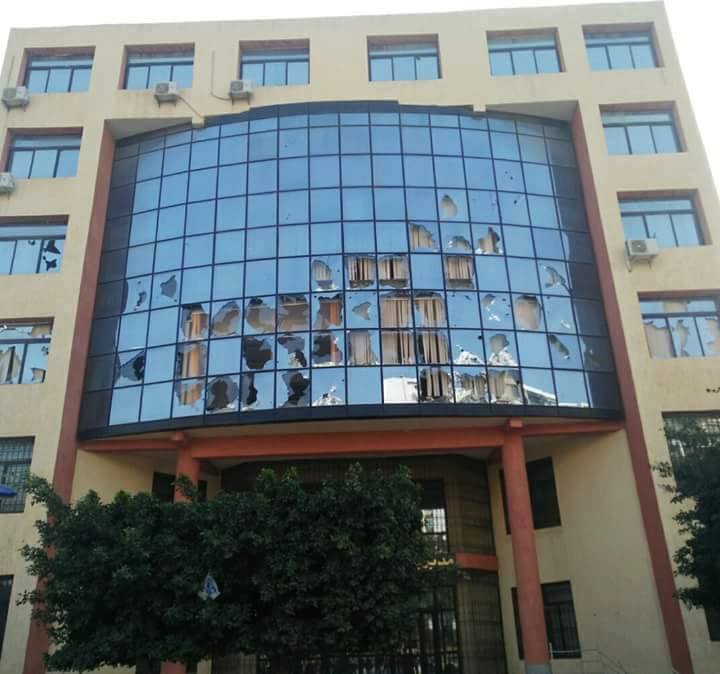 Bejaia: Directorate of Education gets breath of fresh air
UK, Cardiff: Winson Green prisoners barricade themselves in cells in protest against being moved
18/12/16:
UK, Hull: semi-riot in prison "Order has been restored to Hull Prison amid fears 15 dangerous prisoners transferred from Birmingham were attempting another riot….Prison officers said staff had been assaulted, CCTV cameras were torched and inmates refused to return to their cells following the arrival of the prisoners from HMP Birmingham"
17/12/16:
Belgium, Brussels : wildcat antifascist demo
Argentina, San Juan province : Barrick Gold Mine Blockade Eviction Turns Violent  Also see this, on Barrick Gold and repression in Tanzania
Switzerland, Bern : bank spray-painted in solidarity with Standing Rock
Venezuela: government forced to backtrack on demonetisation as looting spreads, banks torched "135 people were arrested for looting, and…soldiers were deployed "to re-establish order". In Guasdalito, in the central-western State of Apure, three state bank offices were torched" …Bolivar state: 115 different businesses looted; curfew declared; military called out in Zulia, Apure, Bolivar and Delta Amacuro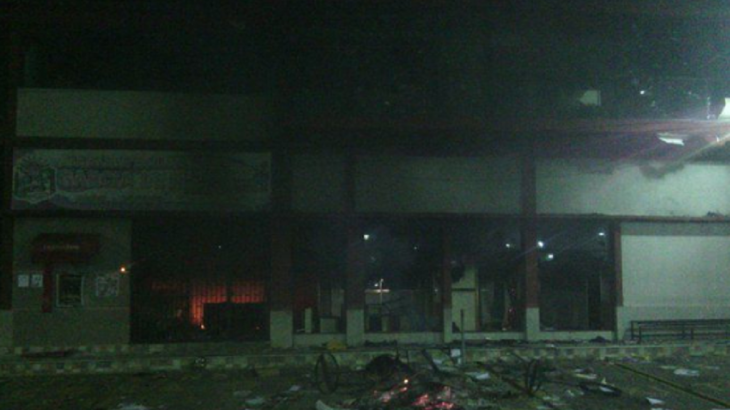 La Fria, Venezuela: town hall burnt
India, Elampillai (Tamil Nadu): cop bikes burnt etc. after motorcyclist killed following cop vehicle check "…the locals gathered in large numbers and quarrelled with the police who were checking vehicles. Soon, Magudanchavadi police inspector Rajaranaveeran along with a posse of police personnel reached the spot. The locals attacked the police, injuring  Rajaranaveeran, SSI Palanisamy and SI Rajendran. The people then blocked the road with the body and set two police bikes ablaze. Later, a large police contingent was brought to the spot and tear gas was used to control the crowd. The police even used batons to beat up the protesters. In response, the people pelted stones at the police and their vehicles. In the attack, some police personnel suffered minor injuries and three police vehicle windshields were damaged"
16/12/16:
UK, Birmingham: major riot in Winson Green prison "Sources claim the full scale riot started in P Wing when a prison officer was overpowered. They claim it quickly spread to N Wing – and keys have been taken by inmates. One hardened lag, speaking through a relative, said: "I have been in riots before and this is, by far, the worst I've come across."… The prisoner claimed the trouble was sparked by the death of an inmate two weeks ago. It is believed the man committed suicide….it all started over there no being enough hot water in the shower or something like that. There are no officers on the wing now. They have abandoned it. There is major damage to the wing….as I understand it, there is a major disturbance on N Wing which has now spread to L and M wing. "Apparently prisoners started by smashing light fittings and wing fire hoses and that is why they cut off the water. "They tried to get the prisoners back behind doors and as they were trying one officer was threatened with a syringe. Another prisoner came up behind him and snatched keys and broke the security chain." More here "Water has been switched back on at Winson Green prison and inmates are being encouraged to extinguish fires as safety concerns heighten. With riots raging at HMP Birmingham for nearly 11 hours, fires are burning in several parts of the jail." and here "When we were told this morning that we were not getting exercise everyone went mad. They have had enough. "They cancel gym all the time, the showers are cold, the food is crap, the heating is never on and we never get our mail on time." The rioting kicked off at around 9am today as officers were ordered to abandon wings that fell under inmate control. Pictures from inside the jail show inmates wearing stolen police riot gear, bashing down prison doors and showing off a pair of keys." More here "The incident sparked the takeover of at least four wings of the Category B prison by around 400 criminals – including the gym, pharmacy and security equipment store….It took 14 hours for specialist 'Tornado team' prison riot officers and armed police to get the situation back under control…. inmates had breached internal gates and threw paint at the Tornado team as the riot continues to spread…. inmates had breached wings and had entered exercise yards after starting fires, destroying files and throwing computers from windows in the offender management unit…."If they destroy all of those records it is going to take months or even years to rebuild the information."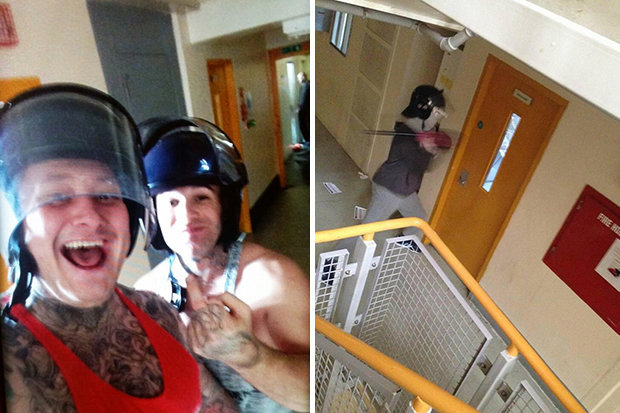 Winsome Grin: prisoners dress up in riot gear
Venezuela: riots in different parts of country as government makes 100 bolivar bills worthless This report emphasises looting of Chinese owned stores; have no idea if other stores were also looted: "Venezuelans rioted outside banks and stores on Friday as the nation's struggling government pulled the country's largest bill from circulation. One of the most dramatic incidents happened in El Callao, near Venezuela's gold mining belt, where employees of a Chinese-owned supermarket frantically threw piles of cash out of the second floor window of their business as an angry mob approached. The desperate act was apparently a last ditch effort to dissuade people from breaking in and looting the store. Another photo taken in the same town shows a mob ransacking another Chinese-run market. Carlos Chancellor, the mayor of the neighboring town of Tumeremo, reported protesters burning trash in the streets….In Guasdalito, a town in Apure sate, people looted another state run bank that would not deposit or trade their 100 bolivar bills….In San Cristobal, near the border with Colombia, looting broke out as people stuck with wads of worthless cash decided to help themselves to clothes and food. Riot police were deployed to quell the unrest."
Kenya, Kitui; informal traders riot after their kiosks and its stock are destroyed on governor's orders
France, Creteil (Parisian banlieu): prisoner escapes during his trial 
Nigeria, Lagos: Exxon HQ shut down as workers strike against forced redundancies 
Greece, Athens: cops targetted by molotov-throwing anarchists in Exarcheia
14/12/16:
Ecuador, Morona Santiago: Shuar indians clash again with cops protecting Explorcobres (Chinese mine) – 1 cop killed, state of emergency declared
France,Besançon: 4 ATMs destroyed in solidarity with imprisoned anarchists…Marseille : 2 ATMs destroyed in solidarity with imprisoned comrade
Canada, Saskatchewan: prisoner killed during prison riot "They ripped beds off walls, heavy steel beds. Desks were thrown into a pile. They used them to block doors. Windows were smashed out, they were setting fires to mattresses, smashed the fridges and microwaves. It was confined to one portion of the medium security area — an area that housed approximately 185 inmates. It was in the living unit. …Meal portion sizes may have been a contributing factor, but there's no way to determine if that was the trigger or not. …It wasn't just kitchen workers who refused to go to work (on Wednesday). At the point when this happened, everybody — 185 inmates — refused to go to their programs, their work, their school. At that point, normally, we lock up. But when they went to close the area, the inmates refused to go into their cells." More here. "They smashed out all the lights, all the cameras, all the windows." The inmates also set up barricades."
Mexico, Guerrero: normalista students attack military installations with molotovs & stones demanding information 2 years after "disappearance" of 43 of their fellow students
13/12/16:
Canada, Montreal : three banks sabotaged in solidarity with Standing Rock
Brazil: clashes in different parts of country as state imposes even worse austerity "In Brasilia, masked protesters set fire to a bus and marched on the local offices of Globo TV, which they say is biased towards Mr Temer's government. But the marchers were blocked by riot police….In Sao Paulo, the headquarters of the state's conservative Industrial Federation (Fiesp) was attacked." More here: "The Military Police used today tear gas, stun bombs, pepper spray and horse soldiers to repress thousands of demonstrators opposing the harsh fiscal adjustment passed today by the Brazilian Senate….In Rio Grande do Sul, where roads were blocked and barricaded with tires, the Military Police also used sound bombs to break up demonstrators. Meanwhile, organizers of the demonstration in Goias said that the police stopped all state buses carrying students, teachers and trade unionists attempting to join the demonstrations against PEC 55 in Brasilia."
12/12/16:
Nigeria, Ibadan:  motorcyclists clash with cops after biker is killed by cops "…the dead Okada rider's colleagues headed towards the police station, threatening to burn down the division, but in an attempt to scare them off, the Police were alleged to have released tear gas unto the rampaging crowd and shot into the air to scare them. Unfortunately, two members of the association were hit by the stray bullet, and are currently under intense treatment….colleagues of the dead rider attacked an upcoming police patrol vehicle, and seized an AK-rifle which was later recovered. "
Canada, Montreal: report on sabotage of CCTV cameras
11/12/16:
Italy, Cremona : phone mast sabotaged
Chile, Santiago : Incendiary/explosive attack against the 'National Association of Judiciary Officials'
France, Nantes: firefighters and riot cops attacked with stones and firework after bins burn…Vannes: teargas used against youths threatening cops with broken paving stones
Nepal, Kathmandu: 3 cop motorbikes totally destroyed, cops thrashed, police station vandalised, after taxi driver is killed in custody  "The mob armed with petroleum products and batons stormed into the two-storey building recently built with support from the locals and vandalised the office, windowpane, a television set, flowerpots and furniture besides setting three motorcycles on fire. They also pelted stones at the beat. According to the Metropolitan Police Office, Ranipokhari, dozens of vandals also overpowered five policemen, including the beat in-charge sub-inspector Sanjeev Napit, and thrashed them while making an attempt to torch the building with the cops inside at around 11:00 am."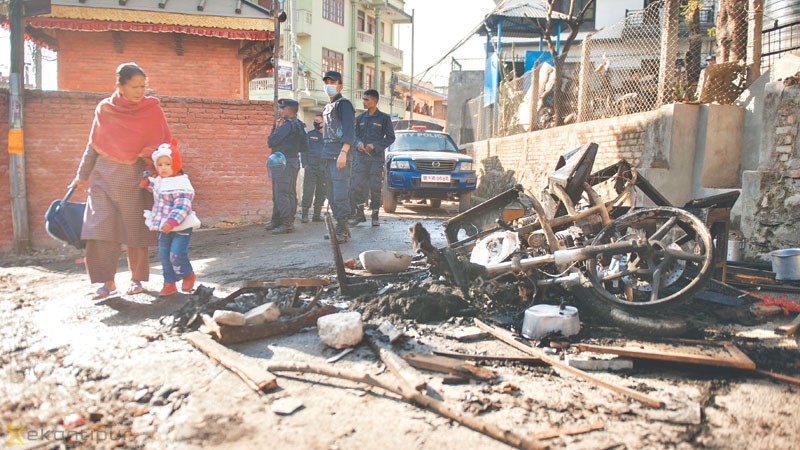 Boudha, on the outskirts of Kathmandu
UK, Bristol: report on horrible hipster gentrification of former area known for its riots See also this, on the 1980 riot.
10/12/16:
China, Chengdu: heavy repression of mild protest against toxic pollution 
9/12/16:
8/12/16:
France, Nantes: 20 hooded youths ambush cops & firefighters with stones after setting fire to bins
Greece: general strike "The general strike is organised by the two big labour confederations without any prospect to continue in some way. It's what you said about the integration of the so-called labour movement. Despite that we will be there. Even the Labour Department of Syriza will be there! It has issued a call for participation in the strike and the demo against the new law which is supposed to be imposed not by them but by the… IMF. This is just to give you an idea of what a comedy "class politics" has become nowadays!" – from an email list
US, Bloomington (Indiana) : Rainbow Bakery Sabotaged for Feral Pines
7/12/16:
Germany, Berlin: office for sending out police fines  set on fire; communiqué in French in memory of 15-year-old Alexis Grigoropoulos killed by cops in Athens, 8 years ago
Mexico, Michoacan: blockades of motorways and railtracks across several municipalities to demand release of 7 CNTE teachers
Chile, Santiago : action 3 years after the death in combat of compañero Sebastián Oversluij (with video)
6/12/16:
Chile, Coquimbo : mine protesters halt traffic with road blockade
France, Riom : prisoner escapes during bicycle ride
Brazil, Rio: homemade grenades thrown at State Assembly during heavy clashes with cops over austerity measures Videos here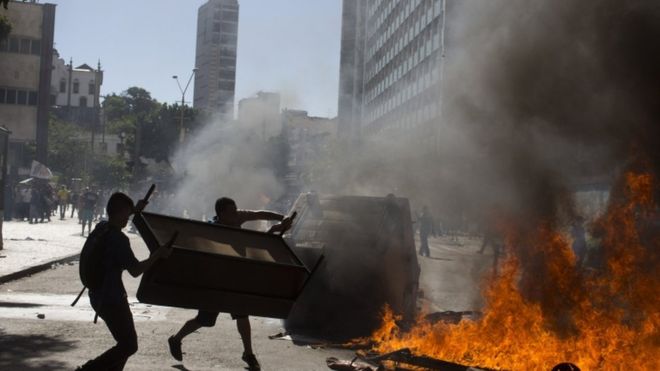 roadblock outside the Assembly
"A crowd of mainly civil servant workers marched on Rio de Janeiro's state legislature, throwing homemade grenades at the assembly building, where lawmakers were preparing to vote on new austerity measures. Police used rubber bullets, smoke and flash grenades, and pepper spray to disperse the crowd. The clashes lasted for nearly five hours in several blocks around the legislature. Witnesses said that, at one point during the scuffles, police officers entered a church to fire at protesters. "Police entered the church and shot at people, and they also entered a parking lot and are throwing bombs at us from the roof," said Evaristo Santos, a protester.Another protester alleged that police forces were shooting at people "indiscriminately." The protesters…set objects on fire on the streets….Tear gas apparently also entered the state assembly. Local news portals published photos of a number of lawmakers wearing medical masks while sitting in the chamber….. Thousands of state employees and retirees have not been getting paid or been paid months late. "As you can see here in Brazil, we have thieves leaving government, thieves entering government, thieves in the state government, thieves in the federal government," said Ronaldo Moreno, a spokesman for the oil workers union in Rio. "What is happening today is a fight by public workers, but it is a fight by everyone," he said." 
Argentina, Catamarca: confrontations between workers and cops outside Government House "Public Works workers … tried to light tires in the main square. Faced with this situation, members of the police attempted to evict the square, which provoked violent riots in Calle Sarmiento…which included confrontations, shots of rubber bullets and broken glass."
Greece, Athens: riots on 8th anniversary of cop killng of Alexandros Grigoropoulos (for background analysis and history see this; for an eyewitness account by a participant see this)…Thessaloniki: molotovs and explosives thrown at cops from University roof…Hania (Crete): Christmas tree set on fire and responsibility claim
UK, Warwick: 5th day of occupation of new £5.3m. building
4/12/16:
US, Dakota: NODAPL win (possibly temporary) victory (see also this: 9 Reasons Why #NoDAPL Struggle Isn't Over ) Added mid-January 2017: In fact the stopping of the  construction of the pipeline specifically at this point is largely temporary and designed to give Obama an image of reform. The Tribal Authority has collaborated with the state in provinding the movement with an image of vicgtory, whereas in fact the whole decision could and prob ably will be reversed by Trump, and besides, even if carried out, merely means the pipeline will pollute somewhere else. See this, from December 23rd 2016.

3/12/16:
Switzerland, Zurich : wild demo in solidarity with migrants

France, Grenoble: youths stone cops from roof of school
2/12/16:
Greece, Athens : Bulldozer of DEI Electricity Company Torched in Exarchia in solidarity with Hambach Forest struggle
US, Fort Worth: 19-year-old tries to avenge his wasted youth spent being forced to undergo compulsory conditioning
Peru, Andahuaylas: minister & other officials prevented from leaving province by riots of those refusing to accept agreement to end 7-day General Strike 
UK, Warwick: part of university occupied against new method of funding
India, Manipur: stoning of bank after refusal of cash to 100s forces bank closure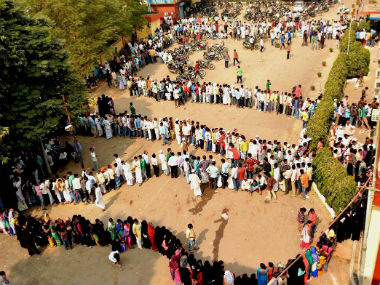 Hyderabad bank queue as cash withdrawals are severely rationed
Sweden, Stockholm: 70 cars burnt by migrants "Similar incidents occurred on Saturday and Sunday in the nearby area of Hallunda, and in the suburb of Norsborg on Monday."  (26th – 28th) See this for an article about riots in Sweden & Denmark – "Let the fire spread", written in September 2016 but only recently translated.
1/12/16:
Canada, Montreal: Mohawks block Canadian Pacific Railway line in solidarity with #NoDAPL…Québec: Algonquins of Barriere Lake set up camp against mining resource extraction