"January is the quietest month…But just because it looks quiet doesn't mean that nothing is happening.  The soil, open to the sky, absorbs the pure rainfall while micro-organisms convert tilled-under fodder into usable nutrients for the next crop…The feasting earthworms tunnel along, aerating the soil and preparing it to welcome the seeds and bare roots to come."
–  Rosalie Muller Wright
31/1/16
South Africa, Gauteng: petrol bombs hurled at cops in housing protest
UK, London: cops knifed by teenager in clash
France, Yvelines : cops use grenade launcher against 15 youths who surround their car and insult them
30/1/16
France, Paris: 2 military personnel thumped on the margins of demo against state of emergency
In Paris, leftists invited the explicitly statist and anti-semitic Muslim Brotherhood to attend the demonstrations as well (not sure if they came to the one on this day – but they were certainly there on Saturday the 23rd January).
Demonstrations take place throughout France as the prime minister (Valls) announces that the state of emergency will continue until the Islamic state has been defeated, though so far, they have not extended it officially beyond the end of February. Clearly they are waiting for any pretext at all to extend it indefinitely.
Unfortunately virtually all of these demos are largely tame affairs, dominated by leftist and ultra-leftists parading around town whilst people do their shopping, who feel completely untouched by the state of emergency, prefering the usual comatose state of consumerism. In Montpellier, at least, the demo on this day seemed to be excessively concentrated on the idea that BDS (Boycott, Disinvest and impose Sanctions on Israel) is being repressed by this state of emergency, when it isn't specifically targeted at all. In fact, 2 members of BDS for the Herault region (which includes Montpellier) are currently on trial, having been prosecuted by a bunch of liberals for something that has nothing to do with the state of emergency. Namely the fact that 2 leading members of this branch of BDS, including the vice president, wrote the following bit of delirious holocaust denial fantasy:   "What Hitler did to the Jews was done on purpose so that the world would sympathize with them and give them all the rights… What Hitler did to the Jews was wanted and planned for a specific purpose… They sacrificed some Jews so as to have everything they have today, Hitler took part in the colonization of Palestine, he was part of the plan…. The relation of Hitler with the Rothschild family, this satanic Jewish family that owns all the land of Palestine and which is one of the most powerful families in the world"  (see here – http://www.lengadoc-info.com/1716/societe/la-ligue-des-droits-de-lhomme-porte-plainte-contre-bds-34/ -in French). BDS's very reformist strategy (and links with lots of very political organizations) is used by leftist parties as a way to set foot in French estates. The NPA (mainly Trotskyist party) fully supports BDS. Fortunately the results are not really obvious: there was almost nobody from the poor areas in yesterday's demo, even though part of it started in one of the poorest run-down estates in Montpellier. Basically, people seem not be giving a fuck about the state of emergency, when they even know what it is or that it was implemented. That includes muslims, whom lots of leftists and anarcho-leftists pretend to be directly targeted by these measures as a community. Might be a bit different in Paris or other big cities.
BDS's strategy is to put pressure on supermarkets, etc., to boycott Israeli goods, though so far they have only managed to get some supermarkets to label goods produced by superexploitation in the colonies as being produced there. Besides, boycotts between countries or of specific countries' products have nil impact historically. For example, people started boycotting South African goods after Sharpeville in 1960, but nothing started to undermine the state until the uprisings of 1976 and afterwards.  Britain, the Commonwealth and the United Nations imposed an embargo on the whole of Rhodesia, the former name for Zimbabwe, after its unilateral declaration of independence in 1965, having  all deemed Rhodesia's UDI illegal, and economic sanctions, the first in the UN's history, were imposed on the breakaway colony. It had nil impact because Rhodesia found a way of hiding the fact that its goods came from the white racist  country by diverting them through other fascistic countries such as South Africa and Portugal. But such boycotts give people the illusion that they're contributing to…what exactly, I don't know, but it probably gives them the feeling that they're at least doing something and somehow alleviates the bad conscience that arises from passivity in the face of more directly alterable miseries of this world. This is not to say that boycotts are invariably a waste of energy (see, for instance, this: http://fr.scribd.com/doc/230680607/Extract-from-Popular-Struggles-Resistance-Movements-in-South-Africa ), but ones between countries have historically been shown to have failed.  [SF]
29/1/16
Mali, Kadiolo: illegal miners storm police station – miner and cop are killed, cops guns seized, 3 cops seriously injured, because cops, under  pretext of trying to protect miners from  dangers of heavy machinery dumping ore on them,  try to prevent illegal gold mining
Chile, Santiago : anti-civilization practical critique (informal anarchist group reivindicates arson against science faculty)
And: http://www.latercera.com/noticia/nacional/2016/01/680-665524-9-incendio-destruyo-facultad-de-universidad-andres-bello.shtml
Greece, Thessaloniki: pensions movement hots up
Video here: https://francais.rt.com/videos/14802-grece-manifestation-thessalonique
More here: http://www.tovima.gr/en/article/?aid=772511
Senegal (Dakar): fly-pitchers in confrontations with cops and local state again
Germany, Hambach forest: conflict heating up in forest occupation
England: eviction resistance success at Hope & Anchor pub
Mexico, Mexico City: cleaning workers protest against 59 dismissals in several places, block streets
28/1/16
Mexico, (State of Guerrero): Ayotzinapa's normal school students take over highway tollbooth in movement for the 43 disappeared
Russia (Moscow): indebted mortgage holders occupy several branches of different banks
"Several dozen disgruntled Delta Credit bank customers briefly blocked Tverskaya, central Moscow's equivalent of Oxford Street, in a protest on Wednesday evening. On Thursday, dozens of protesters blocked doors and demanded meetings with top managers at branches of Bank of Moscow and VTB 24, both state-owned enterprises, and the Moscow headquarters of UniCrediBank, an Austrian-owned commercial lender, and Moskommertsbank, a subsidiary of a Kazakh bank. Raiffaisen Bank has also seen protests. The outbreak of discontent follows a massive devaluation of the ruble driven by collapsing oil prices."
27/1/16
France, Brittany: 40 roadblocks by farmers, detonators thrown at cops, fiery barricades of straw bales & trashcans
Although these farmers are very often in conflict with the state, their non-stop work work work mentality is invariably corporatist, with no identification with any other struggles going on in the area (not to say that the ZADist anti-airport movement in Brittany ever makes attempts to communicate with farmers either).  These demos were to demand the raising of prices, hardly a demand likely to get much support outside those who earn their living through farming work. As said before, it would make more sense to give away stuff outside supermarkets to undermine these  multinationals, than some of the typical actions of these farmers, like the pouring away of thousands of gallons of milk (not something they did in this instance, however).
South Africa (Eastern Cape): councillor's house torched, roads barricaded
and councillors from three wards forced to flee homes as 2000 take to the
streets
South Africa (Durban): roads barricaded and shops looted in protest against lack of
electricity
Sweden (Kalmar): small riot by adolescents in refugee detention centre after staff member refuses youth the right to buy sweets
26/1/16:
South Africa, Gauteng: ANC offices vandalised by its own members
California, USA – Riot gear, gas masks, and police uniforms looted from storage locker right before Superbowl.
Italy, Genoa: workers occupy steel plant against redundancies
Mexico, Axapusco (State of Mexico): after strange death of 15 yr old in custody, 300 locals try to lynch police officer
Mexico, Cruz Grande (State of Guerrero): 500 teachers march to demand that Ayotzinapa's 43 disappeared be presented alive.
(of the 43 normal school students who disappeard 16 months ago, two were confirmed dead – others probably are as well, as cartel members gave details about their killings, but their family members continue to pressure the government for official information and proofs).
The teachers are currently targeted by local cartels, probably on authorities' orders, as their central position in the social movements and their links with indigenous communities fighting for autonomy threaten the good functioning of state and criminal affairs (including drug trafficking).
The parents of the disappeared are currently involved in the two caravans that visit several towns and cities of the country, in order to meet human rights NGO's and various organizations and find support for their struggle.
This involves pretty reformist strategies, such as meeting the pope in February (according to this article: http://www.jornada.unam.mx/2016/01/25/politica/005n1pol).
Cambodia (Phnom Penh): protests by female beer promoters after firings for striking over work conditions
These workers, sometimes called "beer girls", work for beer brands in Cambodia's restaurants and bars and are basically employed to satisfy the rich' appetite for showing themselves with "beautiful girls". Is it necessary to mention that they're often ill-treated and considered to be prostitutes ?
UK (Grimsby): 14 – 16 yr olds smash up cop riot van
France (Paris): anti-Uber taxi drivers burn tyres in middle of city
Nigeria (Ondo): 5 people (including toddler) killed by cops as 2 cop vehicles are bunt out, during road blockade against deaths in road accident
25/1/16
Italy (Genoa): steel workers occupy factory against redundancies
Greece (Korydallos): prisoners protest
Cambodia (Phnom Penh) : Residents protest land clearing on Chroy Changvar peninsula
Mexico (State of Chiapas): Selva Lacandona comuneros clash with soldiers after refusal to let them move cattle
France (Essonne):  teenagers attack cops and train (injuring passenger)
Indicative of a kind of directionless nihilism on the part of bored, humiliated youths, who sometimes attack the right target and at other times just lash out arbitrarily. [SF]
Slovakia: 100s of schools close as teachers organise strikes outside of unions
For more information, see comments here
https://libcom.org/news/indefinite-teachers-strike-slovakia-has-started-25012016
Mexico (Veracruz State): families of disappeared people accuse the State of 80 disappearances and close Ministry
All Mexican states are involved in killings and disappearances, often of  young girls. They are largely attributable to the cartels and armed criminal organizations related to various repressive forces, whether local or national. The terror imposed on the population has, therefore, several objectives, which often overlap: control, pacification, expansion of the commercial activities of the cartels. It is usual for people  to consider that when the dead disappear, the disappearances are due to the army or the police, the cartels specialising in  the abandonment of bodies according to the logic of terror (who often target their enemies and their potential allies).
In the case of the murder of women ("femicide"), they are part of the ultra-macho logic of the cartels (or gangs that serve as their labor, particularly in the border cities of the north), where the body of women is a prestige issue, an object that is appropriated, and a source of confrontation: it is common for members of cartels to kill for revenge, because of  jealousy.
It is also necessary to clarify that with the development of cartels, these attitudes are widespread in the population, and the presence of criminal organizations can serve as justification for the murder of women by their husbands, boyfriends or would-be boyfriends/husbands in a highly macho society where violence against women is a relatively tolerated norm.
As the 4 young men and their 16 yr old female friend (see 19-01 entry) are still missing, sources reveal they were arrested by a local police patrol and handed over to a criminal group.  Meanwhile, in the State of Veracruz, where the governor's ties with local cartels are known to all, and where disappearances and killings occur on a daily basis (especially of young women, with 1647 women still missing from the past 6 years), authorities seem more interested in approving a reform forbidding abortion (http://www.proceso.com.mx/?p=427925). A protest was organized in front of the State of Veracruz' delegation in Mexico City.
See wikipedia page for information on abortion laws in Mexico (https://en.wikipedia.org/wiki/Abortion_in_Mexico), which are pretty horrifying. Of course, teen pregnancy in most of the country's states reaches alarming figures, and it's more than common seeing 18-19 years' old girls pregnant or with babies, including those going to university.
[Pi]
Laos, Champassak province (southern Laos): two environmental activists briefly detained after mobilization against huge dam threatening flora, fauna and human livelihoods
We mentioned in our note of January 18, the current renewal process by the bureaucrats of the Laotian Communist Party that run the country. John Kerry, US Under Secretary of State is currently paying a visit to the country with a view to preparing a summit with the ten ASEAN countries.  [I refer to a note I put for the 18-01 entry].
Several recent attacks have targeted the Laotian army, probably caused by the Hmongs, old allies of the US abandoned to their fate after the Vietnam war and the Communist takeover (much like the  Harkis in Algeria) and fighting for decades in some isolated areas where access is prohibited.
The  Cambodian ecologists  arrested are part of an  NGO that mobilized on the  Cambodian side (along with local inhabitants) against a proposed dam on the Mekong, the great river that runs along the border between Laos and Thailand and then through Cambodia. It threatens fish stocks, local flora, biodiversity and the habitat of Irrawaddy dolphins, cetaceans that circulate in some major rivers of Asia and which are threatened with extinction.
Any form of opposition is severely repressed in Laos, it seems that there has been no movement on the Laotian side  on the part of the inhabitants of the regions concerned (Champassak province is very touristy) but the censorship in force in the country does not really allow us to know what's going on.
In a few decades, the Lao authorities have massively deforested a country with a primitive forest cover which was one of the largest in Southeast Asia. To this  ecological horror are added the  development of monocultures, putting an end to the subsistence slash-and-burn agriculture [shifting cultivation] of the   mountain communities which are relatively autonomous vis-à-vis central government, and the 2 ongoing    "mega-dam" projects that we have just mentioned  and the  Xayaburi dam. [Pi]
24/1/16
Haiti, Port-au-Prince: riots continue as elections are postponed
"After having sacked the borough of Petion Ville, last Friday, the thuggish protesters were again at work in downtown Port-au-Prince yesterday, Sunday. They broke the windshields of several vehicles."
Northern Ireland – Gunshots and molotovs directed at police.
23/1/16
France, Quimper: fascist violence against demonstrators, clashes
Mexico, State of Hidalgo: police put end to workers' strike denouncing firings
South Africa – Riot against police who killed man inside police van.
Czech Republic : attack against anarchophobic restaurant that also refused to pay employees (see communiqué by a "Network of Revolutionary Cells")
South Africa, Johannesburg: 500 riot outside hospital in response to death in police custody (video)
Tunisia:  A spokesperson for the National Guard has told Mosaique FM that 123 people were arrested during the country's first night of curfew, with 18 members of the National Guard wounded. No details have been given on the number of protesters injured. 23 vehicles belonging to the National Guard were also damaged during clashes with protesters. Five Guard Posts were also damaged during disturbances. Seven people were arrested in Karouan while attempting to drill a hole through the wall off the Promogro shopping centre there…
The Ministry of the Interior have announced the arrest of 261 individuals for looting, 84 ones for breaking curfew, with 109 security officers injured. It is unclear if these figures include those quoted by the National Guard.
Protests against arrests for breaking curfew take place in Sidi Bouzid, Regueb & Ben Aoun…Nabeul: burning tyres block entry to town…Tozeur: pharmacy looted
Ivory Coast, N'Douci:  confrontations between youths & cops over lack of healthy water
22/1/16:
Brazil, Recife : second prison breakout in a week, this time 2 killed and only 1 ex-prisoner still on the run
40 are still on the run after last week's escape.
More Tunisia coverage: riots in 4 areas despite curfew
This comment talks of the amount of arrests and other things; it also says that the Arabic word for "totalitarian" has, over the last few years  of demockrazy,  been tagged on the walls of military buildings and some people have been calling for the collapse of the state (though I suspect, fairly few, and the comment gives no details; still – interesting). [SF]
Sidi Bouzid: clashes as protesters try to force entry into local government offices
Tunis: 2 estates erupt during curfew; tyre burning and looting of shops
Protesters block roads between these 2 estates
"This area experienced theft and looting of banks and some local shops last night"
Tunis (Kram): rioters v cop, stones v. tear gas
Ivory Coast, North Tchologo: Strikers killed by cops as striking sugar cane workers destroy 2 cargo transporters belonging to the gendarmes, some irrigation and other work material and several hectares of sugar cane as part of a strike now in its third week
France (Calais): Migrants storm port of Calais and occupy UK ferry.
Cambodia, Phnom Penh: workers block Special Economic Zone over back wages
Mexico, Mexico City: locals block main avenue to protest against lack of water
21/1/16
Brazil, Sao Paulo : riot police violently attack public transportation fare demo (pictures and a video)
France, Calais : clashes for an hour between police and 200-300 migrants
Tunisia: protesters try to storm government buildings in several towns on 3rd day of widespread rioting against unemployment "…youths chanted "Jobs or Another Revolution," according to state media and local residents. President Beji Caid Essebsi's government announced on Wednesday it would seek to hire more than 6,000 young unemployed people from Kasserine, and start construction projects….Unemployment rose to 15.3 percent in 2015 compared with 12 percent in 2010″
More here: "It's as if we were back in 2010-2011," Al Shuruk newspaper wrote …Tensions remain high in Kasserine, where security forces have used tear gas and water cannon against crowds of hundreds of demonstrators, and the protests have since Tuesday spread to nearby towns. As on the previous days, protesters on Thursday set up roadblocks with burning tyres and pelted security forces with stones,…In Feriana, 30km away, a policeman was killed on Wednesday during an operation to disperse demonstrators…he died when his vehicle was overturned….As the protests spread, protesters on Thursday cut off roads in Sidi Bouzid and clashed with police, while similar demonstrations were reported in the central towns of Jendouba, Gafsa and Kebili"
and here: "Tunisian police firing tear gas clashed on Thursday with hundreds of protesters who set fire to police posts and tried to storm local government buildings in towns across the country in the largest protests since the 2011 "Arab Spring" uprising….Protesters set fire to a police station in the town of Guebeli in southern Tunisia and officers abandoned another post in Kef in the northwest…Later on Thursday night, the protests spread to the capital where rioters burned a small police post in the poor Tunis district of Cite El Intilaka and residents set alight tyres in the streets of Cite Ettadhamen district"

And here "…a fractious night that saw protests in a number of the capital's suburbs. Districts, Ettadhamen , Sidi Hassan , Mnihla and Intilaka all saw disturbances through the night, with police reporting damage to shops, supermarkets and a bank. Protests in Ettadhamen continued until 5am, with Police arresting six. … a number of police stations had been set on fire, including ones at Douz and Gabes. Several police cars are also understood to have been burnt."
More here:
http://www.tunisia-live.net/wp-content/uploads/2016/01/Time-Line-Protest.pdf
"Relative peace reported in Kasserine, but protests persist in frontof the governorate headquarters.Following the Ministers' announcement of a development plan for Kasserine, protests erupt in other interior regions—including Sidi Bouzid, Gafsa, Jendouba, Beja, Gabès, Tozeur and Medenine—demanding similar government interventions. Security forces clash with protesters and apply tear gas in Mahdia. Demonstrations spread throughout the governorate of Sidi Bouzid. A man attempts to self-immolate in Nefta, near Tozeur. In Siliana, protesters surround the governorate headquarters. In Kairouan and Enfidha, demonstrators enter and occupy governorate headquarters. In the distric oft Skhira, near Sfax, protesters set fire to tires and block traffic."
And here:
"It's as if we were back in 2010-2011," Al Shuruk newspaper wrote …Tensions remain high in Kasserine, where security forces have used tear gas and water cannon against crowds of hundreds of demonstrators, and the protests have since Tuesday spread to nearby towns. As on the previous days, protesters on Thursday set up roadblocks with burning tyres and pelted security forces with stones,…In Feriana, 30km away, a policeman was killed on Wednesday during an operation to disperse demonstrators…he died when his vehicle was overturned….As the protests spread, protesters on Thursday cut off roads in Sidi Bouzid and clashed with police, while similar demonstrations were reported in the central towns of Jendouba, Gafsa and Kebili"
and here, from France24:
"Tunisian police firing tear gas clashed on Thursday with hundreds of protesters who set fire to police posts and tried to storm local government buildings in towns across the country in the largest protests since the 2011 "Arab Spring" uprising….Protesters set fire to a police station in the town of Guebeli in southern Tunisia and officers abandoned another post in Kef in the northwest…Later on Thursday night, the protests spread to the capital where rioters burned a small police post in the poor Tunis district of Cite El Intilaka and residents set alight tyres in the streets of Cite Ettadhamen district"
More here:
http://www.investir-en-tunisie.net/index.php?option=com_content&view=article&id=34938:2016-01-22-10-54-10&catid=95:politique-social&Itemid=317
" El Ksiba the capital of the governorate where clashes between the security forces and youth …manifested themselves by throwing projectiles and burning tires. The security forces had to respond by launching tear gas to disperse the demonstrators.  Some distance away, on the east bank of the canal, at Zarzouna, other youth groups went on to burn tires and block roads…At the Ennasr city of Mateur, a dozen people blocked the road in the industrial area by piling up  branches and burning tires."
Tunisia (Mahdia): unemployed occupy governor's HQ
And the army sent in as national guard post is burnt down &  roads are closed with burning tyres
As a nationwide curfew is announced, state propaganda claims that the extension of the state of emergency is due to an  increase in the threat of terrorism, rather neatly revealing how such states of emergency – whether in Tunisia, France or elsewhere – are almost invariably a pretext for cracking down on proletarian subversion (just in case anybody reading this was naive enough to have any doubts about it).
"Essebsi reminded the protesters in his Friday speech that the country is under a state of emergency, banning all forms of demonstrations. The General Labor Union, which won the Nobel Peace Prize for their work in reconciling the country after the Arab Spring, called for a national dialogue between political parties and civil society groups to find solutions in response of the protests."  – here: http://www.middleeasteye.net/news/tunisia-imposes-curfew-following-nationwide-demonstrations-182725904?#sthash.kAmI6eP7.dpuf" Another neat reminder of how unions, Nobel peace prizes, political parties and civil society groups are all united in trying to find ways of presenting continuing misery as  "solutions in response of [sic] the protests".  [SF]
The Tunisian unions seem to be looking for another Peace Prize — maybe year it will be shared between them, Obama and the Pope: a global to the beloved leaders of the workers, the free world and the faithful respectively. A far cry from the sentiments of George Bernard Shaw who refused this great honor saying  'I can forgive Alfred Nobel for inventing dynamite, but only a fiend in human form could have invented the Nobel Prize'. It is astonishing that so many radicals in this day and age continue to fancy that these rackets are or ever can be useful in
revolutionary struggle as 'organs of the working class'.
[SK]
Togo, Lomé: armoured cop vehicle burnt during heavy rioting at university (mainly sparked off by a protest against transport costs)
Video here (includes footage of prisoner being released by rioters  pelting cops with rocks)
https://www.youtube.com/watch?v=M3YB6Y_i5NM
US (Oakland): Proliferation of antagonistic graffiti, billboard modifications, and vandalism against Uber, developers, yuppies, and police. Notably, at least one molotov cocktail was allegedly thrown at the new Uber headquarters in Oakland.
Images: http://imgur.com/9TRV3ku
http://imgur.com/1wYili9
http://imgur.com/1wYili9
http://imgur.com/XegfjXW
http://imgur.com/OqQnqg3
http://imgur.com/WumtHVr
http://imgur.com/taGW83C
http://imgur.com/Df7d8cY
http://imgur.com/qeHuNoM
http://imgur.com/0QGe0pK
20/1/16:
Sweden, Stockholm: crowd of refugees force cops  to flee refugee centre after being called in to deal with resistance by migrants to being transferred following nasty attacks on 10-year-old
US, Detroit: 91% of state-run schools close in teachers' sick-out
Russia, Krasnodar:  Illegal protest by pensioners facing cuts to their benefits.
Moldova, Chisinau: in Europe's poorest country, protesters against EU-supporting government storm parliament (video)
"Rallying outside the Parliament office since around 10:00 in the morning local time, activists managed to break through police barricades and storm the building around 19:00.  Some police officers were reportedly dragged out of the building by the demonstrators. According to some reports the protesters also used tear gas against police."
Phillipines, Santa Cruz: 3rd day of anti-nickel mining blockade
Greece: roadblocks, ferries immobilised, agriculture minister barricaded as movement against pension cuts hots up ""It's war," says Dimitris Vergos, a corn grower speaking from the northern town of Naoussa. "If they [politicians] go on pushing us to the edge, if they want to dehumanise us further, we will come to Athens and burn them all."…convoys of tractors in Thessaly, the nation's breadbasket, blocked the road at Tempi, effectively cutting the country's main north-south highway. Hundreds more lined the seafront in Thessaloniki while, further north, police were forced to fire rounds of tear gas at protestors barricading Evangelos Apostolou, the agriculture minister, in an administrative building as fierce clashes erupted in Komotini…."We are going for all out confrontation," said the prominent unionist Yannis Vangos, warning that by Friday roadblocks would be erected across a large swath of the county. "
Athens: head of major trade union forced to leave demonstration (video)
Yannis Panagopoulos, head of the powerful General Confederation of Greek Workers (GSEE), consisting of 450,000 members, was threatened and finally driven out of the event of the day. Surrounded by his bodyguards and lots of journalists, he quickly realized that he might relive the humiliation of March 4, 2010, when he received yogurt, flour and punches by angry strikers before being expelled.
Tunisia: cop killed as movement against unemployment continues into 2nd day (video) "Large crowds burned tyres and chanted "Work, Freedom, Dignity during the violent protests" An oxymoronic slogan; freedom and dignity certainly go together – but work…? In a world where proletarians are increasingly surplus to the requirements of surplus value, unemployment is bound to rise, but work is not the answer to unemployment, but merely the other side of the coin, the threat making those who have work grateful for their relatively better situation and more submissive than when unemployment is low.
More here:
http://www.tunisia-live.net/wp-content/uploads/2016/01/Time-Line-Protest.pdf
"Organizers stage protests in Tunis and Sousse in solidarity with Kasserine's demands that the government solve the problem of unemployment. Protests in Kasserine resume and spread to small towns throughout the governorate, including Majel. Bel Abbes and Foussana…Following an emergency meeting, the Council of Ministers announces a plan to hire 5,000 unemployed individuals in Kasserine for public sector jobs and to undertake major infrastructure reforms in the region.
Mexico, Tiburón island (State of Sonora) : local indigenous villagers refuse money offer from company and mobilize against megaproject
The Tiburón island is an island where two Seri/Comcáac communities live. The megaproject consists of building a desalination plant and developping tourism in the area. Villagers have a "Traditional guard" that is active in the communities' protection. The article mentions that villagers are also fighting internal corruption, as a leader of the traditional authorities is on the side of the State and the company planning to come to the area.
A series of interesting short documentaries was made a few years ago on the occasion of Zapatista delegates' visits to several of Mexico's northwestern indigenous communities, who are involved in various struggles. Without necessarily agreeing with zapatista ideology and strategies, the series is pretty relevant, as it shows local indigenous villagers talking about the way they live and what they fight against in their area. Here's a link to one of these documentaries, called "Tiburón island, our heart" (https://vimeo.com/54847040).
Northern Mexico's indigenous groups come from a different history than those living on the central/southern part of the country : before the continent's Conquest, they were mostly nomads, and seen by the more centralized groups and by the European conquerors as "savages". It is the wars against some of these groups that lasted the longest : the "Chichimeca wars". Some of these groups, such as those the movies are about, remain largely autonomous and have some political control over their area, while some, especially the famous Tarahumara in the State of Chihuahua, live horrendous conditions of life, and are special targets of the Cartels operating in the area.
19/1/16
South Africa, Port Elizabeth: parents shut down 52 schools demanding teacher shortage rectified
Mexico, Zacapoaxtla (State of Puebla): market sellers take over town hall and prevent themselves from getting pushed to another area
Spain : anarchist prisoner Gabriel Pombo da Silva on hunger strike
Haiti, Port-au-Prince: 2nd day of rioting
"A few thousand people joined the demonstration in downtown Port-au-Prince, marching through narrow streets and occasionally chanting: "The revolution has started, get your gun ready." Young men threw rocks, smashing windshields and the windows of a bank. They also overturned vendors' stalls to block law enforcement vehicles. Associated Press journalists saw one injured protester with what appeared to be a bullet wound. Demonstrators said a police officer shot him in the leg, but the details were unclear. At least one law enforcer was wounded by a hurled rock that hit his head."
US, Michigan: water protesters graffiti state capitol building
19/1/16 – St. Louis, Missouri: Billboard modification.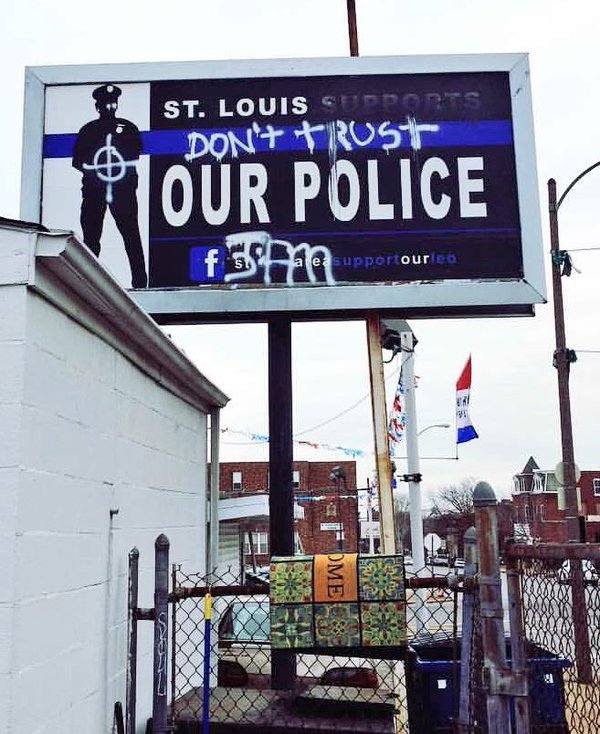 Mexico, State of Veracruz: families protest after disappearance of 5 of their family members and receive death threats. Another article below evokes the recent murder, in the State of Mexico, of a mother who was seeking justice for her son killed in 2012.
Tunisia: at least 4 towns experience violent clashes with cops over unemployment after suicide of young man
"The protests erupted in Kasserine, where the young man killed himself, apparently over the lack of job opportunities, residents said, and later spread to three other towns or cities in the country's impoverished central, southern region. Tunisia's "Arab Spring" uprising in 2011 was sparked when a struggling young market vendor committed suicide, unleashing a tide of anger among the young, unemployed that eventually forced longtime autocrat leader Zine El-Abidine Ben Ali to step down and flee the country. "Security forces chased the protesters in the streets of the city and fired tear gas," …Hundreds of unemployed protesters had gathered in front of the headquarters of the Kasserine governorate, where some threatened to commit suicide, prompting tear gas salvoes by security forces to scatter them….clashes continued into the night there and spread to the other cities of Tahla, Fernana, Meknasi…Protesters chanted: "Work, freedom and dignity," according to one resident. In Meknasi, groups of young men took to the streets and set alight tires in solidarity with protests in Kasserine"
More here:
http://www.tunisia-live.net/wp-content/uploads/2016/01/Time-Line-Protest.pdf
"Morning: Following a meeting between protesters and political leaders that failed to produce an agreement, several unemployed graduates attempt suicide by jumping from the roof of the governorate headquarters. Two individuals are injured and taken to the hospital. Protesters block the streets with burning tires and clash with security forces in the neighborhoods of Ennour and Ezzouhour in Kasserine. Social media reports that police used tear gas to disperse the protests.
3 P.M.: Curfew declared in Kasserine from 6 p.m. to 5 a.m.
8 P.M.: Protesters defy curfew and set fire to Nidaa Tounes's [governing party] office in Kasserine and attempt to do the same at the governorate headquarters.
9 P.M.: Protests spread to the towns of Thala and Feriana, as well as parts of Sidi Bouzid.
France, Calais: cops relentlessly teargas migrant camp on and off over 2 nights
From now on, Calais will not be mentioned here again on this "News Of Opposition" page since it is well covered by Calais Migrant Solidarity , unless we get information or analysis from other sources not available on this site.
18/1/16
Algeria (Batna): 5th consecutive day of rioting against transfer of solar energy company to another region
Haiti, Port-au-Prince: rioters against  election burn cars and tyres
India, Hyderabad: several cops injured as students and cops clash during protests over student suicide after explusions for "anti-national activities"
UK, Dumfries (Scotland): Scottish MP's office vandalised
France, Moirans – 3 months after direct actions, repression strikes against gypsies
See October 20 news for more on what happened
18/1/16
France, Paris : people mobilize against detention of illegal migrant and imminent deportation, have been occupying school for several days
17/1/16
Mexico, Cancún: ecocide in touristic destination as authorities start destroying 74 hectares of mangrove
Resistance plans (denouncing the issue to international bodies) seem to be pretty reformist so far.
Australia, Christmas Island: migrants riot at detention centre
"Detainees set buildings alight and armed themselves with baseball bats in a riot at an Australian immigration facility on Christmas Island…Officials admitted the disturbance, sparked by the unexplained death of an escaped asylum-seeker, was out of control."
Cambodia, Phnom Penh Special Economic zone – garment workers protest seeking unpaid wages
UK, Balmedie (Scotland): Donald "Make America Grate Again" Trump's golf course occupied by protesters
France, Seine-et-Marne: 2 female screws deliberately hit by car and badly wounded in prison car park
Mexico, Santa María Chimalapa (Tehuantepec isthmus area), State of Oaxaca – Indigenous villagers hold prisoner 12 state workers and block police helicopter
The functionaries were then freed (http://www.nssoaxaca.com/regional/10-general/141541-liberan-chimas-a-funcionarios-pero-mantienen-a-veracruzanos-), but 4 persons are held for several weeks: they're accused of invading lands belonging to local Zoque communities and destroying natural resources and the forest (http://adnsureste.info/?p=79336).
Mexico, Milpa Alta delegation, Mexico City – indigenous commune members protest against installation of Marines in their area
Milpa Alta is one of the delegations of the Federal District (Mexico City), in the southern part. It is rural and populated by indigenous people, some of whom have built autonomy processes in local villages.
Mexico, Ciudad Juárez, State of Chihuahua: Caravan for the 43 disappeared students of Ayotzinapa starts 2000km away from the State of Guerrero, with visit to the fired workers of Lexmark. They're supported by various activists (including local families of disappeared young women in Ciudad Juárez, where thousands are reported missing or have been killed in the past ten years or so), NGO's and social organizations. It seems some try to create a united front, that should have a struggle program in 2 years. No content is mentioned in the article.[Pi]
For more on Mexico see this.
16/1/16
South Africa, Cape Town: university suppresses opposition to exams by making students write in military base
*'CPUT students began writing their exams at Wingfield under military watch, after protest violence at its Bellville campus late last year led to the campus being closed and exams postponed…Business student Senzo Kwaza, who returned to the city from the Eastern Cape to write, said Wingfield was a "very hostile environment… I went on the internet and researched Wingfield. It's a venue that was used during apartheid. In 1976 students were taken there to write exams."'*
Nigeria (Okere): prison riot
"…the inmates had complained bitterly about a lack of water, electricity, and the high handedness of ACP Okoro who always confiscated items donated to the inmates by charities for his own use and mailing these items to his home State of Imo. It was learned that ASP Okoro had recently assaulted an inmate for fetching water in the yard following which the inmates requested to meet with  him on Monday through the Prison keeper to register their grievances. However, Mr. Okoro refused to make himself available . It was also gathered that the already inmates demanded to see the Controller of Prisons in the State on Friday. Unfortunately all of their efforts were rebuffed and, as a result, the inmates began a hunger strike and then began to riot on Saturday morning. In response to the riot, the driver of ASP Okoro was seen using teargas on the inmates and in reaction, the inmates destroyed the administrative building and some of their cells and demanded for the immediate sacking of ASP Okoro. …the situation was brought under control by the Nigerian Army, police, and prison warders. The incident caused a serious gridlock on the surrounding road"
France, Calais: 2 refugee prison container construction site machines destroyed in arson attack
Containers were also tagged. The tags were demands or inscriptions such as "Fuck Cameron"…or"Fuck government"
More coverage here: http://attaque.noblogs.org/post/2016/01/18/calais-incendie-dengins-de-chantier-sur-le-nouveau-camp-pour-sans-papiers/
UK (Salford): power station blockaded
France, Nice : 300 persons mobilize in defense of wolves, including shepherds
Disagreements between environmentalists and villagers go on for years in mountain areas on the issue of the wolves : some shepherds fight for the right to hunt and kill them to protect their sheep. This protest had some shepherds protesting along with the environmentalists to protect wolves. The NGOs are pretty reformist, and their goal is probably to find ways to protect wolves by finding agreements with authorities (such as employing people to protect herds during the night), but the issue is nevertheless interesting.
15/1/16
South Africa, Cape Town: trains torched in response to police drug raid
France, Calais: 50 migrants demonstrate outside hotel where riot cops are lodged, stone breaks hotel window
Chile, Santiago : fake explosive devices force mall to close on day of huge sales
Mexico, Huitzizilapan (State of Mexico): indigenous villagers involved in autonomy process elected their commune leaders (instead of political parties representatives) in assembly
People in this area are mobilized to protect their local lands (including forests) and against the Mexico-Toluca highway project, along with other communities such as Xochicuautla and Ayotuxco
Here's a video of the way these assemblies work : https://www.youtube.com/watch?v=N66yIIThRT0
France, Strasbourg (northeast): some legal documents burnt after break in court
Azerbaijan: protests throughout country force state to cut taxes on essential foods
"Troops were called in to disperse demonstrations in several cities this week, with security forces using tear gas against stone-throwing protesters "
India, West Bengal: crowd burn several cop vehicles after cops attack them for blocking road after fatal accident
14/1/16
Ethiopia, Addis Ababa: protests continue despite bloody victory (a massacre of 140)  in movement to stop state land grab
http://www.theguardian.com/world/2016/jan/14/ethiopia-addis-master-plan-abandoned
South Africa, Mpumalanga: 11 arrested after a number of government facilities including a community hall, fire departments, a clinic and municipal offices were burnt down during continued social strike against quality of basic state services.
One person was killed after being shot by police, and this led to the escalation of the protest. According to this report,
*'"The municipal offices were burnt twice. They started burning them yesterday [Wednesday] but there was little damage, which forced them to return today [Thursday]"…  some of the protesters were found with alcoholic beverages
stolen from a local bottle store.' *This is a welcome improvement on the what has hitherto been near-total inaction to the scores of murders perpetrated by the police in recent years. A similarly angry response is reported in Johannesburg on the 23rd; hopefully this signals the beginning of a trend.

The history of all 'historic' buildings is the history of class struggle:
Mpumalanga municipal offices

*Thirsty proles employ a time-honoured solution to dirty tap water*
Durban: 300 students protest outside the Technical Vocational Education and
Training college demanding to be registered
Lebanon, Beirut: heavy clashes with cops as demonstrators against garbage crisis get angry
See this: http://newpol.org/content/protests-lebanon-three-months-after for a leftist but interesting take on the crisis there.
Colombia, Bogota: union workers blockade entrances of oil company
This is not to avoid looking at how unions will increasingly use radical forms of action to maintain their credibility, whilst repressing any potential radical content (though in this case, we have no details about the history and current practice of the union involved).[SF]
Spain, Madrid: news of false opposition – the sweet modernism of the Podemos show in the Spanish parliament (See especially photo 7, but also 9, 11, 13, 15, 22 & 24)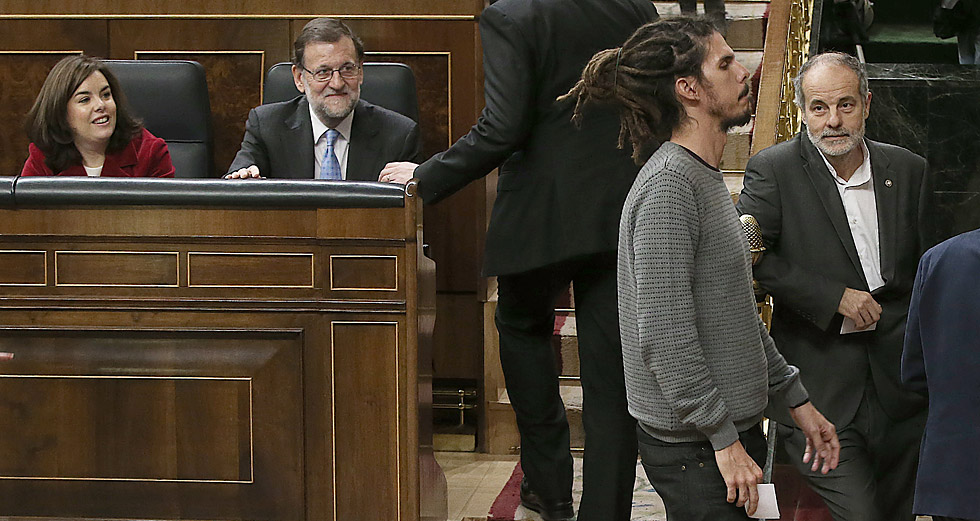 Greece (Lesvos): volunteers working to save stranded migrants arrested after saving a boat.
 More here https://www.facebook.com/yiannisbaboulias/posts/10207726570338360
"Syriza …is accepting European "help". The first actions are to arrest volunteers in Chios and Lesvos with ridiculous charges (some were charged with trafficking, others with carrying small amounts of weed), close down infrastructure like soup kitchens and observatories for approaching boats to help those arriving and establish fast deportation routes back to Turkey, where a recent BBC report showed that refugees have been tortured. This breaks two promises: the first is that under Syriza, solidarity networks that essentially fill in the gaps for a semi-collapsed central government, would be allowed to operate unabated.The experiment was successful, but now it's being curtailed. The second promise broken is that of the promotion of human rights and humane treatment of refugees. By agreeing to allow Frontex to operate as border police and with the tactical police cracking down on activists, Syriza is succumbing to turning Greece to an open air detention centre for refugees, and the country as a whole to a European borderland where a quasi-autonomous force (Frontex) operates with a hazy mandate. The final straw is the extension of the operation of detention camps in Greece, all of which have come under heavy criticism for the squalid conditions under which detainees live, until at least 2018. The government has vowed time and time again that they would be shut down. Now they won't be."
13/1/16
Mexico, Ciudad Juárez (State of Chihuahua): Some of the mobilized workers who were fired from Lexmark plant march in several areas of Mexico City.
They are supported by several unions. They denounced their horrendous conditions of work and extremely low salaries: the company doesn't hesitate to employ illiterate people on contracts not even respecting minimums.  Some work for 2,000 pesos a month, in a country where the minimum for covering the most basic needs is 5,800.
Cambodia (Phnom Penh): fired bus drivers making a protest are attacked by moto-taxi drivers….unfortunately, proletarian solidarity is not automatic.
South Africa, Pretoria: thousands of workers shut down multiple universities demanding end to outsourcing
Mexico, San Sebastián Bachajón (State of Chiapas) : Tseltal villagers block roads and resist takeover of some of their lands for touristic-related projects
see pictures (below) and videos of the resistance, as well as a filmed declaration.
Two villagers were injured as police fired live ammo and rubber bullets during their intervention.
12/1/16
Brazil, Sao Paulo: protesters against fare increases clash with cops again
Mexico, Sierra Norte (State of Puebla): 5 indigenous municipalities agree not to let hydro-electric power plant settle on their land
Puebla's Sierra Norte is a poor indigenous area, pretty combative, especially against mining projects.
Bangladesh, Brahmanbarhia: students block rail tracks, smash railway control room, after student is killed by cops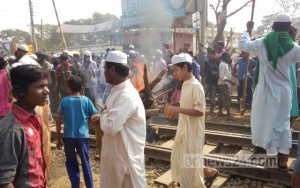 South Africa (Gauteng): no buses as wildcat strike hits region
Nepal, Janakpurdham: 2 cops hurt in clashes with high school students
11/1/16
Guinea (Conakry): confrontations between cops and stone-throwing  youths after cops beat up car driver for driving badly
South Africa, Johannesburg: students disrupt registration at multiple universities demanding end to registration fees, free education and debt cancellation
'*S'bonakaliso Nene, a Wits student active in last year's protests, said, "The greater goal that we're pushing for is free education in South Africa now – not later, not soon, not in the future, not in our lifetime; Now! We need to start pushing for that. We need to see tangible, comprehensive steps taken by government, by all those in power, to show us the ways and means in which they are trying to attain this. We don't feel like a zero percent increase is good enough. That's merely just a start, because if you look at it those people who couldn't afford fees, they still can't afford fees now. Genuinely I feel like last year was a spark to the movement and how things are going with our generation," he continued. "I think this
year's going to be a whole lot more robust"… Some people who came to register on Monday, however, felt frustrated by the disruption… Asked about those who were disappointed on Monday, the SRC's Hassan said, "A revolution is going to be inconvenient." '*
US (Detroit): Teachers shut down two dozen schools with an illegal sickout strike
Mexico (State of Guerrero) : the situation is extremely tense in the State of Guerrero. 22 disappeared in only 3 days, including 5 teachers who "were disappeared" (as the expression goes in Spanish) during classes.
In Arcelia (Tierra Caliente region), 100 locals blocked a road to ask for  17 persons who disappeared in the area to be presented alive (http://www.proceso.com.mx/?p=425940). They ask for the departure of local police, but seem to have illusions about other forms of authorities, from whom they request action. We often mention these contradictions (that are in some way understandable), while it is known that all levels of power in Mexico are linked in different ways with the various organized crime factions, such as those operating in the State of Guerrero.
Mexico's president just visited the city of Acapulco (where dozens of homicides were reported these last weeks) after these events and offered promises of more security, without even mentioning the disappearance of the 43 normal school students or the most recent ones (http://www.proceso.com.mx/?p=426032).
In the northern part of the State, local villagers of Teloloapan formed the "Communitarian Police" to fight against the organized crime group ("La Familia") operating in this area and responsible for 400 executions in the last 4 years.
Guatemala: warden and 19 insecurity guards taken hostage in prison riot
Sudan, West Dafur: 12 killed in riots following killing of herdsman and storming of state governor's premises by Internally Displaced Persons
10/1/16
Italy, Brindisi (Apulia): 3 comrades arrested in the struggle against detention centre
Kenya, Nakaru: students smash university kitchen, destroy computer and break into warden's office in protest against  lack of male-female dorm access, forced shaving, power and water shortages, etc.
China:  strikes and protests in China for 2015 double that of 2014
…Hangzhou: state organises an innovative method of securing safe train journeys
And anyone disagreeing with the official reason for this will be subject to re-education classes [SF]
9/1/16
South Africa (Marikana): president cancels visit after protests erupt over state housing
France (Toulouse): tramway line and access to airport blocked in support of the "ZAD" at Notre Dame des Landes
Zambia (Lukulu): 27 prisoners escape when crowd attack police station after man dies in cop custody
"some residents …turned their anger against police, looting, vandalising and breaking locks to the cells holding the 27 suspects who included remandees"
Denmark, Copenhagen airport: 100s of people from both sides of border clash  with cops over border controls
8/1/16
US, New York : NYPD break up protest against deportation of immigrants
(Pictures and videos)
This article gives figures of deported migrants in the US. Lots of articles can be found on the internet evoking the hardships faced by those who are deported to their country of birth, such as Cambodia, Haiti or Mexico, after prison sentences or conviction for even minor offenses. Countries they sometimes know nothing about, where they have no family. There are even cases in which they don't speak the local language.
For Mexicans, deportation from the US is nothing new : http://classroom.synonym.com/forced-deportation-mexicans-during-depression-6297.html, though it's still horrendous in lots of cases (http://www.nbcnews.com/id/26379348/ns/world_news-americas/t/deported-mexicans-face-shattered-lives/#.Vp_cqOFX3hB).
In the narco-ridden State of Michoacán, returning migrants (whether of not deported) participate in the local autodefense movement (apparently in some cases as a result of a fascination for violence, in other cases as a way of having the impression of participating in something positive), see this article : http://www.huffingtonpost.com/luis-a-marentes/returning-migrants-and-th_b_4713432.html. The autodefense movement is party manipulated by cartels and local landowners, unlike the indigenous communities' Communitarian policies (see our various entries during the last months for more on this).
Mexico, Oxchuc (State of Chiapas) : 2000 indigenous villagers raise hell to force local mayor to leave office; they block roads, injure 50 policemen and burn 15 houses
Brazil, Sao Paulo & Rio: protesters against fare increases attack cops, banks and buses
Argentina, La Plata: peaceful demo by sacked public sector workers brutally attacked by riot cops
Greece, Athens: clashes with Syriza's cops over Syriza's pension cuts plan
7/1/16
South Africa, Mpumalanga: road blockades in protest apparently related to dirty water
*'The locals accuse the Emakhazeni Municipality of failing to provide them with basic services. They currently depend on boreholes for drinking water. "We have a lot of problems here, we do not have clean water, the municipality is not doing anything to resolve the problems," says community leader, Funky Mbethe.' *According to the video residents also complain that the garbage is not being collected, and that they are forced to rely on bottled water as the tap water looks dirty.
Thailand, Rayong province, eastern Thailand : auto workers rally against suspension
Here's something about the organized forces of representation and recuperation : http://www.khaosodenglish.com/detail.php?newsid=1453715539&section=11, namely a labor group leader who worked for proletarian support of Thailand's last coup who is now repressed by those she supported : http://www.khaosodenglish.com/detail.php?newsid=1453715539&section=11
Repression against all forces of opposition (which by the way are very reformist, though their "democratic" ideology is in a certain way subversive in that it is sometimes a very indirect critique of the monarchy, in a country where people are sentenced to years of prisons for lightly-ironic indirect comments about the monarchy) by Thailand's Junta is particularly strong for a few months.
UK (Brighton): Queen Victoria is not amused (but we are)
Reminds me a bit of this personal story from September 1984, about the TUC [Trade Union Congress] conference held in Brighton during the miners' strike. Loads of people went there to lobby and push for the TUC to support the strike (a futile effort, but it did lead to some interesting things, such as  several union leaders' cars being attacked and smashed in the evening in a car park near the TUC conference).  We parked the Southwark Unemployed Centre van over half a mile from the beach, drank a bit of wine and headed off, mid-morning, towards the sea front for the demonstration, armed with spray cans and pamphlets. There's a statue of Queen Victoria in the park so me and another one of us went down to the statue and the other guy got up high to shove a black flag in her hand, whilst me at the bottom spray-painted, "We are all abused" (it should be remembered that about a year previously Thatcher had talked about the return to the "eternal values, Victorian values"). Cops came along and, without radioing for back-up, attempted to arrest me, holding me in an arm lock from the front round my neck and at the side.  The others came along and one of them bit one cop's hand, whilst others pushed the other cop out of the way, and then I ran like fuck through the narrow streets and everybody else did likewise – everyone got away. As soon as I met up with one of my friends, she gave me her jumper so I looked different, whilst the cops went round Brighton peering out of their cop car in vain all round the demo for us. No one got nicked, and we continued the day in good spirits, elated by this small victory, handing out subversive pamphlets and chatting and arguing and feeling good, whilst most other people felt pretty bored. Of course, this was part of a very different atmosphere, and the Bristol graffitist merely follows the Bristol tradition of "alternative" art, which, though it certainly made me laugh, is seen as something purely individual and doesn't communicate anything else than a good joke [SF]
Sri Lanka (Embilipitiya): 1000 people block road after youth dies following clashes with cops trying to get free booze from partygoers
Lebanon, Beirut: cops baton sit-in by people protesting garbage crisis at premises of Central Inspection in Sanayeh neighborhood
US, Massachusetts: prison riot; at least 2 screws hospitalised
6/1/16
Mexico, Veracruz (State of Veracruz) : farmers demonstrate in the port of Veracruz before President's visit against refusal to give them lands.
The article also mentions a critique of the event the President came for  an homage to Venustiano Carranza, who became Mexico's President during the revolution, and whom they denounce as a traitor (though they seem to have more illusions about Pancho Villa, whose memory they reaffirmed in their statement).
Short digression and debate regarding Carranza, Villa, and the Mexican Revolution in the North:
Despite various military and financial disputes, Pancho Villa was, in fact, a great admirer of Carranza, who was not exactly a "traitor" since he never betrayed his own aristocrat-turned-bourgeois class. Madero, the initiator of the bourgeois revolution beginning in 1910,  said of him "This is a good man! Love and honour him always". Carranza was "an  aristocrat, descended from the dominant Spanish race; a great landowner, as his family had always been great landowners; and one of those Mexican nobles who, like a few French nobles such as Lafayette in the French Revolution, threw themselves heart and soul into the struggle for liberty. When the Madero Revolution broke out Carranza took the  field in truly medieval fashion. He armed the peons who worked upon his great estates, and led them to war like any feudal overlord ; and, when the Revolution was done, Madero made him Governor of Coahuila." (John Reed, Insurgent Mexico).
After the murder of Madero by Huerta, the revolution was fought by other armies, amongst which was Carranza's, who at this time crossed to the West of the country for some unclear reason. He remained there for "six months, apparently doing nothing whatever, keeping a force of more than 6,000 good fighters practically inoperative, attending banquets and bull-fights, establishing and celebrating innumerable new national holidays, and issuing proclamations. His army, twice or three times as big as the disheartened garrisons of Guaymas and Mazatlan, kept up a lazy siege of those places." [ibid] These places took ages to fall, even though it seems, if Carranza had committed himself , they could easily have been defeated a lot sooner. And he virtually contributed nothing to the revolutionary war afterwards. He was more concerned with becoming head of state. And whilst President, he made even discussion of strikes illegal and punishable by death. And it was Colonel Jesus Guarjaredo, of Carranza's army, who betrayed, trapped and murdered Emiliano Zapata. And yet, publicly at least, Villa admired Carranza enormously and never once publicly criticised  his policies.
As for Villa – as an absolutely uncritical adorer of the liberal bourgeois Madero – he had one of Zapata's close associates executed by firing squad for writing an article criticising Madero from a libertarian perspective. Moreover, he was committed to his own self-aggrandisement: "On January 3, 1914, in the city of Juarez, [Pancho] Villa signed an exclusive contract with Mutual [a film company] for the sum of $25,000. It was also contractually agreed that Villa would do his best to win all his battles in sunlight and to forbid the presence of any other rival cameramen on the battlefield! Aitken also stipulated that in case Mutual did not succeed in shooting enough suitable material during the actual battle, Villa would guarantee to re-enact it the next day before the cameras." (Quoted in 'Spectacular Times; Cities of Illusions.) And he never ever did anything to restrain his brother, who, usually when drunk, would shoot and sometimes kill men in Villa's own army for virtually no reason at all. Illusions regarding this guy abound, usually because he did some very courageous and impressive things against the forces of the old feudal system. Doubtless Mexican official history suppresses mention of the disgusting aspects of Villa. People, and the system they acquiesce to, seem to need heroes, the worship of whom represses any consciousness of the obviously stupid and sick sides of the celebrities they put on a pedestal, particularly those long consigned to the misty past.
[SF]
Though all of this seems minor in comparison with what was the most problematic aspect of Villa: his fundamentally authoritarian attitude. Though he never ceased to use strategies gained during his years as a bandit in Chihuahua Sierras, he always had an extreme contempt for human lives, and for anything that had to do with ideas, reflection, or revolutionary thinking and practice. He basically always was a general, though an "underground" one.
Paco Ignacio Taibo's biography of him is definitely a must read, though focusing too much on endless details (and lacking some information on the national context). Particularly because it explains clearly his relationships with all the new or would be leaders of the "revolution" (though in many aspects, and particularly in the north, lots of episodes have much more to do with plain and simple war). It also gives the incredible figures of losses in Pancho's ranks, and lots of facts about his personal life.
[Pi]
Although I'm sure self-aggrandisement does come into it, Villa's PR efforts also have much to do with the war of propaganda that accompanies any modern military conflict, of which film is always of course a significant part. According to his biographer, Villa's rivals used such propaganda very astutely to paint him as a bandit and agent of US and German imperialism, and his sensitivity towards his image must have much to do with political and strategic questions of morale & international relations which could be  negatively affected had he not attempted to counter these allegations.
Frederich Katz's biography points out that not only was film a medium for manufacturing  mythology but that mythology was manufactured even regarding the use of the medium: 'Villa understood not only the importance of favorable coverage by newspapers for his movement but also the impact that an entirely new medium, the movies, was beginning to have on US opinion.
… Villas deals with Hollywood proved to be highly profitable ventures in themselves. They burnished his image and increased his popularity in the United States. They also provided urgently needed dollars, which Villa used to arm and supply his troops… There was absolutely no mention [in the film contract] of re-enactment of battle scenes or of Villa providing good lighting… Such tales, which attracted worldwide attention, reinforced the negative image that many in the United States had of both Villa and Mexico. It was the image of the barbarian leader unscrupulously ready to sacrifice the lives of his men in order to gain publicity.'
This is not to defend the guy in any way, but to emphasise the fact that, just as they need heroes, slaves and the slavery they acquiesce to also need *villains*, whose detestation represses any consciousness of the obviously stupid and sick sides of the celebrities they put on a pedestal, and often justifies, in the name of 'fighting the bad guys', enthusiastic submission to measures that might otherwise arouse vehement objection. States of emergency, such as that recently declared in France, and the repressive measures that have become business-as-usual in bourgeois democracies for the sake of the global 'war on terror', are the products of such spectacular morality tales.
[SK]
Pakistan, Mardan: 35 workers imprisoned for protesting illegal sackings at Philip Morris tobacco magnate
France (Calais): 5 hours of clashes  between riot cops and 30 to 60 migrants; cop car damaged
China, Guangxi: police riot & roadblock
Mexico, Quetzalcoatlán de las Palmas (State of Guerrero): six indigenous villagers killed over refusal to collaborate with organized crime groups fighting for control of the region
And two more dead in Guerrero State:
Again Nahua villagers who refused to take part in the fights between the two criminal groups ("Los Ardillos" and "Los Rojos") fighting for control of the region. Villagers denounce the protection these groups get from both the federal and local governments, as well as the support from the army. "Los Ardillos" are tied to a politician of the PRD (the third political group in the country). They are those who were involved in these massacres. The situation is tense in the State of Guerrero, with lots of clashes and homicides on a daily basis. This State produces more than half of the total opium and heroin production of Mexico. Raw opium gum sells for $930 per kilo, in one of the poorest regions of Mexico. Nahua villagers are used to leaving their villagers for temporary work in other parts of the country and according to the report, lots have fled the area following the clashes.
Some info and photos in English (environmental NGO source) here : http://www.earthisland.org/journal/index.php/elist/eListRead/in_guerrero_a_battle_between_indigenous_communities_and_drug_cartels/
5/1/16
France (Calais): 300 migrants slowing traffic to try to board vehicles bound for UK clash with cops; one riot cop  & several migrants hospitalised
…later, armoured vehicles of the military attack migrant camp with rubber bullets, tear gas and concussion grenades
http://www.lefigaro.fr/flash-actu/2016/01/08/97001-20160108FILWWW00039-des-vehicules-blindes-dans-les-rues-de-calais.php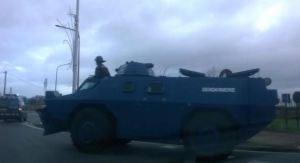 Video: https://www.youtube.com/watch?v=OQCP_inka-Q
Zimbabwe, Chitungwiza: boycotters protesting cop corruption storm council offices, block road and chuck stones against governing party youths chucking stones at them
France, Calais: 6 cops hurt in confrontations with migrants
Cambodia, Phnom Penh : protesters block road with 10 two-wheeled tractors against police intimidation and obtain release of detained man over two land disputes involving chinese companies that cleared land
Mexico, Ocotepec (State of Puebla) : villagers close town hall in struggle lasting for 4 months over water supply and lack of public works
4/1/16
Argentina, Tandil : riot in prison for better conditions of life inside, enough food and the end of holding prisoners inside after their time is done
US (Atlanta): Graffiti against police and Donald Trump: "MURDERTRUMPASAP".
Also, see the link for interesting effort to make peace between graffiti crews, to build an alliance against the "common enemy" and the "spectacle of mainstream electoral politics."
South Africa, Durban: Drivers block major highways with around 100 buses in
wildcat strike (pictures)
Algeria, Hazoua: unemployed youths close the border with Algeria in movement against unemployment, demanding redistribution of agricultural land
3/1/16
Morocco/Spain: 3 drown after "very violent" clashes between migrants and border cops
Chile, Santiago: banks and shops attacked, molotovs thrown, on anniversary of killing of Mapuche indian
see http://vozenfugacalle.blogspot.fr/ for more information.
2/1/16:
US (Ohio) early January:  Sean Swain, anarchist prison rebel goes on med strike, in response to prison admins attacking his communications with the outside world.  In happy coincidence, the authorities seem to give in AND the withdrawal of medicine does not lead to expected deadly consequences.
Greece, Corinth: refugees riot, burn mattresses throw stones at guards, in resistance to their expulsion
Iran: 1000s of miners go on strike in 2 areas (Kuhbanan & Golestan) demanding unpaid wages
Kuhbanan
1/1/16:
Happy New Year's!
Germany, Hambach forest (Rhineland): night of 31/12/15 – 1/1/16  eco-anarchists sabotage open-cast lignite mine operators "On the night of December 31, 2015, we conducted three fire and sabotage acts against the open-cast lignite mine operated by RWE in the Hambach forest. We put DIY harrows on the road used by security forces, in order to harass and distract them while we set fire to various blocks of cables and a few electrical boxes installed next to the railroad tracks that are used to transport lignite from the mine to nearby power plants. Stopping convoys for some time. We then set fire to a telecommunications mast located next to the mine and we made sure, from a distance, that the device went up in smoke. It continued to burn for more than one hour. And finally, just after midnight, we again attacked by putting more harrows on the security forces' road, this time closer to their precinct. Then we set fire to a barricade made of car tires and a large pile of logs on the side of this road in order to attract security guards in an ambush, before retreating into the forest to the sound of fireworks. By making use of DIY improvised harrows (wooden boards pierced by large nails), we are sending a warm and rebellious hug to our comrade anarchist Emma Sheppard imprisoned [1] on the anniversary of her arrest. We carried out these attacks in solidarity with the ongoing resistance to the development of mines in the Hambach forest."[translated from the French]…Leipzig: 8 customs' cars burnt down for Black December
(communique in German here: https://linksunten.indymedia.org/de/node/163876)
Cambodia, Phnom Penh: fired bus drivers continue their protests
Cambodia, Kandal province: clashes between striking workers wanting to march and security guards
Guatamela, Puerto Barrios (Izabal department): 8 killed and 24 injured in escape attempt
The article mentions a riot, on the 30th of November, that had already left 16 prisoners killed
Austria (Vienna): as supermarket plans to sack more than 1,000 employees, some people come and empty alcohol shelves
Canada (Montreal): Graffiti against police.
Chile (Concepción) : a prisoner escapes from jail on New Year
UK, Hampshire: estate agents windows smashed
Zambia (Kafue): 2 police posts burnt down, riots, after cop beats up pedestrian
France (Alsace): the normal peace of the  graveyard restored after several hours of fires and small barricades as youths play cat and mouse with the gendarmes and firefighters
More here: http://www.dna.fr/actualite/2016/01/01/face-a-face-tendu-autour-de-minuit-au-neuhof
France (Yvelines):  22 cars and 3 bins burnt, and 3 separate attacks on cops
France: depressing news – report saying that car burning on New Year's Eve has been down on last year – 804 compared with last year's 940
For more detailed list (in French) of car burning see this: http://berthoalain.com/2016/01/01/saint-sylvestre-voitures-incendiees-a-oissel-bellaing-petit-synthe-brest-mulhouse-wittelsheim-charleville-laden-petit-train-limoges-strasbourg-toulouse-31-decembre-2015/