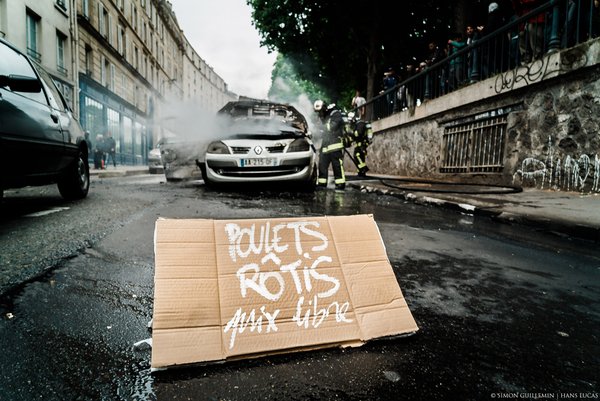 "Summer is the time when one sheds one's tensions with one's clothes, and the right kind of day is jeweled balm for the battered spirit. A few of those days and you can become drunk with the belief that all's right with the world."
–  Ada Louise Huxtable
"Summer has set in with its usual severity." – Coleridge
Sunday the 31st:
Syria, Aleppo: residents targeted by Russian air-strikes impose home-made no-fly zone with smoke from burning tyres
Italy (Val di Susa) : video of a TAV construction site sabotaged
Satyrday the 30th:
Vietnam, Vissai: fishermen clashing with cops, as cement company threatens to destroy their way of life, free beaten prisoner from cop car "Fishermen protesting the construction of a port project benefiting a major Vietnamese cement producer clashed with police … with one man beaten as he attempted to get medicine… as many as 700 villagers attempted to protest the construction project…The witnesses said 64-year-old Nguyen Viet Nong was beaten as he attempted to walk through the police lines to get medicine. His beating caused the eruption of a broader clash between the police and the fishermen…."At the edge of the village, I saw many policemen blocking the road," Nong told RFA. "I told them that I needed to go out to buy some medicine because I'm sick, and then I continued walking. One policeman kicked me in the chest, making me fall. Then they all stepped on me." Nong said that he was then forced into a police car, but the car was stopped by the crowd after it had trav-eled about a kilometer. "They opened the door and let me out," he said. "A village doctor came to check on me and told me that I was injured in my chest because of their strong kicks." … people from about 400 families had gathered at the demonstration site to protest the low compensa-tion the government has offered them for disruption to fishing."
France, Seine-St.Denis (La Courneuve): 20 or so vehicles belonging to the Town Hall burnt on estate following cop killing of dog and general tensions
Friday the 29th:
Malawi: chaos continues in resistance to 300% university fee hike "Learning in the University of Malawi is at a standstill as running battles between students and the police continue… Property within university campuses has been destroyed, traffic blocked every day and some students arrested for the mischief and the fee hike topic continues to attract public disapproval. Instead, the University of Malawi has closed Chancellor College, the main campus of the university where the protests began, as an apparent scare tactic for the rest of the constituent colleges. But the scare has only escalated the situation at all the four constituent colleges, which includes the usually reserved college of medicine."
India, Bubaneswar: protesters against garbage site pelt cops with stones, put up burning barricades
UK, London: 1000s of cockroaches, locusts etc released into Burger restaurant collaborating with Home Office to deport its own super-exploited black economy workers
Insects turn up for elf & safety training #boycottbyron pic.twitter.com/hUu3Gx0Okp

— LWood (@greedisagreed) 31 de julio de 2016
Photo of hambug managers organising their sting operation
"We are roaches, riddling the state cabinets, entering the dark holes of power" – Walcott, The Fortunate Traveler, 1982
another reason to abolish restaurants: http://www.prole.info/ar.html
Thursday the 28th:
Greece: Minister's home attacked with molotovs and other responses to state eviction of squatters and destruction of squats in Thessaloniki "Anarchists in Thessaloniki responded by invading a cathedral during mass, and setting fire to the offices of the company carrying out the demolition work. A number of Syriza offices in Greece were occupied, while Minister Alekos Flambouraris's home was attacked in Athens, reportedly with molotovs. In Turin, Italy, the Greek consulate was graffitied.  In Crete, comrades set fire to a church." (these events happened between this date and August 1st)
Morocco, Casablanca: buses burnt, 19 security officials hurt, in massive riot in young offenders prison "Twenty-eight people were wounded in a riot … Most of the casualties were admitted to hospital….19 security personnel, firefighters and prison administrators were wounded when officials tried to contain the unrest and restore order. The rest of the casualties were inmates…. the "insurgency and riot"…caused "massive material damage."
US, Chicago: protesters, mainly  black, occupy square where secret cop torture interrogation takes place
France, Seine-St.Denis (Parisian banlieux): after asking the 5 passengers and bus driver to leave, a group of youths molotov the bus and completely destroy it
Wednesday the 27th
Brazil, Angra dos Reis: Olympic torch extinguished because of riot against unpaid wages and poor public transport… More here: "Rio's top security official has vowed to review security for the Olympic torch after rioting protesters blocked the relay ceremony and apparently extinguished the flame….Chaotic scenes caught on video show a crowd of young people appearing to steal the torch from the procession and then extinguish it. In footage of the clashes shared online, someone can be heard shouting triumphantly: "The torch has been put out!" as the torch bearer, carrying an unlit torch, is hustled into the safety of a bus. Local news reports said that the Brazilian military eventually disbanded the protests using tear gas and rubber bullets… Most Brazilians are pessimistic about impact on their country of the Olympic Games. In another worry for organisers, Rio metro employees threatened to go on strike on the eve of the Games if they do not get a 9.83 per cent salary raise, raising the possibility of transport chaos for some 500,000 tourists expected to attend. Concern about the games has grown in Brazil as the country falls deeper into its worst recession in decades, Olympic preparations have been delayed or scaled back, and evidence of widespread corruption in construction contracts for Olympic infrastructure has been uncovered by police and the courts."
Dubai: 8 workers accused of starting riot causing about 100,000 euros in damage walk free "The criminal court found them not guilty of leading the riot that took place at premises belonging to construction company Arabtec on the night of January 3. It also cleared them of charges of inciting other workers to cause damage, illegally forming a large gathering and causing damage to the company's premises, tools and equipment rented from other companies, which amounted to more than Dh400,000. One defendant was found not guilty of setting fire to a digger by opening its fuel tank and igniting the fuel inside. Witnesses said two of the eight men complained to the company's security guard their rooms had been burgled and they demanded to be given locks and keys. "Shortly after coming to me, the eight men returned with a group of about 100 other workers, which quickly grew to include nearly 500 workers, and they started encouraging the other workers to break and smash everything," said the Egyptian guard, 25. The defendants were known to Arabtec for violations such as bootlegging, he said. The men used wooden sticks, iron bars, rocks to damage cars, doors, windows, equipment, vehicles, motorbikes, and staff desks, the guard said. Another security guard said one worker went on a roof and pushed a water tank to the ground. …The appeals court …upheld the men's innocence."
Greece, Thessaloniki: anarchists occupy Syriza's offices in protest against attacks on squats
South Africa, Kliptown: protesters and police do battle "About 100 demonstrators took to the streets and children were prevented from going to school. Some protesters tried to loot shops and burn down a construction depot."… train line occupied and service suspended 
Tuesday the 26th
Egypt,Giza (Imbaba): clashes with cops after young guy dies after arrest for marijuana dealing by cops at notoriously brutal police station
Ivory Coast: management are sequestrated for several hours during short unexpected spontaneous wildcat strike at 2 offshore oilfields (not clear what the demands were)
Tunisia, Sidi Bouzid:  workers demanding regularisation of their work sit-in in front of local government HQ
Kenya: arson attacks on dormitories of at least 5 schools, bringing to almost 100 arson attacks at schools over the last 2 months …This says that 126 conditioning factories have ben effected.  No clear explanation for these fires. But this  from 11th July might go some way to explaining them.
France, Niort: front window of Socialist Party HQ covered in shit – so no change there "The front window of the headquarters of the Socialist Party, rue de la Boule d'Or, in Niort, was covered with excrement and inscriptions referring to 49.3[parliamentary method by which the labour law was forced through in the National Assembly without even the pretence of bourgeois democracy – neither parliamentary debate nor vote amongst duputies], on the night of Monday to Tuesday. "Nothing justifies such acts. Any citizen wishing to engage in a debate, express any opinion whatsoever,  solicit a point of view, can do so by all the means offered by our democracy: correspondence, inquiries, requests on social networks. Deviating from these methods is to enter into an escalation that can only lead to the worst,"…The federation of the party is pursuing a legal complaint. For her part, the Socialist Regional Councillor Nathalie Lanzi denounced the "irresponsible perpetrators who should be ashamed: unable to exchange ideas, only able to wreck. In these   days of bereavement [reference to the masssacre in Nice and other horrors] when we must express our solidarity sensitively and fraternally, what does such vandalism and unwillingness to accept republican legality represent?" 
Monday the 25th
Democratic Republic of Congo, Kinsangi: cops kill 2 motorbike  taxi protesters during demo against cop harassment; youths barricade streets and ransack police station
Russia, Siberia : prison riot (video) "the interior of one of the prison's buildings was destroyed from within by prisoners breaking off doors, throwing tables and overturning beds"   More here:  "they barricaded themselves into their barracks and demanded a lighter labor regimen… During the course of six hours of negotiations with the criminals, they were offered various solutions to resolve the situation, and the convicts were guaranteed full observation of their rights and lawful interests. However these convicts refused completely any options offered, demanding a significant weakening of the incarceration regime, which is against the law"… Novaya Gazeta reported that 242 inmates were said to take part in the rebellion"
South Africa, Paarl: shops looted, state vehicles and building torched during anti-eviction action
France, Alsace-Lorraine: 4 more hunting towers destroyed by ALF
Mexico, Mainstream report in English

Stunday the 24th
Greece, Kastanies: clashes at No Borders camp, cops firing tear gas and stun grenades at about 150 people
Malawi, Kamuzu: students protesting fee hikes block hospital road and get teargassed by cops
France: Val d'Oise: 5th or 6th night of riots Not sure how many nights of riots there've been, as the indifference of reporters can´t even maintain (in this sloppy French language report linked to here at least) any consistency in the date of the death of this young guy: "A youth stands with his hunting rifle at his shoulder in the middle of the estate, surrounded by a dozen rioters and opens fire. Shooters, crouching behind shrubbery, shoot the gendarmerie or police vehicles that go past them ten meters away, and immediately run away, disappearing into the darkness. Investigators from the Versailles Research Section are seeking gunmen with shotguns who have targeted security forces in recent days in Persian and Beaumont-sur-Oise. Eight police vehicles (police, gendarmerie and CRS) were targetted during the riots that marked Persian and Beaumont-sur-Oise since the death of Adama Traoré on Tuesday, July 17…Violence that´s unprecedented since November 2007 in the Val-d'Oise and the riots in Villiers-le-Bel in which 90 police officers were then wounded by gunfire. The young man died on the day of his 24th birthday, on July 19, during his arrest…During the riots of Beaumont and Persian, forty police and gendarmes were under fire…. Gunfire was often aimed at face level with 12 gauge shotguns – loaded with pellets for small game. Ten policemen and gendarmes have been slightly injured by the shots, despite their shields, helmets and bulletproof vests. A policeman and a gendarme have received a lead pellet in the face, one a few millimeters from his eye. A total of 25 shots were recorded during the first night of violence on the night of Tuesday to Wednesday, mainly on the estate of Boyenval in Beaumont, where Adama Traoré lived. Then five shots in the night from Friday to Saturday, especially in the Village, Persian. Shots that have not been responded to by the security forces, with their service weapons….Investigators have… found a series of caches where incendiary devices and pebbles had been collected, reflecting a coordinated effort by rioters." … On this day this revolt inspires some prisoners to express solidarity with the rioters  " 81 inmates of the prison of the Val-d'Oise, in Osny, refused on Sunday at 6pm to leave the exercise yard after having set fire to some sheets, according to the FO  union [Force Ouvriere – or "Workers Force", a union that in its history since 1947 has combined both Trots and right-wingers united in their opposition to the Communist Party; this union represents, amongst others, screws]. These acts were committed in reaction to the death of Adama Traoré. Some prisoners of building F1 sported slogans on their T-shirts dedicated to the youths of  Boyenval. The Eris (specialized response units) were dispatched … again. Calm returned at 10.30pm. The FO union "demands the transfer of leaders" and "an immediate resolution" so that "the situation does not last all summer." Two transfers were immediately instigated by the management of the prison."
Shatterday the 23rd
Gabon, Libreville: hundreds protest President's re-election campain, insecurity forces do their job
Argentina, Buenos Aires: hundreds of mothers stage suckle-in against public breastfeeding repression
Mexico, Oaxaca: after announcing it would boycott the famous folkloric Guelaguetza festival, CNTE leaders announce they won't, but that they'll continue betraying the movement by discussing with government over Education reform Meanwhile, a popular and teacher-lead version of the Guelaguetza was organized for several days in Oaxaca capital…with lots of Oaxaca indigenous communities participating in street parades, concerts, representations. During main event in a stadium on 25-07, lots of reformist slogans calling for social justice, respect for indigenous communities, and much focus on the local traditions…
France, Val d'Oise: 4th night of riots "At 00.30 am, the violence touched mainly the housing estate of Village, Persan, where a dozen cars were torched by fifty individuals…Two shots wounded two militarised cops from the gendarmerie and mortar fire rang out in the park Robespierre. A helicopter flew over the area, where some 150 military gendarmerie and police officers had been deployed in the evening." Video here…This follows a daytime march of about 2000 in the small town, in which slogans such as "No Justice, no Peace" or "Adama Traoré – we won't forget, we won't forgive" were both shouted out and written on t-shirts… Seine-St.Denis (banlieu just outside Paris): 4 cops hurt in ambush by 30 youths on estate  "About 30 individuals fired heavy duty fireworks towards police functionaries…forcing the police to use flash balls and anti-disencirclement grenades…a temporary work building, 2 vehicles and some dustbins were burnt. In addition, a bus was vandalised."
Afghanistan : more than 80 dead in ISIS attack against Hazara minority demonstration against state-funded power project
Frayday the 22nd
Japan, Okinawa: protesters against US military developing helicopter port amidst environmental destruction clash with cops
Malawi, Blantyre : students in conflict with cops in protest against tuition fee hikes
France, Val d'Oise: 3rd night of rioting in Parisian suburb … 6 cars burnt and petrol station set on fire… Lancon:  major tollbooth opened to allow free driving for north to south side of this motorway as part of movement against labour law  As with many of these apparently interesting actions it's very hard to know how much is spectacle of opposition initiated by the CGT intended to boost its credibility with a genuinely angry base frightened for its future and how much is fairly independent opposition coming from this base of the union. What's clear is that the CGT could – if they really wanted to – bring key sectors of the economy (railways, refineries, electric power, docks) to a halt if they thought that that was the only way that would enable them to maintain their power and finances within the current system. That they don't is not just that that would bring them into possible violent conflict with the state that they still fantasise they could eventually negotiate with, a state which they still hope to be recognised by as social partners, but that it might also inspire intensified independent opposition  that they would probably find hard to control.
South Africa, Meyerton: journalist attacked, robbed, camera smashed in week-long protest "Residents have been demonstrating since the beginning of the week, demanding housing and electricity… Residents protest over housing singing " DA local government will be overturned"…Several cars have been attacked and stoned by protesters including 3 police vehicles."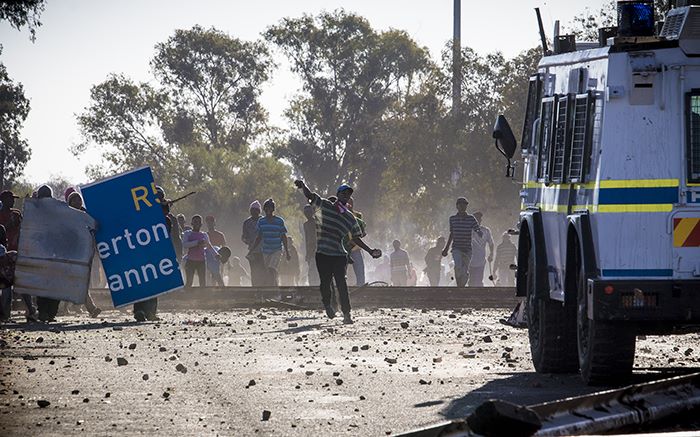 According to video below, the clashes began when residents joined a municipal worker's strike that 'escalated dramatically':
#Meyerton: Several cars have been attacked and stoned by protesters including 3 police vehicles. #SABCNewspic.twitter.com/JYTF6D7gyA

— Manqoba Mchunu (@ManqobaMchunu) 22 de julio de 2016
Ivory Coast, Bouaké: 2 more deaths in movement against electricity hike; regional town hall and commercial centres looted
Chad: unprecedented illegal strike by national TV personnel striking for improved living and work conditions, questioning where money raised for TV has been spent
Jeersday the 21st
Mexico, Puebla: informal sellers clash with police after operation against them…six injured by firearms, including two cops
Greece, Thesaloniki: regeneration of town hall  – computers, office equipment and desks damaged
France, Val d'Oise (Persan & Beaumont-sur-Oise): 2nd night of riots after arrested guy dies in custody; molotovs thrown, attempts to burn down nursery school and town hall More here "15 cars burnt and 35 fires on the streets" This report in English claims: "The local town hall and a kindergarten were set ablaze. Six police officers were injured, shot with pellet gun"… More here: "Fifteen vehicles on fire including a vehicle of the Bruyere-sur-Oise municipal police  and one from the Persan municipal police. The local garage of the municipal police was also set alight." This report also states that there were 180 cops mobiised against 200 rioters.
United Snakes, Cleveland: birth of a nation  (as in Abomi, Alie, Coro, Contami, Domi, Indoctri, Machi, Resig, Rui, Subordi…etc.)… Meanwhile, some  Stalinist hacks get arrested for burning the US dishcloth, probably hoping to recruit young blacks with their daring spectacle… (another report says it was the "Revolution club" which I know nothing about – SF)… Asheville, NC: Police HQ occupied after police murder Jerry Williams…  St. Paul, MN:  A special rapid response anti-riot squad is deployed against a small protest blocking a road in reaction to the police murder of Philando Castile.  Five cops are immediately sprayed with bear-mace but 21 people are unfortunately still arrested.
Whinesday the 20th

Colombia, Bogota:clashes between striking truckdrivers and cops on independence day… More here: "Truckers have clashed with police in Colombia's capital as part of a strike now in its sixth week. The demonstrators took control of a street Wednesday with the intention of disrupting Independence Day festivities underway in downtown Bogota. They burned tires and threw rocks before being dispersed by riot police. Truckers went on strike last month demanding an increase in cargo prices. One person died in clashes earlier this month. The strike has led to major disruptions in the distribution of food across Colombia with several cities experiencing double-digit price increases for what limited produce manages to break through the picket lines."
Mexico, Police intervene against roadblock in Chiapas, at least one injured by live bullets…police and paramilitary forces sack and burn militant camp Seems also some of those present at the roadblock and camp refused CNTE orders to leave before police intervention, while lots of leaders and representatives have been involved in negotiations with authorities recently…Zitacuaro, State of Michoacan : blockade of railway line put to an end by police intervention ; 25 detained after clashes
Ivory Coast, Daloa: demonstrators loot local offices of national electricity company in movement against the increases in electricity prices "This event follows a simliar demonstration in the administrative capital of the country, Yamoussoukro, during which the demonstrators burnt tyres and set fire to a car belonging to the national electricity company (CIE)."
United Snakes, Minnesota: 5 law and disorder personnel pepper-sprayed during riot… Washington DC: protesters force shutdown of police union offices
South Africa, Johannesburg: city brought to standstill by housing protest "Zamimpilo residents in the south of Johannesburg near Riverlea have blocked roads, burnt tyres and allegedly torched an MEC's residence as they protest for housing."… this report details some of the latest tools of repression, "Just hours after the gear was unveiled, the Joburg metro police department (JMPD) failed to put its new riot and command centre vehicles to use in a violent protest in Riverlea on Wednesday because of "technical hitches".On Tuesday, the JMPD rolled out a R27 million fleet of four mobile command units and two riot vehicles… city mayor Parks Tau said that with these new vehicles, the instigators of violence would be caught on video because they carried internal and external, high-definition, 400m-range cameras. The units also have a mini boardroom, a mobile clinic for conducting breathalyser and blood tests, bar fridges for cold drinks and water for officers during the hot summer months. They also have thermal imaging cameras, a public address system and a "front dozer" mechanism for clearing rubble, such as rocks and burning tyres, off the roads. The units, which are buses which have been kitted out, are also fitted with flood lights and back-up generators."
Armenia: two dozen cops injured as thousands riot against government "Protesters clashed on Wednesday with police in the Armenian capital Yerevan, furious over the government's handling of a four-day hostage crisis in which pro-opposition gunmen seized a police building, killing one officer and taking several hostage. Stone-throwing protesters attacked police officers deployed outside the building where the gunmen, supporters of jailed opposition leader Zhirair Sefilyan, have been holding four police officers hostage since Sunday morning, an AFP reporter said. Police hit back firing tear gas and stun grenades into the crowd. "Many officers were wounded" in the clashes, deputy chief of Armenian police, Samvel Hovhannisyan, told AFP. Armenia's health ministry said "45 people were hospitalised with wounds, including 25 police officers." The protest continued into the early hours of Thursday as some 2,000 protesters built barricades in front of the cordons of baton-wielding riot police in flak jackets and helmets. Protesters have called on the authorities to allow an opposition MP to deliver food to the gunmen who have refused to accept provisions from the government." Though this is an anti-government protest, we doubt that this is anti-all government, as it seems to be dominated by the opposition political party. This doesn't mean that it doesn't possibly also include independent aspects. However, when an opposition leader is jailed it's almost inevitable that any kind of movement against making a would-be governing party illegal would be initiated by hierarchical forces that would probably be as repulsive in power as when they are repressed by the present powers-that-be. [SF]
Tearsday the 19th
Iran, Boldaji: several cars burnt, 1 protester killed, in attempts to resist suppression of local water supply…local court burnt "…at least one person was killed, 30 were injured and 15 were arrested during the clashes. Footage sent by eye-witnesses at the site of the clashes shows the regime's suppressive forces fleeing as the angry population attack them with wooden sticks and stones." Video here shows this, at the end, though not very clearly:
Mexico, State of Michoacán: some rural school students, teachers and locals organize a road blockade and seize 12 vehicles…police intervene to break it up. It ends up in clashes in which some cops were injured and several vehicles set on fire… In Làzaro Càrdenas, an important portuary city of the same State, 4 cops were injured by members of local CNTE section … in an action against the payment of the last 15 days of work for some teachers.These militants also occupy the city's town hall… In Mexico City, a caravan of Oaxaca villages' community representatives arrived…a demonstration in solidarity was organized, in which mostly participated leftist organizations. Slogans and banners were pretty reformist (for the defense of Education, for justice and dignity, and so on). (see this)
Klanada, British Columbia: young prisoners smash up detention centre "Inmates started smashing microwaves, windows and other items…The young offenders then broke into a staff area and a second living unit, and continued destroying items, pulling out sprinklers and starting fires…They continued to riot on the second living unit for some time, completely destroying windows, tables, microwaves, dishwashers and sprinkler heads, causing a major flood." More here: "a rampage that lasted six hours and caused extensive …The Ministry of Children and Family Development confirmed Wednesday that there was a serious incident involving extensive dam-age, including some fire damage, but released few details…. the incident involved seven male youths aged 15 to 17 who extensively damaged furniture and electronic equipment after starting a small fire by putting paper into a toaster — a fire they later put out them-selves….Cronkhite said there is no indication that rival gang tensions were a root cause of the incident. "The primary motivating factor behind the incident appears to have been a room search earlier in the day, which resulted in a loss of privileges." …Turpel-Lafond said she has been tracking a rise in assaults, saying attacks on officers and on other youth at the Burnaby centre are "routinely reported"
USA, San Francisco, California:  Wild demonstration of about 150 people linking solidarity with the teachers' strike in Oaxaca to the wave of protests against police killings in the U.S.  A news reporter is attacked, leading to skirmishes with both private security and the cops.
UK, London: 3 riots in different parts of town after water fights and parties; supermarket and Macdonalds looted; 2 cops hospitalised "London's uncontrollable youths attacked cops with bottles and knives in Hyde Park as the West End suffered what the national media propaganda machine is describing as 'the worst outbreak of youth violence since the 2011 riots.' The Royal Park erupted into a "warzone" as hundreds of youths clashed with cops called after trouble flared at a water-fight and music party organised on social media. Families and worker drones enjoying the last of the evening sunshine scattered as more than a thousand teenagers fought running battles with riot cops along the banks of the Ser-pentine, a few hundred yards from Kensington Palace. The mob was driven back to Marble Arch where around 500 remained until midnight, hurling bottles at the ranks of police and chanting "Black Lives Matter". A breakaway group stormed a nearby branch of McDonald's, causing the stupified staff to flee downstairs as dozens of teenagers leapt over counters to clear the racks of food, in a scene reminiscent of the 2011 riots, when Tottenham youths broke their way into a McDonalds and started frying themselves food….Two feds were rushed to hospital during the riot, one with stab wounds the other suffering head injuries after being struck by a bottle….Riot cops were pelted with missiles last night as they attempted to shut down a huge rave which was part of end of exam celebrations in Stamford Hill, London. Hackney cops had tried to scare people away from the block party in Malvern House after it was widely advertised on social media, but about 400 people flocked to the area in defiance of the feds order to "drink and have a water fight" on the hottest day of the year. Footage shows objects being thrown at cops as they tried to put a stop to the party at about 8.45pm. They had confiscated the sound system which was set up in the street, but retreated when they came under attack and the party continued until the early hours. "
Moanday the 18th
Serbia, Belgrade: protesters against building demolition attack mayor with pole and cops
Ivory Coast, Abidjan: cars burn as students and cops clash on 5th day of strike at country's most prestigious academic institution
Malawi, Chanco: university students riot in protest against fee increase  "Over ten students from the Chancellor College in Zomba are in police custody after being arrested during protests against the decision by the University of Malawi (Unima) to raise fees…In the protests, Malawi24 understands a police officer had his gun confiscated and broken by students who overpowered him. The students had blocked the road that leads to the college and chanted anti-government songs as they moved towards the University offices before police officers came their way…Last night, students had an open air disco at the College's sports Complex after the running battles with the Police. Some students from the campus hostels were spotted heading to Chikanda village where non-residential students live, to spend a night after it was rumoured that the police were going to spray all hostels with teargas at midnight."
USA, Baton Rouge, Louisiana:  3 cops killed by military veteran turned Black Nationalist, Gavin Long. Baton Rouge, where Alton Sterling had been killed by cops, had already seen tense protests, blockades, and mass arrests. In his words, regarding what the system can understand:  "Fighting back and money are the only things they care about, revenue and blood."
South Africa, Xolobeni: Australian company pulls out of mine after fierce community resistance
Saturday the 16th
Iran, Sardasht: after goods are confiscated,  market sellers and others attack police station, burn cop car, re-take the goods "The merchants and a group of ordinary people attacked the police station to retake the goods in Sardasht. The angry protesters did not pay attention to the aerial firing by the police force."
France, Lyon (Vaux-en-Velin): cops ambushed by about 30; cop car molotoved, police station stoned… Grigny: cops attacked with molotovs etc., ex-firetruck burnt in riot (no precise explanation for this)
United Condom, London : tale of two riots in one night
Thursday the 14th
South Africa, Braamfontein: post office workers strike in solidarity with those fired on the 6th of this month for wildcat strike
Wednesday the 13th
France, Avignon: as part of anti-Labour Law movement, waged workers at world famous music festival issue communiqué declaring all government members "persona non grata" and say they won't allow shows to start until government member leaves the hall Not sure if they have applied this in all cases, as François Hollande went to a concert there (though in a personal, not official, capacity) and apparently only left on being informed of  the atrocities in Nice.…Calais: for the 1st time there, molotovs are thrown by migrants onto motorway to cause halt to traffic (nobody hurt) It should be pointed out, in the wake of the horrific attacks in Nice, that over the previous 6 months almost 3,700 refugees have died trying to find a country that could allow them to stay, an 18% rise on the previous 6 months – see here in French… Which of course, doesn't lessen the horror of these attacks but does put them into some kind of perspective other than the standard media/politician response [SF] …Eure (Evreux): police station targetted, cars burned, cops & street furniture attacked, in 5 hour riot lasting into Bastille day…Val d'Oise: several small incidents in different towns of this department "The evening of July 13 did not escape tradition. This year again scuffles broke out in different cities of Val-d'Oise. …clashes occurred in the commune of Gonesse, Argenteuil, Garges-lès-Gonesse and Villiers-le-Bel. At Villiers-le-Bel, the night seems to have been particularly violent. A policeman was injured during scuffles. He was hit by a firework or a firecracker in the stomach, which led to his hospitalization. In addition, several garbage cans were set on fire and at least two vehicles were burned…a bus shelter was torched near the Champagne city ofArgenteuil. In Argenteuil, several cars were also torched during the night. …The North Valley neighborhood and The Slab were also the scene of garbage fires. The security forces intervened in Garges-lès-Gonesse in the night. At least one car was set on fire in the town and several bins caught fire."…Oise (Compiègne): firefighter's  truck stoned, 4 cars and 3 skips burnt; 20 arson attacks throughout department
US, Virginia:  cop memorial spray-painted in aftermath of the killing of 5 cops
South Africa, Cape Town: cops use stun grenades to break up illegal anti-Uber demo blocking traffic…KwaZulu-Natal: security guards kill two during hospital worker protest
Tearsday the 12th
South Africa, KwaZulu-Natal: road barricaded in solidarity with residents arrested for burning councillor's house and car
US: more about killer cop protests…Nevada. Hunger strike against repressive measures in Ely State Prison by a small group of prison rebels.  10 days later, most of the prisoners win their demands, but the alleged organizers are targeted to remain in isolation.
Mauritania: more on the anti-slavery slum riots as arrested are charged
Colombia, Boyaca: striking truckdrivers riot after young man is killed by riot cops
…Puerto  Santander: town hall ransacked and burned after mayor calls on cops to repress smuggling at  town bordering Venezuela
Mali, Gao: 2 killed as youths protest imposition of interim administration and the reinstatement in the army of former "rebels" (ie protesting against the mutual complicity of former rivals for state power)
France, Ustaritz  (French Basque area): ATM machine deliberately burnt, no attempt to steal from it
Moanday the 11th
Mexico: Update on the movement in the State of Oaxaca and the support for them elsewhere Road blockades continue in Oaxaca. There were lots of actions in solidarity with the movement recently, such as takeovers of toll-booths, for example on Mexico City's highways, to raise funds for those involved in the movement in Oaxaca or the families of the victims of Nochixtlan´s recent massacre. A huge number of schools, especially in Mexico City were closed by parents in support of the CNTE. The support is not very critical, and largely uses the reformist demands of  free state schooling or "popular Education". In Oaxaca, delegates of 90 indigenous villages held a meeting to discuss with members of the CNTE. The horrible marxist-leninist guerilla movements EPR and ERPI, whose ideology and methods are of course violently autoritarian, called their bases (especially in some villages of the State of Oaxaca) to support the movement and to be prepared for combat (according to this, in spanish). Important to mention, because some mexican comrades insist on the increase of their influence in the present movement (which they think is much stronger than in 2006).
ungovernable Oaxaca
…three attacks against business boards (the claim in spanish linked here tends to be rather triumphalist since it doesn't insist on the numerous contradictions of the present movement)
South Africa, Nelson Mandela University: students shut down campus in protests against financial exclusion… Johannesburg: thousands stranded in wildcat bus-driver strike "Joburg Metrobuses ferry about 90 000 commuters every weekday on 229 routes. Meanwhile, thousands more commuters in the province could be out in the cold and scrambling to find a way to get to their various locations this week if Gautrain employees also go on strike."
Colombia, Cesar: riot cops kill 2 in protest against lousy health conditions at hospital; crowd try to take over police station after cops beat up kids
Kenya, Narok: high school students protesting extension of term time win their demands by burning down dormitory – school closed indefinitely
India, Tiruchirapalli: after minor clashes between rival sports teams, crowds attack cops; 3 cops vehicles smashed, head constable hospitalised
Chile, Santiago : clashes with police after anti-prison meeting organized in solidarity with 5 comrades jailed since last year
Sunday the 10th
USA: thousands protest across country for fifth consecutive day against yet more highly publicised cop killings of black men during one of the protests 11 cops were shot by a sniper, killing 5…US: Tennessee bridge occupied in demo against cop murders of blacks, California major motorway intersection occupied, and other stuff related to the tense situation there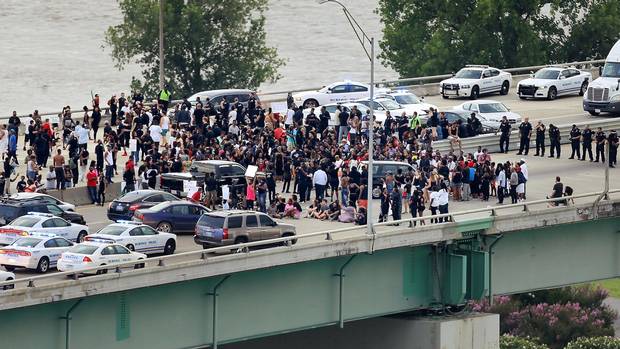 US, Kansas: mashed potatoes lead to smashed CCTV… St. Paul:  Large blockage of I-94 leads to many arrests in the city where Philando Castile was shot by cops a few days before.  Anarchists stage noise demonstration at the jail to support the arrestees, with much noise inside the cells too.
Mexico, Ixtepec (Tehuantepec isthmus, State of Oaxaca) : locals destroy milestone in refusal of company presence on their land to extract minerals
Germany, Berlin: 123 cops injured in resistance to squat evictions "The police also called in air support using helicopters and they had to call in for reinforcements from Bavaria, Brandenburg, Lower Saxony, Saxony, Saxony-Anhalt, Thuringia and the Federal Police." More here: "At the peak of the clashes, the far-left demonstrators vandalized police cars and broke windows in a number of local stores."
UK, London,: empty block of flats occupied in order to demand shelter for battered women
Saturday the 9th
South Africa, Durban: municipal truck and bus petrol bombed during anti-eviction action
Friday the 8th
US, Baton Rouge: cops hit with frozen bottles of water as protests against cop murder of black guy continue despite the spectacle of "horror" at the death of 5 enforcers of misery… sit down protest… more here… Atlanta, Georgia: Clashes begin in response to police murders and continue for several days.  Large demonstrations take over highways and attack police officers.  Leftist activists attempt to manage the events, but are mostly expelled, at least for the first few days.  When the police succeed in dispersing crowds, small groups tend to break away and set up smaller blockades… Carbondale, Illinois: Demonstrations and blockades even spread to small cities like Carbondale. 

UK, Birmingham:  prison protest after "unexplained" death of prisoner
Germany, Regensburg: 40 immigrants occupy Catholic cathdral
Gabon, Libreville: over 500 families occupy public housing units
Greece, Leros: migrants confront cops
France, Chailly-sur-Armancon (Côte d'or) :  golf course wrecked just before Medef (bosses' organisation) were due to have a competition "Golf is a good walk spoiled." – Mark Twain; "Golf is typical capitalist lunacy." –G. B. Shaw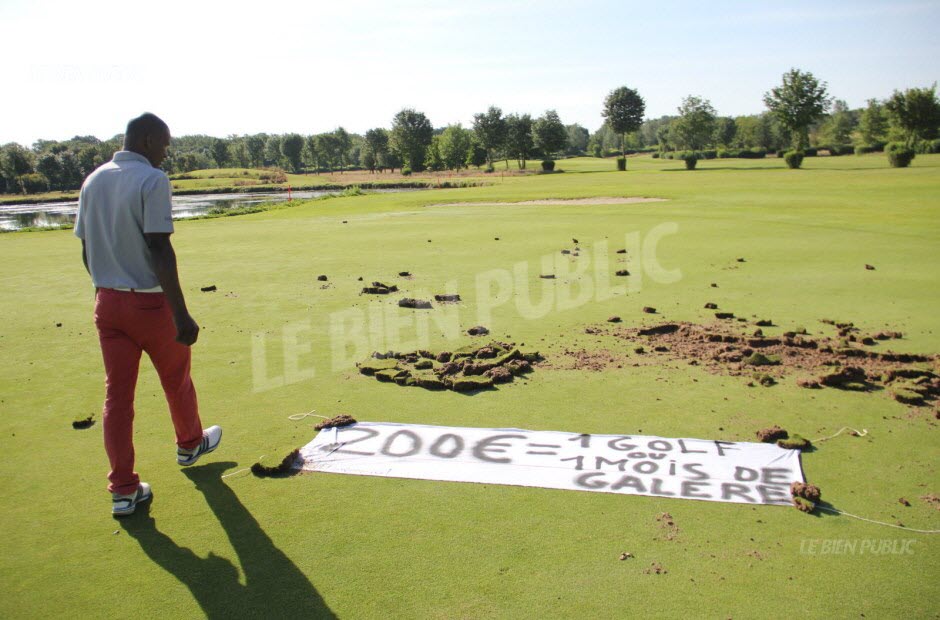 200 euros = I golf or a month of hard labour
Holland, The Hague: ATMs damaged in solidarity with anarchists accused of expropriating banks in Germany "We are not interested in knowing whether the comrades are actually responsible for the bank robberies or not. Expropriation is an ethically just and politically legitimate practice, a method of struggle that is part of the history of all revolutionary movements. Indeed, despite the constant attempts by Power to reduce this method to within the scope of a 'common crime' motivated by individual greed, the fact is that the expropriation of places of accumulation of capital is a constant in our history: from the anarcho-syndicalist groups in the early twentieth century who robbed banks to support strikes or help the families of imprisoned comrades, to the various autonomous groups of the 70s and 80s."
Thorsday the 7th
China : Walmart workers launch wildcat strikes across China
US, Oakland, California: Spontaneous demonstration against the police murders of Alton Sterling and Philando Castile.  2,000 people clash with police and take over I-880.  Highway takeovers are repeated several times over the next week.
When'sday the 6th
Iran, : after security guard  kills young man, protesters against this state murder fire  at cop vehicles who'd been firing at them
Abkhazia, Sukhumi: ministry of the interior stormed by 1000 anti-government protesters, forcing resignation of Minister Hard to know how independent this was, but given the absence of less superficial information, it seems worth putting this up here.
South Africa: 200 workers fired by post office for wildcat strike
Zimbabwe: national shutdown amid health and education workers strike "Police now retreating as hundreds of youths carrying stones have just emerged throwing back teargases…People are mobilising themselves' they are taking action by themselves. So this is a civilian-led action and this is basically hunger driving people onto the streets"… barricades and rioting throughout the country… especially in Bulawayo where 'A tense calm has prevailed amid a heavy police deployment as the situation slowly returned to normal in Zimbabwe's second-largest city of Bulawayo on Thursday after a day of city-wide riots during which protestors blocked roads with burning tyres, torched vehicles, looted shops and fought running battles with anti-riot police.'
France, Alsace Lorraine: 4 watchtowers used for hunting destroyed by the ALF…Nice: screw hospitalised by prisoner…Plaisir : cops stoned by about 15 youths
Brazil:, Rio: cops and bus stops stoned as 1000s demonstrate against Olympic games
Twosday the 5th
UK,London: victory for student rent strike
South Africa, Durban: anti-eviction riot
France, Plaisir: home-made "mortar" firework thrown into detention centre for expulsion of refugees… Vendin-le-vieil, Pas de Calais: screw taken hostage by prisoners
Moonday the 4th
Mexico: Comrades of the recently murdered community radio activist, who are members of the Libertarian Block of Huajuapan, have published a communiqué in which they indicate that he was tortured by police, escaped from detention in one of the town's police stations, and was then hit, probably deliberately, by a police car; police then left town
Eire, Dublin: homeless occupy hostel
France, Isere Nord: bus and cop car, positioned so as to dissuade travellers from camping on grass, completely burnt out (in French)…Meuse: several attacks on the nuclear power company ANDRA in Bar-le-Duc
Sunday the 3rd
France, Paris: 3 state security officers hurt as molotov burns out their car during patrol of housing estate with "bad reputation" "They were attacked by a dozen youths. One of them threw a stone at their car, breaking a window, and another launched a Molotov cocktail inside. The three GPIS officers then got out of their Scénic car on fire. But as they left running, they were pursued by the group which continued to target them with shots of handmade mortars, without getting them. …The three officers had  first and second degree burns on their arms, face and head.." …Valence: cops insulted, hit by projectiles, cop car damaged, 3 vehicles burnt
Italy, Ventimiglia: African migrants trying to cross into France beaten back by cop truncheons
Zimbabwe, Harare: riots throughout the city against police roadblocks "The violence, in which 30 people were arrested, came amid a surge in protests in recent weeks because of increasing economic hardship and alleged mismanagement by the government of President Robert Mugabe. An Associated Press journalist saw protesters severely beat two police officers with sticks, then take their uniforms and helmets and wear them. The protesters blocked roads leading into the center of Harare, forcing many people to walk up to 10 kilometers to get to work. Rioters threw stones at police and vehicles, and some children on their way to school were caught up in the chaos. Outnumbered police later sought to negotiate with the crowds after failing to disperse thousands of protesters, who were concentrated in Harare's eastern suburbs. Many rioters were young men who can't find regular employment and make a living off drivers by charging a small fee to load passengers into minibuses…Frustrations over rapidly deteriorating economic conditions in Zimbabwe, compounded by dissatisfaction over alleged government corruption and incompetence, have resulted in near-daily protests in recent weeks."
Mauritania: nine anti-slavery activists arrested and accused them of starting a riot in which several police officers were injured and a bus was burned "The riot on Wednesday started when police moved squatters from the Haratin ethnic group, many of them former slaves, from an area they have occupied illegally for decades…The Haratin, Mauritania's main "slave caste", are descended from ethnic groups along the Senegal river. They often work as cattle herders and domestic servants. Slavery is a crime against humanity in Mauritania but the practice is still believed to affect between 4 and 20 percent of the population. Anti-slavery activists are frequently at odds with the government."
Mexico (Oaxaca): continuation of the movement (in Spanish with photos). In addition to the numerous blockades that persist in the State of Oaxaca, many were set up in other nearby states: Michoacán, Guerrero and Tabasco (according to this article in Spanish).  Few Mexican anti-authoritarian texts  are critical of the contradictions of the movement, mentioning the facts, participants, the various ideologies and the organizations actively involved. A text written by anti-authoritarians calls for the extension of the movement in Oaxaca:  Explosion of anger: extend social unrest and war!, but we would like more details. We know for example that many Marxist-Leninist or Trotskyist type organizations are involved in the movement as they are in the Coordination of Education Workers (CNTE), and that the influence of the guerrillas still present on Mexican soil and particularly in the state of Oaxaca is an element to take into account.
The EZLN, the Zapatista Army of Chiapas, issued a statement in support of the mobilized teachers and the Coordination, whilst there are critiques of them in the area that are sometimes quite lively. Many newspapers insist on the so-called will of the government to dialogue with the CNTE, that some leader see as a good thing. It's, of course, a way of seeing the State's desire to limit the movement to the CNTE's corporatist demands and their refusal of education reform; which does not deceive everyone in Mexico, since many places (like Nochixtlan where the recent massacre took place, mostly of proletarians of the city) the struggle against the  reform of education is a struggle of secondary importance. (Note: Pi).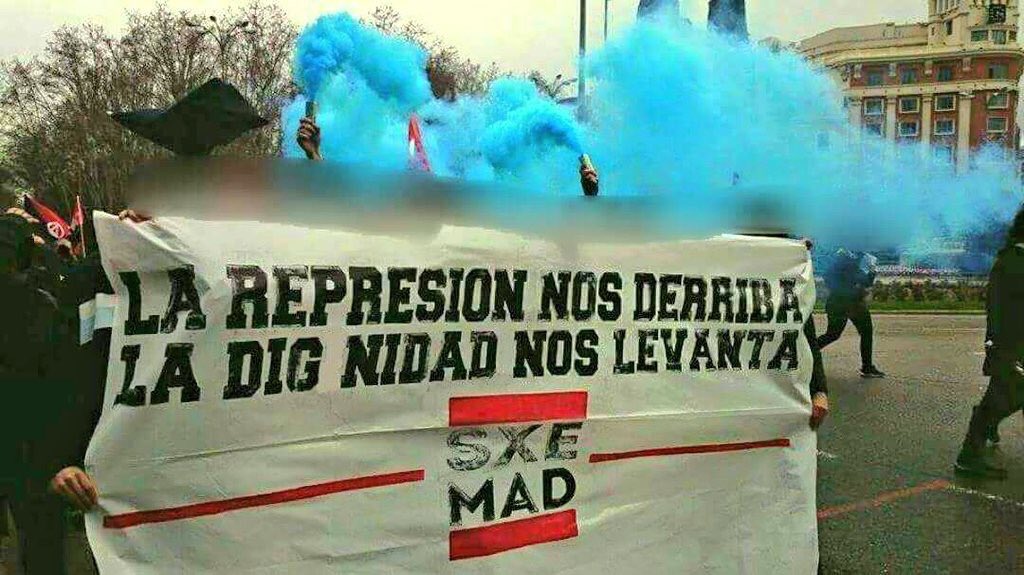 "Repression holds us down, dignity lets us get up"
Russia, St Petersburg: migrant construction workers smash bosses' cars and other stuff in riot over unpaid salaries
Kenya, Narok: school closed after schoolkids smash all the windows and wreck principal's office
France, Paris: new paintjob for copshop
China, Lubu: government offices attacked as massive protest against plans for highly toxic incinerator  hots up "…the Lubu town administration had suddenly halted plans for the construction. Residents expressed their anger believing the announcement to be temporary and a tactical move to diffuse unrest."
Saturday the 2nd
UK, London: rave partygoers pot the blues in 7-hour siege
France, Lancon: CGT organize free tollgates for motorway…
Friday the 1st
Nigeria, Ogun: state focuses on repression of resistance to environmentally destructive oil pipeline
South Africa, Cape Town: 6 car pileup on national highway caused by burning barricades
Zimbabwe-South Africa border: border barricaded, shops shut down, customs warehouse torched in riots "Tensions at Beit Bridge border post between Zimbabwe and South Africa reached boiling point over a Zimbabwean ban on importing basic South African goods. Zimbabwe immediately sent in its army to the volatile border town…Residents of Beit Bridge burnt a Zimbabwe Revenue Association warehouse of confiscated goods at the border on Friday, and vehicles and people were prevented from crossing into South Africa with rocks and burning tyres. The plan on the South African side was to blockade the border and turn back all trucks and other vehicles carrying goods from Zimbabwe. Shops in the northern-most South African town of Musina were forced to close due to threats to destroy them if they conducted business as usual, and there were even calls to set fire to a Zimbabwean citizen in protest against the measures and to force Zimbabwe to reverse its ban. The Beit Bridge Taxi Association, the Musina Meter Taxi Association and residents in Musina had extended an invitation to the Beit Bridge Cross-Border Transporters' Association and Beit Bridge residents who were being refused the right to protest to join them on the South African side. The crisis sparked a massive protest at the border post on Friday, with thousands of South Africans and Zimbabweans joining forces to blockade the border in protest against Zimbabwe's enforcement of regulations…" According to this, "The mob also stoned a house belonging to a member of the police neighbourhood watch committee whom they accused of unleashing a reign of terror at the border post."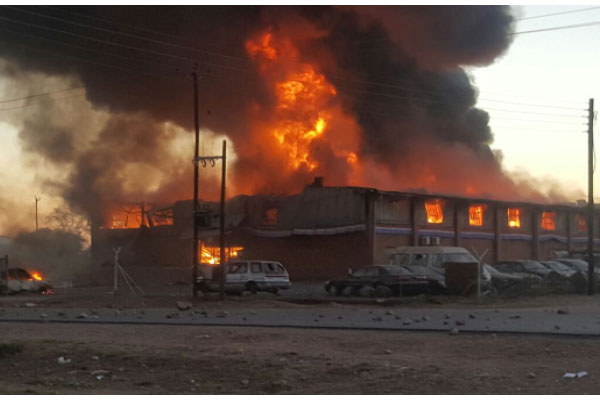 "The security ministers and top military commanders are really worried that the manner in which Beitbridge residents executed their protest could inspire others to do the same given the economic situation in the country… Also, the fear is that Friday's protests came just a week after similar revolts were witnessed in the same town. So, really, it is something commanders are worried about."
France, Vincennes: refugees at detention centre riot to prevent deportation of one of them to Algeria; 260 square meters burnt out…More here in French (anarchist site)… Montpellier: PM Valls inaudible as 100 demonstrators shout him down at inauguration of new tramway This gets national mainstream media coverage… Lyon: making the Banque Populaire more popular… Cahors: National Front and Socialist Party offices tagged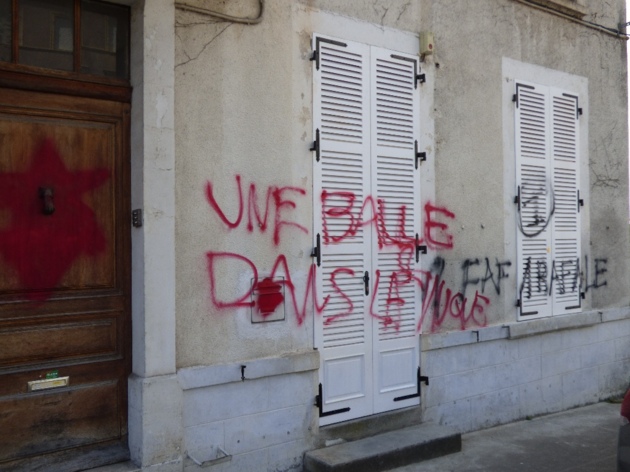 "A bullet in the back of your neck"
Mexico: Cops threaten relatives of those murdered by cops "…relatives of the dead and wounded are being threatened so they don't take any legal action. This was reported by lawyers advising the families. "There is fear because there have already been threats directed towards the families and the prisoners who were arrested. They even arrested twenty people who were in the municipal cemetery digging a grave to bury a family member who passed away on June 18 due to causes unrelated to this situation. They tortured them during transport and they were held in the state police barracks for more than two days and in the end they released them and told them to go"