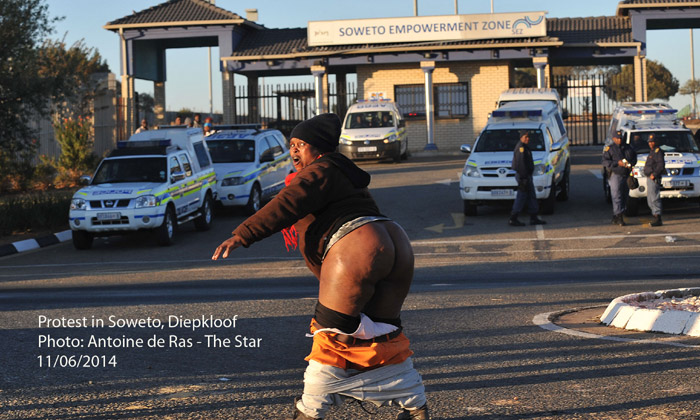 "You have such a February face, so full of frost"
–  William Shakespeare,  Much Ado About Nothing
28/2/17:
Myanmar, Yangon: 100s of striking workers storm factory & damage facilities "The month-old dispute…also saw managers attacked…Production at Hangzhou Hundred-Tex Garment (Myanmar) Company, which was one of H&M's 40 suppliers in Myanmar, has been halted since Feb. 9.…Labour activists say the protest in the commercial hub Yangon – in which equipment, buildings and vehicles were damaged – shows the lack of protection for workers in the labour-intensive textile industry. It turned violent on Feb. 9, prompting the factory's closure. Video footage seen by Reuters shows dozens of female workers surrounding and beating a Chinese manager who was struggling to escape. The dispute started with a strike in late January following the sacking of a local labour union leader, according to workers and managers. Workers demanded a better performance review system and healthcare coverage….In late February hundreds of workers stormed the factory and damaged facilities including textile machinery, computers and surveillance cameras.…No one was arrested in the late February violence, police said. Workers' representatives are still negotiating with management over conditions once the factory is able to re-open"  For further analysis and information, see this
Bangladesh, Dhaka: heavy clashes as transport workers launch nationwide strike against life sentences for 2 drivers causing lethal accidents "Police fired teargas in response to arson attacks by the workers, who have also been pelting brickbats at them.Three constables and a passerby were taken to Dhaka Medical College Hospital around 11:30pm after sustaining injuries during the clashes….the demonstrators later torched a truck near the entrance to Mazar Road…. a microbus was vandalised ….a police wrecker and a temporary police box were torched …The angry workers blocked the street at one stage and police tried to stop them, which led to a pitched battle…"
Togo, Lomé: barricades erected in various parts of city as petrol prices rise over 20% in 2 months "Barricades were erected in various parts of the capital, with scenes of violence at certain crossroads. …A bus from the Lomé Transport Company (SOTRAL) crossing the area was immobilized, stoned and then burned in front of a detachment of law enforcement officers dispatched to the scene…. At midday the demonstrations spread to almost all the districts of the capital. Many vehicles were damaged, dozens of bus shelters wrecked….The government announced Tuesday evening a report of a demonstrator killed and several wounded, including on the side of the security forces."
France: 15 schools in & around Paris  blockaded …deputy head slightly injured…Montpellier: windows smashed, lots of tags, cops hurt, bins burnt during peasants' carnival 
27/2/17:
US, Florida: vigil for guy killed by cops for shooting at pipeline construction equipment
South Africa, Gauteng: amidst spate of   xenophobic attacks on foreign-owned shops, cops say this looting is not specifically targetted at foreigners "…a group of hostel dwellers in the area were dispersed with rubber bullets and stun grenades …"We believe it's just criminal acts by these members of the public," Dlamini said. The looting of shops in the area started on Sunday night. One person was arrested when some shops and a preschool were looted and vandalised."
France, Hauts-de-Seine: various clashes over rapist cops at different high schools

26/2/17:
France, Nantes: 2 buses full of supporters of Front National attacked by 100 hooded individuals as anti-fascists put up burning barricade and do "operation snails-pace" on motorway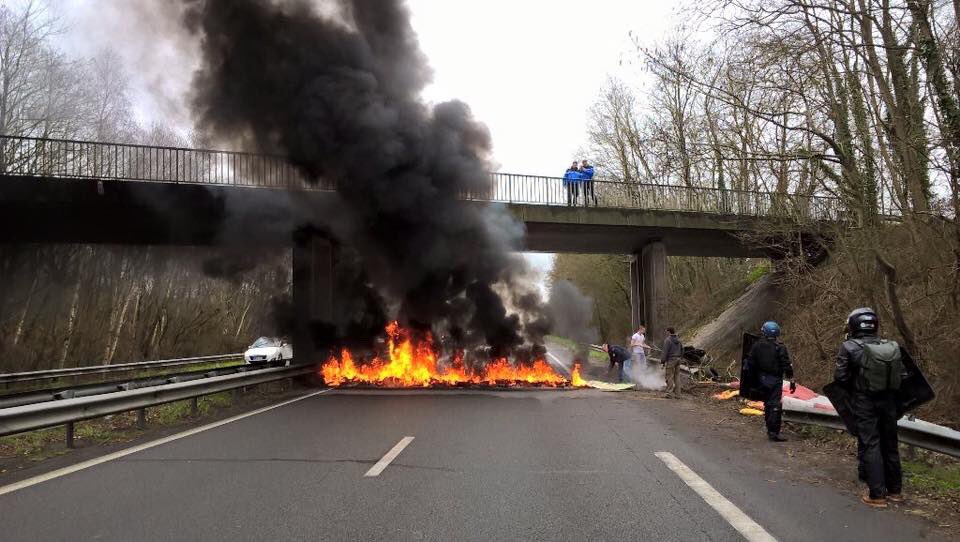 burning barricade just outside Nantes
Tunisia, Bradaa:  cops force end to 3rd day of sit-in on motorway following general strike protesting unemployment Unfortunately these protesters seem to have illusions in NGOs helping their movement (see here).
Germany, Staufen: refugees attack security guards in refugee "shelter"
Greece, Athens: clashes between anarchists and cops
25/2/17:
France, Nantes: 11 cops injured, windows etc. smashed, on anti-Marine Le Pen demo "…windows were broken along the route of the demonstration. Amongst the damage, the main entrance to the city hall of Nantes was tagged, street furniture was broken, including many tram shelters. Storefronts were also attacked by various projectiles and paint pots."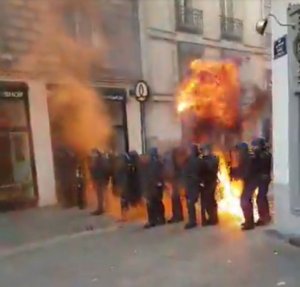 …Nantes: part of city officially declared no-go area for municipal cops (i.e. local cops with limited powers) "The order was sent out yesterday morning:  Nantes municipal policemen no longer have to patrol in a part of the Bottière district in Nantes, "until further notice." …Shots fired on Monday night in the rue de la Rivetterie at the Bottière prompted the city to take action. …"not to expose police when risks are known"."…Yvelines: cops use tear gas to break out of being kettled by 20 youths

Chad, Toukra: Minister of Higher Education's car attacked during protest against deterioration of university conditions (including lack of electricity & 6 months' non-payment of grants)
Togo, Lomé: heavy confrontations as protest against state broadcasting authority's ban on 2 broadcasting stations restricted to  several hundred metres from authority's building
Switzerland, Bern: 3rd night of  protests  against squat eviction banned – 50 masked protesters erect barricades, attack cops with fireworks, etc.
24/2/17:
France, Calais: between 20 & 50 migrants chuck cans at cops preventing them getting on lorries to UK

Mexico, Mexico City: small riot in youth prison
23/2/17:
Tunisia, Bradaa: general strike against unemployment
UK, London: anarchists squat building next to Queen's garden; re-name it "Rogue Embasssy" See also here.

Colombia, Cali: hooded university students chucking potato bombs close down traffic for 2 hours

22/2/17:
France, Loire: cop car stoned, 3 cars burnt, linked to anti-rapist cops movement
US, Arizona: highly repressive law against right to protest "Claiming people are being paid to riot, Republican state senators voted Wednesday to give police new power to arrest anyone who is involved in a peaceful demonstration that may turn bad — even before anything happens."

Guinea, Conakry: 3rd day of deadly riots as teachers & supporters continue protests despite unions signing deal on 20th Feb; private radio station attacked by people with clubs; barricades erected; cops attacked with stones
Switzerland, Geneva: report on arrests of youths constantly attacking cops and cop cars with stones…Berne: cops evicting squatters attacked with heavy duty fireworks and smoke bombs "Several shop windows were broken, cars damaged, tires stolen and facades tagged….earlier in the day, the officers were again attacked. This time, the demonstrators launched firecrackers, paint-filled glasses, stones and pyrotechnics.According to the "Berner Zeitung", the police were also attacked with iron bars and tables. "
Italy, Rome: taxi-drivers demonstrating against Uber throw bottles etc. at cops, block traffic circulation for hours
21/2/17:
Australia, Melbourne: arms and security company site occupied by anti-militarists

Guinea, Conakry: despite union – government deal suspending teachers' strike, riots flare up; shops looted; barricades of burning tyres; stones thrown at cops
France, Essonne: 2 cops badly injured by about 15 youths in ambush …Seine-et-Marne: cop car stoned after being blocked by barricade of burning bins …Val-de-Marne: cops get tear-gassed for once, by about a dozen youths…Yvelines: 20 or so youths attack cops  with molotovs, stones, heavy duty fireworks…Hauts-de-France: bins burnt, cops attacked with and injured by concrete blocks…Nice: firefighters stoned trying to extinguish burning CCTV camera Elsewhere in the past, cameras have been destroyed to   stop surveillance of drug dealers, but  another article (no link) said  the cameras were destroyed after someone was identified after escaping from the cops in the centre, so it's probably not drugs-related. This mentions 60 attacks on cameras in Nice in 6 years…Nice being, I think, the French city with the most CCTV cameras (at least, proportionate to the population).
20/2/17:
Bolivia, La Paz: small farmers growing coca violently protest restrictions on growth "Anti-riot police were active for at least four hours in a fight against hundreds of coca growers, …Upset farmers hurled dynamite, fireworks and rocks at police forces…protesters threatened to blow up a gas station after they "burned police installations," in addition to "a firefighting unit.""
Sweden, Stockholm: migrants riot for 4 hours "Police in Sweden were forced to fire warning shots after a group of unidentified persons ran riots in the Rinkeby district of Stockholm late on Monday, setting cars on fire, throwing stones at police and looting local stores.A police officer was injured during the clashes, forcing law enforcers to fire several warning shots at the crowd…At least seven or eight cars were burned in the area during the evening…A photographer from the Dagens Nyheter newspaper said he had been assaulted by a group of some 15 people in Rinkeby when he attempted to report on the unrest."
France, Montpellier: 2 high schools in spontaneous revolt in solidarity with the "Justice for Theo" movement; bins burnt, trams temporarily stop 
Spanish-Moroccan border: several hundred youths climb over 6 metre high fencing and enter Spain
19/2/17:
Iran, Ahvaz: illegal demonstration demanding clean air, water and electricity "It is noteworthy that over the past week every day, protests over dust storms, power failures and government mismanagement in one of Iran's most oil-rich cities have been continuing. Residents of Ahvaz, a city near the border with Iraq, has been protesting for Seven days in increasingly large gatherings, shown in cellphone video clips shared on social media….It is also remarkable that, frightened of these protest rallies expanding, the Iranian regime has dispatched anti-riot and the Revolutionary Guards' Basij militia groups from neighboring Fars Province to Ahvaz, and meaningfully lowered the internet speeds in Ahvaz to prevent the uploading of any video clips showing people's demonstrations and protests."
France, Pontoise: 4 cars and 2 CCTV cameras burnt
18/2/17:
France, Paris: clashes with cops on "Justice for Theo" demo …wildcat demo – bank smashed, tags etc…Hauts-de-Seine (Paris banlieu): cop car smashed, bins burnt, etc…Compiegne (Oise): mayor's car completely burnt out, 2nd time one of his cars has been set fire to…Bescancon: bins burnt, projectiles chucked at cops …Bure: clashes with cops at camp against nuclear waste site project…Vannes: 10 businesses (ATMs of banks, posh shops, etc.) attacked
17/2/17:
France, Morestel: cop's car burnt out just outside his home…Creil: fire engine attacked with stones…Rouen: bins burnt, skips overturned, bus shelters smashed
16/2/17:
France, Houilles: 4 cars and 6 bins burnt, projectiles thrown cops…Bobigny: cops attacked with fireworks, buses & trams disrupted, shopping centre closed, as 450 cops are deployed "It's not a demonstration – it's a revolution" declares one girl interviewed…One girl warns: "It's going to be worse than 2005. And I'm telling you that 9/3 is going to be a war." "Our justice, if we do not have it, we'll just return, that's all," she continues."

15/2/17:
France, Yvelines: 28 bins and 18 cars set fire to in 10 different areas of department…Rouen: anti-cop demonstrators set fire to bins, chuck projectiles at cops, smash bus shelters…similar in the north of Paris "Youths set trash cans on fire and hurled bottles at police, who used tear gas to disperse them. The Barbes metro station was temporarily closed, before calm returned later in the evening."
Anarchist report here: "A new gathering for Théo and all the victims of the police, in solidarity with Aulnay and all the defendants, took place this Wednesday, February 15 at 6pm, in Barbès, in the eighteenth arrondissement, unsurprisingly under high Police surveillance.
A few hundred people were present, but all attempts to start a "wildcat demonstration" [unauthorised, unsurveilled demo] failed. All the streets leaving the intersection of the Barbès-Rochechouart metro were blocked by various kinds of anti-riot cops, supported here and there by thew BAC,  as despicable as they are hateful.
After a first attempt on the Boulevard Barbès (quickly blocked by the CRS protected by fences), the gathering went several times onto the Boulevard de la Chapelle and Boulevard de Magenta, in vain. Clashes took place with the police, and if the cops ate a few projectiles, they succeeded in brutally repelling us each time using a lot of  tear gas sprays and grenades. As is often the case, the tear-gas was an inconvenience to demonstrators, passers-by and neighborhood residents, with no distinction between them.
During this  there were a few anti-ad actions and tags, and many shouting slogans: "Cops, rapists, murderers", "Everyone hates the police", "The police is racist", "Siamo tutti antifascisti "," Justice for Theo "or" No justice, no peace ". A fire was also lit on the Boulevard de la Chapelle, later extinguished by the cops.
Not succeeding in getting out of the huge police trap, most protesters gradually tried to get out. The cops let people pass by in a dribble, often by means of a body pat-down and a search of the bags. The BAC sometimes tried to grab people, but to my knowledge they always failed, thanks to the solidarity of the demonstrators and some of the inhabitants of the neighborhood.
Word got round that another get-together was going to be at Ménilmontant, around 8 pm, to consider something more exciting.
There, around 8 pm, there must have been about 200 people, just over half of whom decided to "go wild", taking a path similar to one of the "wildcat demonstrations" on Tuesday 7 February. Then towards the posh areas. We take Rue Oberkampf, and the excitement of the atmosphere is gradually rising. Trash cans are spilled, street furniture of all kinds is placed across the road to prevent cops from following us easily.
Roughly the same slogans as Barbès are shouted (with some others like "One cop, one bullet, social justice" [TN: it rhymes in French] demonstrating a certain anger). Tags appear on the walls ("Revolt for Theo", "Death to capitalism", "Fuck the police"). On a bus, an ad for a prison guard job is detourned with paint, as it should be (with  markers and paint bombs, it continues to recruit for one of the worst jobs that exists on this planet …). CCTV cameras are repainted, journalists and their various cameras kept as far away as possible.
The more we advance, the more collective determination is felt. From the material of a construction site  strewn along the road, a lot of windows are attacked: banks, real estate agencies, luxury stores, all this on Oberkampf street then rue des Commines [and it is with pleasure that we saw, passing after the demo, the broken windows of the hipster shop "The Paris Commune" NdAtt.]   … A self-reduction [ie looting] of the clothing store Melchior takes place to the cheers of the protesters! Shirts fly around in the middle of the wildcat demo.
A little before 9 pm,   police sirens are heard and the first vehicles of cops appear. There's a bit of a panic on the protest side, it scatters in all directions, and the cops arrive in numbers everywhere, by scooter, car or van. It is really hot, several arrests …. The cops chased us to the quays of the Seine and the island of Saint-Louis!
It's something to think about  for the next time. Last week it had already been complicated to dodge the cops in this bourgeois neighborhood with its half-deserted streets. This time it was even more stressful. These neighborhoods are not known…It's great to attack them, they deserve only our class hatred and the expression of our anger"

14/2/17:
Senegal, Saraya: villagers burn bulldozer, bus and truck belonging to gold mining company as clashes continue (see entry for 13/2/17)
UK, Blackpool: Valentine Sports Day – say it with fires…
Report on strikes against Uber in 3 different countries, particularly Delhi in India (see comment in box at bottom of page)
Italy, Milan: anti-fascists clash with cops
Vietnam: fishermen clash with cops over lack of compensation for toxic waste destruction of fishing area
US, Delaware: 8 screws resign, 7 more file for retirement, after riot in which 1 screw was killed (see entry for 1/2/17)

France, Haut-de-Seine & Seine-St.Denis: several clashes in different banlieus just outside  Paris – Bondy, Epinay sur Seine, Elancourt, Deuil la Barre, Nanterre, Chanteloup-les-Vignes, Clichy-sous-Bois et Asnières…More on Nanterre (post-riot video) "Street furniture was badly damaged and several cars burnt out" …similar in Sarcelles and Goudainville…also Yvelines "Six garbage cans and nine cars burnt at Sartrouville, Mantes-la-Jolie and Chanteloup-les-Vignes, but also projectiles and ambushes of the police. In Sartrouville…a group of about forty men approached the police and threw projectiles at them. Officials responded by firing grenades and flashballs. The evening continued with a series of garbage fires in the HLM du Plateau sector. In Chanteloup-les-Vignes, at 2:25 am Place des Quatre-Vents, a stranger called to warn that a group of thirty people armed with stones and iron bars had attacked the Job Centre and the Leisure Centre. When the policemen arrive, they  get   stones and Molotov cocktails and heavy duty fireworks thrown at them. They retaliate, retreat and call for reinforcements. Fifty-three policemen arrive from neighboring estates. Several burnt-out cars blocked the road in order to prevent the progress of the police. They finally got the better of the troublemakers. There were no injuries. Multiple impacts were noted on the windows of the two municipal buildings… The gate of the police station was dented, probably with the aid of a  car used for ramming that was not found. The police left the scene at 4 am and the estate had regained its composure during the night. The police also were the target of  projectiles at Poissy, Maurepas and Versailles." [all these are the night of 13th to 14th]
…France, Hauts-de-France: 3 cops attacked, 1 hospitalised, during attempt to arrest migrants organising smuggling routes at refugee camp
13/2/17:
Senegal, Saraya: gendarmes set fire to parts of village with tear gas grenades after villagers burn and ransack gendarmerie & customs house following killing of young man by customs officer
Australia, Victoria: teenagers riot in adult maximum security prison
France: various riots in different areas of Yvelines……Maine-et-Loire (Angers):  3 vehicles burnt, projectiles thrown at cops and tramway…Essonne: police  attacked "A police car was the target of projectiles, before returning to the police station to change vehicles. Near the police station, some 20 people then set fire to two vehicles in the middle of the roadway, throwing cobblestones and Molotov cocktails in the direction of the building...Chambery…Clichy-sous-Bois, Ulis & Drancy…Haute Savoie (Scionzier): firemen stoned by about 20 youths  setting fire to wooden doors…Venissieux: cops attacked with stones
UK: horror shock terror madness
12/2/17:
France, Paris (Argenteuil): riots against rapist cops continue Video here
11/2/17:
France, Paris: cars burnt, shopping centre occupied, etc. as "protesters effectively shut down central Paris" ….Interesting eyewitness report

US, Washington: communique from people who'd sabotaged train line in solidarity with the resistance to the Dakota pipeline

10/2/17:
South Africa, Johannesburg: armoured cop vehicle vandalised at university
Turkey, Ankara: protests at University against dismissals

9/2/17:
Brazil, Rio: demonstrators against water privatisation throw molotovs at cops, smash bank windows, burn street furniture

US, Los Angeles: protesters against mass raids on immigrants shut down entrance to motorway

France, Noisy-le-Grand (Seine-Saint-Denis): home-made heavy fireworks chucked at cops, several fires, in clashes over cop rapists …Paris (Menilmontant): 2nd night of anti-cop protests involving bank windows smashed, small fires (video) (in fact, 8th – 9th Feb)
Israel: haredim orthodox jews clash with cops in different parts of country on 3rd night of  protests supporting fellow haredim refusing  IDF conscription "… protesters danced in the middle of the road, even while being blasted by the water cannons, and sang songs about their devotion to God and the Torah. According to the police, some 200 protesters arrived at Shilat junction by bus, where they attempted to stop traffic, and Route 1 was temporarily blocked" More here.  See the entry for 21/8/16  here for a critical discussion about the strange contradictions of this Jewish sect. In fact, despite their admirable resistance to the draft, their leaders, amongst other things, are prepared to make alliances with obnoxious anti-semites like the French comedian Dieudonné. Like having a friendly chat with your future torturers. The enemies' apparent enemy is rarely our friend.

8/2/17:
France, Seine-St.Denis: more cars burn as riots against rapist cops continue in 4 different  suburbs of  Paris…Rennes: bins burnt, missiles thrown at cops, during demo in solidarity with Theo, guy raped by cops See also this in English "Rioters burned dozens of cars and set fire to a nursery school….Theo appeared on TV saying an officer rammed his baton "into my buttocks on purpose". Police argue that his injuries are consistent with an accident, in which his tracksuit bottoms fell down and the baton penetrated him…As well as damaging the nursery school and a car salesroom, youths also used a shopping trolley full of petrol bombs in their attacks". People are usually shocked by the fact that nursery schools get targeted in some of these riots, most notably in 20050, but a lot of nursery schools in France can be quite racist and authoritarian in their attitudes to young kids….Yvelines:  3 separate attacks on cops on estates and suburbs in different areas of department "There is no connection with the recent events that have taken place in Seine-Saint-Denis," said one police official."
Greece, Athens:  1000 firefighters temporarily occupy Ministry of Administrative Reform and e-Governance demanding extension of their work contract

Malawi, Karonga: 1 killed as cops attack protesters blocking roads with big stones & trees…Blantyre: students block roads with stones and branches in protest against lack of electricity in hostels
US: interesting take on Trump's policies, entitled "Trump's tweets are a sideshow: His executive orders are building a corporate state"
7/2/17:
France, Seine-St.Denis: riots spread to different parts of suburb, 11 cars and several bins burnt, police station vandalised, attempt to burn school…Paris: bins burnt, clashes with cops on demonstration in support of Theo (youth raped up arse with cops' truncheon) "Some brandished placards saying "cops=rapists" and "Protect and serve…my ass!" [the latter in English]
South Africa, Limpopo: mayor's car burnt out in protests against electricity hikes
Dominica, Roseau: looting and fires in anti-government protest More here
US, California: prison riot; no details
6/2/17:
France, Seine-St.Denis: KFC burnt along with 3 cars and some bins  on 3rd night of riots against rapist cops in Paris suburb …See also this in English
Morocco, Rif:  27 cops injured after cops break up sit-in and roads blockade
5/2/17:
France, Seine-St.Denis: several cars and bins burnt, cops attacked with heavy duty fireworks for 2nd night after cop rape of youth; youth still in hospital
India, Karnataka: police station attacked, cop vehicle burnt, after death in custody
4/2/17:
France, Seine-St.Denis: car burnt, bus shelters smashed, street lights fused, after cops rape youth up the arse with truncheon and are filmed doing it

Video of interview with rape victim's sister with English subtitles
3/2/17:
South Africa, North West: 6 shops looted over days of protest over lack of water This claims that it was foreign-owned shops that were looted, but the media almost invariably say this even when it's not exclusively the case. We don't know if this xenophobic-targetting took place in this instance.
2/2/17:
UK, Scotland, Faslane: Anti-Nuclear Activists Blockade Naval Base…meanwhile in Fuckyoushima
1/2/17:
Mexico, Mexico City : camp workers' union members from 2 States come to Mexico City, block roads, try to set up camp on main square, & fight 500 riot cops sent to repress them – 17 pigs injured
US, Berkeley: black block  forces cancellation of fascist scumbag Milo Yiannopoulos's non-event (includes mainstream video)…Starbucks looted, Bank of America ATMs smashed (repulsive shitty site)…info about this Milo sicko…More here "They smashed ATMs at a Bank of America branch and set several trash fires on Telegraph Avenue. After marching west on Durant Avenue, the group moved north on Shattuck Avenue, smashing windows and vandalizing a Mechanics Bank branch near the corner of Bancroft Way. Chase and Wells Fargo branches were also vandalized. A Starbucks location near campus was vandalized and looted.   Police also received reports that banks were set on fire in the area of Center Street and Shattuck Avenue."
According to a contact, there were a lot of gay and trans people in the front rank as well as a much greater presence of the so-called "Revolutionary Communist" Party ('America was never great' is one of their slogans, and the ubiquitous 'No…' sign as well), masked up as were the anarchists and the LGBT contingent. Previously the Party had stayed away from such illegal actions and had legalistically kept its people from fighting – it must not have gone down well with the Lebensborn who must have been itching to compete with the anarchists who had upstaged them time after time in the past. Interestingly, the Party for Socialism and Liberation operatives are altogether absent. The commentator on this Huff Post video is an old reactionary turd who has previously railed against the Black Bloc and long before that against the bicycle pressure group Critical Mass (associated in its early days with the group of Marxist bureaucrats connected with Processed World). The commentator's a long time friend of political insiders in the Bay Area. "The use of pyrotechnics, both as smoke screens and as a means of setting off the exceedingly noisey fire alarms (>85 decibels, which over more than half an hour can cause lasting damage to one's ability to hear), is a noteworthy tactic. It must have made it virtually impossible for the vermin inside to heard their precious Milo." Another account here

….Trump threatens to cut off state funding for Uni…critique of so-called "free" speech…
…mainstream liberal media give voice to anti-authoritarian/anarchist milieu here  – and also here
There's a danger in giving credibility to these mainstream liberals and watering down the critique of  their more general support for the system in the hope of being reported and/or interviewed. One should  never speak to the press, at least knowingly, and certainly not politely, unless one has a contract that says what one says will not at all be censored and one also critiques, within the interview,  the paper that gives this interview. They're part of the enemy and the whole image of "liberty of expression" (a very constrained "expression") they promote undermines what, for example, Crimethinc has to say about "free" speech, and gives them a credibility they in no way deserve.  They give the image that this liberal media is open to all critiques and that all critiques are being made in this mainstream, from fascist to revolutionary. Moreover, professional reporters of "things radical" make their risk-free careers on the backs of those who take risks. Note added 5/2/17: Apparently, though the New York Times gave the impression that they'd interviewed someone from Crimethinc, this was not the case, but simply a quote from their site.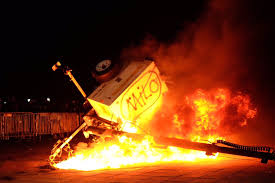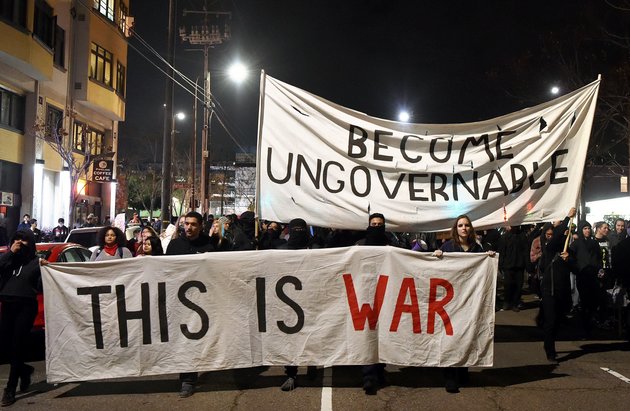 …Ohio: part of University occupied against Muslim ban…Delaware:  prisoners take over part of prison and hold screws hostage "…the prisoners are against improper sentencing orders. Status sheets being wrong. Oppression towards the inmates. We're trying to explain the reasons for doing what we're doing…Donald Trump. Everything that he did. All the things that he's doing now. We know that the institution is going to change for the worse. We know the institution is going to change for the worse. We got demands that you need to pay attention to, that you need to listen to and you need to let them know. Education, we want education first and foremost. We want a rehabilitation program that works for everybody. We want the money to be allocated so we can know exactly what is going on in the prison, the budget."…Screw killed  Apparently the standoff ended after 18 hours, when guards used construction equipment to smash through a wall, surprising and overwhelming the prisoners.

…community radio stations hacked with "profanity-ridden" "Fuck Donald Trump" rap
Australia, Melbourne: clashes with cops as homeless people are removed; TV camera smashed
Venezuela, Los Teques: students block major highway with burning barricades demanding application of already nationally agreed reduction of transport fares for students
Romania: clashes during massive national demonstrations in sub-zero temperatures against law making certain level of government corruption legal
France, Lyon (Venissieux): cops stoned, bins burned, during filming of rap  clip
UK, London: evicted anarchists occupy another expensive Belgravia building in order to house the homeless