" 'January', is derived from the ancient Roman name 'Janus' who presided over the gate to the new year.  He was revered as the 'God of Gateways', 'of Doorways' and 'of the Journey.'  Janus protected the 'Gate of Heaven', known as the 'Lord of Beginnings', is associated with the 'Goddess Juno-Janus', and often symbolized by an image of a face that looks forwards and backwards at the same time.  This symbolism can easily be associated with the month known by many as the start of a new year which brings new opportunities.  We cast out the old and welcome in the new.  It is the time when many reflect on events of the previous year and often resolve to redress or improve some aspect of daily life or personal philosophy."
–  Mystical World Wide Web 
31/1/17:

US: brief sabotage of new Attorney General's Wikipedia page
France, Essonne: arson attack on Socialist Party deputy's local offices
30/1/17:
South Africa, Cape Town: burning barricades and clashes with cops following eviction from squatted land

Greece, Athens: labour ministry occupied by about 30 anarchists protesting pension cuts and security contribution hikes …Syriza offices occupied "The incident followed attacks with Molotov cocktails against riot police units in the Exarchia district of the capital by self-styled anarchists at the weekend."
US: list of some continuing protests against Muslim ban Includes: Los Angeles: 15 flights delayed …Republican party offices vandalised (Spokane), big demos in Seattle, Kansas, San Francisco, Portland, Washington DC, Atlanta, New York, etc.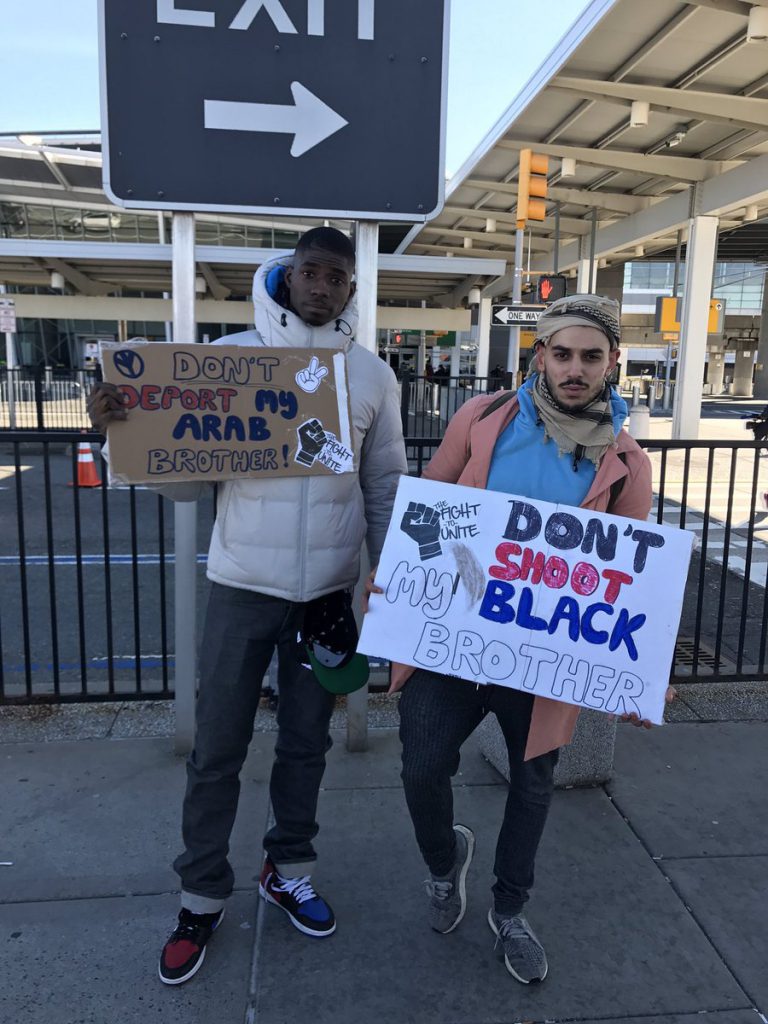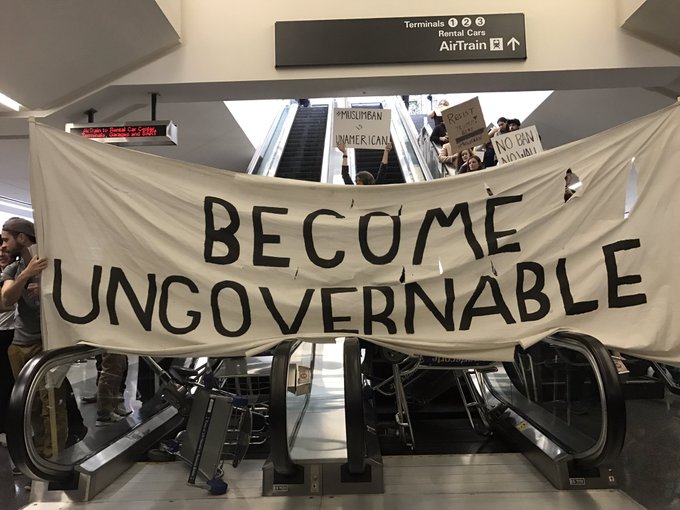 Interesting take on these protests here " The protests themselves did exactly what they were intended to: dominate the news cycle and channel opposition anger towards a relatively insignificant piece of the puzzle. I'm not saying that green card holders should be stuck in airports — far from it. I'm saying there might be a much larger picture here, and the immigration ban is a distraction…..Protests galvanize groups and display strong opposition, but they're not sufficient. Not only are they relatively ineffective at changing policy, they're also falsely cathartic to those protesting. Protestors get all kinds of feel-good that they're among fellow believers and standing up for what's right, and they go home feeling like they've done their part. Even if protestors gain mild, symbolic concessions, the fact that their anger has an outlet is useful to the other side."
See also this.
Guinea, Conakry: burning barricades by high school students protesting lack of petrol and of electricity
29/1/17:
US, Portland: pro-Trump bible basher bashed

France, Seine-et-Marne: cops attacked with projectiles, local councillor beaten up during illegal rodeo…Lorraine: youths burn bins after rap film clip is cancelled

28/1/17:
US, San Francisco: protesters block traffic, swarm into airport terminal, against Trump's fascistic policies…similarly in New York  "…at JFK on Saturday, about 5,000 protesters swarmed terminal four after an estimated 17 passengers, including green-card holders, were detained for hours".…More here on Trump's generally scary project "…while the vast majority of the US did not vote for Trump and disapproves of his policies and his rule, at the same time, the position presented in the media is that people should "give Trump a chance" to "govern correctly." In short, in just over a week, the established power structure from the mass media to the Democratic Party has all sought to normalize the Trump regime in the hopes of keeping a lid on the social peace. "...North Carolina: Black Lives Matter clash with cops at airport…Seattle airport occupation accounts of cop brutality and leftist reformist sabotage of protest

Steve Bannon: "Darkness is good…Dick Cheney. Darth Vader. Satan. That's power. It only helps us when they…get it wrong. When they're blind to who we are and what we're doing….It will be as exciting as the 1930s"– here…Curious report about Trump's use of manipulative data "From July 2016, Trump's canvassers were provided with an app with which they could identify the political views and personality types of the inhabitants of a house. It was the same app provider used by Brexit campaigners. Trump's people only rang at the doors of houses that the app rated as receptive to his messages. The canvassers came prepared with guidelines for conversations tailored to the personality type of the resident. In turn, the canvassers fed the reactions into the app, and the new data flowed back to the dashboards of the Trump campaign." 
France, Pamiers (near Toulouse): a dozen or so youths attack cops with metal missiles
South Africa, North West: ANC politician's parents' house torched after his bodyguard kills a service delivery protester
26/1/17:
US, Arizona: indigenous tribe vows resistance to Trump's Mexico wall on their land

France, Yvelines: 11 masked people attack police station; gate forced open, cop car burnt

Bangladesh, Dhaka: clashes with cops during protest against power plant "A pitched battle began as police fired tear shells, rubber bullets and used water canon to disband the groups. The protesters threw brickbats at police….a protester climbed on to a water canon truck and began clinging to metal grill protecting the vehicle's windshield."
24/1/17:
Zimbabwe, Harare: fly pitchers clash with cops

Tunisia, Sfax: roads blocked, clashes with cops after youth dies fleeing from cops

23/1/17:
UK, London: oligarch's £15m. mansion occupied by anarchists to provide shelter for homeless

Ivory Coast, Man: high school students smash banks and other businesses in support of public sector strikes and their own demands

22/1/17:
Colombia, Bogota: 1200 cops & soldiers police 1st bullfight for 5 years; protesters teargassed (in Spanish) More here in English  "Riot police fired tear gas as protesters threw rocks and pushed down barricades. ". Listen also to this.
Bizarrely (and insanely), pro-bullfight demos in Chennai India have erupted at about the same time, involving massive attacks on the cops: see here
21/1/17:
US, Los Angeles: report on breakaway demo from mainstream women's march…  Washington DC: 200+ people arrested on J20 face up to 10 years imprisonment "Those picked up in the sweep — including legal observers and journalists — had their phones, cameras and other personal belongings confiscated as evidence…Those arrested in Washington, D.C. faced an outpouring of public support. …hundreds gathered outside the jail on Saturday to show their support for those being released. "Every time people came out, the crowd would cheer and chant," with the term "anticapitalista" an oft-repeated refrain. "For many, it was like a surprise birthday party, and their faces lit up. Street medics were on-scene, and many supporters brought food, clothes, coffee, tea and water.""
Italy, Vicence: over 1000 in town of 120,000 demonstrate against construction of high-speed train line, motorway and US military bases

Israel, Wadi Ara: 1000s block highway in protest of cop killing of Bedouin More here

Kenya, Mombasa: heavy clashes between land squatters and cops "A man was on Saturday shot in the waist while a woman was beaten senseless after police clashed with squatters on a disputed land in Nguu Tatu, Kisauni constituency in Mombasa county. Police arrived at the scene at about 9.30am and found the squatters had blocked the road, denying them access to the land. The squatters had lit bonfires on the road. Police had to lob teargas canisters to disperse the squatters from the 60-acre parcel of land. The rowdy squatters retaliated by hurling stones and shooting arrows at the police who were accompanied by hired youths. The hired youth, armed with hoes, metal rods and clubs, demolished the structures amid the hail of stones hurled at them."
20/1/17:
US, Washington DC: windows smashed, etc., in anti-Trump  protests "About 500 people, some wearing masks and kerchiefs over their faces, marched through the city's downtown, breaking the windows of a Bank of America branch, a McDonald's outlet and a Starbucks shop, all symbols of the American capitalist system." More here "Black-clad demonstrators smashed windows of buildings, cars and bus stops in central Washington, as well as launching dustbins and rocks "
Interesting report of dockers in Oakland effectively going on strike today as well as walk-outs by high school and college students there
Portland: windows of Starbucks, banks etc. smashed – anarchist report here
Extensive report on the day throughout the USA here
Alt. right racist (Richard Spencer) punched in the face
Mainstream report of protests throughout US and a bit internationally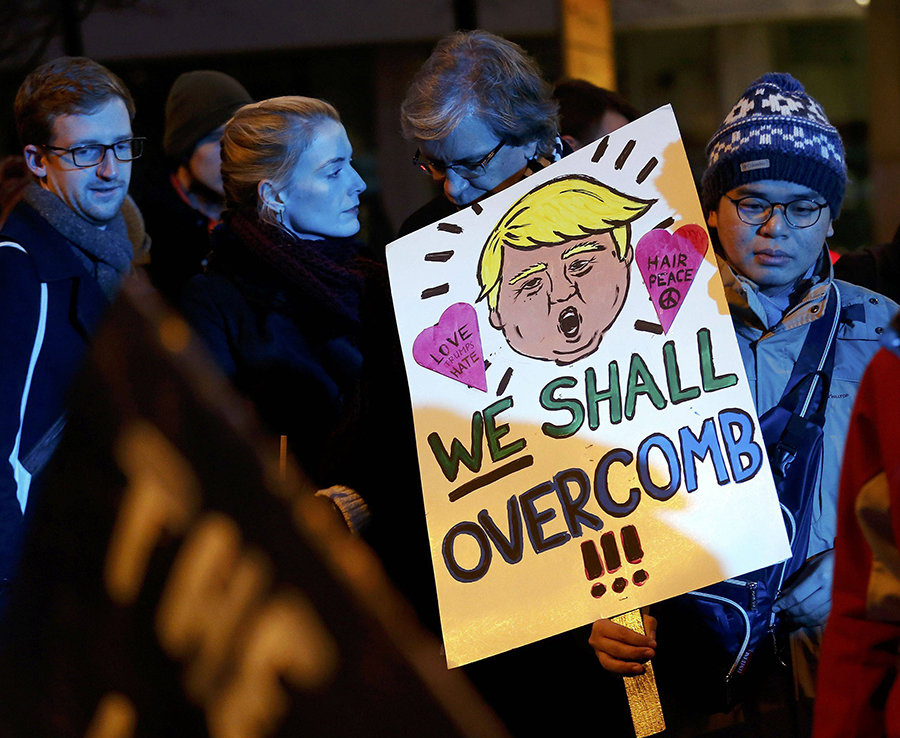 Mexico, Juarez: politically organised symbolic burning of car in front of gas station The movement has largely been recuperated through large marches full of Mexican flags by leftist parties and organizations. Not so surprising, considering "national" gasoline is the populist issue par excellence. The oil industry was nationalized decades ago to reinforce State control on oil workers (and complying with their demands), through the same kind of anti-imperialist ideology expressed right now. A comrade confirmed that no larger critique of society, social relations and present conditions of life in Mexico emerged from the marches, which was in my opinion the only way the movement could continue and extend. [Pi]
France, Essonne: cop hospitalised after youth throws paving stone through patrol car windscreen
19/1/17:
US, Washington DC: clashes with cops ahead of Trump's inauguration

18/1/17:
Chile, Santiago: clashes with cops as Mapuche Indians demonstrate

Cambodia, Preah Vihear: report about village conflict over land expropriation by Chines sugar plantation company
17/1/17:
Guatemala: activist killed Protesting hydroelectric project
India, West Bengal:   farmers protesting power station construction burn cop cars and cop bus  "Irate villagers have damaged as many as seven police vehicles and threw them into a road-side pond. A bus used by police has also been torched. The confrontation between police and the agitating villagers started after the police yesterday detained Kalu Sheikh, the man leading the agitation against the construction of 440/220KV substation of Centre's Power Grid Corporation of India Limited, and demanding the return of near 13 acre farmland that was acquired from the villagers to erect high-tension electric poles. As soon as the news of Sheikh's detention spread, villagers came out on the streets at Khamarhait, Machhi Bhanga and other villages yesterday evening. They blocked the Haroa Road and tried to lay siege to the substation that has been constructed at Khamarhait. On getting to know of this, a large posse of police from Kashipur police station went to the troubled zone. They were met with stones and bricks pelted by the agitating villagers. Police initially backed out but later raided the villages with additional force and allegedly vandalised several households all through the night. Even women were allegedly not spared. This added fuel to the fire and since this morning, a huge number of villagers took to the streets and blocked all roads passing through Bhangar. They damaged one police vehicles after another and pushed them into ponds. The agitators also tried to march into the yet to be commissioned power station, leaving some 50-60 personnel of the police's Rapid Action Force (RAF) confined. The RAF personnel were posted there to guard the power station. Throughout the day, police tried to remove the blockades, resulting in intermittent clashes with police. Both the warning parties threw stones / bricks at each other, and police also fired tear gas shells but to no avail. Towards afternoon, police decided to back out and leave the troubled villages. The 50-60 RAF personnel came out of the power station around 04 pm and tried to walkout. But the agitators declined to allow them a passage demanding that those policemen who had raided their houses last night must be identified and booked first. As the RAF personnel tried to force their way, the agitators started pelting stones / bricks and crude bombs at them. On the apprehension of getting overpowered by the violent agitators, police opened fire, injuring four villagers."…at least 2  killed
Finland: insane government video encouraging kids to denounce their parents for insulting politicians on Facebook
16/1/17:
US, Dakota: further clashes over pipeline construction (video) In fact the stopping of the  construction of the pipeline on December 4th specifically at this point is largely temporary and was designed to give Obama an image of reform. The Tribal Authority has collaborated with the state in providing the movement with an image of victory, whereas in fact the whole decision could and probably will be reversed by Trump, and besides, even if carried out, merely means the pipeline will pollute somewhere else. See this, from December 23rd 2016.
15/1/17:
US: water protectors across Amerikkka Resist 4 pipelines (Texas, Tennessee, Florida, Dakota)s…and also in Louisiana
Canada, Alberta: heavy machinery used to rip out section of oilfield pipeline, causing $500-$700,000  worth of Damage
Malta: home of sergeant major with prison connections in arson attack
14/1/17:
Tunisia: protesters block president's route as demonstrations against unemployment spread throughout country on 6th anniversary of ousting of Ben Ali "In Gafsa, angry youths protested against Mr Essebsi's visit, throwing stones and blocking the road. Local media and residents said the president's convoy was forced to change its route before he left by air. In Sidi Bouzid, the cradle of the Tunisian revolution which was sparked by the death of a street vendor protesting against official corruption and abuses, hundreds demonstrated in front of the local governorate, making the same demands as six years ago. "We raised the same slogans as 2011 … work is our right … no fear, and the street belongs to the people," said local resident Attia Athmouni. In Meknassi, police arrested some protesters late on Friday. But the protests continued in Meknassi and Manzel Bouziane on Saturday."…Métlaoui: freight train wagon burnt out by protesters…Menzel Jemil: police station attacked with molotovs
US, California: alt. right creep gets shit chucked at his face
Tunisia: clashes with cops, burning barricades and roads blocked in 3 cities (Sidi Bouzid, Ben Guerdène and Médenine) as general strike develops against unemployment whilst poverty gets a lot worse than under Ben Ali More here (in English)…Sbeïtla: protestors confiscate governor's car & attack governorate's HQ
Brazil, Sao Paulo: banks and luxury shops attacked on demo against increased fare prices

Palestine (Gaza strip): clashes with Hamas' cops as thousands protest electricity cuts "Hamas's police spokesman in the Gaza Strip, Ayman Al-Batniji, said that security forces were preventing protesters from "attacking the power company."…Thursday's demonstration began in the Jabaliya refugee camp, and as it grew in size, the crowd began marching toward a nearby electricity distribution center, chanting: "Raise your voice, electricity cuts mean death."…Palestinians have complained that these cuts are especially brutal due to the especially frigid weather the Strip is currently experiencing."  More here "People are trying to light and heat their homes with candles or by burning scrap wood. Families wake in the middle of the night, when the power sometimes comes on, to take showers or wash clothes. "We live like rats," said Mazen Abu Reyala, an unemployed fisherman and father of five, sitting around a primitive stove that he uses to warm his house. "Should I wait until we get burned? Or should I wait to return home and see that my children burned themselves because they lit candles." On Thursday clashes with police erupted in the Jabalya refugee camp after thousands of people gathered to protest the power shortage. Demonstrators hurled stones and sounds of gun shots were heard…With temperatures dropping to four or five degrees centigrade at night, people are trying to run electric heaters and radiators, driving up power demand….The local power plant, which was heavily damaged by Israeli bombing during a war in 2006 and remains only at about half of potential capacity, could produce slightly more, but there are not enough funds to buy fuel to boost output. With unpaid consumer bills of around $1 billion, the power company is not in a position to seek more credit. Officials say they need $500 million to rehabilitate the power network. But with Israel and Egypt maintaining a tight blockade on Gaza, getting replacement parts is not even that straight forward." More here

Peru, Lima: clashes as road tolls are imposed

Australia, Victoria: another mini-riot in a youth injustice centre…Sydney: struggle against road construction/tree destruction continues
11/1/17:
Tunisia, Sidi Bouzid: riots over unemployment continue after a series of self-immolations…Ben Guerdane: clashes with cops over closure of border crossing with Lybia in town dependent on cross-border trade
Colombia, Atlantico: "leader"denounces riot by motorbike taxi drivers protesting his arrest; town hall stoned
10/1/17:
Tunisia, Sidi Bouzid: governor's HQ smashed up in city that sparked Arab Spring

Australia, Sydney: resistance to tree destruction for road construction leads to clashes with cops…Northern Territory (Wulagi): another critique of dominant forms of conditoning

9/1/17:
US, Texas: indigenous Americans fight pipeline 

Mexico, Veracruz: cops arrest cops for looting
Brazil, Teresina: bus burnt in movement against fare increases "…several streets and intersections were blocked by barricades. The procession also opted for collective fraud by forcibly blocking the front door of a bus, causing people not to pay. The initiative was supported by many of the travellers. Later,…a couple, who passed close to the gathering, were shoot with a flash-ball by the cops, which required a transfer to the hospital. As an immediate response to the police intervention, a new bus, with air conditioning and which had just been delivered to the transport company, was burned out"
France, Mantes-la-Jolie: heavy-duty firework thrown at cop car 

Argentina, Buenos Aires: clashes between illegal traders and cops as state confiscates products and removes stands despite cops being paid bribes

8/1/17:
Mexico: struggle spreads to at least 25 out of the 31 (or 32 if you count Mexico City) states "Because of the protests, that are blocking highways throughout Mexico, freeways in California are being affected and some are again being closed Sunday night."…this says  "at least 28 states"…border traffic halted in Arizona as over 300 prevent crossing of cars & trains between Mexico & the US…cops use live rounds…Nogales; cops use live rounds against occupation of government building This is from a short but very interesting article in French. More from this article here:
"Workers (bus drivers and truck drivers) participated in the blocking of roads, workers demonstrated, such as those in the port of Lázaro Cárdenas (State of Michoacán, center) and bus drivers from Guadalajara (State of Jalisco), the second city in the country, went on strike, like  drivers and truckers in the state of Veracruz who declared an unlimited strike in their state.
Demonstrations and assemblies were organized by various unions, political groups and social organizations from Sunday 8, which raises fears of recuperation around the populist argument that the oil belongs to all Mexicans, in one of the main oil-producing countries, where a worker must work more than ten days to pay for a full tank.
We have already seen good citizens demonstrating peacefully, playing the cops and handing over to the police   protesters who came to express their rage against the National Palace of the city of Monterrey.
Mexico is currently experiencing high inflation, its currency, the peso, is at historically low rates.
Gasolinazos (increases in the price of gasoline) have been frequent since 2000, but have not caused such reactions before.
Oil has officially ceased to be a state monopoly since 2013. The exploitation rate of workers is constantly on the rise, as is the exploitation of natural resources.
While Mexico has experienced  social struggles throughout the country, particularly in Indian communities, a movement of this magnitude, largely spontaneous, is rather surprising, as national movements are rather rare.
The large cities of the northern states have been shaken by extensive looting, whereas those states where the presence and control of narco-traffic are the strongest, are calmer from the point of view of the class struggle."

Chile, La Araucanía: incendiary attack on real estate company
Australia, Melbourne: further riots at youth injustice centre
Brazil, Rio and Sao Paulo: riots against fares increases

UK, Devon: estate agents windows smashed

7/1/17:
Mexico, Baja California: heavy clashes as state forces try to destroy blockade of Pemex (Mexican Petrleum) on 5th day of blockade "In addition to the clashes, looting was also reported in Guanajuato and Guerrero, while in Veracruz, the state government reported that more than 500 people were arrested for the attacks on shopping centres….The fifth day of blockade at the Pemex facility in Rosarito ended with a clash between federal, municipal and state police against civilians. The balance was of at least 40 detainees and 15 wounded, including 7 policemen – 2 of them very seriously. Violent acts began after police detained a dozen demonstrators, half of them senior citizens and after a group of young men with their faces covered, threw stones at the police…. the police … arrested about 30 people. Minutes after that confrontation, a car of the company "Refaccionara del Valle" rammed the federal police, knocking down seven of them…
…It should be noted that during these events, three journalists were beaten by police while trying to document the eviction… rumors caused more than a thousand businesses to suspend their operations. In Irapuato, Guanajuato, rumors of possible looting became a reality, after a group of gunmen attacked a Walmart branch, a pharmacy and other establishments….store shelves were empty after vandalism….In Guerrero, looting affected a shop from the company Elektra and two Oxxo establishments, as well as a gas station…At least 135 of the 532 arrested for looting of businesses and vandalism in Veracruz are…charged with the crimes of terrorism and aggravated robbery"...vehicles waved through checkpoint, preventing inspections & collection of taxes…Yucatan: christmas tree torched & nativity scene trashed during attempt to loot store…Chiapas: at least 37 stores looted, and 10 others vandalised" Altogether, clashes and looting have been reported in Rosarito, Tijuana, Veracruz, Boca del Río, Medellín, Tierra Blanca, Tres Valles, Isla, Minatitlán, Agua Dulce, Nanchital, Misantla Huixtla, Tapachula, Tuxtla, Misantla, Uman, Campeche et Paso del Macho.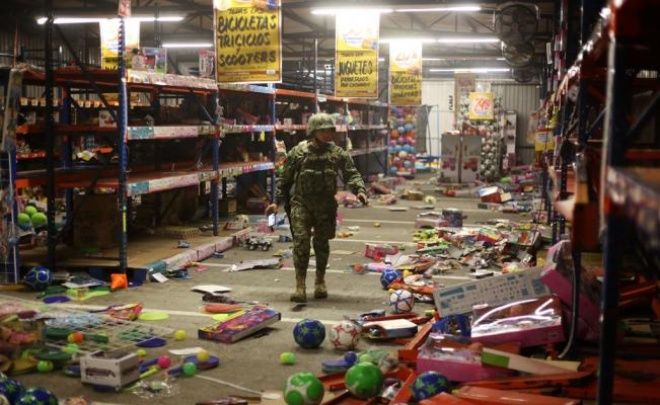 soldier patrols looted toy shop, Veracruz
Australia, Melbourne: riot pigs crush "disturbance" at   youth injustice centre…also Melbourne: hipster burger joint vandalised for 2nd time in a week…Perth: anti-educational institution gutted by fire
France, Yvelines: filming of rap music clip ends in youths on estate stoning cops
India, Chhattisgarh: several cop vehicles torched during clashes
Sri Lanka, Hambantota: clashes between protesters against Chinese company's takeover of land and government-manipulated counter-demonstrators
6/1/17: 
Mexico: clashes in Mexico City, Ixmiquilpan, Chetumal, Veracruz, Uman, Cancun, Hermosillo, Minatitlan, Ixtapaluca, Oxxo de Tecamachalco, Saltillo, Monterrey, Tapachula, La Cuenca…Tapachula; mass looting continues "Supermarket stores and services from the main chains in Mexico woke up Friday with their shelves empty…transport drivers started the suspension of collective transport service against the price increase of fuels"…over 1500 arrested for looting…Nogales: railroad blockaded by 250 protesters…at least 350 stores looted, 6 dead…anarchist site resumé of events…Veracruz: 14000 bus, truck and taxi drivers  announce  statewide strike of indefinite length, whilst unions try to put a brake on the movement "El Financiero warned that there are "signs of a total strike of transport" in Michoacan. In Acapulco, Guerrero, taxi drivers are encircling Petroleos Mexicanos (Pemex) oil trucks, forcing them to stop and taking turns siphoning the gas from their tankers. When a group of soldiers attempted to stop one group of taxi drivers yesterday, the drivers said that if the soldiers intervened they would light the tanker on fire. The soldiers backed down. The trade unions are stepping in to prevent the demonstrations from coalescing into a nationwide strike. Trade union bureaucrats who announced the recent strikes stated explicitly that they were forced to do so by workers, who in the words of one trade union official, are becoming "violent." Castelan Cruvelli, president of the Veracruz transport workers union ASTRAVER, denounced striking workers for threatening scab drivers and appealed to the government for help"…Chiapas: town hall and mayor's house torched, along with gas station, sparked by death of 2 youths. Not explicitly to do with the gas price hike.
Brazil, Teresina: barricades of burning tyres on several crossroads in movement against fare hikes "During the demonstration, a group of masked people detached from the procession to attack the headquarters of the Social Democrats of the PSDB… Result: tags on the facade and several windows destroyed."
France, Bobigny: 3 cops beaten up during ID control; one gets serious eye injury

5/1/17:
Mexico, Tapachula: mass looting thoughout city in response to gas hikes…Hidalgo: cops kill several people as they clear blocked highway of protesters…though cops are repulsed in Ixmiquilpán (video)
France, Valence: 10 kindergarten, primary, middle and high schools have their locks blocked by action in solidarity with revolt in prison (the trial of the "mutineers" starts this day)  "Tags left on their walls, as well as a tract …Various messages appeared, such as: "Prison is death. Life is in revolt. Solidarity with the mutineers of Valence and elsewhere "," In prison the bad guys are above all the screws "," Tired of homework, long live freedom ", "Every age wrecks their cage "," Long live the mutineers of the prison of Valencia – trial today, 6/01 to 14h ", "Neither prison nor religion, long live  mutiny and insubordination" (on a private catholic school).…
Tract left at schools:
" Hello,
Allow us to waste a little of your time to speak of those from whom the state steals all their time, when it is not their life. It's happening here very close to you, but also everywhere in France and elsewhere. Yet we do not often talk about these places where the government puts aside those that it considers detrimental to the smooth running of the system. The recalcitrants who no longer accept being crushed, those who initiate a violence which the powerful ones would like to monopolise, or simply the undesirables that can easily be removed in order to perpetuate the established order.
We do not often talk about prison, yet it is part of our lives. When one passes between its walls, when one goes to see a relative in the visiting area, when one submits to its threats. Like the cops and the legal system, it is one of the gears of a machine whose aim is to make us accept without complaint a world based on exploitation and domination.
In recent months rumors have come to us from  inside the French prisons. These are the cries of some of the forgotten who try to break through the walls and barbed wire. Vandalism, revolts and uprisings have rapidly exploded since last summer. It seems that some have decided to return some of the violence back to the people who imprison them.
On 25 September at the central building (for those destined to long sentences) of the penitentiary center of Valence, a mutiny broke out. A keychain was stolen from a screw under threat, the doors of the cells were opened by mutineers, furniture and cameras  destroyed, fires lit.
Friday, January 6, three people will go to trial at the criminal court of Valence, accused of being the leaders of this revolt. By designating the guilty ones, the law seeks both to punish heavily by example (they risk up to 20 years in prison) and to minimize the collective character of the revolt. Reducing what happened to individual deviations helps to hide the reasons for revolting against imprisonment. This was when the mutiny occurred in a context of general tension within the prison and a second mutiny occurred on 27 November despite the transfers that followed that of September.
To designate leaders is also to satisfy the screws who will be able to generously round up their monthly wages with damages and appease their thirst for revenge. Flatter them a little so that for a moment they stop  whining about the conditions of a job they choose to do knowing it is akin to that of a hangman.
Maybe it's time to listen attentively to what's happening inside prisons. Not to turn your eyes away again just hoping not to be the next one. To bring our solidarity to the mutineers and those accused of being so. For example by coming to support them during their trial, but also by fighting daily against the disgusting shit  that is prison.
SOLIDARITY WITH THE MUTINEERS OF THE PRISON OF VALENCE AND ELSEWHERE" 
…Toulouse: cops teargas estate after they're attacked Possibly they were attacked by drug dealers, though this is what they always say; teargas enters people's flats.
4/1/17:
Zambia, Chililabombwe : miners go on wildcat strike

Algeria, Tazmalt: clashes with cops as demonstrators demand release of those arrested
Mexico, Mexico City: report on looting of at least 2 department stores during rising movement against rising petrol prices as blockades create "critical situation" in at least 3 states…looting in 4 different towns in Hidalgo & Edomex states…79 shops reported looting throughout country.."We should set the gas stations on fire."
People liberating  fuel  from a gas station in Veracruz state
The price of oil rose on 1/1/17 by as high as 20.1% to 88 cents per litre, with diesel at 83 cents — the equivalent of 12 days of a minimum wage to fill a tank of gas – compared to the U.S.'s 7 hours — and the price ceiling will be adjusted daily starting Feb. 18, before letting "supply and demand" determine them in March.
3/1/17:
Algeria, Kabylie: Bejaia – 2nd day of uprising – roads barricaded, government buildings burnt, shops looted…part of Directorate of National Education wrecked & burnt…various small towns, regions and communes that previously abstained from striking join  strike; major roads blocked by burning tyres, tree trunks etc.; gendarmes attacked in 3 major areas…Akbou: demonstrators  set fire to  premises of the Tax Inspectorate; in Tazmalt, HQ of national insurance office, of Sonelgaz (national gas company) & sales outlet of  mobile operator Ooredoo smashed up and set fire to;  Seddouk – young demonstrators set fire to Ooredoo outlet…Salafists declare demonstrations, strikes etc. "Haram" – ie sinful and forbidden, whilst one of the Salafist leaders says the movement is "blasphemous" and declares  a Fatwa against the demonstrators and strikers "The strikes and demonstrations are the intrigues of unpious people who are dragging Muslims into anarchy"

Tunisia:  in Kasserine,  clashes as building workers' demo burn tyres, block main roads, whilst youths break open municipal depot & retrieve impounded smuggler's luxury car & several motorbikes; in Jendouba, similar tyre-burning etc.  following shipyard workers' demo; access to Algerian border in Kef region closed as state fears connection with Kabylie uprising 

UK, Bradford: rocks thrown at cops after they shoot man dead
Italy, Cona (near Venice): migrants riot after death of woman caused by delay in arrival of medical services"Migrants and asylum seekers at a refugee center in Cona near Venice, Italy set fires inside the facility and blocked the gates, forcing social workers to barricade themselves inside their offices, after a protest broke out over living conditions following the death of a young woman…A 25-year-old woman, later identified as Sandrine Bakayoko from the Ivory Coast, was found unconscious in the bathroom and was believed to have died because of an alleged delay in medical assistance. The town mayor, however, told La Repubblica TV that she had of natural causes on Monday afternoon. Her fellow migrants reacted angrily, and started rioting, cutting off the electricity supply to the centre, setting fires and barring the exit, leaving 25 staff members barricaded inside"
2/1/17:
Algeria, Kabylie: in Bejaia, clashes, cars and fronts of buildings attacked,  as small shopkeepers and market holders go on general strike against increased taxes and state control…several buses burnt, roads blocked…new HQ of Academy and a BNP bank wrecked and looted; burning barricades, mini-buses burnt, cop riot van overturned; transport workers belatedly join strike…local offices of National Society of Tobacconists & Matches and electrical goods store looted…Chorfa: police station stoned…in Tichy, another police station stoned; in Amizour, major road barricaded; in Bouira, cops stoned…Sidi Aich: yet another police station stoned …Ain Benian: burning barricades…Superficially, if one is dominated by outdated concepts, one could dismiss the catalyst for this as just a trivial  petit-bourgeois protest, but obviously it's gone way beyond this. Moreover,  it should be clear that increasingly proletarians have been forced into what was traditionally petit-bourgeois work or now work  in previously obviously proletarian work now classified as "self-employed" (and thus, technically "petit-bourgeois"). Whilst this development takes different forms in different parts of the world and in different periods of time, it might be useful to look at these 2 texts, dealing in part with this in the UK, on this site: "true confessions of a market trader" & "uk fuel protests: looks as though we've got ourselves a convoy (2000)" [SF]
Australia, New South Wales: 70 prisoners teargassed in riot
Mexico : Mexicans block roads, stations to protest petrol price hikes "One group blockaded a privately owned gasoline station on Mexico City's main boulevard, shouting: "The people, united, will never be defeated!". "This will increase the cost of living for all Mexicans. It will make more expensive transportation, basic food stuffs, food, and it will ultimately hit Mexican families," said Rafael Sotocruz, a nurse who was protesting at the station. On a busy highway leading into the capital from the west, another group blocked traffic and held up a banner reading "Enough already!". Reports on social media and local newspaper sites suggested small, intermittent protests popped up at a half dozen other sites across the country."
1/1/17:
Iran, Yazd: villagers close road & clash with cops over polluting mining
Argentina, Buenos Aires: clashes between cops and partying youths on beach
Australia, Adelaide: "Fuck the police!" mini-riot
Afghanistan, Baghlan: 1 killed in protest against chief cop
Spain/Morocco: 1000 migrants try to get into Spain by climbing 20-foot high fence "Five Spanish and 50 Moroccan officers were hurt engaging with the migrants, who tried "to force open some of the doors in the external fence, using iron bars, wire cutters and large stones with which they assaulted Moroccan forces and [Spanish police]," the Ceuta authorities said. Ten of the Moroccan officers suffered serious injuries, the country's Interior Ministry reported. Dozens reached the top of the barbed-wire fence that separates Africa from Europe before they were lifted down by cranes"